Plane in the City Kuala Lumpur
Words: Monica Tindall   Photos: Rich Callahan
I admit, for someone who flies so frequently, dinner on a plane did not sound so enticing, that is, until… I got to fly first class!
Plane in the City, brought to you by the same team as Dinner in the Sky, Whimsy Malaysia and Le Petit Chef, gives diners the chance to "fly" economy class, business class or first class without ever leaving the ground.
Set inside the body of a Boeing 737 aircraft, tables are arranged in two and limited to 20 people per session. The experience includes a meal, the chance to take photos inside the cockpit and also a walk along the plane's wings (weather allowing).
As mentioned, the chance to "travel" first-class was what first convinced me to give it a try. Discovering the chef's flexibility in making a vegetarian meal for me and a gluten-free meal for hubby, though, made this experience stand out even further.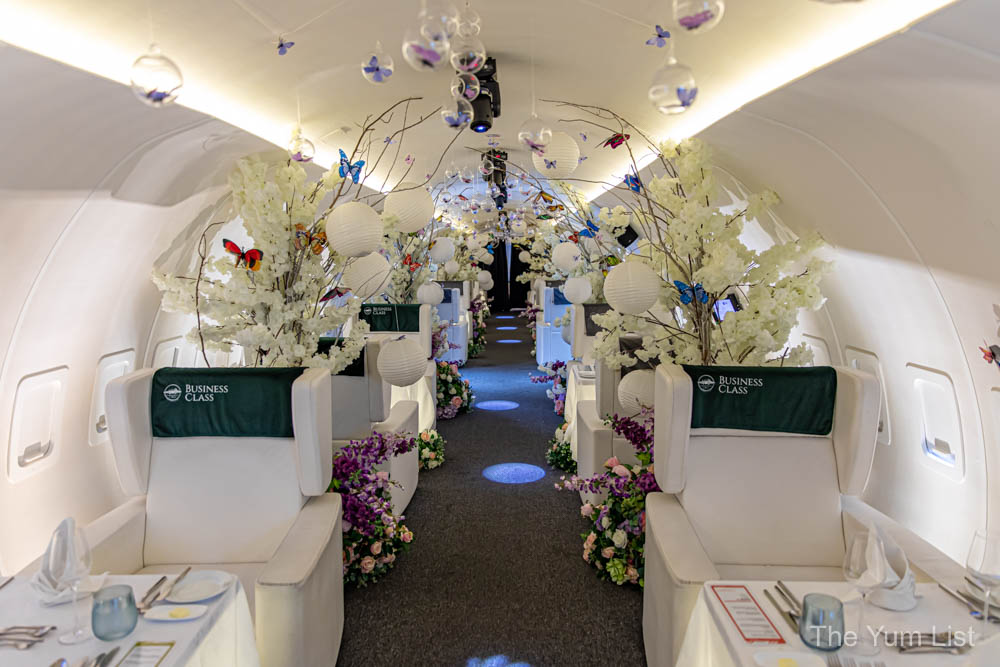 Plane in the City KL
Meeting at the Skyland lounge, we were greeted as if guests in a premium airport lounge. The uniformed attendants escorted us to the waiting area. Bartenders whipped up cocktails from a short list and were happy to make mine "less sweet" as requested. A Cosmopolitan for me, and Mojito for hubby. Our drinks were included in the package, but if you've purchased economy class, you can buy cocktails for RM27 or a glass of house wine for RM28.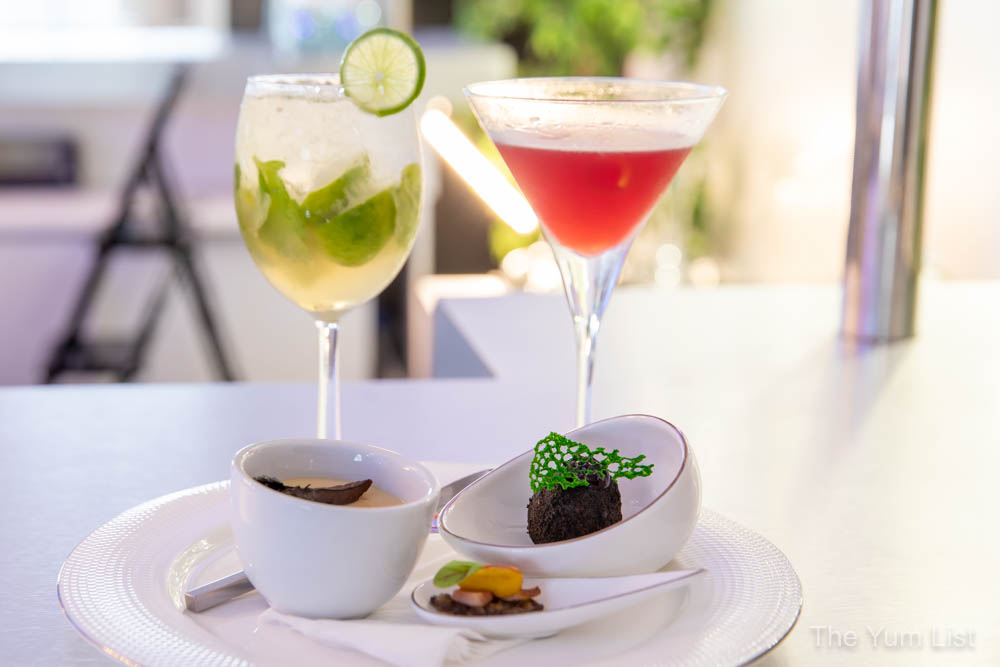 Canapes took the edge off hunger with a trio of bites: arancini with squid ink, smoked duck on lentil salad, and chawanmushi and fungi. All three were flavourful and nicely balanced in texture.
Photo Ops
Guests were then called to "board the plane." On the way, photos in the turbine, on the wing, seated, and in the cockpit allowed lots of fun and memories to be made before the meal was served. Staff snapped pics for us with their camera but were humble enough to let us also to take some with our own devices.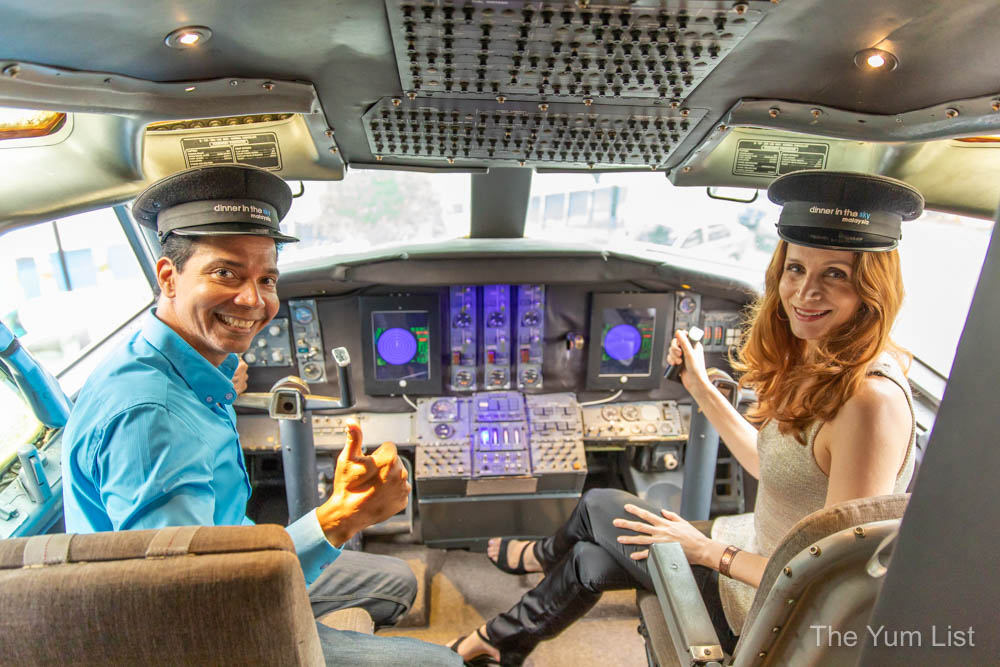 Photo session complete, we took our seats, and a "safety announcement" was made. "Don't fasten your seatbelts and be sure to take lots of selfies while onboard," were some of the security guidelines. Minutes later "engines" rumbled, the lights came on, and dinner was on its way.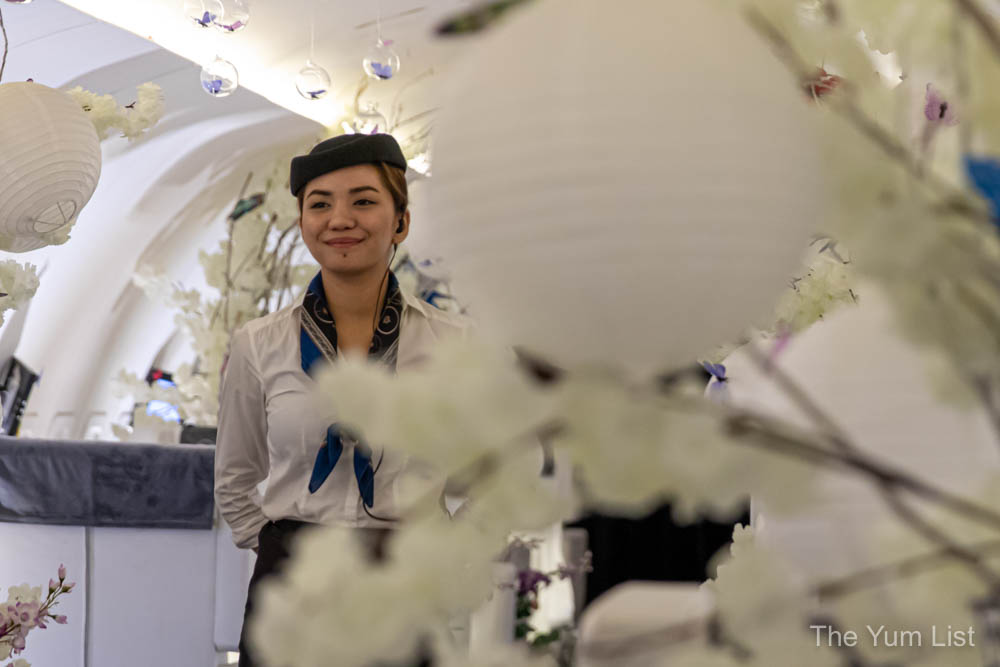 Plane in the City KL Menu
Vegetarian & Gluten-free Appetizers
Both meat-free and no gluten, Ratte Potato, was a comforting combo. Thin circles of ratte potato carpaccio were dressed with truffle vinaigrette, frisse salad and shaved truffle. Elegant. Full of flavour. Delicious.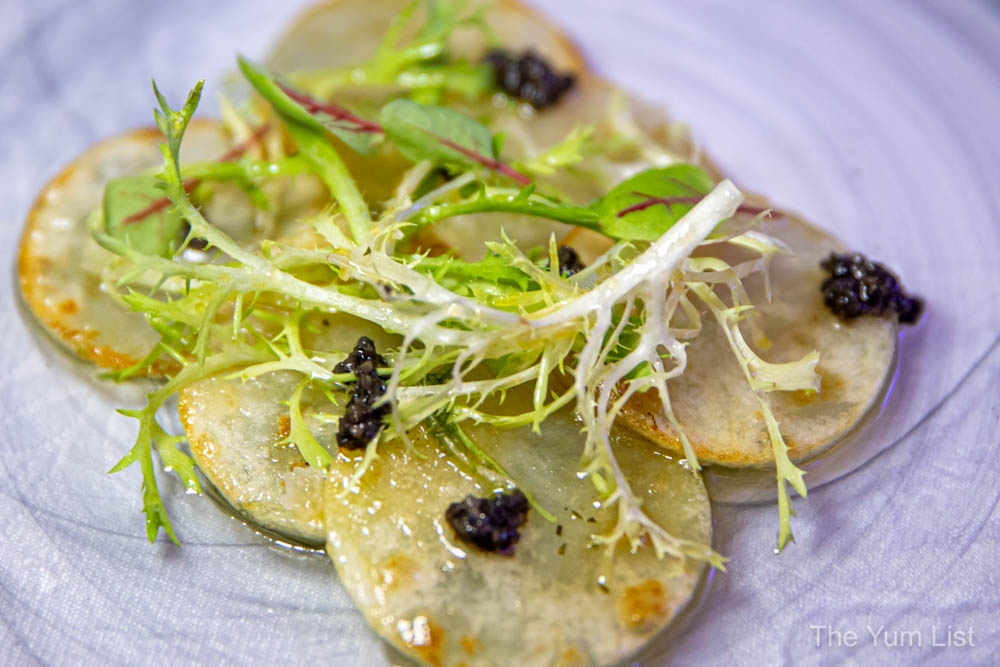 Second Course
Not long after the appetizer plates were cleared, the vegetarian and gluten-free second courses arrived. My Japanese Eggplant was a dream. I love eggplant when it's cooked well, and this was roasted until soft and slightly caramelised on the edges. It came with marinated baby tomatoes offering an attractive tang and an espuma of one of my favourite Malaysian ingredients, torch ginger. A drizzling of perilla vinaigrette gave a light minty-anise flavour.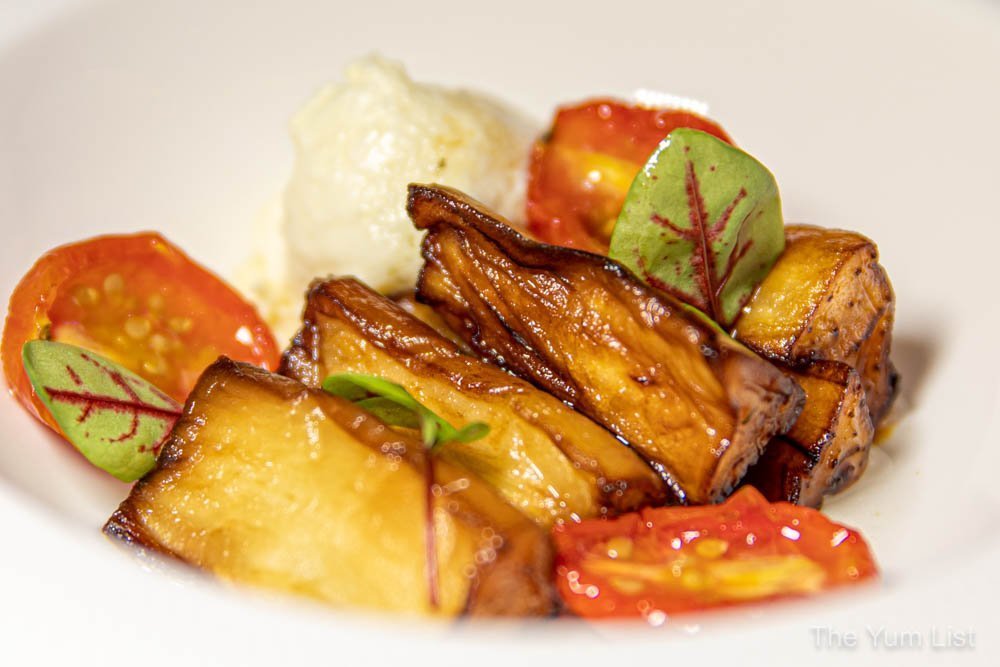 Hubby had the Oyster Potage, which was viscous and creamy. A base of spinach puree, potato paysanne and yukari cream was given substance with a Japanese oyster that had been lightly battered and fried. Hubby was not wowed by this dish, but Rich and I didn't mind lapping up his leftovers.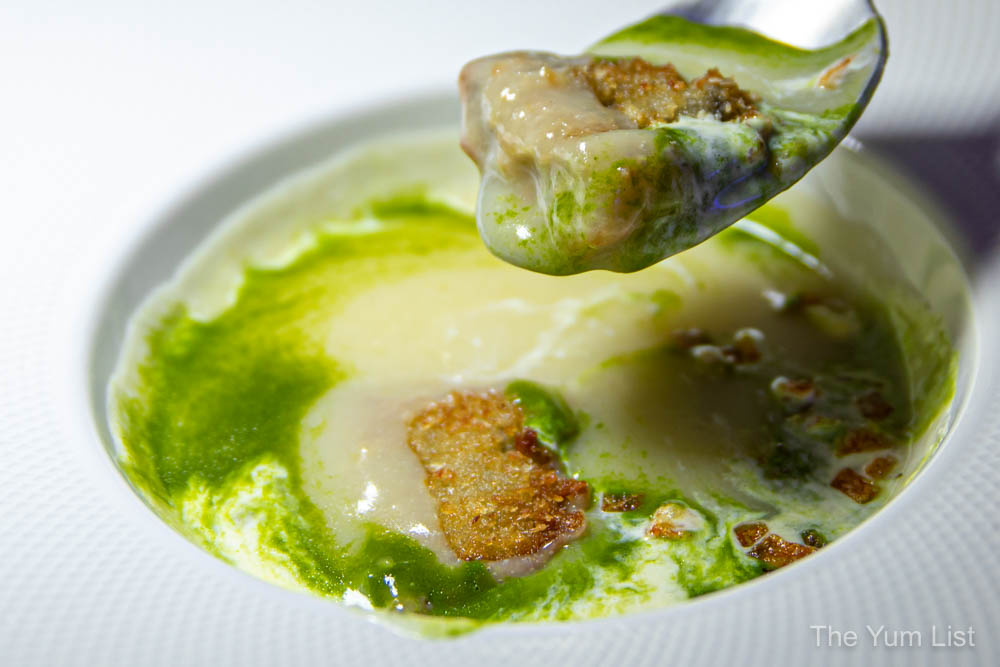 Third Course
The Japanese thread continued with Edamame Pasta for the vegetarian dish. Thin ribbons of capellini were tossed through with edamame beans, spinach puree, potato paysanne and yukari cream. It was a graceful dish; an equilibrium of texture and subtle seasonings.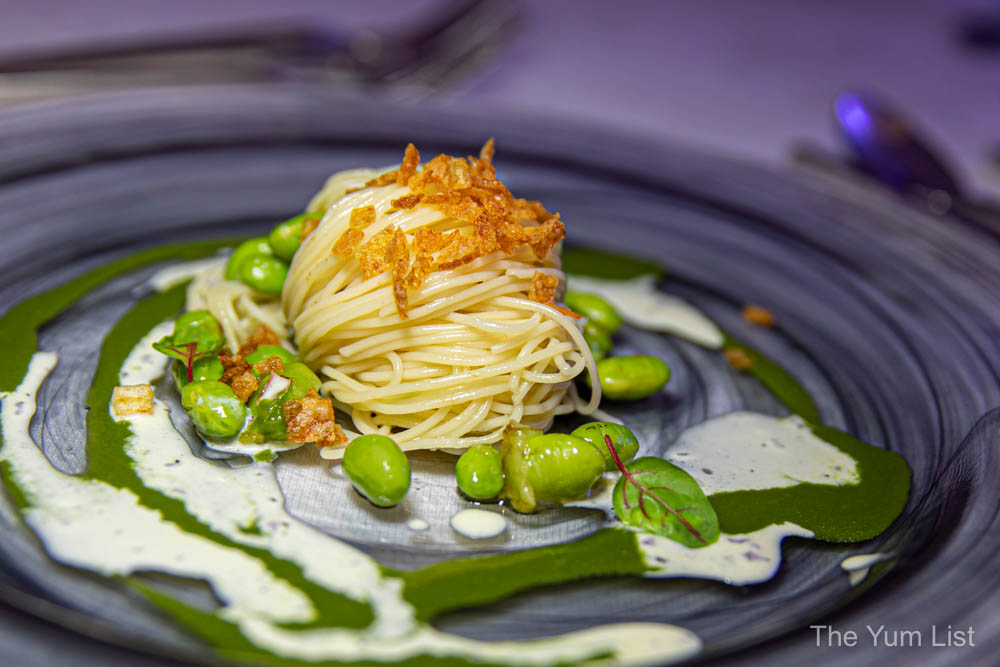 Main Course
I love risotto so was easily pleased with the vegetarian main course at Plane in the City of Wild Mushroom Risotto. French mushrooms, asparagus, salted kelp butter and cep velouté made a tasty and satisfying recipe. Hubby's Beef Cheek was braised for 24 hours, making it flake to the touch of a fork. A delicious rosemary pumpkin mash was friended by wilted spinach and yuzu kosho. Both dishes got a thumbs up from these vegetarian and gluten-free diners.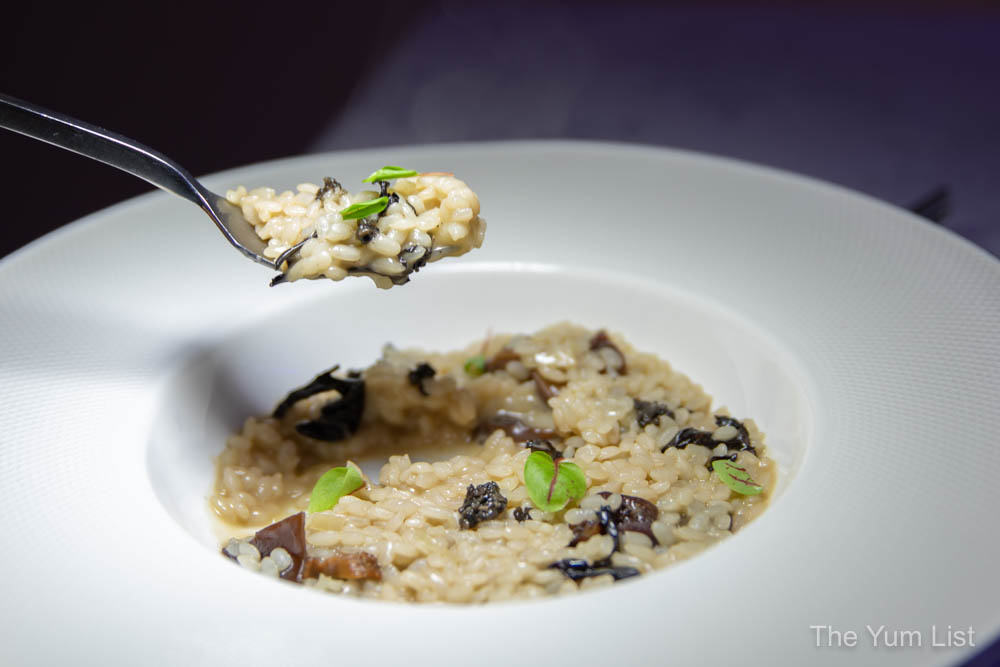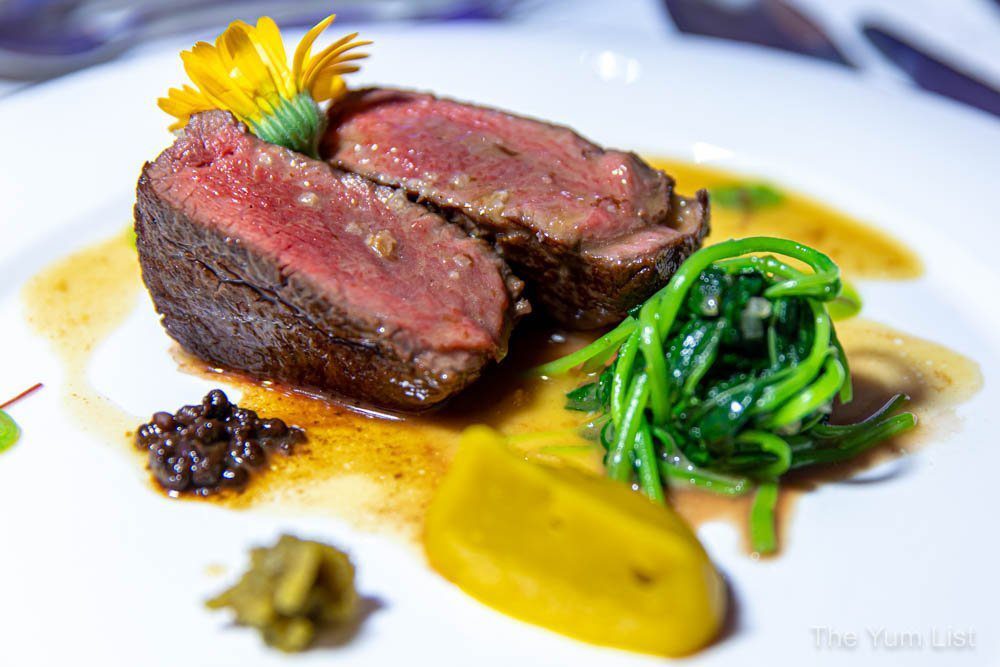 Dessert
Lastly, our sweet ending, Tonka Bean Brulee, was pimped up with chocolate cremeux, berry marmalade and a dehydrated raspberry. The additions not only made a pretty picture but also added crunch and liveliness to the velvety custard.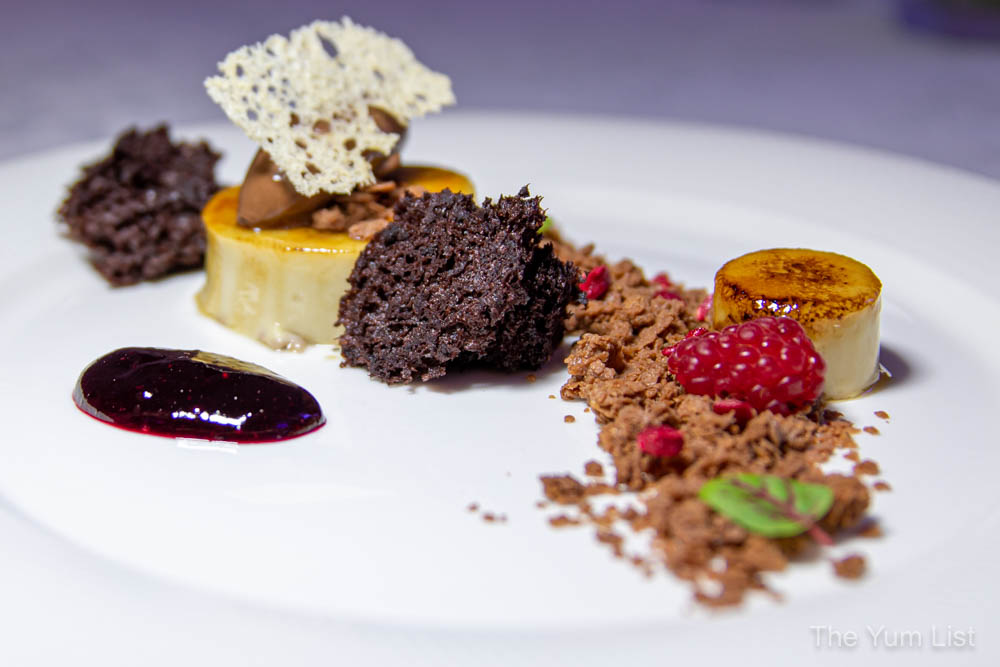 Mango Sorbet with fruit cocktail was the gluten-free dessert. It too was spirited both in the mouth and to the eye. Attractively plated and just the right size, both desserts are a Goldilocks ending.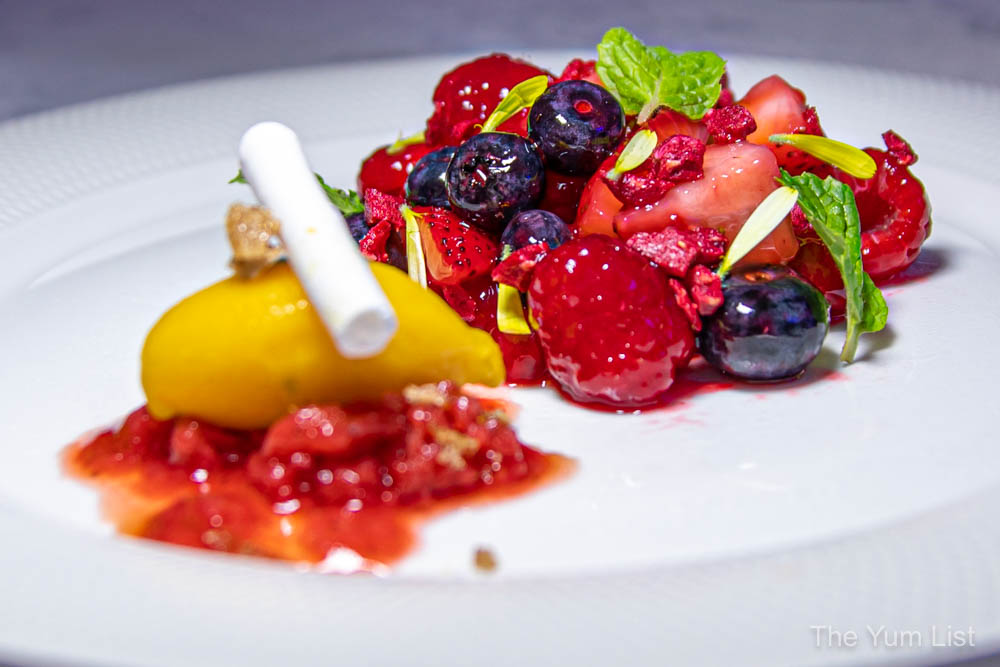 Plane in the City KL Price
An economy class experience at Plane in the City is priced at RM259 per person and includes a three-course meal, visit to the cockpit, a wing walk experience and a RM50 voucher that can be used at any Elements outlet. Business Class (RM499) gets you an upgrade to a four-course meal, priority boarding, two cocktails or mocktails, canapes upon arrival and RM100 voucher. Lastly, a First Class ticket (RM999) ranks even higher with a five-course meal, free-flow of drinks in the lounge and a RM200 cash voucher.
Plane in the City Kuala Lumpur Review
Just as its sister experiences, Whimsy Malaysia, Le Petit Chef and Dinner in the Sky, Plane in the City KL could quickly be sold on setting alone. It is so much more than just a thing to do, however. The food was delicious, expertly prepared and something I'd be satisfied ordering even without the environmental extras. For a unique evening, with lots of photos ops and the option of customizing menus for gluten-free and vegetarian dining, it's a great night out.
Reasons to visit Plane in the City KL: a memorable dining experience with a chance for fun pics in the cockpit and on the wing; high-quality and approachable menu; gluten-free and vegetarian menus available.
Plane in the City Kuala Lumpur
Skyland, 231, Jalan Bukit Bintang
Imbi, 55100 Kuala Lumpur
Wilayah Persekutuan, Malaysia
+6 016 299 1455
https://www.planeinthecity.com/
Find more dining experiences that make great ways to celebrate special occasions in Kuala Lumpur here.