ATAS Brunch KL
Words: Anna Chew   Photos: Monica Tindall
ATAS at The RuMa Hotel & Residences Kuala Lumpur now offers Sunday brunch! Chef Tyson Gee has immersed himself in local produce, micro-producers and markets, and brings these new discoveries to the ATAS brunch menu.
Canadian Chef Gee quickly made an impression on Malaysian and international diners with his enthusiasm for everything local with the opening of ATAS Modern Malaysian Eatery earlier this year. Taking the best of seasonal produce, Chef Tyson reinterprets local dishes and ingredients, shaping them into his own creative recipes. Brunch at ATAS allows diners a sampling across a wealth of inspirational dishes with distinctive Malaysian flavours all in one sitting.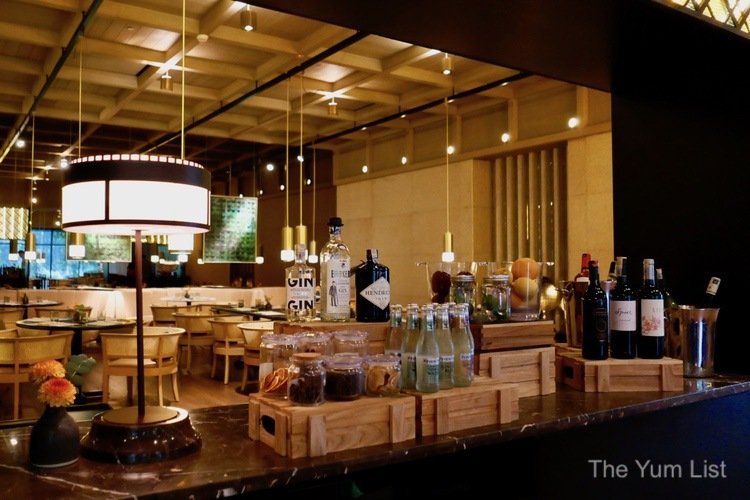 ATAS Brunch – The RuMa Hotel & Residences
The Sunday Brunch Menu at ATAS (RM160 nett/person happening every second Sunday of the month – next one is September 8) promises a nostalgic walk down memory lane of Malaysian favourites with the added intrigue of a contemporary twist. The kitchen team each came up with a dish they miss or ate as a child, each contributing a memory to the meal. The end result is the new ATAS brunch menu, with a set of savoury courses served to the table and a buffet of desserts to conclude.
Finger Food & Cocktails
Rose syrup with coconut jelly and basil seeds welcomes guests. Brunch then starts off with street snacks, served tapas-style representing the mixed-race culture of Malaysia. They go well with one of ATAS' cocktails or a glass of wine. The RuMa infused Broker's Gin (RM45) took our fancy and came in chamomile, pepper and thyme infusions. The flower and herb varieties were our favourites.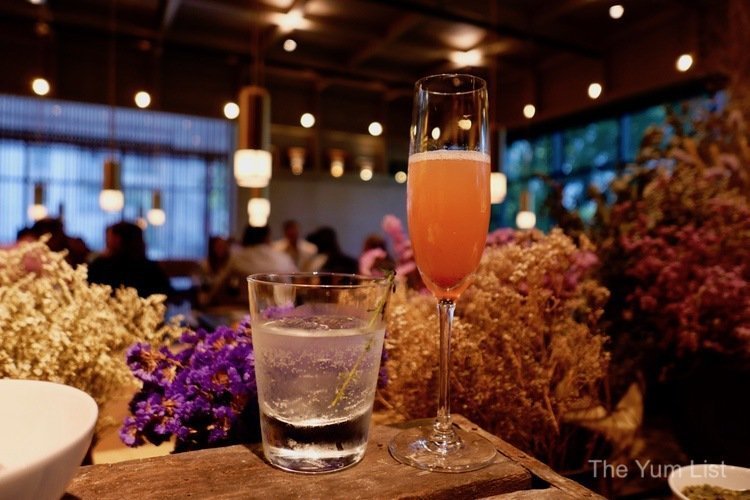 Starters
Savoury snacks for the ATAS brunch include Puffed Poori, Hainan French Toast and XO Rice Noodle Rolls. These are followed by the delightfully presented Salted Mackerel Sticky Rice and Seabass Satay. Delicious Vadai on a bed of crispy fried curry leaves, Fried Prawn Bao and Beef Brisket Spring Roll come next. Our favourite though was the Chicken Rice Balls. Similar to arancini, the balls of chicken rice were encased in a crisp exterior with an excellent chilli and ginger sauce companion.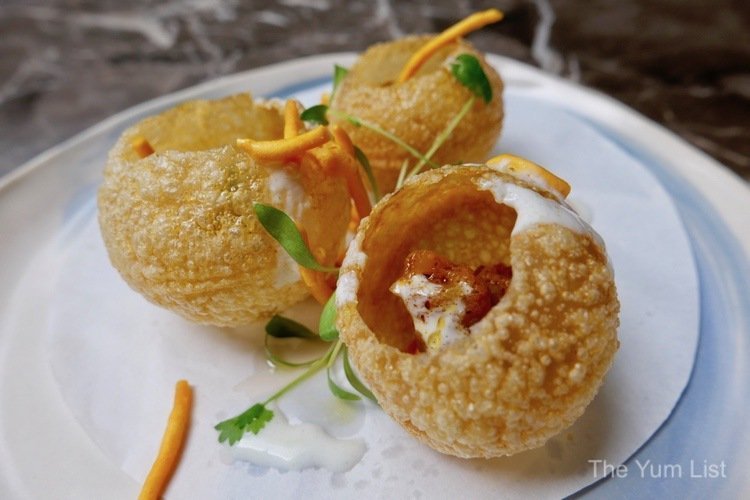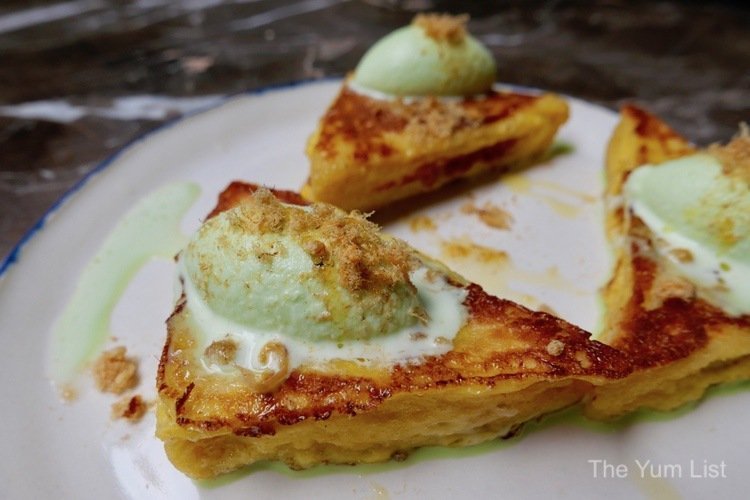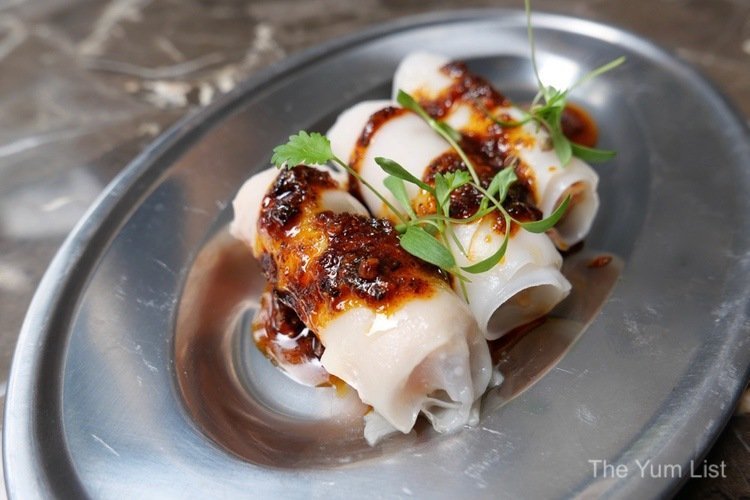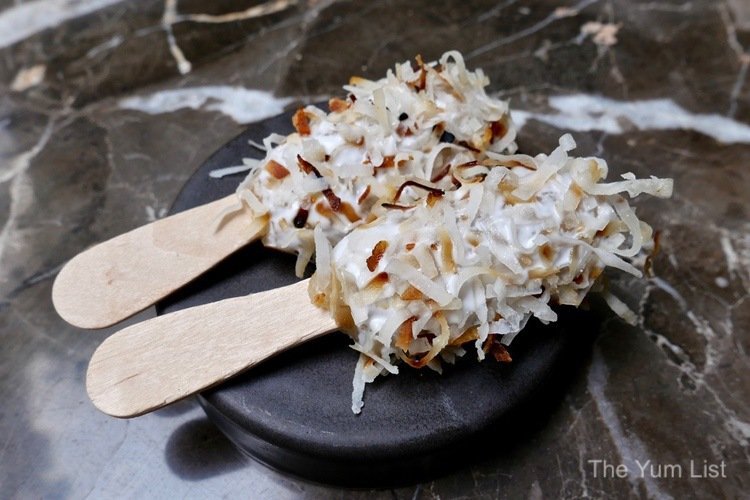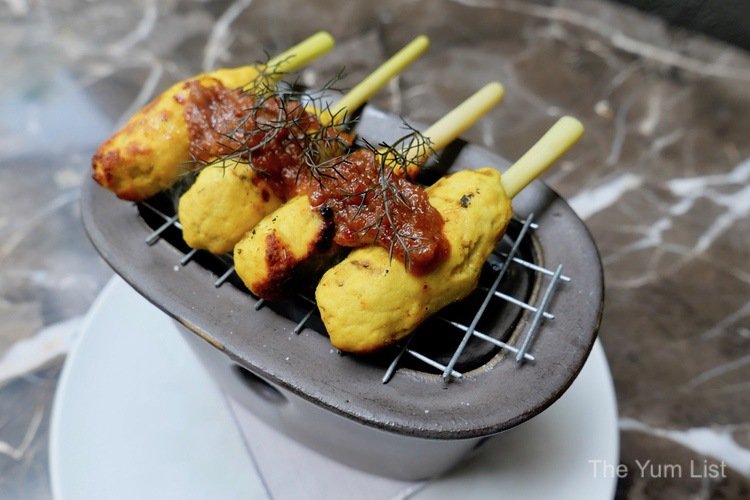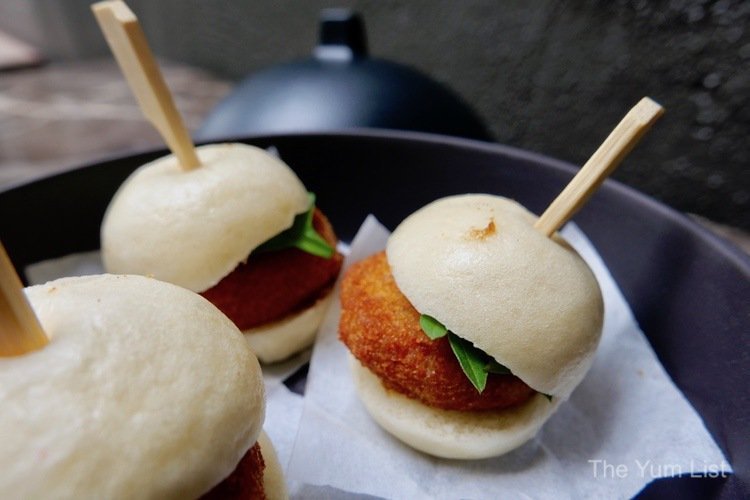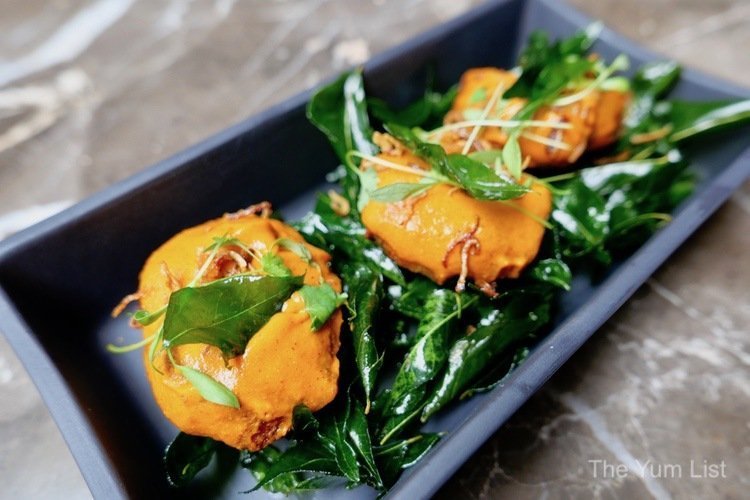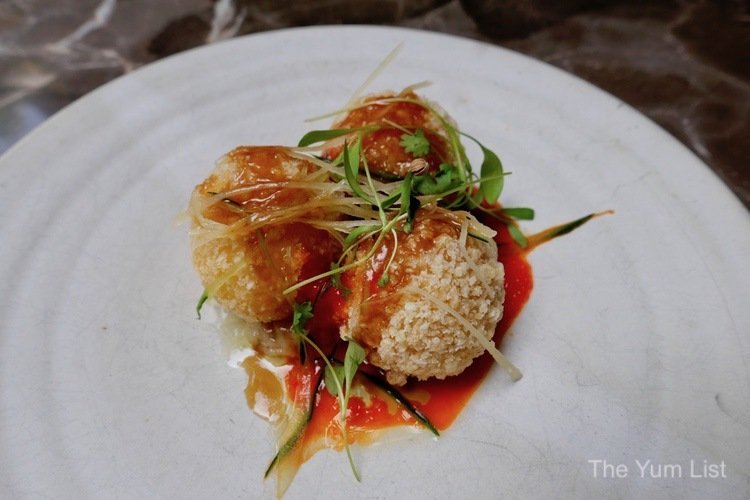 More than a palate cleanser, the Rojak served in between snacks and mains was a surprise. We won't give away the secret, but it did leave us wondering, "Why didn't we think of that?"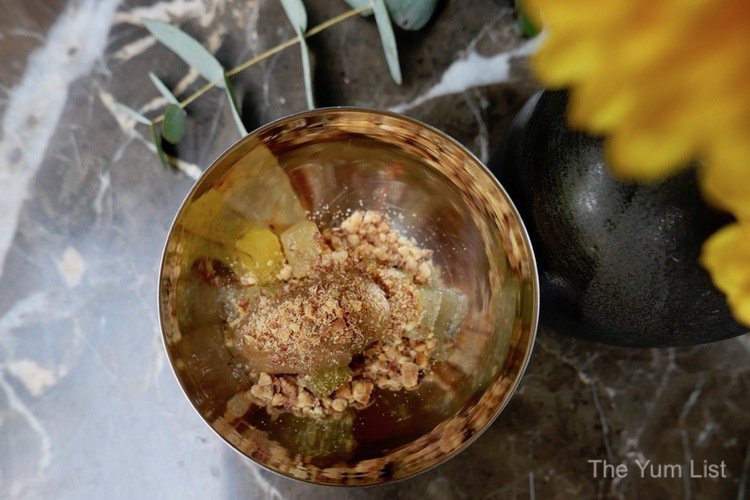 Mains
Mains for the ATAS brunch include Corn Fed Chicken done two ways. The chicken breast was served with lovely light liver pate, while the leg was prepared with one of their famous hand-pestled sambals. One can appreciate the firmness and sweetness of the meat, obviously sourced carefully. Their Jasmine Rice Salad provided an excellent base to go with the crowd favourite, Slow-Cooked Young Banana Curry. Mains are served with a selection of four sambals; belacan, hitam, hijau and an anchovy-based chilli paste, which can also be paired any which way.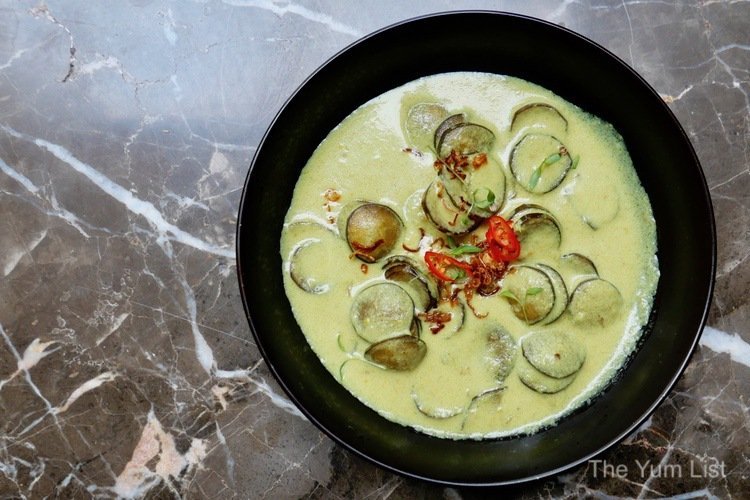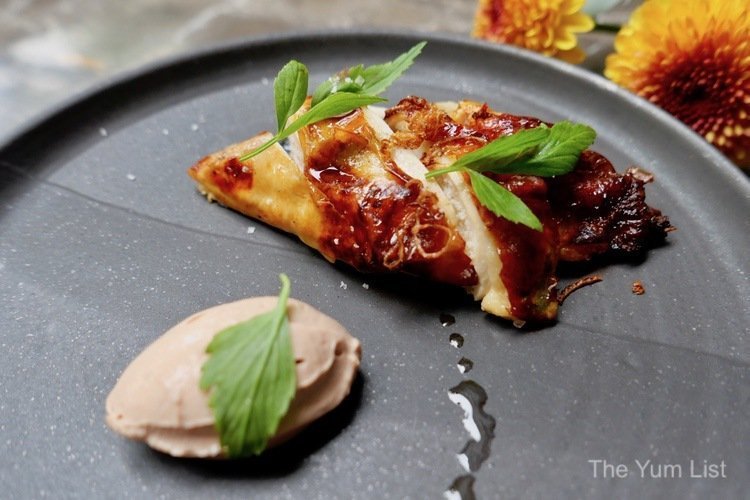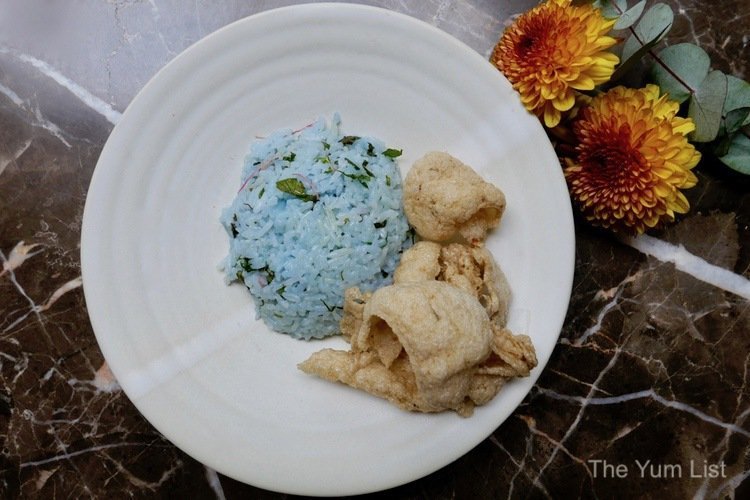 ATAS Brunch Dessert
The kitchen team make excellent desserts for their a la carte menu, but during ATAS brunch, you can try many in one sitting. With nostalgia as the theme, desserts of the 70s and 80s make a pleasing appearance. Say hello to Sugee Cake, Bubur Cha-Cha, Pineapple Tarts, Coconut Cake and Pearl Sago with Gula Melaka and Coconut, all of which were perfected by someone's grandma who obviously taught them well. These were executed in a traditional manner needing no tweaks whatsoever.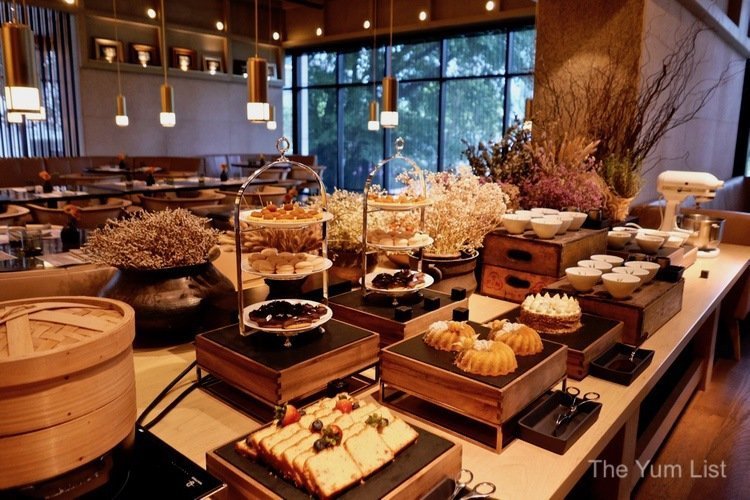 No dessert buffet is complete without ice cream, and the ATAS brunch presents it in an eye-catching form. Prepared on the spot using liquid nitrogen, the sweet treat appears from a whirling stream of mist. One cream-based and the other a sorbet, raspberry and vanilla were the flavours on our visit.
Additionally, the Dark Chocolate and Roselle Éclair, with chocolate from Pahang was exceptional. The Raspberry and Rose Macarons were refined, with hints of both namesakes and a thin crust. The Ginger Cake was nicely balanced and presented the ingredient beautifully. Last, but certainly not least, the Glutinous Rice and Kaya, was a hot favourite. Many even skipped the rice and decided it was perfectly acceptable to just scoop in the kaya by the spoonful.
ATAS Brunch KL Review
The setting is simple yet stylish. The service warm and friendly, and the food menu gives a taste of Malaysia in bite-size pieces. While the food is sent out in sets, guests can order as many rounds of each dish as they like. We recommend eating the menu once through before you pick any repeat orders. For those looking for something a little different and food that is locally-inspired, you would do well to try the ATAS brunch.
Reasons to try the ATAS brunch: the savoury courses are prepared on the spot and served directly to the table ensuring freshness; our top picks were the banana curry, chicken rice balls, and the fantastically presented satay.
ATAS Brunch – Modern Malaysian Eatery
The RuMa Hotel & Residences
Jalan Kia Peng, 50450 Kuala Lumpur
+6 03 2778 0888
Malaysia
www.facebook.com/ATAS.KL
The ATAS Brunch runs every second Sunday of the month (the next one is September 8) from 12 – 3 pm and is priced at RM160 per person.
Check out UR Spa at The RuMa Hotel & Residences here and also some items from the ATAS a la carte menu here.