Tropical Colada KL
Words: Monica Tindall    Photos: Rich Callahan
Those wanting to get a taste of Le Petit Chef but who don't want to pay the price will welcome the next best thing, Tropical Colada at TREC KL. The 3D projection mapping dining experience that has wowed diners across the globe is now available in a short form, which also means a smaller dent in the wallet. What's more? There's a kid-friendly version too! The younger members of the family are guaranteed to get just as much joy as their adult counterparts.
Topical Colada KL is a mini version of the small chef in a cocktail-size bite. The projection experience lasts around five minutes and finishes with a cocktail and conservatively portioned three-course meal. Priced at RM99++ per person (compared to RM299 for the three-course Le Petit Chef 90-minute experience), it's quite a reasonable amount to get a taste and peek into one of the most talked-about night outs in KL. Running daily from 6 – 7:30 pm, it's something the younger members of the family can get into too. The menu for children aged six to 12 years of age is priced at RM59++.
As with its sister adventures (Le Petit Chef, Whimsy Malaysia, Dinner in the Sky and Plane in the City), guests are expected to arrive early to Tropical Colada to register and ensure they are comfortably ready for the reserved start time. With multiple sessions playing across the evening and food and drinks timed together with the show, there is no waiting for late arrivals. Be warned: with construction on Jalan Tun Razak, traffic in this area can be painful, so plan ahead!
Welcome Drink at Tropical Colada KL
The show begins with an elaborate story of Le Petit Chef on vacation shaking up a tropical beverage. From picking the coconut to pressing the pineapple juice and even chasing away a cheeky monkey, the little bartender prepares a Pina Colada from scratch. As the five-minute 3D projection winds up, the very real bartender hands us our drinks. Photo session complete we're guided back to our table.
Tropical Colada Menu
Seated again, the show continues with the smoking arrival of Scallop Cornetto. Mini cones hold scallop tartare, smoked herring, cucumber brunoise and crème Fraiche. Avruga caviar finishes off these ocean-inspired canapes with a salty nip.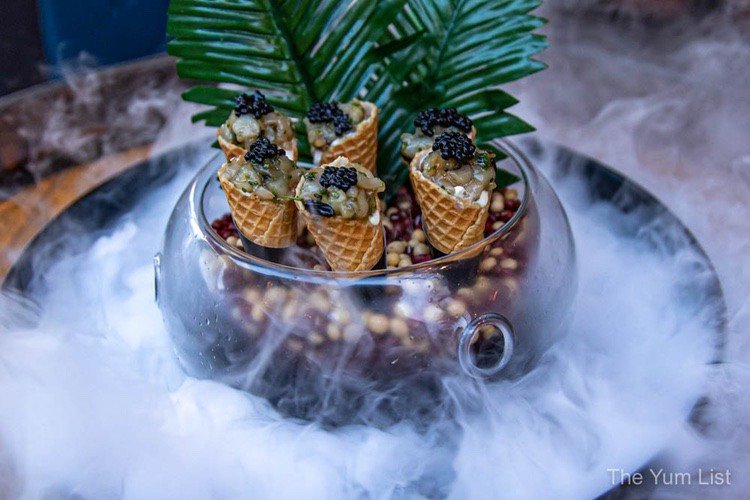 The kids' menu begins with Lobster Minestrone Soup. Maine lobster broth with garden vegetables and basil toast is a pretty fancy start for a child's meal I think. It's a chunky soup, full of veggies and a few decently sized pieces of lobster.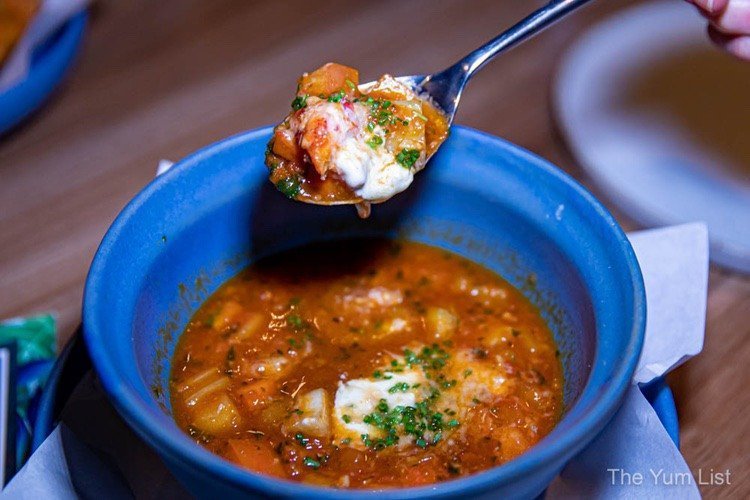 Next, Beef Haché comes as the standard main for Tropical Colada, but those who prefer not to eat red meat can have chicken instead (vegetarian is also available, but you do need to order in advance). The French-style bunless hamburger features chopped steak, wagyu tongue, kizami wasabi, potato puree and beef jus. It's tasty and both hubby and Rich polish it off, even scraping up the sauce to clean the plate. The chicken alternative offers a Korean twist with a kimchi slider topped off with melted cheese on a brioche bun. "Slider" though, is a little misleading. I'd class it more as a small burger. Both the beef and the poultry are certainly enough to fill my stomach as the main meal.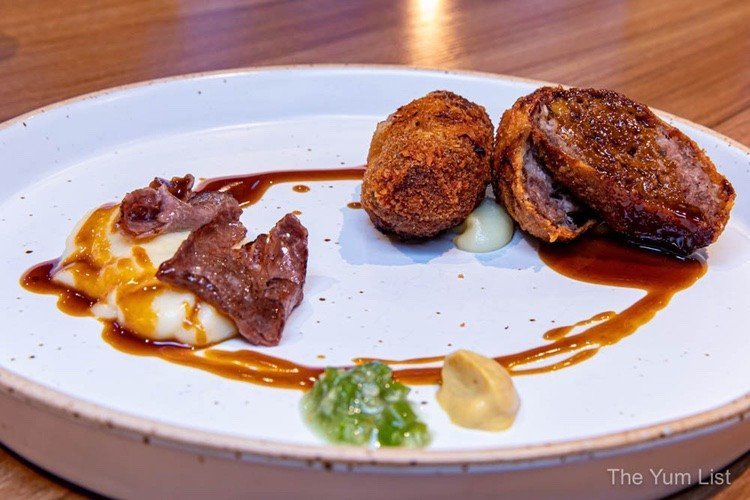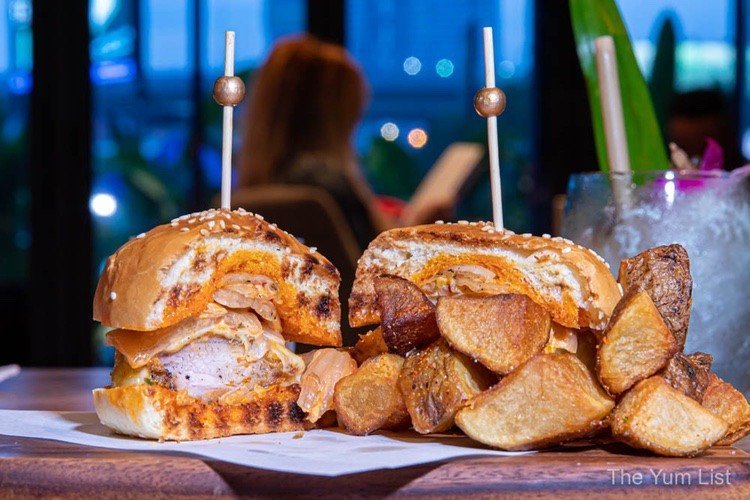 Battered Cod Fish is the children's meal, and it's a decent serving with three pieces of deep-fried Atlantic cod served with homemade wedges and tartare sauce. It's another well-executed recipe with moist, flaky fish encased by a crispy batter. Wedges are fat and chunky, and that tartare sauce is a great compliment.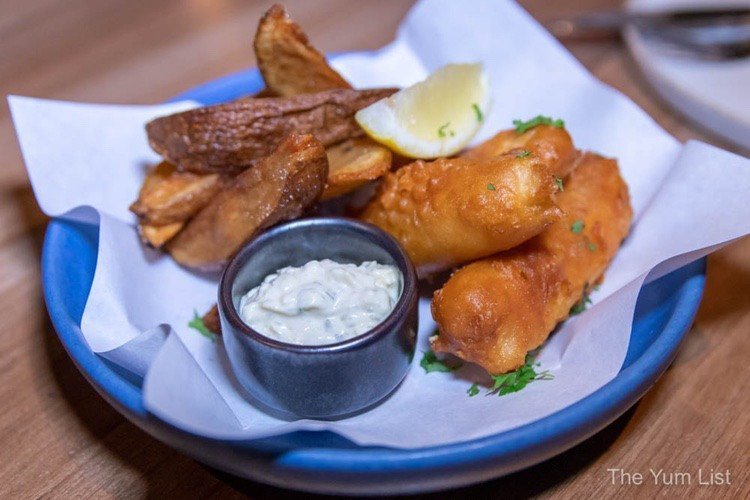 Dessert
Chilled Lemon Rose Meringue Tart is of just the right dimensions to end the Tropical Colada experience. A dreamy lemon curd centre is topped by rose meringue and a dehydrated raspberry. Cubes of rose jelly and a single green leaf finish off the plating along with a raspberry powder stripe. Very good.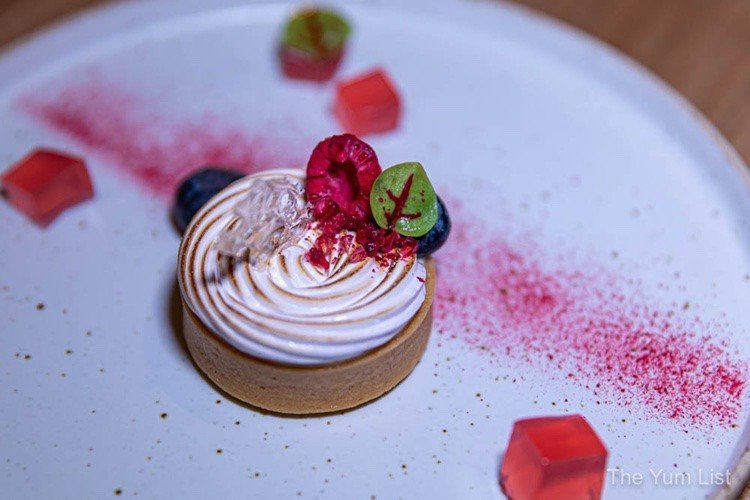 The children's sweet ending is one of comfort (and one which soon brings hubby's mmms and aaahs along with an approving childhood grin). Apple Strudel is the classic recipe simply companied by cinnamon ice cream.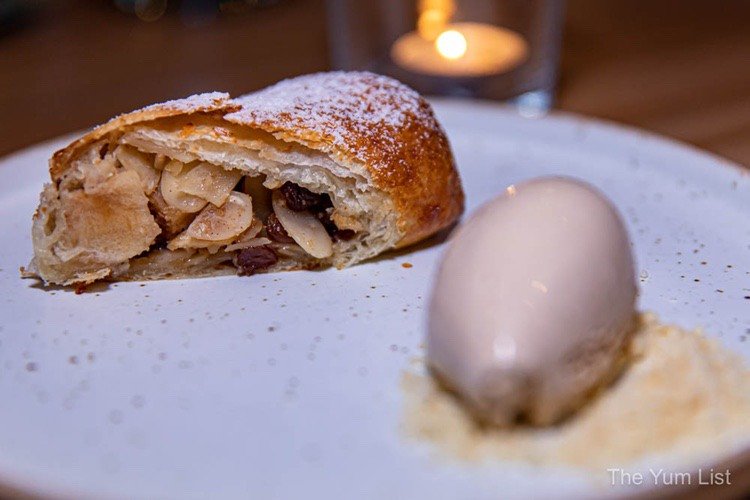 Tropical Colada Price
The Tropical Colada experience is priced at RM99++ per person inclusive of one cocktail, two savoury plates and a dessert. The menu for children aged six to 12-years old is priced at RM59++ per child.
Tropical Colada Review
If you have been curious about Le Petit Chef but have been reluctant to fork out the big bucks to try it, Tropical Colada provides a look at the action without the hefty price tag. It's a fun experience, and the food is more than enough to fill my stomach. It would make a fun date night, a cool experience to share with a group of friends, or even a special treat for younger members of the family.
Reasons to visit Tropical Colada: a quick look at a 3D projection mapping experience without the expense of a full meal; there's a kids' menu available too so the little ones can get in on the action; a fun, casual date night!
Tropical Colada
Elements KL Sdn Bhd
Hive, Unit H-G-11, Trec, 438,
Jalan Tun Razak, Kuala Lumpur
+603 2282 6413
[email protected]
www.facebook.com/ElementsKL
There are eight sessions of Tropical Colada daily running between 6 pm and 7:30 pm. The show runs for five minutes and can accommodate up to 10 people at a time.
Find more dining experiences in Kuala Lumpur well-suited to special occasions here.