Vinoble – Premium Wine Bar
Words: Patricia Podorsek    Photos: Monica Tindall
The rash of cocktail bars and speakeasies that have opened up in KL in the past five years have been a boon for lovers of interesting and unique cocktails. But what about lovers of great wine? It's easy to find a good wine selection at a fine dining restaurant, but if you just want to head out with some friends over a couple of nice bottles, it's not always as straightforward.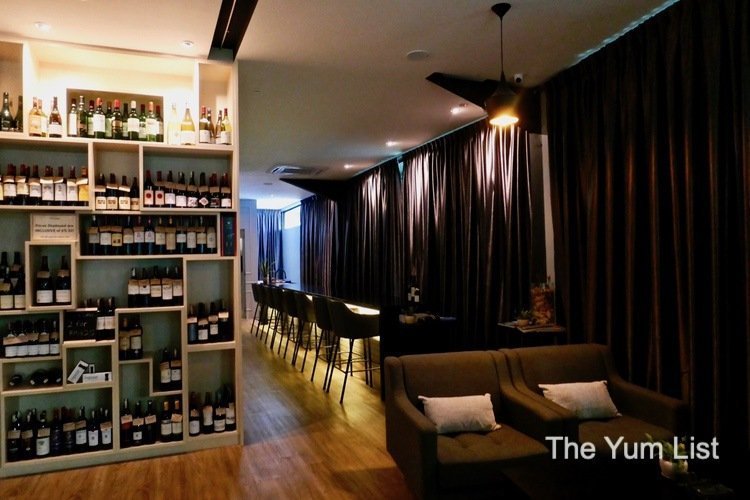 Vinoble Retail Tasting Bar
Recognizing this need, certified wine specialist Danny Tai recently opened Vinoble, "A private and exquisite place to enjoy wines." Located in a refurbished warehouse in Petaling Jaya, chic lines and elegant decor outfit this intimate space for an evening of wine tasting and laughter among friends.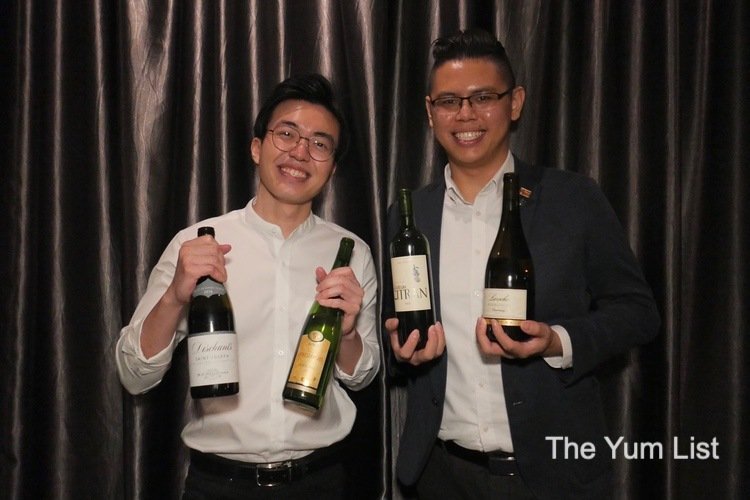 Vinoble's selection of wines hails mainly from France, with a few international stowaways thrown into the mix. Bottles of white, red, rose, and bubbly line the shelves near the entrance, available for purchase or to drink in-house. For those on a more modest budget, plenty of options exist in the RM80 – RM300 range. For those looking for a splurge, a premium selection offers bottles up to RM5000! But for dabblers like us, the opportunity to experience several of the enticements on the shelves can be delivered in flights: RM80 for a flight of whites, and RM95 for a flight of reds. We are happy to accept Danny's recommendations.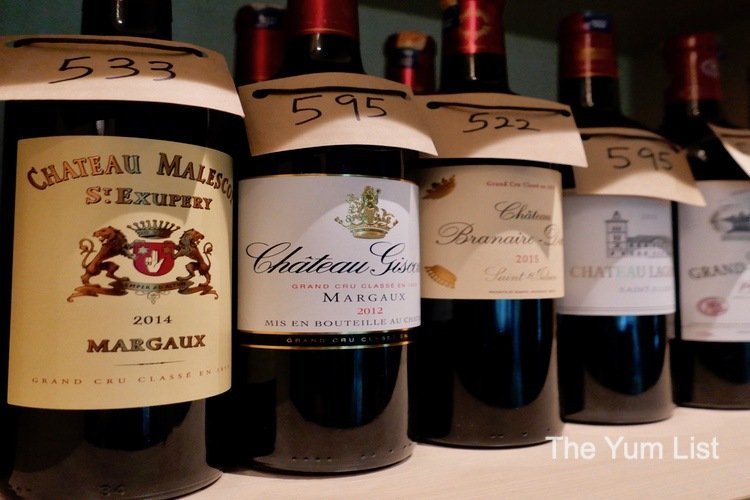 Flight of Whites
Settling into the comfy stools, we admire the set of bottles that await us. Danny has pulled for us three French whites. First, we sample a 2017 Alsatian Riesling by Willy Gisselbrecht. Not nearly as sweet as its German counterparts, we find it citrusy and mineral crisp with aromas of grapefruit. The second, the 2017 Laroche Bourgogne Chardonnay, offers greater density and complex aromas both fruity and floral. The last, a 2015 sauvignon blanc and Semillon blend typical of a white Bordeaux, leaves the fruits in the background and ripens into flavours of stone and minerals.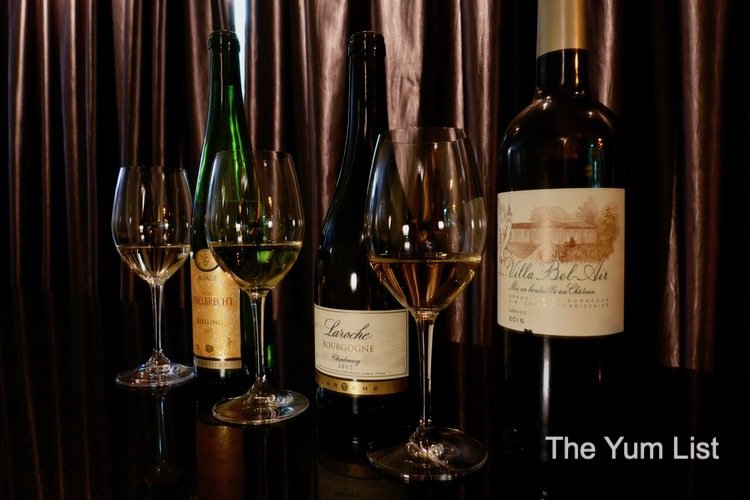 Cheese Platter
Such distinct-tasting whites make for exciting pairings with the variety of cheeses that arrive to accompany the wine. Each is available on its own, or friends might share a Platter of Four (RM99). All are on the milder side of their varieties, enough to avoid overshadowing the nuances in the wine. Monica immediately reaches for the tantalizing stripe of truffles in the Brie. I love the nuttiness of the Comte and can never say no to the salty finish of a nice Roquefort. A crumbly Grana Padano rounds out the board.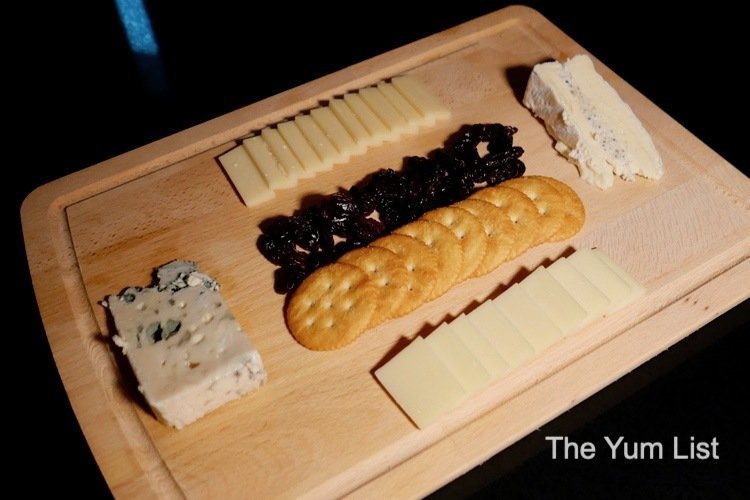 Flight of Reds
After plenty of breathing time, we are ready to move on to the reds at Vinoble. On the lighter side, we start with a lovely pinot noir from Burgundy. The 2017 Joseph Drouhin Rully begins with an inviting aroma and mellows into a very drinkable wine with notes of cherry and young raspberry. Next, we try a 2015 Haut-Medoc from Bordeaux bottled by Chateau Citran. Here a blend of cabernet and merlot blossoms with scents of blackberries and settles into a soft tannic finish. My favourite so far is the third, a 2016 Syrah from the Rhone Valley, whose garnet tones belie red fruit flavours that drop into liquorice and spice.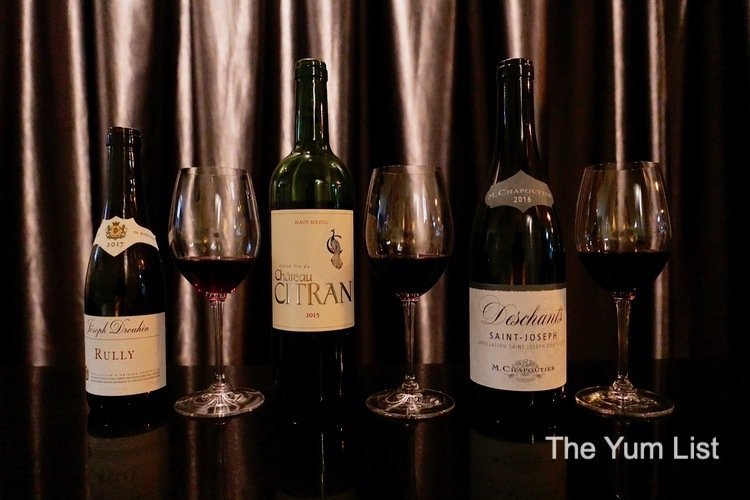 Charcuterie Plate
To further complement the wines at Vinoble, we enjoy a platter of several cold cuts, each of which may be bought individually or as a Platter of Four (RM99). Thinly sliced, we appreciate the richness of two hams, Jamon Serrano and Iberico Paleta, as well the dried beef of Cecina. My preferred is the spicy Iberico chorizo, whose pepper matches the spice in the syrah.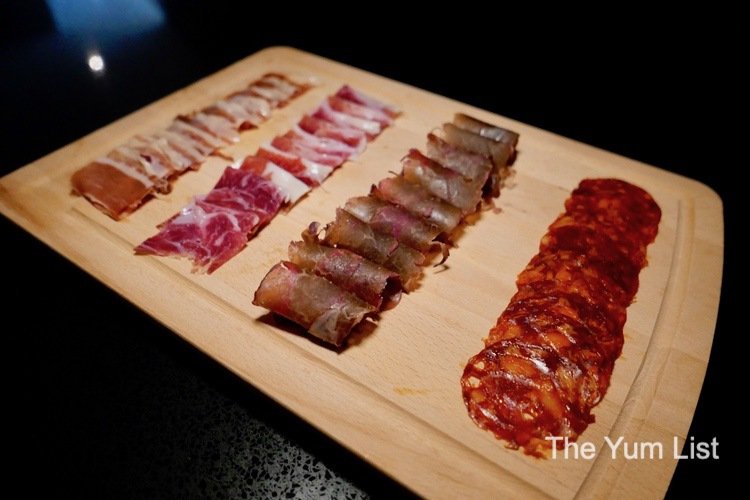 East Meets West
The evening is definitely warming up. Assisting Danny in loosening our laughter is sommelier Ken, who also dabbles in a little cooking on the side. He shares with us a taste – but not the recipe – of his Iberico Char Siu (RM55). Though the name may start with a suggestion of Spain, this pork belly classic is firmly rooted in SE Asia and delivers the crisp edges and tender interior we've come to expect from the region's speciality. I try hard to get him to tell me more about the sauce and the preparation, but he stands firm on his trade secrets! I don't really mind – a little mystery fuels the imagination! We pair it with a glass of the evening's house pour, a Californian chardonnay by J. Lohr whose fruity notes blend nicely with the sweetness of the sauce. Guests can enjoy a glass of house wine for RM20/30, depending on the variety.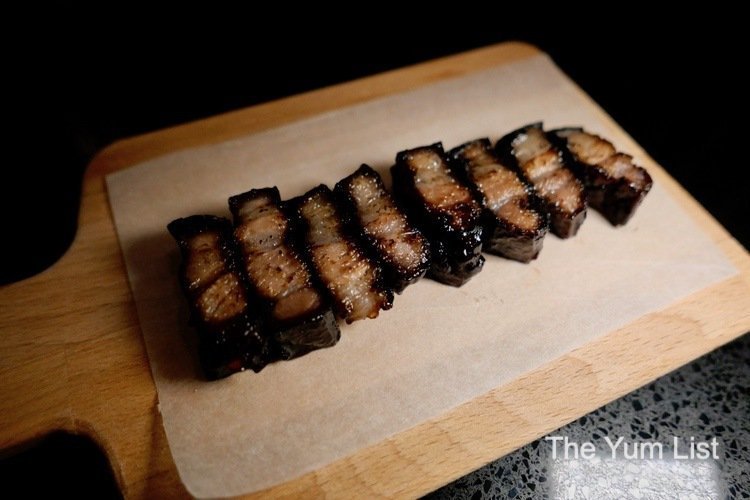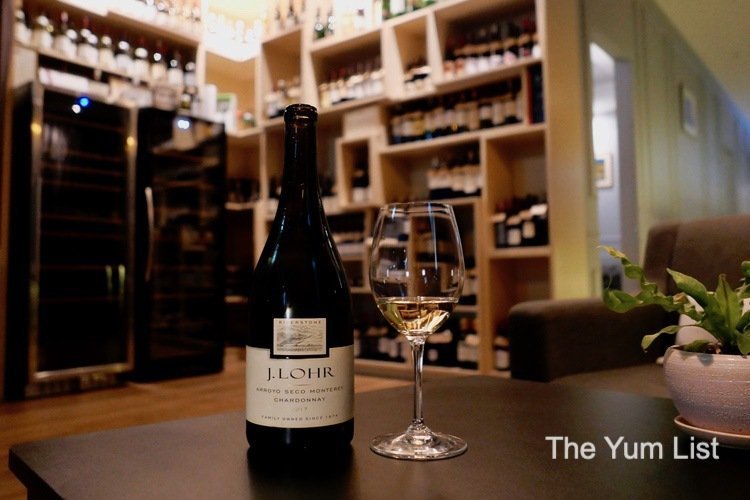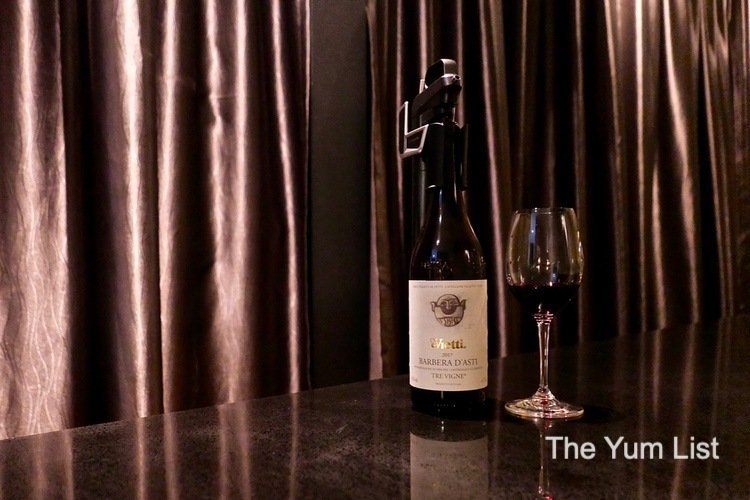 Additional Snacks at Vinoble
Other options for food at Vinoable can be arranged via delivery from the nearby Tavern 13. Addictive bitings like Popcorn Chicken (RM16) and Crispy Chicken Skin (RM16) make tasty snacks. Larger items like the Beef Pepperoni Pizza (RM25) and Grilled Lamb Burger (RM28) can make more of a meal.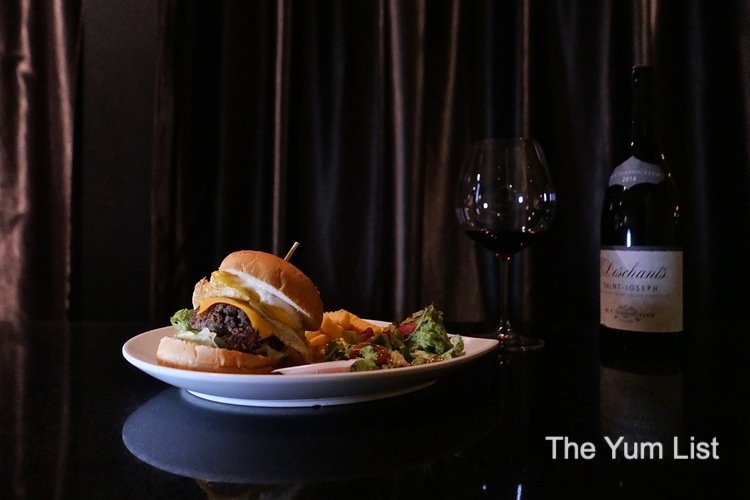 Vinoble Review
Undeterred by the intimate nature of the space, Vinoble is a place that can cater to several different parties. We chose to sit at the tasting bar, deep with room for snacks and decanters, but three private rooms are ready for groups of four or more. The wine menu spans pages and pages of options, and a selection of cigars is available for those who like to smoke. In addition to the casual nature of our tasting visit, Vinoble also sponsors special wine-tasting events.
I can speak highly of this wine-style speakeasy. With its intimate setting and welcoming style, Vinoble is a lovely spot for drinking great wines with friends.
Reasons to visit Vinoable: Tap into an extensive selection of mostly French wines in a classy yet comfortable setting; the Coravin system allows guests to taste fine wine by the glass without the expense of the entire bottle.
Vinoble Retail Tasting Bar
Lot E, Wisma South Engineers No8
Jalan 13/2, Seksyen 13
46200 Petaling Jaya, Selangor
+6 012 389 9728
www.facebook.com/VinobleMY
Vinoble Opening Hours
Monday – Saturday, 3:00 p.m. to 12:00 a.m.
Reservations are not required.