Tickets Bar KL
Words: Kirsten Durward   Photos: Rich Callahan
Recently renovated, Republik in Damansara Heights is creating a buzz. With lots of playful and eclectic venues opening, this an ideal destination for an evening out. The most playful of them all though is Tickets Bar KL. This theatre concept bar, a PS150 production, is currently 'featuring Maguey – a creative expression of Agave based spirits'. Inspired by the founder's travels, the theme will constantly change. So make sure you catch this unique attraction in the next two months or so before a 'New Release' arrives.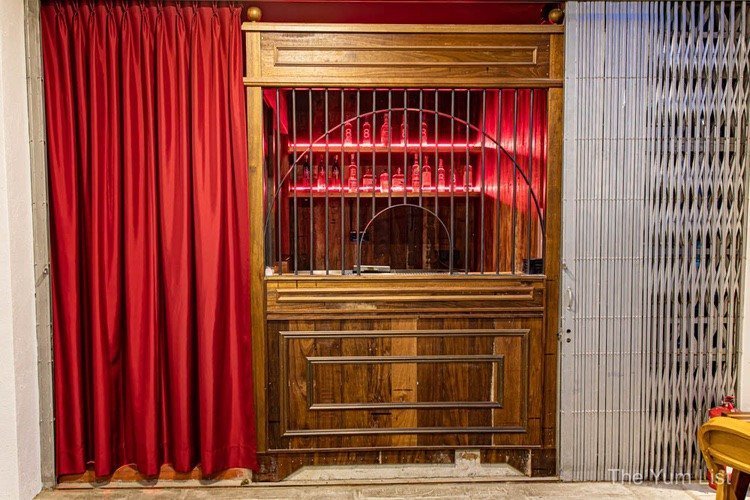 Tickets Bar KL, The Republik Damansara Heights
Excited for what is to come at Tickets Bar KL, we part the curtains at the entrance. The 'attendant' passes up our 'programme', and we follow the glimmering candles through the stalls and enter the main performance area. The performance, of course, being the skill of the bartenders as they shake and stir. Agave is not the only spirit on view. With decor themed around, 'Dia de Los Muertos' – Calaveras (sugar skulls), oversized marigolds and full bottles of mezcal hanging from the ceiling – all add to the flavour of a colourful Mexican bar.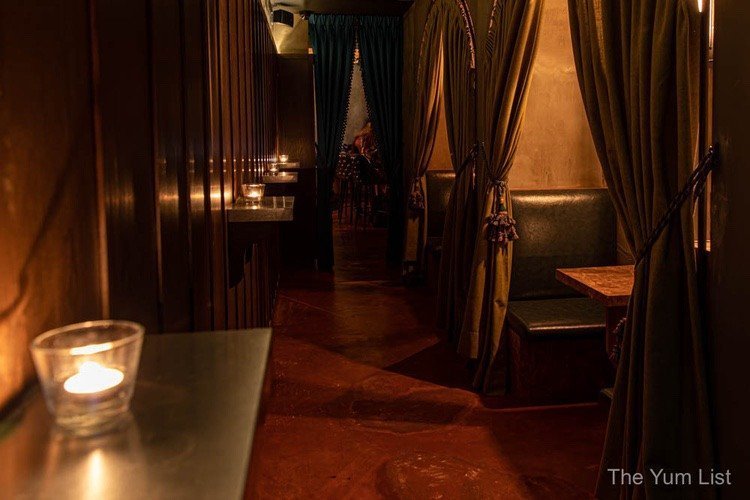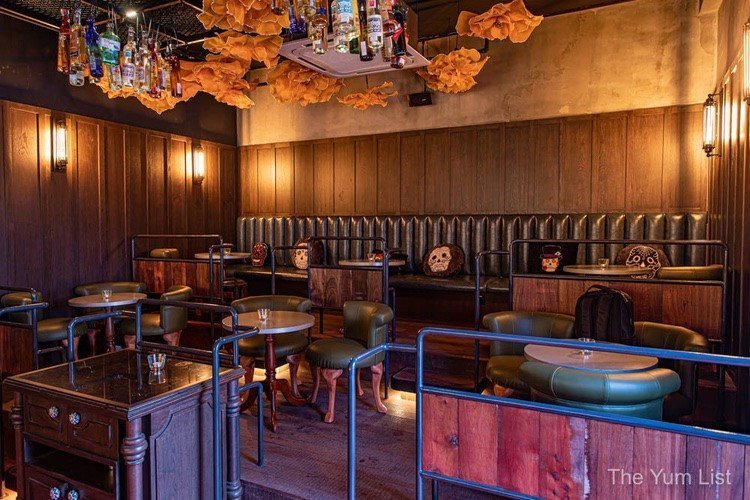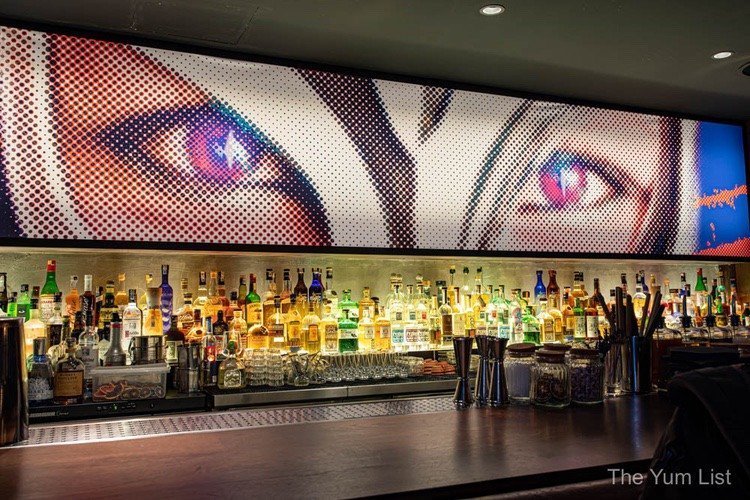 Tequila Bar Kuala Lumpur
We are at the bar – 'Best seats in the house!' The bar takes centre stage. A pair of giant red eyes glare at me. In keeping with the theme, this hooded stare is from professional Mexican wrestler (or luchador as they'd say in Mexico) Lucha Libre. Our host James is a fountain of information on cocktail history generally but is particularly passionate about agave. As he introduces us to this 'misunderstood spirit', we learn a little mythology. In ancient times a lightning bolt struck an agave plant which fermented in the heat. On tasting the nectar, the Mayans proclaimed that the gods had blessed them. The fermented juice, known as 'pulque,' was further refined when the Spanish arrived with distillation methods and 'vino de mezcal' was born.
Agave-Based Drinks
While mezcal is the grandfather of the agave spirits, it can be made from any of 300 varieties of this succulent. Tequila is only made from blue agave. And, the headaches we have experienced in the past? These are due to drinking 'mixto', only 51% of the original and the rest 'just rubbish'. Today we are to taste only 100% pure spirits and promised that 'anything gin can do, agave can do better. We are unsure, but willing to learn.
Paloma
Our First Act at Tickets Bar KL hails from the Modern Classics section of the programme, as we are enticed to begin with a 'gateway drink'. Paloma (RM 40) opens the show. It's built layer by careful layer as we watch over the bar. Ocho Blanco Tequila lays the foundation, then freshly squeezed lime, cascades of ice and finally the gentle fizz of East Imperial Grapefruit soda. Finished with a slender dehydrated grapefruit slice, Paloma is easy sipping. The light grapefruit tingles then comes a subtle alcoholic kick. This creation, credited to Don Javier of La Capilla Bar, translates in English as 'The Dove.' As an entry-level drink for anyone new to tequila as a base, we give her a round of applause.
Pushin' up Daisies
The Second Act is a series from the Signatures, Ticket's agave-based twists on classics. Pushin' up Daisies (RM40) is ready for her close-up! Apparently the success of this drink is all down to the shake. James tells us, 'I like to use a hard shake. You need to see the bubbles. That means the drink is laughing. You want to drink it while it's laughing and that only comes from a good hard shake'. And, thankfully, Yum List's paparazzi Rich is quick these days, so we do get to taste her while she is still laughing. Retro pretty and pink, we just sense the base of Espolon Blanco. Elderflower balances out lime and lavender with just a tinge of roundness from a Creme de Violette and floating blueberries.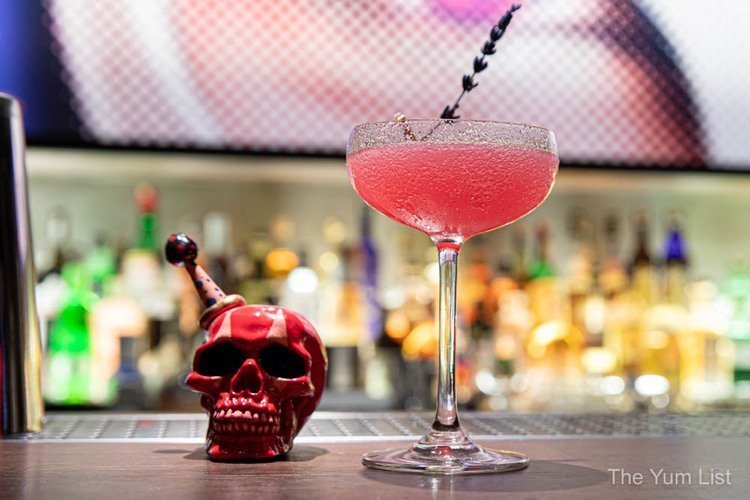 Mezcal Fix
As we move through the performance, we learn that there is a whole 'forgotten category of cocktails', those made with pineapple syrup, known as 'fixes'. Here, a whole pineapple is roasted for three hours, then blended with Demerara sugar and Cynar (an artichoke bitter). Add some smoky Meteoro Joven Mezcal and finish with a lick of salt and you have Ticket Bar KL's signature Mezcal Fix (RM 50). Served in a champagne flute, with its foamy head and smoky depths, I can tell you this is a very sexy drink.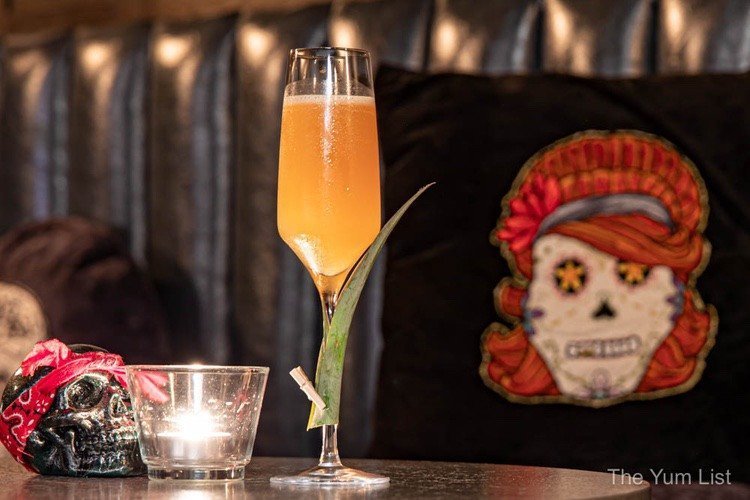 Rags to Riches
Fat-washed drinks seem to be a trend in the city. Rags to Riches (RM55) heralds hazelnut butter fat wash Herradura Reposado Meteoro Joven blended with agave nectar and Angostura bitters. The salty, nutty undertones are distinct.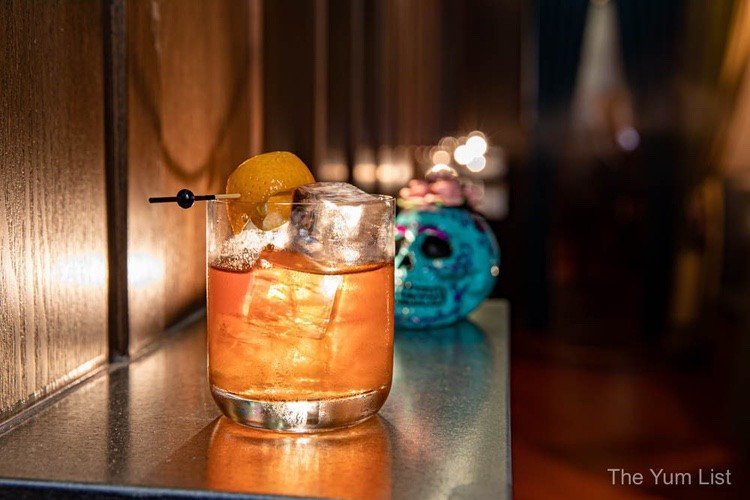 Salty Amigo
Justin, the head barman creates the next temptation, which hails from the Supporting Acts of the 'Sans Agave' selection. A Mexican Homage to a PS150 original, the Salty Amigo (RM 40) is a twist on the popular Salty Chinaman. I have to admit this is the star of the show for me. The combination of Stolichnaya, lime and Regan's orange bitter lemonade might not have leapt off the programme for me, but it leapt right into the sweet spot on my taste buds. The secret surprise is the drifting pieces of asam-flavoured dehydrated orange peel. Like a salty kiss in the sea, I would come back for more. Monica reaches for the glass, I tell her, 'Take a ticket. Get in line.'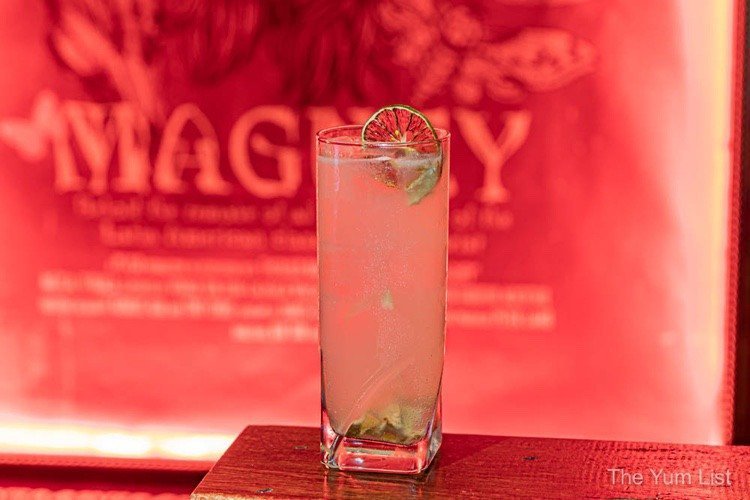 Palate Cleansers
Before we embark on our Ocho flight at Tickets Bar KL, we cleanse our palates with style. Salt and lime is the classic used by distillers when working to test the flavour of what they are producing. Here we are served up two rather elegant expressions. The green concoction, verdita, is pureed cilantro, mint and sea salt with the balancing notes of pineapple and jalapeño chilli. Sangrita or 'little blood' is a spicy mix of tomato, orange, pomegranate, black pepper, sea salt and hot sauce, which we think would be fabulous as a signature 'Sangria de Maria.'
Ocho Tequila Flight
And now it is time for pure agave spirit in a flight of three tequilas (small RM50, a little more RM90). The line of glasses may give flashback memories to student days, but make no mistake, this is much more sophisticated liquor. James promises it will leave no trace of a hangover – let's see! We taste three expressions from the single estate and vintage tequila producer, Ocho. This just happens to be the same place where James learned about distillation and production by tagging along on family trips with his uncle. Just like wine, seasoned tequila tasters rate the drink by appearance, nose and palate. The youthful Ocho Blanco, Las Presas 2018 is an easy calm sip, without the throat burning sensation I remember from earlier days. Ocho Reposado, Las Presas is a little stronger, with saltier notes, once again reminding me of the sea. And, Ocho Añejo, La Latilla, is the more mature with a lot of stronger depth in the palate.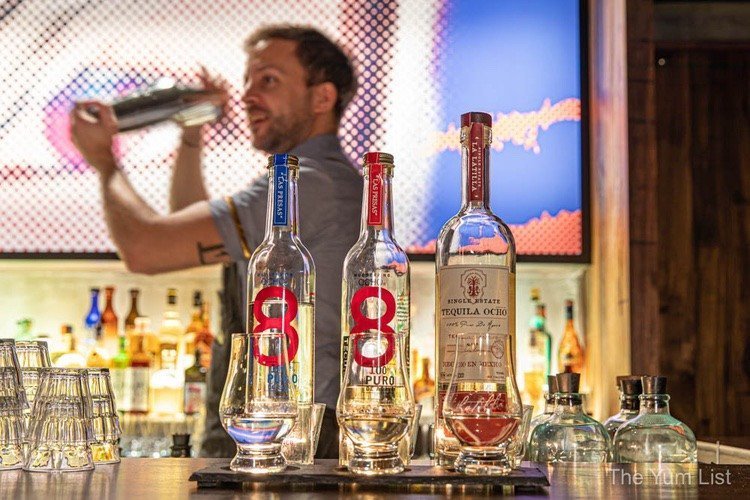 Tommy's Margarita
We could happily have closed the show here at Tickets Bar KL, but we are offered a curtain call. After asking our taste preferences, James and Justin whip up the famed Tommy's Margarita (RM45) created by Julio Bermejo the day he ran out of triple sec and replaced it with agave nectar. Made with Ocho Blanco, and a boost of lime, this fresh drink has a rounded full body taste, which is pleasantly more-ish. Another one for a Sunday afternoon.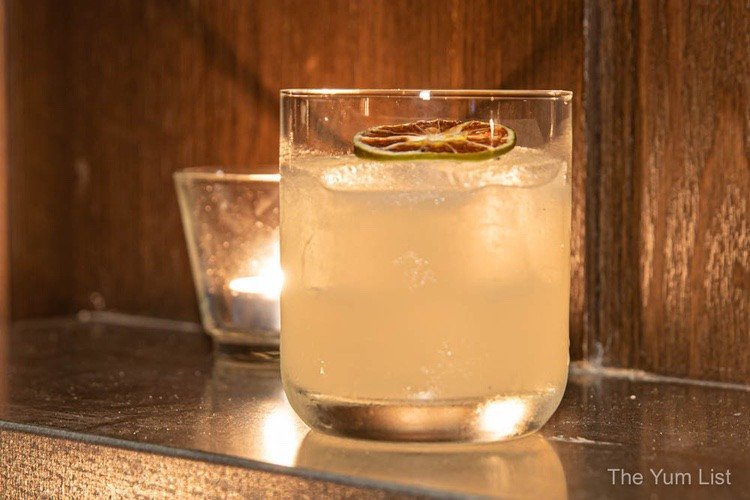 The Jimenez
Our omakase (off-menu) drink is The Jimenez (RM50), a tribute to the classic Martinez cocktail (gin based) or the 'Red Hook' cocktail (whiskey-based). Here James based the drink on mezcal and named it in honour of the Jimadores, the workers in the fields. This is perfect for 'spirit-forward' preferences; apparently, that is people who like to taste the alcohol in their glass just like us! Meteoro Joven Mezcal tangles with Mancino Rosso Vermouth finished with Maraschino liqueur. Resonating the smoky nuances of mezcal, it is a fine finish to the show.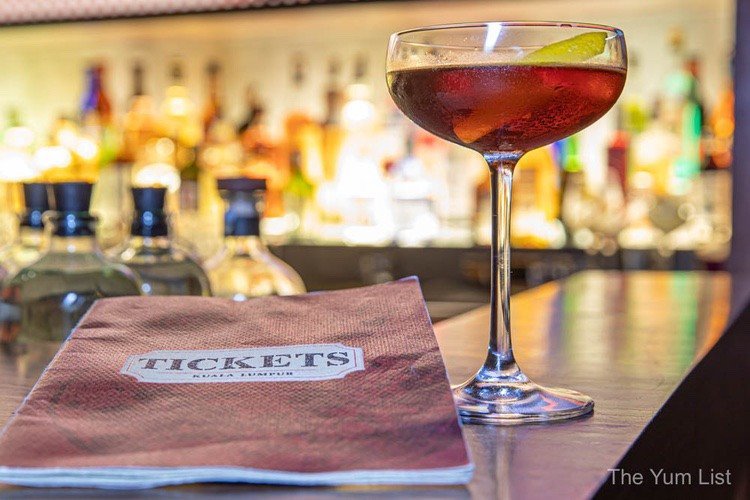 Tickets Bar KL Review
We have been transported to another time and place, and have loved our time as groupies at the Tickets Bar KL. Feeling like requesting an autograph on our programmes, we sadly leave them, and all the star performers behind. Be sure not to miss the Maguey Feature and keep an eye on Ticket Bar KL's Facebook page for what is to come next. We are very sure that any PS 150 production will be worth a visit.
Reasons to visit Tickets Bar KL: a must for both lovers of Tequila and those who are not sure (we guarantee the team here will do their best to turn you into a fan); original setting; authentic and innovative creations served up with a flourish of fun; must try the Paloma and a Tequila flight; no hangover (true story).
Tickets Bar KL
Lot G05, Ground Floor
Republik Damansara Heights
1 Jalan Medan Setia 1
Bukit Damansara
50490 Kuala Lumpur
Malaysia
www.facebook.com/TicketsBarKL
+603 7622 8765
[email protected]
Tickets Bar KL Opening Hours
Tuesday – Saturday: 6 pm – 2 am
Sunday: 6 pm – 1 am
Mondays closed
Find more fun cocktail bars in Kuala Lumpur here.
And, find other concepts by the same creative crew here: Tapestry & Eight Ounce Coffee.