Hai Sang Lou
Monica Tindall
Hai Sang Lou, Avani Sepang Goldcoast Resort's Chinese restaurant, is an excellent option for dim sum and Cantonese cuisine along the Bagan Lalang coast. Situated on the first floor of an over-water entertainment complex, sea views are found from every seat.
We dine in a private room and, besides a roofscape view of the sea villas, we also watch as locals collect bamboo clams in the low tide. Décor is simple with the signature red hues and circular patterns, common signs of prosperity and good luck, the prominent features.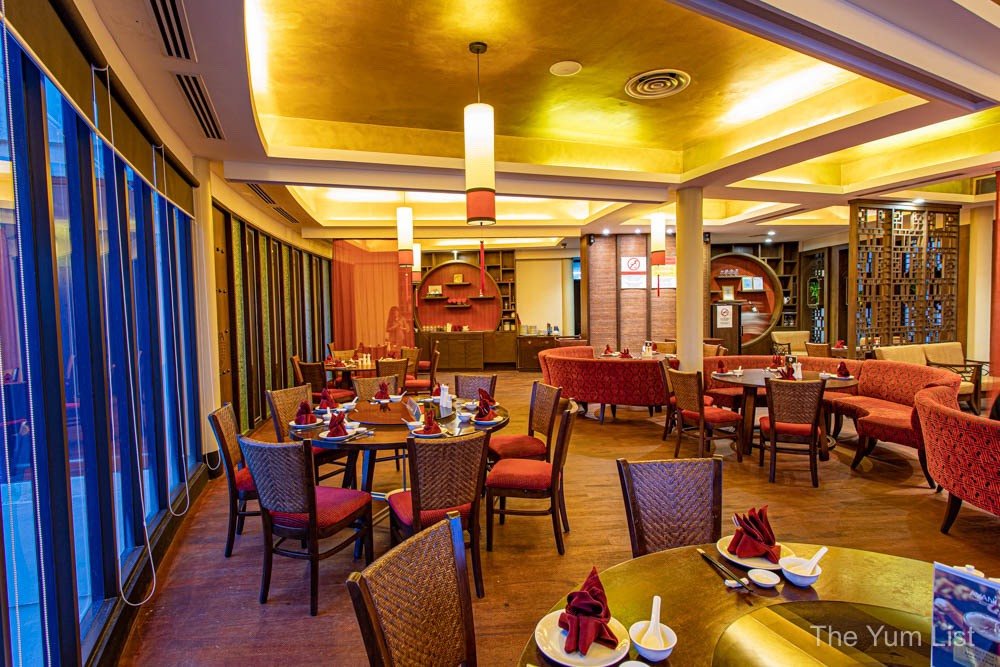 Hai Sang Lou Menu
Dim Sum
Both dim sum and a la carte are available at Hai Sang Lou. Don't leave without trying the dim sum as chef Lam is a master, dedicating many years to perfecting his craft.
We start with individual cups of tea (RM14). A full Japanese camellia flower is brewed in our glass mugs, which makes a pretty shot. Hot water is poured as requested, and we get a good few cups out of a single bloom.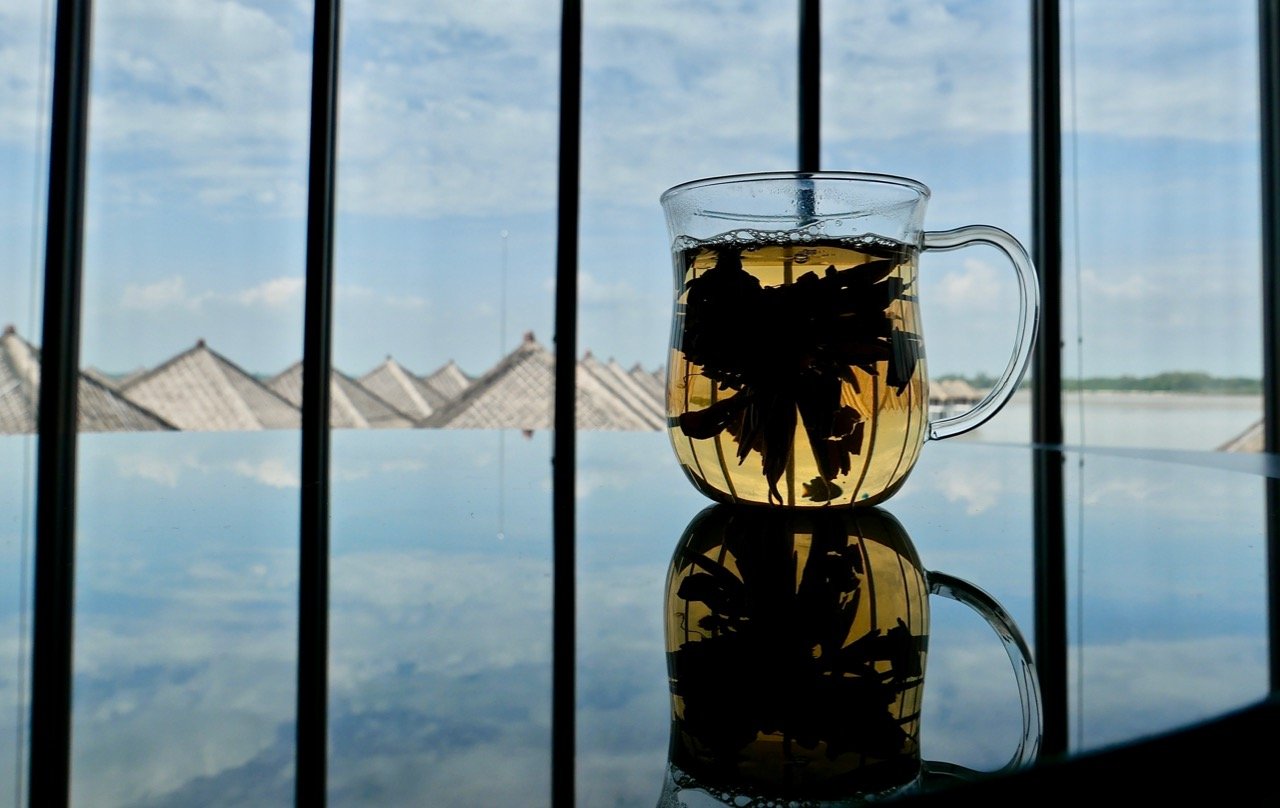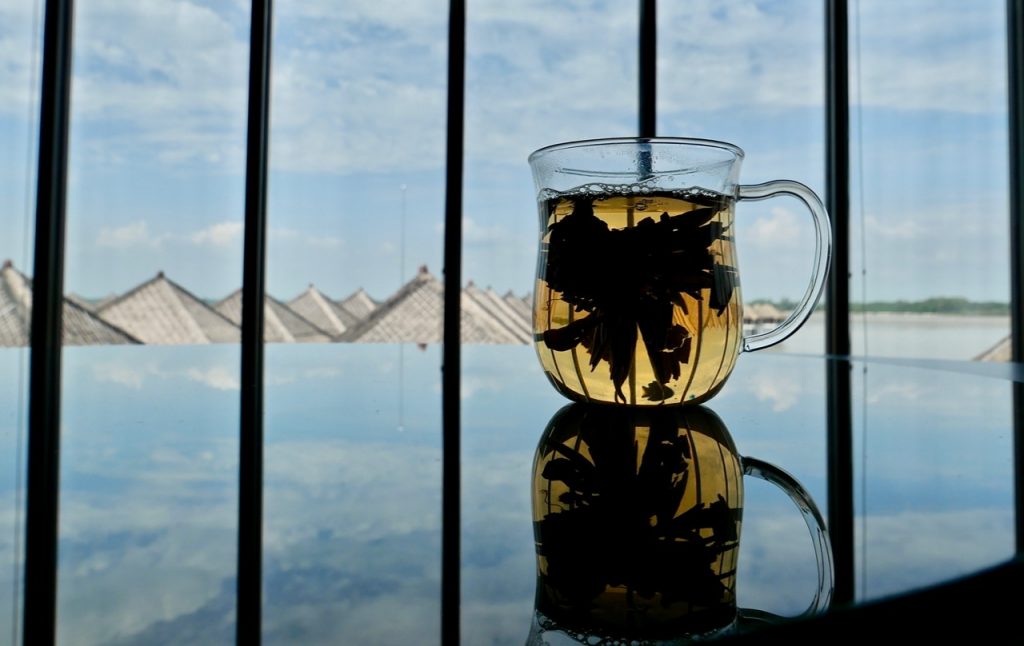 Two classics, Steamed Crystal Prawn Dumpling Har Kao (RM18) and Steamed Siew Mai with minced chicken and prawns (RM16) are a must-order on a dim sum menu. These two items can give an instant indication of the quality of the rest of the meal. The expertise of the chef is clearly evident in both. The har kao skin has just the right amount of stretchiness, making it translucent. It has a bite to it but is not tough, and the shrimp inside is firm and fresh. The second is an open-topped dumpling snuggly wrapped, and balanced in both moistness and texture.
The Steamed Charcoal Mushroom Buns Filled with Custard (RM14) is a wonderful mix of character. The warm moist filling contrasts with the lace-like crispy, woven coat. The Fried Scallion Dumplings with Dried Shrimps and Chicken (RM16) are also a recommended order. They're given a good dose of freshness with the spring onions, and the pastry on the outside is just the right thickness to hold its contents without dampening.
I would have never expected the filling of the Salted Egg Yolk Puff (RM16) with its mushroom-shaped shell. It's currently an off-menu item, but I highly recommend you make a special request. Salted egg yolk fans will be delighted.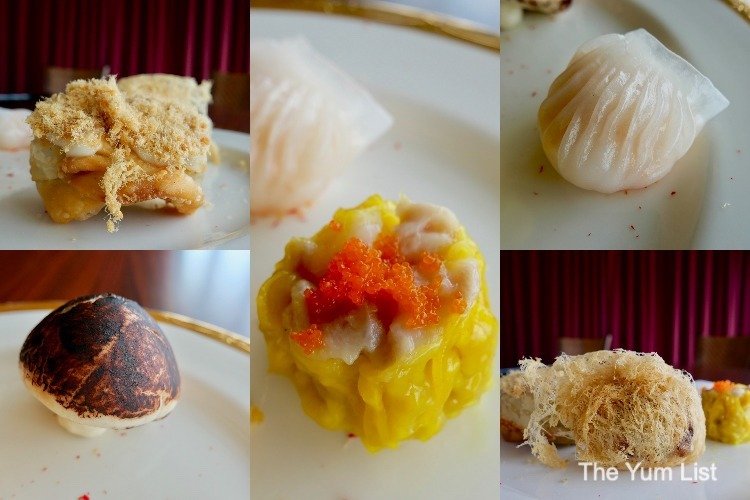 A La Carte
If dining celebrating a special occasion or if you are just looking for something a little different, Chef Keith at Hai Sang Lou is happy to curate a menu just for you. We try a few of his signature off-menu items.
Double Boiled Fish Maw Soup (RM38) is a nourishing recipe; one I'm sure is the equivalent to a western chicken soup recipe in terms of comfort and a remedy for a cold. This broth holds goji berries, chicken, dried scallops, fish maw and black mushrooms.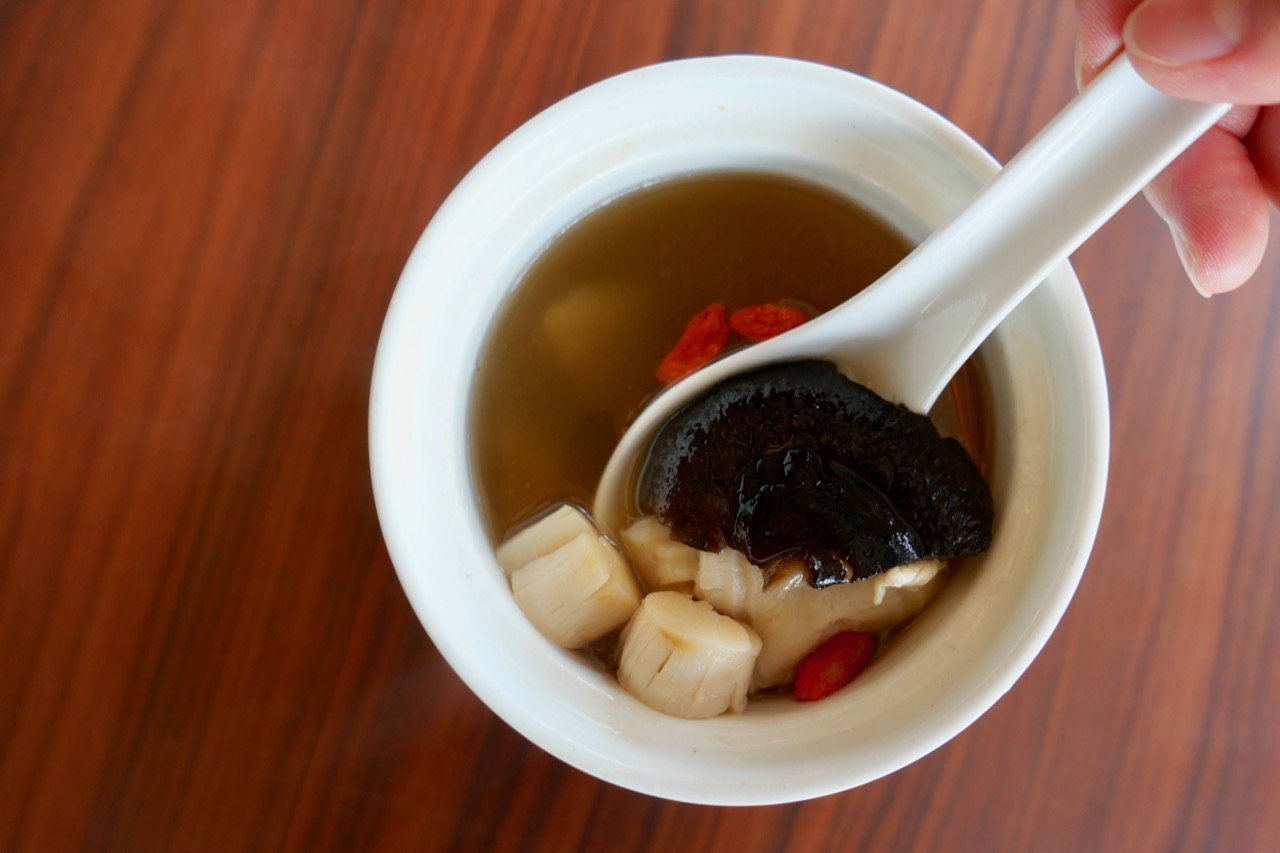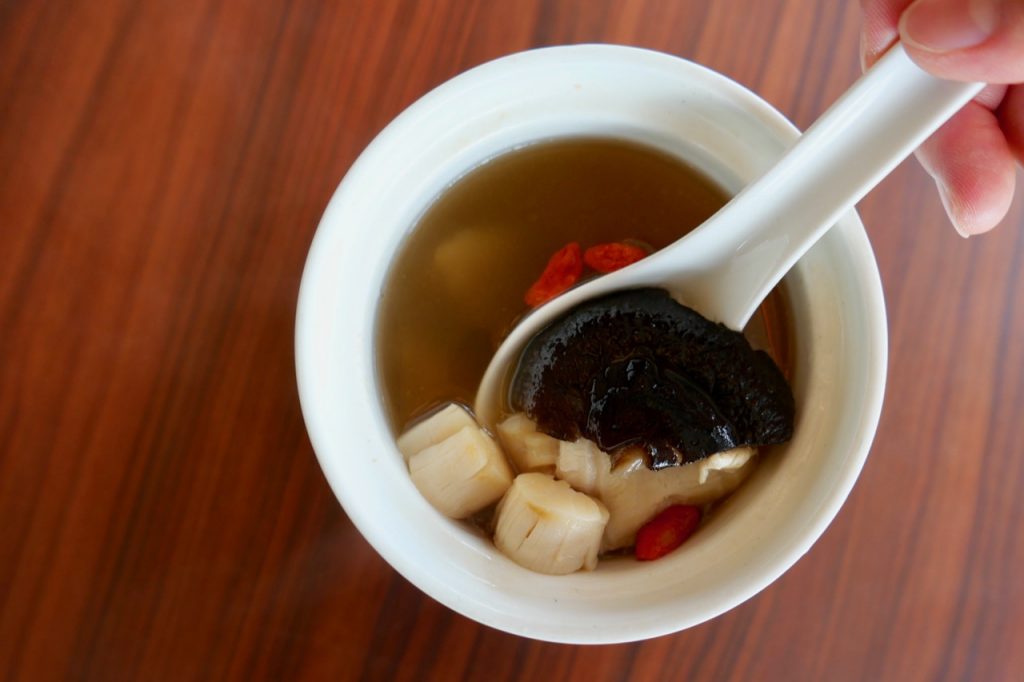 Beef with Barbecue Sauce (RM57) is coated in a sweet sauce of medium viscosity. Cherry tomatoes and onions adorn the dish, but it's a generous portion of mostly meat. I can barely get through a few chopsticks full. Hubby, however, manages to finish off both his own and mine.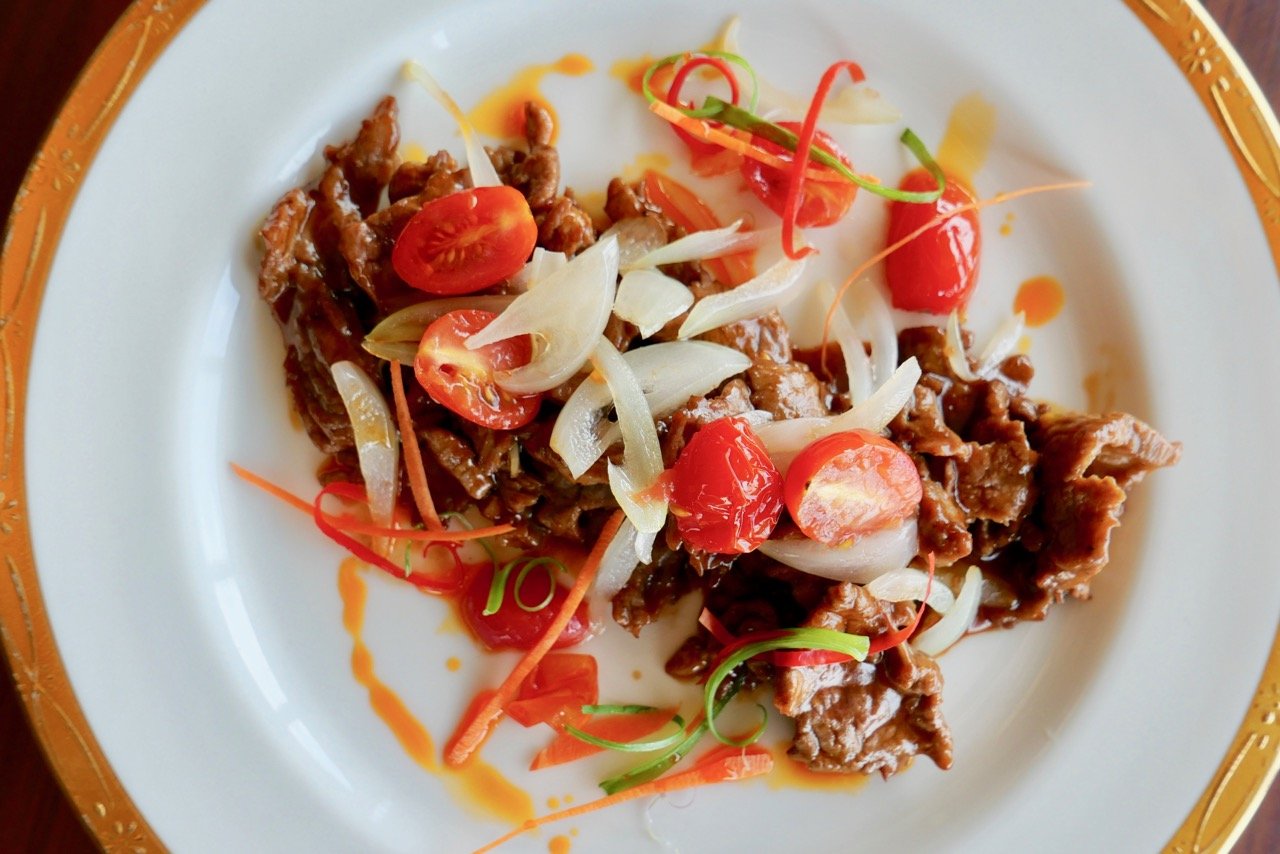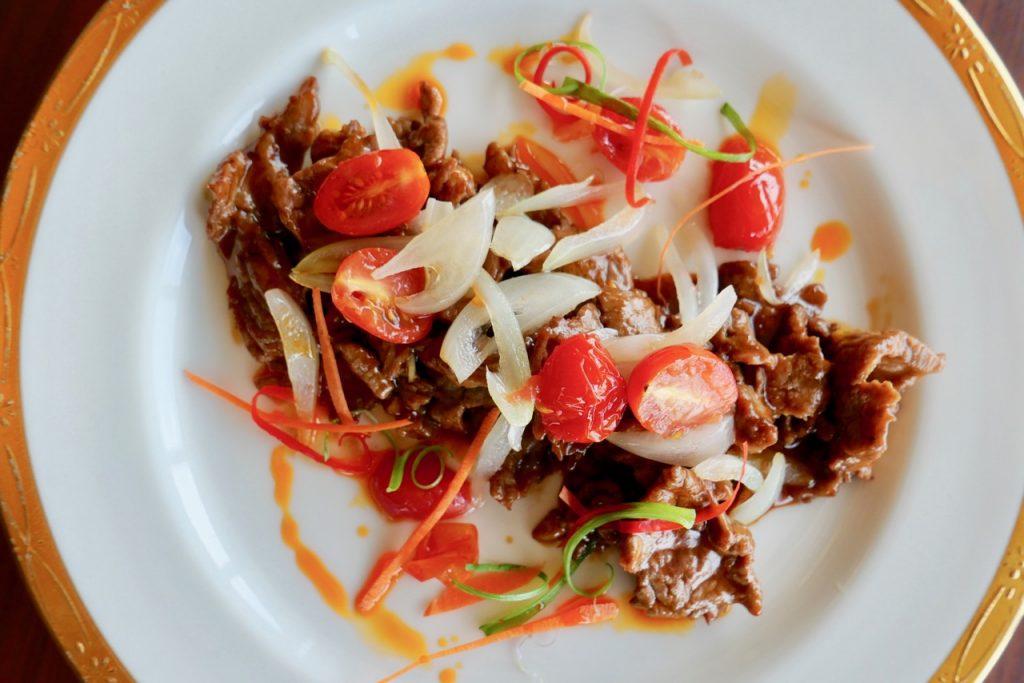 I'm grateful for the abundance of green in the next course, Asparagus with Scallops (RM68). Plentiful stalks of plump asparagus, slices of ginger and a few slices of carrots form a bed for a duo of white, tender molluscs. While hubby was taken by the land, it was the sea that rocked my boat.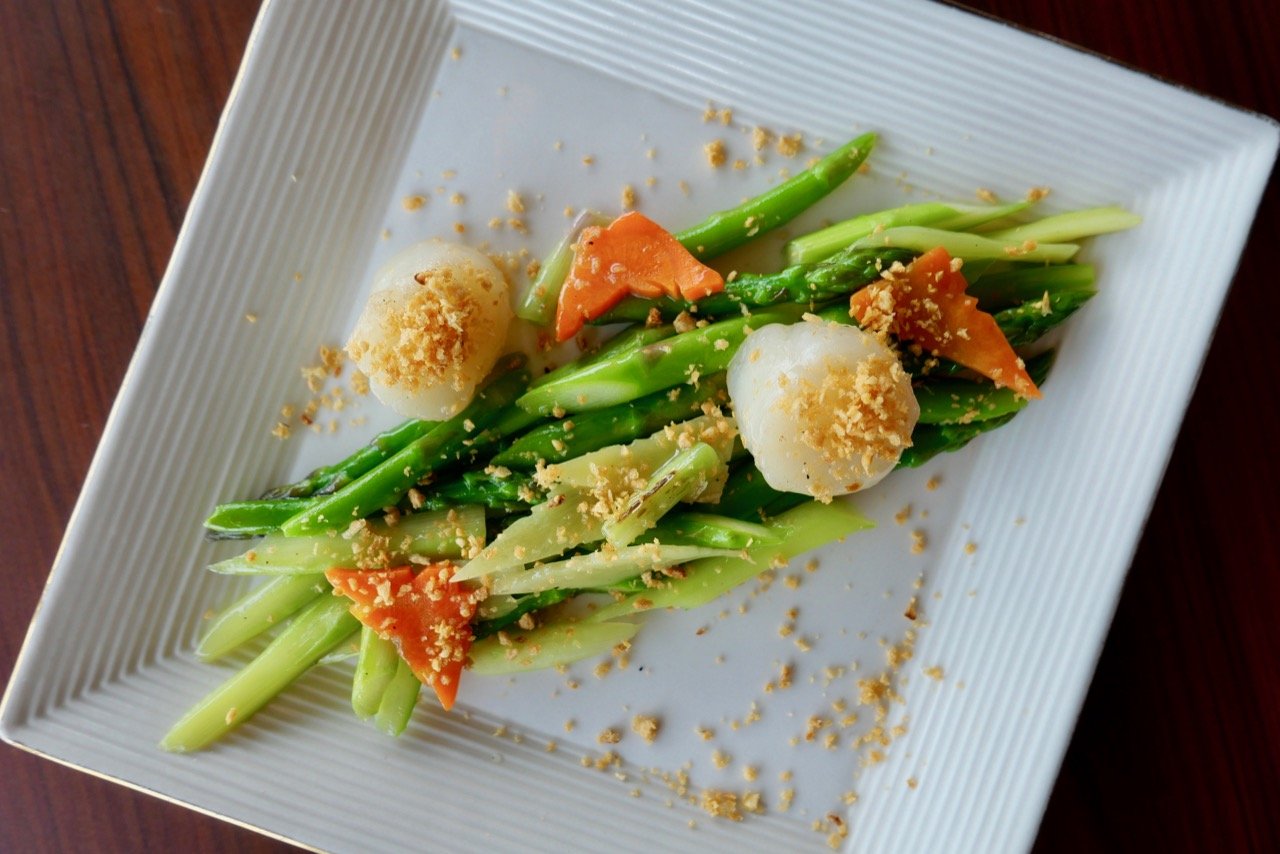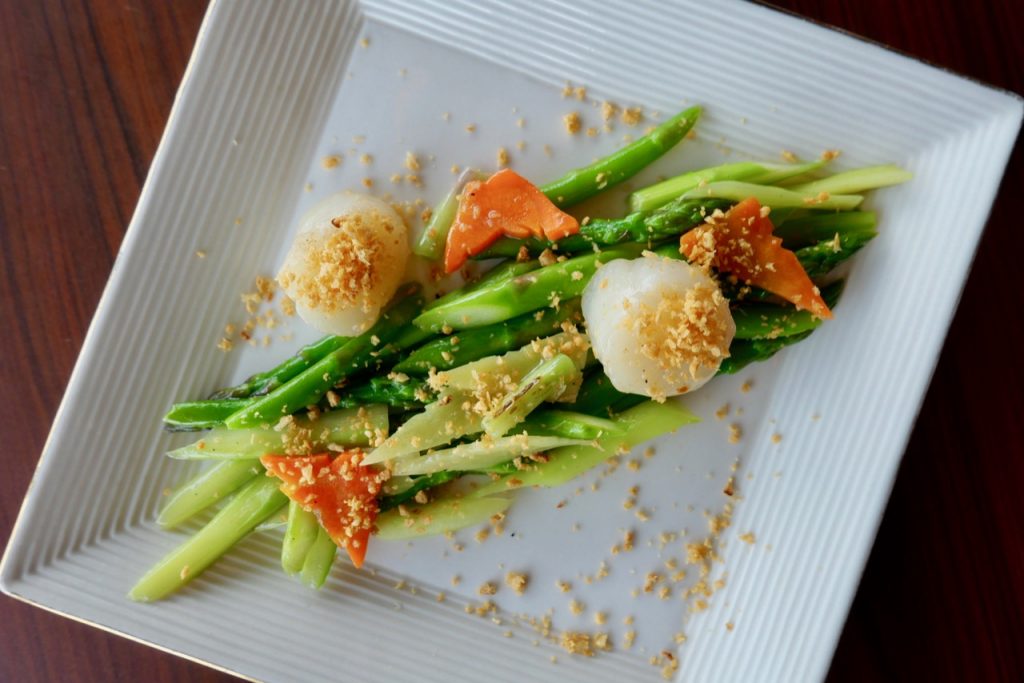 Seafood Fried Rice (RM40) ensures no one leaves hungry. A mound of white rice has been wok-fried together with pieces of shrimp and omelette. It's lightly seasoned and provides an fine segue between the mains and dessert.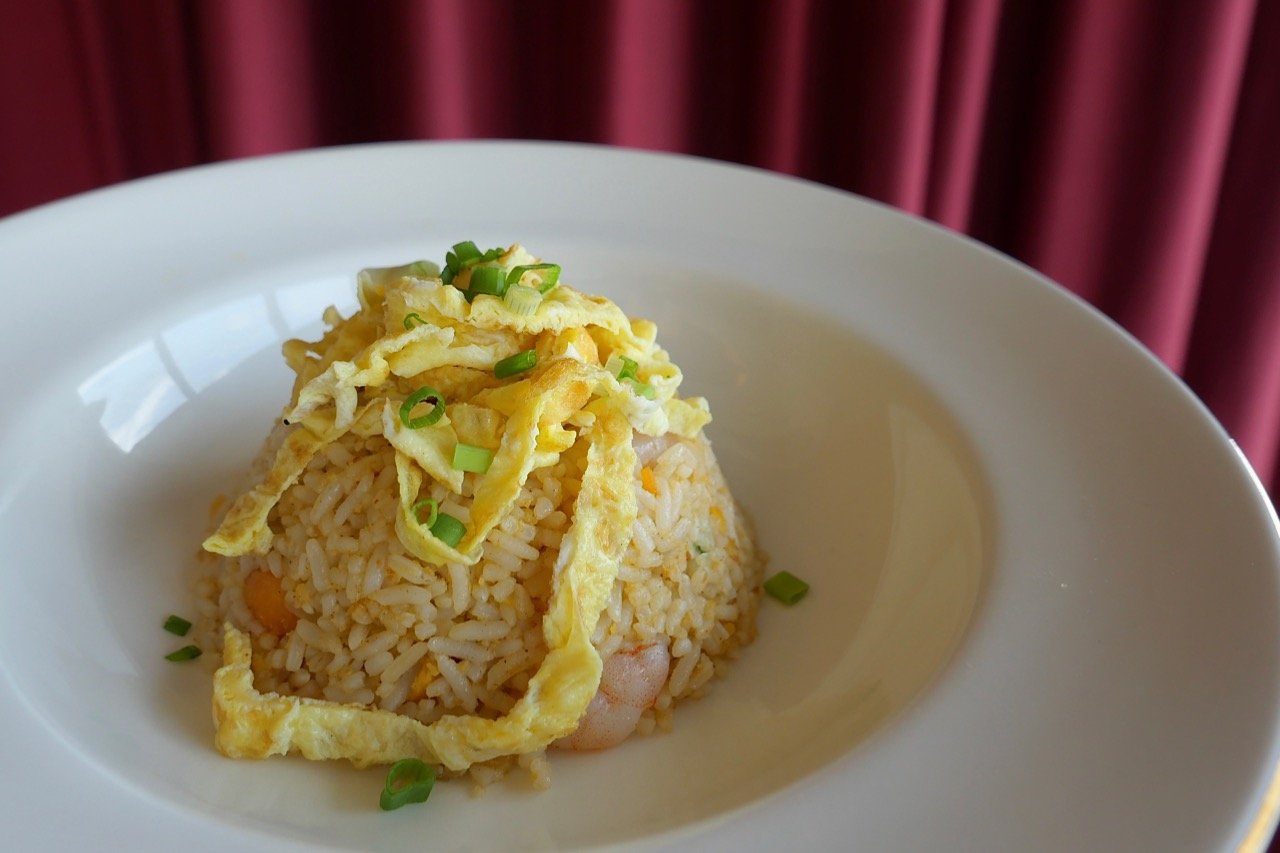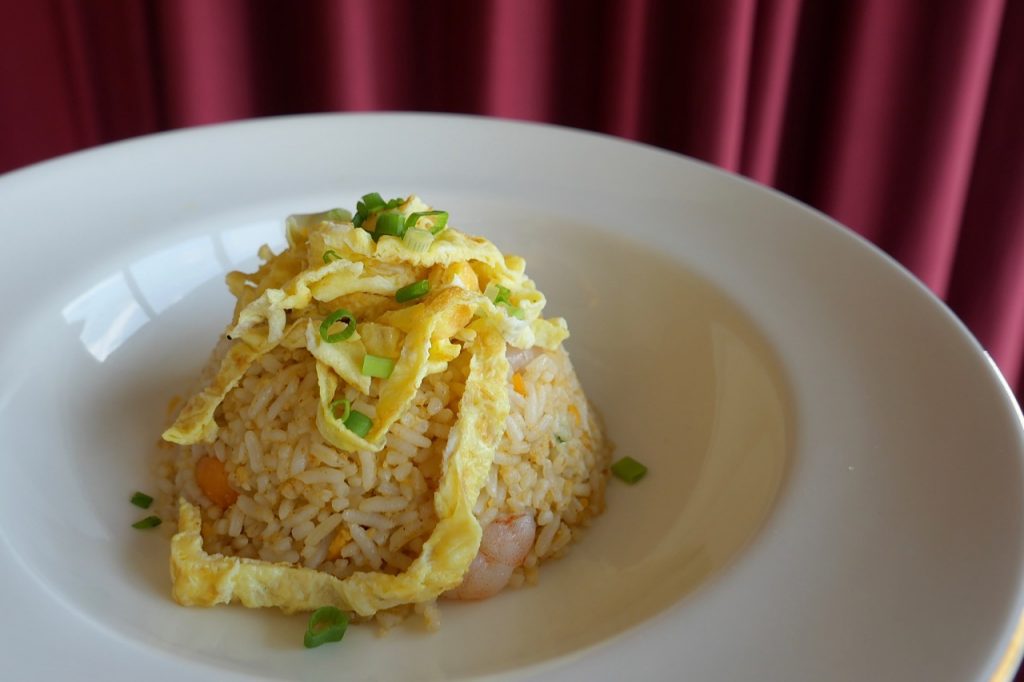 Dessert
After such a feast, Lemongrass Jelly with Aloe Vera (RM14) is an adept conclusion. Light and mild in flavour, it offers a sweet, herbal ending.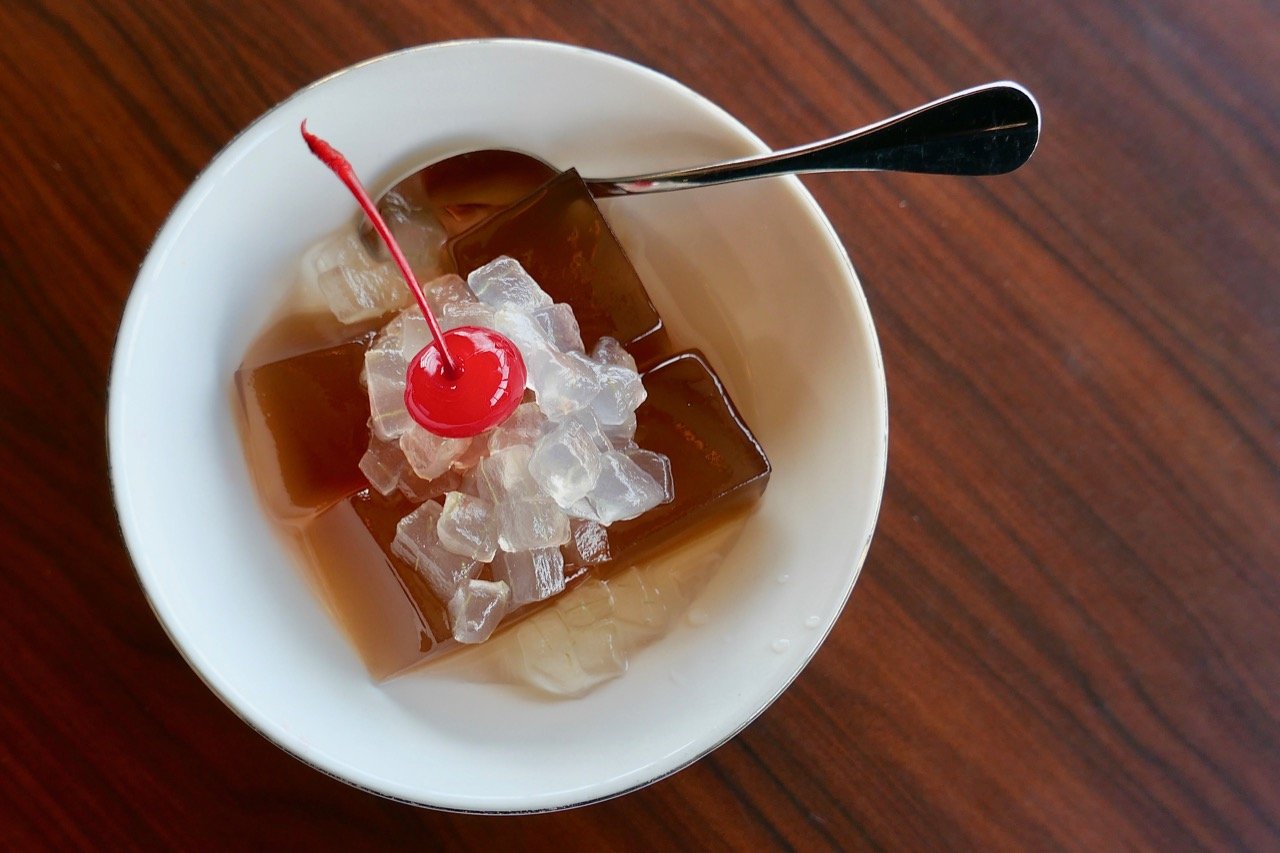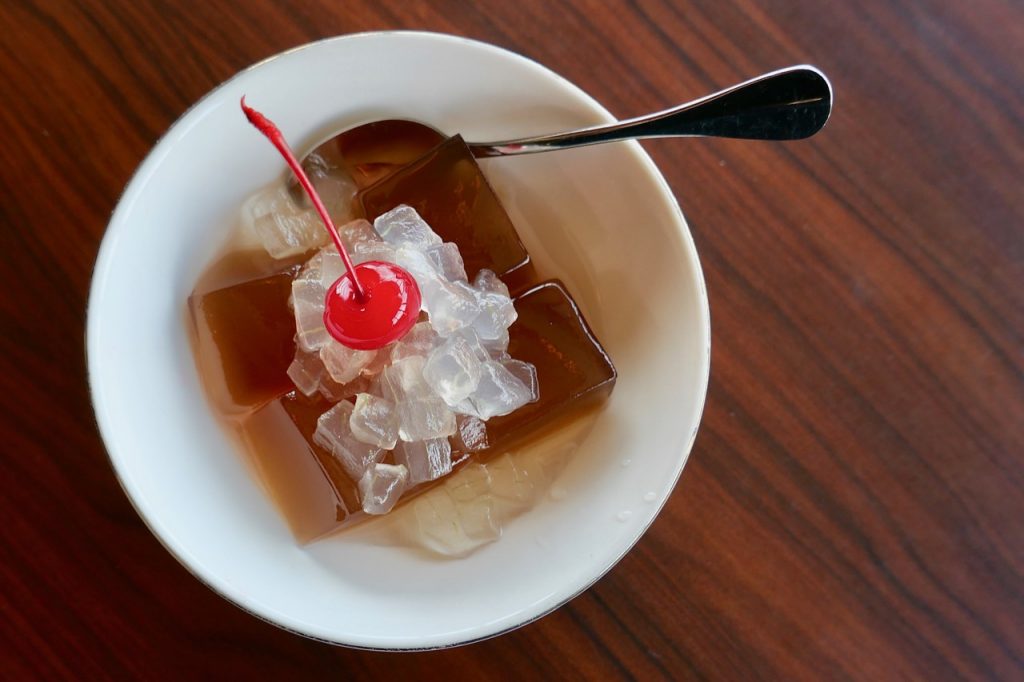 Hai Sang Lou Review
Hai Sang Lou at Avani Sepang Goldcoast Resort is a lovely setting to enjoy quality dim sum and Chinese cuisine with sea views at reasonable prices. The team is friendly, and the food is fresh.
Reasons to visit Hai Sang Lou: lovely sea views; warm, hospitable staff; excellent dim sum menu – must try the Salted Egg Yolk Puff.
Hai Sang Lou
Avani Sepang Goldcoast Resort
67 Jalan Pantai Bagan Lalang
Kg Bagan Lalang 43950 Sungai Pelek
Selangor Darul Ehsan, Malaysia
www.avanihotels.com
[email protected]
+6 03 3182 3600
*Pork-free
Hai Sang Lou Opening Hours
Daily 12 noon – 2:30 pm & 6 pm – 10 pm
More dining options at Avani Sepang Goldcoast Resort here.