Perahu
Words: Monica Tindall   Photos: Rich Callahan
A romantic dinner on the beach at Perahu, Avani Sepang Goldcoast Resort, was an unexpected experience. I never imagined such as lovely setting so close to KL.
On Smiley Beach (named so for its grin-like shape), a private gazebo has been constructed between a beach-pine and a coconut tree. Candles light the sand and red rose petals form the shape of a heart leading up to the table. The open-ceiling has strings of rice lights resembling a sky of stars. The sound of waves lapping the shore furnishes natural ambient music. This experience even includes a private butler! And, I haven't yet gotten to the surprises we find later in the evening.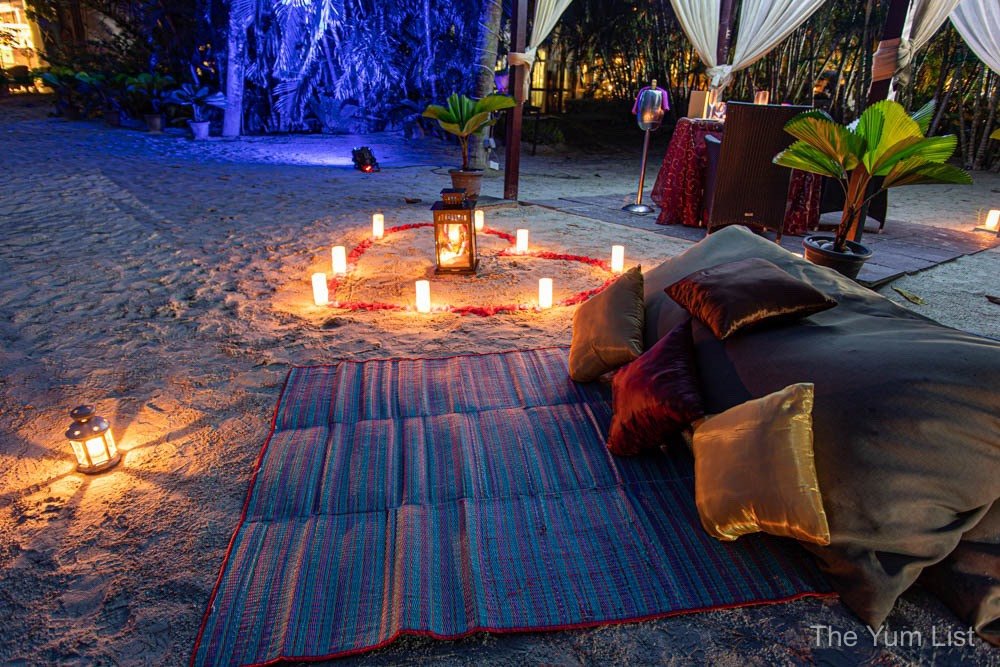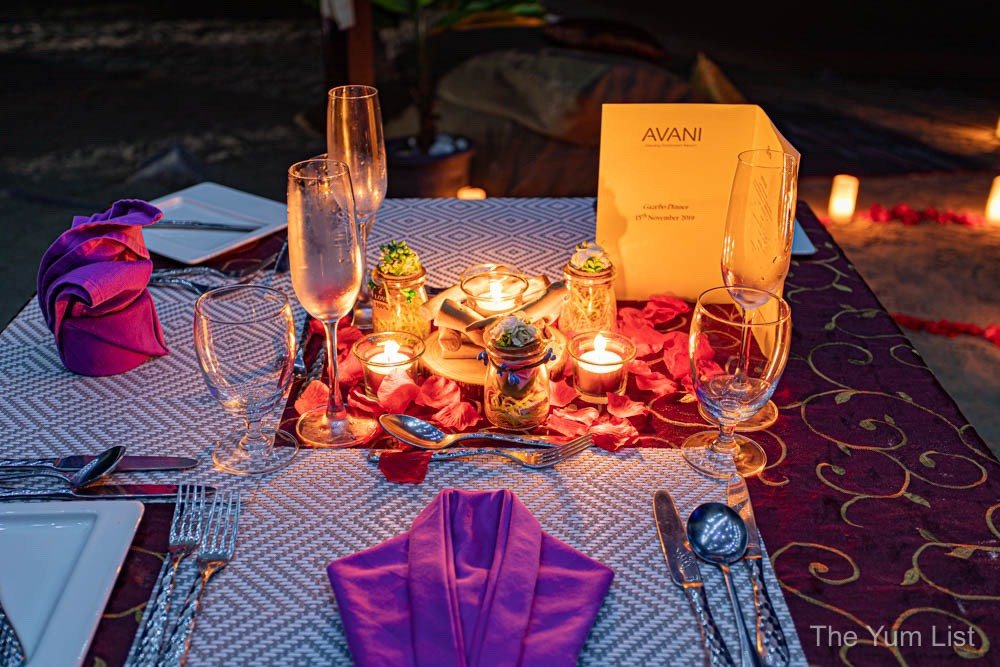 Perahu Menu
Chef Chandran, the executive chef of Avani Sepang Goldcoast Resort, aims to give a quality experience at Perahu at a reasonable price. And it really is a fantastic deal. This four-course menu includes a bottle of bubbly, our own private butler, a personal fire dancer performance, and a bouquet of fresh blooms for only RM250 nett per person.
Seated at our table, wholemeal and herb loaves are served warm from the oven alongside pesto (made with basil from the resort garden), olive oil vinegar and Cajun butter. And soon after we have a glass of Masotina Italian bubbly in our hands. Despite its very approachable price, this prosecco is a multi-award winner. Made from the Glera grape, the bouquet is full of blooms and citrus. There's plenty of fruit in the mouth, and it finishes with crisp acidity.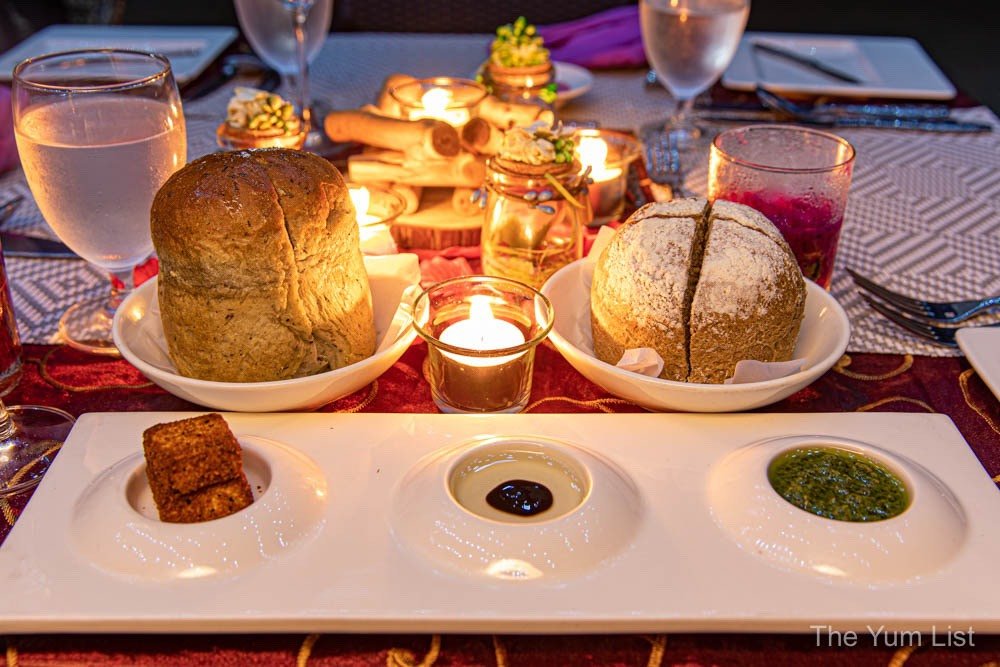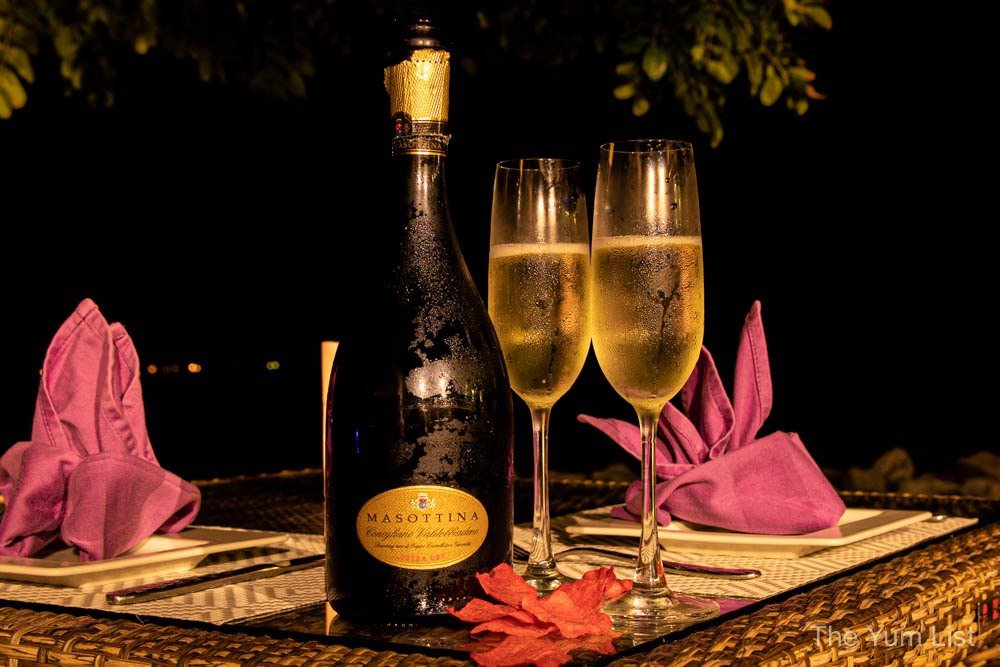 Appetizer
The first course is a pretty seafood combination platter presented on a wooden chopping board. On the left, sushi rice is wrapped with salmon and adorned with tobiko pearls and a mustard mango mayonnaise. On the right sits pan-seared tuna with wasabi mayo and a sprinkling of black sesame seeds. Cucumber salad and caviar could be used as either a palate cleanser between the seafood bites or as an intermission before the next course of soup.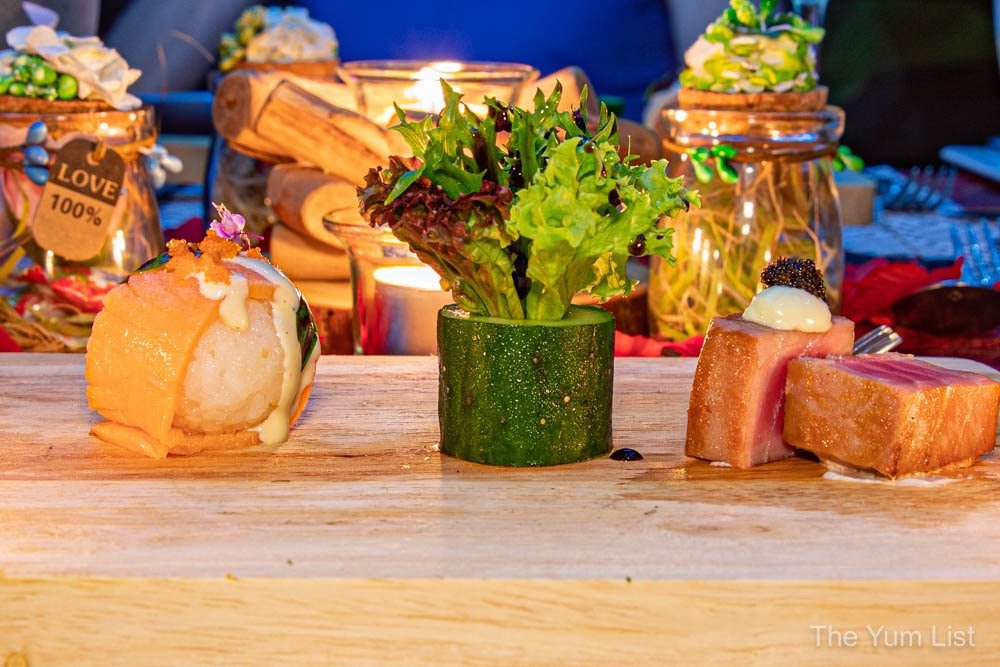 Soup
Our butler next brings a bowl with a single piece of pumpkin ravioli with a cream foam on top. The rim of the bowl is prettily decorated with a brushstroke of pumpkin soup, pumpkin seeds and dill. The soup itself is poured upon delivery in a little tableside eatertainment. It's just the right consistency and wonderfully balanced in flavour.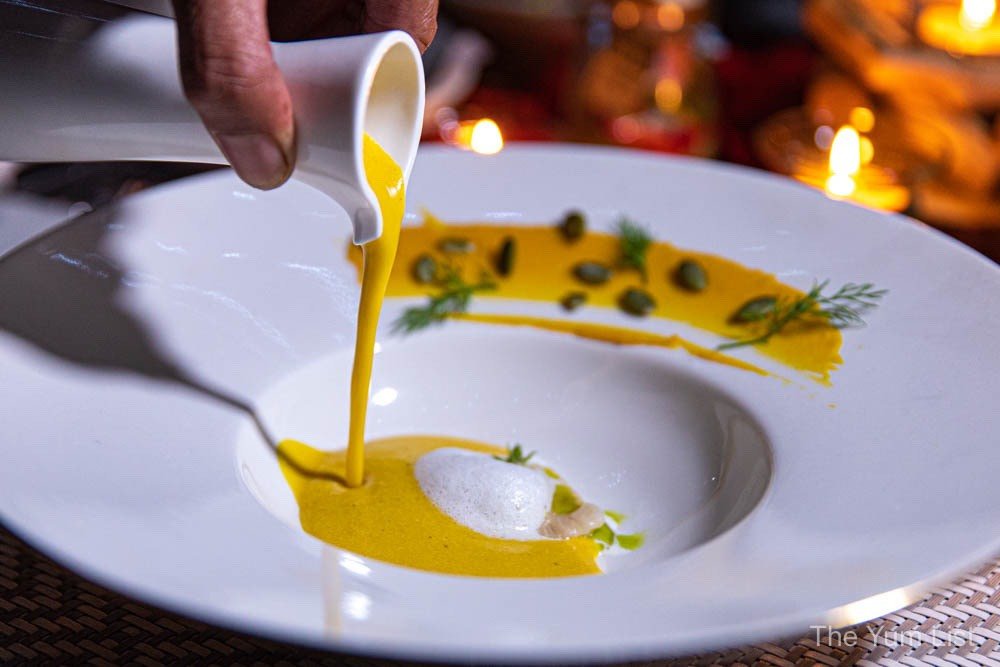 Surprise Performance
Before our main arrives, our attention is drawn to the sound of a boom box nearing, blasting with techno beats. It's hard to see where it's coming from on the dark beach, but seconds later a heart shape is set aflame in front of us. Fire dancers appear and begin an act of fire throwing, flame swallowing, baton twirling and fire breathing. It sure adds a bit of excitement to the evening.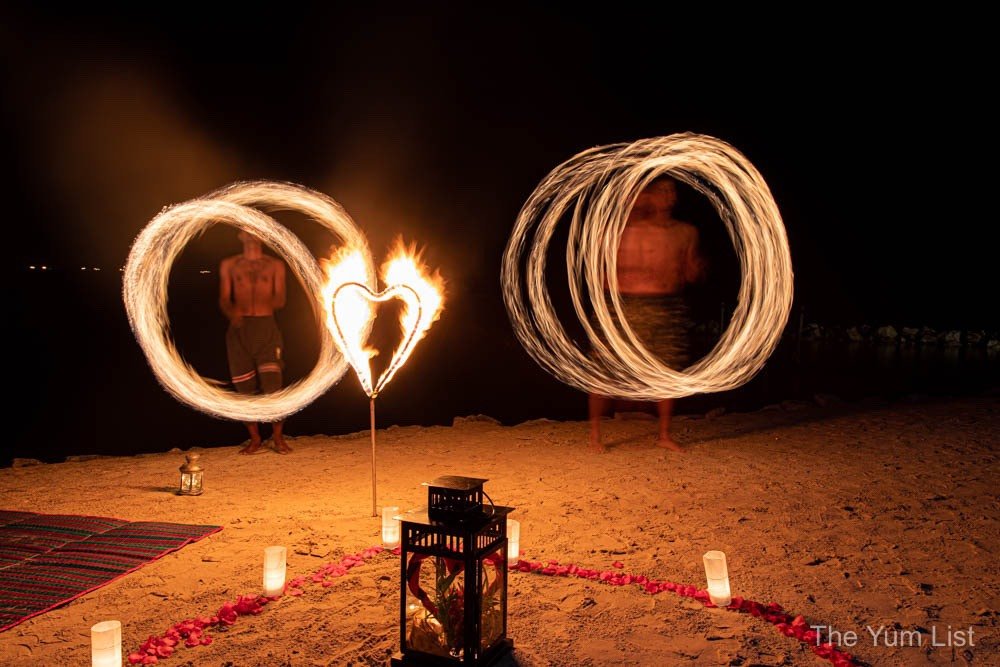 Main Course
The main course at Perahu is set on our table as the smoke from the slowly fades. It's a trio of proteins from the land and the sea. Pink slices of tenderloin lay across mashed Japanese sweet potato. A jug of balsamic jus offers a sweet but unnecessary complement. On the opposing corner is a round of pan-fried lamb loin crusted with herbs. A rosemary and blackberry sauce gives a pleasant trace of fruit and herbs. In the middle, a firm-to-the-bite prawn and salmon fillet compose a tower over a bed of spinach. A rich duglere sauce (French cheese sauce) strings it all together. Steamed asparagus and yellow and green zucchini pieces provide the obligatory veg.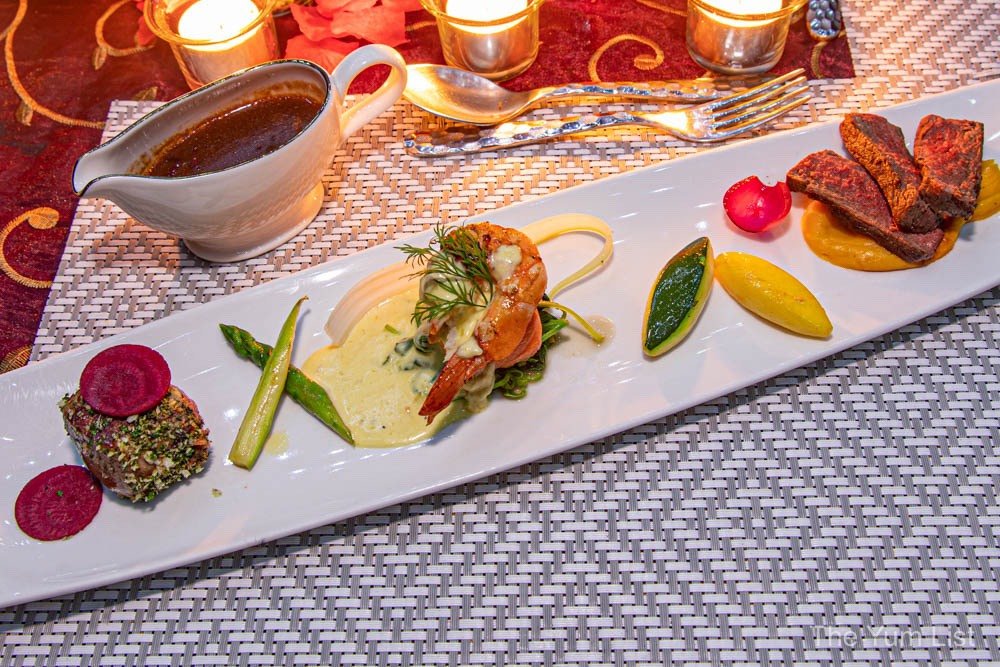 Another Surprise!
This meal is incredibly good value already. Still, when our butler presents a bouquet of fresh flowers, we are blown away. This really is an opportunity to jump in on.
Dessert
The final course at Perahu is a pretty rose of vanilla ice cream with mango slices forming the petals. It crowns baked banana slices sitting in a sauce of caramelized sugar and butter. It's comforting, but my mature taste buds would like a hint of bitter to balance the sweet creaminess of this dish – perhaps a touch of flambeed Cointreau?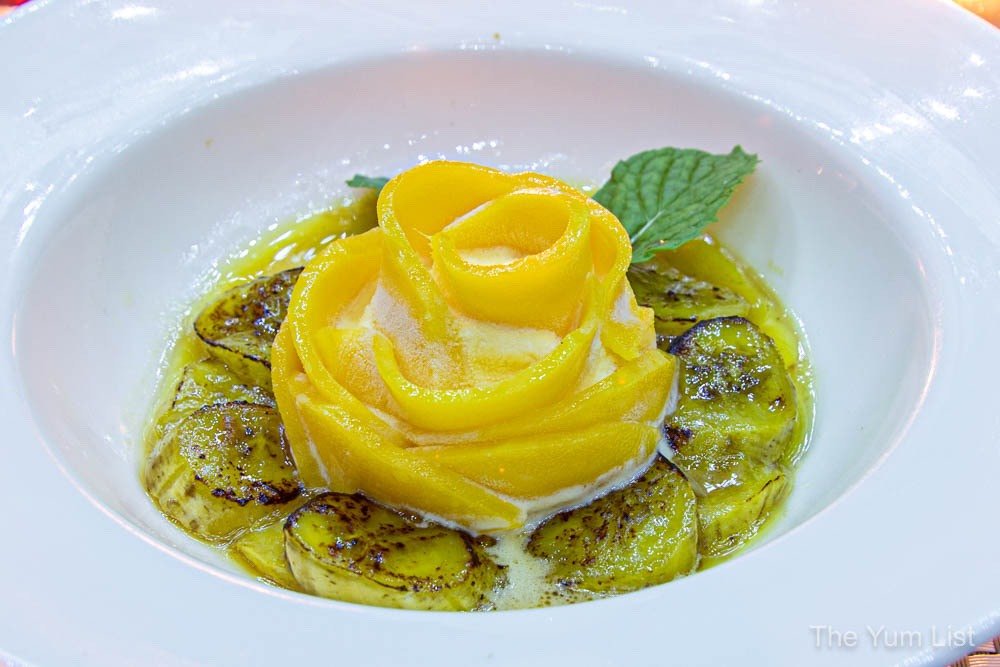 Perahu Review
The romantic beach dinner at Perahu is a fantastic deal. I think it's worth the 75-minute drive from KL just to have your feet in the sand with a butler waiting upon your private table on the shore. The food, bubbly, show and flowers are all a bonus.
Reasons to visit Perahu, Avani Sepang Goldcoast Resort: book the private beach dinner; it's a steal!
Perahu
Avani Sepang Goldcoast Resort
67 Jalan Pantai Bagan Lalang
Kg Bagan Lalang 43950 Sungai Pelek
Selangor Darul Ehsan, Malaysia
www.avanihotels.com/en/sepang
[email protected]
+6 03 3182 3600
Perahu Opening Hours
Wednesday to Monday: 6 pm – 10 pm