Concubine KL
Words: Monica Tindall     Photos: Rich Callahan
Flirtatious and funky, Concubine KL, a new bar and restaurant in Chinatown, is inspired by the events that once took place within its walls, yet is firmly planted in the present with its contemporary view of the modern woman. Previously known to be a risqué part of the neighbourhood, everything here is done with a little dash of fun and sass.
Owner, Nico and business partner Andy, had always had an in interest in Chinatown. Initially, they were looking for an empty lot to park some old train carriages and establish a café inside. While looking for a space, they happened across this lane. It was a bit random, but they fell in love with the spot and knew it had to be. Recognizing the strengths of the food and beverage outlets already founded in Chinatown KL, they wanted to add something new and fresh to the market.
Being respectful of the environment, they kept as much of the original structure as they could. The team repurposed furniture from old wood that had been salvaged elsewhere. They also contracted an artist to paint murals on the walls and designed all of the décor themselves right down to the lampshades that light up the bar. The result is an urban reinterpretation of Chinatown, respecting the old but bringing to it a lens of the future.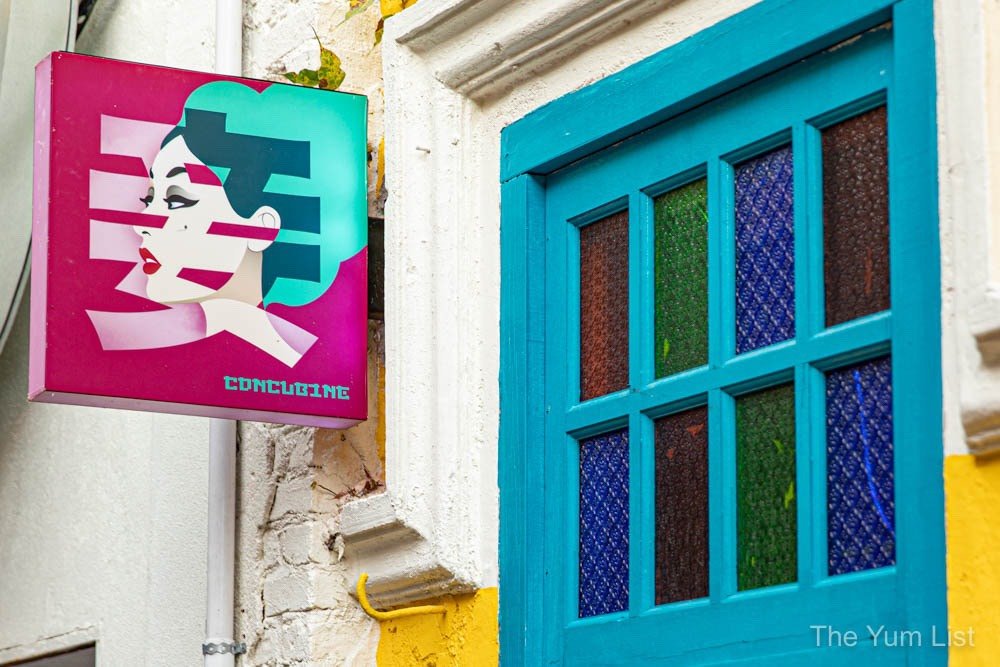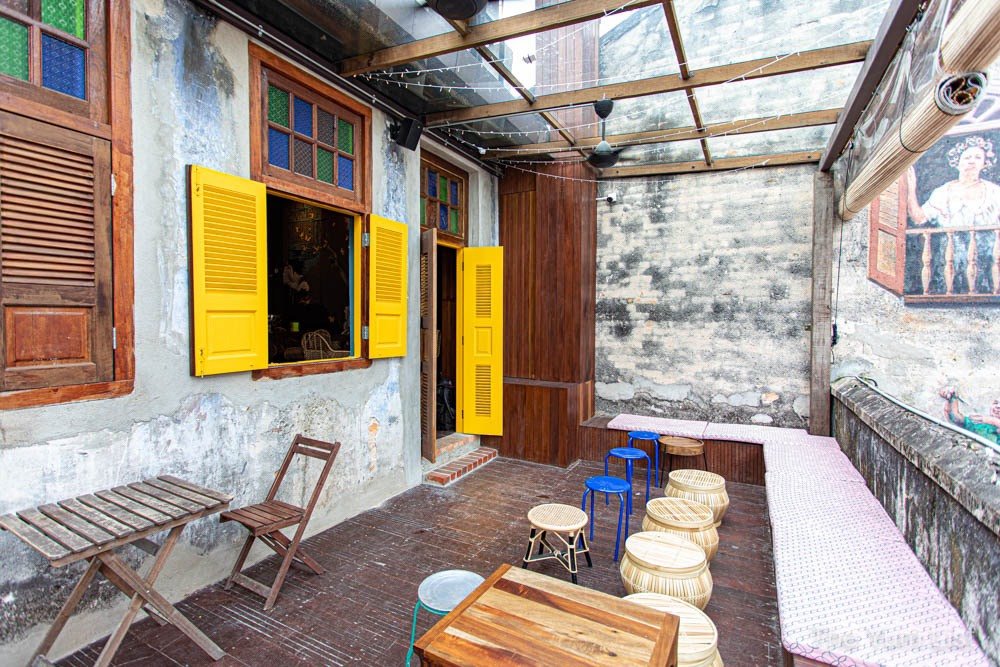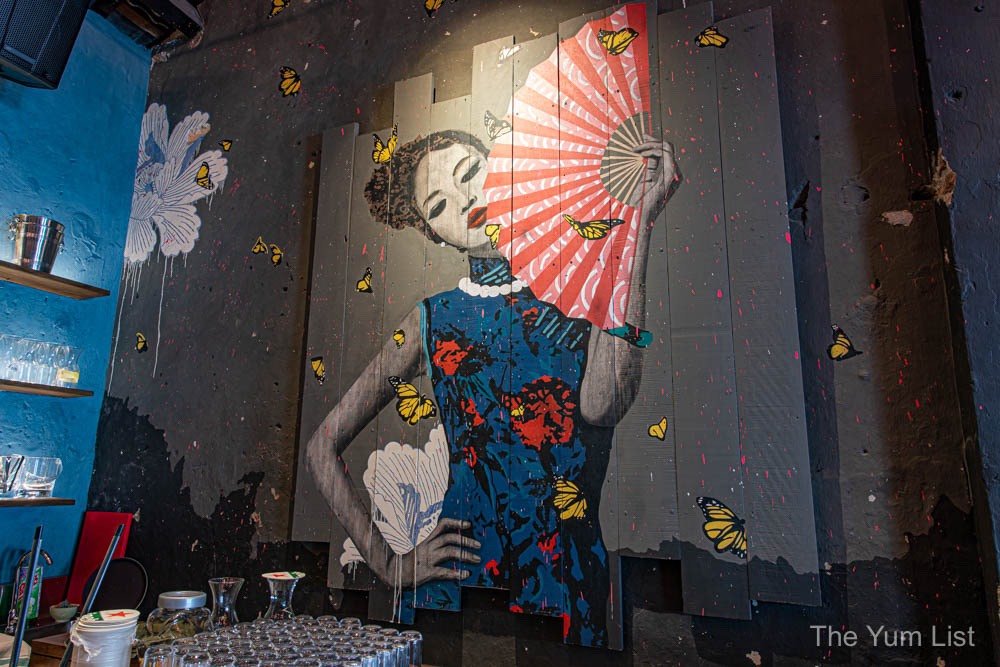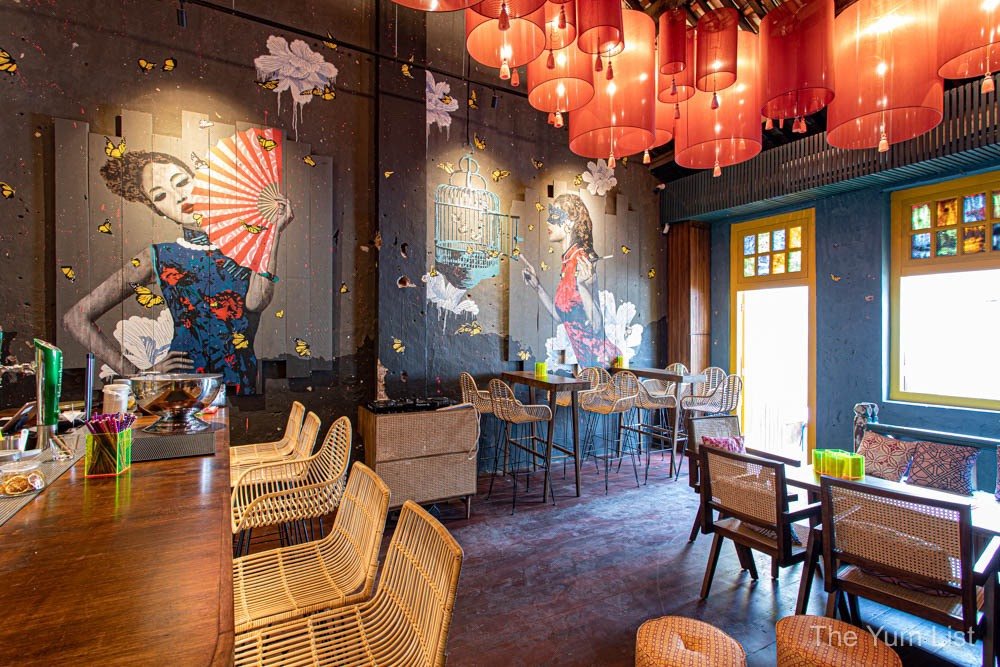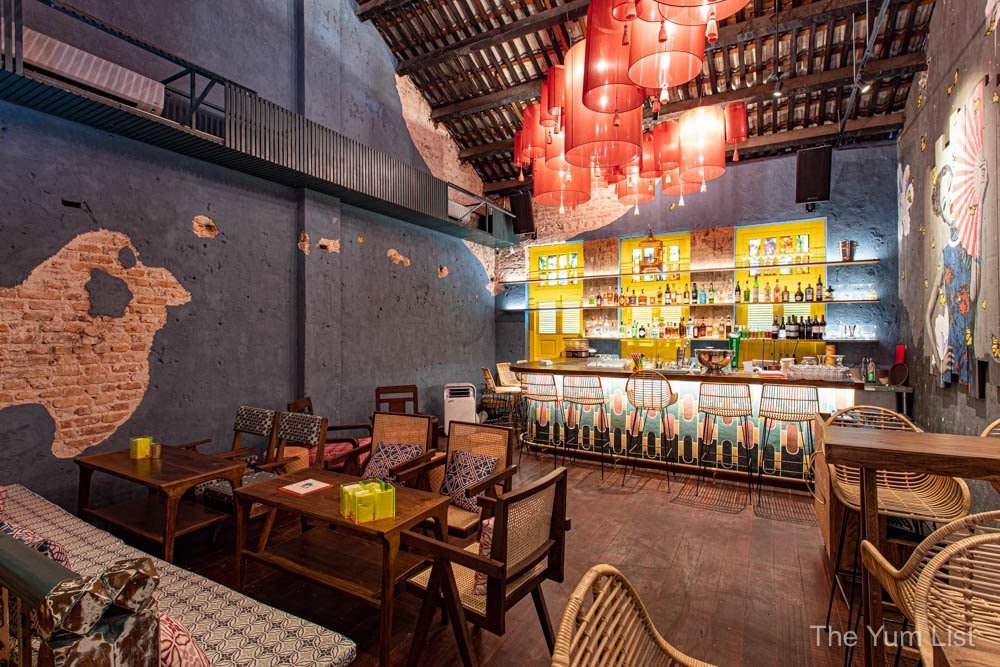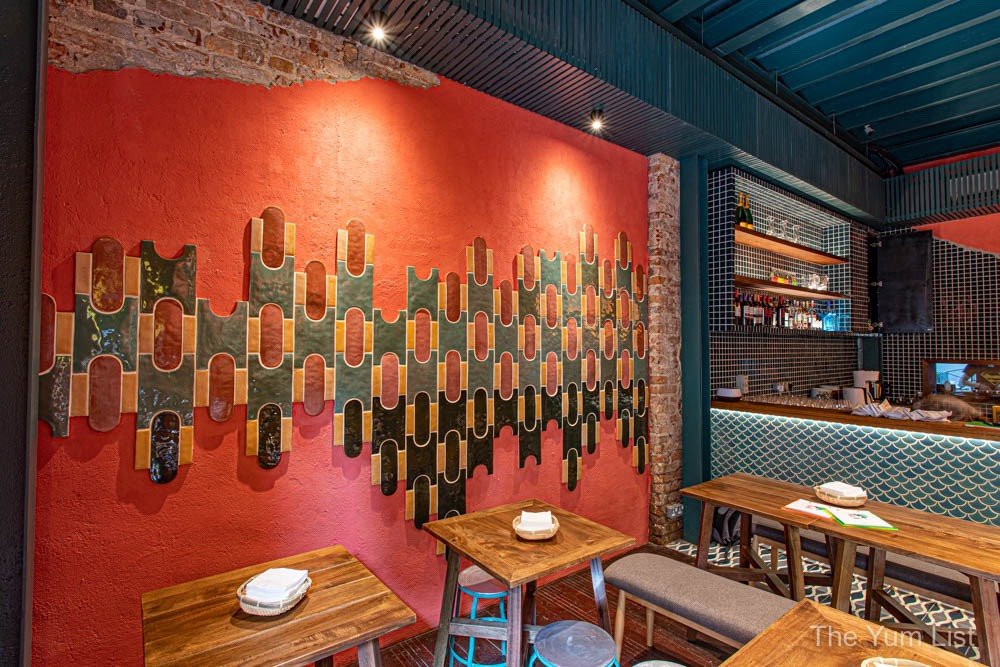 Concubine KL Menu
The food and drinks menu at Concubine KL curates a variety of Pan-Asian small plates perfect for sharing. It has a gastro bar feel to it with equal focus placed on the quality of the drinks as to the standard of the food.
Bao & Tostada
Keropok Nachos (RM15) make a great start at Concubine KL; a local spin on the Mexican dish. A generous pile of local chips, keropok, are topped with fresh sambal balado (red) and hijau (green), pink pickled onion, jalapeño, fried tempeh, coriander and ikan bilis (a small local anchovy). Coriander leaves garnish the dish. It's an inventive and delicious snack.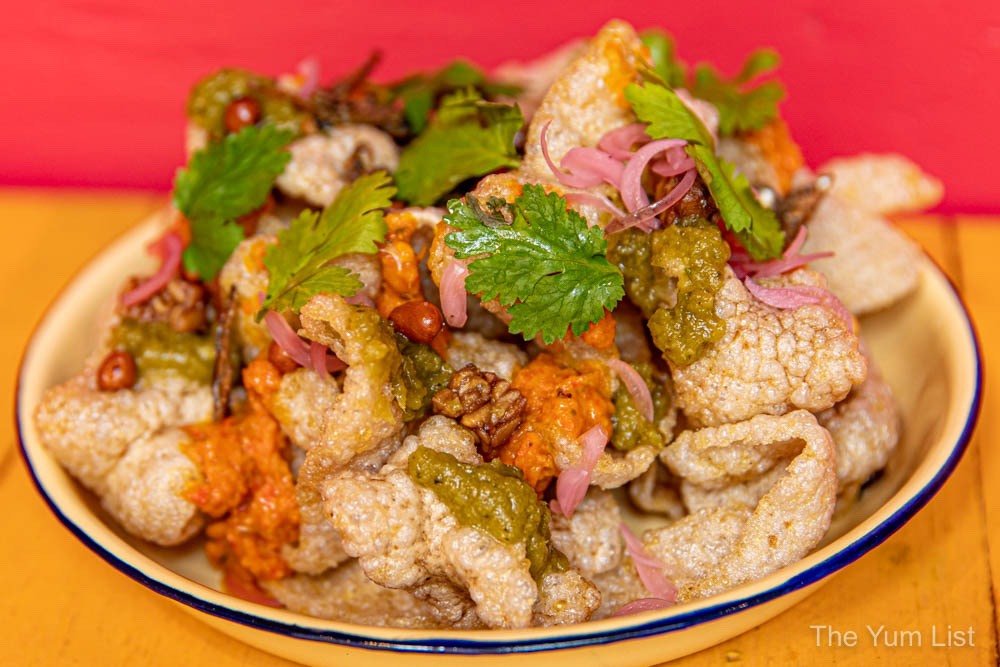 Another light bite is the Tuna Tostada (RM22). Crisp mini tortillas are topped with raw fish, shiso, cucumber and avocado. They're boosted with yuzu, crispy garlic and sesame, which evolves in the mouth with a tangy freshness and leaves with a mild nuttiness on the palate.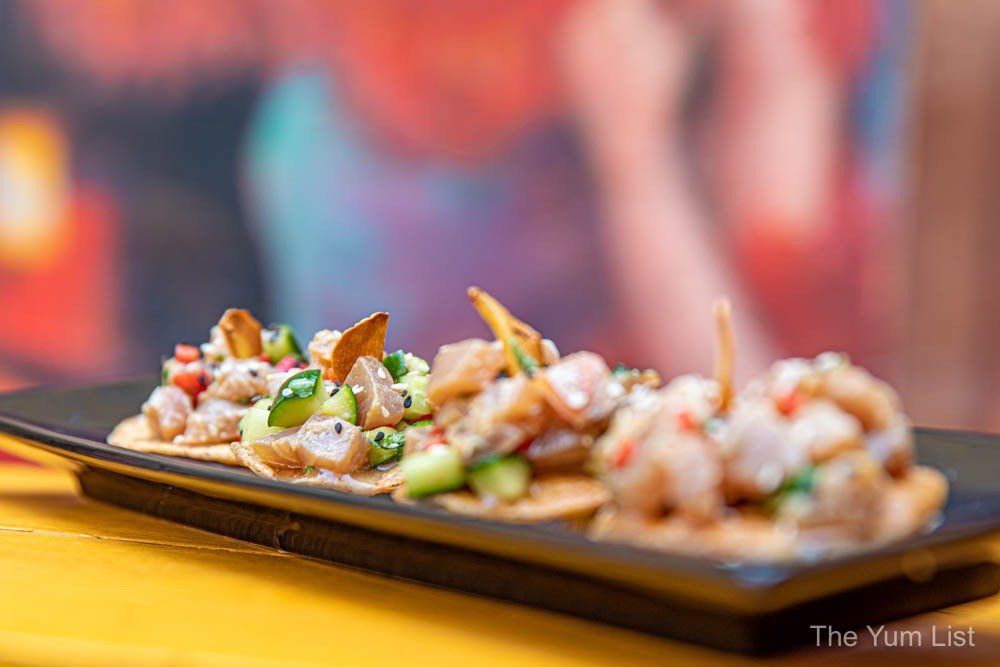 Dumplings
Is it a McDonald's double cheeseburger, or is it a dumpling? Could it be both? Double Cheese Burger Gyoza (RM18) at Concubine KL is filled with beef, sharp cheddar, onion, mustard, drizzled with a cheese sauce over the top, and served with pickles on the side. If that is not the most innovative dumpling you've had, please drop me a line below and brag.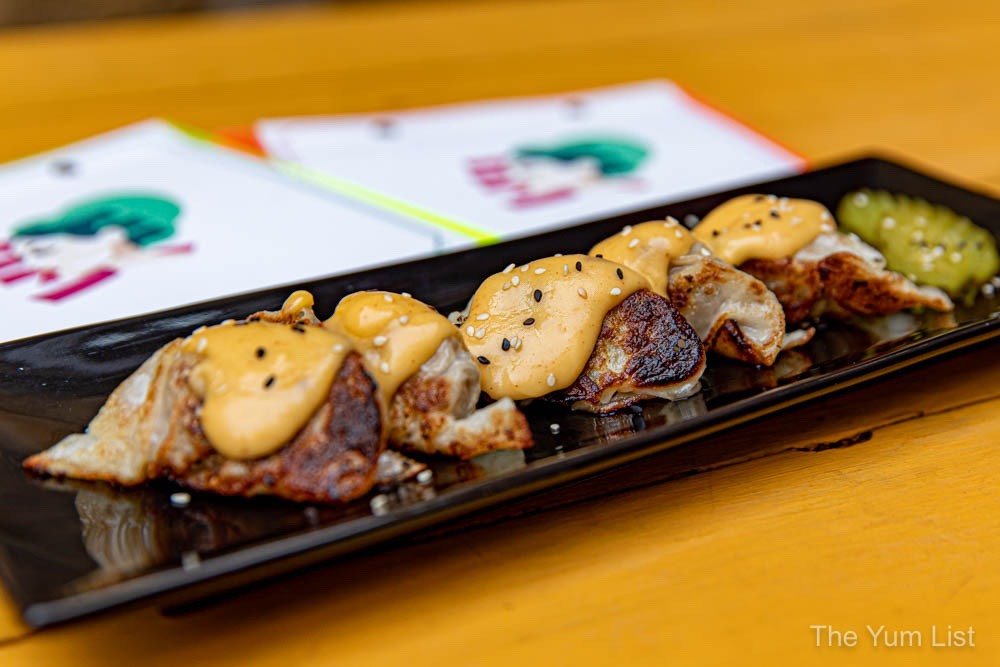 Skewers
Eryngi Mushroom Skewers (RM) is a tasty vegetarian number with a tari (reduction of soy, mirin, sake and sugar) glaze. Truffle, miso, and black and white sesame make an addictive dipping sauce. (Seriously, I would like to add a bowl of rice to soak up the last drops – or just sip it from the bowl if no one was looking).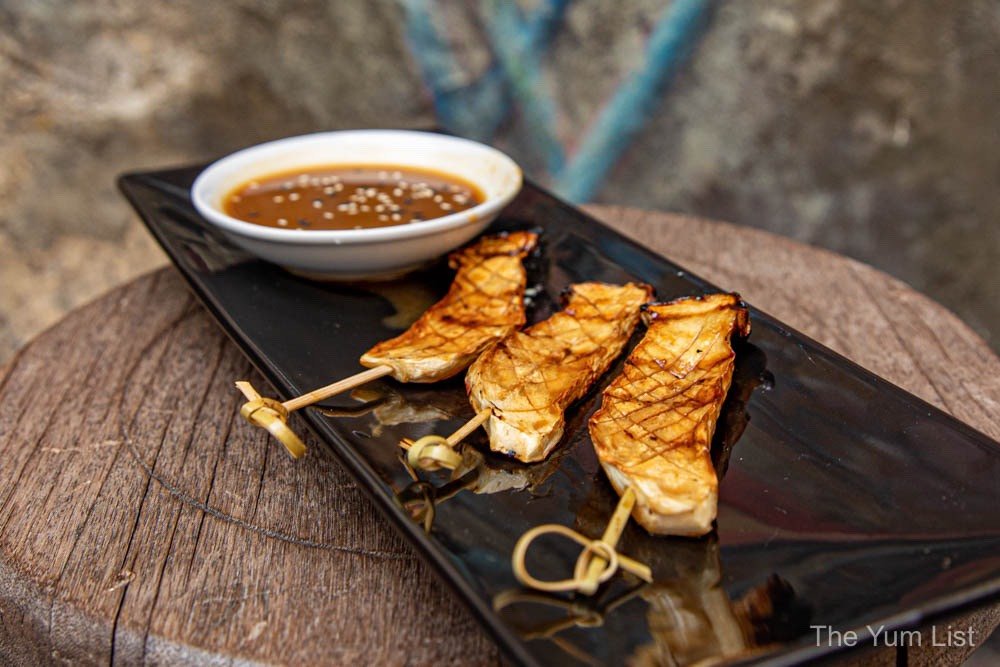 Grill
Green Tea Smoked Lamb Rack (RM38) is not something you see too often on menus. It's smoked with green tea at Concubine KL, and the meat is finished on the grill. It's served with an aubergine puree (similar to baba ganoush) in a miso tahini paste. A sprinkling of the Moroccan spice blend ras el hanout adds another layer to the overall profile, as do pomegranate seeds which contribute small bursts of juice.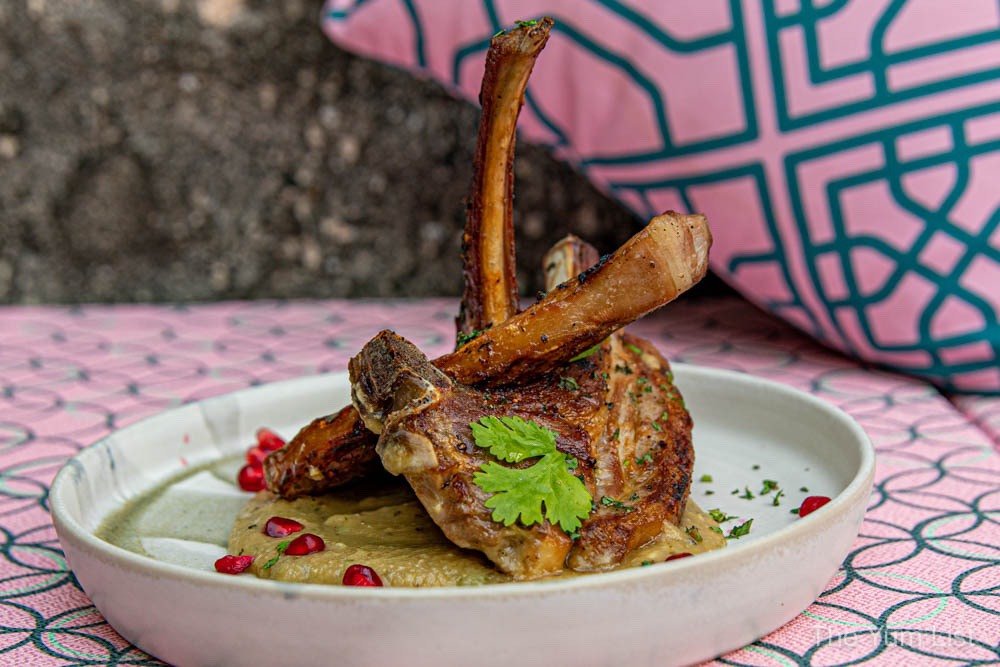 The seared fish loin, Tuna Tataki (RM32), is gifted a tropical touch with mango. It's seasoned with shiso oil (leaves blended with oil), garlic chips, pink pickled onion, black and white sesame seed and Sancho pepper.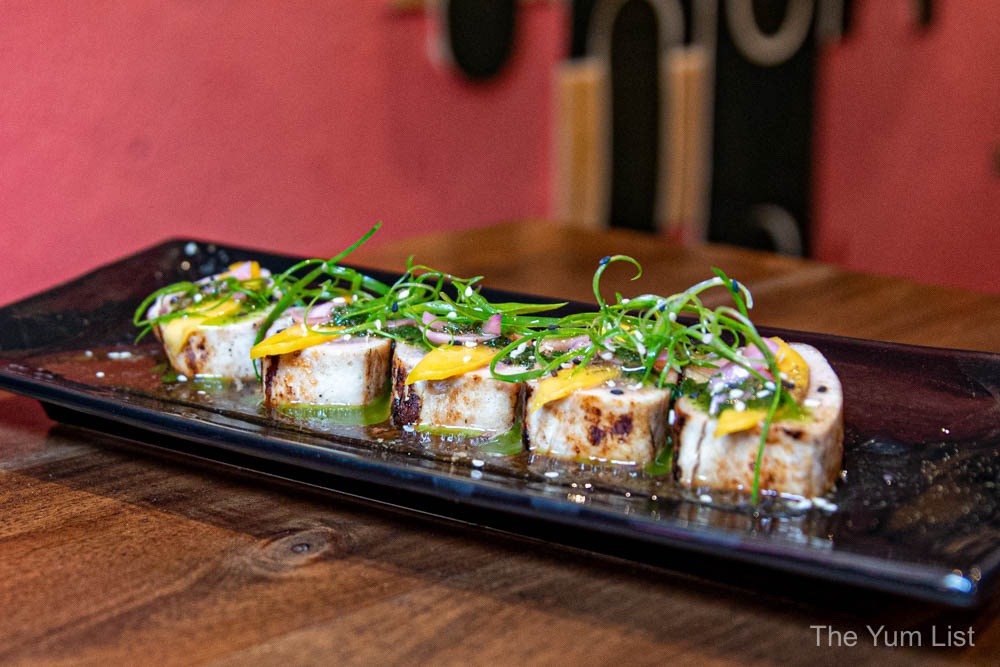 Salad
I like the trend of grilling greens and am happy to see Charred Lettuce (RM22) on the menu at Concubine KL. Here the hunk of leaves is lightly charred and dressed with bonito flakes, tobiko and marinated anchovies. You might call it a Japanese Caesar salad.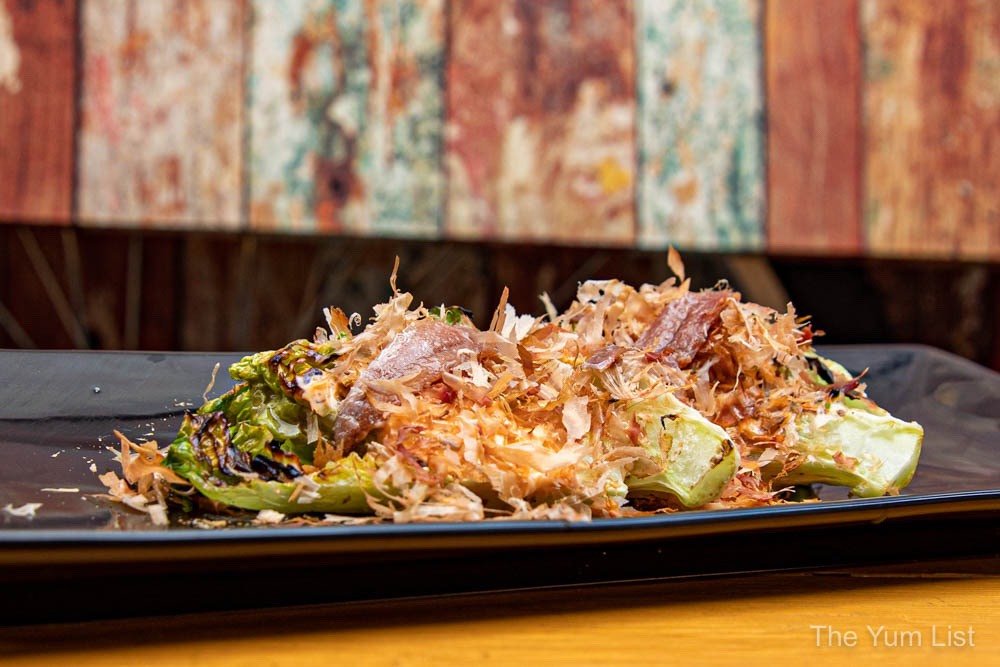 Drinks Menu Concubine KL
The cocktail menu emphasizes the prominent ingredient in the naming of each, facilitating decisions. The mixes, no doubt, are of high quality but guests can be just as easily satisfied with a decent menu of beer, spirits, wine and bubbly.
There is no question as to whether or not I will like the Ginger Torch Flower (RM38) cocktail at Concubine KL. A twist on an Aperol spritz with an ingredient I have a small addiction to, the ginger torch, has to be a winner. Aperol, house-made bunga kantan (ginger torch) cordial, grapefruit and ginger are topped up with prosecco. Presented in a bowl glass, this is a very approachable afternoon refreshment.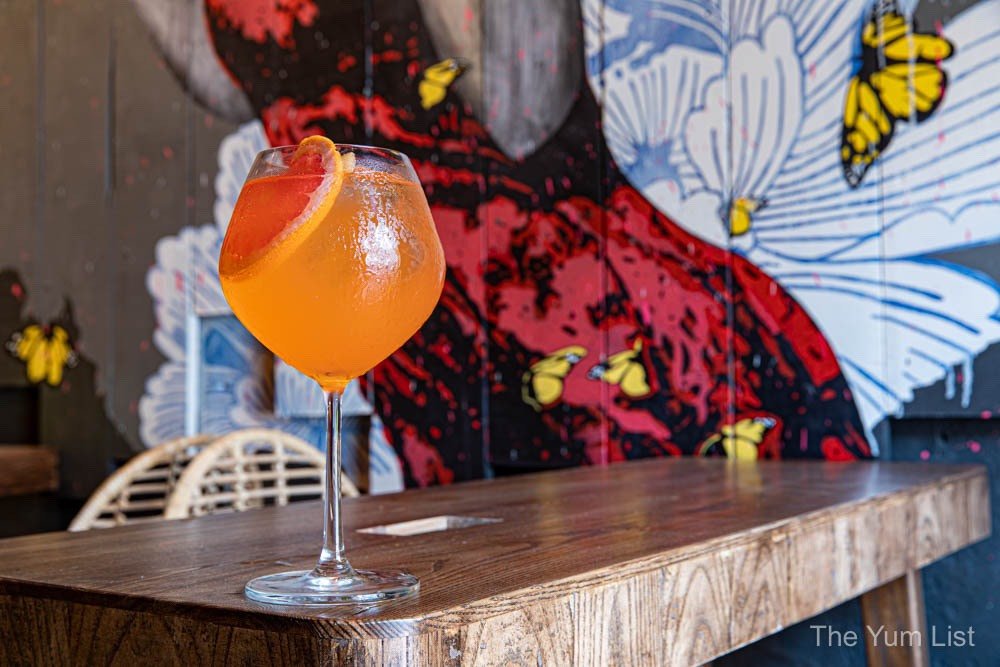 Roots (RM42) is on a base of one of my favourite rums, Diplomatico Planas. It's given local flavour with assam keping (slices of dried sour pumpkin), kunyit (fresh turmeric), carrot, local honey, lime and black salt. If you didn't know there was alcohol inside, you could almost believe it was a health tonic.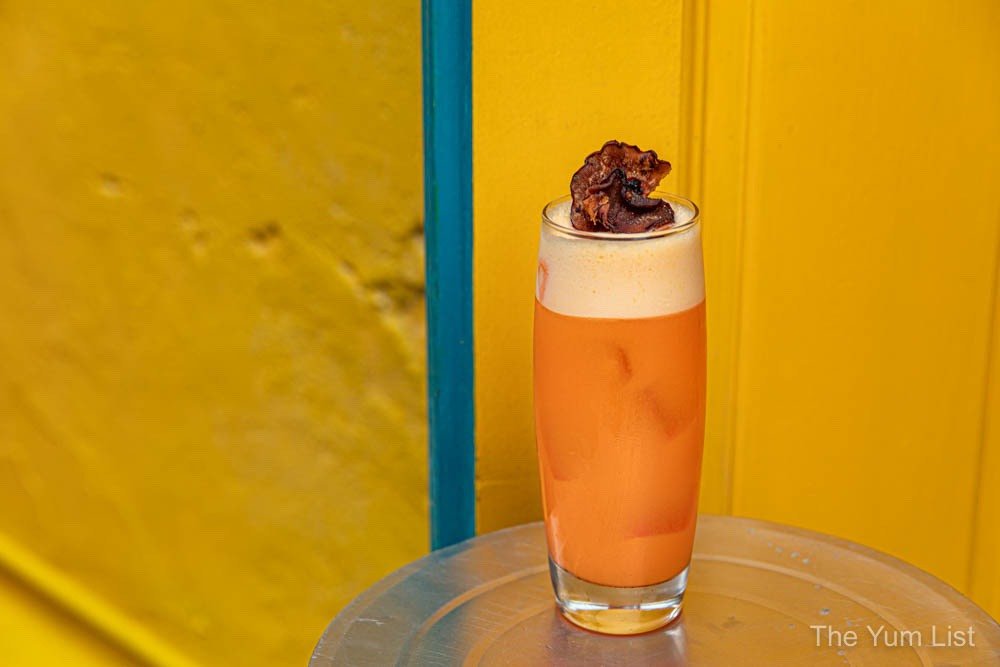 An off-menu item, Yuzu Spritz (RM40), is a popular cooler for events. Easy drinking and light, it's based on Bombay Sapphire, kaffir lime, lemon juice, yuzu and topped up with soda.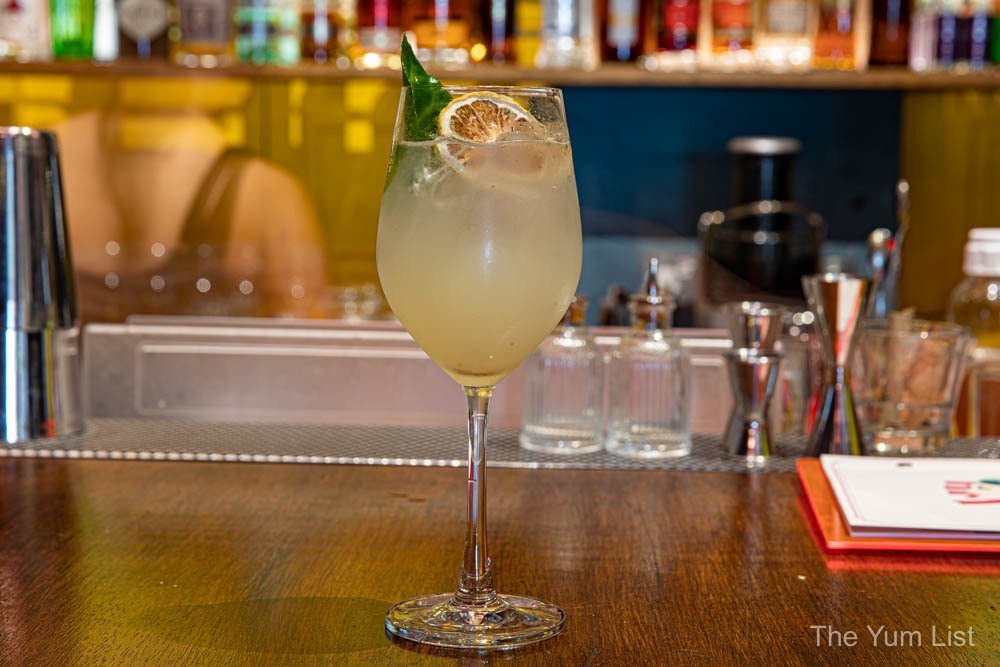 Concubine KL Review
Concubine KL brings a contemporary approach to the restaurant and bar scene in Chinatown. Here you'll find quality cocktails and good food in a relaxed venue. The overall guest experience is casual and friendly. It's a fantastic place to socialize and enjoy innovative culinary creations in an inspiring setting. An exciting addition to the area, Concubine KL only serves to strengthen this hub as a hot food and beverage destination in Kuala Lumpur.
Reasons to visit Concubine KL: a casual and friendly restaurant and bar in a unique, stylish setting; innovative yet approachable food and beverage; an extremely Instagrammable location; must-tries are the Keropok Nachos, Double Cheese Burger Gyoza and the Ginger Torch Flower cocktail.
Concubine KL
Lot 2, Lorong Panggung
50000 Kuala Lumpur, Malaysia
www.facebook.com/concubinekl
+6 019 330 2633
[email protected]
Concubine KL Opening Hours
Tuesday – Sunday 5 pm – 1 am


Find more on Chinatown's vibrant food and beverage scene here and check out the owner's first food and beverage business here.