Sabayon EQ KL
** Chef Boren is no longer with the EQ.
Words: Monica Tindall   Photos: Rich Callahan
Towering 51 storeys into the skyline, Sabayon at SKY51 EQ Kuala Lumpur is taking fine dining, literally, to new heights. The restaurant is not only a beautiful space with dizzying views to boot but is headed by a European master chef with an impressive resume under his belt.
Chef Hans Boren was formerly the executive chef of Restaurant 28+ in Gothenburg, Sweden. Here he held a Michelin star consecutively for 20 years! Dedicating two decades of his life to this passion, he decided that it was time to explore another part of the world. We are fortunate that Asia is where he ended up.
Despite the sparkling curriculum, Hans is down-to-earth and approachable. He says his goal for Sabayon EQ is to serve excellent food in a setting where guests feel relaxed enough to laugh and enjoy lively conversations. And, even without the meal, the environs are bound to stimulate discussion.
The glass-walled restaurant is elegantly dressed in a palette of cool greys. Lighting has been given extra attention with modern chandeliers and tableside lamps playing with shadows and light during the day, and warming up the space in a mellow, soft illumination at night. As if a large picture hanging on the entire wall, KL's skyline shimmers with the iconic Petronas Twin Towers the centrepiece. Currently only open for dinner, I recommend coming early to savour the mood transformation over dusk.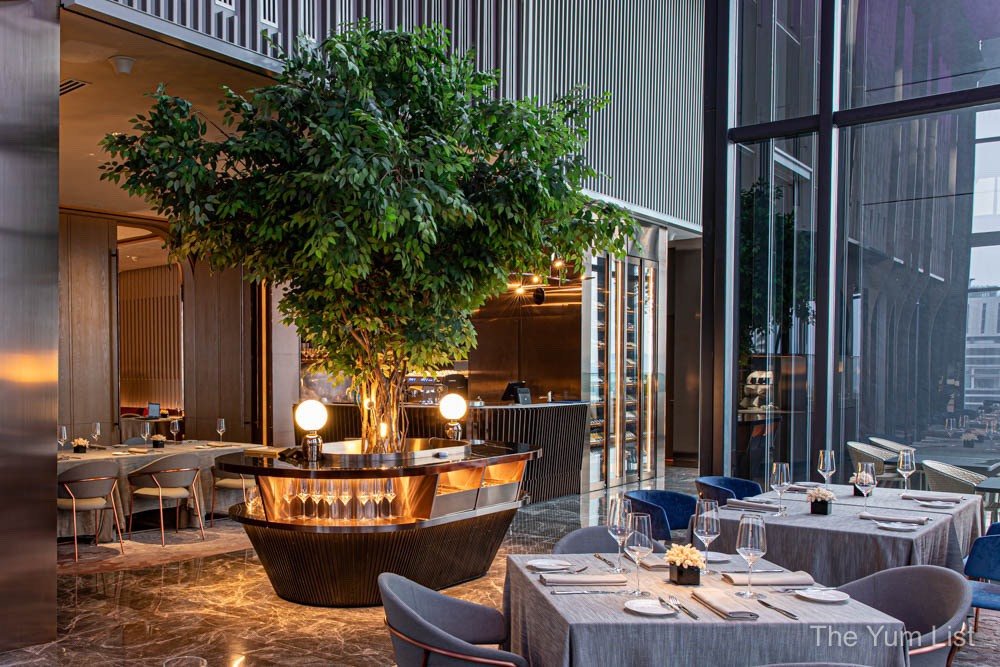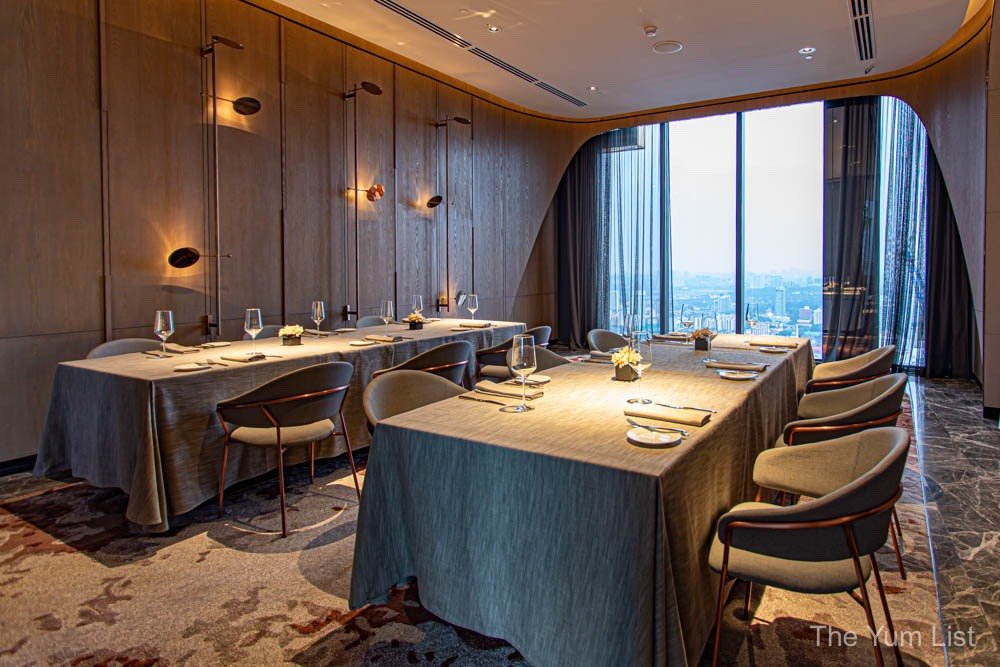 Wine List EQ KL
Some might be drawn to the sensational skyline, but my attention is taken by the wine cellar. The glass display in the entry shows a heart-stopping collection of fine wines. Some of these I've had the fortune to sample myself, but the rest make a pretty decent bucket list.
The wine list is conservative but very well chosen. Use of the Coravin system allows the team at Sabayon EQ to serve premium wines by the glass. And, the menu highlights a collection of 100-pointer wines.
The 2017 Rimapere Sauvignon Blanc, Baron Edmond de Rothschild from Marlborough, New Zealand (RM78 per glass) is a refreshing welcome. The name Rimapere is Maori for "five arrows" in a nod to the Rothschild coat of arms. This crisp wine offers the expected tropical fruit bouquet with a hint of green. It's fruit-driven, with good acidity and a welcoming texture. As an aperitif and mate to the seafood courses, it's a great choice.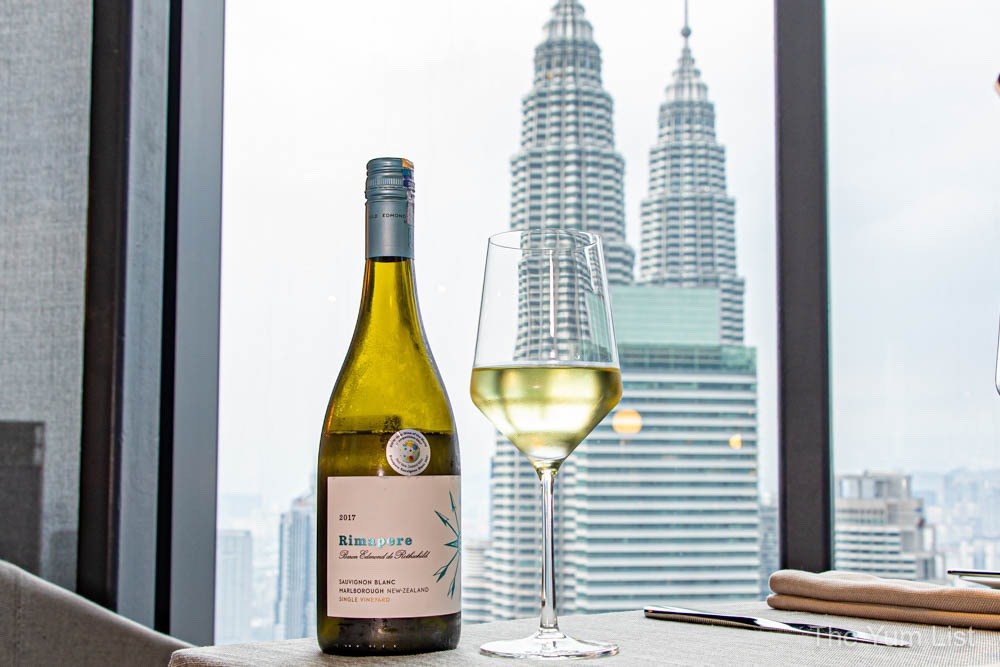 Later, we move to something more serious with a glass of No 3 d'Angélus, 2014, Saint-Emilion Grand Cru, 3rd Vin du Château Angélus from Bordeaux, France. Because of Sabayon's wine preservation system, you can have it by the glass for RM148 (or splurge on the bottle for RM588). A blend of primarily Merlot with 15% Cabernet France, the bouquet offers plenty of dark fruits and cherry, with layers of chocolate and maybe even some floral notes. In the mouth, it has a medium body with sufficient tannins to hold quite a bit of structure. This wine gets better with aeration, so I suggest ordering it earlier in the meal and allowing it to breathe until you reach the main course.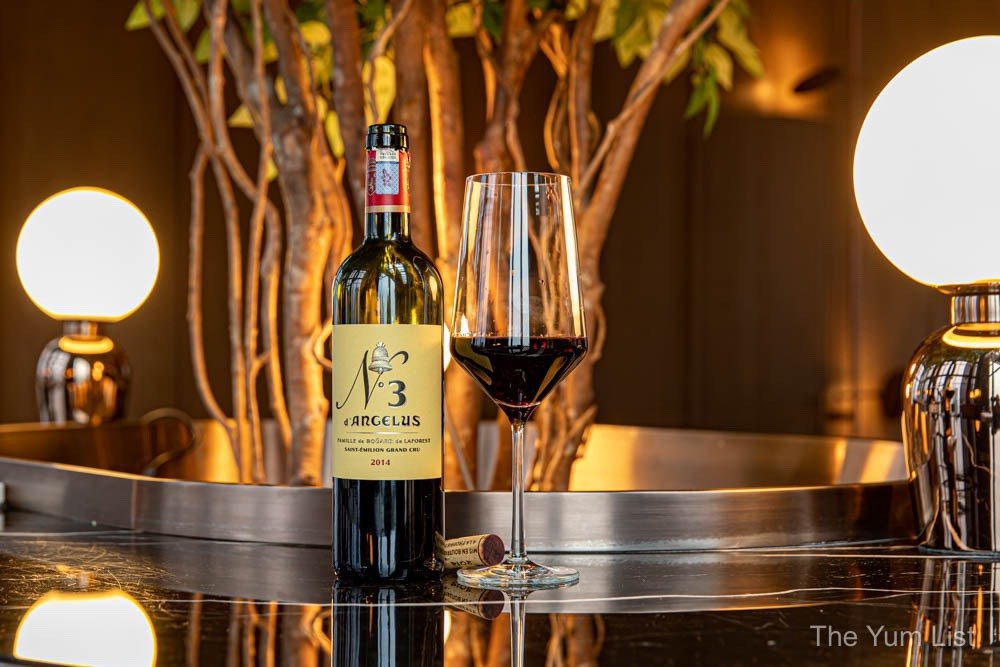 Sabayon EQ KL Menu
Classical European dishes are the foundation of the menu at Sabayon EQ, while innovative twists contemporize the recipes and keep things fresh and inspired. Currently, there are no à la carte options; everything comes in sets. Three, four, five and seven-course menus include an amuse bouche, granita and mignardises. Today we taste several of chef's signature dishes across the sets.
Amuse Bouche
The start is impressive with the amuse bouche being much more than a single spoon of interest. It's much more substantial immediately rousing a feeling of generosity. Salmon truffle mousse with soy tapioca (also known as vegan caviar), egg tofu with ikura and chives, and artichoke espuma, are all mild in taste, so the order of consumption is not important. Each is a mini work of art, delicate both in flavour and presentation.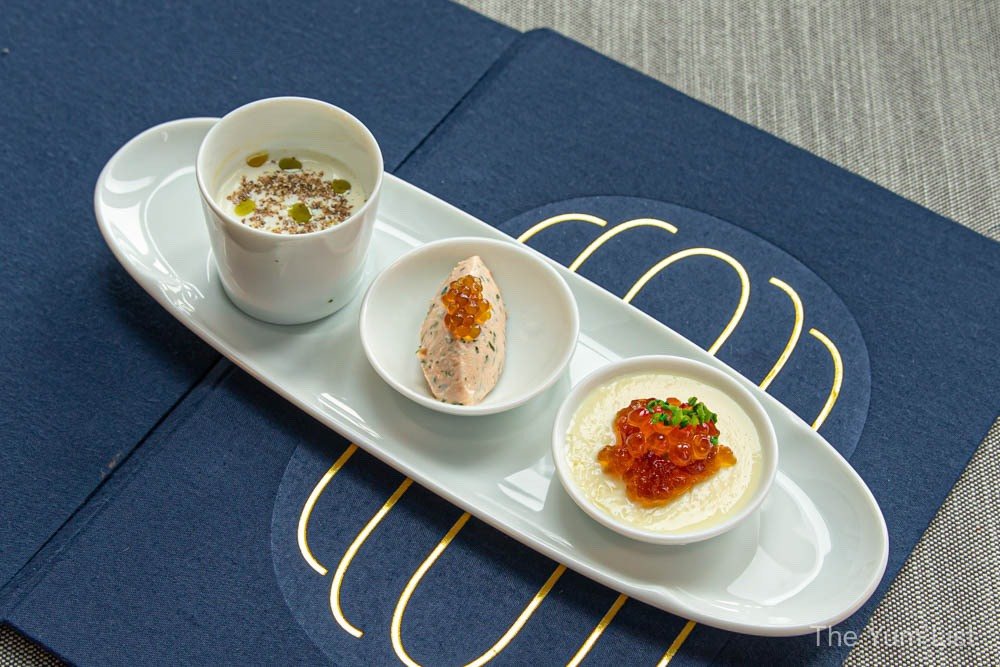 Beef Tartare
Finely chopped Australian Black Angus mixed with chilli, mustard and cilantro form a cylinder in the middle of the plate in the beef tartare. Deep-fried shallots create a thin crisp crumble on the top, which is a lovely contrast in texture to the moist meat. Coriander oil bedews the dish, and we find a gentle balance of East meets West in the seasoning.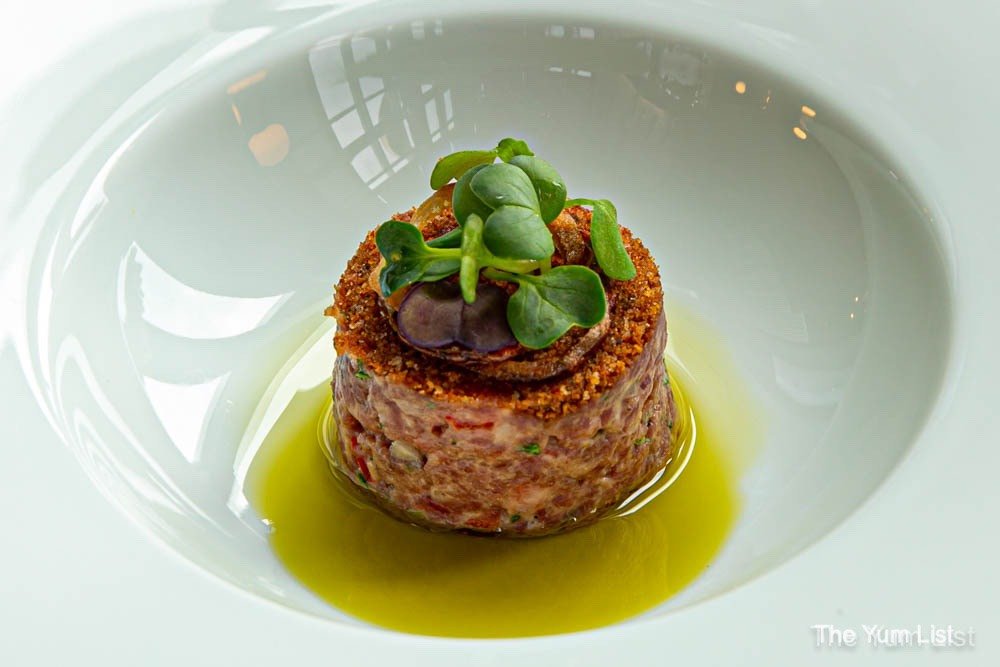 Miso Glazed Hokkaido Scallops
At first glance, I think I've mixed up my order of scallop with shrimp. Closer scrutiny reveals, however, that the white flesh of the scallop has been fanned along the plate and the light char on top further enhances the perception of a crustacean just off the grill. The fine grain of the meat is most definitely scallop though and a yuzu vinaigrette and yellow miso paste are gallant companions. Beautiful.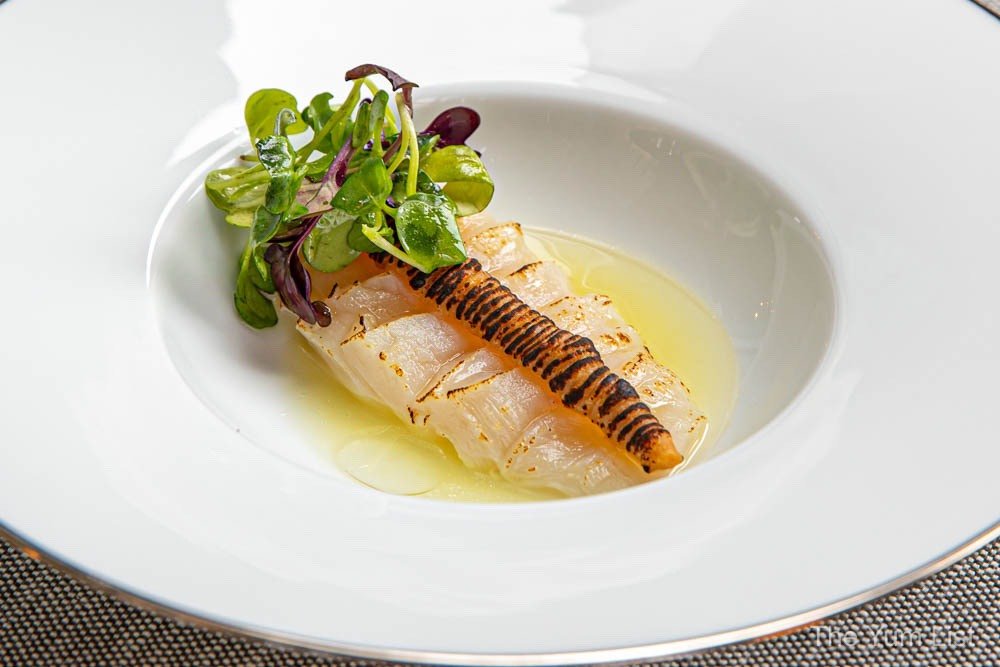 Quail Breast & Leg
Pan-fried quail breast and leg confit come in a katsuobushi broth. It's recommended to crush the small poached quail egg that sits with it to spill the yolk into the bouillon. Enoki mushrooms contribute more chew to this course, and the grilled pea oil trims it nicely. It's flavourful and comforting.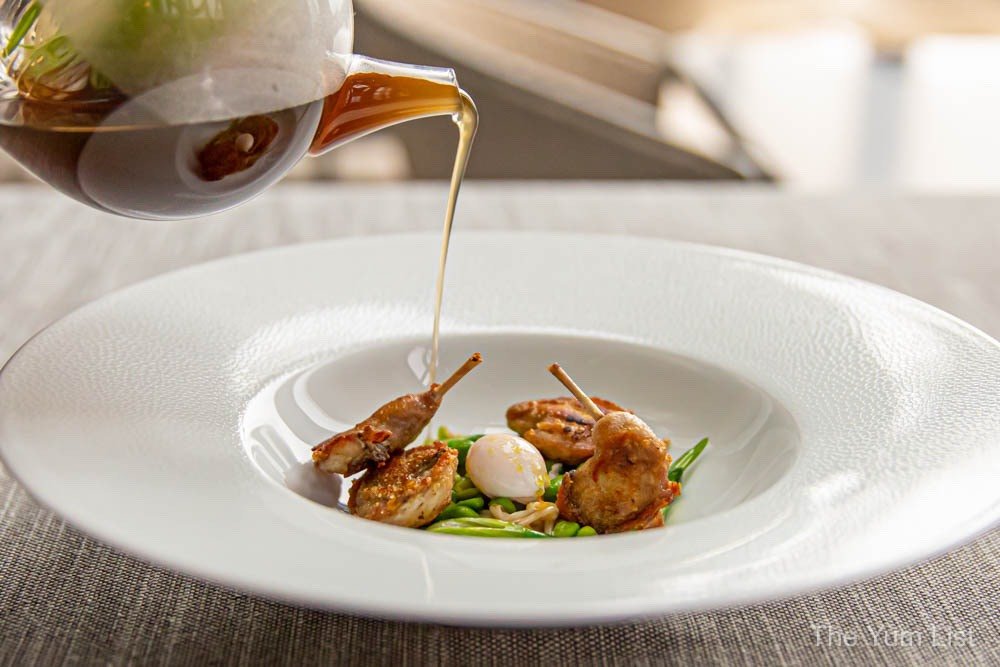 Scallop Baked Norwegian Salmon
Our main course at Sabayon EQ is the most eye-catching of the day. A thin coat of scallop flesh wraps the incredibly moist, pink salmon. Dill and chervil are pressed into the white roll, making it even more alluring. Beurre blanc made with lemon juice instead of wine is a friendly adaptation for non-alcohol taking guests. Even the pan-fried baby romaine salad is as pretty as a picture with sour cream and herbs sprinkled across the top.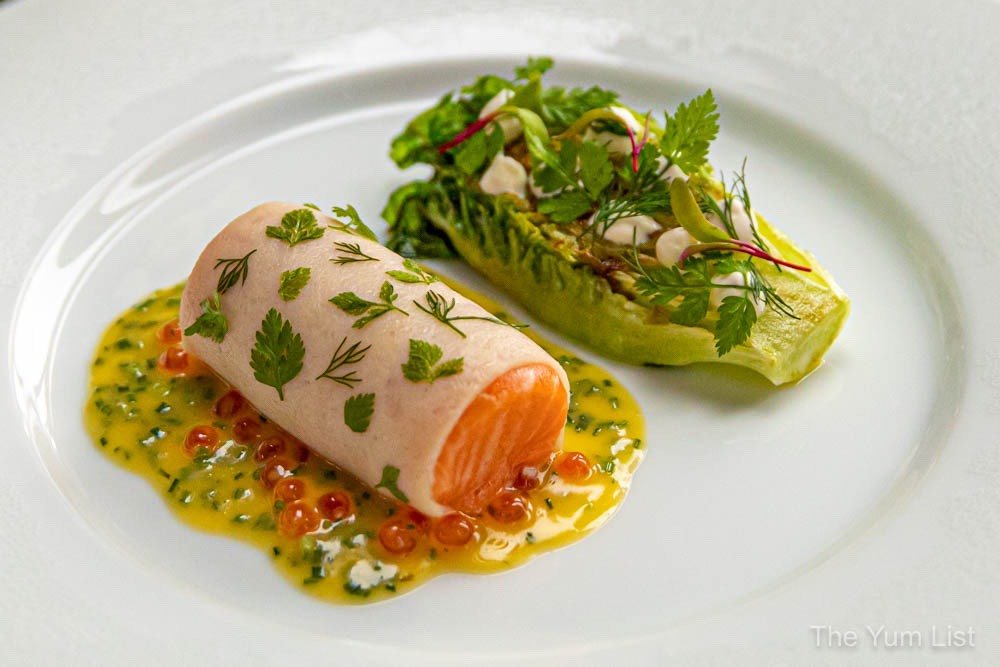 Strawberries from Cameron Highland
Local ingredients are a highlight in our sweet conclusion at Sabayon at Sky51. Cameron Highland strawberries are hidden inside a cup of the most delicious marsala sabayon I've come across. The dessert is light and airy, alcohol forward, and wonderfully addictive. Buddying up with the local berries are chocolate leaf and a praline sponge made on Semai 50% coconut milk chocolate by Malaysian artisan Ning of Chocolate Concierge. Chef Hans recommends taking a little spoon of everything and eating it as a whole.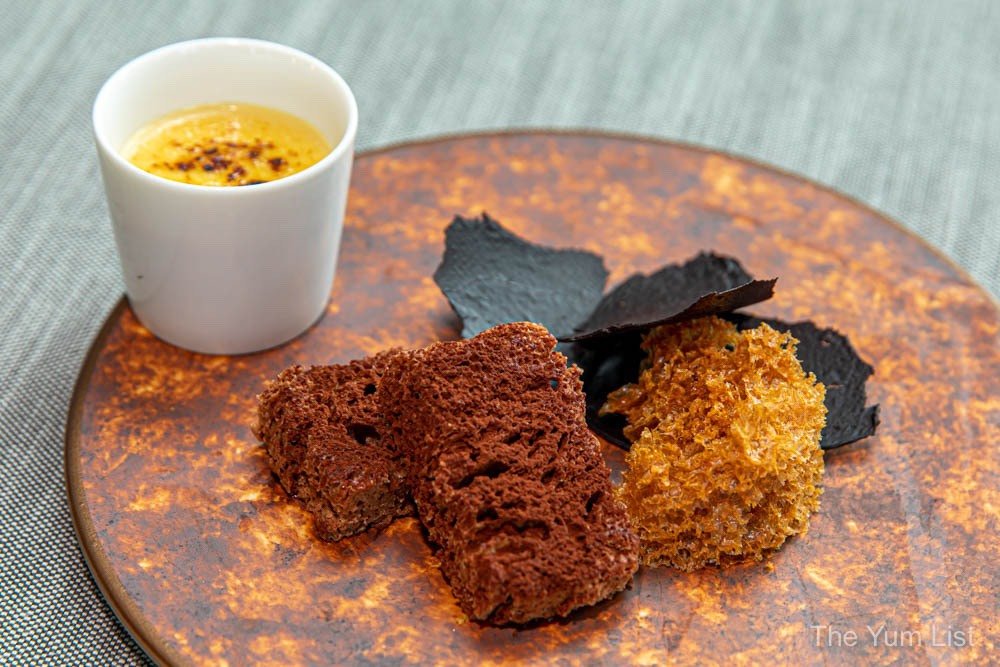 Mignardises
When we note Ning's creations again in the mignardises, chef confirms, "When you find a good product, you have to use it." Passionfruit jelly and a madeleine come alongside sweet laksa chocolate and teh tarik praline. I love the hint of torch ginger in the laksa filling, and the milky tea cream is smooth and gently sweet.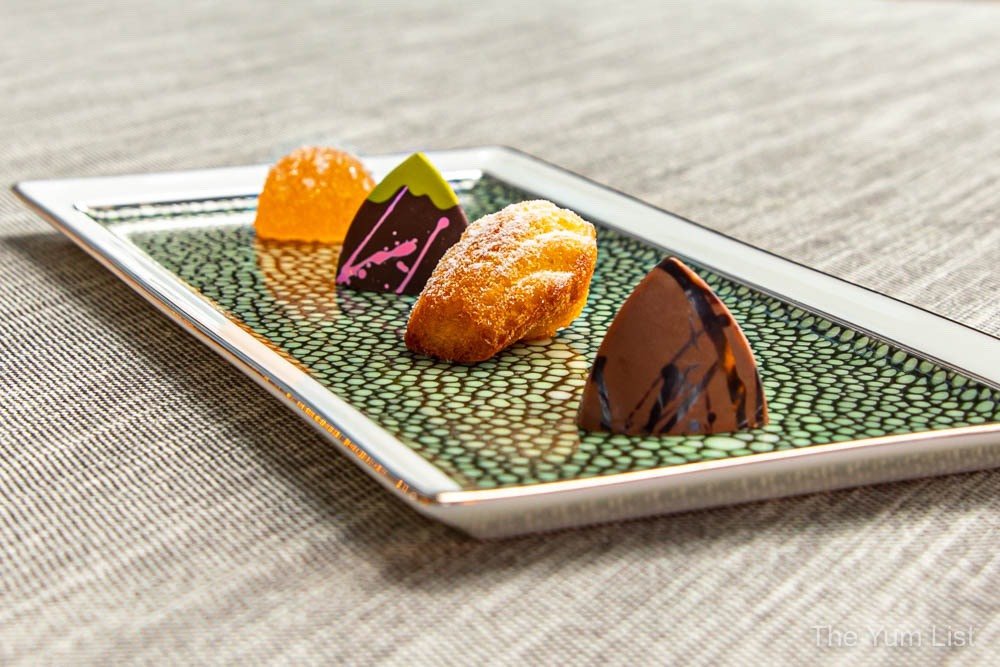 Three and four-course sets are priced at RM306 and RM480 nett respectively. Those wanting to really discover the chef's talents can partake in a five or seven-course Découvert Sabayon, priced at RM465 and RM560 nett.
Sabayon EQ Review
Sabayon at Sky51 in the EQ KL is undoubtedly a restaurant to keep an eye on over the upcoming months. With a chef of this calibre, striking views, a friendly service team and a premium wine list, it is sure to become fast a top choice for celebrations, special occasions or a place to impress an important client.
Reasons to visit Sabayon, EQ Kuala Lumpur: a beautiful setting; stunning location to impress a date or special client; highly-skilled chef; well-chosen wine list.
Sabayon, EQ Kuala Lumpur
EQ, Equatorial Plaza
Jalan Sultan Ismail
50250 Kuala Lumpur, Malaysia
+603 2789 7777
[email protected]
www.eqkualalumpur.com/dining/sabayon
Sabayon at Sky51, EQ Kuala Lumpur Opening Hours
Monday – Saturday: 6 pm – 11 pm
Read about Nipah, EQ's all-day dining restaurant here.