1.45am Bar
Words: Aileen D.    Photos: Rich Callahan
"Meet us at 1.45am Bar," Mon said. I was like, "What an unearthly hour. Way past your bedtime!"
But Mon was referring to the name of a new hidden bar in Chinatown: 1.45am. The name was casually blurted out by a patron when the bar staff called out the last call at 1.45am. The owners had not yet named the place, so voila, the last call literally decided it.
1.45am Bar KL
If I hadn't bumped into Mon and Caning as I was wondering which staircase to take to get in, I don't think I would have found this place. Fronted by a hair salon sign – Hoolai – we walked up guessing this was it. It must be a stairway to makeovers. We came across Ah Peng Hair Waving Saloon followed by Mee Chun Gigi Palsu (False Teeth fitting) and a mole removal centre. Just as I was thinking, "Are we there yet?" we saw a LED sign, "Make Love, Don't Fight, Let's … Tonight". We pushed the door open and wow – a cube of rainbow-coloured LED strip lights lined the whole passage. It looked like a futuristic tunnel into some kind of spaceship. This is an Insta-worthy location!
Another door opened, and we were transported into a dark room with some kind of virtual reality game projected on the concrete walls. There was a lit hand beckoning us to come in, which, according to the bar staff is a "hand exercise." We couldn't avoid the bright digital clock permanently set to 1.45am on the wall just above the beer-pong table. Don't need reminding here; you know when the last order is! Walking in further, we were questioned by graffiti on the wall, "Why so serious ah?" And, there was to be zero-seriousness on this adventure.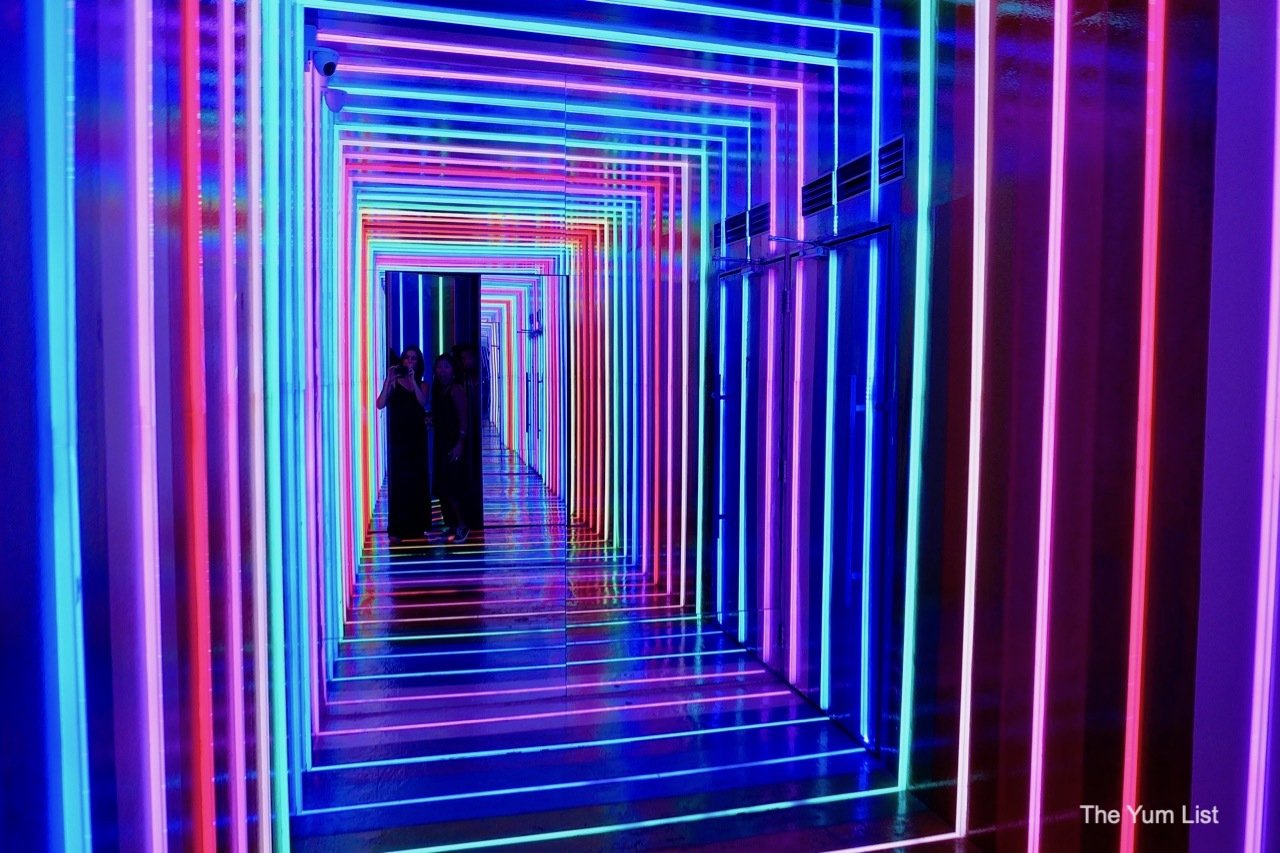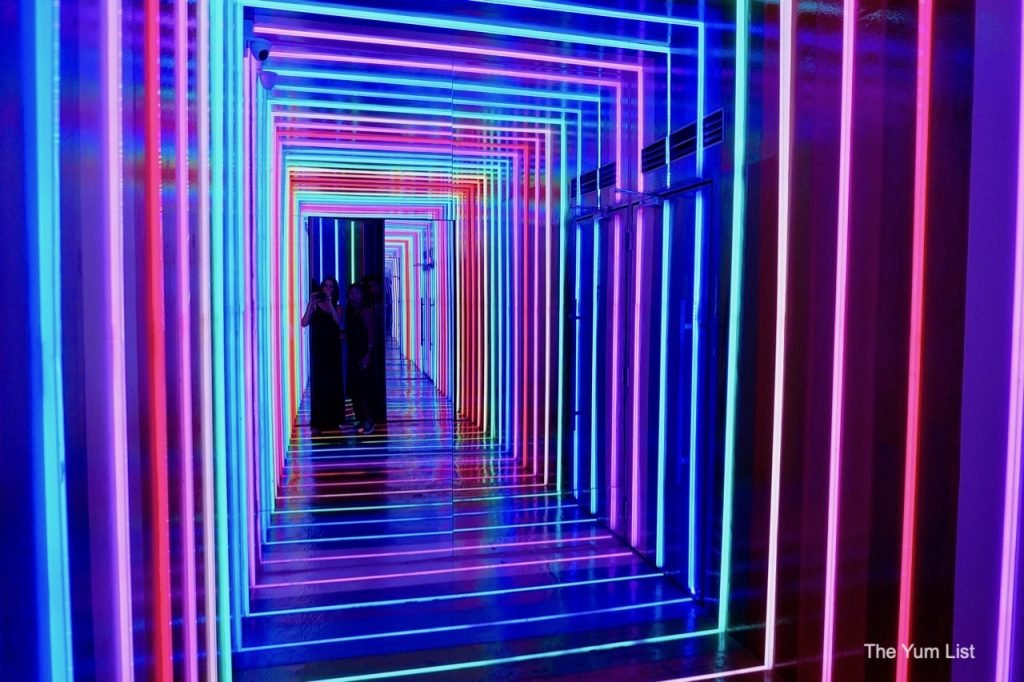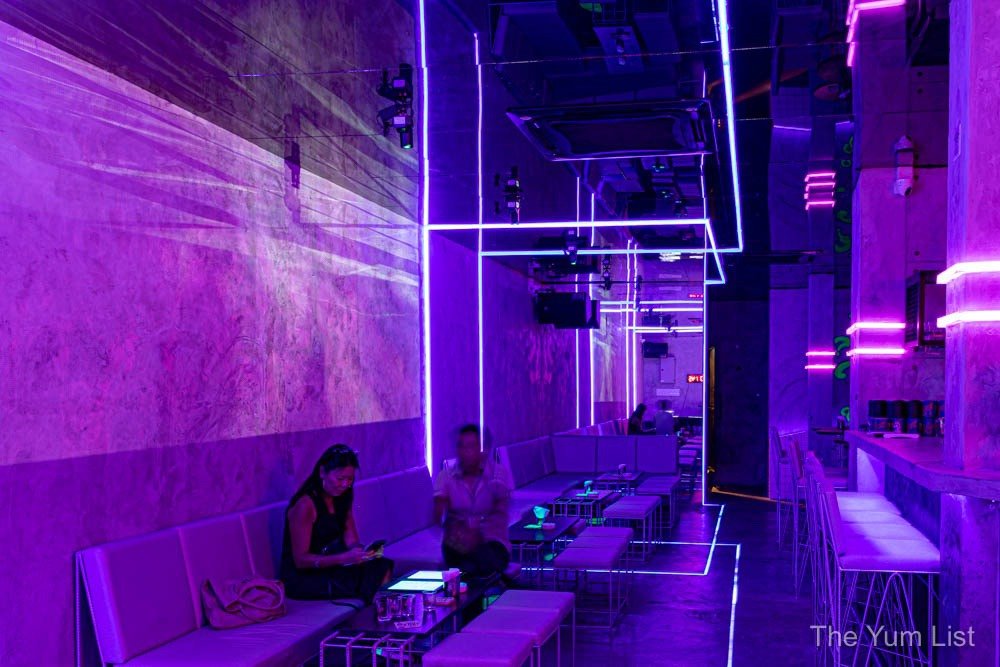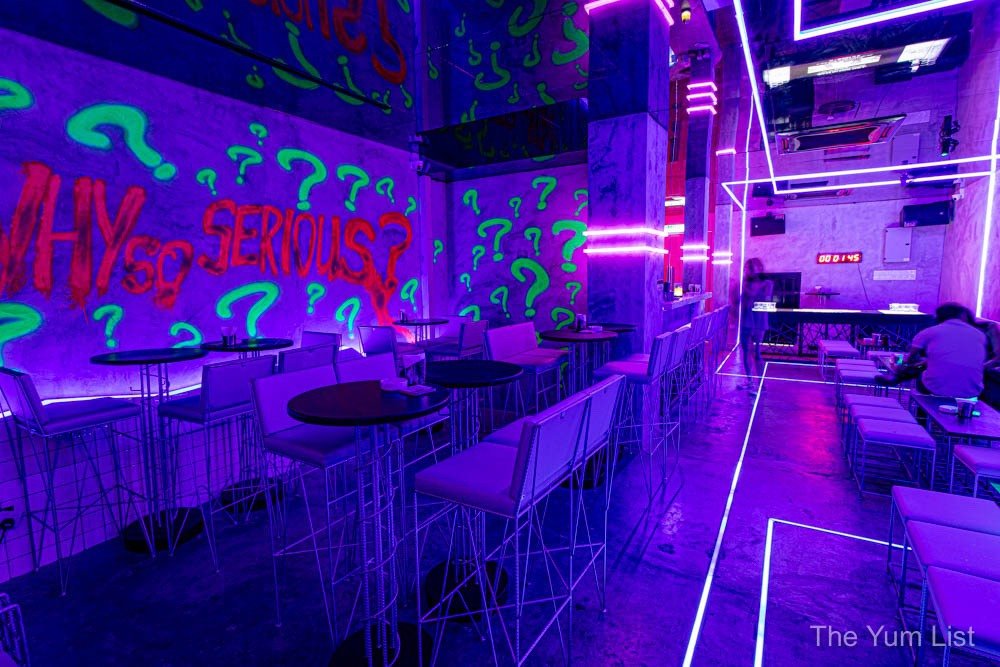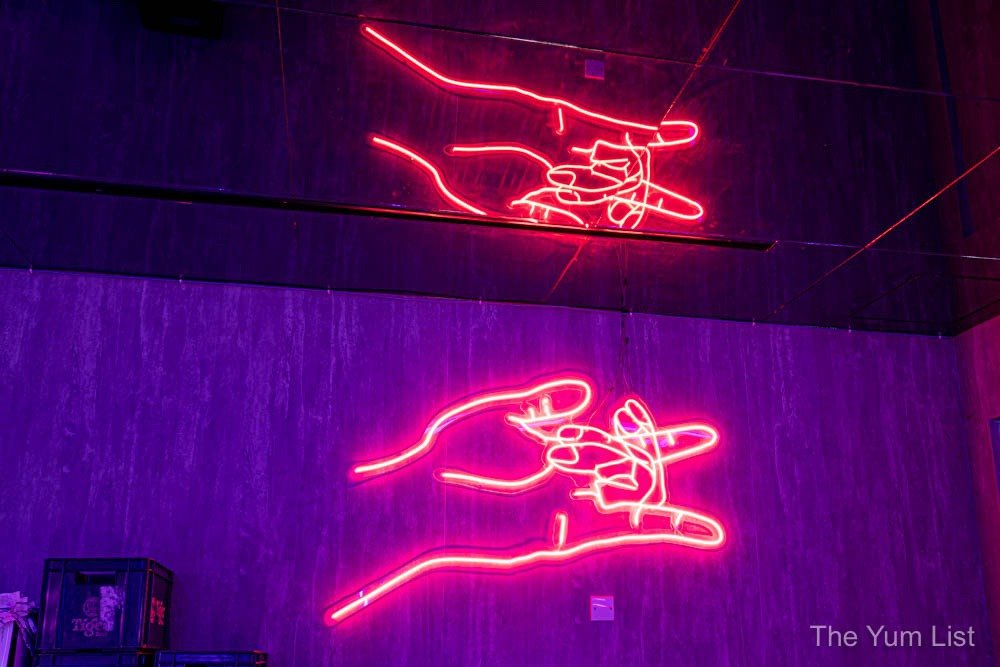 Hidden Cocktail Bar Chinatown – 1.45am Menu
The drinks menu is LED-backlit. Very convenient. It's composed of a series of house cocktails, spirits and beer. We dive into the mixed drinks section.
Slippery Panties (not mine ah, RM38) is a mixture of whisky, lemon, honey and egg white. This one was a crowd-pleaser, turning out to be the top pick for everyone's taste buds. It was refreshing and tangy with a delicate balance of the whisky and lemon; not too sweet.
1664 + 2 (RM38 a glass or RM88 shared serving for three), as the name suggests, is a concoction of 1664 beer and two others – lemon and salty plum. The shared portion is served in a fire extinguisher, and drinks are squirted into glass by the "fire hose." It's particularly fun when you are in a group, and some might even decide to quench the flames/ thirst by pumping the bevvie directly into the mouth. It's loads of fun and easy drinking.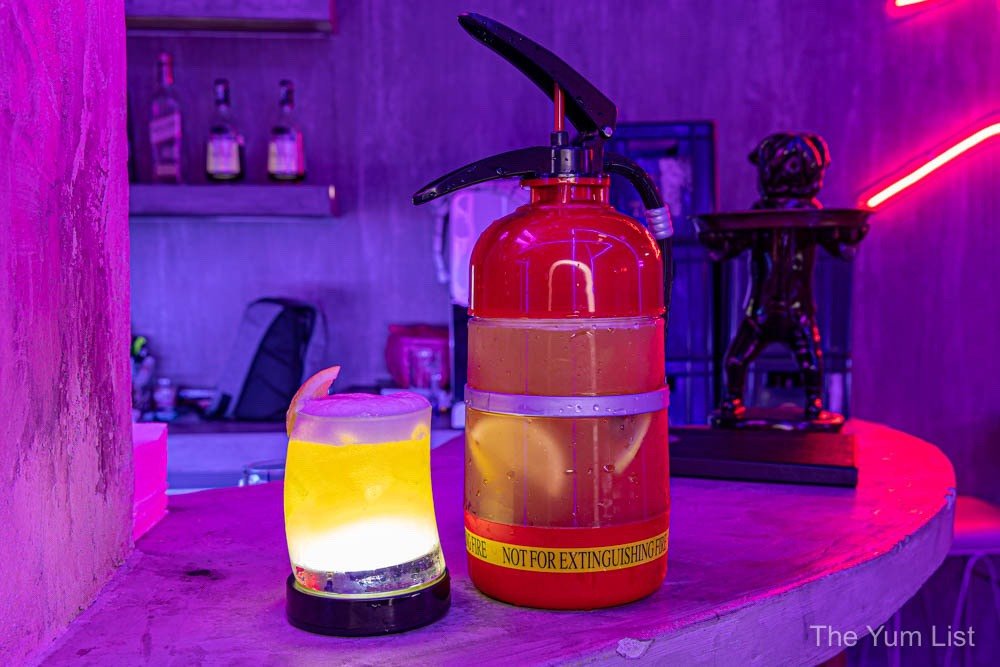 The Salty Slut (RM38) comes in a martini glass with a burnt lemon garnish. It's a sweet combination of tequila, gin, orange and lemon juice, blue Curacao and salt! It's an immediate favourite for Caning. Looking like an ocean, this will definitely catch the eyes of those who like to snap their drinks before sipping at 1.45am Bar.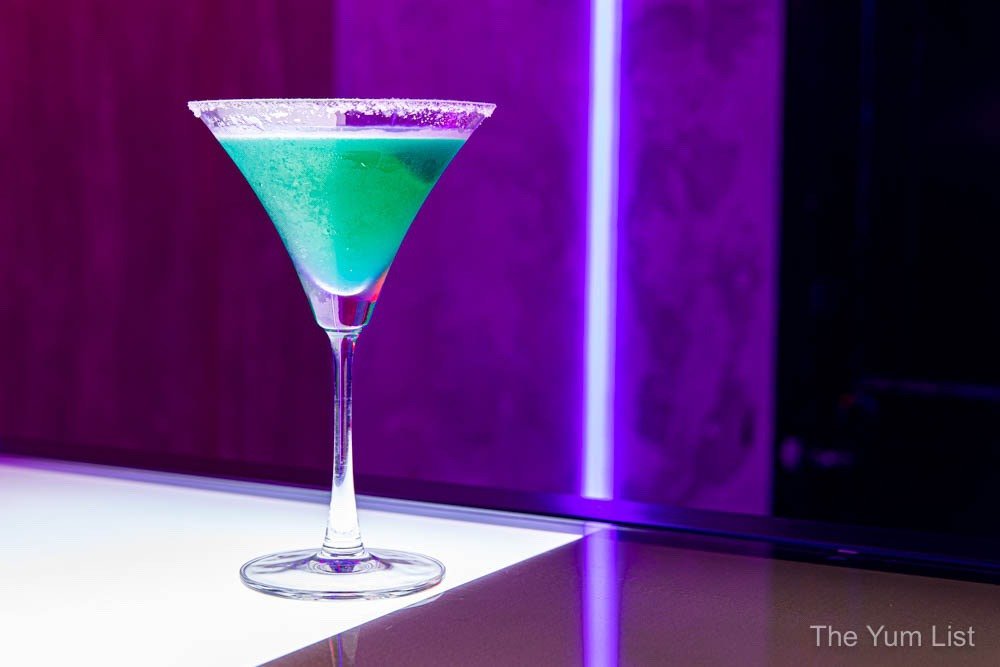 Served in a hand-painted martini glass, The White Lady (RM38) made an appearance garnished with a burnt lemon slice. There's a little bitterness from the gin, which is both complemented and balanced with triple sec and lemon juice.
Interestingly on the menu, there's something called "As you like…" also priced at RM38 per serving. You tell the mixologist your preferences and he, in this case, Jackie (without the Chan), will whip something up. First up was a light, refreshing concoction of orange juice, gin, cherry, mint and lemon juice. It was a little on the sweet side but still stimulating.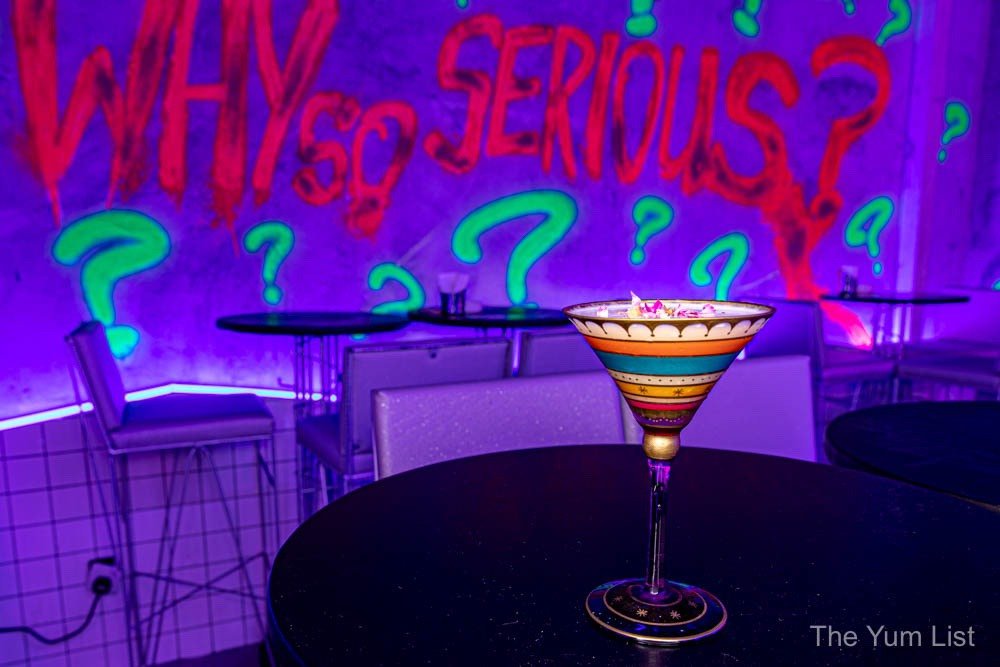 The next "As you like…" drink came in a voluptuous glass shaped like a female torso. With gin, rum, tequila, vodka, peach liqueur and grenadine topped with fragrant cracked rose petals, this was a winner visually with the lads!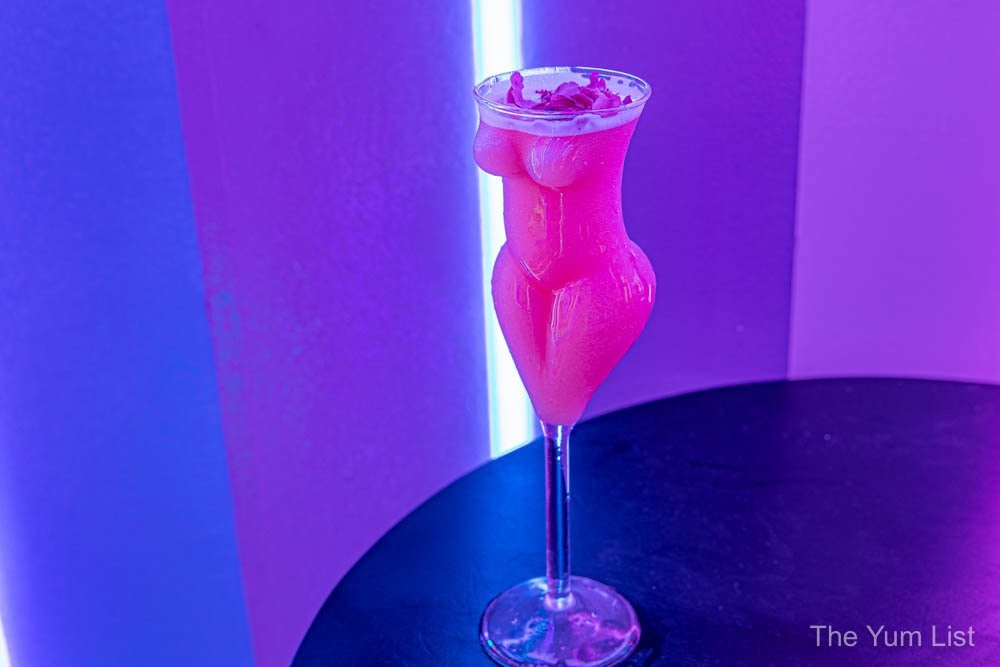 1.45am Bar Review
Lovers of hidden bars will find the fun in the chase of 1.45am Bar. Instagrammers should also find the setting highly attractive. The mood is upbeat and a bit cheeky. It's a great stop on a bar hop around Chinatown. If with a group of friends, I highly recommend the fire extinguisher cocktail – 1664 + 2.
Reasons to visit 1.45am Bar: upbeat and cheeky setting; good music, and you can make requests too; good for groups – try 1664 + 2 in the fire extinguisher portion, Instagrammers will love the lights.
1.45am Bar
Hidden Cocktail Bar in Chinatown KL
63B Jalan Sultan
Kuala Lumpur, Malaysia
+6 019 828 4370
Instagram
1.45am Bar Opening Hours
7.30 pm – 2 am every day except for the 2nd and 4th Tuesdays of the month.
Find more on the cocktail bar scene in Kuala Lumpur here.