Christmas at Joloko 2019
Words: Patricia Podorsek    Photos: Rich Callahan
The season of lights is nearly upon us. Don't believe me? Just have a walk in or around Pavilion – I think they have more bulbs than all the countries of Africa combined! And to usher in the season, a perennial favourite of mine is offering a special menu to "light" up taste buds in new and innovative ways. What else would we expect from the chefs at Joloko?
Designed for parties of two or four (but they are happy to adapt for odd numbers), Christmas at Joloko 2019 will be offered on the 24th and 25th of December and includes a selection of appetizers, mains, sides, and desserts. It even comes with a special cocktail. At RM165++ per person, this smattering of well-dressed sharing plates brings family and friends together, just like the holiday itself.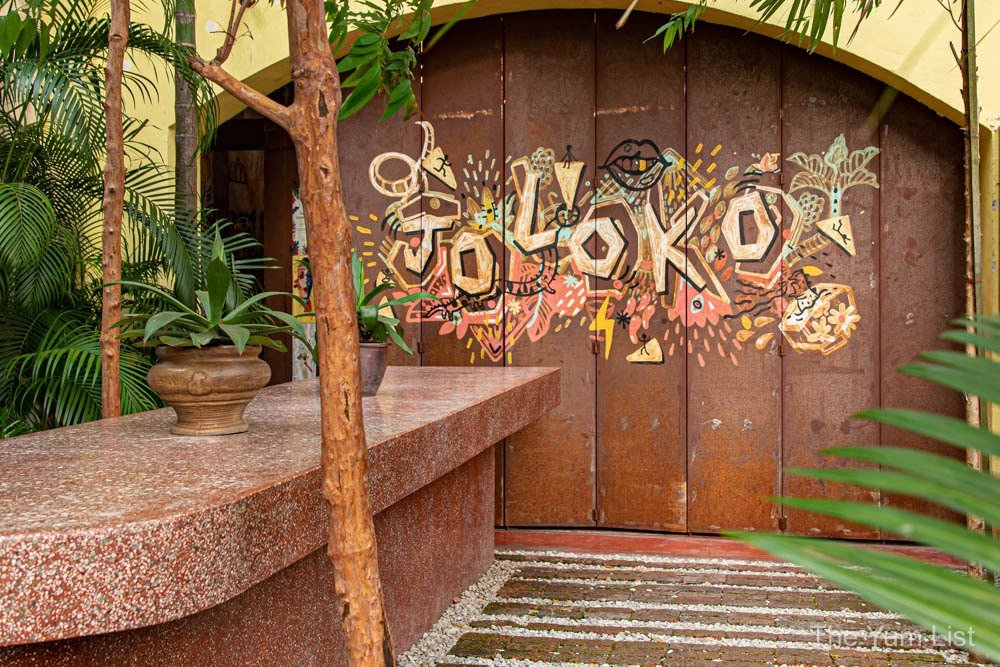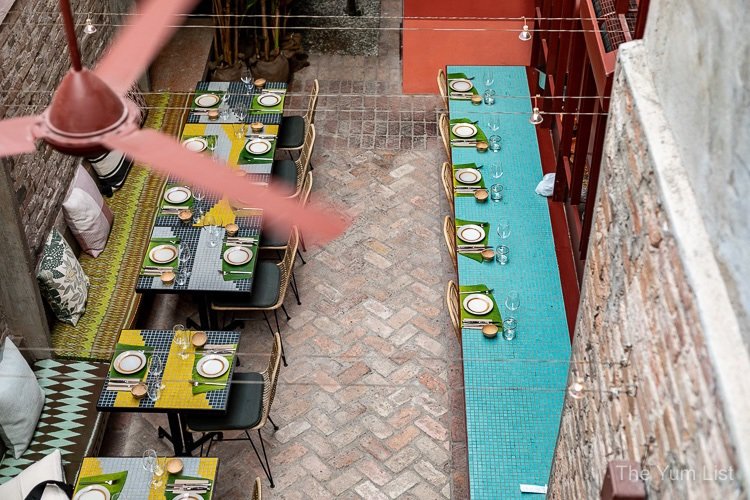 Christmas at Joloko 2019
But Christmas roast this is not. The rollout begins with Classic Hummus, a super smooth puree loaded with garlic and tahini. Salty olives and pickled tricolour peppers dress up the top like a bow on a present. Wholemeal pita makes it easy to shovel it all in like coal to a stocking. How naughty have I been this year? Let's just say that coal would not be out of the range of options when my name pops up on Santa's list!
Alongside the hummus, we dig into avocado and spinach dip, where lemon and garlic meet the headliners along with artichokes and cream cheese. With strips of burrata on top, this is creaminess overload! Good thing we still have plenty of pita to sponge it all up for Christmas at Joloko 2019.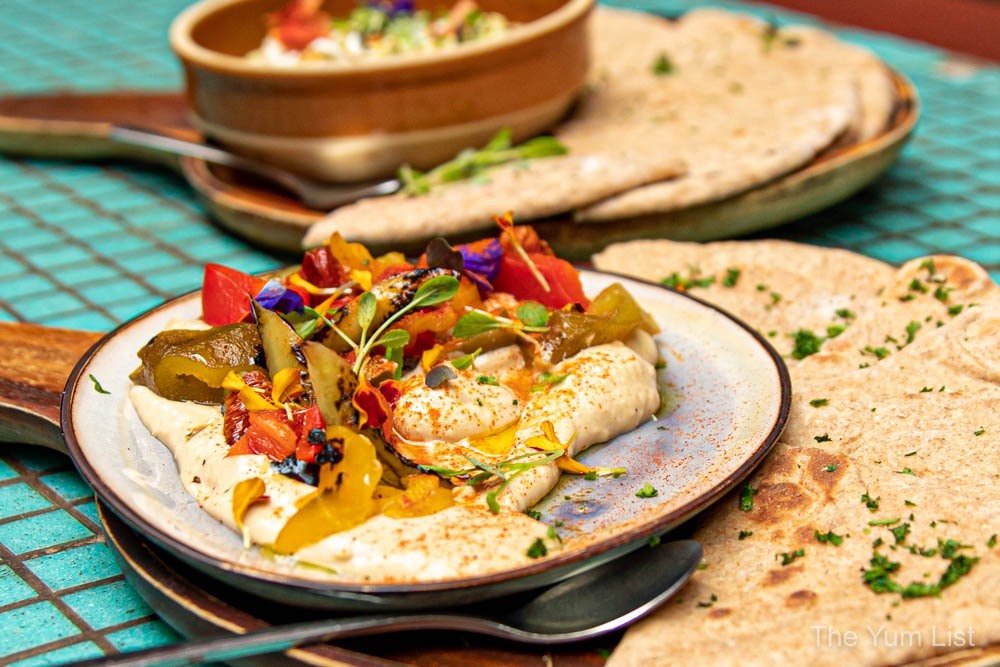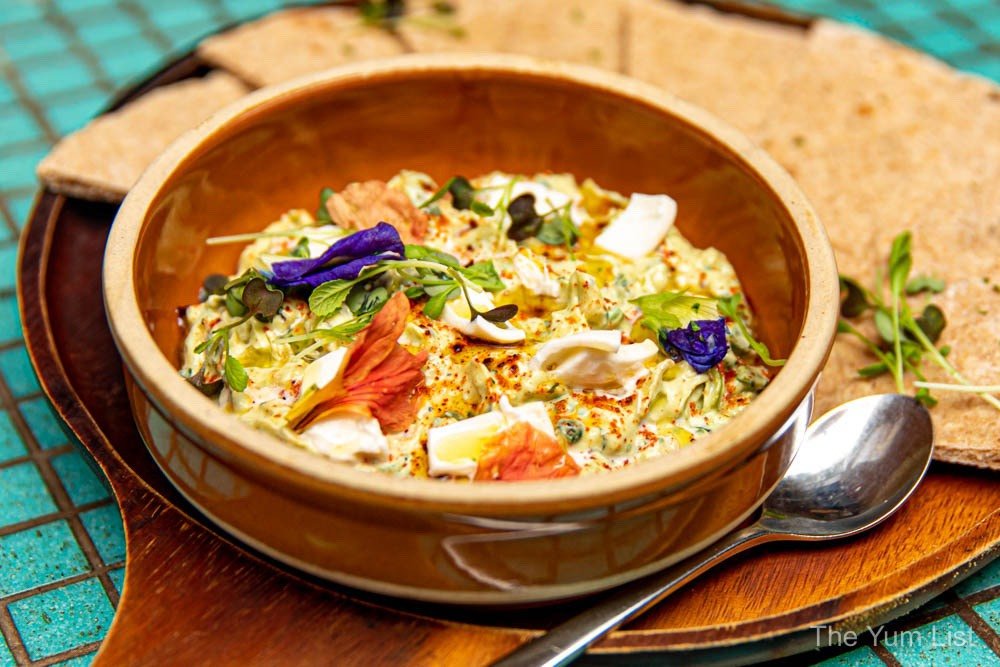 Xmas Cheer!
Time for some cocktails to start the festivities. None of us like our drinks too sweet, so we are content to try the Margarita-ish (RM38), a lighter version of the tequila-lime-orange classic. Here, gin clarifies the agave and plenty of lime zest offer bitter undertones for greater complexity undistracted by sugar.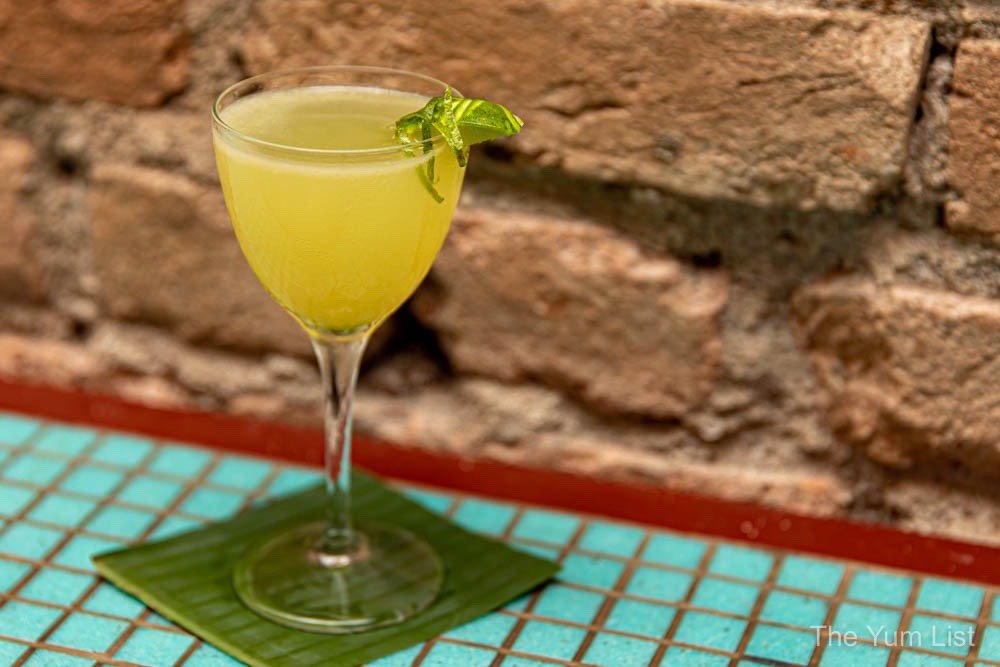 More tropical is the Batida, Brazilian rum blended with passionfruit and pineapple served in an edible gift bag. With Christmas at Joloko 2019 in the air, both the fruit and the creativity of this drink make me think I should be decorating a palm tree with ornaments instead of an evergreen. Rick's (Joloko's proprietor) rhythmic playlist only adds to my inclination.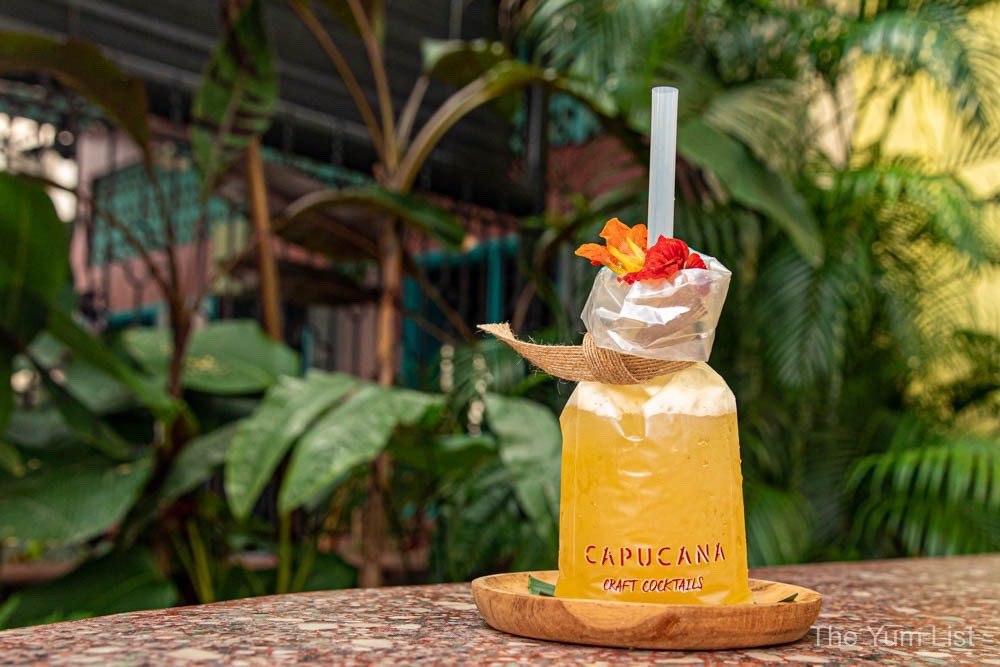 Xmas Dinner Kuala Lumpur
Santa's sleigh could not be kitted out better than the Creole Spiced Bone Marrow. With bones as the runners, brightly coloured tomatoes and flowers adorn the top like parade gear. This dish is decadence incarnate, buttery marrow topped with truffle paste. Slathered on toast, the tang of lemon and pickles offsets the richness of the fat.
No Christmas dinner would be complete without yellow vegetables, and Joloko sports an American staple in the Sweet Potato Cakes. Arriving with the marrow, deeply coloured tubers are mashed and coated in breadcrumbs for a crispy exterior. Accentuated with a nice bit of heat in the green coconut sauce, this is a Christmas cake I can get into. Forget about the candied cherry fruitcakes of old!
Winning the Christmas at Joloko 2019 pageant for the most beautiful dish, the Eggplant Ceviche arrives like a princess with a crown of crispy blue tortilla chips and fresh flowers. Textured eggplant is layered with harissa paste and avocado and then drizzled over with pomegranate syrup. The result is a dip that is creamy in nature but spicy and a little sweet. Delicious.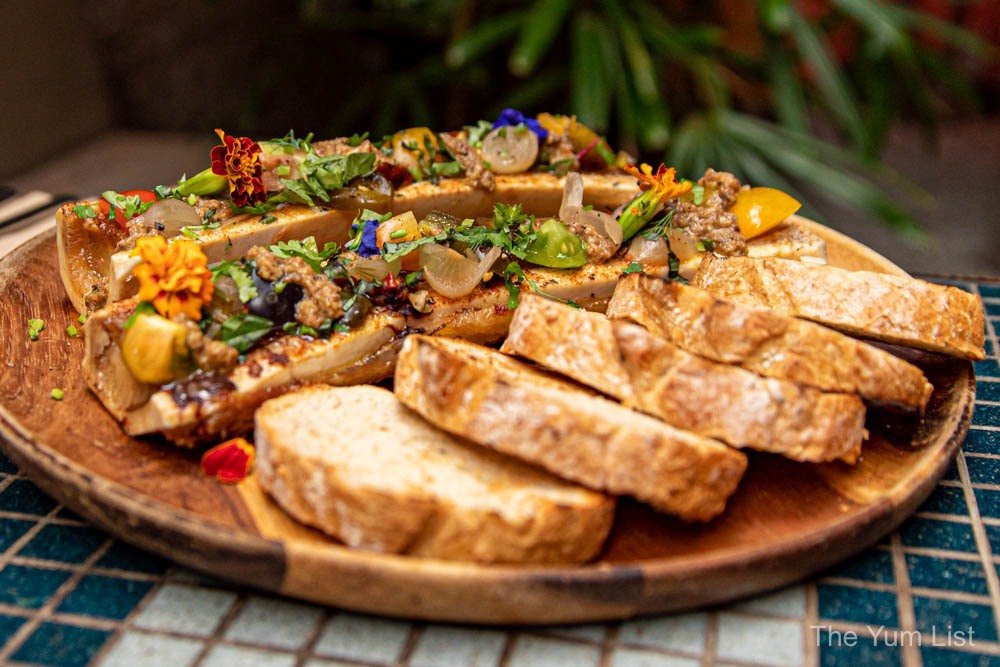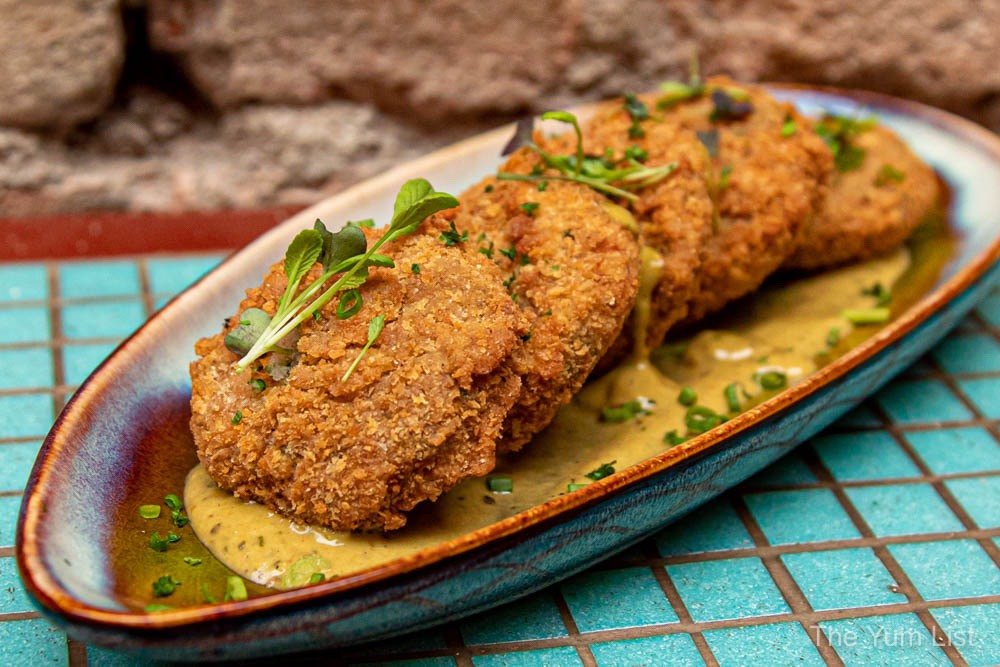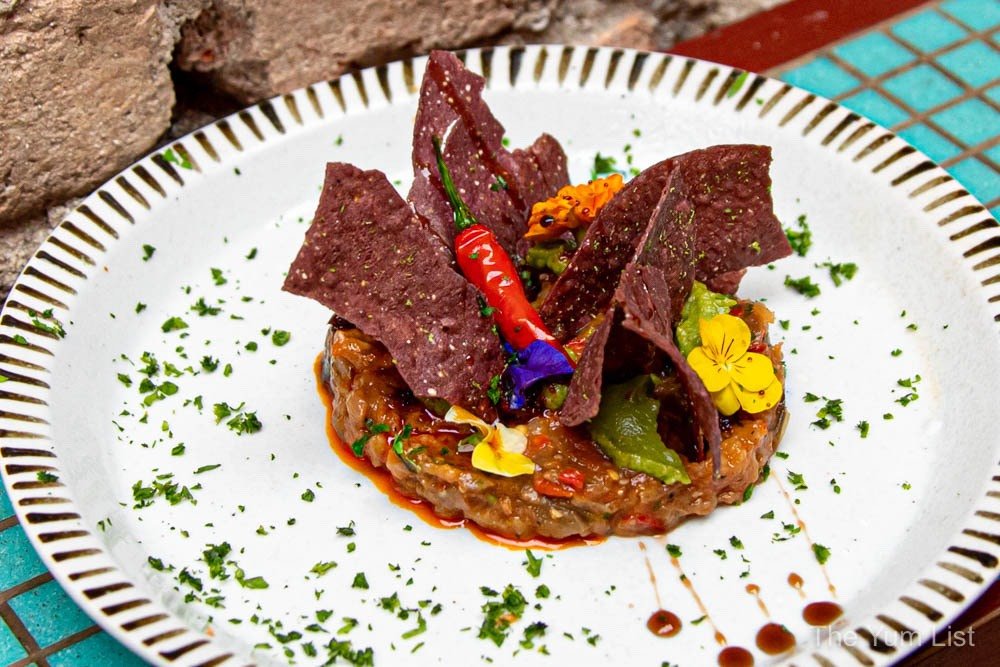 Celebrate with Natural Wines
Anyone who's been to Joloko knows that they specialize in organic wines. In fact, somewhere close to 70% of the wines on the menu are organic. With the appetizers, we start with a white field blend bottled by Australian Patrick Sullivan. The combination of grapes creates a full-bodied wine with heavy notes of chardonnay on the nose and mineral richness to the palate. As we move to red for the mains, Momento Mori's The Incline Syrah starts tingly, almost effervescent, with intensely fruity notes that make me think of cranberries. Perfect for the season.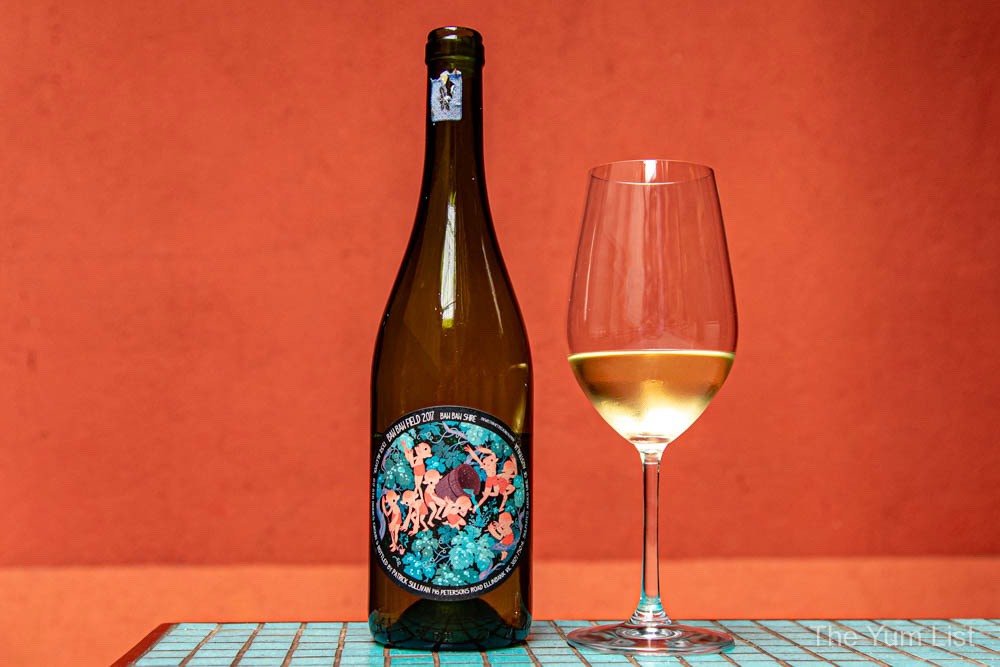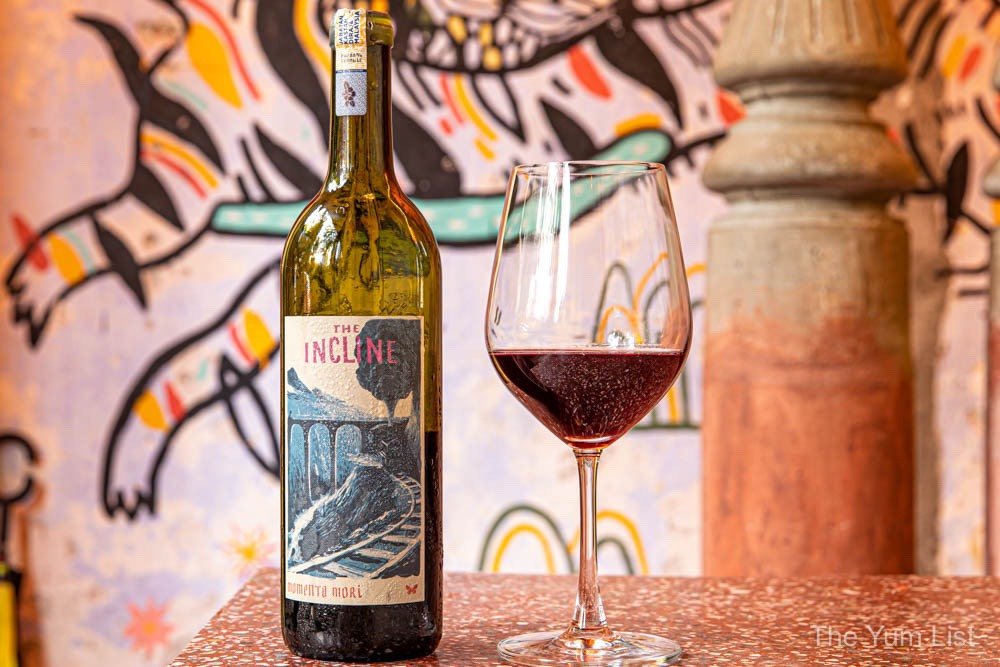 Xmas Surprises
I was never the type of child who searched mum's closet for my Christmas present ahead of time because I like surprises. Good time to be at Joloko, then, because proprietors Rick and Kit are specialists in surprises! Today, it's a taste of something that is not on the menu, something so unusual that I can hardly believe what I'm eating. Arriving at the table is a scoop of smoked mussel ice cream. Yes, you may need to read that again. I don't know about your world, but in mine, ice cream is reserved for something dessert-y like salted caramel or fudge brownie, not… seafood! One bite and I am smitten by the luscious combination of flavours. On the one hand, it reminds me of creamy Scandinavian herring, and on the other, oysters on ice. No matter which side you choose, you can be sure you'll keep using it scoop up every bite. Merry Christmas, indeed.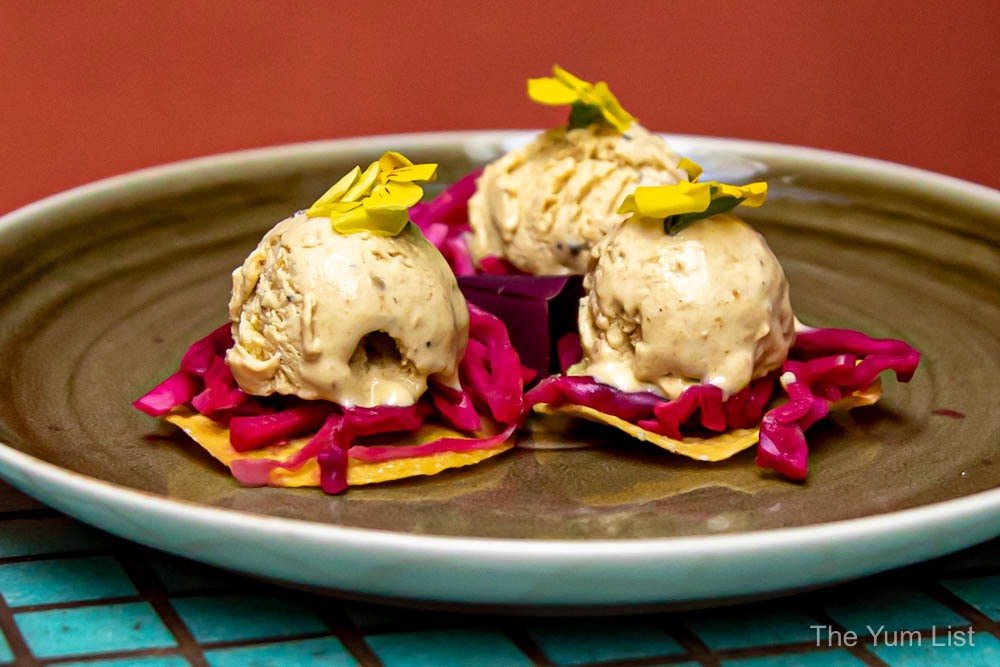 Christmas at Joloko 2019 – Dinner
Topping the list of the mains is a Half Lobster with Herb Salad. Bright with lemon straight away, delicate seafood unfolds into warming smoke and spice with a lot of garlic and a little chilli rolled up into stuffing. Spinach and cilantro tossed in a light dressing round out the plate.
Following the lobster, slices of tender roasted lamb shoulder arrive with an orange glaze and Middle Eastern shatta. Always eager to learn about new sauces, I discover that shatta is prepared with green chilli and herbs, not unlike chimichurri, but spicier with a more substantial base of roasted garlic. This dish exhibits well-balanced flavours, with a beautiful blend of traditional and exotic.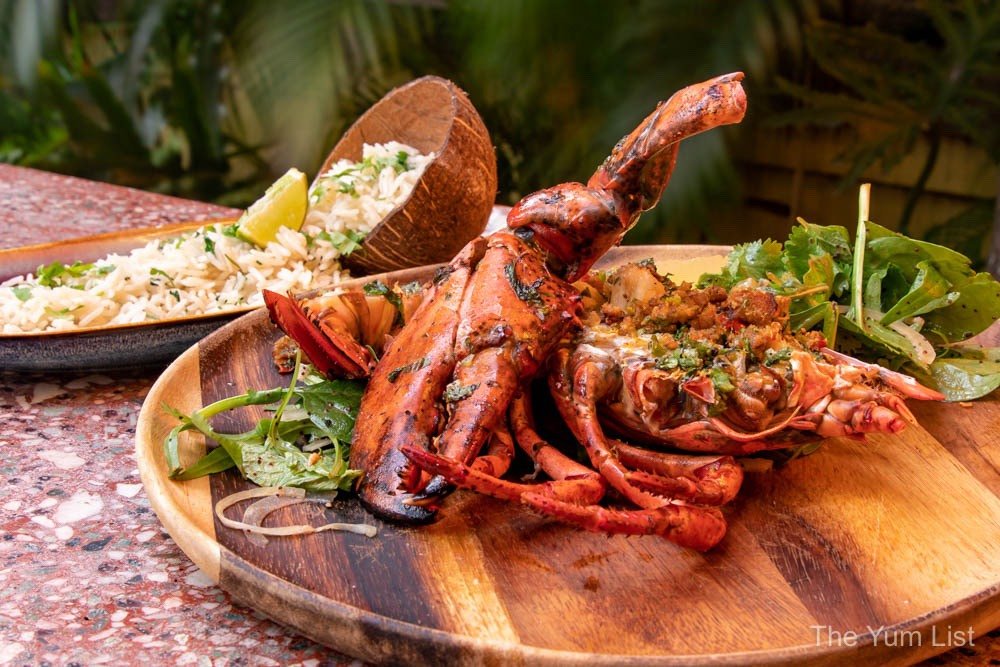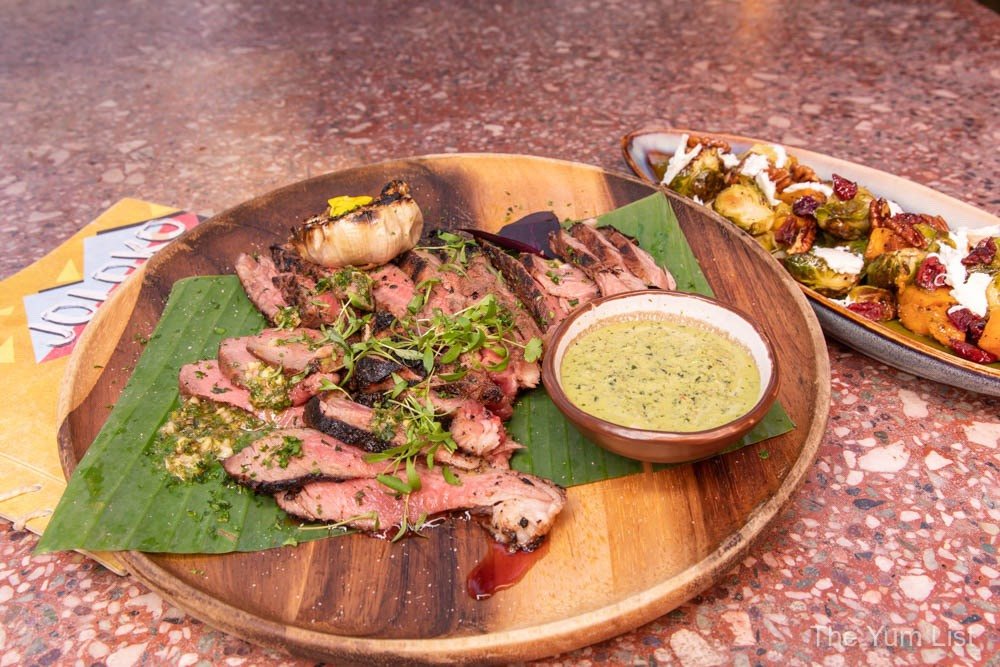 Vegan Wellington
Where Wellington is not uncommon for a Christmas main, there is nothing ordinary about Joloko's Vegan Wellington. Tucked into the pastry, we find layers of spinach, onions, corn and other vegetables that I'm enjoying too much to dissect. Lying on a bed of spicy mango salsa, we find yet another example of a world where traditional meets exotic, both in taste and presentation. I mean, how many dishes can get away with being decorated by Brussel sprouts? This is just fine by me.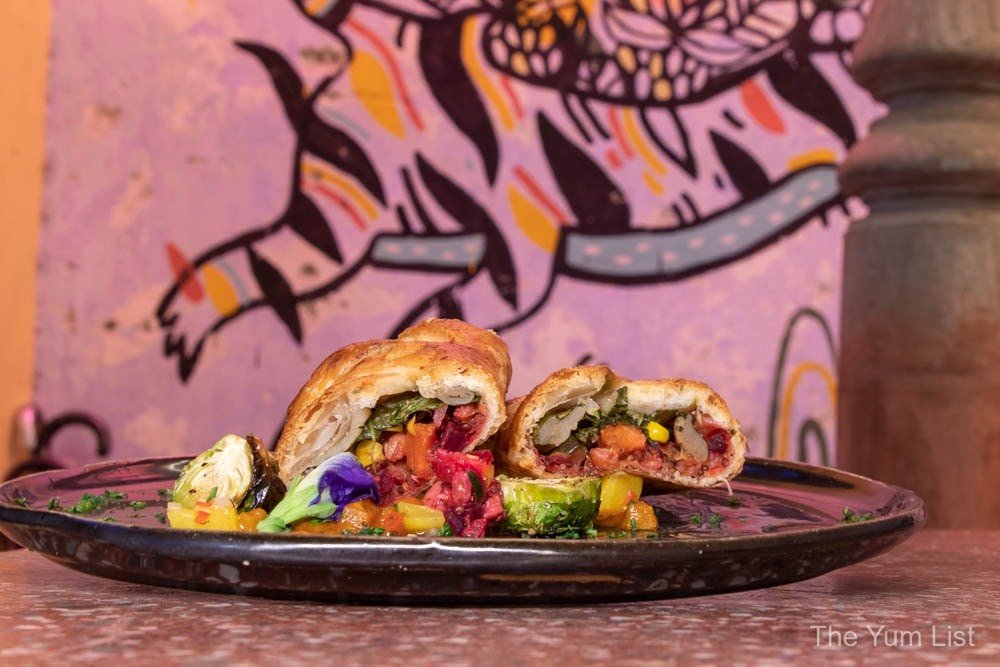 And speaking of Brussels sprouts, one of two side dishes delivers the little cabbages, tossed with butternut squash, cranberries and pecans in a sweet glaze for a harvest bonanza. The other side dish is more tropical, Coconut Rice with Lime. We love the creative plating that has it spilling out of a coconut shell.
More Wine Please – It is Xmas in KL!
A second red makes an appearance at this point, more from the organic lot. The 2016 Figure Libre Freestyle is a punchy blend that breaks the rules of traditional French appellation. The unusual combination of grape varietals delivers an exciting set of flavours… never a dull moment at Joloko!
Christmas at Joloko 2019 – Dessert
Dessert on the Christmas at Joloko 2019 menu begins with the promised Bunuelos with Cumin Cream Cheese. Not unlike churros, bunuelos are fabulous fried tortillas glistening with cinnamon and sugar. Alongside for scooping, we find a dish of spiced cream cheese topped with berries and bits of grapefruit. The combination here is powerful: cinnamon, cumin, cream, sugar, berry, and bitter. The experience is both the tinsel on the tree and the silver in the bells to end the evening. Or so we think…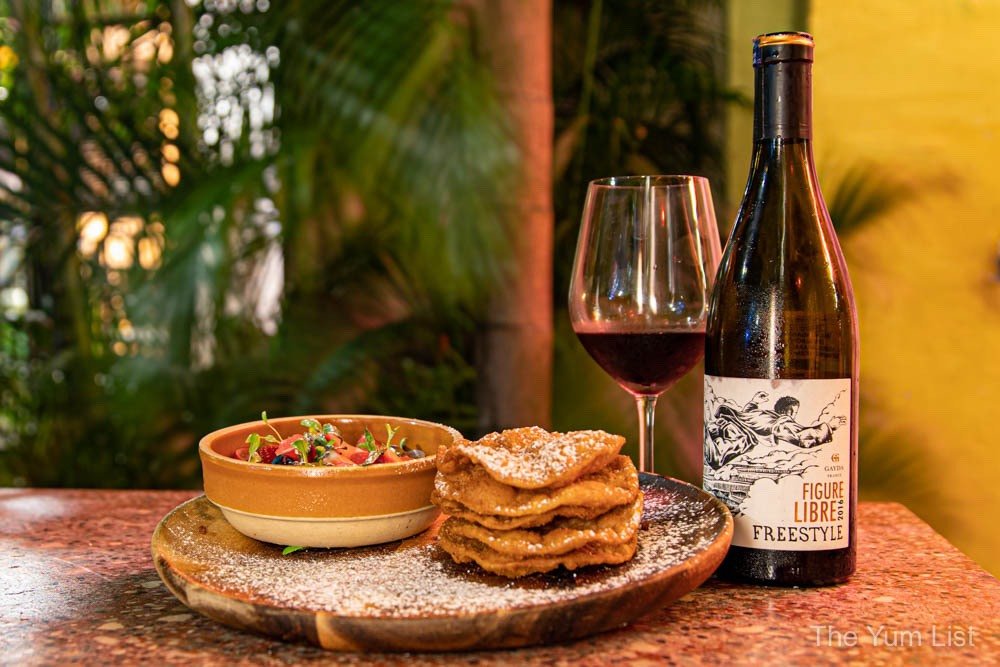 More Festive Treats
But of course, we should expect more surprises awaiting us, again in the form of unusual flavours of ice cream. (Not on the Christmas menu but worthing knowing about if you are a gelato fan.) The ginger-rosewater is delicate and creamy, the ginger stronger than the subtle rose. Even more fun is the experimental mescal ice cream, a little slushy but lovely with pineapple and chilli. I love a dessert and cocktail in one! But the consensual favourite is the tonka bean, macadamia, and salted caramel ice cream, all creamy and sweet and nutty and salty and crunchy. This is what Ice cream should be. Dessert ice cream, anyway!
Christmas at Joloko 2019 Review
At this point in the evening, you might say we are like Santa's elves, having made neat work of the menu and loading up our bellies like a sleigh full of toys. But I also feel like the children who've just opened those presents Christmas morning, delighted by the fun and surprise and delight of it all. Christmas at Joloko 2019 is definitely a fabulous way to celebrate the season.
Joloko's Christmas Menu will run for (DATES) and caters for parties of 2 or 4, at RM165 per person, including a Christmas-themed cocktail. Vegetarian menus are available, with advanced notice while making a reservation. Reservations are recommended.
Make a reservation for Christmas at Joloko 2019 through the booking button below.
Joloko Bar and Restaurant
43, Jalan Kamunting, Chow Kit
50300 Kuala Lumpur
+60 3 2694 1100
www.bar-joloko.com