Swee Lee Social Club KL
Words: Monica Tindall
Photos: Rich Callahan
What began as a supplier of brass instruments to the British military in Singapore, has now expanded to include 15 stores across South-east Asia with three of those in Malaysia. Swee Lee Social Club, on the third floor of Lot 10, has built upon the foundation of its predecessors to establish a firm footprint in the present. Continuing to help musicians – from beginners to pros – follow their passion, the concept has now evolved into a fully integrated lifestyle brand.
Swee Lee in Lot 10 provides its core line-up of musical instruments in addition to a café, vinyl section, lifestyle products and second-hand guitars. Close to 5000 square feet composes an inviting space, and the afternoon we visit there are several groups and individuals all about the store. Some are engaged in technical conversations with knowledgeable staff. Others are browsing the vinyl, some are collaborating over coffee, and at various points, one or two people jam with the guitars on couches in the café.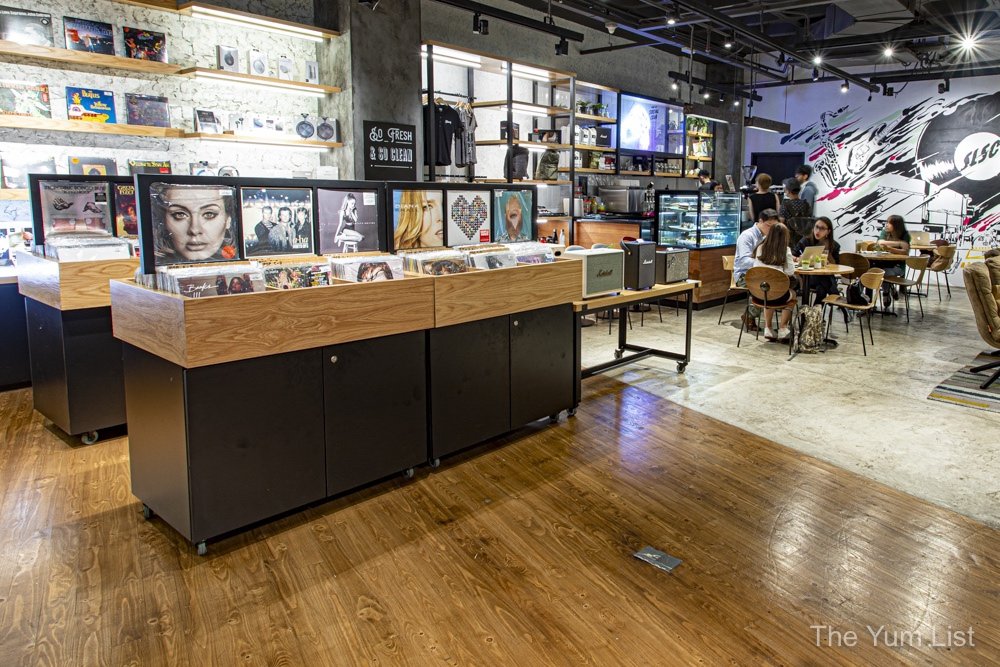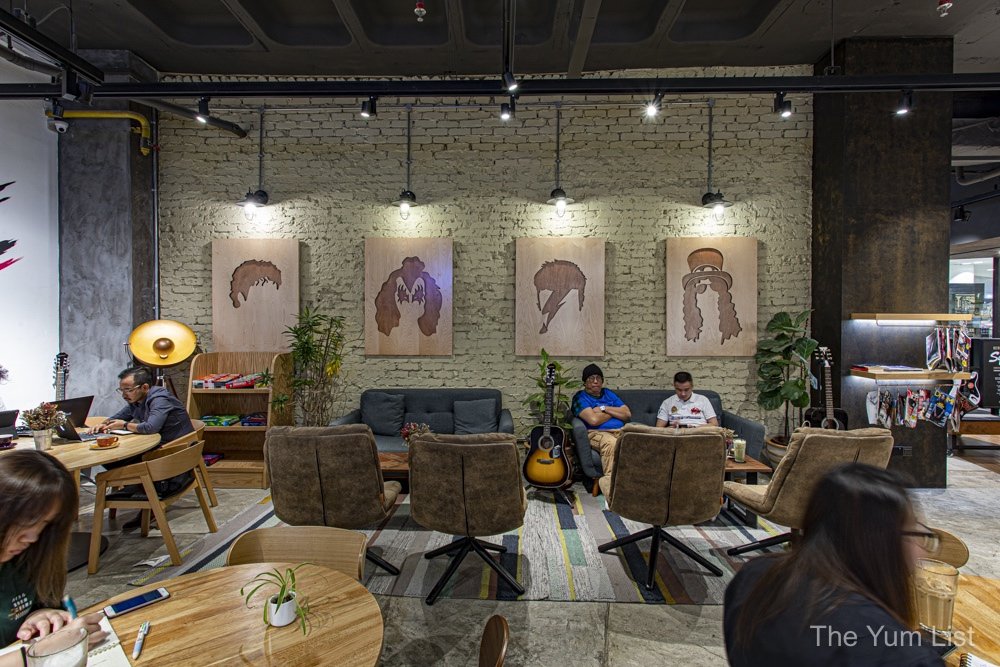 Swee Lee Social Club KL
The café takes up a bright corner of Swee Lee Social Club with tables and sofas interspersed between dynamic artworks. You might recognize the scene in the wall mural from the streets of Bukit Bintang. In contrast, others could be drawn to the wooden cutaways of celebrity guitarists. There's a shelf stacked with board games, and, in general, the area invites guests to chill, converse, collaborate or read a book, alone or with a friend.
Swee Lee Social Club
Menu
While the number one reason for visiting Swee Lee Social Club is the instruments, the café offers sustenance for extended periods of browsing. The menu is straightforward and reasonably priced. While you won't find any gourmet recipes here, most should be satisfied with the fresh, simple food that is all made in house.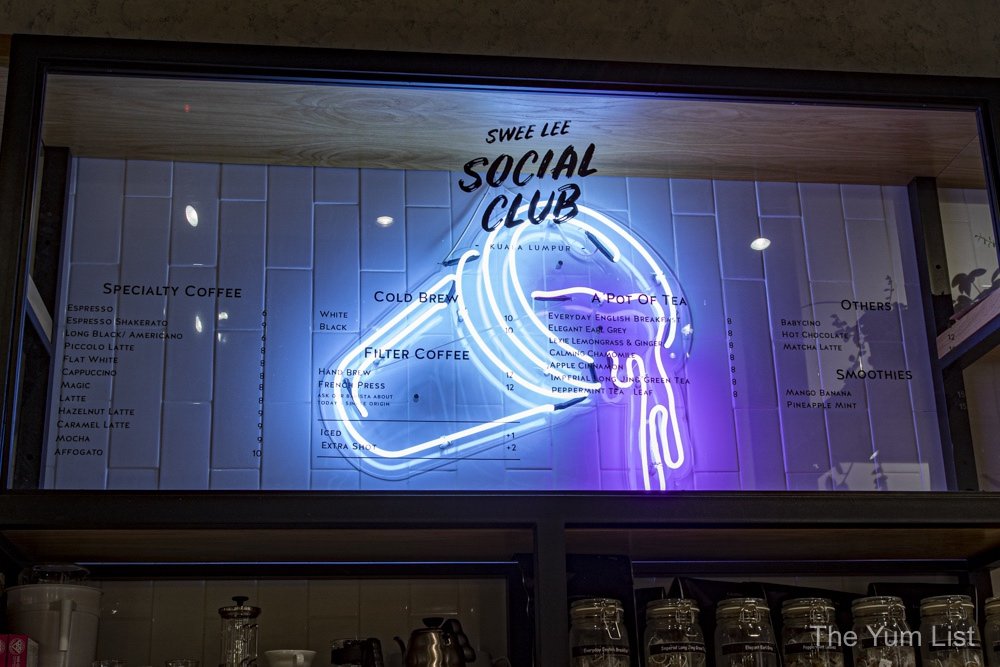 Food
We begin with one of Swee Lee Social Club's most popular orders, the Pulled Beef Pesto Sandwich (RM 22). It's filled with brisket that has been cooked for eight hours, along with mushrooms (shimeji and button), lettuce and shallots. Panini acts as a worthy holder, and the pesto sauce is surprisingly tasty considering it does not contain pine nuts or Parmesan. Mixed greens and fries turn this sanga into a complete meal.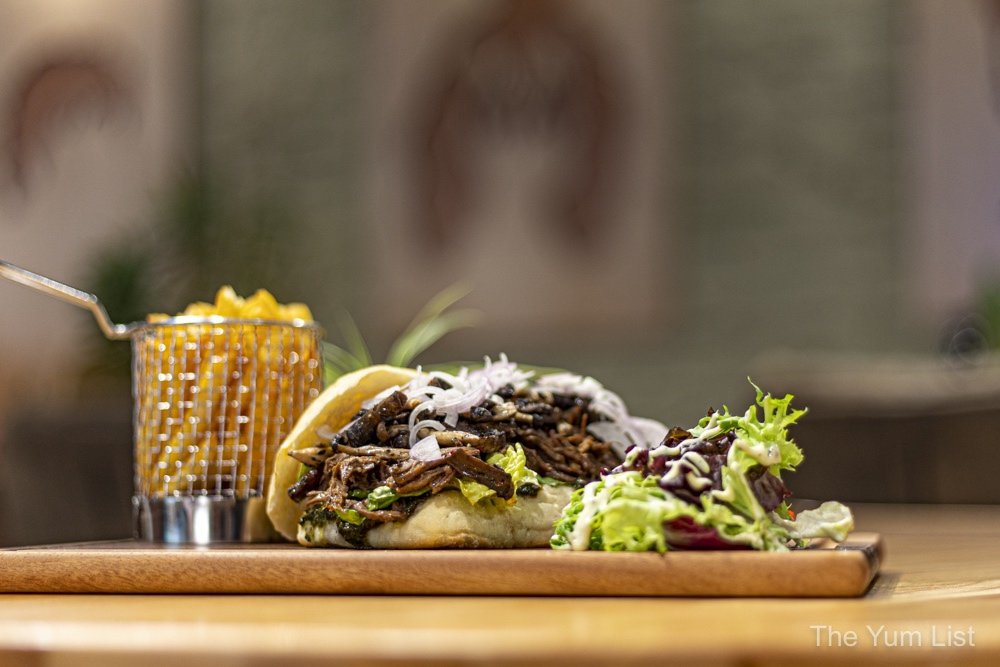 Wraps
Carbs are also offered in a simple menu of two wraps, tuna and chicken. The Grilled Chicken Wrap (RM 15) is a tight roll of marinated thigh seasoned with honey mustard and some obligatory green lettuce. Pan-grilled to form a charred edge, the meat is nice and smoky. Fries are sprinkled with paprika and salt and tossed in butter.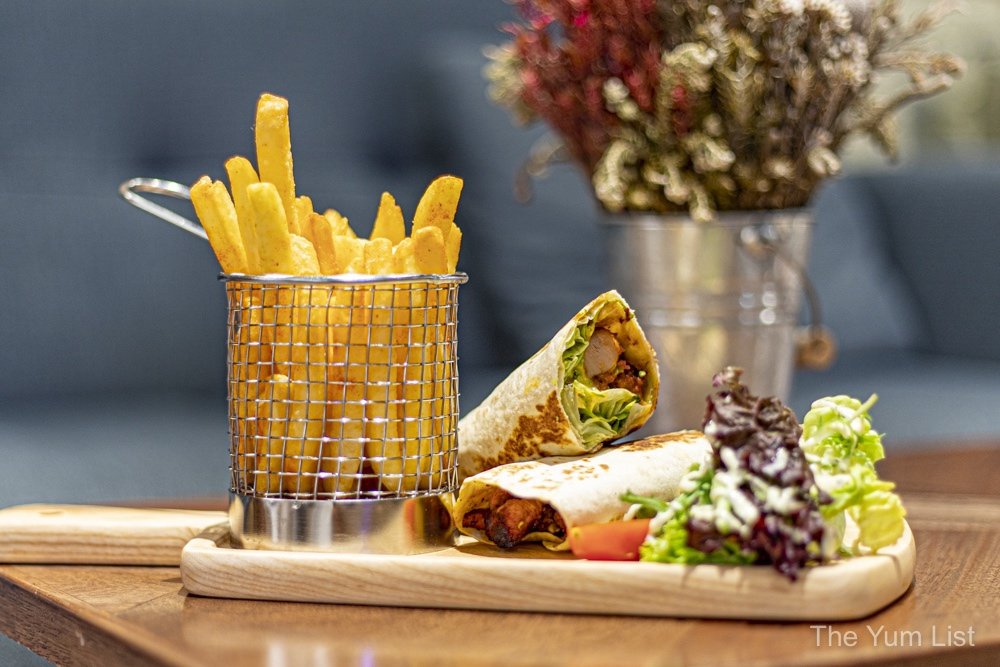 Salads
Salads are reasonably priced, and the Chicken Caesar Salad (RM 15) is another one of Swee Lee Social Club's best-sellers. The standard, romaine lettuce, is used as a base. It's tossed together with garlic croutons, twirled kyuri, parsley, yellow onion, cherry tomatoes, and shaved Parmesan. Pieces of the grilled breast are plentiful; it's good value for money. Do, however, ask for the dressing on the side if you prefer to add it to your own liking.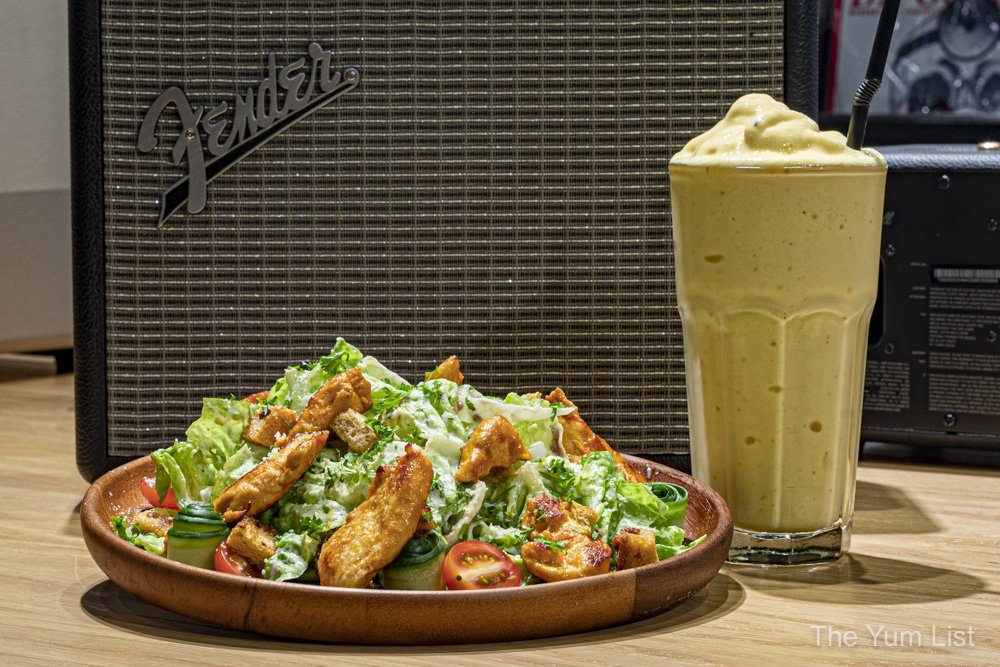 Smoothie Bowls
I find a vegetarian option in the Harmony Bowl (RM 25). This vibrant blend of strawberries, banana and milk is topped with sliced dragonfruit, strawberries, coconut flakes, roasted sunflower seeds and chocolate chips. It's a little thinner than I personally prefer but fruity and refreshing all the same.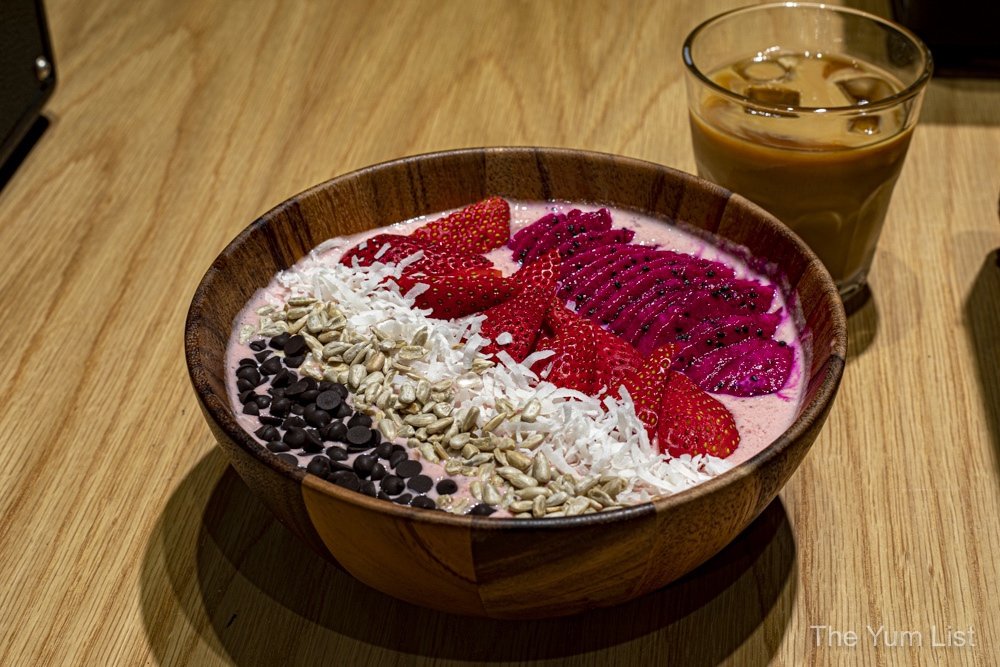 Cake Display
You have to get out of your seat to choose a sweet (found in the cake display), which is a good thing as every calorie burned will count if you decide on the Salted Caramel Cookie Cake (RM 15). Decadent layers of dense cake are layered with sticky salted caramel and cream cheese. There's a cookie crumb topping that's drizzled again with caramel.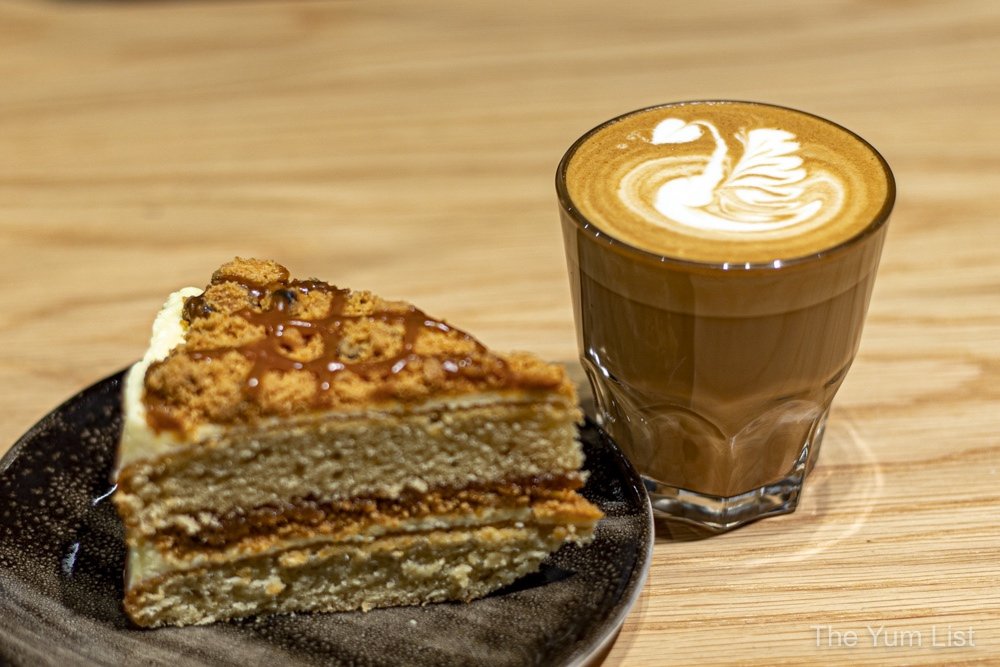 Drinks
Coffee is the drink of choice at Swee Lee Social Club, and beans by Singapore roaster Pulp by Papa Palheta (PPP) are an expert blend, the Staple Blend in fact. Panama Red Trogan and Guatemala Finca Isnul beans are full-bodied and offer a balance of acidity and sweetness. This darker roast produces a nutty, chocolatey finish, going well both as straight-up espresso (RM 6) or with milk (RM 8). Their cold brew is darn good too, coming both as white or black (RM 10). Brewed on beans by 4me.coffee, this Santos single origin is a light-medium roast, allowing the natural sweetness and fruity flavours to shine through.
Non-caffeine choices are found in tea, a variety of sodas, juices and smoothies. Superbly thick, the Mango Banana Smoothie (RM 15) is sure to fill a pocket. It's so substantial that it could make a meal in itself.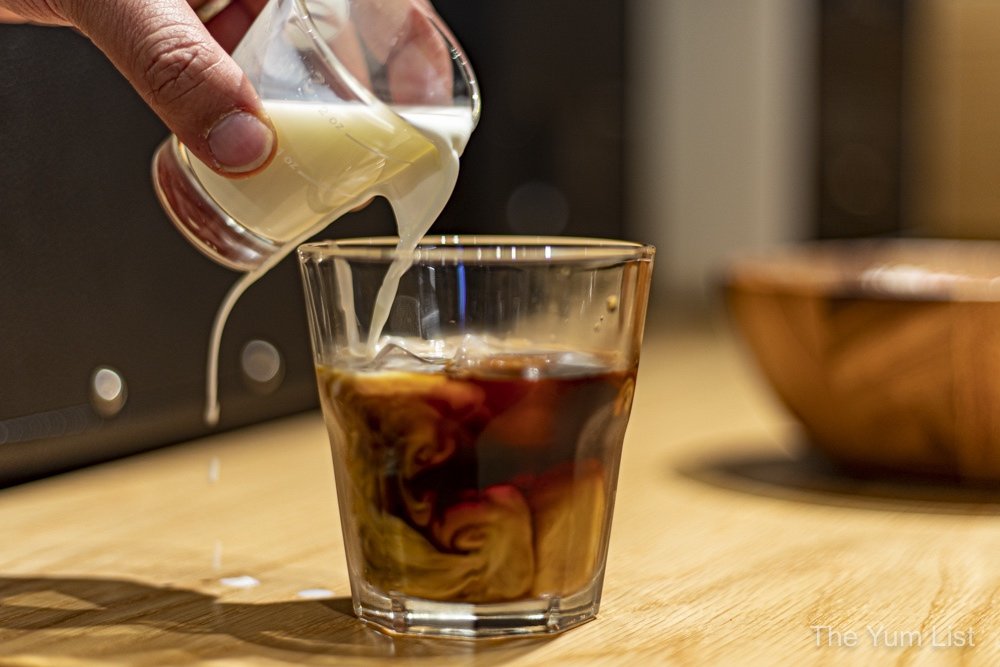 Swee Lee Social Club Review
The Swee Lee Music flagship store in Lot 10 is a well-known brand for music lovers. Beginners, professionals and their families, however, can all enjoy some downtime in the café. Coffee is good. Food is reasonably priced, and there's enough variety in vinyl, lifestyle products, and a fun vintage guitar section to hold attention for quite some time.
Reasons to visit Swee Lee Social Club: music store offering an extensive range of guitars (pre-loved as well), drums and vinyl; good coffee to back it up; fairly priced food menu.
Swee Lee Social Club & Music Store Lot 10
T16 & T17, 3rd Floor
Lot 10 Shopping Centre
50 Jalan Sultan Ismail, Bukit Bintang
50250 Kuala Lumpur
www.sweelee.com.my
Swee Lee Social Club Lot 10 Opening Hours
Hours: 10am-10am, Mon-Sun
More on KL's cafe scene here and find other restaurants in Lot 10 via this link.