Little Pig Tapas PJ
*Now closed.
Words: Monica Tindall
Photos: Rich Callahan
Travel to the "other (PJ) side" of KL can be so rewarding. I really must do it more often, especially when there are places like Little Pig – Neo Spanish Tapas – to discover!
This Spanish tapas bar run by chef-owner Yu Khim and partners is semi-hidden up a double flight of stairs at The Hub. Neon lights in the shape of a pig at the top of the narrow passageway encourage us to keep climbing. The space inside is intimate with varied seating. There are benches, stools at the kitchen bar, barrels topped with tiles and tables for two. A separate drinking section opens in the evenings, enticing orders of drinks accompanied by food. At the same time, the dining area supports food paired with a beverage.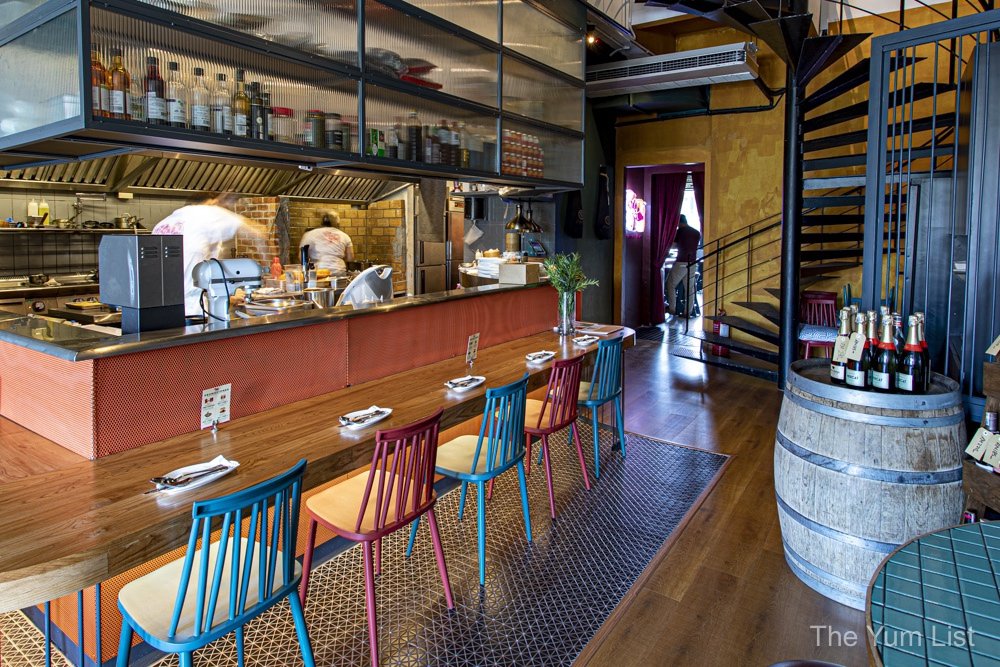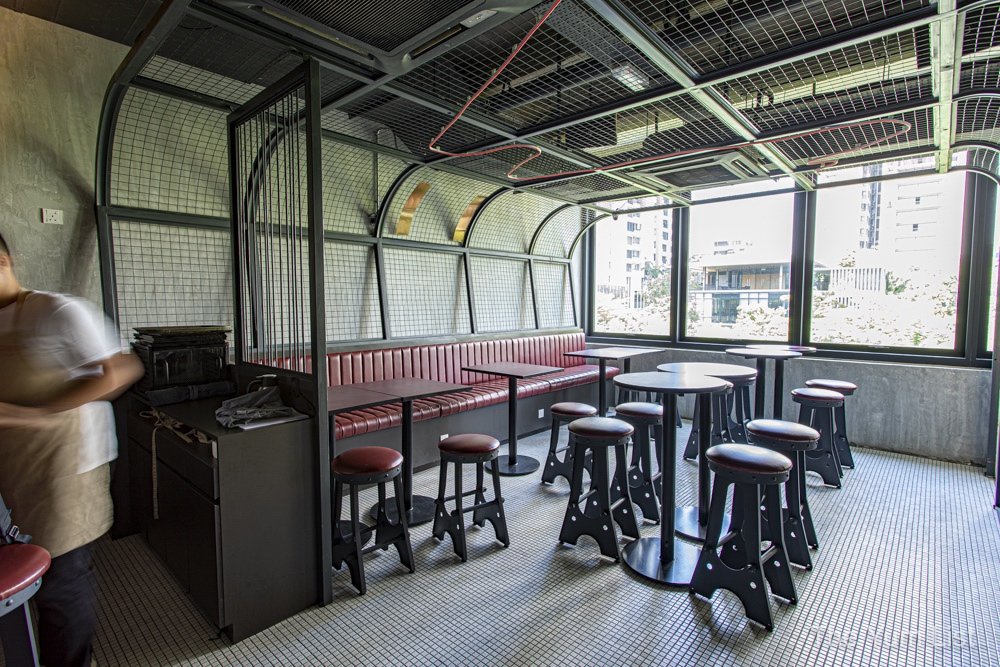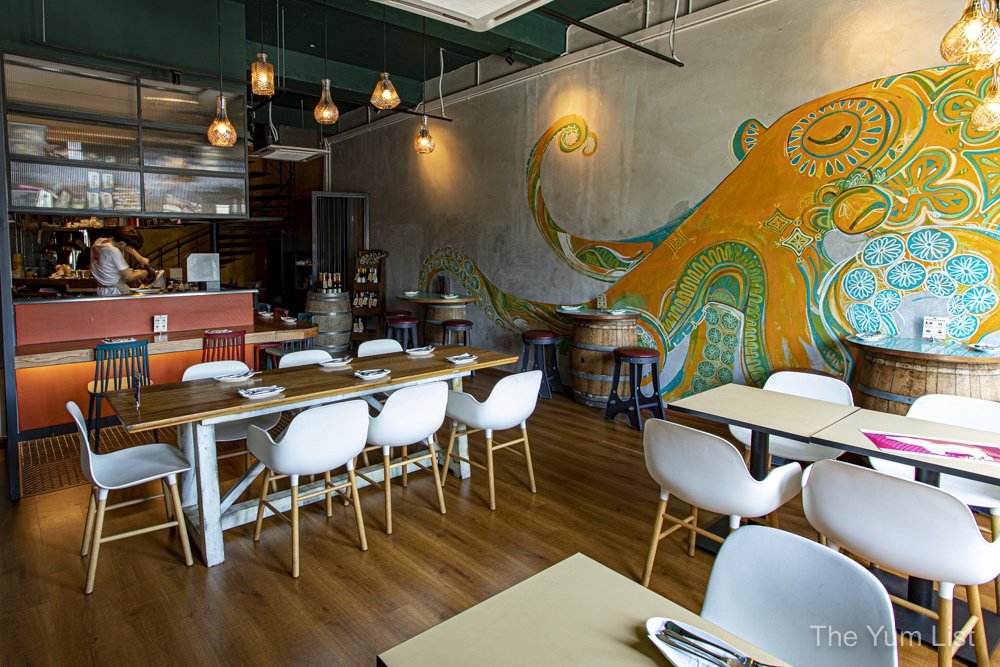 Little Pig Menu
Tapas
Patatas Bravas (RM 21) is one of my most beloved tapas. Here, though, I didn't even recognize the dish at first! Chef Yu Khim's creation sees a ceramic mug of flat finger-like fries served with homemade chipotle chilli sauce and aioli on the side. In the words of the chef, "we turn Spanish agria potatoes into super-thin layers of crunchy, soft, fluffy, golden goodness." They are scrumptious. Order them!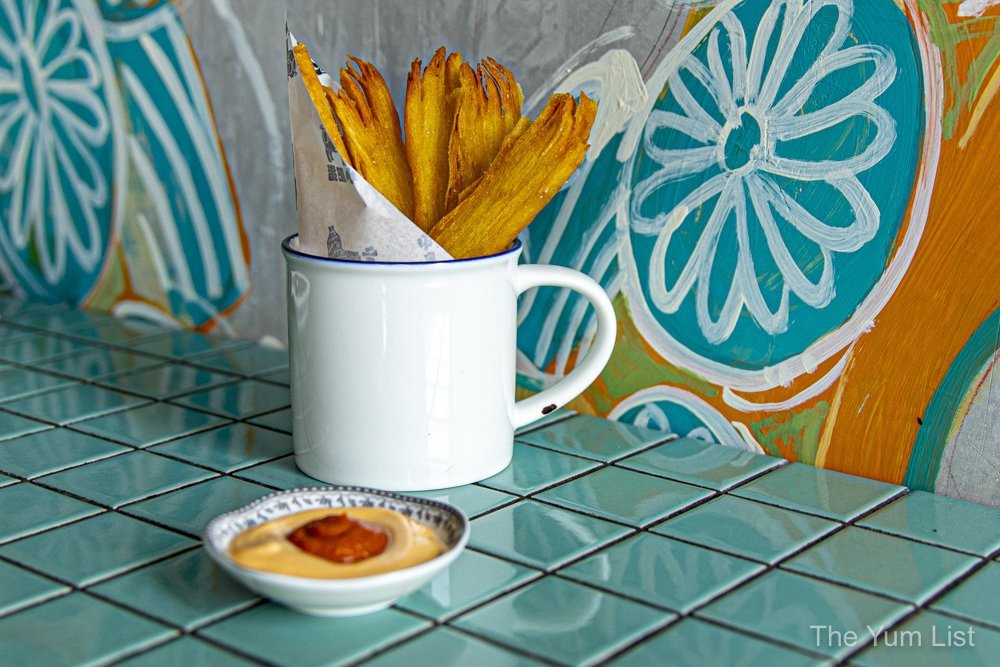 Ham Croquetas (RM 22) and Mushroom Croquetas (RM 16) bring Barcelona tradition to PJ. Deep-fried, breadcrumb-coated cylinders hold ham and mushroom respectively in a creamy bechamel sauce. The latter is a combo of portobello and ceps mushrooms topped with aioli. The former contains Iberico ham with a dob of quince puree offering an attractive bite of tartness.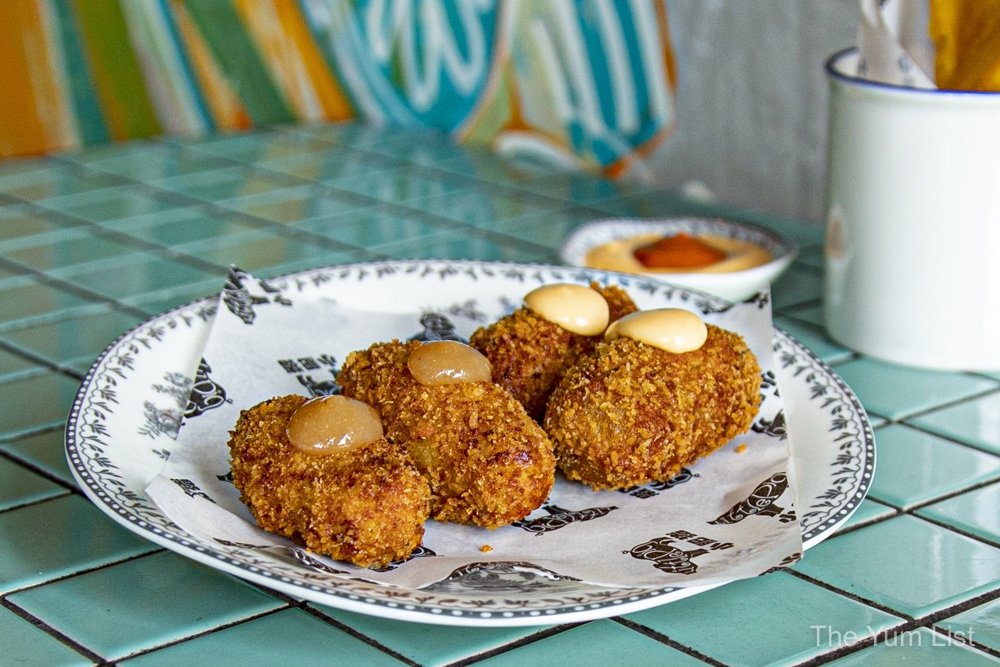 A definite favourite with hubby, Cod Fritters (RM 15), come in dim sum baskets acknowledging the restaurant's location. Salted cod is finely shredded, mixed with bechamel and a tangy apple gel breaks the richness.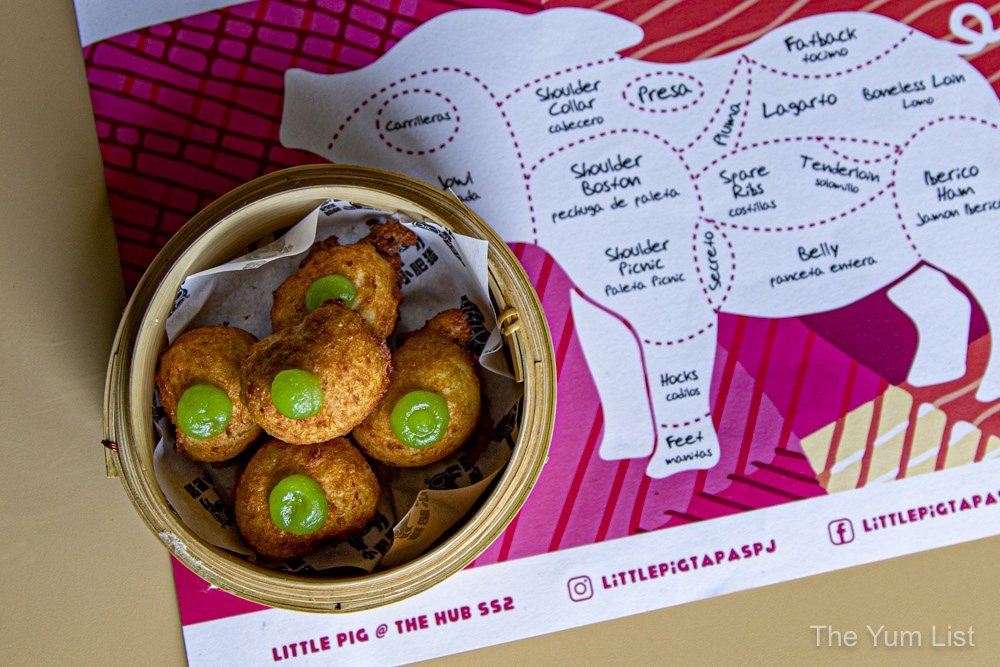 Chef's original recipe, Crispy Pork Belly Eel Bao (RM 34), marries the best of two worlds. Spanish Duroc pork belly, grilled eel and pickled cauliflower are sandwiched between homemade bao buns. The bao is light, fluffy, and golden with the marks of the pan. Teriyaki sauce and egg yolk gel further season these mouthfuls of yumminess. Rich reckons he could survive on this dish alone.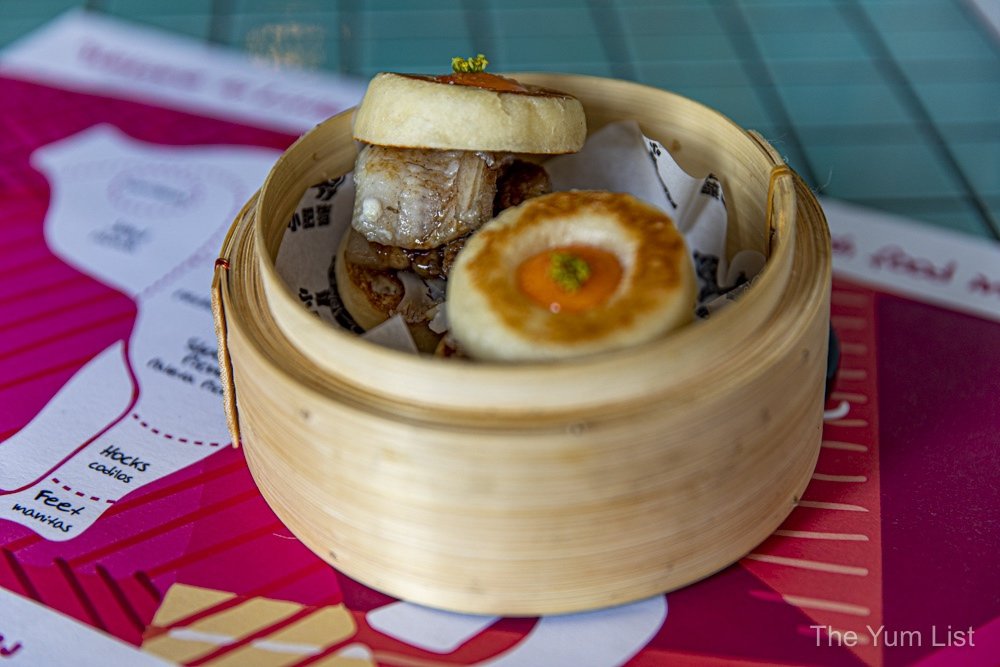 5J Jamon Bikini (RM 24) is not so named because of its svelte body, but instead because it's a popular sandwich sold around the Bikini Concert Hall in Barcelona. Dashi bechamel and ham are pressed together as a crustless toastie on white sandwich bread pan-fried with butter. Good stuff.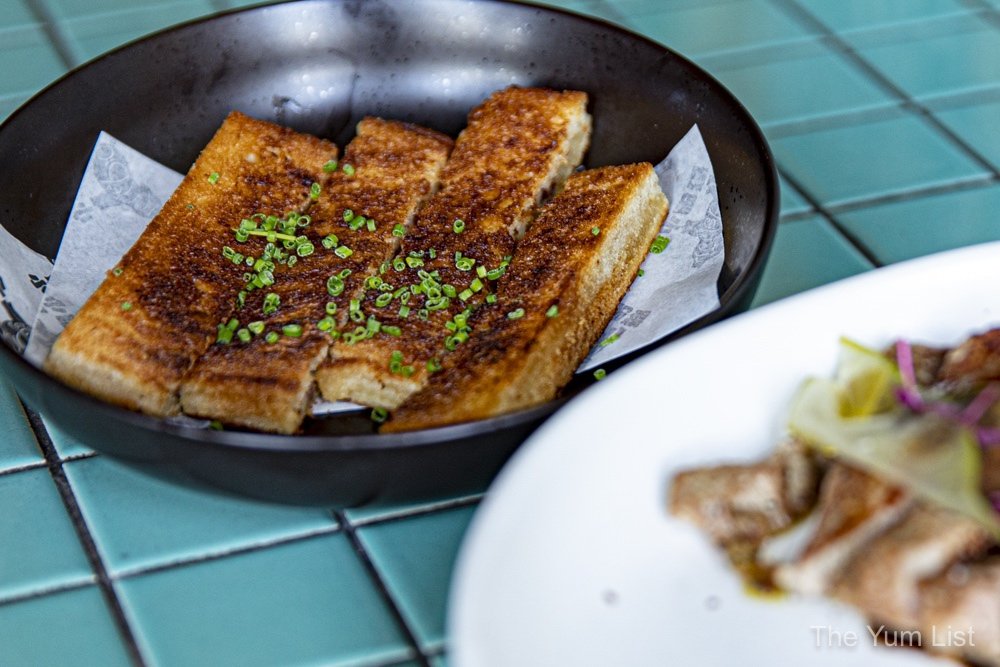 Of all the excellent tapas at Little Pig, the vegetarian option, Roasted Cauliflower (RM 26) is the item I would be sure to order on every visit. A slow-roasted, thick-sliced cauliflower steak looks like a spring garden under its garnish of microgreens, pippara peppers, basil mint pesto and Manchego cheese. The side of chunky Romesco sauce is delightful. I would love a jar of that to take home.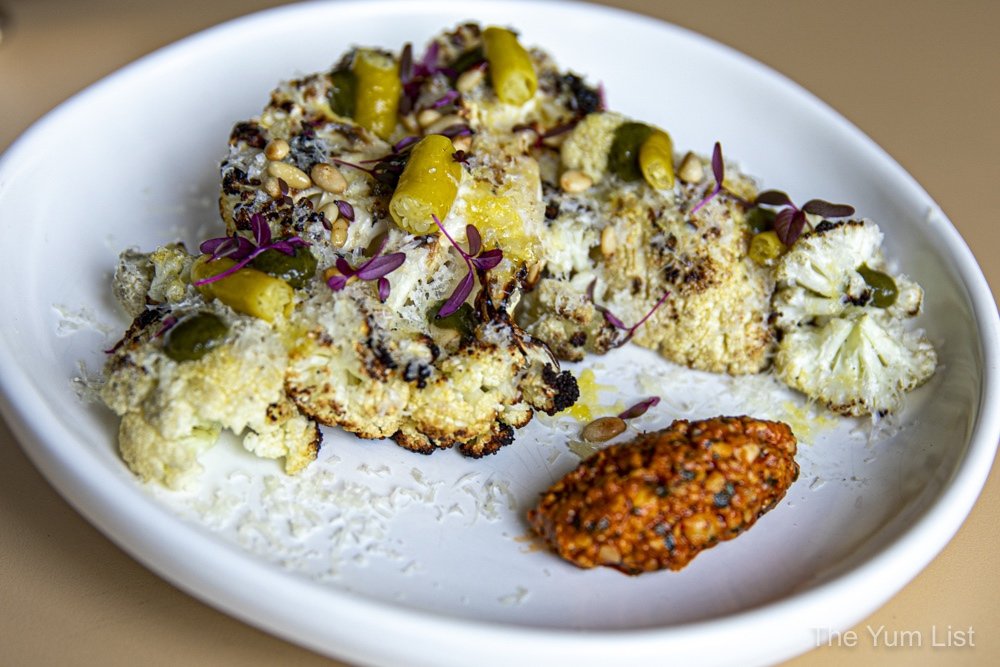 Spanish Paella
Building in intensity, soft nutty grains of rice are cooked with tender Duroc pork belly, soft, chewy pig ears, scallops, oyster mushrooms and saffron in the Duroc Pork Belly Paella (RM 45, 2 pax). The rice has just the right amount of bite to it, and when I scrape the spoon around the edge of the pan, I get exactly what I'm looking for – a caramelized, full-flavoured treasure.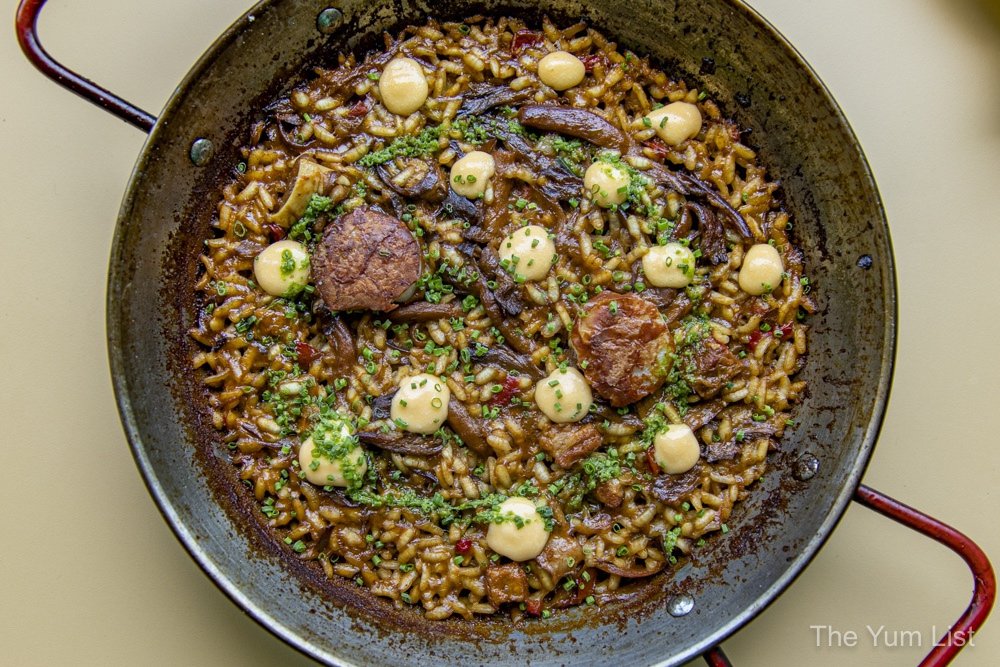 Spanish Pork
Lastly, Presa Iberica (RM 58) is a tasty cut of pork above the shoulder, sliced and topped with a thin shaving of pickled apple. The marbling of the cut makes it tender and juicy, and the partnering chorizo ketchup and red wine black garlic jus work wonders with the fat.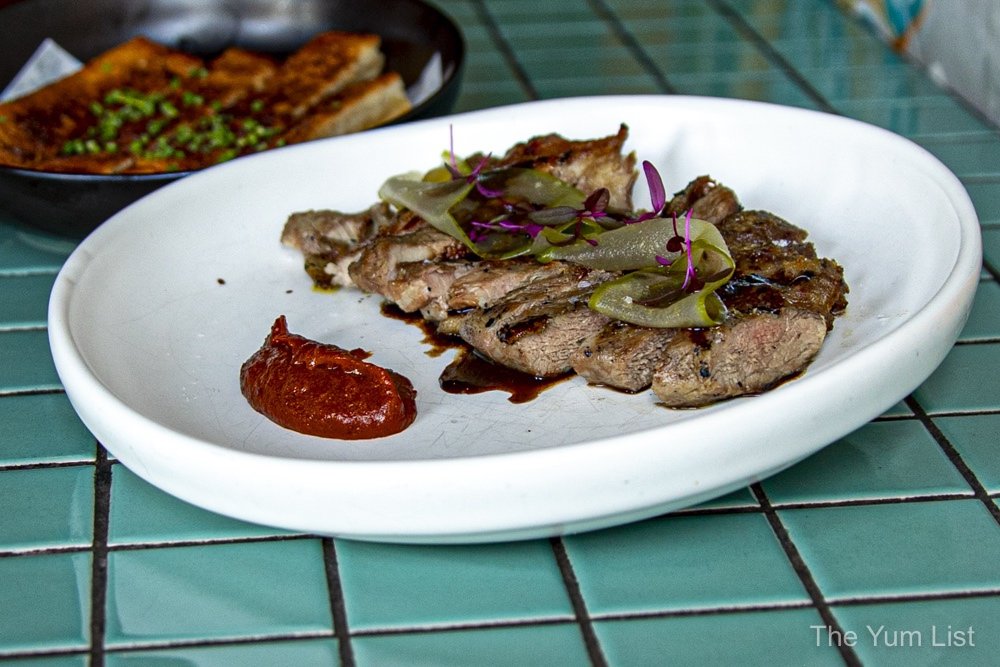 Dessert at Little Pig PJ
Be sure to set aside at least a little room for dessert at Little Pig as it's something you won't forget for quite some time to come. Ask for their top-selling sweet, but don't be surprised when you see the LP Mini Burger & Fries (RM 20) delivered. The buns, patties and cheese are actually Little Pig's signature white chocolate and French Valhrona chocolate mousse. A shaving of ripe mango resembles a slice of cheese, thinly sliced strawberry could be mistaken for tomato, and mint leaves for lettuce. It's not only visually enticing but also extremely appetizing.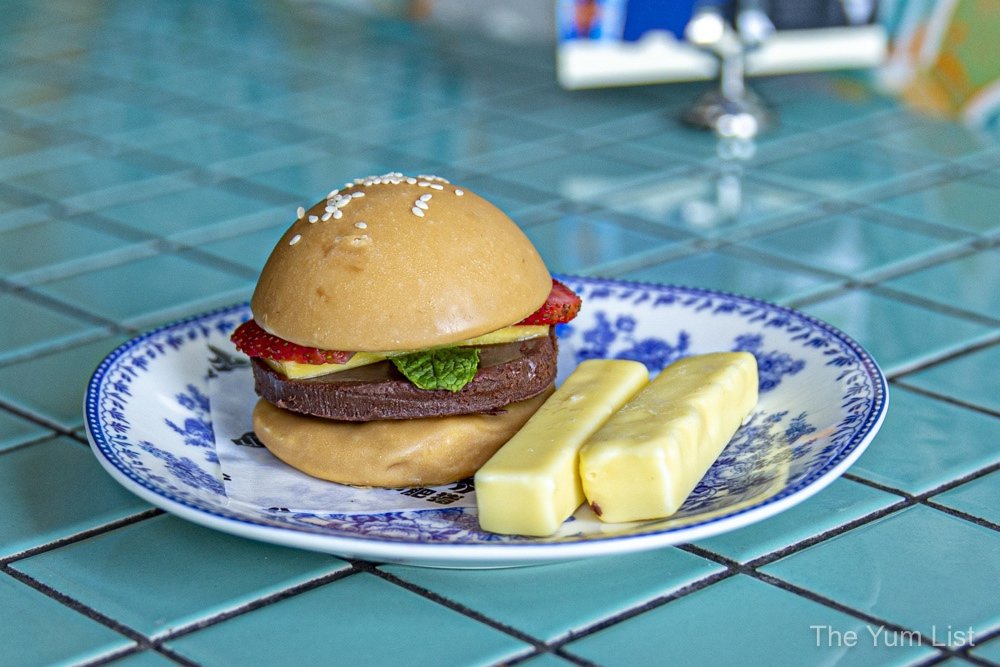 Crema Catalana Sandwich (RM 15) is another deceptive presentation. Meringue bread, toasted on the edges to look like crust, holds crema Catalana curd, toffee ice cream, strawberries and lemon caramel. While we don't have room left to try more desserts today, the first two have certainly left us curious about the other two on the menu. Another reason to return.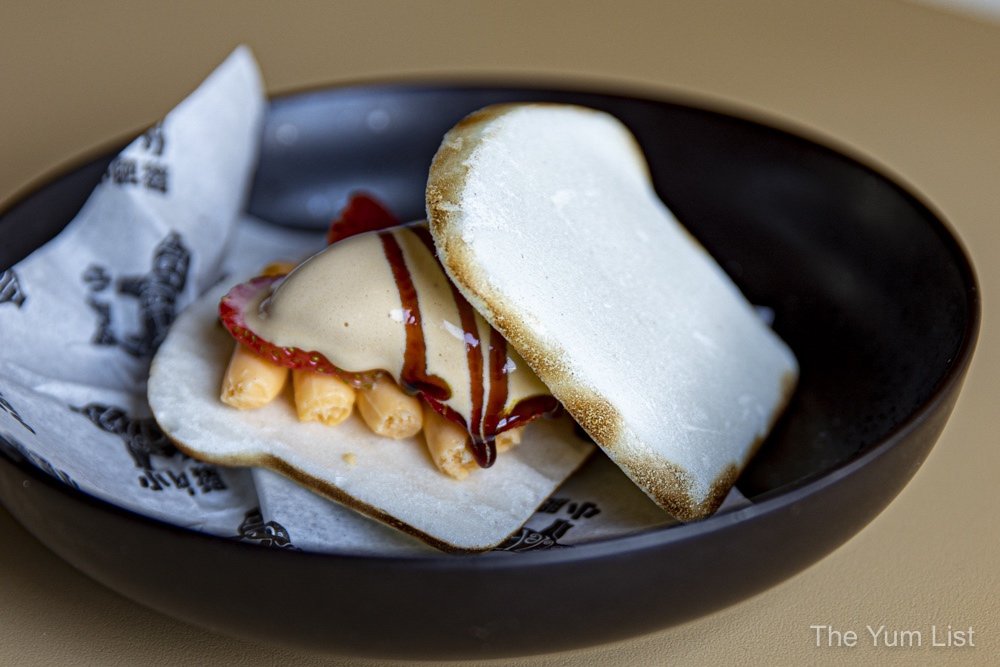 Drinks
Of course, drinks are given equal importance in this neo-Spanish tapas bar, Little Pig. The signature beverage is Red Sangria (RM 30) with the key the ingredients of red wine, Martini Rosso, white rum and orange juice. Individual servings come in glass bottles and are poured over ice, with sliced orange and green apple. Yum.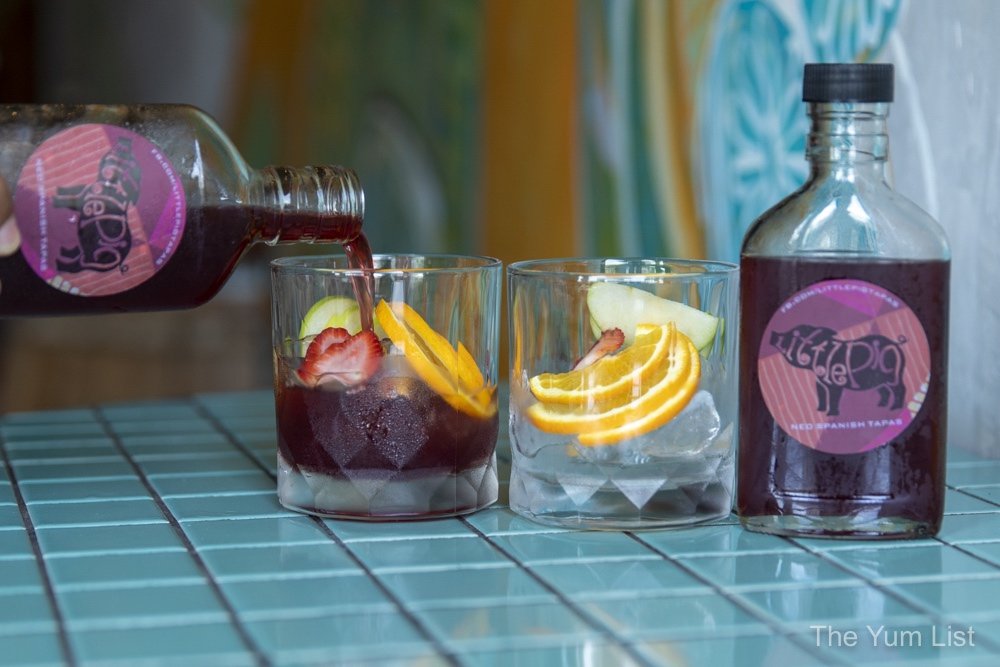 Gin is another refreshment ubiquitous with Spain, and here there are several premium labels on the shelf. We are in favour, however, of the spirit hailing from Vilanova, a small village just outside of Barcelona, Gin Mare (RM 32). Founded in botanicals of the Mediterranean, we find citrus, coriander, thyme, rosemary and, of course, juniper berries present in the profile. I love this gin in a martini or Negroni, but here it's highly recommended with tonic. Served in a highball glass and garnished with rosemary and orange peel, the colours almost blends into the striking octopus wall mural behind our table.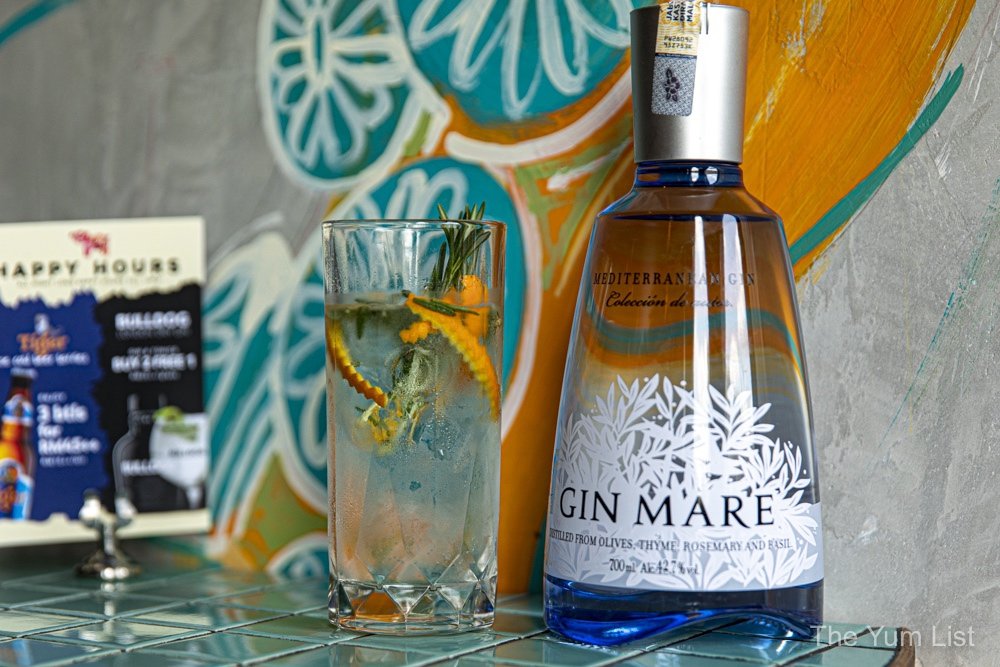 Little Pig Review
While we think Little Pig is an exciting place to visit both for the food and the setting, there are lots more reasons to entice a reservation. Mondays you can bring your own wine or spirits corkage-free. Wine Wednesdays see buy-2-free-1 deals on house pours. On Paella Thursdays, you can get two for the price of one squid ink paella, and Sangria Sundays see one-for-one specials on their house beverage. Daily happy hours get you three bottles of Tiger for RM45++, and Bulldog gin and tonics come with every third drink complimentary.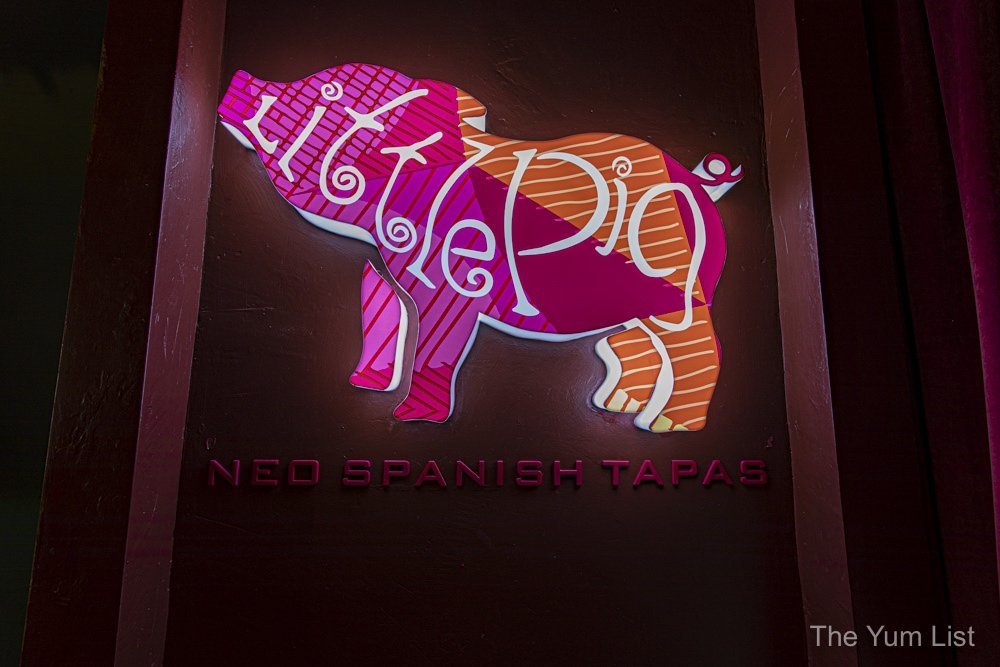 Reasons to visit Little Pig PJ: charming setting; excellent menu of contemporary Spanish tapas with some Asian twists; must order the Crispy Pork Belly Eel Bao, Roasted Cauliflower, Duroc Pork Belly Paella, and don't miss the LP Mini Burger & Fries for dessert.
Little Pig
Tapas Restaurant
Lot B1-06, The Hub SS2
19 Sentral, Jalan Harapan
46300 Petaling Jaya, Selangor
Malaysia
+6 016 222 2708
www.littlepigtapas.com
Little Pig Opening Hours
Wednesday to Monday
Lunch 12 noon – 3 pm
Dinner 6 pm – 10 pm
Love Spanish food? Find more Iberian restaurants in KL here.