Happy Hours Mr Chew's Chino Latino Bar
Words: Monica Tindall
Photos: Rich Callahan
Times might not be the best for the Malaysian economy at the moment. Still, the food and beverage industry seems determined to keep spirits high. This is ever so true with Happy Hours at Mr Chew's Chino Latino Bar.
Located on the penthouse level of the WOLO Hotel, this gorgeous restaurant and bar in Bukit Bintang offer Happy Hours from Sunday to Thursday between 5 pm and 8 pm. Take a look at Mr Chew's Chino Latino Bar's menu here, find their Sunday brunch here and check out their dedicated Kirin Bar here. Today we get up close and personal with their drink deals.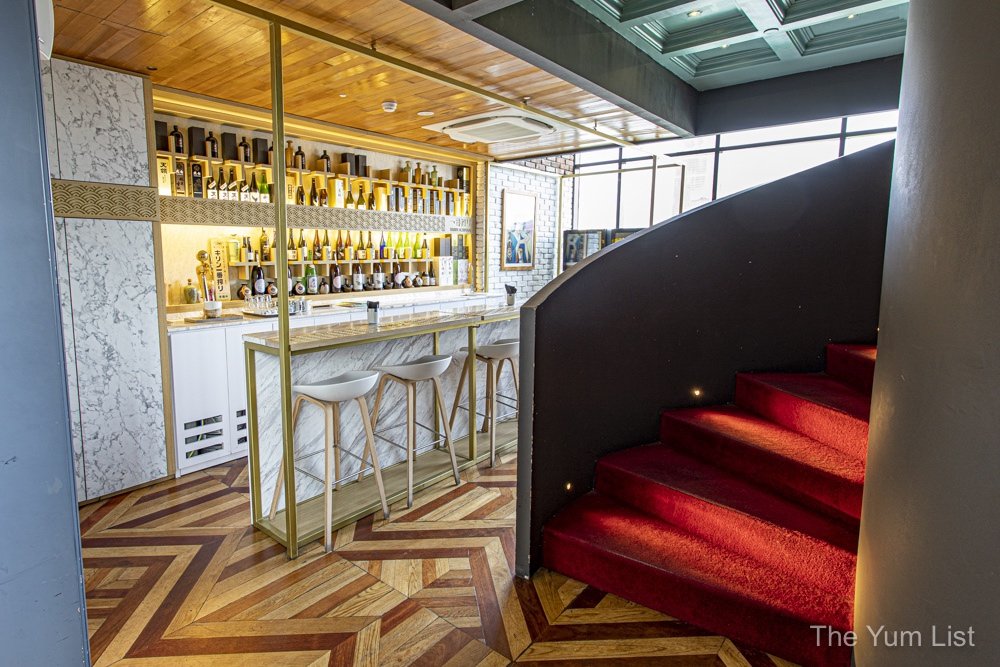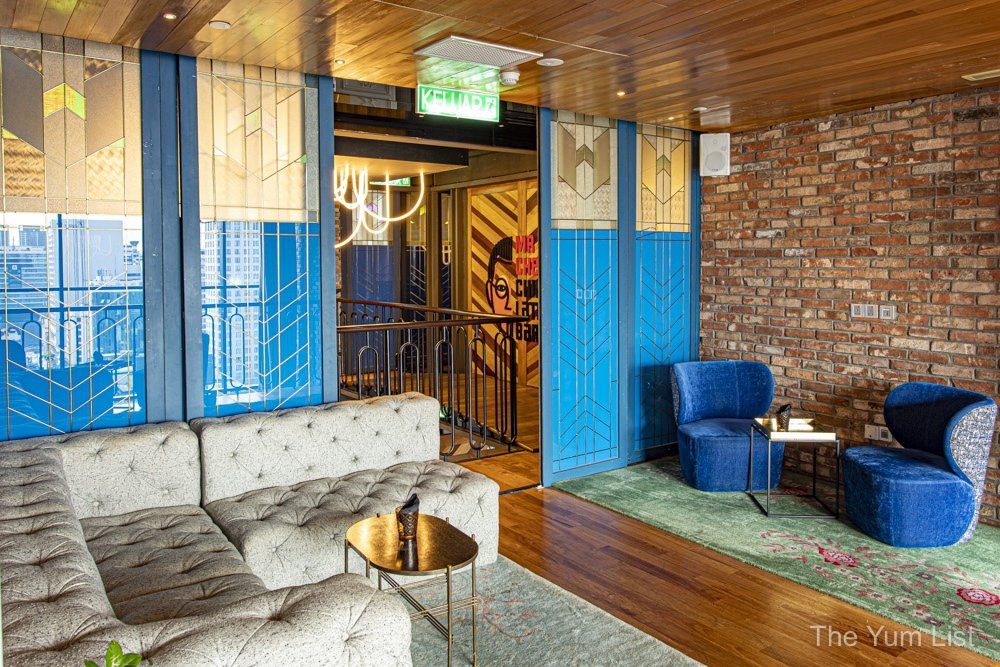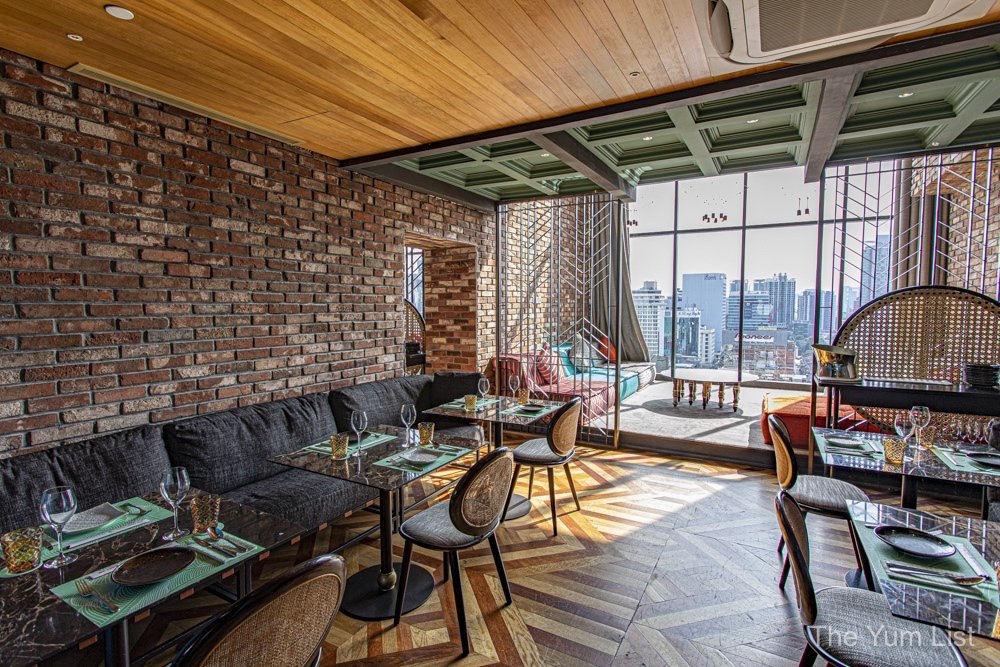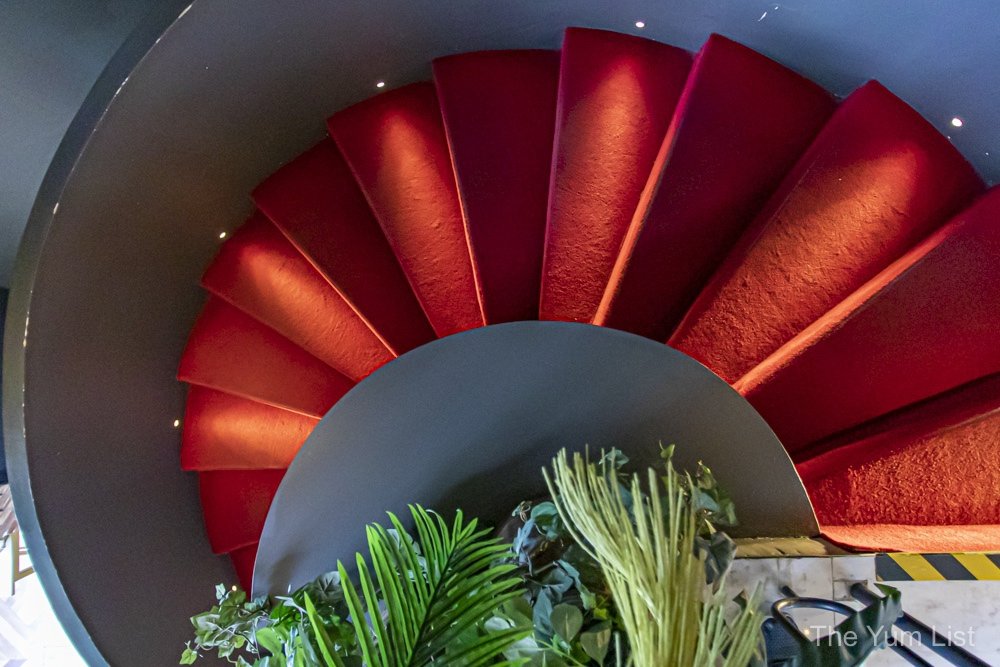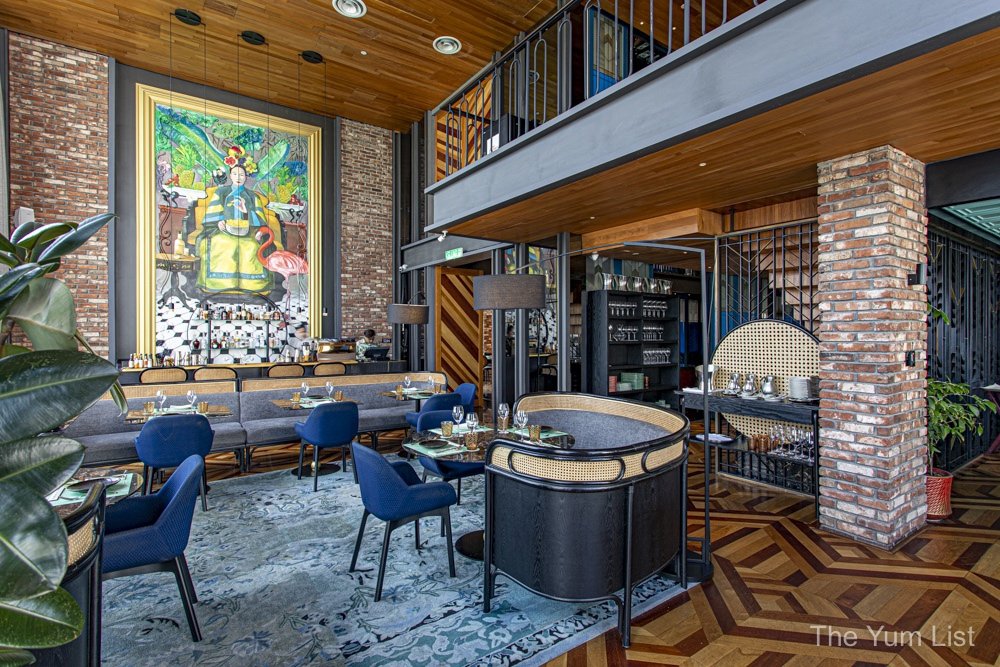 One for One "because the first drink goes down fast."
Ease into an afternoon with an icy cold Kirin Ichiban on tap. Kick off an evening with a bit of action with Sake Bombs, or take a more refined approach with a glass of wine. All are double the fun for the price of one. We choose to slide into Happy Hour pleasures with one-for-one glasses of wine in one of the beautiful lounges on the second floor.
Mr Chew's Wine Selection changes frequently and today we're having a Voignier from South Australia. The Y Series, 2018 Yalumba effuses a floral bouquet, with tropical fruit on the palate and a crisp, clean finish. It's an easy-drinking warm weather wine. Most wines by the glass are usually priced between RM 40 and RM 50 outside of Happy Hours.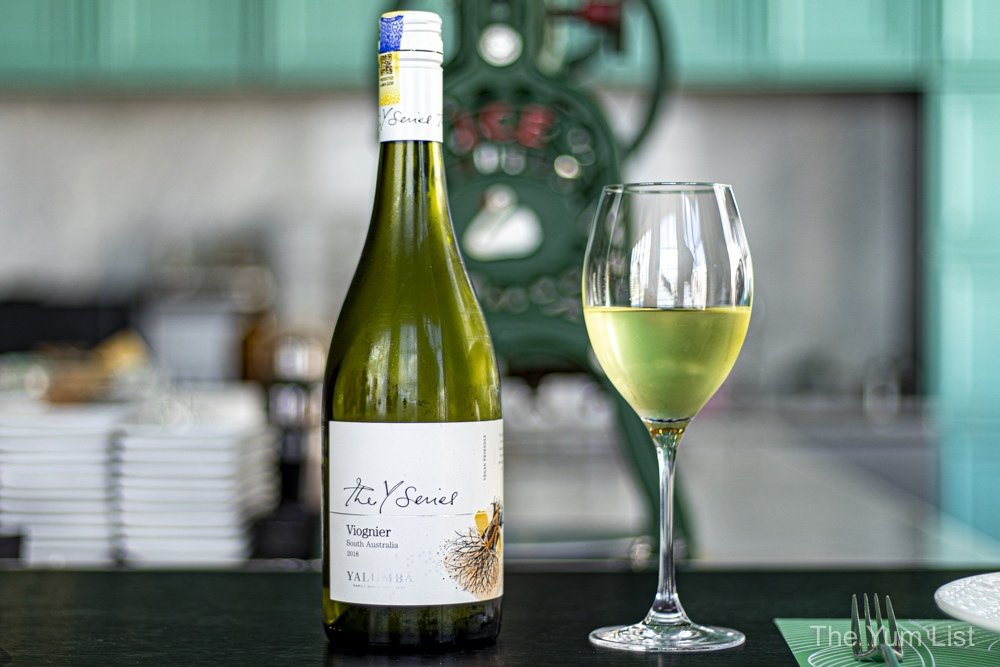 Happy Hours Mr Chew's Chino Latino Bar – Sake Cocktails
If you'd prefer to see the bartender shake his thang, you might consider a sake cocktail. All are priced at RM25 during Happy Hours, which is a great deal considering they're usually RM45. The menu reveals that Mr Chew's Cocktails from the Rising Sun are rice wine-based and "refreshing as winter in Sapporo." Bartender Sam claims that they're all on the lighter side. I guess that holds true as by the fourth cocktail I am indeed feeling weightless.
Flirty Jack (RM 25) reminds me of pisco sour with its egg white, citrus and Peychaud bitters. Jackfruit sake, however, plants us firmly in Asia and, considering I'm not a fan of jackfruit, it's surprisingly good.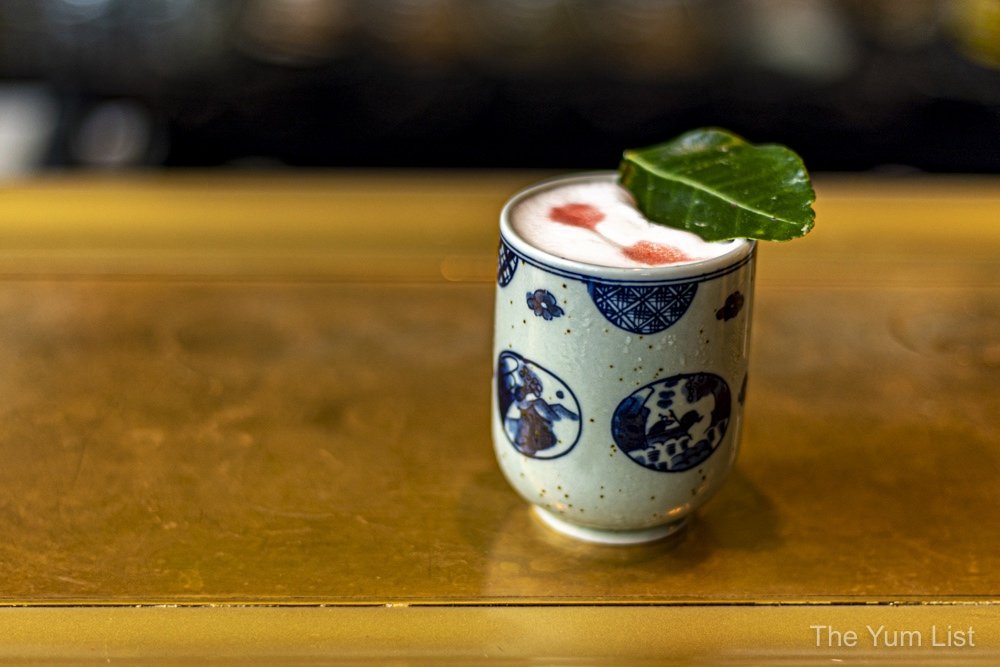 Okinawa Dreaming (RM 25) got its name as Mr Chew guesses that the region, being the southernmost tip of Japan, must have pineapples. Makes sense to me as does the combo of sake, pineapple, pomegranate liqueur and citrus. Extra care is taken in this drink's presentation with a hand-carved ice ball and edible flowers in its small bowl cup.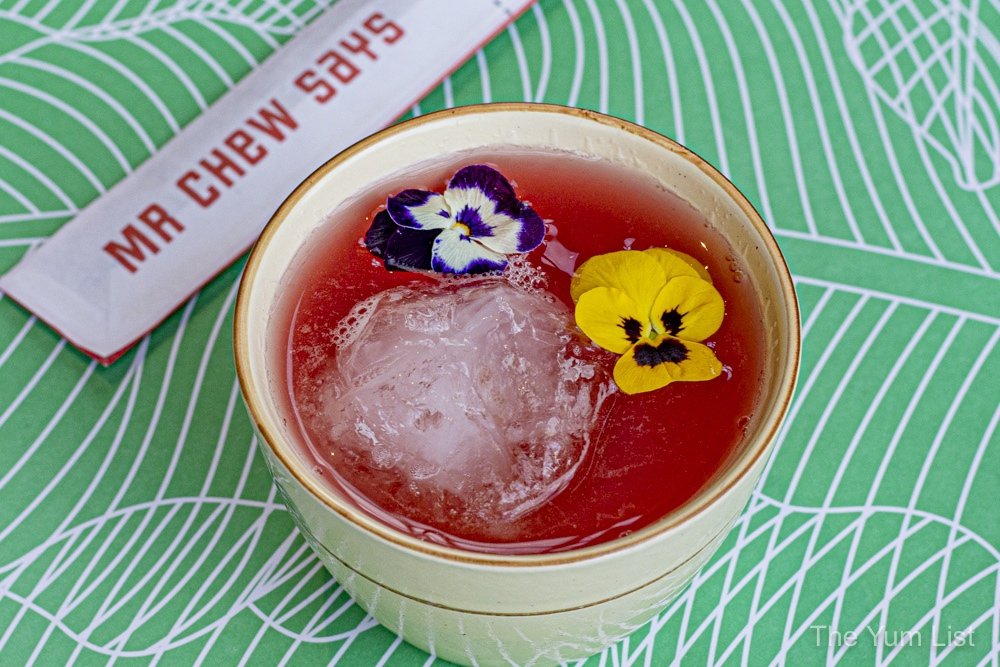 A fun play of ingredients and words is found in the Konnichiwa Salvatore (RM 25). This time the Asian flavours of sake and ginger meet Italy with Aperol, orange marmalade and orange bitters. I appreciate the bitter finish in this mix rounded over with a touch of sweetness.
Lastly, The Rising Sun (RM 25) combines sake, vodka, osmanthus syrup, orange and citrus in a ceramic cup – the male version of the vessel holding Konnichiwa Salvatore. Overall it's light and refreshing but has an added layer in its depths, leaving some floral notes in the palate.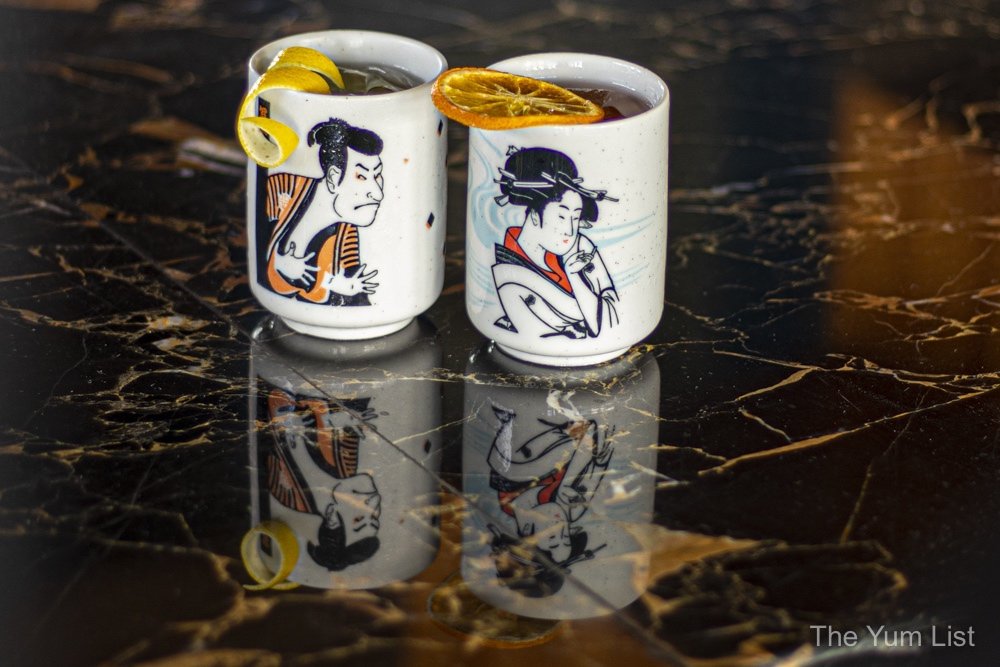 Infused Brews
Want the flavour without the frill? Try some infused brews – "rice wine with a little extra Mr Chew." Bartender Sam says, "We have sake. We have fruit. We put them together and create seven different flavours." For RM35 you can get a tasting of five. Choose from jackfruit, habanero, strawberry, coffee, pineapple, ginseng, pumpkin seed and cucumber. The names depict the primary ingredient, but the blends are actually quite complex. For example, the ginseng is a combination of the energy-giving herb, plum and lemon infused with Karakuchi sake. Pineapple habanero and cherry coffee are my two tops picks.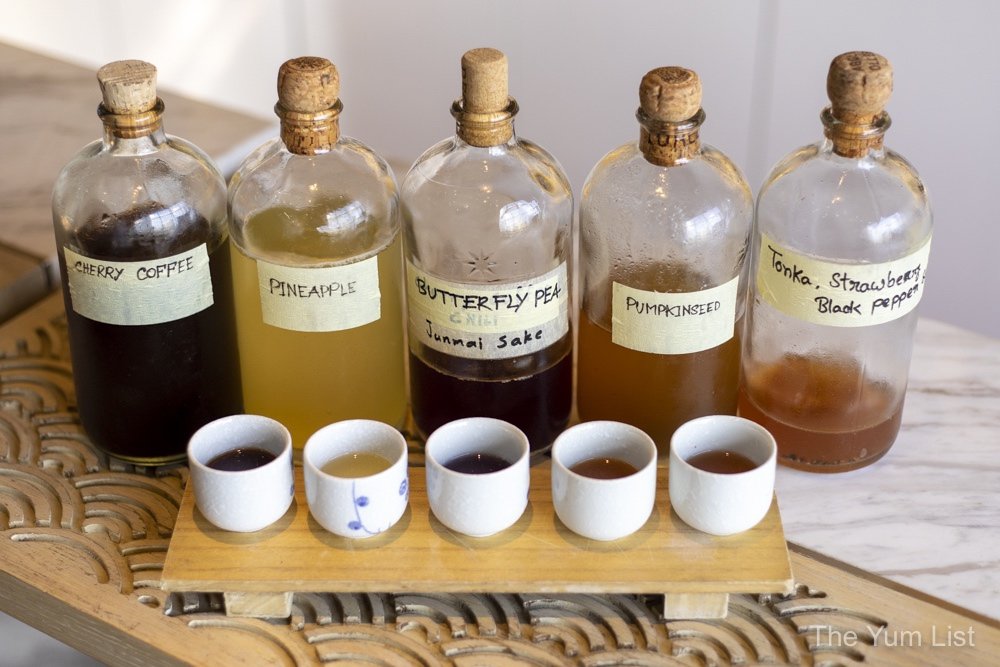 Sake Shots
For the purists amongst you, Five Shots of Sake at RM30 (a choice between two house pours) is perfect for a group of friends, or all for you after an unusually hard day at work. Before you down them though, you might like to snap a pic of the petite blue ceramic cups. They are very Insta-friendly upon their wooden tray.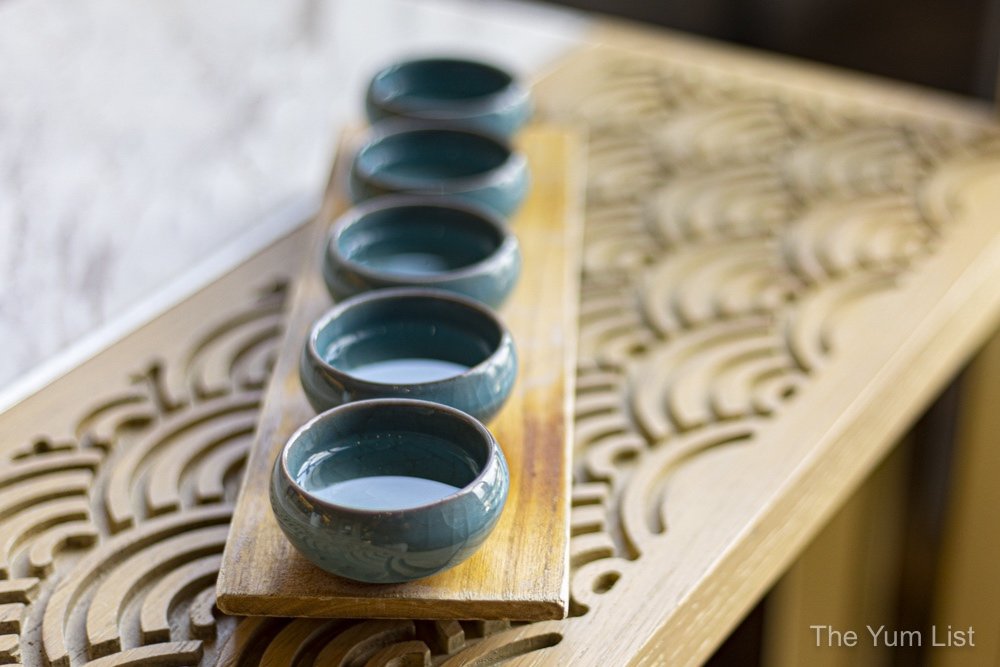 Happy Hour Bites
I wouldn't advise all of those bevvies without something in your tummy. Fortunately, bar snacks are also part of the menu for Happy Hours at Mr Chew's Chino Latino Bar.
Start with Tempura Seaweed (RM 12) with garlic sea salt. They're just salty enough to keep you digging back in, as long as you have a beverage to wash them down and repeat the cycle. Sweet Potato Chips (RM 12) with Asian chilli tomato are another natural choice. If you want something to truly line your stomach though, I highly recommend the BBQ Glutinous Rice Cakes (RM17). They are a fantastic texture. Grilled just before serving, the outer has a lovely paper-thin crisp exterior, and the inside is fabulously chewy. Chicken floss and aromatic furikake (spice mix), mayo, teriyaki sauce and herbs contribute plentiful seasoning.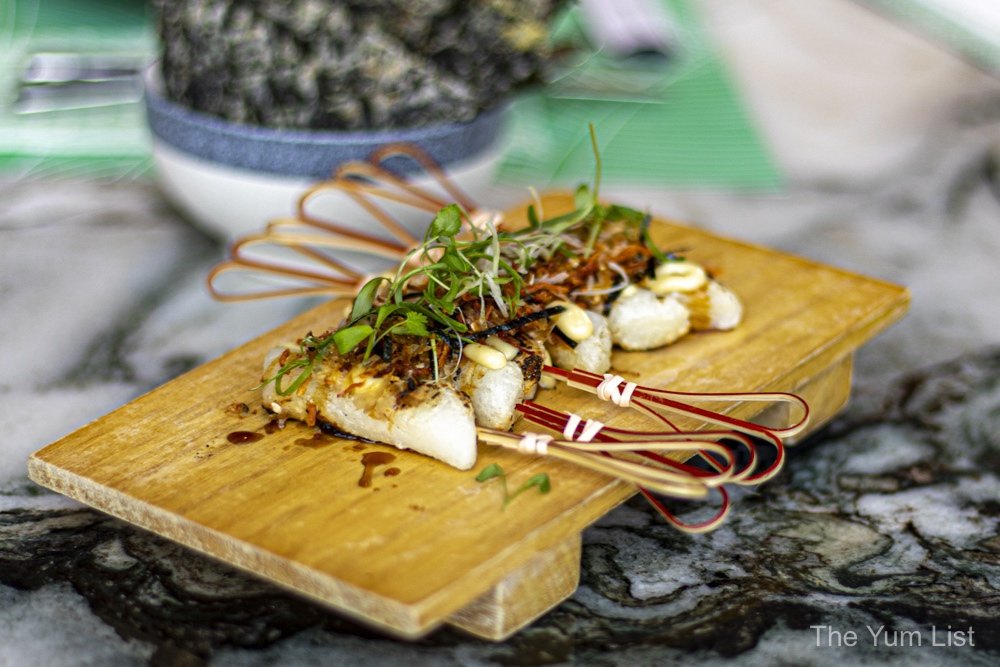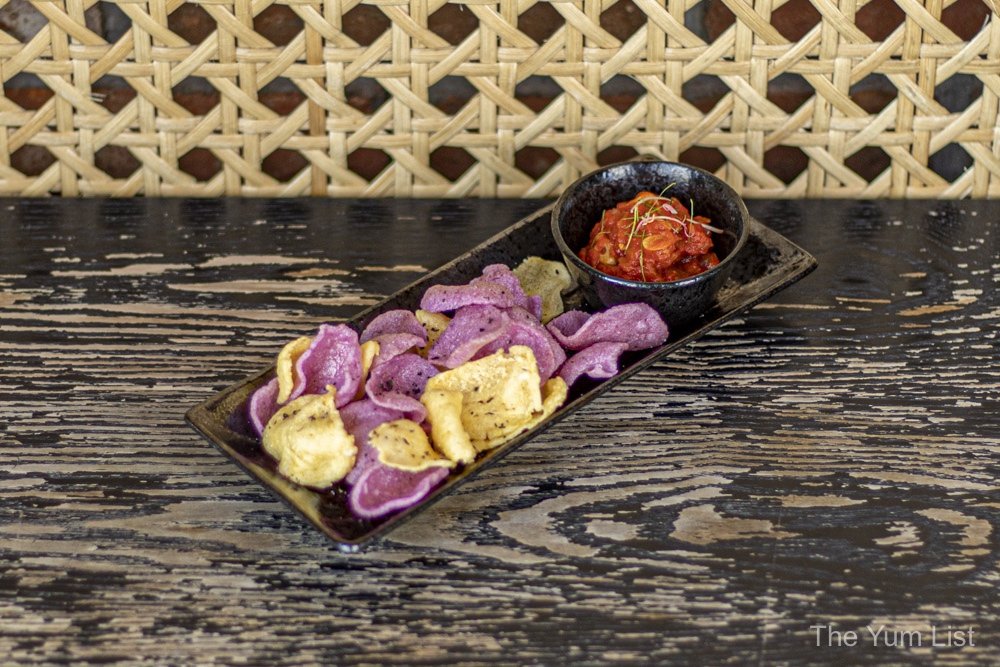 Reasons to visit Happy Hours at Mr Chew's Chino Latino Bar: stunning setting; excellent drink deals; must order the BBQ Glutinous Rice Cakes; try and infused brew; sip on two for one glasses of wine; discover a happy marriage between Japan and Italy in the Konnichiwa Salvatore, or forget your sorrows with a bargain platter of sake shots.
Happy Hours
Mr Chew's Chino Latino Bar
The Penthouse, WOLO Hotel
Bukit Bintang, 55100 Kuala Lumpur
Malaysia
+60 3 4065 0168
www.mr-chew.com
Happy Hours at Mr Chew's Chino Latino Bar
Sunday to Thursday: 5 pm – 8 pm
Love a good cocktail bar? Check out KL's happening cocktail bar scene here.