Sake & Wine Omakase Nobu Kuala Lumpur
Monica Tindall
It's always a pleasure to dine at Nobu Kuala Lumpur. Fine Japanese cuisine with a Latin touch, warm service and oh-those-views are a winning combo. This month, it's even more of delight, however, with Nobu KL's Sake & Wine Omakase.
Sake & Wine Omakase Nobu Kuala Lumpur
The sake and wine omakase at Nobu Kuala Lumpur extends an expert match of food to beverage, and balance of rice to grape. Executive chef Philip Leong says the team wanted to do something a little different by offering both sake and wine. In a restaurant that is traditionally sake dominant, it allows guests who are new to the fermented rice drink to appreciate it in small quantities. Still, at the same time, maintaining the comfort of wine.
Invariably, ingredients for the food matches are nothing but premium. High importance is placed on sourcing produce locally where possible. Still, many of the animal proteins such as fish and beef come directly from Japan. Not only are recipes a combination of ingredients from near and far, but so too do they draw from different periods. Signature dishes not currently on the menu, but from Nobu's rich culinary history have been incorporated in this omakase. We can't wait to dig in!
Sashimi 'Moriawase'
In my opinion, bubbly is always an appealing beginning. The bright golden hue of Mumm Grand Cordon Brut, Champagne, France NV is a fantastic mate to sunset at Nobu KL. Stone fruits, vanilla, and even a hint of yeast tickle the nose before it enters the mouth in fresh, rich bubbles turning out to a smooth, plump finish. Besides proving a flawless sundowner, it's also an elegant companion to the first course of sashimi.
It's recommended to start on the right and move to the left for the trio of small plates introduced in the Sashimi 'Moriawase.' Begin with Toro Daikon, the lightest of the three, in which Telur caviar crowns fatty tuna along with a thin slice of radish and wasabi salsa. Move to the middle with Kampachi Jalapeño, one of Nobu's signature dishes. Two rolls of delicate amberjack – wild yellowtail – sit in a shallow bath of addictive yuzu soya sauce. Without a doubt, it is highly deserving of its signature status. Lastly, move to the Scallop Foie Gras. It's the richest in profile with truffle teriyaki and foie gras oil. Save a few drops of the Champagne to cleanse the palate and the lead-in is a success.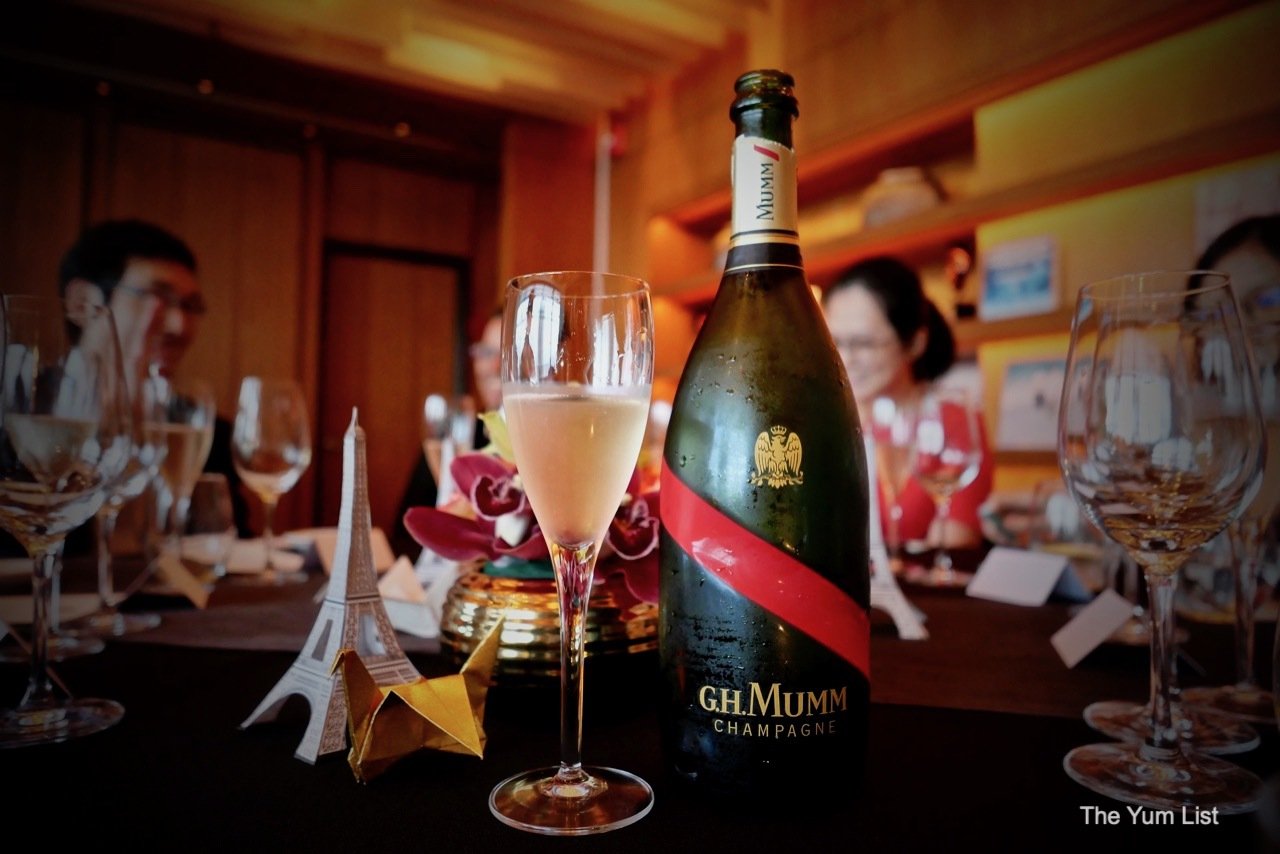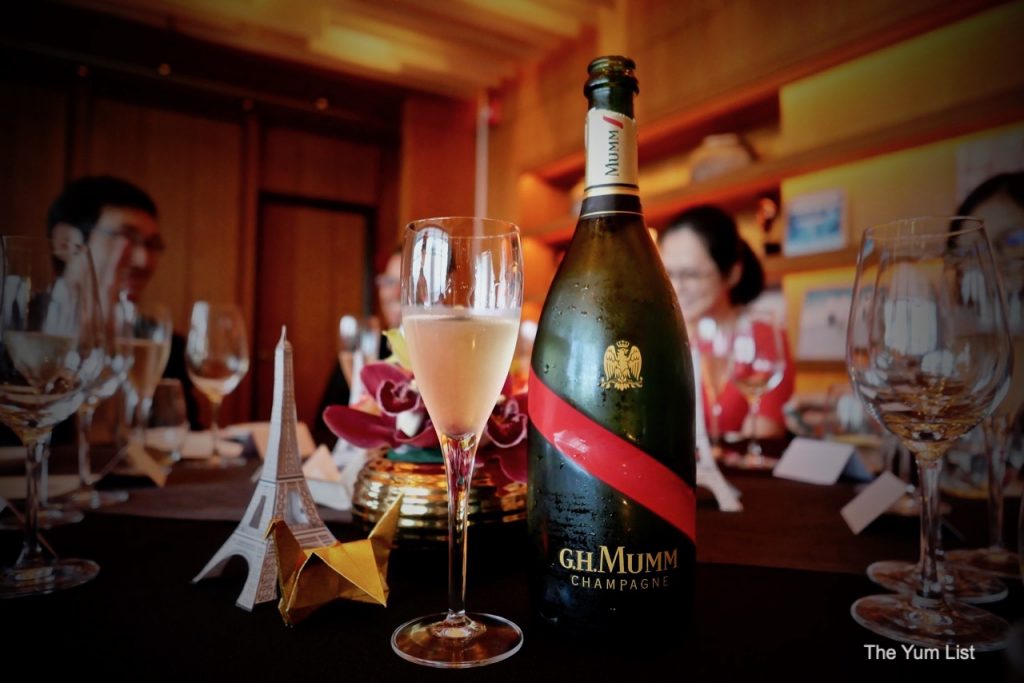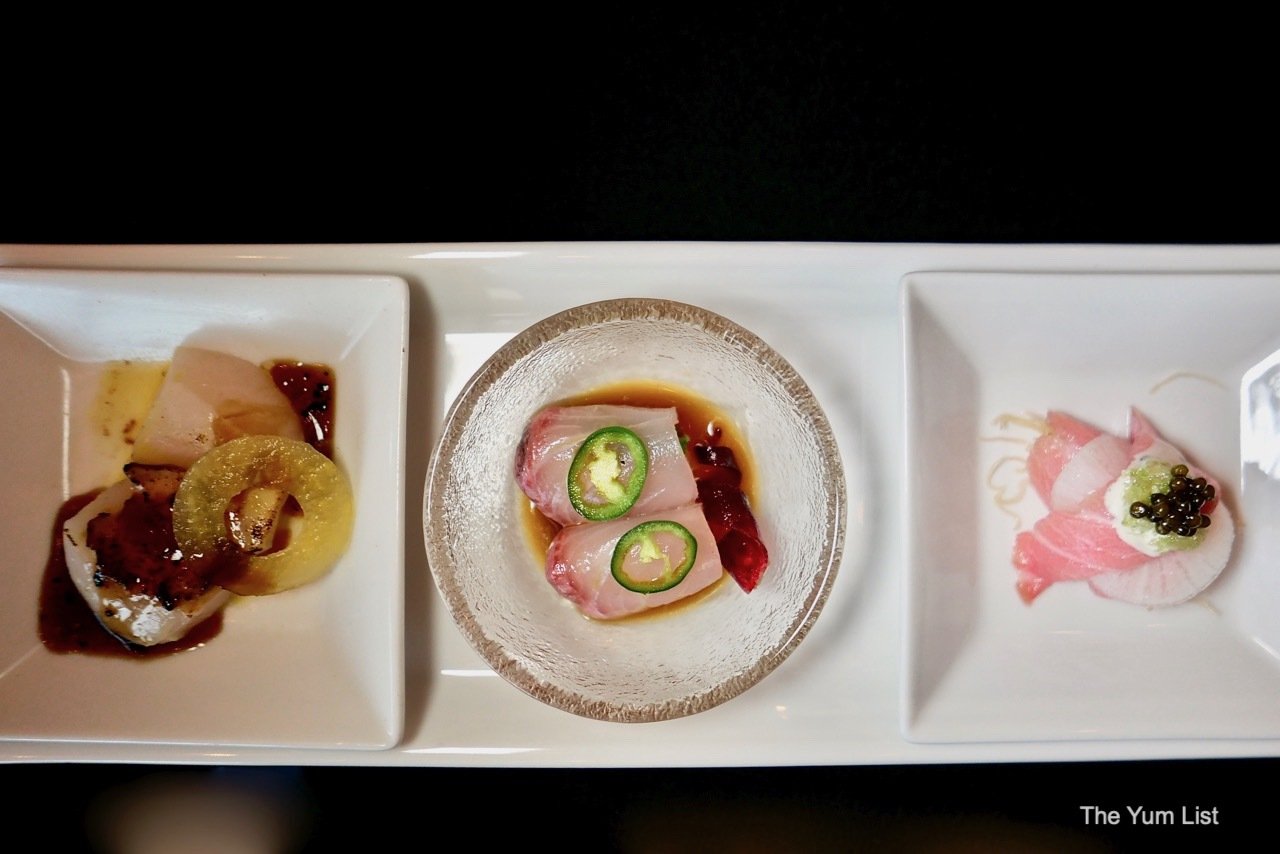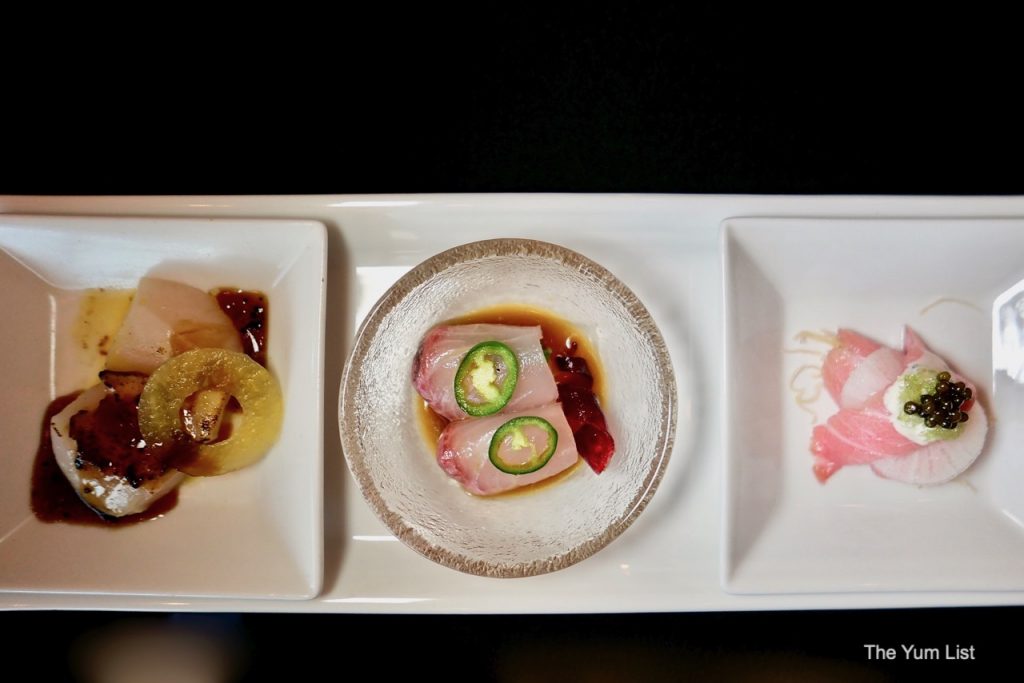 Sushi Selection
Gopi Kanala, the general manager, introduces the next course as his favourite, and we soon concur! Three beautiful pieces of classic nigiri-style sushi pair with another Nobu classic, the sushi cup. Chu-toro, (medium fatty tuna belly), Tai (Japanese sea bream), and Uni (sea urchin) are exceptional examples of premium sushi. Cliché melt-in-the-mouth cuts are incredibly fresh and sliced at a perfect 30-degree angle against the grain. Ultimately, the Ika Sushi Cup sees tender ribbons of squid sprinkled with sesame seeds atop chewy sushi rice.
Best served chilled, the Hokusetsu Nobu Daiginjo TK40 is known as 'The Premium Sake' and offers a superb marriage to the sushi. It's velvety and well-rounded with a sweet bouquet. Complementary flavours of cedar and honey carry through to a crisp conclusion.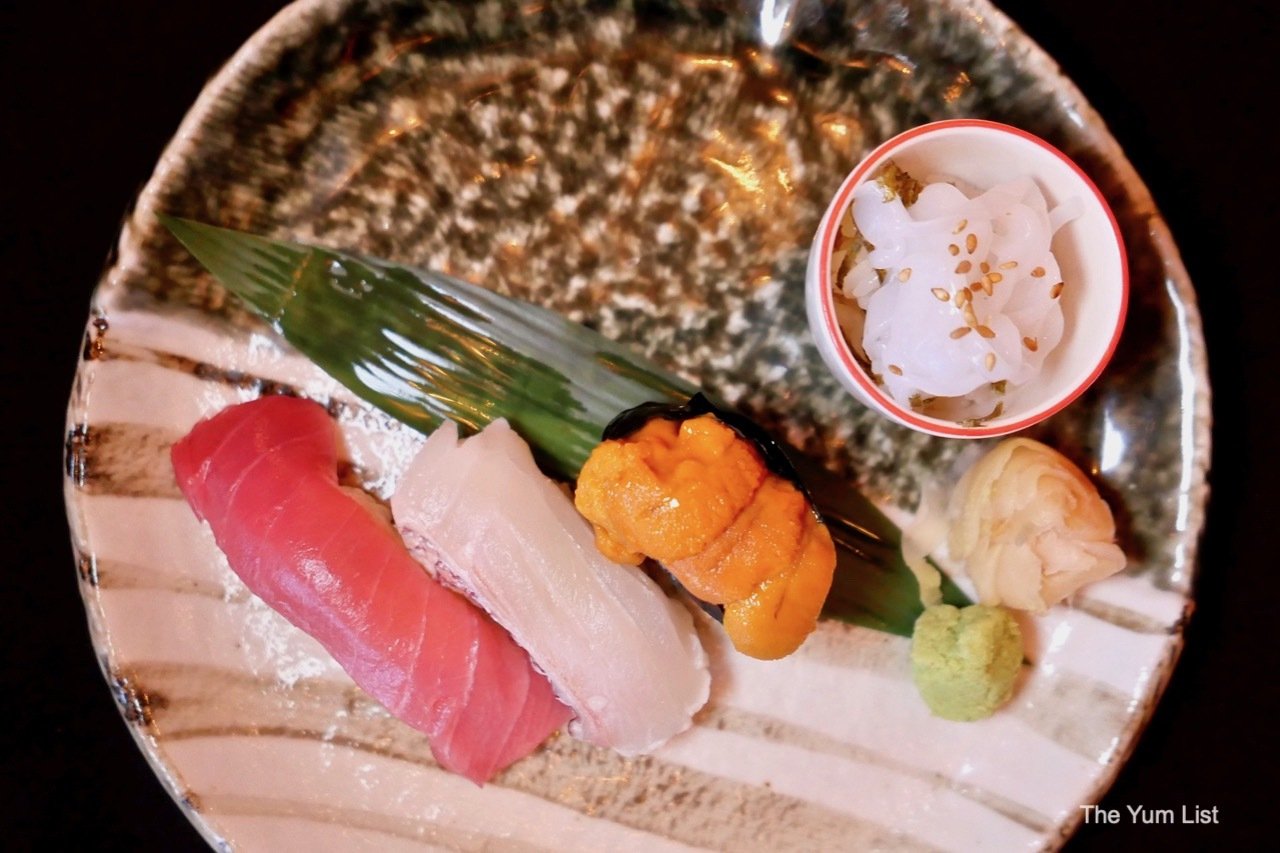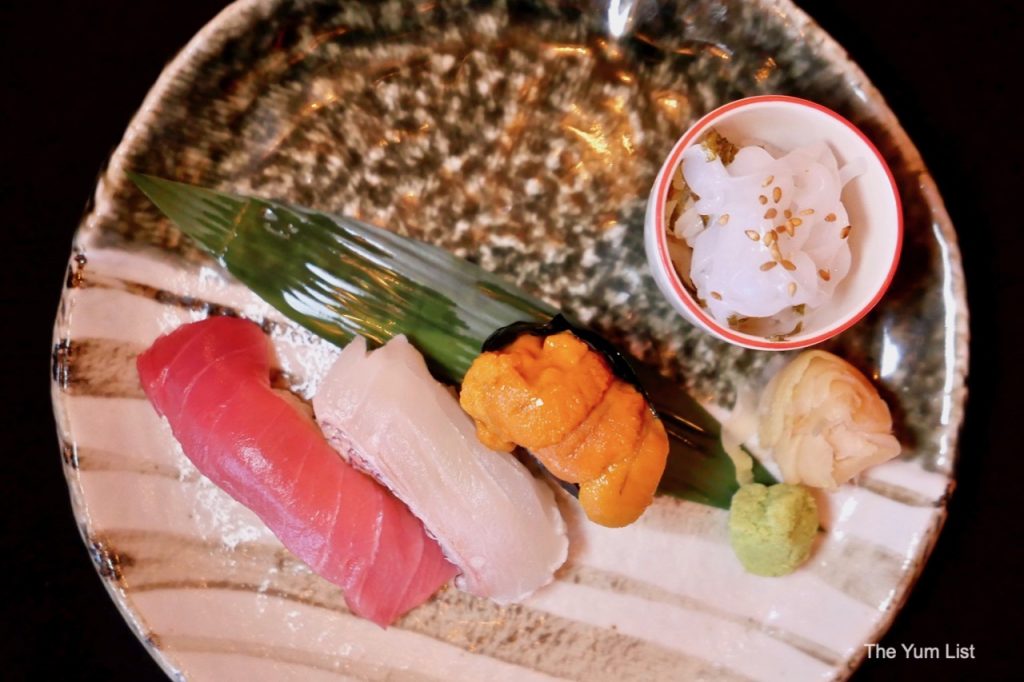 Aburi Salmon with Kohlrabi Salad
Just when we think the goods from the sea can't get any better, Aburi Salmon with Kohlrabi Salad arrives. Aburi refers to the cooking method where the fish has been partially seared on top, leaving the remains raw and wonderfully moist. Flimsy strings of kohlrabi salad provide crunch, but it's the yuzu miso sauce that makes me want to lick the plate.
Building intensity, the Rene Mure Riesling Signature 2013 from Alsace, France connects the fat of the salmon with fruity freshness in the wine. A citrus and floral bouquet continues with layers of minerals and lemon and winds up with a dry ending. This is an excellent pairing for Nobu food; I recommend a bottle if you order a la carte.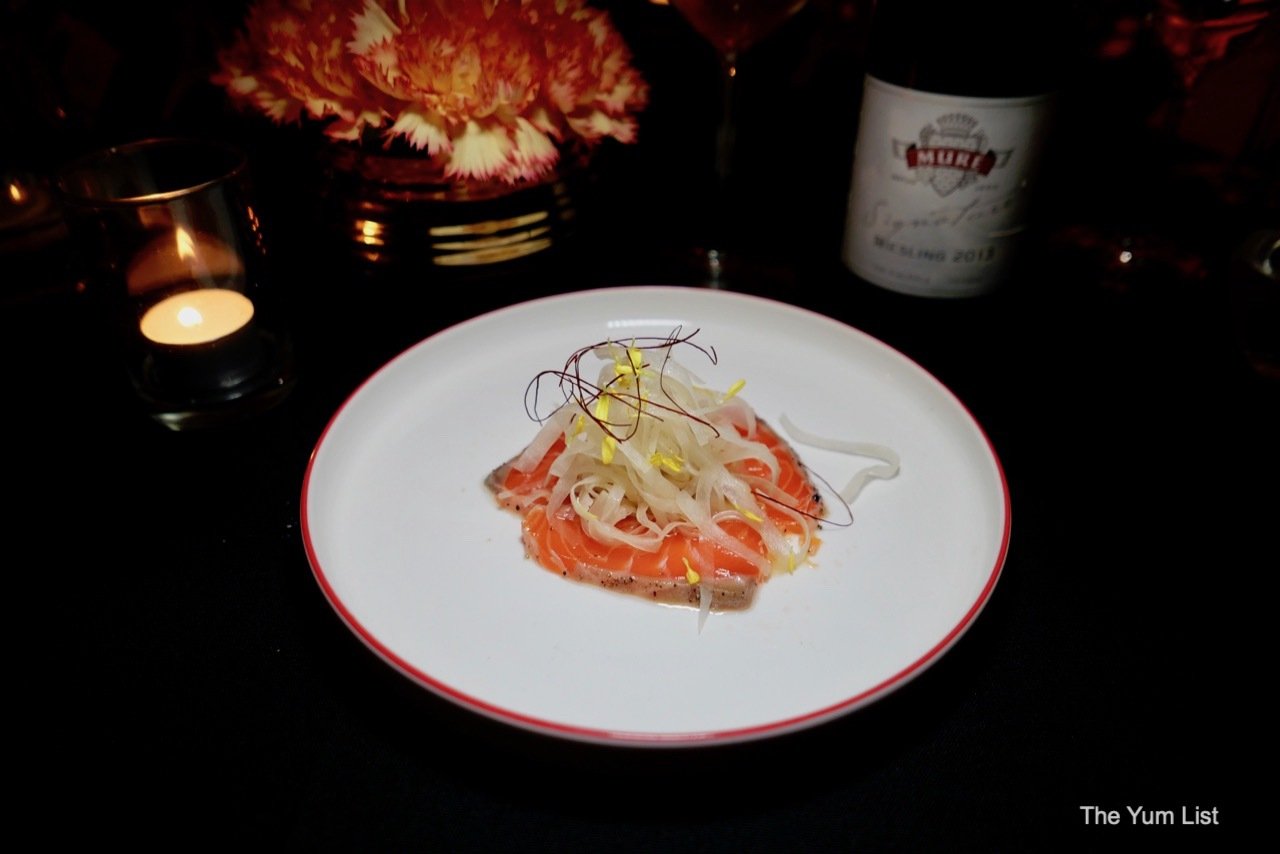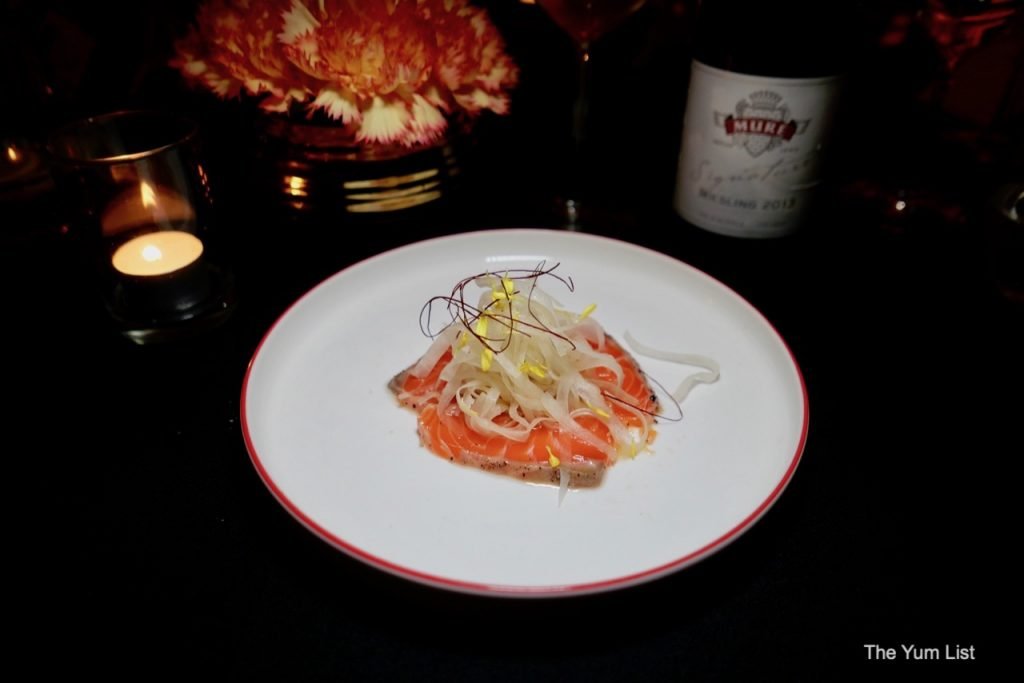 Alaskan King Crab Ginger Salsa
The fourth recipe, Alaskan King Crab with Ginger Salsa, brings a Nobu classic to the table. The initial preparation was served with the sauce over the crustacean. Tonight, however, it's presented on the side to allow the naturally sweet flavour of the crab to shine through. Prepared in a salamander, it's only just-cooked remaining raw in the middle and is incredibly juicy, clean and succulent. Crispy kelp salad tossed in tosazu sauce (soy and vinegar) beds the crab and should not be ignored. These would make fabulous bar snacks – move over roasted peanuts!
The crisp, vibrant Joseph Drouhin St. Veran 2017 from Burgundy, France presents an excellent match for seafood. This chardonnay is often overshadowed by its sister Pouilly-Fuisse, which neighbours St. Veran. The chalky soils from this region offer a richer, lusher style compared with its more famous counterpart. Peach, apple and melon are strung together with fresh acidity and minerality. The area is known for producing value-for-money product and this Joseph Drouhin is a fine example.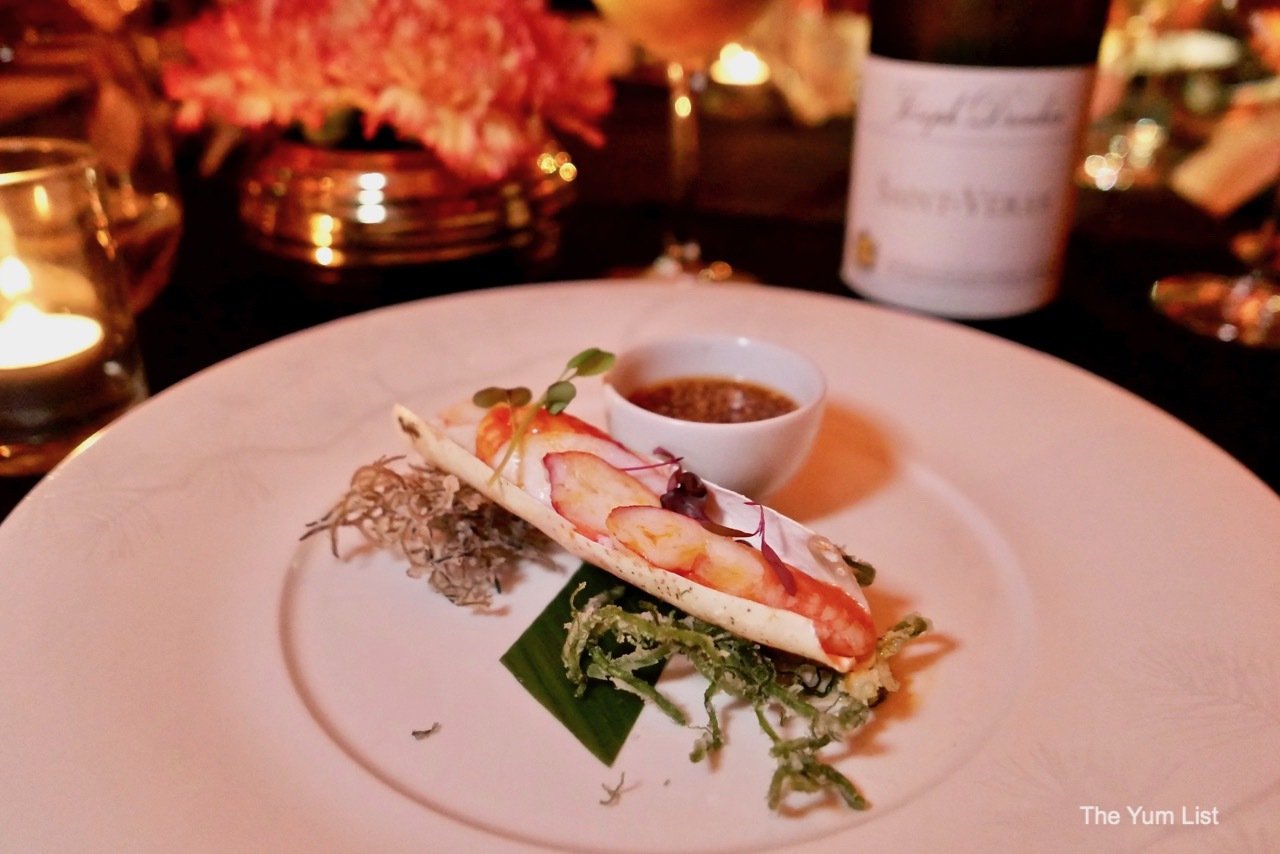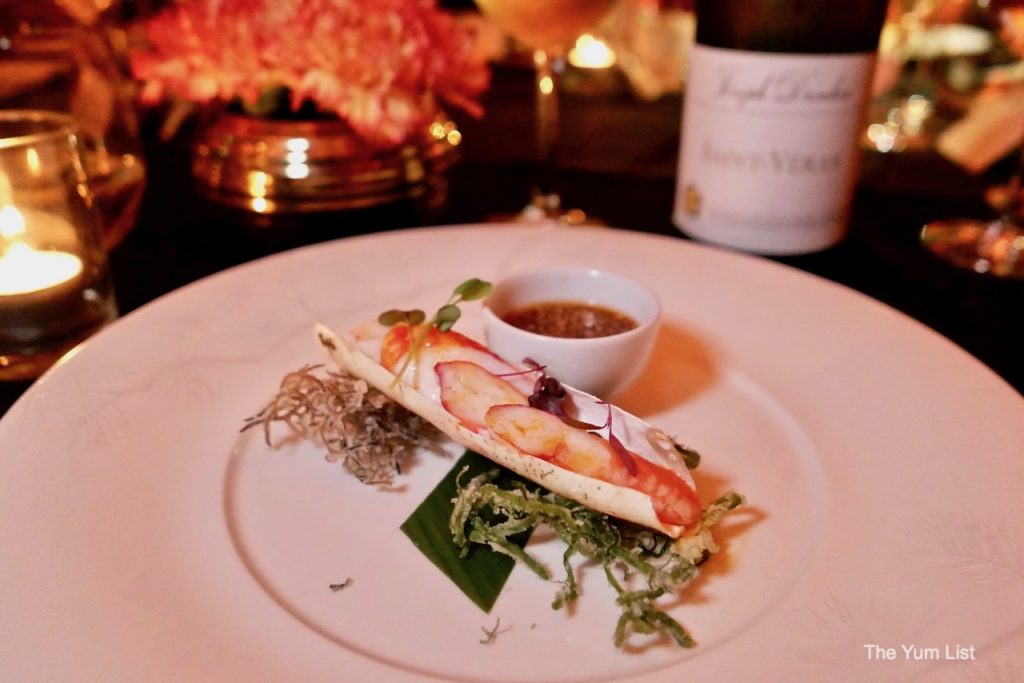 Umami Wagyu with Jerusalem Artichoke Puree
We continue onto the main with an irresistible piece of wagyu A5 from Miyazaki. Done medium-rare, it fills every corner of the mouth with its voluptuous fat content. The umami flavours come from a vegetable broth, and the sides of Jerusalem artichoke puree, pickled beetroot and soy salt are delicious.
South America is our steak mate; a glass of Alamos Seleccion, Malbec 2017 from Mendoza, Argentina. Full and fruity, the wine sports the typical character of this grape. There's an abundance of dark fruit in the bouquet alongside floral aromas. On the palate, it presents structure with juicy plum, a touch of spice and a lengthy finish. It's bold enough to partner the fatty wagyu yet composed enough to not overpower it.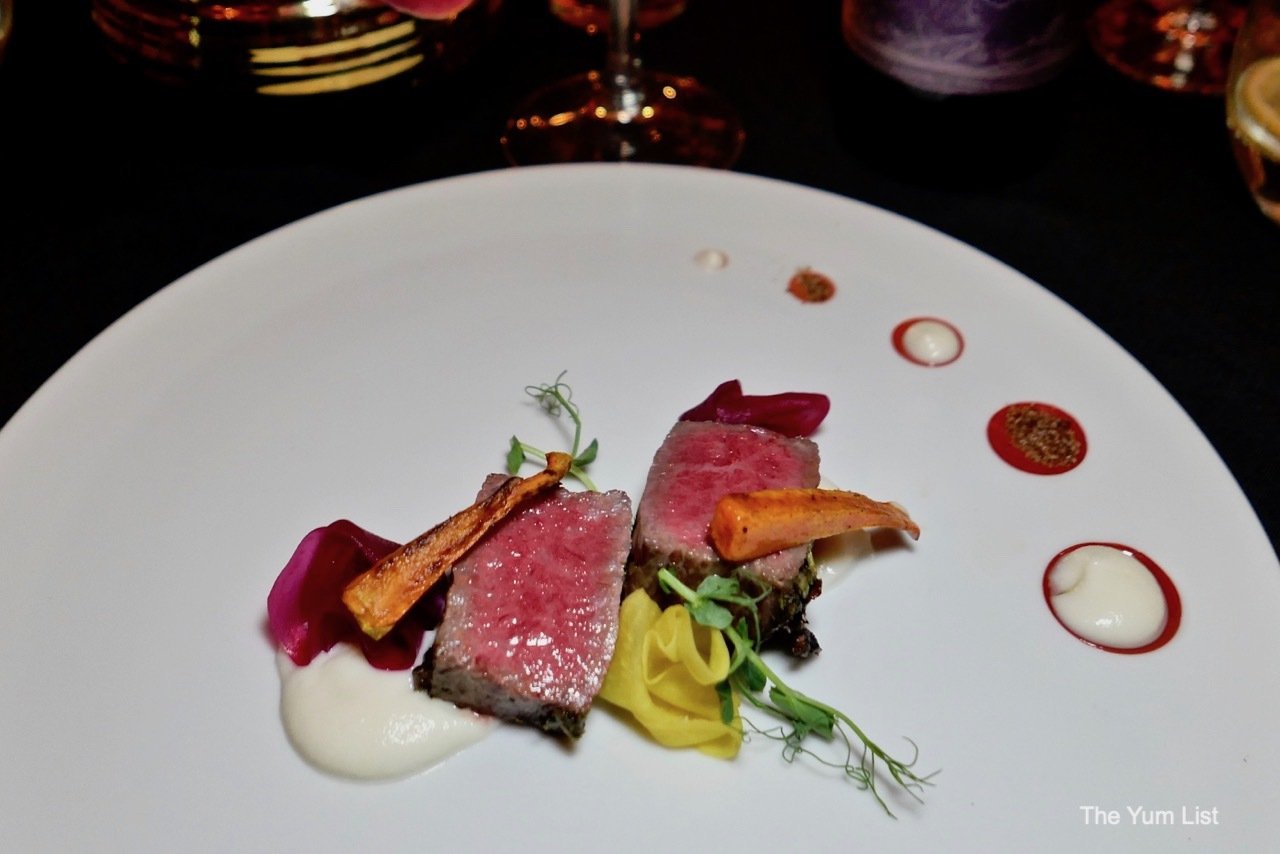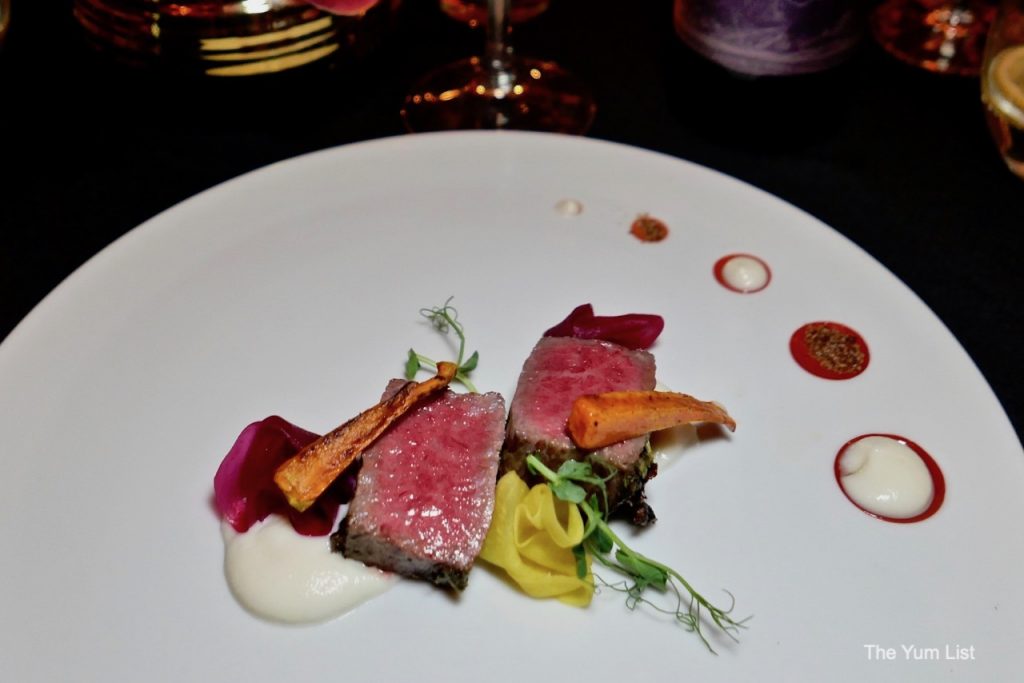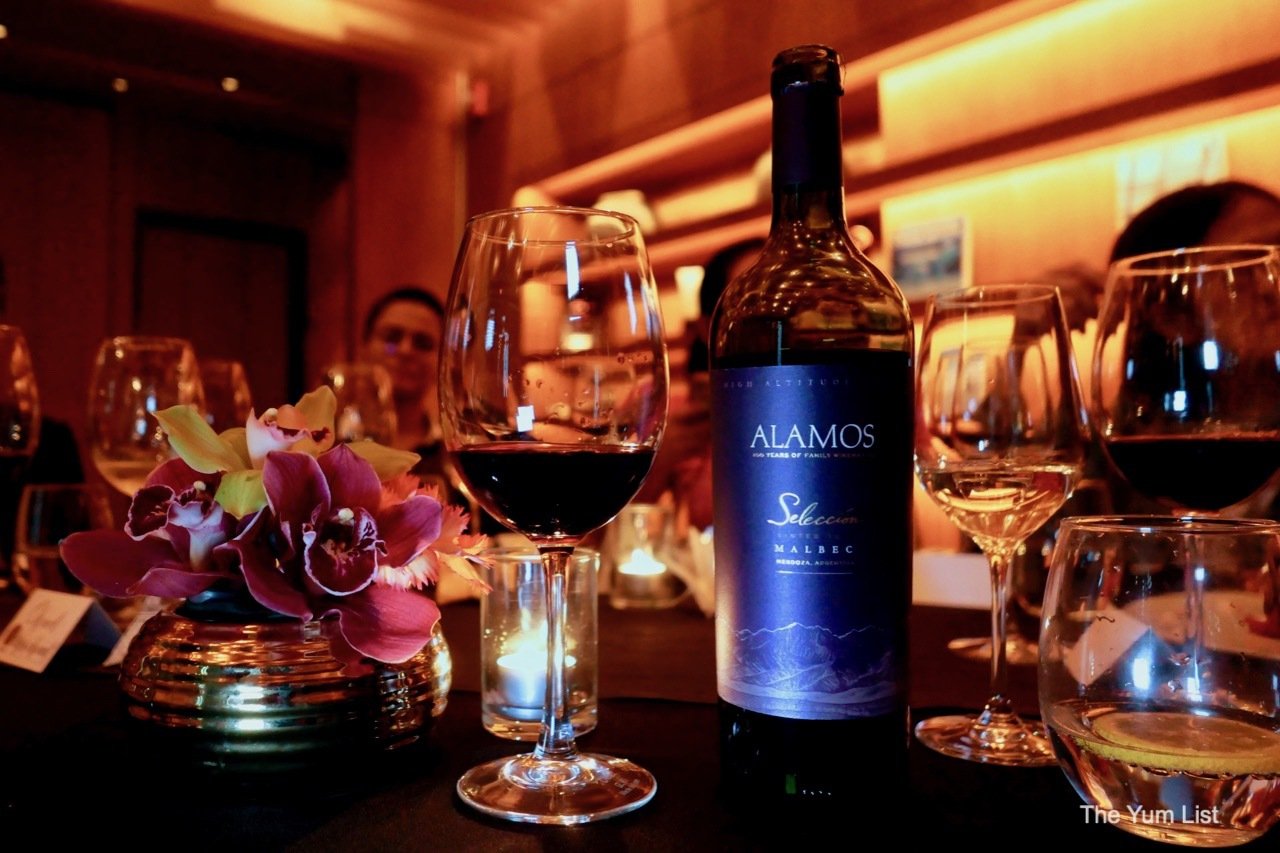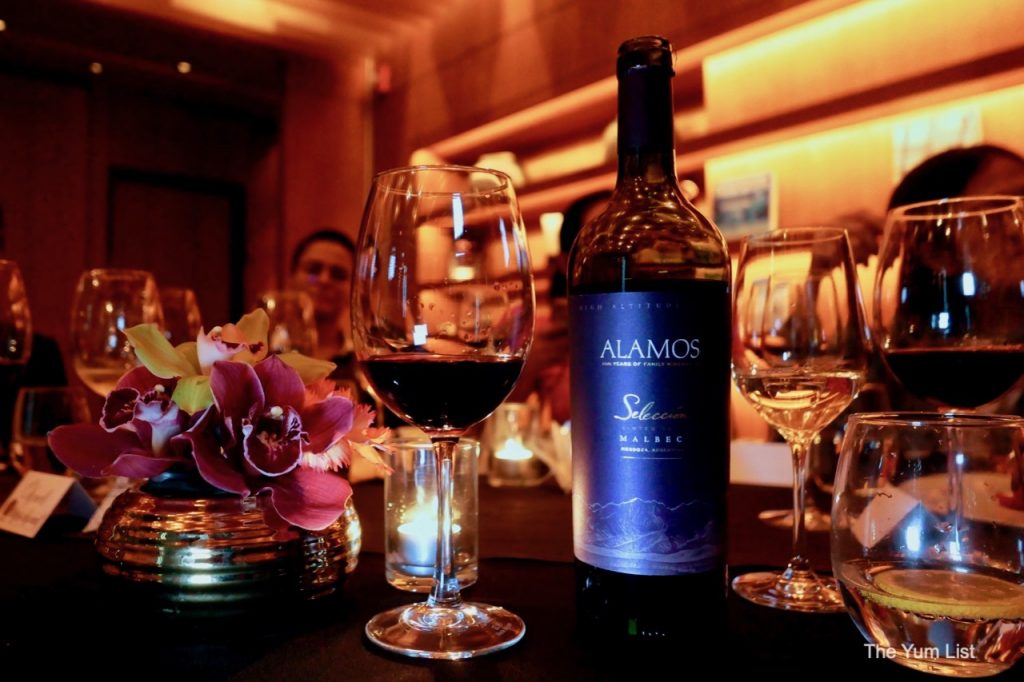 Tomato Kombu Consomme
An in-between course, the tomato kombu consomme, calms the palate before dessert. This French-style, clear soup is served cold and topped with macerated tomatoes.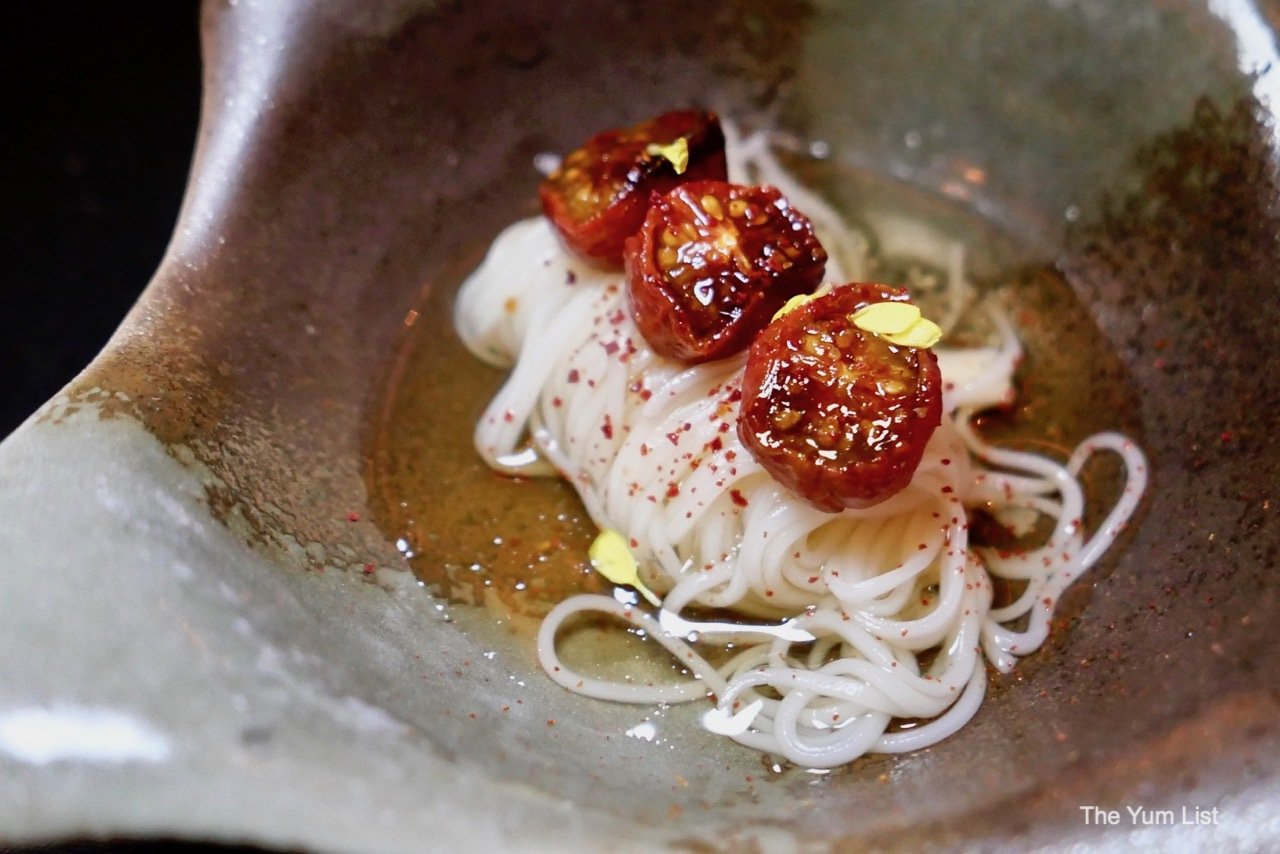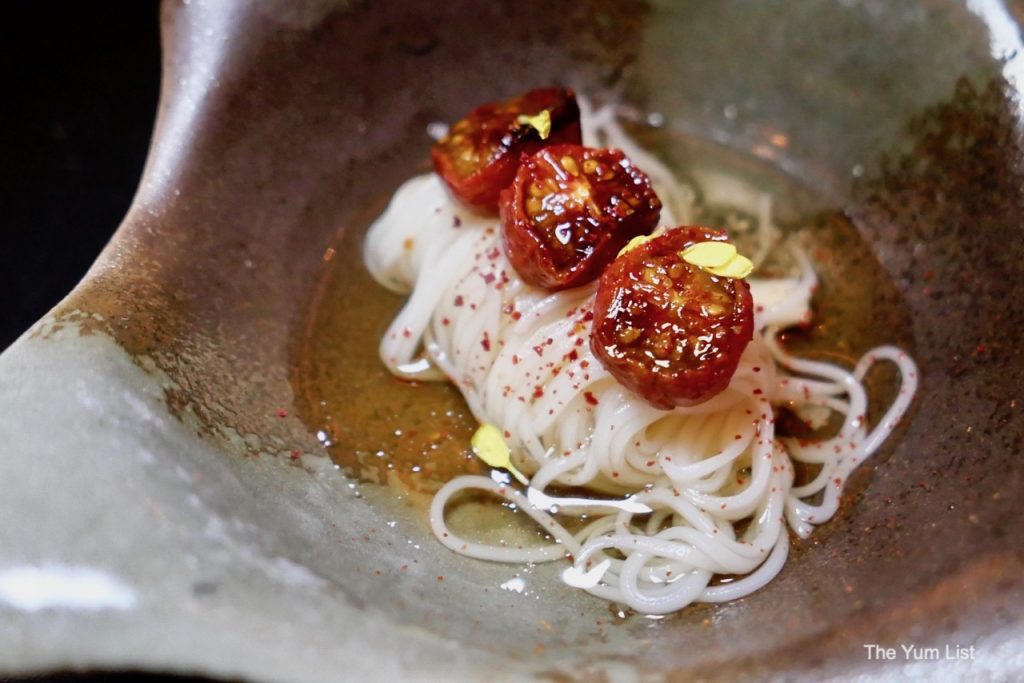 Espresso Chocolate Mousse
Rounding up the meal, we return to Japanese roots with a fragrant glass of Hokusetsu Umeshu. Immediately commanding, the nose has an aroma of marzipan due to the inclusion of the plum pit in production. It's a lovely balance of sweet and tart, and I would be happy with this alone as dessert… if the final pastry didn't look so tempting.
Espresso Chocolate Mousse with coffee crumble, and fresh berries wrap up the sake and wine omakase at Nobu KL. Just the right portion, two rectangular prisms of aerated mousse brings the meal to a sweet end.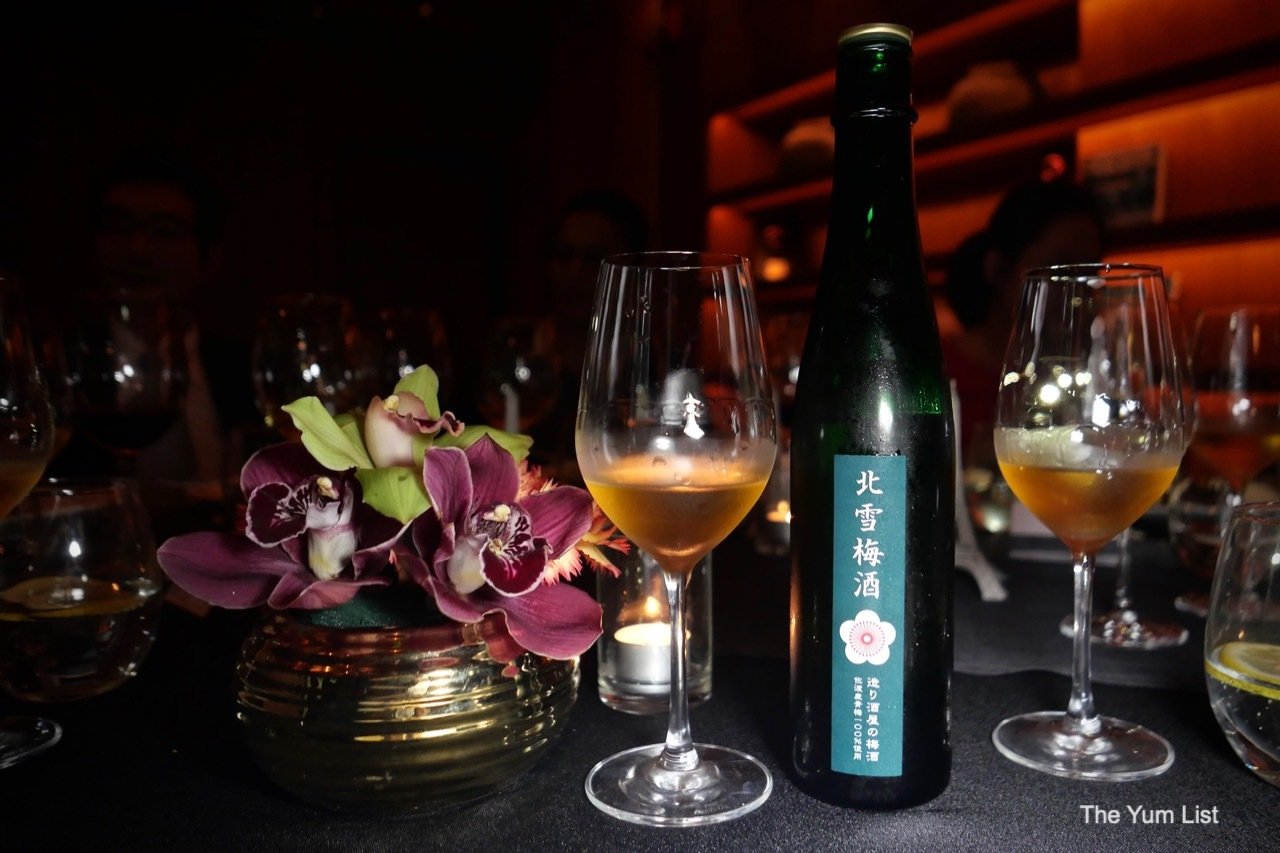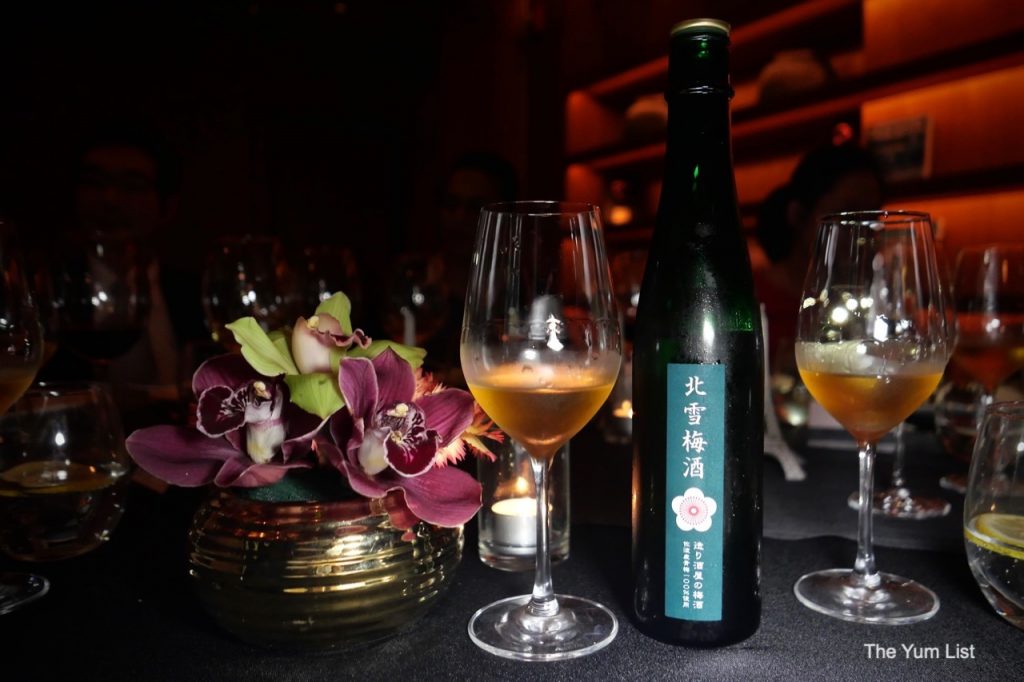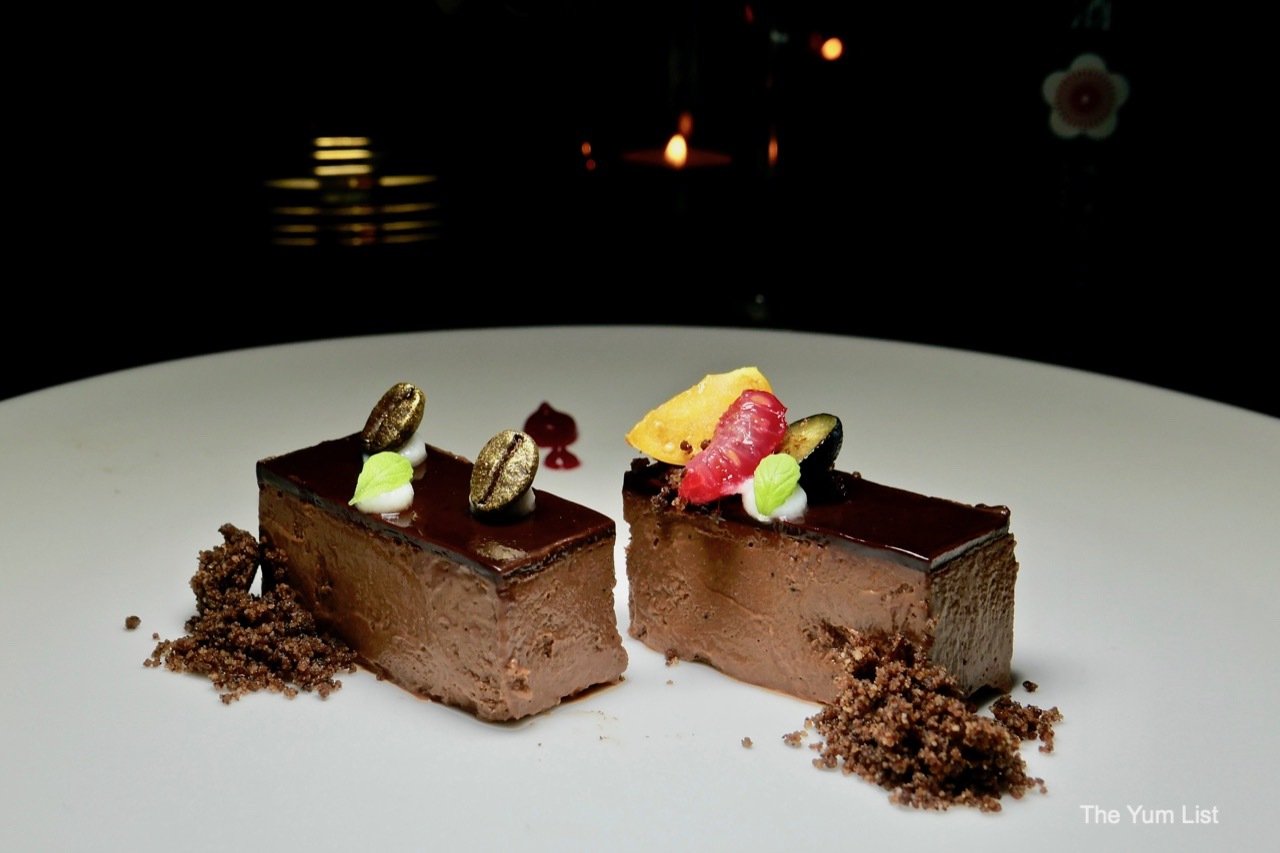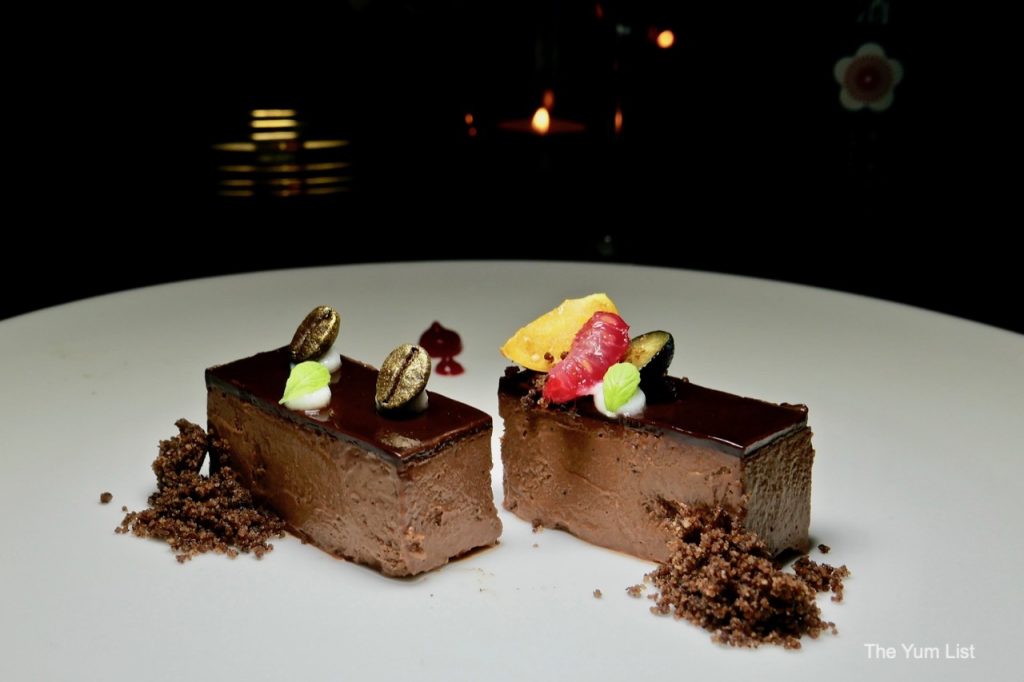 Sake & Wine Omakase at Nobu Kuala Lumpur Review
To conclude, the sake and wine omakase at Nobu Kuala Lumpur is priced at RM 758 ++ per person and runs until the end of March 2020. The portions of both food and wine are well-balanced. As such, it ensures our stomachs are satisfied but that we don't feel overly stuffed and that sleep won't be disrupted as a result of too much alcohol. The food is exceptional, and the beverage pairings demonstrate expertise. Add to that sterling service and those views, and you have yourself a super night out.
Reasons to try the Sake & Wine Omakase at Nobu Kuala Lumpur: exceptional food, beautiful views, super service, excellent beverage pairings.
Nobu Kuala Lumpur
Level 56 Menara 3 Petronas, Persiaran KLCC
Kuala Lumpur 50088, Malaysia
www.noburestaurants.com
+603 2164 5084
Whatsapp +6 019 389 5085
Nobu Kuala Lumpur Opening Hours
Monday to Sunday Dinner: 6 pm – 10:30 pm
Saturday & Sunday High Tea: 1 pm – 4 pm