Words: Kitty Lang
Photos: Monica Tindall
Celebrating the launch of Nobu Matsuhisa's latest cookbook, World of Nobu, Nobu Kuala Lumpur offers a seven-course omakase menu highlighting the creations of chefs from Nobu restaurants around the world. Two of the recipes on the menu come from Malaysia's very own Chef Philip Leong. Mon and I can't wait to journey the globe through tastes from the kitchens of these internationally-renowned chefs.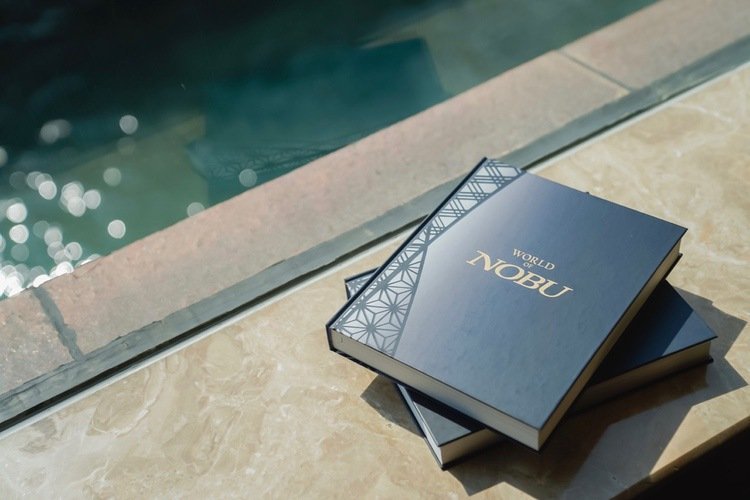 World of Nobu – Nobu Matsuhisa's Latest Cookbook
The cookbook itself is a hefty tome (RM 325++) which, if bought at the restaurant, you may have signed by Chef Philip Leong. It features beautiful pictures and surprisingly simple recipes, that would allow the most basic of home cook to recreate. What really shines through, particularly in the tasting menu to come, is the quality of the fresh ingredients, which change to reflect the seasons.
Cocktails to Celebrate the World of Nobu
We were greeted with the 'Claudia Sunset' a cocktail romantically created by barman Azrie, for a former flame. Sake infused with tamarind was muddled with calamansi, Japanese whisky, shisho leaf, agave and topped with ginger ale. The first thing to hit the palate was the salt followed by the sourness of the tamarind and calamansi, with just a touch of sweetness from the nicely balanced agave. Erring towards more sour flavours and not having a sweet tooth, this was right up mine and Mon's street!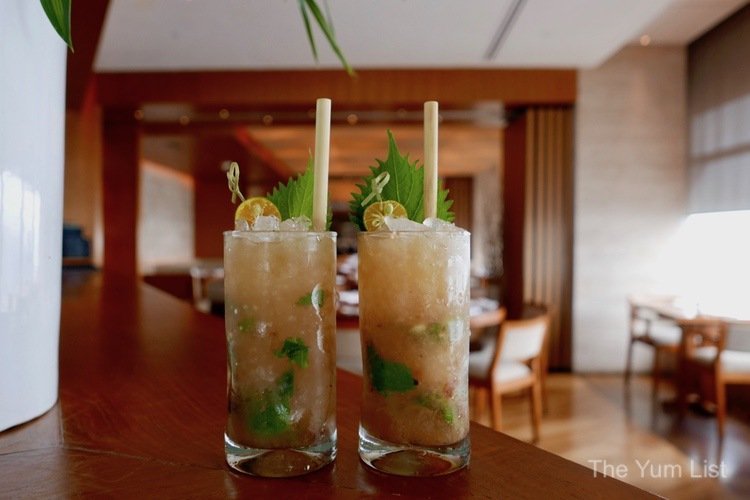 World of Nobu Omakase Menu
World of Nobu – Malibu
To start off our culinary experience, we were presented with Kin Medai Bagna Cauda, with wasabi soy cream and aioli, created by Nobu's Malibu chef, Toshiyuki Shiramizu. To the less initiated of us, in common parlance, Japanese golden eye fish (bream family apparently) was served with truffle and daikon. A simple elegant plate, light, refreshing and a perfect way to start the meal. The fish skin had been torched, which added a delicate smokiness to the dish, but not to overpower it. I personally find it rather off-putting when tasting menu plates are close to full-size but happily, the portions here, were perfectly balanced for a feast of its proportions.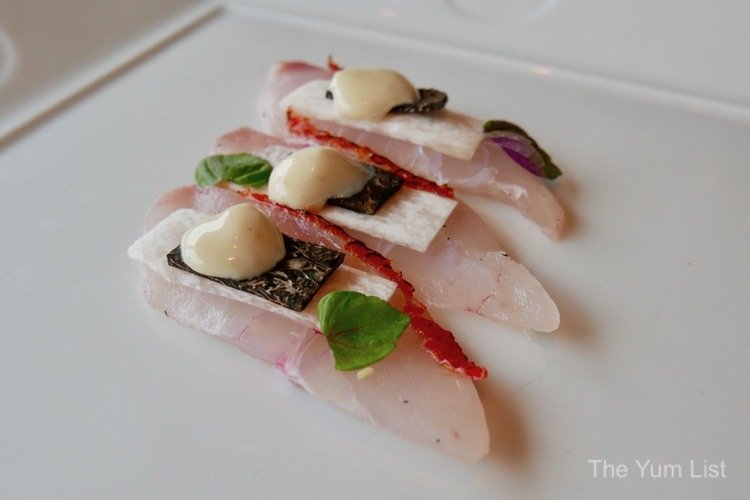 Cocktails at Nobu
Thai Mandarin Martini (RM 50), Alex's cocktail is a nod to his Thai wife. Containing Absolut Vanilla, Absolut Mandarin, kaffir lime, Grand Marnier and passion fruit purée, this bright, sunshine-orange drink would definitely appeal to those with sweeter proclivities and might be a good alternative to a dessert for those who have indulged a little too quickly.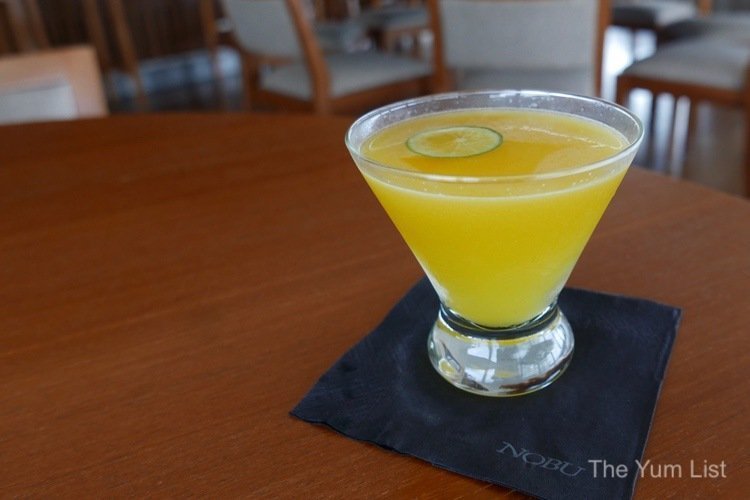 World of Nobu – Kuala Lumpur
Our next dish came in the shape of Nobu's Signature Sushi Cups. Think 'deconstructed' sushi. For me, good sushi should be all about the rice, and here, KL's sushi chef Chico Dator certainly comes through, combining it with the ubiquitous yuzu amongst other traditional sushi seasonings, which forms the base of the bowl. Presented in a quad, we were advised to eat in a clockwise direction. Start with the tuna belly, topped with Oscetra caviar (from the Beluga fish). Move to the rice crowned with shiitake mushroom and sweet shisho sauce. Next, go for the simple, unadulterated, bright pink salmon roe, which burst in the mouth with its fresh sea water flavours. Lastly, end with sweet shrimp (ama ebi), and wasabi salsa. Of course, shrimp needs to be super fresh at all times, but particularly when eaten raw, and this super-fresh crustacean was just that, with a silky, creamy texture.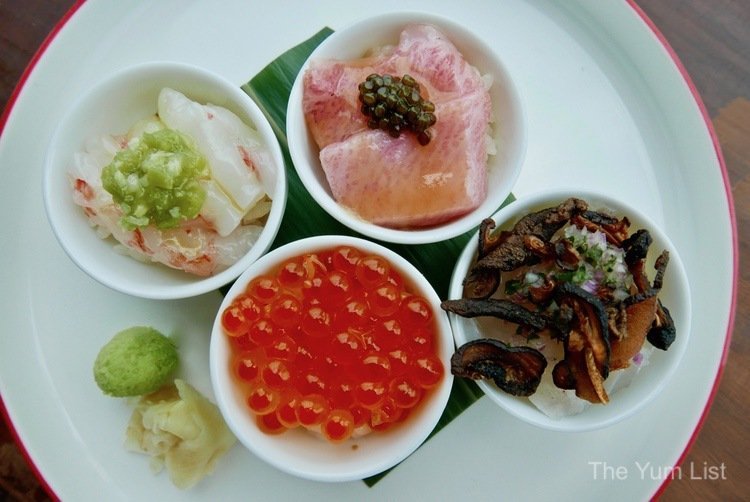 Nobu KL – Wine
In preparation for our next course, we were served a perfectly chilled 2015 Domaine Hamelin Chablis (RM 72 per glass). Savoury, with a refined touch of oak and a mineral flintiness, it was drinking well now, but the acidity suggested that it would also be a great wine to age in the bottle.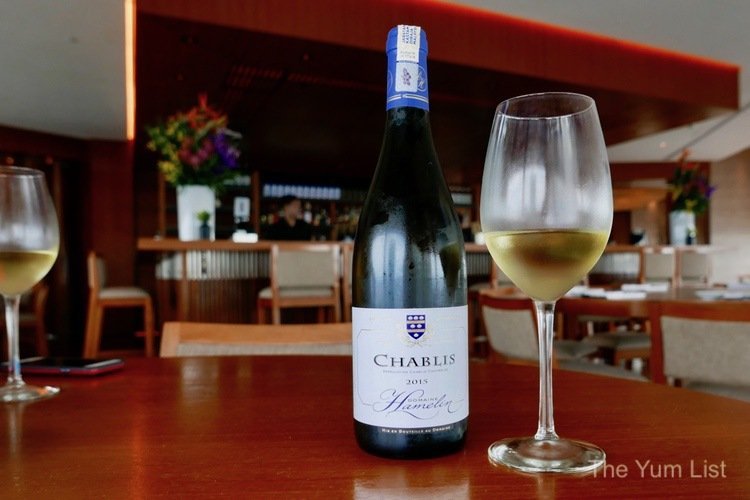 World of Nobu – Doha
Chef Andrew Bozoki from Doha's Lobster and Kale Quinoa Salsa with Dry Miso, was exactly as described. Chilled, luxurious lobster, brittle kale, Parmesan and crunchy quinoa topped with crispy tofu skin. The dressing was an ingenious blend of truffle oil, yuzu juice (there it is again) and soy powder, beautifully balanced with the sharpness of the Parmesan. Particularly pleasing with this plate were the layers of textures that complemented the flavours.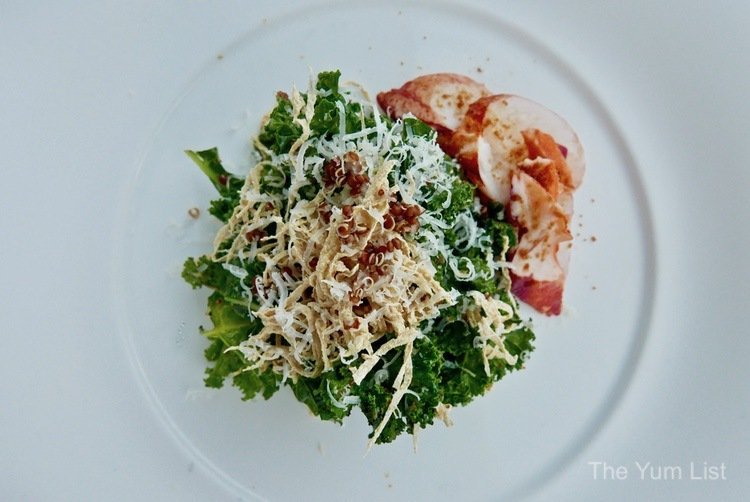 World of Nobu – New York
Our globe-trotting menu travelled to New York and its executive sushi chef, Taku Sato. Pan Seared Scallops were artistically placed on a bed of pickled fennel in the most glorious, violet, yuzu and beetroot sauce. The scallops, cooked to perfection with a lovely crust on the outside and still translucent on the inside, were delicately seasoned with a touch of salt and cracked pepper. Nobu works with a philosophy of minimum salt so as not to overpower the fish. There was not a whisper of the usual, earthy taste often associated with beetroot but instead, a zingy, lively sauce, that danced along the tastebuds, proving to be far more than just a pretty pop of colour. Of course, fennel and scallops are a match made in heaven, but combined with the yuzu and beetroot, created a veritable symphony.
World of Nobu – Marbella
Having literally just been discussing whether Wagyu beef was really up to all the hype, we were served Grilled Japanese Wagyu Beef. Chef Eleni Manousou from Nobu Marbella presents this recipe 'con hierbas' of shisho (Japanese mint), parsley, coriander, garlic, capers, onion, spinach, mint, soy and grape-seed oil, The herb dressing was somewhat reminiscent of chimichurri, but rather more subtle. The magnolia leaf, in which the recipe was presented, served to enhance the flavour of beef, which was truly melt-in-the-mouth with a perfect crust. Cooked to medium rare and properly rested, this was a triumph (as my friend Greg Wallace would say). As an aside, reputedly, the leaf traditionally wards off pesky flies if you happen to be eating outdoors – clearly not a requirement when dining 56 storeys up in a high-end establishment. I think I have finally found an appropriate point to use the phrase of eating my words. This was one of the best steaks I recall eating for a long time.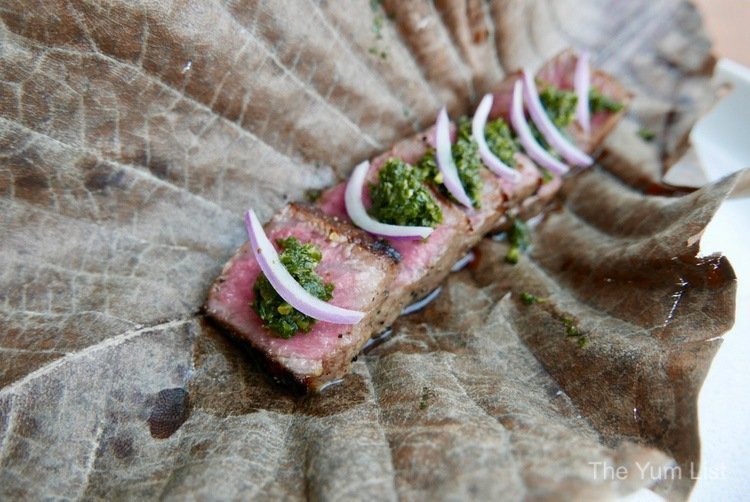 World of Nobu – Kuala Lumpur
Our penultimate course was a 'mop-up' for those still hungry as well as serving as a digestive. Cold Inaniwa Chuka (noodles to you and me) with caviar in watercress broth with a baby sardine cracker, where the eyes were winking at us in the afternoon sun. We were instructed to break the cracker into the soup, and not one to disobey the rules, duly did. With a slightly smoky and fresh flavour, it was a nice way to finish the savoury dishes, although we were certainly not one of those in need of filling up. This was the afore-mentioned second dish from KL, but this time from executive chef Philip Leong.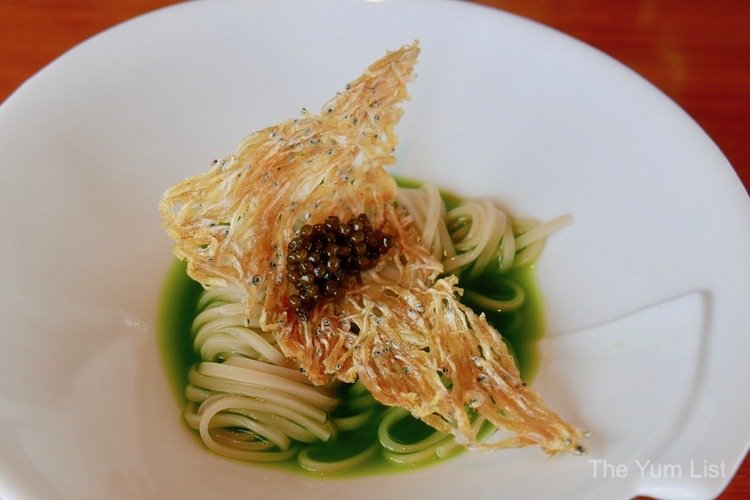 More Cocktails and Wine at Nobu KL
Clearly, we hadn't had enough cocktails so HAD to try For Gin Sake (RM 55). Tanqueray 10, sake, grape and the ever-present shisho leaf were expertly blended and topped with soda. Rather refreshing!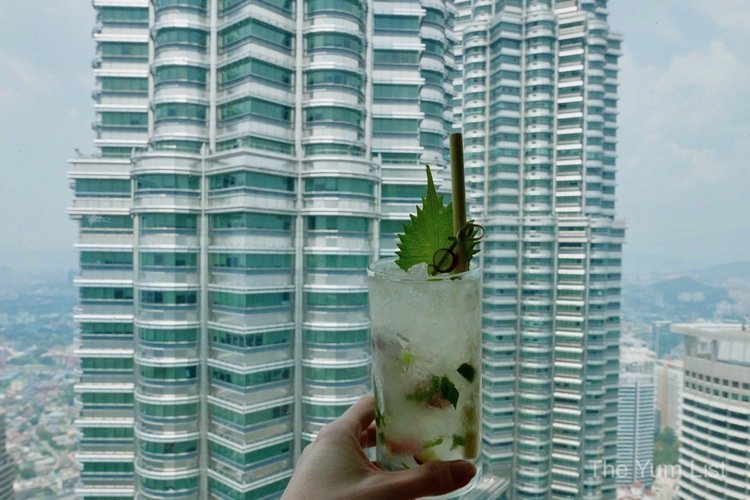 It wouldn't be a complete dinner without a cheeky, last glass of wine, so we were recommended the Gentil Hugel 2016 (RM 70), a fabulous blend of a variety of noble grapes, including Gewurtztraminer, Riesling, Pinot Gris, Pinot Blanc Muscat, Sylvaner. Whilst it showed a touch of the lychee and diesel on the nose, the green fruits shone through, with the drinking of it, more rounded than that you might find with the individual grapes, with only a hint of sweetness associated with any of the grapes mentioned, leading to a crisp, dry finish. The perfect pre-dessert drink.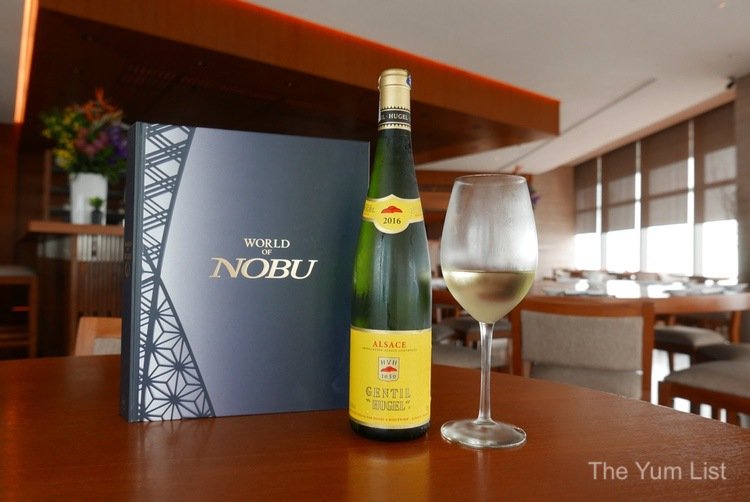 World of Nobu – Beverly Hills
Back to California for dessert from our last chef, Kei Hasegawa of Matsuhisa Beverley Hills. The Sakura-Saku was mascarpone cheese with a green-tea sponge atop a pink dusted fluffy bun. An intensely-flavoured cherry sorbet, pretty as a picture, reminded me of Japan in springtime. The delicate, well-balanced flavours, even appealed to me, someone who would generally avoid the puds altogether.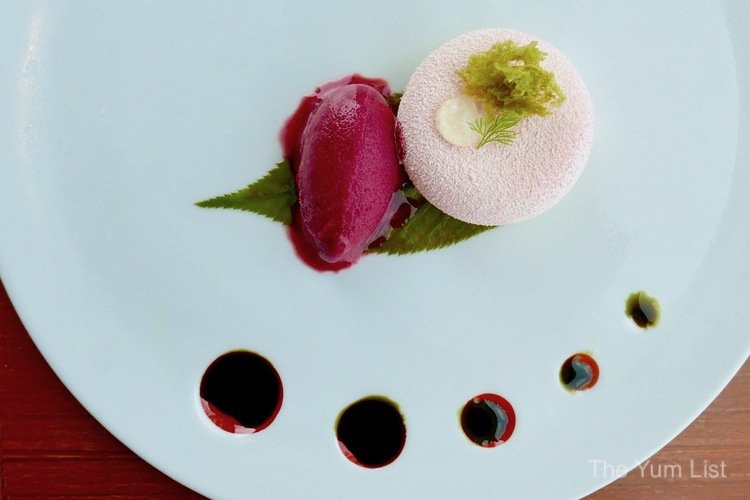 The World of Nobu seven-course omakase menu is priced at RM600++ per person and is available from the 1st to the 31st of March, 2019.
Reasons to try the World of Nobu Omakase Menu: take a trip around the world in seven dishes; innovative and delicious whilst celebrating simplicity; fun and flirty cocktails; stunning views.
World of Nobu Omakase Menu
Nobu Kuala Lumpur
Menara 3 Petronas, Persiaran KLCC
50088 Kuala Lumpur, Malaysia
www.noburestaurants.com
Nobu Kuala Lumpur opening hours:
Mon-Fri Lunch 12pm-2m
Mon-Sun Dinner 6pm – 10:30pm
Happy Hours at Nobu KL:
6 – 8 pm
RM 55++ for two wines by the glass plus two bar bites
RM 98++ for premium wine and four bar snacks
Check out Nobu's High Tea and Happy Hour here. Find a seasonal menu here and check out a sake-paired menu here.