Semai Chocolate Fondant Recipe
The Yum List asked some of our favourite chefs around Kuala Lumpur what's cooking in their kitchens during Malaysia's Movement Control Order. In this series, KL chefs have kindly responded with recipes using simple ingredients that readers can make in their own homes. Today, Chef Wai at The Library, Ritz-Carlton Kuala Lumpur shares his Semai Chocolate Fondant recipe.
Semai Chocolate Fondant Recipe (serves 4)
This luscious dessert, which features warm and cold elements, was the most popular in Fisherman's Cove back in the day. Over a period of time, I experimented with the flavours and textures until it became what it is today – refined decadence. This is the most opportune time for home cooks to practice using your oven and discovering/rediscovering these simple, yet delicious ingredients. If you are not able to source Semai chocolate, substitute it with any good quality dark chocolate. Follow every step in the recipe to achieve a remarkable Semai Chocolate Fondant right in your own home.
CHOCOLATE & FLOUR MIXTURE
80 g Semai chocolate 72%
80 g Lescure unsalted butter – 84% fat content
35 g super low gluten wheat flour (10-12% gluten content) sifted 3 times
In a medium stainless steel bowl, melt the chocolate and butter in a bain-marie at 45°C. Stir until thoroughly melted and well mixed. Set aside and keep warm (fold in the flour before stirring in the warm orange juice with orange zest).
EGG MIXTURE
2 large omega whole eggs (approximately 65 g each) at room temperature
12 g caster sugar
0.5 tsp premium quality vanilla bean paste with seeds
Use a stand mixer for better results. Put in the eggs and sugar. Stir well, then whisk the mixture in a bain-marie until it reaches 52°C or until the sugar has dissolved into the eggs. Then beat the hot egg mixture on the stand mixer for 4 minutes on high speed until it is thick and glossy or triple in volume. Stir in the vanilla paste before folding into the chocolate mixture.
WARM ORANGE JUICE WITH ZEST
Zest from 2 navel oranges – use Microplane zester for better results
30 ml orange juice reduction, from the 2 navel oranges (you will get about 220 ml orange juice)
Use a medium saucepot and bring the orange juice to a boil. Stir well and pass it through a fine chinois and return it to simmer. Keep stirring until you get 30 ml of the reduction then add in the orange zest. Keep warm.
Prepare 4 stainless steel rings, 55(d)mm x 50(h)mm and line with parchment paper in the inner ring and wrap the button of the ring with cling film x2.
SEMAI CHOCOLATE GANACHE
50 g Semai chocolate 50%
50 ml Lescure whipping cream
Melt both ingredients in a small glass bowl in the microwave oven, then transfer the melted chocolate mixture into a small half dome 15mm (d) silicone mould and chill until it is set. Remove the button chocolate ganache from the mould and keep chilled.
METHOD
Fold in the sifted flour into the melted chocolate-butter mixture in 3 batches. Stir until it is well incorporated.
Then stir in the warm orange juice with zest ( Mixture A).
Put 1/3 of the egg mixture into (Mixture A) and fold gently until well mixed.
Next, fold in the balance of egg mixture until it is smooth and velvety in texture.
Fill the prepared ring 2/3 full and press a piece of chilled ganache in the middle of the batter.
Transfer it to refrigerate to set for 4 hours.
Bake in a preheated commercial fan oven at 190°c for 7 minutes under a baking sheet.
Remove from the oven and carefully unmould the hot ring and dust with confectioners' sugar.
Serve immediately with your favourite ice cream (my choice is French vanilla bean) or Chantilly cream.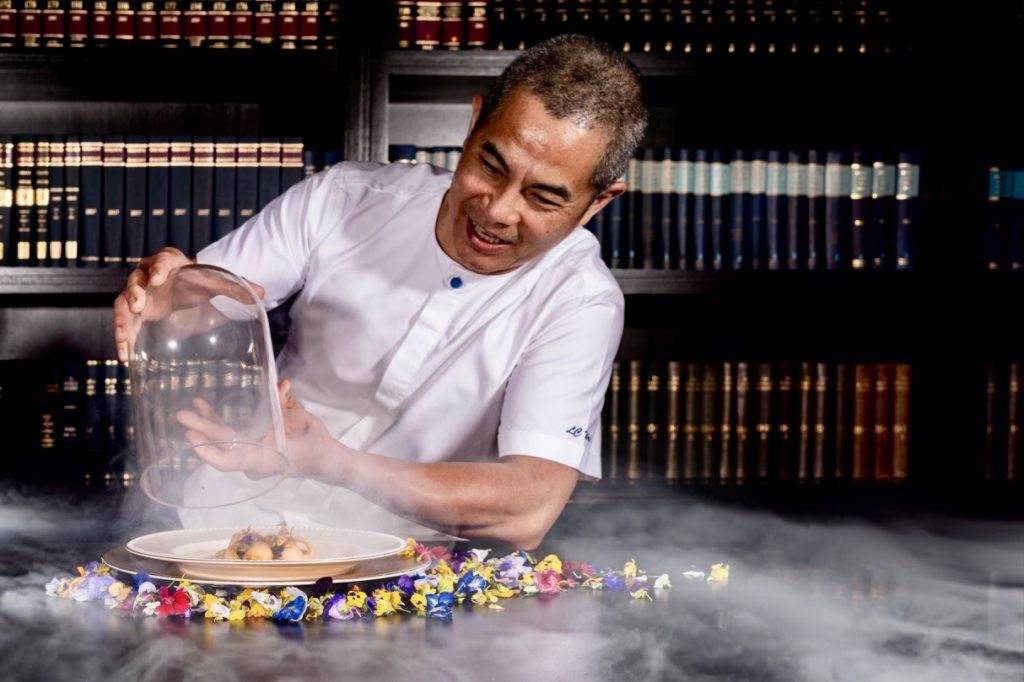 Find more recipes, such as this one for Semai Chocolate Fondant, here. And stay tuned to the latest happenings on KL's food and beverage scene here.