Vietnamese Spring Rolls Recipe
The Yum List asked chefs around Kuala Lumpur what's cooking in their kitchens during Malaysia's Movement Control Order. Today, Executive Chef, Ambrose Andrews, of the Sheraton Imperial Kuala Lumpur, shares a light and healthy recipe for Vietnamese spring rolls.
Vietnamese Spring Rolls (Gỏi cuốn) Recipe
INGREDIENTS
1 Pc Rice paper
2 Pcs Lettuce
3 Pcs Carrot
3 Pcs Cucumber
3 Pcs Coriander
3 Pcs Mint leaf
4 Pcs Shredded chicken
5 Pcs Prawn
1 Pc Spring onion
Plum sauce
Thai sweet chilli sauce
Roasted peanuts
METHOD
1. Fill a large bowl with cold water then quickly dip a piece of Vietnamese rice paper, making sure to wet the entire piece.
2. Shake off any excess water.
3. Lay the wet rice paper down on a cutting board (or a professional grade towel) to help absorb excess water. Do not use a plate because the rice paper will become mushy and/or stick to the plate.
4. Place a small half lettuce leaf at the lower end of the rice paper.
5. Lay the following evenly across the rice paper in very small quantities – julienned cucumber, bean sprouts, mint, coriander, lemon basil, julienned carrot, shredded chicken, and rice vermicelli. Cover with half a lettuce leaf to hide the filling.
6. Roll the rice paper 2/3 of the way, then evenly lay 5 shrimp slices with the orange side facing down. Fold the edges and add a small green onion with 3-4 leaves sticking out about 1″ from the ends. Continue rolling while keeping it tight. The roll should look long and slim. Otherwise, you put too much filling. Don't put too much vermicelli and salad.
7. Repeat steps 5 and 6 until all the shrimp and chicken have been used up. Serve with sweet chilli sauce.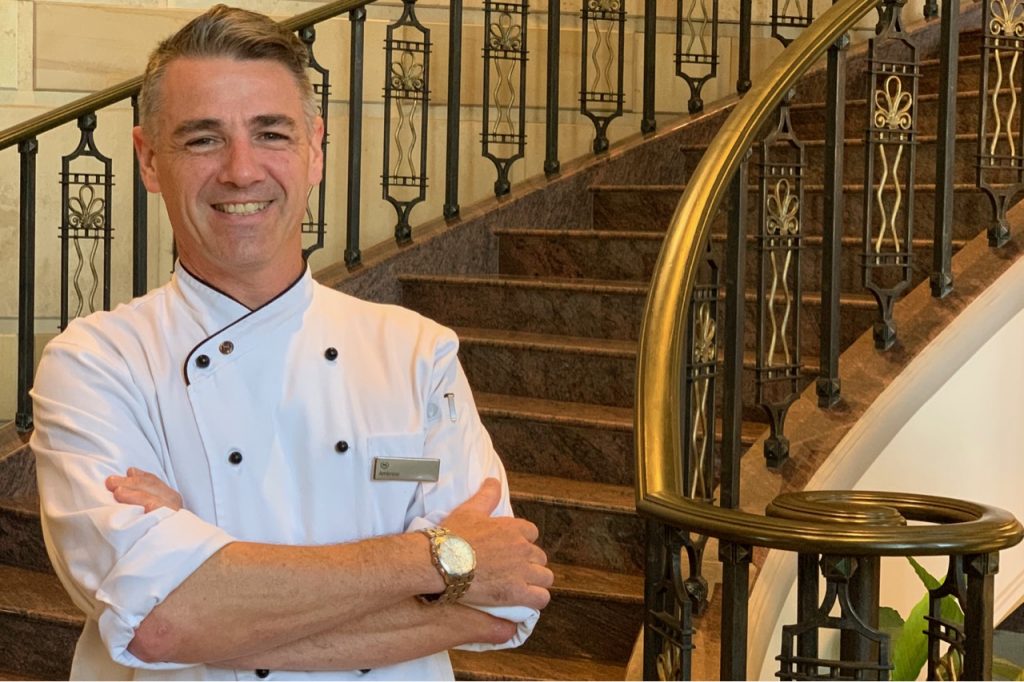 Find more recipes by KL chefs, such as this one for Vietnamese Spring Rolls, here.
And, stay tuned to the latest updates on the KL food and beverage scene here.