Eastern & Oriental Hotel Penang
Monica Tindall
As history continues taking its twists and turns, one thing has remained constant on the island of Penang; the reputation of the Eastern & Oriental Hotel. Established in 1889 by the Sarkie's Brothers, the property has long been a luxurious haven for travellers as well as an unforgettable event space for locals. Photos on mantels of garden weddings on the lawn are just as common as holiday snaps with cocktails by the pool for residents and international globetrotters alike.
Continually upping expectations, the Heritage Wing underwent extensive renovations last year reopening to guests at the end of 2019. This wing in the E&O was one of the first hotels we stayed in when we moved to Malaysia not quite two decades ago. We're incredibly curious to see if its charm remains.
Like a film set (think Crazy Rich Asians opening scene), the hotel immerses you in a world not accessible to most as a daily affair. The little piece of escapism (just like a good movie), has us living the life of the big shots, at least for a weekend.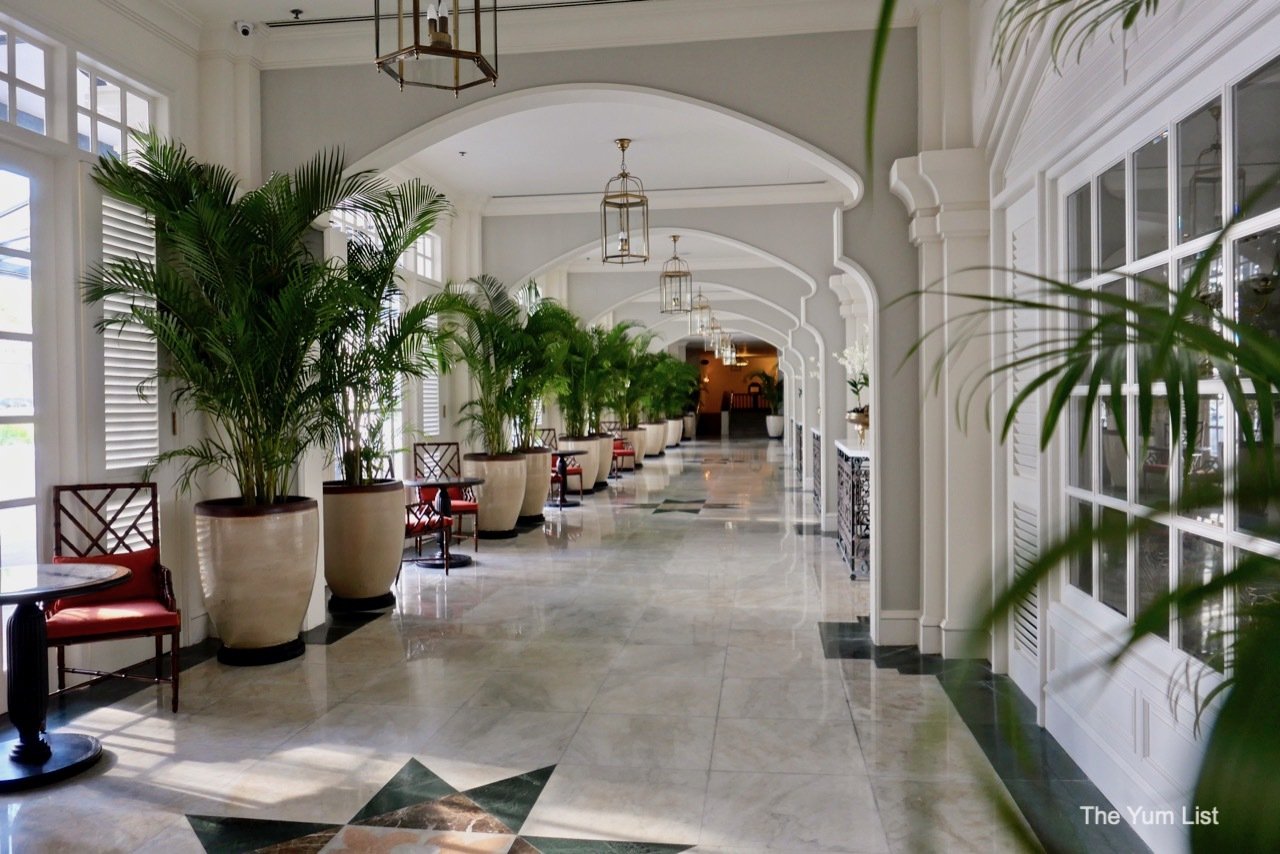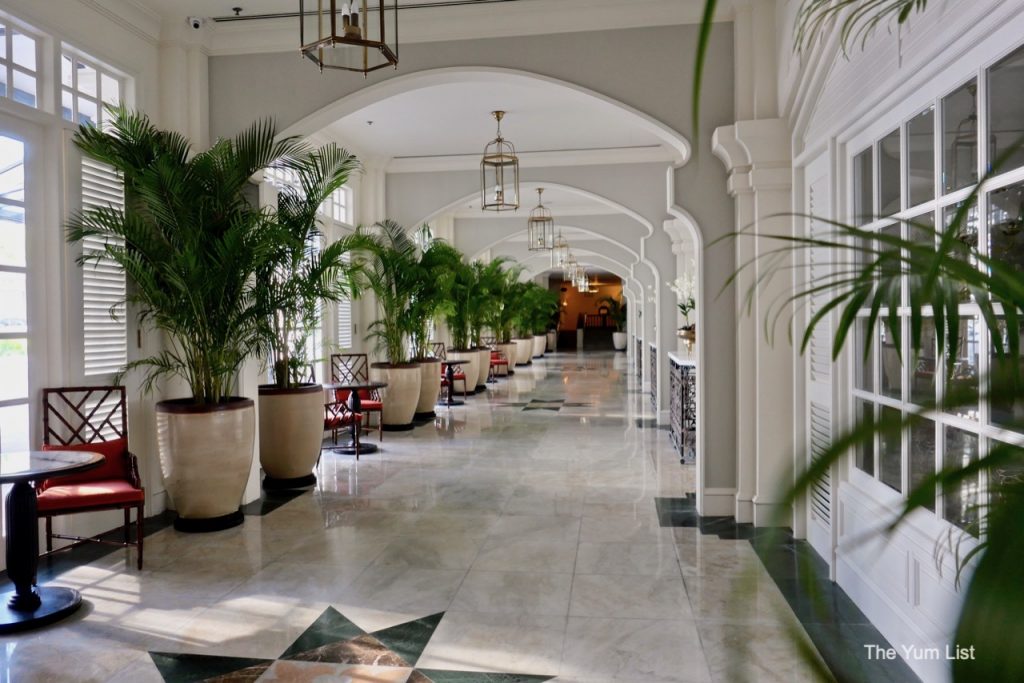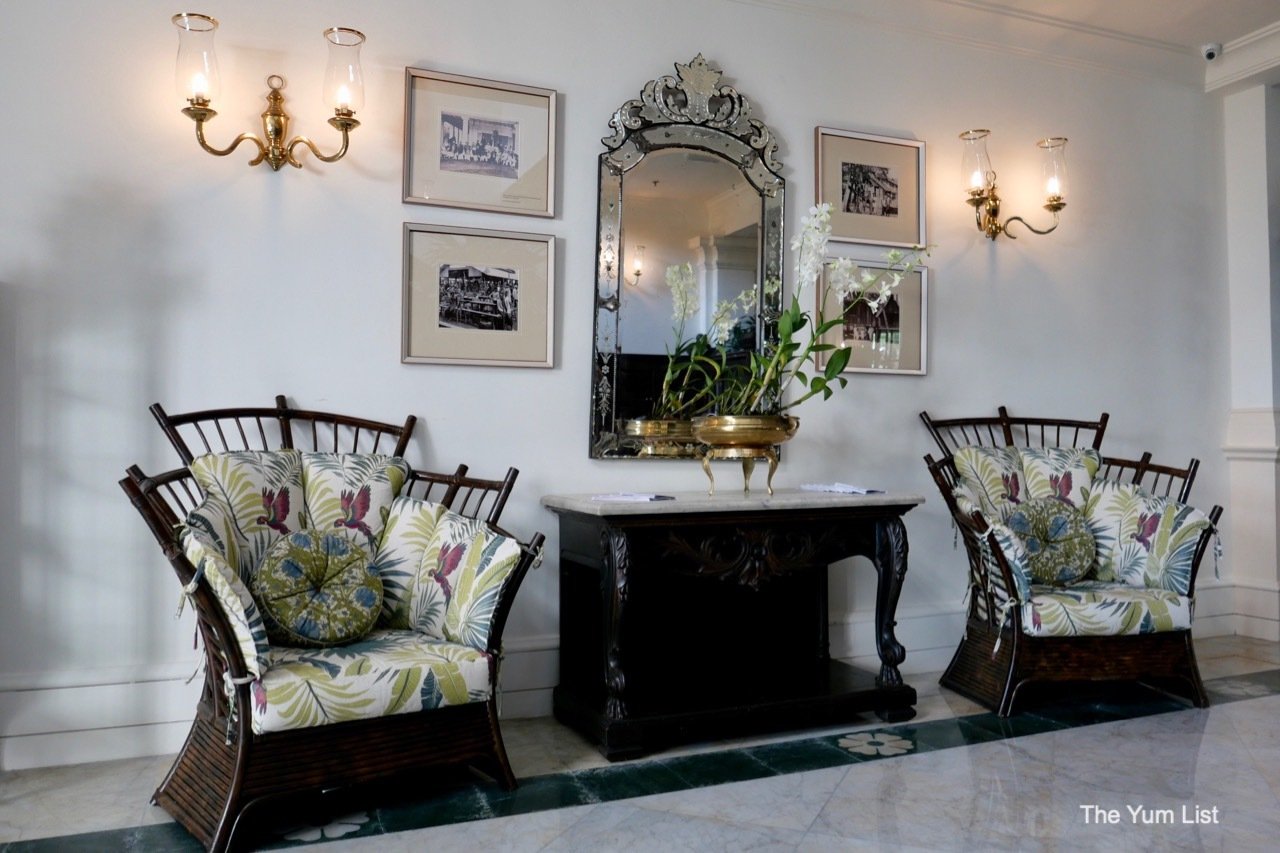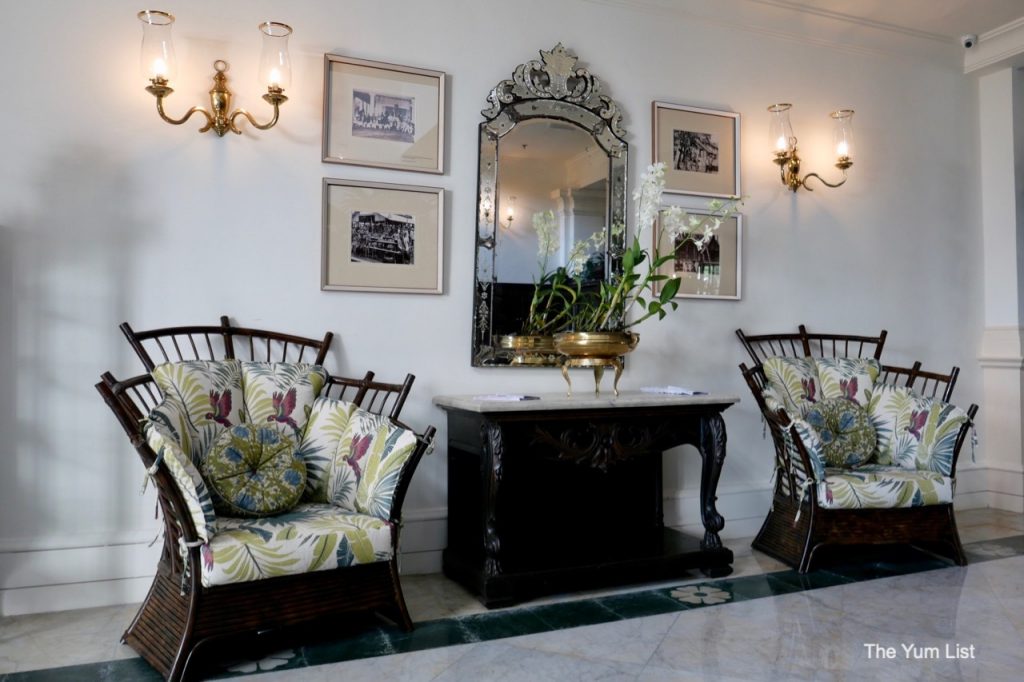 Eastern & Oriental Hotel Penang, Heritage Wing – All Suites
The Heritage Wing maintains its even 100 suites. While old-school skeleton keys have been replaced with electronic cards, the reception displays the polished metal room keys in a wooden pigeon-hole cabinet, as in the old days. Check-in is done in-room, however. Guests are whisked to the serenity of their abode by a butler, avoiding any needless standing or waiting in line.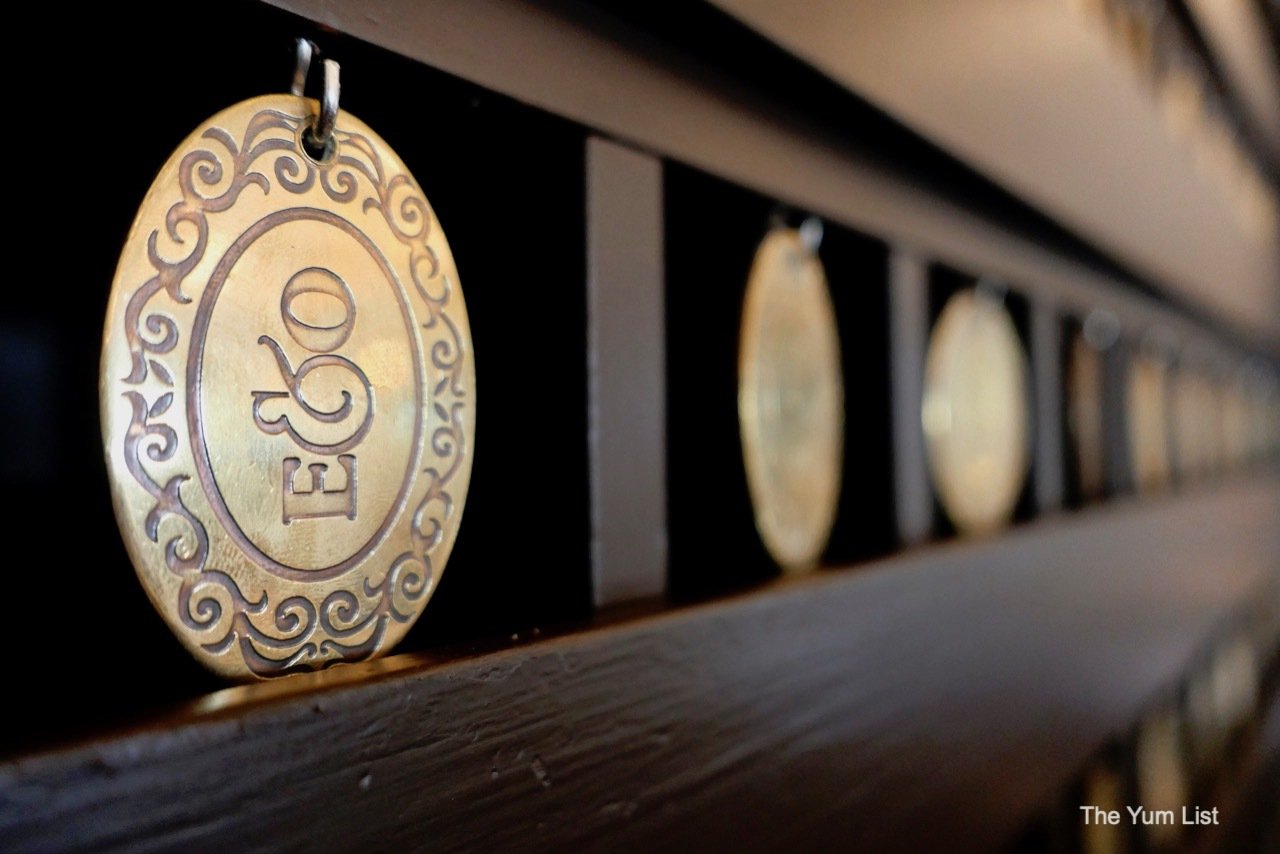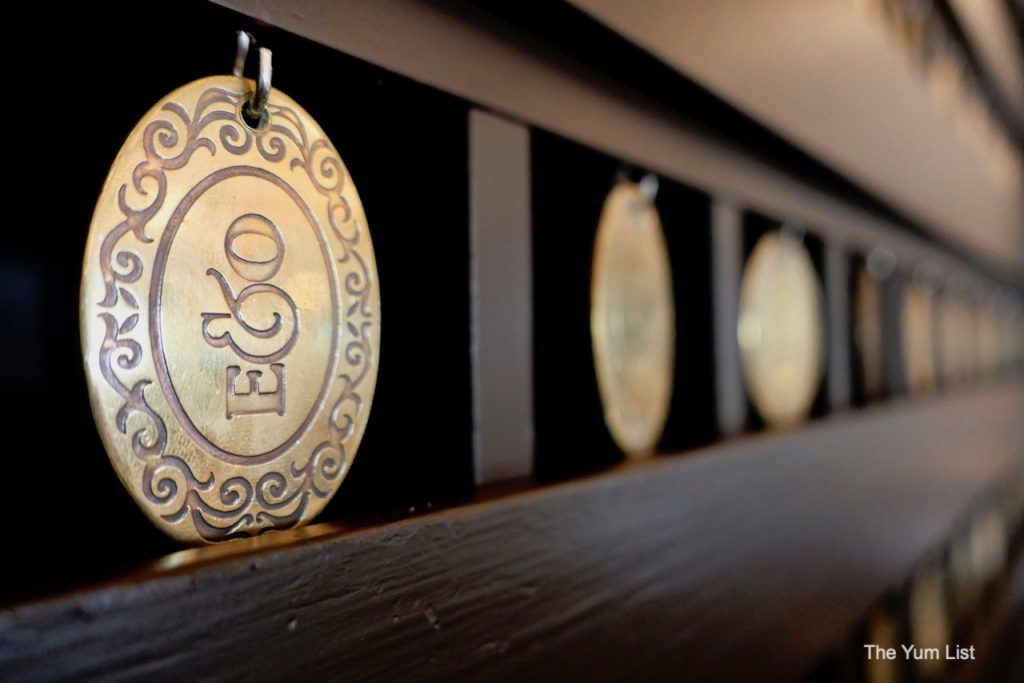 Our Deluxe Suite overlooks the seafront with windows swinging open to the tops of palm trees. The immediate view is picture-perfect; multi-pane casements framing the boardwalk and jetty. Beyond, the horizon seems limitless, occasionally broken by a wooden fishing boat drifting by.
Luxurious yet cosy, furnishings are straight out of a colonial design magazine while comforts of home are provided. Such care has been given to the finer points that we notice something new every time we reenter such as the wallpaper with palm tree motifs and antique light switches. Of note, is more plug-in points and a more reliable Wi-Fi connection post-renovation.
Furthermore, in-room amenities are much appreciated. Decanters with whisky, vodka and gin along with a mini-fridge with soda, tonic, beer, and juice are included in the room rate. Homemade snacks consisting of seasoned peanuts, dark chocolate-covered fruit and crackers are replenished daily. Three pieces of laundry for every night stayed is also part of the deal.
Dressing gowns and slippers are impossibly comfortable, and organic bath products feel so good. Efforts on reducing environmental impact are well noted with refillable shower gel and shampoo containers, alongside bamboo toothbrushes and paper over plastic packaging. The hotel is due to introduce refillable glass water bottles as well, eliminating thousands of single-use plastic containers.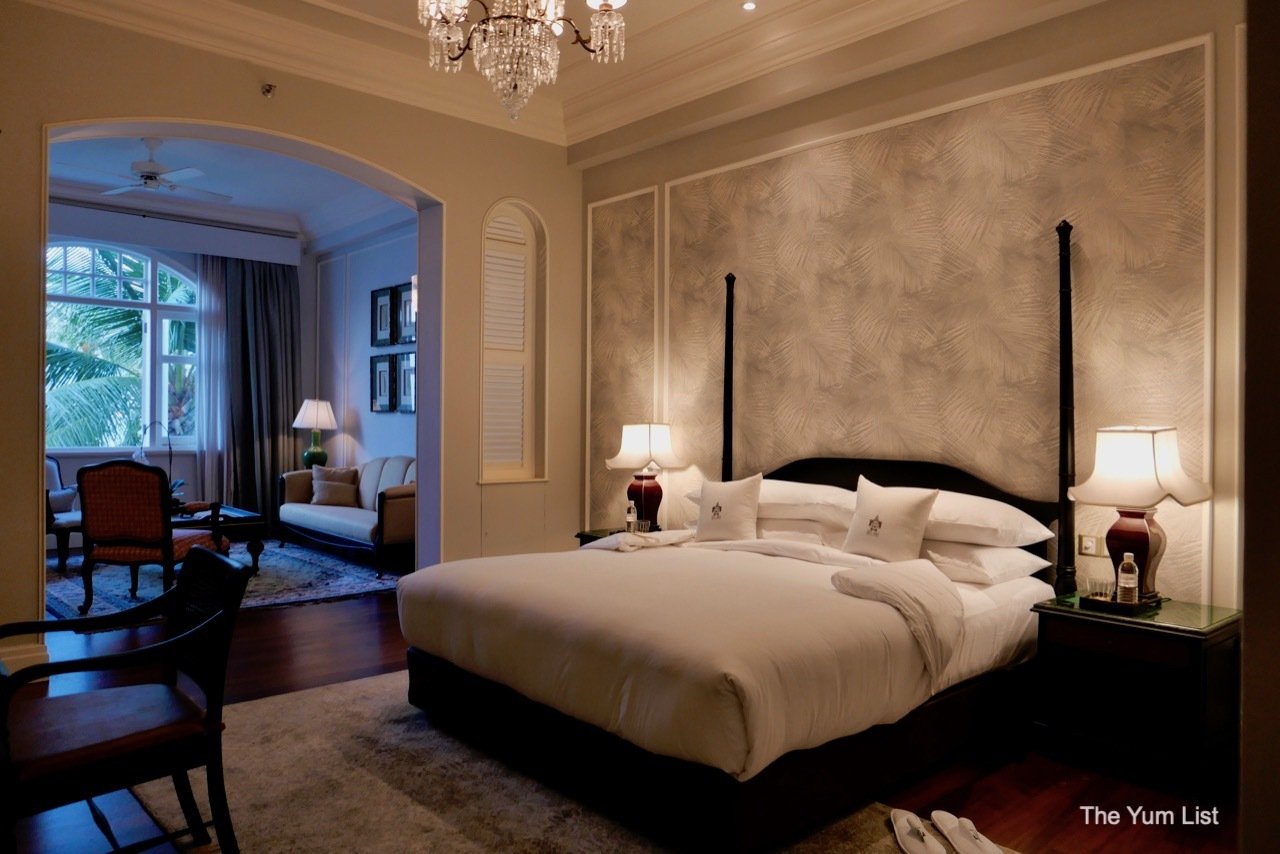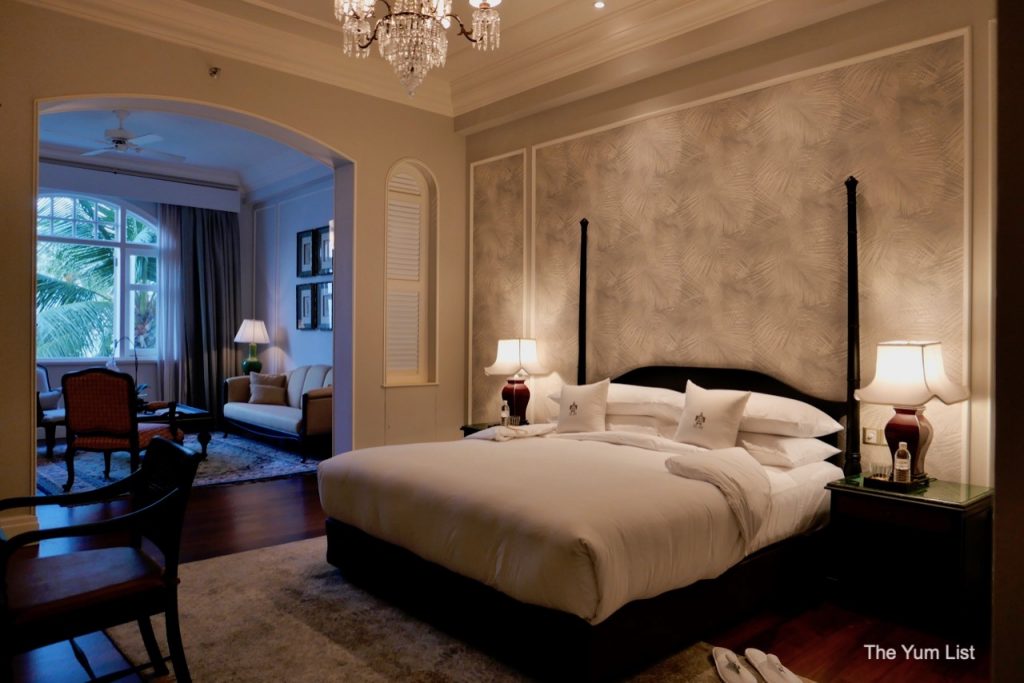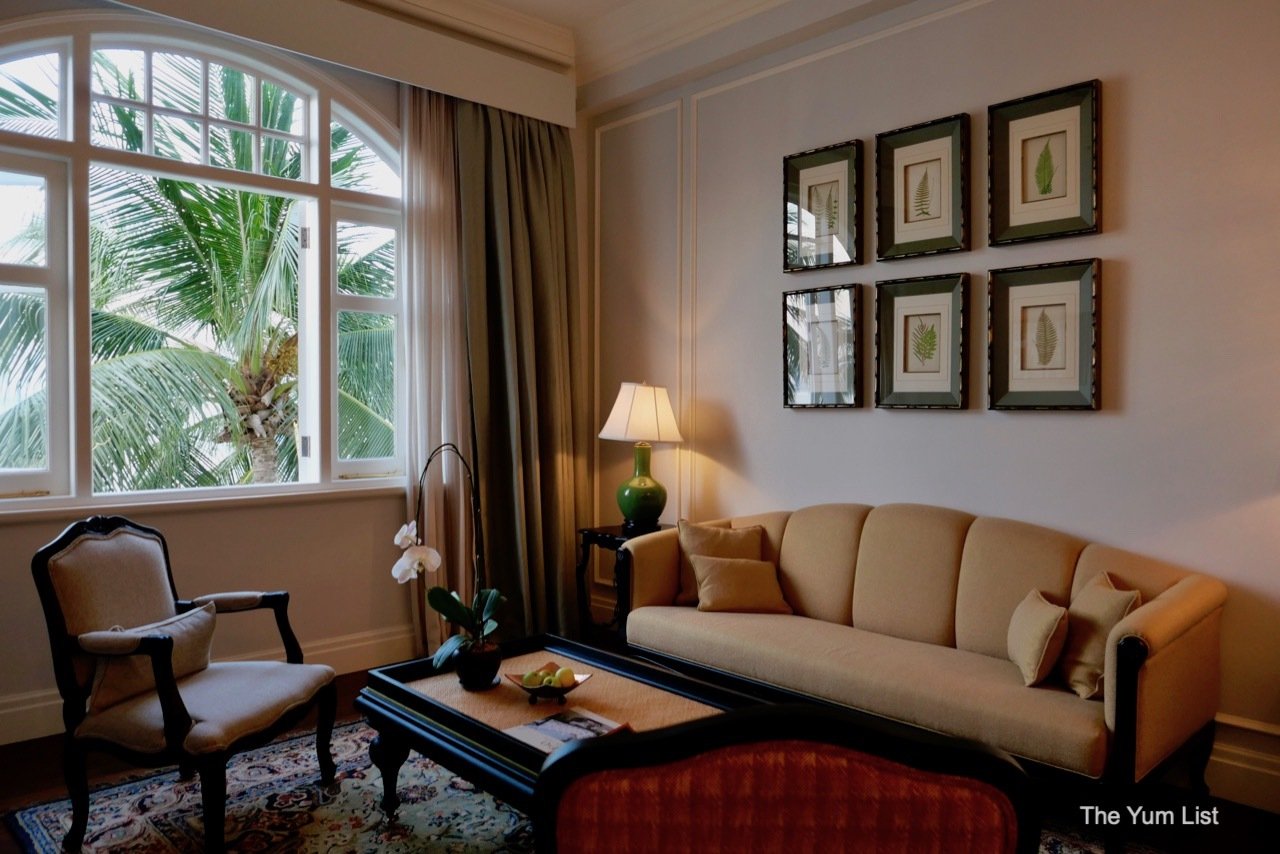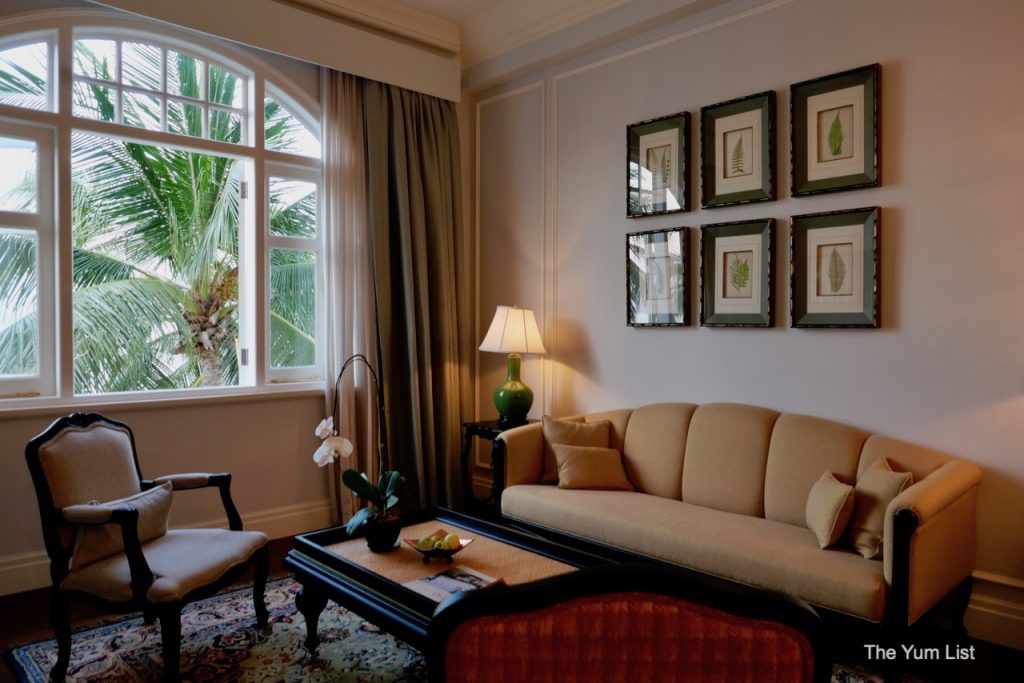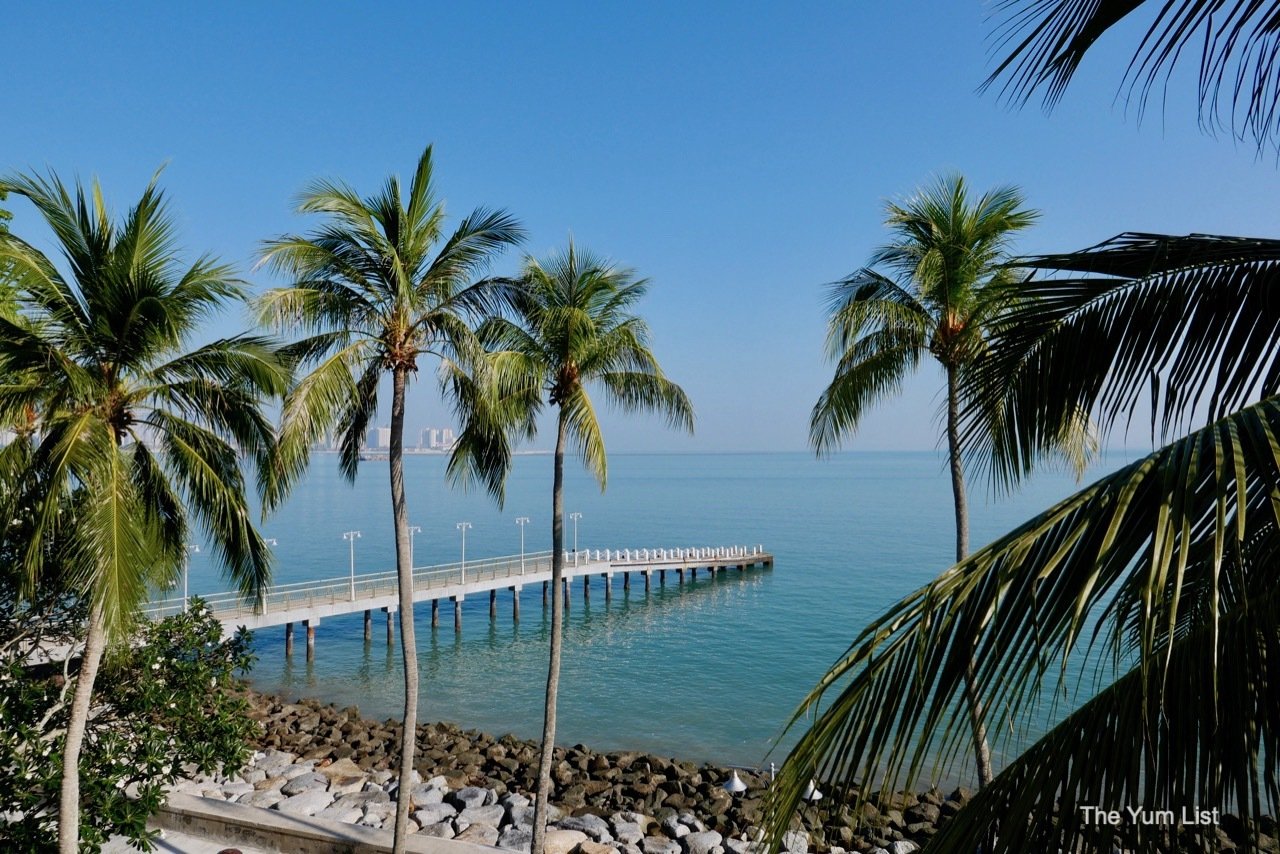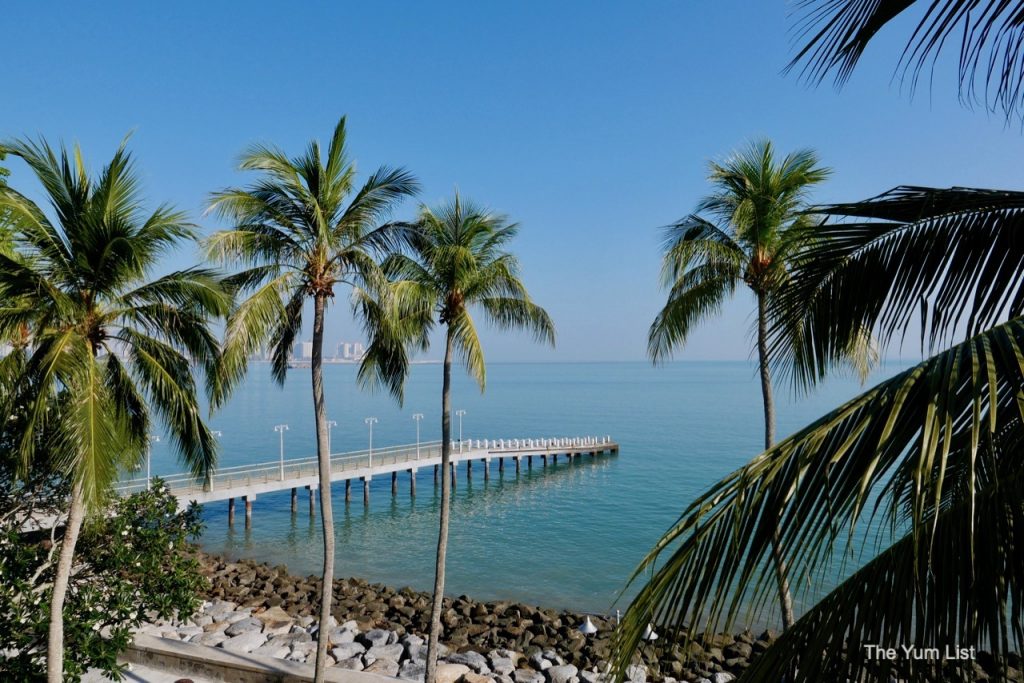 Dining
Part and parcel of a stay in the Heritage Wing in the Eastern & Oriental is breakfast in a location of your choice: Cornwallis, Planters Lounge or Sarkies. The first two offer a short menu of a la carte items, mostly western in style, with a compact buffet of fruit, toast and salad to support it. Sarkies provides a full international meal with loads of options (and people). Our preferred location is the exclusive surrounds of the Cornwallis. Resembling a private library, Heritage Wing guests are served daily breakfast as well as evening cocktails and canapes. The setting, overlooking the pool, is delightful.
While Penang is known for its street food and growing café and restaurant scene, there's plenty of motive to enjoy a meal or two in the Eastern & Oriental. Palm Court, furnished in deep, rich woods and accented by areca palms and antiques, is an excellent location for an afternoon tea. Java Tree welcomes guests with its sage greens and elegant atmosphere. It serves a dual menu of Straits Peranakan and European cuisine. Lastly, Farquhar's Bar is a stylish location for pre or post-dinner drinks. Click on the title links to read more extensively about each.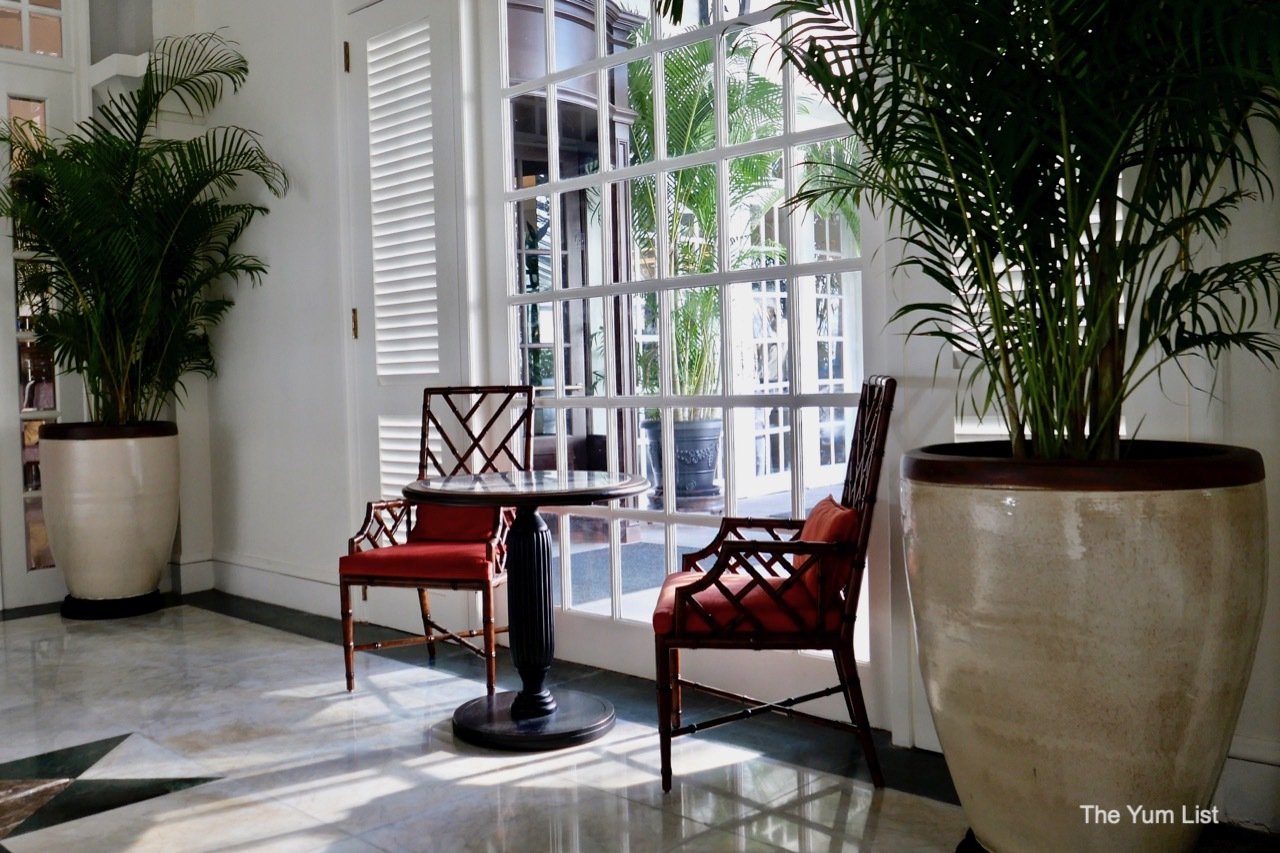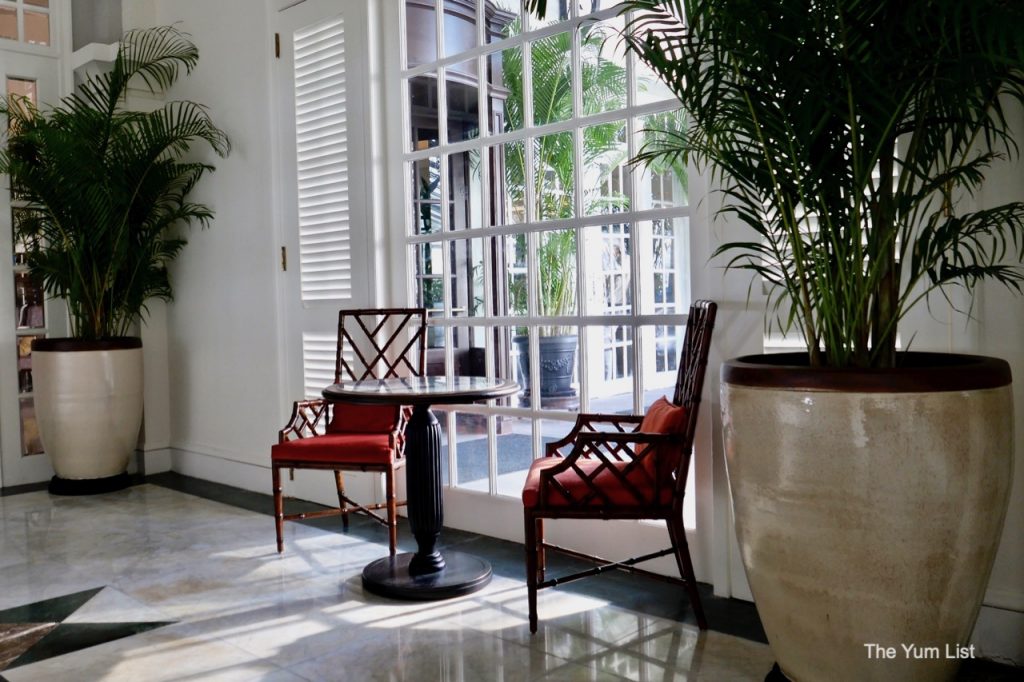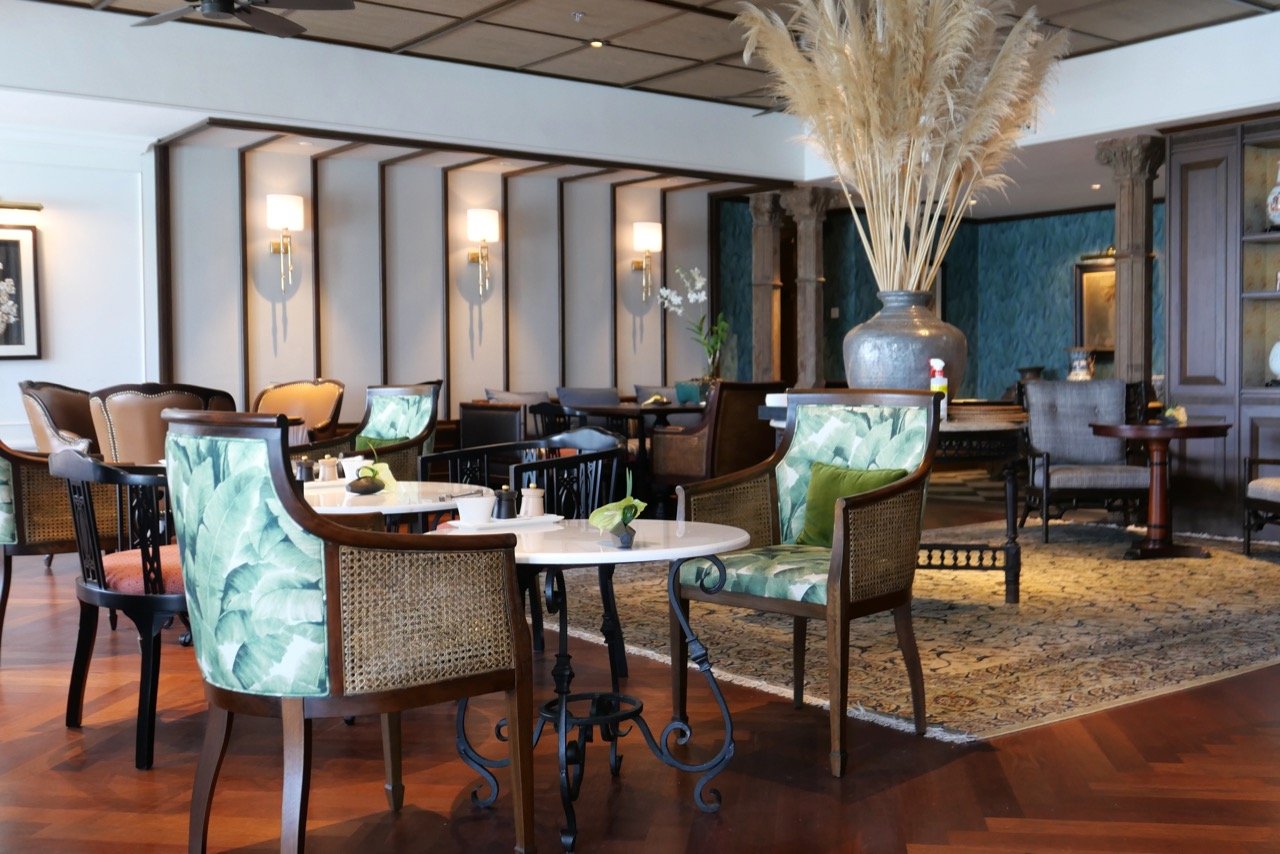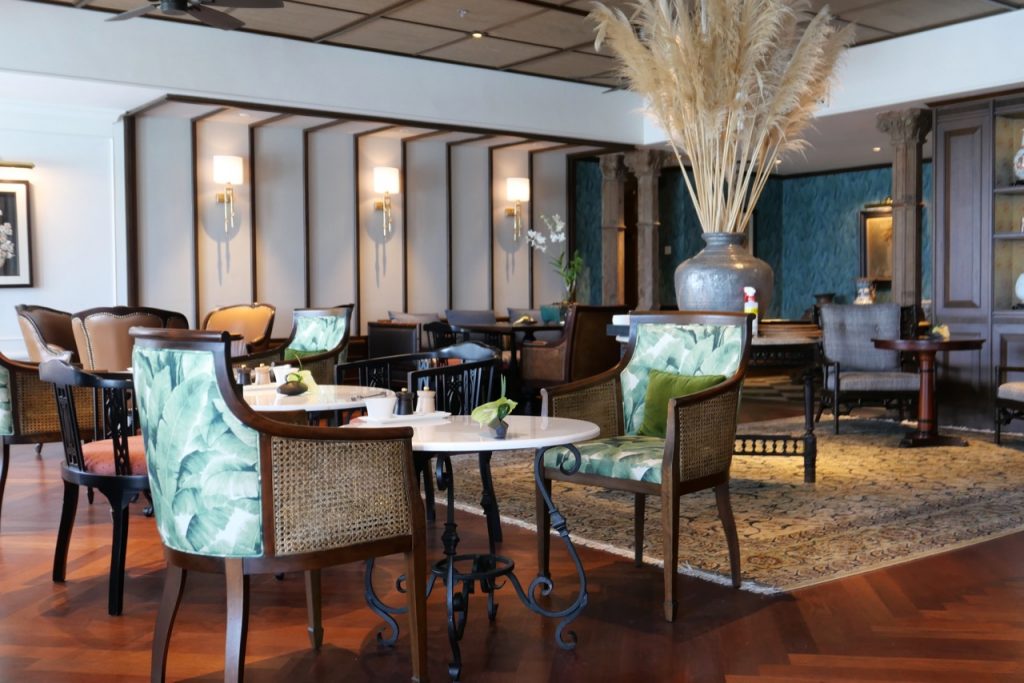 Eastern & Oriental Hotel Penang, Heritage Wing – Facilities
Besides enjoying delicious food and fine wine, most of our time is spent by the pool. Only accessible by Heritage Wing guests, the setting is mostly adults. We balance calorie consumption with a good workout in the fitness room and also pass an opulent few hours in PAÑPURI Organic Spa – magnificent.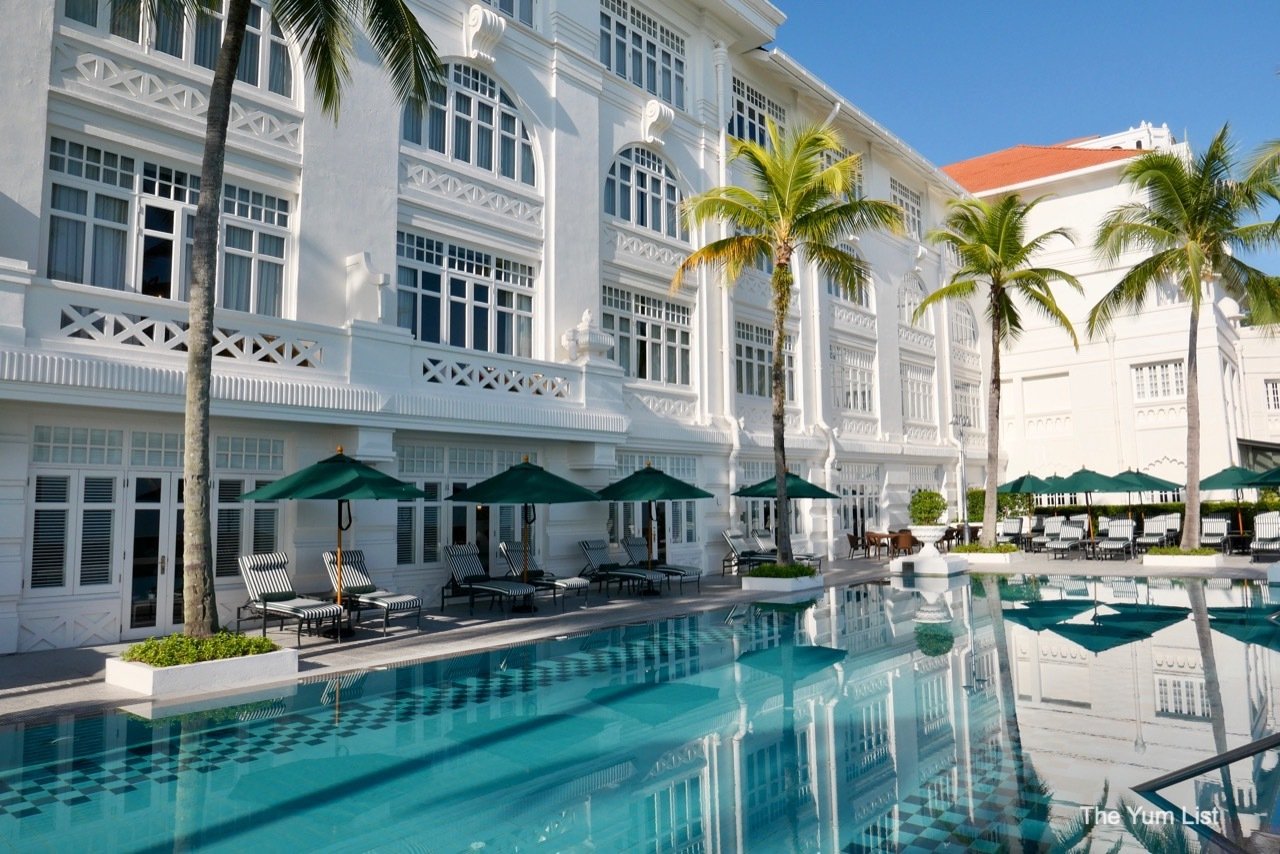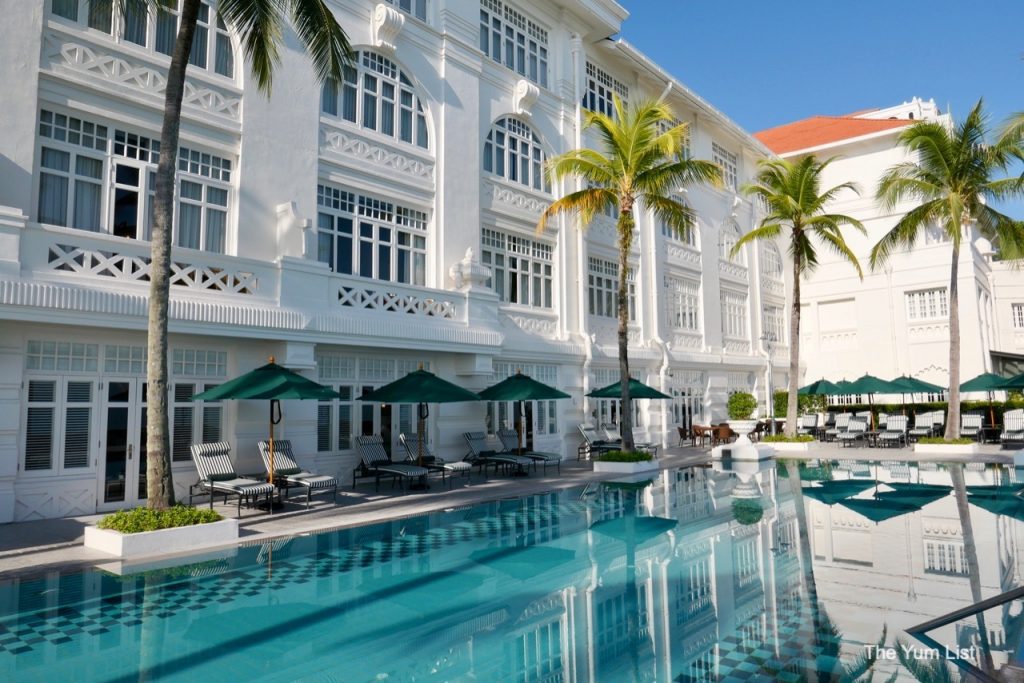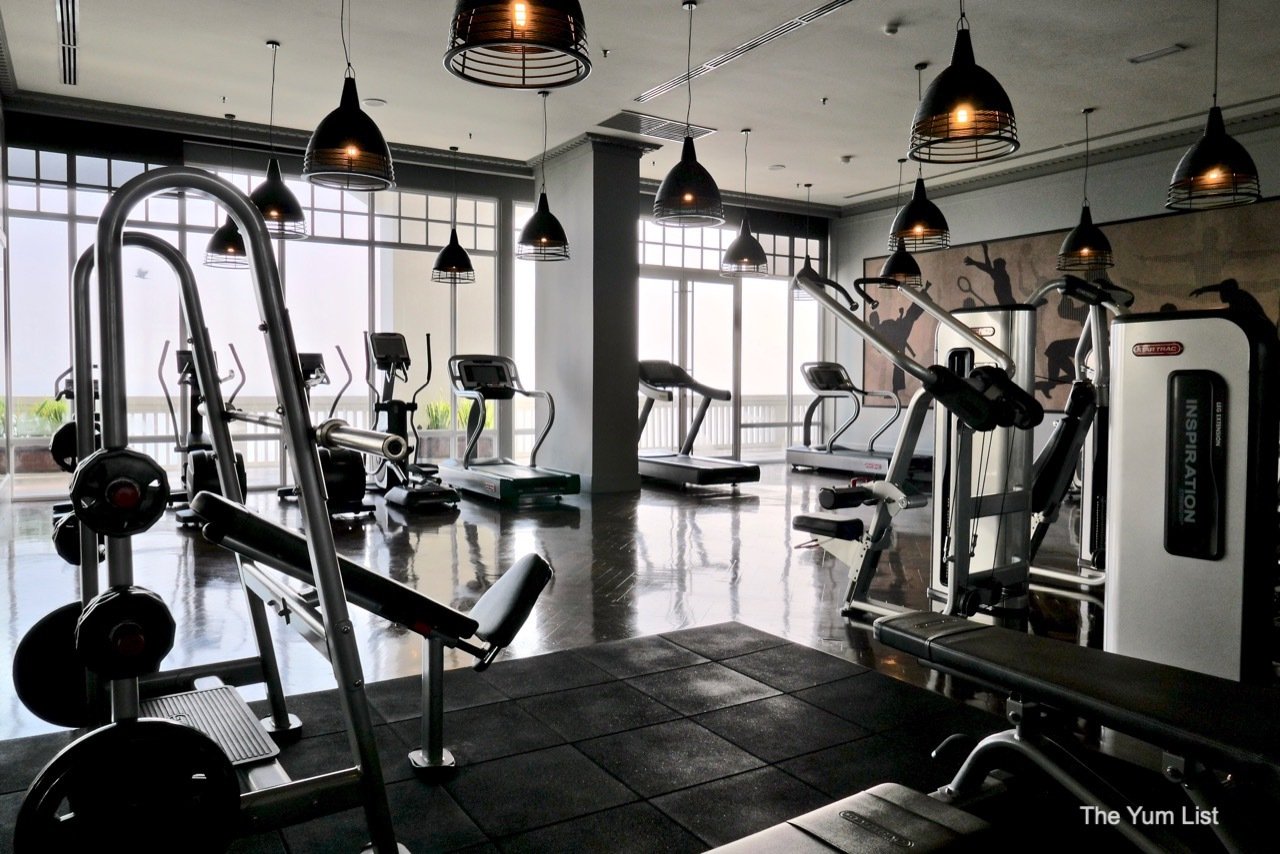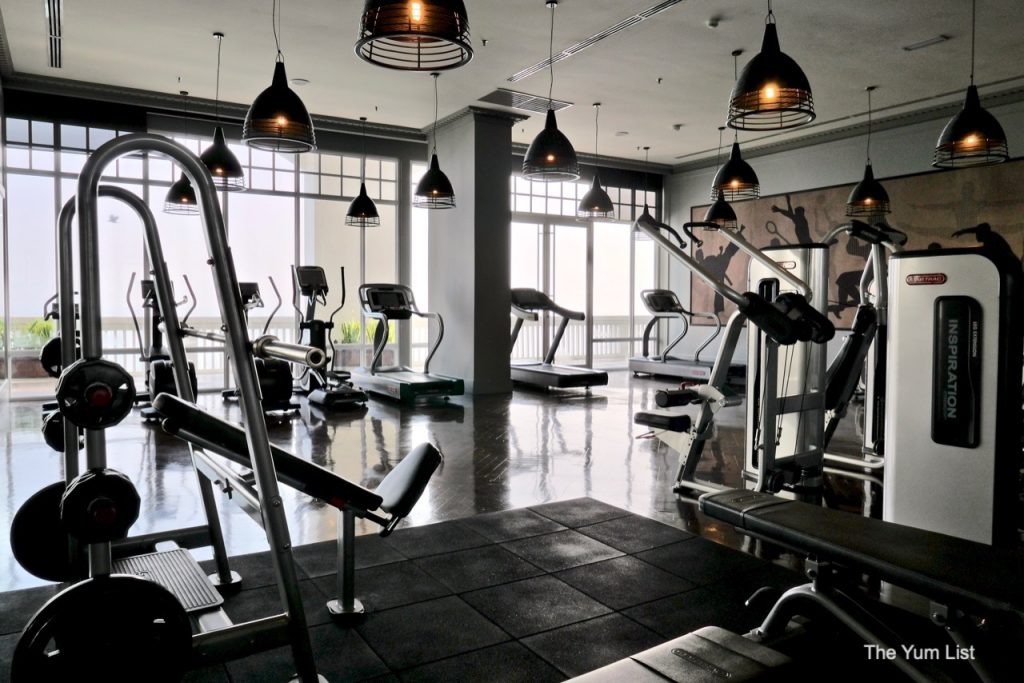 History
It's easy to pop out to explore with George Town, a UNESCO World Heritage Site at the doorstep. Eastern & Oriental Hotel Penang, however, also holds complementary history within its walls.
Guests are greeted by front doormen dressed in uniforms first worn by the British Army; khaki two-pieces accompanied by knee-high socks and pith helmets. A backdrop of wrought-iron grills and a Theophilus revolving door invented in 1988 set the quintessential scene.
Enter and consider the Echo Dome, a fabulous cupola where sound bounces between the dome and the Carrera marble floor, making even whispers audible to all who stand underneath. Gaze left and find the grand staircase. Look directly ahead and discover one of Malaysia's earliest passenger lifts and Electric Waygood-Otis, of only 30 creations that still exist worldwide. Head to the seawall and find the infamous java tree, the oldest and largest specimen on the island, alongside cannons, formerly part of the Fort Cornwallis structure built in the 18th century.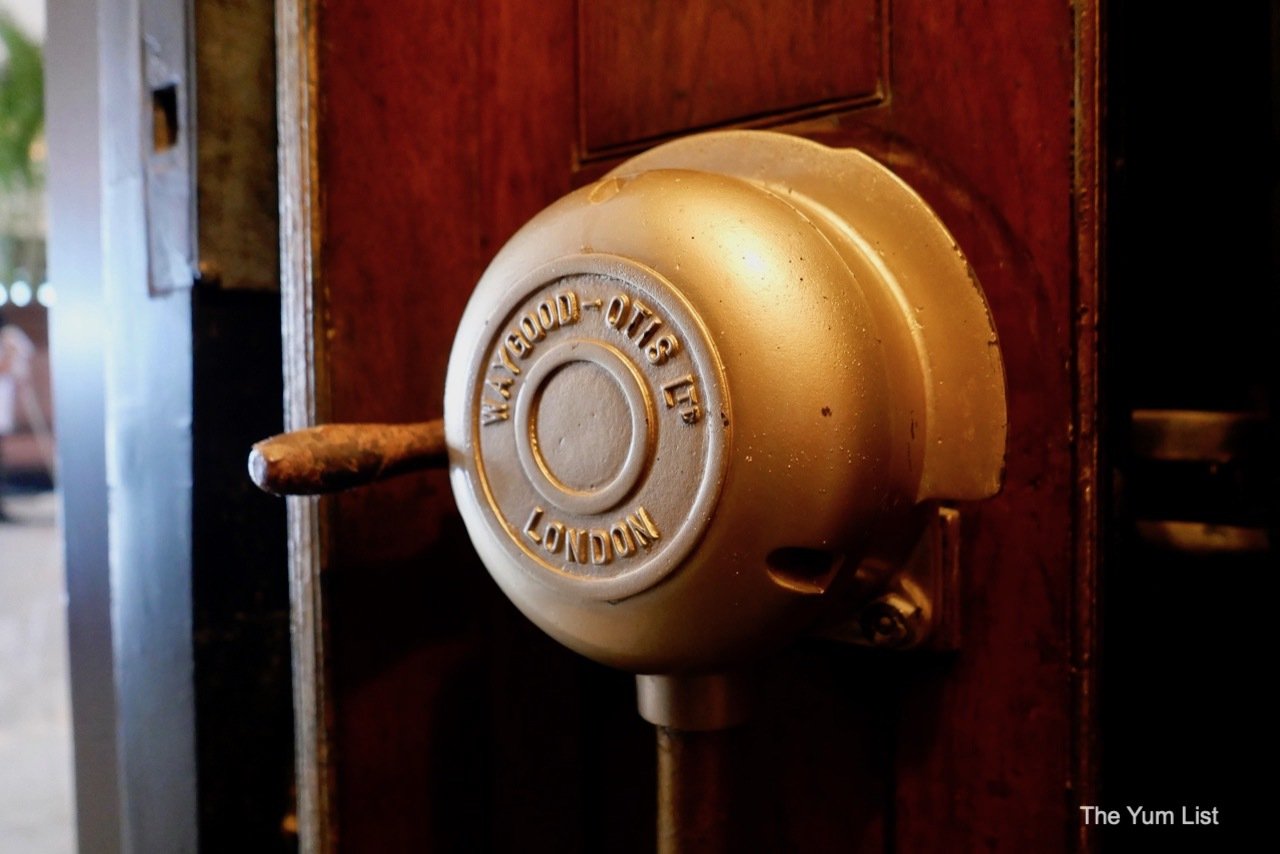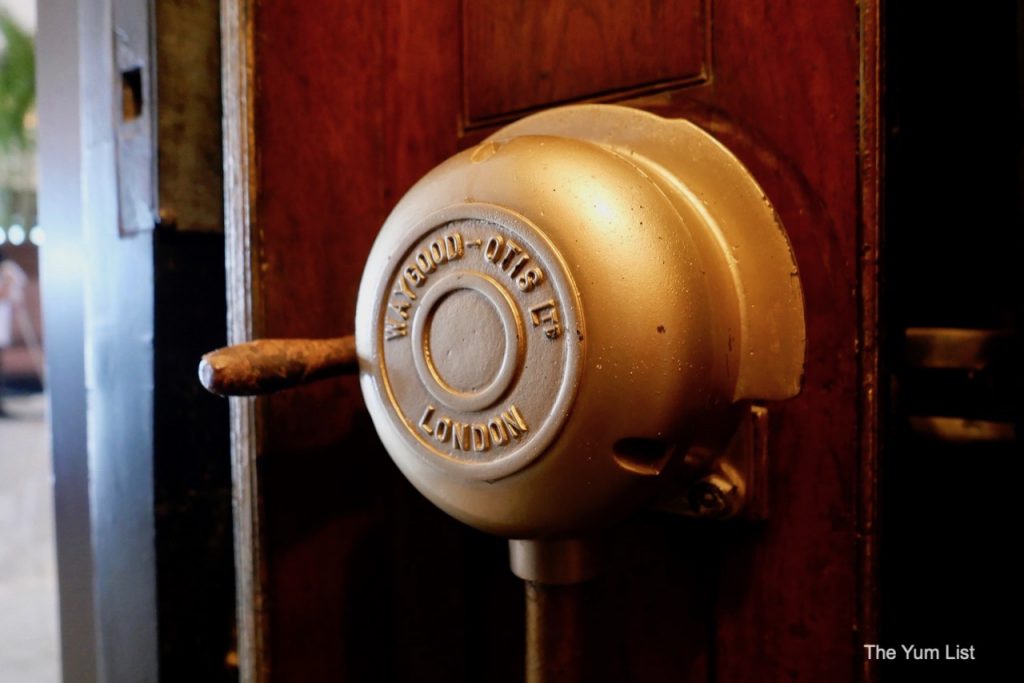 Eastern & Oriental Hotel Penang, Heritage Wing Review
While much has changed in the Heritage Wing at the Eastern & Oriental Hotel Penang, the core remains the same. Opulence with a personal touch purveys the experience. It's a place where the extravagance of the colonial era can be relived. At the same time, technologies of the modern-day provide comfort. It is one of Malaysia's most beautiful hotels – a property to put on your bucket list for sure.
Reasons to visit Eastern & Oriental Hotel Penang: excellent location with the sea on one side and the heritage site of George Town on the other; incredibly spacious suites; quality food and beverage options; fantastic spa; in-room complimentary amenities; a piece of living history.
Heritage Wing
Eastern & Oriental Hotel Penang
10, Lebuh Farquhar
10200 Penang, Georgetown
Malaysia
+(6) 04 222 2000
[email protected]
www.eohotels.com