Nobu One-for-One Omakase
Words: Anna Chew Photos: Monica Tindall
Despite food and beverage outlets starting to re-open, many are still faced with fearful diners who choose to stay at home or get delivery from their most-loved outlets. We are all adapting to the new norm. As the economy gets back into gear, however, we can all play a part its momentum. The ecosystem depends as much on us the patrons, as the greater system, to keep it going.
Several well-known establishments have stepped up to offer excellent dining deals. If you've always wanted to visit KL's top restaurants, there is no better time to visit than now. Most we've observed have taken strict steps to practice socially-distanced dining as well as thorough sanitization procedures. If you wish to see your favourites continue, now is the time to book.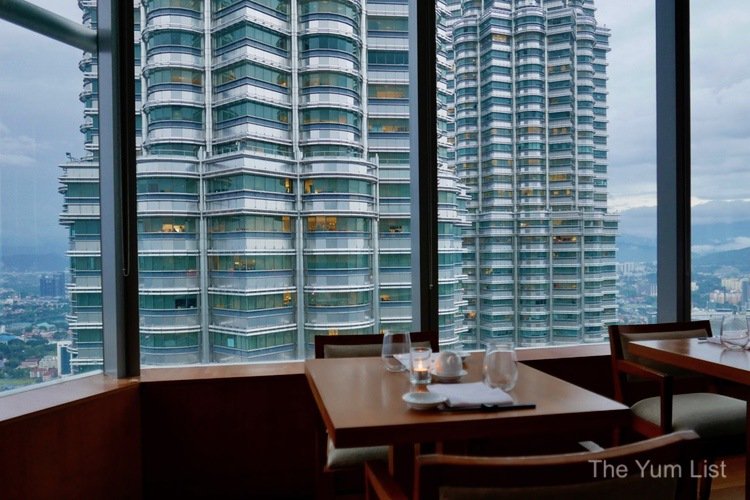 Best Dining Deals in KL Post-Covid-19
One offer not to miss is the one-for-one Nobu Omakase. Priced at RM388++ for 6-courses for two persons, it is half of what we would have paid pre-Covid-9. The menu features signature dishes from Nobu and is an excellent introduction for first-time visitors or a celebration of the most-loved for repeat customers. This menu is available until July 31, 2020. So, if you're smart, you might want to plan a visit real soon, so you have time for a second in July before it ends!
Sake Pairing
For those intending drinks with the meal, we recommend the Nobu Junmai Daiginjo 'The Sake' (RM150 for 180ml). Served cold in a chirori pot, the sake is sweet and medium-bodied, semi-dry with floral notes. It's perfect for our lunch! Do also explore their extensive cocktail and wine-by-the-glass options.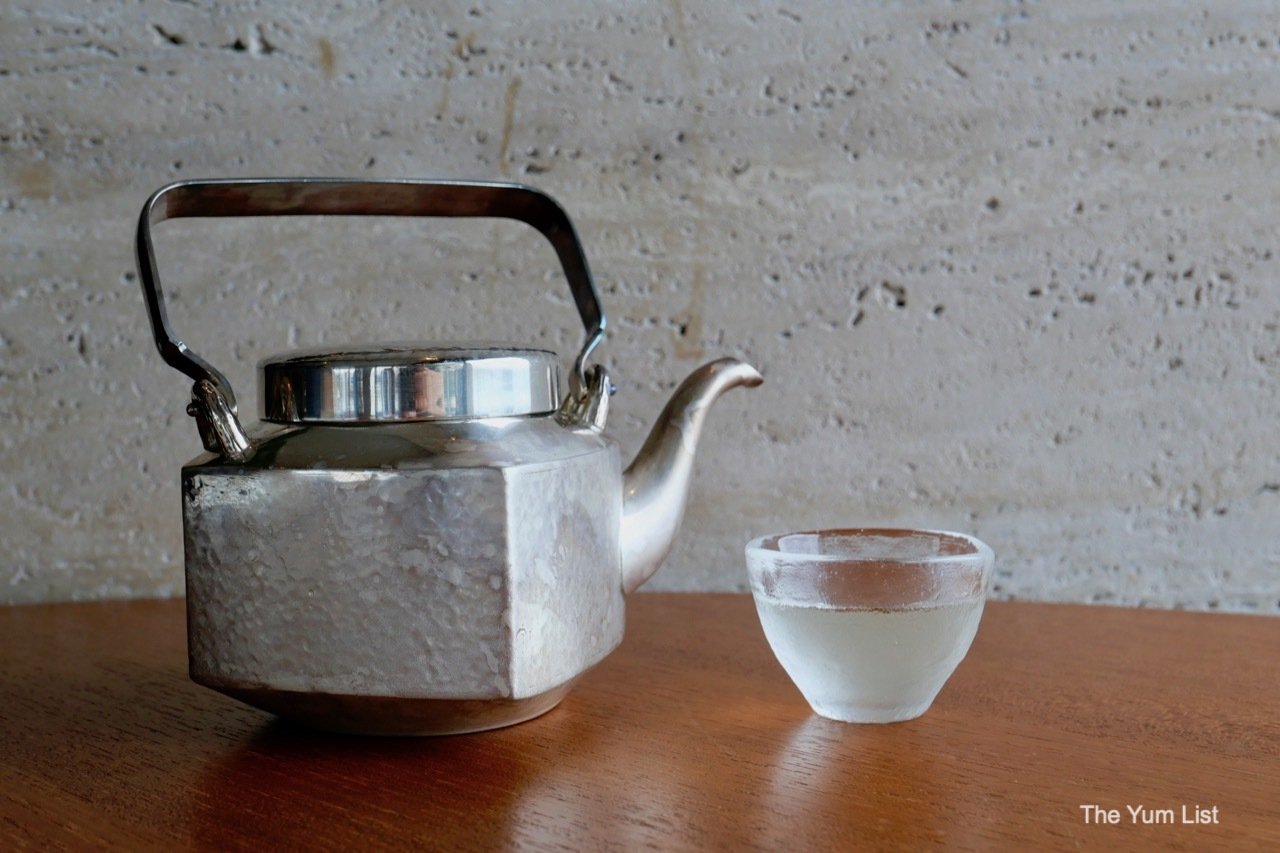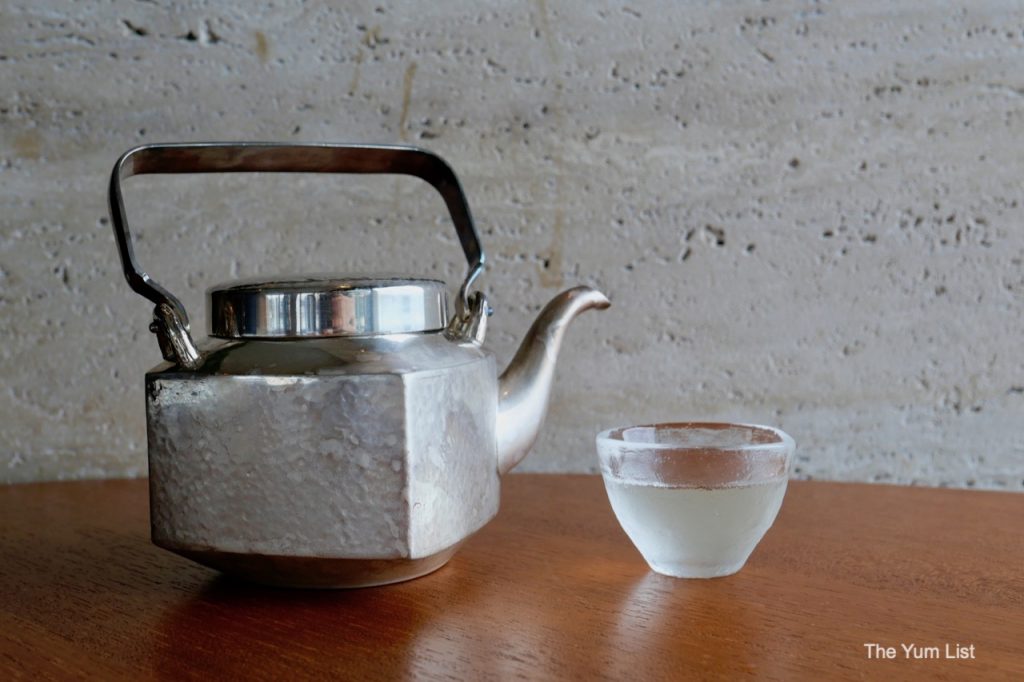 Nobu One-for-One Omakase Menu 2020
The menu starts with a Moriawase of yellowtail jalapeño with yuzu soy, salmon with dry miso topped with garlic chips, and tuna tataki with soy-onion based dressing. The Japanese-Peruvian fusion style Nobu is known for stands out right at the onset. One thing for sure, this kitchen knows how to showcase flavours using the best produce and highest quality ingredients to bring freshness to every bite.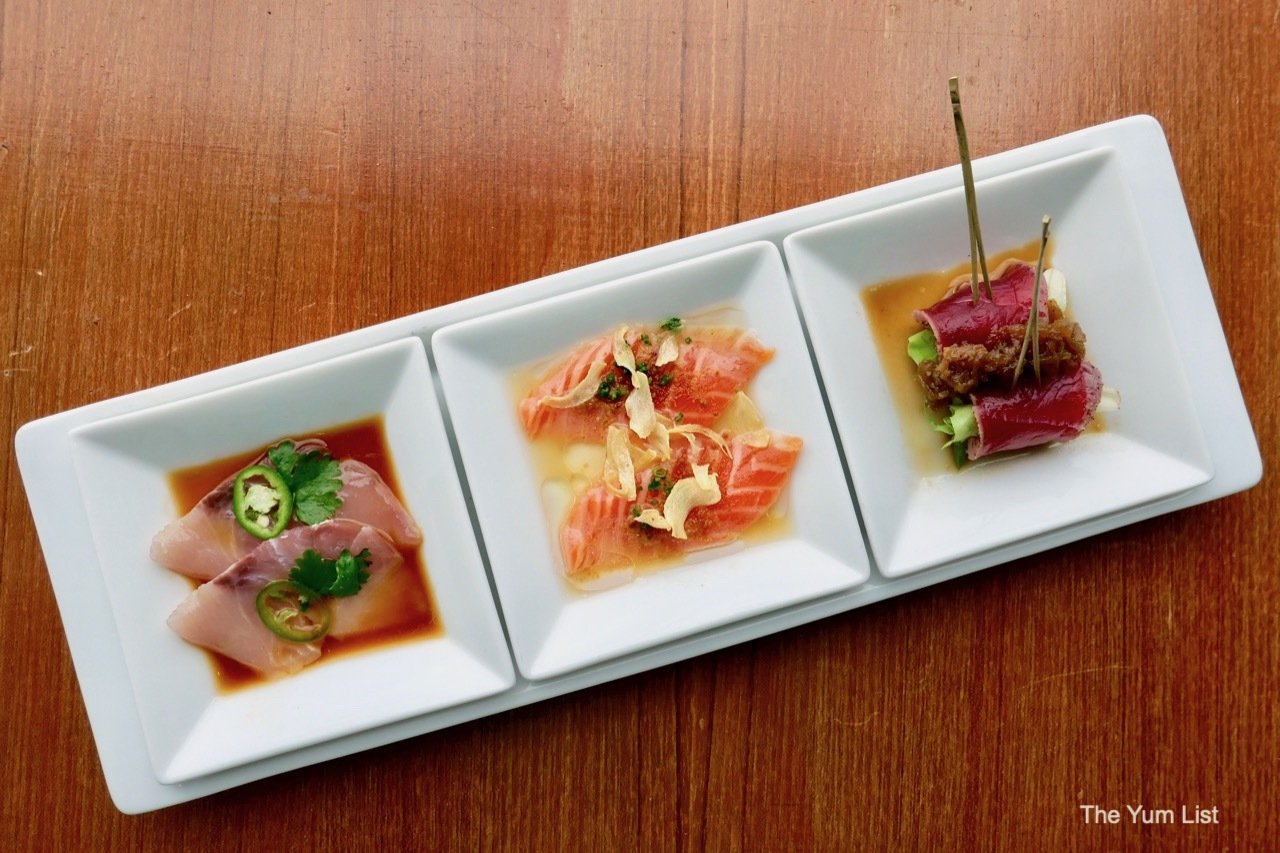 The second course is Assorted Chef Sushi Selection handpicked by head sushi chef, Micheole Chico. It's a faultless platter of unagi, shrimp, snapper and toro, furnishing a good progression of intensity in taste, texture, lightness then creaminess.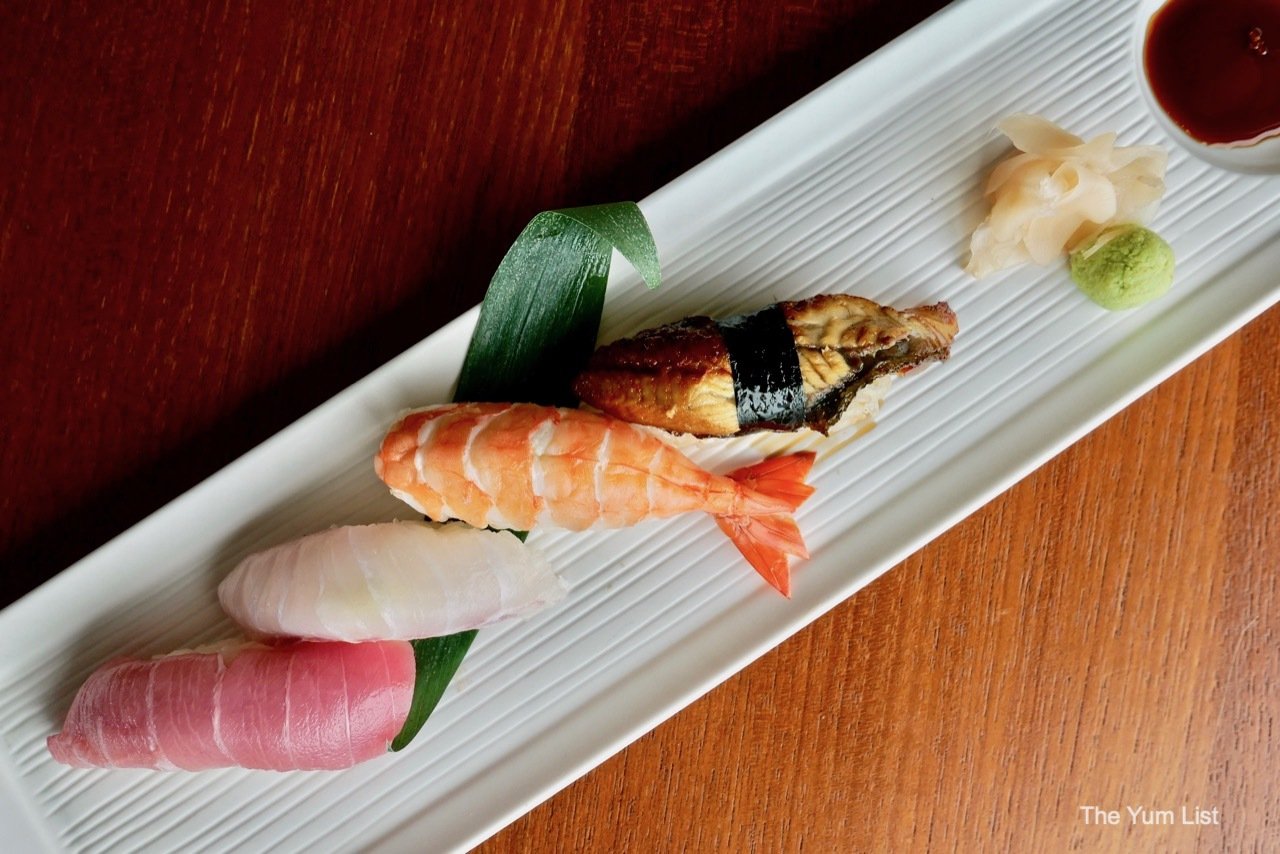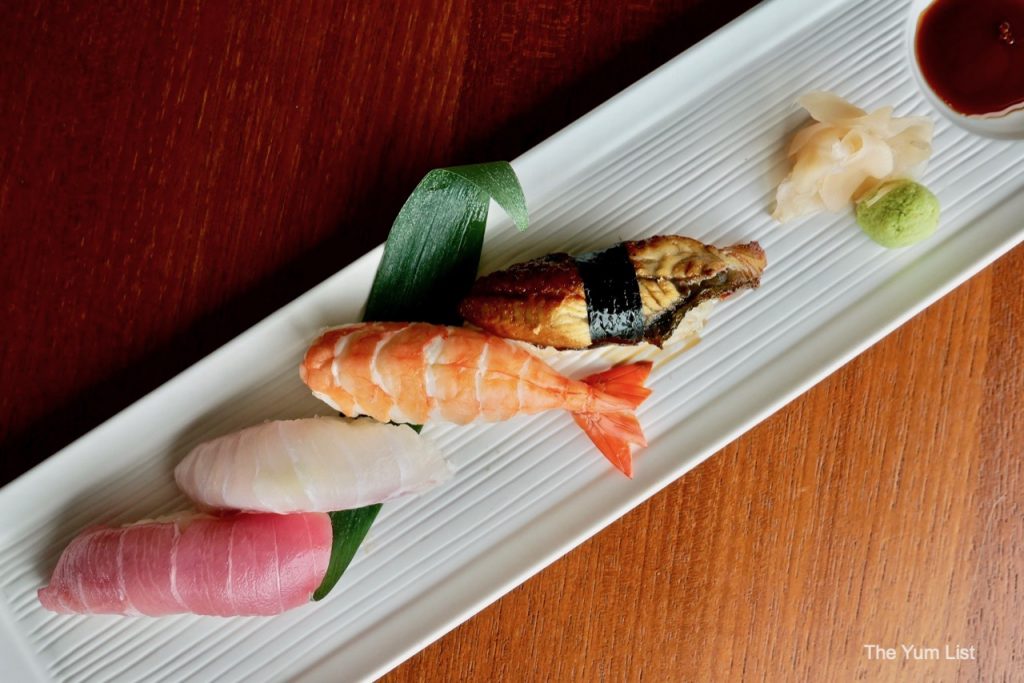 Signature Black Cod with Miso must make an appearance on the Nobu one-for-one omakase. Made famous the world over by Nobu Matsuhisa himself, the simple, yet magical marinade of miso, sake and mirin and the combination of moist, flaky flesh, makes this dish ever-so memorable. You can even attempt this recipe at home as Nobu's demi chef, Mohammad Haziq Bin Tahir, has generously shared the recipe here.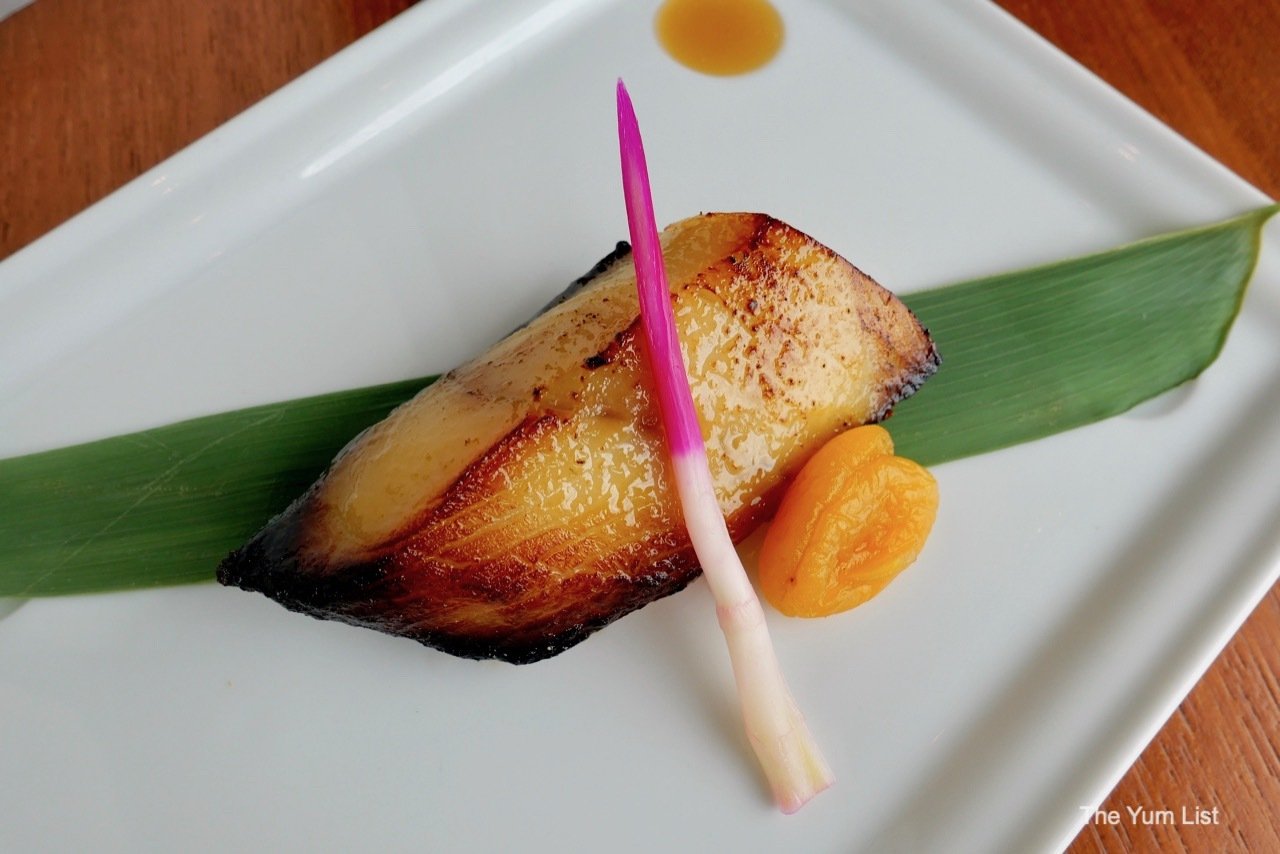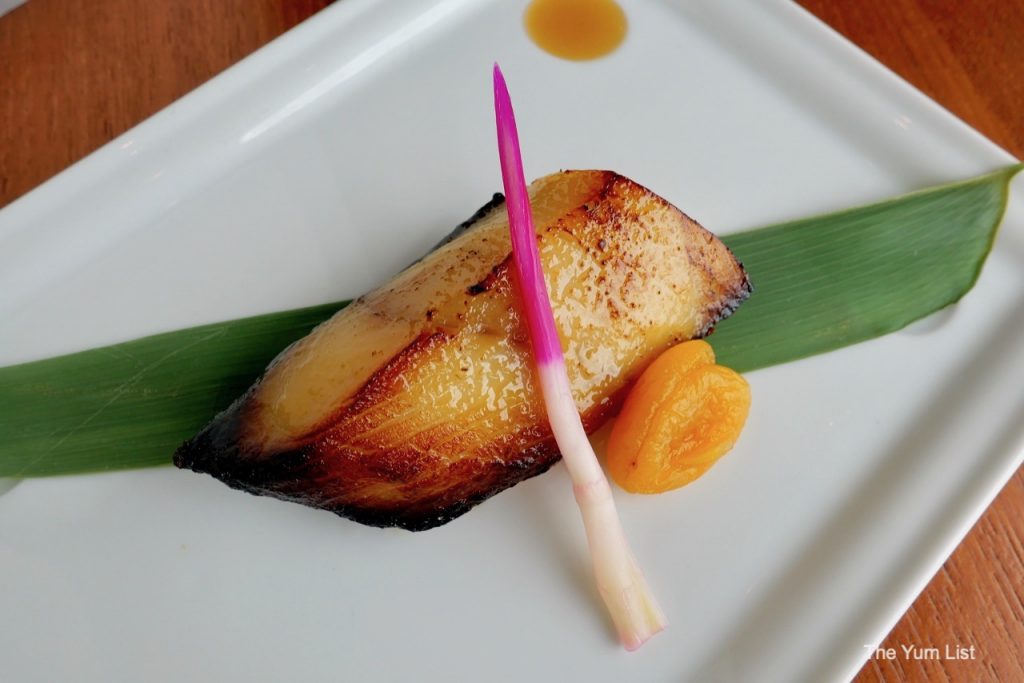 Just as no menu of Nobu signatures would be complete without the black cod with miso, the Grilled Beef Tenderloin is also an essential staple. Recommended done medium-rare, it is served with teriyaki and red and yellow anticucho sauces – Peruvian speciality made from roasted peppers. The beef is so tasty though, that's we savour most of it on its own.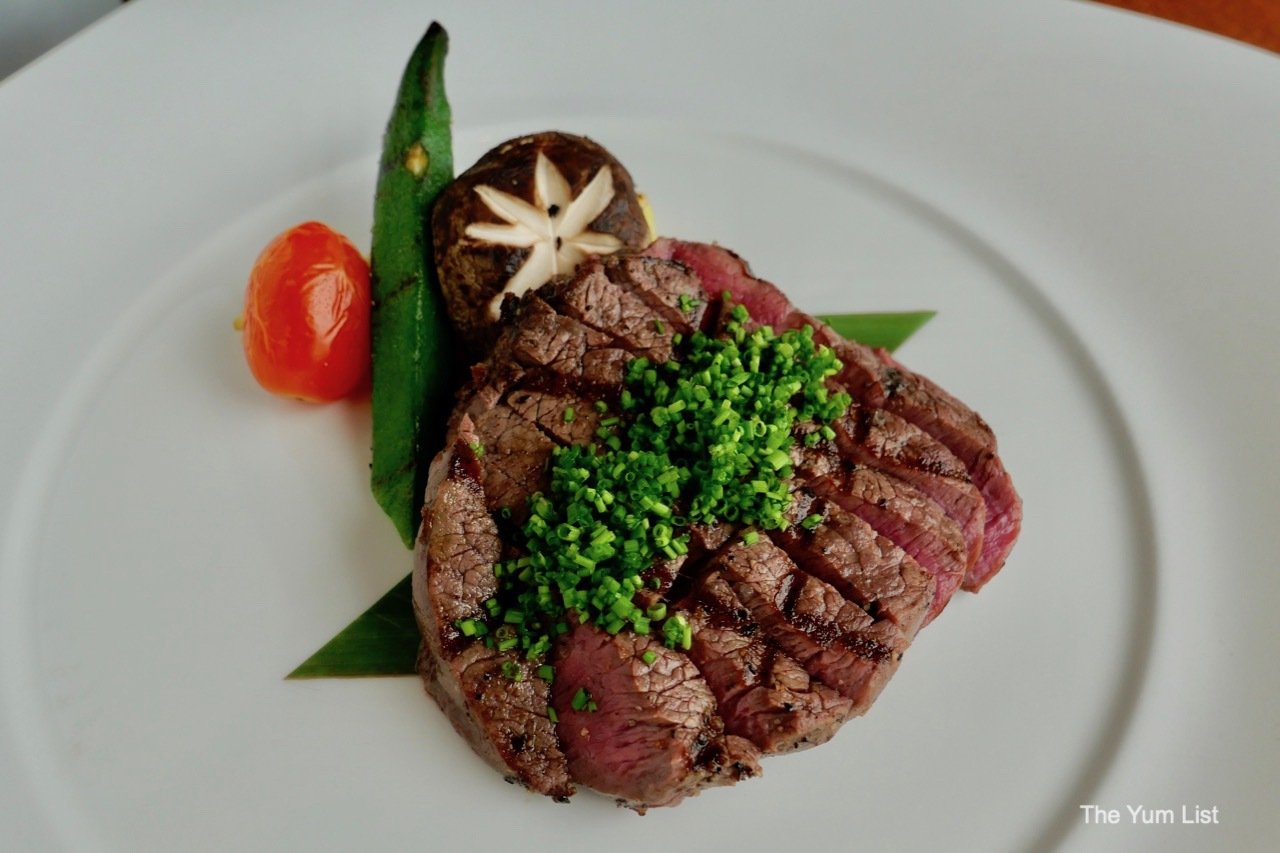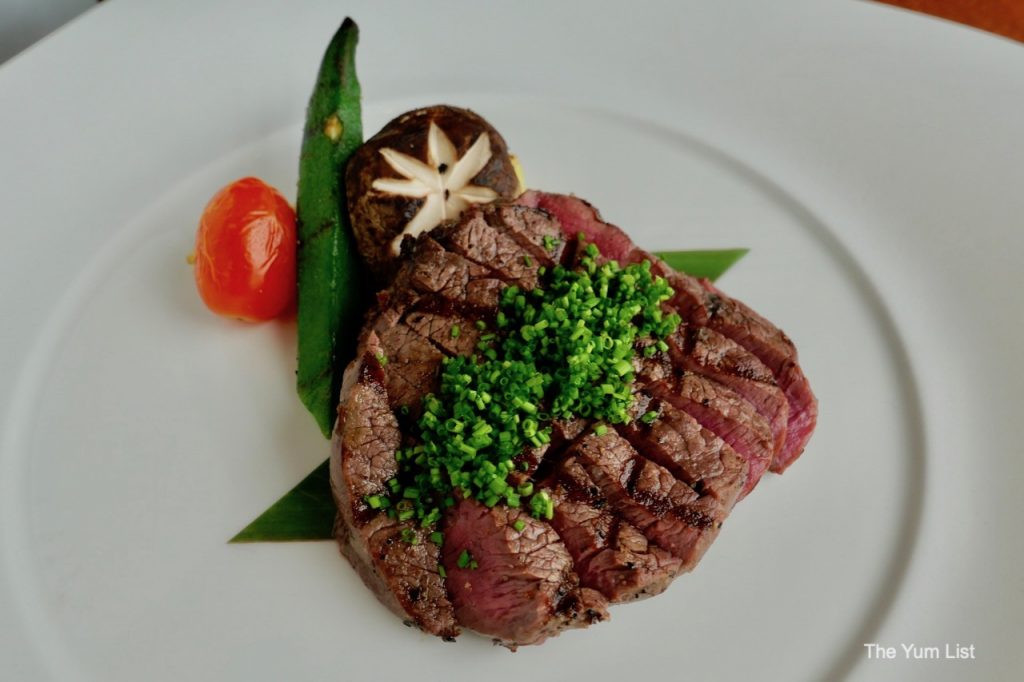 The savoury courses close with Nobu clear soup with enoki and shiitake in preparation for dessert, a beautiful Chocolate Bento Box with Green Tea Ice Cream. The matcha ice cream is served on top of black sesame crumble and acts as a cool contrast to the lava cake. Rich with dark chocolate locally-sourced from Seniman Kakao, the sauce oozes out, and we twirl it together with the gelato. It makes an enticing mix of green and brown, hot and cold.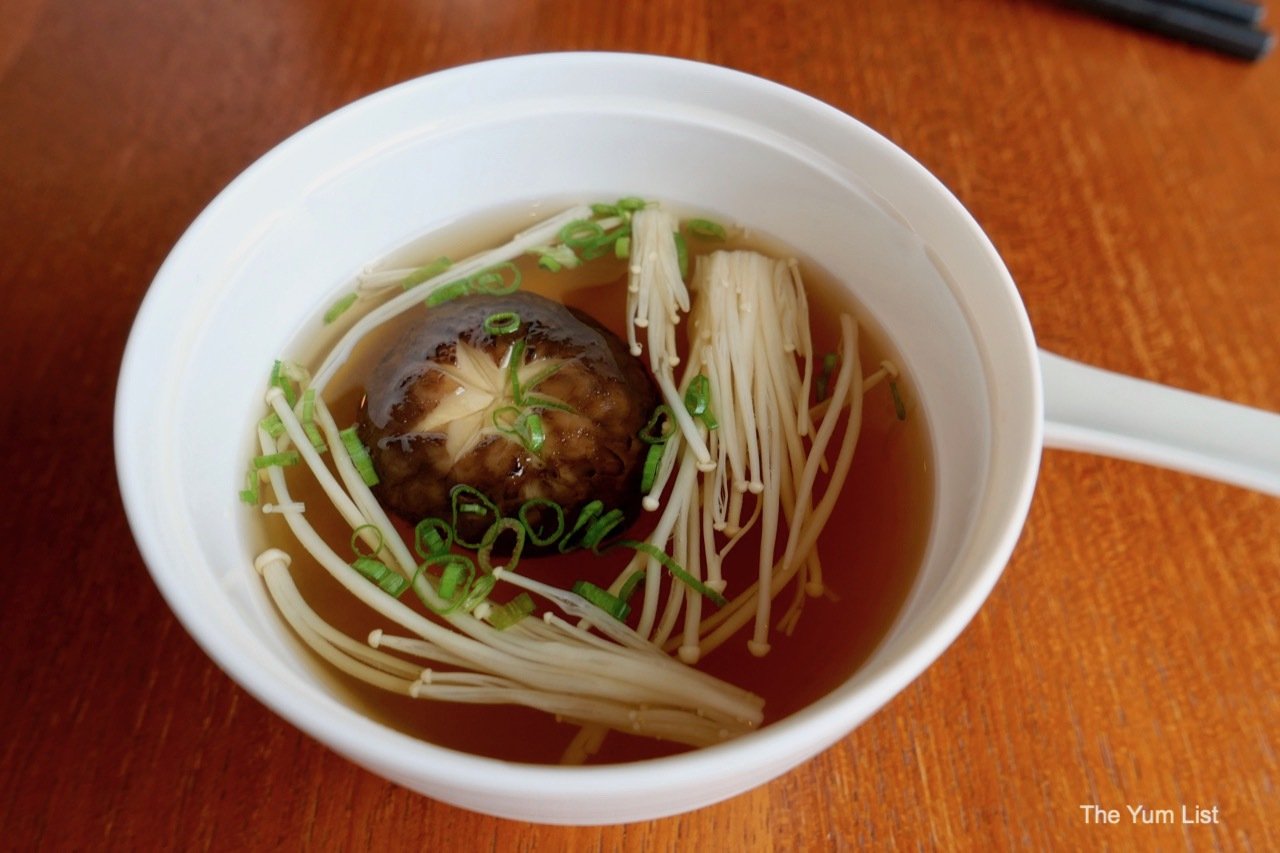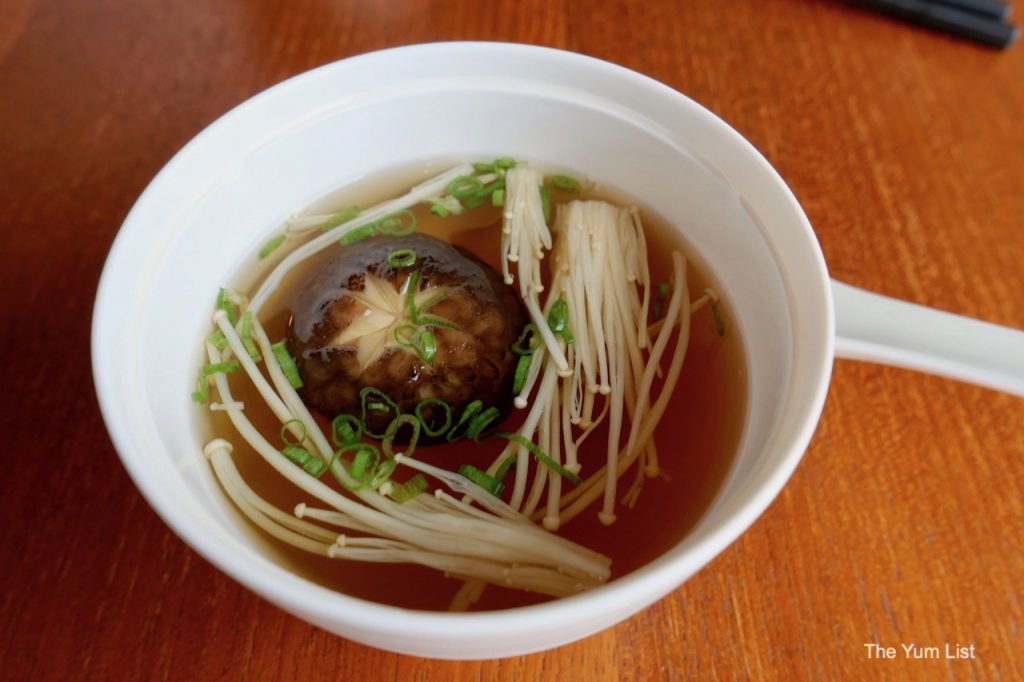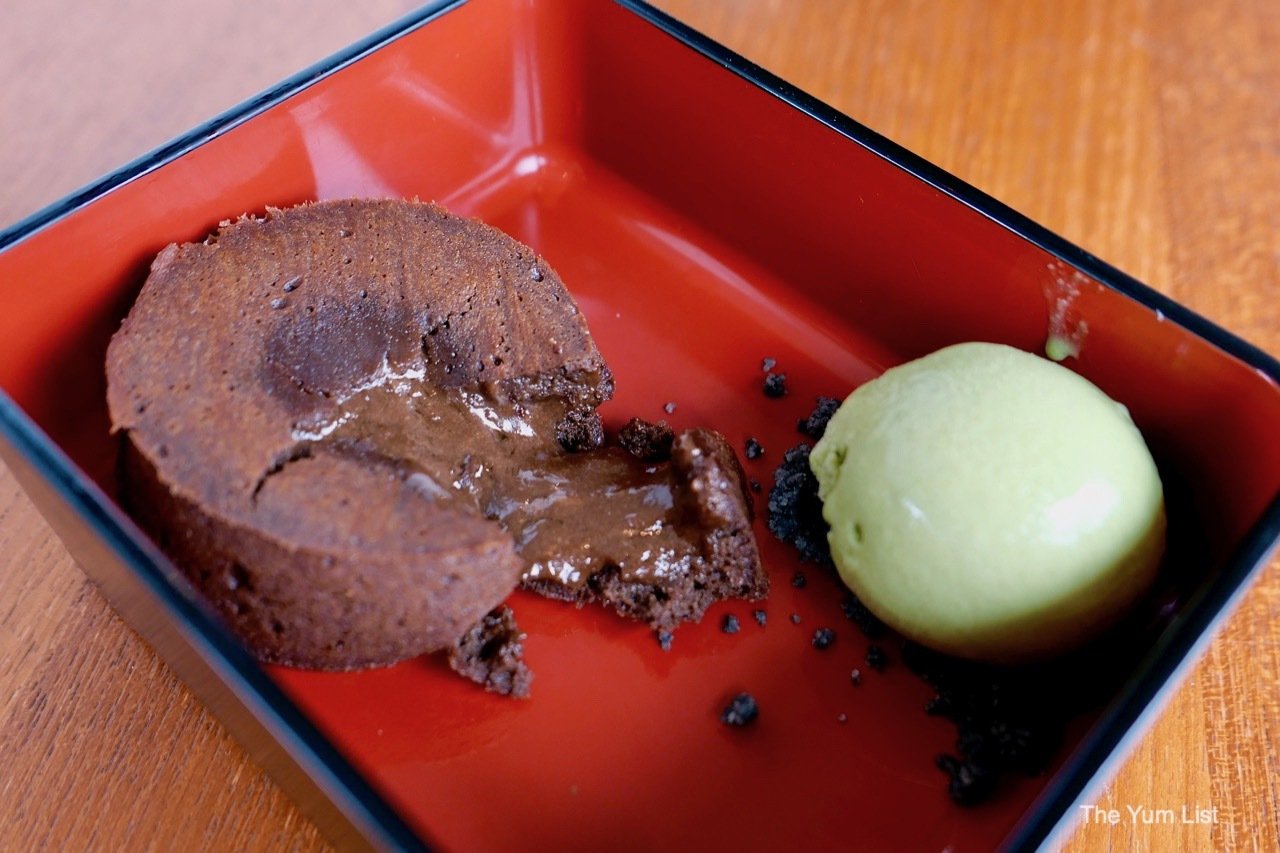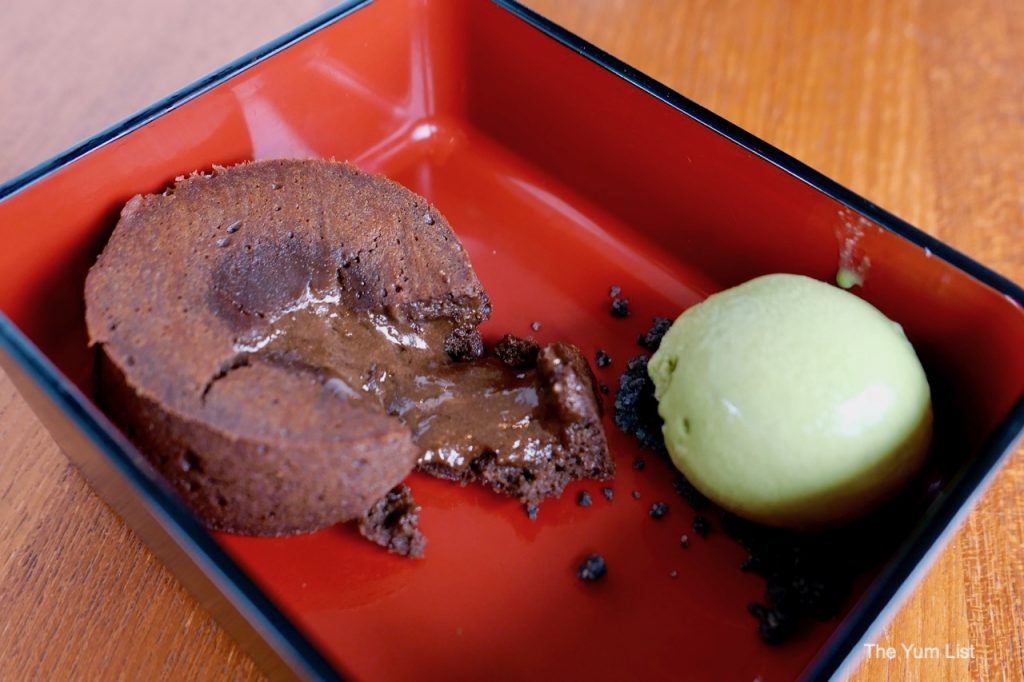 Nobu One-for-One Omakase Review
The Nobu One-for-One Omakase deal is excellent value. It gives diners a chance to taste many of the restaurant's signature recipes for half the price. We highly recommend taking advantage of this offer while it lasts.
Dining in the New Normal at Nobu KL
The building management requires patrons to be clad in face masks to allow entry, so please take note. Nobu follows guidelines by the Malaysian Food Safety and Quality Division, which requires a temperature check and registration on entry at Level 56. Updated seating sees tables now two-metres apart; it actually makes for a more intimate experience. Tables are sanitized after each guest leaves. All service areas are disinfected every 30 minutes, a contactless menu is available via your handphone, and all staff wear face masks.
Reasons to try the Nobu One-for-One Omakase: excellent value for money; well-crafted omakase menu featuring many of Nobu's signatures; stunning views; strict adherence to health and safety practices taking into account the comfort of both guests and staff.
Nobu One-for-One Omakase
Level 56 Menara 3 Petronas, Persiaran KLCC
Kuala Lumpur 50088, Malaysia
https://www.facebook.com/nobukl/
+603 2164 5084
Whatsapp +6 019 389 5085
Nobu Kuala Lumpur Opening Hours
Monday to Friday Lunch: 11:45 am – 2 pm
Saturday & Sunday High Tea: 1 pm – 4 pm
Monday to Sunday Dinner: 6 pm – 9:00 pm (will be adjusted soon)
The omakase menu, while usually offered at dinner, can also be made available at lunch and high tea times. You just need to make sure you mention this when you reserve your table.
Find more Japanese restaurants in Kuala Lumpur here, past visits to Nobu here, and stay up-to-date on the latest food and beverage happenings in Malaysia here and here.