Leonardo's Jalan Bangkung
Words: Monica Tindall  Photos: Rich Callahan
An old-timer in the Bangkung strip, Leonardo's Dining Room & Wine Loft has had a revamp. It maintains its core porkiness and signatures dishes that can't be removed lest the regulars see fit to riot. Now, however, the concept is more refined, and an easy-to-browse menu is a convenient, single page. This is a versatile restaurant and bar where you can have a full-course sit-down meal or a casual afternoon, sipping wine and nibbling cold cuts.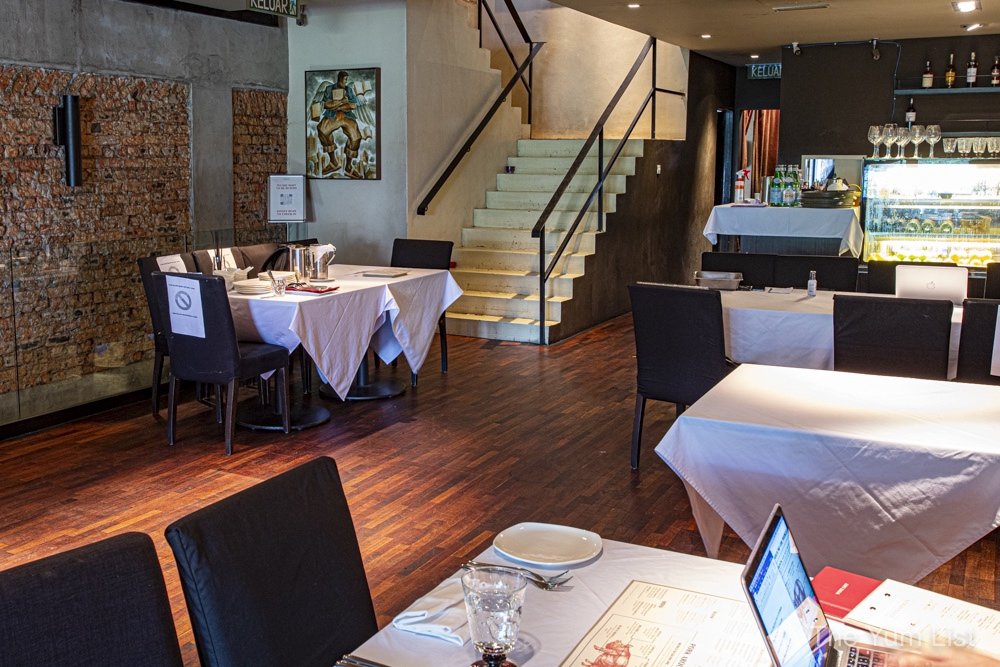 Leonardo's Dining Room & Wine Loft Menu
Cold Cuts and Wine
We begin our visit to Leonardo's Dining Room & Wine Loft with a casual introduction over charcuterie and sherry. The Spanish aperitif Alvear Oloroso (sherry) Asuncion, Montilla Moriles (RM 32 glass, RM231 bottle) is an excellent palate opener and also pairs well with cured meats. Deep gold in the glass, this 100% Pedro Ximenez has deceptively rich aromas of honey, caramel and nuts. Despite the bouquet, it's relatively dry in the mouth, and the sweetness of the cold cuts fills the gap.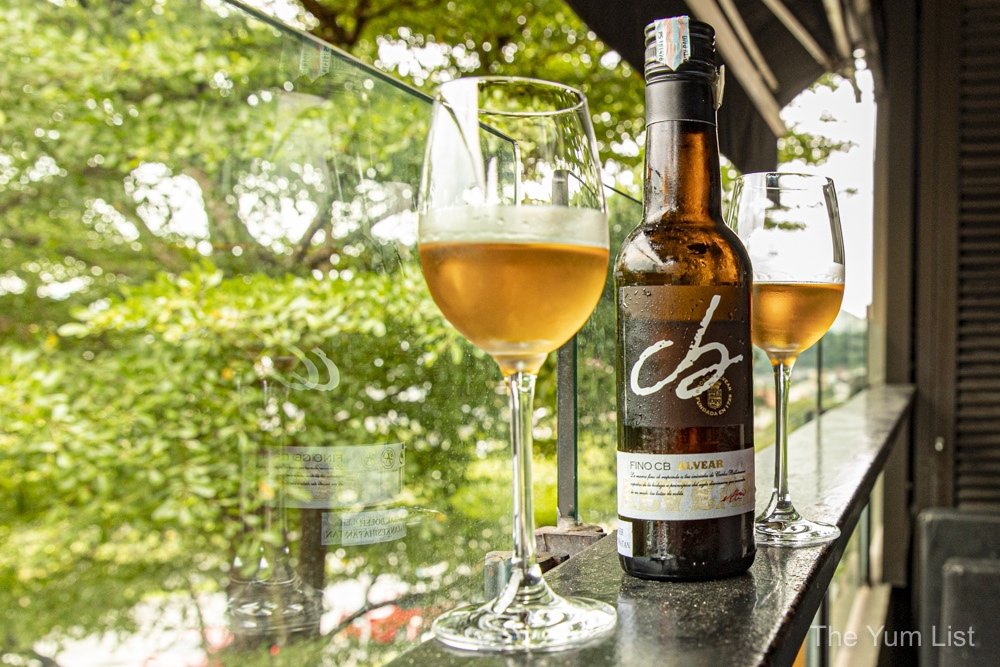 Guests can be assured of genuine Iberico cold cuts at Leonardo's with a gorgeous leg of Señorio de Montanera (50 grams, RM 88) taking prime position in the dining room. Andrea, restaurant manager, slices the cured meat by hand, wielding the blade as a master. Covered with its own fat, this is the Rolls Royce way to experience jamon.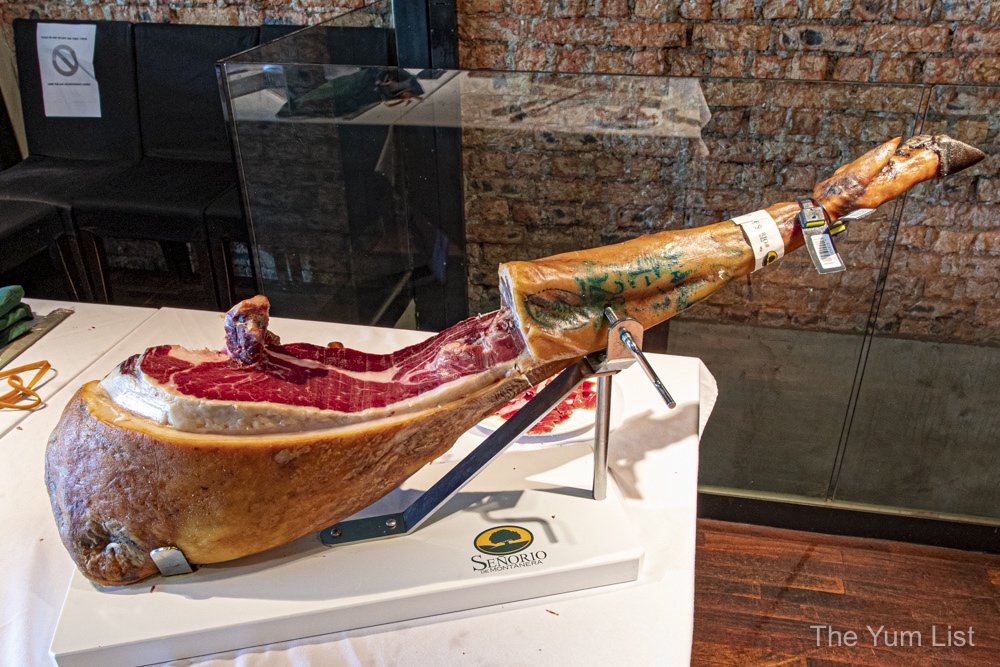 Unlike many places that have predetermined platters, here you can customize the spread to personal taste. The leg is a must for charcuterie lovers, but there are close to 20 other varieties to choose from with recommended portions of each suggested on the menu. Acknowledging our blood bias, we stick with Spain.
Cold cuts consumers are most likely familiar with Lomo, Salchichon and Chorizo. If not, you should begin here as they are the base of a decent charcuterie spread. Those wanting to expand their palates somewhat should take a look at the Morcón and Sobrasada de Mallorca. The former is similar to chorizo in production only it's made with lean meat and is seasoned with pimentón. The surface is smooth with some marbling through its deep red hue. The last is a must-try. I don't know why it has not yet reached a broader audience. From the Balearic island, this paprika-laced sausage is spreadable, very similar to paté. As with all of the cuts, it's best first to taste on its own. After you've appreciated the full profile, spread it on tomato bread for the win.
Starters
As we move to the starters we switch to a chilled bottle of white wine. The Wente, 2015 Riverbank Riesling, Arroyo Seco, USA (RM 199) offers bold minerality and lime in its bouquet. The mouth is round and full of fruit with light floral notes. It's easy drinking on its own but also a lovely mate to our salad.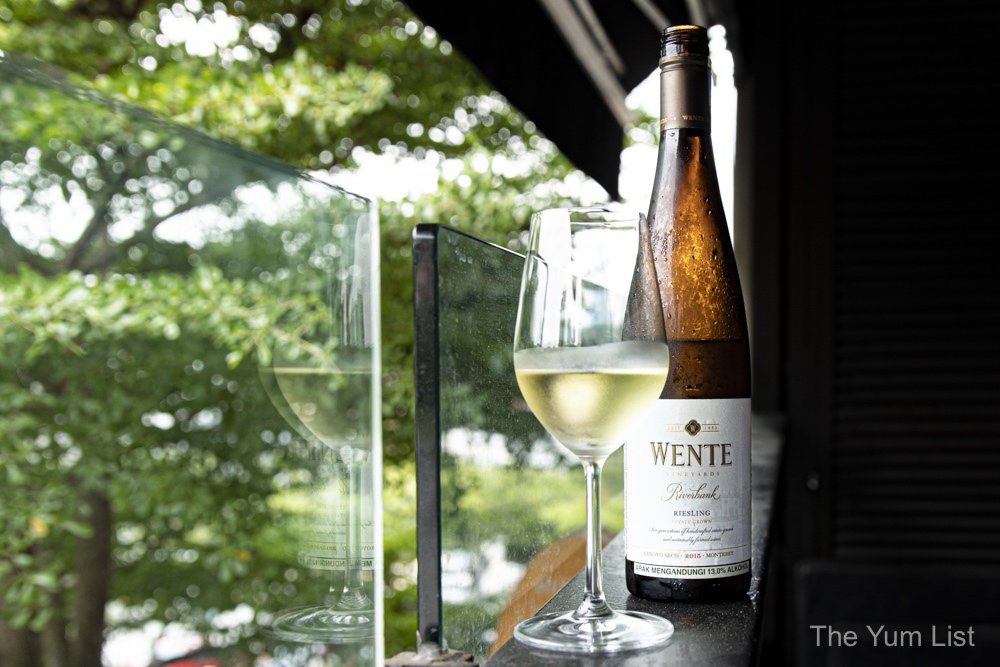 We layer our tummies with veggies in preparation for the porky menu to come. The Avocado Salad (RM 29) with mixed greens and piquillo peppers marinated in olive oil is tossed with an orange vinaigrette and Parmesan shavings. It offers colour and variety and a bed of greens to absorb (hopefully) some of the decadence to come.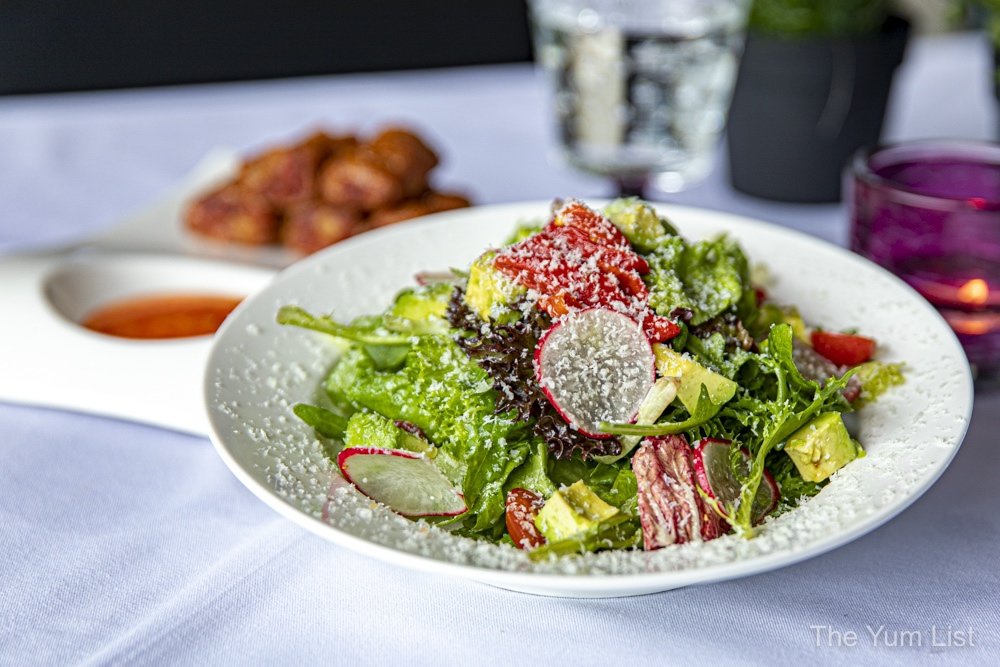 I'm afraid that is the end of our short plant-based interlude. It's all full pig from here on in.
Bringing some local influence to the table at Leonardo's is Lobak (RM19, 5 pieces). Made Nyonya-style with salted bean curd wrapper, its savouriness is enriched. They're deep-fried with a paper-thin crispy coat and tasty middle due to pork lard and Chinese five-spice.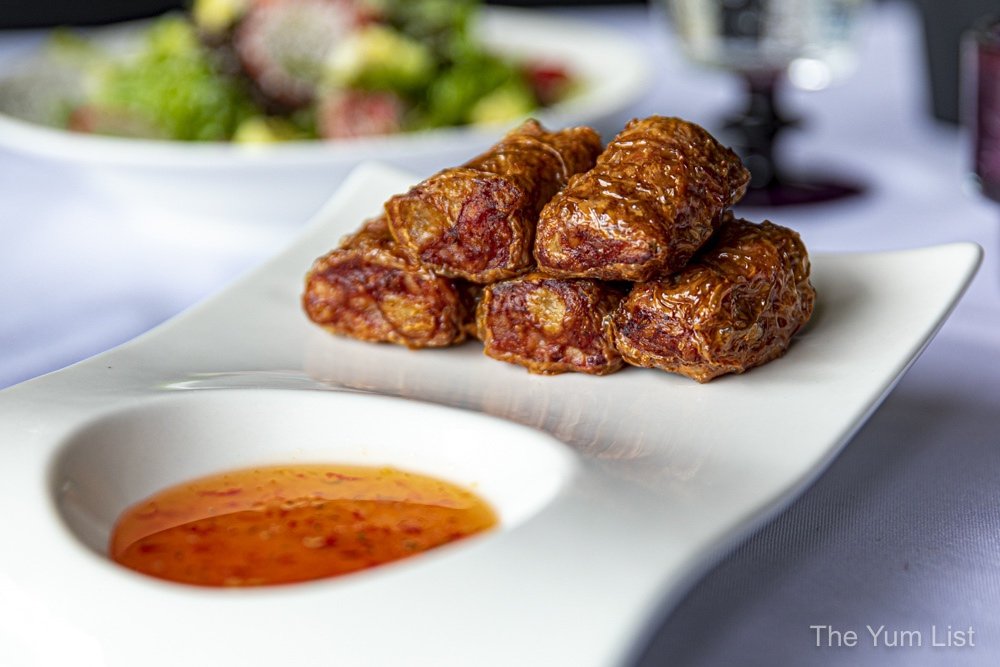 Seesawing between Asia and Europe, our last starter is Croquettes (RM 16, 2 pieces). These golden spheres are bursting with a creamy Iberico pork filling. A slim crunchy shell made with breadcrumbs envelopes the goodness. A dob of garlic aioli on the top provides just a touch of tanginess.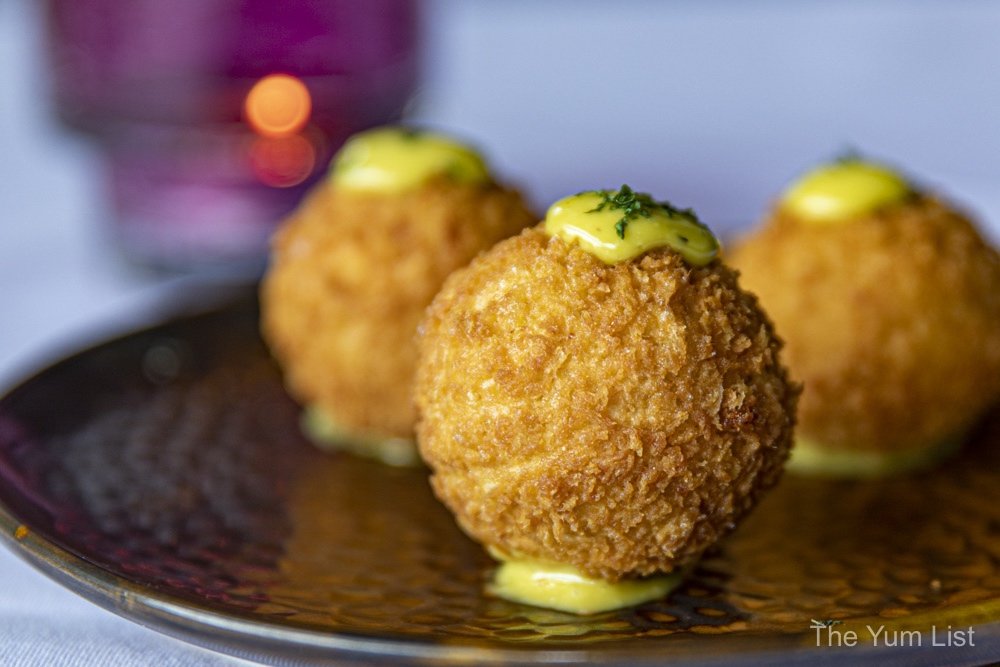 Mains
Torres, 2018 Atrium Merlot, Penedès (RM213) is a young and versatile match for our mains. Made from 100% merlot and benefitting from six months in French oak, the wine is full and round with fine tannins. Plentiful aromas of dark berries entice the nose, and it pans out to a long finish. This simple wine allows the character of the following dishes to shine without too much interference.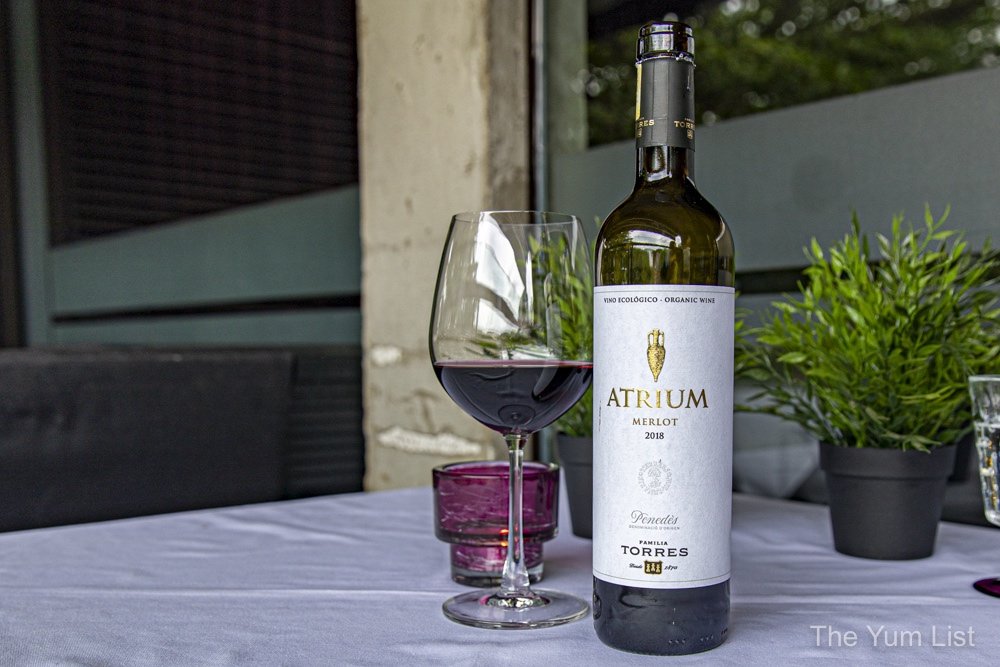 Leonardo's Dining Room & Wine Loft has a long-standing reputation for serving pork with local tastes augmented by the protagonist. One of their classics, Hokkien Mee (RM29), is done KL-style featuring fried Hokkien noodles with Iberico fillet pork, prawns and cabbage. On the menu "since forever," fat noodles are coated with lashings of dark soy and crowned with "Chinese croutons" – crispy pork lard. For a flavour punch scoop on some sambal that comes on the side.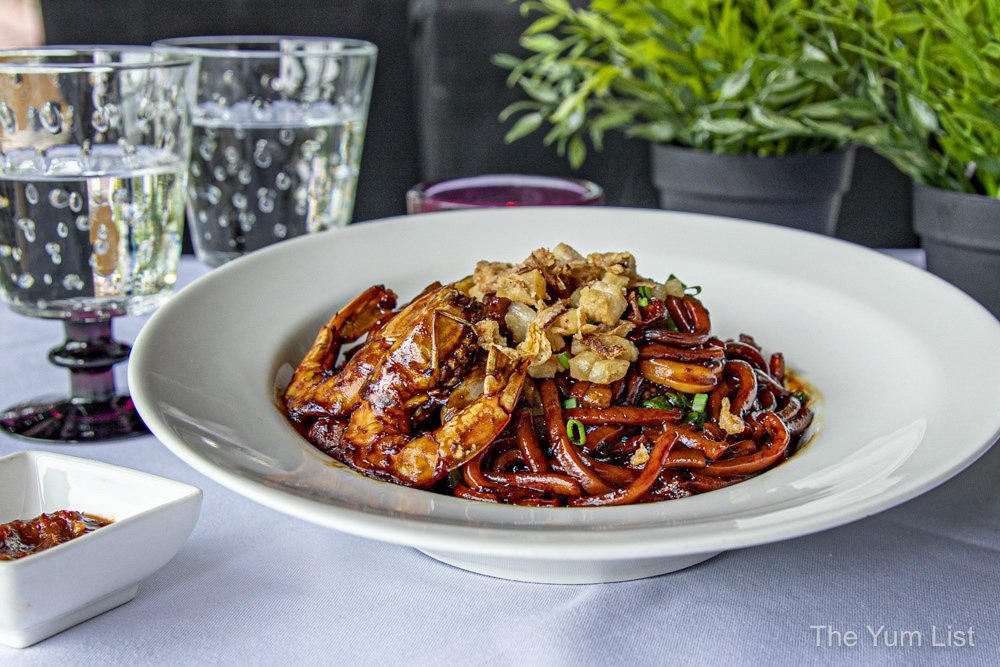 Pork Around the World
The remainder of the menu, covering a good third of the page, features Pork Around the World. Here's where you can find Iberico Suckling Pig as well as variations on porcine recipes from the globe.
Even animal lovers can rest assured that the Spanish pigs used in the Iberico Suckling Pig (Leg, RM188) have lived a good life. Free-roaming, acorn eating, the black Iberian pigs are well-treated until their day of sacrifice. This leads to a higher fat marbling than that found in other pigs making the meat more tender with a slight nuttiness. Choose from a leg, half or whole pig, and it's turned into a complete meal with broccoli, potato and salad as sides. The whole cut is presented, but waitstaff cut the roast at the table with the side of a bread plate! That's right! The meat is cliché fall-off-the-bone, so soft that it gives way with the slight push of a plate.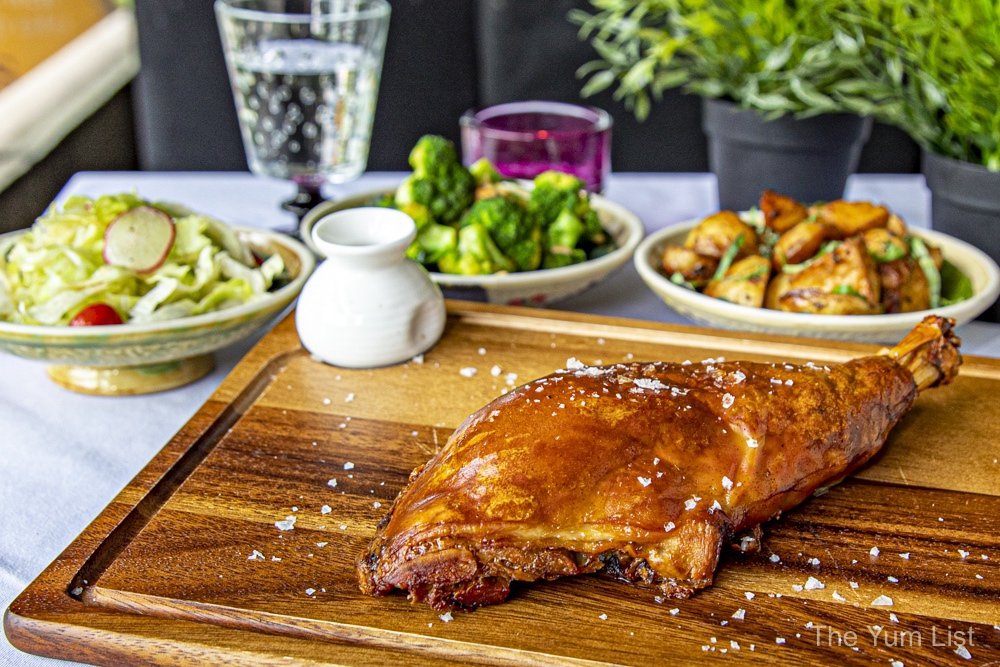 From Spain, Iberico Bikini (RM36) Barcelona-style is basically a fancy ham and cheese toastie. Triangle shaped, like the bottom of a two-piece swimsuit, white sandwich bread is pressed with brie and ham.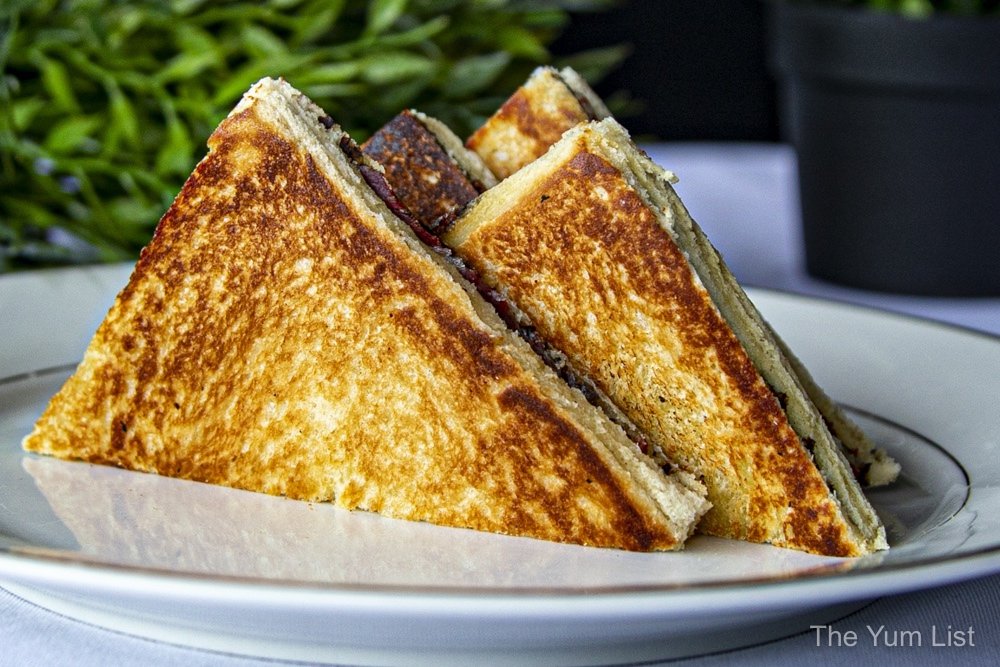 Lastly, and representing Malaysia, Iberico Bak Kut Teh (RM 46) Klang is another one of those recipes that could not be removed. The broth is rich with a whisper of sweetness thanks to its eight hours of preparation and additional gooseberries. The meat is cooked separately, sous vide for at least six hours to achieve the perfect softness. A bowl of white rice, additional char kway, garlic and chilli await for seasoning at will. I like to scoop up all the chunky bits of ribs, belly and mushrooms and then drop in pieces of char kway to act like little sponges soaking up the rest of the broth.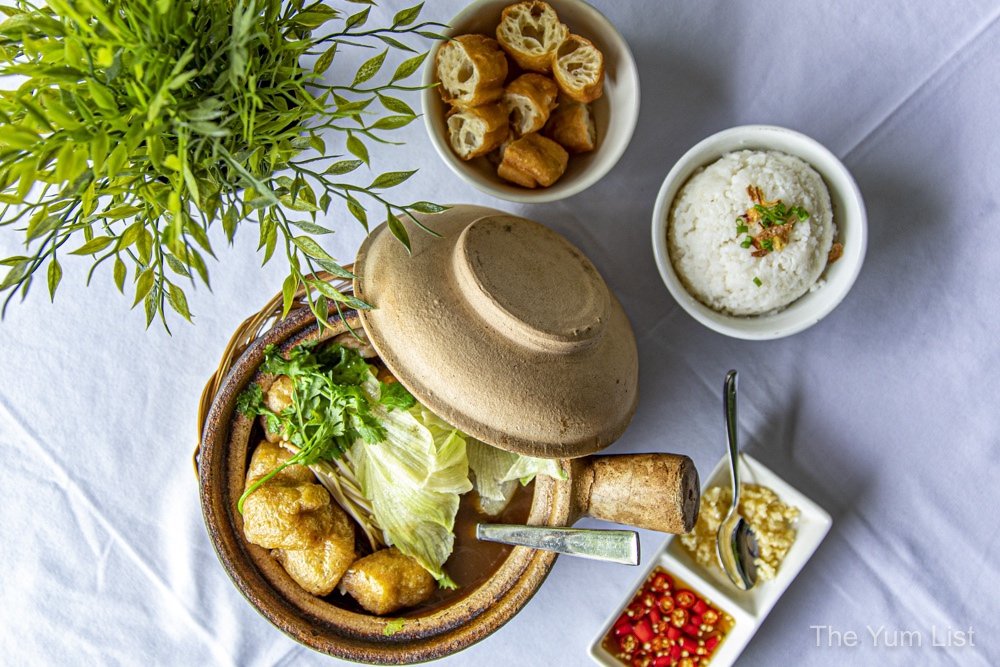 Reasons to visit Leonardo's Dining Room & Wine Loft: pork, pork, pork; quality cold cuts with the star of the show being the Iberico ham Señorio de Montanera; versatile setting for bites and drinks with friends or a full-course meal; must order the suckling pig and Iberico bak kut teh.
Leonardo's Dining Room & Wine Loft
61, Jalan Bangkung, Taman Bandaraya,
59100 Kuala Lumpur, Malaysia
www.facebook.com/Leonardoskl
Leonardo's Dining Room and Wine Loft Opening Hours
Daily 5 pm – 12 am
Find more restaurants in Bangsar here, and stay up-to-date on KL's food and beverage scene here and here.