Kombucha & Kefir KL
Monica Tindall
With increased awareness of gut health, kombucha and kefir production is on the rise in Malaysia. Several home-brewers and professional outfits have dramatically increased the availability of fermented drinks over the past year. Once difficult to find, we are now blessed with choice.
When made naturally without additional sugars post-production, both kefir and kombucha are relatively low in calories. Kombucha, based on tea and scoby (bacteria and yeast), has a tangy flavour with a mild effervescence. It can be light or quite strong, similar to vinegar, with intensity developing the longer it is left to ferment. It's a fantastic aid for digestion.
Two types of kefir, milk and water, have excellent probiotic value. Both have a sweet and sour appeal, and the water varieties are often flavoured with fruit. Similar to kombucha, the fermenting triggers contain a variety of bacteria and yeast but are referred to as kefir grains.
Both kefir and kombucha have excellent benefits to gut health and make nutritious refreshment, ideal for Malaysia's warm weather. Here's a compilation of some of our favourite producers and where you can find kombucha and kefir in KL.
Kombucha & Kefir KL
ChaCha Kombucha came from humble beginnings in a small home kitchen to now having a micro-brewery dedicated to the craft. Founded upon being a future alternative thinking brand, they offer healthy, convenient options for people wanting to improve their wellness. ChaCha Kombucha uses premium loose leaf teas with real fruit to create an abundance of flavours. They hope to give Malaysia a healthy alternative that is diabetic-friendly and supports health. Their kombucha is available in over 100 locations, (soon to be nationwide) so look out for them in cafes and supermarkets. The Yum List's favourite flavours are ginger and passionfruit. Those new to kombucha might begin with the vanilla as its lovely roundness smooths over the tang of the base.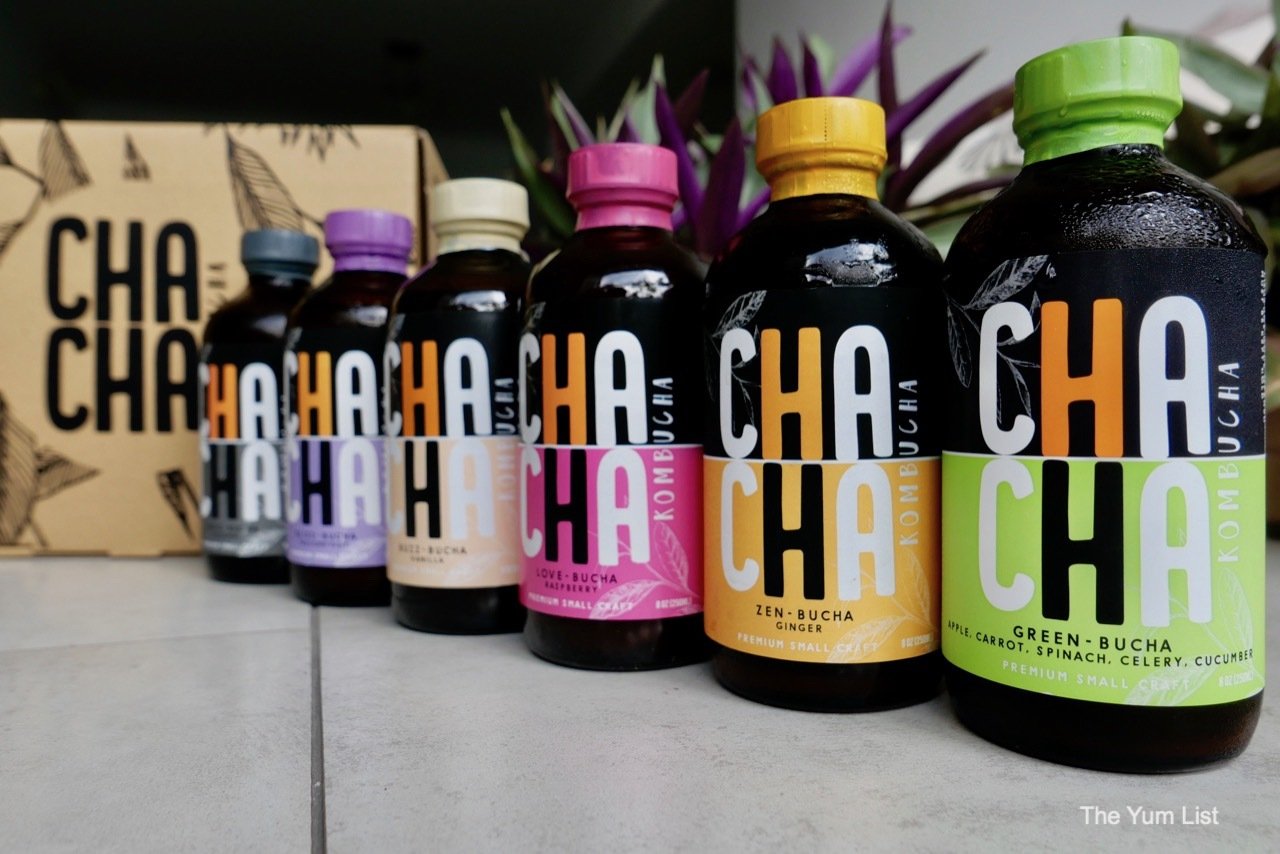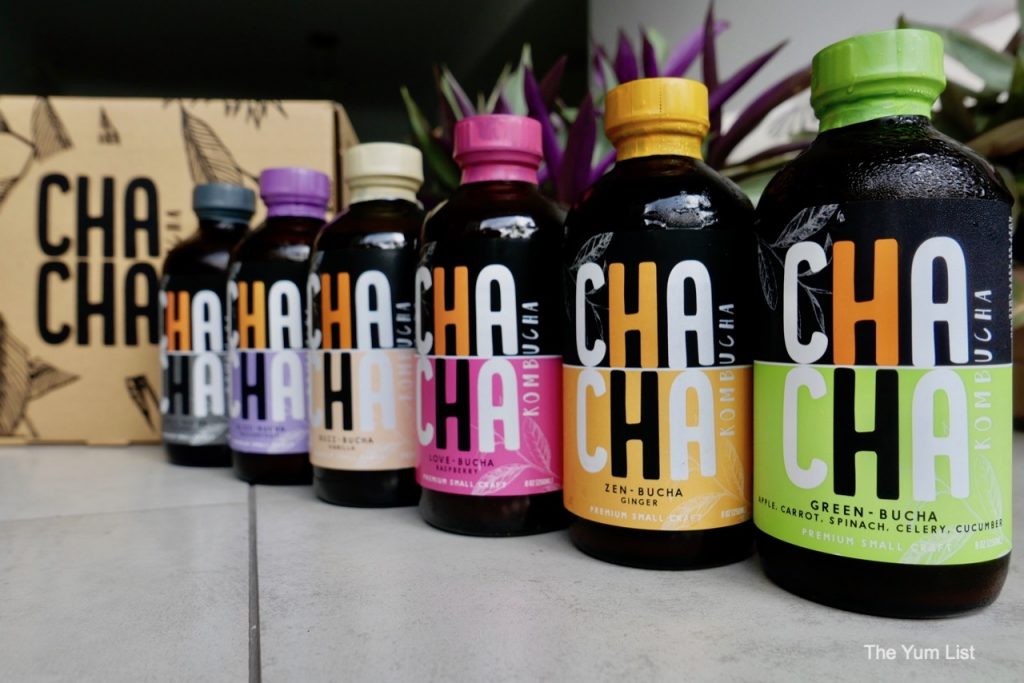 Goodbye soda, hello water kefir! The Kefir King thinks they've found the perfect replacement for addictive fizzy drinks. With both fizz and flavour, and also rich with nutrition, kefir is literally the best of both worlds. Great on a hot day and pumped full with probiotics, there's no guilt associated with consuming empty calories.
For a more powerful punch of probiotics, there's milk kefir, which is one of the most potent sources of natural probiotics on the planet. Once, it was revered as the miracle grain of the Middle East. Even Cleopatra was rumoured to have bathed in kefir once every day because kefir was believed to preserve her youth and keep her mind sharp.
Kefir is, in fact, an ancient, natural health remedy and The Kefir King aims to make it accessible and affordable to all Malaysians. One bottle of water kefir costs only RM8 on their website at thekefirking.com, and milk kefir goes for RM12. They also recycle the bottles and you get a free kefir for every 12 bottles returned. The Yum List's top pick is the mulberry-infused version – made with berries from their very own garden.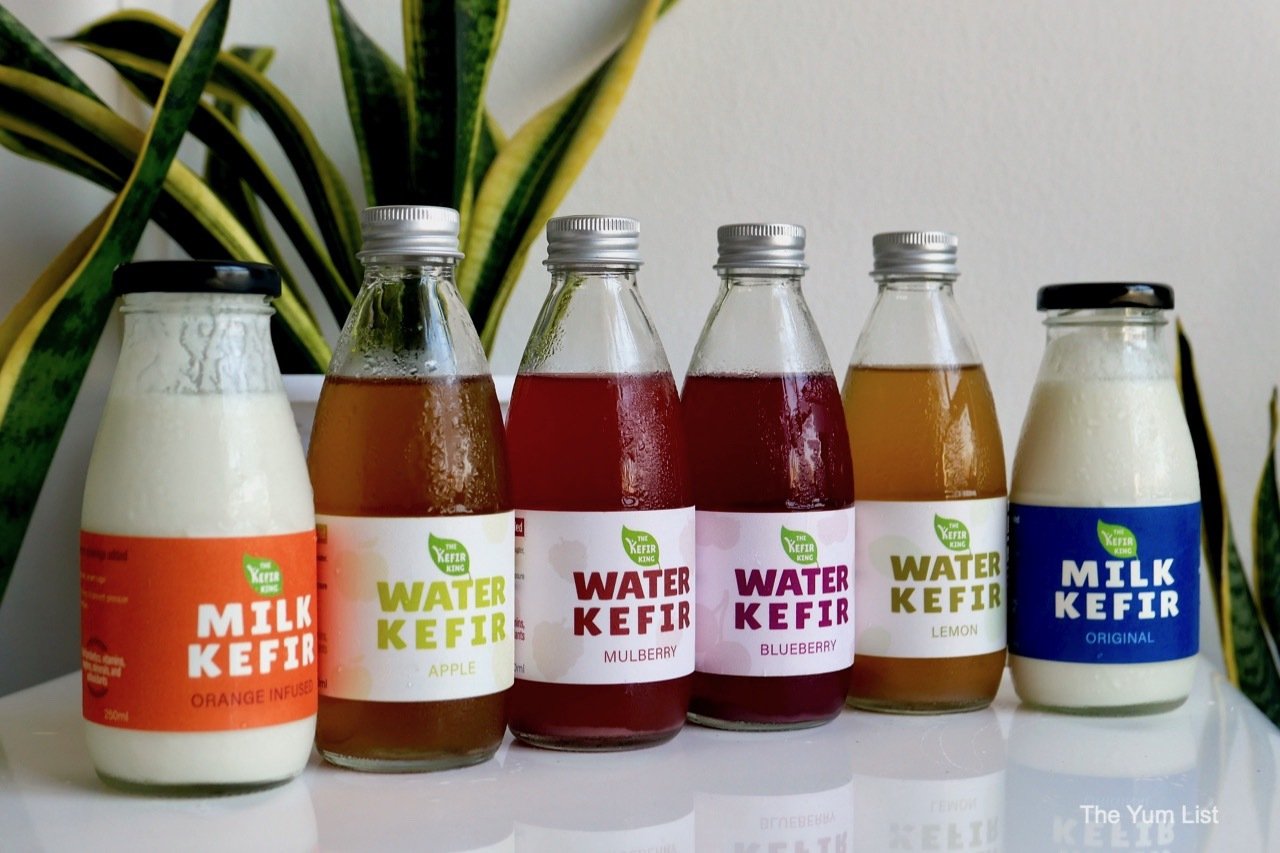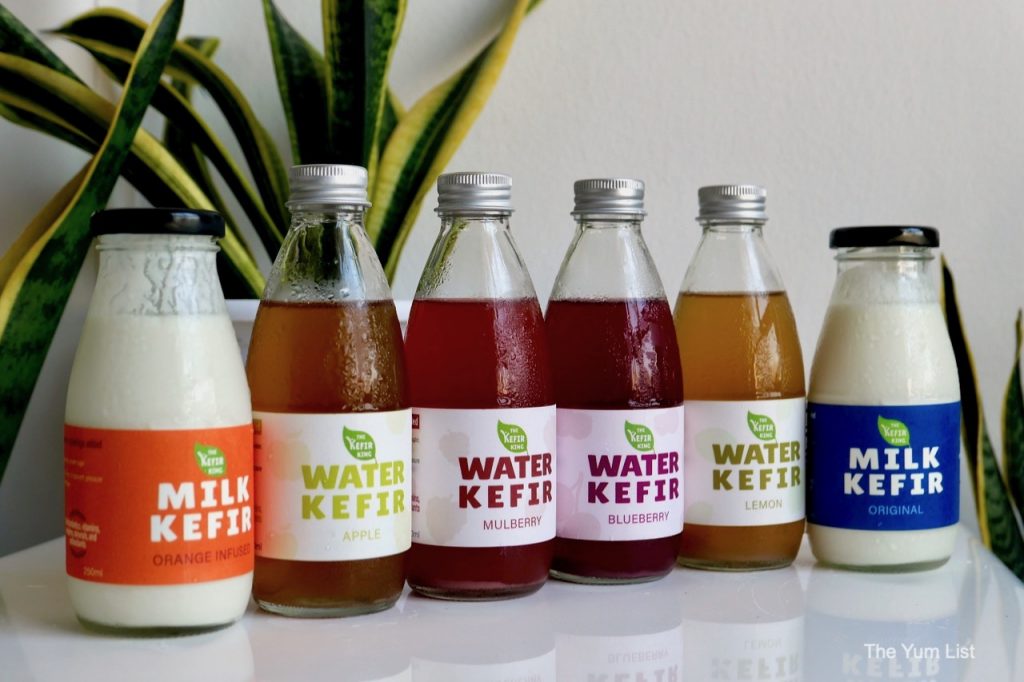 Starting as a home-based part-time business over 10 years ago, My Kefir World subsequently grew to a professional outfit. Now all sorts of kefir products, including drinks but also items such as soap, hair tonic and ice cream, are available in health shops and grocers around KL. Find them in BMS Organics, NGO Grocers and Justfruits, as well as many stand-alone health retailers and pharmacies. Delivery is also available for those in the Klang Valley who want to order directly for bigger packaging or products not stocked in the shops. Certain products are also listed on Lazada and Shopee.
We loved the goat's milk kefir for smoothies and highly recommend the kefir soap for a luxurious and moisturizing feel. They are constantly producing a whole range of quirky products too such as kefir and blue butterfly pea eggs – good looking in salads!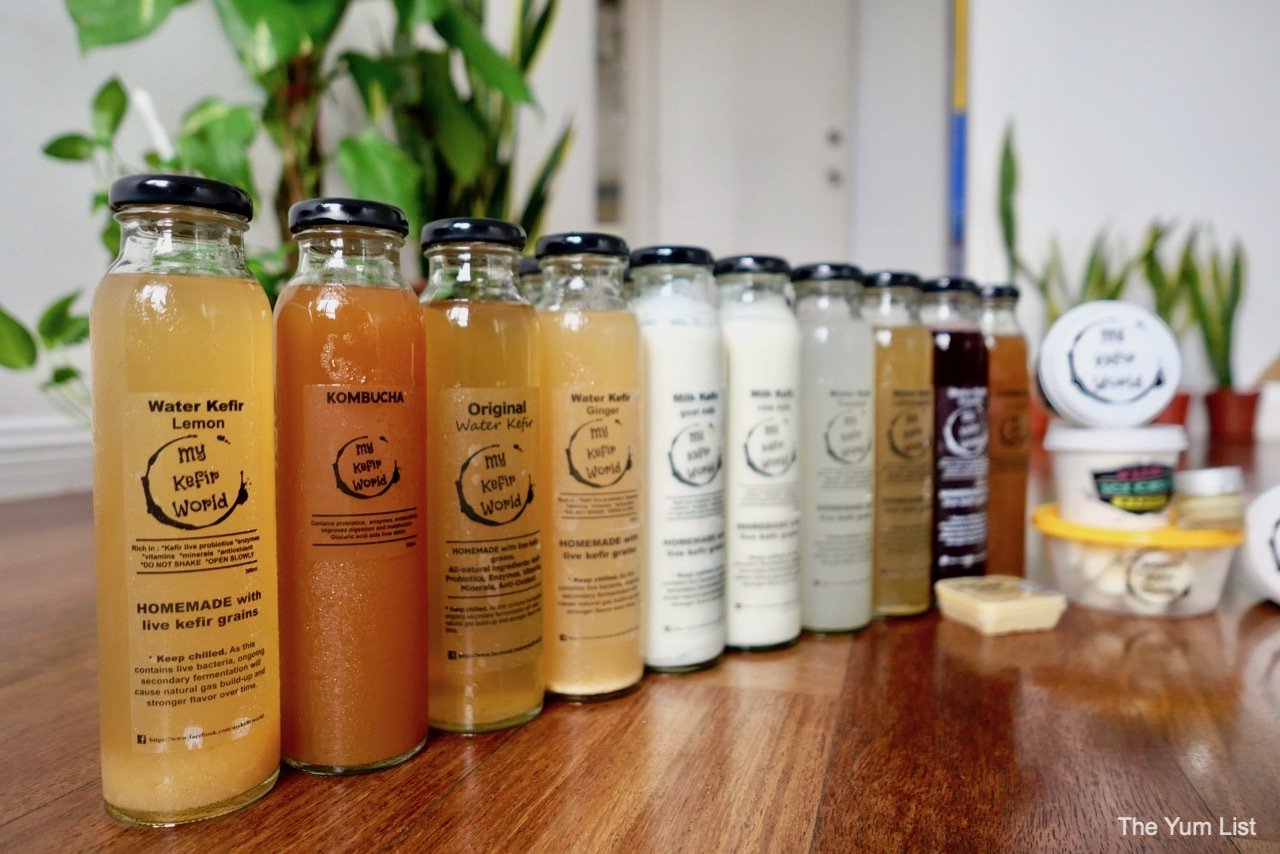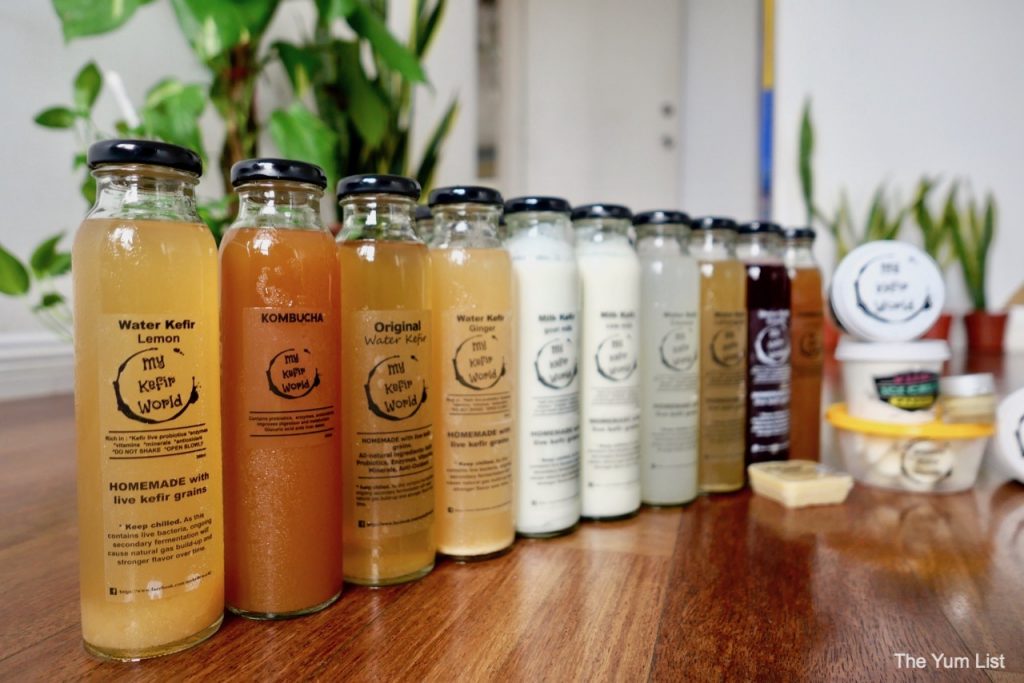 Yuri and Teresa, proprietors of Kefir & Kombucha (K&K), have been fermenting for over 10 years. They have developed their own way of making the bacterium and yeast to have the best therapeutic value by cultivating it in different mediums. You are sure to satisfy not only your taste buds but also nourish your body with their quality probiotics.
K&K takes special care in using only the cleanest water by filtering out harmful chemicals such as chlorine, fluoride and heavy metals. Natural and organic ingredients are carefully selected and form the base of their range that are made without preservatives or stabilizers. They deliver on the day of the order or the day after!
The Yum List's most loved style is their plain kombucha as well as ginger and turmeric kefir. Many will find their vibrant fruit varieties highly attractive too. If you're a fruity fan, don't miss the red dragonfruit.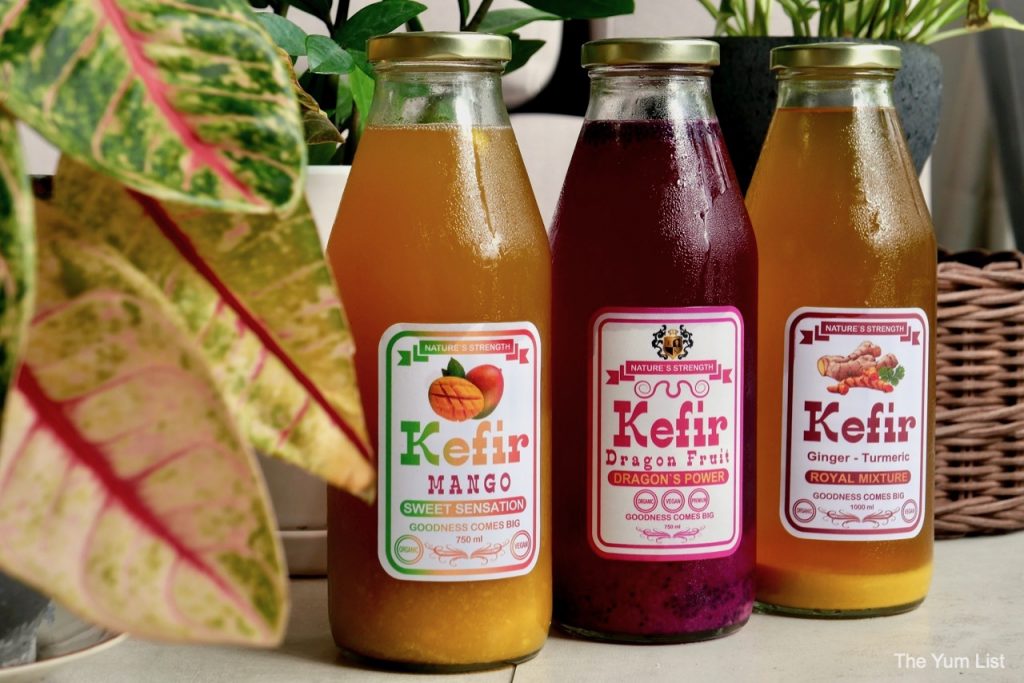 WonderBrew was founded in 2018 by three locals who are passionate about living a healthy and active lifestyle. They saw a gap in the local kombucha market and strongly believed in its potential in Malaysia. They wanted to make and bring great-tasting and affordable kombucha to the masses.
It is their mission to empower people to become a healthier, happier and better version of themselves, all starting with good gut health. They want to popularize kombucha and enable people to enjoy its health benefits, ultimately becoming the 'Coca-Cola' of kombucha in Malaysia.
WonderBrew kombucha is handcrafted, organic, and the first and only halal-certified kombucha brand in Malaysia. What's more, is that they reuse the bottles cutting down on a tremendous amount of waste for regular drinkers. For every 12 bottles returned in good condition, customers get a free bottle!
WonderBrew is currently running a promotion where you get two free bottles with every purchase of 10. My top pick is their Black Booch with acai berry and black goji.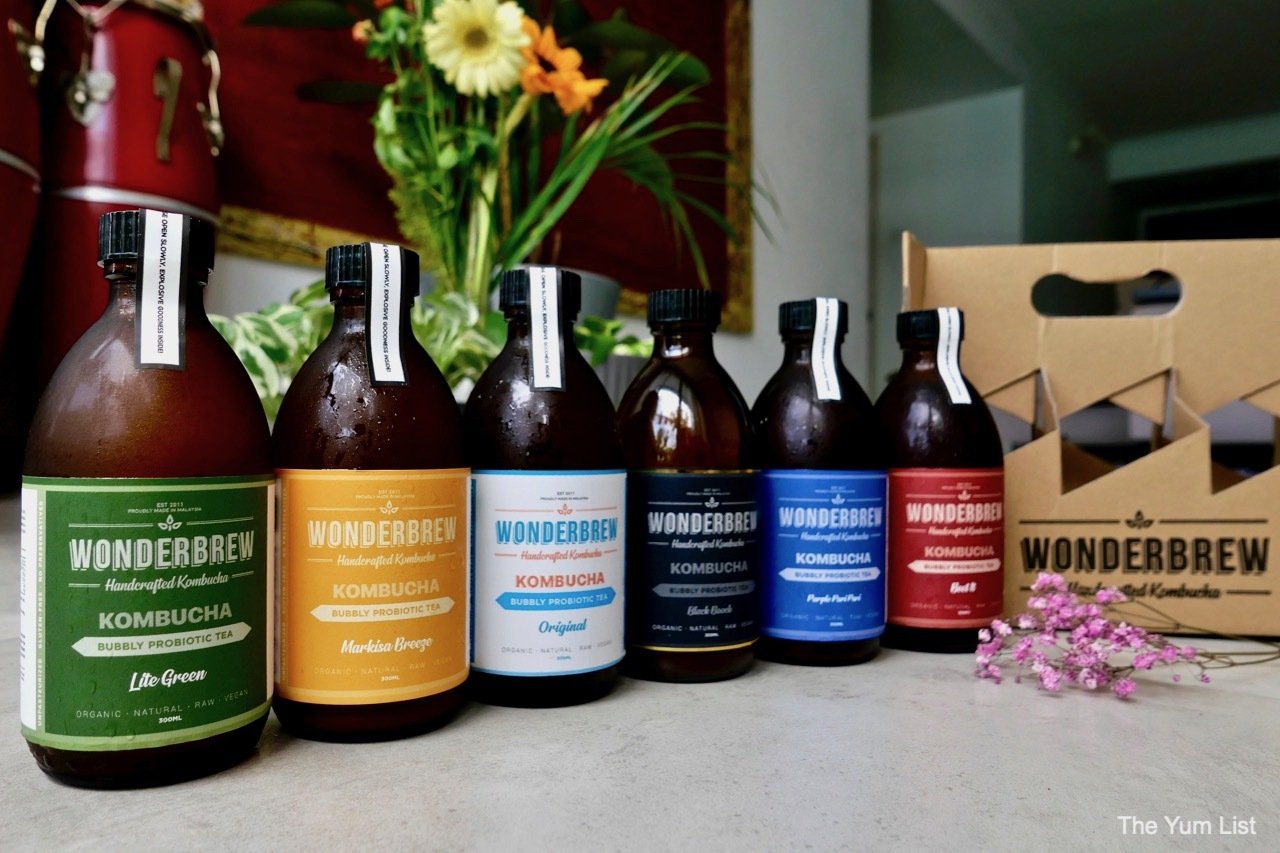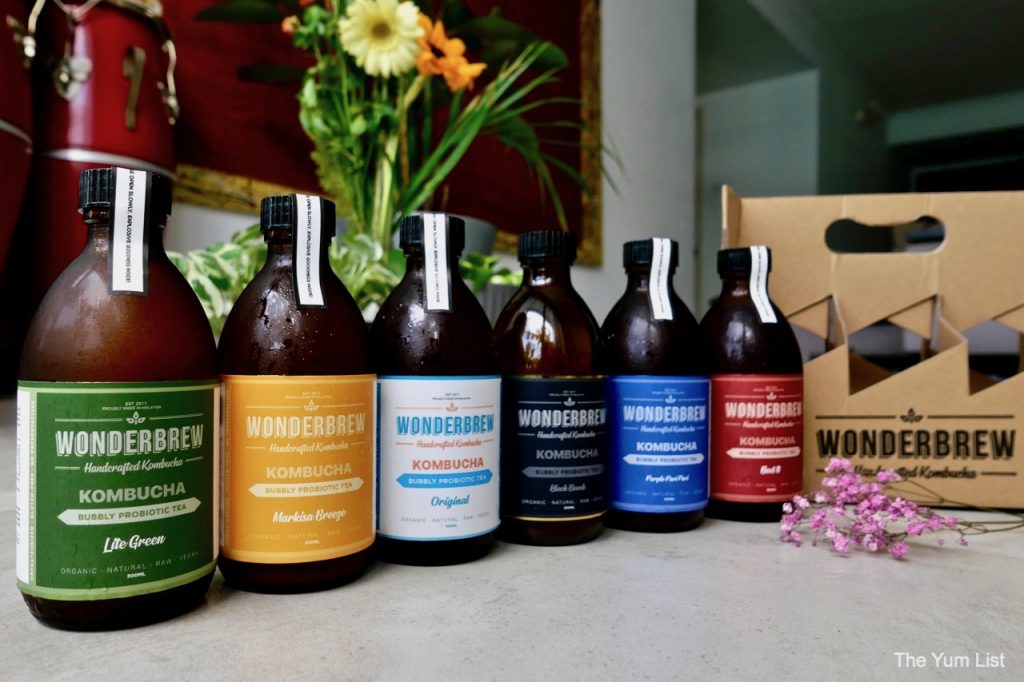 Gutcha Malaysia was founded in 2019 by two local ladies. While in college, they wanted to combine their love of healthy consumption with the taste of alcohol. This is when they started brewing their own kombucha. They want to inspire people to create a healthier, happier and better life for themselves. We're rather fond of their lemonade flavour and think their labels are pretty cute too. They also recycle bottles and encourage consumers to do so by giving a free bottle of kombucha with every 15 empties returned.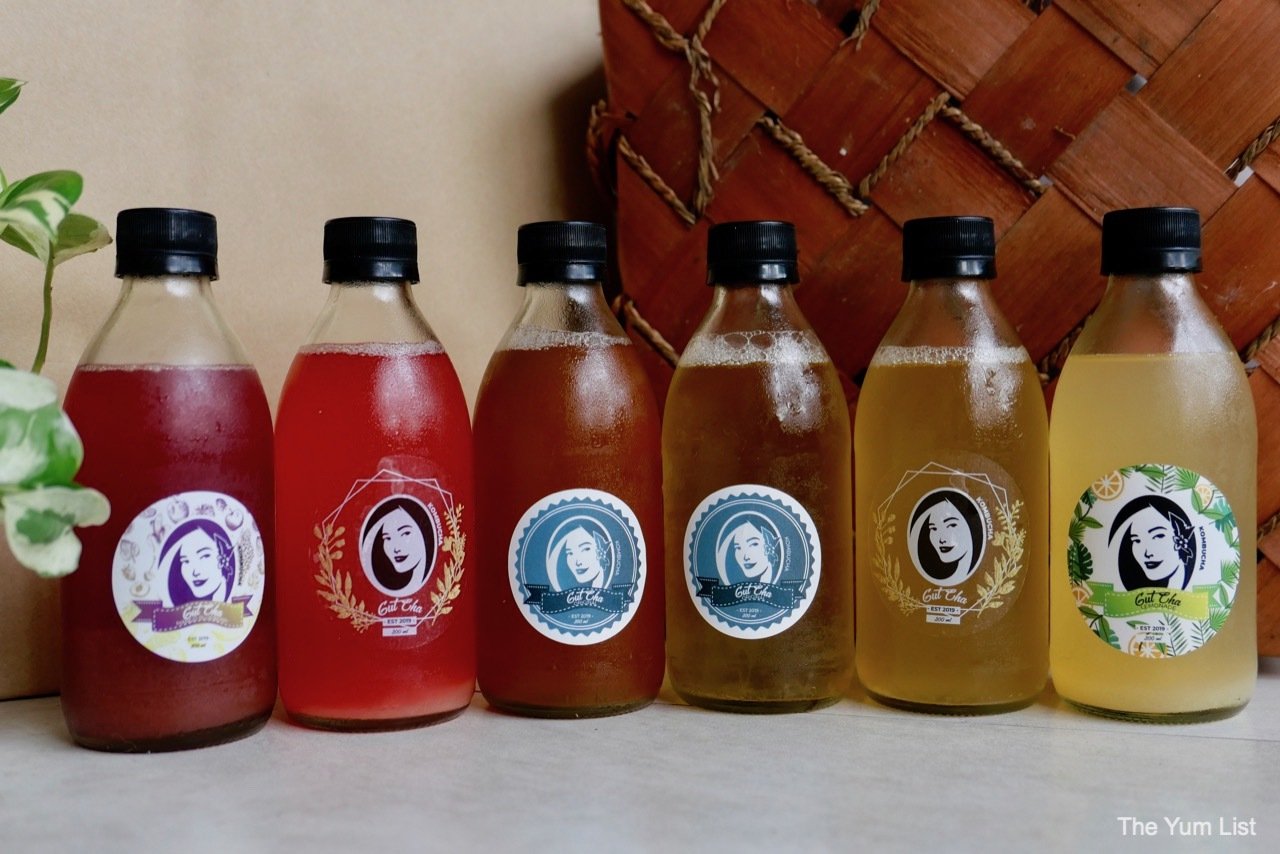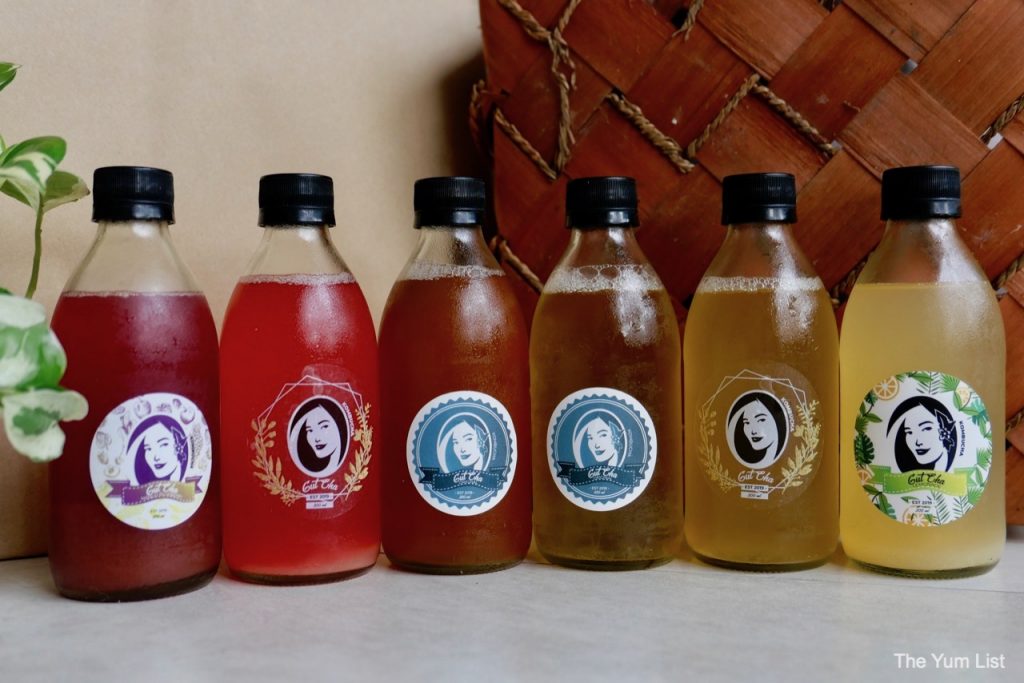 Recovery Kombucha was founded by Chief Culture Officer Audrey Vun on her kitchen bench. In order to enhance the brewing technology, Pee Wei Siang joined the team as Chief Creative Officer and built a new kombucha lab in Cocos Creek Bee Farms. They use the latest technology and science knowledge to brew so that their kombucha meets food safety standards. They currently brew kombucha not only for Penang but for communities across Malaysia to enjoy. The motto of Recovery Kombucha is, "Cherish the health".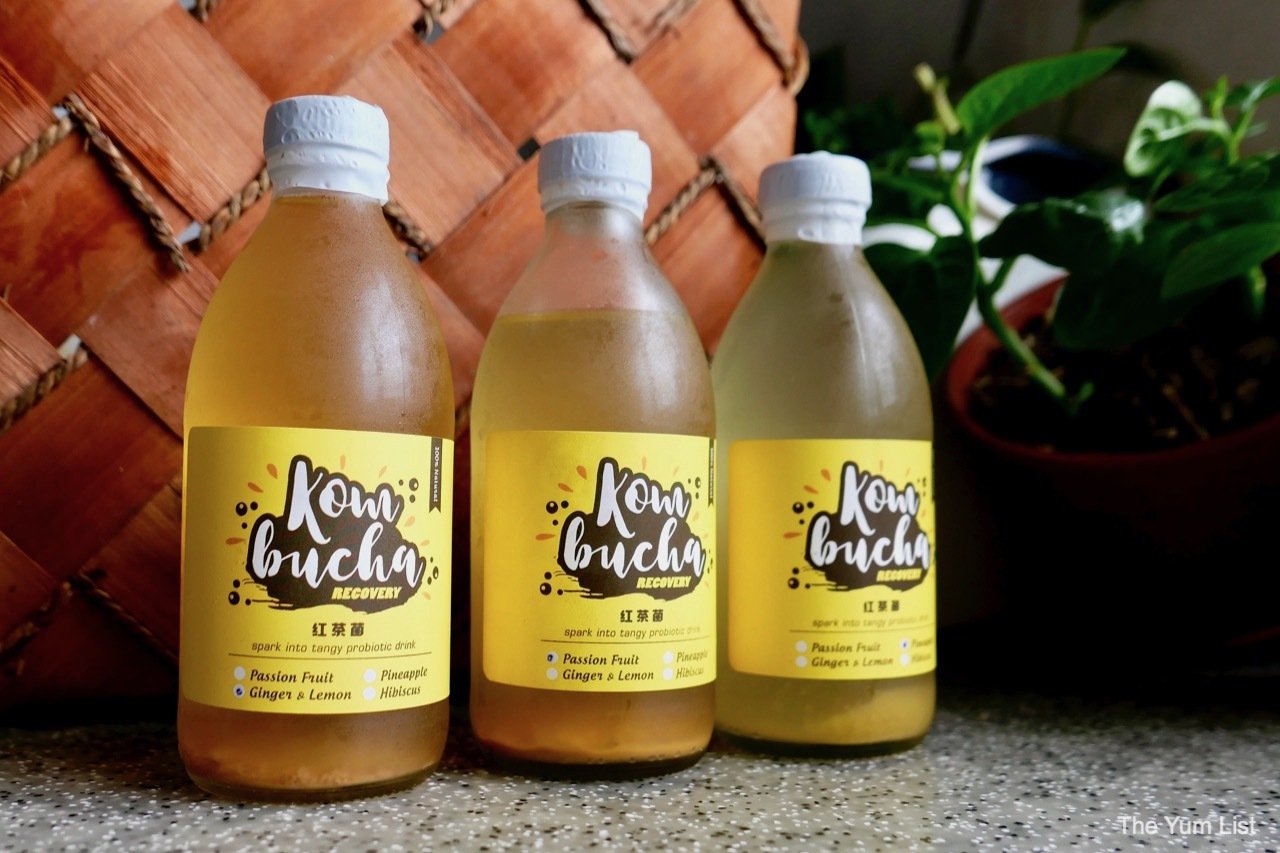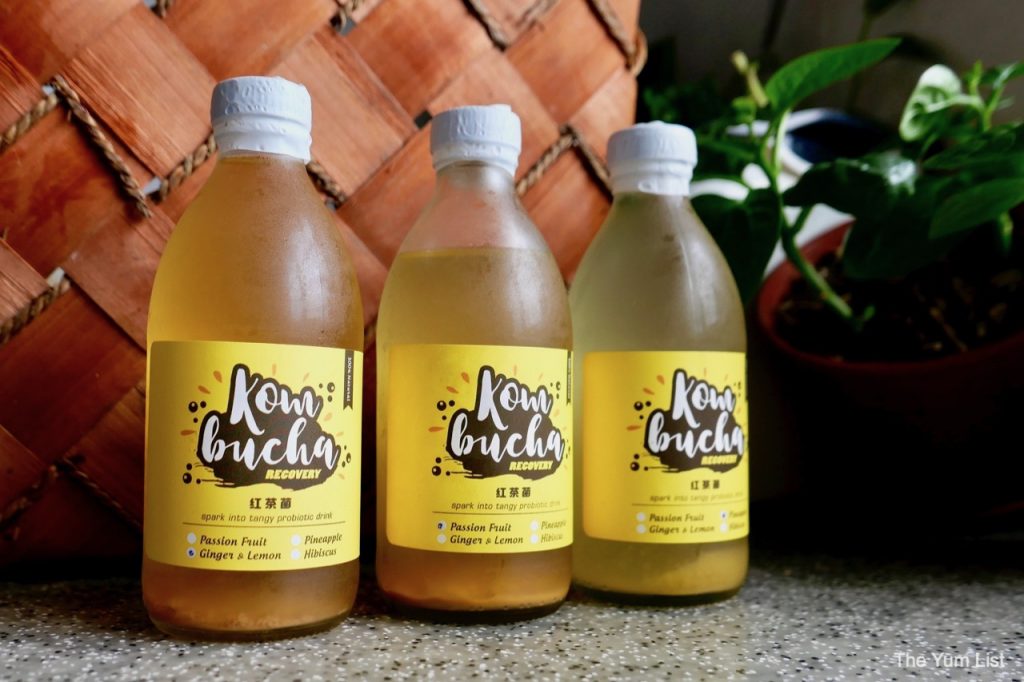 Have you tried kefir or kombucha in KL? Ever tried making it yourself? Let us know if you'd be willing to kick the soda habit and replace it with something healthier and just as tasty (if not more delicious).
Find more healthy food and beverage in Kuala Lumpur here, and stay up-to-date with the latest happenings on the KL food scene here and here.