The Hungry Tapir, Vegan Restaurant Chinatown KL
Words: Monica Tindall Photos: Rich Callahan
I continue to be blown away by the stamina of Malaysian entrepreneurs. Post MCO has seen a profusion of new openings done exceptionally well. It seems that those who could afford to hold on used the time wisely to refine their product and genuinely ready themselves to welcome back the crowds. One such example is the stunning plant-based vegan and vegetarian restaurant, The Hungry Tapir in Chinatown KL.
The Hungry Tapir – Vegan Vegetarian Chinatown KL
The unwanted shop lot in Chinatown has been transformed with the vision that only an interior designer could foresee. The heritage building's rough insides were stripped bare, revealing steeple ceilings with exposed wooden beams and a brick wall. The roof was improvised with a roll away partition, opening the bar up to the night sky in the cooler hours.
Cement floors and arched windows are complemented by plantation shutters, rattan chairs and luxuriance of potted plants. Black and white is a subtle theme with pop-out colours of yellow and pink. Everything fits together creating an inspiring, cheerful atmosphere. Even the menu sports a tropical plantation-like design.
A joint venture between Makissa and her mum, Cynthia Rodrigo, The Hungry Tapir is full of community spirit. The team feel like a family with chef Kenny and bartender Sharan happily chatting with guests, bopping around the dining room with an upbeat swing in each step. There's even mascot Elly, a tiny rescue dog, that sits quietly and irresistibly in a sunlight-streamed corner. Completing the collective vibe is the use of 100% local ingredients. Malaysia's rich abundance of fresh greens, fruit and produce is put to good use here.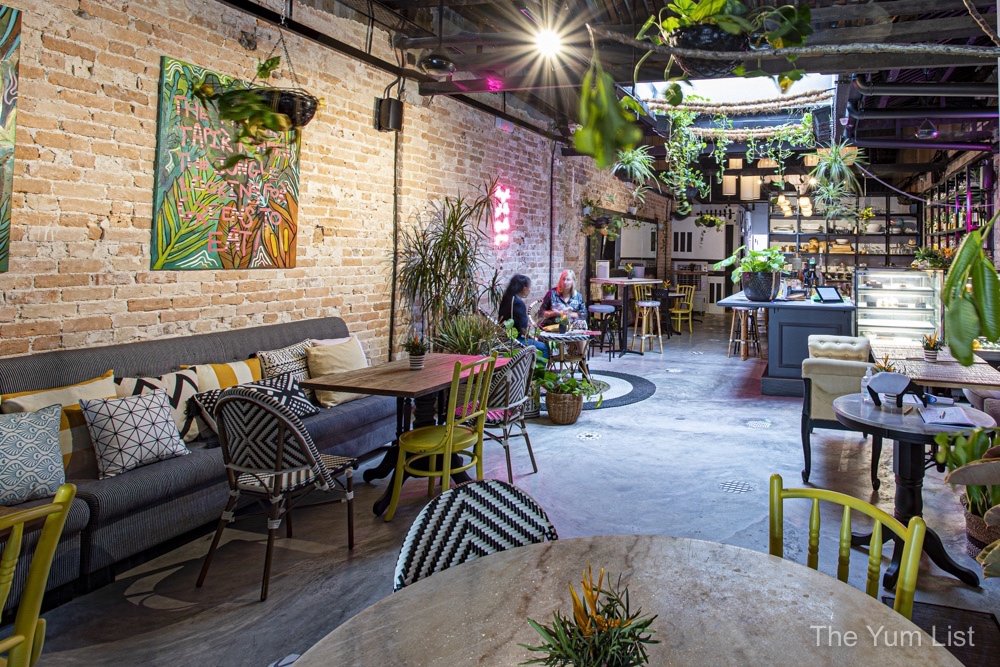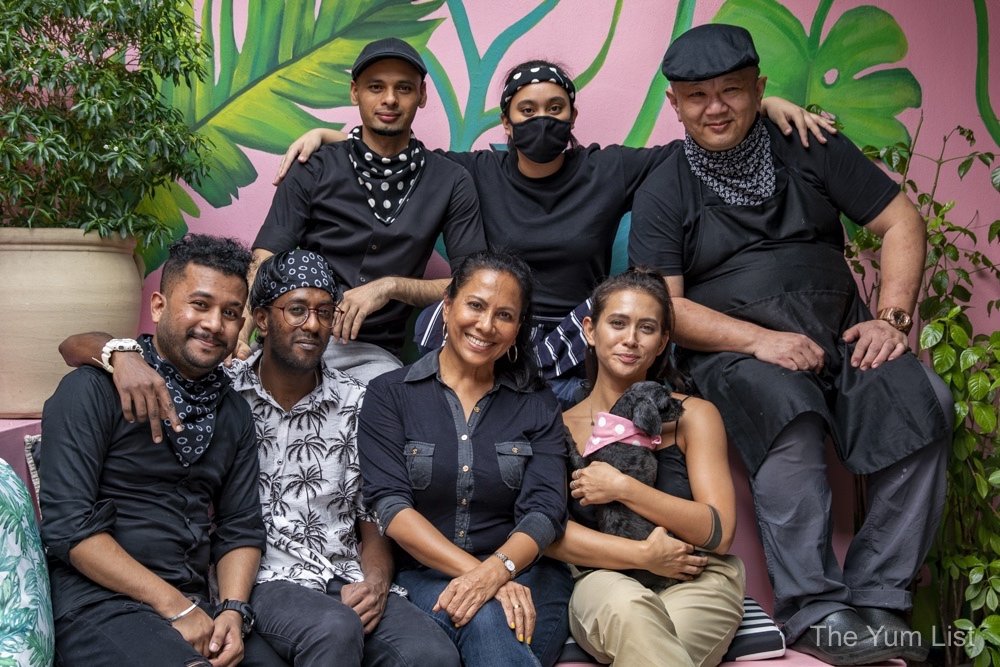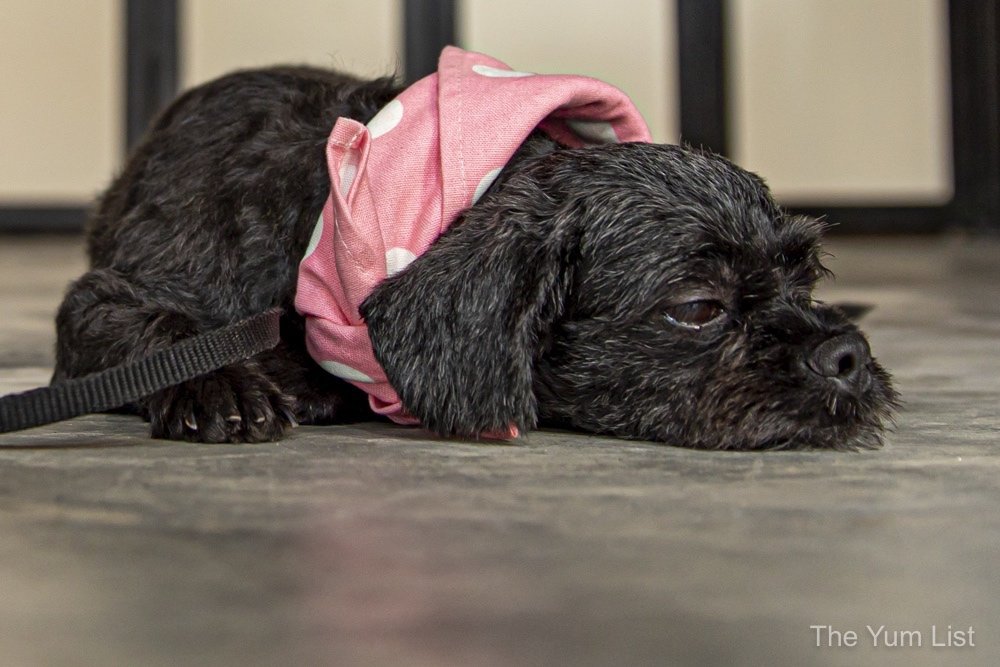 The Hungry Tapir takes the vegan and vegetarian restaurant offerings in KL to a whole new level. The plant-based menu prizes Malaysian ingredients, presenting them with charm and flair. It's not just a place, though, for those desiring to eat a meat-free diet. The variety of recipes, the attractiveness of the setting and excellent drinks menu is guaranteed to keep a whole array of diners happy.
All-day Breakfast
One of the first dishes we fell in love with in Malaysia was roti canai. I'm sure it was the main culprit of our cholesterol levels sky-rocketing. We're thankful that The Hunger Tapir has devised a vegan version in their signature Roti Canai (RM 15, v). This crispy flatbread is thrown with almond milk and coconut oil instead of the usual ghee. It comes with vegetable dahl and tempeh sambal. So yum!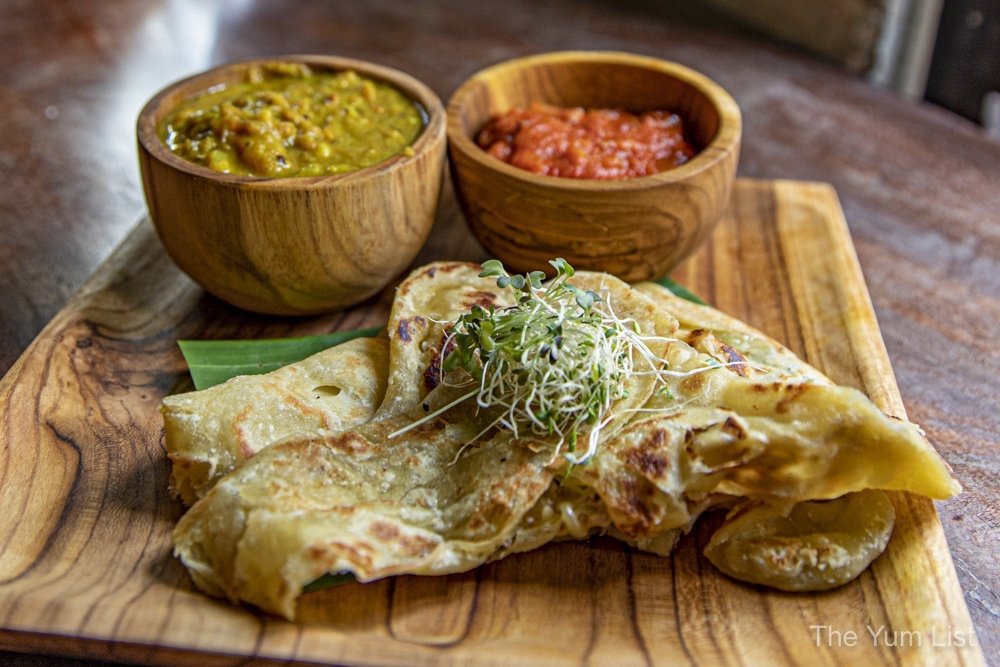 I do love a good smoothie bowl, and the vibrant Dragon Bowl' T' (RM20, vg, gf) does not disappoint. A cooling combo of red dragon fruit, banana and mango and blended together as just fruit – nothing else. The consistency is perfect – in between ice cream and sorbet. A blanket of homemade granola and toasted coconut add a welcome crunch to the top.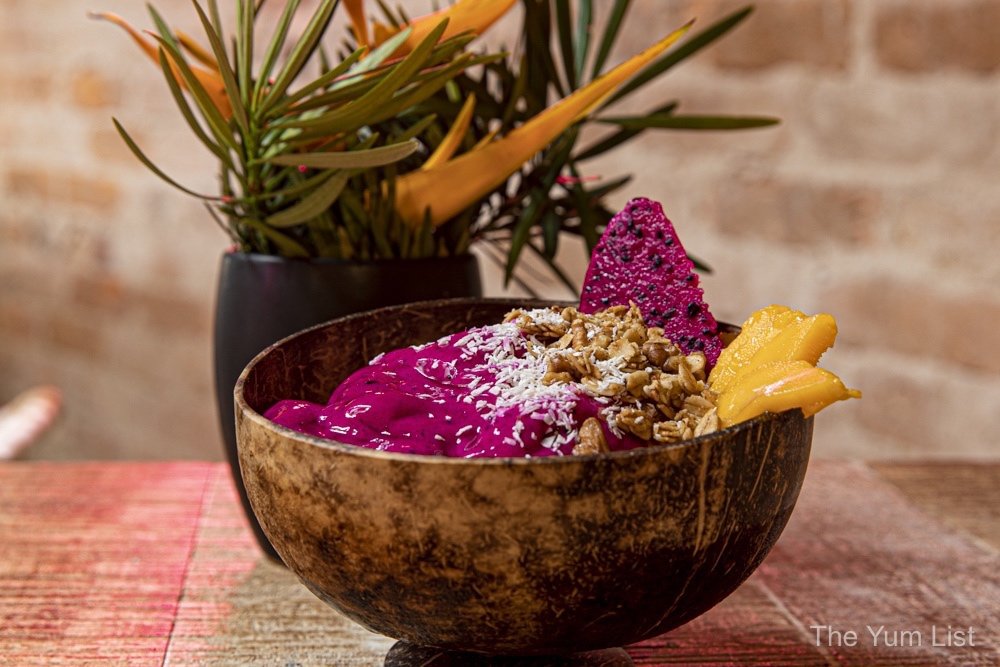 Big brekkie fans must try the Plant Power Big Brekkie (RM28, v). It's a super-sized portion of smoked tempeh (blacked vinegar, brown sugar marinade), scrambled tofu, beans, garlic, mushrooms, hummus, spinach and sourdough. It's sure to fill a hungry tummy without a single drop of guilt.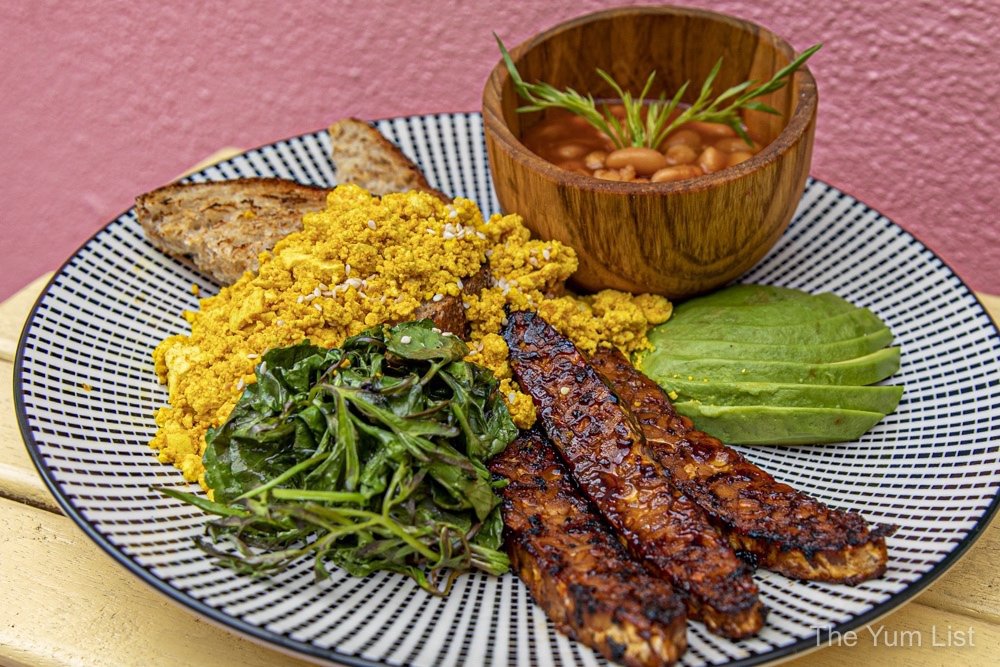 Salad / Bowls
More of my favourite ingredients are found in the Ginger Soba Noodle Salad (RM 20, v). Tofu, edamame, cucumber, crispy oyster mushrooms and soba are tossed together in The Hungry Tapir's ginger vegan fish sauce. Chilli padi contributes a definite thread of heat, and sesame seeds and crushed peanuts give a pleasant nuttiness. I love the abundance of local greens such as pegaga and ulam raja, which provide a crisp, peppery conclusion.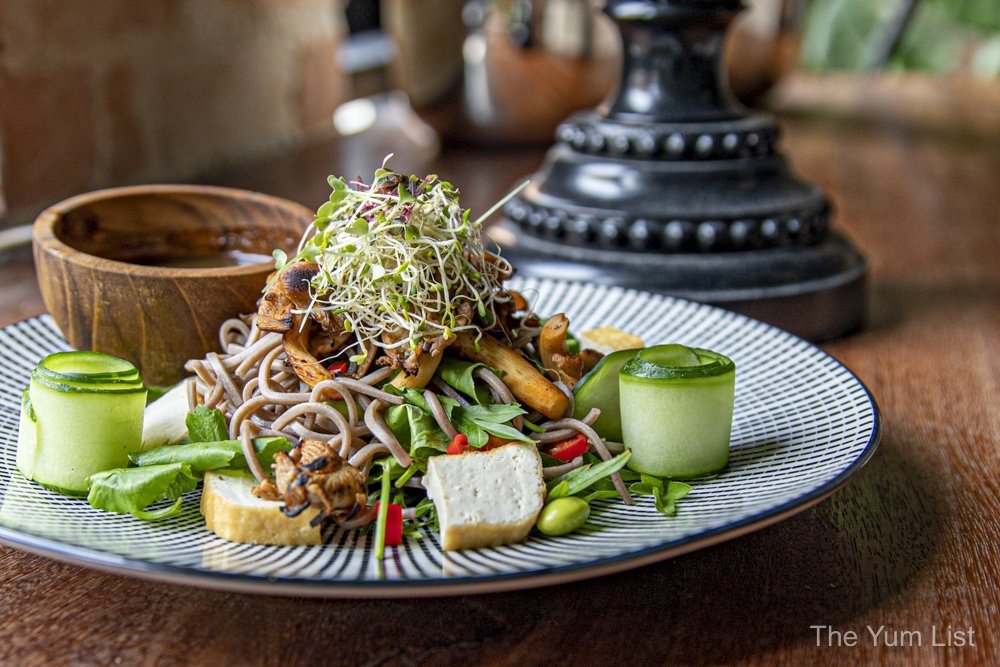 Mains
The first main on The Hungry Tapir's menu is right up my alley. I love the variety of ulam (salad leaves) in Malaysia. I often propose that, with the right marketing, any number of them could be the "next superfood." Rainbow Ulam Fried Rice (RM23, v) is fragrant with fresh greens, a colourful "vegetable party" as the menu reads. Papadam and hedgehog mushroom skewers (their vegan version of satay) turns the rice into a complete meal. Sambal and chilli padi provide additional oomph.
Another of my most-loved Malaysian recipes is laska, and again I am grateful for the more nutritious version made at The Hungry Tapir, Jungle Laksa (RM 20, v). Rice vermicelli is in a rich coconut Nyonya broth alongside spiralized cucumber, eggplant, bean sprouts, tofu puffs, crispy fucok (sheets of soya bean curd) and bunga kantan (torch ginger – love). Chef Kenny comes from Baba-Nyonya heritage and particularly likes to bring that influence to recipes.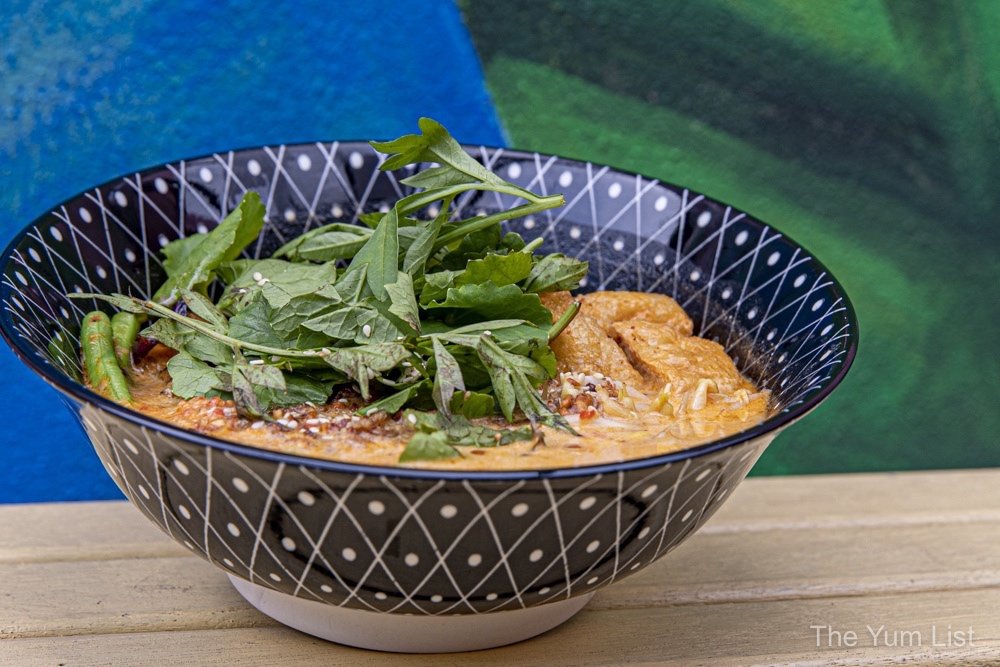 Who could resist a burger named the Pink Bombshell (RM30, v)? This beautiful tower between buns consists of a beetroot patty, melted homemade vegan herb cheese, barbecue sauce, caramelized onions, lettuce and tomato. Even the side of fries is given a nutritional boost with the use of sweet potato and vegan mayo. Those beautiful local greens are found again in this order, on the side in an earthy truffle vinaigrette.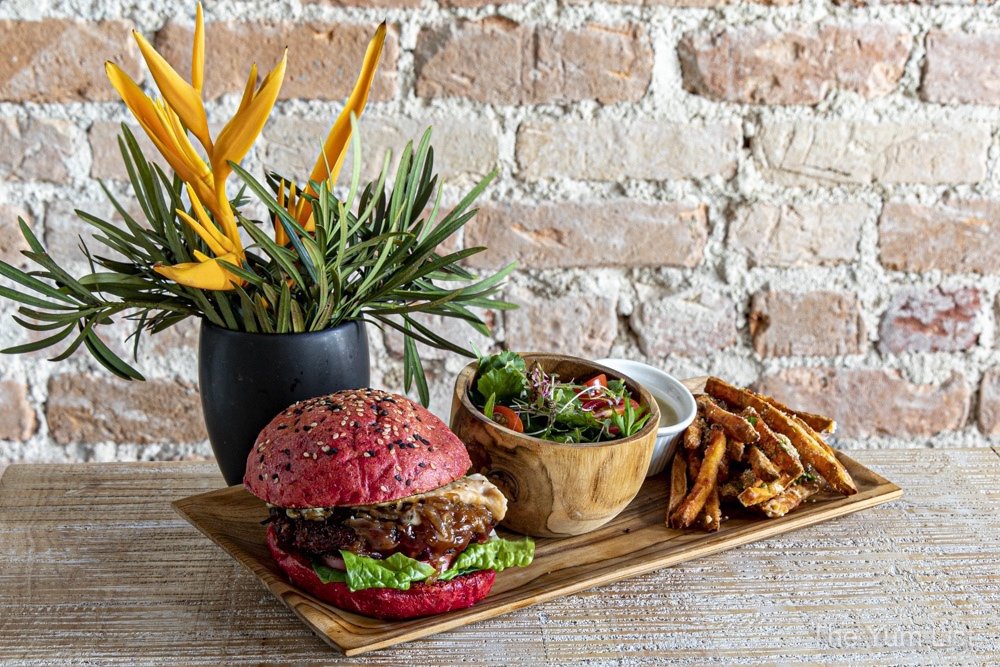 Sweet Treats
There's a small cake counter with vegan treats or a couple of sweet items on the menu at The Hungry Tapir. We hear there'll be more house-made desserts in the future. Choc Oat Cinnamon Brownies (RM 10, v) are pretty darn luscious. "Choc on choc" the menu reads with a "secret ingredient." It's silken tofu, making the brownie super moist leaving a coat of chocolate around the teeth.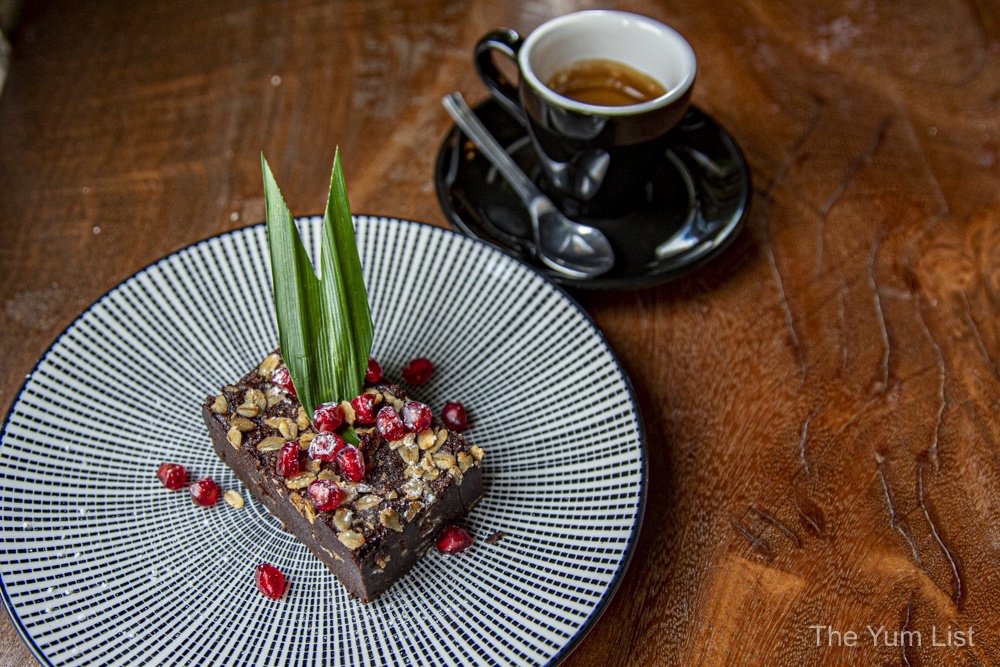 The Hungry Tapir Sips
Making full use of connections with RAGE Coffee, caffeinated beverages are supplied by this popular café. We're happy with the F*ck Covid blend – a mix of Brazilian and Ethiopian beans given a medium to dark roast. It sports a delicate balance of fruit and dark chocolate that is perfect for espresso-based drinks topped up with milk.
Juices, kombucha and a bunch of other bevvies compile something for everyone. We're rather fond of the Queen of the Detox (RM 14). Green apple, cucumber, lemon and Chinese parsley blend a medley of greens. A dash of ginger and garnish of apple are tasty touches.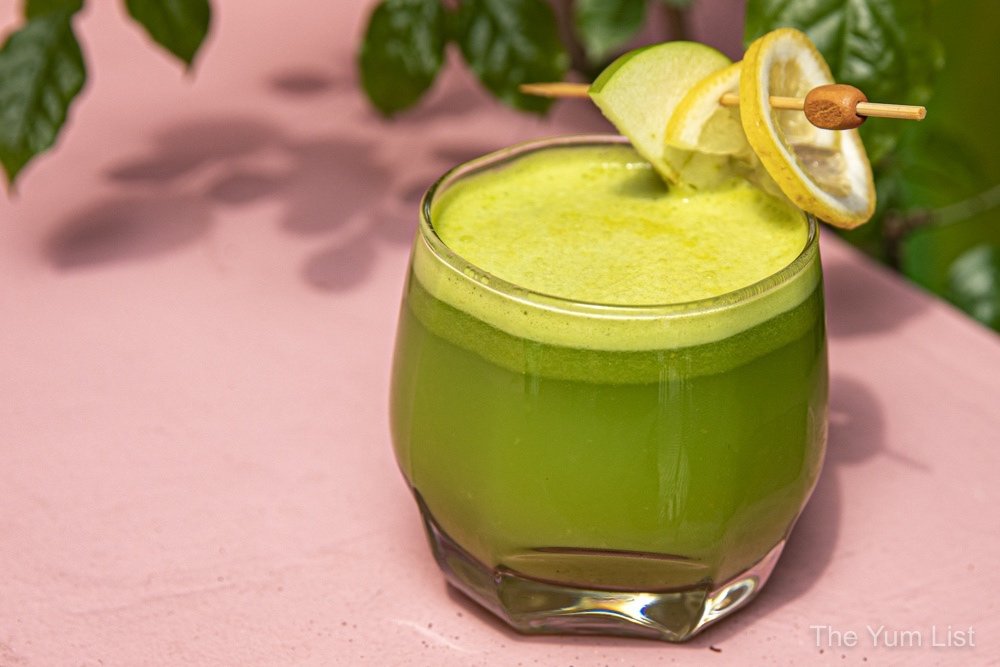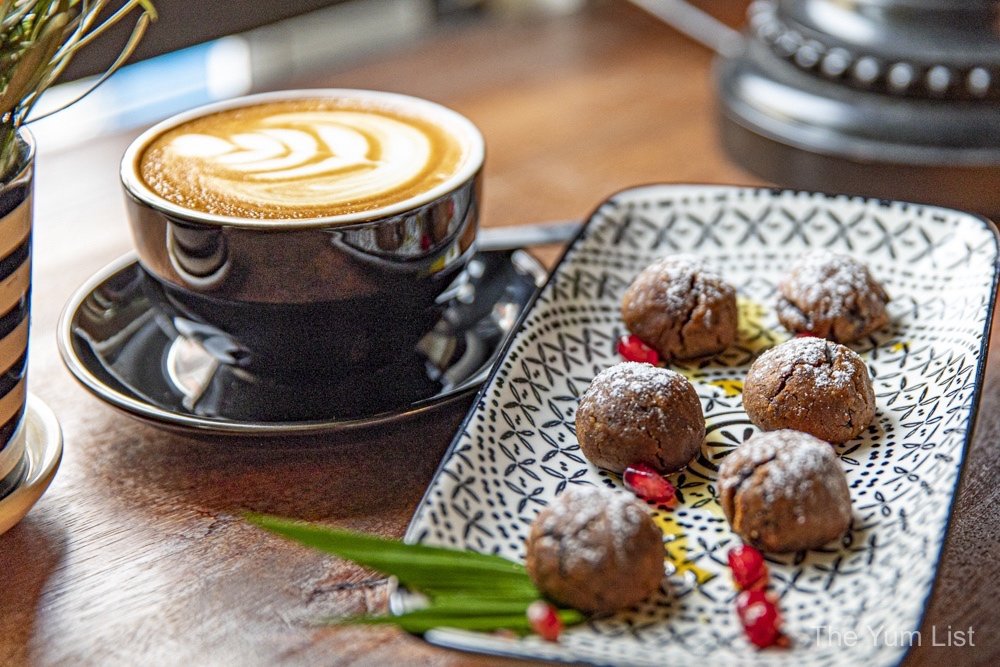 The Hungry Tapir Review
It's about time Kuala Lumpur got a plant-based restaurant of this calibre. I suggest you don't even tell your meat-loving friends that there's no animal protein on the menu. The setting is so darn gorgeous, and the food is varied and fabulous that I bet that the absence of meat will not even cross their minds.
Reasons to visit The Hungry Tapir: beautiful setting; excellent and varied plant-based menu.




The Hungry Tapir
135 (1st floor), Jalan Petaling, Chinatown
City Center, 5000 KL – directly above Hawker Chan
Malaysia
www.facebook.com/thehungrytapir
The Hungry Tapir Opening Hours
Wednesday to Friday: 12 noon – 10 pm
Saturday & Sunday: 11 am – 10 pm
Find more vegetarian restaurants in KL here, and stay up-to-date on the latest food and beverage happenings in Malaysia here and here.