Champignons at Oasis
Words: Monica Tindall Photos: Rich Callahan
Some food is worth travelling for, and our recent degustation menu at Champignons at Oasis was one such meal.
Set on the ground floor of a group of shops in Ara Damansara, Champignons at Oasis has a cosy feel with both indoor and outdoor seating. A changing gallery of contemporary art pieces brighten the walls, and light shades rouse a feeling of warmth. Vases of dried flowers adorn wooden tables, and a marble bar backs the restaurant.
Chef Gary Chang brings years of international experience to the kitchen. Building on French cooking techniques, he crafts recipes incorporating Malaysian ingredients to create a cuisine all of his own. Today we get a taste for some of his signatures in a wine-paired degustation menu (Food RM218+, Wine RM120+ – minimum four pax).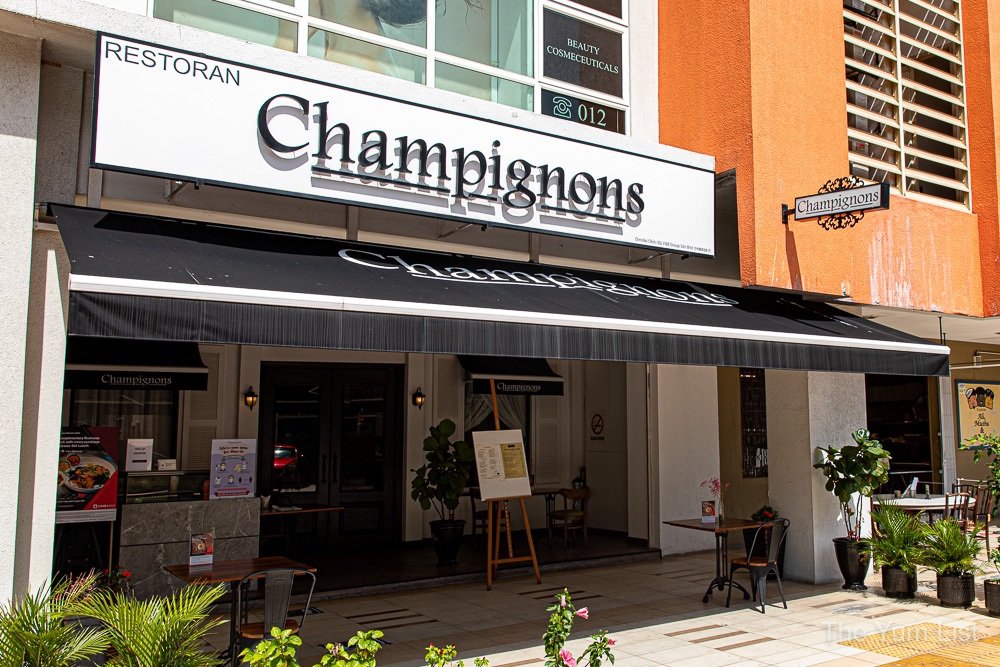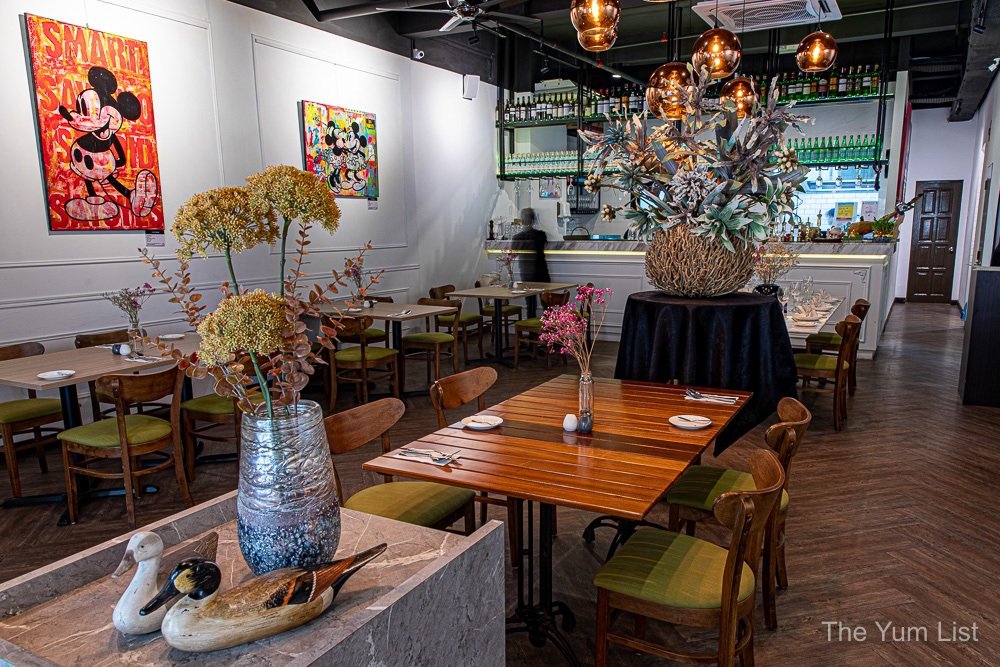 Champignons at Oasis Degustation Menu
Amuse Bouche
A duo of bites is beautifully presented atop a wooden bowl filled with pebbles. A spoon of delicate layers of lime, crabmeat, tomato mousse, a squid ink cracker and lemon gel introduce subtle flavours reaching all corners of the mouth. Broccoli and Roquefort make for a green topping on a polenta chip in the second bite, leading in with both crunchy and soft textures.
Piccini Prosecco Doc Extra Dry from Veneto, Italy (RM218) acts as an escort. This easy-drinking bubbly is full of fruit both in the bouquet and on the palate. It's fresh and vibrant with fine bubbles, cleansing the palate and bridging the amuse bouche and first course.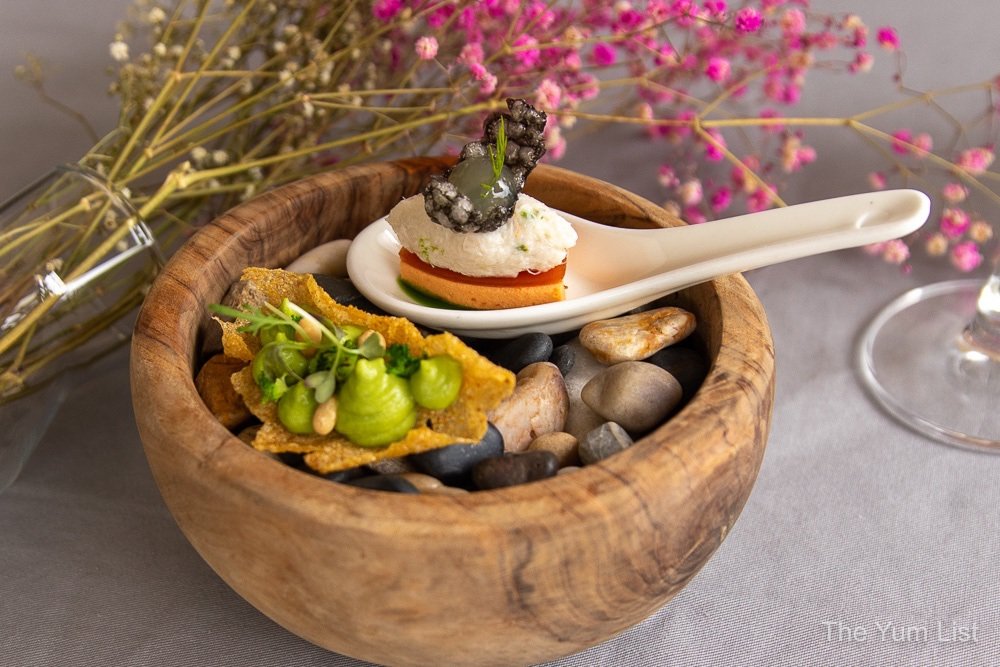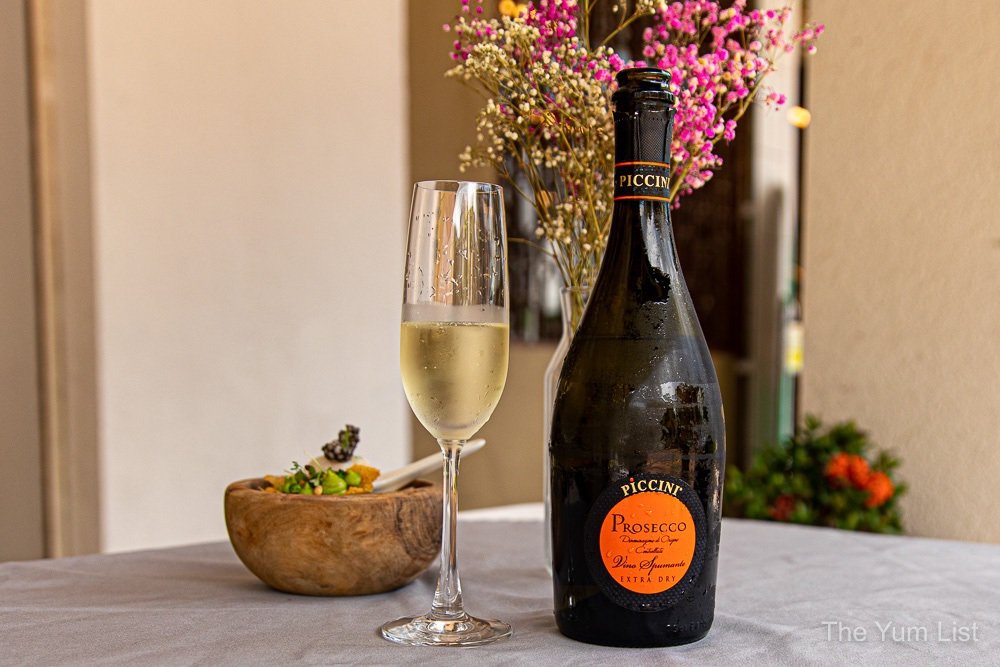 First Course
Striking plating continues to the first course with Citrus Confit Norwegian Salmon (RM35). First cured and then confit in lemon oil, the fish is fantastically soft with an even texture. Salmon roe and gold leaf elegantly garnish the crown. It's sided with pickled root vegetables and horseradish sauce. Chef Gary comments that as he ages, he appreciates more acidity in food. He likens taste buds to life; sometimes you get sweet salty, and sometimes you get bitter and sour.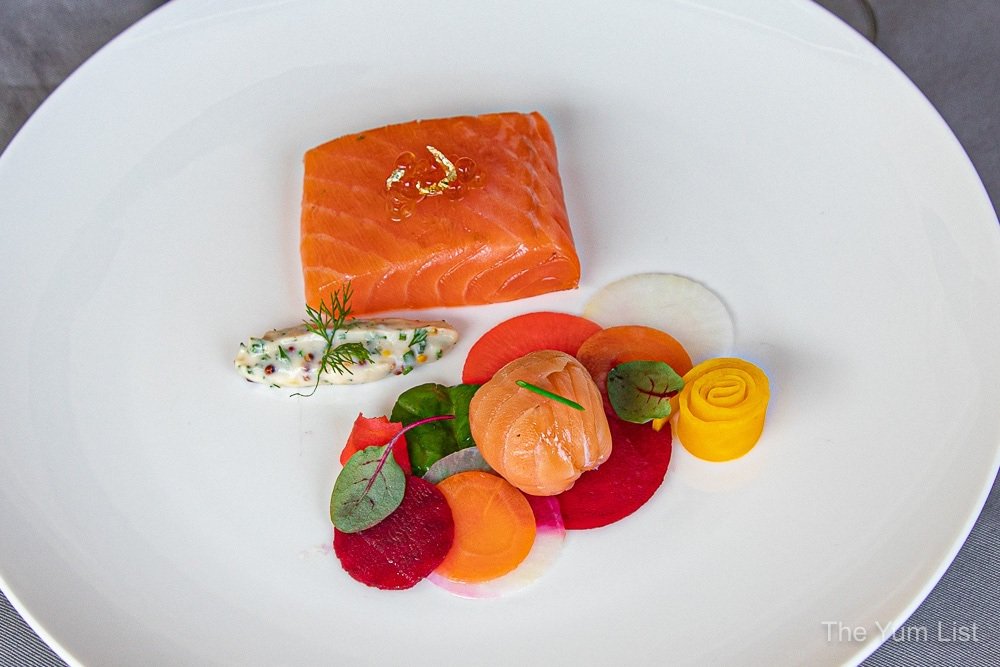 Second Course
Chef's seven years in Macau influenced the seasoning of the Aromatic Spiced French Duck Breast (RM80). Bringing his knowledge of different kinds of Sichuan pepper to the recipe, he has incorporated the green type for its aromatics along with black pepper in the crispy, roasted skin. The perfume is softly citrus and floral – something special. A long purple carrot, lightly brushed with an orange-juice glaze, crosses the plate. Truffle celeriac, mushroom puree and duck jus support the earthy notes in the dish.
Chef Gary first introduced me to the Sileni Hawke's Bay Pinot Noir, 2016 (RM190) from New Zealand during the MCO. It's a highly enjoyable wine, and I'm happy to have it again here today. Dark berries bring the bouquet to the nose with a touch of earthiness in the finish. It's smooth drinking with a lingering finish; well-suited to the depth of flavour found in the duck.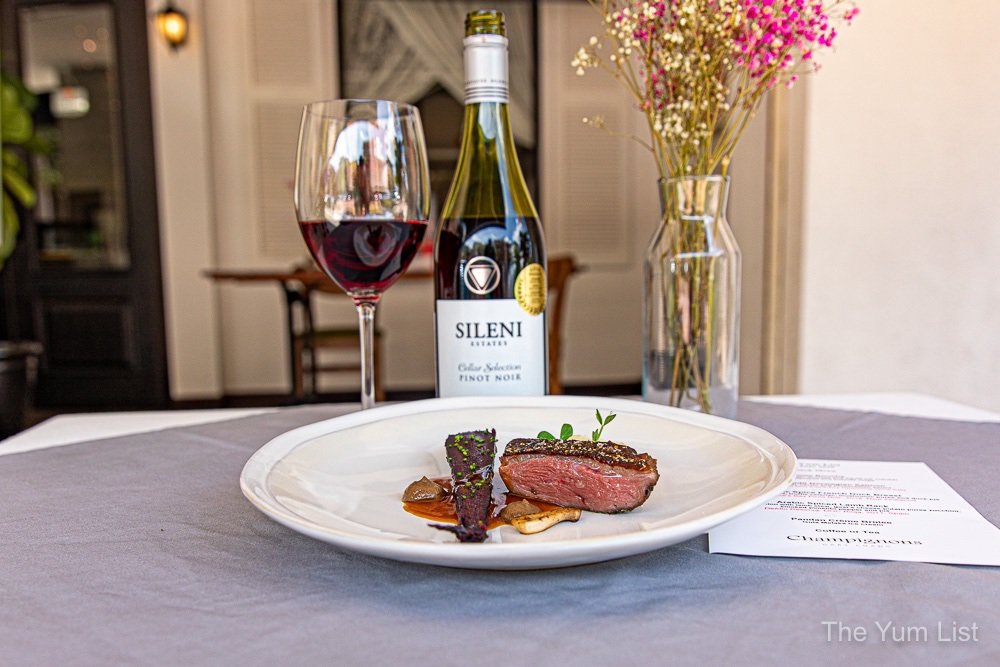 Main
Next, the Arabic Spiced Lamb Rack (RM85) has been grilled until the fat is crispy yet the middle remains tender, juicy and pink throughout. Its meatiness is balanced with fennel, coriander and cumin seeds. And, in this dish, don't forget to eat your veggies! What chef calls an "enhanced" baked onion has been stuffed with lamb stew and based with a roasted pepper sauce. Even the potato puree has been pimped with goat cheese.
Another lovely wine is presented as a partner for the lamb, DeAlto Reserva, DOC Rioja, 2011, Spain (RM280). Mostly Tempranillo with 15% Graciano and 5% Garnacha, the wine is a typical expression of this region. Berries dominate the aromatics with a whisper of tobacco and vanilla. The body is full with more fruit filling the mouth and going out with a hint of black pepper. There's sufficient acidity to slice through the fattiness of the lamb, and the berries play well with the seasoning in the meat.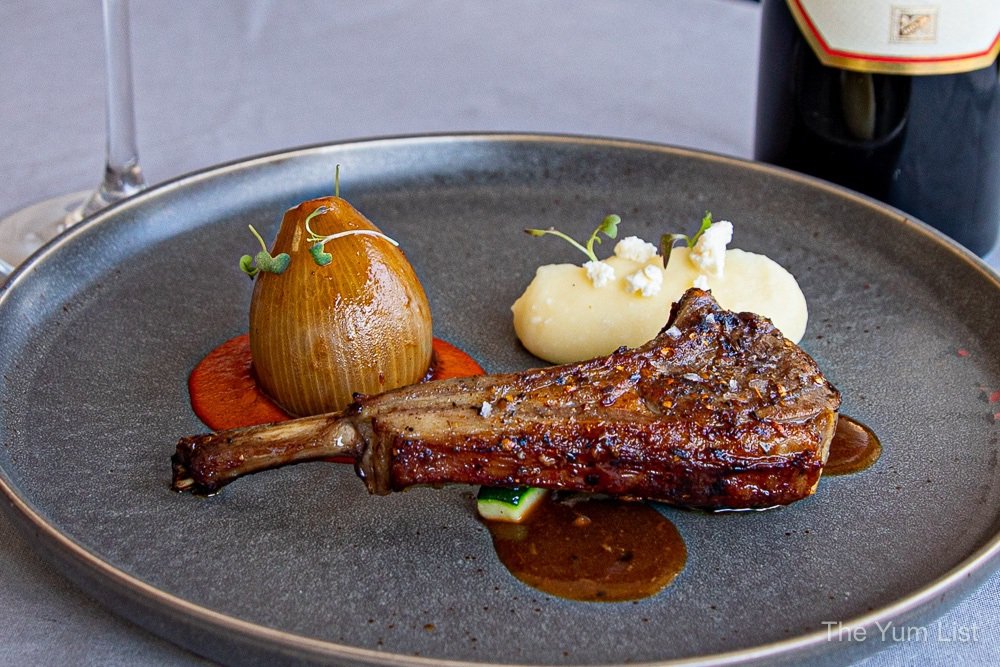 Dessert
Concluding the meal, a local splash of green is found in the Pandan Crème Brûlée (RM24) with screwpine substituting the traditional western vanilla. An elegant crisp of caramelized sugar breaks way to the smooth custard base. Gula Melaka ice cream amplifies the local twist reminding us of cendol.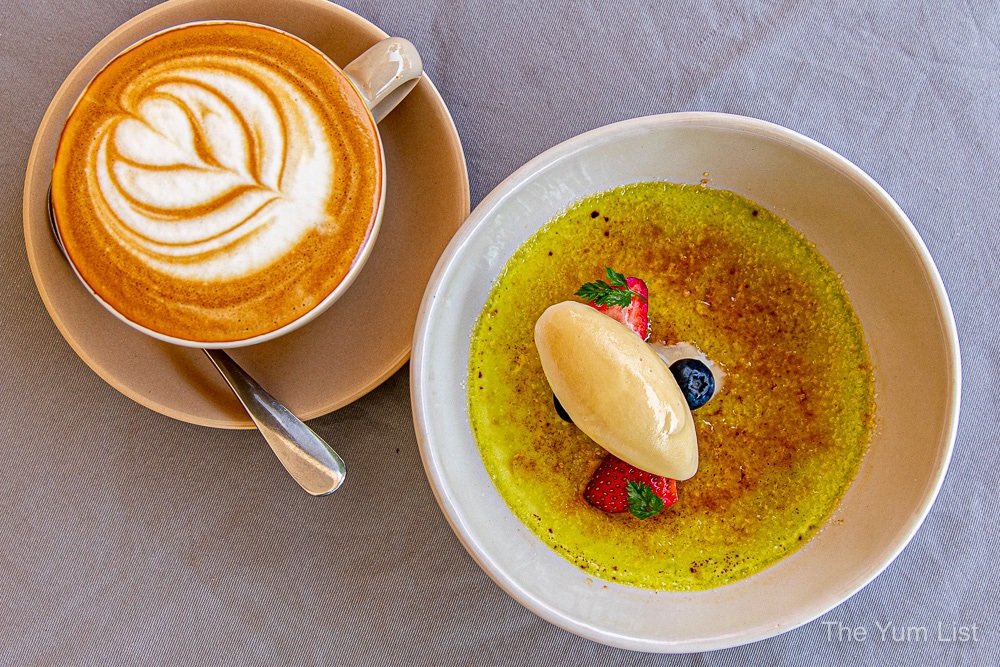 Coffee or Tea
Coffee or tea wrap up the degustation, and even this is not a simple afterthought. Single-origin beans from Sumatra are roasted locally providing a darker roast with bitter chocolate notes in the finish. It goes well with milk, but I imagine it would be appealing to long black drinkers too.
Reasons to visit Champignons at Oasis: a delightful location and serious menu; well-plated food and unique recipes that can only be found here; lovely spot for an intimate evening with someone special; a chef who is passionate about developing his methods and creating an experience for all to enjoy.
Champignons at Oasis
B-G-02, Oasis Square, Ara Damansara,
47301, Petaling Jaya, Malaysia
+6 03 7832 2629
www.facebook.com/ChampignonsOasis
Champignons at Oasis Opening Hours
Tuesday to Monday
Lunch: 11:30 am – 3 pm
Dinner: 6 pm – 10 pm
Find more restaurants suitable for special occasions here. And, stay up to date with the latest food and beverage happenings in KL here and here.