Private Pool Villas Malaysia – Safe Travel Post-COVID-19?
Monica Tindall
The urge to cross the border when the CMCO was lifted in Malaysia was significant for us. But still, the desire to be safe and avoid any possibility of contagion was an equally opposing force. In making decisions to travel, we studied lists arranging the level of risk of various activities. Anything that has you around other people for extended periods, such as visiting the cinema, air travel and hotel buffets are in the high-risk zone. Most things involving open-air and social distancing fall in the lower-risk category. Hence, our decision to spend some time in Ambong Pool Villas seemed a pretty low risk, high luxury choice.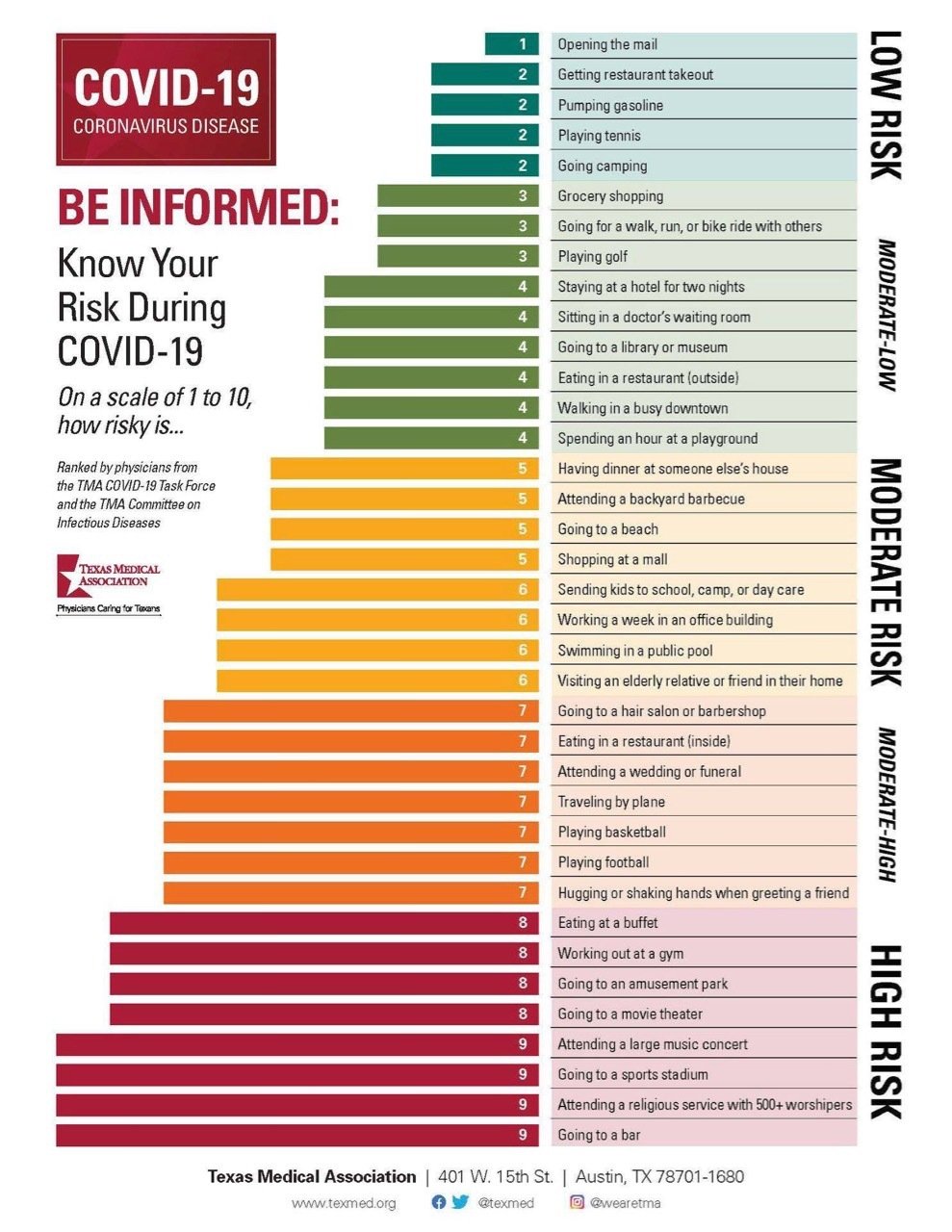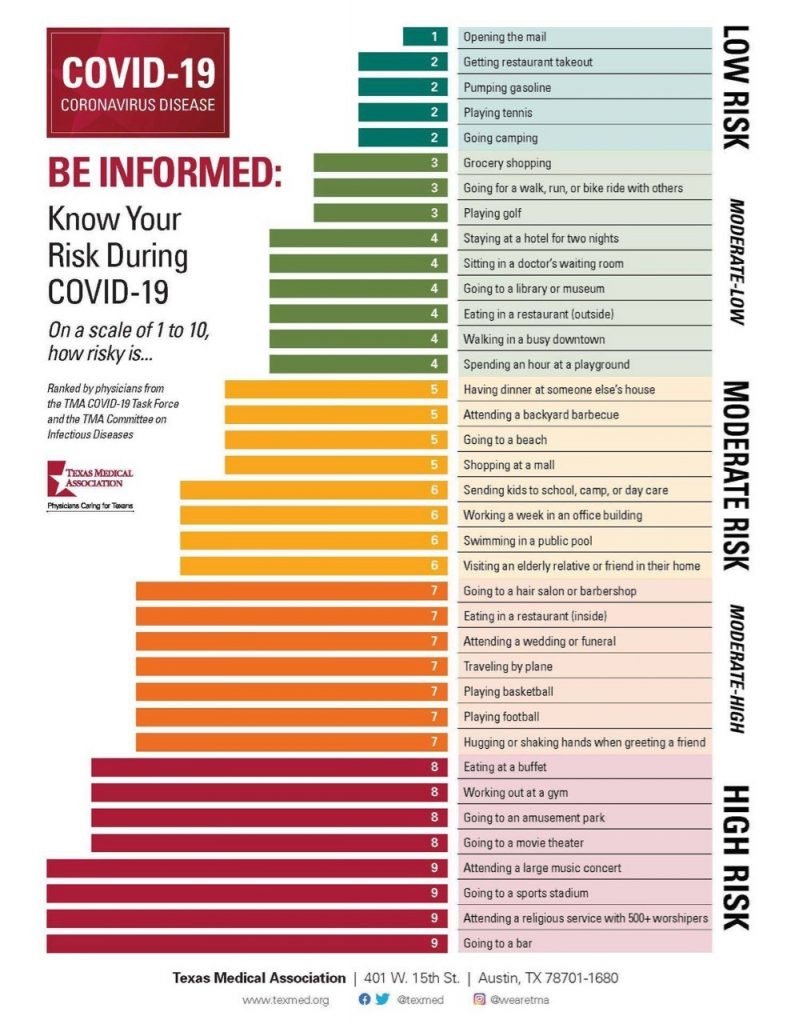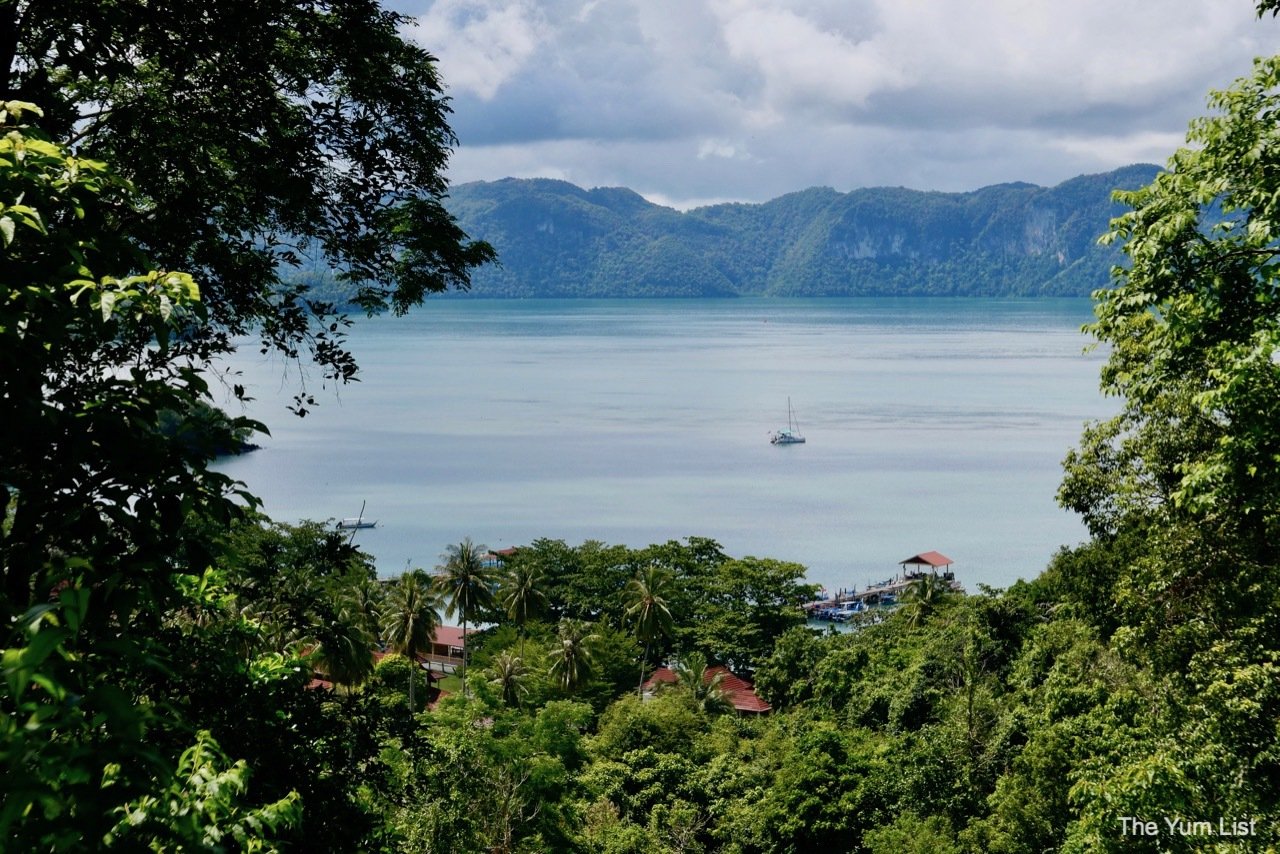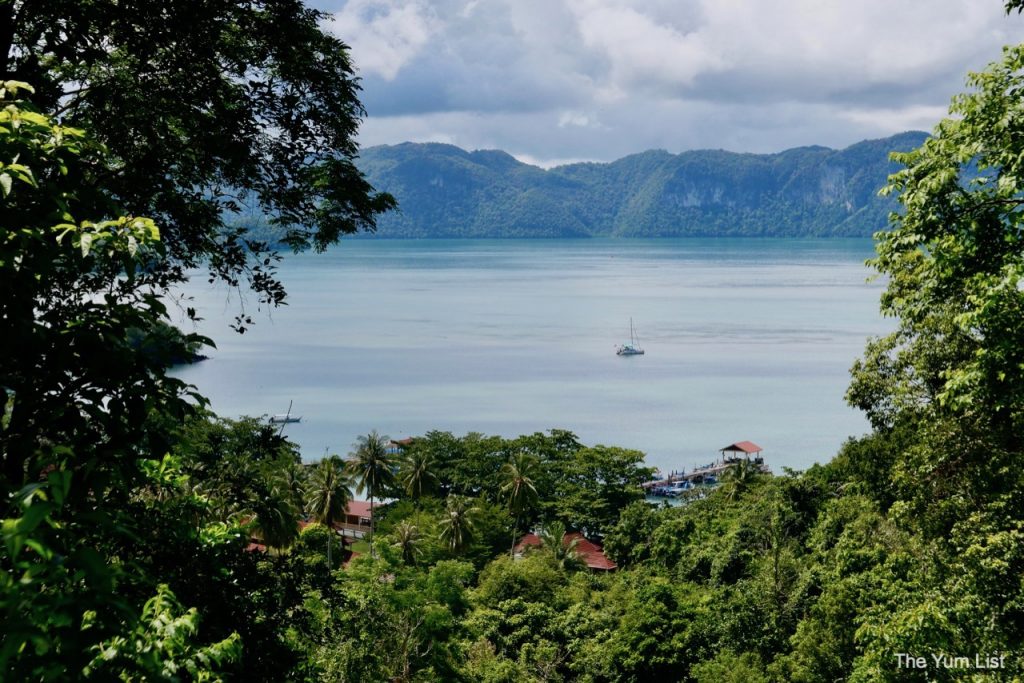 Private Pool Villas Malaysia
With only nine rooms at Ambong Pool Villas, and each offering a private pool and self-contained accommodation, the risk of coming into close contact with others is minute. Rooms are not only cleaned but sterilized daily. Luggage is sterilized upon check-in. No outside guests are allowed in villas other than those registered. All guests and staff have daily temperature checks. Staff follow standard operating procedures of social distancing, hand washing and use of face masks.
Additionally, tables are well-spaced in the dining outlets, touchless menus are available, and limited outside diners are admitted on a reservation-only basis. All meals can be taken in-villa, avoiding contact with anyone other than service staff. It's pretty much as safe as staying in my own home, but I bet the quality of cleaning is much better here than we do ourselves!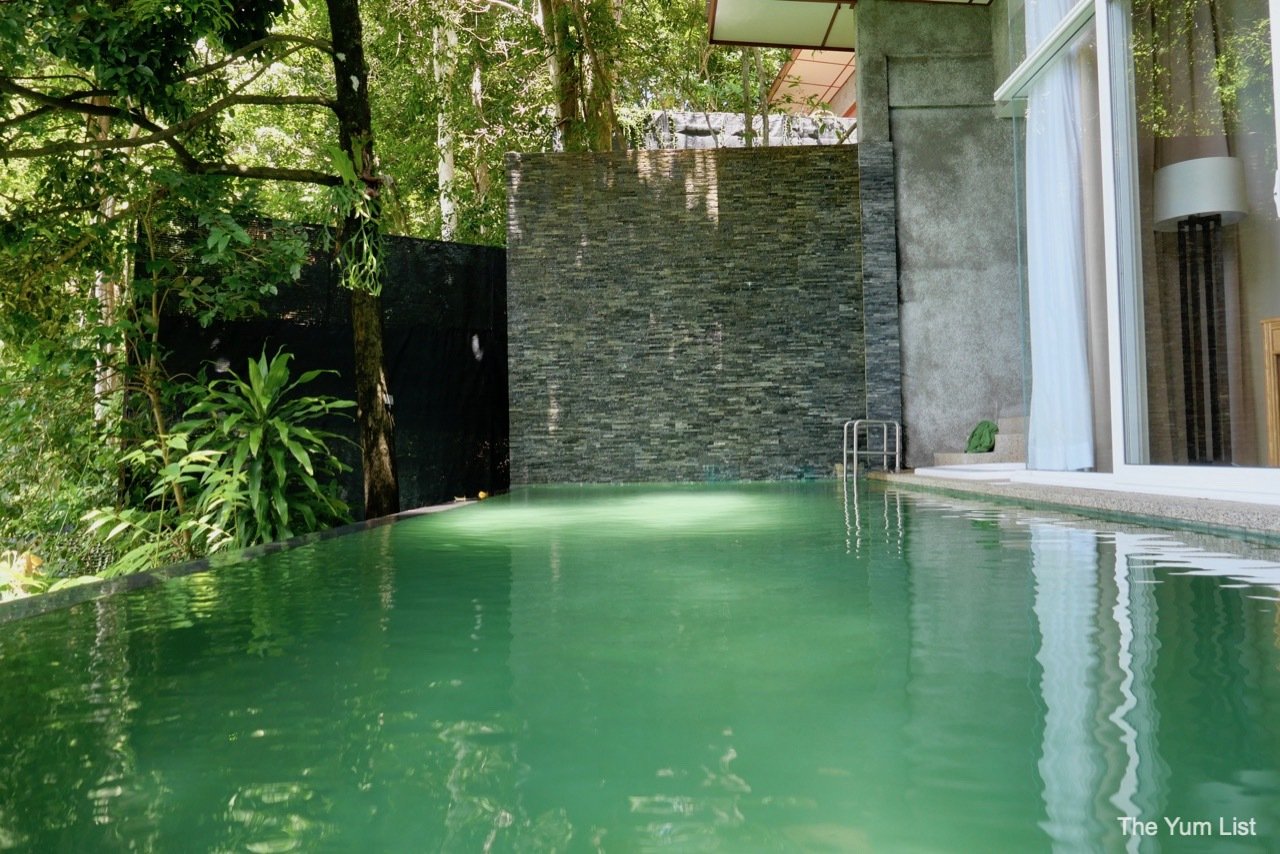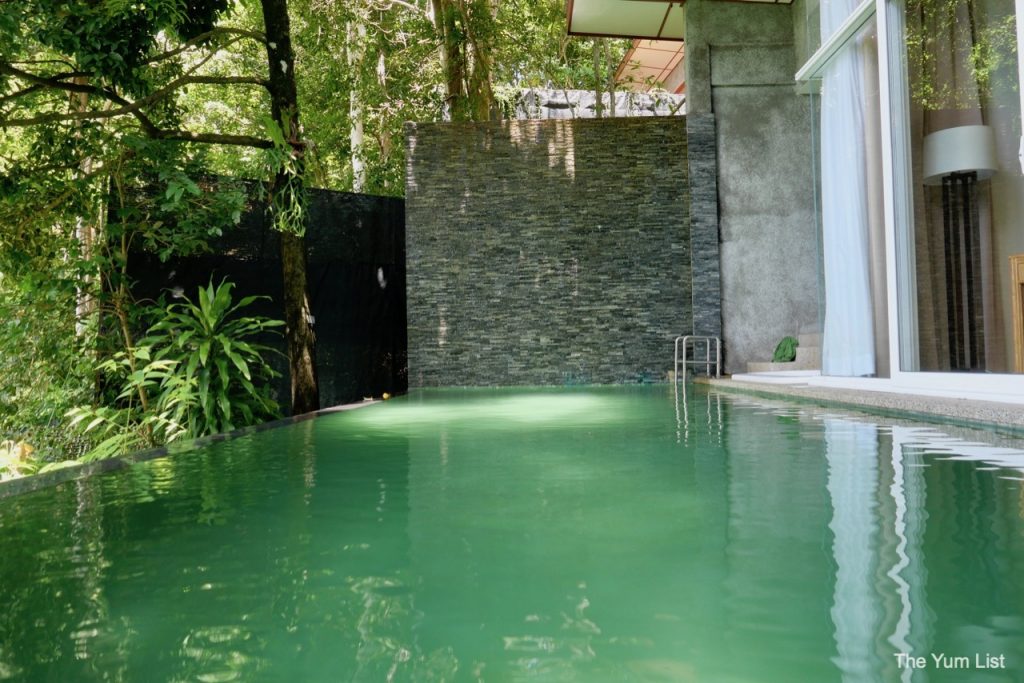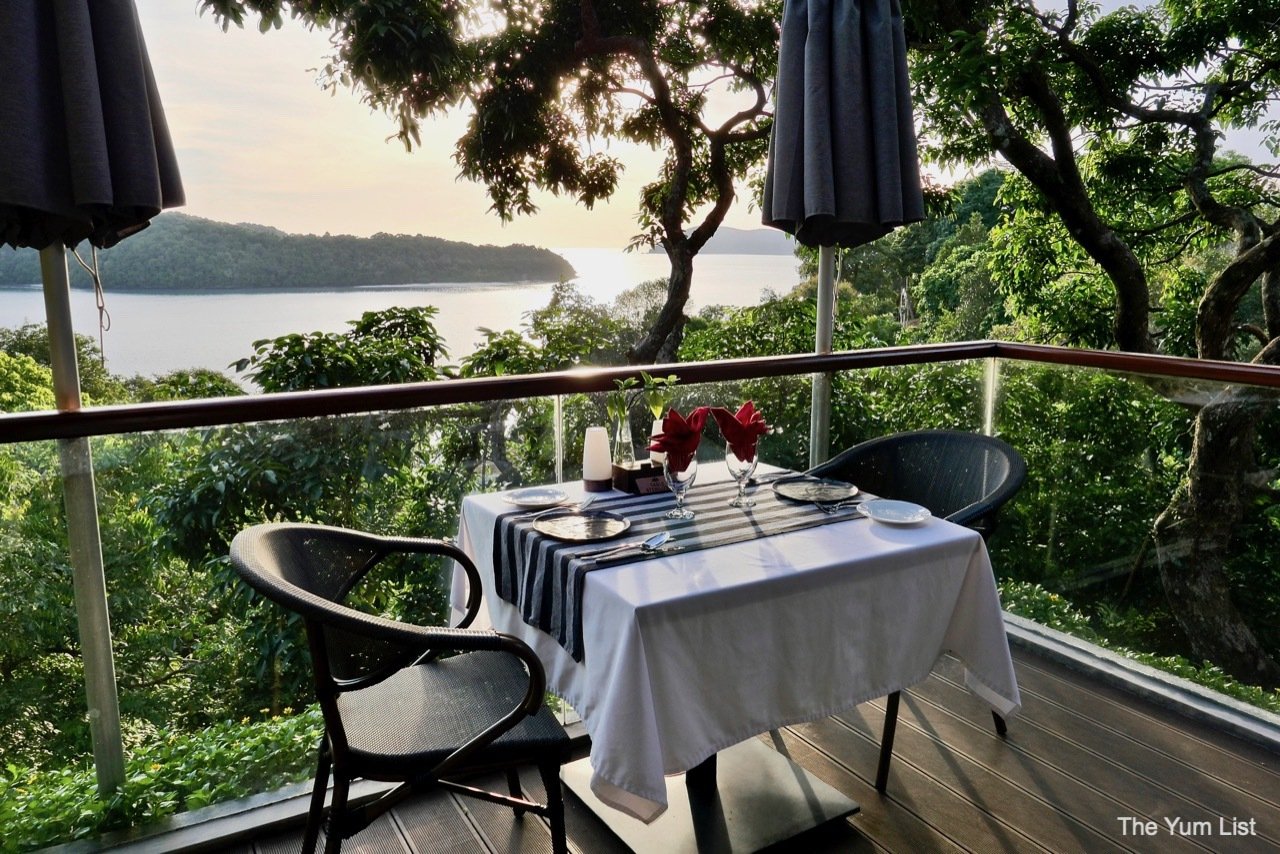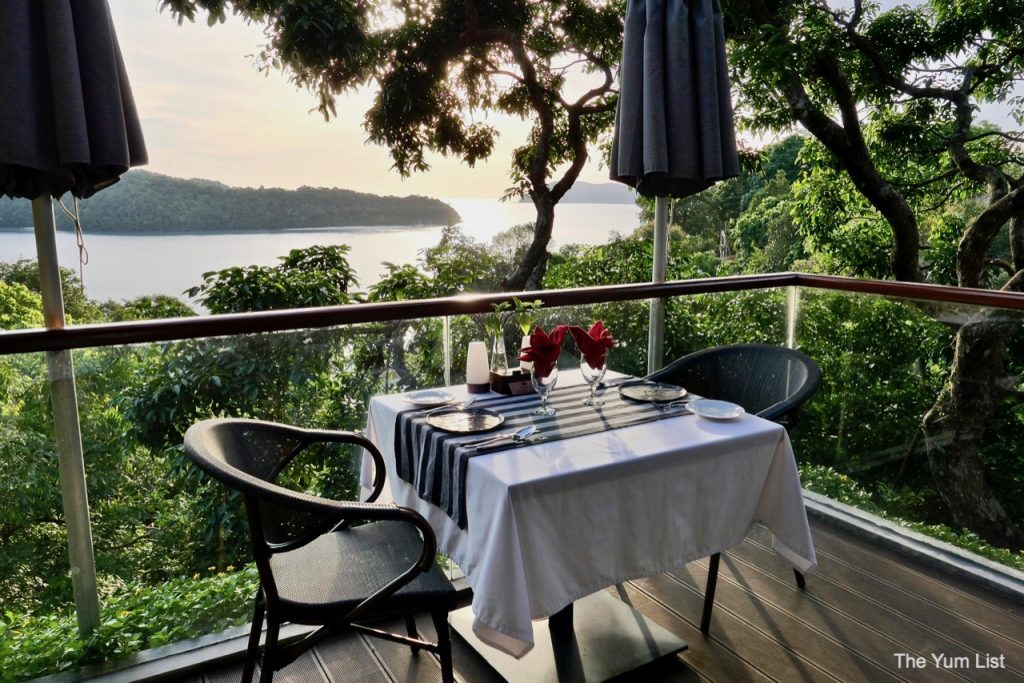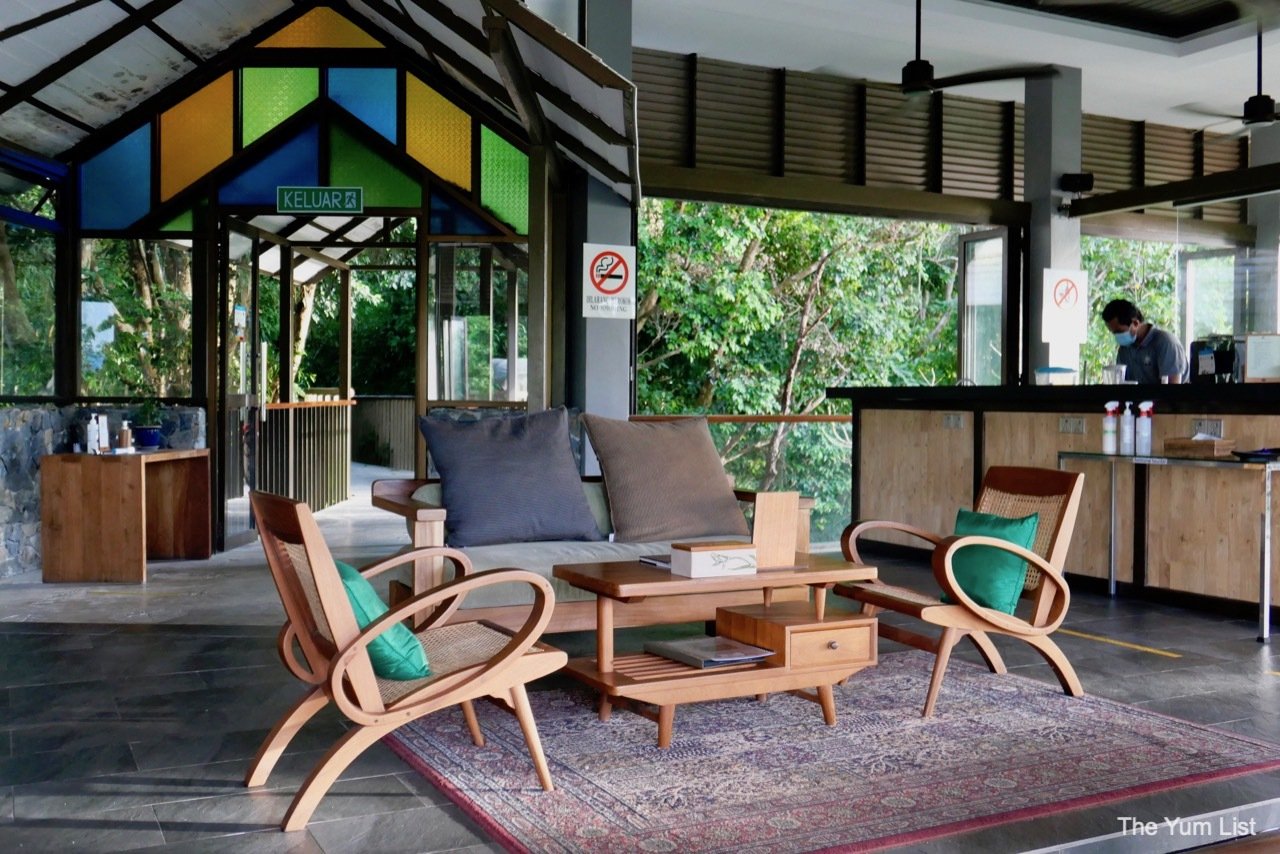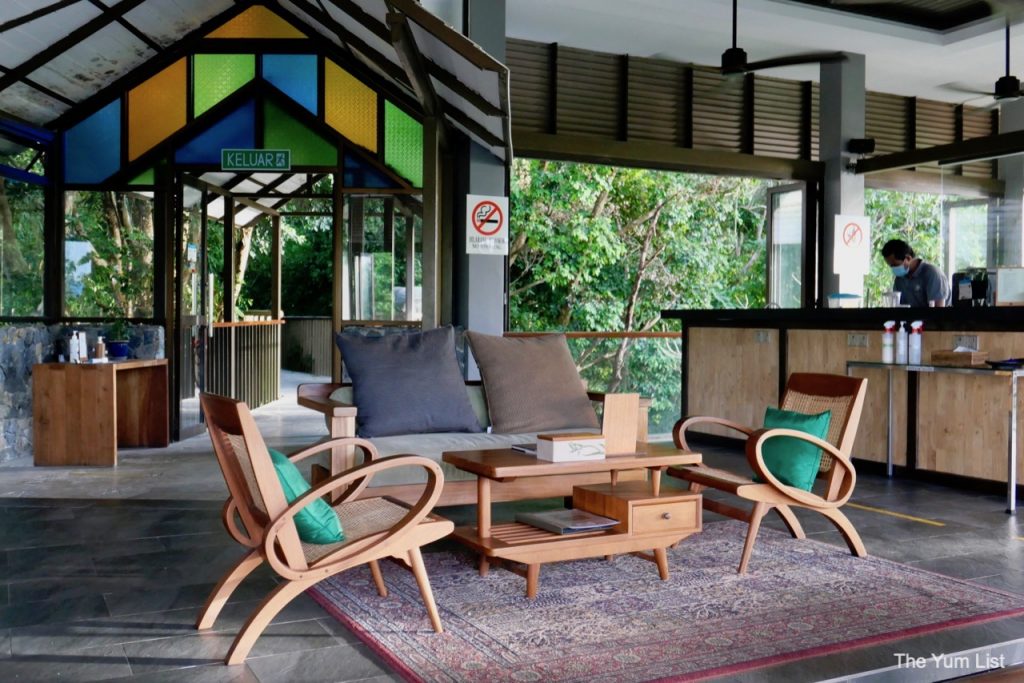 Villa Malut
All accommodation at Ambong Pool Villas either faces the sunrise or sunset. Nested on a peak at the end of Pantai Tengah, the private pool villas benefit from sea views on both sides. Quarters are spacious, and all are composed of a separate bedroom and living area, bathroom, outdoor kitchen, patio and pool, in varying configurations depending on the villa.
Our first visit was in Villa 6, facing the sunset. This time we rise with the sun in Villa 5 – Malut. Endowed with the shade of a lofty bogor tree, the villa is especially cool even in the warm tropical weather. Sit for a while outdoors and you'll for sure spot hornbills, monkeys, squirrels and a collection of birds and butterflies I can only hope to one day name.
Facing Teluk Baru, not only do we catch the morning sun's ray, but also glimpses of fishermen going out to sea. Further beyond, there's Dayang Bunting Marble Geoforest Park. The layers of green and water cascading from our immediate foreground all the way to the horizon are peace-inducing in their natural serenity.
Villa Malut can be made up with either a king bed or two super twin singles. A large daybed on the lower split level is my favourite spot to relax. Glass sliding doors open to the pool for direct dipping and the seat is cooled by a ceiling fan doing away for the need for air conditioning during the day. Even though we don't turn it on during our stay, the room is equipped with a 42-inch LCD TV including satellite channels. Additionally, a private Wi-Fi connection makes for speedy Internet; we're surprised at just how fast it is considering we're tucked away on a hilltop amongst the rainforest.
Double vanities in the bathroom are appreciated, and I relish showering with views of the treetops. Not one but two outdoor bathtubs are features in this villa: a wooden one in the garden and a ceramic tub sunken beside the pool. The shower, with dual shower heads – rain and hand-held with a strong massage setting, is big enough for two. Bath products are in large pump containers eliminating single-use packaging and giving a much more luxurious feel.
Outdoors, there's a kitchenette with a full-sized refrigerator, grill oven, toaster, kettle and sink. It's enough to allow for some rudimentary cooking encouraging more extended stays, and tea, coffee (instant and French press) and a few soft drinks are provided. Sunchairs, a dining table and coffee table encourage patio eating (and drinking).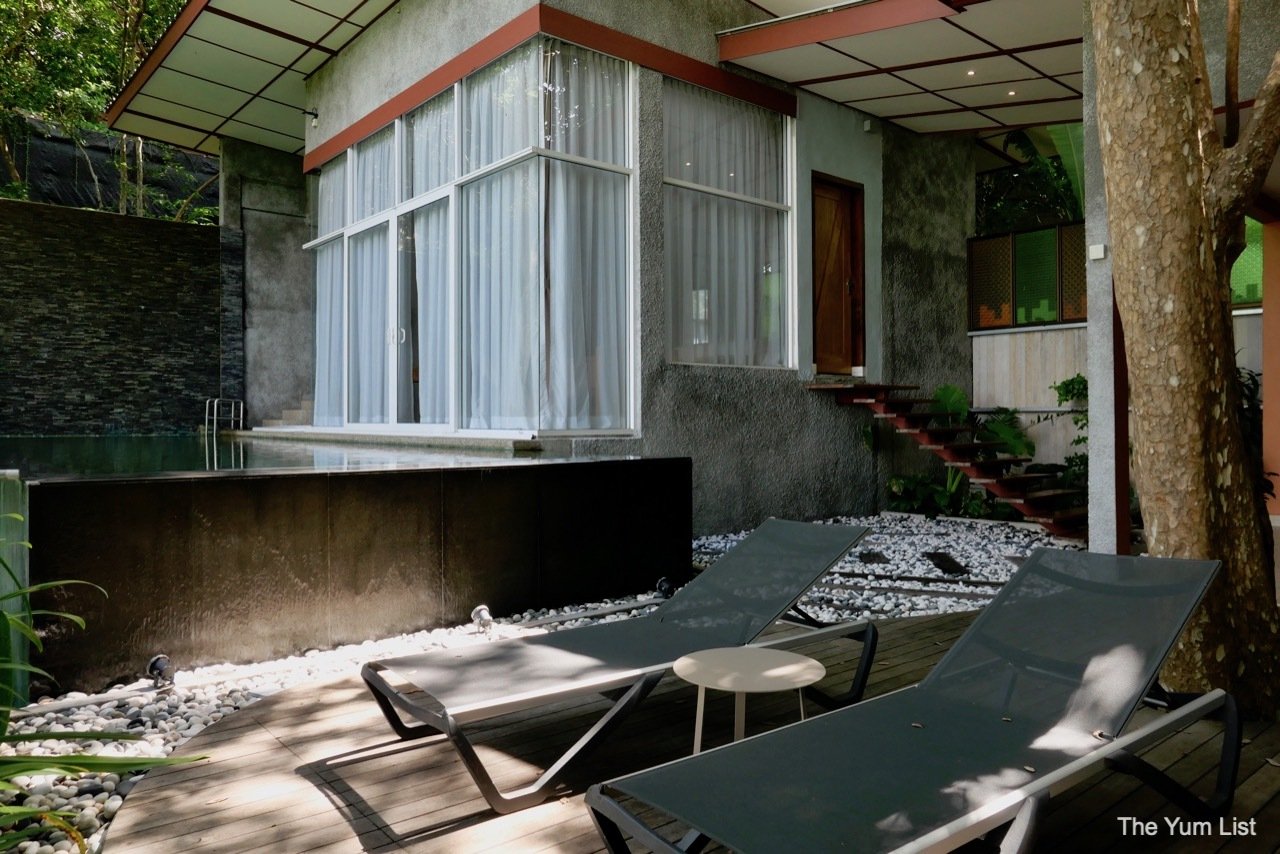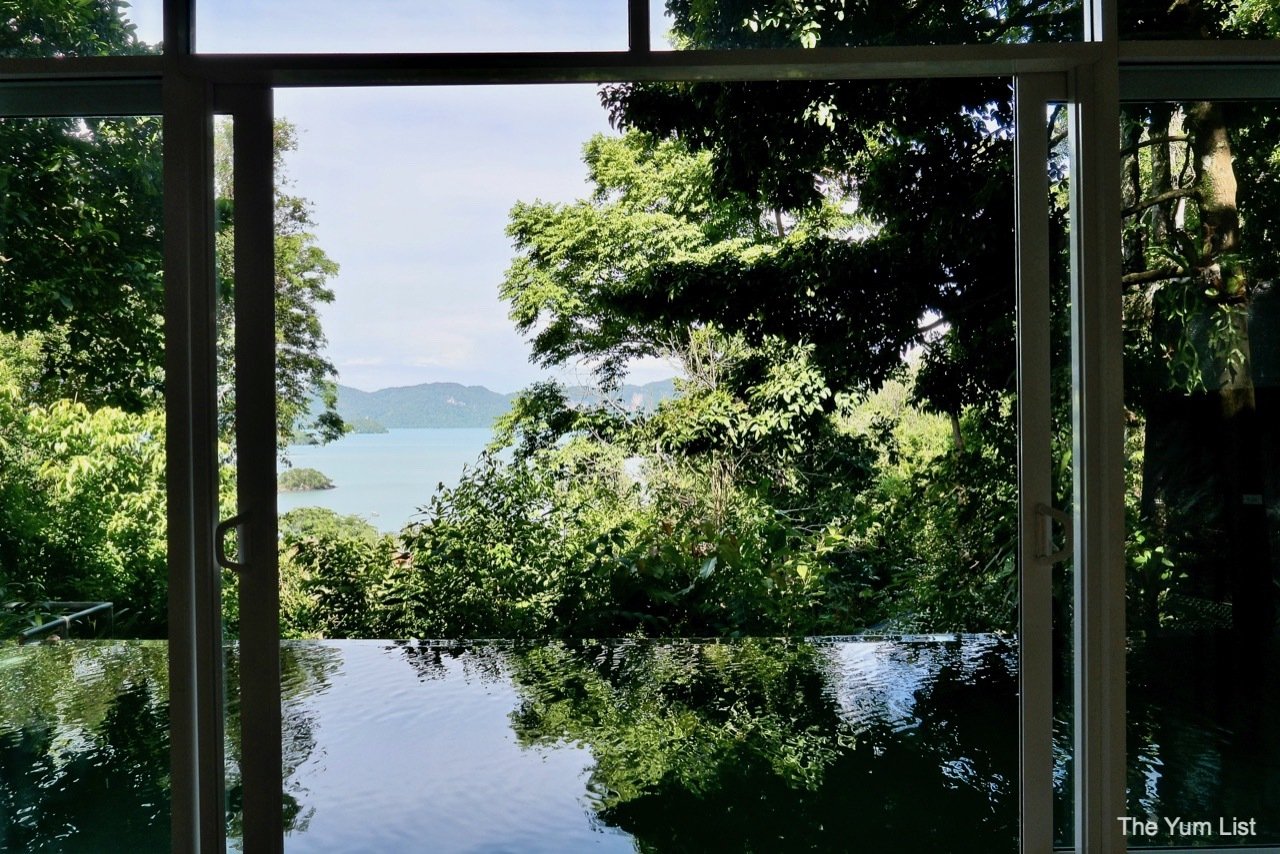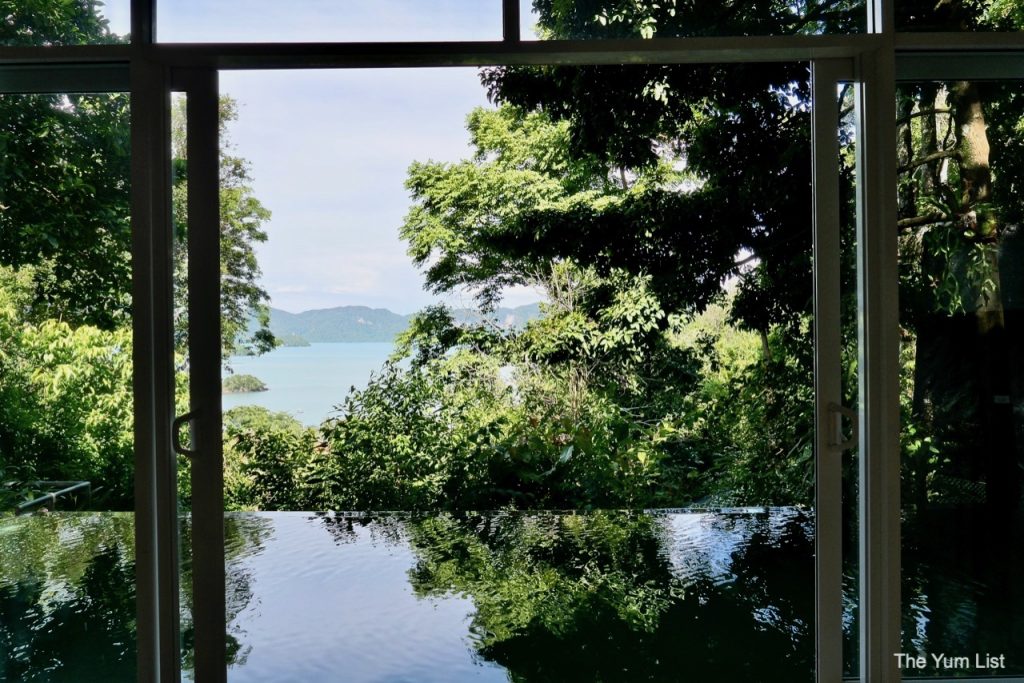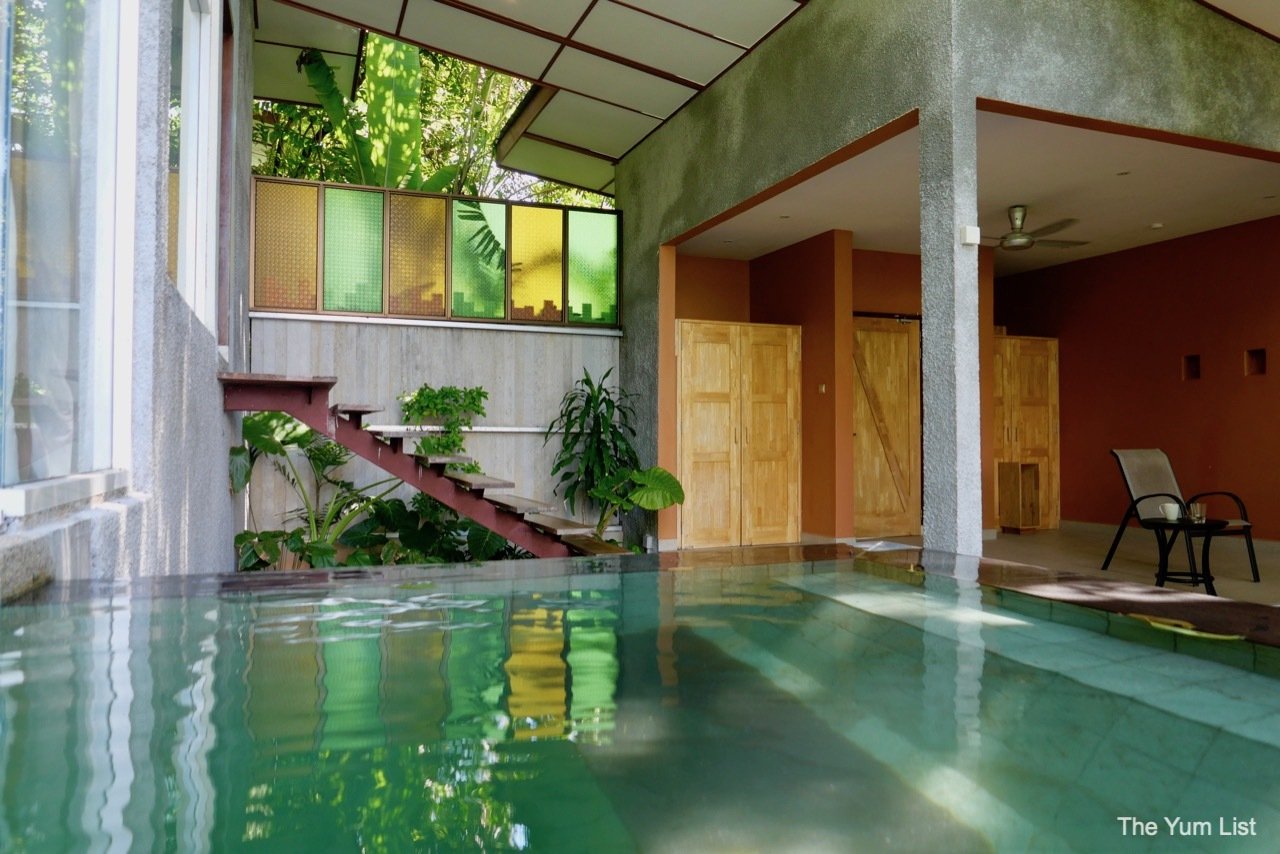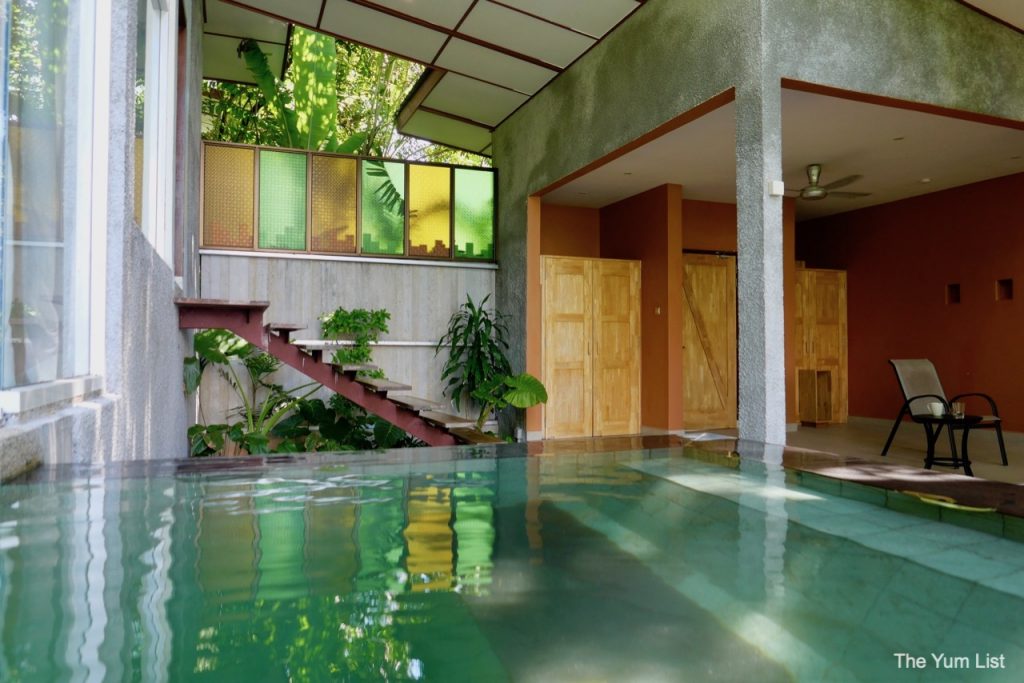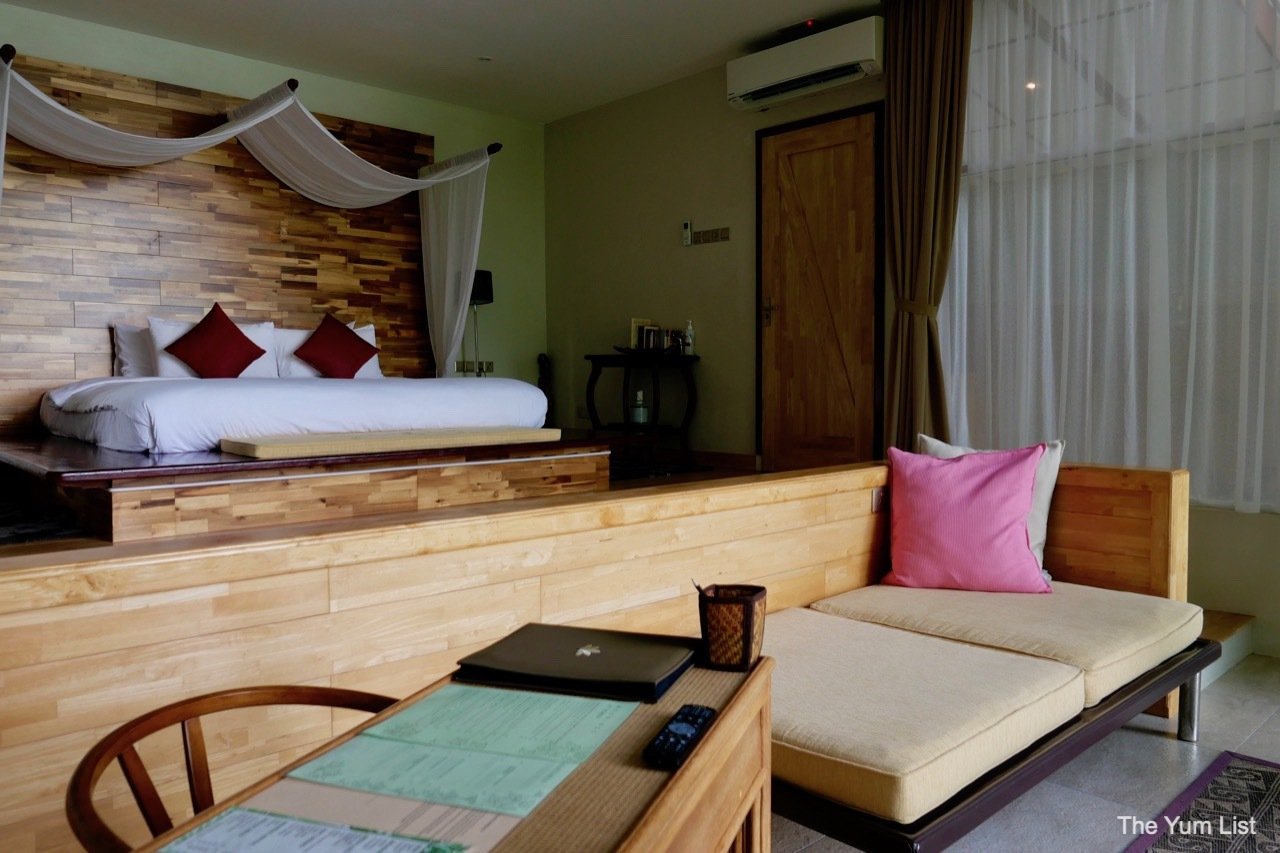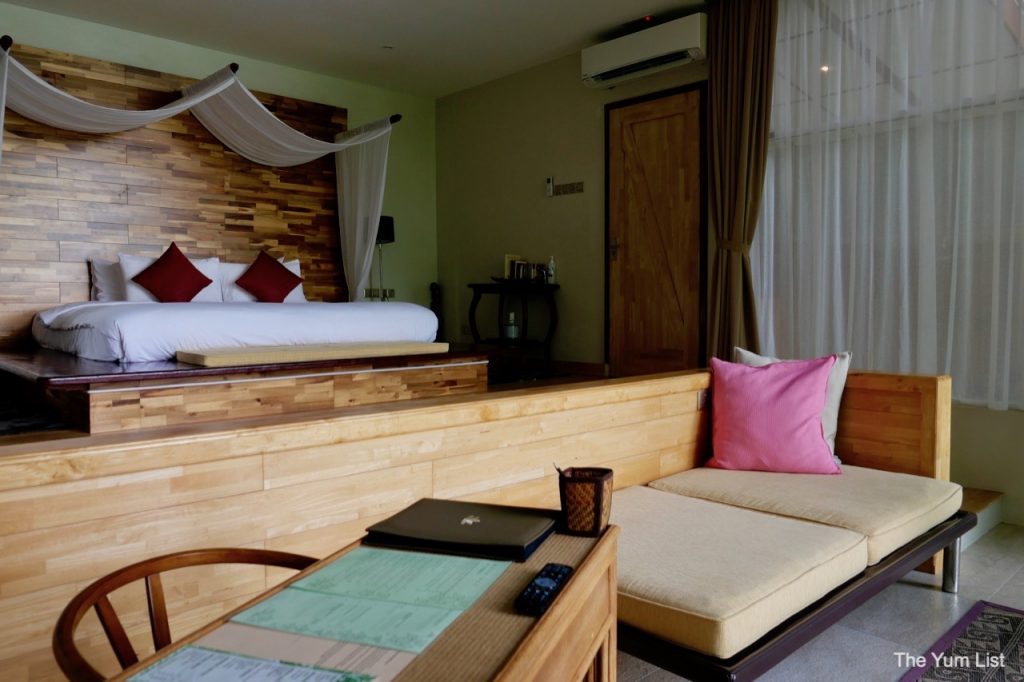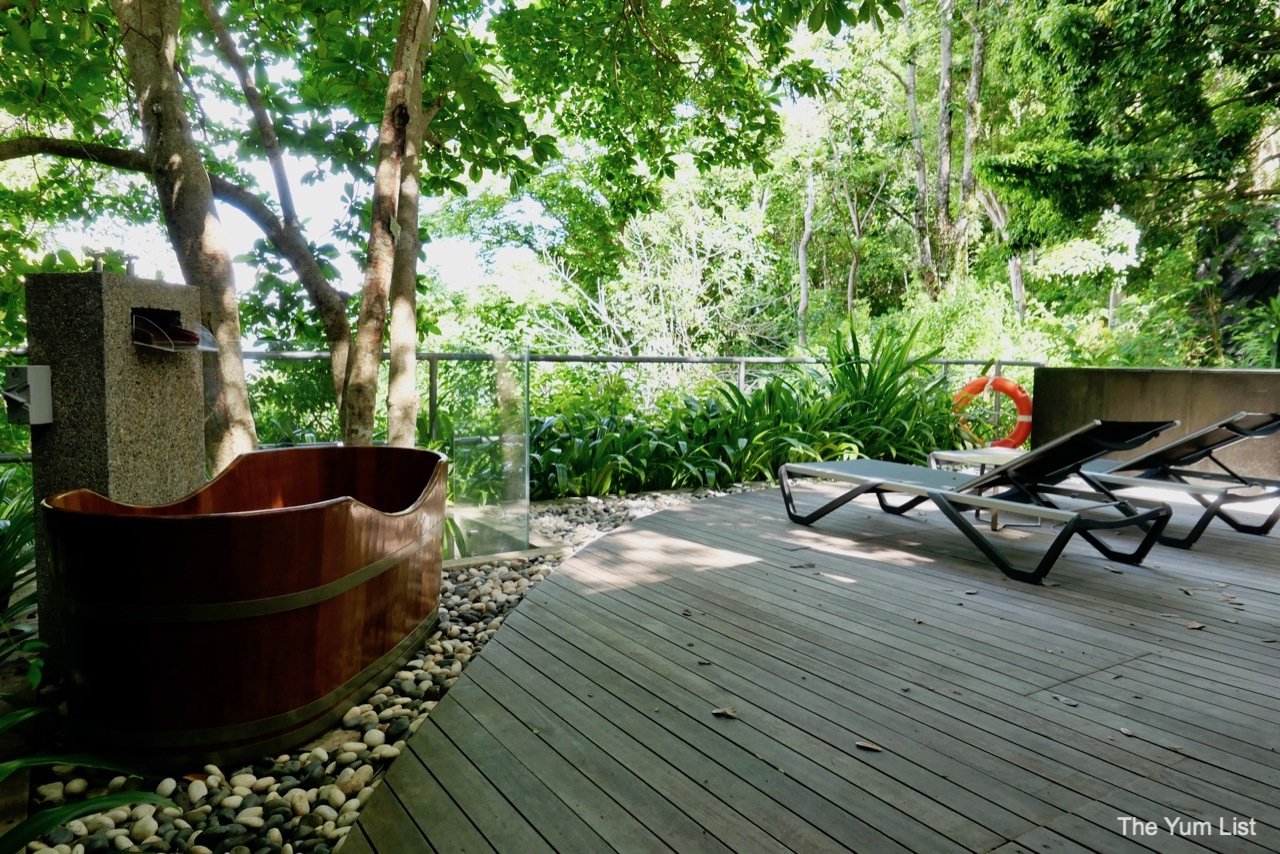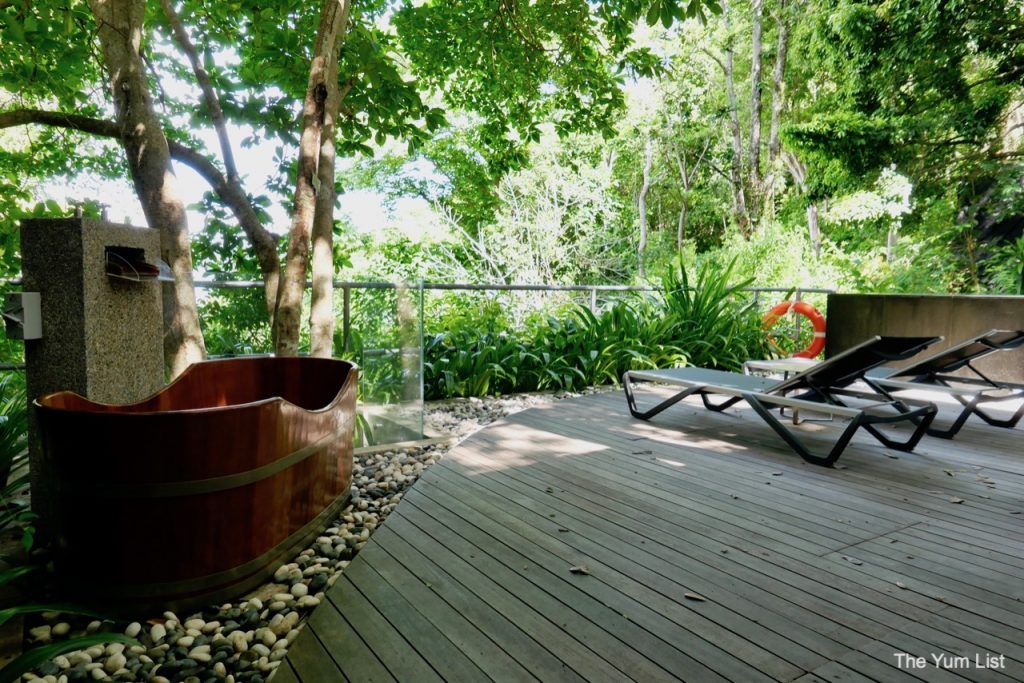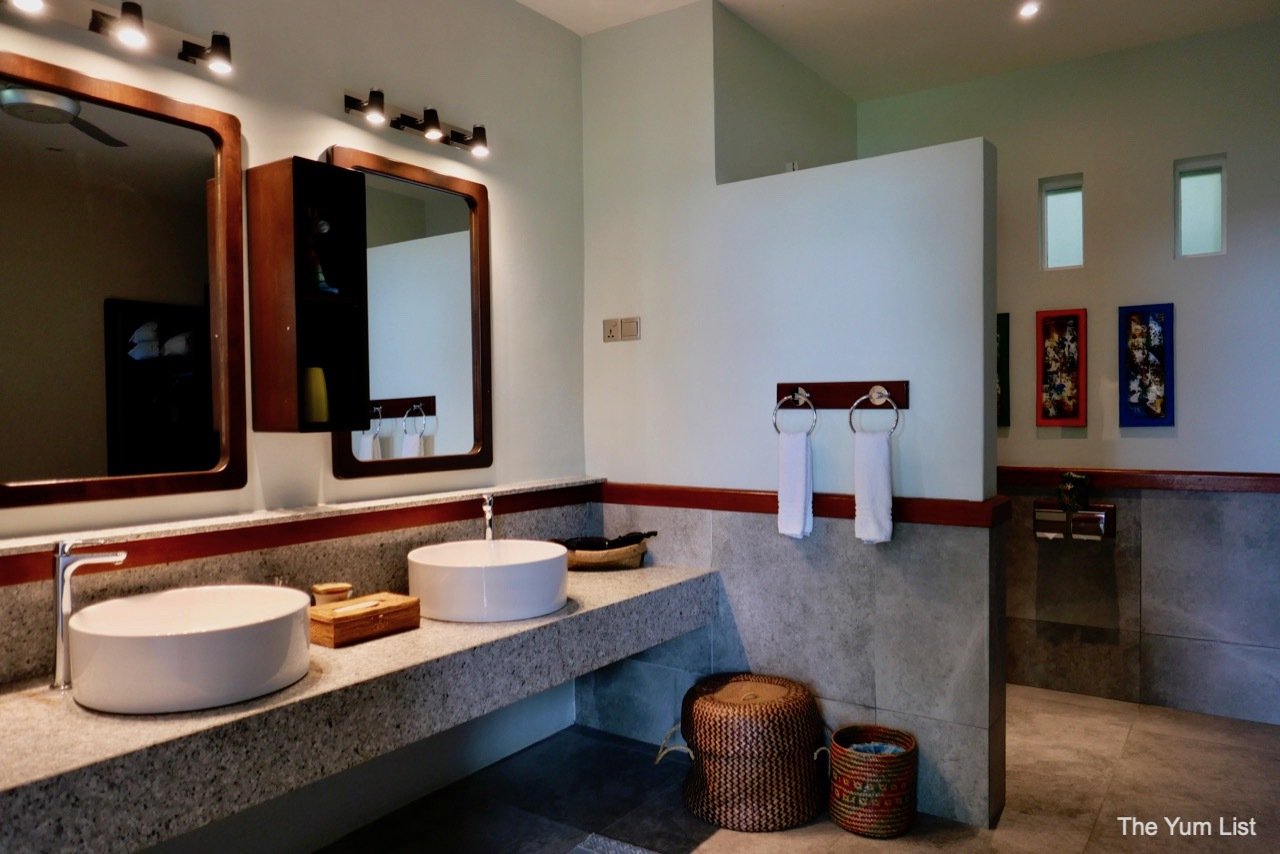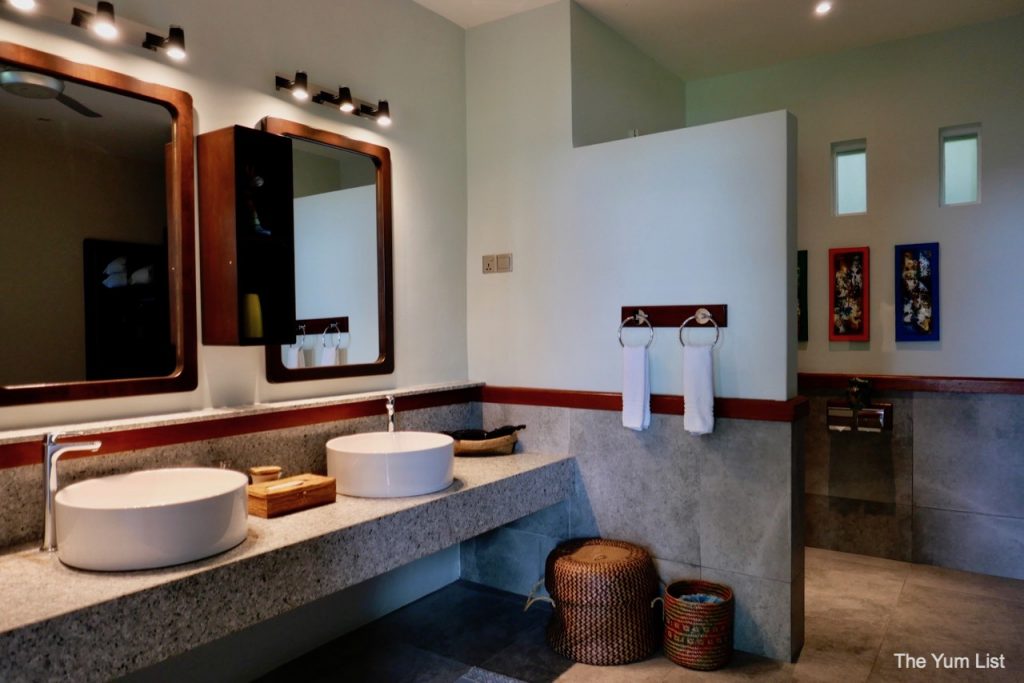 In-Villa Dining – Safe Travels Post-Covid-19
As mentioned, patio dining with distanced seating is a low-risk activity, and both Rimba and Monsoon fit both. Those wanting complete isolation, however, might choose in-villa dining. There's good variety on the house menu with local, international and healthy choices available.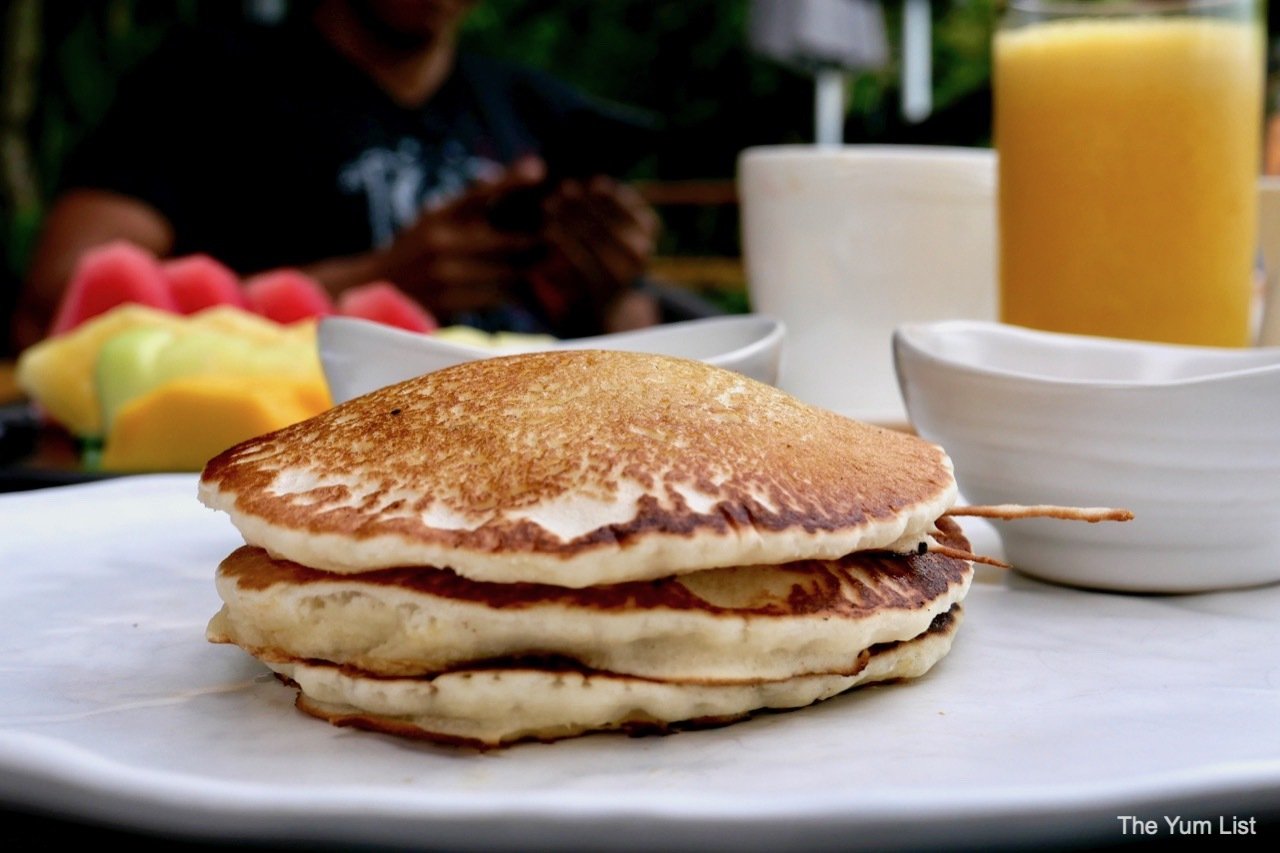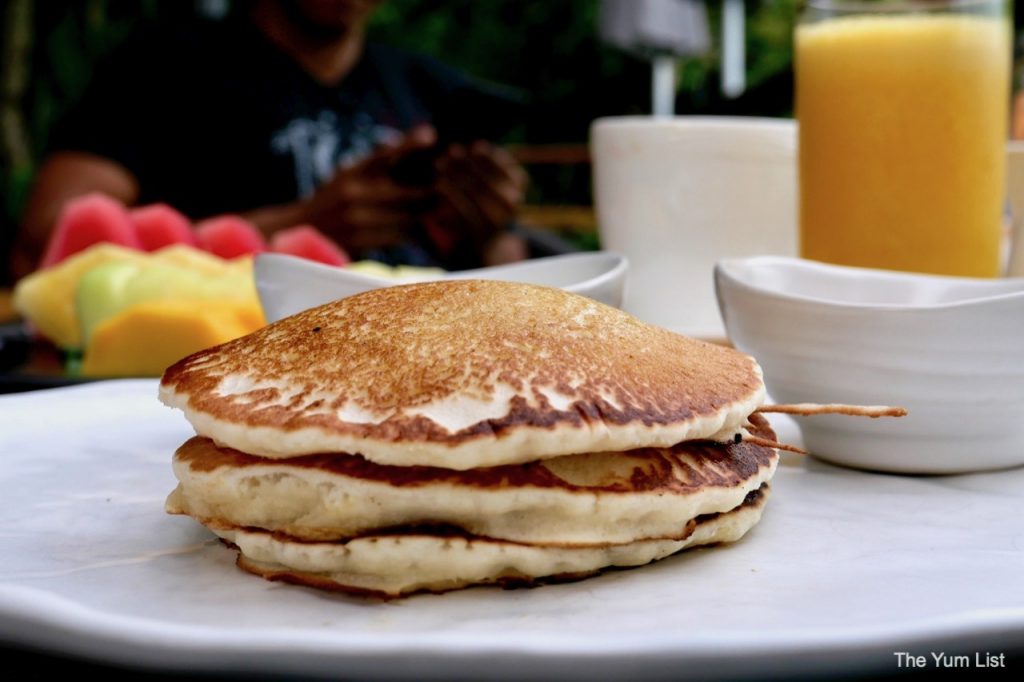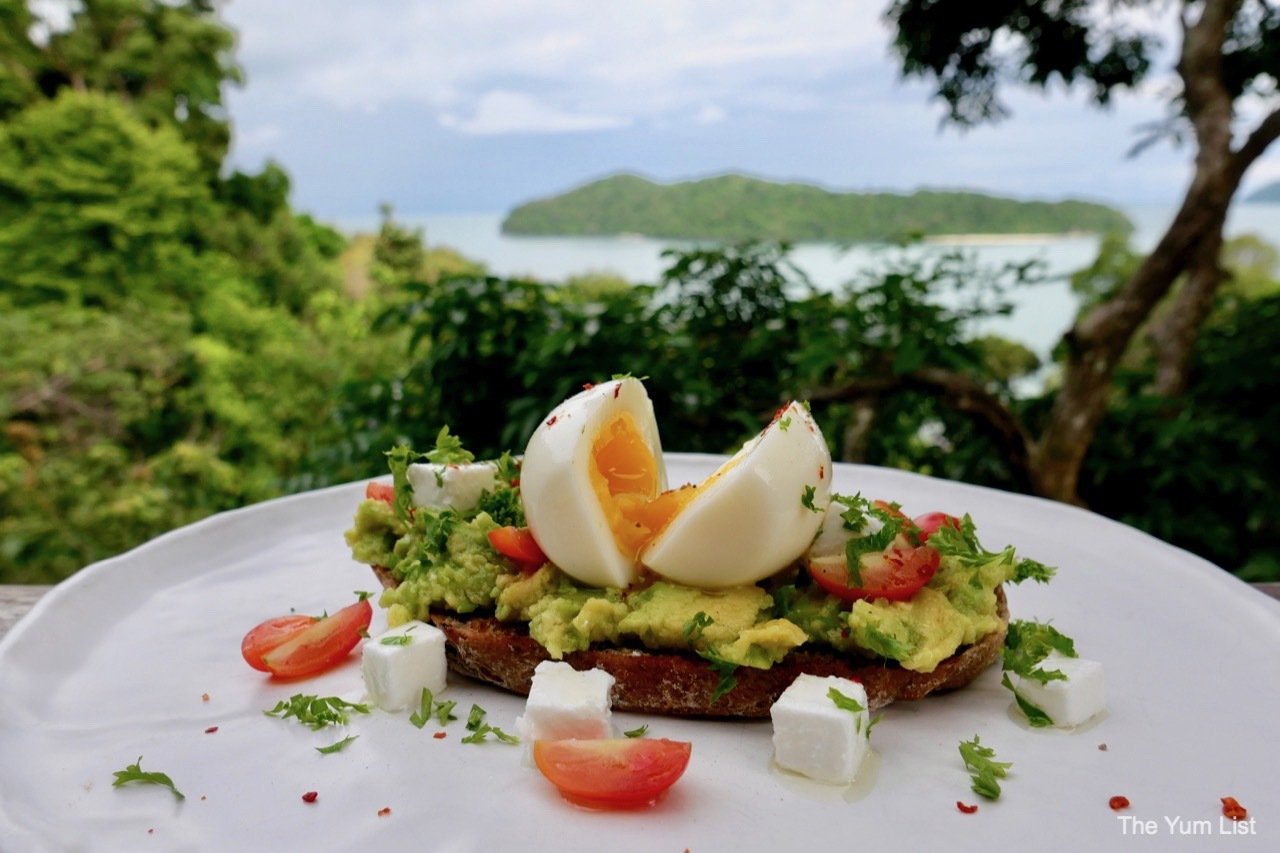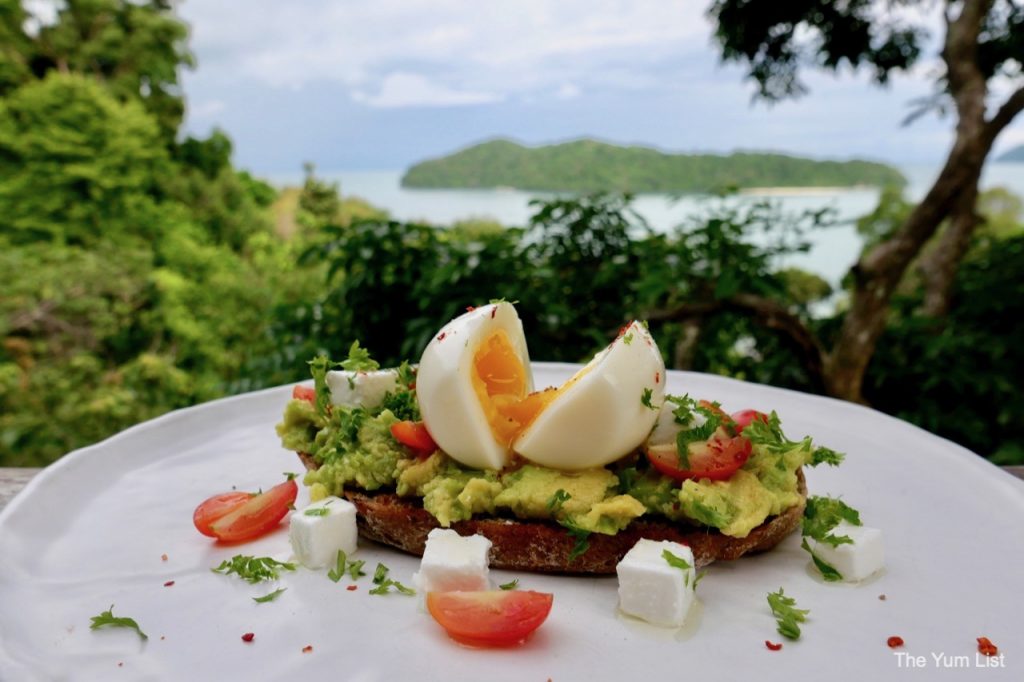 In-villa dining doesn't have to be simple, though. You can order a barbecue with your own private chef! A dressed table is set on the patio, complete with the additional adornment of colourful umbrellas. The chef sets up a charcoal grill and barbecues fresh seafood to go with green mango salad and fried rice. Aromas waft from the barbie, making our mouths water acting as a scented aperitif. Squid, prawns and a whole fish (our favourite) present the fruits of the local sea.
A bottle of Ata Rangi Raranga Sauvignon Blanc 2017 from Martinborough, New Zealand is an excellent mate for our seafood and salad. Citrus, blossoms and even a hint of cinnamon greet our noses. At the same time, the mouthfeel is supple and creamy, mingling with flavours of lemon zest and ending with a crisp conclusion. Barrel ferment and extended skin contact add texture to the mouth, and partial malolactic fermentation takes the edge off the natural acidity.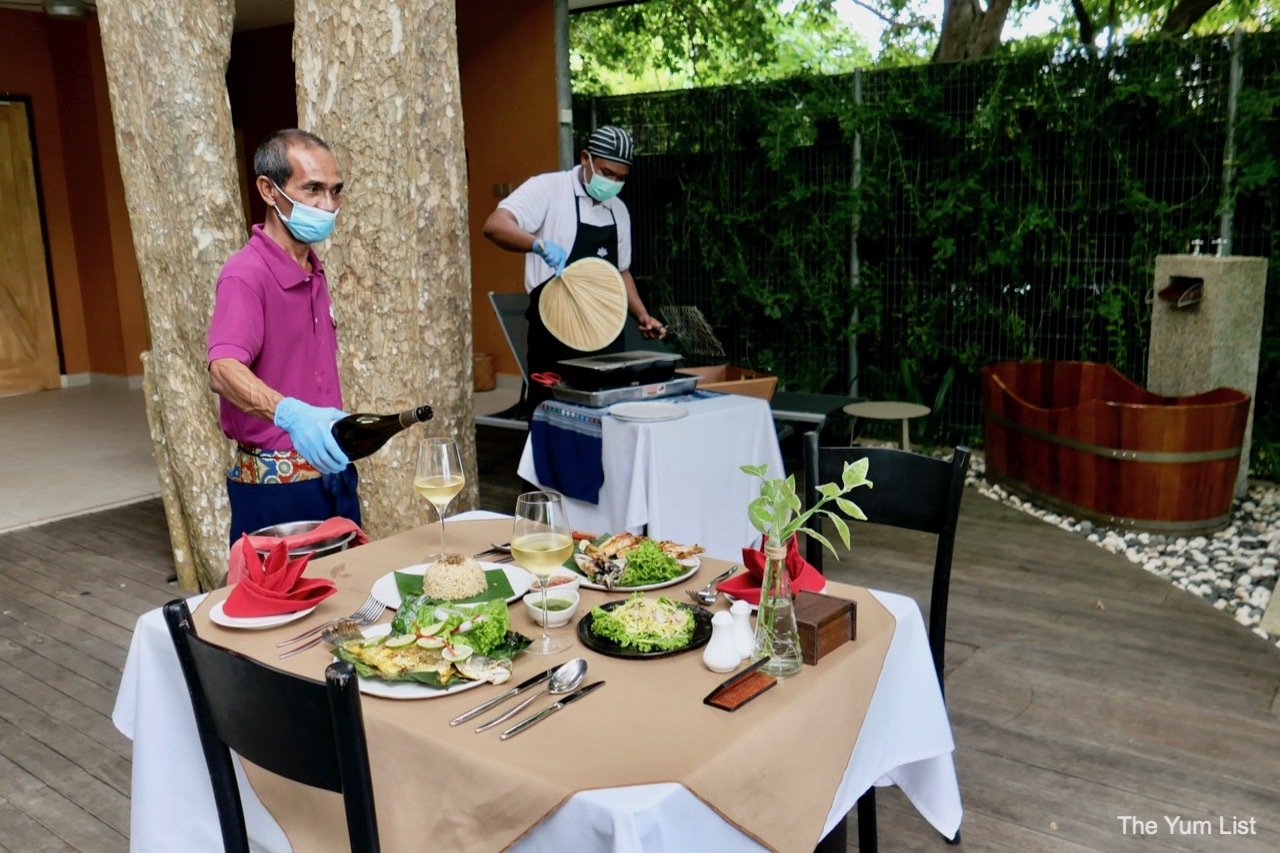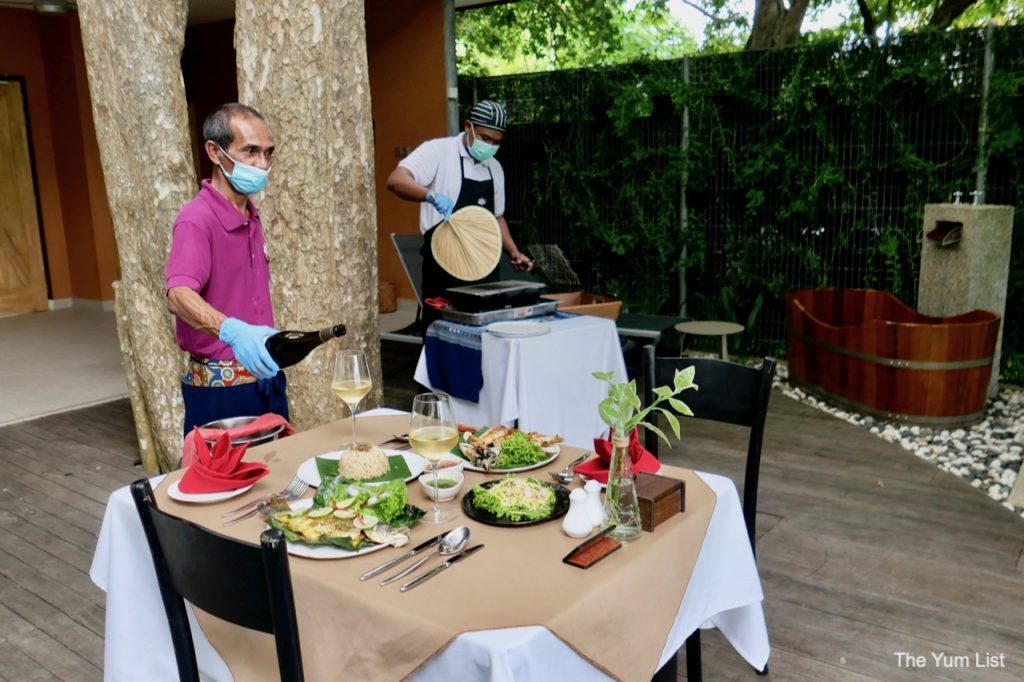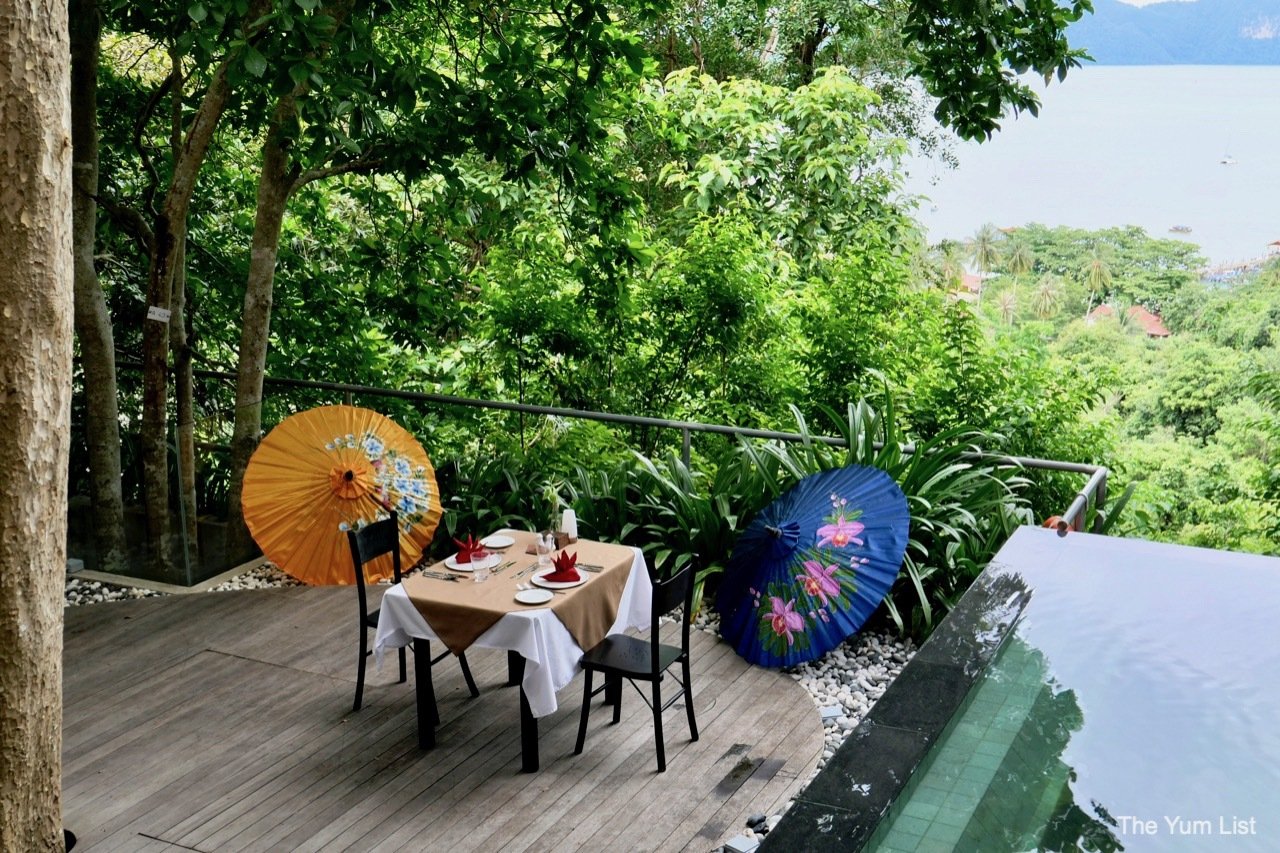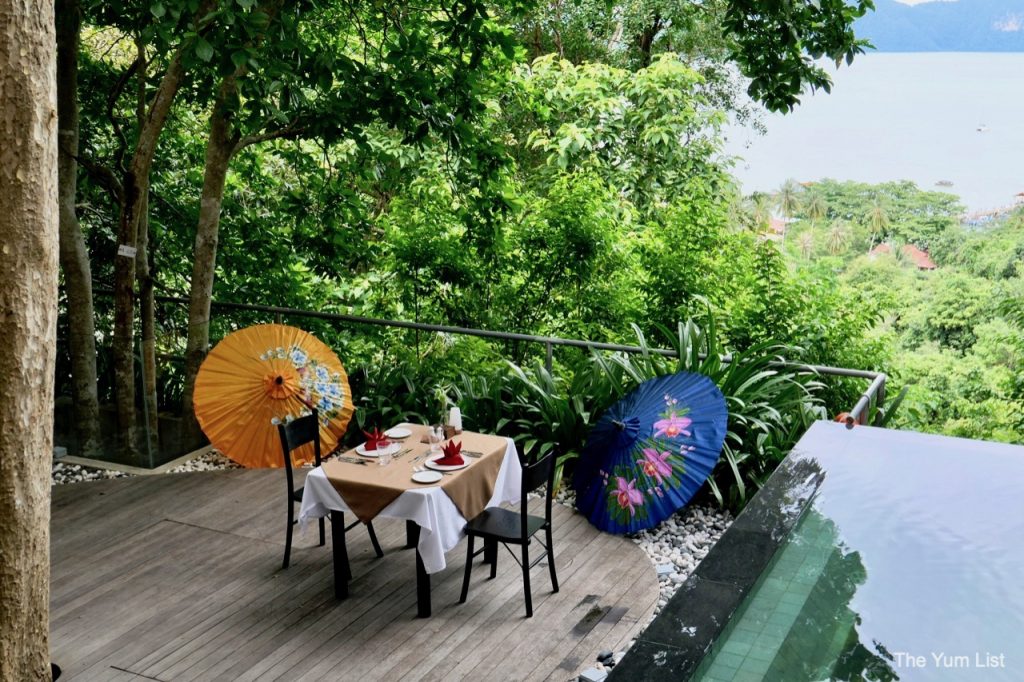 Set up outdoors and left on our own to enjoy the meal, our cautious minds felt at ease, able to fully treasure the meal without needless virus worries.
Private Pool Villas Malaysia
In summary, it doesn't matter how beautiful the environment is, if you don't feel safe, it is impossible to appreciate it. Ambong Pool Villas are conducive to safety with their private pool villas and open-air spaces. Furthermore, the measures taken by staff to increase hygiene and the prevention of contagion give a justified sense of security. In these uncertain times, holidaying in private pool villas seems a sensible option, but vacationing in Ambong Pool Villas is an excellent choice at any time of the year.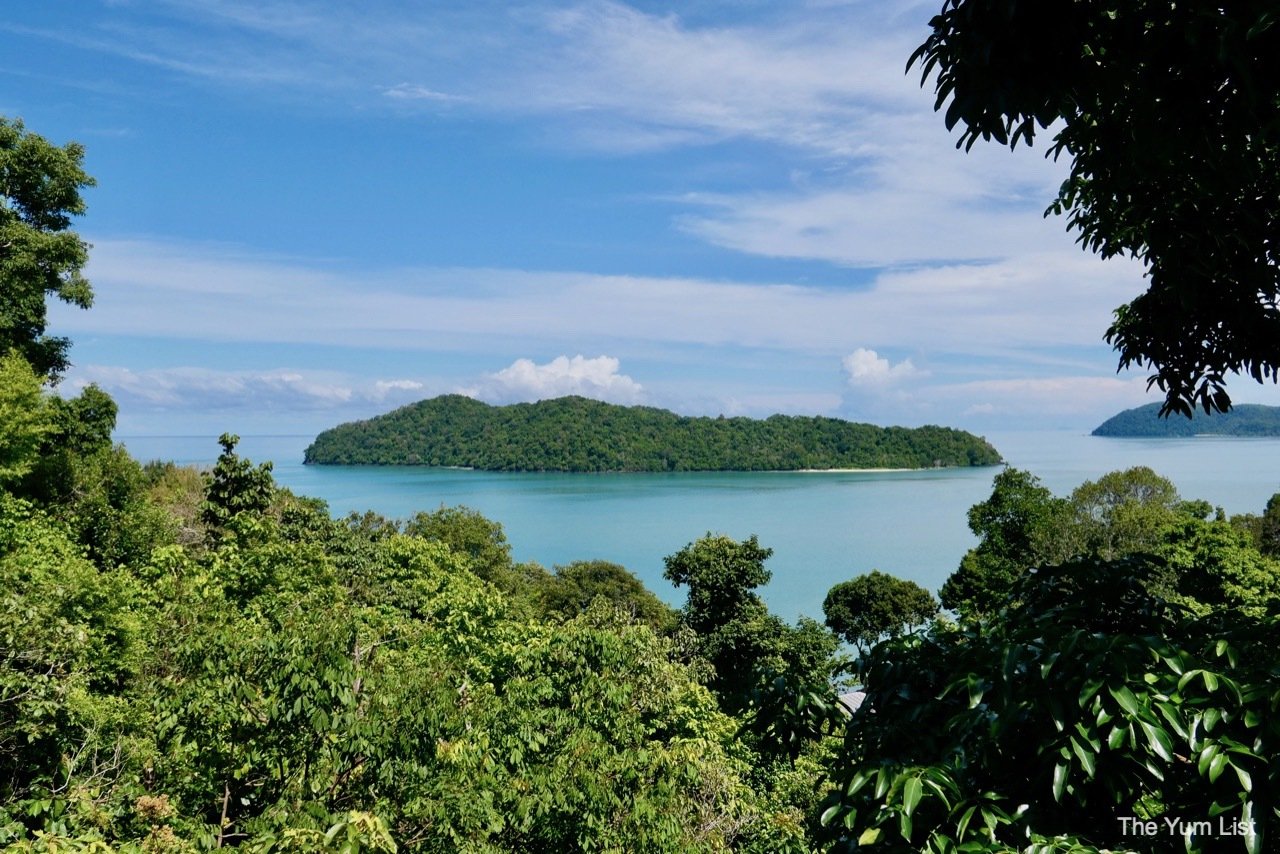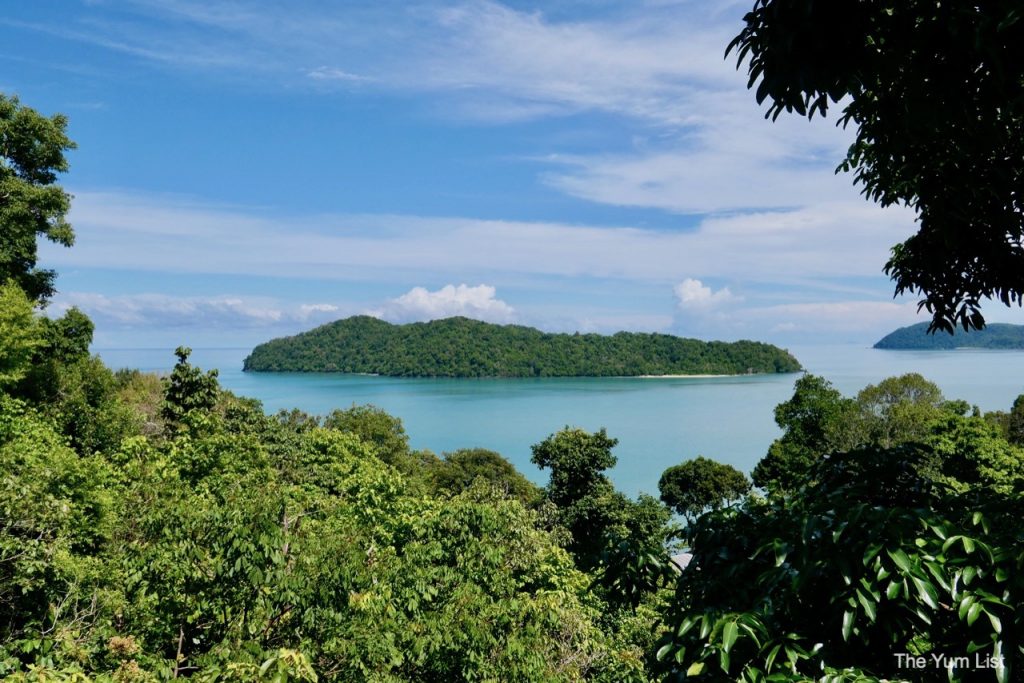 Reasons to stay in private pool villas Malaysia post Covid-19: enhanced safety; social distancing; dining options to reduce human contact; an enjoyable, private experience allowing you to take pleasure in a vacation rather than worry about the spread of a virus.
Ambong Pool Villas
Private Pool Villas Malaysia
Jalan Pantai Tengah (409.76 km)
07000 Langkawi
+6 04-955 8428
[email protected]
www.facebook.com/AmbongPoolVillas
Find more recommendations for travel to Langkawi here and find more private pool villas in Malaysia here.