Penfolds 2020 Collection Malaysia
Words: Alison Christ
Photos: Monica Tindall
The last time I previewed the Penfolds current release was in 2009 in Washington, DC with the winemaker Peter Gago. It was a tasting celebrating an impressive 165 years of winemaking. Now, 11 years later I am delighted to enjoy the Penfolds 2020 Collection on the other side of the world in Malaysia. Although, it is a new form of tasting with our Australian Penfolds experts joining us on Zoom. I myself do a lot of Zoom tastings and I appreciate how quickly we have adapted to a new style. Of course, just like everyone else, I would be grateful if Peter or the others from the winery were actually in the room with us, but in the meantime, I will settle for a glass of Grange 2016.
Penfolds 2020 Collection
An introduction to the Penfolds 2020 Collection is hosted by Flock at W Kuala Lumpur, and they really rolled out the red carpet for this event. The room is beautifully decorated with flowers and red roses. It's so pretty that at first, I think I've stepped into a wedding by mistake. Every care and detail is carefully attended to. Our place setting has eight wine glasses each. I am getting excited before I even sit down.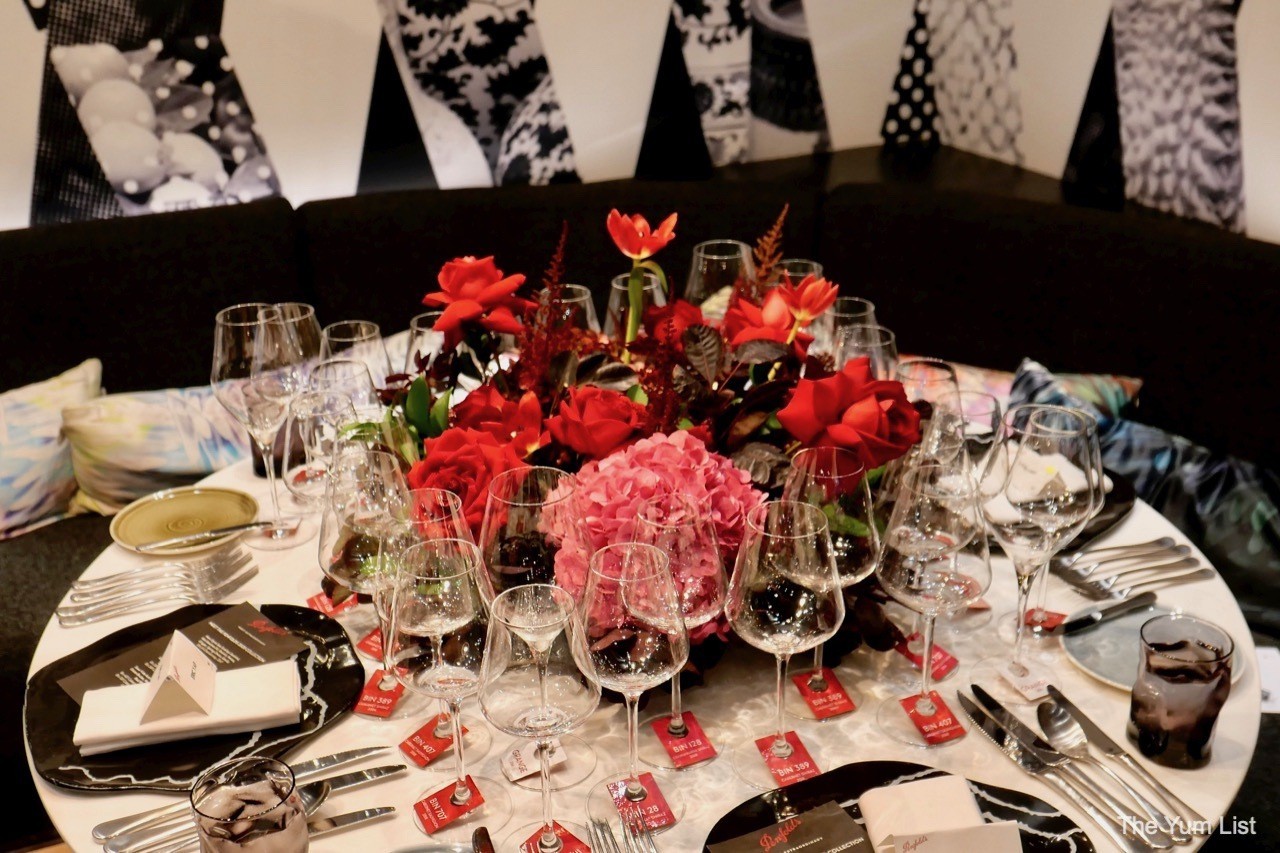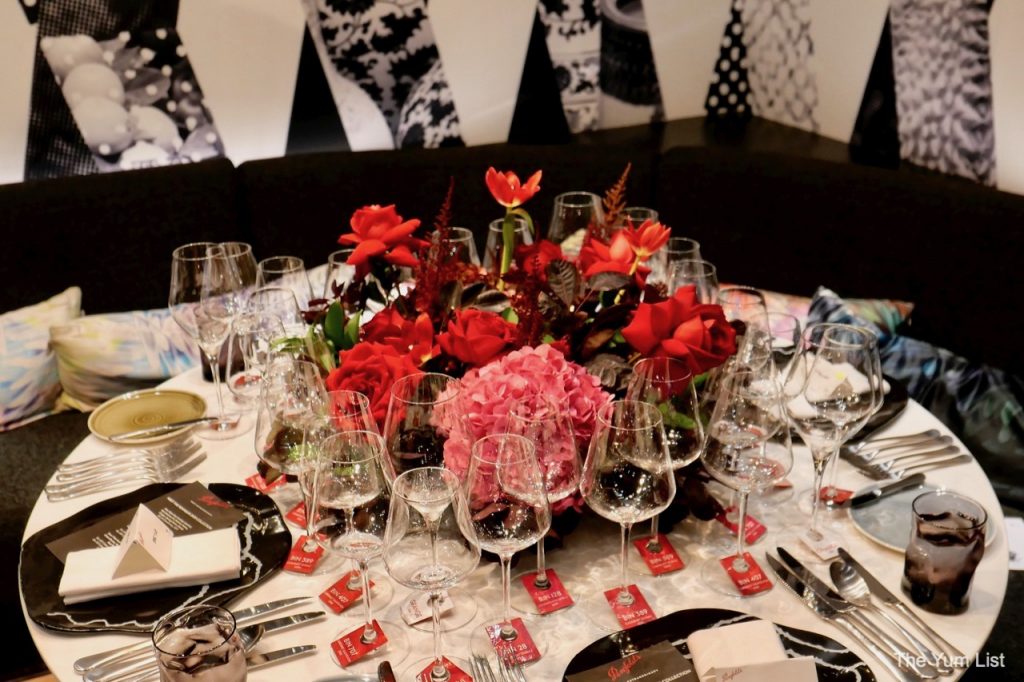 Penfolds Bin 311 Chardonnay
Immediately I am handed a delicious glass of Bin 311 Chardonnay. Is this Chardonnay? I like it. Is something wrong with me? That's what's going on in my head until I remember the wine I am drinking and the winemaking style; the Chardonnay grape itself is celebrated, the use of new oak and malolactic fermentation is controlled. Like most of the Penfolds wines, the Chardonnay is a multi-region blend from the cool climates of Adelaide Hills, Tasmania, and Tumbarumba. The Bin 311 used to be 100% Tumbarumba and is now blended to offer a great quality wine for a more affordable price.
After admiring the room and my glass of Chardonnay, Monica and I sit down to start what is sure to be an epic journey. We continue with the Bin 311 Chardonnay and the first course of New Style Sea Scallop Sashimi, Radish, Yuzu Dressing, Ginger, Spring Onion & Garlic. Just like the gorgeous decorations, the delicious wine, and the amazing company, the food does not leave us for wanting.
Side note: This write up is focusing on primarily on the Penfolds 2020 collection so I won't go into much detail about the meal except to say that every single dish is exceptional.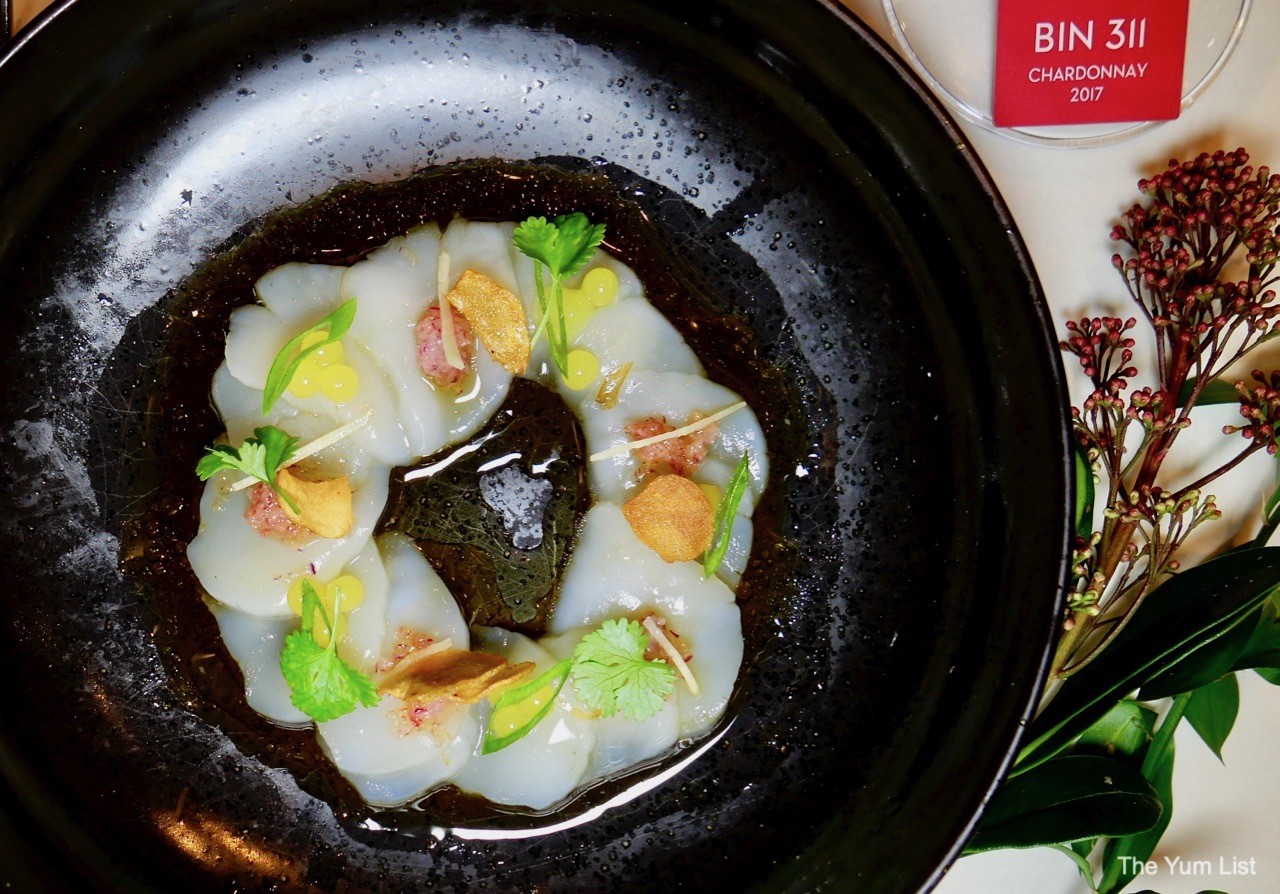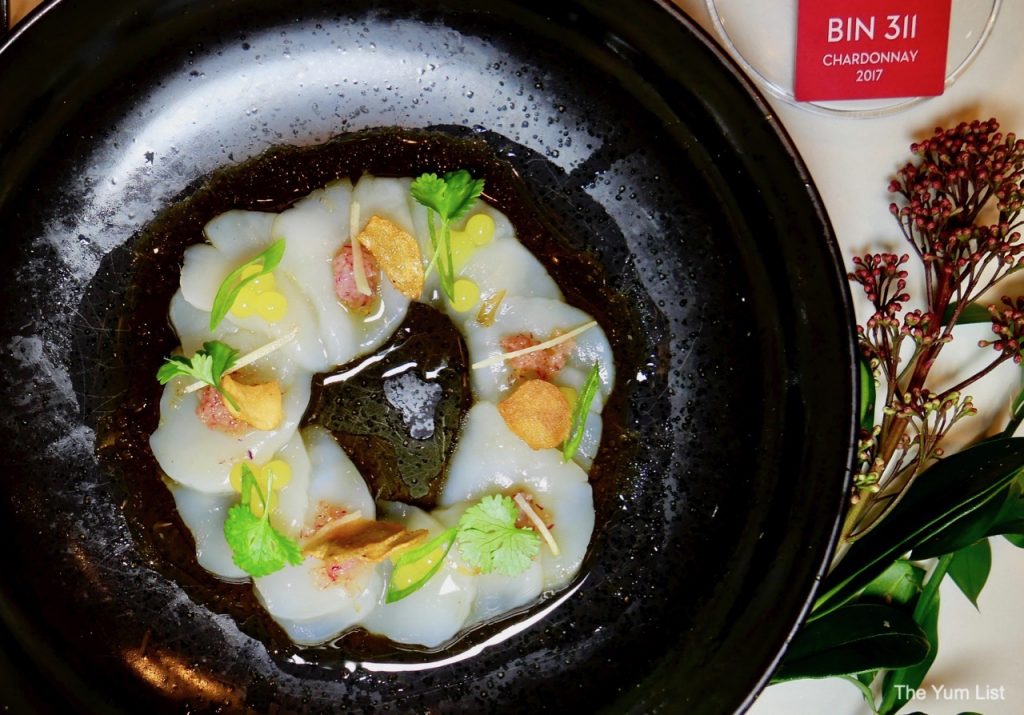 The Chardonnay only gets better with the food. The fresh acidity is making me salivate and want to eat and drink more! The 311 has expressions of key lime, dried apricots, pecan pie, limestone with a balanced salinity.
While we all know we are here for the reds (and maybe one in particular) Monica and I insist on keeping our glass of white close by. Our next pleasure is BBQ Octopus, Chicken Chorizo & Tomato Risotto, Wood Sorrel & Cured Duck Egg served with two wines side-by-side, Bin 28 Kalimna Shiraz and Bin 128 Coonawarra Shiraz.
Penfolds Bin 28 Kalimna Shiraz
Bin 28 Kalimna Shiraz 2018 is great for drinking now or for cellaring another 15 years. I find it to be the readiest to drink out of the Penfolds 2020 collection reds. This Shiraz, first made in 1959, is a multi-region and multi-vineyard blend from 10 areas and is aged in seasoned American oak for 12 months. The wine's bright acidity, warm juicy fruit and no new oak make it ideal for either sipping or eating. There's raspberry, blackberry, smoke, pepper and just a touch of eucalyptus in the background. It's very easy to drink. I must remind myself we have seven more wines to go!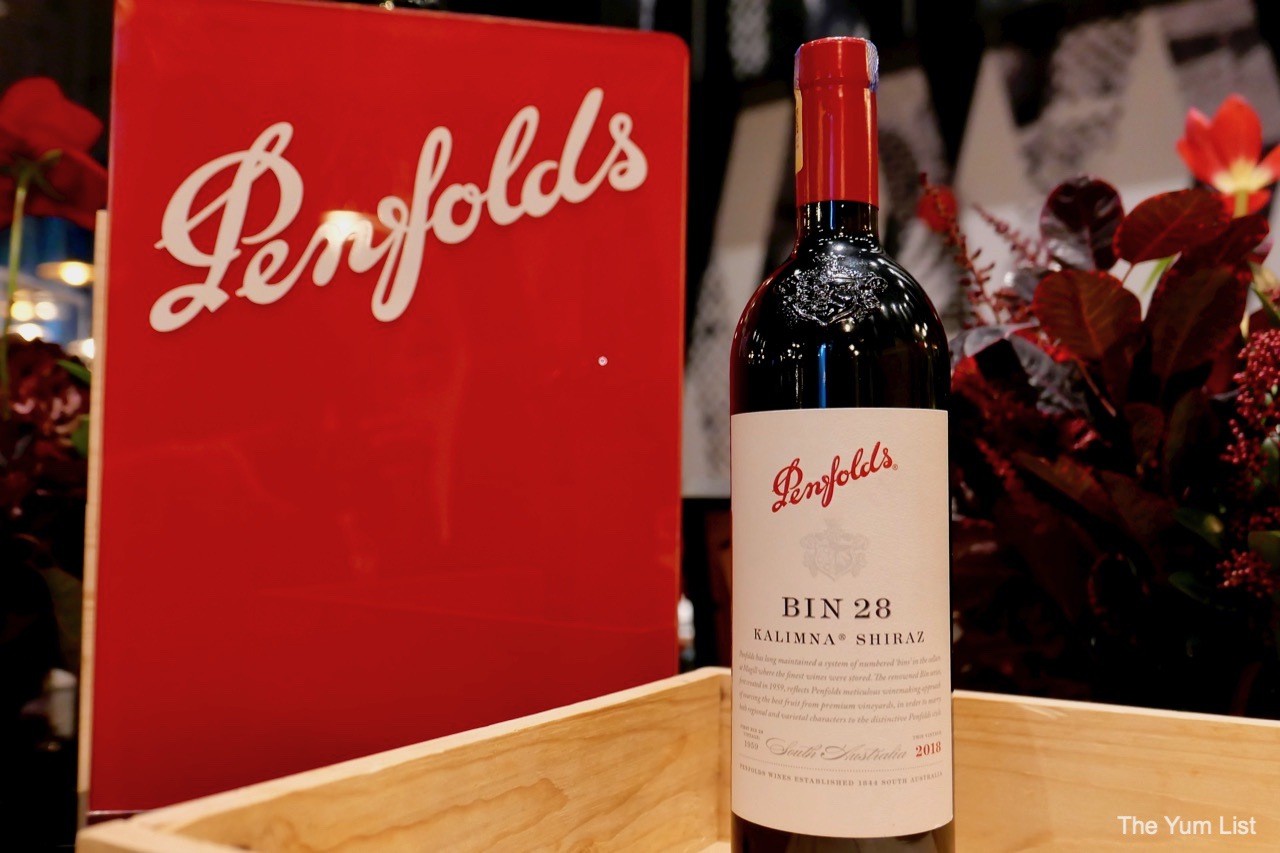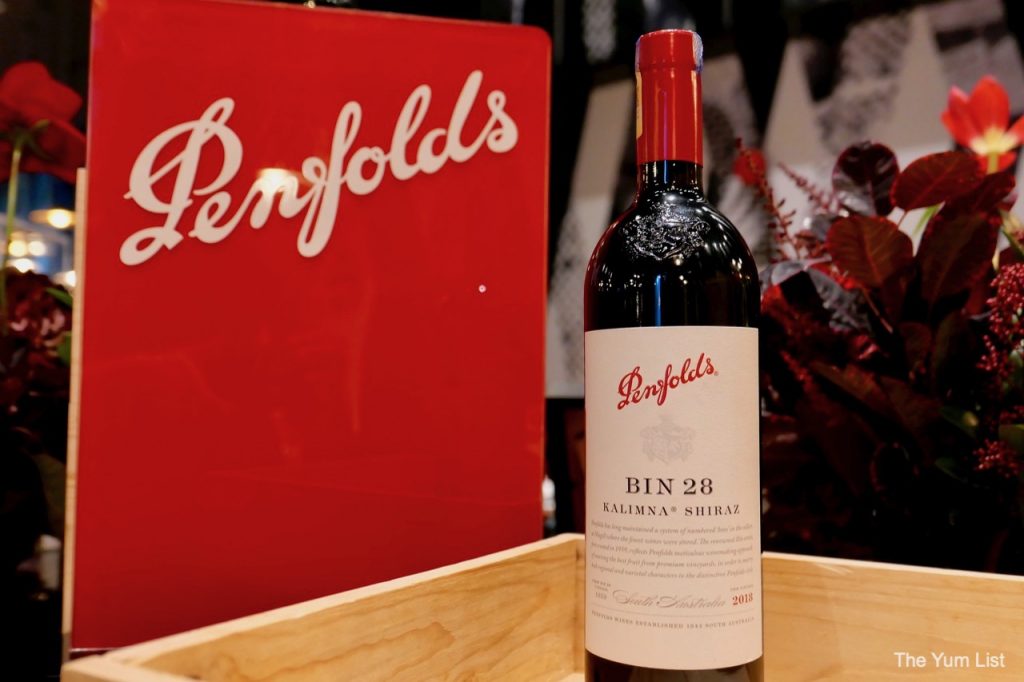 Penfolds Bin 128 Coonawarra Shiraz
Bin 128 Coonawarra Shiraz, 2018 is next. It's very interesting to taste these two wines side-by-side, one from multi-regional warm climates and the other from cooler-climate Coonawarra. The use of oak is different as the 128 is a mix of French new and seasoned while the 28 is only seasoned American. The eucalyptus and herbaceous notes are a bit intense here and will become balanced with cellaring. The Shiraz is beefy and full of savoury notes, tar and tobacco, spices and lots of fruits. I leave my 128 to sit for a while to see how it evolves. I would drink the 28 now and cellar the 128.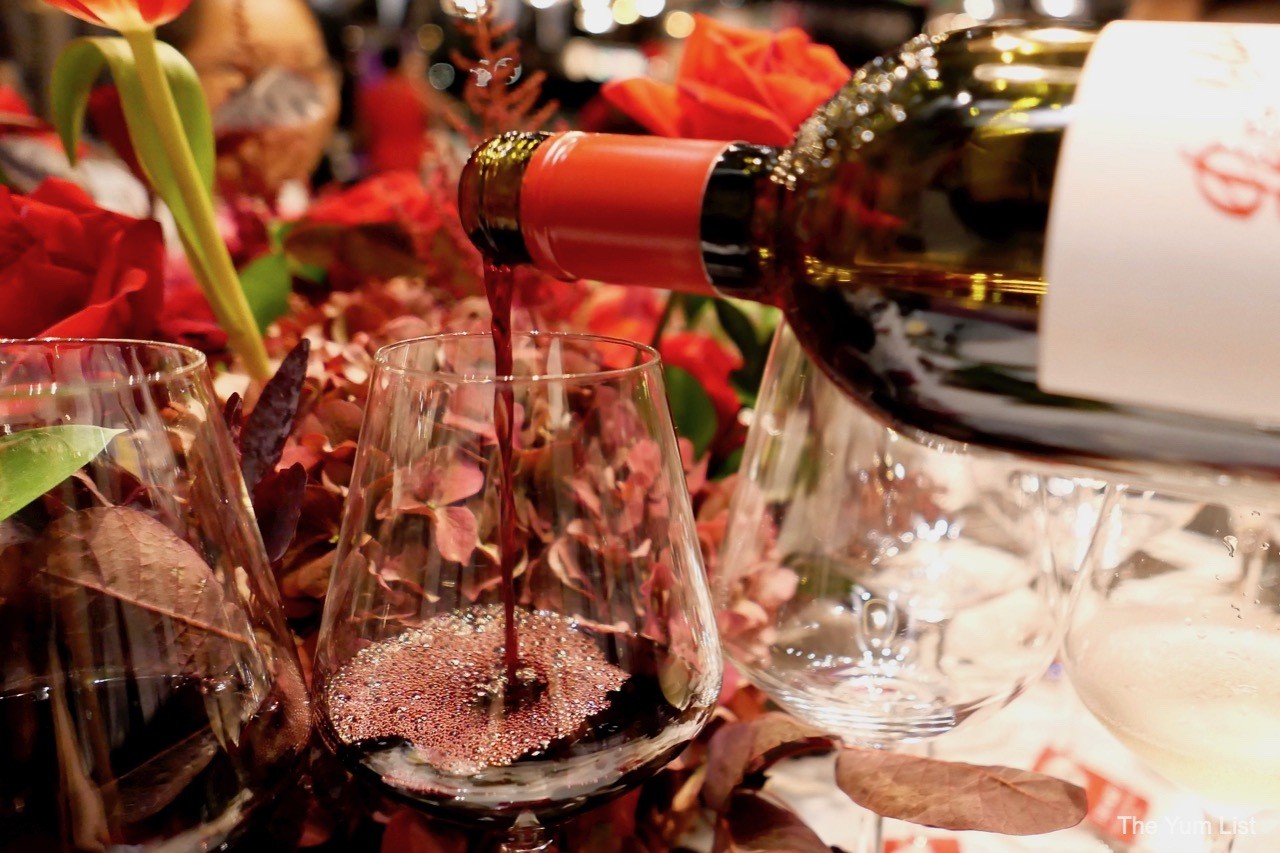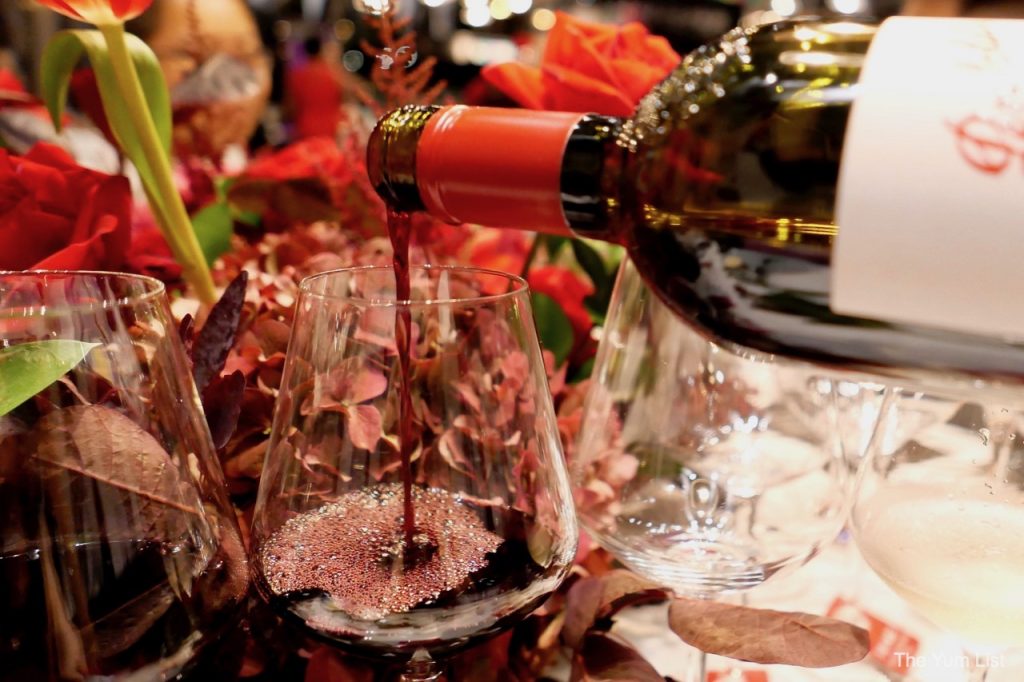 Penfolds Bin 389 2004 & 2018 – Baby Grange
Our next course is Duck Breast, Pumpkin Puree, Blood Plum & Port Jus served with two of the same wines from different vintages; Bin 389 2004 & 2018. If you're a wine geek then this is heaven! It's not that often that we get to compare the same wine from different vintages unless you're a collector or lucky enough to get a seat at a special event. It truly is a great experience. Bin 389 is often referred to as "Baby Grange" not because it's the same blend but because it matures in used Grange barrels. Tonight is a special occasion as it is not only Monica's Birthday but it's the 60th birthday of Bin 389.
The 389 is a blend of Cabernet and Shiraz and is matured in a blend of new American oak and seasoned Grange oak. The vertical tasting really exemplifies classic Cab and Shiraz ageing. The 2004 is full of pencil shavings, spice box, cedar, dried fruits and subtle dark chocolate. The classic eucalyptus and herbs are gently waving in the foreground. The 2018 has bright acidity, sharp tannins, super-ripe red fruits and berries with eucalyptus and spiciness right upfront. I'm thinking of dark chocolate cake with black cherry and mint ice cream. Bin 389 one of the most cellared wines in Australia, easily has a 30-year life span.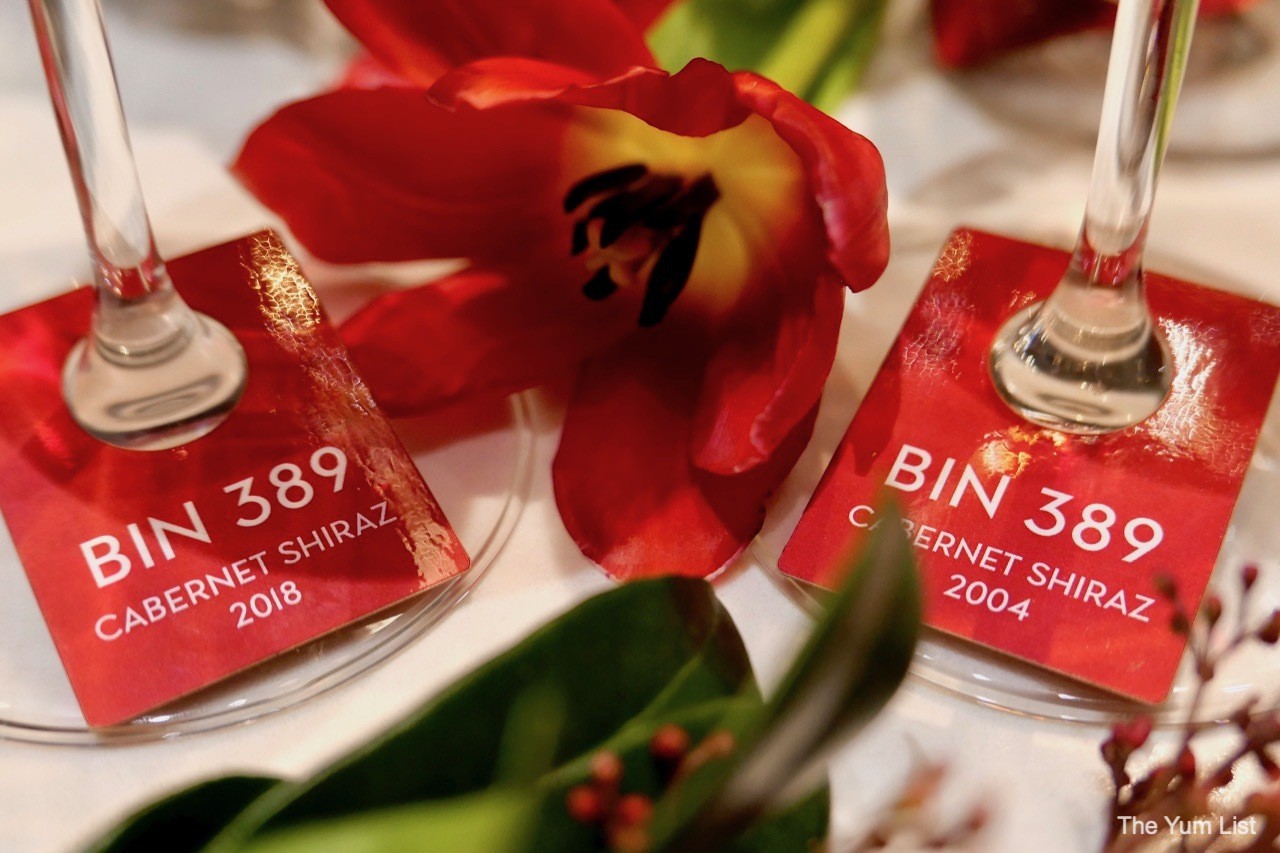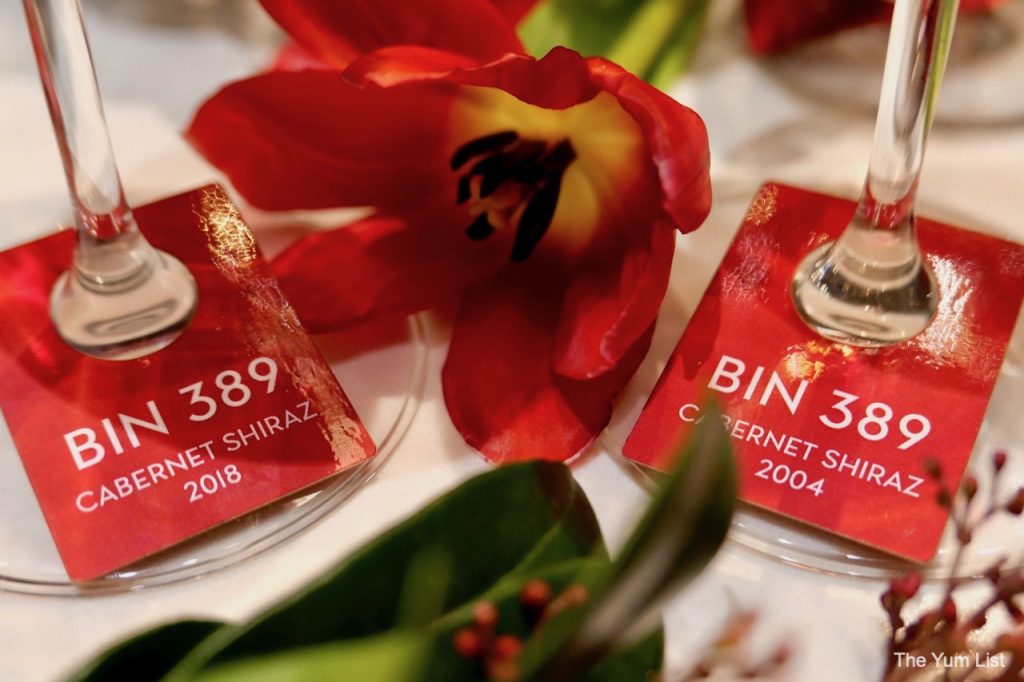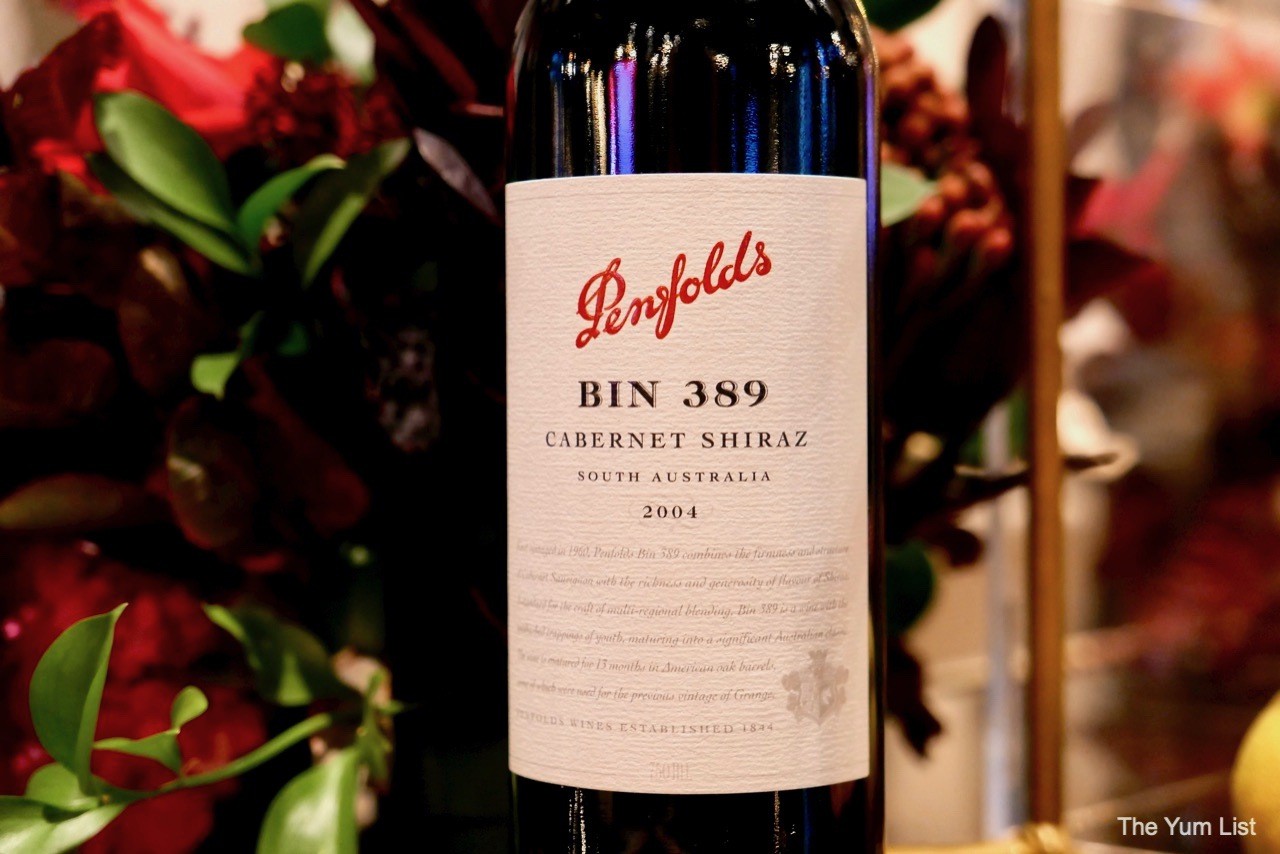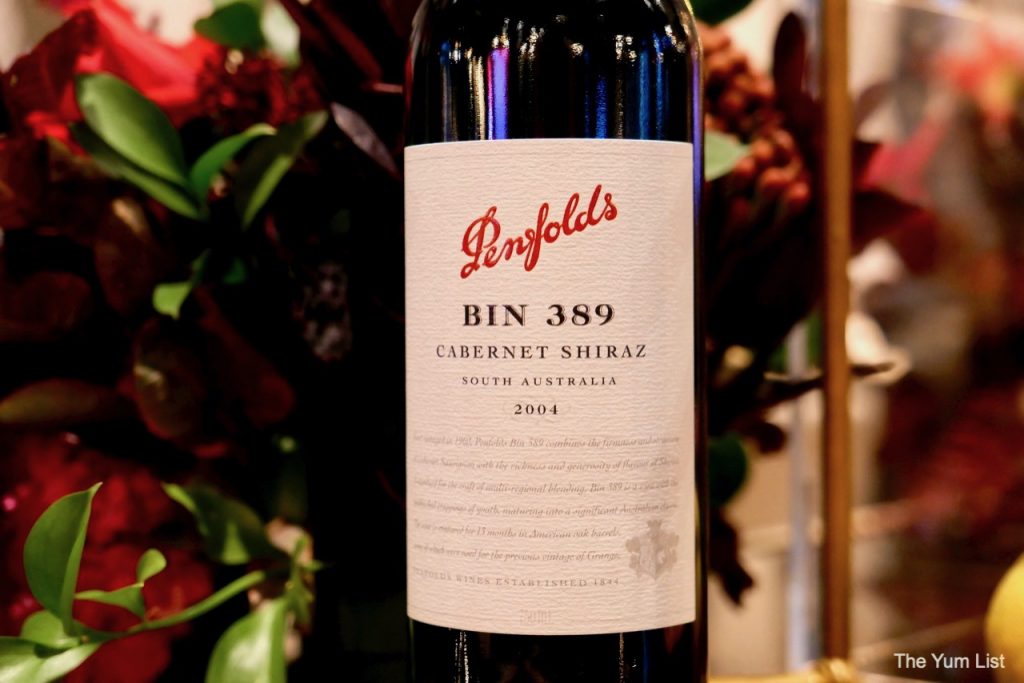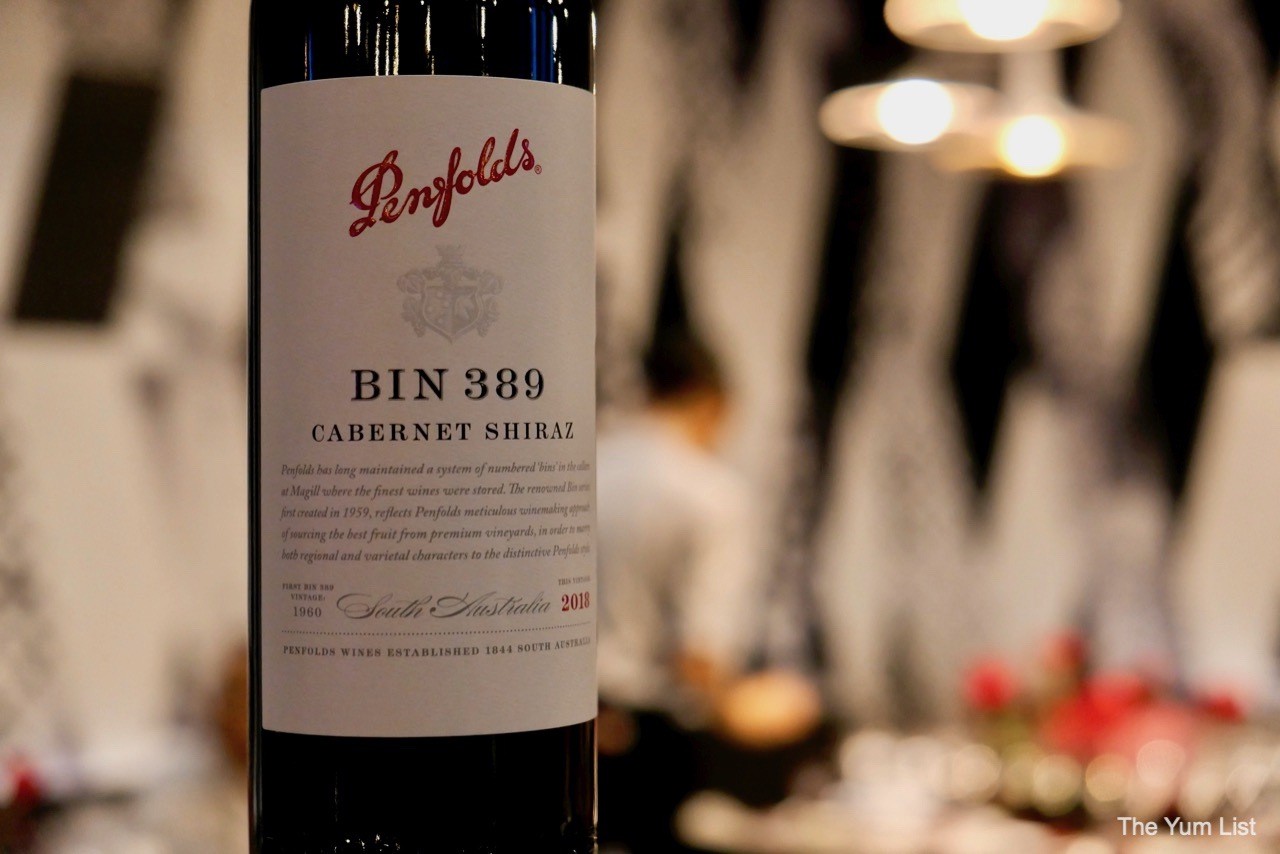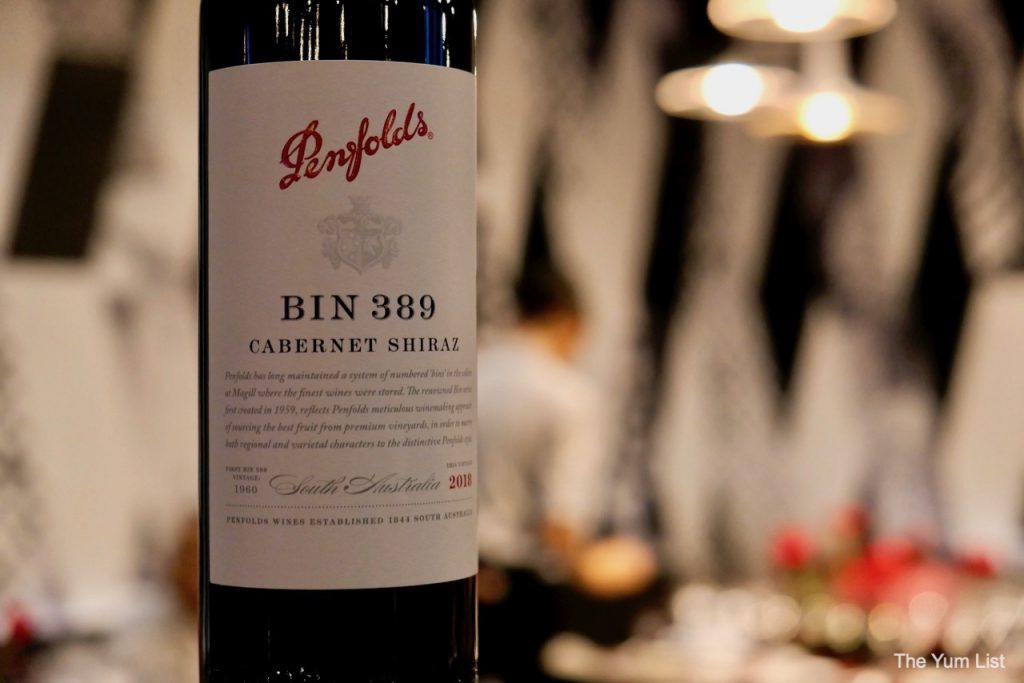 The Grande Finale – Penfolds 2020 Collection – Bin 407, Bin 707 & Grange
Now we prepare ourselves for the finale; Sous Vide Australian Beef Loin, Onion Brulee, Heirloom Carrot & Wild Mushroom Sauce with not two, but three wines side-by-side; Bin 407, Bin 707 and Grange.
Bin 407 Cabernet Sauvignon, 2018
Bin 407 Cabernet Sauvignon, 2018 is blended from six different regions and uses American and French oak both new and seasoned. It was inspired by Bin 707 so it makes sense to try them together. It is thought that Penfolds holds the oldest continually producing Cabernet vines in the world. The 407 is textbook, varietally correct Cabernet Sauvignon. There's tobacco, cedar, spices, pencil lead, also ripe fruits and savoury notes of olives and rosemary. The wine continues for what seems like forever. Now must be the perfect time to try the 707.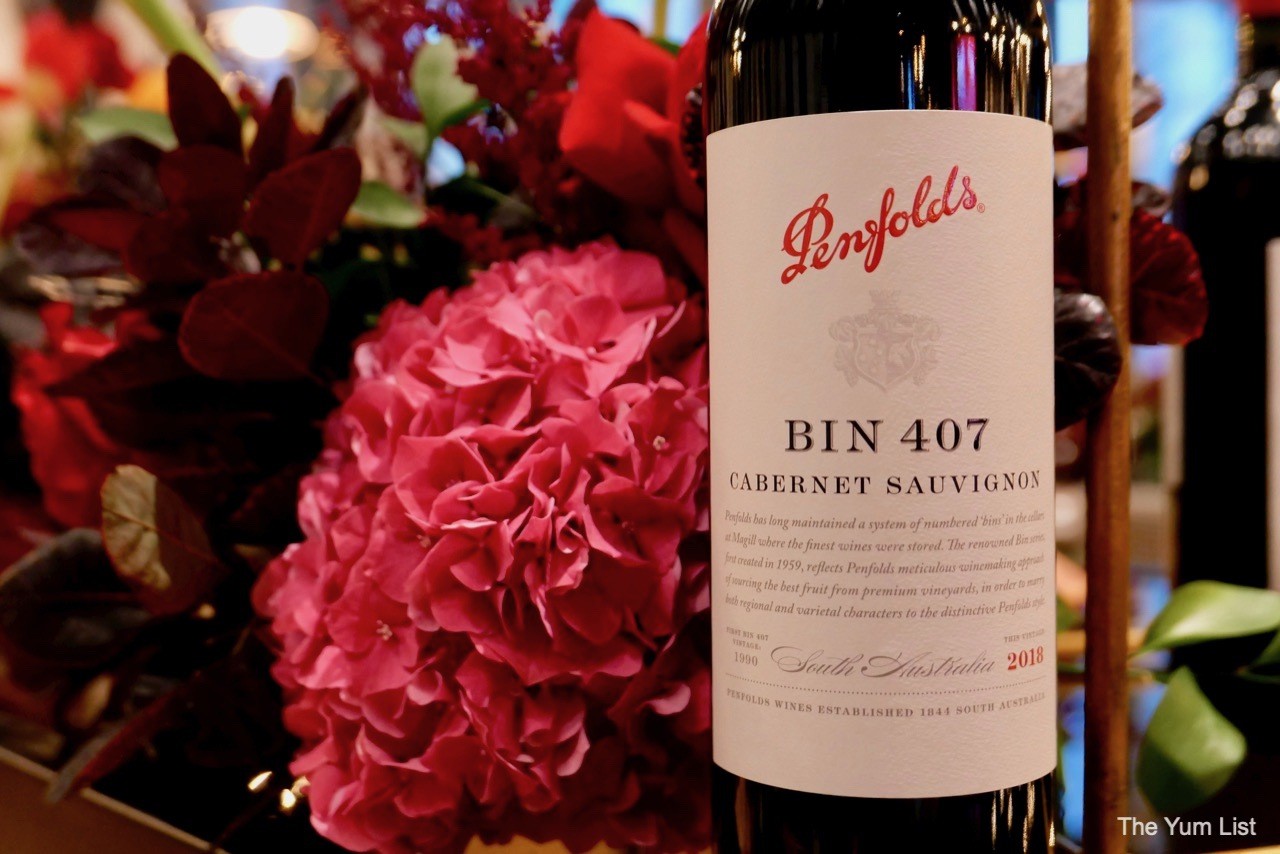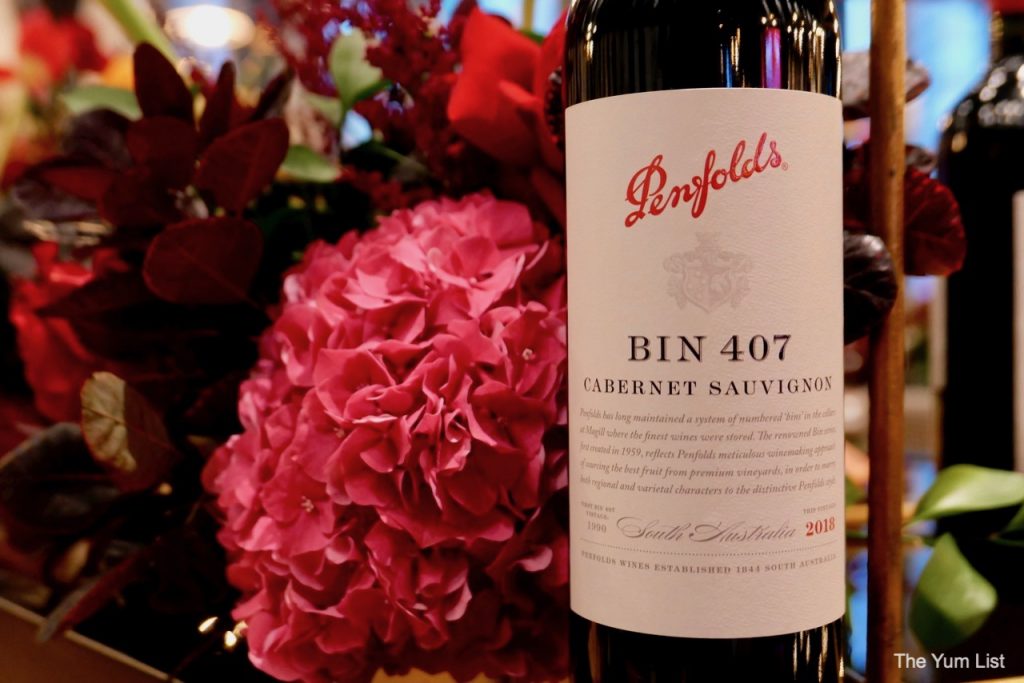 Bin 707 Cabernet Sauvignon, 2018
Bin 707 Cabernet Sauvignon, 2018 is a blend from McLaren Vale, Barossa, Coonawarra, Wrattonbully, Rode, and Adelaide Hills and is 100% Cabernet. Penfolds is using a blending technique to create a house style of wine that will be constant year after year, every vintage. The peak drinking time is now to 2050. The tannins are tight and asking for more time, the full-bodied wine is complex with a mix of olive tapenade, rhubarb pie, black currant, cassis and bittersweet chocolate, finishing with layers of tobacco and spices.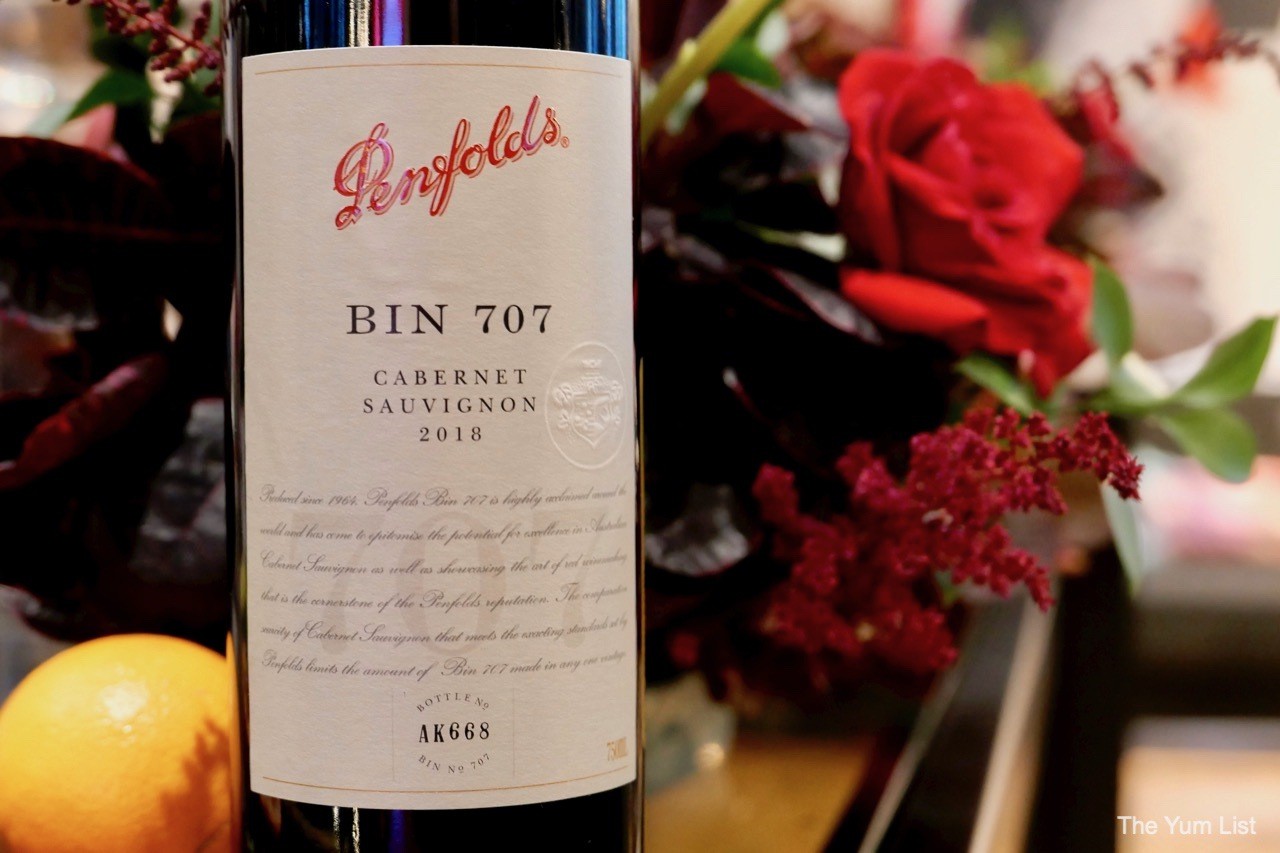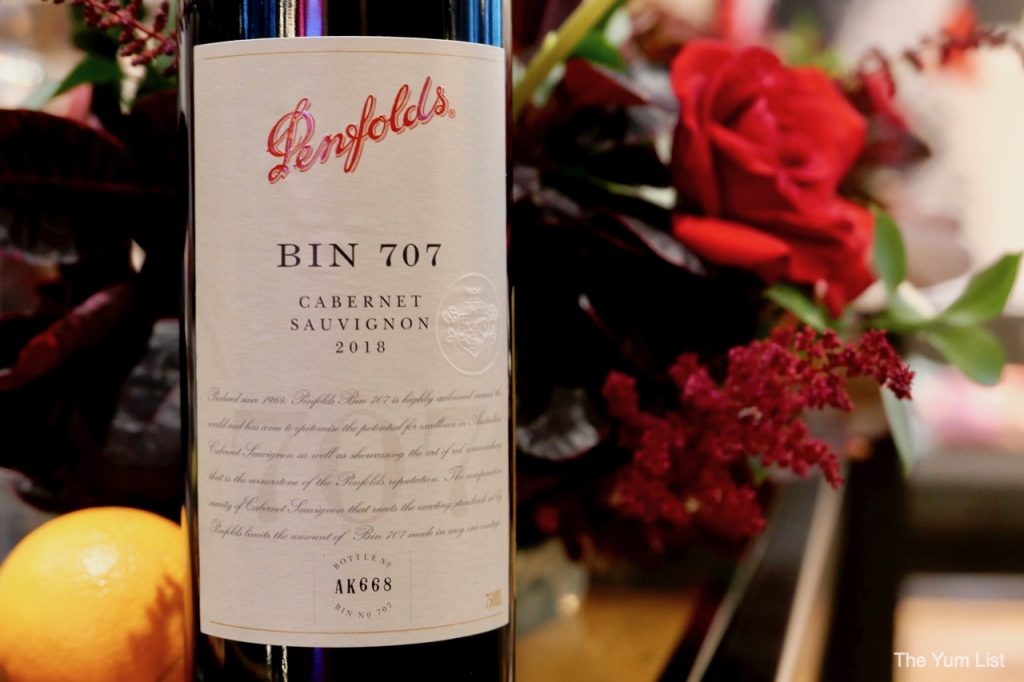 Penfolds 2020 Collection – Grange 2016
Grange since 1951 has never missed a vintage. This quite remarkable feat is exemplified by the fact that it is regarded as being always consistent and is Australia's most celebrated wine year after year. What makes it possible to create a wine of this stature every single year when most other places in the world would have to skip a year due to pests, mildew, hail, too much rain, lack of rain, fires, or climate change? I am sure there are many contributing factors to the 66-year succession of Grange. What stands out to me, however, is the practice of a multi-vineyard, multi-district blending philosophy. Penfolds has perfected this practice, which enables them to create the powerful Grange with utmost consistency and quality year after year.
Drinking Grange 2016 seems a bit wrong. Of course, I am not complaining. It is delicious; it just won't reach its prime for a few more years. The ageing potential is estimated until 2065. The wine which is always mostly Shiraz with 3-4% Cabernet is aged for 18 months in new American oak and is a blend from Barossa Valley, McLaren Vale, Clare Valley and Magill Estate.
The wine is dark; dark fruits, dark spices, liquorice, fresh ground coffee, earth and smoke, figs and baked plums, soy and umami mixed with graphite and spices. Again I feel a little sad to have opened this bad boy so young, but not too sad.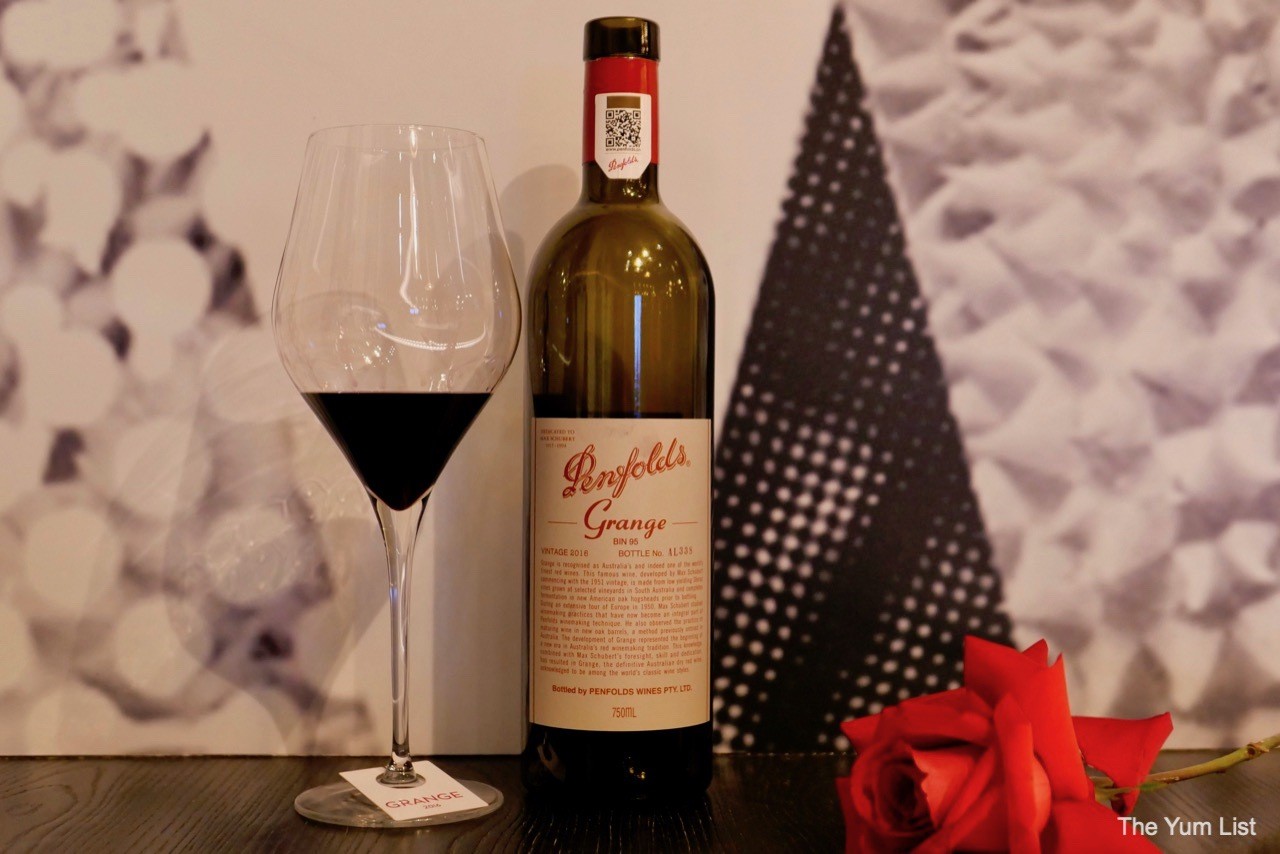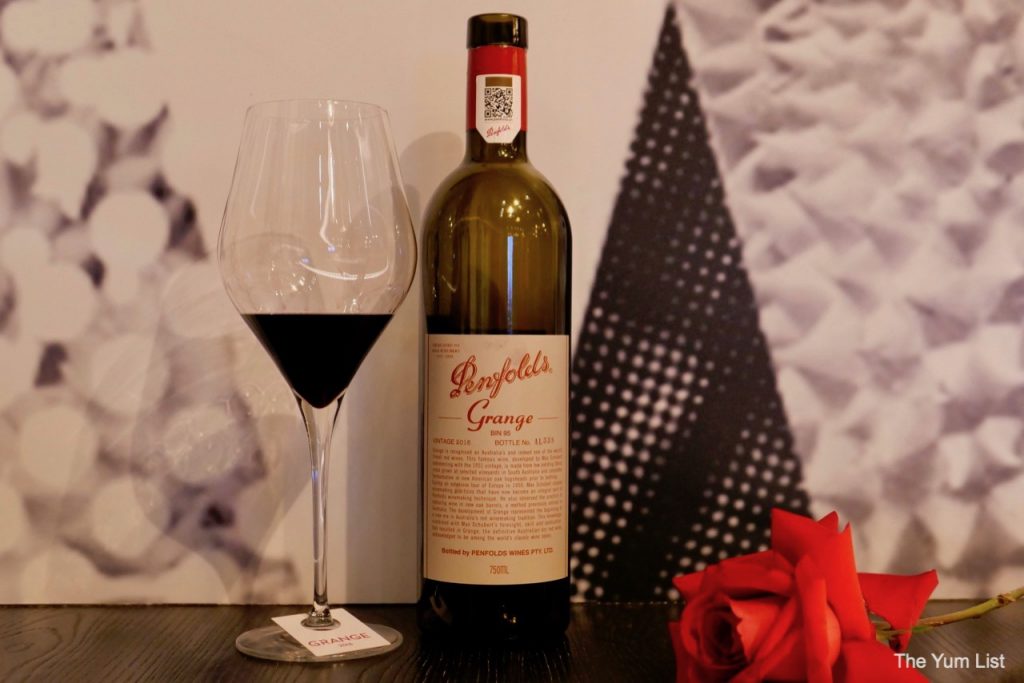 Sam Stephens' Final Words on the Penfolds 2020 Collection & Grange 2016
Joining us on Zoom for a few moments we have Sam Stephens, the Penfolds brand ambassador for Asia. He says something I love, "The Grange is like a gobstopper from Charlie and the Chocolate Factory. It keeps going and going and giving and giving."
Find the Penfolds 2019 Collection here, stay up to date on the wine scene in Malaysia here and find the latest gourmet happenings around Malaysia here and here.