Sala The Row, Vegan Café KL
Words: Monica Tindall
Photos: Rich Callahan
Plant-based foodies will be delighted to learn that Sala has opened an outlet in Kuala Lumpur city centre! This Latin-inspired, Tex-Mex, plant-based vegan restaurant has been much adored by eaters of all foods since its humble beginnings in Mont Kiara. It has since become a staple for anyone – from long-term vegans to those just trying to get some meat-free meals into their diet to folks just wanting a darn tasty meal.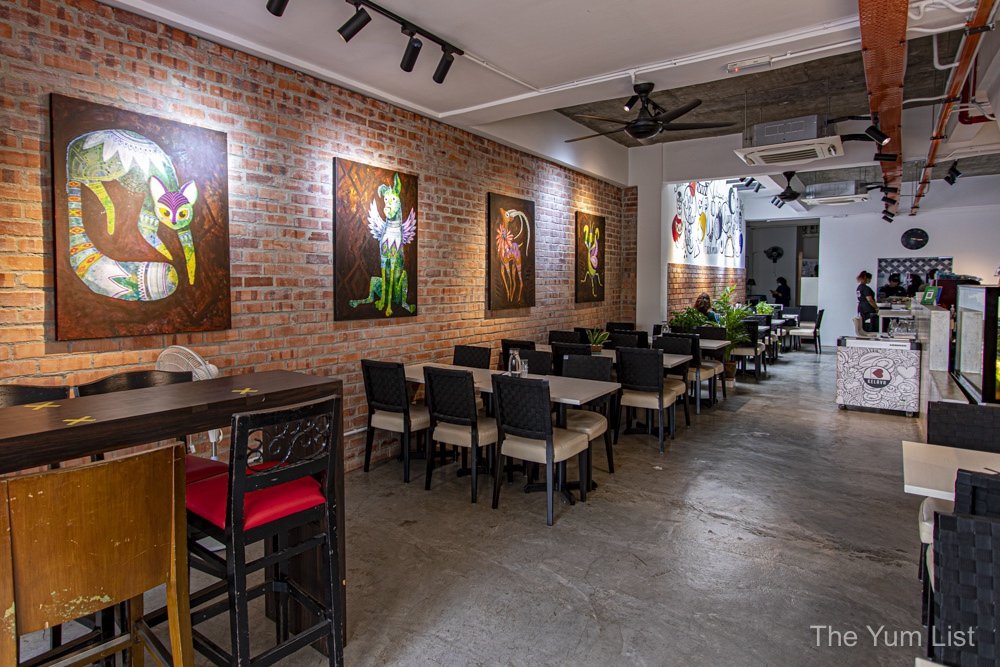 Sala The Row KL
Sala @ The Row has matured somewhat from its sister. While the outlet in Mont Kiara is known for its customized counter resembling a take-away outlet, this setting ups the game with a pleasant casual dining setting. Exposed bricks, Latin-themed wall murals, a Hispanic sound-track and direct views of the Twin Towers make it a great spot for dining in. It's a happy place to meet friends or even for a casual date. Under current circumstances, however, many may prefer delivery or takeaway and thankfully, the team here use cornstarch packaging, which breaks down in 72 days in your compost pile!
Drinks
Juices and smoothies are the highlights of the drinks' menu at Sala at The Row. Star Wars fans will appreciate the reference to the female revolutionary in the Hera Syndulla (RM 16) smoothie, And, just as Hera was key in the early rebellion opposing the Galactic Empire, this beverage may too play a central role in having the masses appreciate a meat-free diet. Made with frozen banana, avocado, pumpkin seeds, walnuts, dates and soy milk, it's a sweet, thick beverage that could easily replace a meal.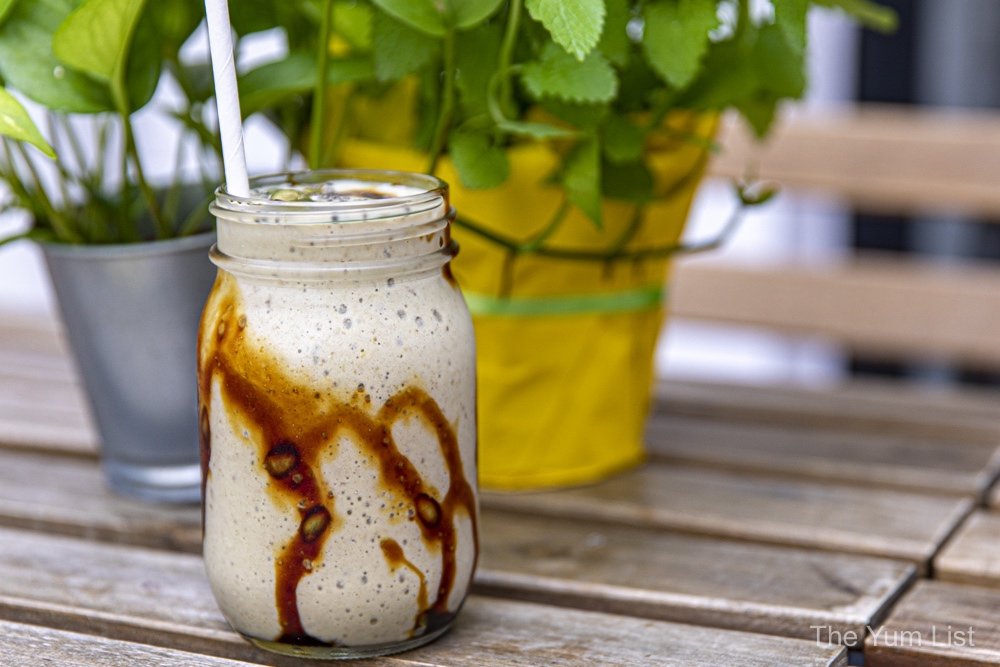 The pressed Kanan Jarrus (RM 16) catches our eye not only for the refreshing ingredients of starfruit and apple but also very much so for the Organicule baobab. One of the latest ingredients recognized as a superfood, the fruit of the baobab tree is high in vitamin C, antioxidants, calcium, magnesium, potassium, fibre and prebiotics. It has "star"fruit and it's green, and owner Fauzi was feeling a little down after finishing Star Wars on Netflix so naming two drinks in honour of the epic adventure seemed fitting.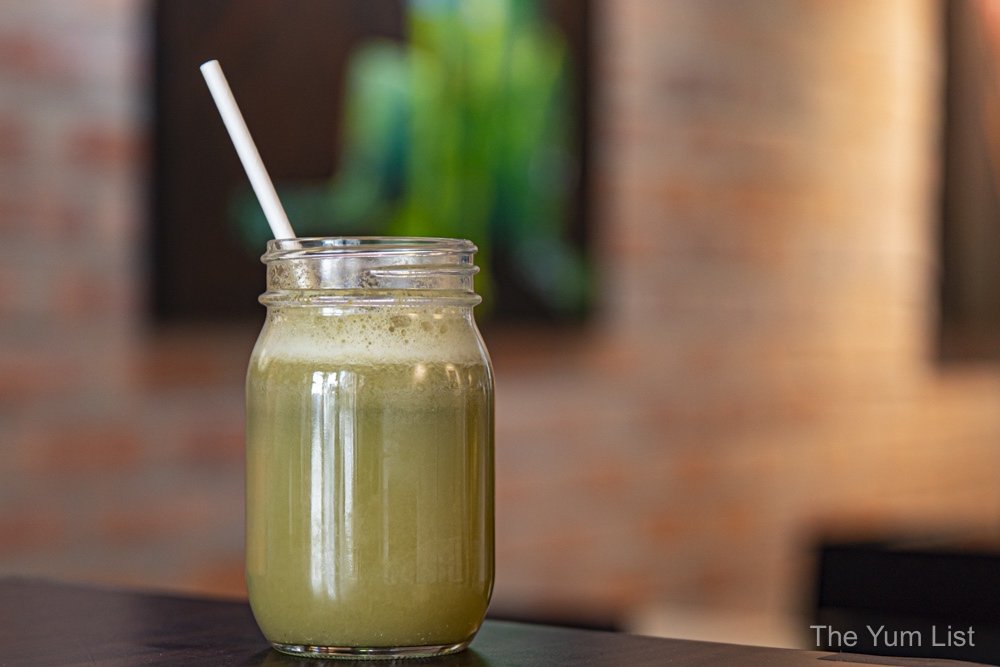 Snacks
From the snacks' menu at Sala @ The Row, Falafels (RM 15) are nicely presented in a row on a rectangular platter. The balls are set atop small beds of hummus with harissa, garlic and tahini sauce served on the side for dipping at your own will. Sporting a crunchy coat and moist middle, the spheres would go great with beer. And, speaking of alcohol… Sala The Row, KL does not have a liquor license. Its neighbours, however, do and the staff are happy for you to bring your drink across to enjoy with a meal here.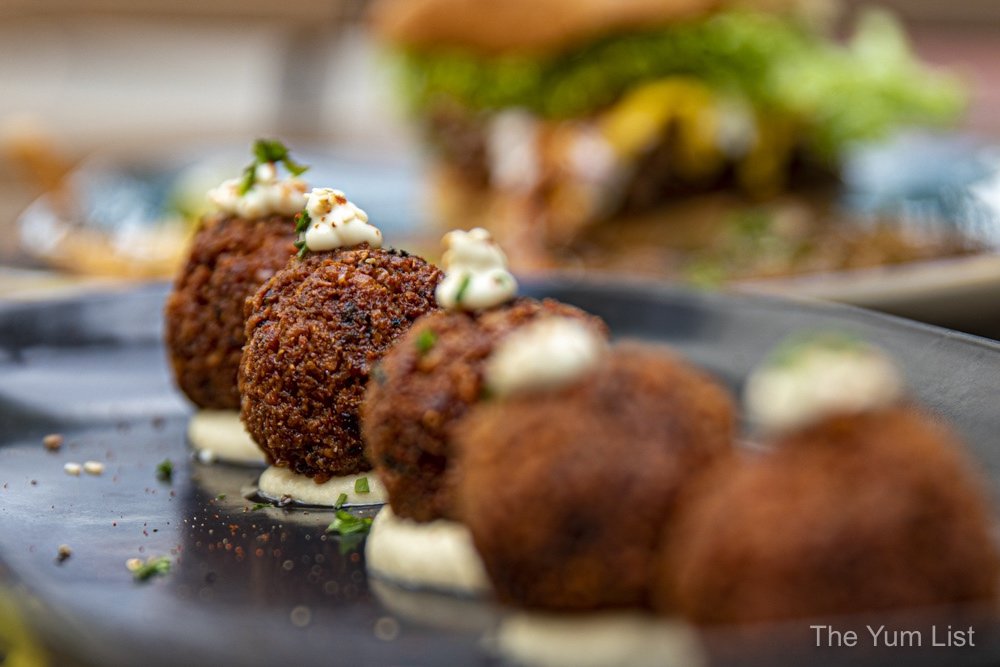 Burritos
I have fond memories of the food in the Mont Kiara outlet but with the first bite of the Shrooms Asada Burrito (RM 23) I am cursing myself for not visiting more often – it is sooooo good! Mushroom asada, cilantro lime brown rice, black beans, slaw, tomato salsa, lettuce, nacho cheeze sauce, sour cream and roasted tomato chipotle salsa are wrapped in a flour tortilla. The flavours balance beautifully and that hint of lime lifts the whole profile.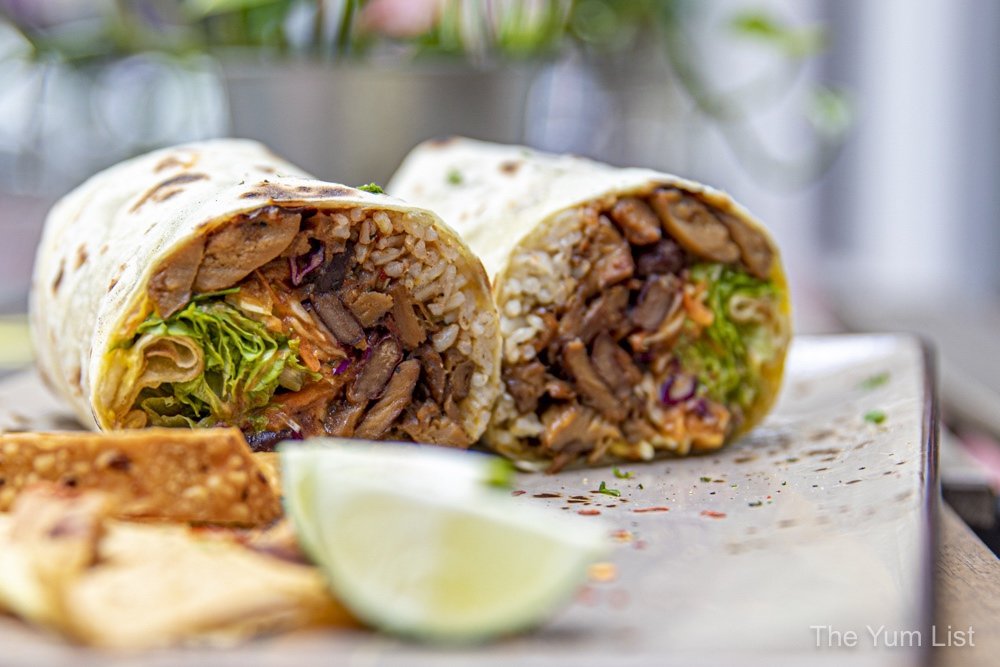 Tacos
I am a big fan of sweet potatoes and excited to see three types in the Sweet Bean Taco (RM 11). They're piled on top of a flour tortilla along with black beans, slaw, pico de gallo, nacho cheeze sauce, sour cream and roasted tomato chipotle salsa. Again, a squeeze of lime on top makes this dish magic.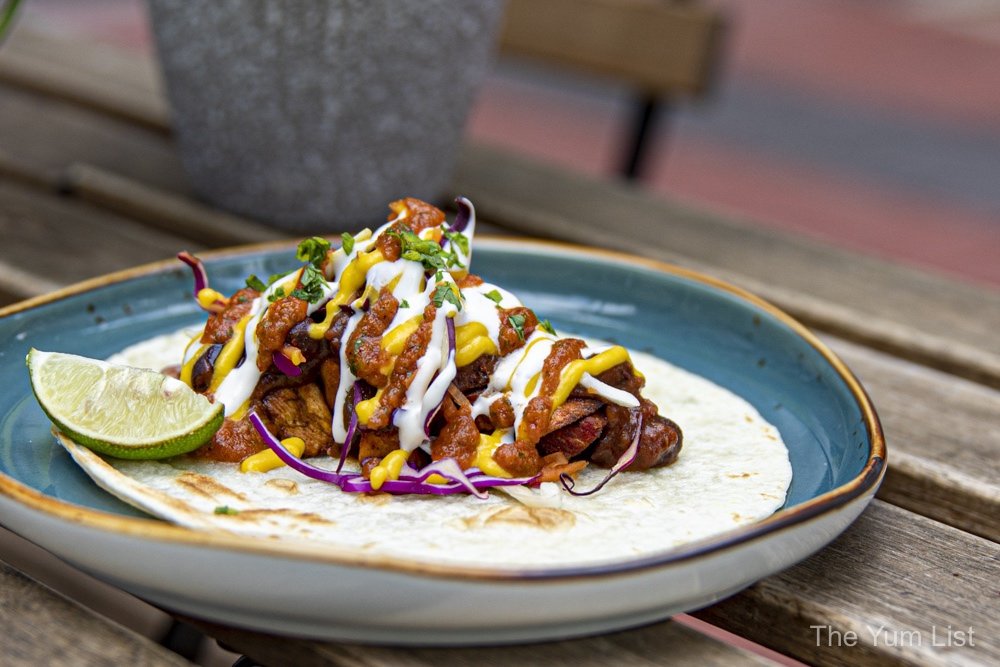 Specials
Bagels are more baked goods I don't seem to get enough of. Here, they hug mushroom asada, lettuce, slaw, sour cream, nacho cheeze sauce and roasted tomato chipotle salsa in the Bagel Burger (RM 26). That key lime wedge comes on the side and is best made good use of.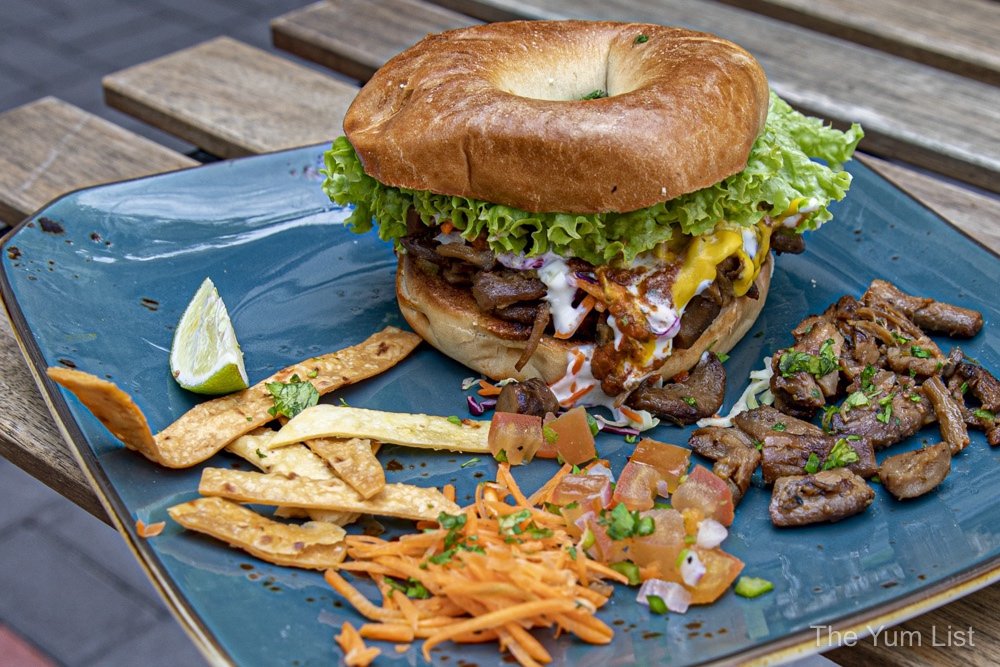 Nourish Bowls
You can build your own bowl at Sala @ The Row with the Nourish Bowl (RM 26). Choose your greens, carbs, protein, main, fruit, nuts, seeds, healthy fat, final touch and a spicy option. The combination possibilities are considerable. My attempt brings baby spinach, tri-colour grilled sweet potatoes, quinoa, eggplant, bell peppers, corn salsa, starfruit, almonds, chia seeds, avocado, goji berry and sriracha sauce to the bowl. It's a vibrant bowl filled with my fave ingredients.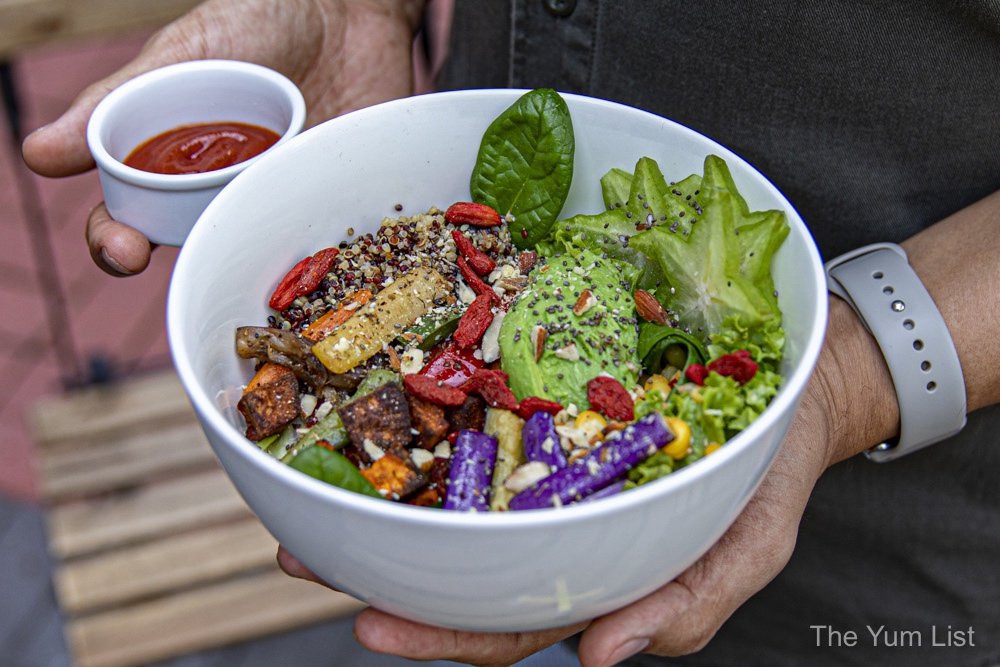 Local Delights
For those who just must have a taste of local, Sala at The Row KL makes a trio of local delights. Today we try a small bowl of Curry Laksa (RM 12). This aromatic vegetable curry is plump with bihoon noodles, seaweed sambal, lettuce, fried tofu, fu chuk (soy milk skin), scallions, tofu puffs, bean sprouts, long beans, fried eggplant, fried shallots and topped off with a lime wedge.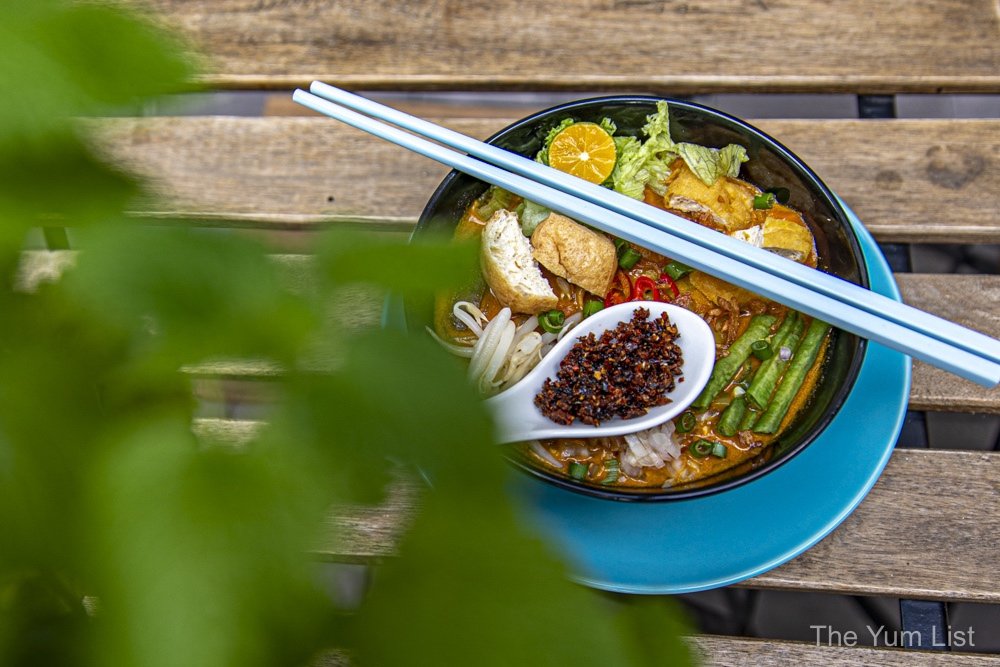 Vegan Desserts KL
Guilt-free dessert? Well, it depends on how you define your sins. Kind to the earth? You bet ya! Serous calorie bomb? Yep, it's that too. The Peanut Butter Brownie (RM 10) is decadently rich and moist with its fudgy, dark chocolate density. Rich often jokes that I rarely take more than a spoon of dessert and if I take two it means that it is really good. Well, what does it say when I have to restrain myself from eating the whole thing?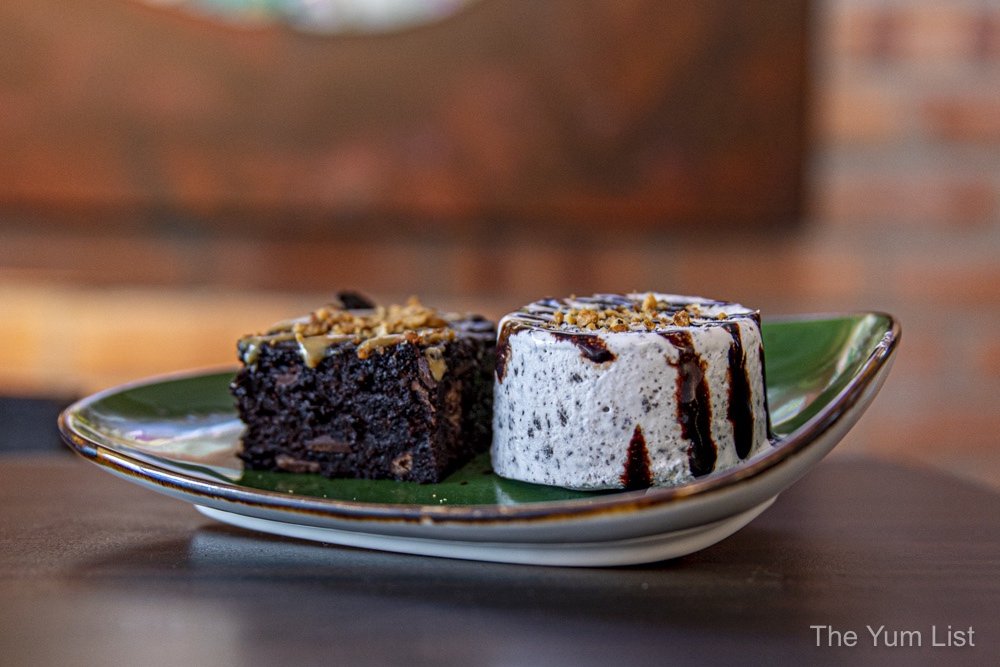 We opt for a scoop of vanilla Kelava Ice Cream (RM 8.50) to go with the brownie – an excellent choice. This coconut-based vegan ice cream comes in vanilla, chocolate, cookies & cream, matcha, salted gula Melaka and strawberry. It's creamy and melts beautifully with the chocolate.
Pecan Bars (RM 6) are refined sugar-free and gluten-free. You'd never guess. They are really sweet – great with a hot cup of tea.
Sala The Row Review
The new setting of Sala at The Row in KL is very welcoming. I imagine fans will be just as excited as we are to have them closer to the city centre, and if you haven't tried them yet – go! It's near impossible not to become a convert.
Reasons to visit Sala at The Row KL: excellent plant-based vegan café in Kuala Lumpur; pleasant new setting with great views; order the Shrooms Asada Burrito!
Sala @ The Row
Vegan Plant-based Restaurant Kuala Lumpur
32 G Jalan Doraisamy, Chow Kit, KL
+60 11-3990 3021
www.facebook.com/salakl
Sala The Row KL Opening Hours
Daily 11 am – 10: 00 pm
More vegetarian and vegan restaurants in KL here and stay up-to-date with the latest gourmet and travel recommendations for Malaysia here and here.