Heritage Pizza The Row
Words: Monica Tindall
Photos: Rich Callahan
Despite the pandemic, several brave new eateries have opened their doors in 2020 and we're particularly happy that Heritage Pizza is one of them. Located in the latest strip to be revealed at The Row KL, the restaurant sits in good company. With Sala (plant-based) next door, 2OX (French) down the street, and Joloko (African-Caribbean) and Gavel (British) up the road, the area is a happening place to dine.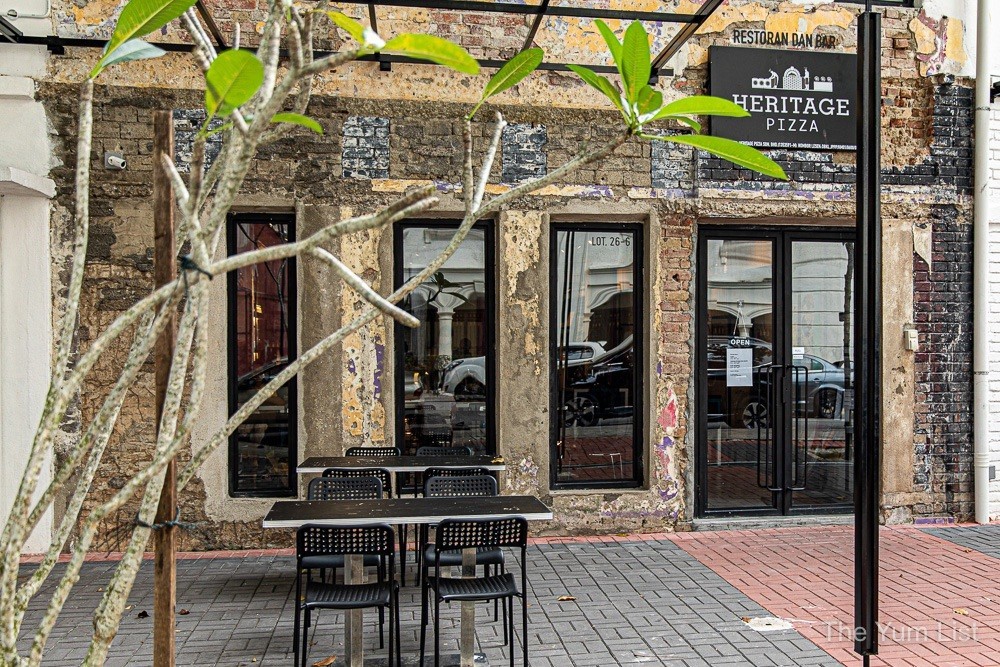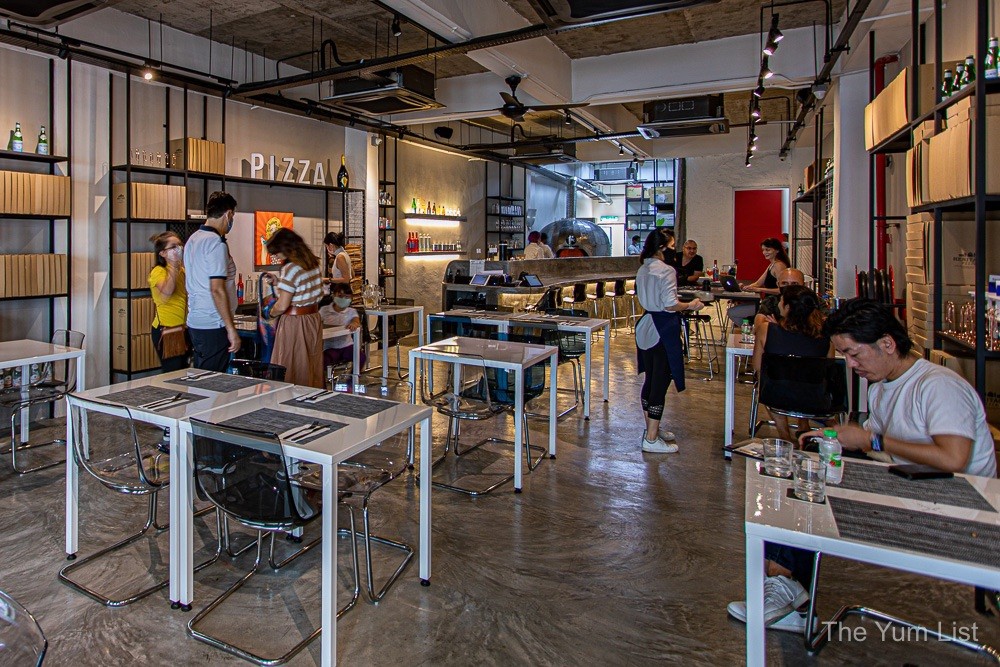 Owner, Antonio Delachi, says that as Italians, "as soon as we walk, mama gives us pizza. I wanted to give KLites a place to enjoy that tradition. I want to serve pizzas that are not overpriced and that are easy to digest."
Milan-born and Vincenza bred, Antonio adds that "opposite to what a lot of people think, lots of Italians are not fond of the Neapolitan style of pizza. It's good when you are in Naples but doesn't travel well. From Rome to the north, the pizza is a bit crunchier. You have to feel both the crunchiness and the softness together. The dough is left to proof for two-and-a-half days, which makes it easier to digest. It does mean that sometimes if we get full-house we have to reject people as we won't compromise on quality. When the dough runs out you have to wait for the next batch to be ready."
"I want to give a little pleasure to everyone," declares Antonio. Coming from the aerospace machinery industry, this is a business of pleasure for him. "Obviously, if we make a bit of money, we are happy, but it's more about giving a smile to the people," he adds. By coincidence, Antonio first met his girlfriend Vivian in this row in a club above this roof. He also spent many months in Sheraton Imperial when he first arrived in Malaysia so this street has special meaning.
Heritage Pizza Menu
Just as you the title suggests, the name of the game here is pizza. The one-page menu lists two handfuls of styles with the possibility of customizing each with additional toppings of your choice. Every six weeks the menu changes introducing two new pizzas and removing one. Antonio wants customers to always have something new to look forward to.
The foundation of any good pizza restaurant can be found in its Margherita (RM 30). The classic, although the simplest of ingredients, is a good indication of where the rest of the menu might take you. Crust, sauce and quality of cheese all contribute to the story.
Left to ferment for 48 hours, the dough at Heritage Pizza is quickly cooked at a high temperature in the Veronese stone oven. The result is a crust that is flat in the middle with a puffy edge sporting the signature leopard-spot char, which showcases the bubbles of a long, cold ferment and scorching heat. Canned tomatoes from Campania are used for the sauce and buffalo mozzarella, also from Italy, is essential to the overall quality.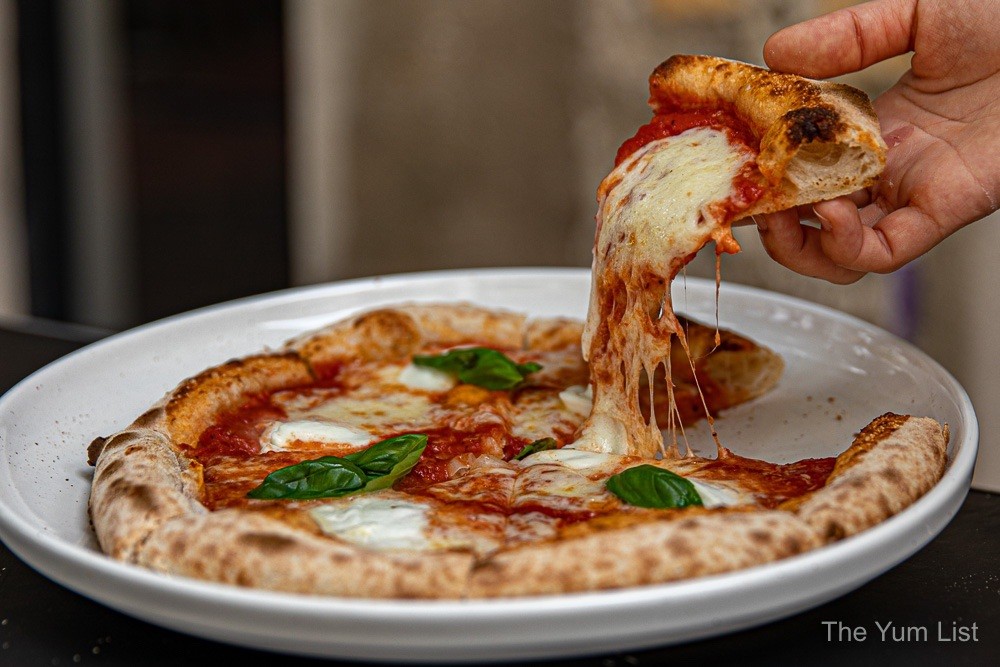 One of my go-to pizza orders is the Capricciosa (RM 40). Adding cured ham, olives, artichokes and mushrooms to the tomato and mozzarella base, I find the combination irresistible. Translated to capricious, I'm glad there is no unpredictability here; it consistently satisfies with every slice.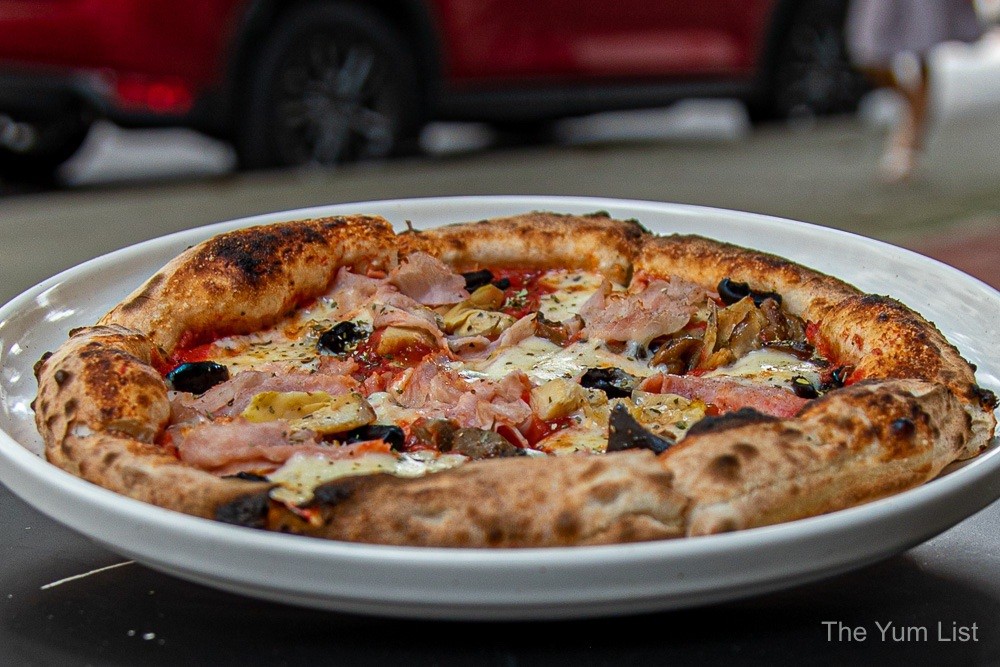 Once more the classic tomato and cheese base forms the foundation of the Bresaola e Rucola (RM 46). Dried beef is the key to giving this pizza its delicious taste, and generosity is shown in the mound of slices on top. For additional decadence, I highly recommend adding a ball of burrata (RM 24), slice in and let the melty middle spill onto every slice.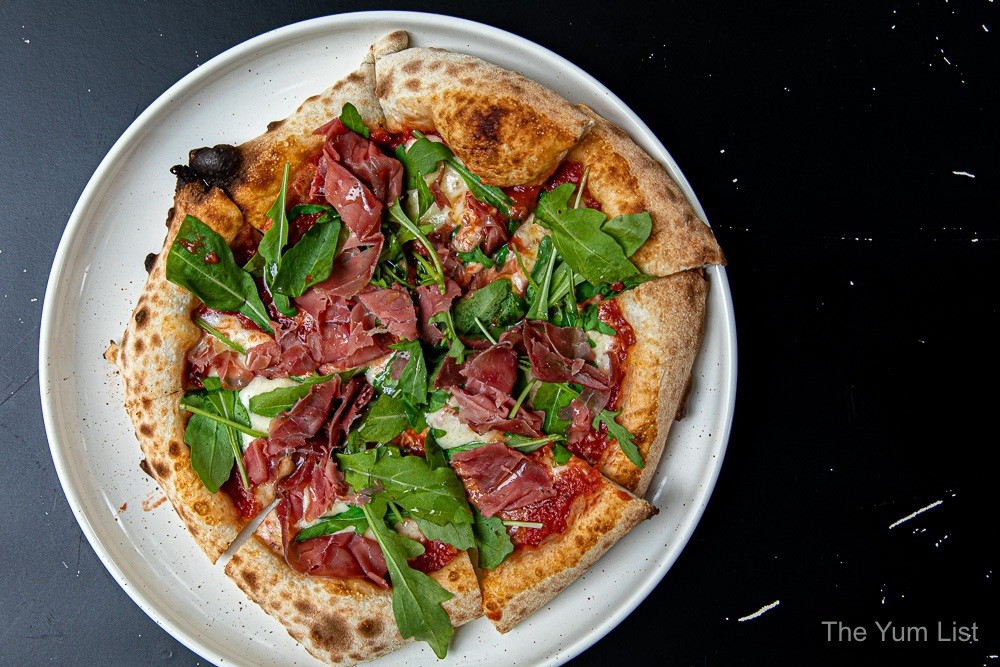 Calabrese (RM 42) switches up the topping with nduja, broccoli and crispy pancetta. Similar to the Spanish sobrasada, nduja is a spicy, spreadable pork paste. Typically made with offcuts, and roasted hot red peppers, each bite packs a punch and only a little is needed to boost flavours. Fortunately, for us, we've saved a little of the burrata from the former pizza. Its creaminess is fabulous against the spice, tempering the heat and encouraging us to dig back in for yet another slice.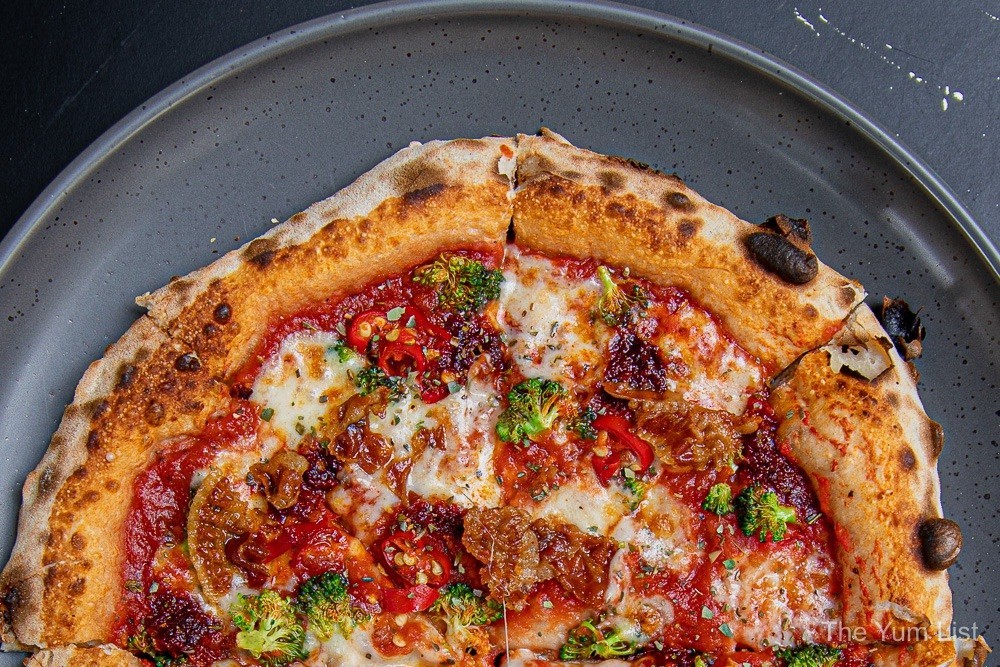 Dessert
You can also find dessert pizzas on the menu at Heritage Pizza with Nutella (RM 32) coming in a hot fave. For us, though, Artisan Sorbets (RM 8) and Gelatos (RM 10) are just the right size to conclude. Pistachio, hazelnut, fior di latte, and lavender are made locally and adjusted especially for the menu at Heritage Pizza. They're all smooth and decadently creamy, but the one that we tussle over for the very last scoop of is… the pistachio.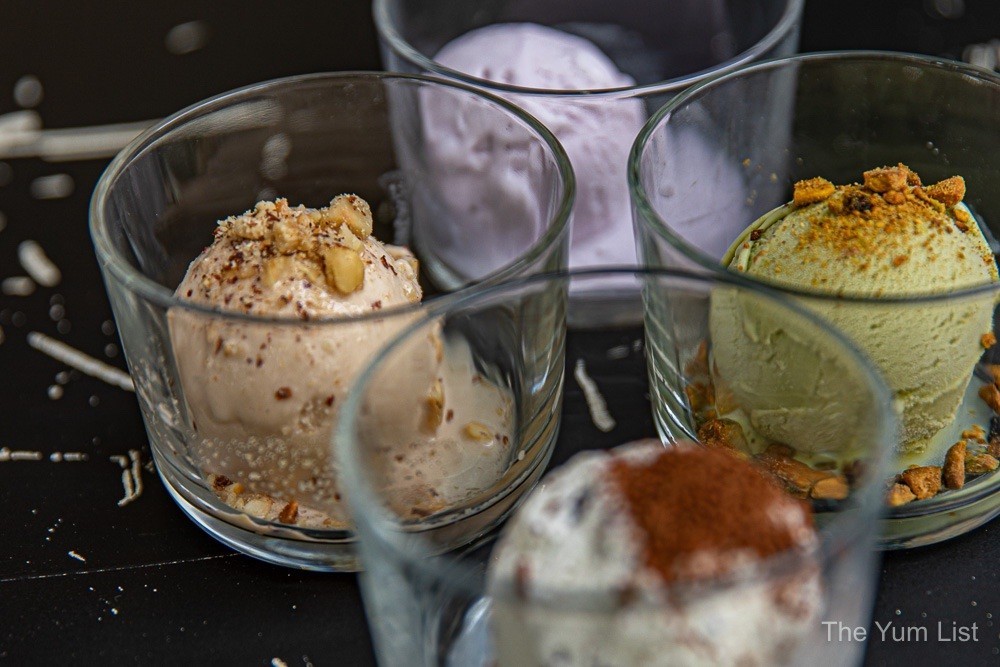 Drinks Menu Heritage Pizza, The Row KL
A handful of sparkling sodas, coffee and a trio of beers are for refreshment at Heritage Pizza. I share the Italian spirit and opt for Birra Menabrea (RM 29). Located in Piedmont in the north of Italy, the company produces both a Lager (Bionda) and Amber (Ambrata). At 4.8% ABV and with layers of malt and hops, the pale lager goes well with the rich tomato sauces on the pizzas. A balance of citric, bitter, floral and fruity notes also makes it an excellent match for Malaysia's warm climate.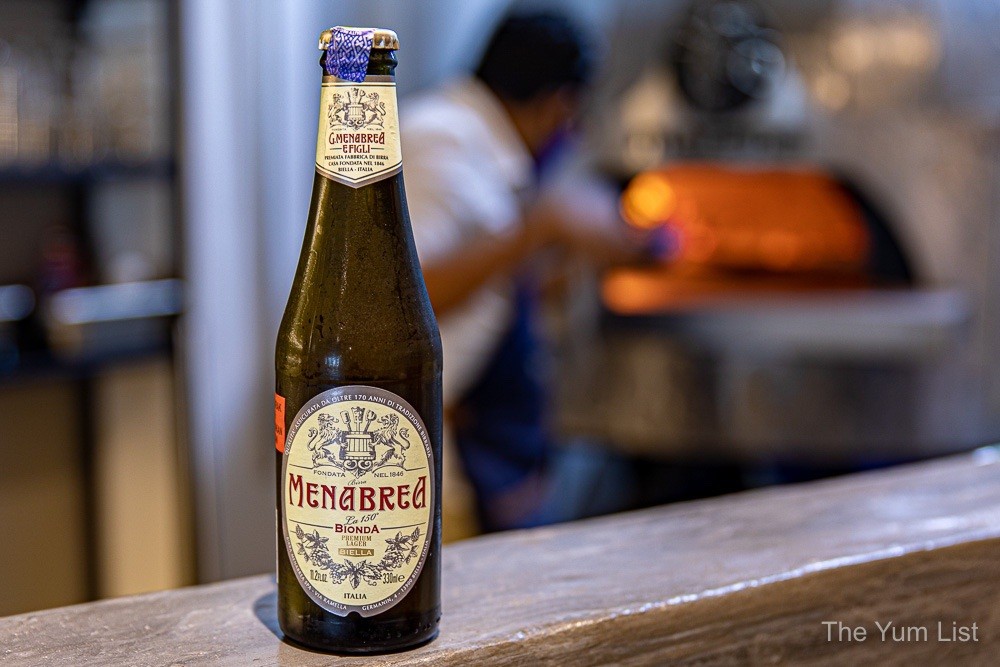 A short wine-list changes with the seasons and Aperol Spritz will soon also be on the menu. Antonio says, "pizza is a beer thing for the adults and a Coca-Cola thing for the kids but wine is offered as Malaysians seem to enjoy a glass with a slice of pizza."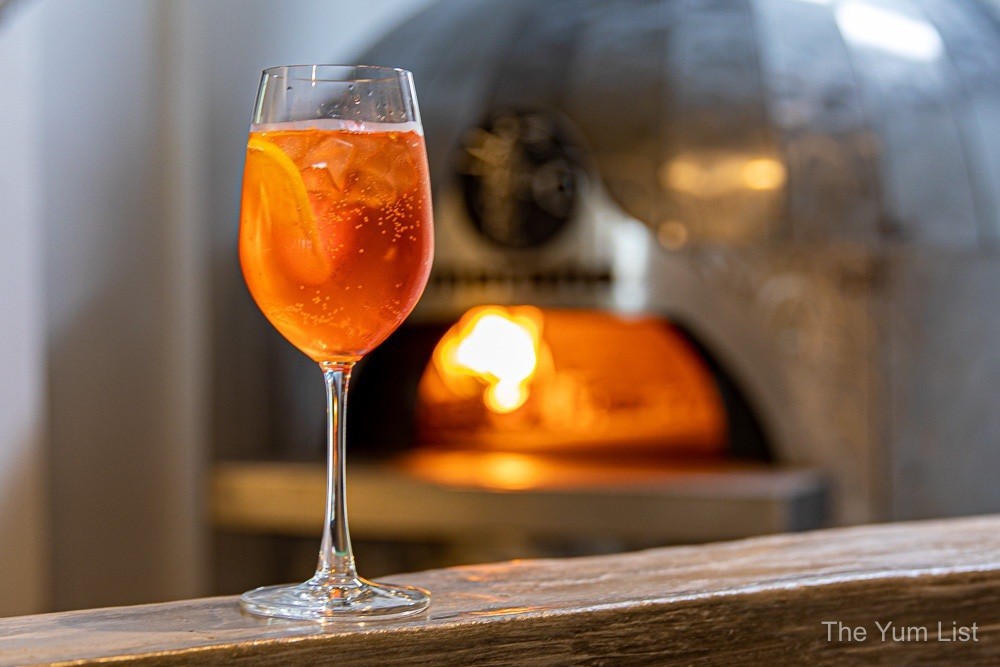 Heritage Pizza Review
In Antonios' words, "Be sure to eat a slice of Heritage Pizza hot – straight out of the oven. Don't waste time taking photos or you'll miss the experience."
Reasons to visit Heritage Pizza, The Row KL: great setting on a pleasant restaurant strip; slow, cold ferment pizzas; affordable prices; must order the Calabrese with a ball of burrata on top.
Heritage Pizza, The Row KL
Jalan Doraisamy, Chow Kit
50300 Kuala Lumpur, Malaysia
www.instagram.com/heritagepizza_kl
+6 03 2602 1919
[email protected]
Heritage Pizza Opening Hours
Monday: closed
Tuesday: 6 pm – 12 pm
Wednesday to Sunday: 12 pm – 2 pm & 6 pm – 10 pm
Find more Italian restaurants in KL here and stay up to date with the latest culinary happenings around Malaysia here and here.