Delia Wines & Bistro TTDI
Words: Monica Tindall
Photos: Rich Callahan
A new French place to wine and dine has popped up in TTDI; Delia Wines & Bistro. Formerly a wine supplier, the brand has expanded to add a pretty French restaurant to its portfolio. And, from the response so far, it is a very welcome addition to the neighbourhood.
Polished cement floors, soft up-lighting, hanging plants, natural wood tables and exposed brick compose a charming setting. Warm service and an enticing menu complete the picture, ensuring Delia Wines & Bistro is set to be a long-term resident of the community.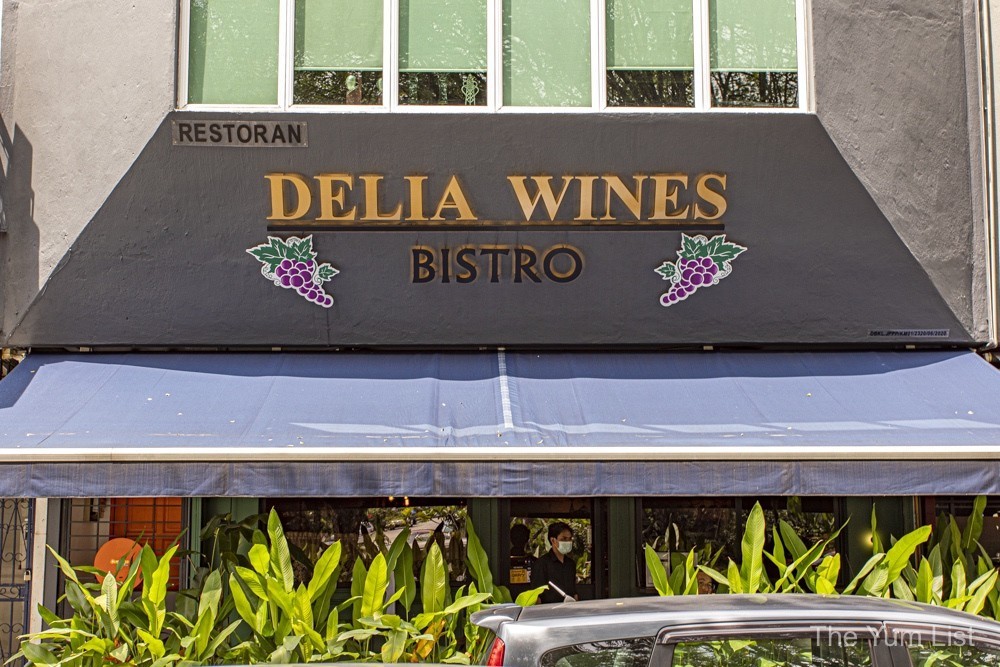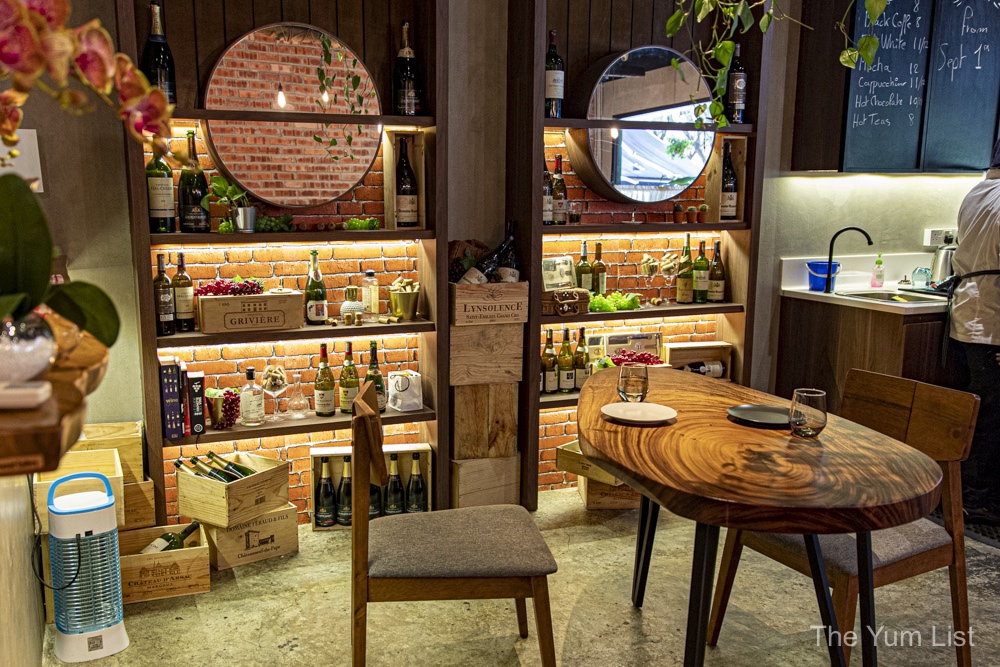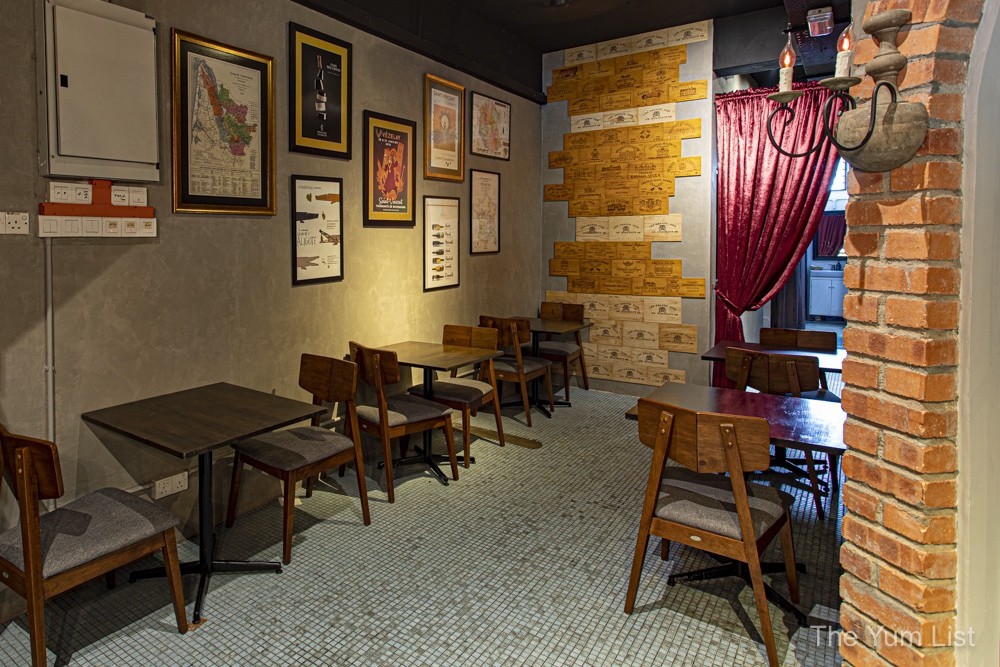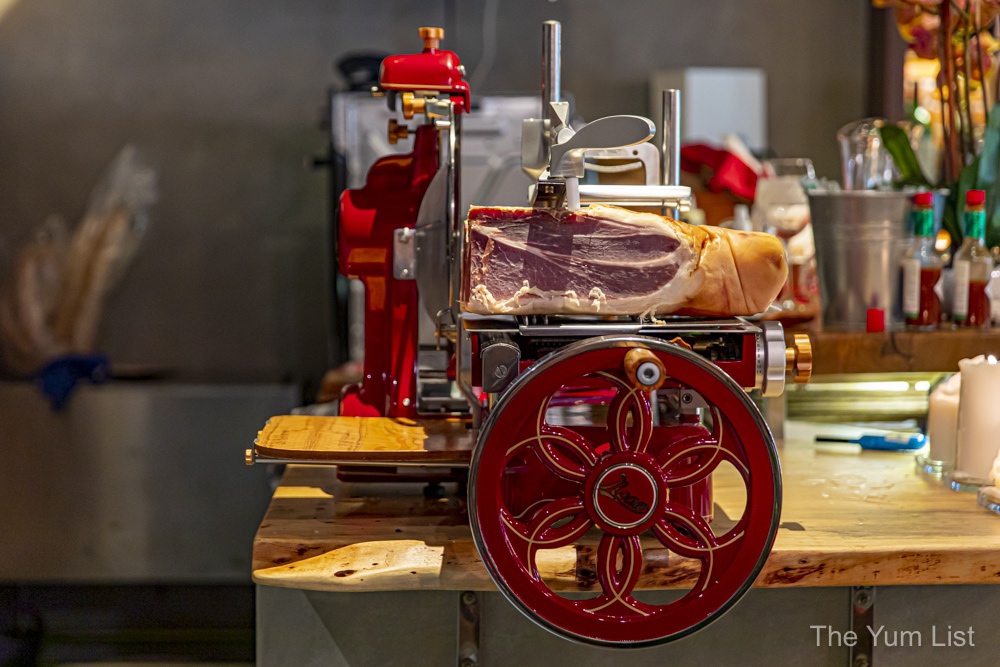 Already a beloved character amongst oenophiles in KL, owner Laurent Robert produces his own Champagne label and is an importer of boutique European wines. Known for his enthusiasm for good food, wine and company, it is no surprise that his passions have eventuated into Delia Wines & Bistro; a place to enjoy all three.
Delia Wines & Bistro Menu
Delia Wines & Bistro is open for breakfast, lunch and dinner with the early morning seeing fresh pastries, eggs and pancakes on the menu. Later in the day, a plat du jour (main of the day, which changes daily over a three-month period) is supported by a selection of hot and cold appetizers, soups, salads, cold cuts, cheese and dessert.
Breakfast
Bordered by leafy plants, the patio is a lovely spot to enjoy an early morning bite. A blend of Brazilian and Indonesian beans from a local roaster is in the hopper and makes an excellent coffee companion to brekkie (RM 8).
While the typical French petit déjeuner might consist of a buttery pastry and bowl of coffee, many local residents appreciate something a little heartier, hence the listing of Scrambled Eggs & Sausages (RM 18). The eggs are soft, you would do well to ask for a spoon, and loaded with herbs. You can accompany them with a choice of four sausages – lamb, veal, chicken, beef and herbs. The lamb is a hot fave.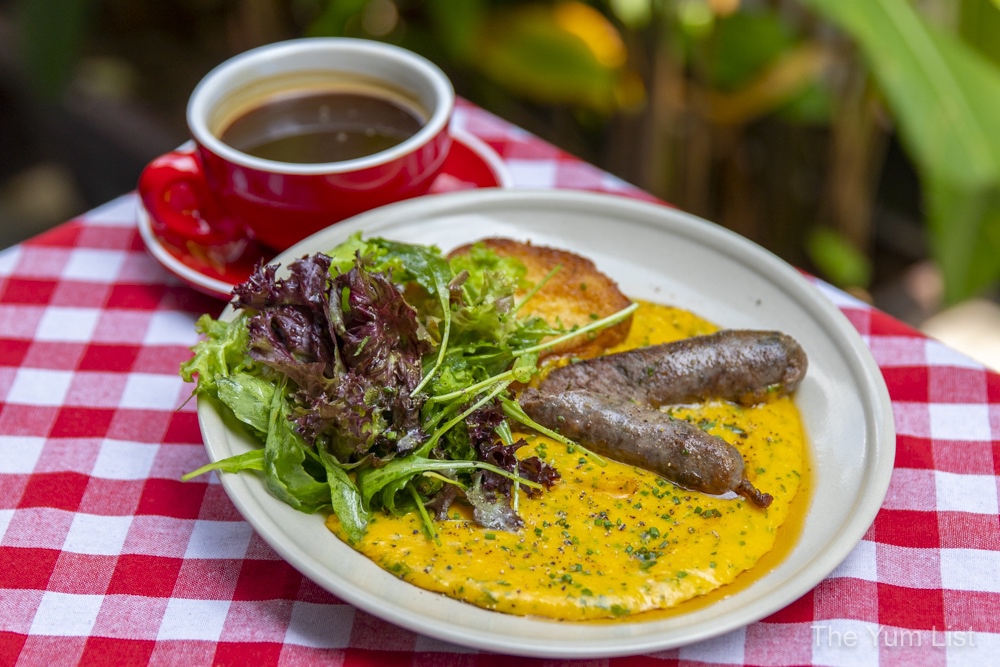 Duck Prosciutto French Toast (RM 25) with honey and caramelized bananas is so much more than anything you'll find on most café menus in KL. The smokiness of the poultry gives it a depth of profile more deserving of a main plate than a simple breakfast. The contrast of sweet and savoury, chewy and syrupy is a win. This gets wiped off the plate in seconds.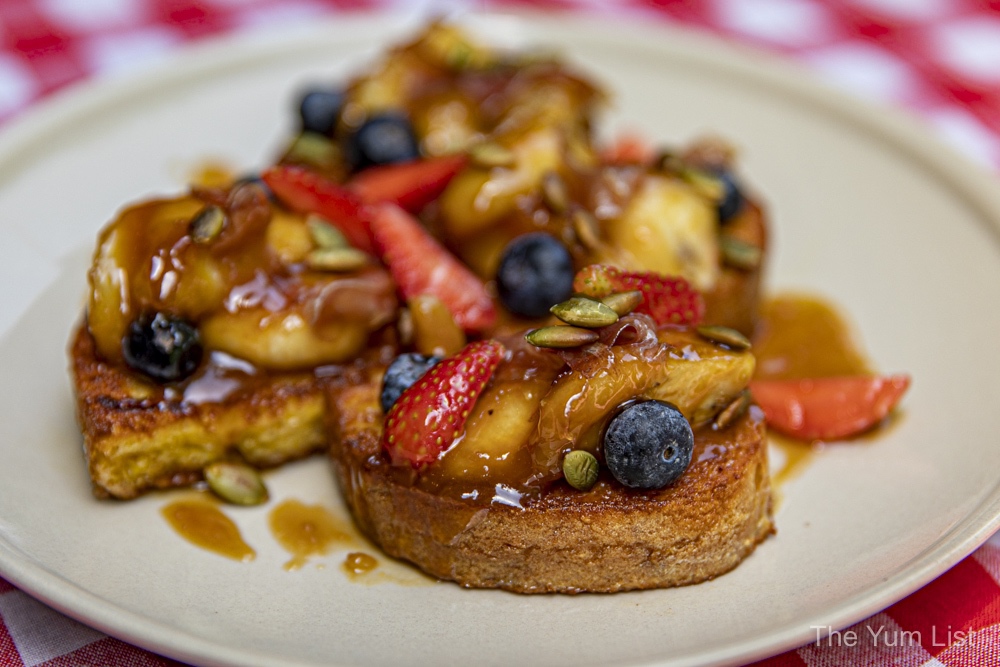 Cheese & Cold Cuts
While there's a complete menu of French dishes to excite at Delia Wines & Bistro in TTDI, you could easily pass a few hours here with cold cuts or cheese platter, a glass of wine and conversation.
We begin with the cheese and it's enticingly plated along with walnuts, fresh berries, herbs and crusty slices of baguette. Crottin de Chavignol (goat's milk cheese), Comté (unpasteurized cow's milk), Roquefort (sheep's milk blue), the oh-so-melty Brillat-Savarin (triple-cream) and Délice de Pommard (also triple-cream) covered with tiny grains of mustard, offer tremendous variety. Obviously, the cheeses have been stored well as each is of superb quality and come into full character as they reach room temperature on the board.
Chateau Jean-Pierre Gaussen, "Longue Garde" Bandol, 2012 (RM 170), a blend of 95% Mourvèdre and 5% Grenache, is fantastic company for the dairy. It offers plenty of fruit on the nose, a full, well-structured body and moderate acidity proving a fine food mate. Bandol, near Marseille and Cassis, is one of Provence's most recognized wine regions. With its warm, coastal climate, conditions are ideal for the late-ripening grape, Mourvèdre.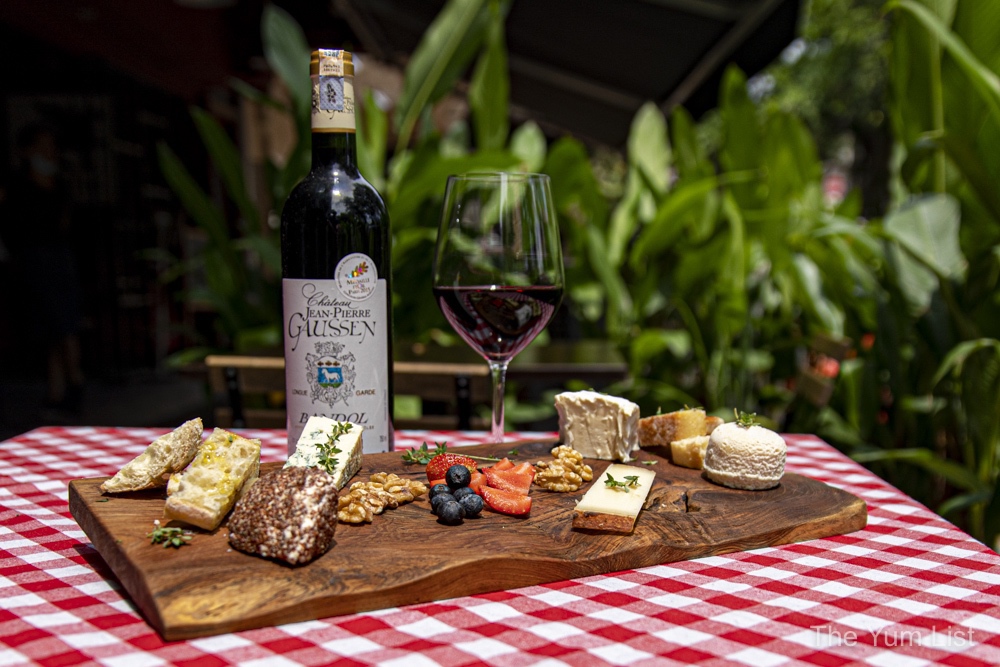 In all honesty, a cheese platter, some crusty bread and a glass of wine is my idea of happiness. I need go no further and would be happy to begin and end the meal right here. But there is more. So much more to try, such as cold cuts…
Another platter, beautifully presented on hand-cut natural wood, holds cold cuts freshly sliced in the magnificent Ferrari-looking meat slicer. Mounds of San Daniele prosciutto, black pepper pork loin and local smoked duck breast prosciutto are sliced so finely that they're almost transparent. Pork head pate, duck rillettes, pickles, pickled onions, and crusty bread complete the scene.
Taking the charcuterie to another level, however, is a lovely pinot noir; Domaine Besson, Givry 1er Cru, Les Grands Pretans, 2018 (RM 178 per bottle). This full-bodied red breathes enticing notes of dark cherries and violets, is silky and refined in the palate, and concludes with a pleasant length.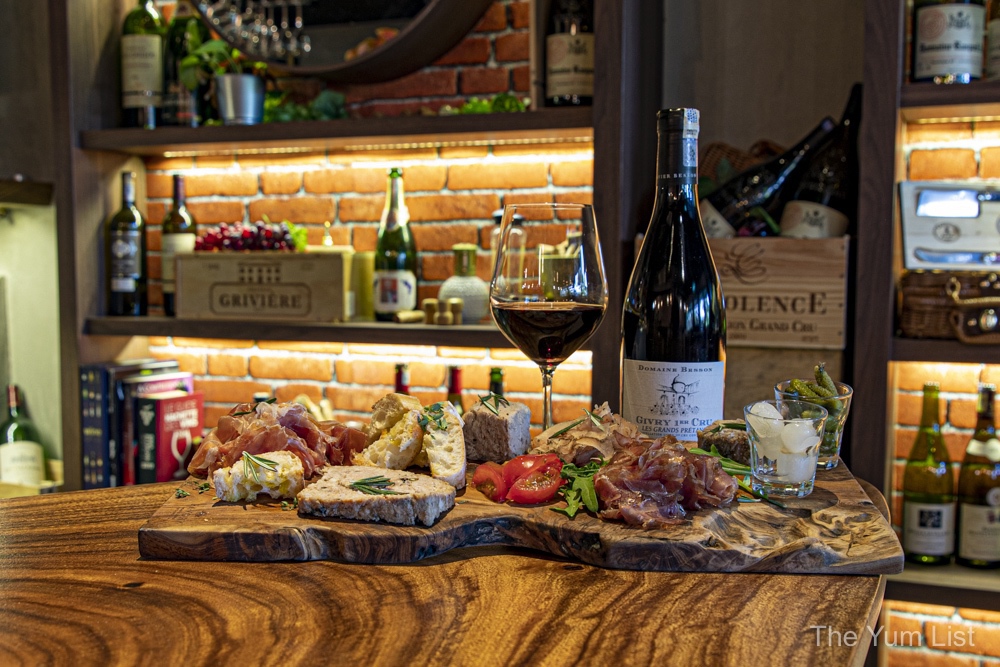 Entrée
Chef Dimitri, current kitchen head, was formerly a lawyer. Leaving the not-so-delicious world of legislation behind, he now creates his own rules and regulations in the kitchen of Delia Wines & Bistro (with the agreement of Laurent's keen French adjudication, of course). Together with Laurent, he has curated a list of staples that provide back-up to the daily-changing plat du jour.
Following our protein-abundant preamble, Cold Zucchini Salad (RM 25) adds a welcome veggie intermission to our meal. Shavings of green and yellow zucchini, red coral lettuce, pomegranate, whole walnuts, pumpkin and pomegranate seeds make a vibrant, nutrient-rich bowl. The vinaigrette of mustard, olive oil and reduced pomegranate juice is fresh and of just the right amount to enhance rather than overwhelm the greens.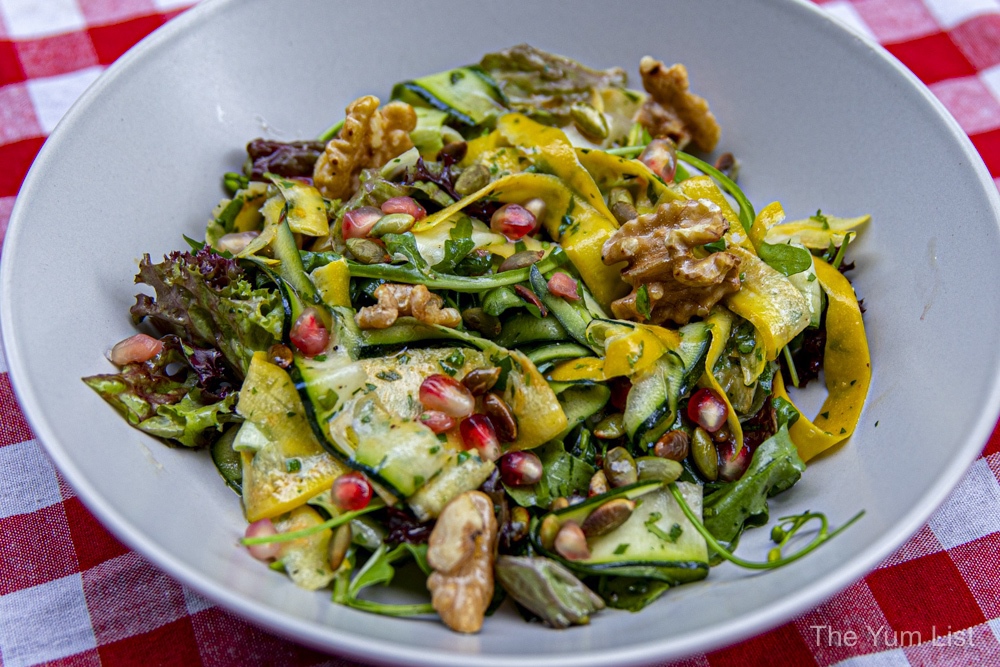 Plat Du Jour
Each day of the week features a different main ingredient – beef, seafood, lamb, game and poultry. Beef is on the agenda if you visit Wednesday and this week's composition is Beef-stuffed Aubergine Rolls (RM 42) with charred broccoli, arugula, walnuts and pomme puree. It's a delicious and hearty mix, one that we'd be happy to return for. Only thing is… we'll have to wait three months for this recipe to return. With a different dish every day for 90 days, there is always something exciting to look forward to.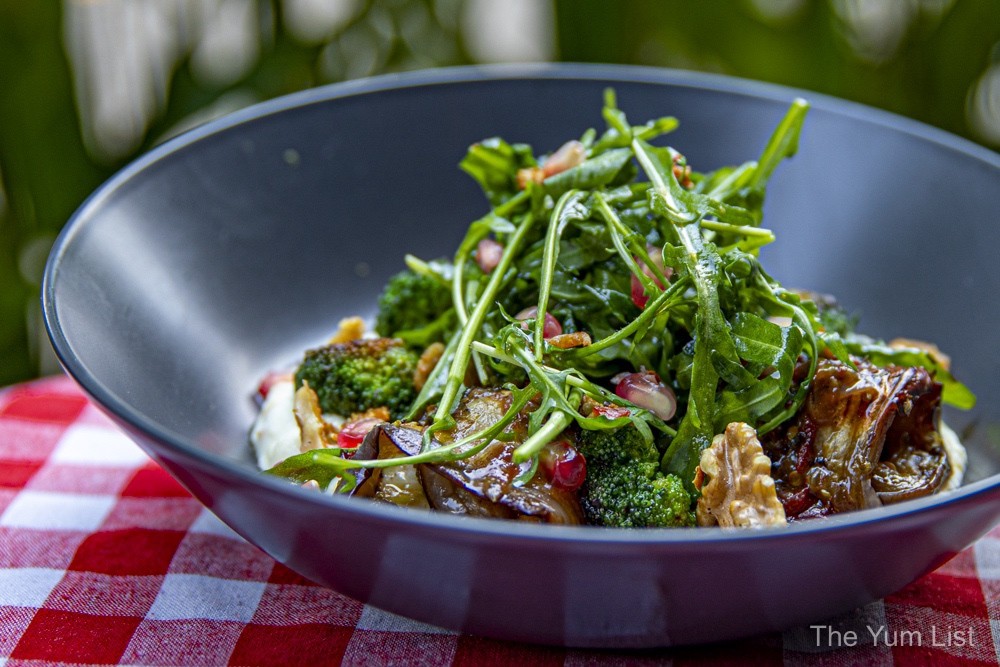 Dessert
We conclude our meal at Delia Wines & Bistro with two classic French desserts, Crème Brulee (RM 12) and Chocolate Mousse (RM 10). They're both of just the right portion. The former has that distinctively thin caramelized top that cracks with the touch of a spoon breaking way to a silky, creamy base. The mousse, made with Indonesian chocolate, is bottomed with a little raspberry jam (sometimes it's rhubarb depending on what's available from the farm) and capped with macerated strawberries.
We'd confidently recommend each and even more so with a glass of Gewürztraminer Oberer Weingarten de Rorschwihr 2012, Rolly Gassmann (RM 31). Its ripe fruit and rich palate complement the dessert but are also a commendable contrast with dishes such as foie gras or blue cheese.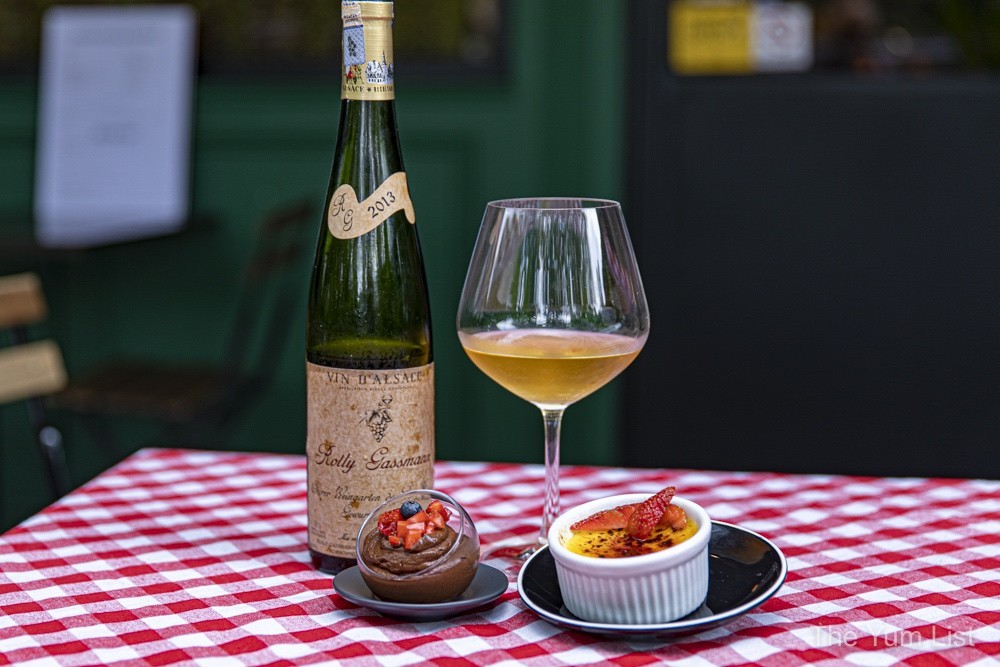 Delia Wines & Bistro Review
Delia Wines & Bistro is a welcome addition to the TTDI neighbourhood and the KL restaurant scene in general. The menu is just big enough to keep interest but sufficiently compact to maintain quality and consistency. It offers an intimate setting accompanied by amiable waitstaff, hearty food and delicious wine, ticking all the boxes for a pleasant experience.
Reasons to visit Delia Wines & Bistro TTDI: charming setting; hearty bistro-style French cuisine; must order cheese or cold cuts platters with a good bottle of wine; well-chosen French wine; always a different plate of the day to discover.
Delia Wines & Bistro
French Restaurant
15, Lorong Datuk Sulaiman 7
Taman Tun Dr Ismail (TTDI)
60000 Kuala Lumpur, Malaysia
[email protected]
www.facebook.com/Deliawines
+6 012 375 4590
Delia Wines & Bistro Opening Hours
Daily 9 am – 10 pm
Find more French restaurants in KL here and stay up-to-date on the latest culinary happenings around Malaysia here and here.