Playte Contemporary Dining
Words: Monica Tindall
Photos: Rich Callahan
Playte celebrates the talents of three young professionals bringing contemporary dining with an Asian flair to the table in the stylish restaurant hub of the Republik in Bukit Damansara.
Le Cordon Bleu culinary institute graduates, Brendon Chen, Kae Huey and Sharina Aidid, are the trio behind the concept. Each followed their own path post-graduation, finding experience and building knowledge in separate fields of the food and beverage industry. Years later, the friends have reunited combining their expertise to create Playte Contemporary Dining.
Playte Contemporary Dining
As mentioned, Playte is housed in the boutique development of Republik Damansara Heights. The repurposed colonial-style mansion accommodates several gastronomical ventures with Playte located on the ground floor.
The white facade gives way to sleek lines in a room arranged as if a stretched platter of presentation. Kitchen bar on one side and cushioned benches, tables and chairs on the other lead the eye down a long rectangular path with soft integrated lighting. A more private experience might be had at the tables, but we're curious and prefer seating at the bar with a direct view into the kitchen.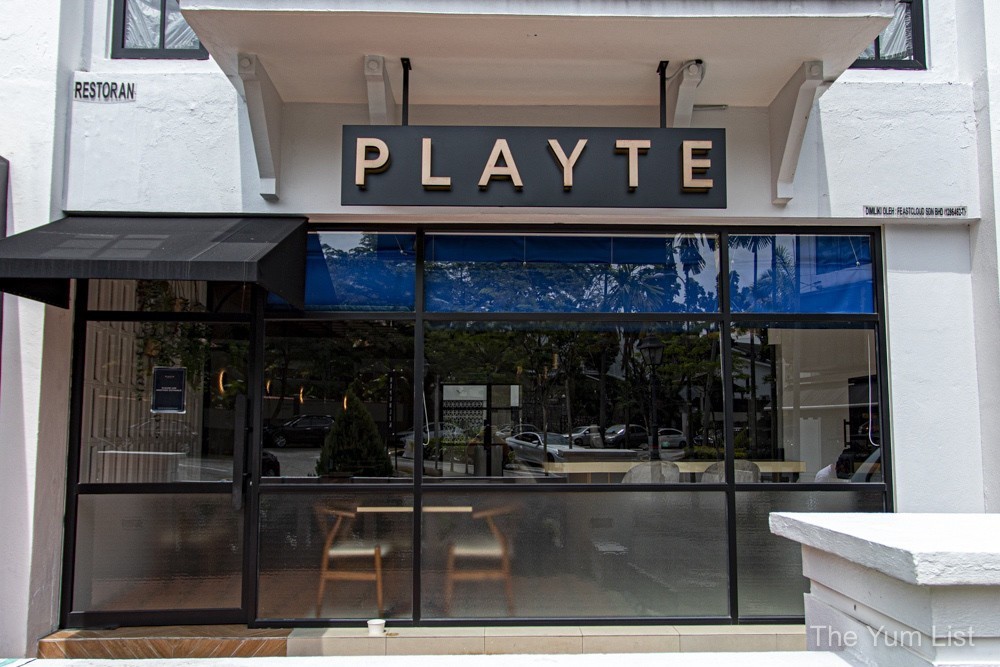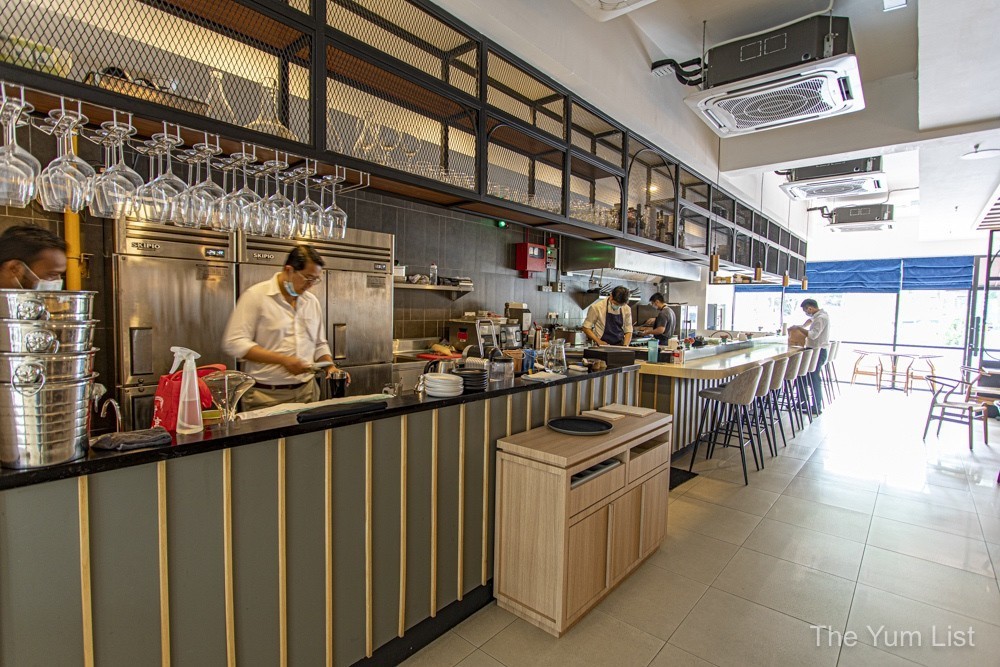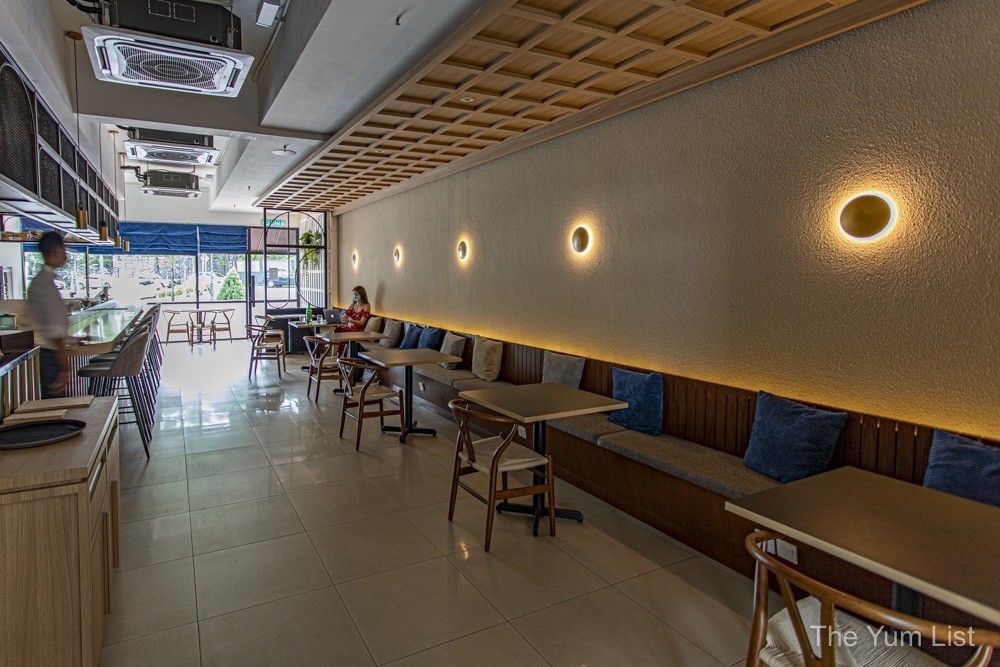 Drinks
An elegant glass of Citadelle Taruzake (RM 38) opens appetites. It's the team's take on a dry martini with French gin, aged sake (18 months on oak) and a garnish of cucumber balls on a stick. The oak gives the drink supplemental levels of depth and the gin is "summer in a glass" according to Citadelle's marketing team.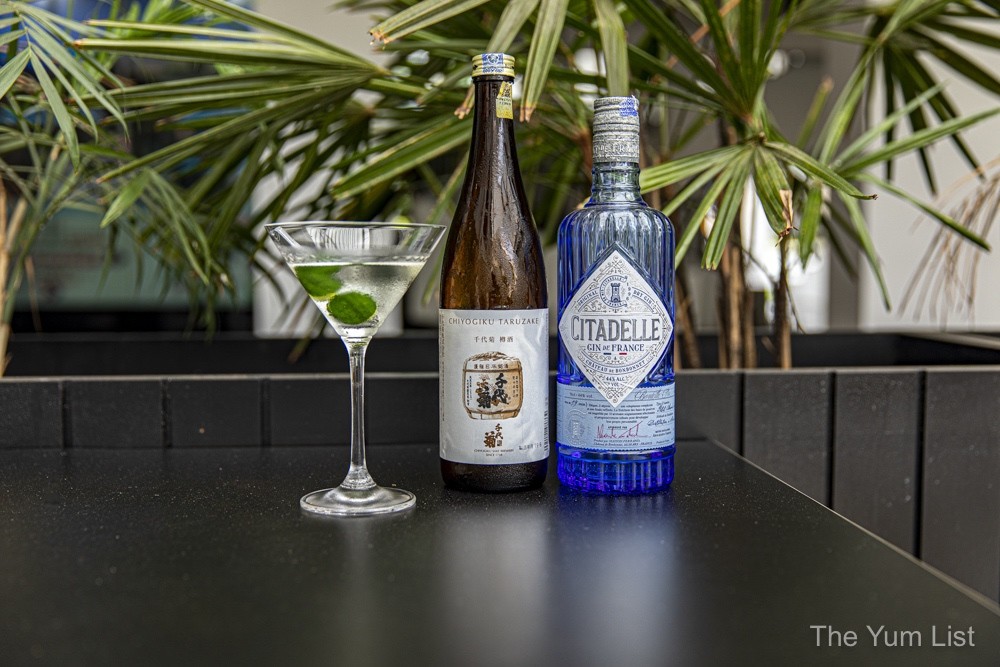 A compact drinks list with a few beers, cocktails and short wine selection offers plenty to quench thirsts at Playte Contemporary Dining, and the cocktail was a perfect opener. Later we move to wine to go with food and learn that prices are even more affordable with revisions post MCO. Additionally, over this CMCO there's a further 20 % off wine by the bottle!
I begin with a Spanish white, Care, Macabeo Chardonnay, Carinea 2016 (RM 36). It's a deep yellow in the glass, aromatic with hints of pineapple and citrus, and offers balanced acidity. It's an excellent mate for our seafood and salads.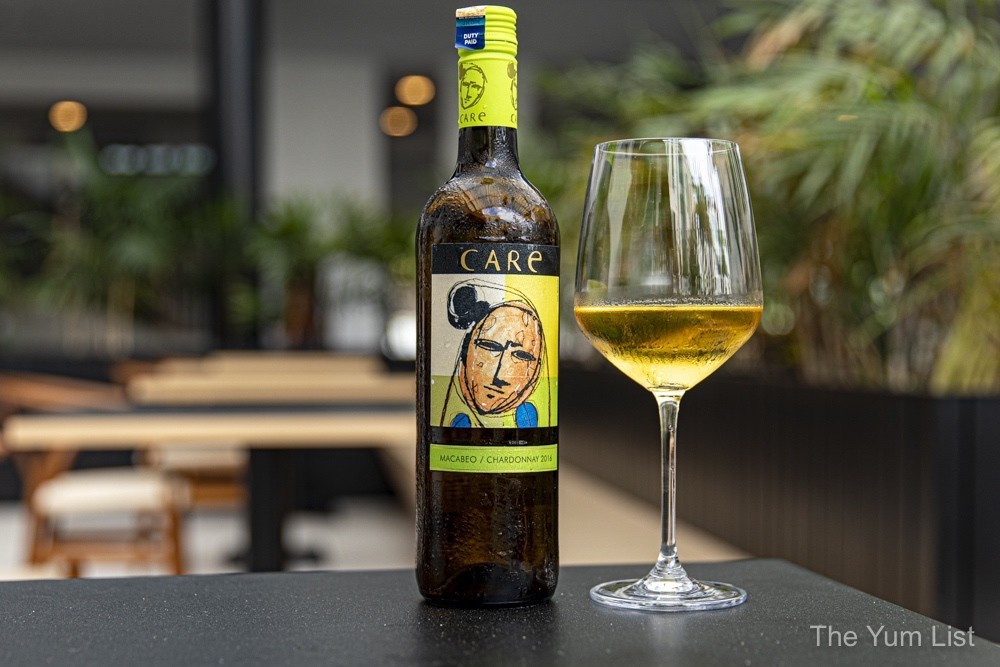 Also enjoyable with food (later with our aged duck breast), is a glass of Lavila, Cabernet Sauvignon, Languedoc-Roussillon, 2018 (RM 36). It's a full-bodied wine with plum and other dark fruits in the bouquet and a whisper of smoke.
Diversifying the pairings, you might alternatively try a Glenfiddich 15-year-old Whisky (RM 48) with the duck. It offers lovely sweet caramelized aromas and is smooth easy drinking. There are warm notes of fruit, spice and honey – a pairing worth exploring as something different to wine.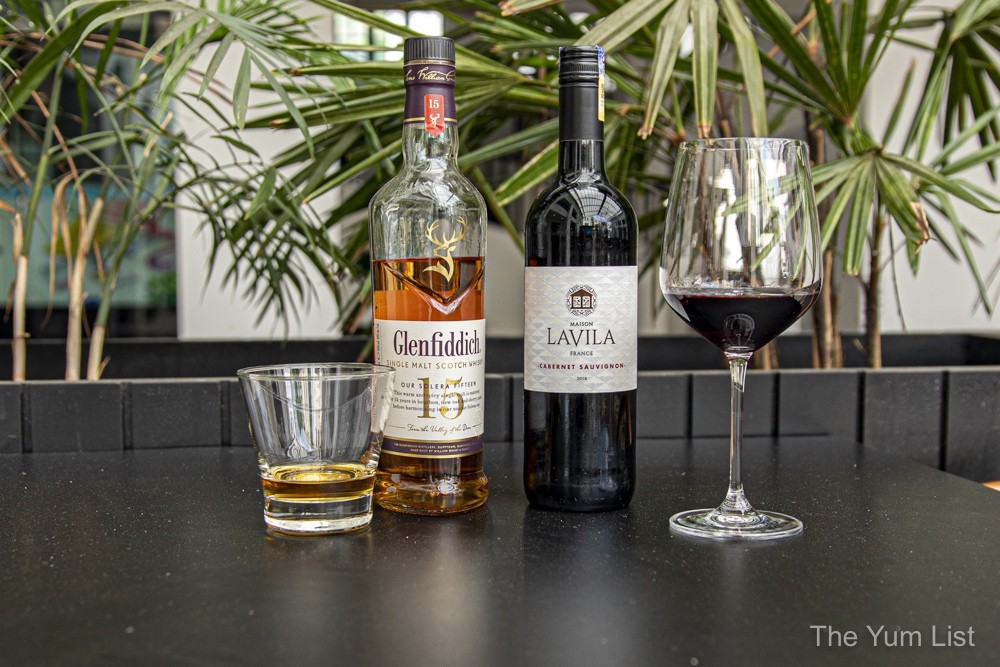 Menu
Chef Brandon is no stranger to contemporary kitchens, formerly working in famed restaurants such as Mume in Taipei and KL's own Sitka and Nadodi. At Playte he describes the cuisine as European in technique with lots of local ingredients. Currently, they're offering a five-course set menu for the value-for-money price of RM130!
While the menu is already laid out, if you give the team advance notice they can cater to several dietary needs. Today, the chefs substituted the seafood dishes with vegetarian options for Rich, and I thought the replacements were as equally delicious.
First Course
Hokkaido Scallop & Snapper Tartare begins the five-course set with freshness and a wonderful balance of flavours and textures. The fresh, finely chopped house-cured seafood is elevated with a dressing, burnt apple puree and crunchy, toasted hazelnuts. Rich's vegetarian option offers the same seasonings only with colourful heirloom tomatoes and fried capers as the base.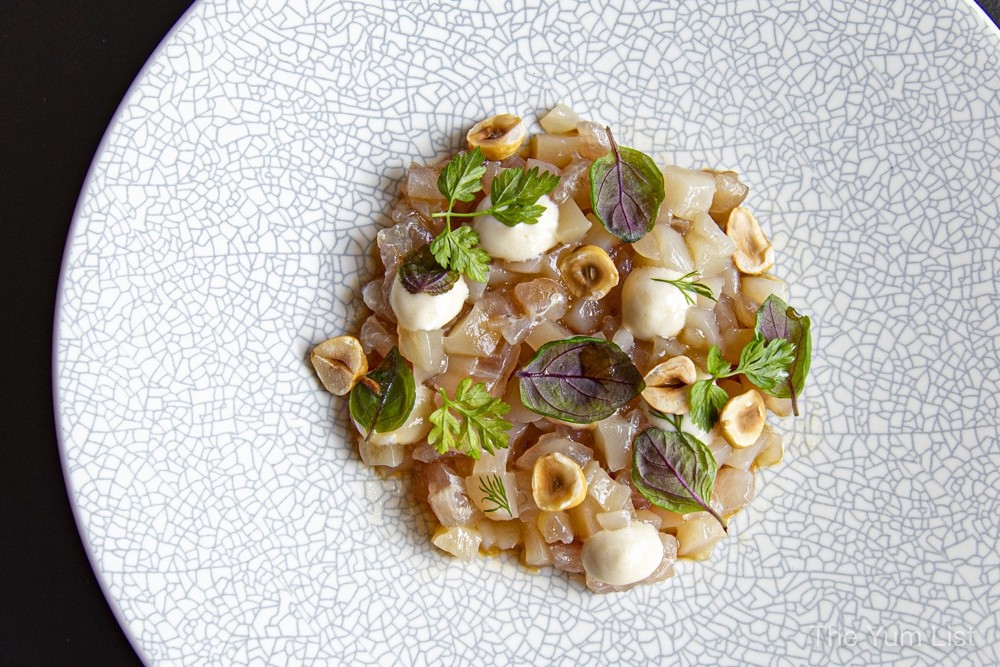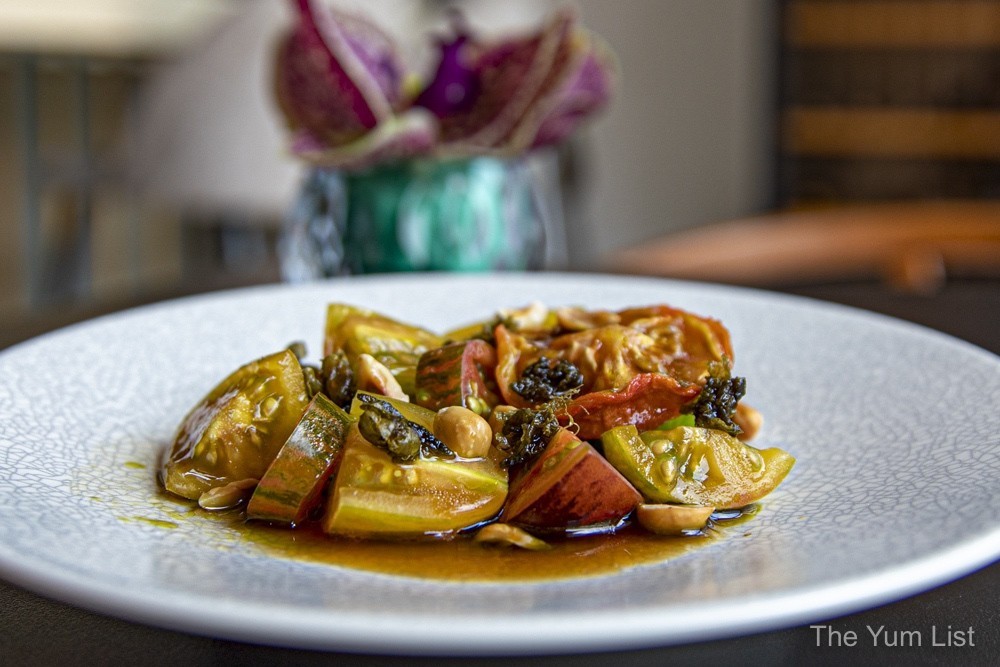 Second Course
Celebrating the brilliant biodiversity of Malaysia is the second course of Organic Vegetables. Here we have a mound of greens including the wild ferns of both paku and midin, crispy fried kale, toasted baby cabbage and baby red spinach leaves. It's dressed with a clam emulsion and sprinkled with wakame powder. Delicious!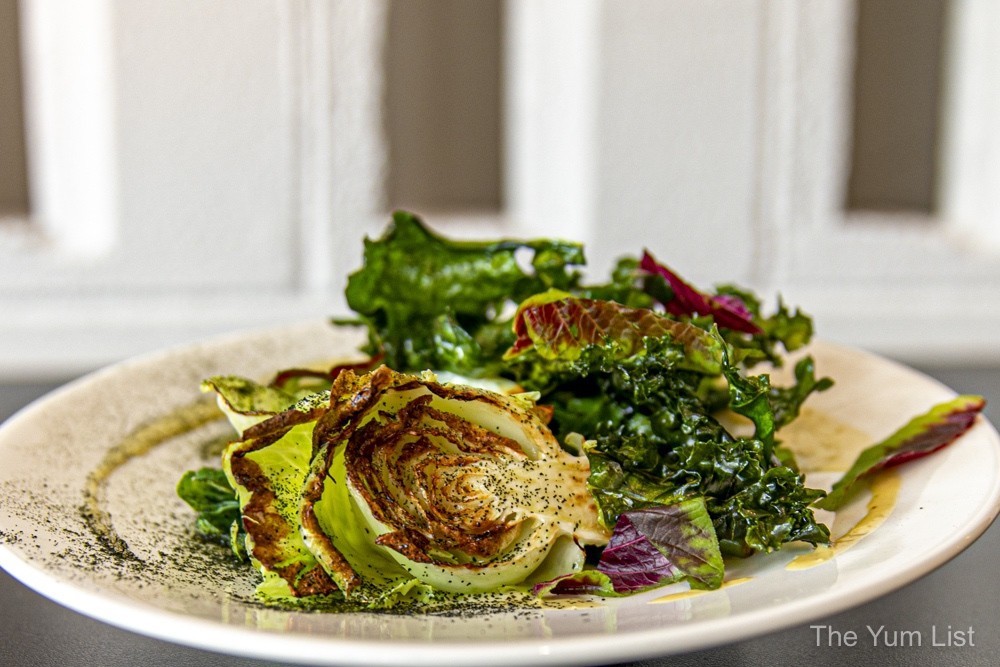 Third Course
In the third recipe, Baby Squid is served both whole and fried and dried, which addends a level of chewiness and deeper flavours to the overall profile. A rich sauce of cured egg yolk, dried squid and caramelised veggies is lightened with pickled wintermelon and emperor leaves. Seafood lovers should be sure to scoop up the warm broth in the bottom of the bowl; it's oh-so-comforting.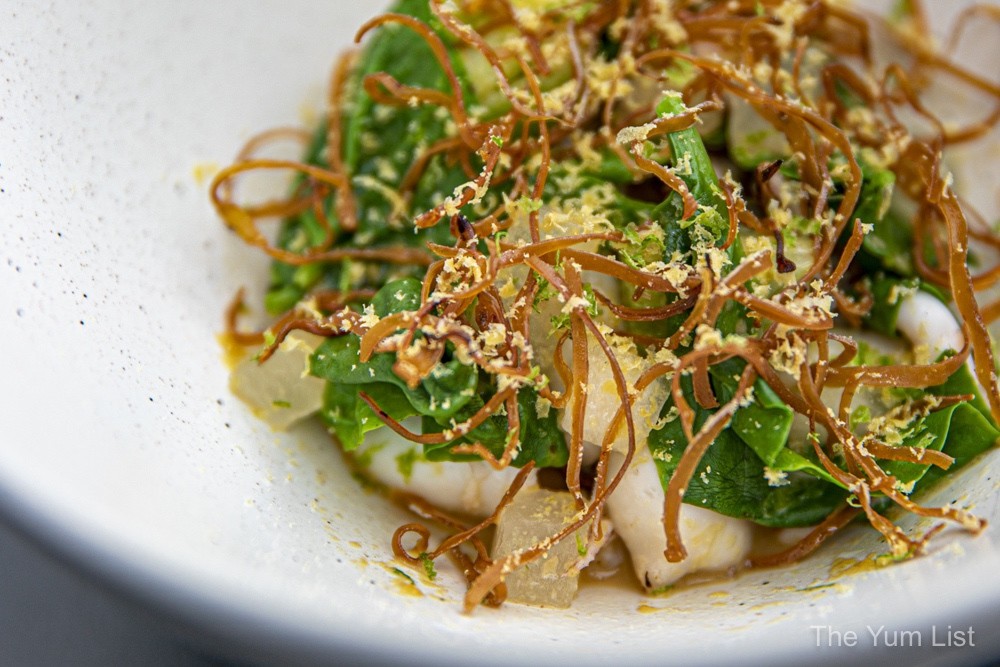 The meat-free option of Land and Sea Vegetables is just as tasty as the squid original. Actually, both Rich and I think this one is so good that we'd call ahead and ask for the vegetarian option for this course if booking again. Shitake mushrooms, wakame and Cameron white corn are topped off with fried enoki and fermented shitake mushroom powder. It's chewy, savoury, has a hint of sweetness, is warm and just as comforting as its alternative.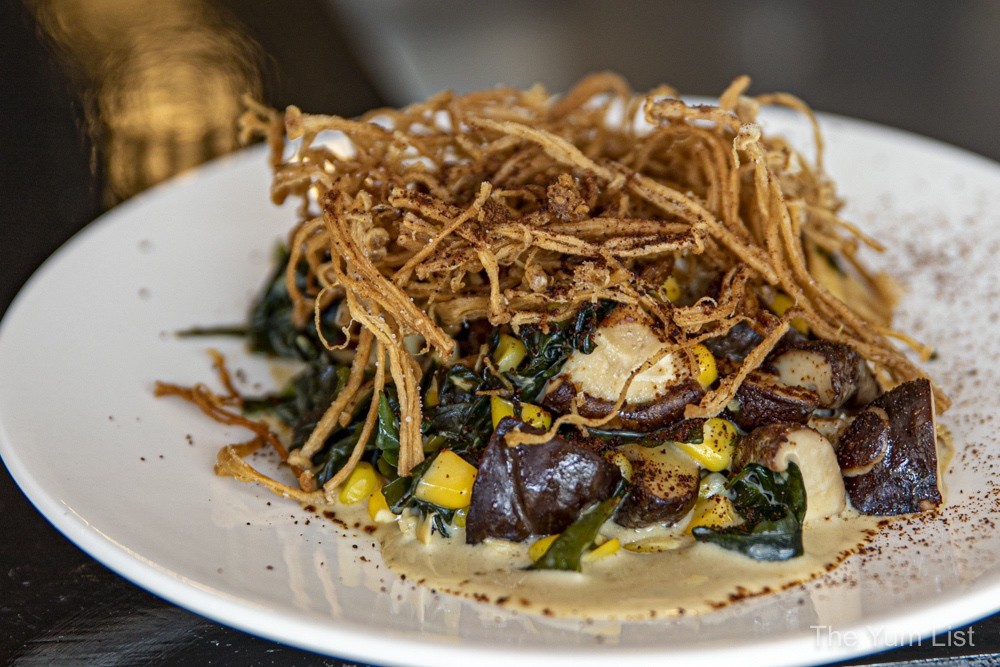 Fourth Course
Aged Duck Breast is the highlight of the meal with the perfectly moist and flavourful poultry. Its companions, however, are just as appetizing and we'd love to see the duck leg croquettes with water chestnuts added to a snacks menu to enjoy all on their own. Even the veg is given extra care with salt-baked beetroot glazed with citrus (orange and lemon) jam and local herbs. It's all finished off with a dusting of beetroot powder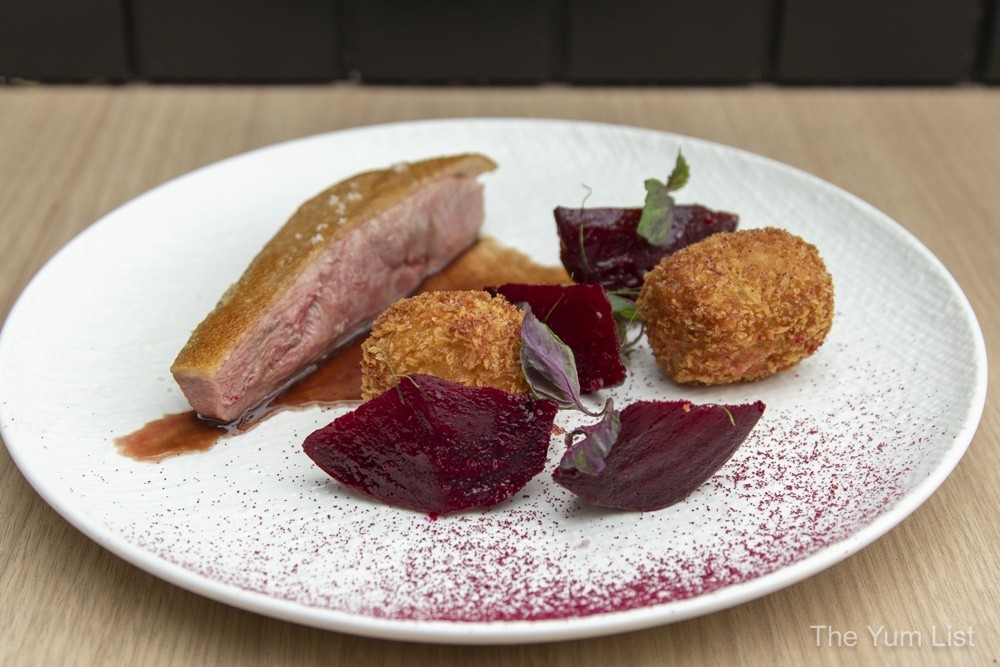 Dessert
To conclude the five-course set menu there's velvety smooth Soy Ice Cream with longan granita, milk cake and kaffir lime. It's a bowl of white yet packed with variety. Little cubes of milk cake are made with reduced goat's milk and cream giving a hint of caramel. The ice cream is silky, and the freshness of the granita was so good, we'd be happy to have it all on its own.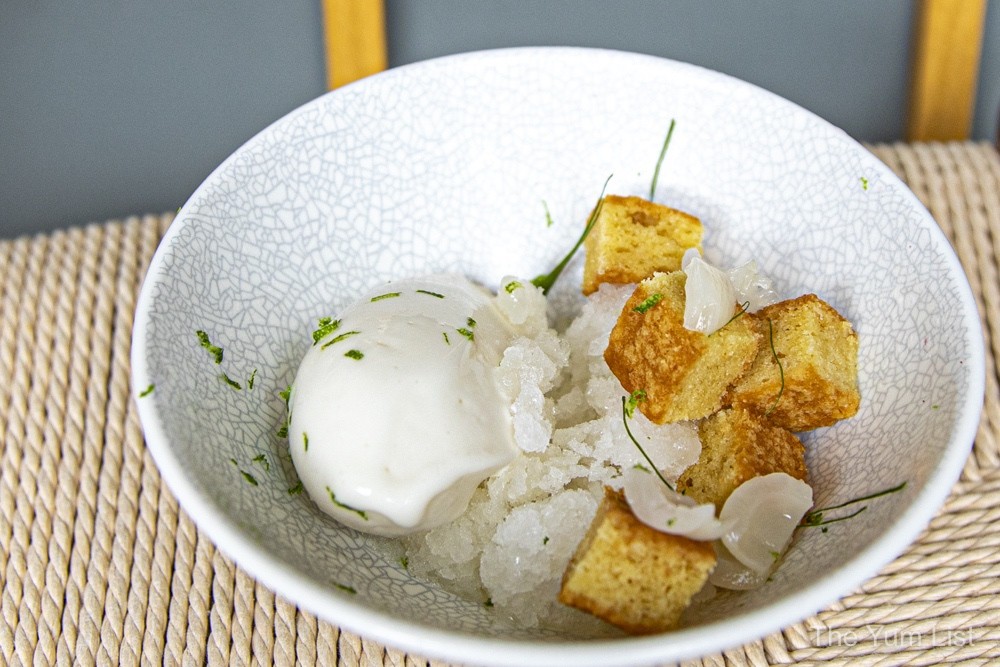 Playte Contemporary Dining Review
Playte Contemporary Dining is one of the most underrated restaurants we've covered this year. With their current five-course set menu priced at only RM130 and 20% off all of their wines by the bottle, now is the time to get in and visit.
Reasons to visit Playte Contemporary Dining: stylish, streamlined setting; excellent value-for-money five-course meal for RM 130; 20% off all wine by the bottle!




Playte Contemporary Dining
G.01, Republik, Jalan Medan Setia
Bukit Damansara, 50490 Kuala Lumpur, Malaysia
www.facebook.com/playte.my
+6 011-2698 5562
Playte Opening Hours
Monday to Saturday
Lunch: 11:30 am – 3:00 pm
Dinner: 6:00 pm – 10:00 pm
Find more contemporary dining restaurants in KL here and stay up-to-date on the latest happenings in KL's food and beverage scene here and here.