VCR Stacks Mont Kiara
Words: Monica Tindall
Photos: Rich Callahan
Testimony to the quality and reliability of the brand, VCR Stacks is packed to capacity mid-week, mid-afternoon and during the second CMCO. The latest addition to the VCR portfolio, VCR Stacks in Shoplex Mont Kiara highlights two things they do exceptionally well – sourdough bread and coffee. And, judging by the steady stream of customers, this narrow focus serves them well.
Roasting their own beans and baking their own sourdough, the team had earned such a reputation for quality that they were supplying several cafes besides their own around the city. VCR Stacks combines these two products in a café dedicated to sandwiches and brew.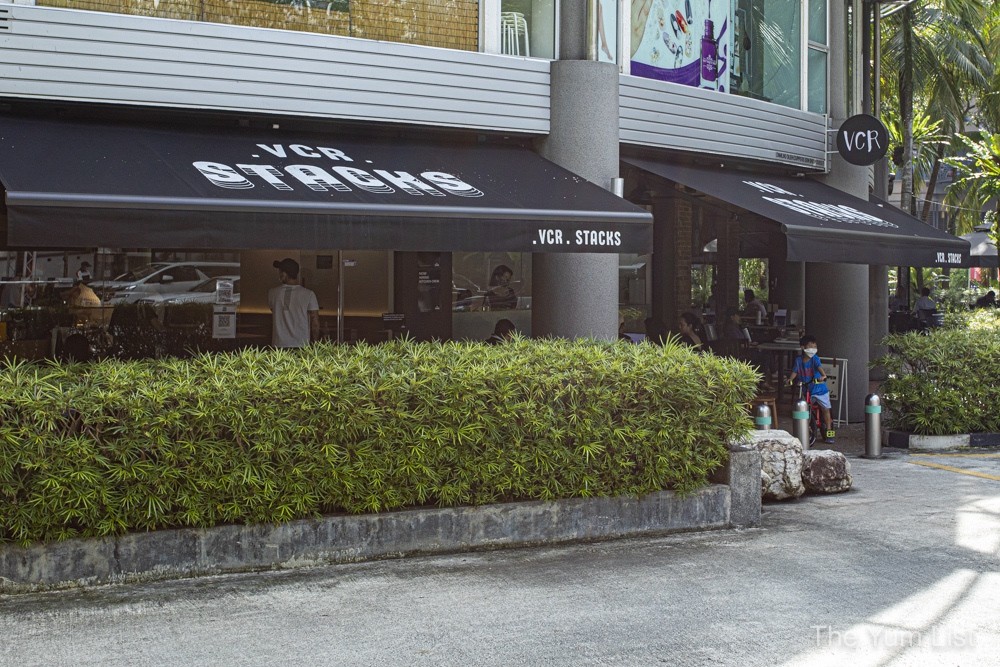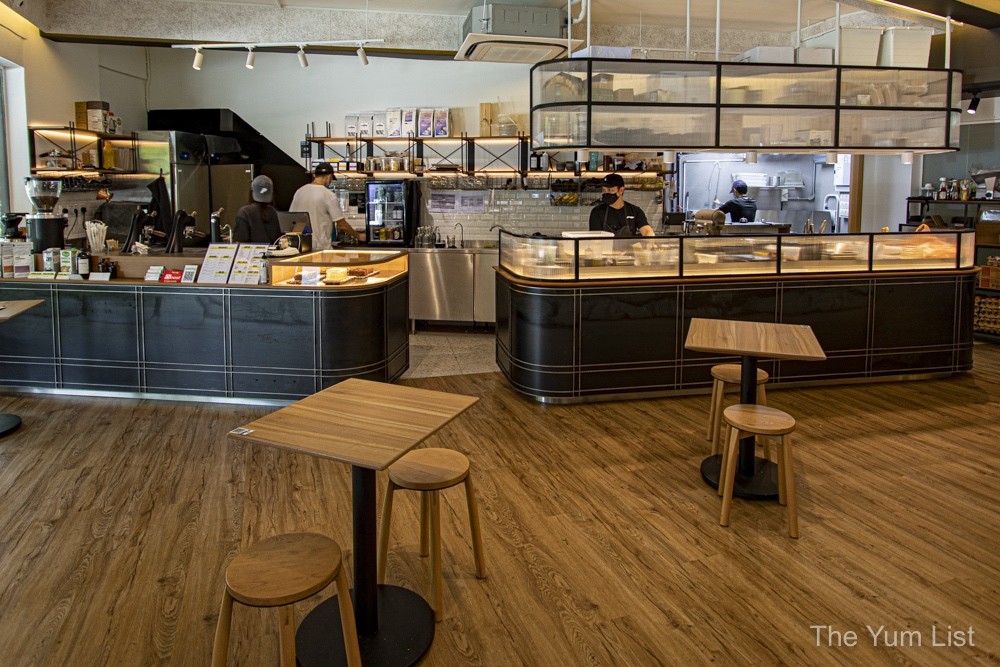 VCR Stacks Mont Kiara
The location is a lovely glass-walled lot with indoor and limited outdoor seating. Handbag hooks and power points for charging devices are welcome touches showing care for customer comfort. There's parking in the complex itself or across the road at 163 Retail Park.
Menu
This new concept focuses on "stacks of carbs," says partner Kenneth Lee, with their house-made sourdough layered with a variety of sweet and savoury combos. Co-owner and chef, Ivan Koh has spent the past six years perfecting their sourdough and today bake seeded, Japanese rye, ciabatta and brioche loaves. The same starter is given a second chance of life in their waffles too!
Food Menu
While there are a handful of other items such as granola bowls and waffles on the menu, the primary focus at VCR Stacks is sandwiches.
Egg Sando (RM 15) on brioche might be one of the most enticing egg sandwiches I've come across. A free-range soft-boiled egg is immediately attractive bulging out the sides of fat slices of house-made sourdough brioche. Sliced egg mayo, chives, celery and dill bulk the rest.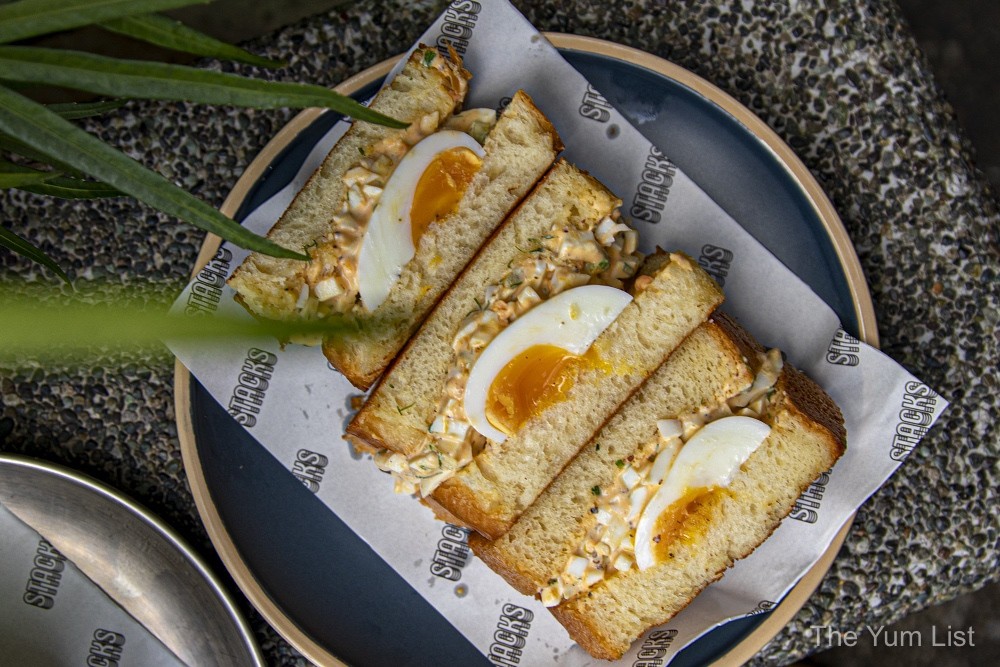 Zen Stacks (RM 22) provides a veg option with pan-fried halloumi, feta, tomato, confit portobello, pesto hummus and arugula on rye sourdough. It's rich with the pesto hummus, which again is made from scratch. All sandwiches are lightly spread with French Maison Le Gall butter and toasted to achieve a mild crunch and golden hue.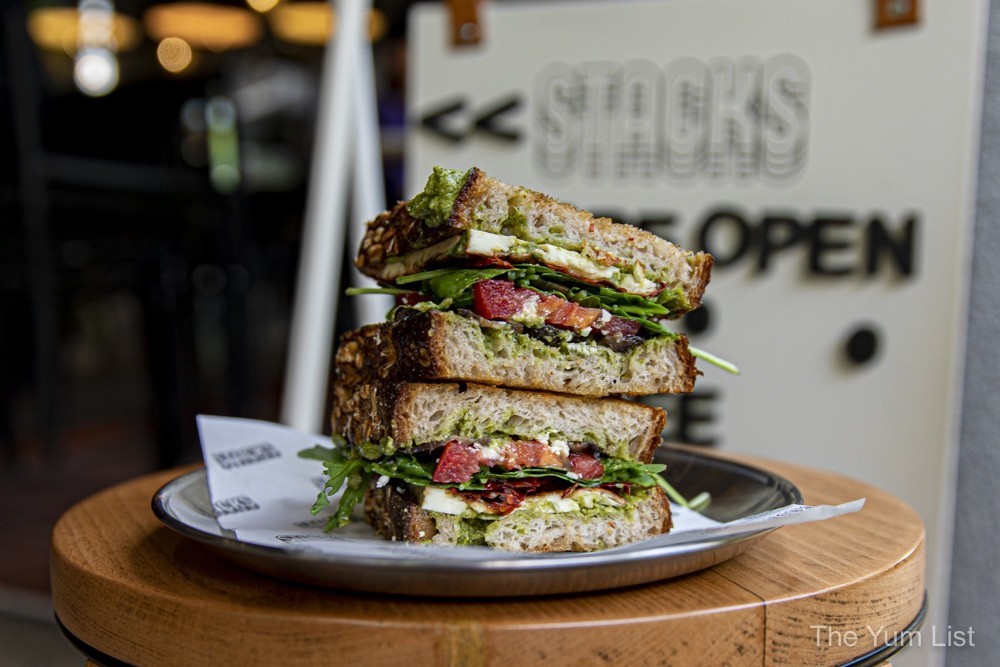 An excellent lunch option is found in the Classic Chicken (RM 22). A generous supply of thigh meat is coated in creamy mustard mayonnaise (with celery, chives and dill) on their signature seed sourdough. Inside there's avocado mash, toasted walnuts, arugula and spinach. Have to confess to having a huge avo bias so this one could be my fave.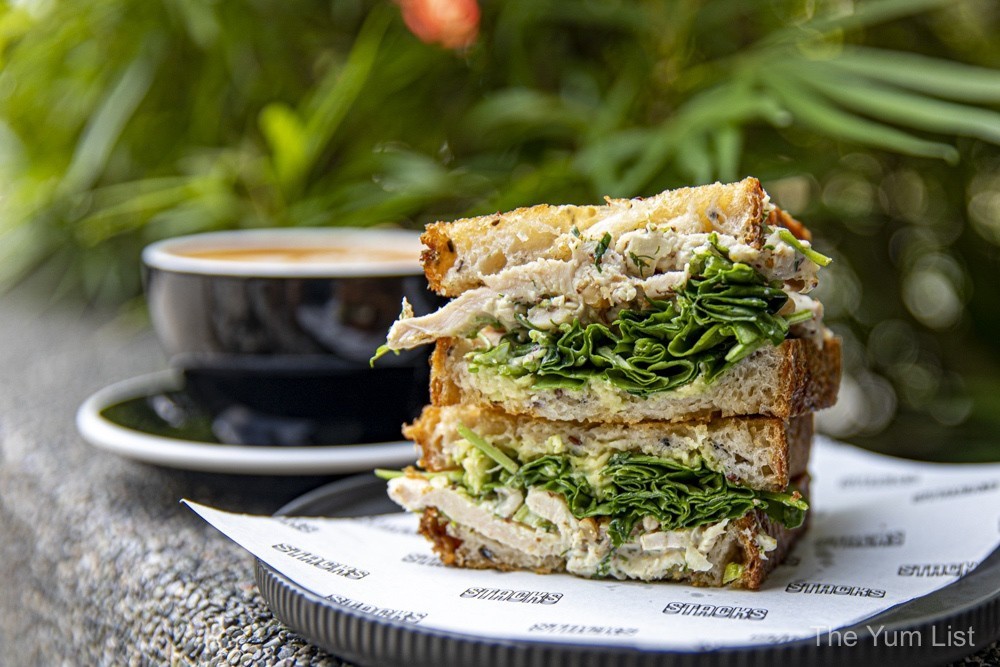 Coming soon to the menu is the Pastrami Reuben (RM 24). House-roasted black Angus pastrami is the star here with house-fermented sauerkraut running a close second. The sauerkraut has just the right amount of tanginess to keep us biting back in again and again.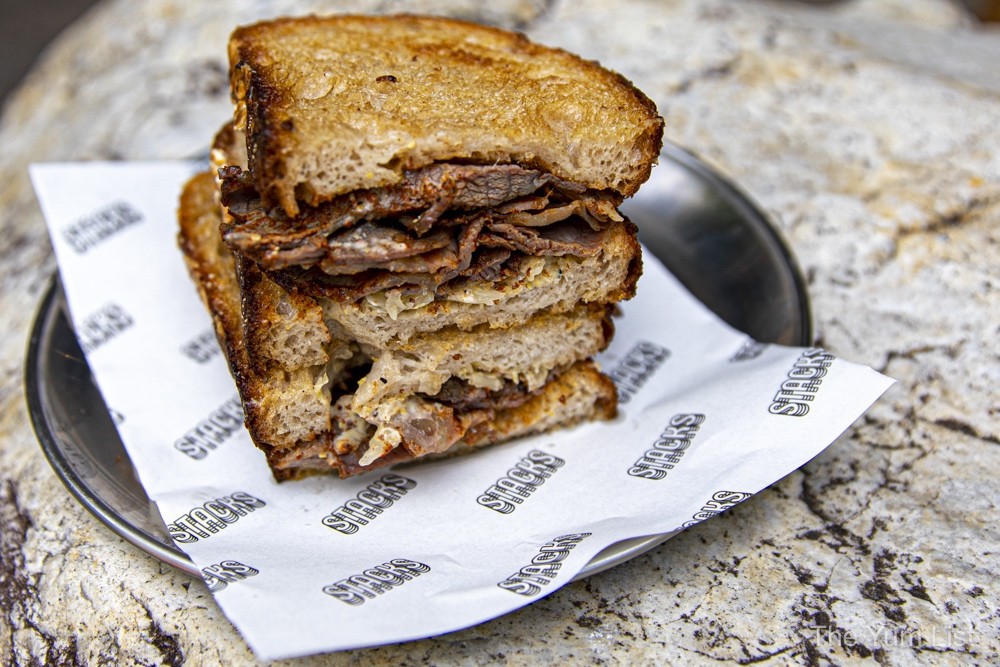 Lastly, if you have a sweet tooth, you would do well to try the Nut Butter Jelly (RM 18). VCR Stacks' seeded sourdough is spread with a lusciously thick blanket of house-made almond, cashew and coffee butter (so good – they sell it by the jar but are always out!). Together with locally grown and processed chocolate, house-made blueberry jam and candied walnuts, it is one luscious chew.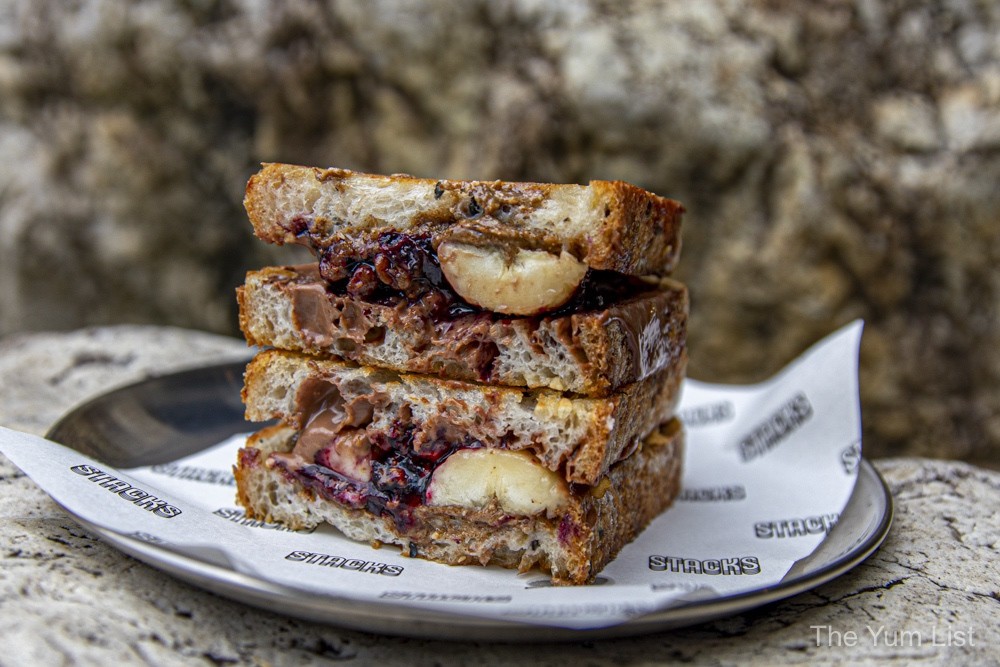 Drinks Menu
Fermentation doesn't end with the sourdough at VCR Stacks, it rolls right on over to the drinks menu too.
VCR Stack's Kombucha (RM 15) is flavoured with hops and has a lovely round, fullness to it. Chef Ivan likens it to drinking wine appreciating the colour, aroma and flavour, hence the serving in a brandy glass. This brew takes a full month to ferment.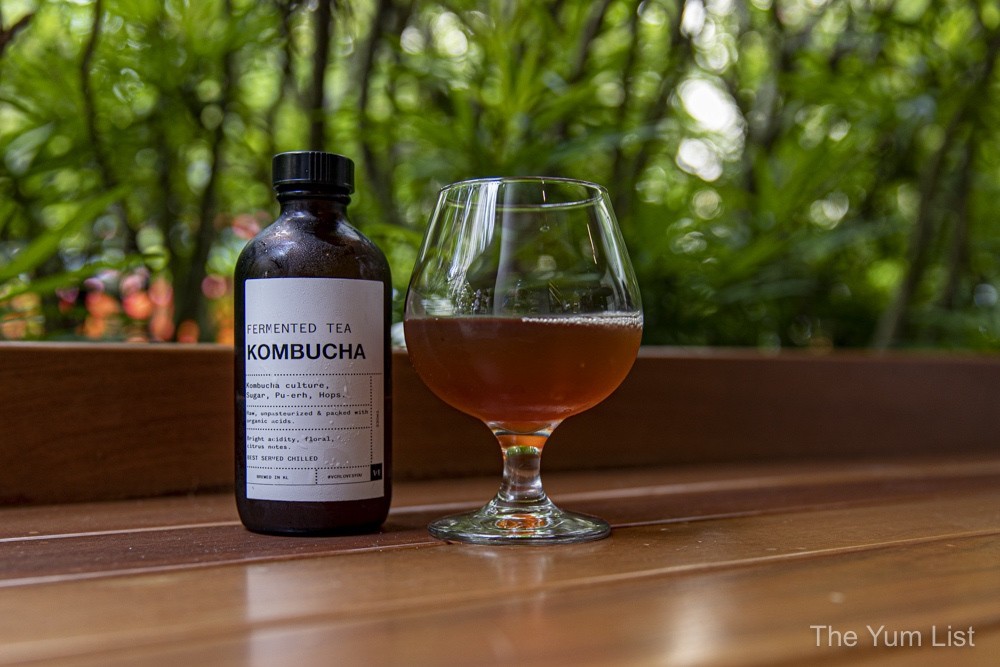 Tepache (RM 12) is another drink the team are experimenting with at VCR Stacks. Originally hailing from Mexico, this drink of fermented pineapple peel and rind seems to be making the rounds of hip cafes in Malaysia. It's highly aromatic and garnished with a dehydrated pineapple slice.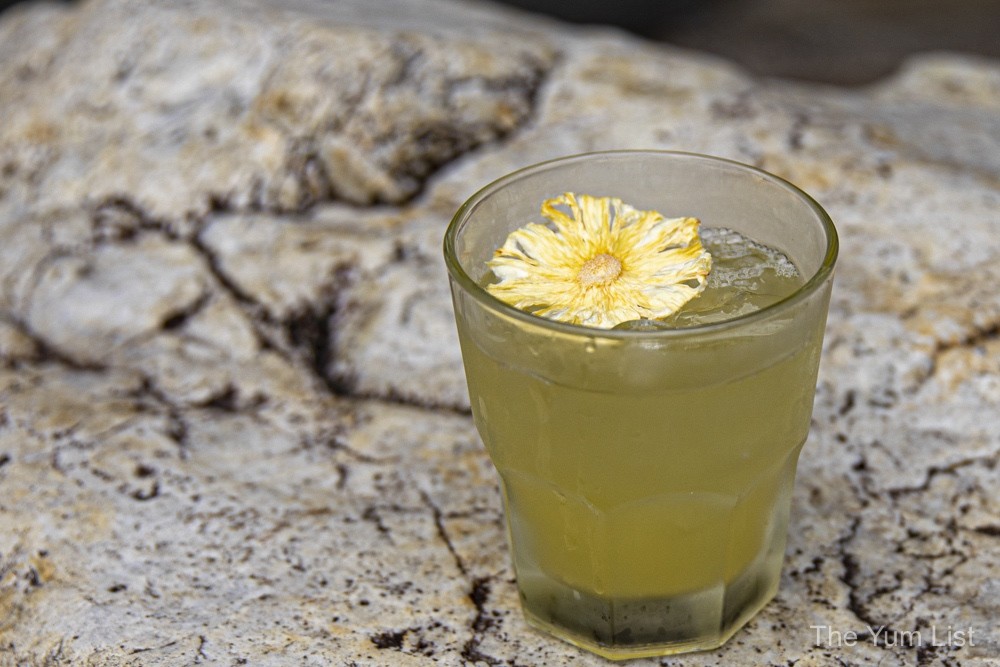 Continuing on with the ferments, VCR Stacks offers a handful of craft beers. I can easily so those living in the area both beginning their day with coffee and ending it with a cold one here. The beautifully-hued beer in the photo below is Yeastie Boys, Gunnamatta Earl Grey IPA (RM 32) from Wellington, New Zealand. This unique pale ale offers bold floral aromas followed by citrus and stone fruit flavours. It departs with a lingering dry finish.
Coffee
Caffeine is naturally an excellent choice at VCR Stacks. The house blend of 70% Ethiopia Yirgacheffe Natural and 30% Brazil Primavera done in an omni roast was purposefully chosen for its delicate smoothness and thread of tanginess. It's a harmonious balance that supports rather than overpowers the food. Milky beverages such as a Cappuccino (RM 12) are great choices for this blend, while Cold Brew (RM 15) does better with their single-origin beans.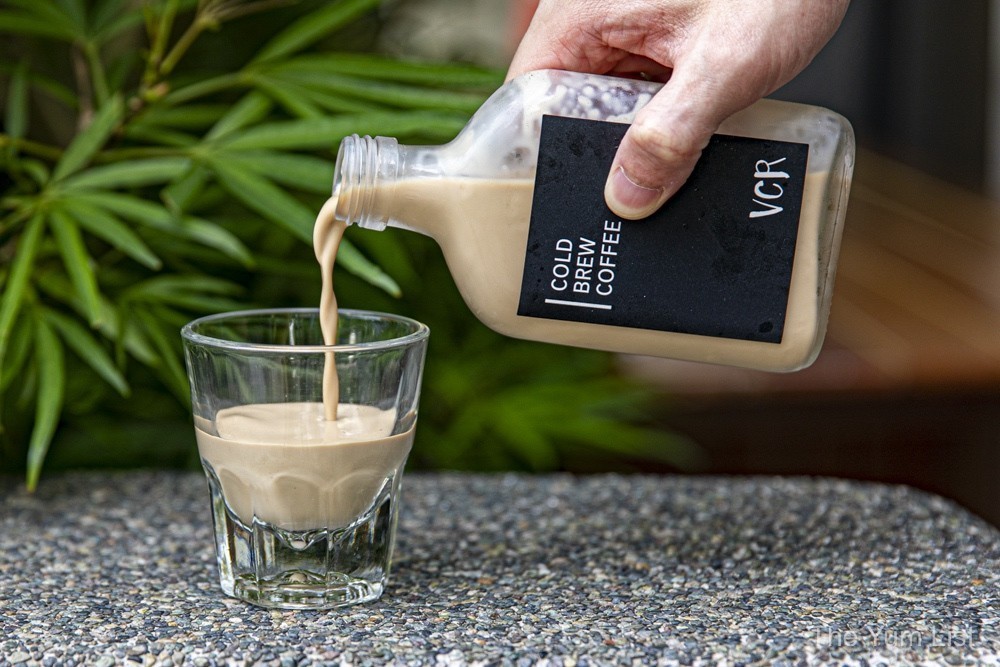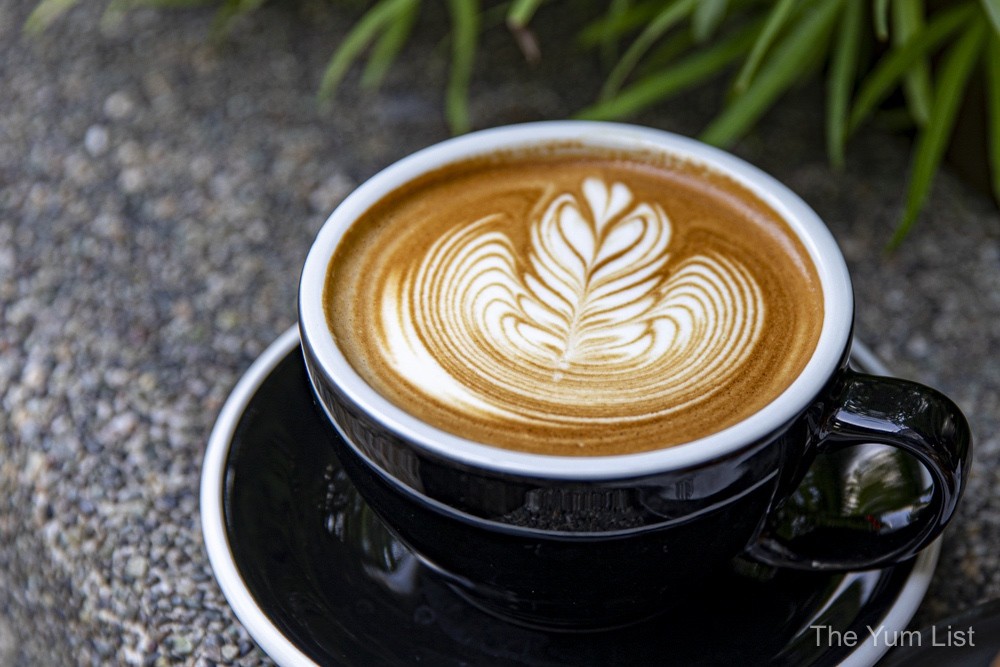 Reasons to visit VCR Stacks Mont Kiara: house-made everything including excellent sourdough; delicious coffee; a friendly and knowledgeable team who are passionate about what they do and strive to bring that same joy to their customers; and of course, hearty sandwiches worth biting into.
VCR Stacks
Unit 15-0-5 Shoplex
Jalan Kiara, Mont Kiara
50480 Kuala Lumpur, Malaysia
+6 03 5880 4834
www.facebook.com/vcrstacks
VCR Stacks Opening Hours
Daily: 8:30am – 5pm
Find more on KL's vibrant cafe scene here and stay up-to-date on KL's latest food and beverage happenings here and here.