A Tasting Menu at ChoCha Foodstore
Words: Kitty Noble Photos: Rich Callahan
ChoCha Foodstore, for the uninitiated, is a fashionable restaurant nestled amongst the shopfronts in Chinatown, the current darling of KL's food scene.
The rustic design of the former hostel, behind a surreptitious front door, seems to be given over to jungle with its glossy green plants, complementing the bare, distressed and brick walls. Low, wooden bench tables and stools are unpretentious and forge a relaxed, convivial setting, to enjoy an informal intimate dinner in groups of all sizes; socially distanced, of course! The high, retractable transparent ceiling floods the room with light, whilst providing a dry option for the inevitable Malaysian rain.
A Tasting Menu at ChoCha Foodstore
We're at ChoCha this round to sample some of Chef Mui's new dishes, many of which will be on the Christmas menu (scroll to the bottom). Ingredients are sourced as close to home as possible, with the cooking style offering a modern twist to Malaysian flavours.
Wine
On arrival, having sized up the kind of clientele they had in front of them, the team immediately produced a bottle of Altamont Lenswood 2019 Chardonnay (RM 235) as we took our seats. Hailing from the Adelaide Hills, this is less rambunctious than Australian chardonnays that some might be familiar with. The cool climate leads to a more refined, old-world style of my favourite grape, more melon and peach forward characteristics with some fresh zestiness. Being a little bold, it stood up to the heartier dishes but had the refinement to go well with the lighter dishes, without overpowering them.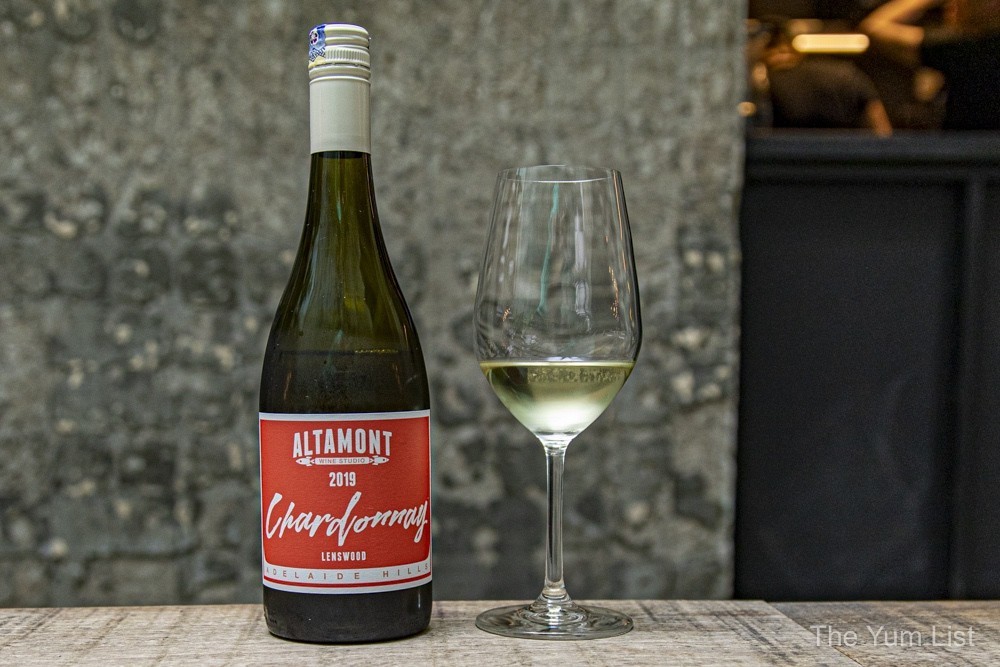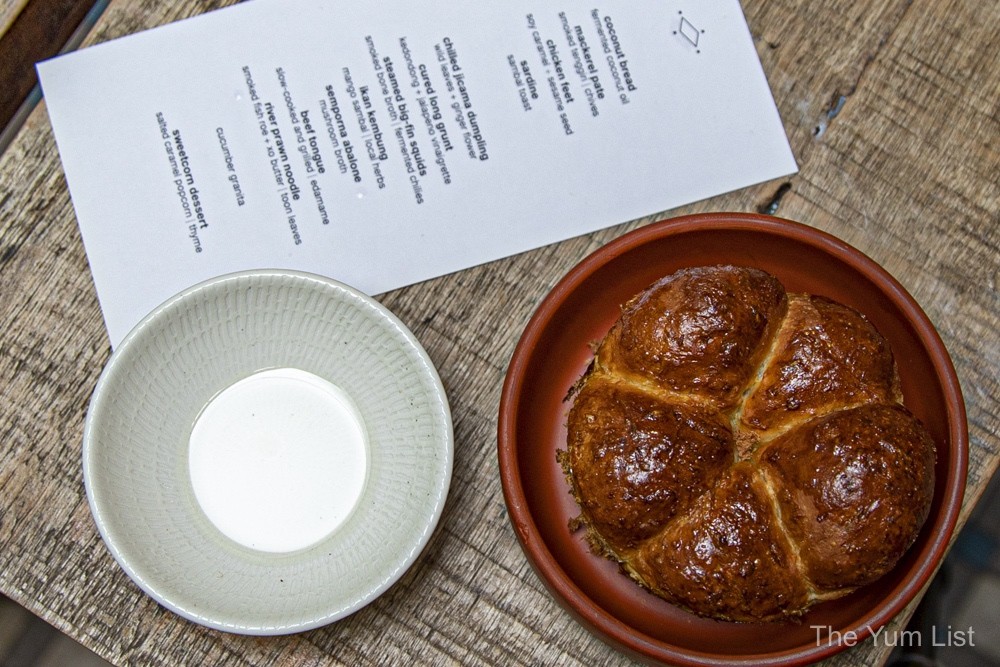 Tasting Menu
We started with chicken feet, which are handily boned, blanched and fried then coated in caramel and sesame to create a kind of chickeny popcorn idea. Think 'chicken feet for beginners'. They will never be a crowd-pleaser with many of the Western community, which suits me fine as there are more for me! Rather than the standard portion of several feet, a delicate pair are plated together with a sardine on sambal toast. The sambal is beautifully tangy with a slight hit from the chilli creating the perfect patsy to the salty sardines.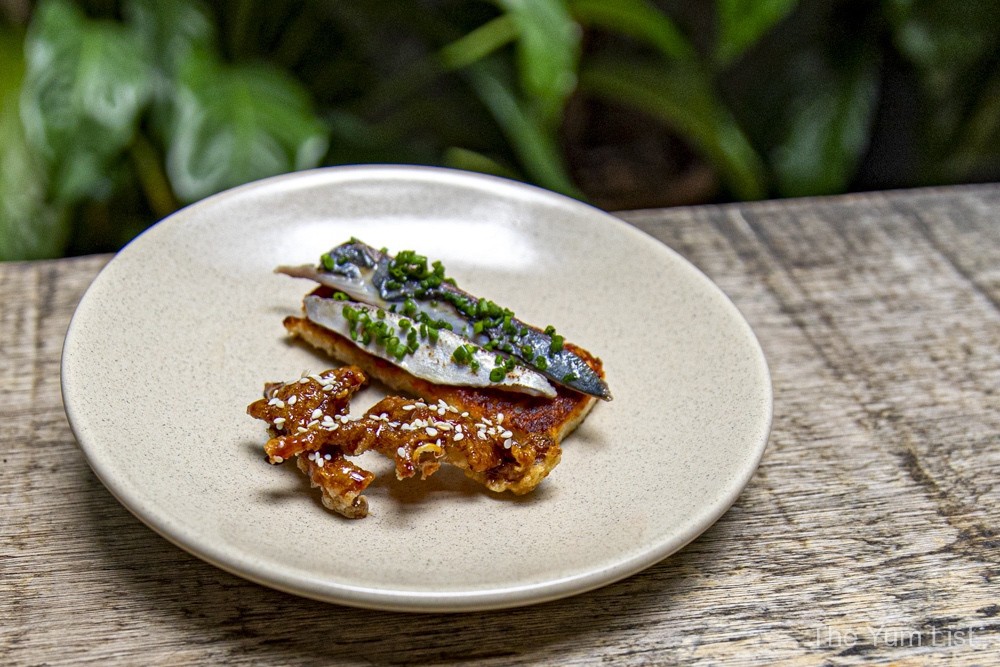 Next on the menu and continuing the fishy theme, the creamy mackerel pate is paired with crunchy little pieces of eggplant. The Spanish fish is lightly smoked and is incredibly moreish. Definitely going to be a popular order.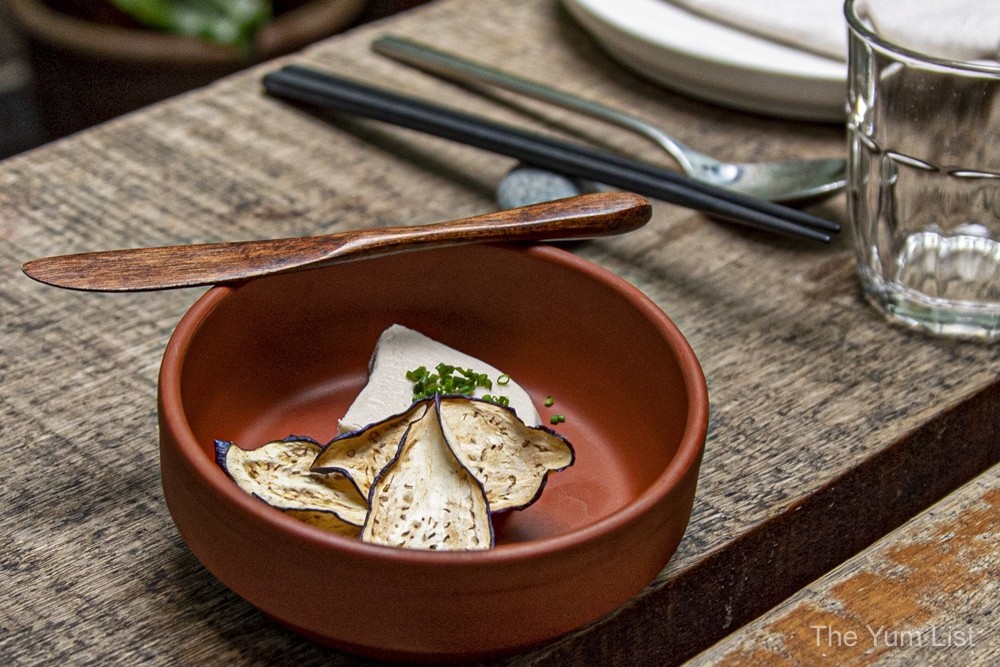 The pate is followed by chilled jicama dumpling, where the dumpling itself is cleverly made of a folded thin sliver of the root, salted and blanched, filled with crispy fresh wild leaves of sawtooth coriander, paku fern and ginger flower. The super fresh broth is made from root vegetables and as Mon mentions, makes a perfect little palate cleanser.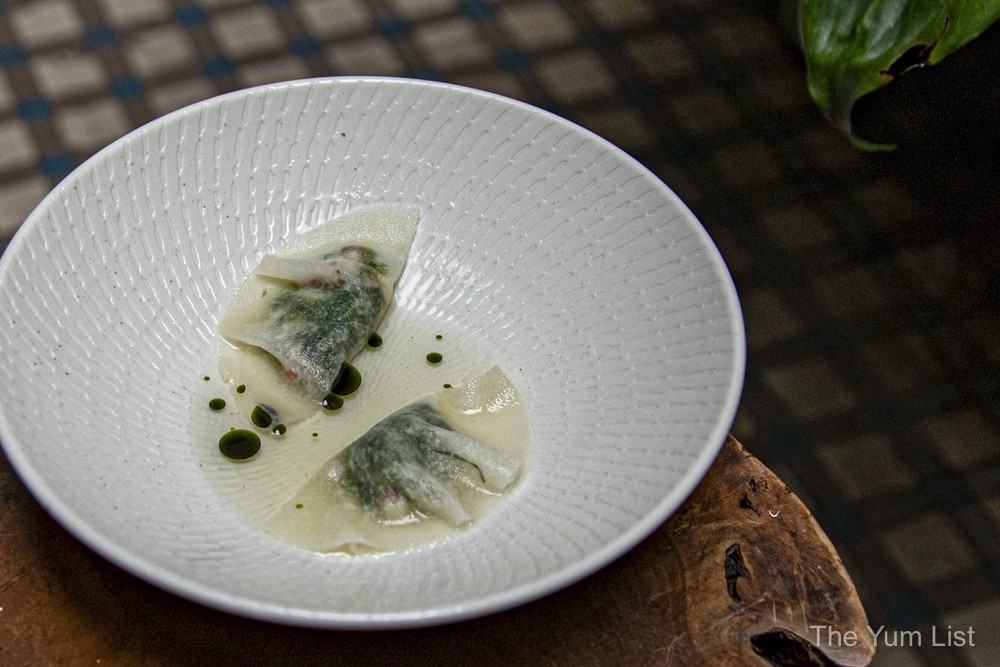 This was followed by the ikan mebong, which makes a reappearance with its signature sauce. Fresh as ever, one fish is more manageable than the previous serving (the last time we visited, the portion was too big for us to finish) of two.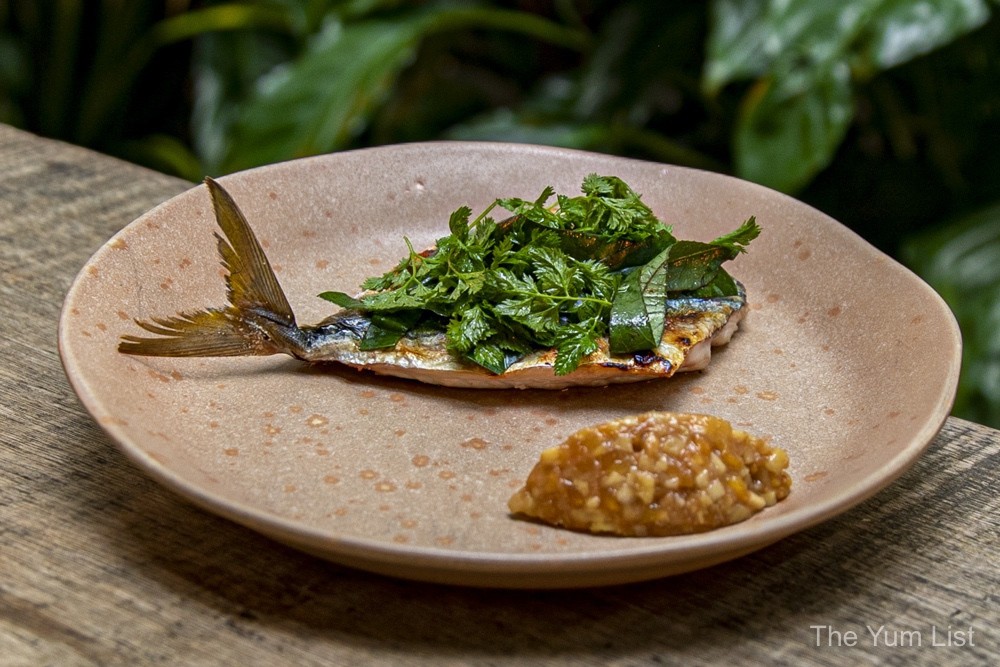 To continue our seafood theme, we are served cured long grunt, a very underrated deep-sea fish, plated opaque and natural with a kedondong broth and a jalapeno vinaigrette. Served on a gorgeous pottery wear plate, topped with little slivers of the fruit, also known as ambarella or June plum. The different ways in which the seafood are cooked (or not, in this case), demonstrates real respect and creativity. The broth is tannic and sour with the jalapeno adding a spicy, green dimension.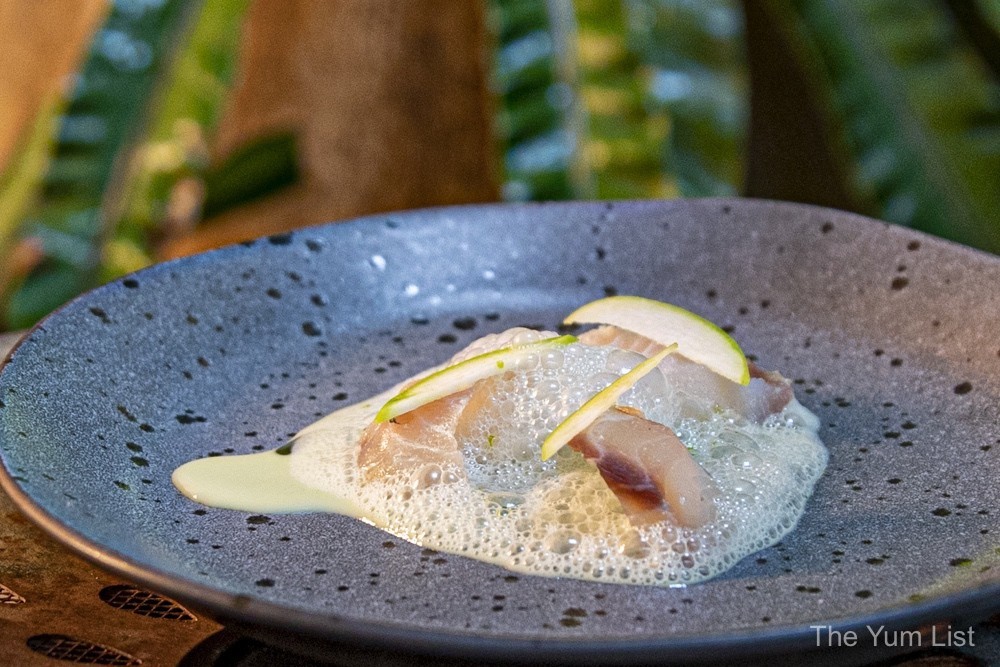 Bigger Plates
On to the slightly heartier plates, steamed big-fin squid comes with the pink colour of the ginger torch and the peach coloured bone broth, served in pretty earthenware, inspired by laksa broth. I find it hard to move away from my childhood memories of chewing on rubber tires, but the squid is so perfectly cooked, it could not be further from those miserable ruminations. The cephalopod is beautifully tender and melts in the mouth. Fishbones are smoked and made into the stock and then clarified. Interestingly there is no smoke flavour to the dish, but a depth which is perhaps what the technique has added. To finish the plate, it is topped with 14-day fermented chillies.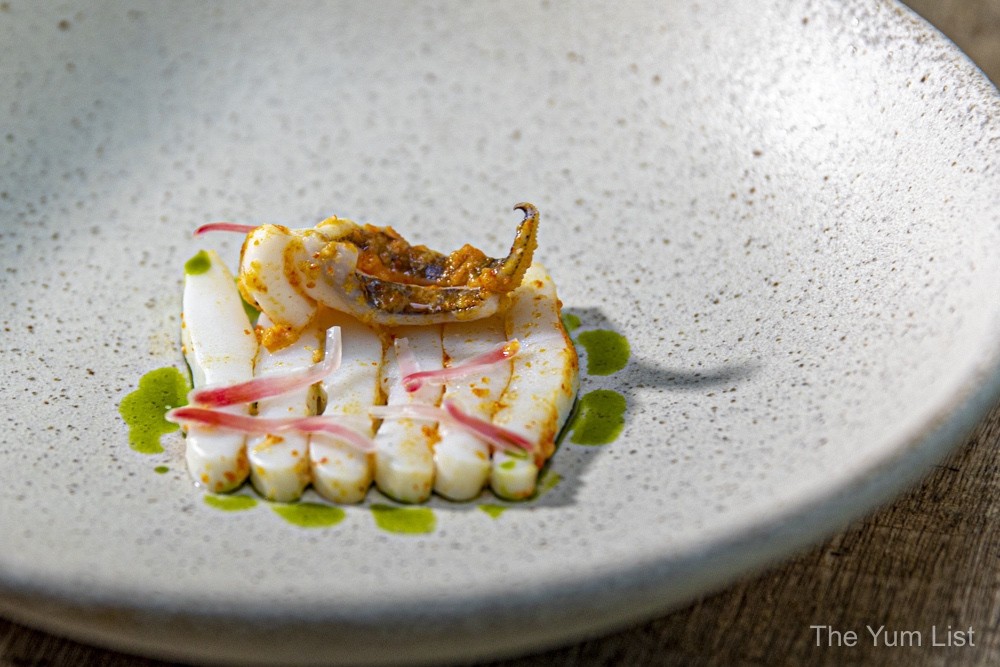 Semporna abalone is served with a potent mushroom broth made with dried shitake mushrooms, leeks and garlic, with a strong umami mouth-feel, punctuated by kaffir lime leaf. The abalone with its soft scalloped edging is poached in the broth then finished on the grill, making it delicate and tender without being chewy in any way. This is, for me, an improvement on their previous incarnation of the abalone, and the broth was perhaps the highlight of the tasting menu, to my mind.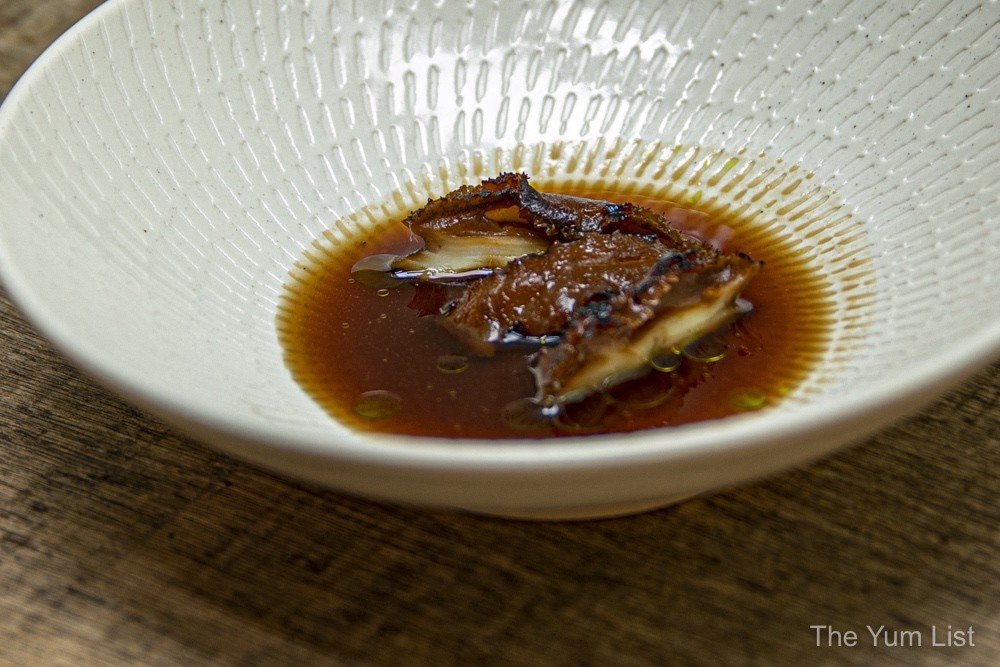 A Small Break
A palate cleanser of cucumber and lime sorbet is a welcome refreshment and brief breather ahead of our next course.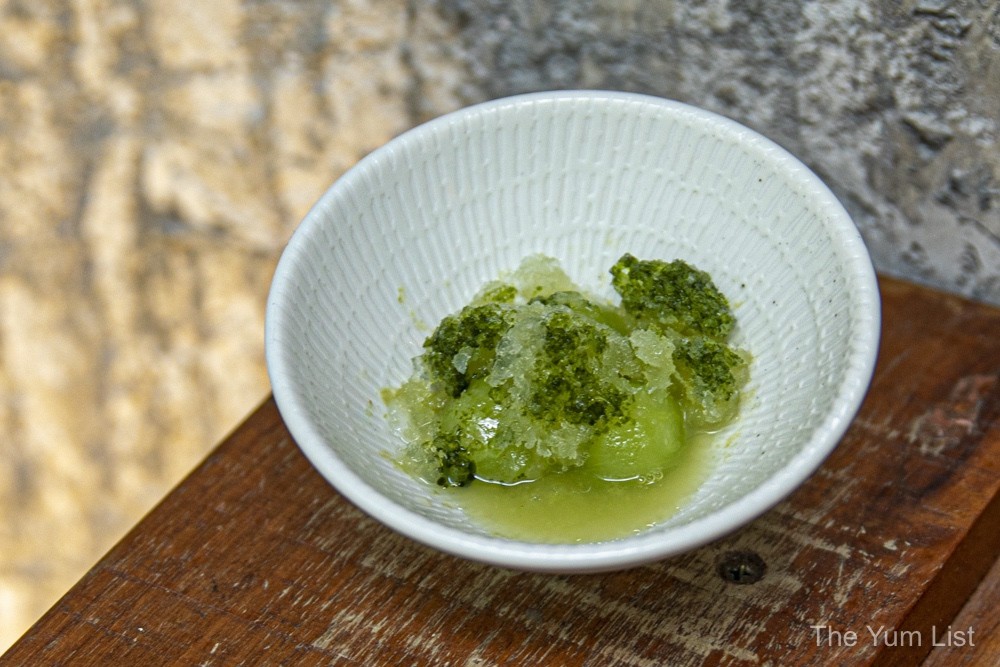 Having recently attended a wine dinner at ChoCha Foodstore, the standout dish then was the beef tongue, so I was very happy to have this again. The tongue is brined, slow-cooked for 24 hours, cold-smoked and grilled and is melt-in-the mouth (not for the cow…), served with edamame beans, which give a satisfying 'pop' whilst compared to the silky beef. The meat is slightly textured on the outside and is soft, fatty and heavenly. As good as I remember it the first time.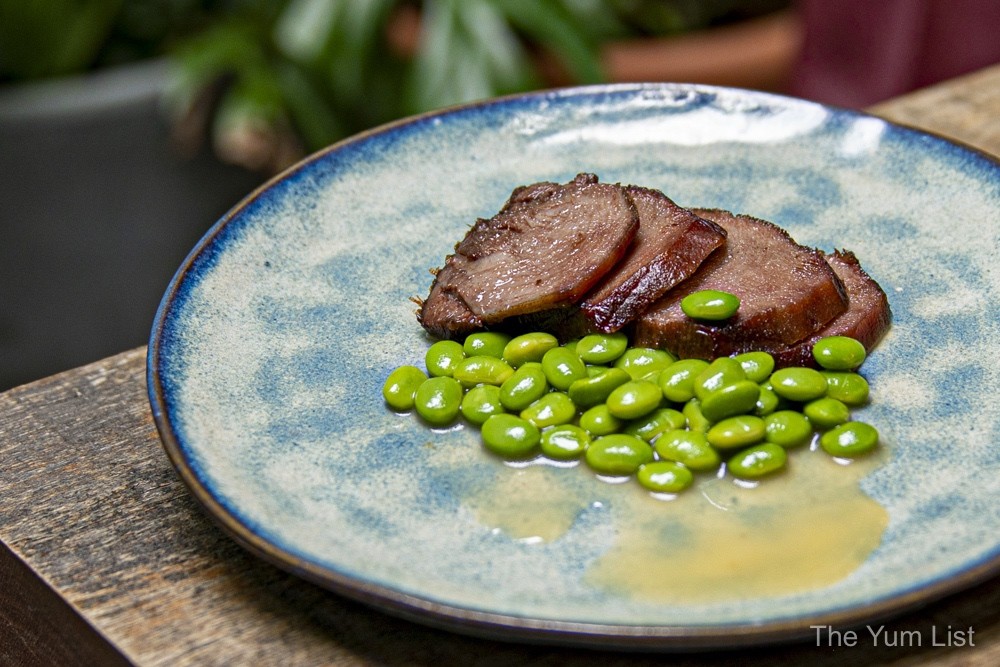 As the final 'main' dish, we were served half a meaty river prawn with a bed of silky noodles covered in smoked fish roe and xo butter (dried shrimp, dried scallop and dried oysters). Toon leaves, if you haven't 'met' them before, come from the mahogany tree and were specifically selected to add a slightly pungent, garlicky element to the robust dish. The delicate pasta is clearly homemade and mops up all the XO butter. With every attention to detail, as you might come to expect by now, the prawn is plump and perfectly cooked.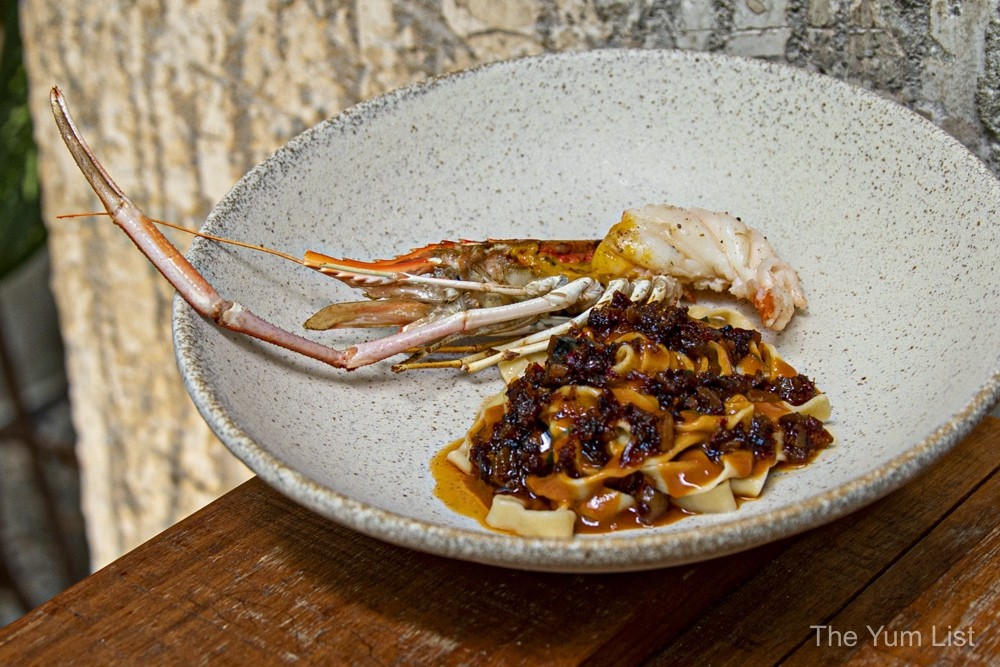 ChoCha Dessert
To round of the tasting menu, we finish with Yunnan black tea and a sweetcorn dessert which has a meringue that is made from the corn husk. Smart, right?! The popped corn is caramelised and served with an ice-cream, also made using the corn husk.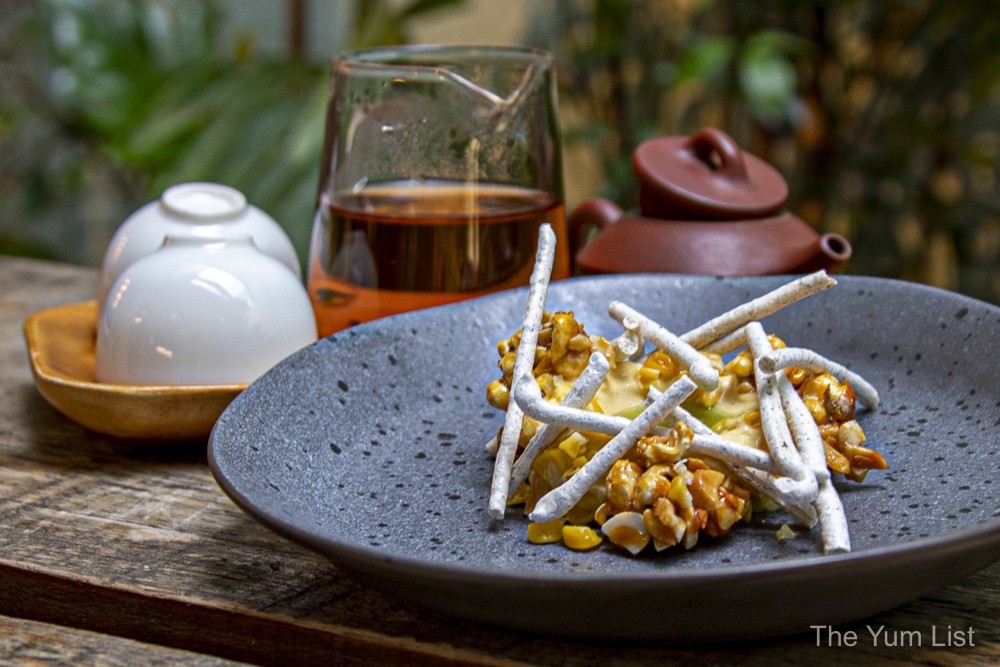 Once again, I was not disappointed by our ChoCha Foodstore visit, and continue to praise its virtues. I love the location, ambience and imaginative plays on the ingredients.
Many of the dishes that we enjoyed are available on the Christmas brnch and dinner menus, along with paired wines, if desired (see below).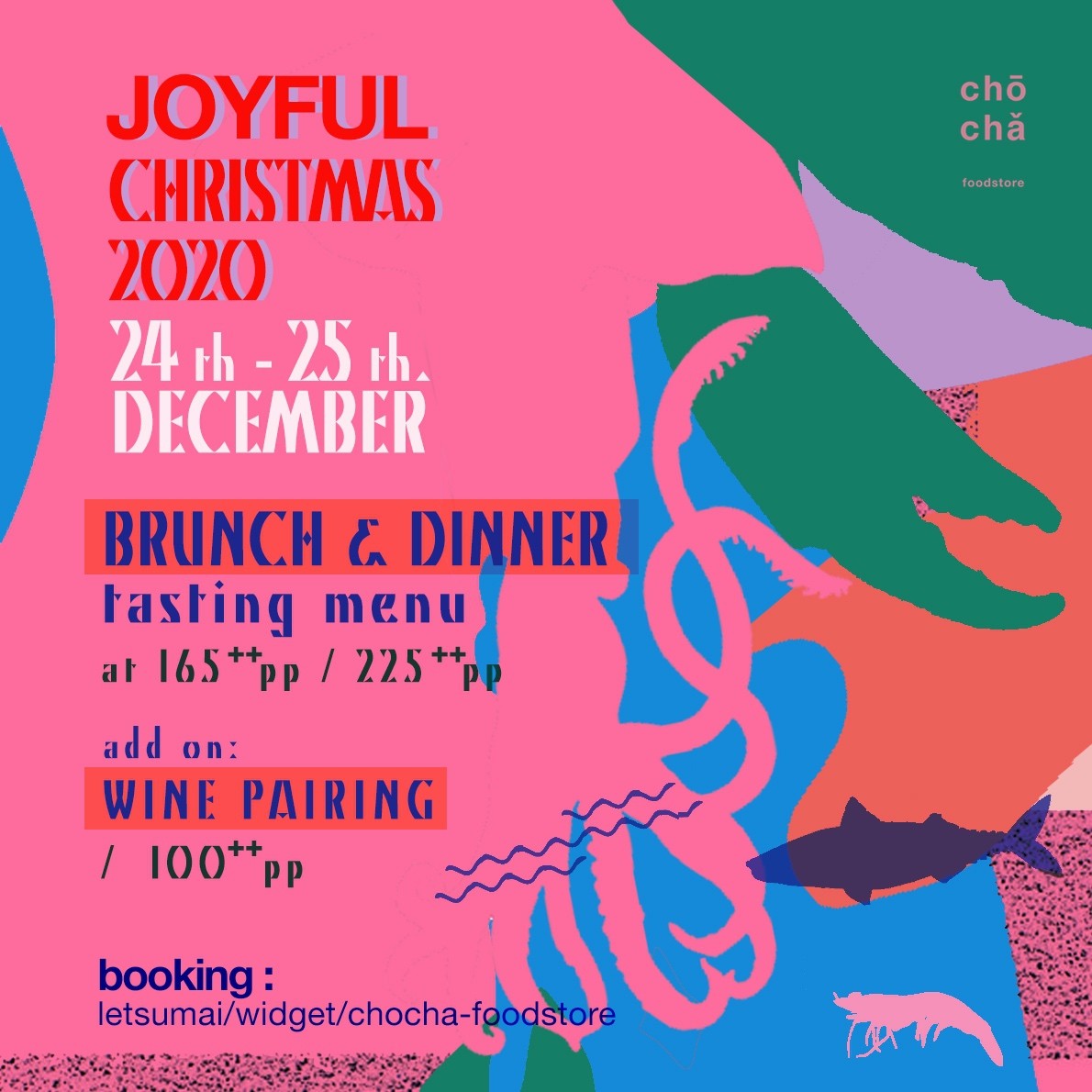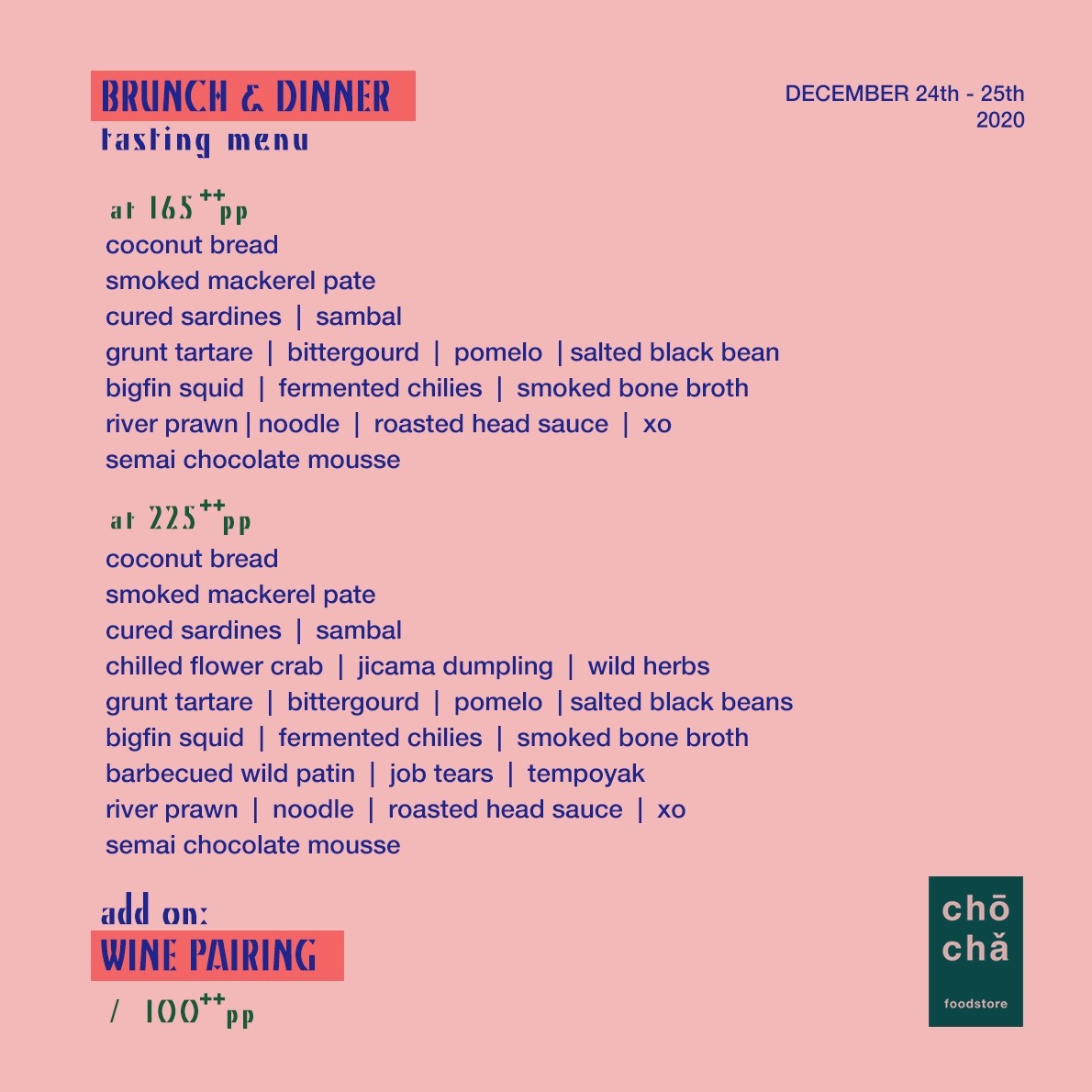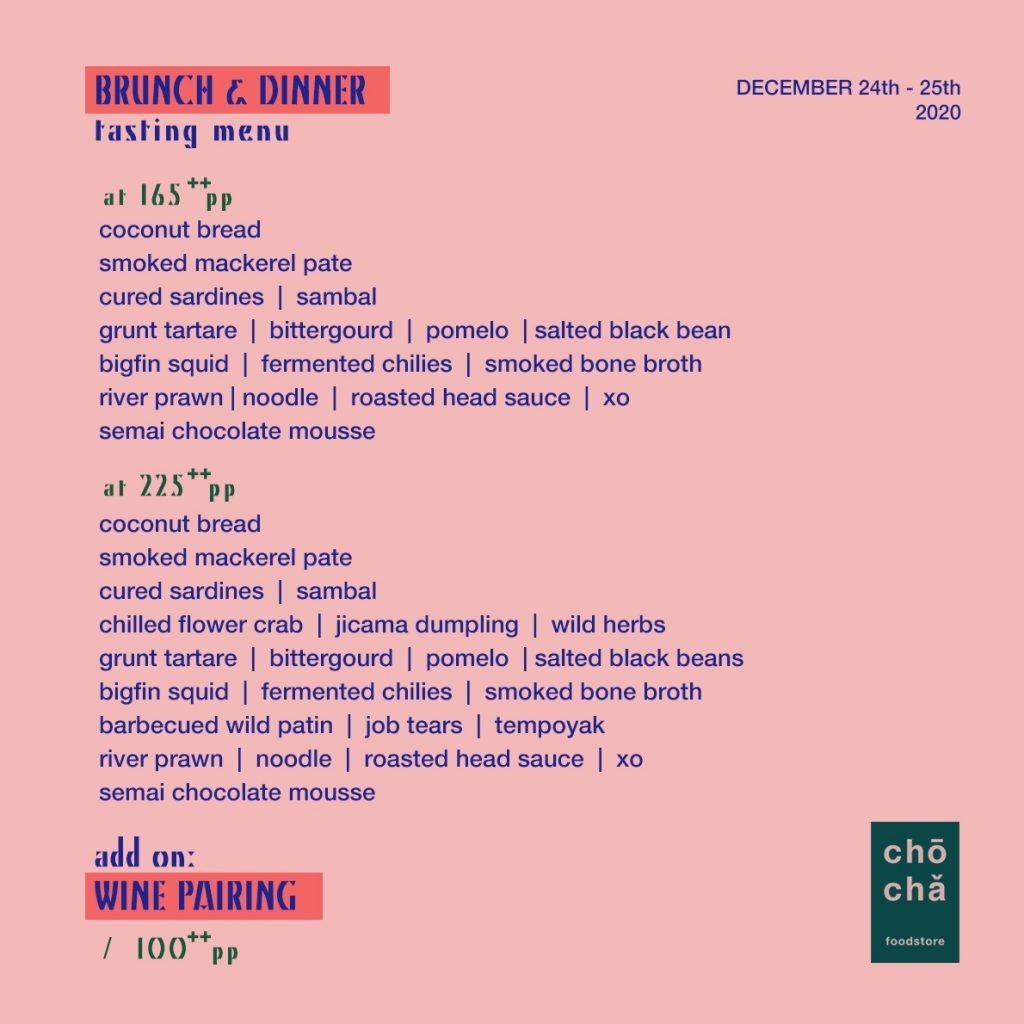 Reasons to visit ChoCha Foodstore: Awesome interior; unique Christmas menu; genuine interest and care in the provenance of ingredients; cleverly interpreted modern twists to traditional flavours
156, Jalan Petaling, 50000
Kuala Lumpur, Malaysia
+ 603 2022 1100
[email protected]
https://www.chochafoodstore.com/
ChoCha Foodstore Opening Hours
Tuesday – Sunday 12 pm – 3pm & 6 pm – 12 midnight
Find more Chinatown hotspots here and stay up to date with the latest food and beverage happenings in KL here and here.