ChoCha Foodstore Review
Words: Kitty Noble  Photos: Monica Tindall
I was thrilled to review ChoCha Foodstore's newly revamped menu, as it is already a place that I frequent and bring friends when they are new to town. Maintaining the same skill and deftness at creating superb dishes, using local ingredients, the menu has evolved to the next level. The feel is still very much Malaysian with an international twist but with refinement to the previous selection.
It would be remiss of me to not talk about the incredibly cool interior. Designer and owner Shin takes old buildings and uses their rustic charm and reclaimed products to enhance the natural style. Walls are bare, with the original colours of the hostel it once was. It has a stripped-back, raw, rustic feel, with an oasis of plants to calm the mind and a retractable roof allowing in light and air.
Mui, the head chef working closely with Shin, focuses on local, Malaysian produce, procured from several local, independent farmers. Mui courageously decided to change the menu in its entirety to elevate the style. As before, the food is unpretentious but created with thought and care, both in provenance and execution.
Diners can enjoy the offerings without over-thinking what they are presented with, yet be delighted by the flavours without an ounce of guilt regarding the food miles or animal welfare. Zero waste and sustainable cooking are key for them and very close to mine and Monica's heart!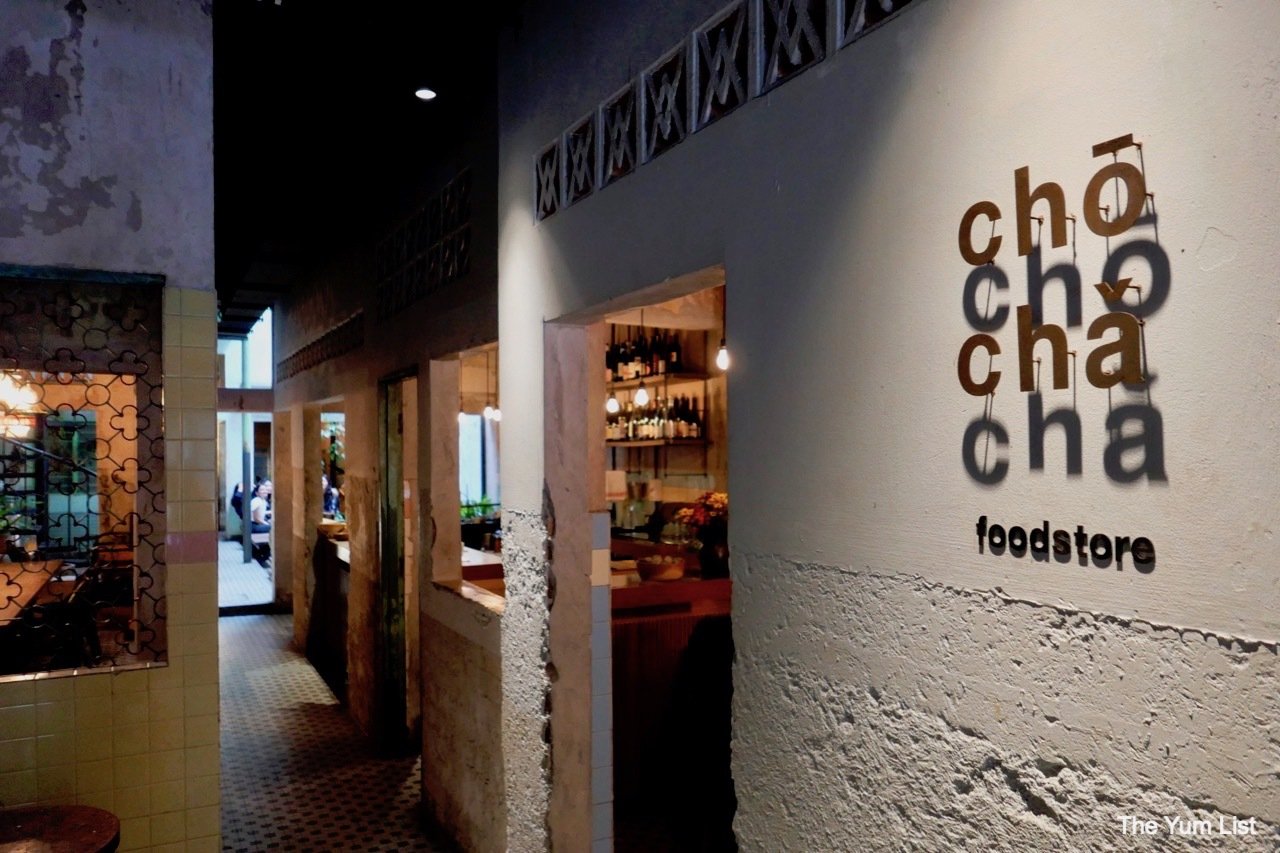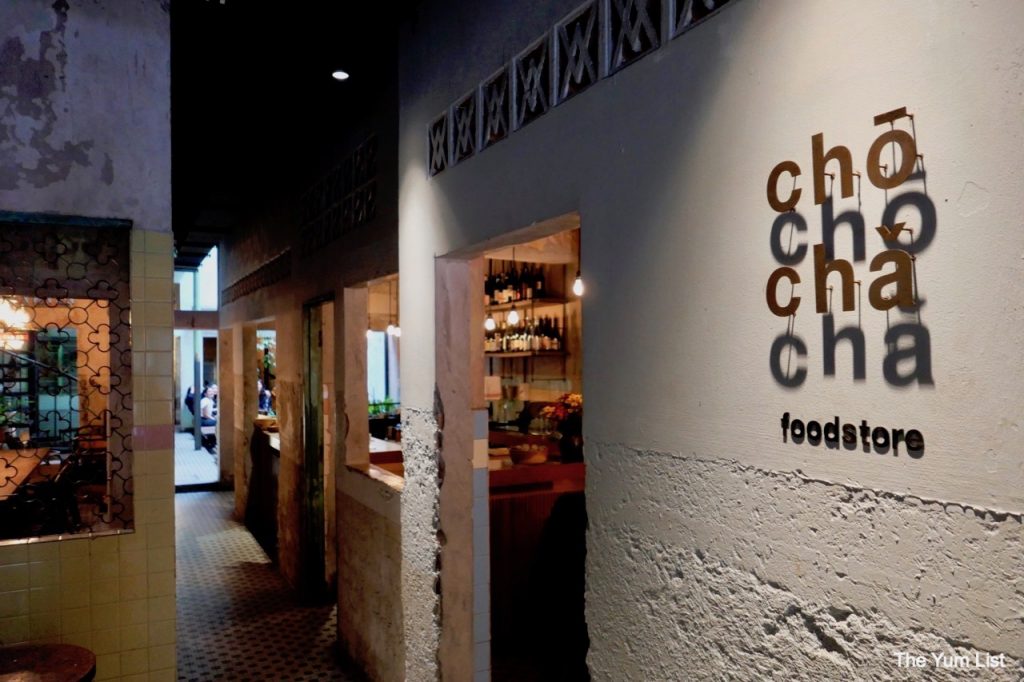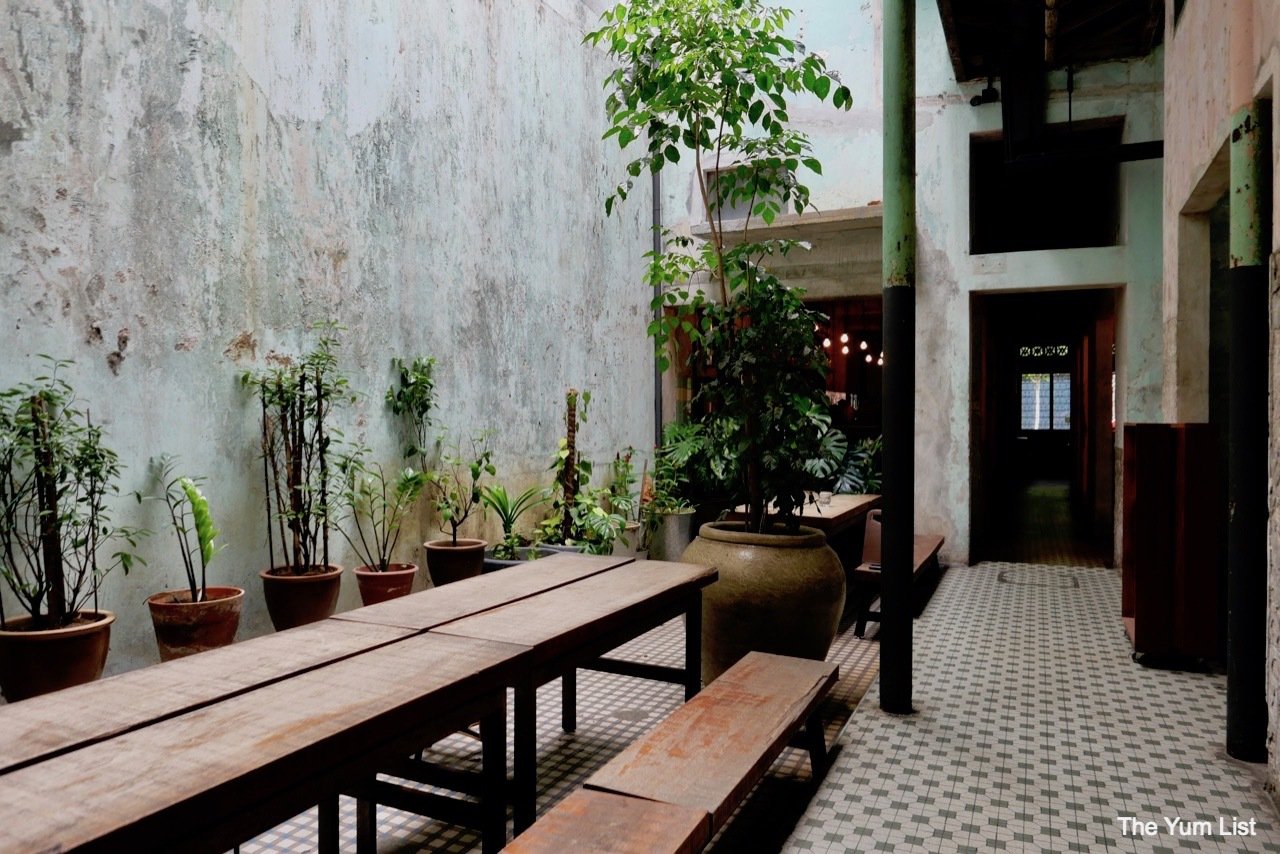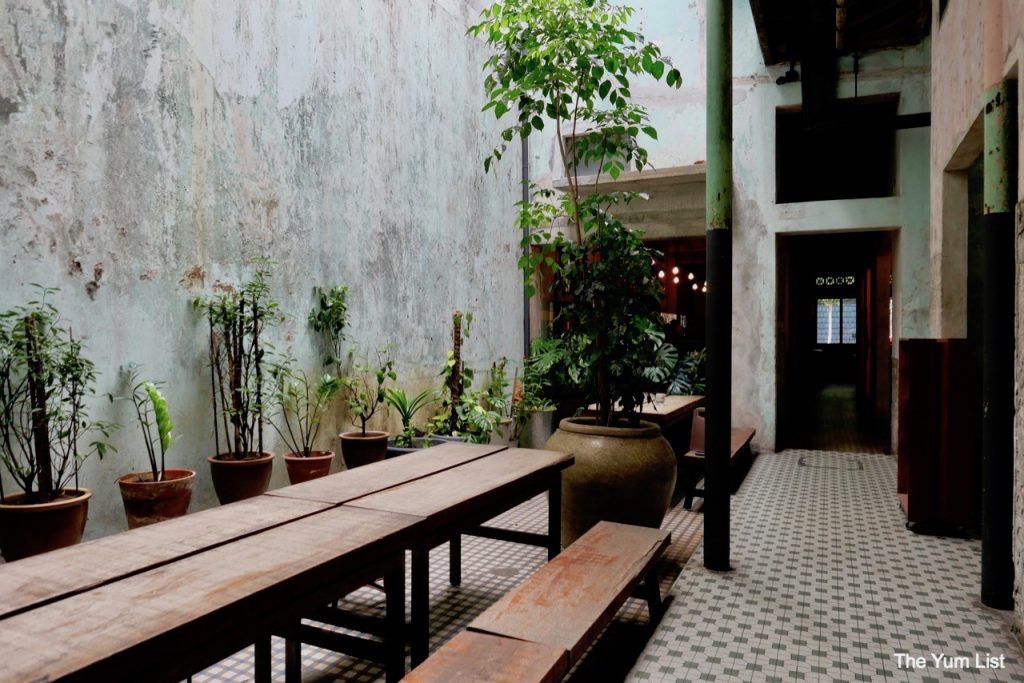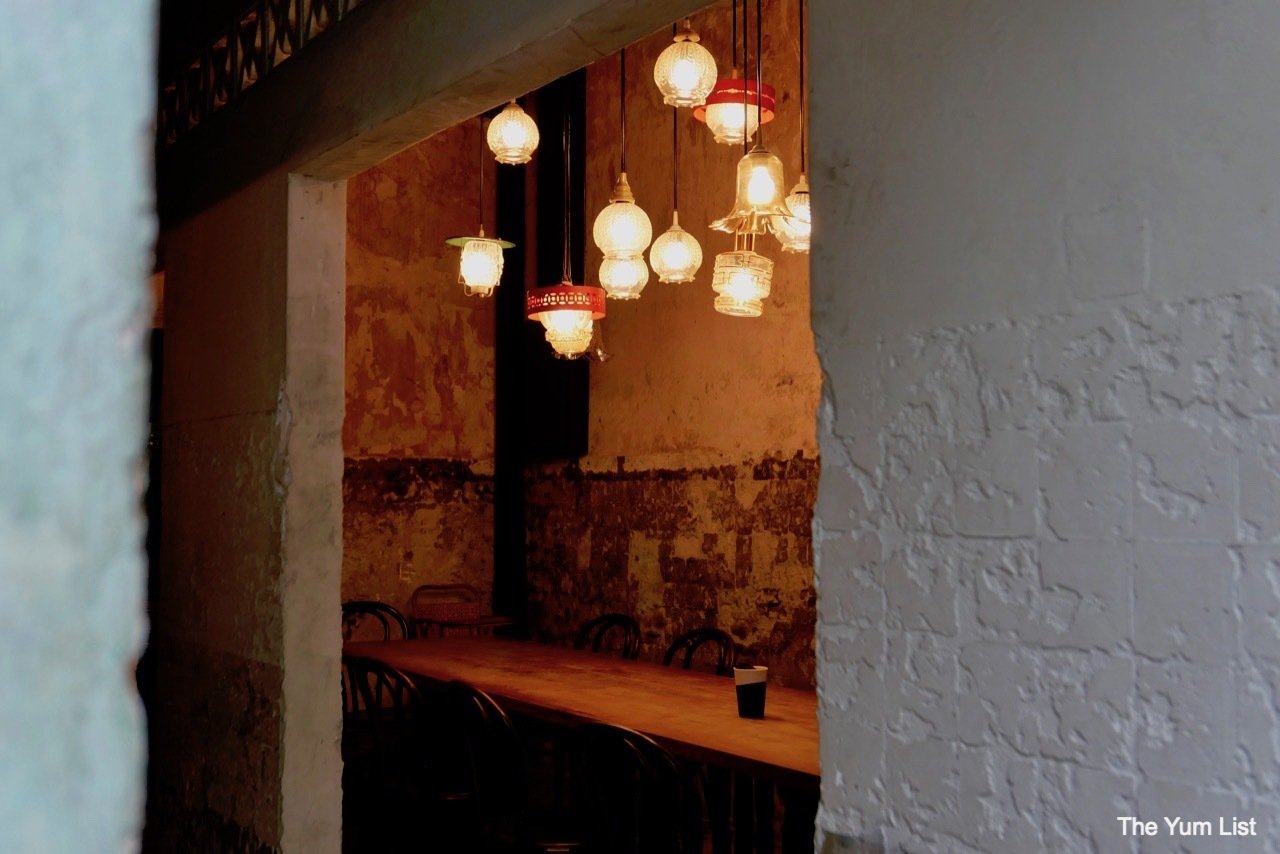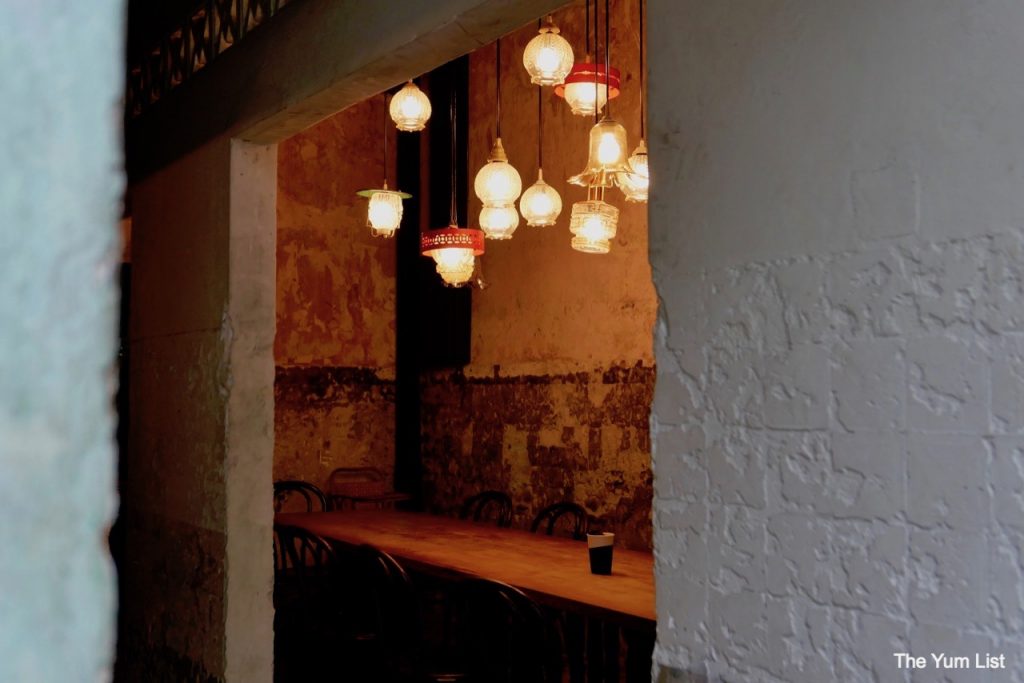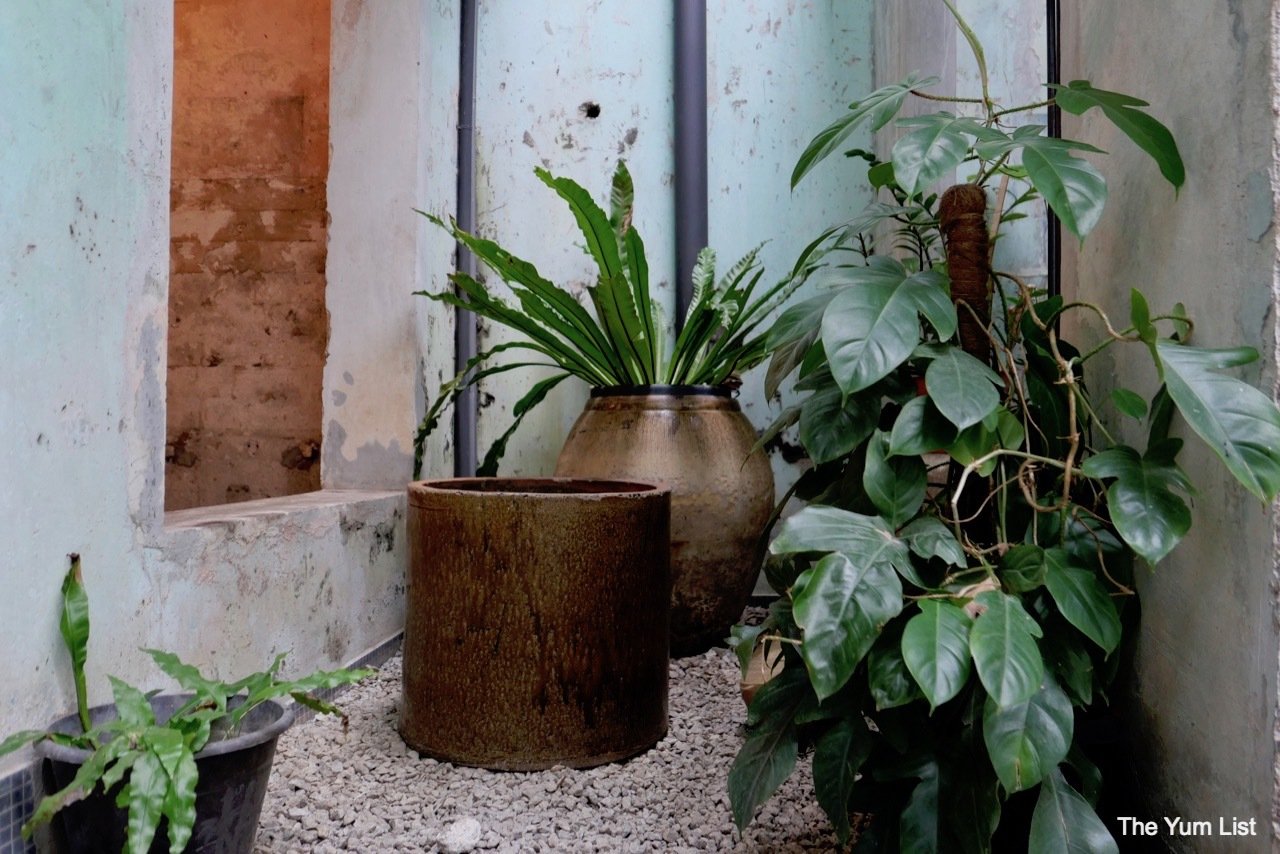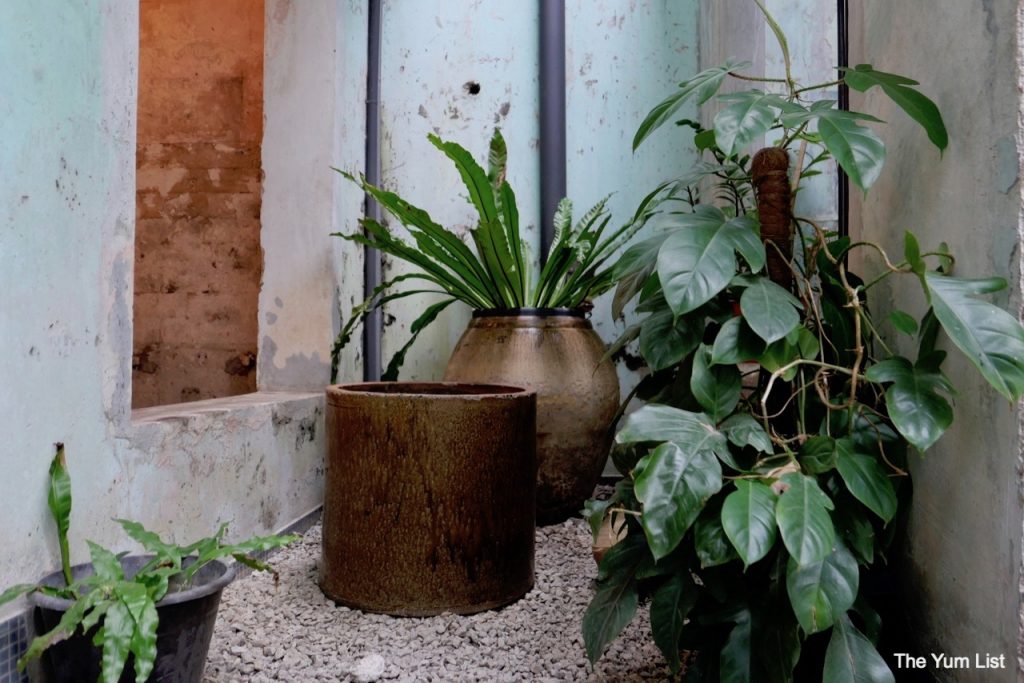 Biodynamic Sake
The drinks list at ChoCha Foodstore focuses on organic, biodynamic and sustainable production. We started our meal in the best way, with biodynamic sake from Korin (RM 50 carafe, RM 210 bottle). This fresh sake with balanced acidity was dangerously un-alcoholic tasting. It went well with pretty much every dish we had (we repeatedly refilled for scientific reasons, of course).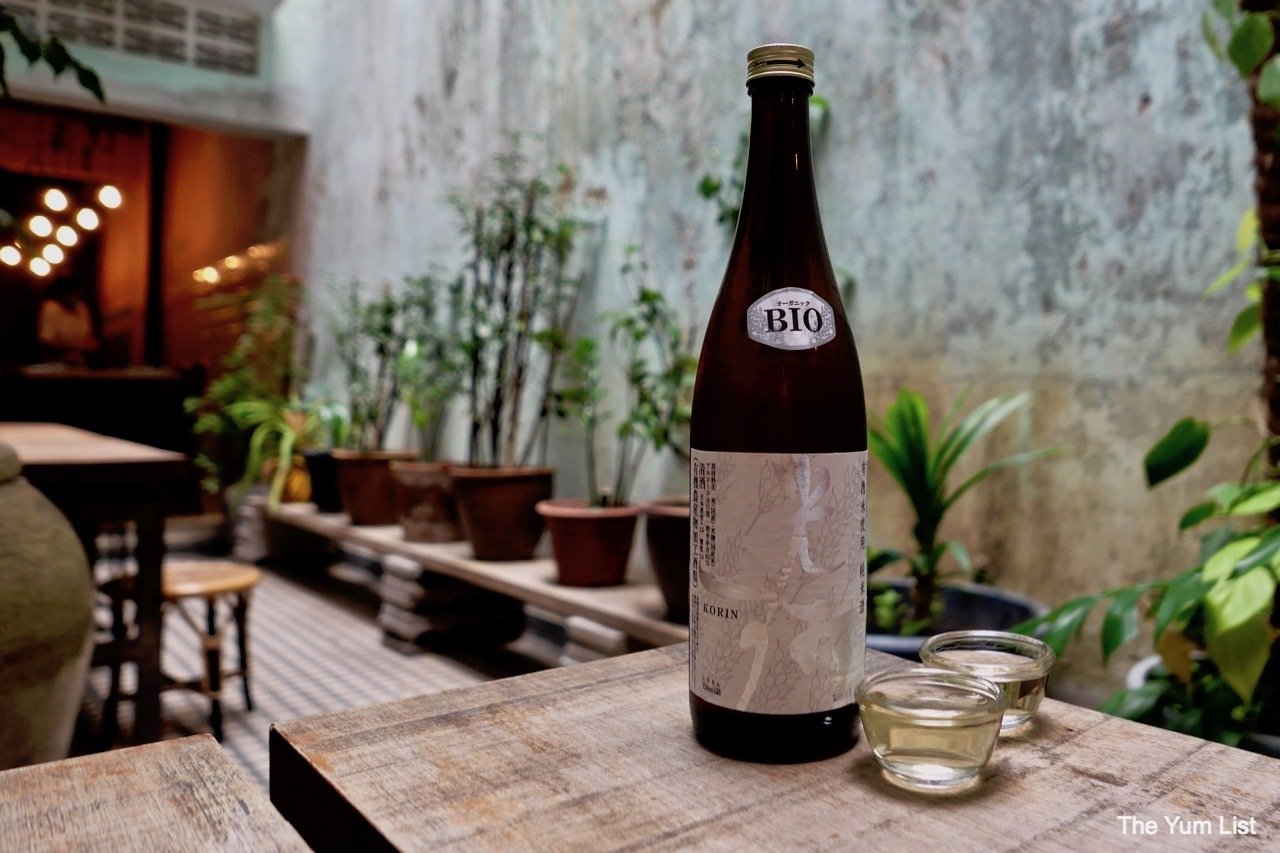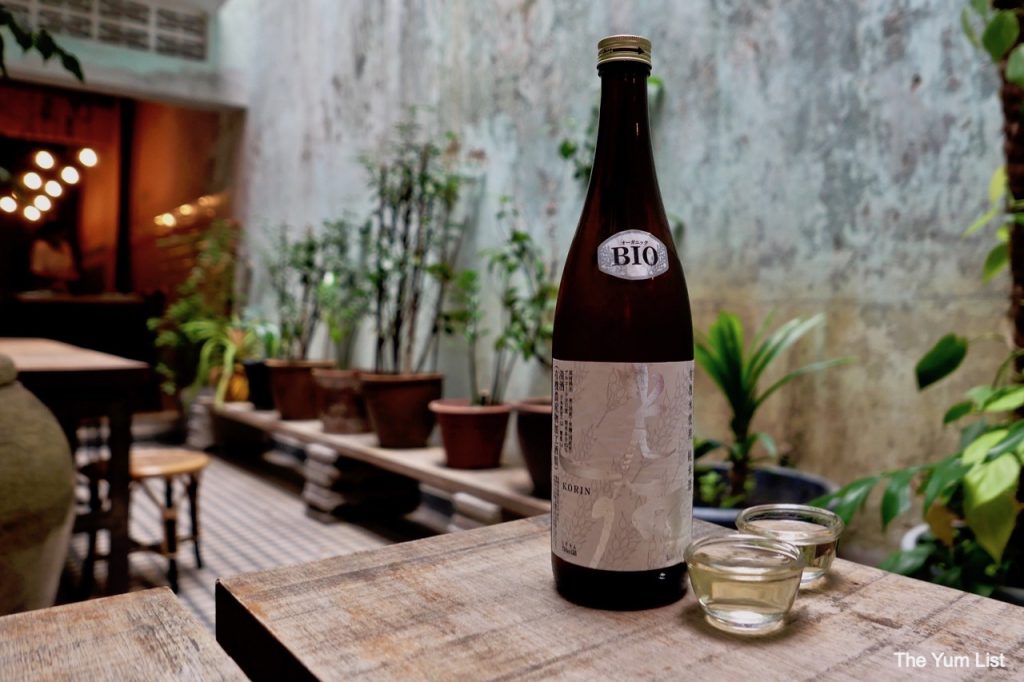 ChoCha Foodstore Review To Start
The food menu at ChoCha Foodstore is a one-pager. We highly recommend visiting with friends and ordering it all. Alas, Mon and I are alone today, so we do our best to get a tasting across the spread.
To begin, Coconut Bread (RM 14) is presented with 'liquid gold' or fermented coconut oil, to dip. This dish very much reminded me of a super basic dessert I made as a kid, loaded with desiccated coconut and incredibly moreish. The bread was soft and fluffy with a glossy sheen, perfect for wiping up any sauces left clinging to the plates.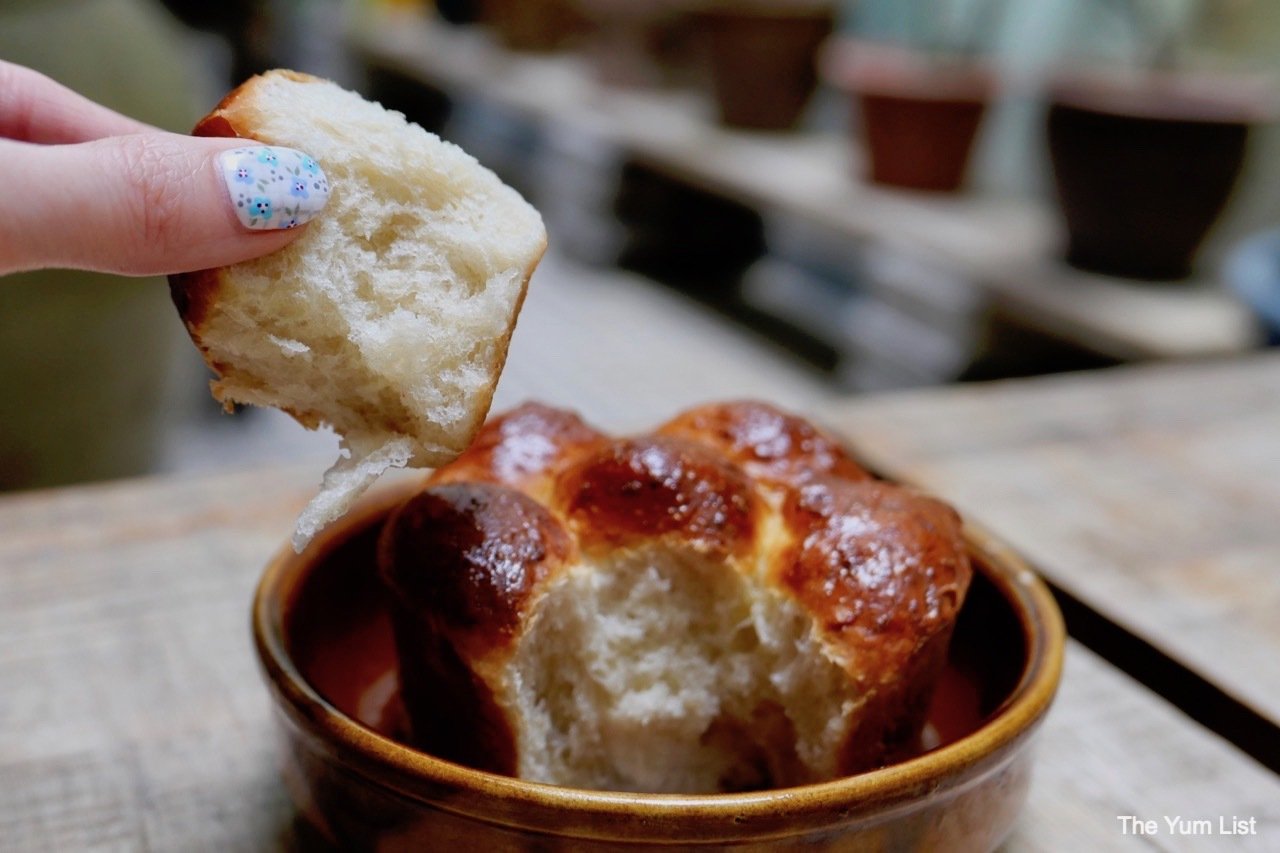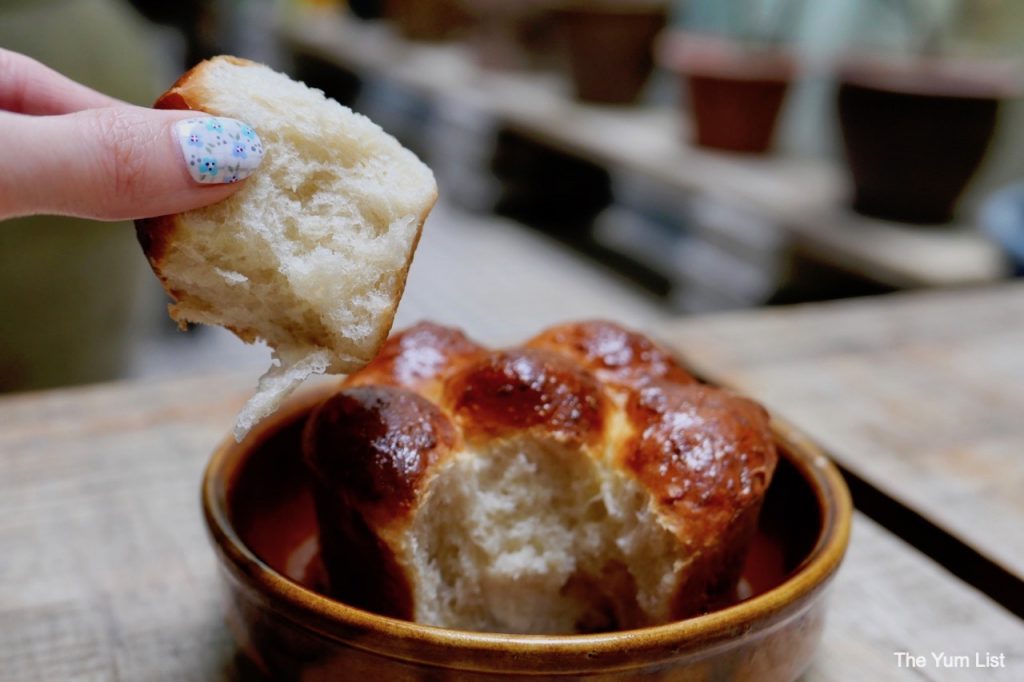 Extremely fresh mackerel is first gently smoked then grilled then whizzed up with mascarpone and yoghurt. This is served with slow-roasted eggplant chips to create the dish Mackerel Pate (RM 22). This velvety delicately smoked pate was so delicious that we gobbled up the lot.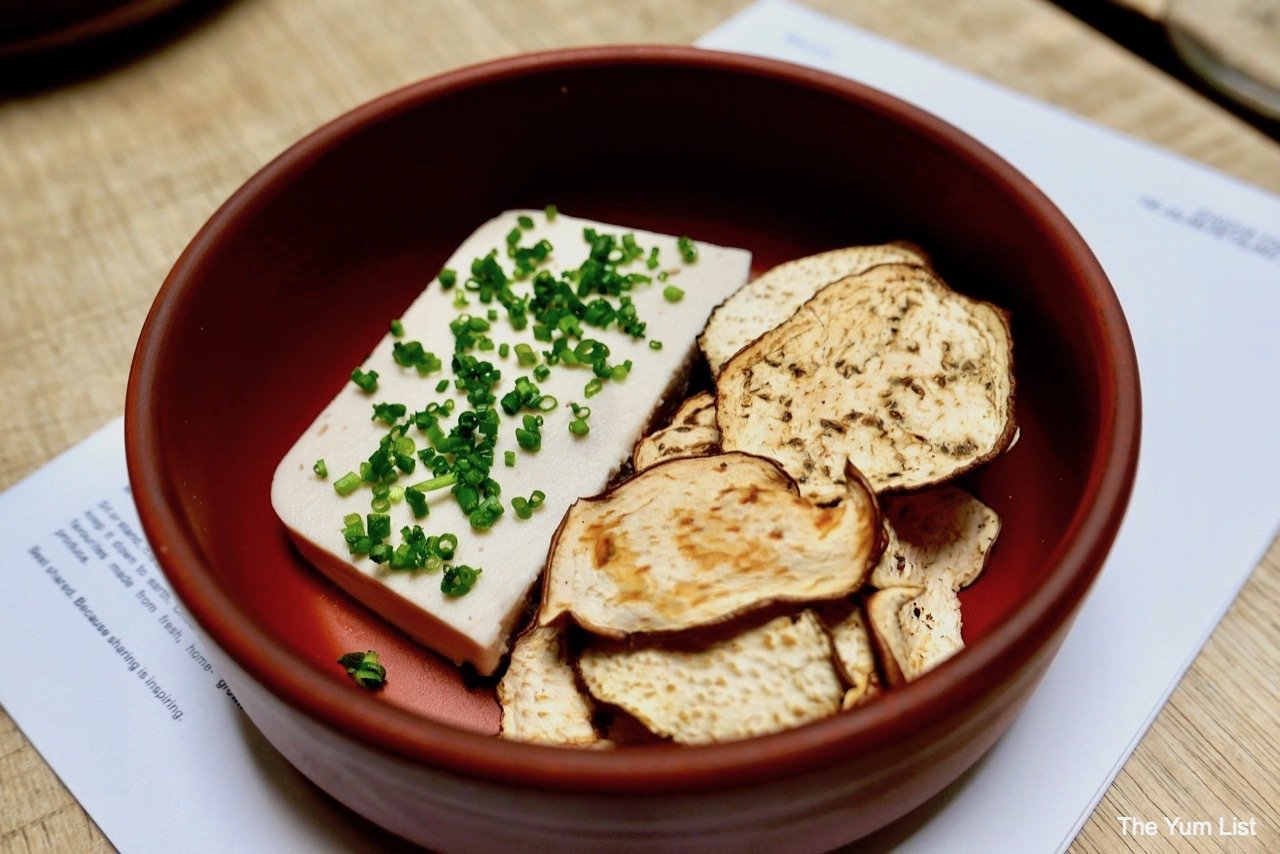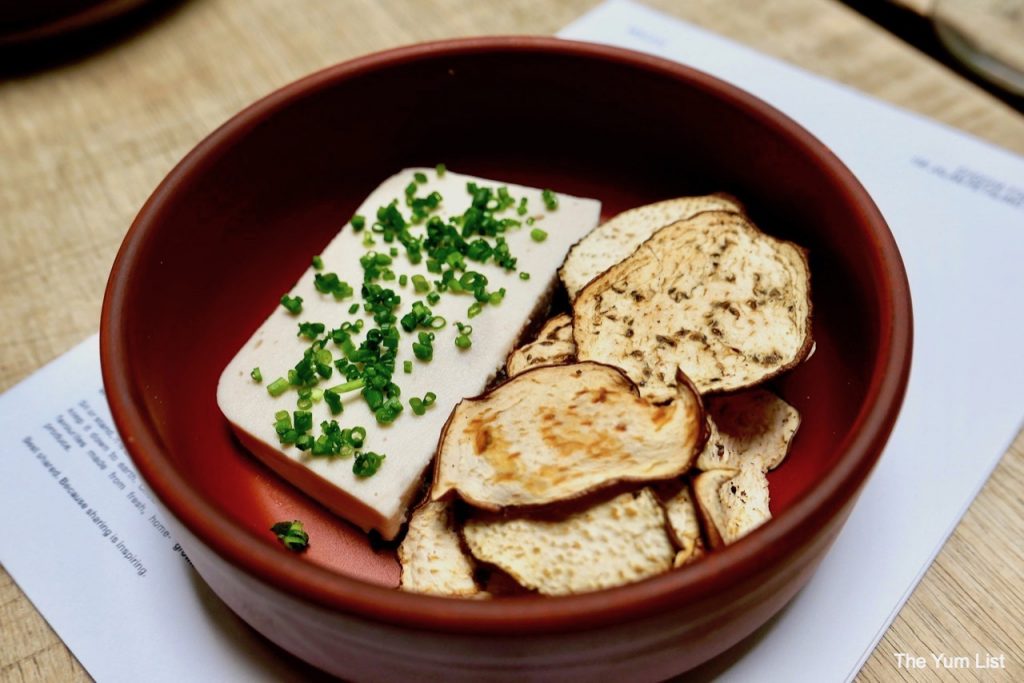 Chicken Feet (RM 18), the favourite of the chef and owner, is coated in soy caramel and sesame seed, reminiscent of his childhood. All bones are removed, blanched, deep-fried then steamed, then refried. Mon asked if I would eat it… not being a fan of chicken feet, unenthusiastically, I said I'd try it to be proven wrong. I totally was!! Think deep-fried chicken skin covered in caramel. Sounds weird but was YUMMY!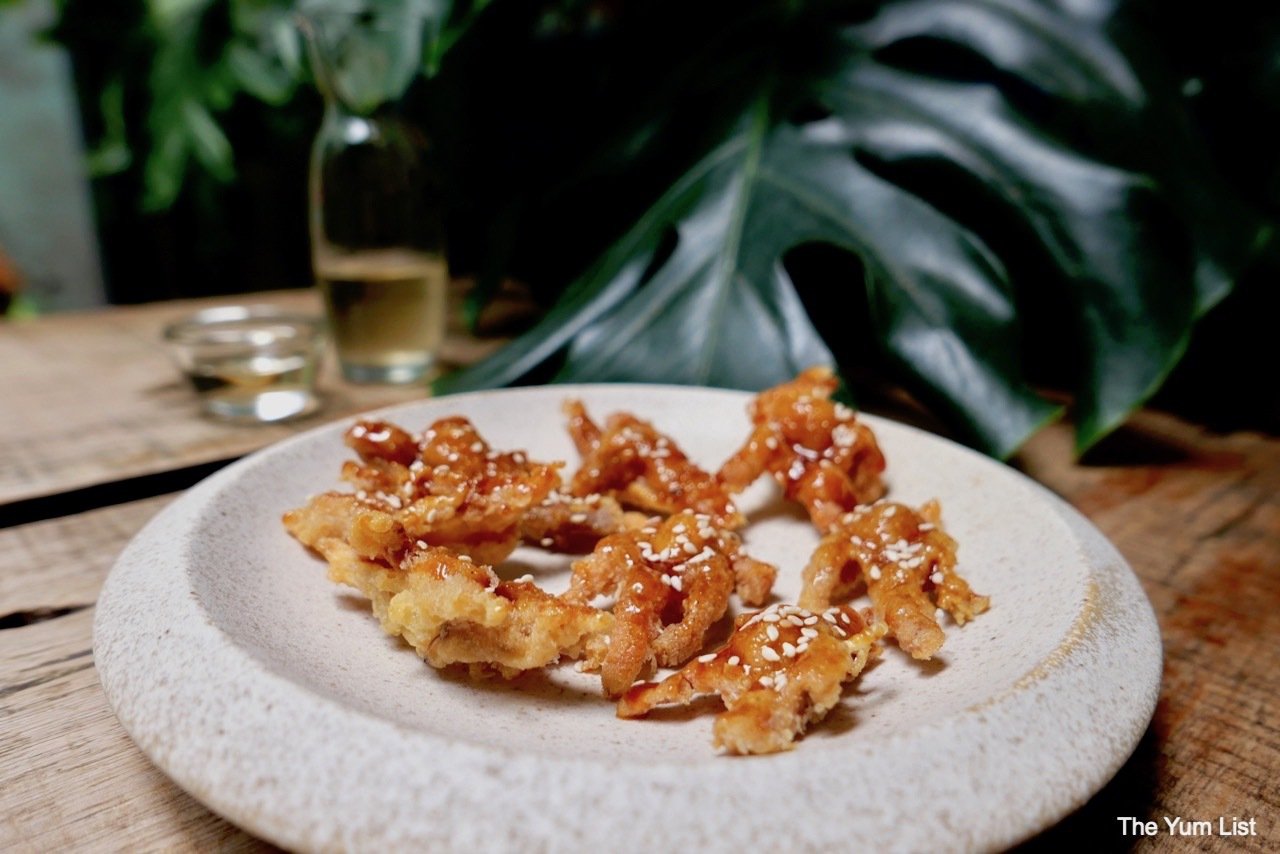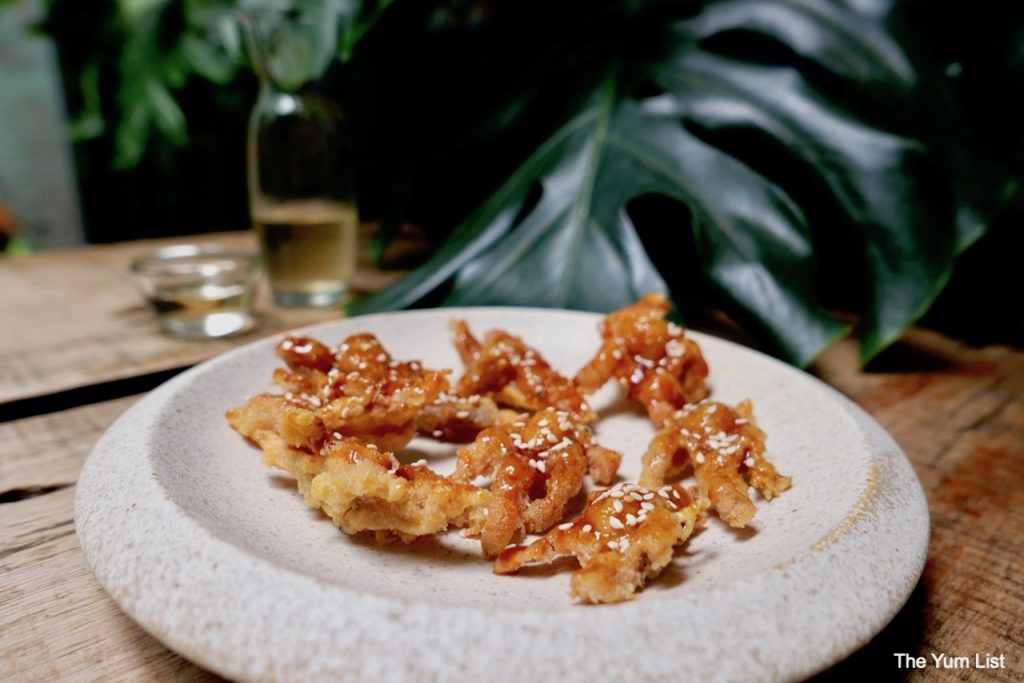 Raw / Cured / Ferment
Local Vegetables (RM 32) flowers and leaves are served with a jackfruit seed cream, mixed with miso and lemon juice and cincalok dressing. The jackfruit seed cream was inspired by seeking a way to use every part of the fruit. The cincalok inspired by bagna cauda (an Italian dressing made from anchovy) is made from local fermented shrimp. Red amaranth, spinach and eggplant from the farm are simply presented and decorated with blue pea flower, celebrating the purity of the vegetables and the exciting dips.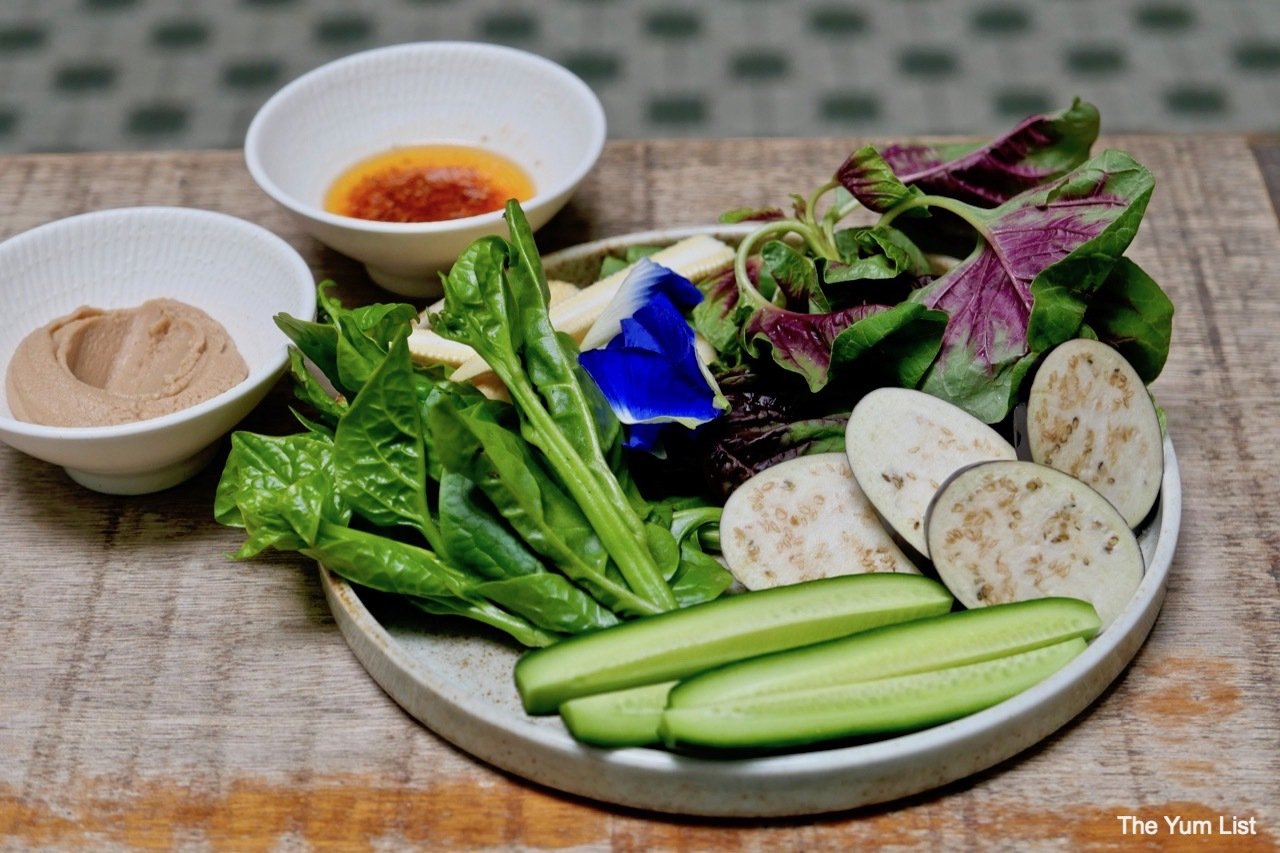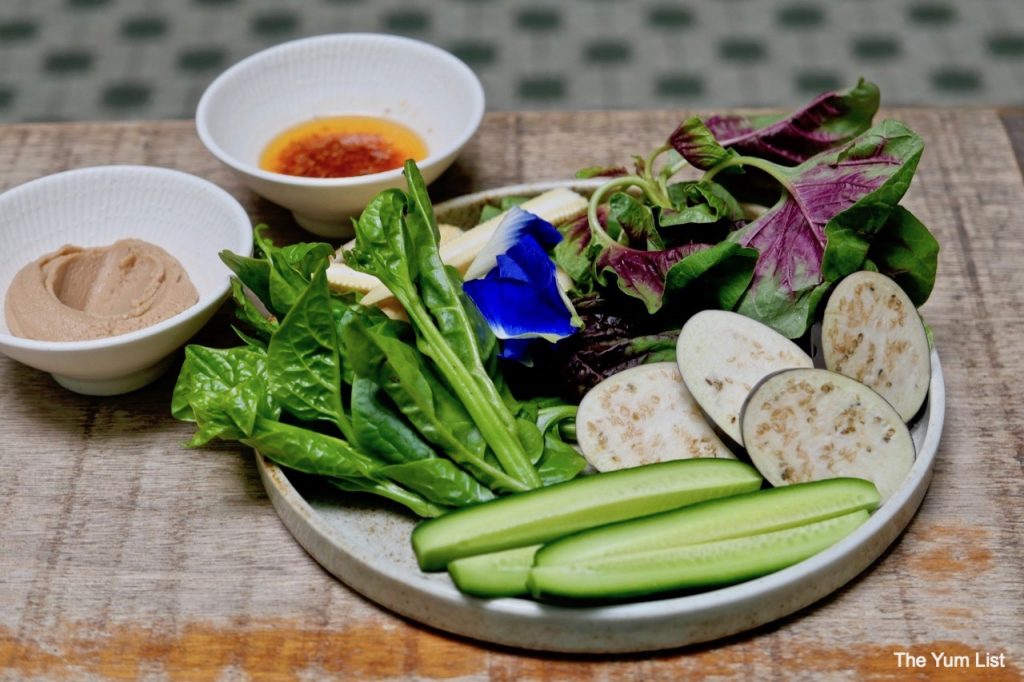 Ikan Mabong (RM 28) is a pair of deboned fish, breaded and very simply served with a budu mayo (fermented fish sauce). I loved that the fish had the opportunity to 'speak for itself' without complication and showed its glorious freshness.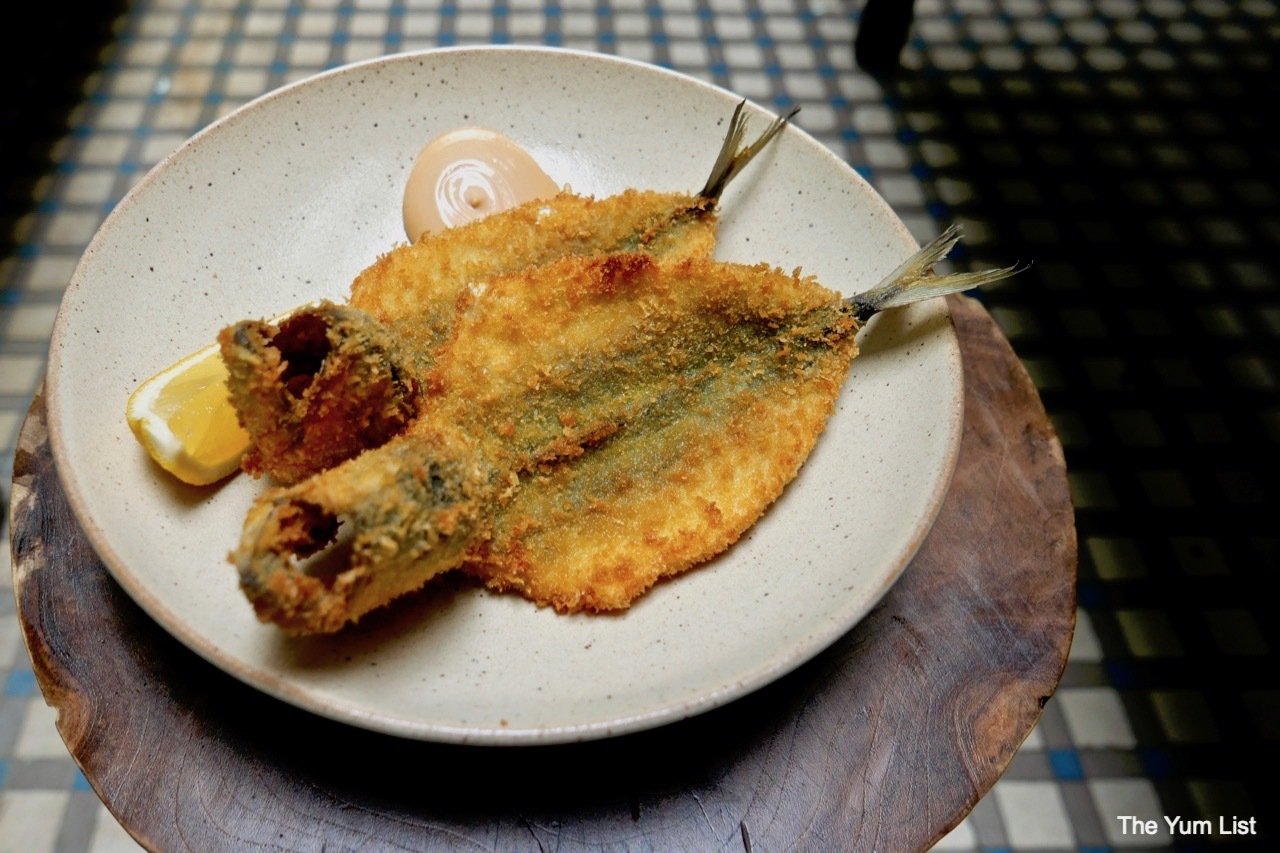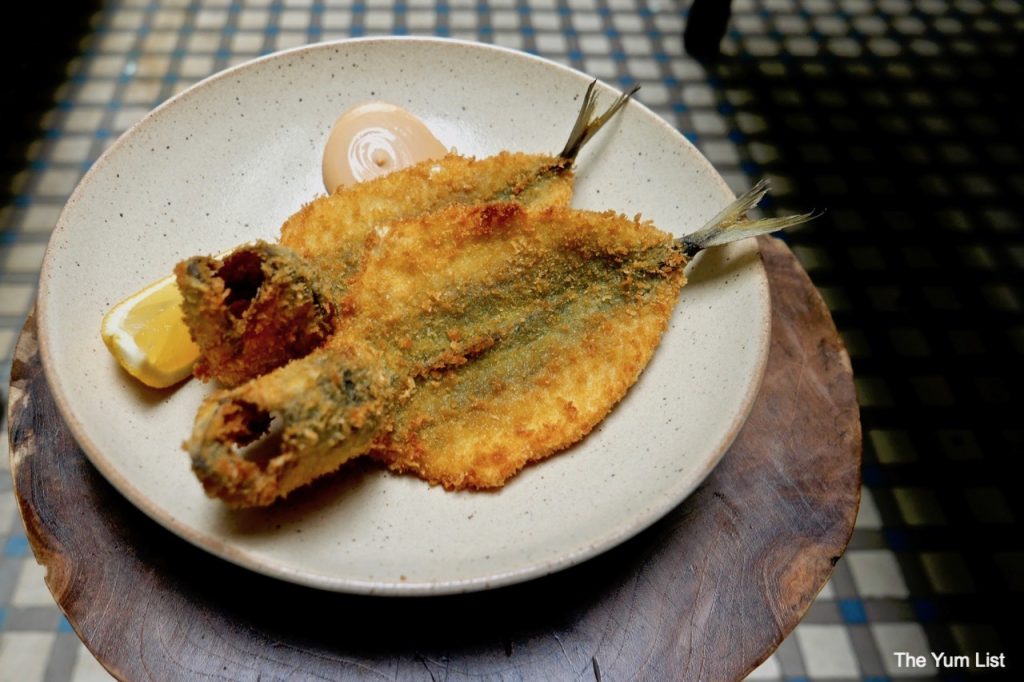 Mushroom (RM 26) – pearl oyster mushrooms and enoki mushrooms, as with all ingredients, are grown locally by small scale farmers, pan-fried and served with grated salted egg yolk, with curry leaf and lime juice dressing. While I found it challenging to decide on favourite dishes, this night-market inspired plate was undoubtedly up there.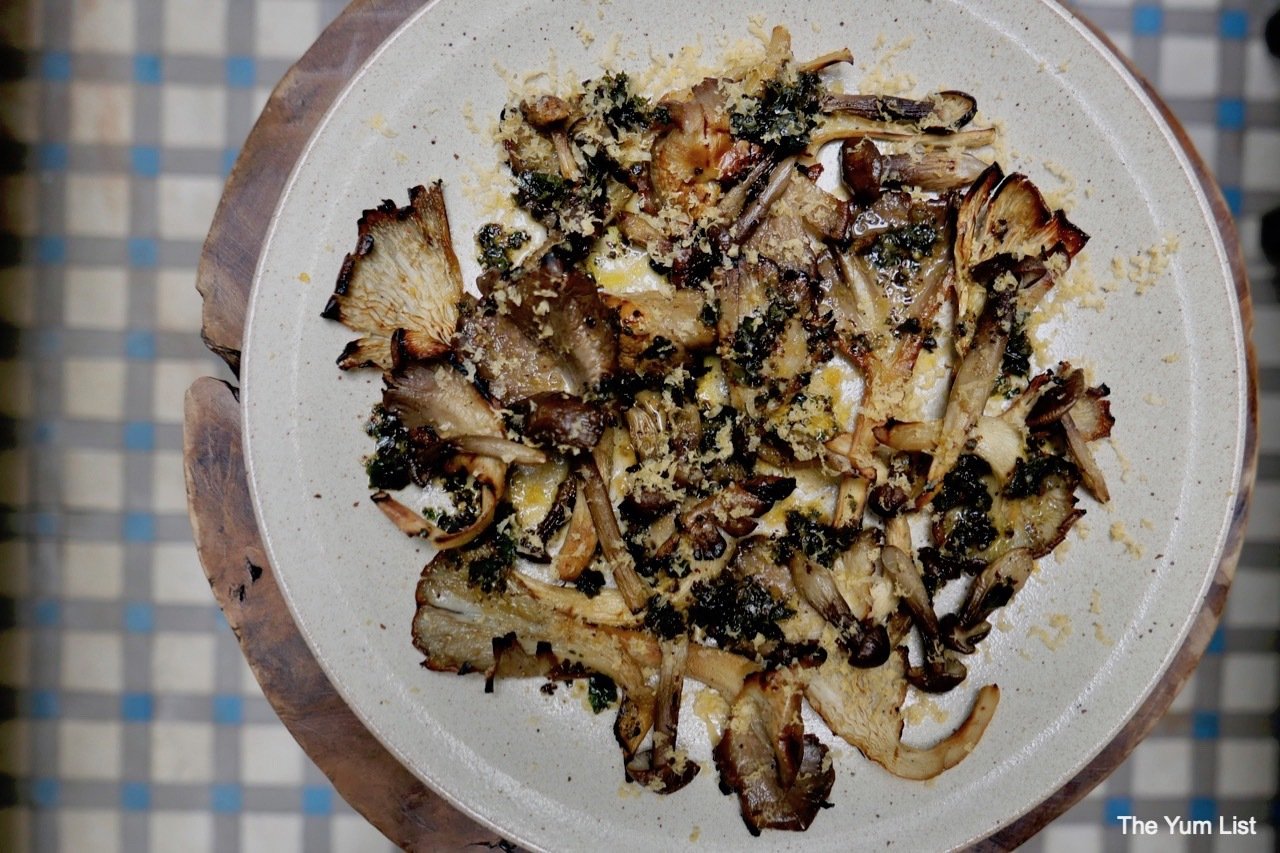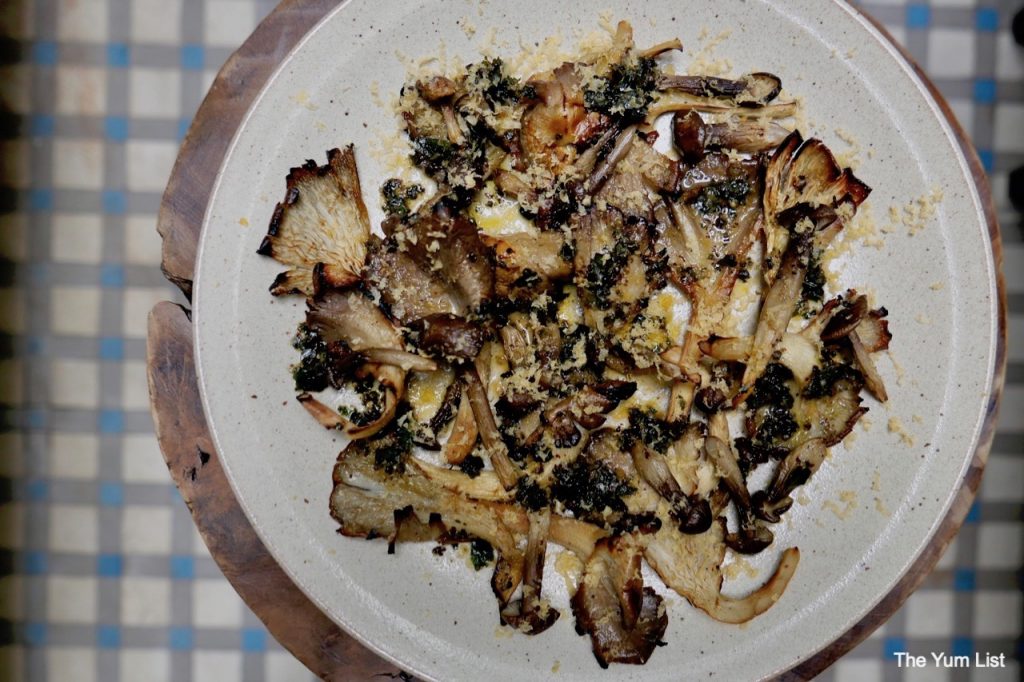 Biodynamic Wine
Momento Mori, Fistful of Flowers (RM 235) is a biodynamic orange wine with a real apple cider vinegar mouth feel – a wine I am already familiar with from a quirky farmer in Australia. If you're an orange wine fan, this is one for you and goes brilliantly with the mushrooms!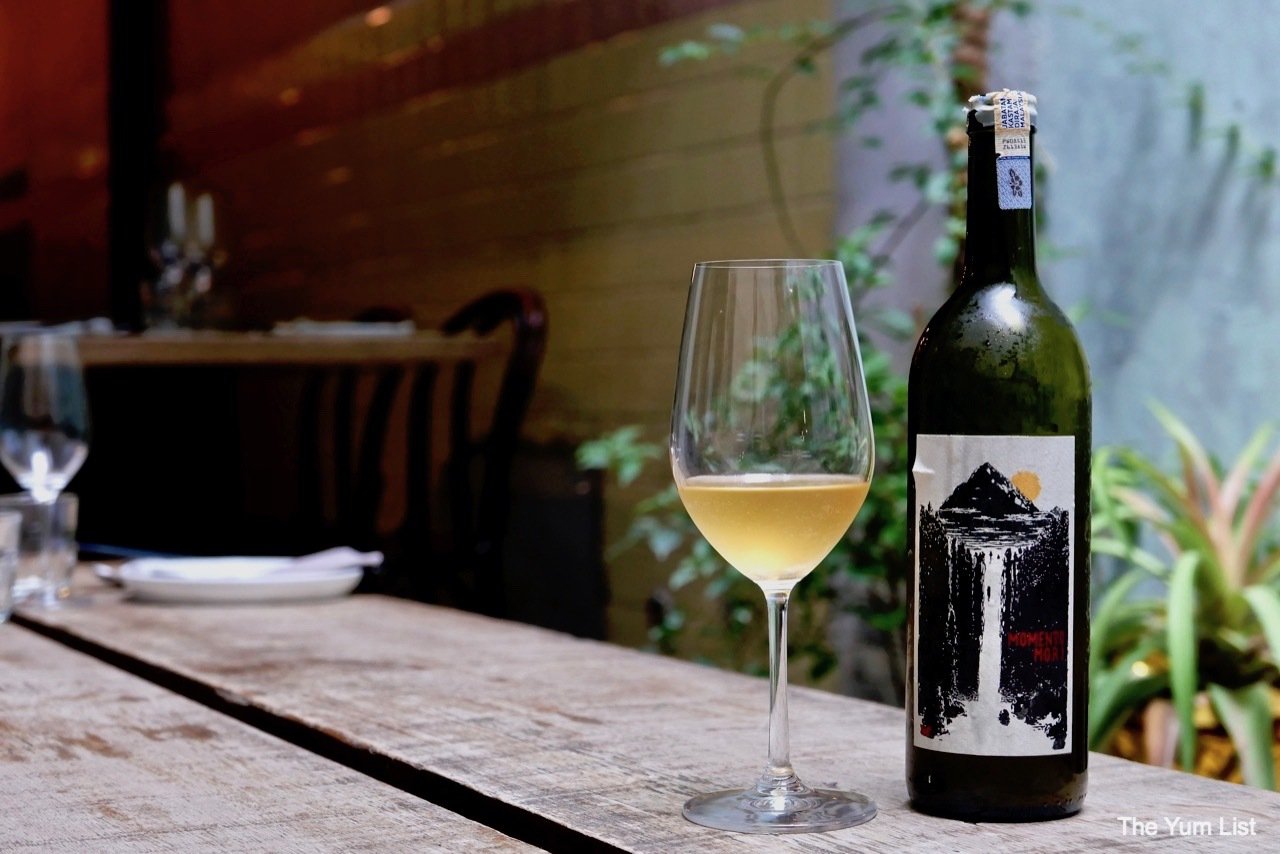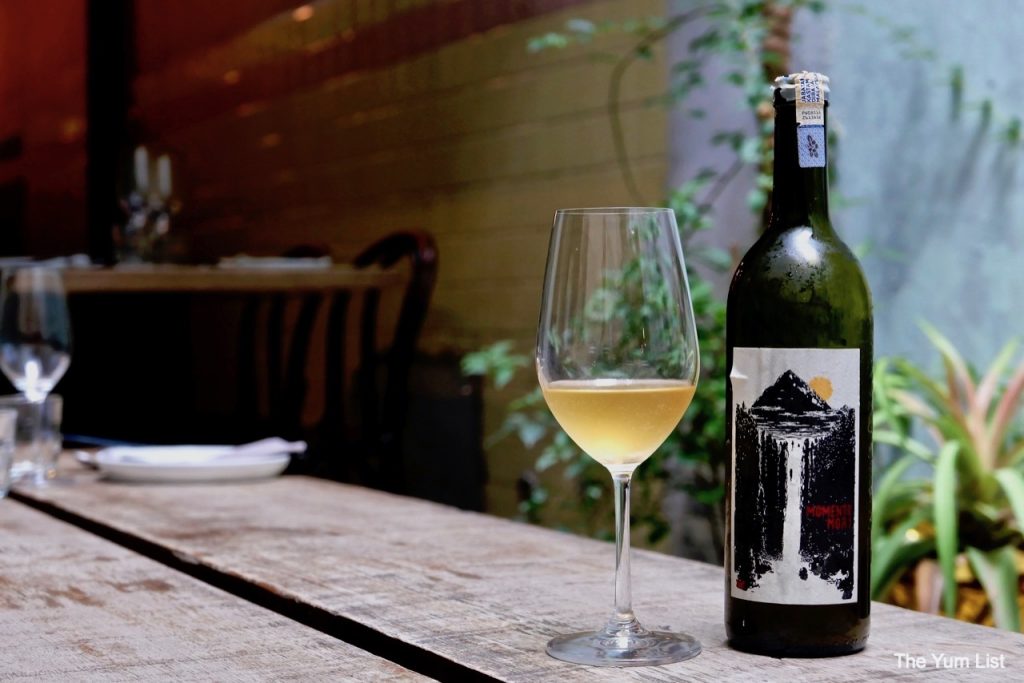 Abalone (RM 38) from the Sabah harbour was served with butter and chives in its own shell. The meat was slow-grilled, sliced and infused with the butter of duck ham, shallots, dried shrimps and scallops and spooned over the abalone, with a slight saltiness from the shrimps and a chewiness of the gastropod.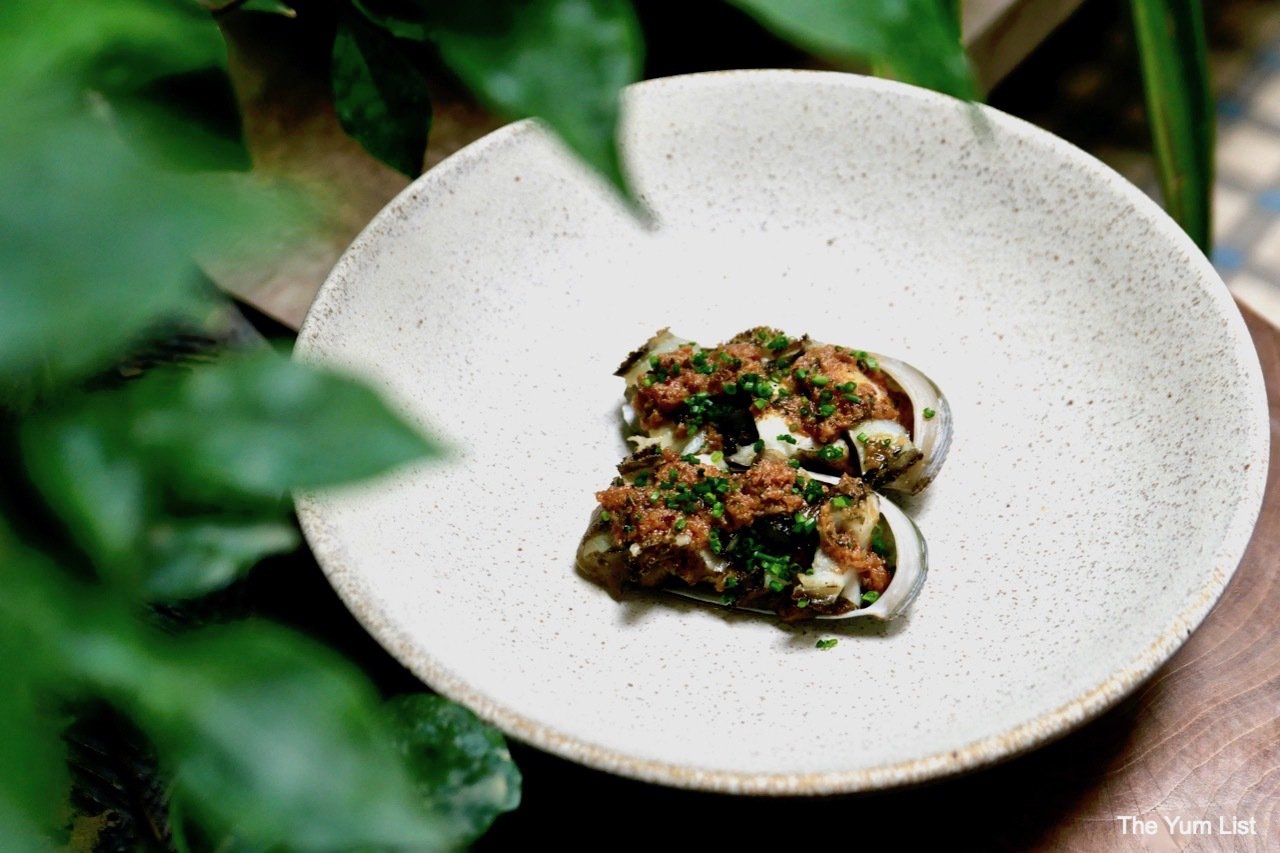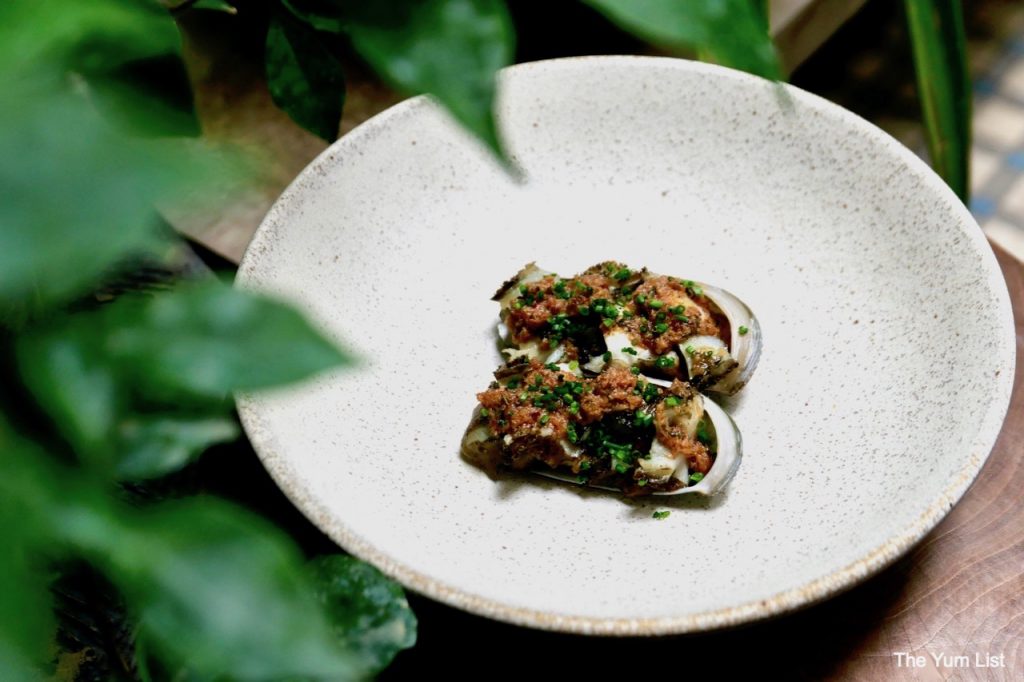 ChoCha Foodstore Review – Plates
Our next wine was Lucy M Cabernet Franc from the Adelaide Hills (RM 315), which went fantastically well with the meaty dishes. It was rich and velvety with a big punch of red fruit. The wine list itself offers a variety of wines by the glass or bottle, funkily labelled as 'juicy' or 'alternatives' at a reasonable price-point. Many are organic or biodynamic, in line with ChoCha Foodstore's ethical concept.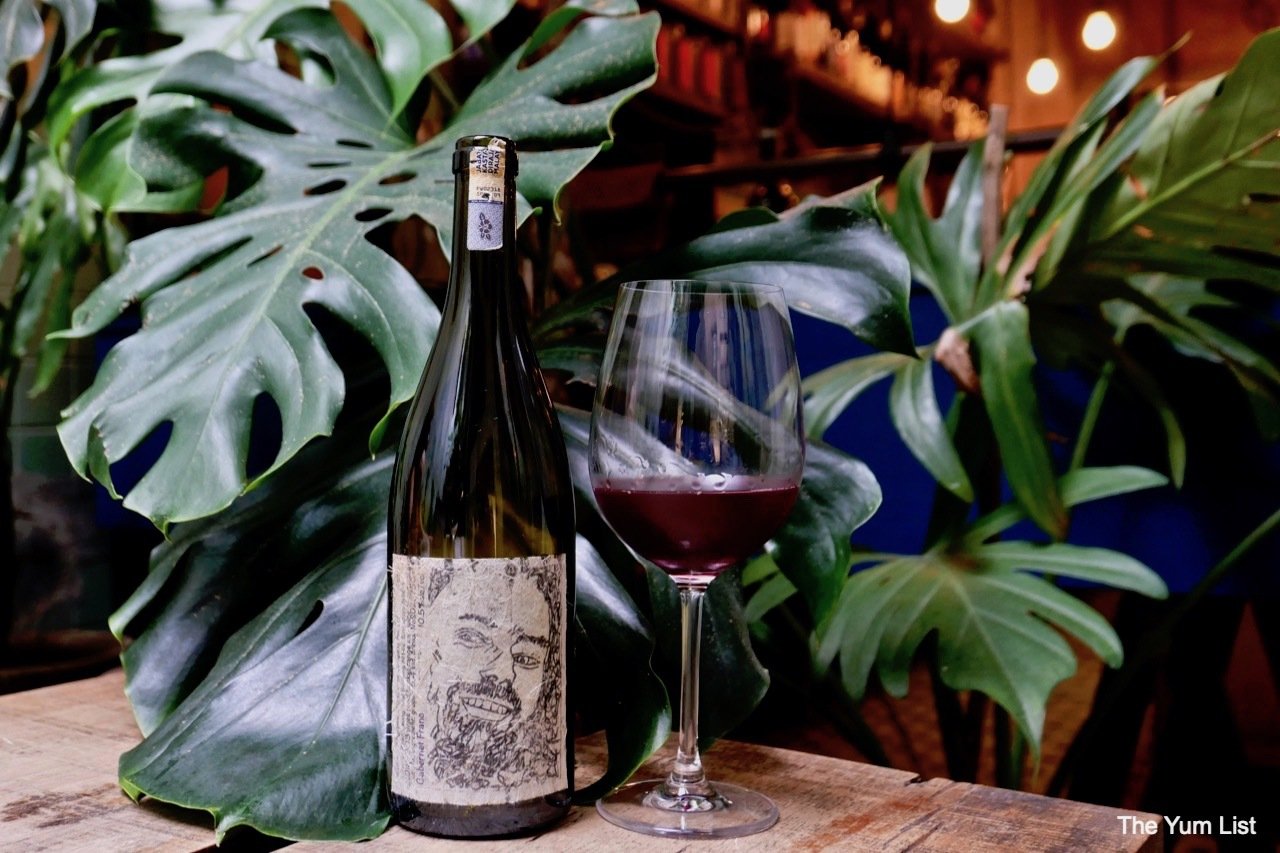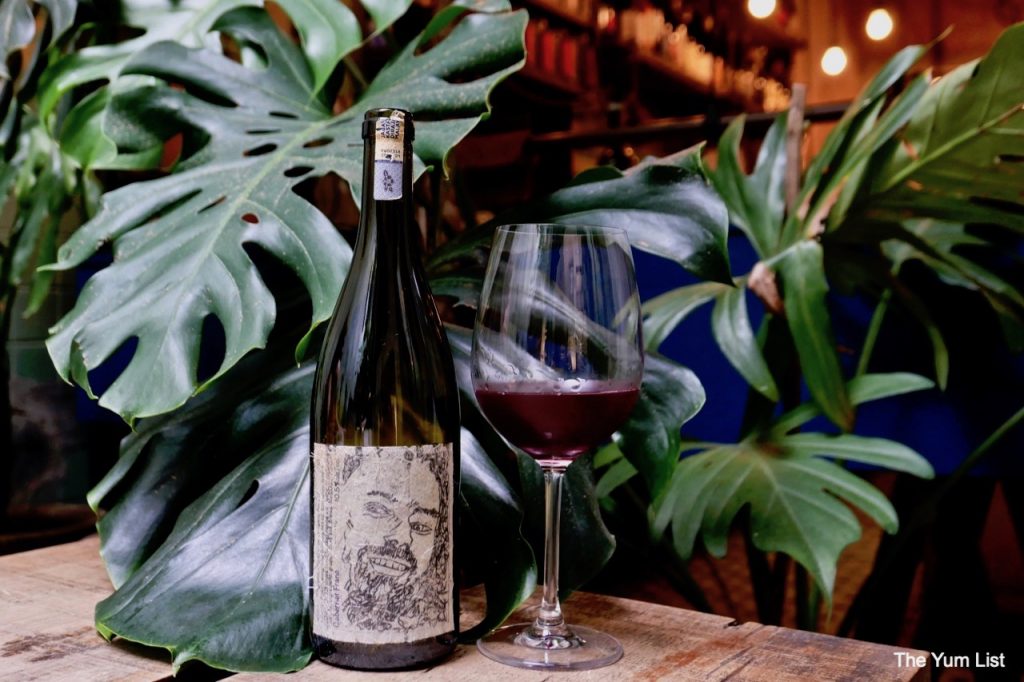 Wild Patin Buah (RM 80), silver catfish to you and me, was flame-grilled to grab a smoky flavour. It was delicious on its own but served with punchy mango sambal which was rolled up and served in the accompanying roselle leaf, to create tasty parcels with a kick!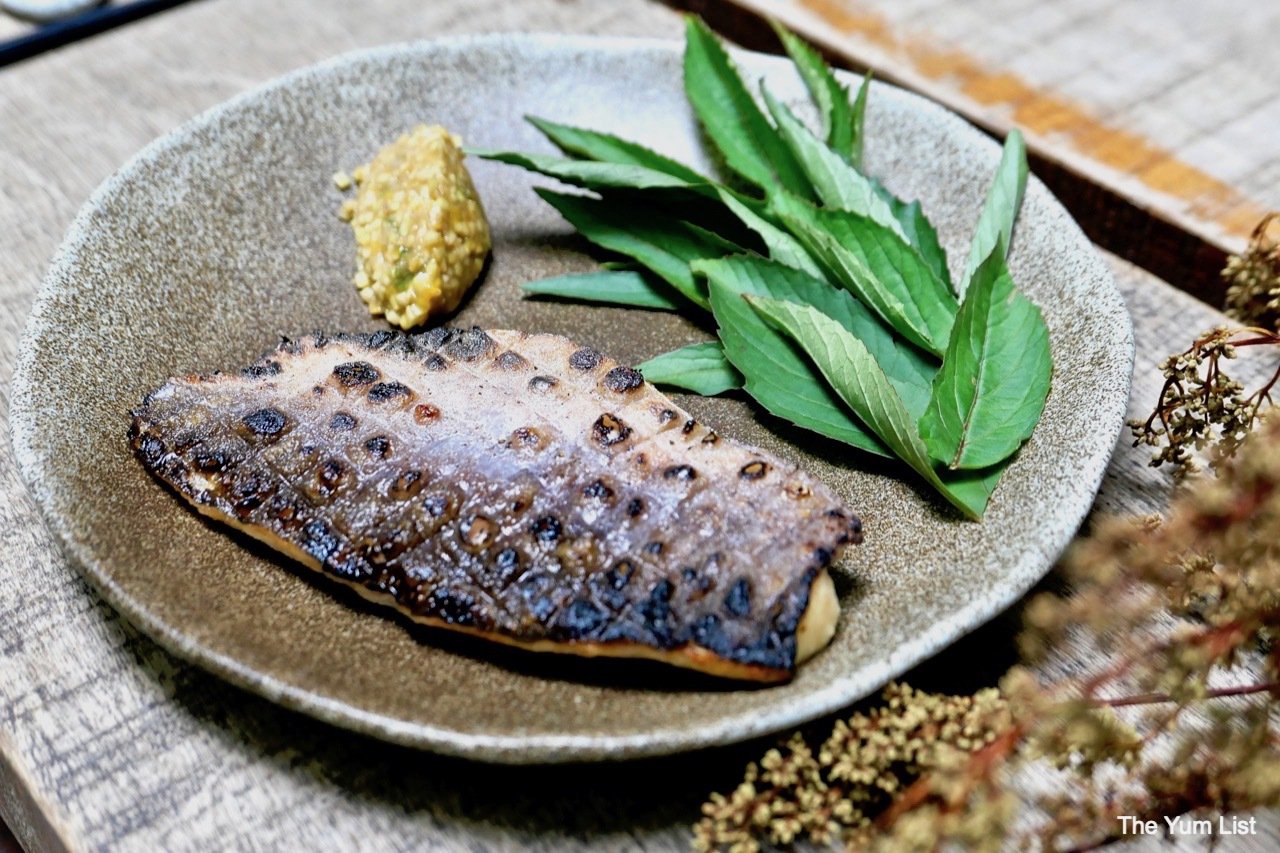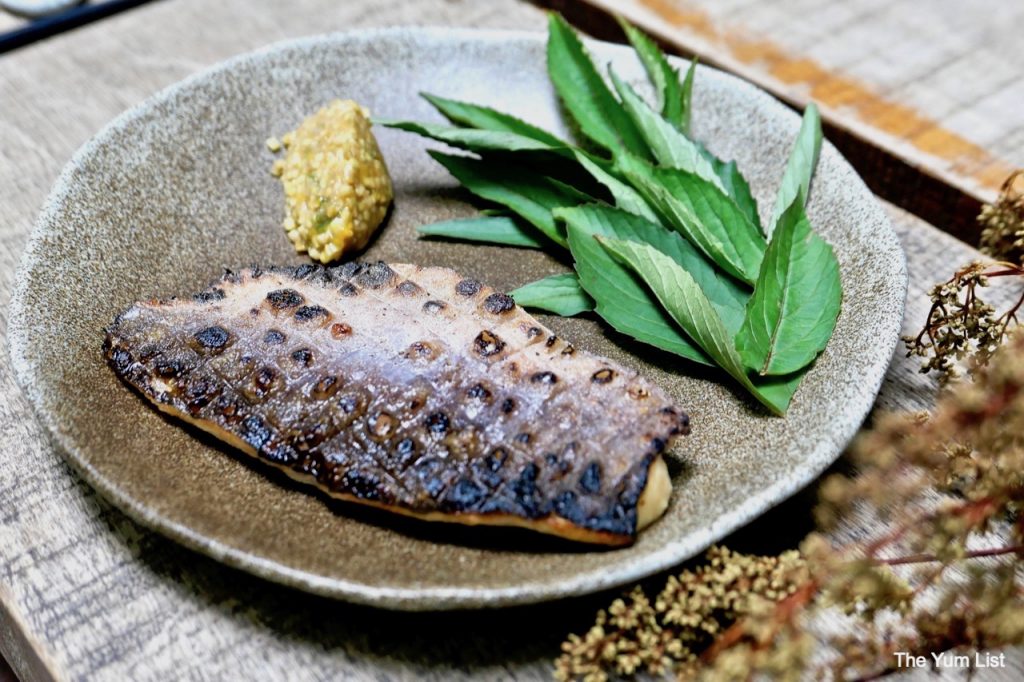 Rice cooked in a chicken broth, cornmeal and mascarpone to round it out, is the base of Heirloom Red Rice (RM 56). The rice itself is sourced from Borneo and has a pretty pink hue and lovely texture. Topped with boneless chicken cooked in duck fat and flour-coated chicken skin, creates a funky twist on chicken rice. The wings were thoughtfully deboned, and this while the competition was stiff, I think this was my winning dish. With Shin enthusiastically digging in too (he'd forgotten just how good it was!), not a morsel was left on the plate.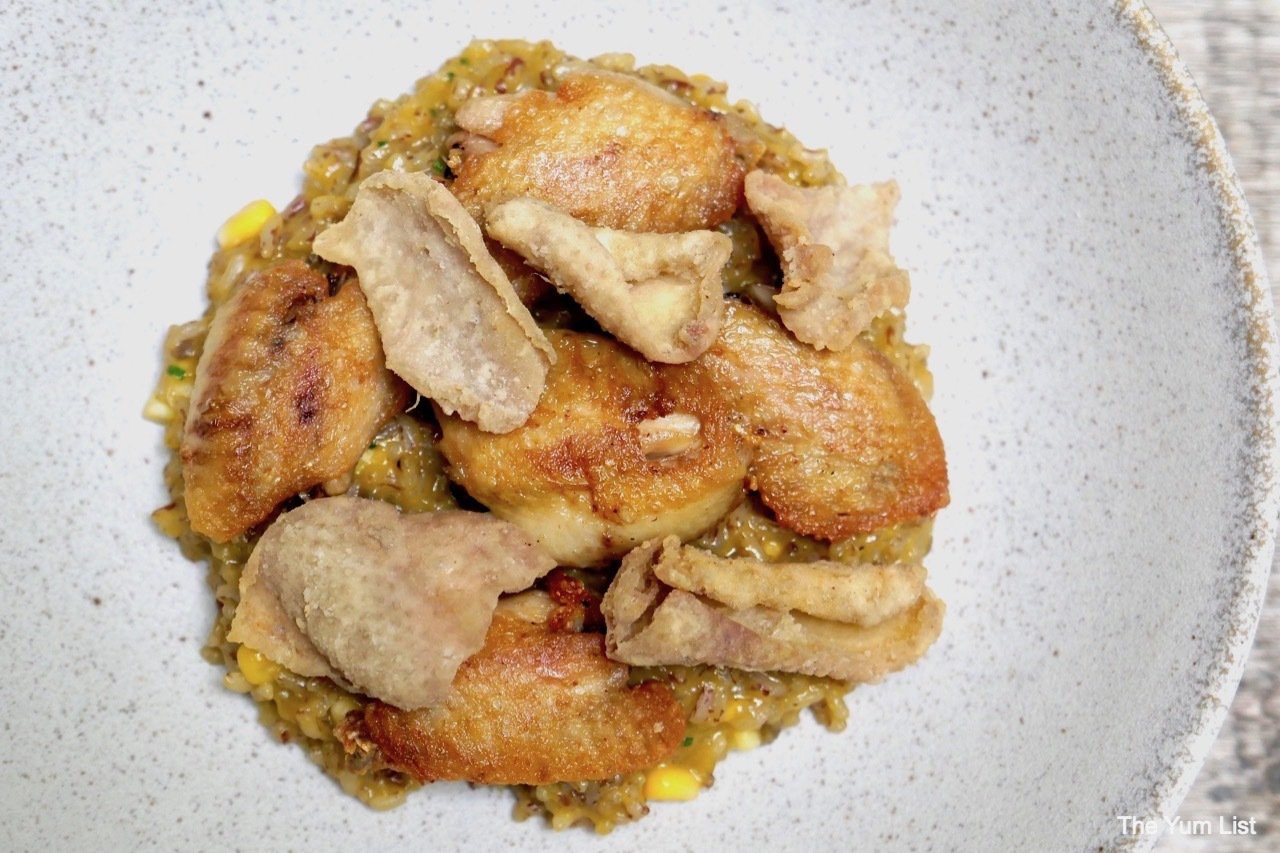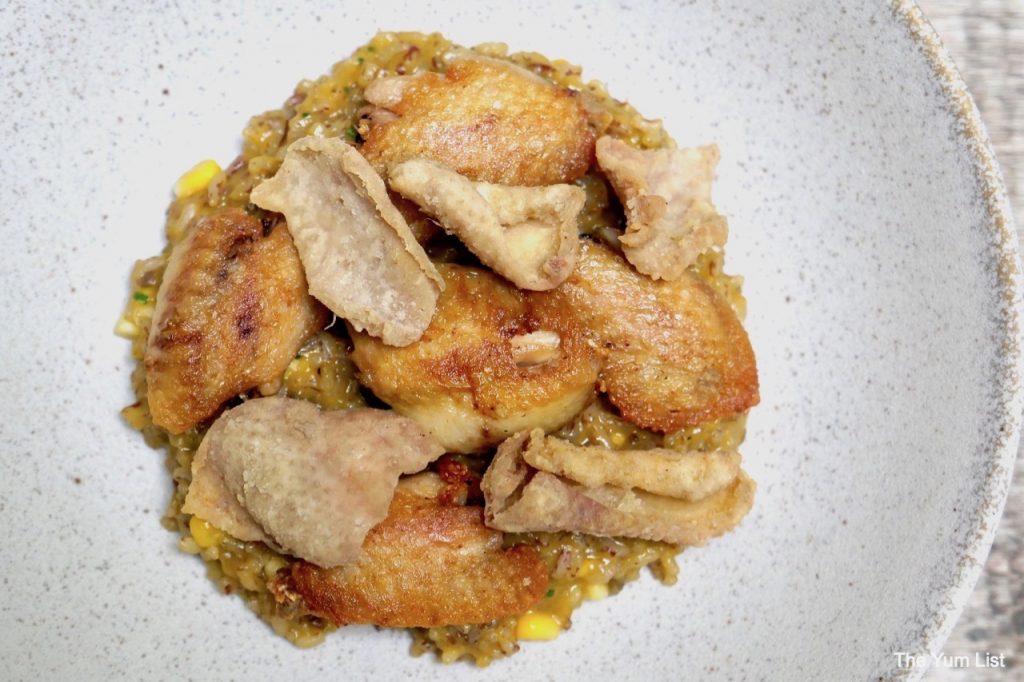 Winter Melon (RM 46), a large gourd is cooked in dried shitake broth and served with Chinese celery. This is a beautiful vibrant green broth with pickled shitake lifting the earthiness of the gourd and broth. This was a dish with hearty traditional Chinese flavours that would be right at home, tucking in, in front of a roaring fire.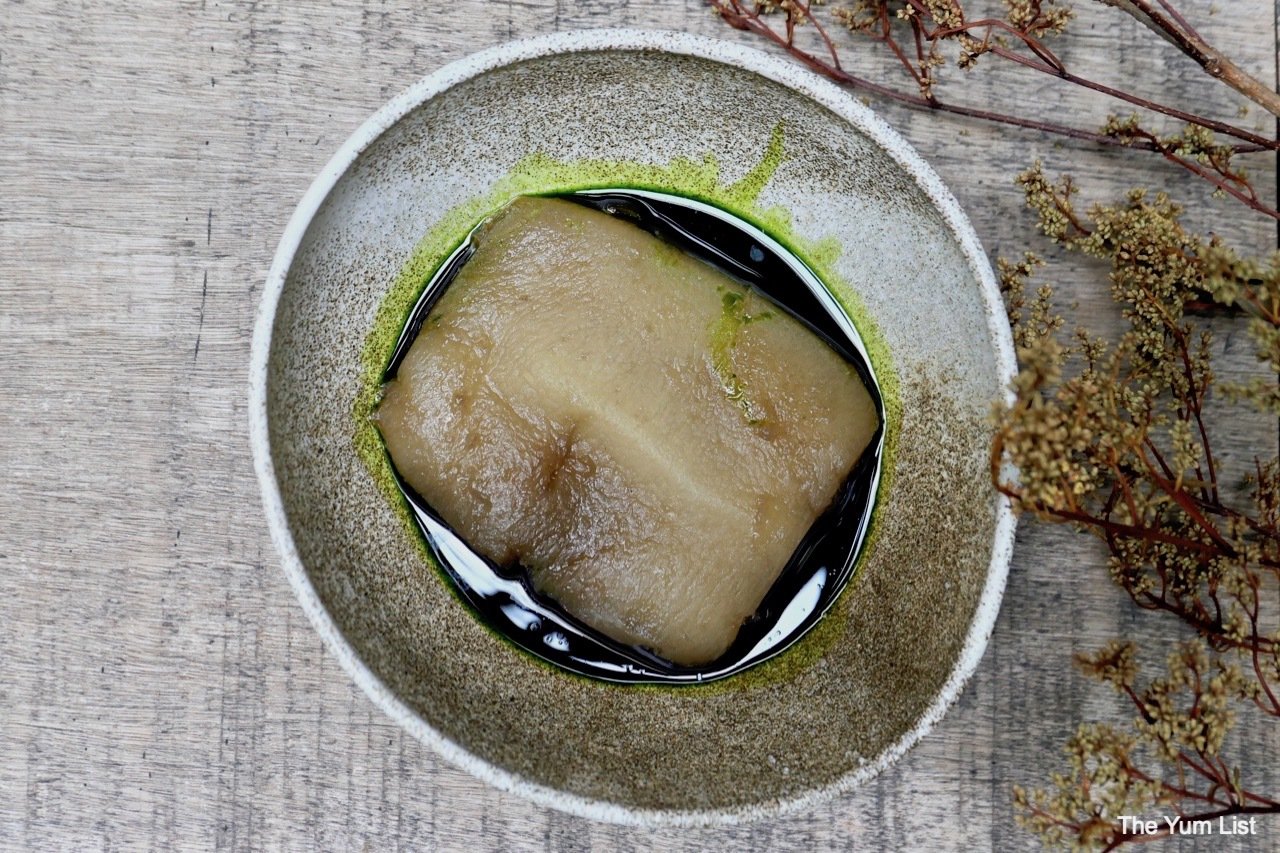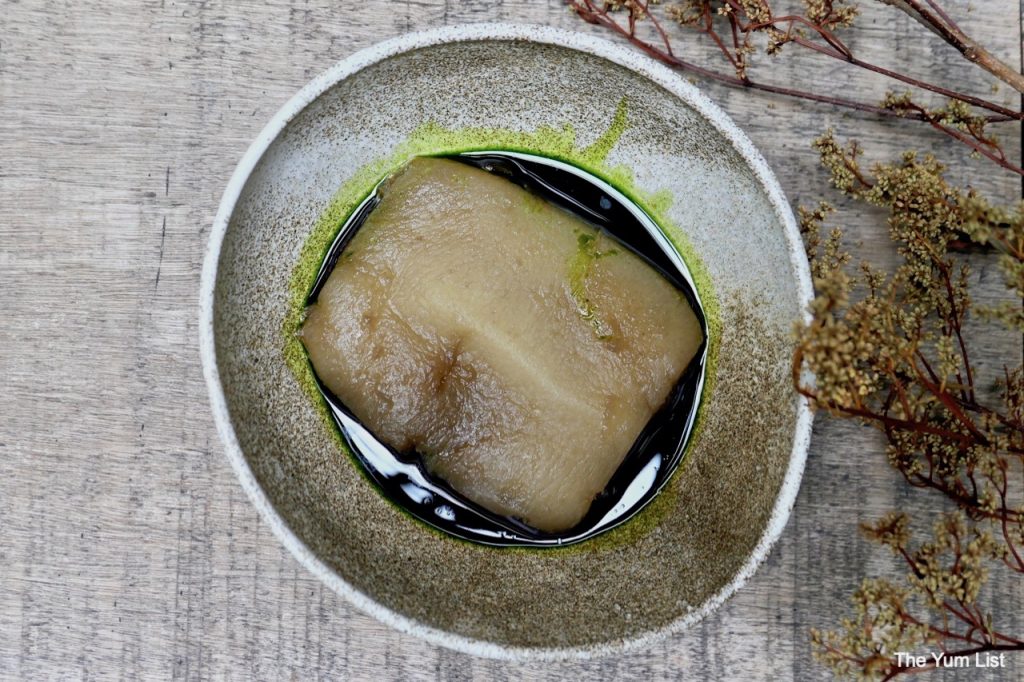 Sweets
Ending our meal, Chocolate (RM 32) from Pahang was served with fresh figs and fig leaf ice-cream. The ice-cream is a revelation, refreshing and slightly earthy tasting, with a subtle hint of fig flavour. The soft chocolate mousse and ice-cream were served with cacao husk crackers, which provided a perfect crunch. As a non-dessert eater, I would go back just for this pud!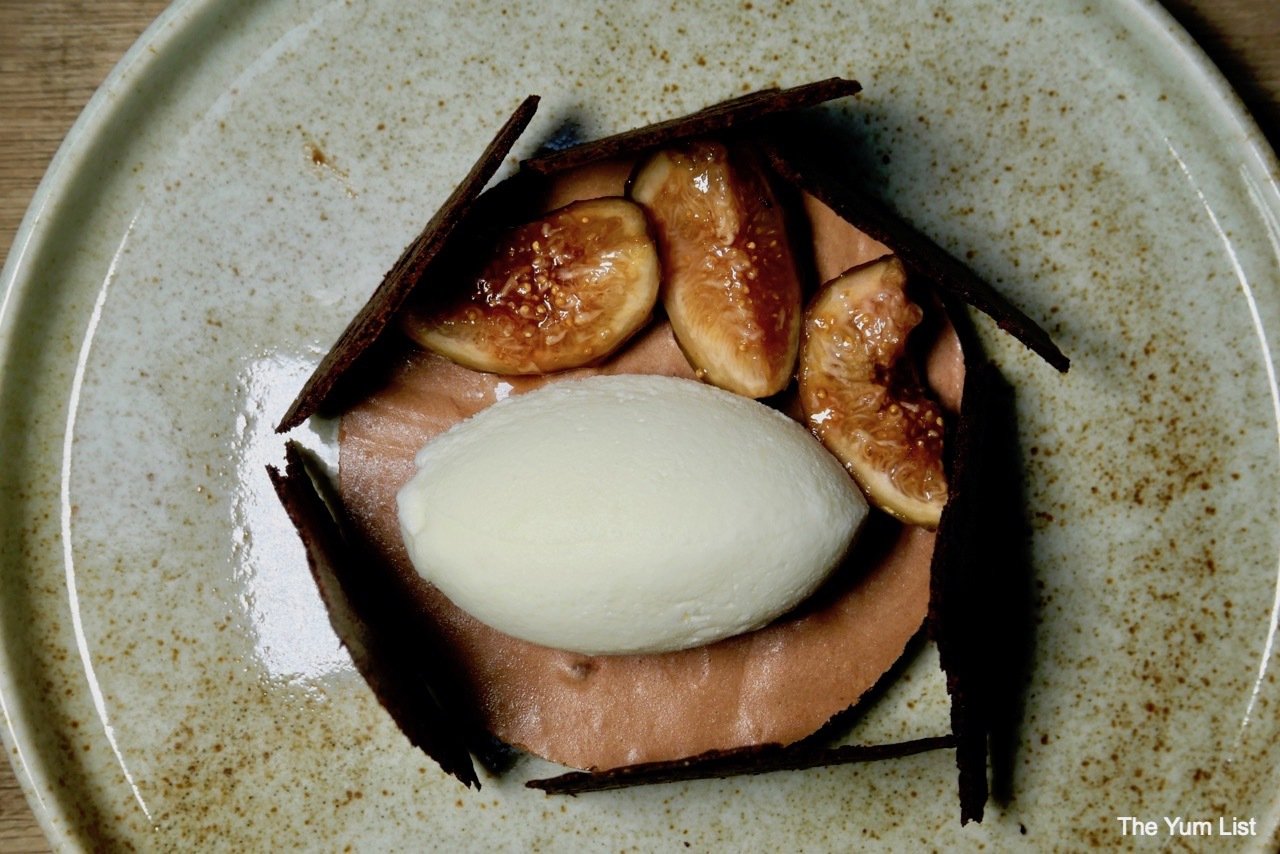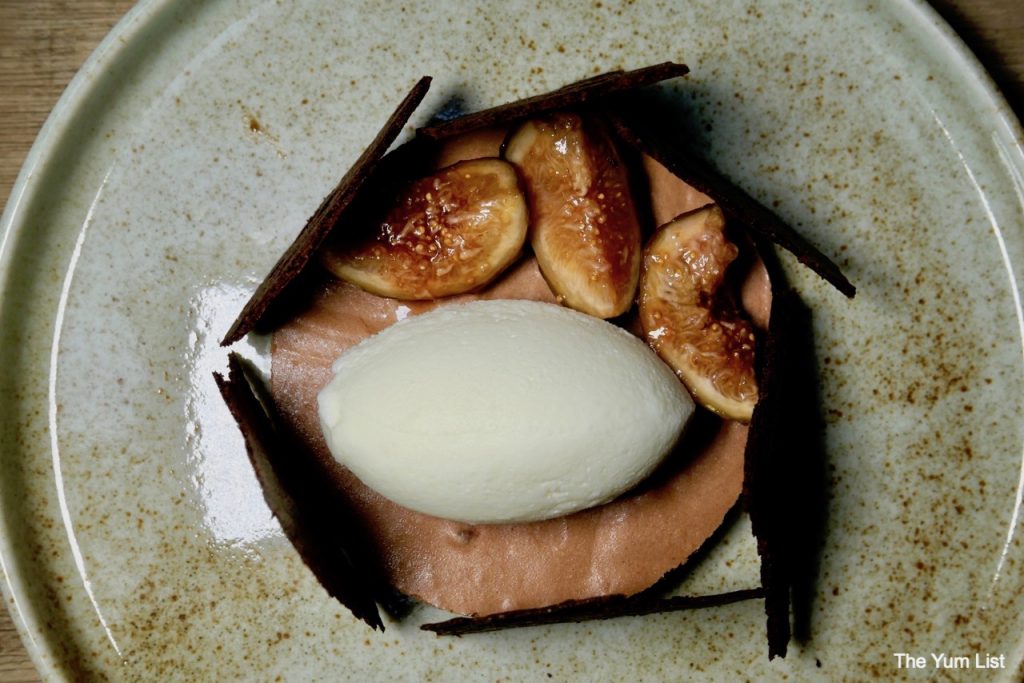 Lastly, Rice Custard (RM 28) was made up of puffed glutinous red rice from Sarawak (different rice to that used in the chicken dish) with a rice custard served with jackfruit. The fruit was then coated in lime with a grating of fresh coconut and a sprinkling of citrussy wood sorrel. It was a beautifully balanced dessert, with a modern Malaysian twist on a classic rice pudding.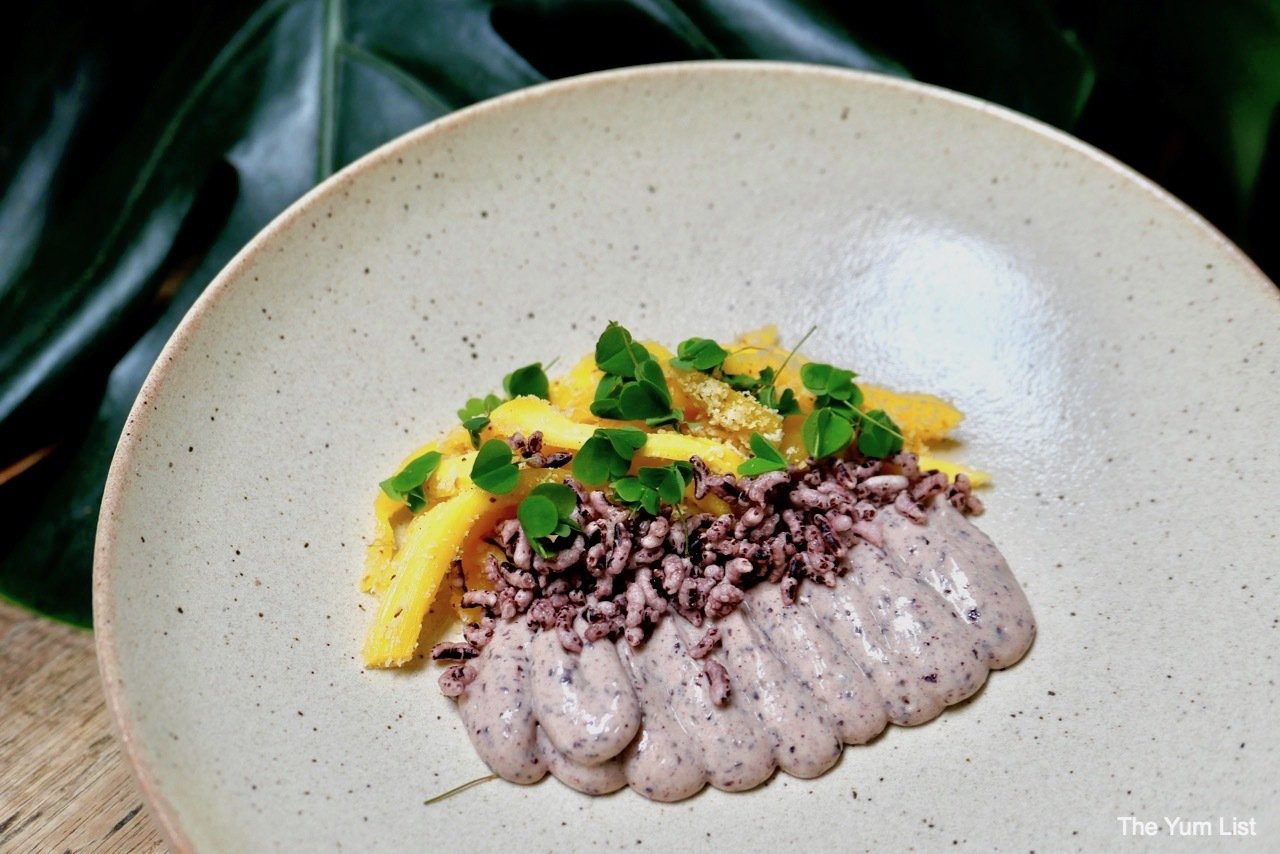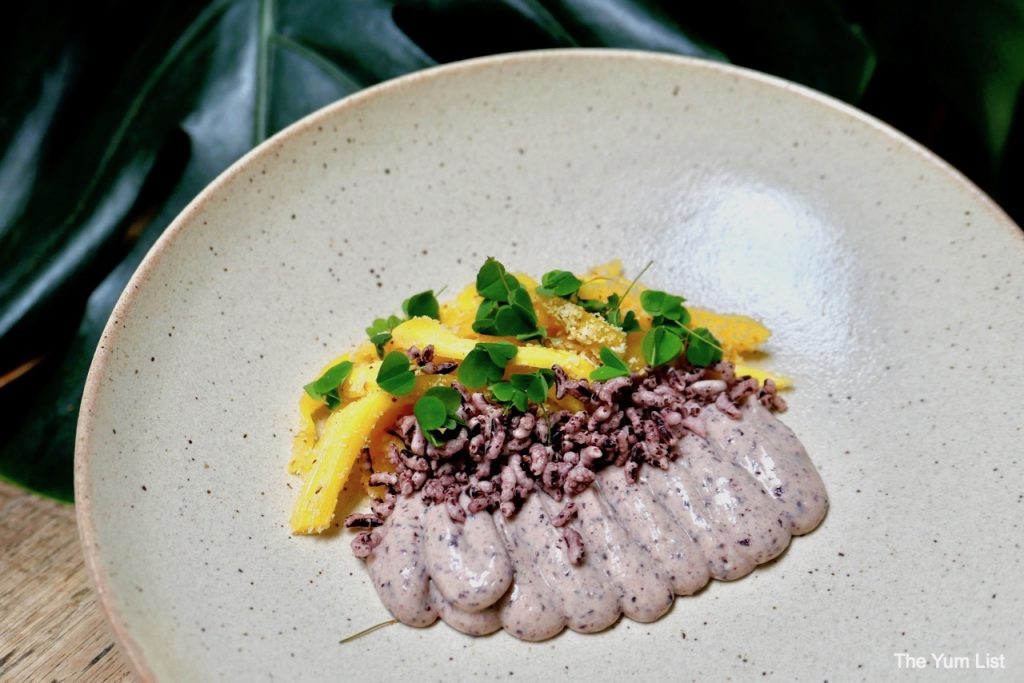 ChoCha Foodstore Review
In summary, ChoCha Foodstore has a chilled vibe which is reflected in the simplicity of the ingredients used, yet with a modern flair and twist on Malaysian cuisine, using international inspiration.
Reasons to visit ChoCha Foodstore: chic surrounds; quality, local ingredients; zero-waste concept; creative flavour profiles.
ChoCha Foodstore Opening Hours
Tuesday– Thursday 6 pm – 12 am
Friday – Sunday 12 pm – 12 am
156, Jalan Petaling, 50000
Kuala Lumpur, Malaysia
+ 603 2022 1100
[email protected]
https://www.chochafoodstore.com/
See the evolution of the ChoCha Foodstore menu from our previous visits here and here and check out their upstairs Botak Liquor Bar here.
Find more Chinatown hotspots here and stay up to date with the latest food and beverage happenings in KL here and here.