Azeta Kitchen
Words: Kitty Noble
Photos: Rich Callahan
Azeta Kitchen, yet another pandemic success story, opened just a week before the start of lockdown. The restaurant, the second foray for husband and wife team Andrea and Carol, is elegant with long clean lines, white walls, concrete poured floors with inlaid wood, and Scandinavian in style.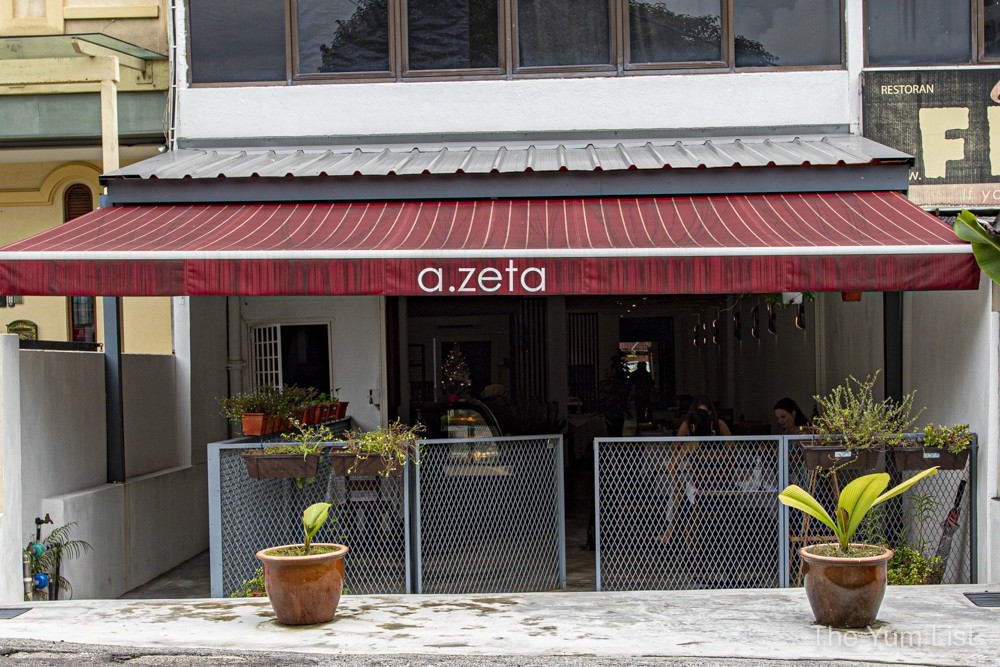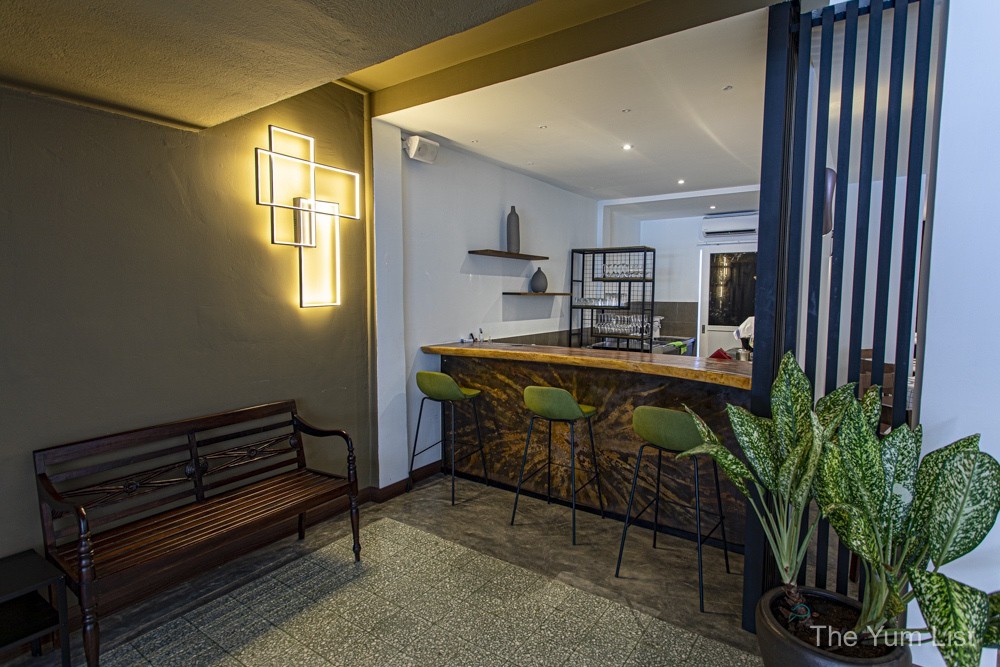 Azeta Kitchen
The concept is simple, made-from-scratch Italian food, prepared, presented and delivered with true care and attention. Set out as a 'pick-your-own' Tasting Menu, diners may select a dish per course and mix and match whichever courses they wish. Pasta, displayed in a glass cabinet at the front of the store, is freshly made in-house by Andrea, the joint owner, Italian chef and name-giver of the restaurant. Food for him is everything. With just one support-act in the kitchen, he arrives at nine in the morning for prep and is there until the shutters go down at night. Partner for 15 years, Carol, works the front of house with her friendly charm.
Whilst key ingredients are generally sourced from their native Italy, the team emphasise local produce too, with vegetables hailing from the Cameron Highlands, fresh fish and seafood from Pulau Ketam and eggs procured directly from local producers.
Tasting Menu – Azeta Kitchen
To kick-off, diners are treated to a complimentary amuse-bouche, which changes according to the whim of the chef. So, today we have snapper-filled zucchini flowers in a lovely light batter with arrabiatta sauce. This comes alongside bruschetta made on puff pastry instead of bread (I love this concept) with fresh tomato and basil and tapioca pearl crisps. The crisps have been painstakingly assembled by bashing the pearls to create the unique cracker. The portions are generous, and a sneaky peek into the food to come.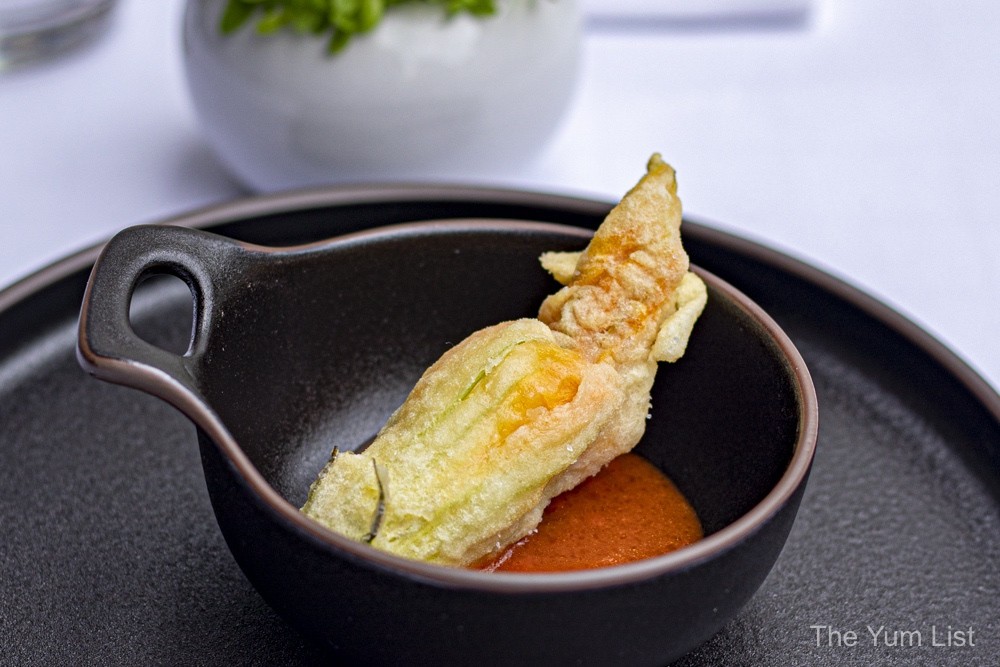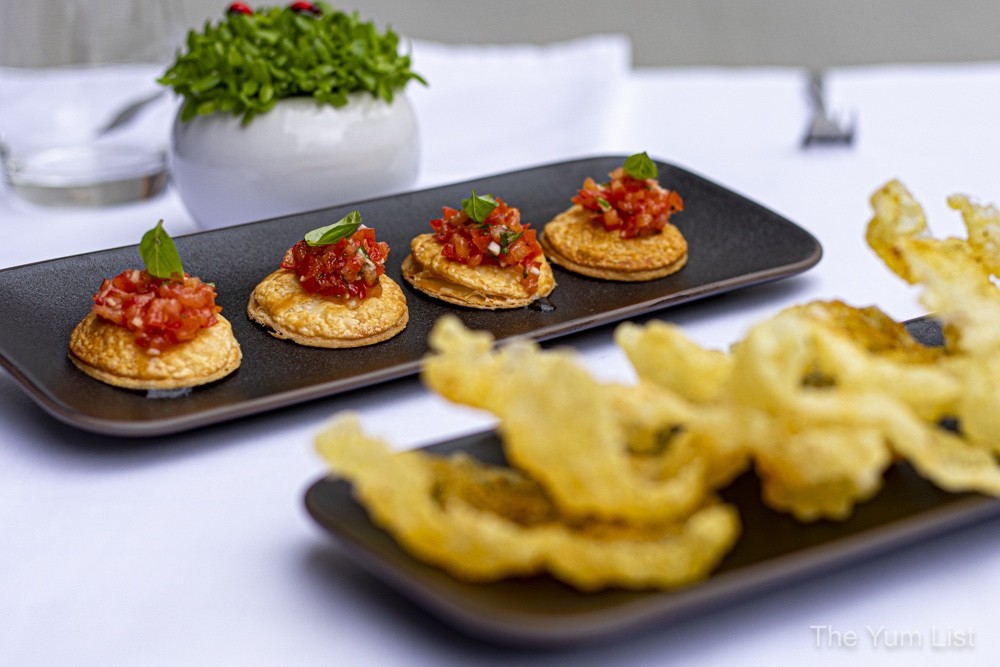 Wine Menu
Obviously, we need wine to pair with our dinner, so Carol suggests a light and fruity Masi Modello Pinot Grigio (RM 25 glass, RM120 per bottle). It indeed goes nicely with most of the lighter courses. The wine list is kept deliberately short and, of course, leans towards Italian labels.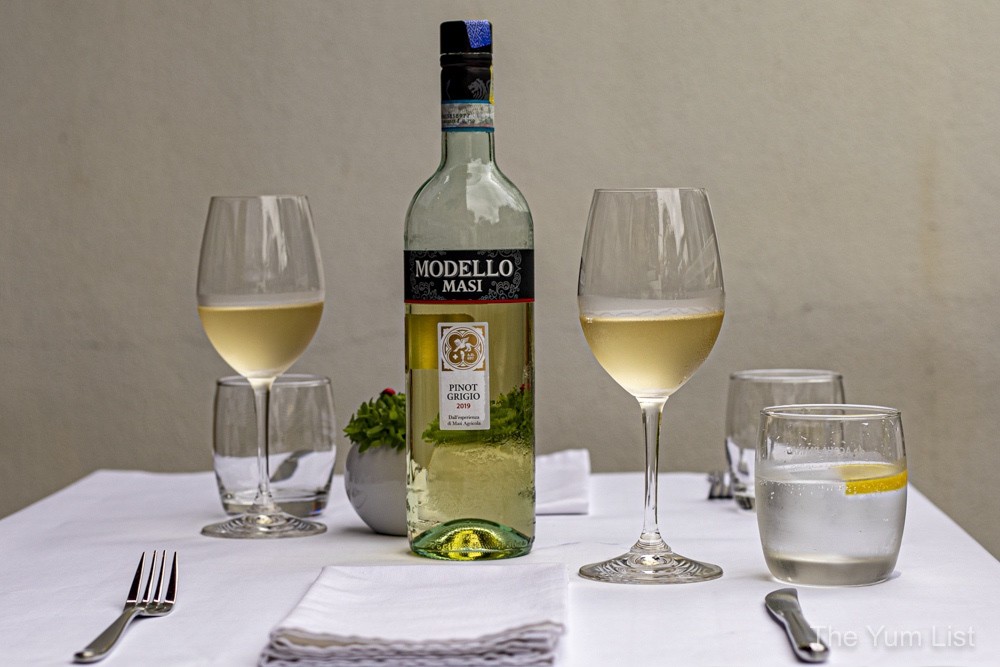 Starters
I loved the sound of the eggplant cannolo, so plumped for this as our starter. Italian Buffalo Mozzarella creates a 'snow' and is matched with semi-dried tomato and basil gel. The cannolo skin is made from eggplant itself, rather than pasta and filled with a smoky puree of the eggplant, blended with light spices. This is a beautiful, elegant plate, aptly reflecting the restaurant. The smokiness of the eggplant balances nicely with the fresh elements. The intense, semi-dried tomatoes, like all the components, are made by the chef and bring the whole dish together. Andrea could jar those semi-dried tomatoes, and I'd buy the lot!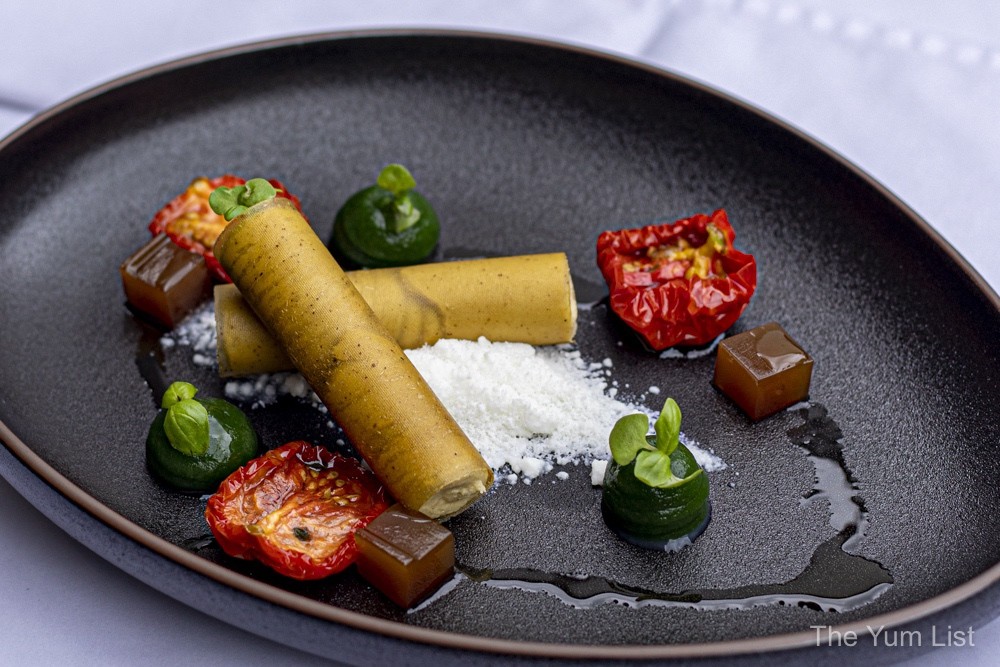 The secret to the prawn tartare, says Andrea, is the freshness of the prawns. He is fiercely particular about the provenance, quality and freshness of his seafood. The prawn is treated with a light hand to highlight the natural flavour. It is elevated with lemon, olive oil, capers and onion served. A beautiful dimpled plate holds the dish with a crispy pork crackling top. A lemon-scented squid ink dressing adds a beautiful depth of flavour and colour.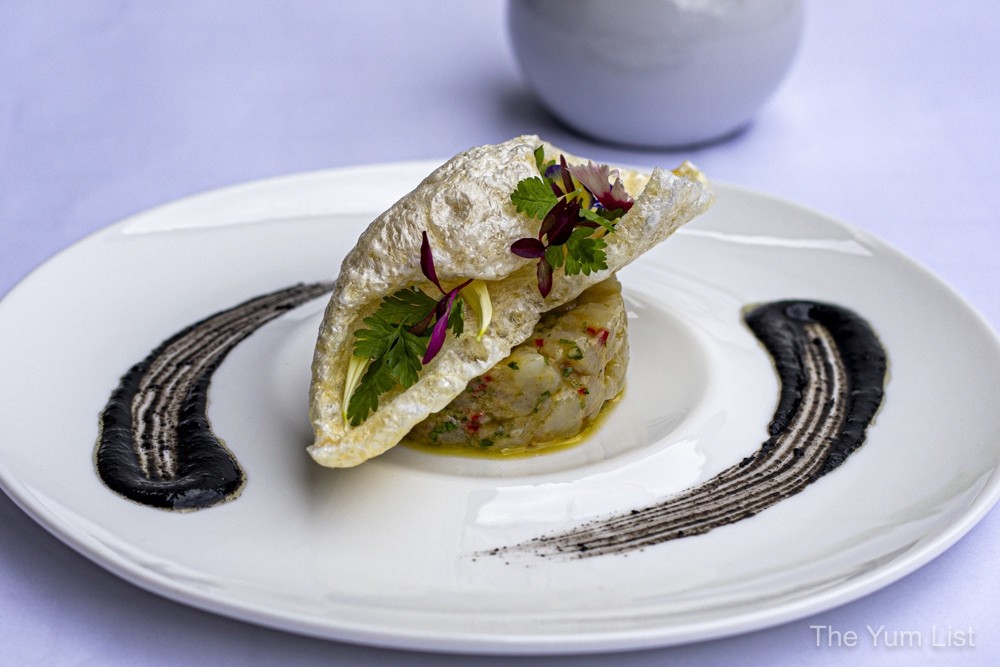 Middle Course
True to Italian dining, between the starters and mains, comes the pasta course. With the menu design, you may opt-in or out of any of the courses, but I would suggest that you ensure the pasta makes the cut. Taglierini with slipper lobster and a tomato-bisque sauce (additional RM 15) comes with a delicate, fine pasta and a rich, fishy sauce. White fleshy 'bugs' accentuate the pink pasta with its intense flavours. If you're a fan of belacan and similar flavours, this packs an intense fish punch that will get your tastebuds dancing.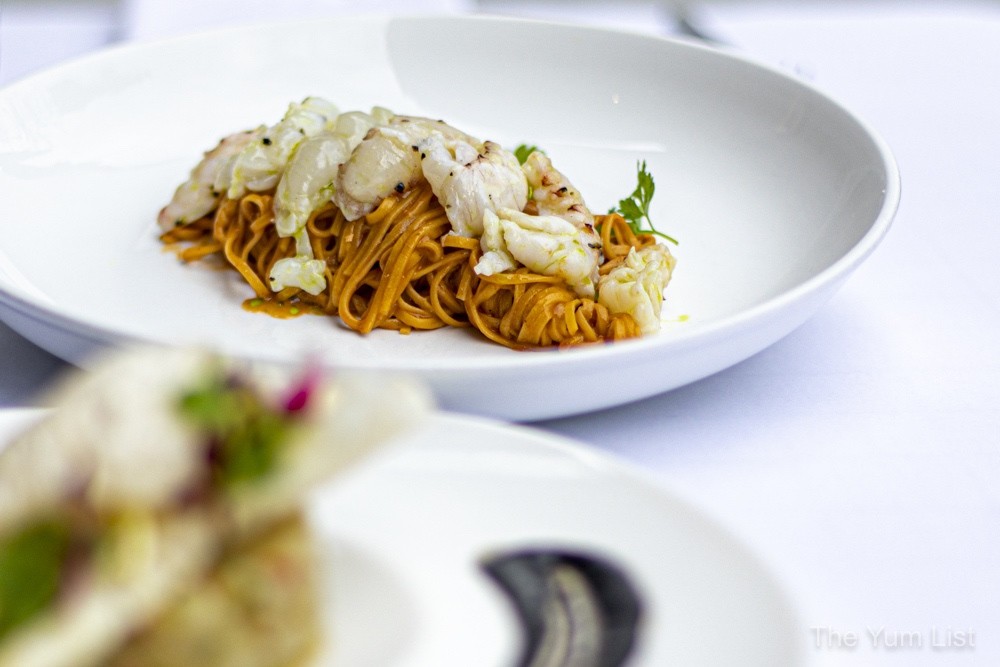 The next of the middle courses that we plump for is the capellacci. Rather than using traditional parmesan, Andrea selects pecorino to add sharpness, to balance out the fatty bacon, and freshness of baby courgette to complete the picture. The pasta pockets contrast beautifully with the black stone plate, decorated with the zucchini flowers. Again, whilst beautifully presented, the taste really does the talking.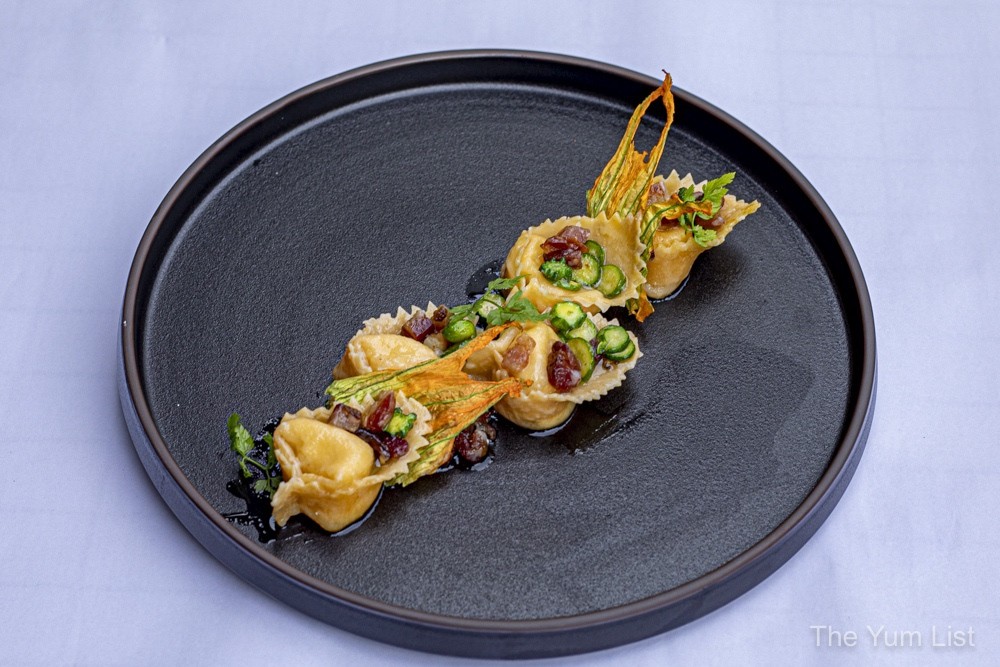 Monica asked me to pick some of the dishes, and only on reflection, had I noticed that I had chosen nearly all veggie dishes. Parmesan risotto with a truffle and mushroom pesto was the one that I was looking forward to the most – I was not disappointed!. High starch, low-amylose, short-grain rice is typically used with varieties such as Arborio, Vialone, Nano and Baldo being commonly used, but in this case, Carnaroli is the grain of choice. The secret is in the cooking (and definitely not washing the rice) to create a creamy dish on one level, whilst leaving enough bite to the husk of the rice on another. Don't be expecting local soft rice! The dish has a fantastic acidity, a perfect texture, and I notice that Rich and I are eyeballing each other as we quickly demolish the whole plate! The earthy truffle adds depth to the delightful creation, and this is one in particular that I would go back for.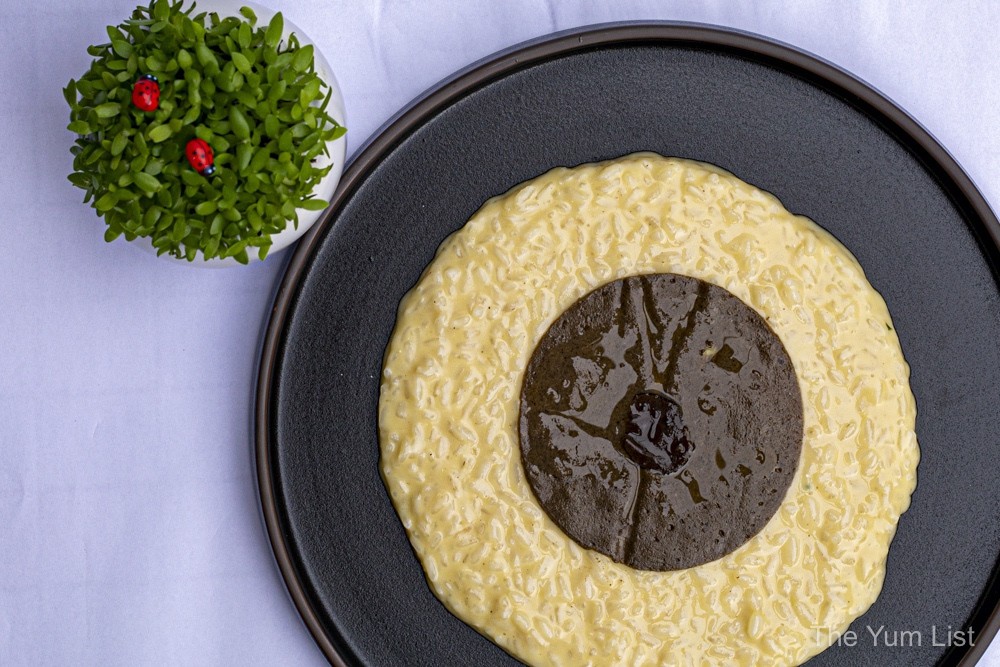 Main Course Menu Azeta Kitchen
Having had a selection of the intermediary plates, we move on to the more protein-driven dishes. We are recommended the snapper, which comes beautifully cooked and wrapped in stripes of yellow and green zucchini with lala and tomato sauce. The dish is very pretty and a shame to cut into but needs must. This makes a great follow-on to the filling pasta, as a slightly lighter dish. As with everything that reaches our table, the taste is well reflected in the look of the dish. The fish is opaque and flaky – just right!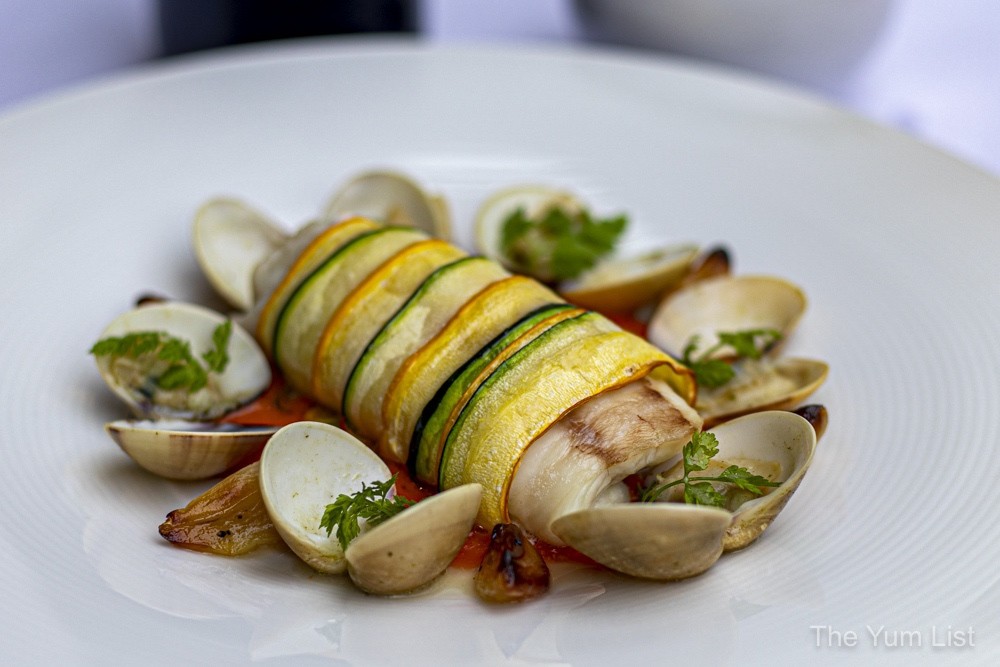 We then plump for the chicken made into a roulade accompanied by bell pepper 'peperonata'. It's rich and wholesome with hearty winter flavours. This reminds me of the kind of comforting dishes my Great-Aunt used to make in cold, blighty winters, to chase the chills away.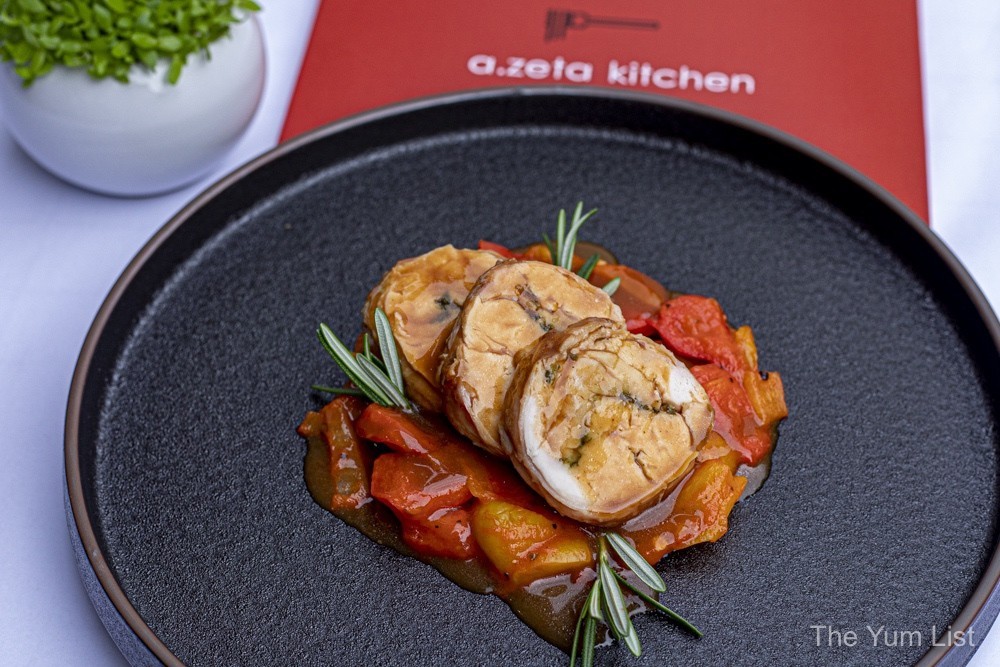 Italian Wine
To pair with the heavier dishes, we are offered red wine, in the shape of Checchi, Vino Nobile de Montepulciano (RM 220). The 24 month aging in oak barrels gives it the typical tannins and tobacco, with savoury herbs and cherries, particularly working well with the lamb.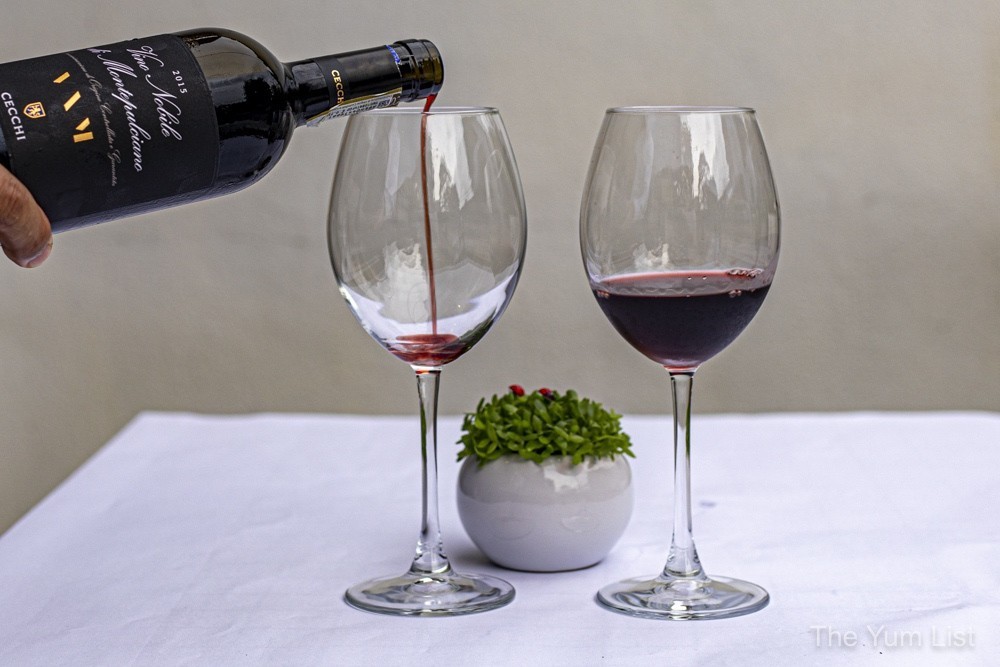 Main Course
Next up we have slow-roasted suckling lamb served in its jus and basil oil. Potato two ways – creamed and crisps – are adept sides. The lamb is super succulent, which merely requires a spoon to separate it from the bone. It that melts in the mouth with a well-balanced minty sauce to mop up. This is definitely a hit for Rich who loves his meaty goodness!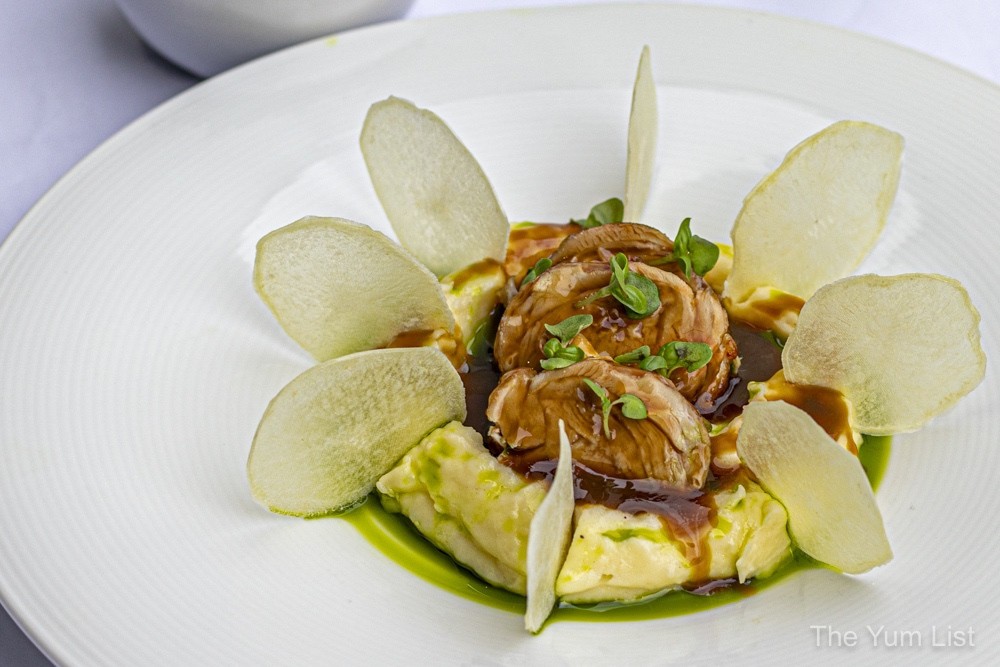 Dessert
It wouldn't be a complete Italian meal without panacotta. The wobbly, snaky blancmange is served with poached pear, caramel syrup, chocolate pearls, pear sorbet and almond tuille. Every single morsel is a delight with the pear, adding a different touch. The sorbet is creamy and fresh, and every attention to detail is paid to taste and texture and aesthetics. Even if you're not a pud person, this is a lovely way to round off the meal.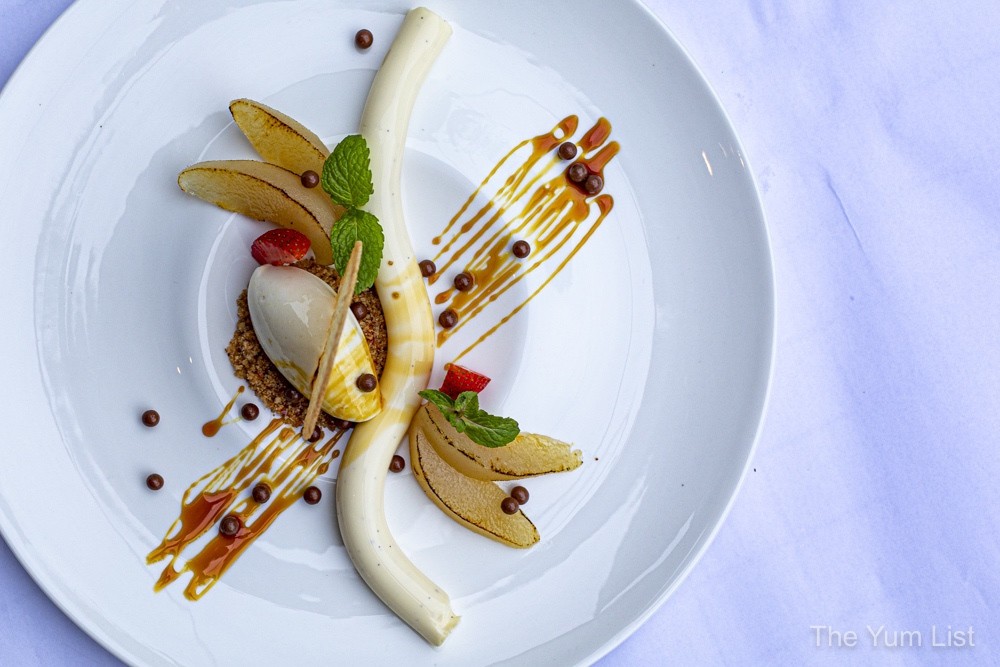 I'm a sucker for any sour dessert, so opt for the soft-core lemon flan with peach sorbet and basil sauce (additional RM 6). It is essentially a citrussy lava cake, with an oozing centre that spills on the plate as you slice into it. The cool peach sorbet marries beautifully with the hot cake and with the addition of the basil sauce, creates a beautifully rounded dish, to conclude our meal.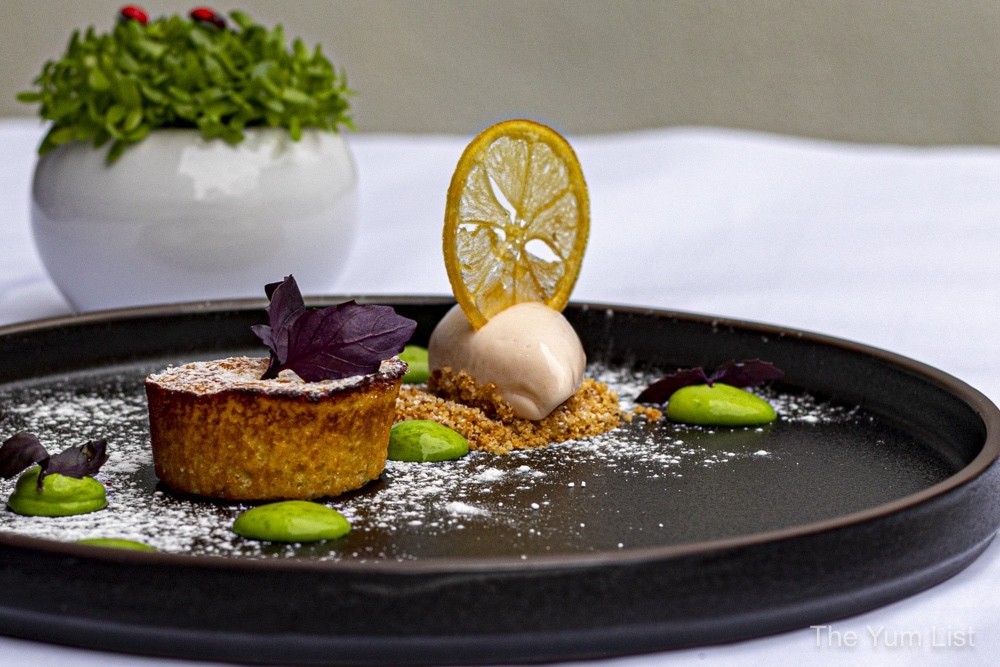 Azeta Kitchen Review
The dishes were all expertly executed with attention to detail in every aspect, including Augustine's expert and humble service at Azeta Kitchen. Whilst they describe themselves as 'simple,' don't let that fool you into underestimating the quality of the dishes and the fabulous flavours that chef Andrea produces. Azeta Kitchen is a great new addition to the Bangsar culinary corner and worth a visit.
Reasons to visit Azeta Kitchen: Mix and match two, three or four course menus; beautiful home-made pasta; risotto to die for; beautifully plated dishes; elegant setting.
Azeta Kitchen Tasting Menu Prices
*CMCO Early Bird Discount 20% 6 to 7 pm – subject to change*
Starter & Middle Course: RM72
Starter & Main Course: RM 90
Middle Course & Main Course: RM 100
Starter, Middle Course and Main Course RM 132
All four courses: RM 148
Additional Dessert RM 24
Azeta Kitchen
14, Jalan Kemuja, Bangsar
59000 Kuala Lumpur, Malaysia
+603 2302 1510
www.facebook.com/azetakitchen
Azeta Kitchen Opening Hours
Wednesday to Sunday 6 pm – 9:45 pm (last orders) hard close at 11 pm.
From the new year, opening hours will be Monday to Saturday and Sundays closed but as always, check directly with the restaurant as things can change with evolving SOPs.
Find more Italian restaurants in KL here and stay up-to-date on the latest happenings in KL's food and beverage scene here and here.