Five O'clock Brasserie
Words: Kitty Noble
Photos: Rich Callahan
Five O'clock Brasserie is the latest opening in Bangsar South bringing 2020 to a close. Surrounded by a jungle of green, run by long-standing staff from a sister restaurant, and with a menu sure to please the whole family, it seems set for success.
Chef Keli, the Italian co-owner of Five O'clock Brasserie (also Portofino next door and in Lucky Garden), explains how the concept came about. "The lot next door to Portofino became available. As we love the location, we knew immediately that we wanted it. We created something different from Portofino, but complementary at the same time: a contemporary brunch restaurant, where all-day dining and drinking is encouraged." And, the name? "Well, it's always five o'clock somewhere," smiles Keli. It's the battle-cry heard from those of us who occasionally imbibe at breakfast, citing holidays, celebrations or whatever excuse we care to utilise.
Five O'clock Brasserie
The interior is a classy bistro-style café front, with conservatory-style glass windowing and contrasting black wood. Teal velveteen seats add a splash of colour. It's exactly the kind of feel you might find on the French Riviera or a seafront bistro in Nice.
The space is light and airy and absolutely a place I can envision going together with a group of girlfriends for a lazy brunch, a few bottles of wine, a chill and a chat. Speaking of wine, the goal is to ultimately import wine themselves so watch this space. The menu itself is a 'work in progress' so expect to see some changes here too. The food menu leans towards a Mediterranean feel, whilst including popular local dishes.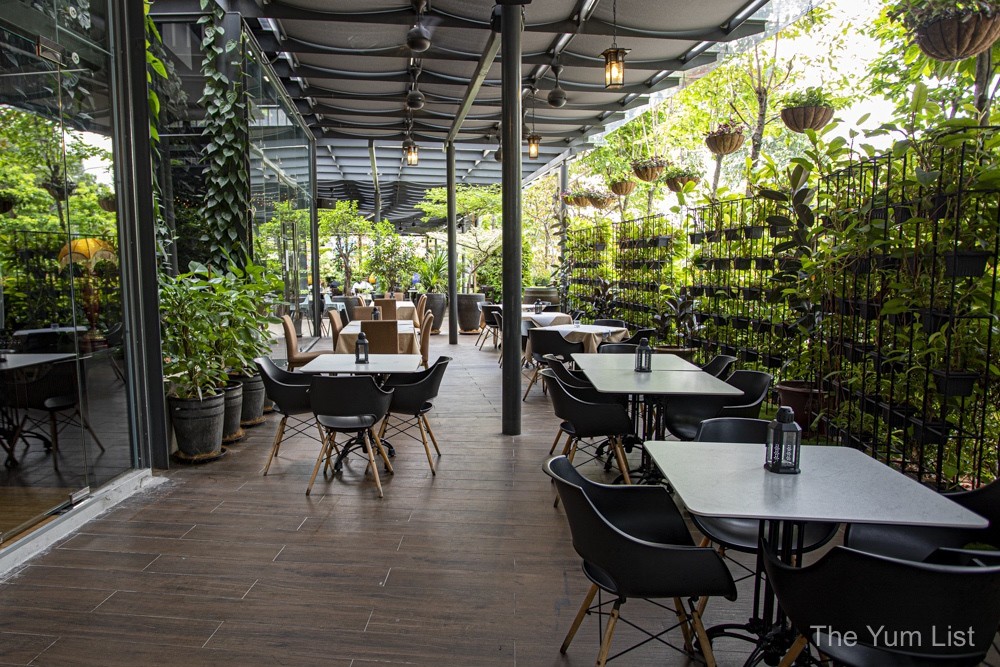 Brunch
Smashed Avocado Toast (RM28) is a firm favourite of the moment. Smashed avocados are served on sourdough bread with cherry tomatoes, feta cheese and a sunny-side-up egg. The nice thing about this dish is the chunky pieces of avocado and tomato, making for a feel-good brekky, so you can absolutely justify that extra glass of wine!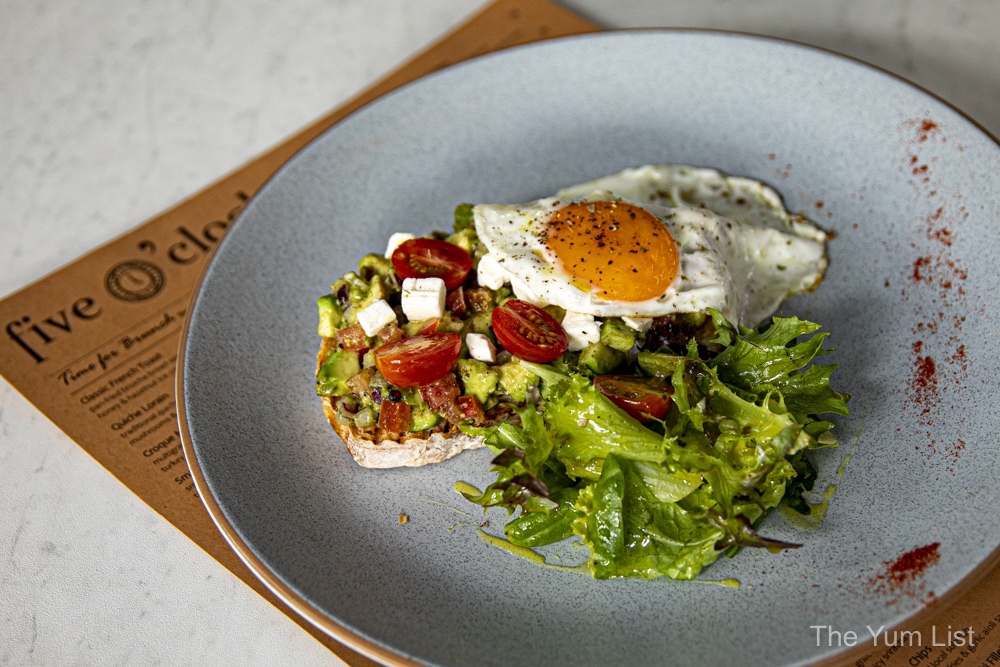 Starters
King Prawns Flambe (RM 32) comprises tiger prawns sauteed with fresh herbs, ginger, chilli padi and brandy. The plump, shelled and deveined crustaceans come in an earthenware dish flambeed with Cointreau to give a little sweetness. You might think it's difficult to go wrong with such a recipe, but cooking prawns the right doneness requires certain skill at the skillet, which Chef Zaidi clearly mastered. Slices of sourdough are welcome mops for the delicious sauce.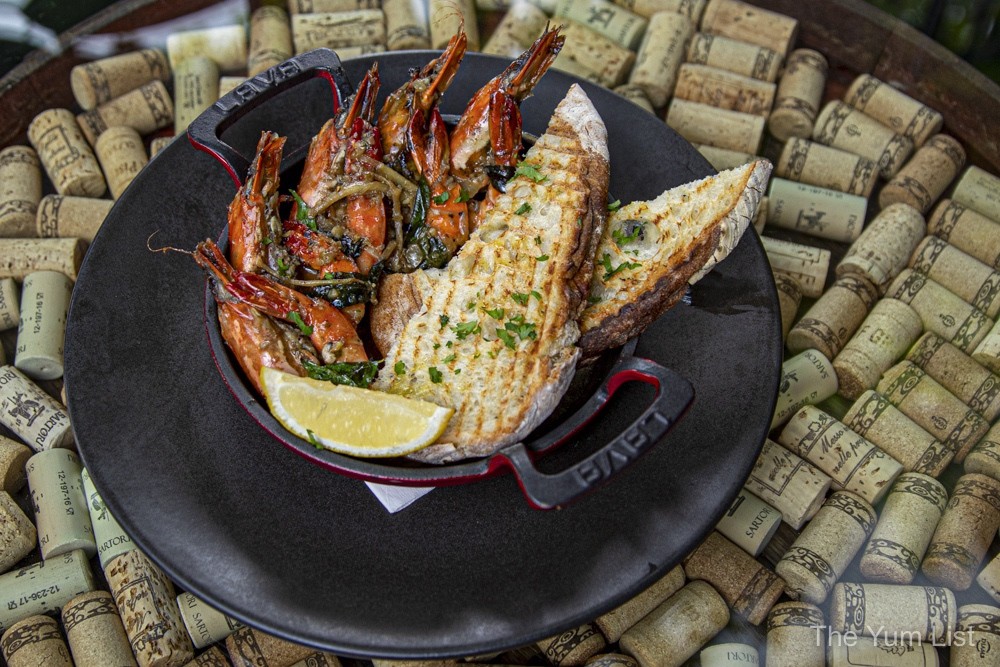 Wine
The wine menu is easy to navigate with pictures and descriptions to match each label. There's a handful of wines available by the glass with affordable and slightly more upscale wines on the list. Today the meal is partnered with Bianco Di Ciccio by Cantina di Zaccagnini (RM 34 per glass or RM 159 per bottle). It combines Chardonnay, Trebbiano, Montepulciano and Trebbiano D'Abruzzo grapes. Monica assures me it pairs perfectly with the prawns. Sporting just 11.5% alcohol, this could reasonably be conceived as a breakfast wine! Whilst the restaurant itself is decidedly 'unItalian' the wine list is.
Salad
We continue with our smug healthiness with a Greek Salad (RM 22) of mixed green leaves with feta, tomatoes, cucumber and red onions. The salad is given a little crunchy twist with the addition of toasted walnuts.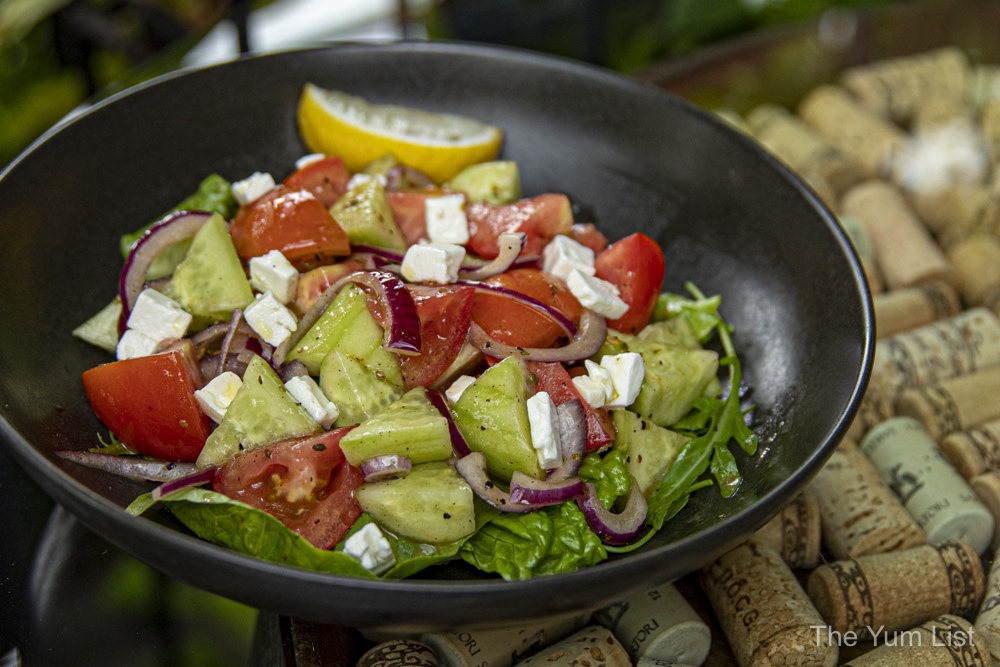 Pasta & Paella
Traditional Seafood Paella (RM42) of Spanish rice cooked with saffron, mixed vegetables, fresh squid, king tiger prawns and clams, is served in a paella pan. The dish is finished with lemon, giving it a zesty lift. Again, paella is tricky to do right, but the rice was perfectly cooked and the seafood generous and executed well. We enjoyed this recipe very much.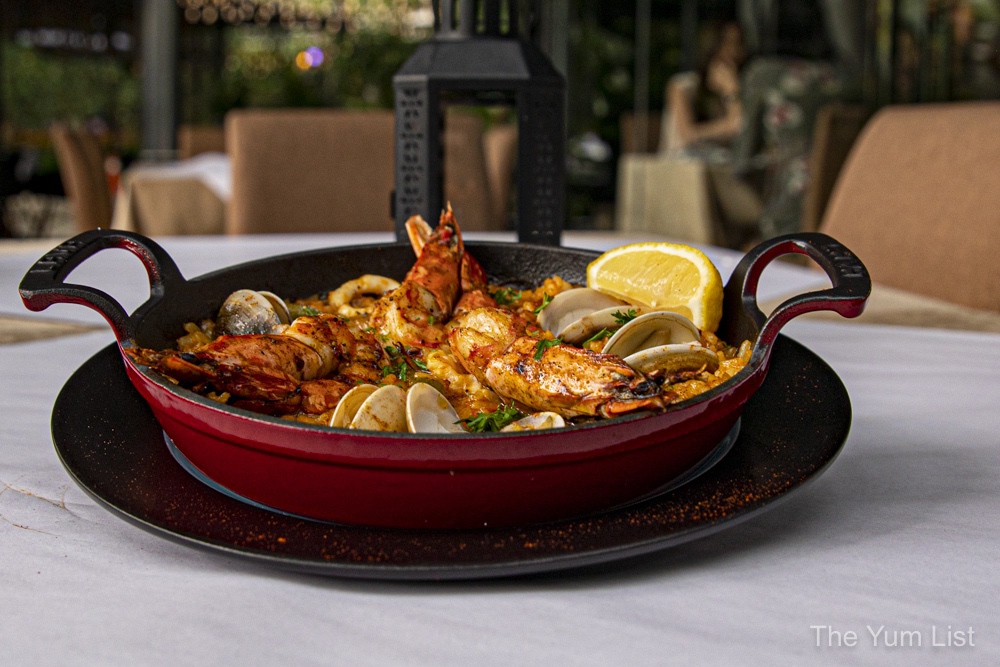 Main Dishes
Roasted Lamb Cutlets (RM 78) are French trimmed in-house at Five O'clock Brasserie, slow-roasted, served with vegetables and mint sauce. A beautiful crust on the outside seals the juices from the New Zealand lamb. The meat is initially pan-fried with olive oil, garlic and rosemary and finished in the oven to create a perfect pink middle. I appreciate that the garlic is in just the right amount, so the lamb isn't over-powered. The veggies are nice and crispy, creating a well-balanced plate.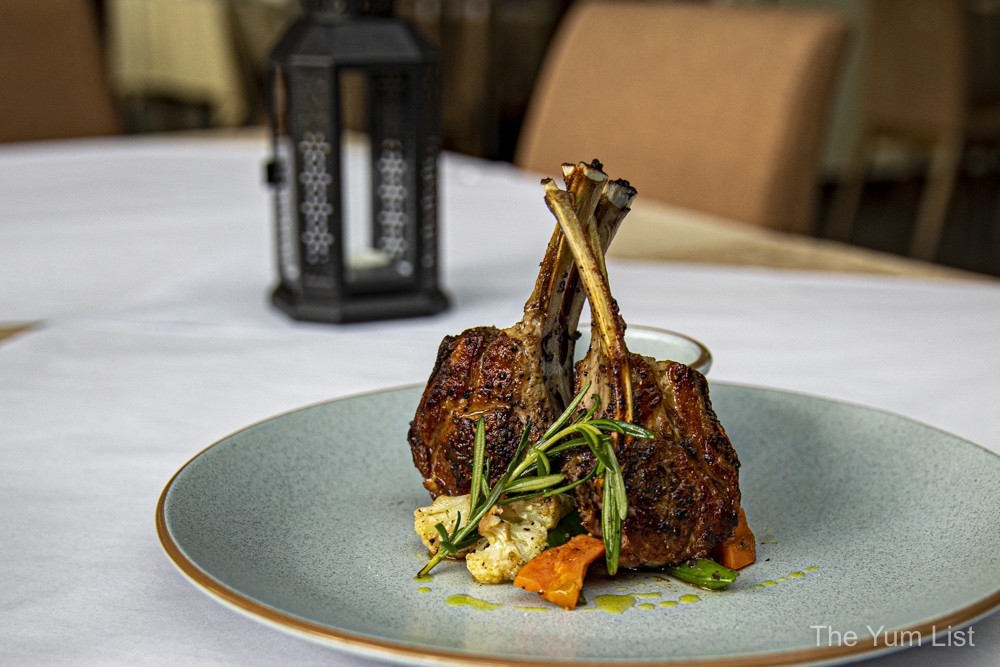 Salmon Teriyaki Fillet (RM 46) is pan-seared caramelised teriyaki salmon served with seaweed noodles, asparagus and bonito flakes. The noodles, the brainchild of Chef Zaidi are a must-have on any visit. The salmon, unsurprisingly, is again cooked to perfection with their signature outer crust and central pink juiciness. Exactly how salmon should be in my humble opinion. The bonito flakes add a lovely depth to the dish and just the right amount of salinity. It's another beautifully executed creation.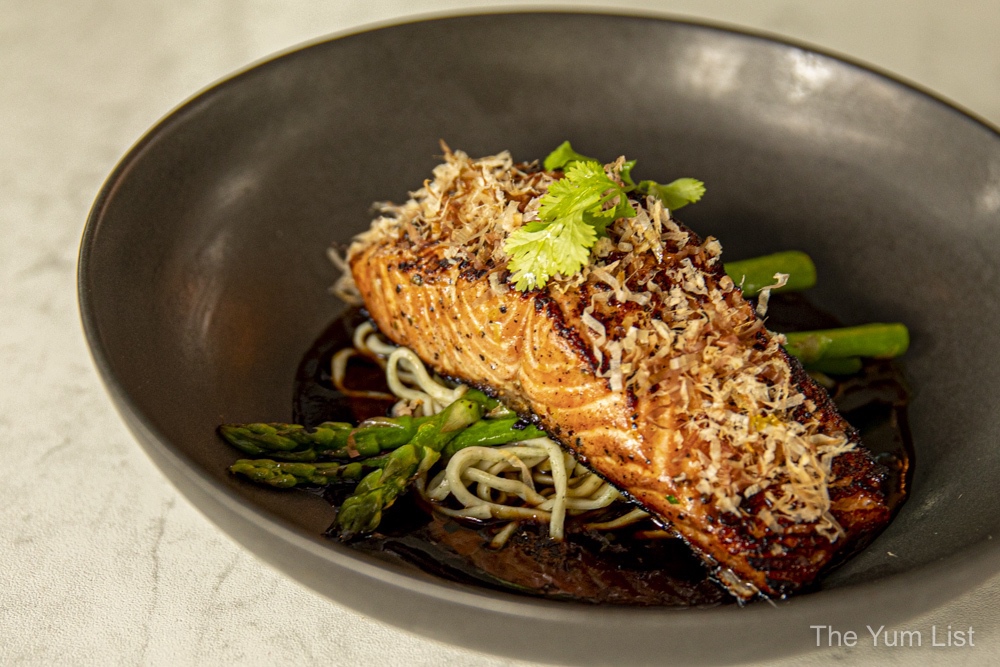 Fresh Boost Juices
Having a couple of days off the old plonk, I plump for the Detox (RM 17) which comprises beetroot, carrot, green apple, lemon and ginger. As I firmly believe that the best handling of beetroot is to pickle them, my request to skip the earthy root was accepted without hesitation. It was a refreshing drink that continued me on my feel-good day.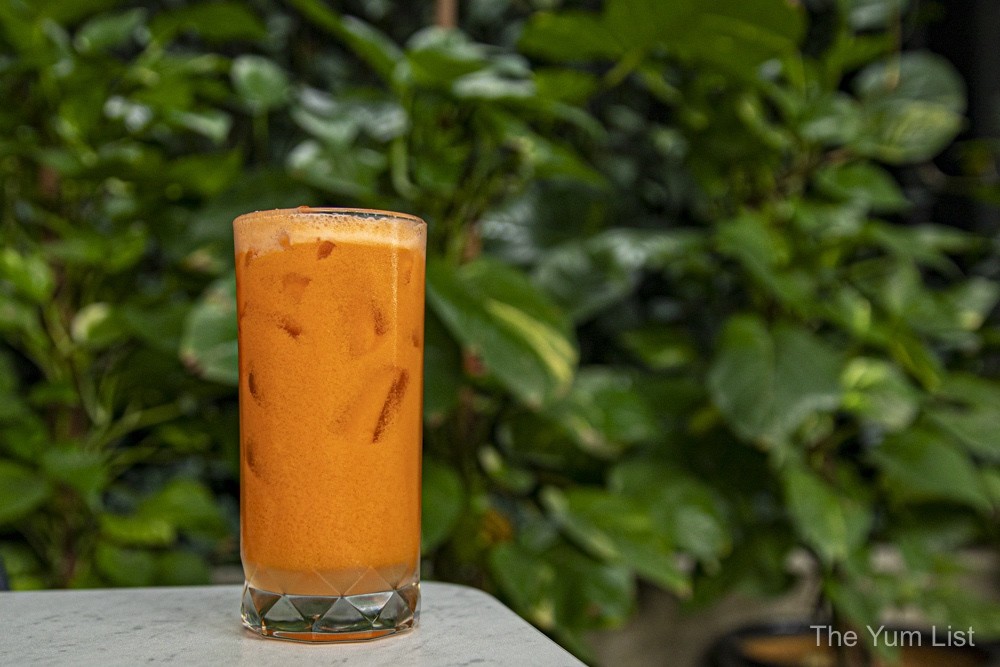 Sweet Treats
To conclude, Nutella Cheesecake (RM 18) is a fresh house-made dessert with hazelnuts sprinkled on top. It has a touch of yoghurt with the cheese to add a lovely acidity. This is an excellent pud for those who don't like overly sweet desserts but like something to round off a meal.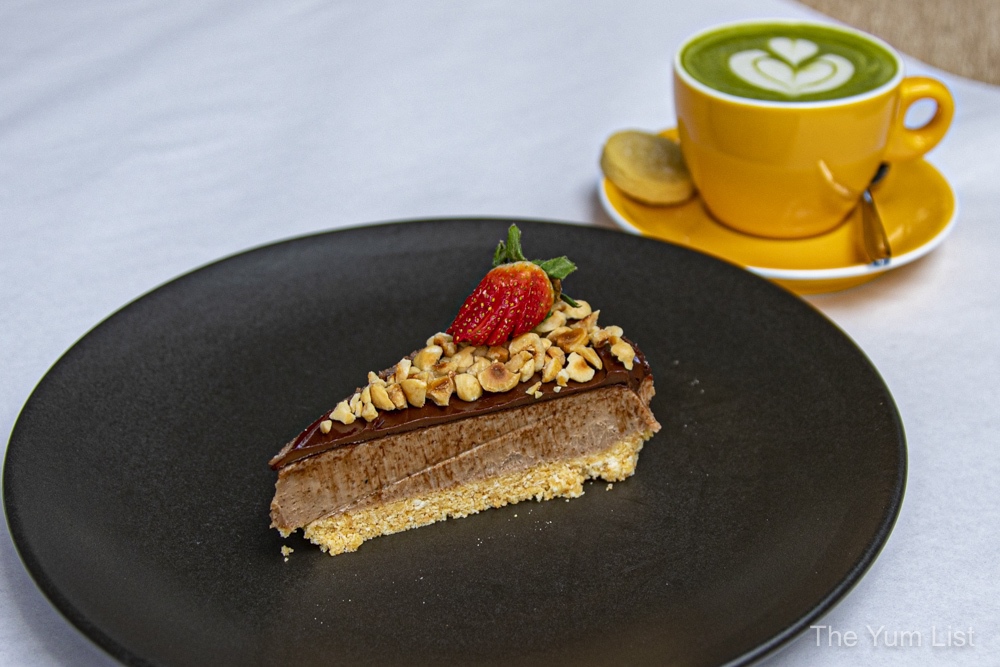 From the Barista
Monica plumped for a Matcha Latte with oat milk (RM15 including the additional RM3 for the oat milk). It was served with a little shortbread. She was most pleased with her choice, and I finished off with a wonderfully bitter French Espresso (RM 7).
Five O'clock Brasserie Review
Five O'clock Brasserie is a welcome addition to the South Bangsar scene, offering various cuisines in a convivial atmosphere with spacious dining and chilled drinking at reasonable prices. Whilst the menu is yet to be finalised, it offers something for everything, with surprising dexterity, given the different offerings.
Reasons to visit Five O'clock Brasserie: a variety of cuisines; daytime drinking; relaxed, casual atmosphere; bright, modern décor; lovely glass walls and loads of greenery; must try the prawns, paella and salmon.
Five O'clock Brasserie
Unit G-5, Level Ground Floor,
The Sphere. No. 1, Avenue 1, Bangsar South City
No. 8 Jalan Kerinchi, 59200 Kuala Lumpur, Malaysia
[email protected]
+6 0172181734
Five O'clock Brasserie Opening Hours
Daily: 9 am-11 pm
Find more brunch options in KL here and stay up-to-date with the latest gourmet and travel recommendations for Malaysia here and here.