Degustation Menu at FLOUR Restaurant
Words: Kitty Noble
Photos: Monica Tindall
Stepping into FLOUR Rises is an opulent affair. Welcomed by a golden Pegasus, surrounded by Christmas presents, marbled floors, candelabras and white panelled walls, you would struggle to get much fancier than this outside of a 5-star hotel or Michelin-starred restaurant.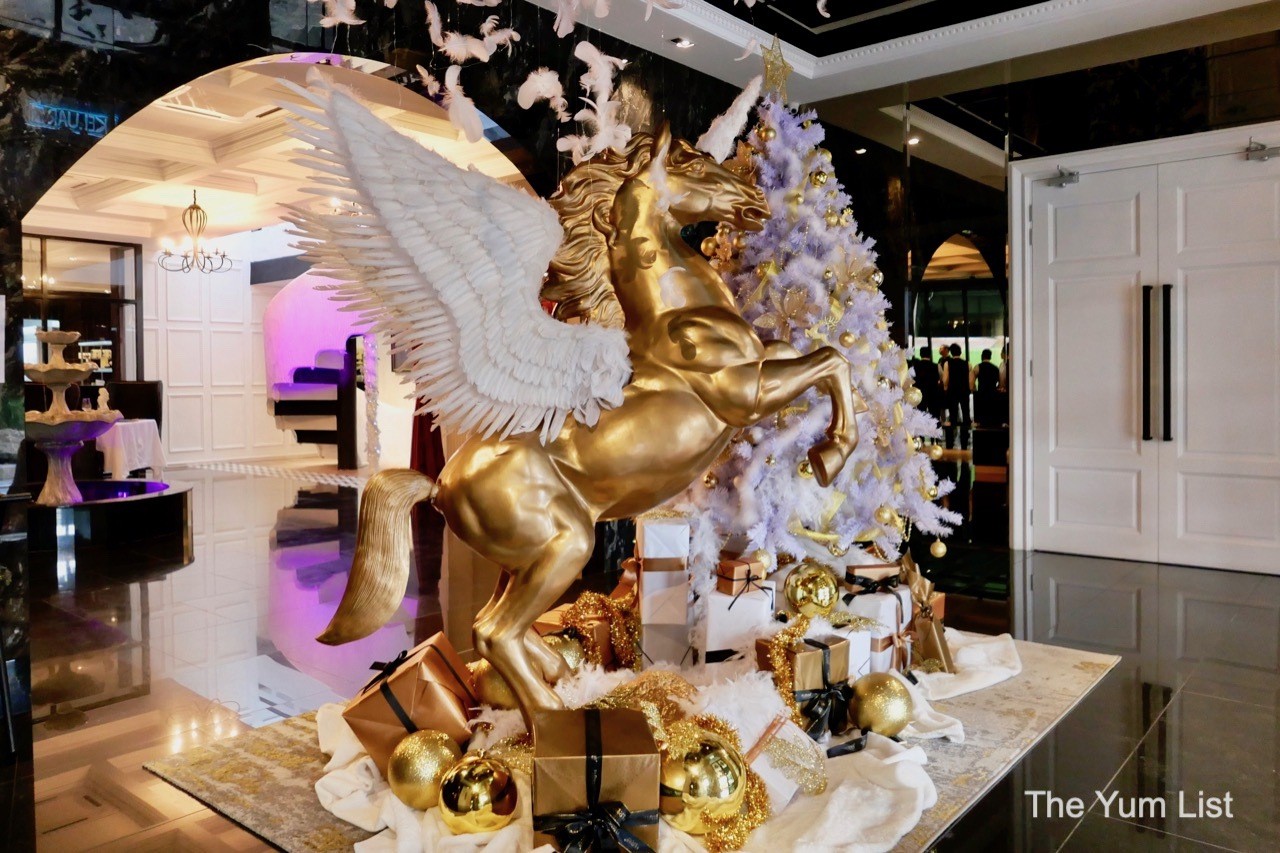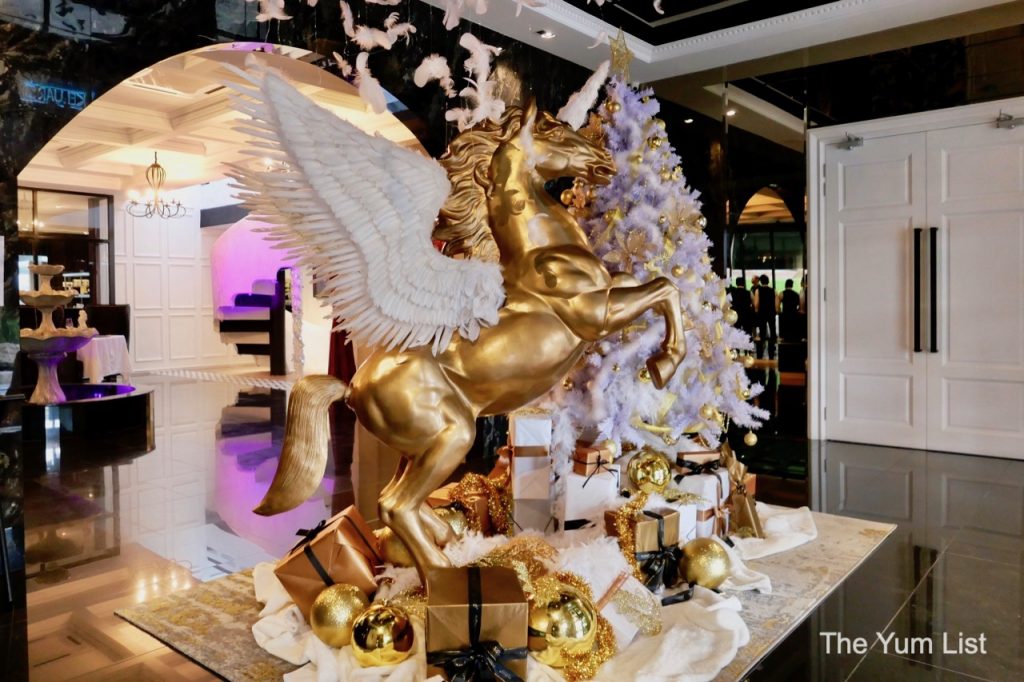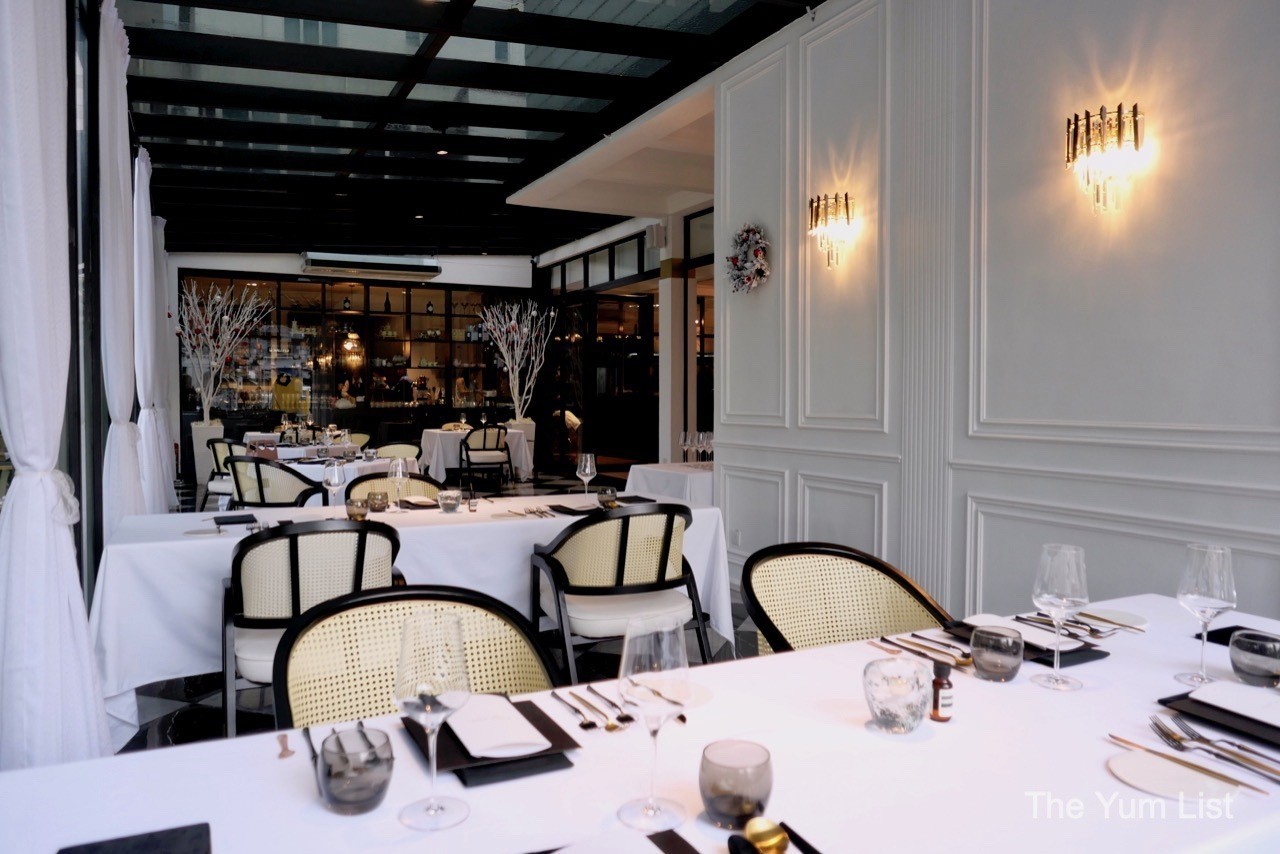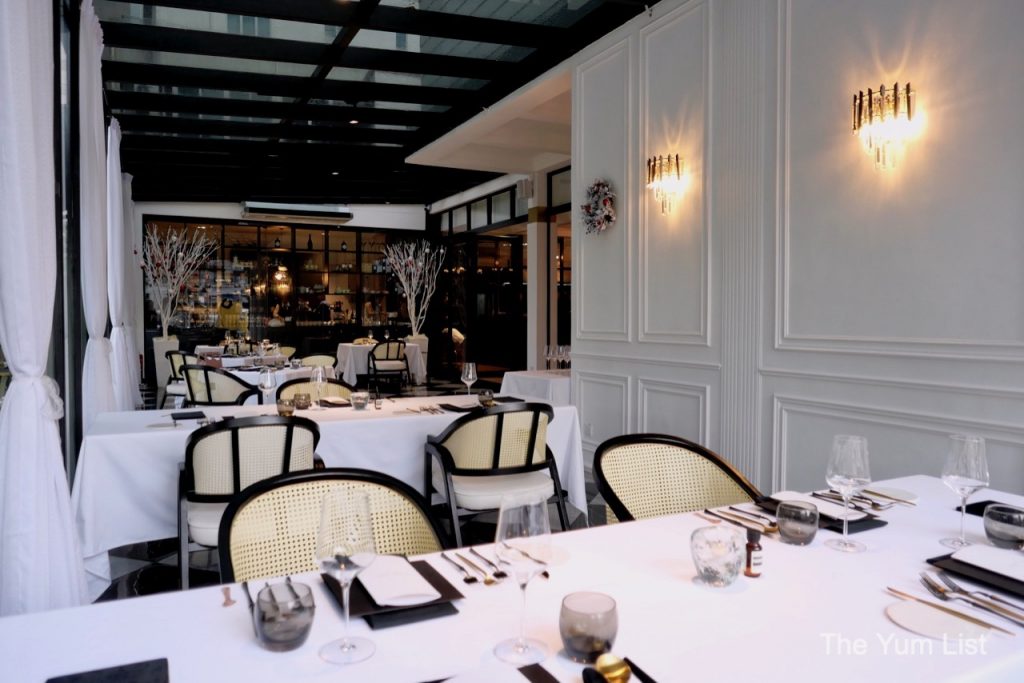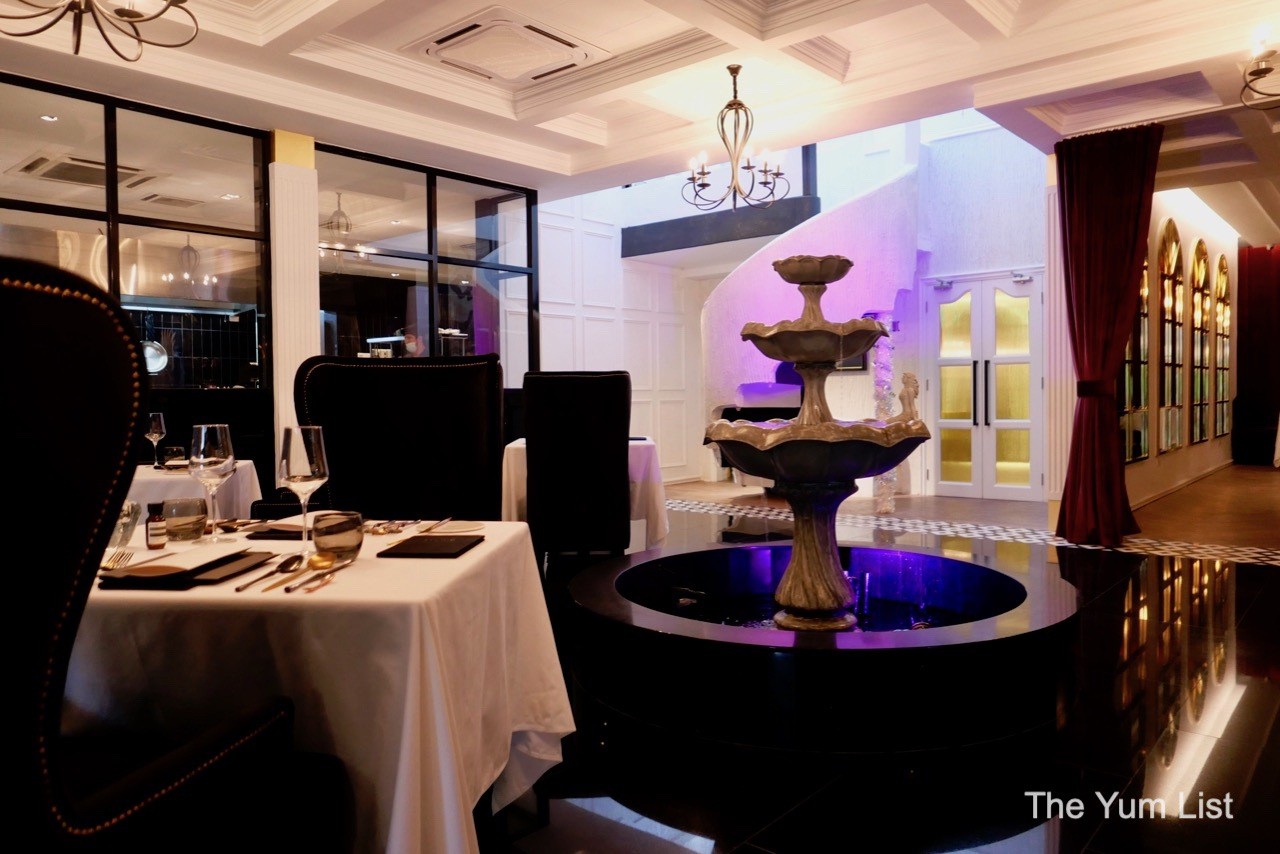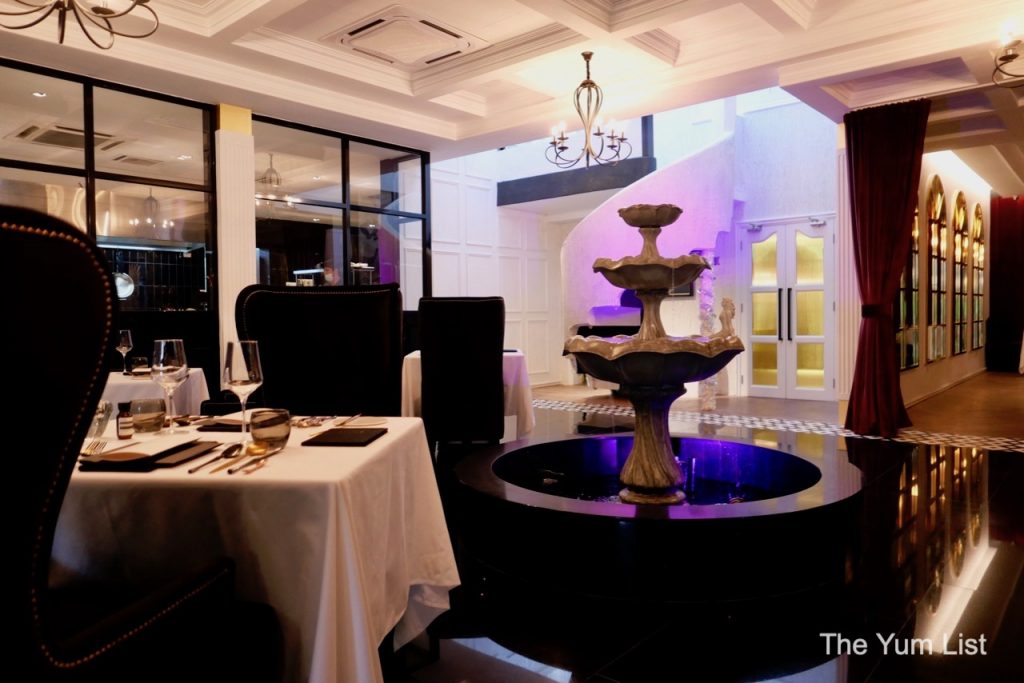 Degustation Menu – FLOUR Rises
Since the reopening of the infamous India-meets-Malaysia restaurant, the SOP's have given way to a more exclusive feel, given the limited 32 covers. Done away with, is the a la carte menu and lunch menus, to focus on a 10-course, seasonal degustation menu. Currently, the spotlight is on winter and the comforting foods eaten in Indian winters.
Light floods in through the conservatory windows, as waistcoated waiters attend to our every whim. Should the occasion warrant the need, there are three private rooms, two downstairs and one up a spiral staircase. Upstairs seats 12 and is crowned by a glass roof.
A black marble dais in the middle of the restaurant has a view directly to the kitchen. Here you can witness the chef's studiously mastering their craft. Crisp linens, gold and black cutlery, fine crockery and delicate glassware offer elegant simplicity and grace to the tables. Rich Indian tapestries adorn the walls of the service areas, along with individually styled tea-sets.
Children's Degustation Menu at Flour
Should you care to treat your little ones, there is a cute addition of a children's degustation at RM 100. There's even the possibility of adding on a truffle topping for an additional RM 50. I'm not sure I'd necessarily indulge my kid with truffles, but given my dog gets wagyu, who am I to judge?!
Liquor & Wine Pairing
With every good degustation menu, you can expect quality booze to accompany your dishes. Unusually, in this instance, you may opt for liquor pairing at RM 200 which involves Beluga vodka, Hendricks gin, Sake and 15-year-old triple-cask Macallan. If you're looking for a more traditional option, as we do, you can plump for a wine pairing of three glasses (RM 190) or four (RM 240).
10-course Menu
Walnut and rye bread appear under a cloche and are served with 12-year-old balsamic vinegar Maska butter which has cream, reduced butter and a slight acidity to it. The butter melts into the crunchy walnut bread and the steaming rye. We try (unsuccessfully) to demonstrate some restraint in the knowledge that we have an entire feast to come.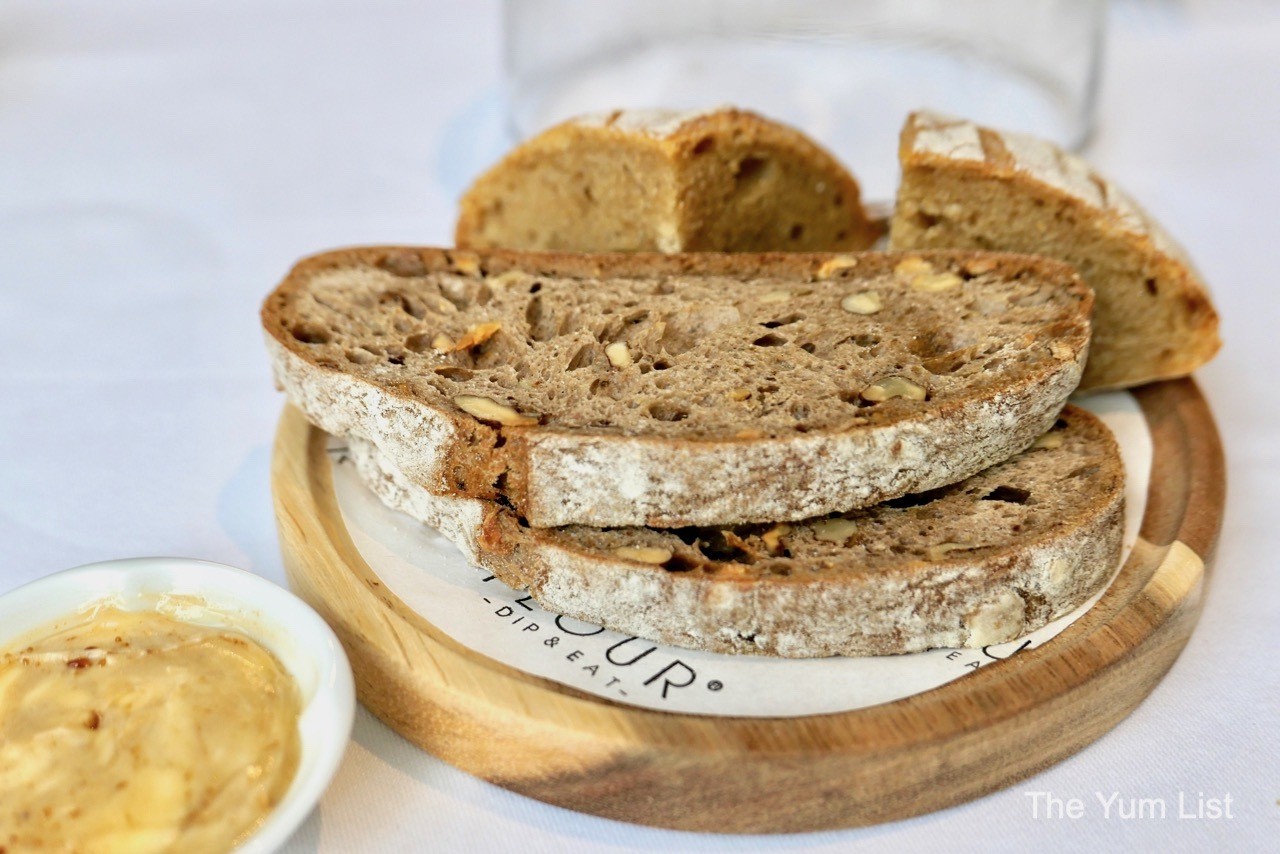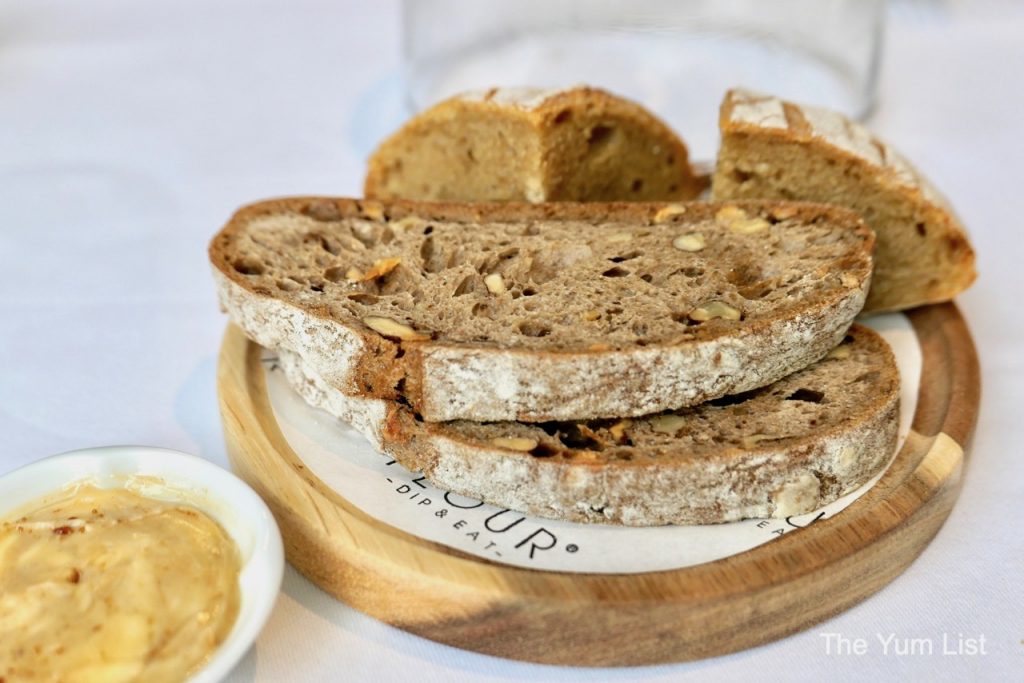 Whilst firmly nodding to his Mumbai heritage, Chef Yogesh Upadhyay's classic French training clearly has a significant impact on the food to come. He exemplifies perfectly how Indian food may be made in a modern style. What's more, he personally accompanies each plate to the table, to describe in detail the theory and flavours behind the creation. With a glint in his eye, he has a story to tell for everything, adding that 'je ne sais quoi' to the dining experience.
Amuse Bouche
For the 10-course tasting menu (RM 420), we start with an amuse-bouche of Birds Nest, Kintsugi. Marginally apprehensive we were about to defy all of our ethics, we find the bird's nest is made of edible grass and edible egg. The 'egg' a white chocolate outer shell, filled with an intense flavouring of curry spices is popped into the mouth in one go then you cleanse the palate with "grass." The egg reminds me of a wonderful course I had in a two Michelin-starred restaurant in Lisbon, Portugal, to give you an idea of the quality.
Kintsugi is broken crockery, repaired with gold, unique and more valuable than the original, unbroken composition. The first chewy macaroon, or Kintsugi, is filled with dry figs and aged fermented pomegranate. The second, filled with yoghurt with lemon zest is 'perfectly imperfect', a gold-leaf fracture repair represents its Japanese counterpart. With mini, damp towelettes to clean our hands afterwards, I muse on a recollection of a movie. The main character, unaccustomed to fine-dining, tries to eat said towelette! There's even a little refillable bottle of quality hand sanitiser placed on the table, for your convenience.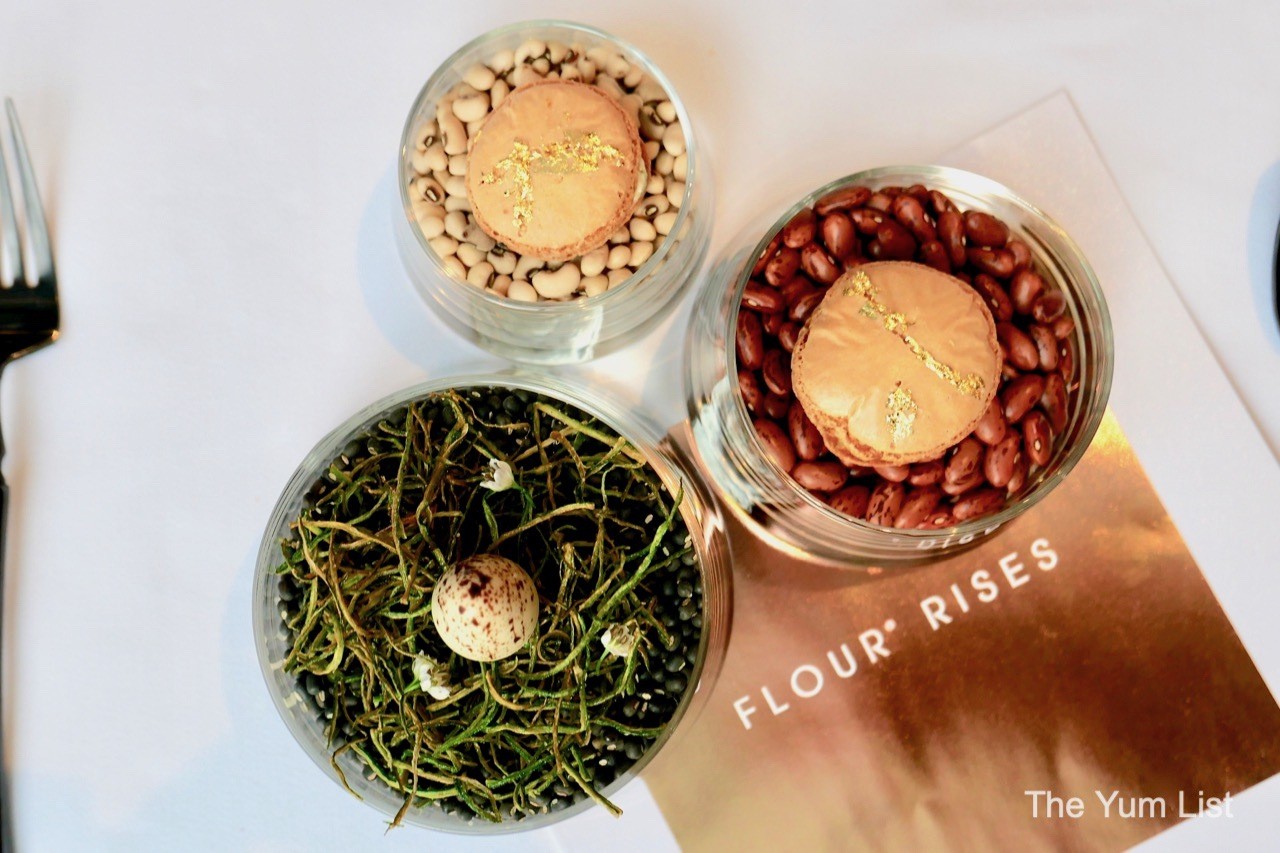 Earth & Sea
Earth & Sea is an unusual combination of beetroot thoran custard, topped with Ossetra caviar. If you are feeling particularly flush, for RM 300 you may upgrade to an extremely rare, white caviar. It hails from significantly older fish, where the taste is apparently very different. Fermented urad, dahl and rice create the 'blini' to pair with the crème fraiche amrakhand. In Indian winters, tubers and roots are increasingly used and made into warming dishes. Here the beetroot refers to the earth. The yoghurt and curry leaf infusing the crème fraiche along with the coconut milk, are of course of a southern Indian influence. The sea is represented by the caviar, beautifully plated atop a bedding of Himalayan sea salt.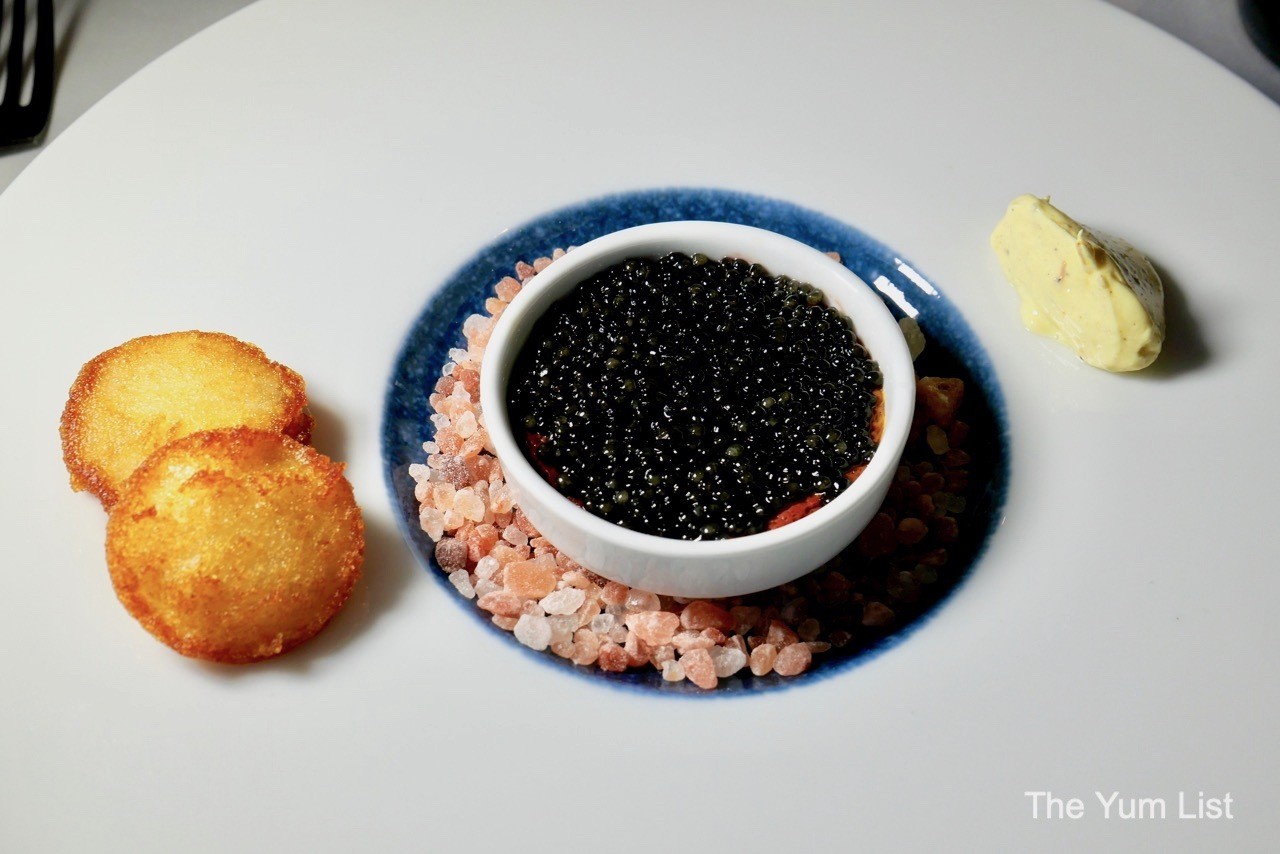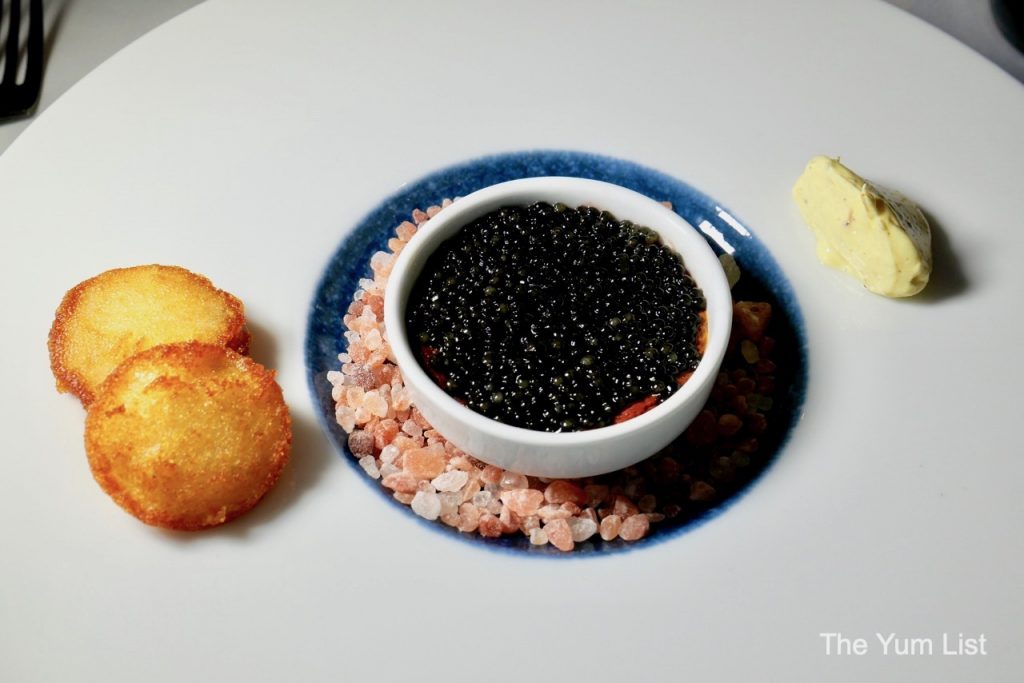 Champagne
The first wine, Pierre Moncuit, is a stunning blanc de blanc Champagne. The bubbles have a delicate feminine mousse, biscuity nose, with fresh green apples. They lead to a beautifully rounded, clean palate with a slight yoghurty finish, pairing fantastically with the caviar (of course).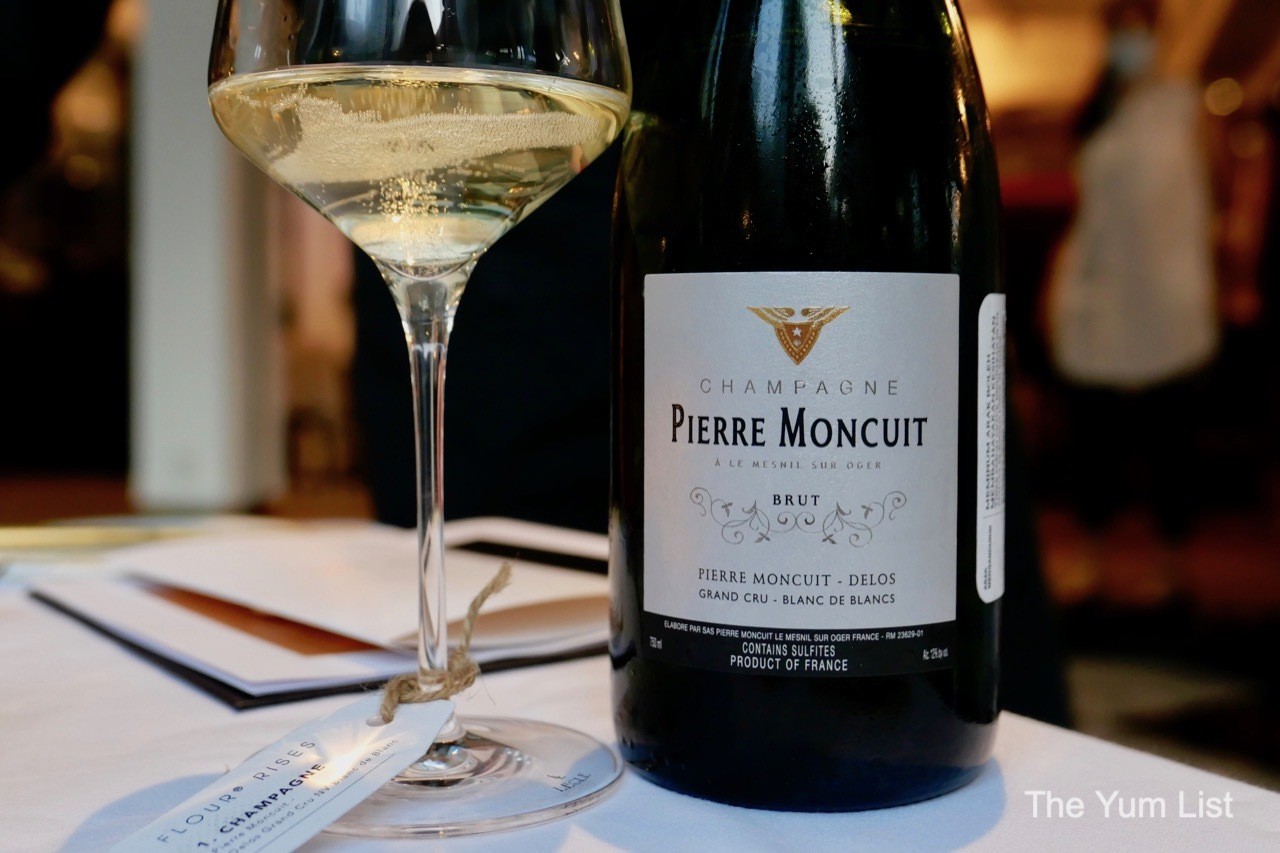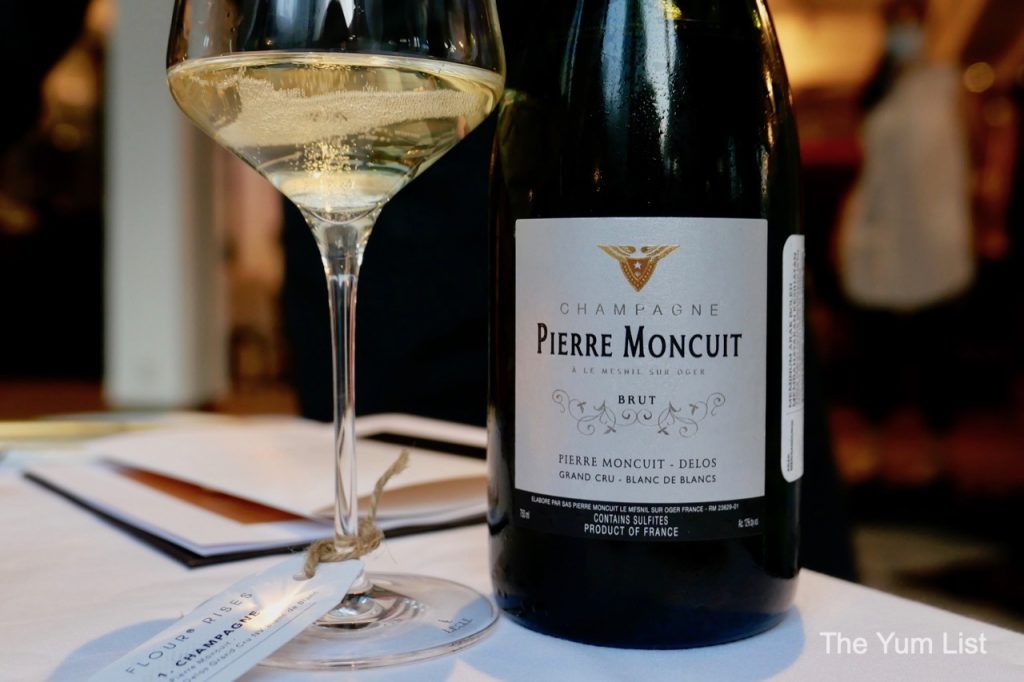 Bitterness
An enormous prawn is the star of our next dish, namely 'Bitterness'. Cooked in the tandoor, the lobster-sized crustacean is served atop a perfectly round pumpkin jelly. Fenugreek from Rajasthan gives warmth in the accompanying sauce made with cashew nuts, in place of Flour and a touch of chilli. "Without bitterness, there is no sweetness," says Yogi. The plate is simple, elegant and leaves a warm coating to the tongue from the smooth fenugreek sauce. Whilst there is definitely a hit of bitterness, it is perfectly balanced.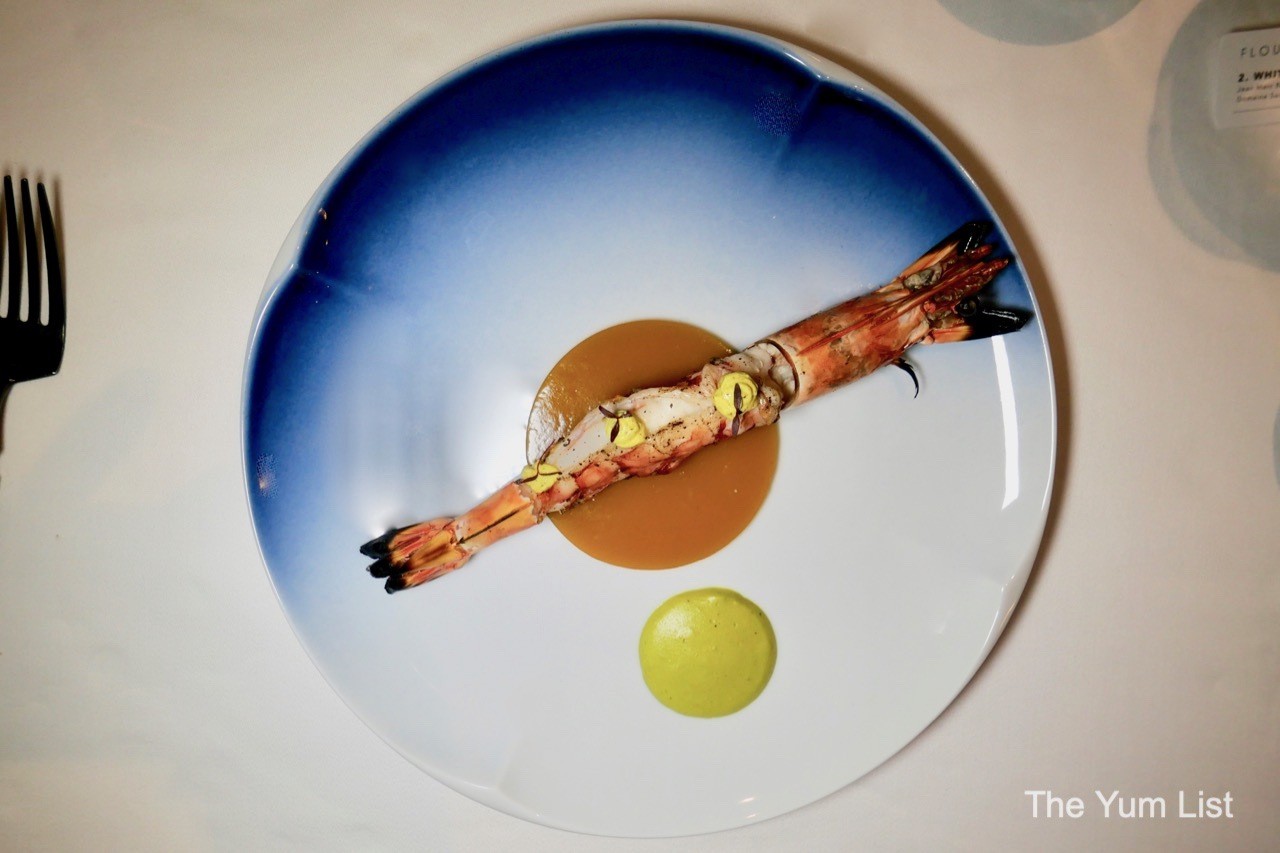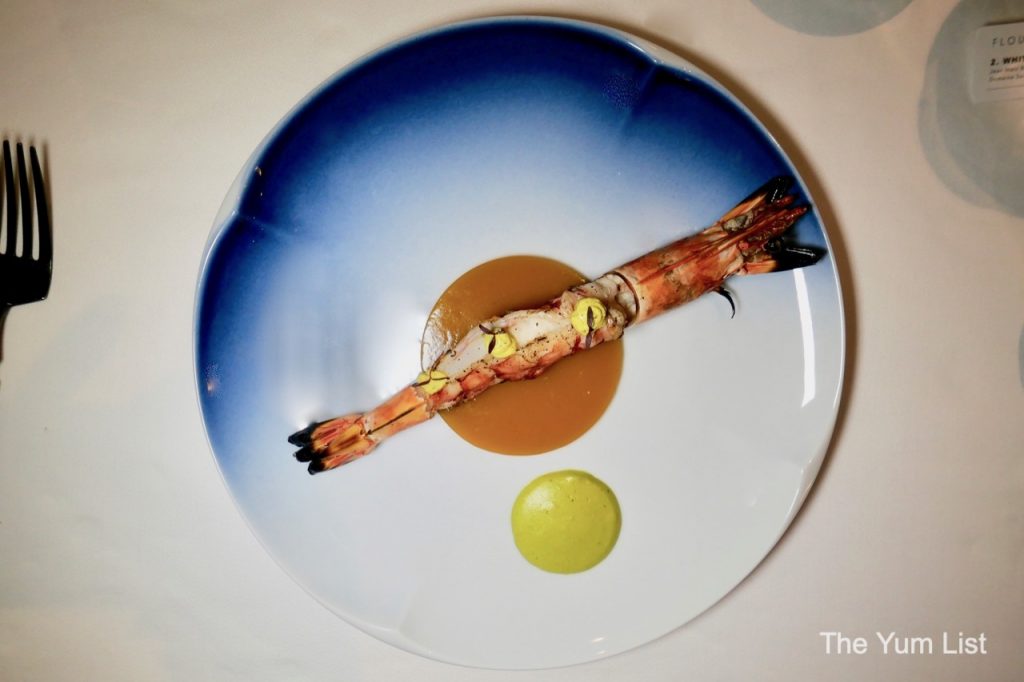 Chablis
For our next pour, we are treated to Jean-Marc Brocard Chablis. It's a 2018 Chardonnay with a grapefruit nose which follows through to the palate. Light and fresh, it pairs very nicely indeed with the piquant Bitterness dish.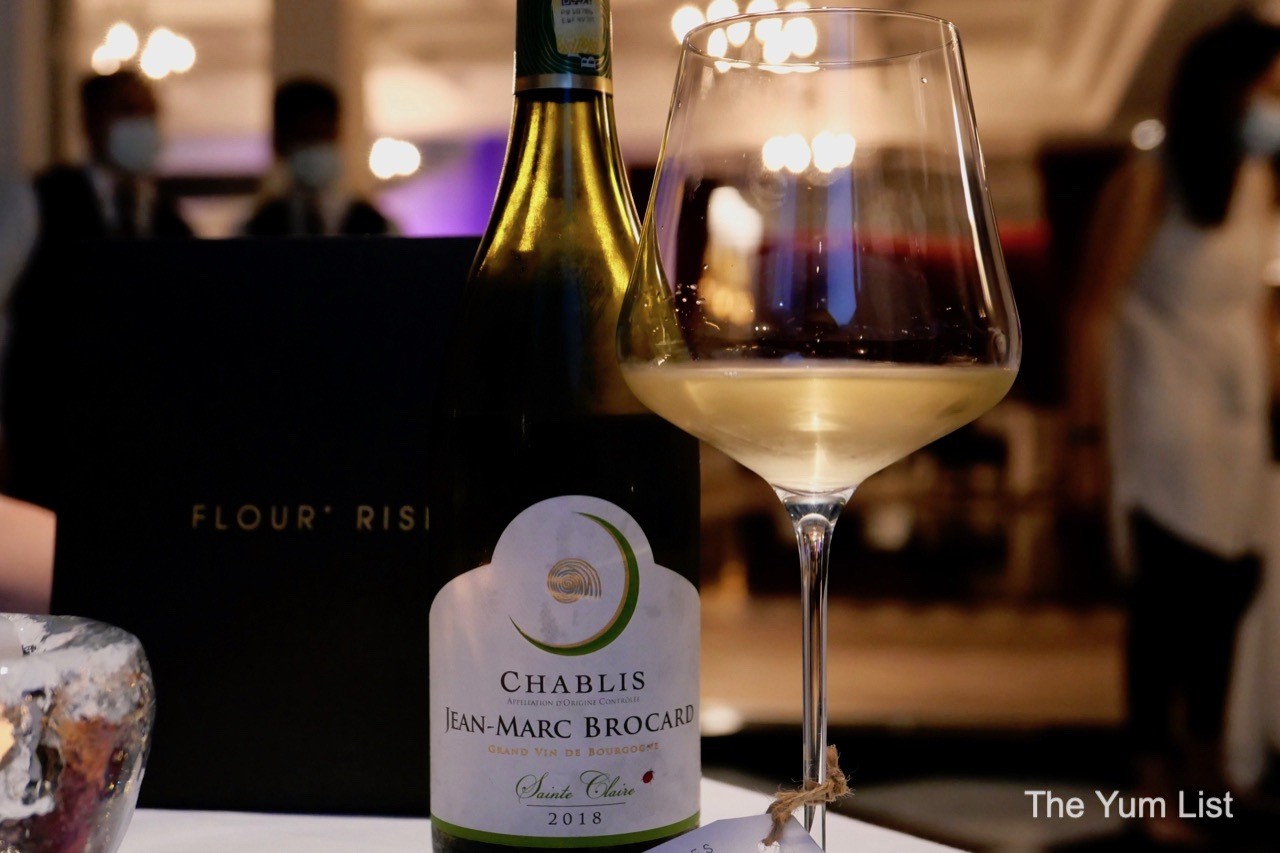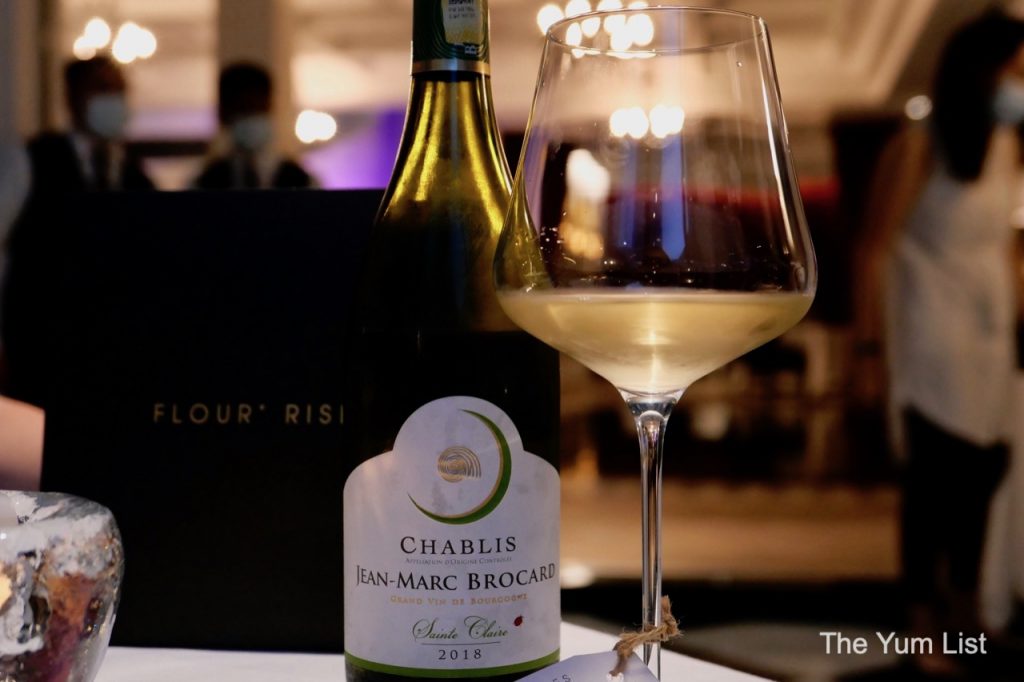 Kabir
Kabir, meaning 'greatness,' is the name of our next plate and the nomenclature given to rasam, which is matched with scallops and radish. I likened it to mulligatawny, a warming soup that I know well, which research tells me is indeed related to the rasam. Little curls of radish are filled with a crème fraiche. Two charred scallops give a smoky flavour to complement their creaminess and completed with the rich, tomatoey Indian soup.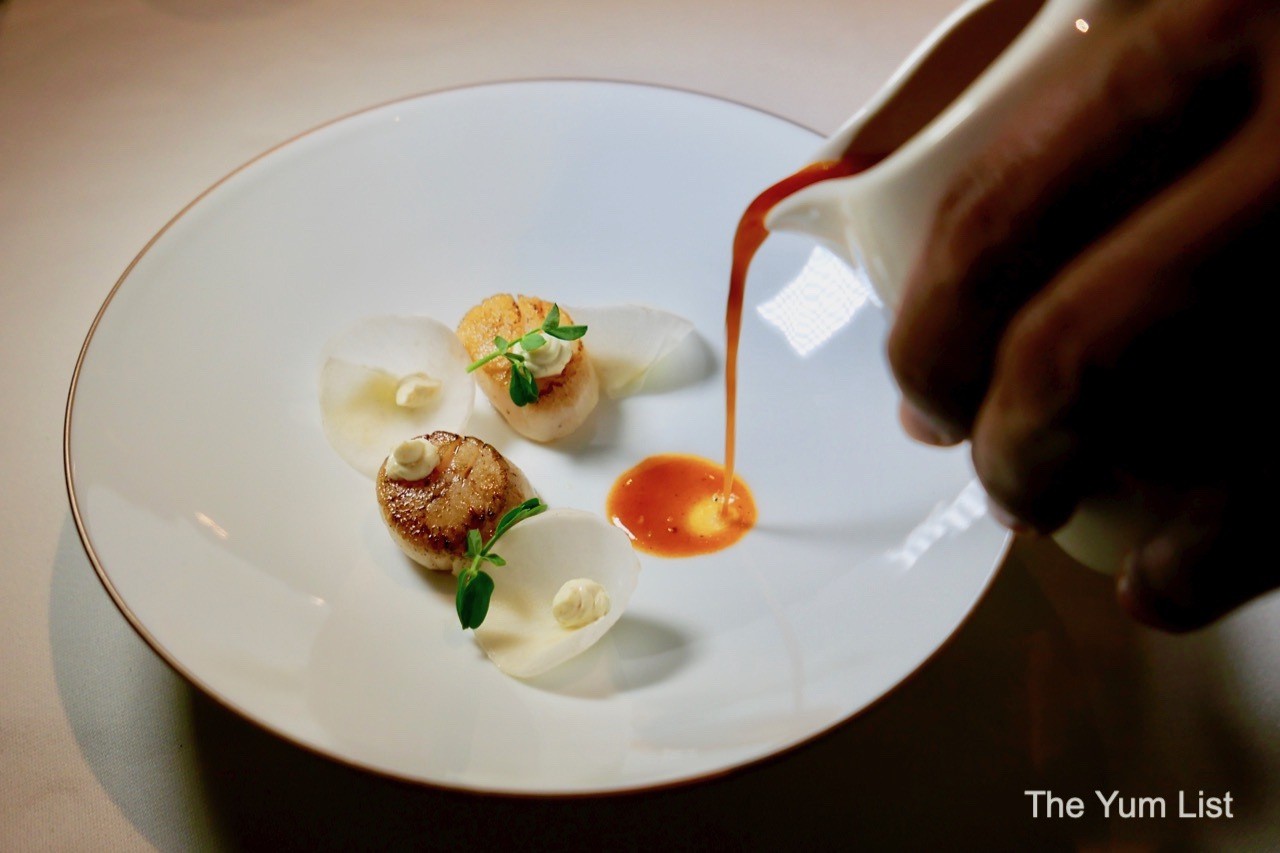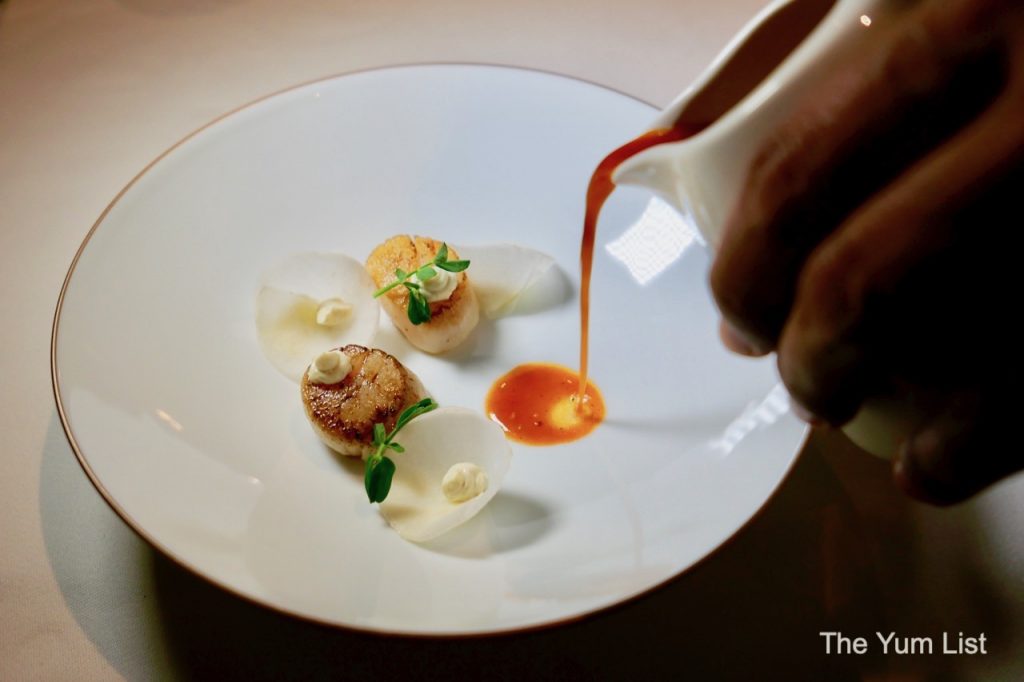 Please Check Out the Loos
Aside: I always like to check out the powder room as a measure of a restaurant. Monica told me it is 'very fancy.' 'Gold-plated toilet seats?' says I jokingly. 'Yes' says Monica and she wasn't lying! Dior hand-soaps and Jo Malone diffuser highlight genuine attention to detail with marbled walls and floors.
Gaia
Gaia, Mother of Earth, is a palate cleanser of edible soil, herbs and leaves. Eighteen edible herbs and leaves sit atop 'earth' made from root vegetables. It's a curious little interlude with fresh flavours and indeed serves its purpose of refreshing our mouths.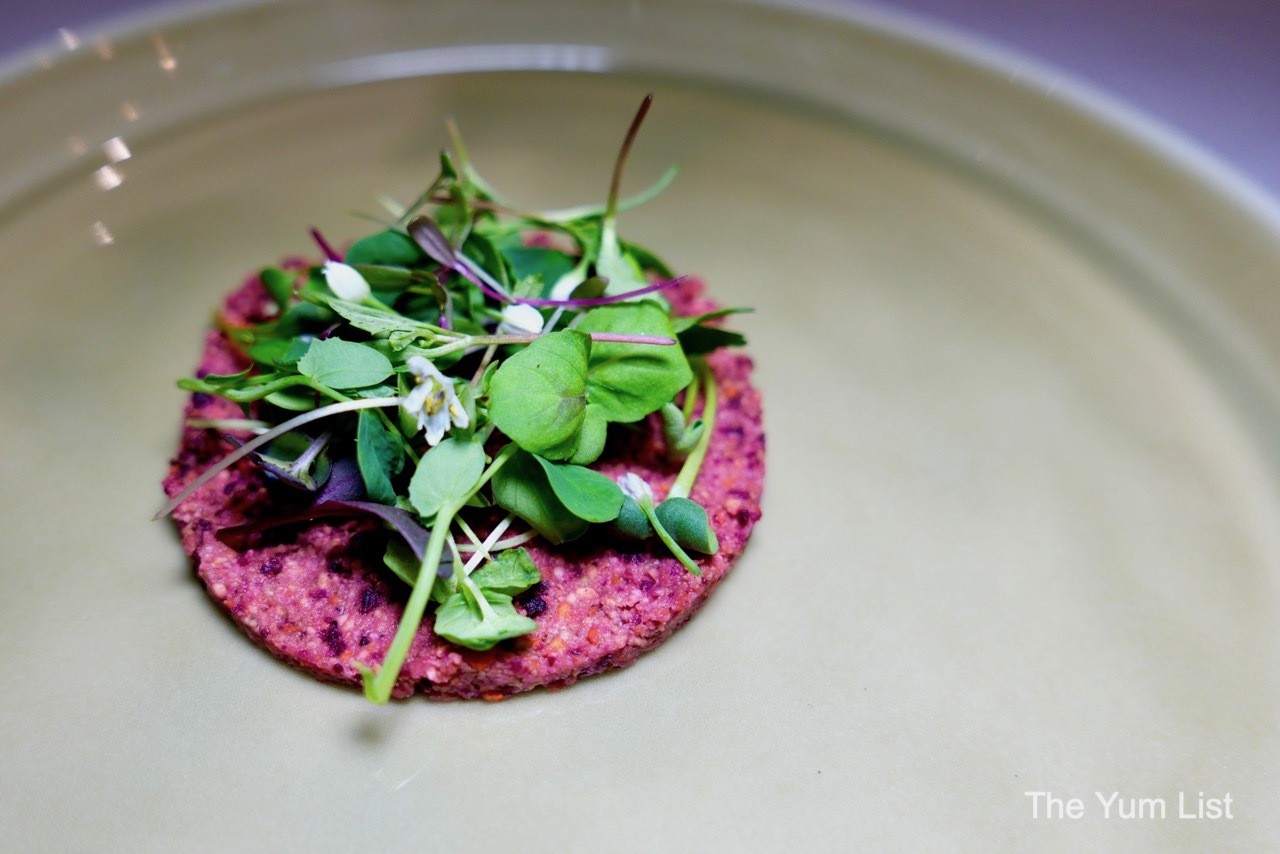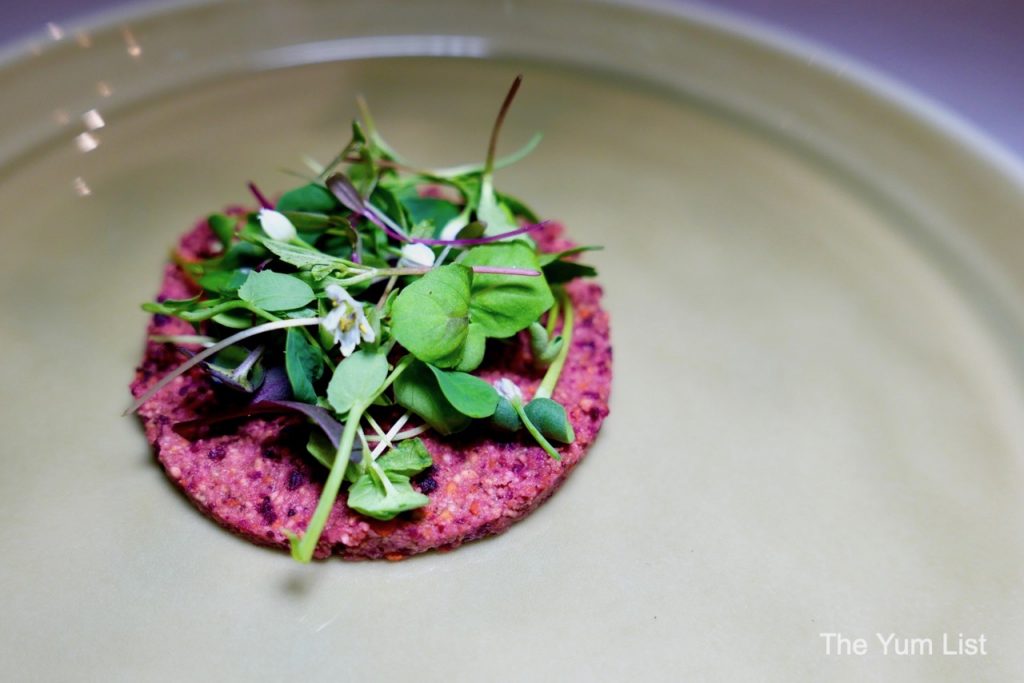 Red Wine & Duck
The next wine is a red, Domaine de Chatillon 2017 to go with the Three Ducklings. The Gamay grape shows cherry on the nose and palate, with medium tannins that hold up well to the meat. Three tranches of brined and cooked duck fillet are served combined with winter black truffle, winter berries with fried apricot and the final one with an intense orange jelly. Thankfully, so as not to overwhelm, the dish is light and minimal. As with all of the plating, the pottery tableware, made by Legle is elegant and attractive.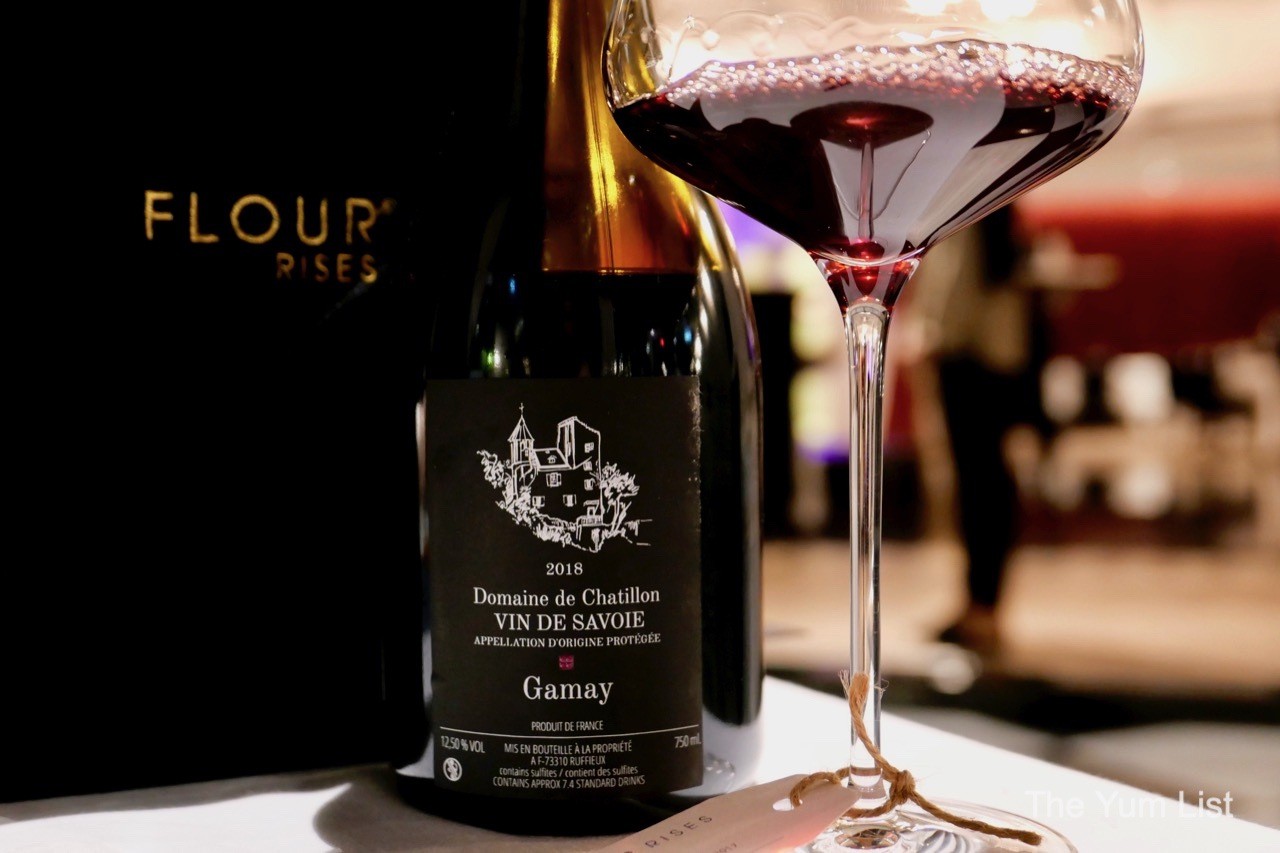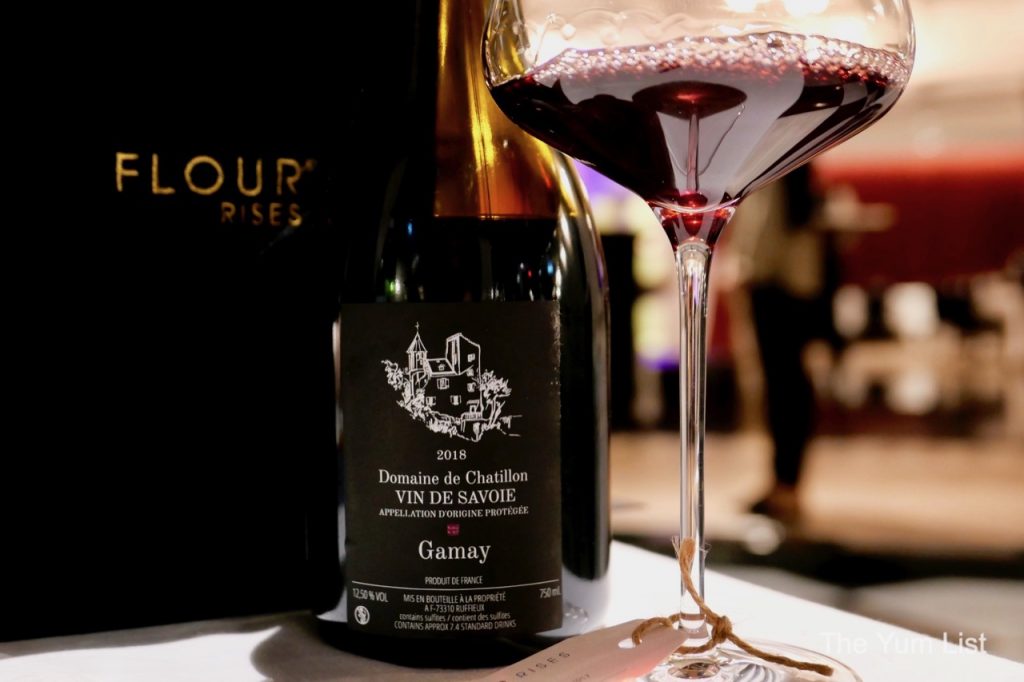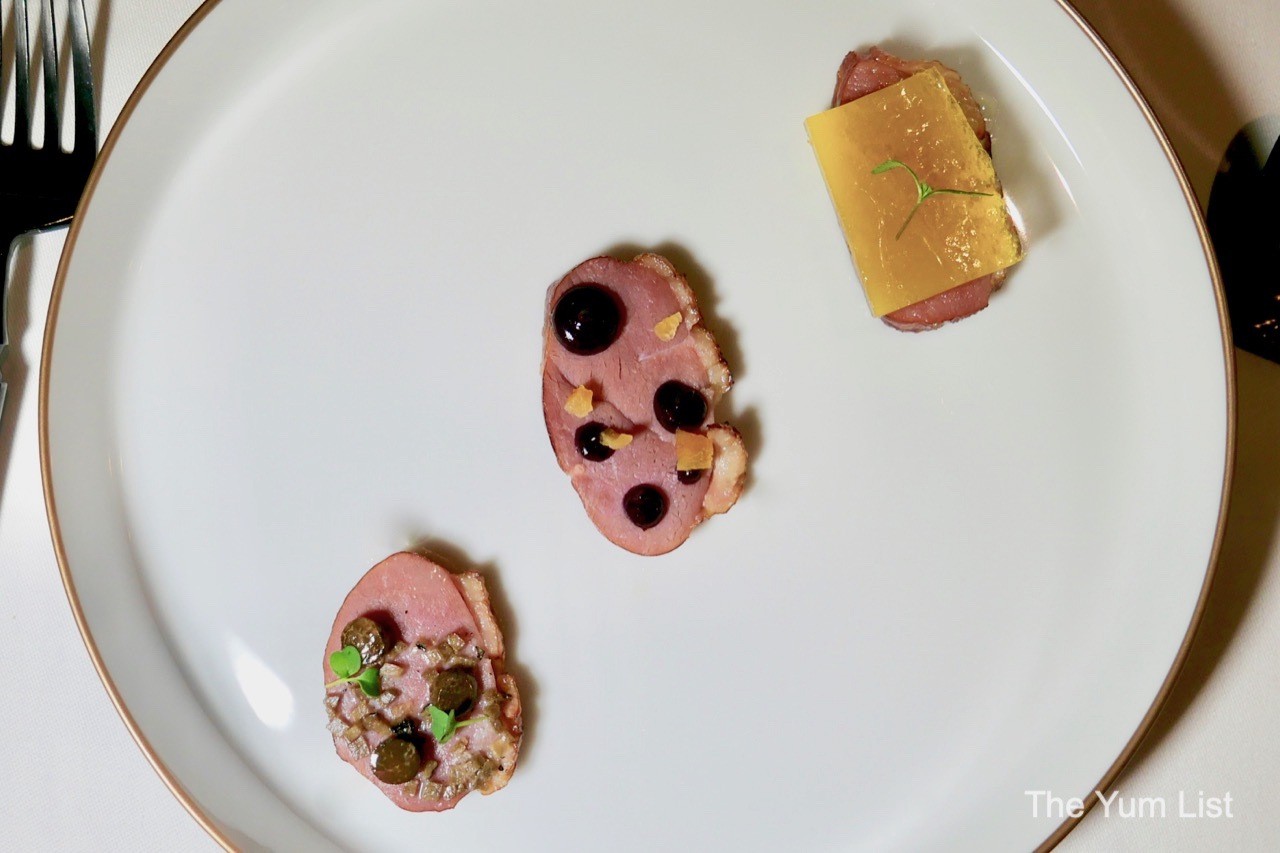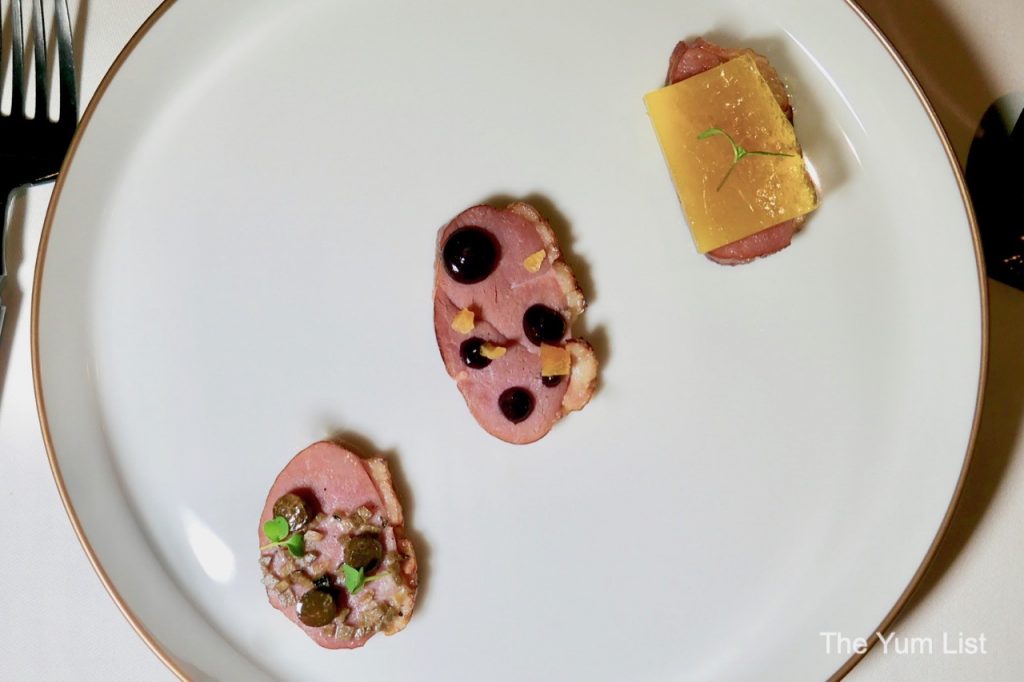 Suckling Lamb
As an addition, you may add suckling lamb shank to your feast, which comes with yoghurt and pomegranate, biryani rice, and a jus poured at the table. Thoughtfully deboned (with evidence shown – waiters bring the bone to the table) the dish is designed to share with your fellow diner and is priced at RM 120. The pomegranate adds a beautiful freshness that bursts in your mouth and highlights the juicy lamb as it falls apart. This is a real attestation to balancing flavours and whilst I would consider entirely superfluous in addition to the feast, I would heartily recommend.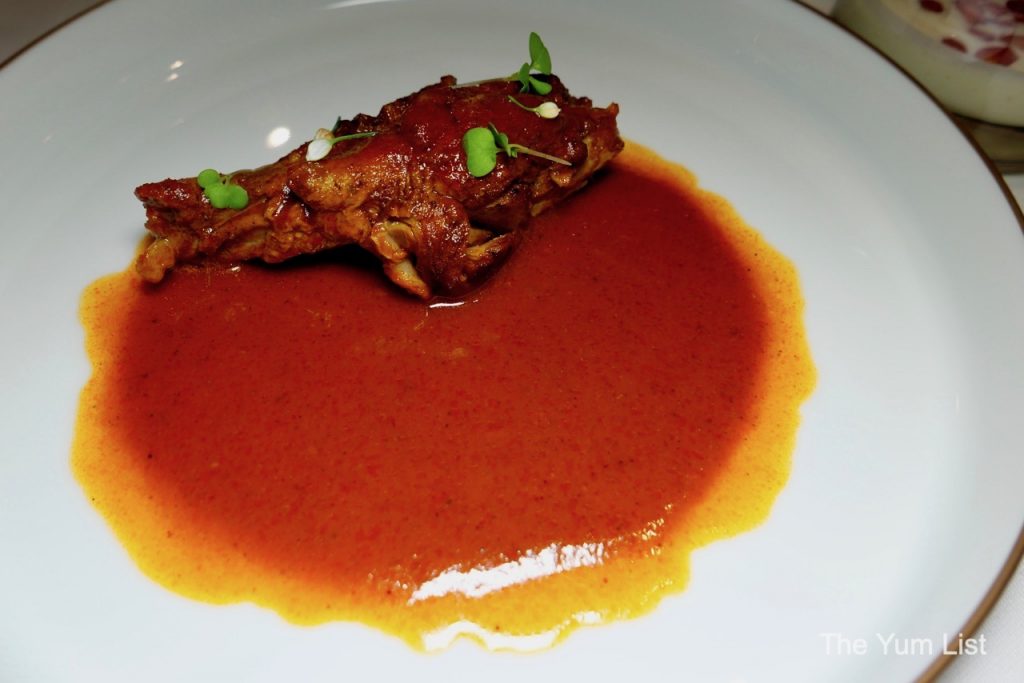 Pinot Noir
Our last wine is a final red, Domaine Mongeard Mugnaret Bourgogne Rouge 'Cuvee Sapidus' 2015. This pinot noir has a bit more depth than your typical PN and stands up well to the next course, 'Japan Meets India'.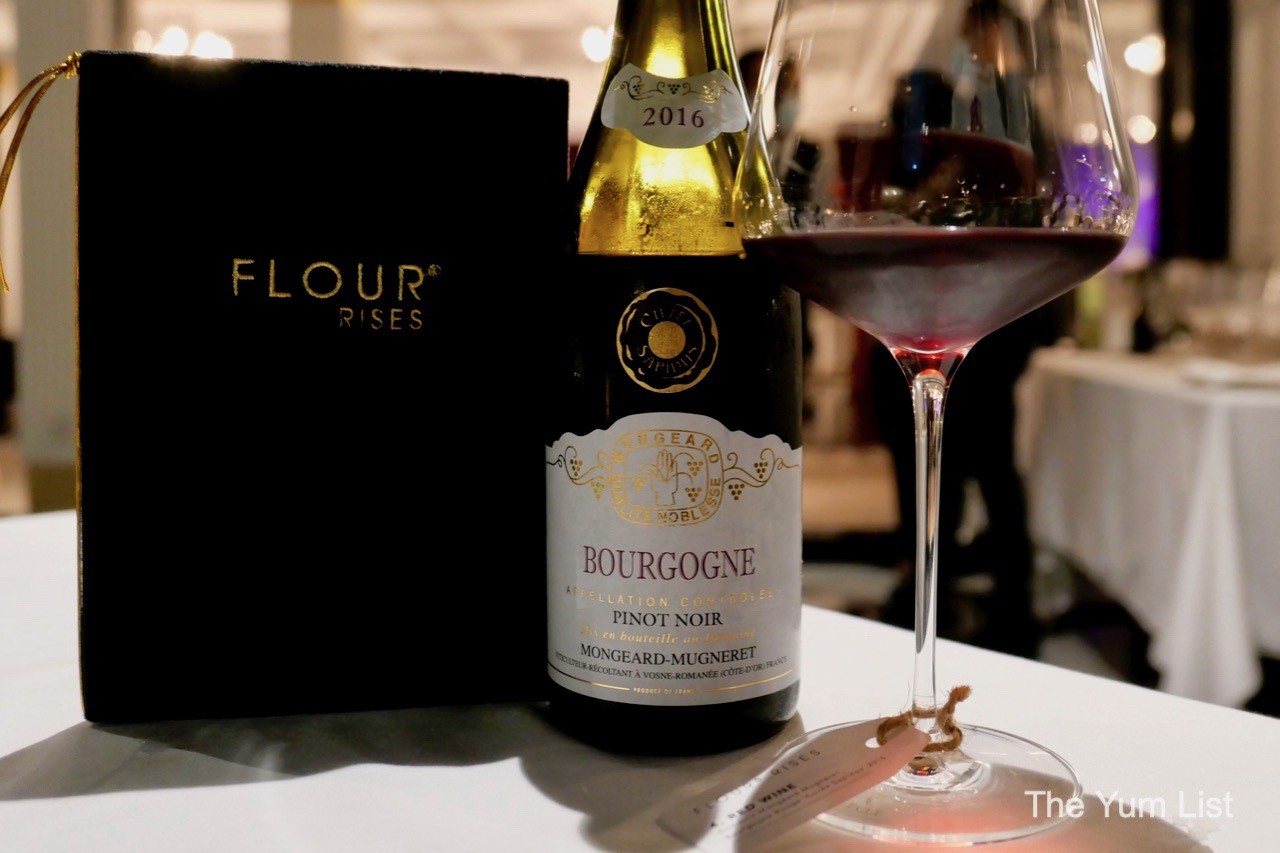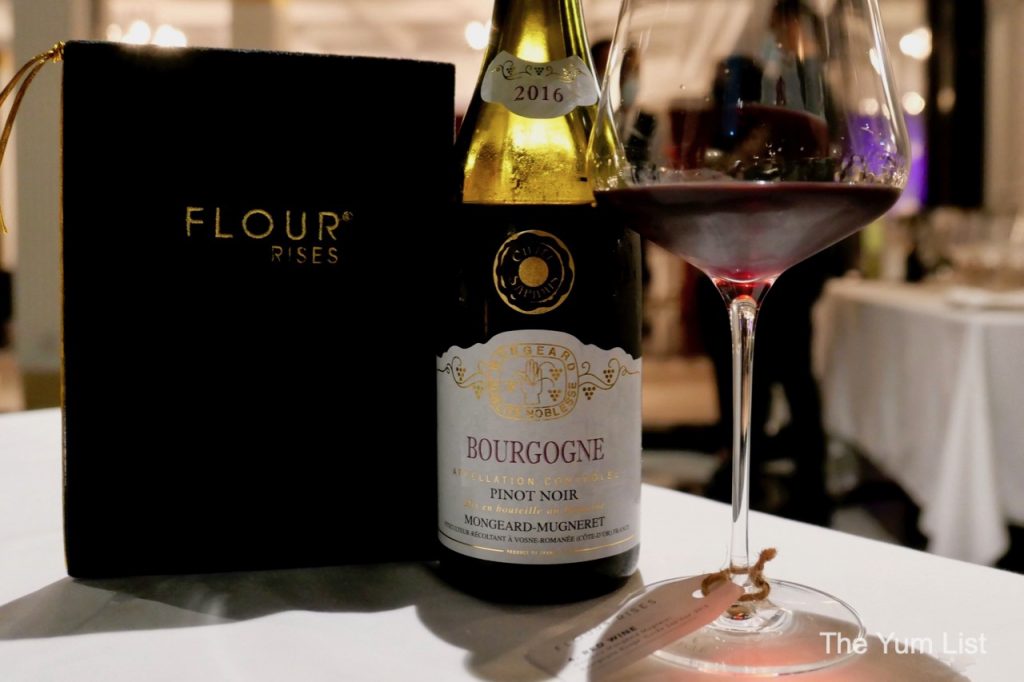 Tuna
Yellowfin tuna is seared teriyaki-style and paired with mustard and turmeric leaves. Mustard is fermented with mangoes and spices are added during the fermentation process. The tuna is perfectly pink in the middle, and the turmeric leaf adds an intriguing earthiness to the plate. This dish marries beautifully with the slight spice of the aged Burgundy.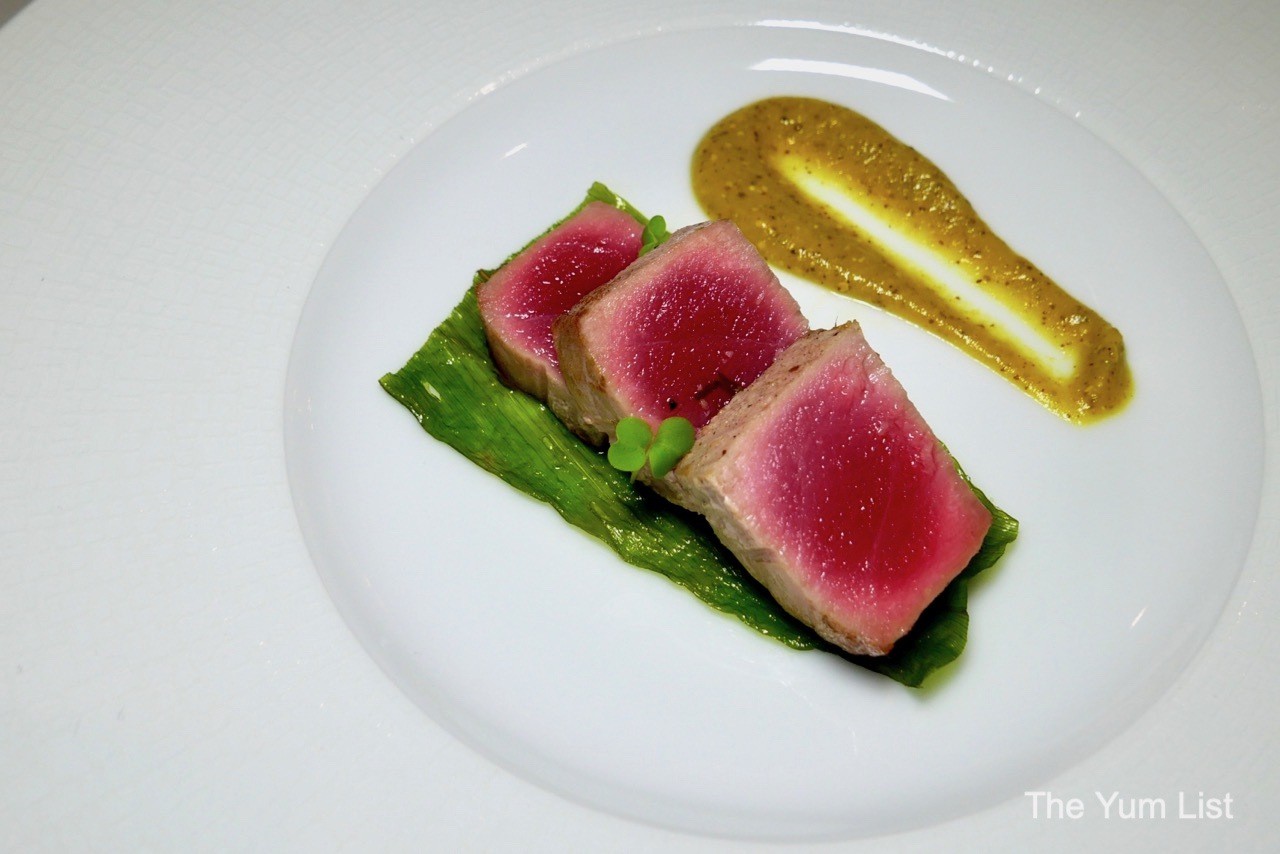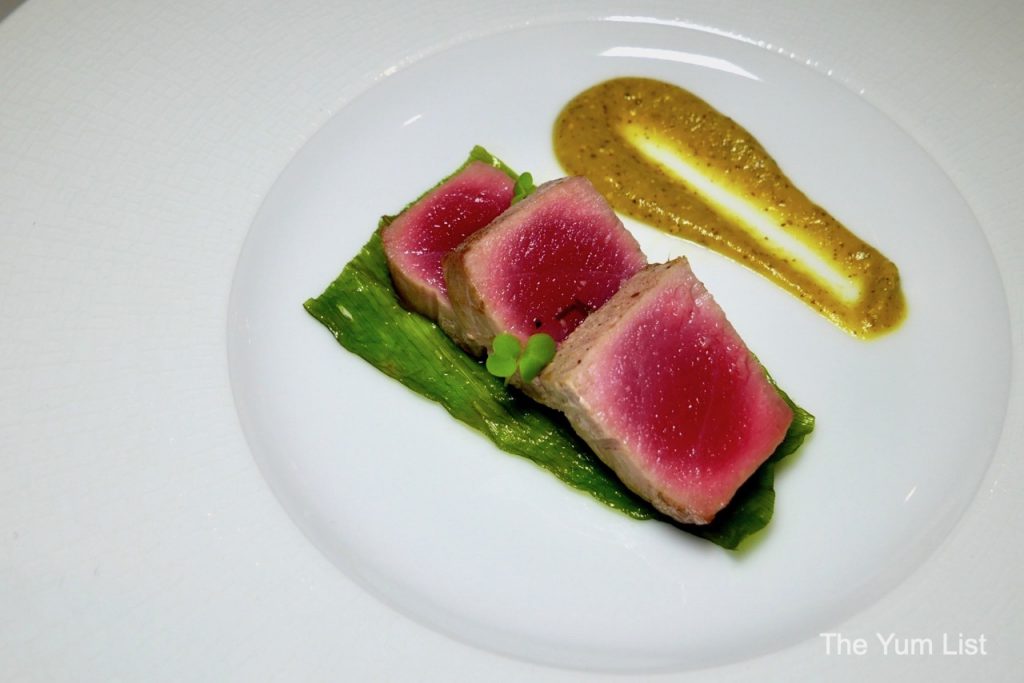 Satisfaction
Traditional Indian food is not forgotten, with Satisfaction being the savoury finale. A pert ball of rice surrounded by spicy dhal is served atop a fresh, vibrant green oil of basil. Truly delicious, by this stage, we are already fit to burst so really have no need for the 'filler' course! However, that does not stop us going back for bite, after bite.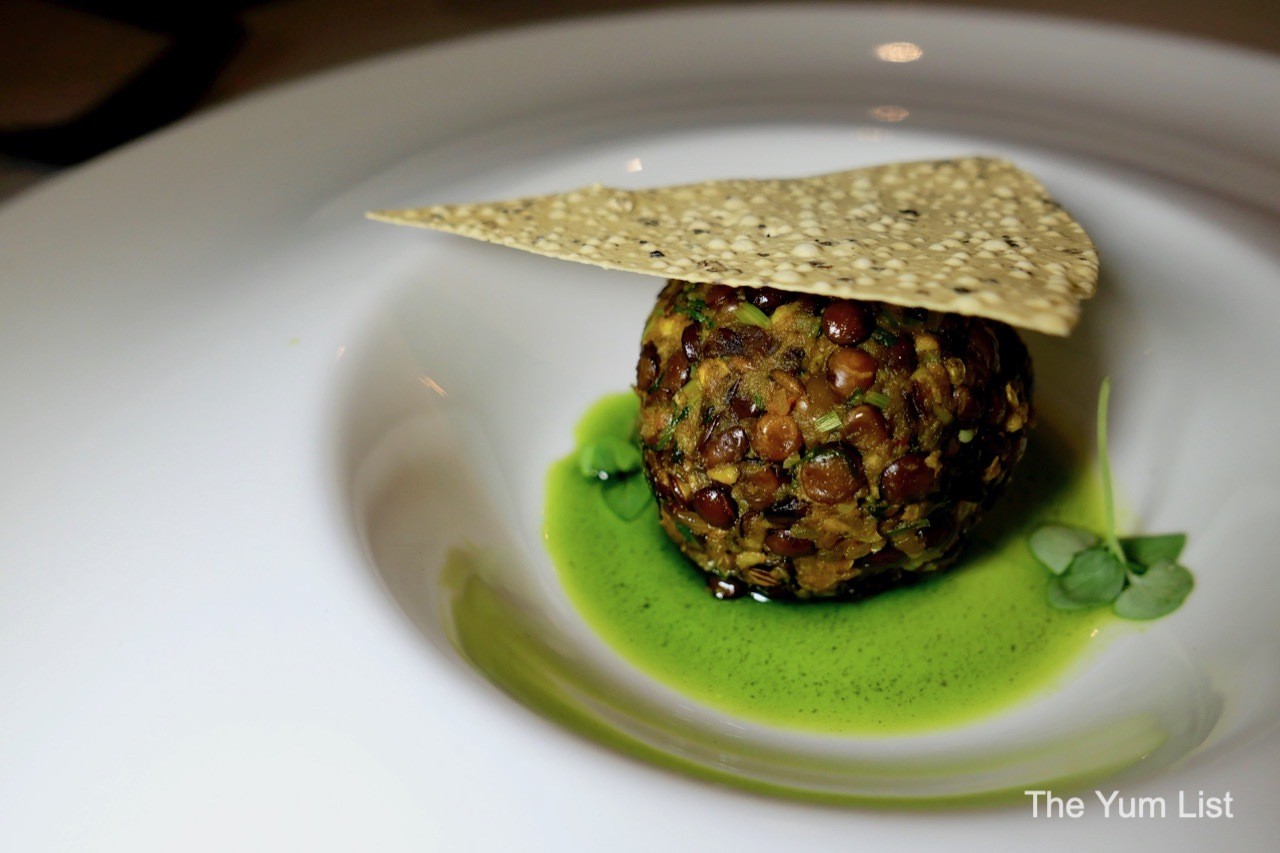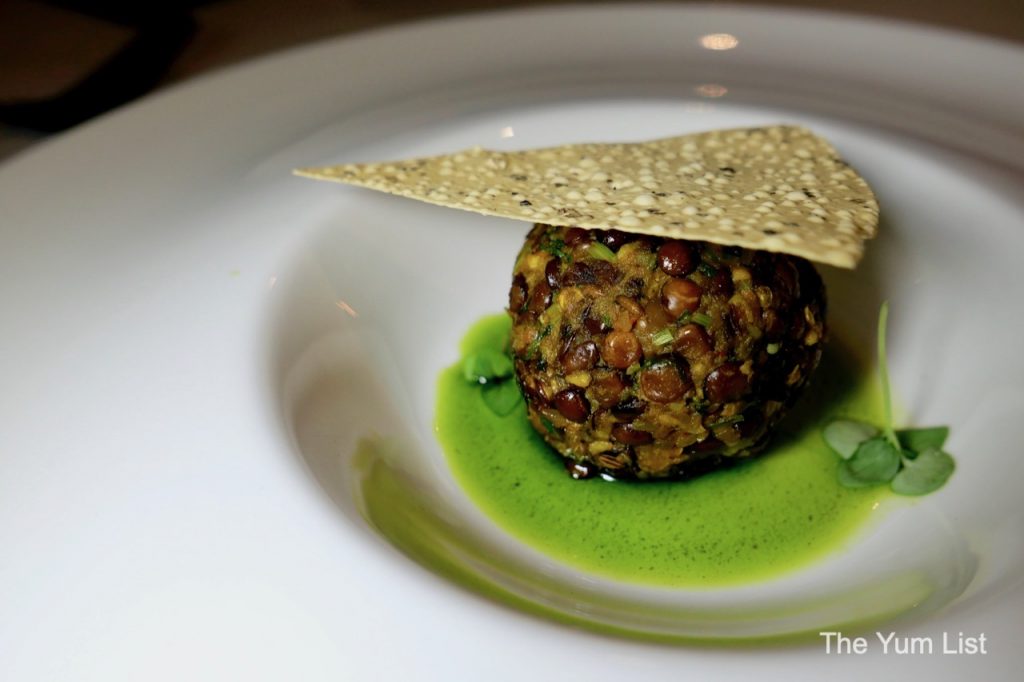 Dessert
For our first dessert, we have a rhum baba, the doughnutty dessert, with the cream on the side represents a typical Indian pud, laced with liquor and cinnamon and topped with a raspberry powder. My Dad would LOVE this with his sweet tooth and fondness of rhum baba!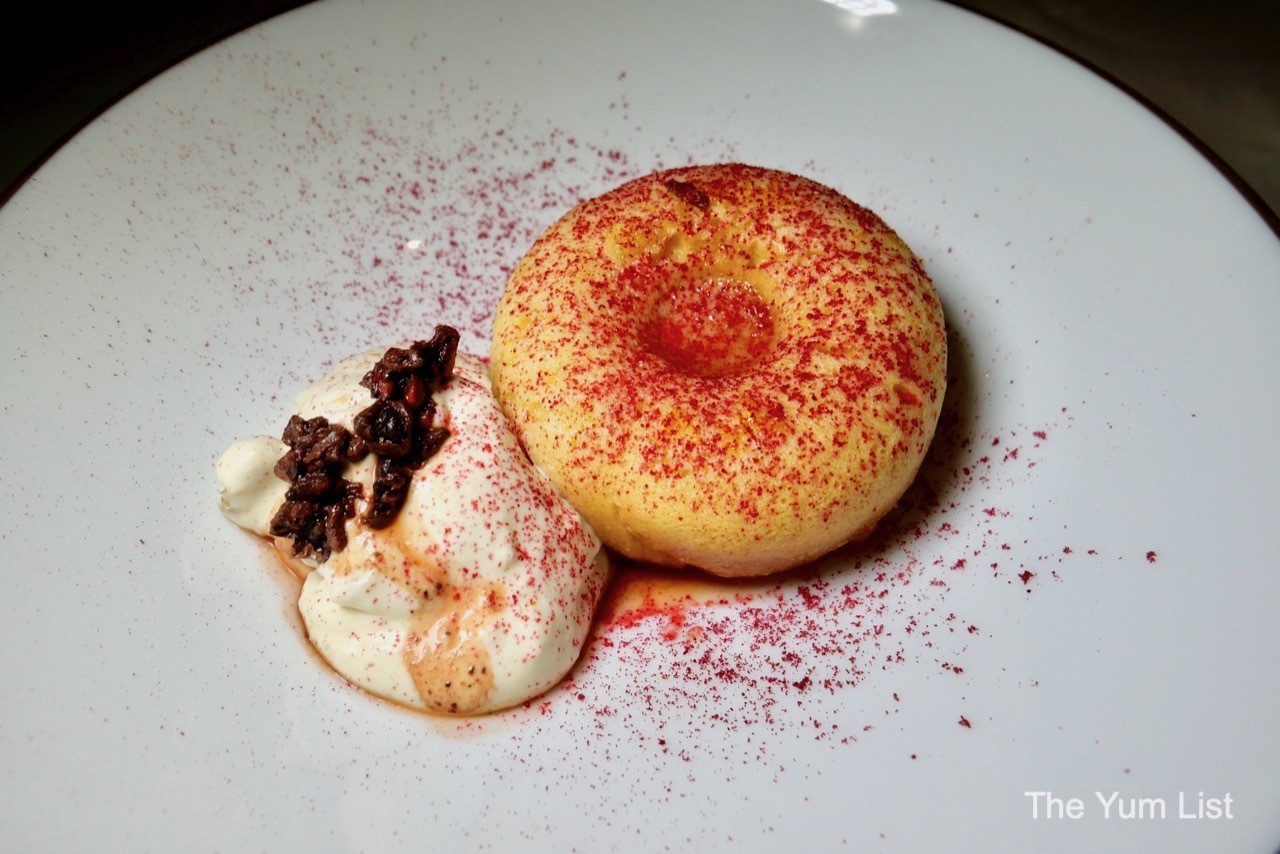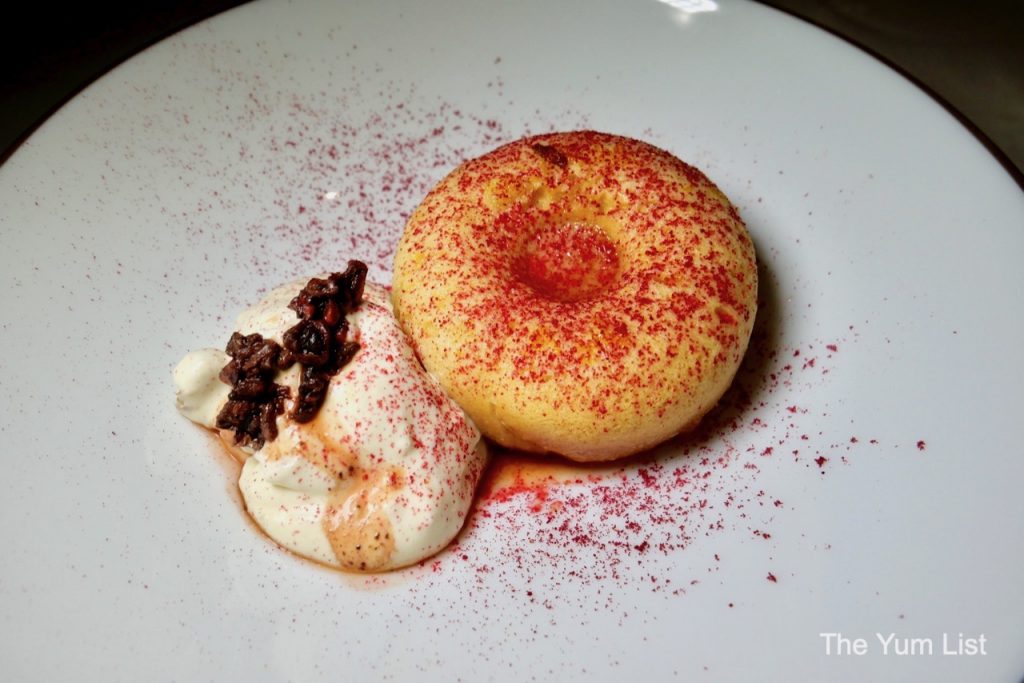 Persimmon
As an intermediary dessert, we are given a little scalloped plate of persimmons. They are served alongside their own juice, which is a nice refreshing break and a bit of a rest for our fast-bulging tummies.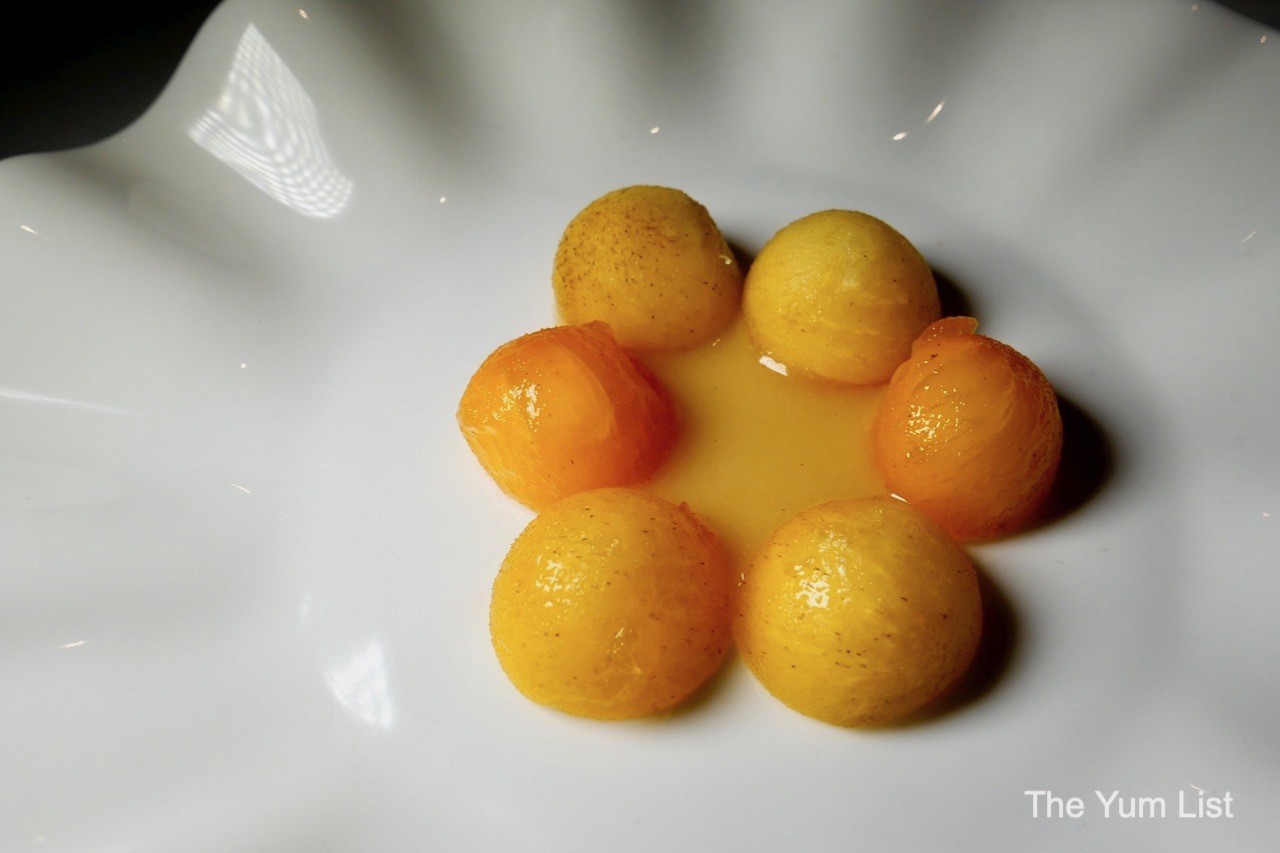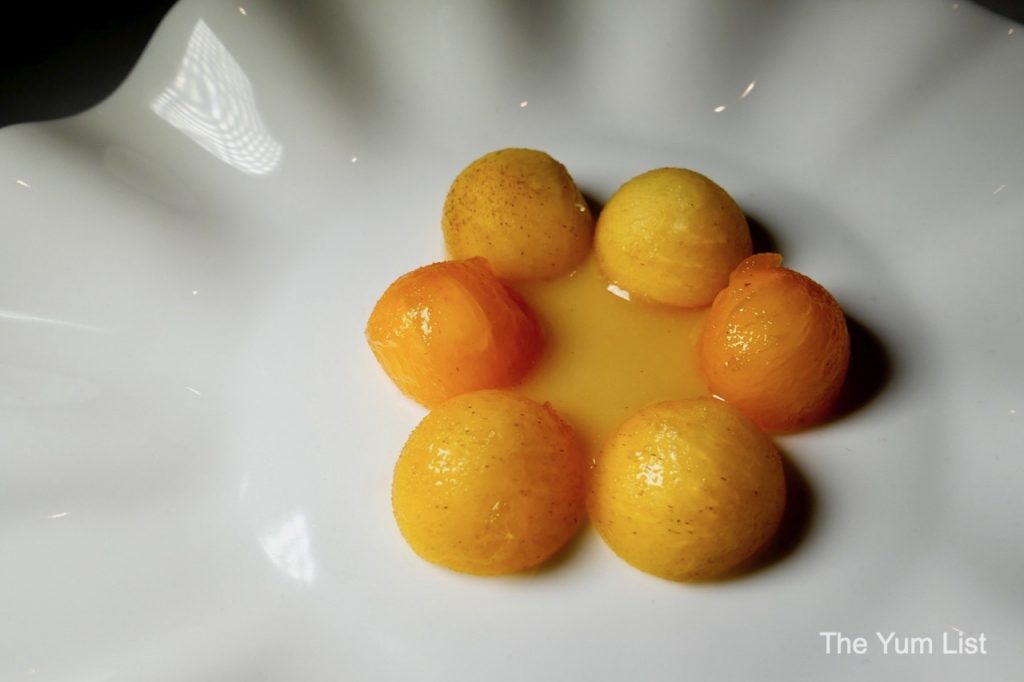 Banana & Chocolate
After an epic meal, our final course is Banana & Chocolate, served with a choice of coffee, chai, bourbon or Amaretto. Being the hardcore girls that we are, we plump for the bourbon. A teeny-tiny, fragile pastry case is topped with banana mousse, packed with the flavour of the carefully curated ingredients. The casing is the lightest, dreamiest pastry I think I have ever had. The rich, dark chocolate is the perfect patsy and rounded off nicely with the bourbon.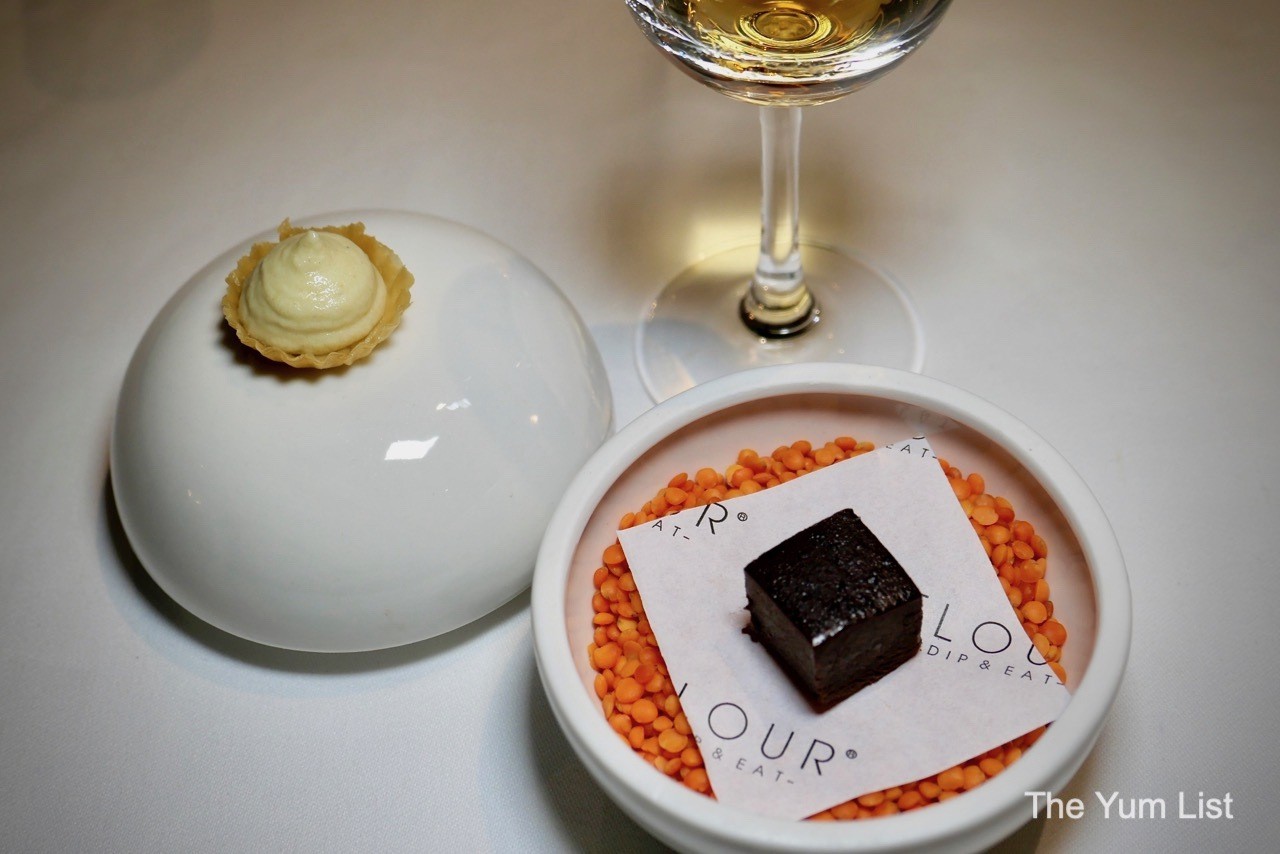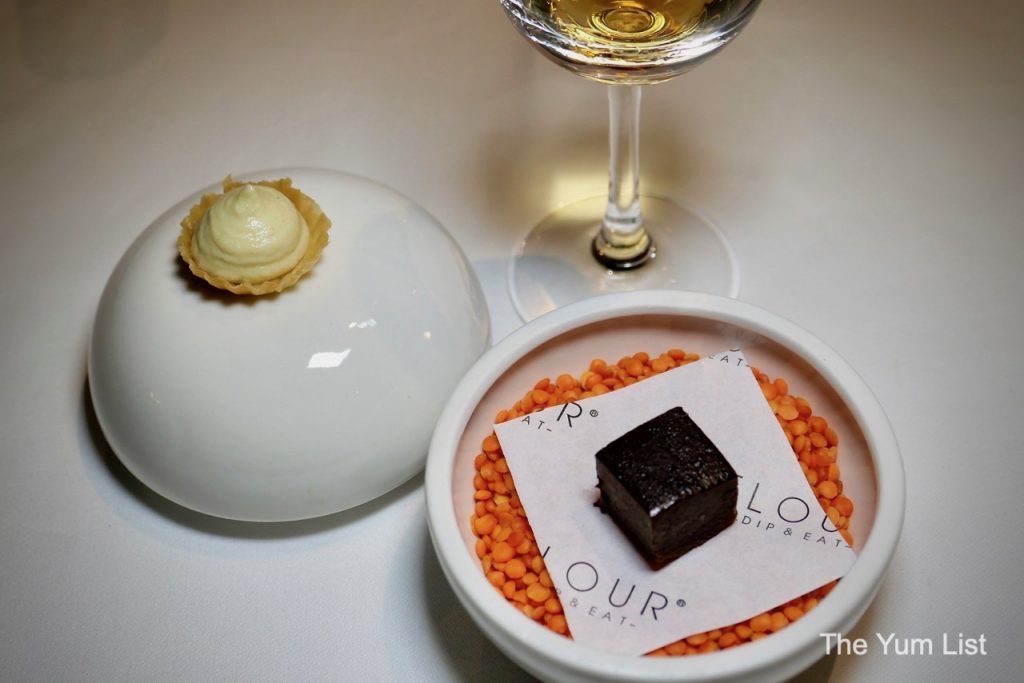 Degustation Menu at FLOUR Review
This is not an experience to be rushed, so after five hours of gorging, we waddled out of one of the most beautifully and thoughtfully designed restaurants in the city. I particularly love the French flair given over to the ingredients. Wherever possible, the produce and spices are sourced locally. Still, the must-haves that can't be found in Malaysia are shipped from their native countries, for example, the fenugreek being procured directly from India itself.
I've mentioned Michelin twice already, and I'm confident that should they ever deign to include Malaysia in their rankings, FLOUR would be worthy of a star. This is what I might describe as an 'occasion' restaurant, where you want to take your time, relax and enjoy. Honestly, what better occasion is there than Christmas?!
Reasons to try the degustation menu at FLOUR restaurant: Technically brilliant cooking which follows through to the palate; beautifully designed interior; occasion dining; practice your food photography with the stunning plating.
FLOUR Restaurant
12, Jalan Kamuning, (Off Jalan Imbi)
55100 Kuala Lumpur, Malaysia
+6012 960 0053
FLOUR Restaurant Opening Hours
Wednesday – Monday 6 pm – 11 pm
Tuesday – closed
Find more restaurants for special occasions in KL here and stay up-to-date with the latest gourmet and travel recommendations for Malaysia here and here.