Fox Paradox – Café at The Grange KL
Words: Monica Tindall Photos: Rich Callahan
Our friends living in Ampang and KL city centre will be delighted with our latest food and beverage neighbour, Fox Paradox. Located in the newly renovated The Grange KL (formerly Ampwalk), the café has a prime corner position. Polished cement, potted plants and glass walls provide a sleek backdrop for a delicious brunch menu and serious coffee.
Owner Neil Ng has been in the industry for about 10 years. Starting at Coffex and moving his way around notable cafes such as Butter & Beans, Podgy & the Banker and Bandits Coffee Bar, his most recent work was consulting, then a short break from the industry over the MCO. Living just down the road from The Grange KL, when he heard the lot became available, the opportunity seemed a perfect fit.
Parking is ample in the refurbished mall. There are spaces downstairs in a covered lot and plenty of street parking around its edges and across the road where Healy Macs used to be. With Hock Choon grocers just across the road and DBC Physio clinic upstairs, it's an easy stop before or after you tick off some chores from your list.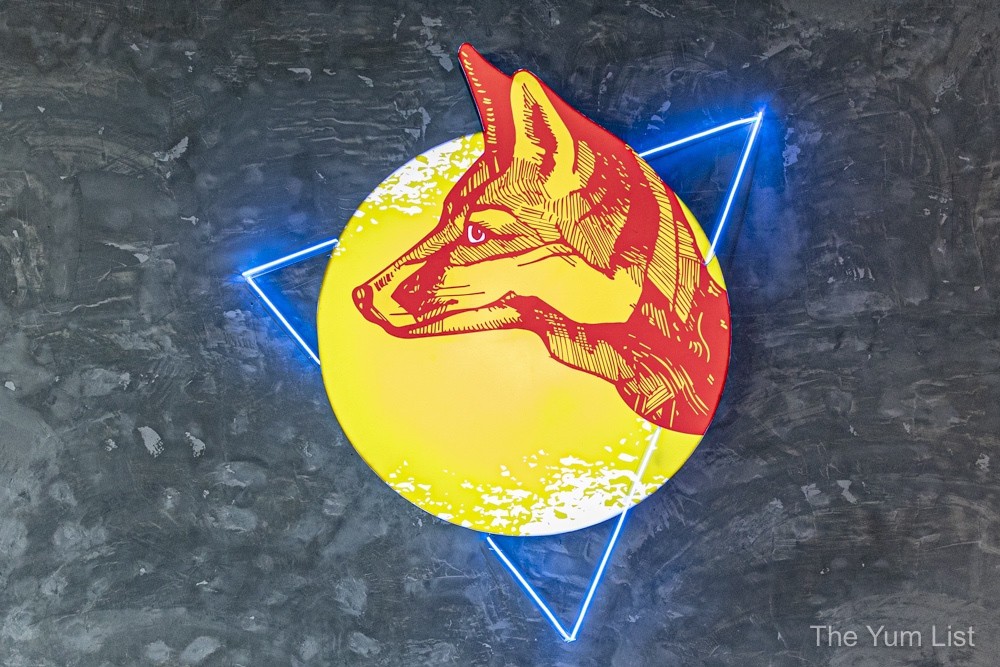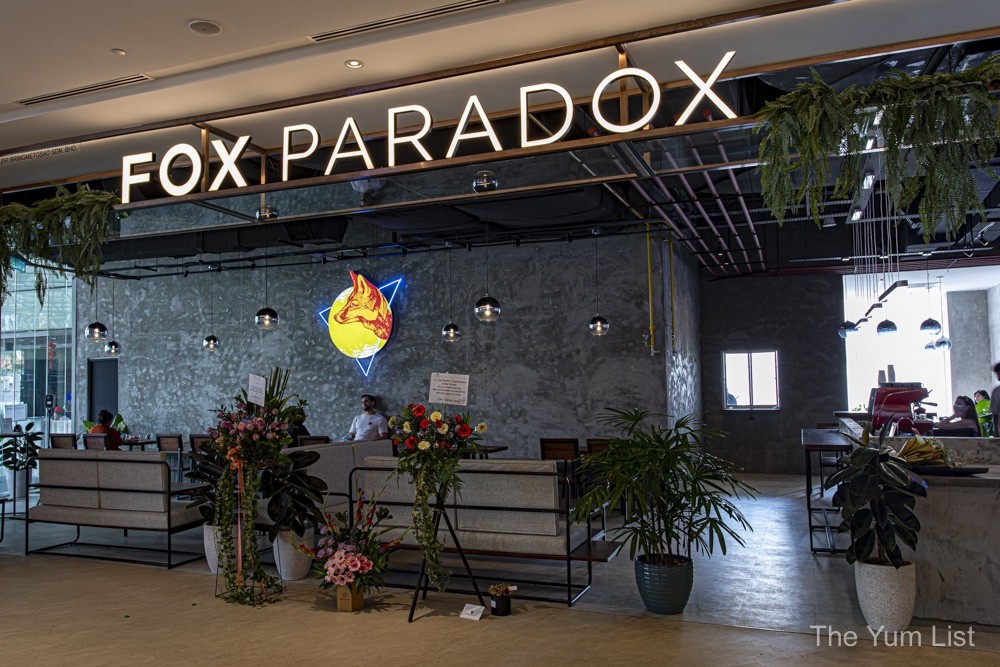 Fox Paradox Menu, The Grange KL
Husband and wife team, Ahmad and Aim, run the kitchen. Domiciled in Melbourne for the past decade, the Malaysian born couple were travelling in Malaysia when they got stuck here over the pandemic. Seeing the situation as an adventure and opportunity to try new things, they accepted various kitchen consultancy and pop-up gigs before meeting Neil. Teaming up with the dynamic coffee expert, the pair has curated a tasty brunch menu that is sure to encourage repeat customers.
Ampang Brunch Menu
You know I love brekkie, so that is right where we kick off our explorations. Hubby is delighted by an option that allows him to eat pancakes minus the gluten with the Mango Gluten-free Pancakes (RM 26). Made with rice-flour, the texture is more crepe-like than fluffy, but, hey, we like crepes too! Beautifully presented, they're topped with macerated berries, fresh mango, shredded coconut flakes, mascarpone and edible flowers. Finished off with a coffee coconut syrup and crushed walnuts, these could do just as easily for dessert as for breakfast.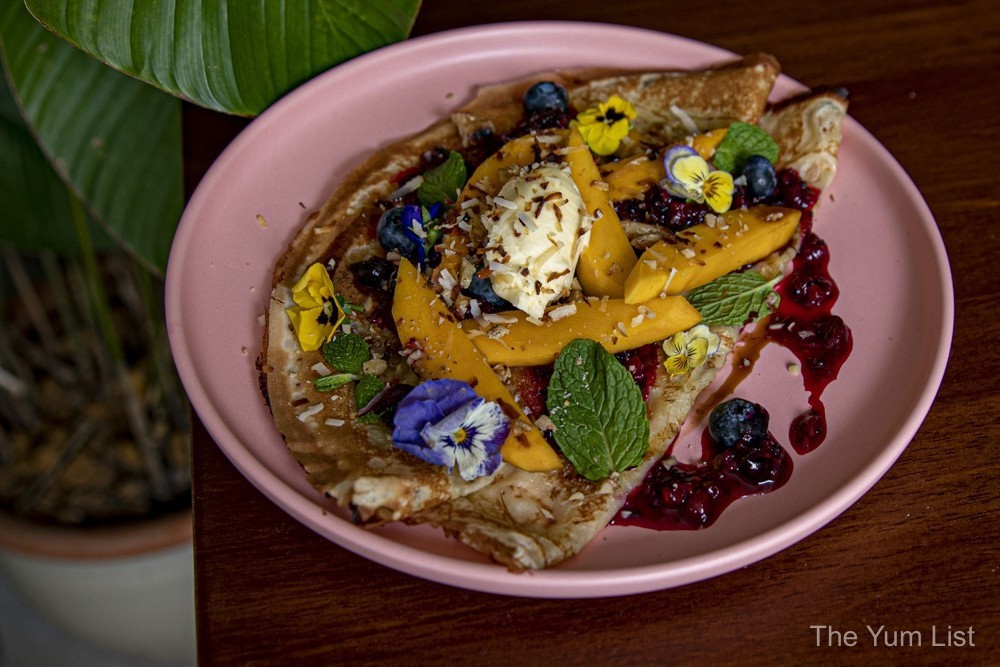 Eggs also make a happy morning for us. The Salmon Avocado Hollandaise Benedict on Normandy Bread (RM 36) is a satisfying recipe. Pickled fennel and apple gift a delicious twist to the norm but even the eggs and sauce have their own unique flair. The eggs are dill-poached, and the hollandaise is blended with avocado. Arugula, crispy potato and walnuts each contribute their own style of crunch.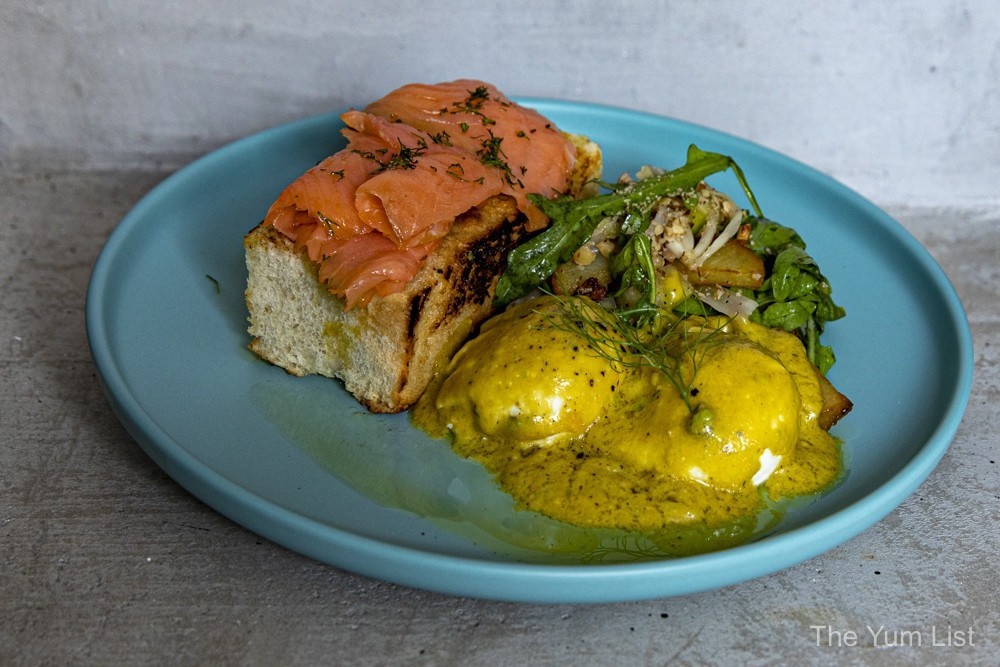 Lastly, there's no chance I'm missing the Smashed Avocado on Toast (RM 29). Here, it comes on a double layer of sourdough. The top-level holds the avo mash with charred lemon, red radish slices, feta, kale, parsley, dill and pumpkin seeds. The bottom balances with two poached eggs. It's crowned with voluptuous swirls of shaved cucumber and dusted with green pea powder.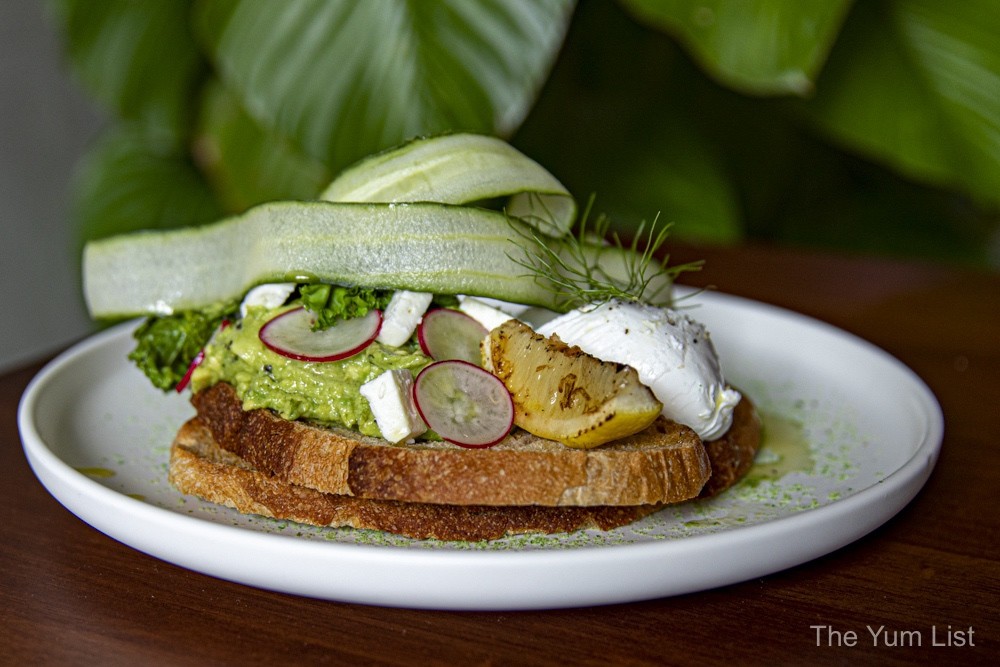 Brunch in Ampang – Something Heavier
Tenderloin Beef Soba Salad (RM 29) makes for a satisfying lunch. Strips of perfectly cooked meat are companioned with cucumber, Holland peas, arugula, watercress and fried cauliflower. Sesame seeds are tossed through along with a delicious miso-ginger dressing (lovely). Pickled lotus root is a fabulous addition.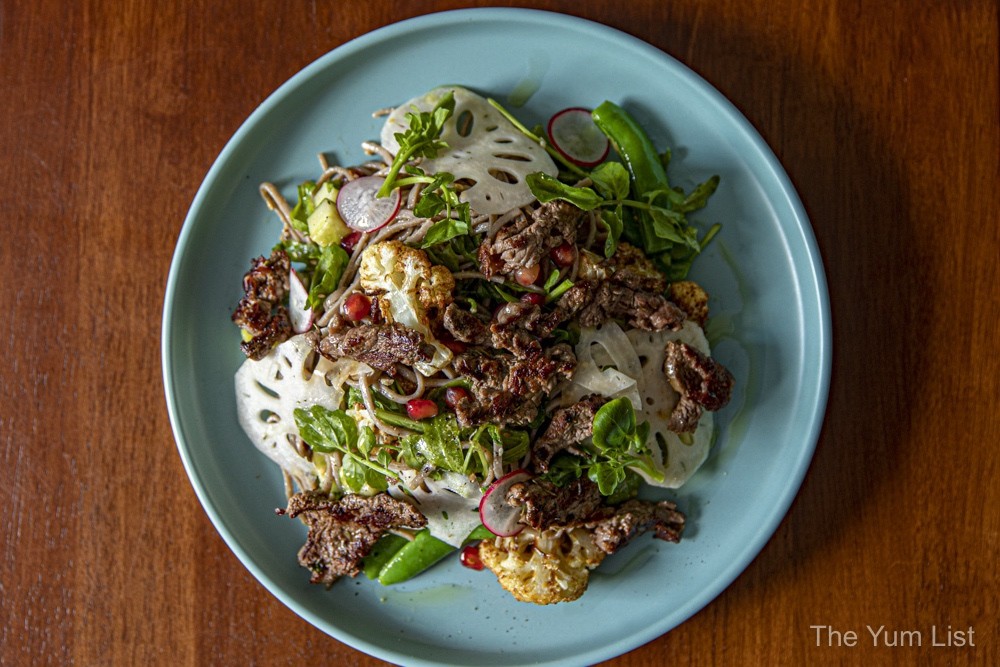 Overnight-hanged Yoghurt Lamb Baguette (RM 39) certainly bulks up the options. Two fat halves of the breadstick hold the shredded lamb, roasted capsicum, kale and crispy cauliflower. Charred pickled onion and mojo sauce really bolster the flavours. To top it off, a perfectly poached egg awaits the prod of a fork on top.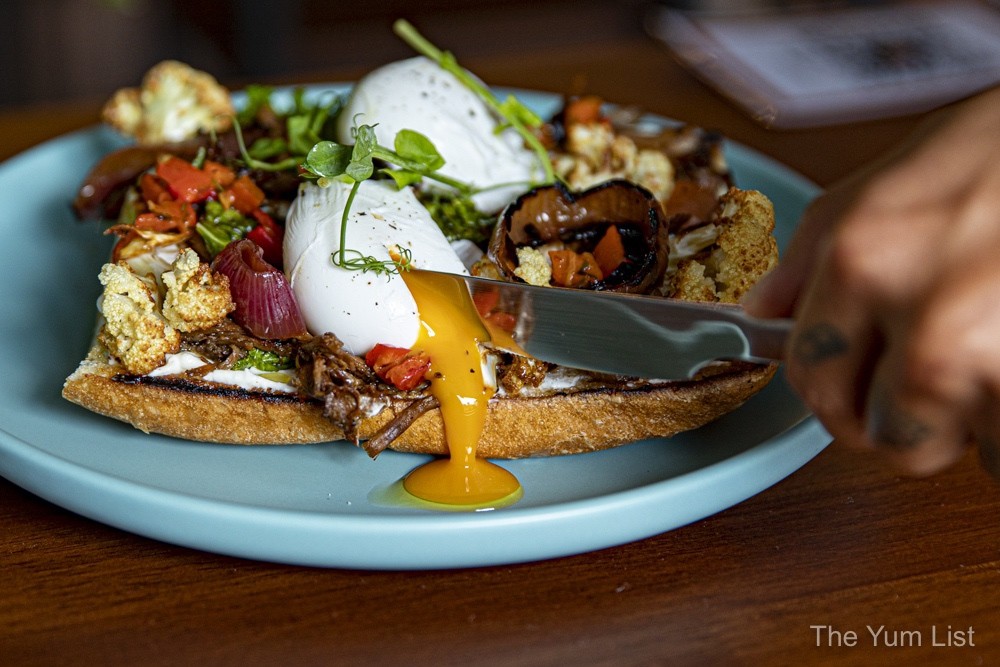 We have no complaints about the portioning of the Venetian Slow-cooked Lamb Pasta (RM 42), our final dish at Fox Paradox. It's a pile that we deem big enough for two moderate eaters. Every strand of al dente linguini is coated from tip to toe with the rich spiced tomato sauce. Roasted mushrooms, pangrattato (breadcrumbs), cherry tomatoes and crushed feta add variety. Before devouring, we pop the runny egg yolk that sits on the crown, stirring it through the pasta and donning additional creaminess.
Fox Paradox Drinks Menu
The brunch menu at Fox Paradox café is worth supporting with a well-executed cup of joe. With Neil's expertise and a beautiful Nuova Simonelli espresso machine, you're guaranteed an excellent cup. Simplifying life, the menu represents straight forward pricing with the choices of Black (RM 10) or White (RM 13). Beans are a locally roasted single-origin from Colombia offering mild fruitiness with a medium body that does well with milk.
It's entirely possible that I'm on a caffeine high from what I think is a near-perfect coffee, but the Seasonal Home-brewed Kombucha (RM 15) is darn good too. Today's flavour is spicy mango, and I'm willing to say it's one of the best home brews in town.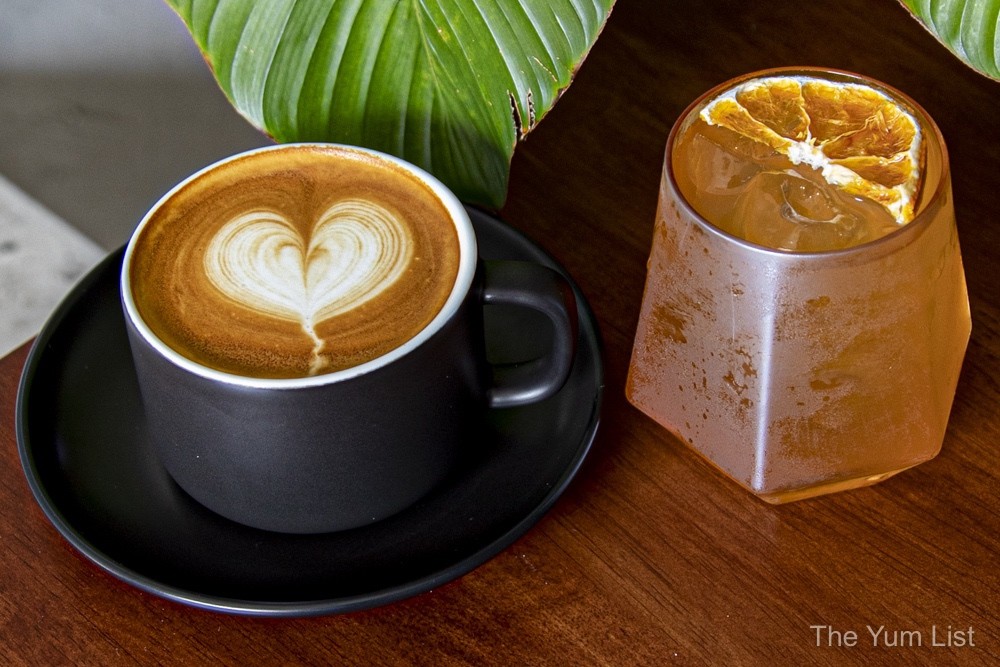 Reasons to visit Fox Paradox Cafe: cool, calm and spacious setting; excellent coffee; must try their kombucha too; delicious brunch menu – hard to pick a favourite but for sure try the Mango Gluten-free Crepes, Tenderloin Beef Soba Salad and the Venetian Slow-cooked Lamb Pasta.
Fox Paradox
G02-G03 Ground Floor, The Grange KL (formerly known as Ampwalk)
Jalan Ampang (directly across from Hock Choon)
55000 Kuala Lumpur, Malaysia
www.instagram.com/_foxparadox
Fox Paradox Opening Hours
Daily 8:30 am – 6:00 pm.
The kitchen closes at 4:30 pm, but you can stay for drinks (and a pastry counter is also on its way).
As always, with evolving circumstances, it is best to contact the cafe directly to get the most up-to-date operating hours.
Find more of our favourite cafes in Kuala Lumpur here and stay up-to-date with the latest gourmet and travel recommendations for the country here and here.