The Curious Gardener – The Sphere Bangsar South
Words: Kitty Noble Photos: Monica Tindall
Hidden behind a shed door, accessed by pulling a shovel attached to the wall, is a tropical oasis of all manner of hanging plants. There is an abundance of potted herbs, suspended logs with crows' nests, and trailing money plants in a gorgeous, light, airy space. It's a mini, city-centre green lung if you will. Alvin, the curious gardener himself, is dressed just like Mr McGregor of Peter Rabbit fame. With the flat cap, plaid shirt and in place of wellies, brown suede boots, he looks just the part. Monica and I IMMEDIATELY declare it our new favourite bar.
In the background, funky music is playing that wouldn't be out of place in a French Bistro or at a Charleston. Even with just one other couple drinking, the bar feels warm and welcoming, a place where it would be easy to while away several hours. Although accessed through its neighbouring restaurant, when their doors close at 10 pm, a plant wall magically retreats to make way for a cheeky, secret entrance. The Curious Gardeners' doors close at midnight (when outside of MCO restrictions).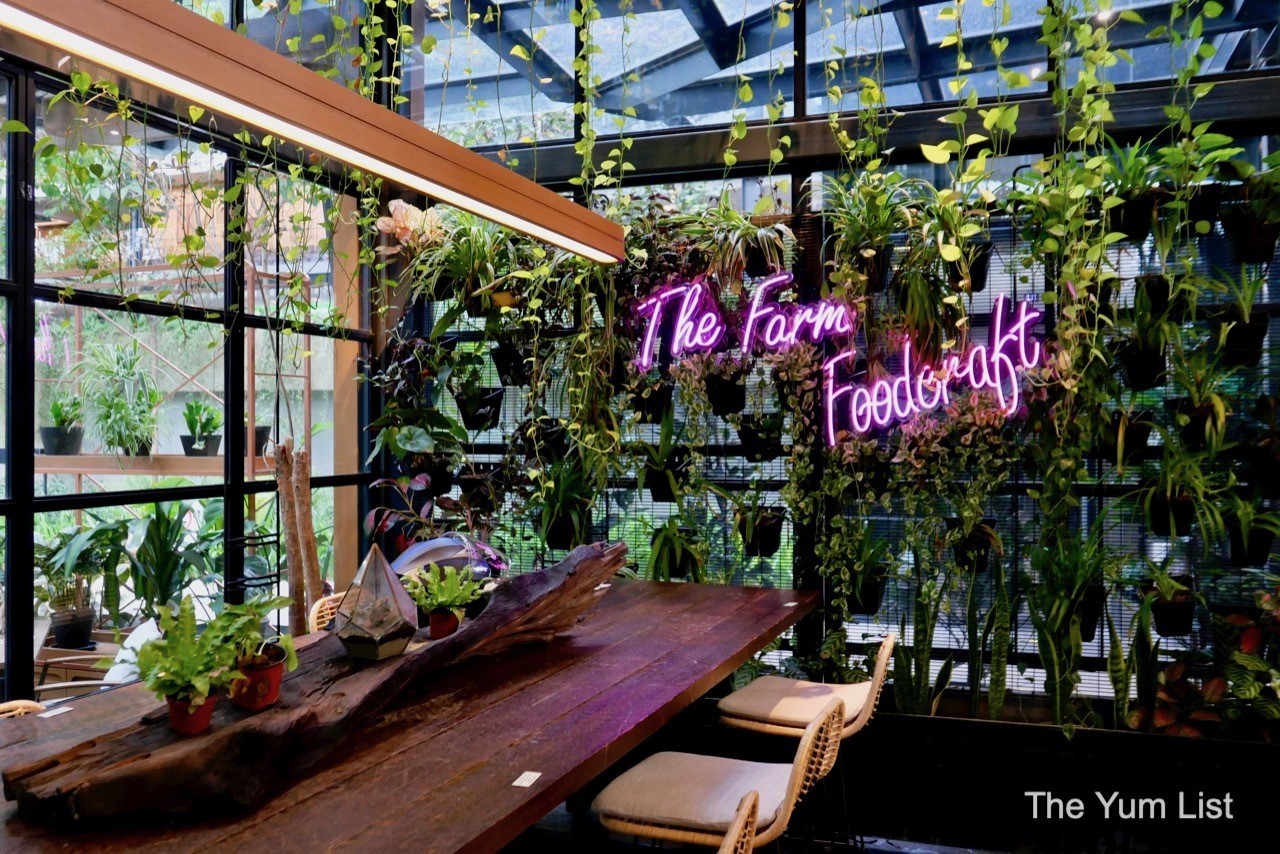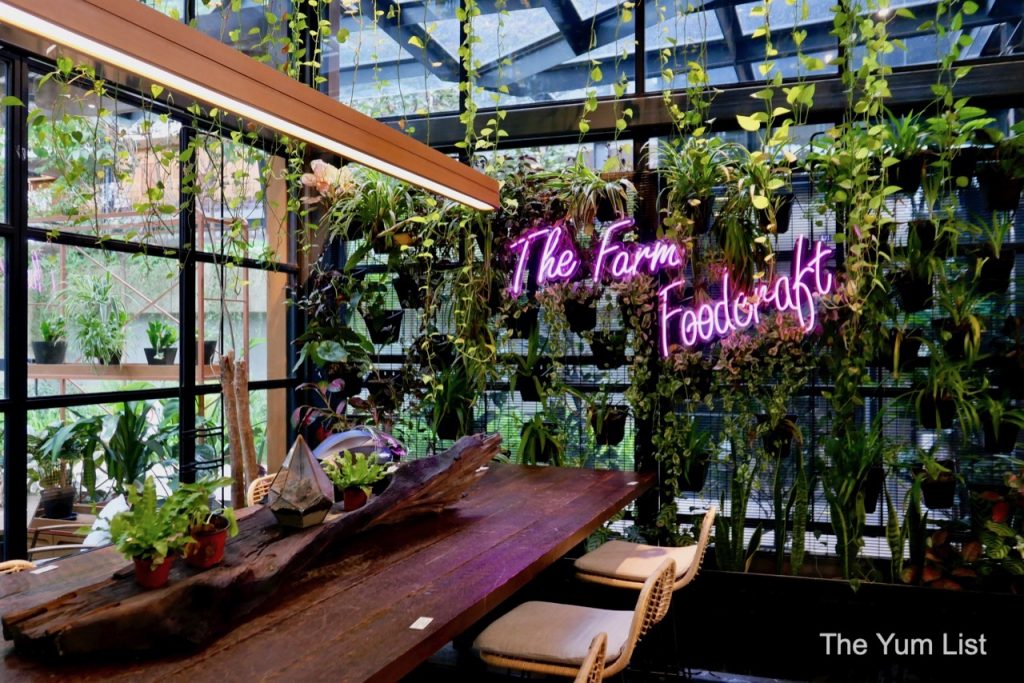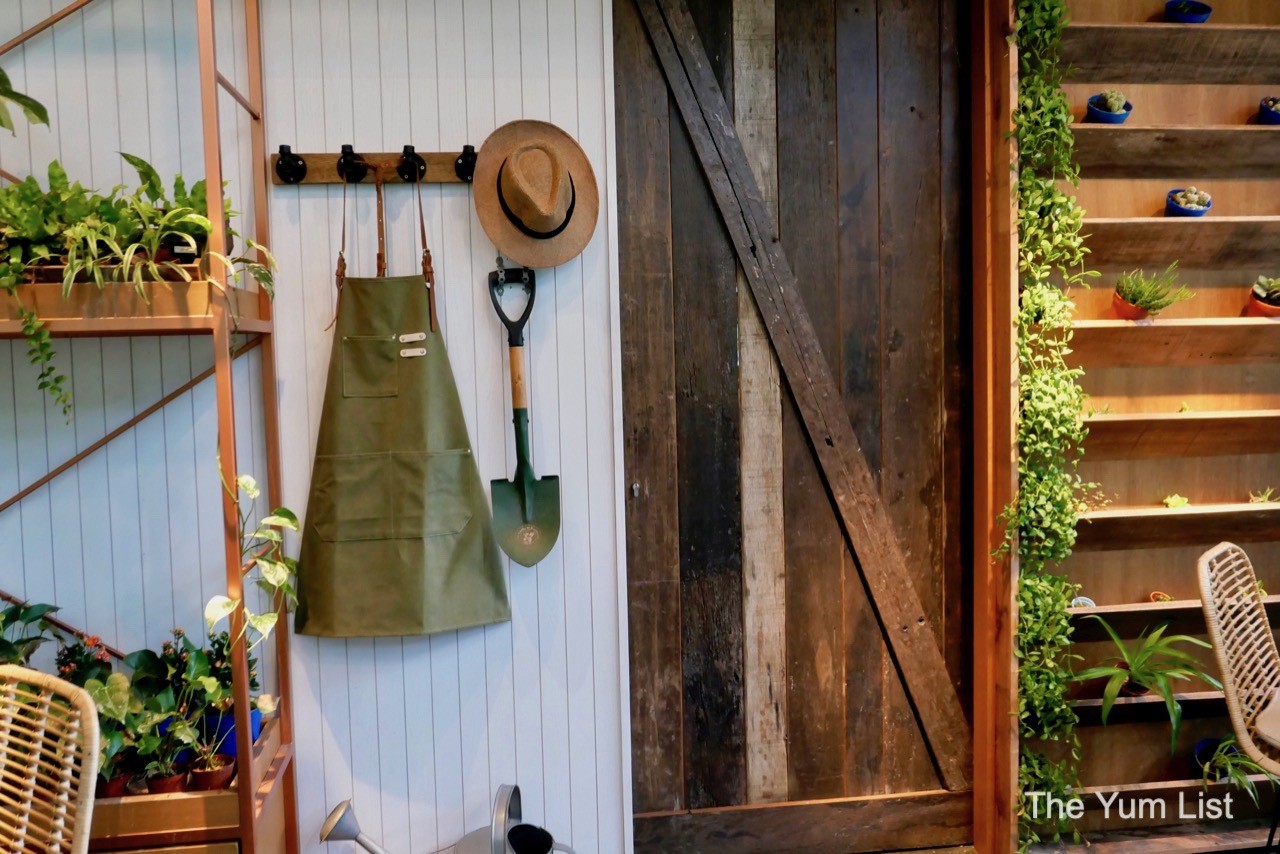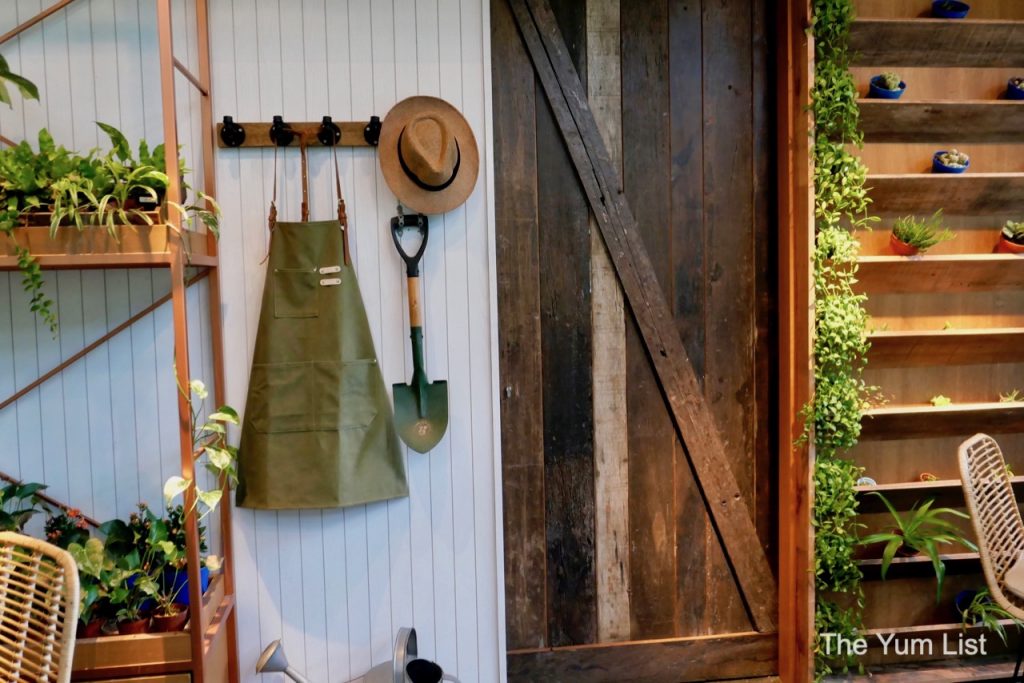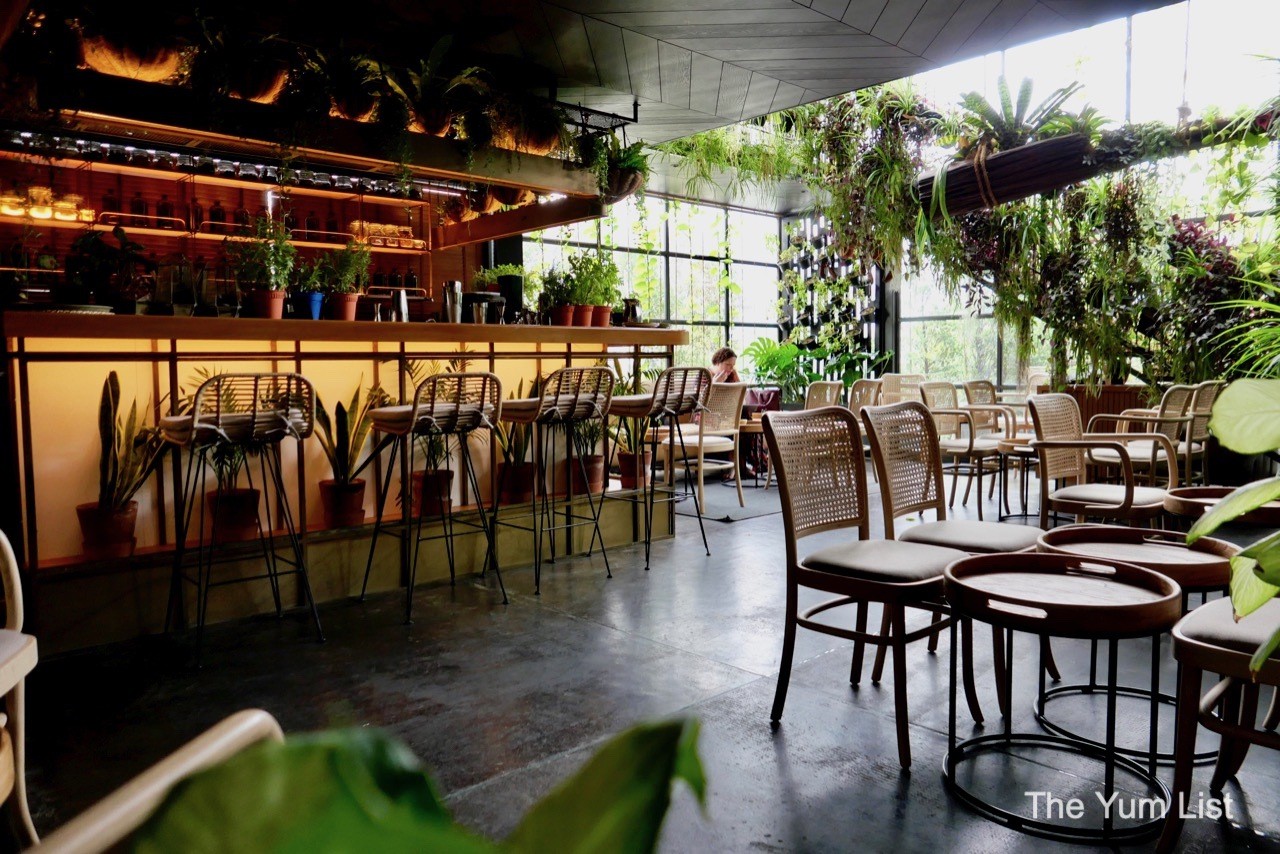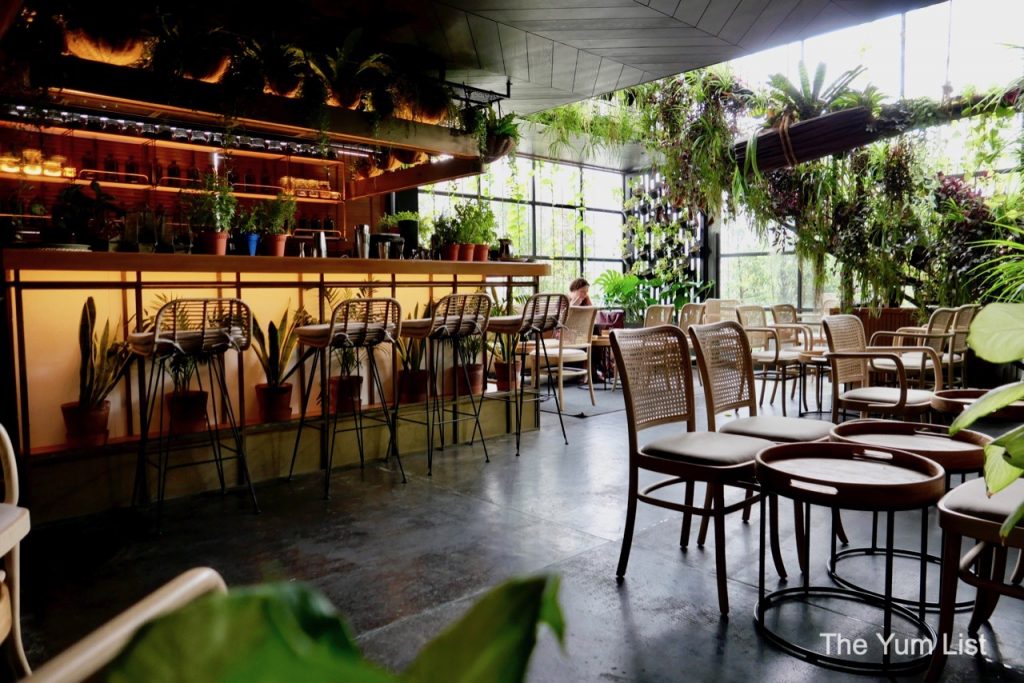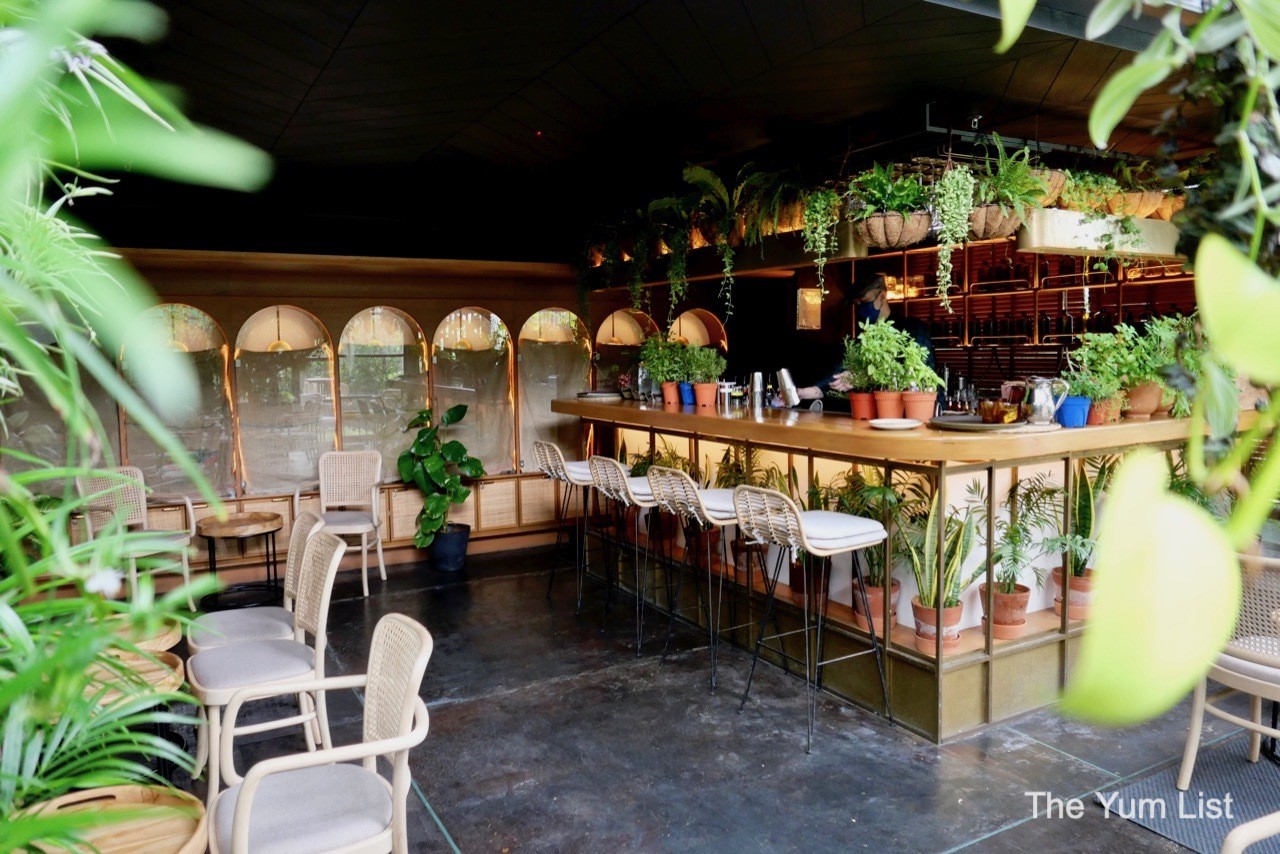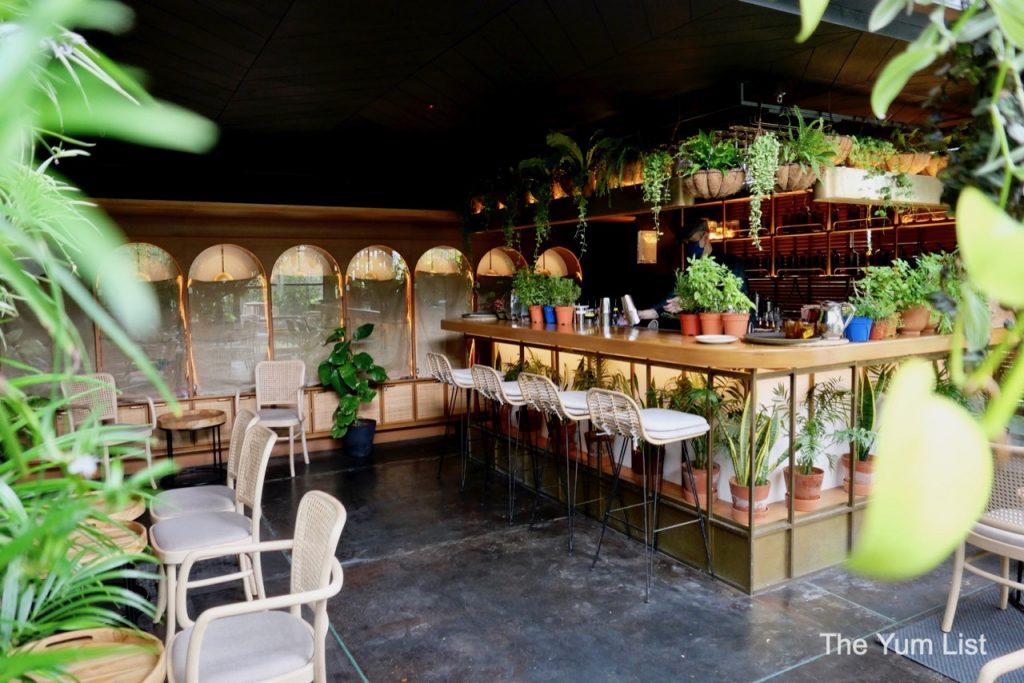 Cocktail Bar at The Sphere Bangsar
Fantastic as the setting is, I'm sure you are curious to know about the drinks! Alvin has created a selection of 18 cocktails, broken down into three distinct sections. They are all priced at RM 39++, so there is no arguing for splitting the bill at the end of the night. This is a deliberate decision, so the guests may focus on what they fancy and not the price-point.
The ingredients of the cocktails are the key focus and are explained in detail, along with the name and the flavours to expect. They are beautifully illustrated by hand drawings. Many of the ingredients are grown directly on site. Although the menu does not expressly tell you, each drink is a twist on a well-known classic. Alvin explains that the fun is in the preparation, with some individual components requiring 24 hours of maceration, with huge attention to detail every step of the way.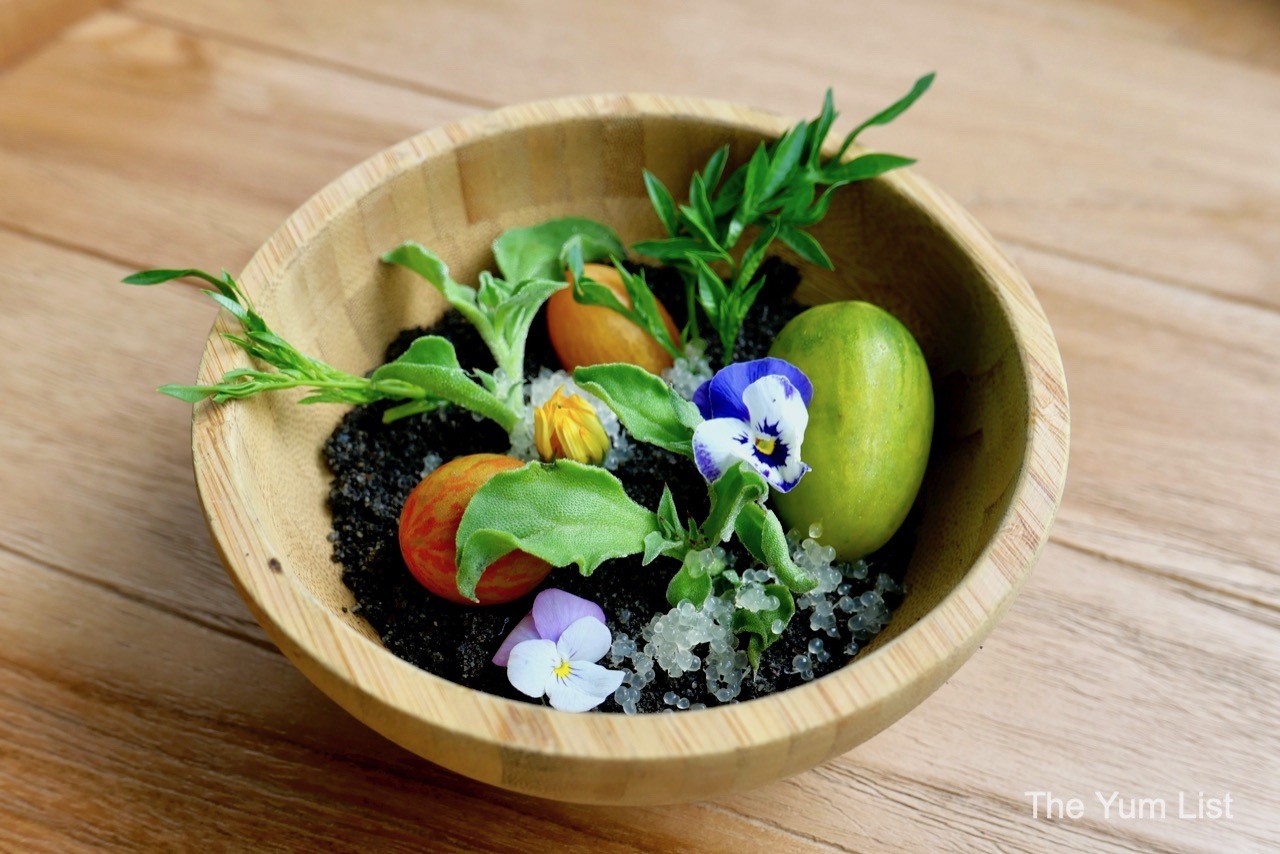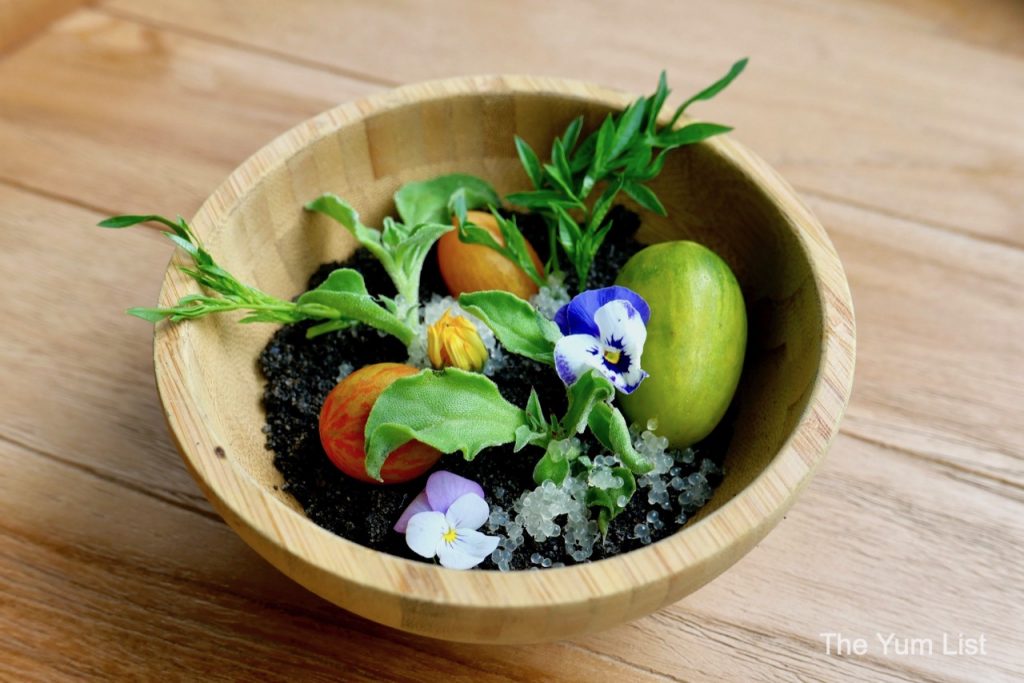 The Curious Gardener – Plant the Seeds
The Plant the Seeds section of drinks are designed to be as if they are still growing, therefore, refreshing and light. Something to get the palate going.
Twisting my Melons is, as the name describes, a twist on a gin and tonic. Fig leaf gives the drink a herbaceous note whilst Osmanthus adds the depth. Purple basil for the aroma served with sago flavoured with pandan complement the melon-infused gin. The drink is a delicate pale lilac, which initially you might mistake as the colour of the glass itself. It's no wonder that this is the most popular drink on the menu. Truly light and refreshing, we both enjoyed this. As the focus is on the ingredients themselves, the specific spirit brand is of no relevance.
Goji no More is based on a Paloma and served in a tall glass. It's gorgeously decorated with a jellied cube with goji berries and the osmanthus by-product used in Twisting My Melons. There is a strong emphasis on a zero-waste concept, which makes Mon's and my hearts sing. Grapefruit peel is soaked in sugar (Oleo Saccharum) for the citrus oil to add the middle flavour without the pithy bitterness. Williams pear adds another level of fruitiness, and Mezcal gives it the oomph to create a sandy orange drink. It's also served in a high ball glass with the most gorgeous garnish; this time serrated orange peel and Indian borage. Even the garnishes have been given more care and attention than many might give the entire drink! It's clear that the herbs in his nursery are getting just the right plant nutrients!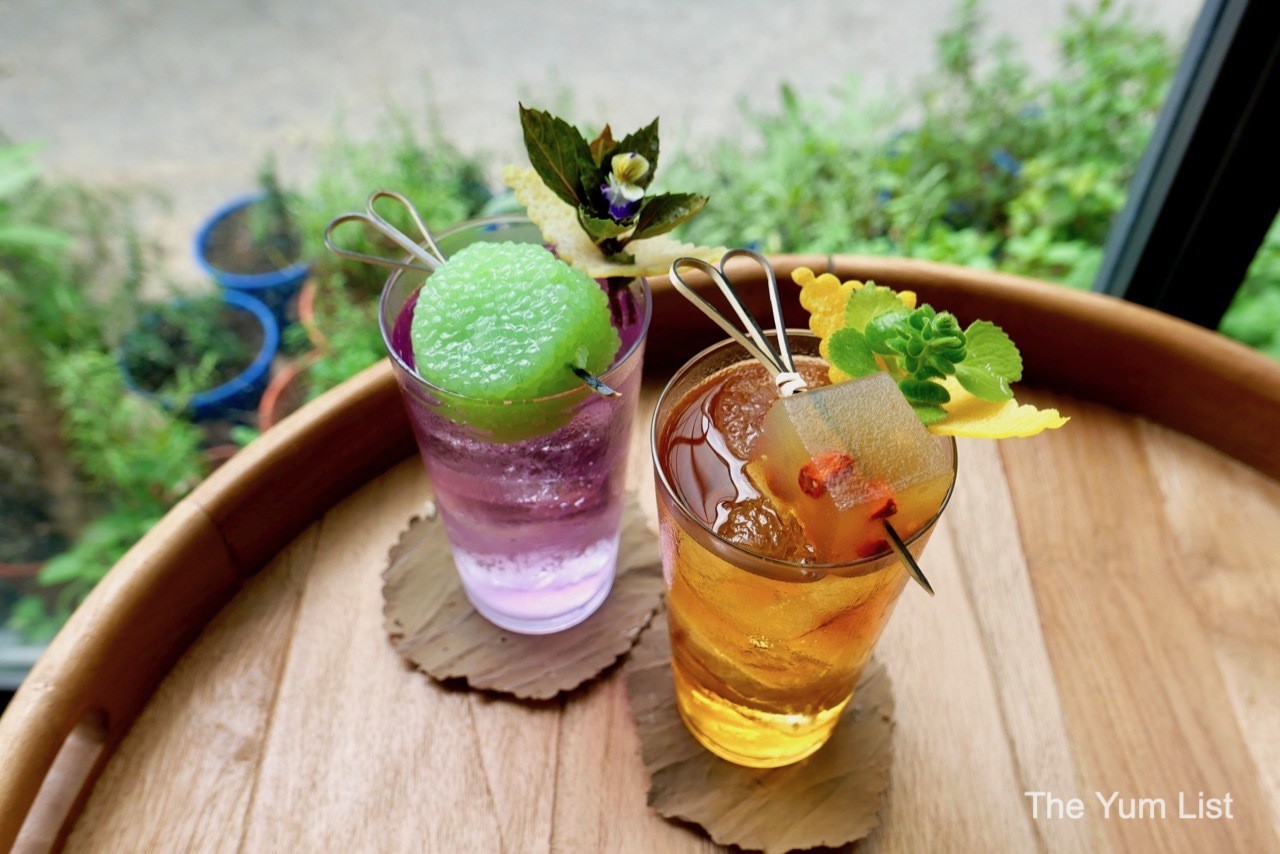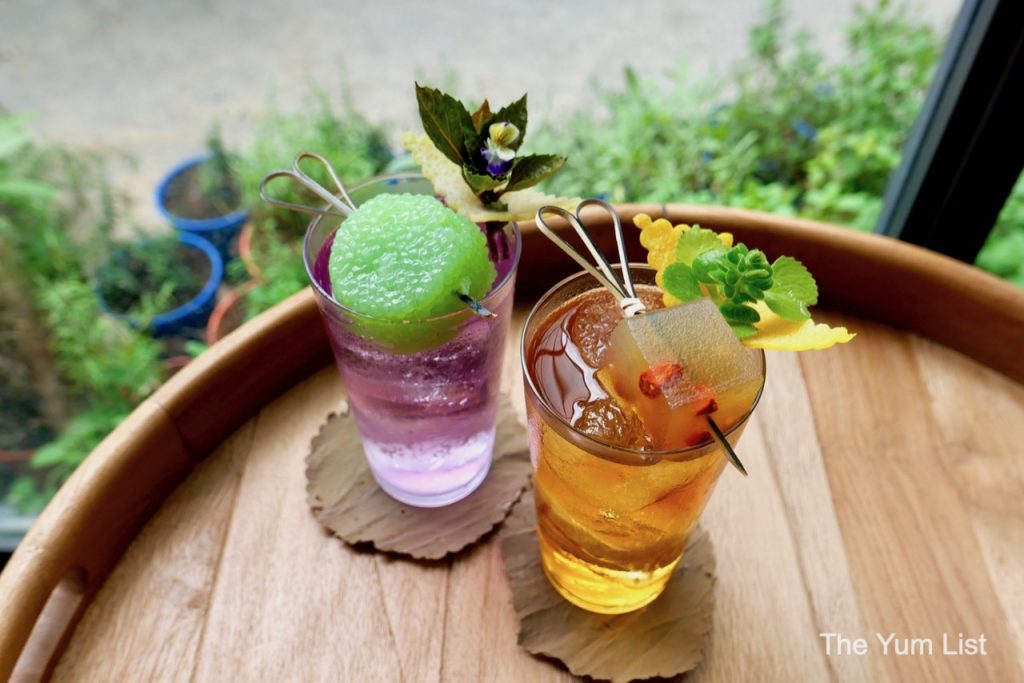 Water the Plants
The Water the Plants section of the menu highlights slightly more developed flavours, leaning more towards sweet and sour style.
Corny Parody is a take on a whisky sour… without the whisky. Fat-washed Genever replaces the liquor and is a very deliberate ploy on Alvin's part to introduce a little-known spirit. Personally, I find genever a little on the astringent side, which made him all the more determined to prove me wrong. A delicate-stemmed glass presents a pale straw-coloured drink, topped with a dehydrated corn crisp, made from the husks of the same corn used for the foam that tops the drink. Drinking from the glass (not through a straw) allows the aromas to be highlighted, giving a hint of the biscuitiness you find in champagne. Lemon adds to the peach and brown butter, and I have to admit that it's absolutely yummy with none of the feelings of eating a plate of herbs, which I usually find. I guess he proved me wrong after all!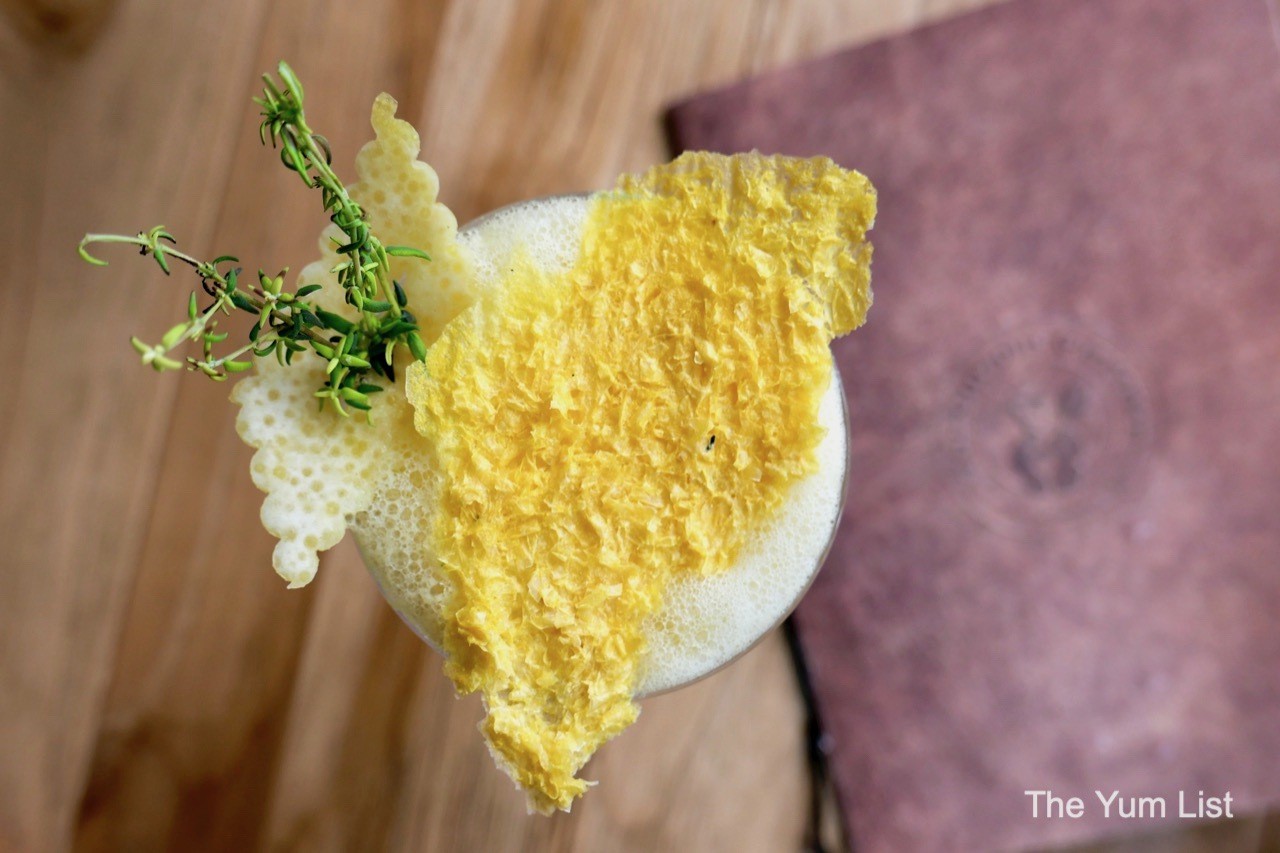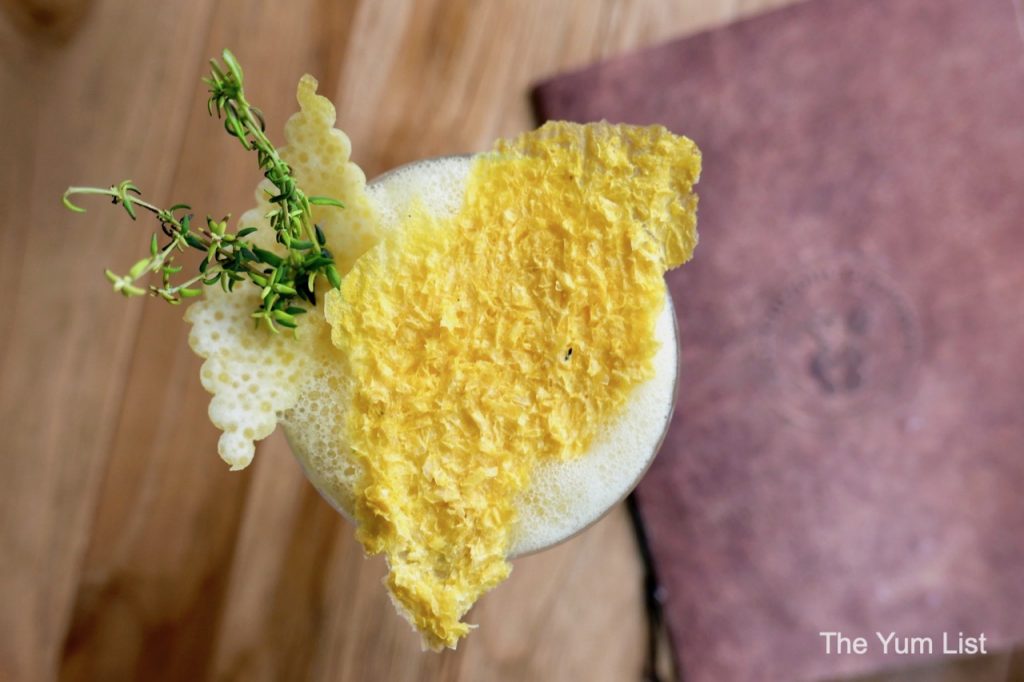 Holy Shitake, our next beverage, is a beetroot-coloured base drink, owing to the blueberries, sporting a gloriously contrasting green foam on top. That is thanks to the wheatgrass and is beautifully decorated with a pickled shitake mushroom and violet leaves. The shitake firstly infuses the gin. The fungus is pickled in red wine vinegar and rice wine vinegar, sugar, salt, ginger, rosemary, coriander seed, nutmeg, star anise and pink peppercorns. The drink has a real depth and length and, dare I say, has a slightly Malaysian flavour to it. The garnishing mushroom is so delicious. I rather hope that Alvin will start selling them in a jar to take away.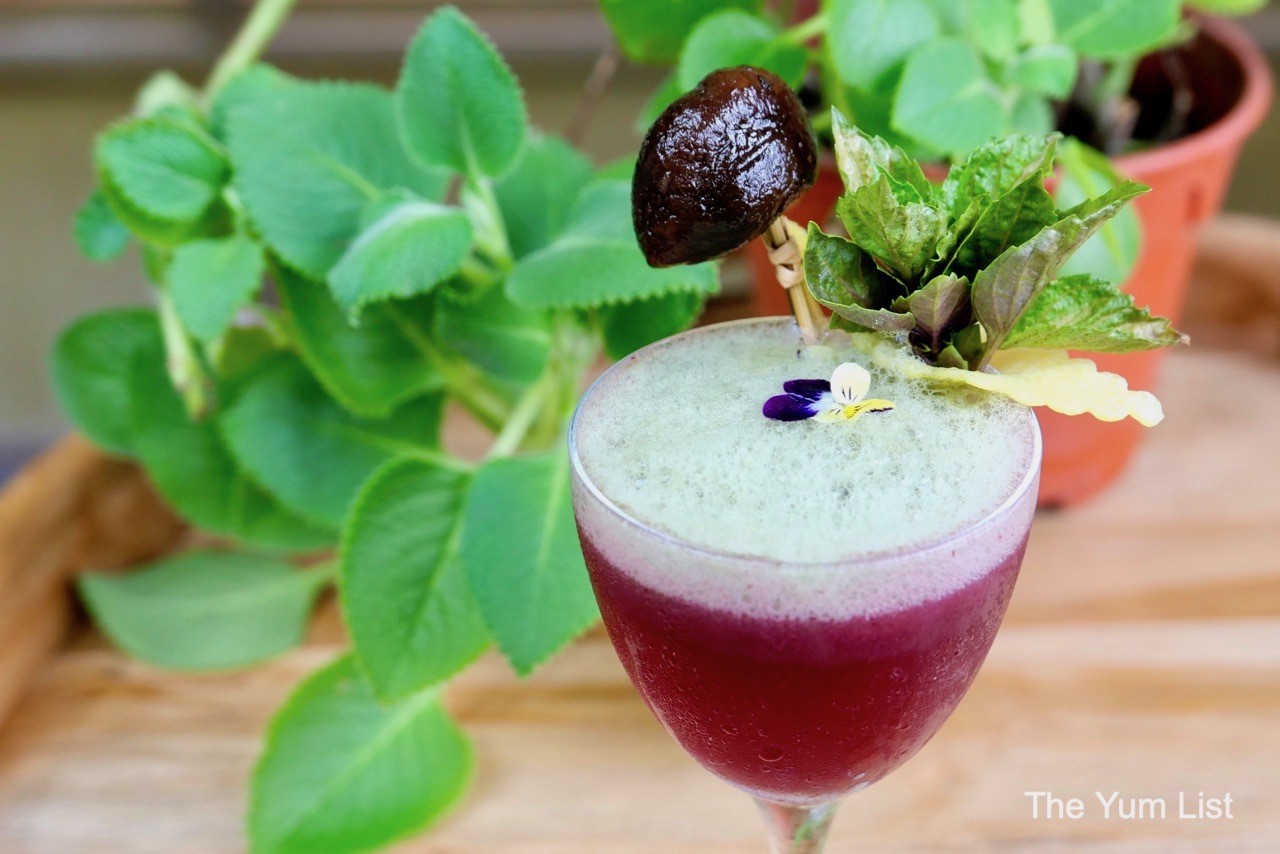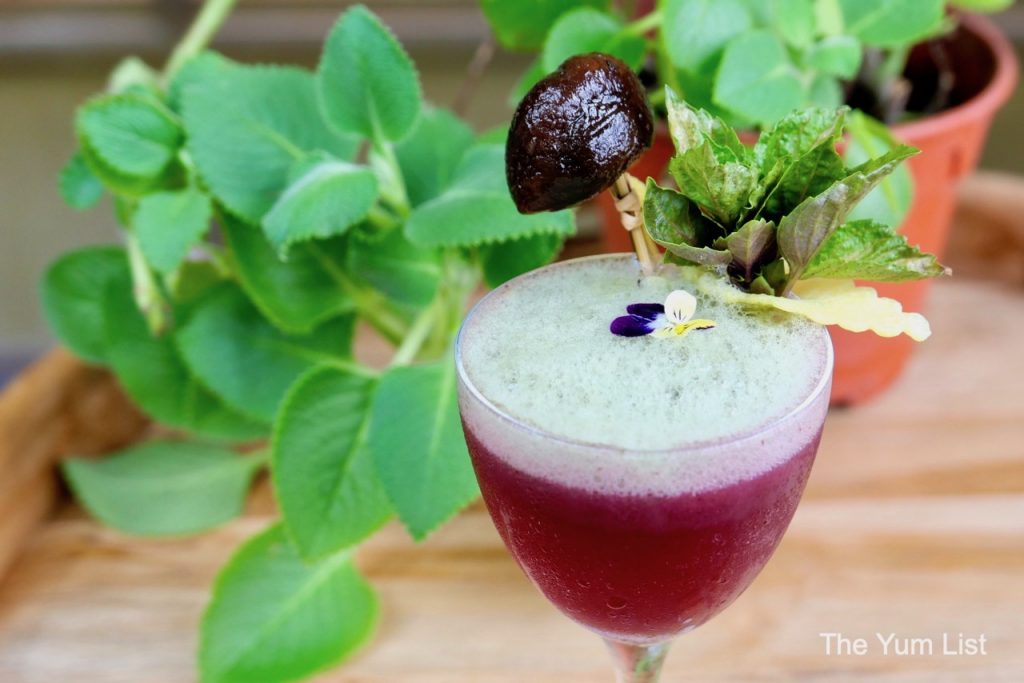 The Curious Gardener – Harvest the Crops
The Harvest the Crops collation is given over to much more full-bodied, full-flavoured beverages, great for rounding off the night.
Our fellow drinkers suggested that we try Umami Valley, so who are we to refuse? Strawberry gin infusion is blended with a tomato fortified wine infusion and laksa leaf, coming together to create a savoury, herbal and aromatic drink. Umami Valley is served in a stoneware cup, topped with a dehydrated tomato crisp and a garnish of orange. This is a real 'grown-up' drink, what you might think of as a savoury digestif rather than a pre-dinner cocktail. Just the right sweetness from the strawberry lifts this wonderful concoction.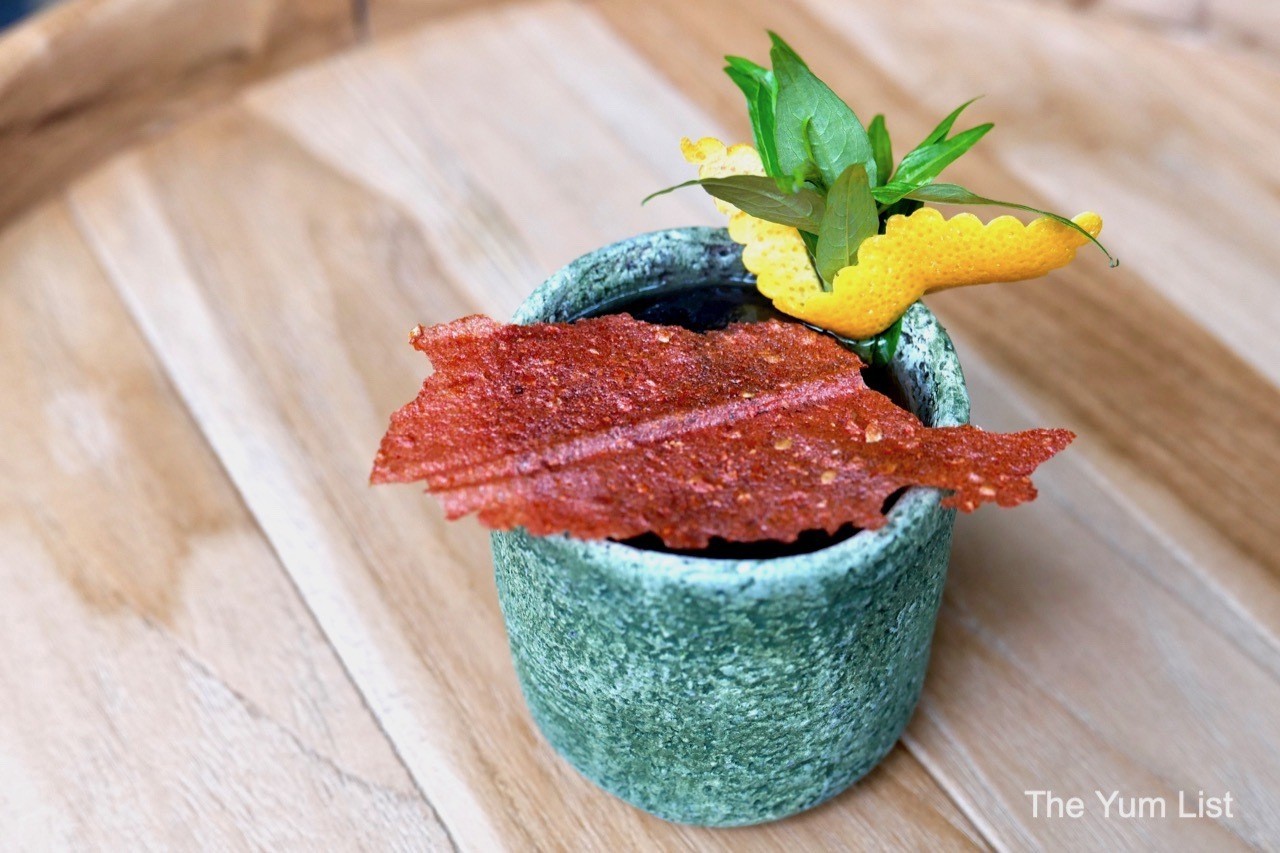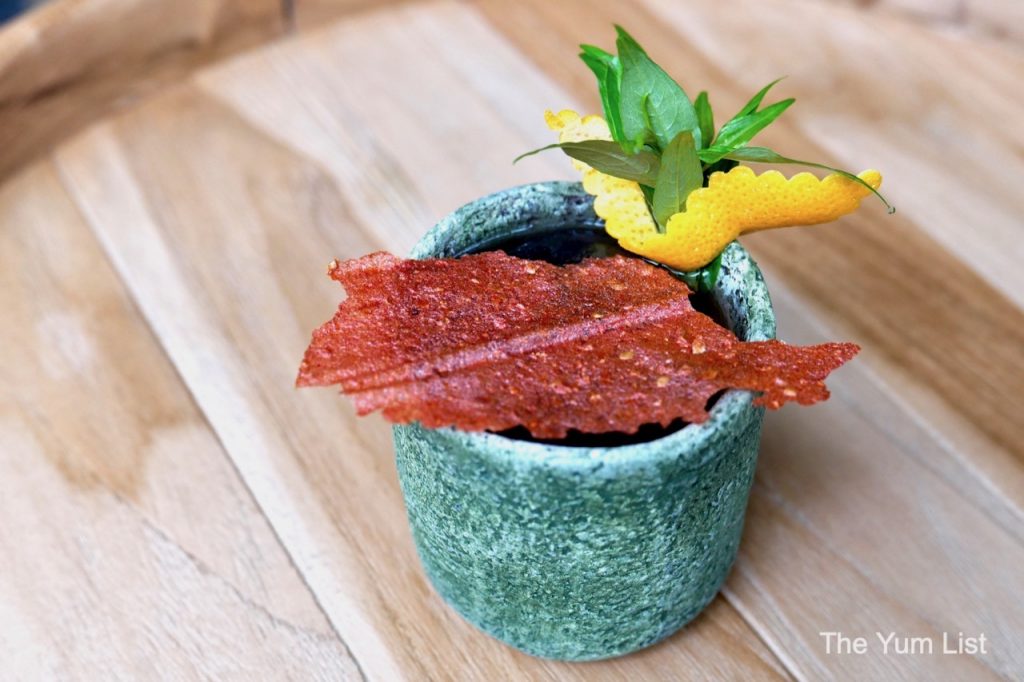 Awesome as Duck was another choice of mine – greedy, I know. Sugar Cane Rum is blended with orange Curacao, duck fat-washed brandy, black walnut tincture and artichoke to create a very serious looking drink. It's served with a giant cube of ice, topped with radish and decorated with Alvin's signature citrus peel/herb combo. Duck a l'orange in liquid form is how Alvin describes this. Based on a negroni, this is a rich, deep and bitter drink, which is pleasantly relieved, by the sliver of radish. I'd definitely suggest this as "one-for-the-road" rather than an aperitif.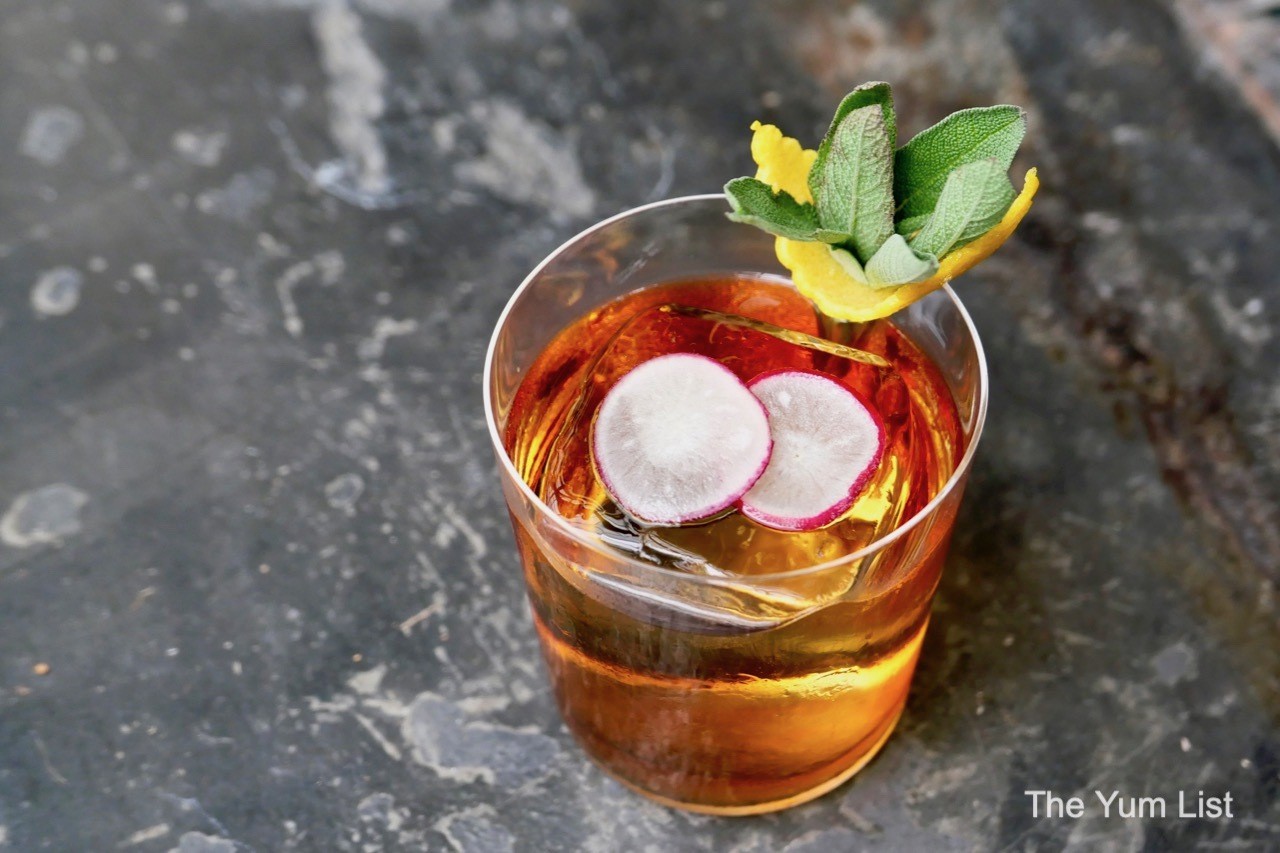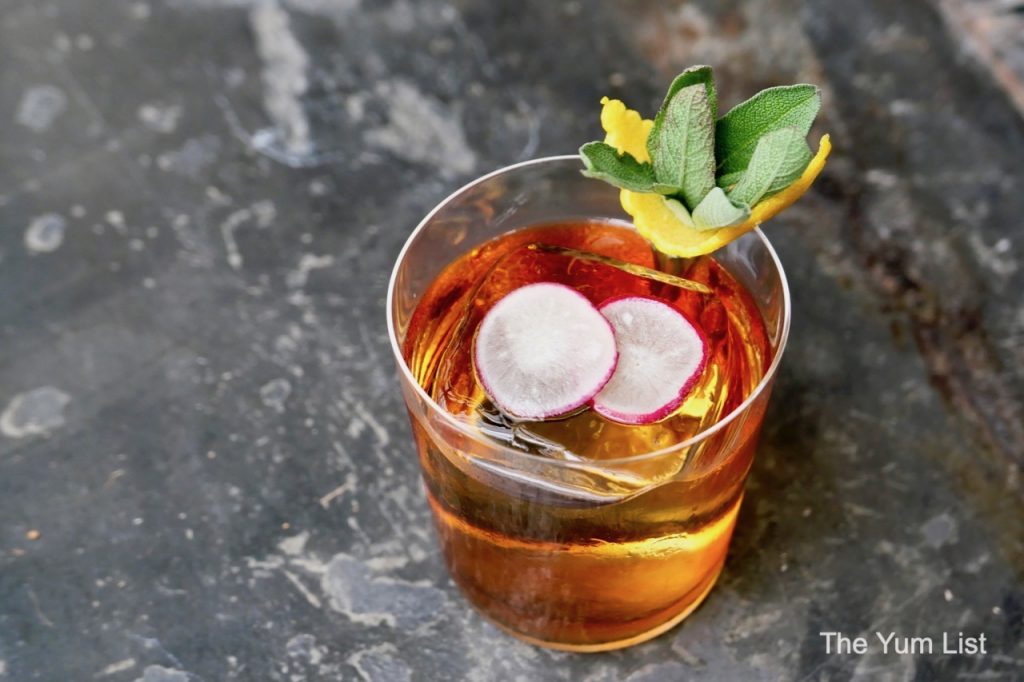 To finish off our drinking feast (can one have a drinks feast?!), Alvin suggests we try Milky Whey, loosely based on carrot cake, using clarified carrot and soy milk – safe for you lactose intolerants out there. Gin being the leading spirit is sweetened with honey and boosted with a manzanilla sherry infusion and rosemary garnish. Remembering that zero-waste is the game here, the 'waste' carrot pulp is made into a cracker with sesame and chia seed, tomato pulp, lemon and salt, to adorn the glass.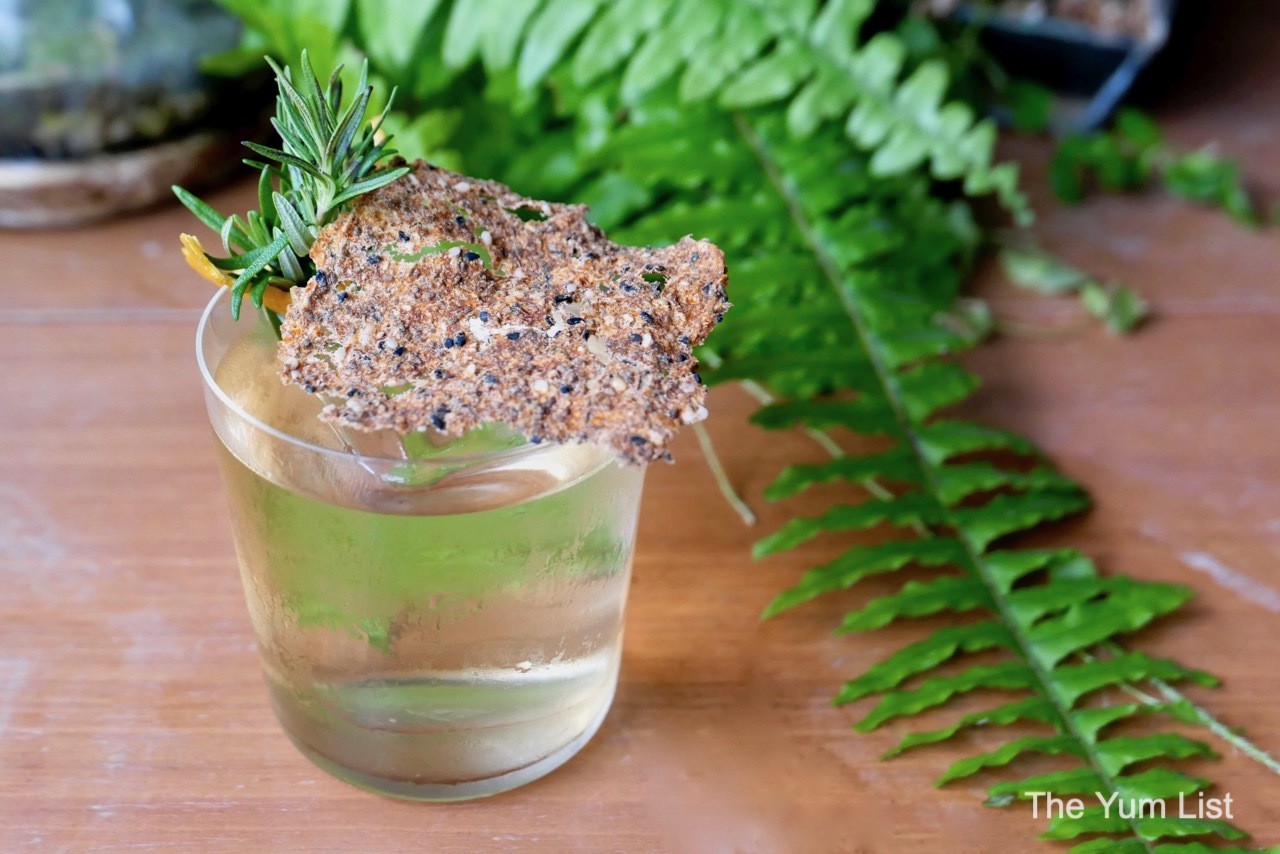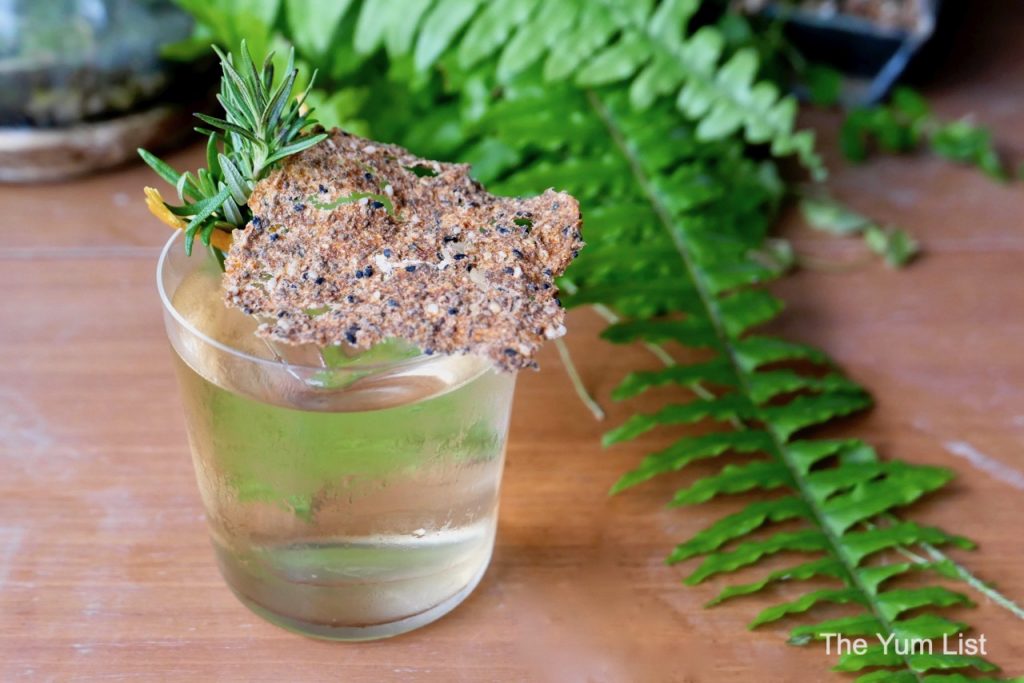 Surprisingly (well, to me, anyway), having overlooked this option on the menu, this ended up being my favourite one of all. Whilst having real length and depth, it had a refreshing acidity to balance it out beautifully.
The Curious Gardener Review
We both loved everything about this hidden little gem, from the inspired cocktails to the greenery strewn setting to Alvin's dapper, unique style, to the homegrown herbs. The Curious Gardener is a must-visit for cocktails lovers.
Reasons to visit The Curious Gardener: a jungle in the city; thoughtfully balanced, creative cocktails; zero-waste; funky vibes; our new favourite bar!
The Curious Gardener
G-01, Level Ground,
The Sphere Bangsar South City,
59200 Kuala Lumpur, Malaysia
https://www.facebook.com/thecuriousgardenerkl/
The Curious Gardener Opening Hours
Daily 4 pm – 12 pm
Find more KL bar recommendations here, and stay up-to-date on the latest gourmet and travel happenings around Malaysia here and here.