POP Pizza Mid Valley
Monica Tindall
Let me be clear from the start. POP Pizza is a vibrant, fun contemporary pizza joint. I imagine teenagers, children and a youthful audience loving the menu here. Over-the-top crazy shakes piled with candy higher than the glass itself are bound to make eyes bulge. Modelled after an American diner, this is not a place for traditionalists who wish to argue over the length of the ferment of an Italian dough from the north versus the south or the level of leopard-spotting on the crust. You should be forewarned that pineapple is considered a topping for pizza, and the menu is both alcohol and pork-free. So, if you're going to fuss over the details, read no further. However, if you want a place that is inclusive of a wider audience, has plentiful meat-free options and is guaranteed to make a teen tummy rumble, do give POP Pizza a try.
POP Pizza Delivery Menu
As hinted to in the introduction, we're looking for something a little different from the menu today. Having no teen stomachs in our home, actually being quite fussy when it comes to crust tradition and enjoying a glass of wine with a meal, we turn to satisfy a different interest – meat-free choices.
POP Pizza has an abundance of vegetarian items on the menu, and it's from those that we select today's pickings. When the food arrives, we have no trouble picking out our delivery driver from others also waiting in our condo lobby at lunchtime – the packaging literally screams, "Hello!" Taking inspiration from the Pop art movement, it's near as eye-catching as the food itself. Bold geometric designs on bags and boxes could be well suited for reusable gift bags.
To Start
Who can resist avocado? Certainly not me! Hence, Guac-to-Order (RM 26) is the first item to catch my eye. Fork-mashed avocado is blended with tomato, cilantro and interestingly… diced green apple. An olive salad accompanies, and it's given a unique POP twist served with pizza crisps.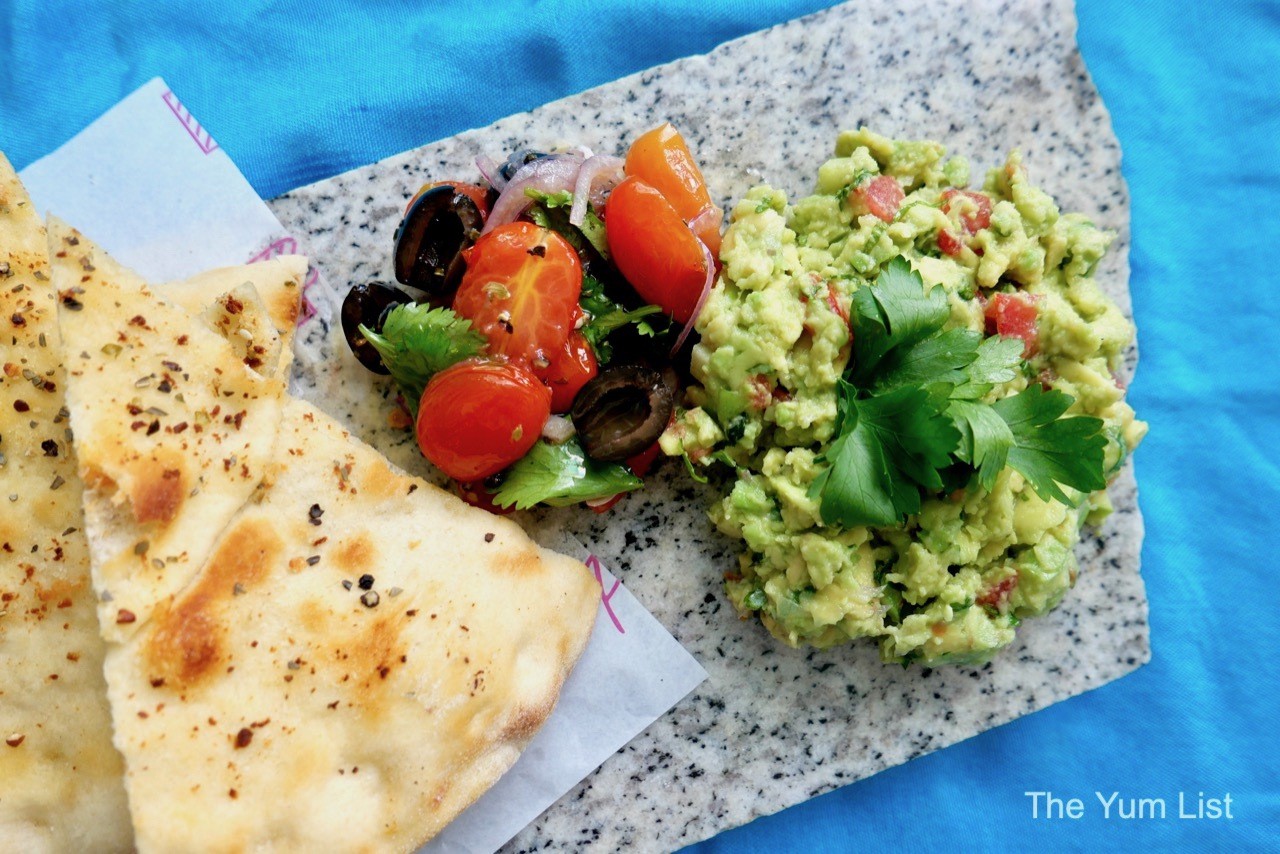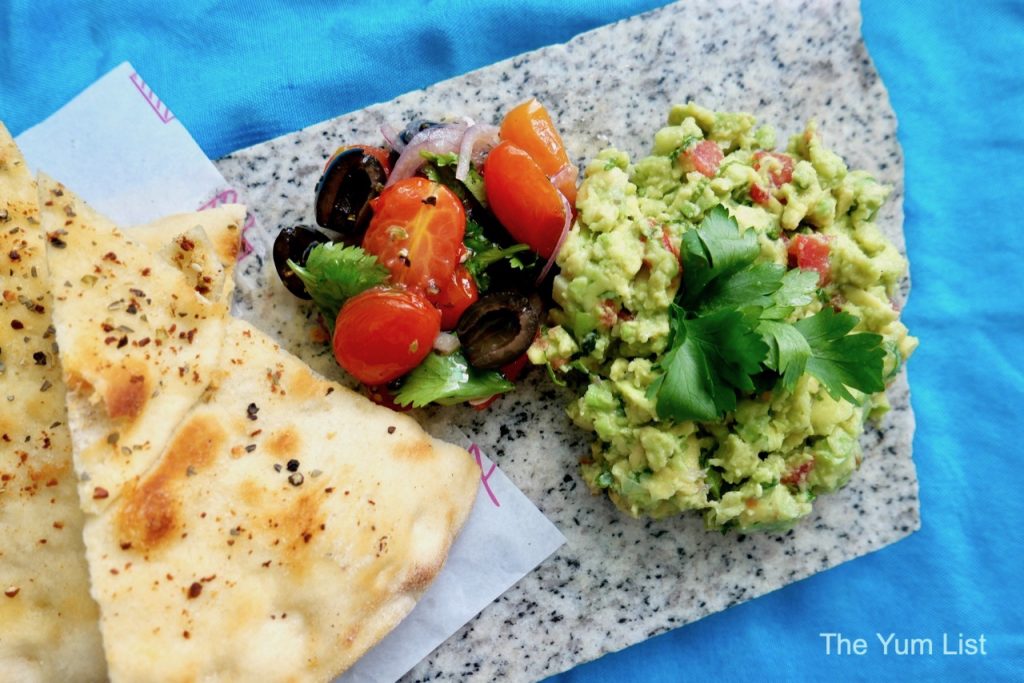 Another healthy option is found in the Italian Pop Salad (RM 24). It's composed of mixed lettuce leaves, cherry tomatoes, red, green and yellow capsicum, avocado and feta cheese. A honey mustard dressing comes on the side along with a tub of pizza chips for topping at will. It's fresh and tasty.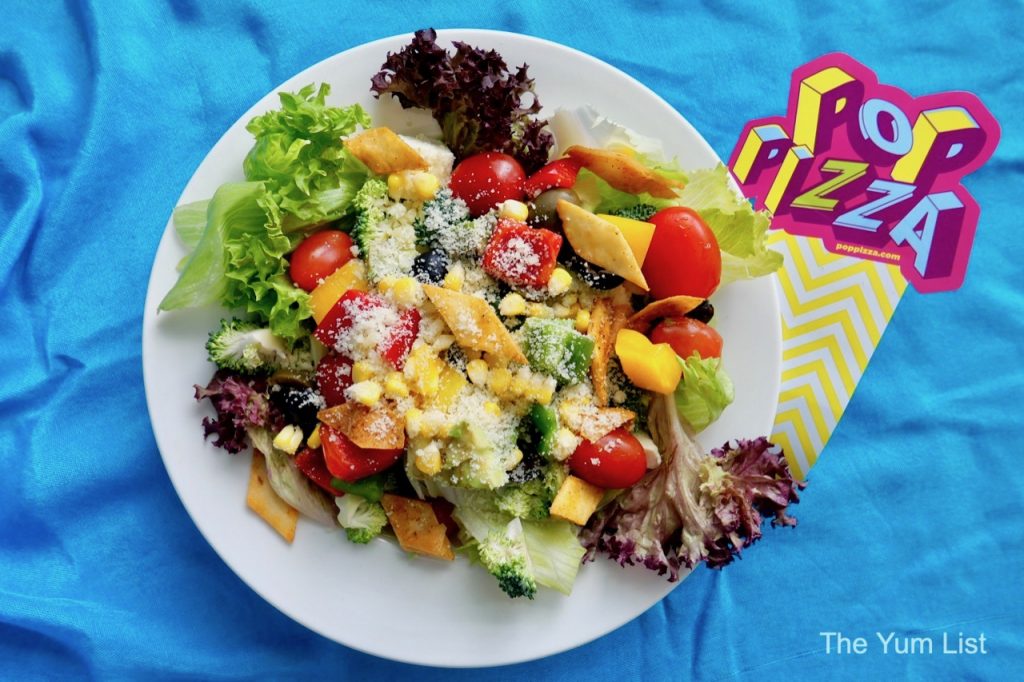 Pizza
POP Pizza offers five different pizza styles: Napoli, Sicilian, New Yorker, Classic Italian and Classic American. We try the first three.
The Napoli-style crust is their signature. It's a little floppy in the middle with a puffy edge. The 12-inch dough is hand-tossed and cooked in the wood-fire and gas oven and sprinkled with black sesame seeds. In line with our meat-free choices, Napoli Tricolore (RM 33) is a vegetarian option. It's spread with a tomato cream sauce and pesto and topped with bell peppers, fried capers, spinach, garlic, eggplant and mushrooms.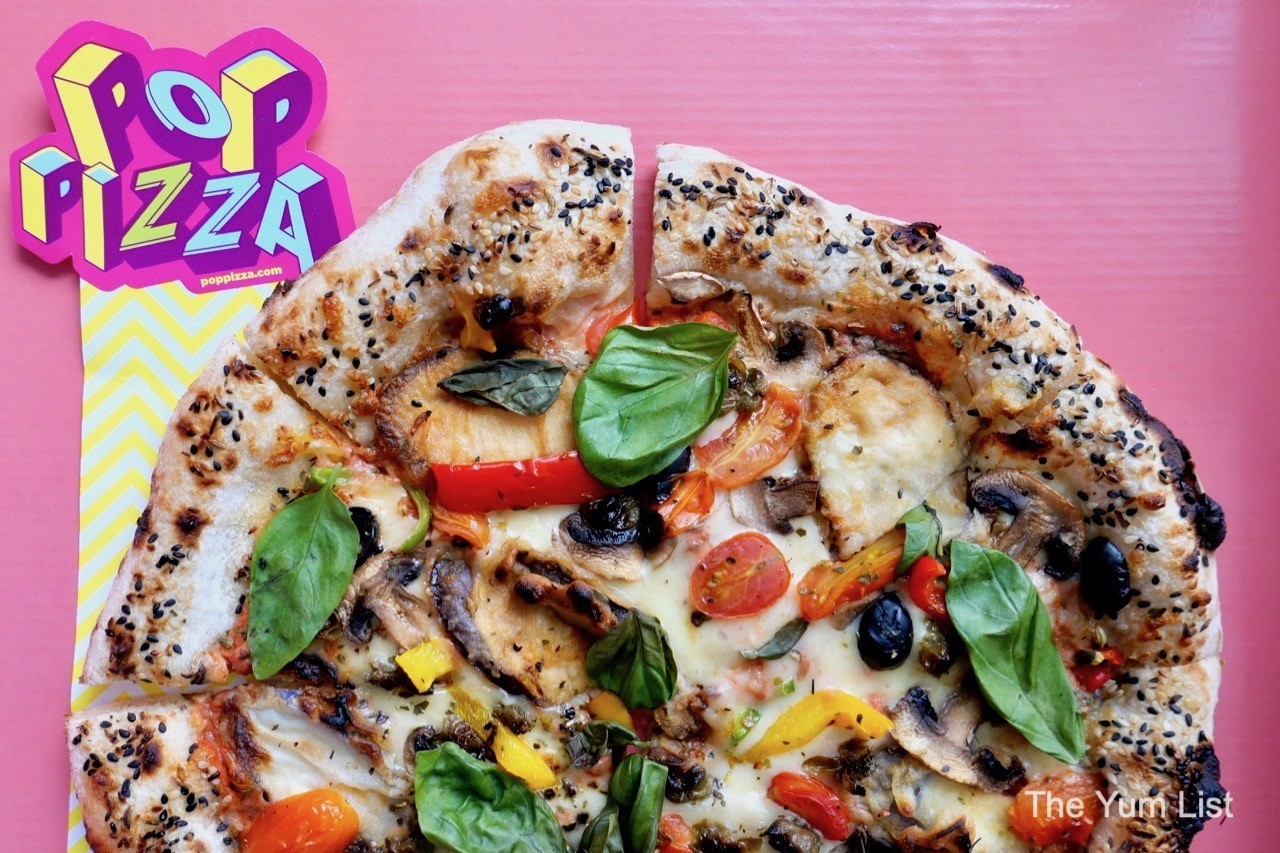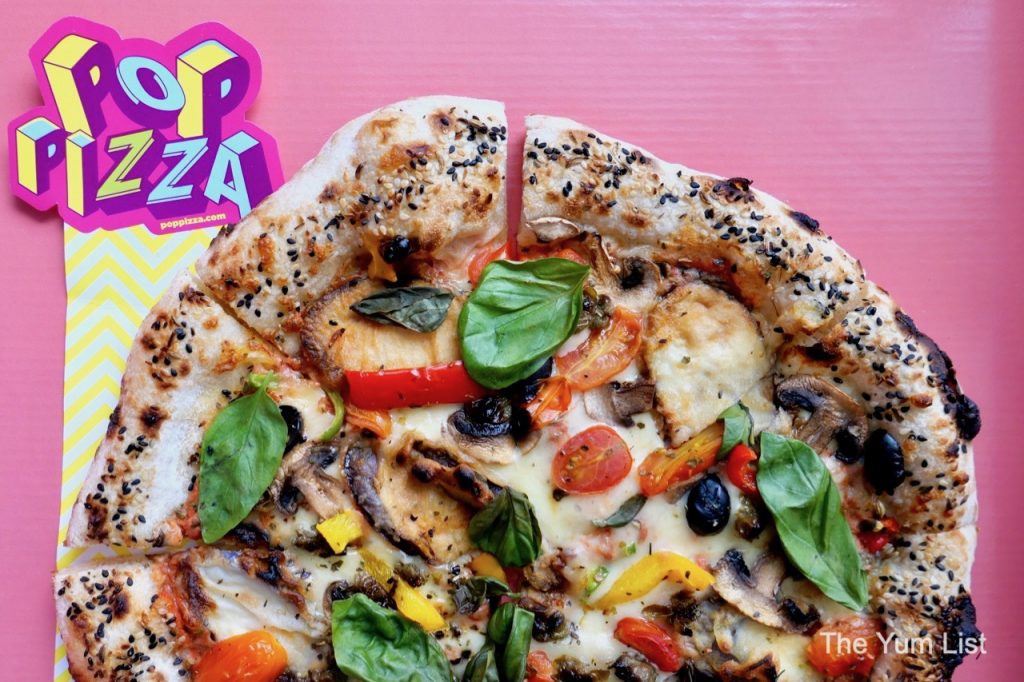 We're too curious not to try Grandma the Hippie (RM 55), a 14-inch Sicilian-style rectangular pan pizza. The crust is fatter than most focaccia or bread rolls – you are getting a load of carbs in every single mouthful. Sweet Romano tomatoes, Parmesan, mozzarella, basil, and roasted bell peppers cover the top.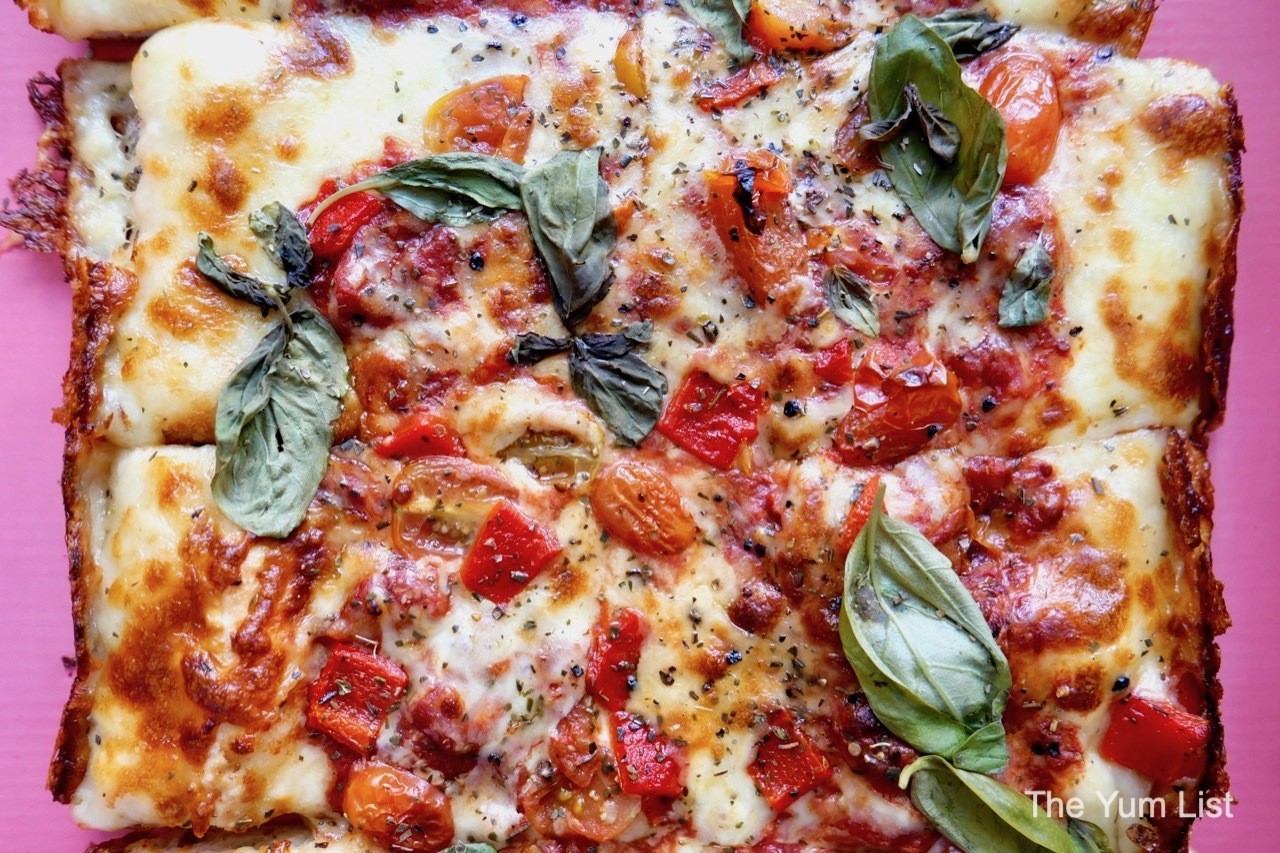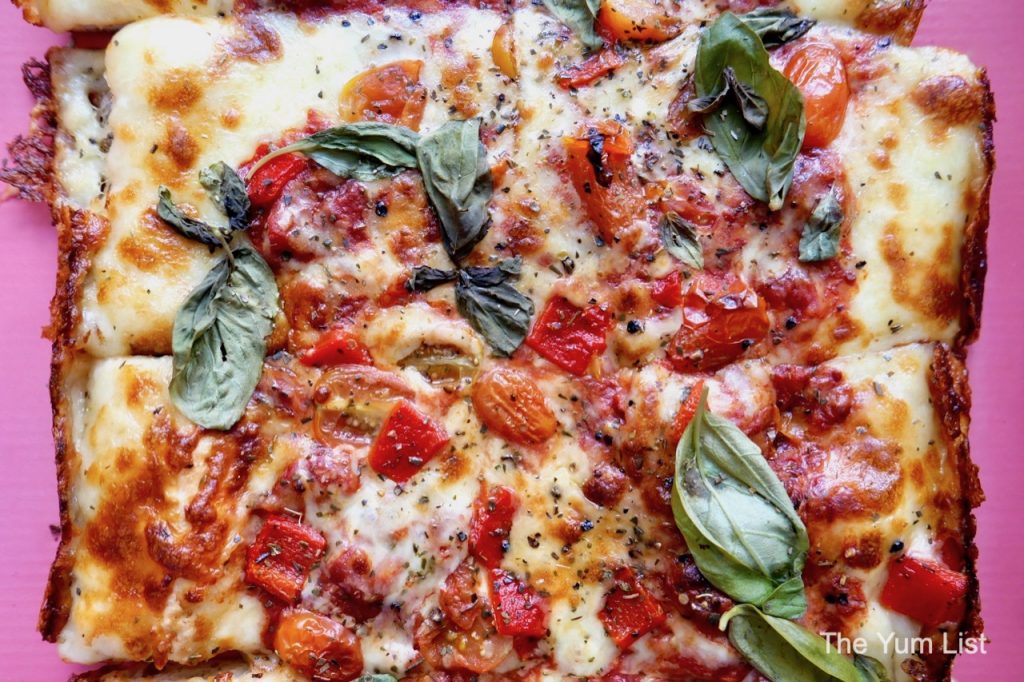 Lastly, the New Yorker Classic (RM 42) sees a 16-inch pizza baked in a flat-top deck oven at 700 degrees Celsius. Each crust is finished off with pecorino and oregano along with your choice of toppings. We have a simple but tasty combo of tomato sauce, spinach mascarpone and garlic flakes.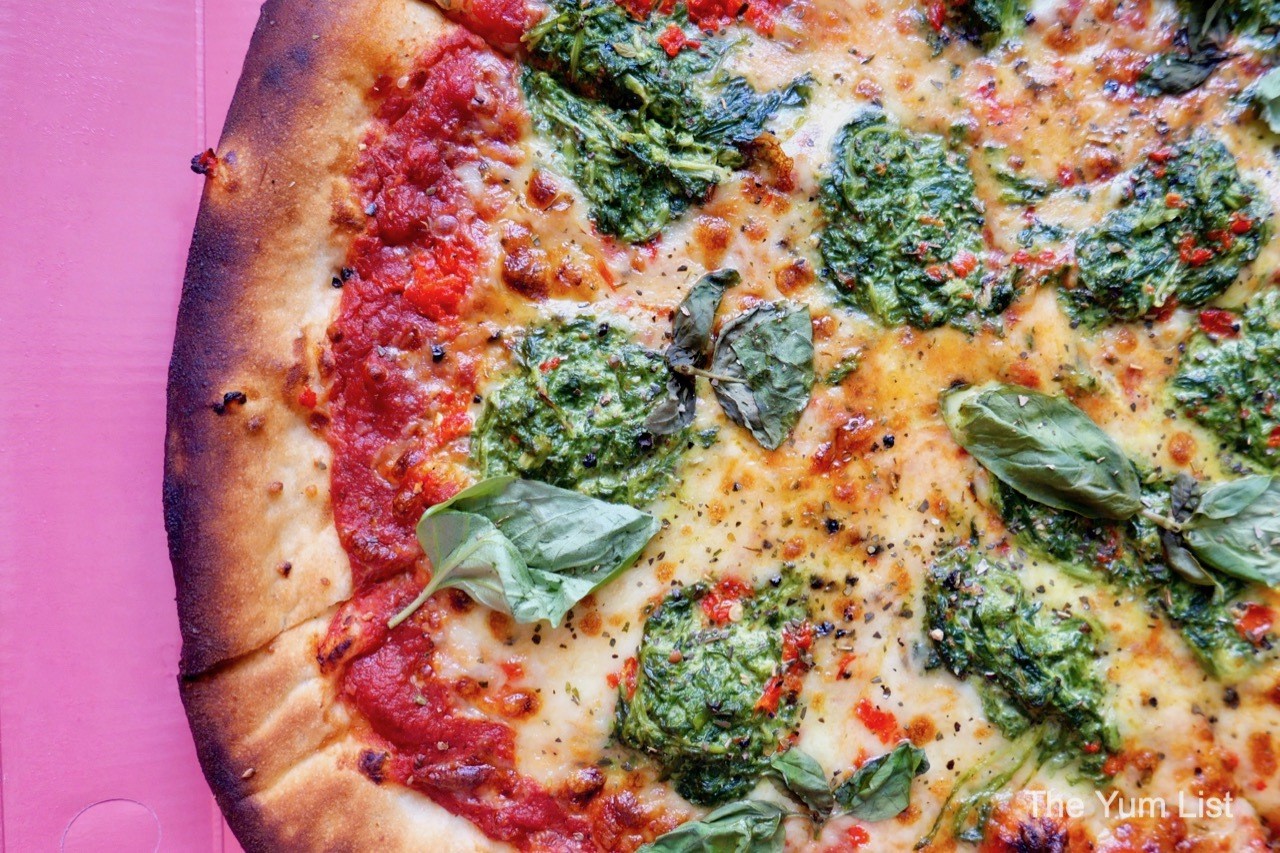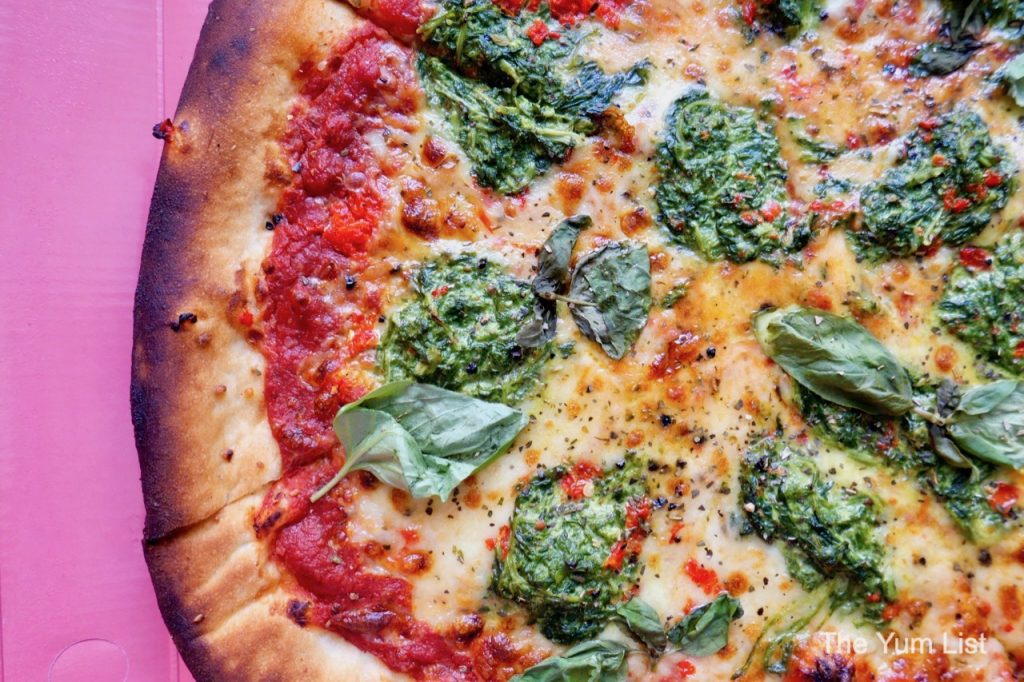 POP Pizza Drinks Menu
As mentioned, to have the complete experience at POP Pizza, you really should try one of their crazy shakes. As they would go to waste in this home, we take the healthier route with two pressed juices – Pop Me Up! (RM 18, apple, beetroot, carrot, orange) & Popping Coo! l (RM 18, apple, orange celery). Vittoria Coffee is also served for those wanting a little caffeine-aided digestion.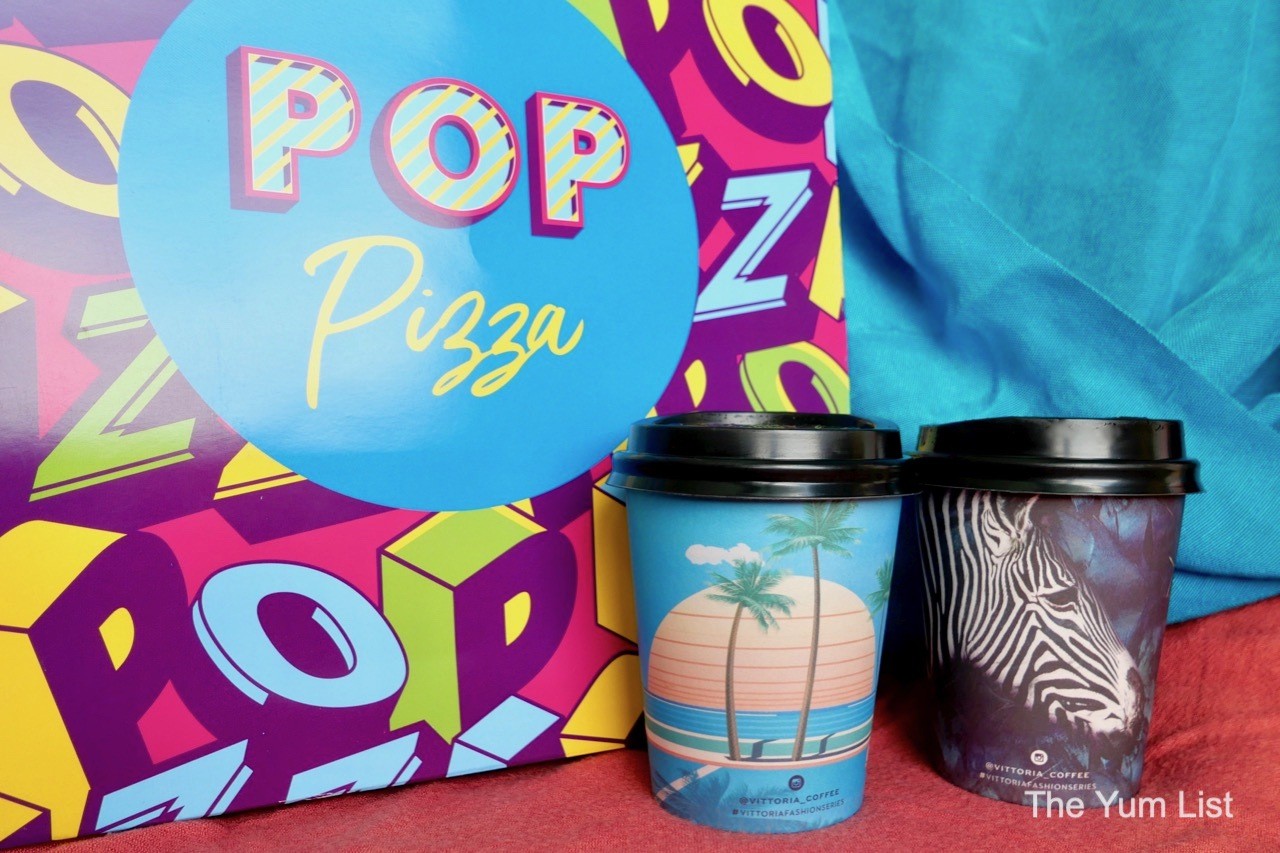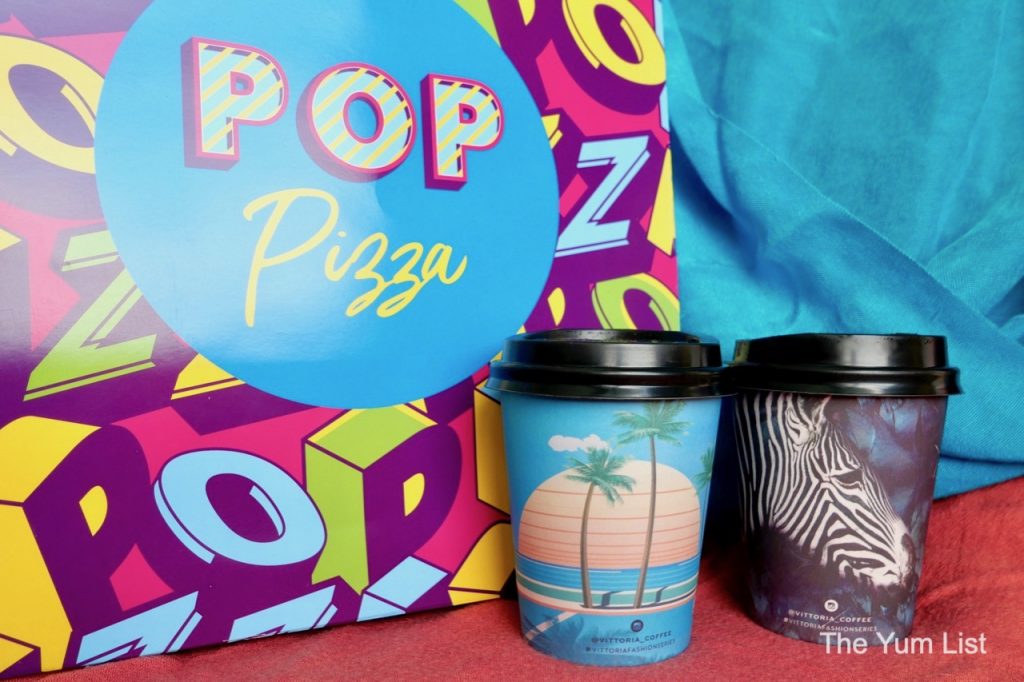 Reasons to order from POP Pizza: options to include a wide audience (alcohol and pork-free) with plentiful meat-free choices; vibrant, colourful menu; carb addicts are bound to be satisfied with fat crusts and overloaded sugar shakes.
POP Pizza
LG-043, Mid Valley Megamall
Mid Valley City, 58000 Kuala Lumpur, Malaysia
+6 03 2201 1660
www.facebook.com/poppizza.my
POP Pizza Opening Hours
Daily 10 am – 10 pm
Find more food delivery services in KL here and stay up to date with the latest happenings around Malaysia here and here.