Rooftop Restaurant KL
Words: Monica Tindall Photos: Rich Callahan
If you've been following The Yum List, you'll know I'm one of the more cautious ones when it comes to dining out over the pandemic. I'm naturally an anxious person and am proactive, especially in terms of health and safety. With dine-ins allowed once again, I'm both keen for a change in scenery but also want to feel comfortable. The team at Cielo KL in Changkat Bukit Bintang offers a low-risk dining experience with strict adherence to SOPs and their breezy rooftop restaurant location.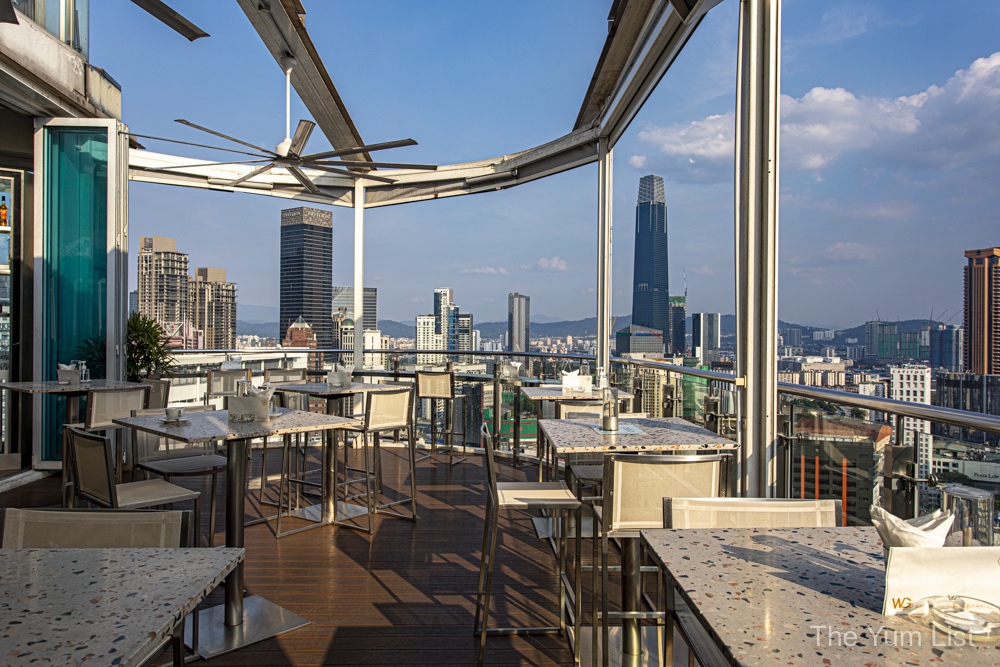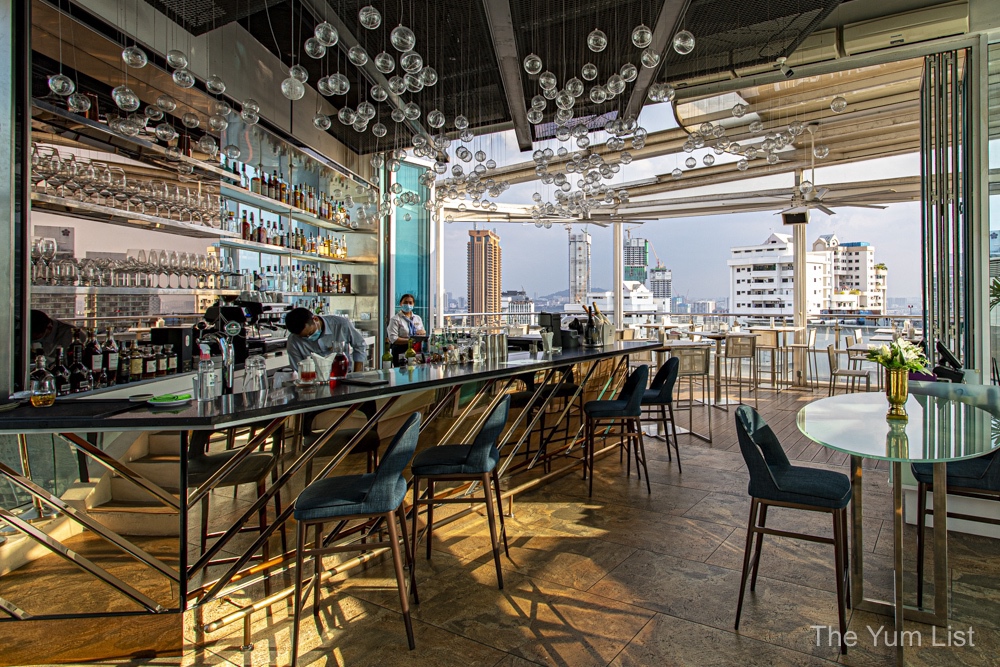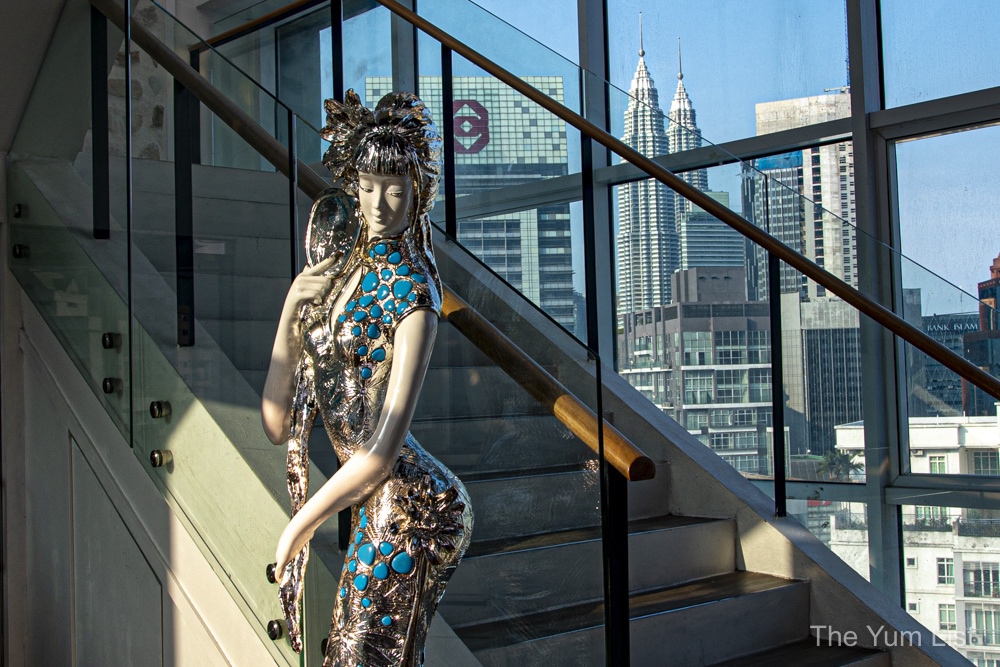 Rooftop Restaurant KL
Pandemic or not, the rooftop restaurant is a hit with those looking for a fabulous location to dine. The airy double-storey restaurant and bar are stylishly fit, making them ideal for a date night or evening out with beloved friends.
Showing care from start to finish, guests are greeted with a welcome beverage in the lobby reception on the ground floor. Register, take your vodka-lime (or assam boi) shot and be delivered to the 23rd floor. Covering two levels, Cielo Kuala Lumpur has a casual entrance with a glimmering blue pool and white lounges. The bar is the perfect place to begin with a cocktail, of which all are made on premium spirits. We highly recommend arriving before sunset to observe the magnificent transformation from day to night. The top deck is semi-covered and fit with giant ceilings fans further cooling the air.
Cielo Kuala Lumpur Menu
The open kitchen is full of a smartly dressed team. Pinstriped aprons and white uniforms give a very professional vibe. And, we feel in very competent hands with Spanish chef Manuel Robles as the lead.
For the past month, my main meals have been mostly delivery. While there are some excellent options out there, I am overjoyed to be eating off a ceramic plate again, having had no transition in a cardboard box between the kitchen and the table. The menu here has a definite Spanish theme. It's loaded with seafood from around the world and has a decadent grill section for those who prefer the land.
Rooftop Restaurant KL – Degustation Menu
I'm all about degustation menus (RM 398++ per pax) as they take away the pain of choosing. Cielo's showcases their seafood dishes, but they're happy to adapt to non-seafood eaters, too, and that's what Rich gets tonight by including some à la carte options. You can add on a wine pairing of three glasses for an additional RM 110++, which of course, I do.
Mini laugen bun with house-churned saffron butter launches the degustation menu with style and promise. The bread is warm, and the yellow butter has a hint of sea-saltiness; perhaps there is a little anchovy or something of the sort mixed through?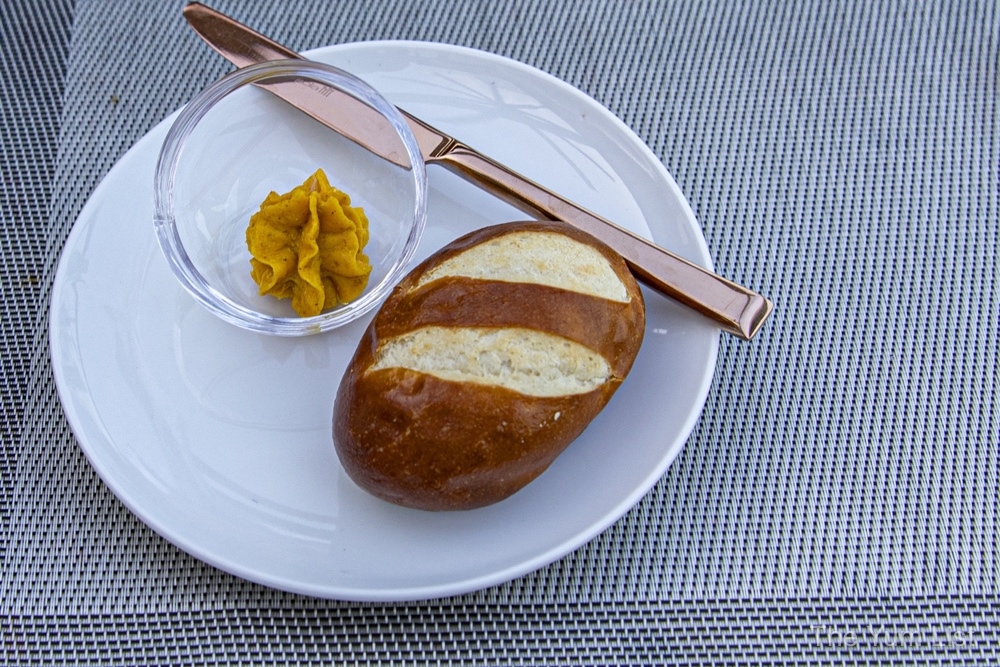 First Course
It's luxury from the start with Hot & Cold Duck Foie Gras (RM 80, à la carte). The rich fattiness of pate and seared foie gras is complemented with the sweetness of dried figs, a raisin compote, Moscato jelly and red wine pear reduction. While Rich polishes that off, I'm swept up in Pulpo a la Gallega in the degustation line-up. This Spanish recipe sees the octopus grilled, giving a tender middle and paper-thin, crisp coat. It's super succulent and accompanied by confit saffron potatoes in extra virgin olive oil.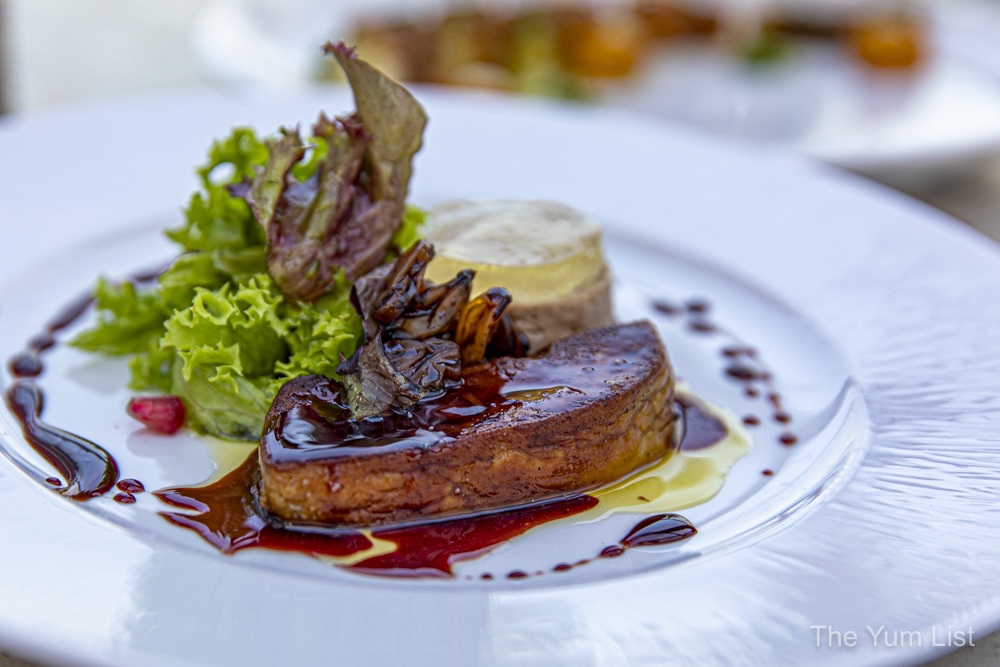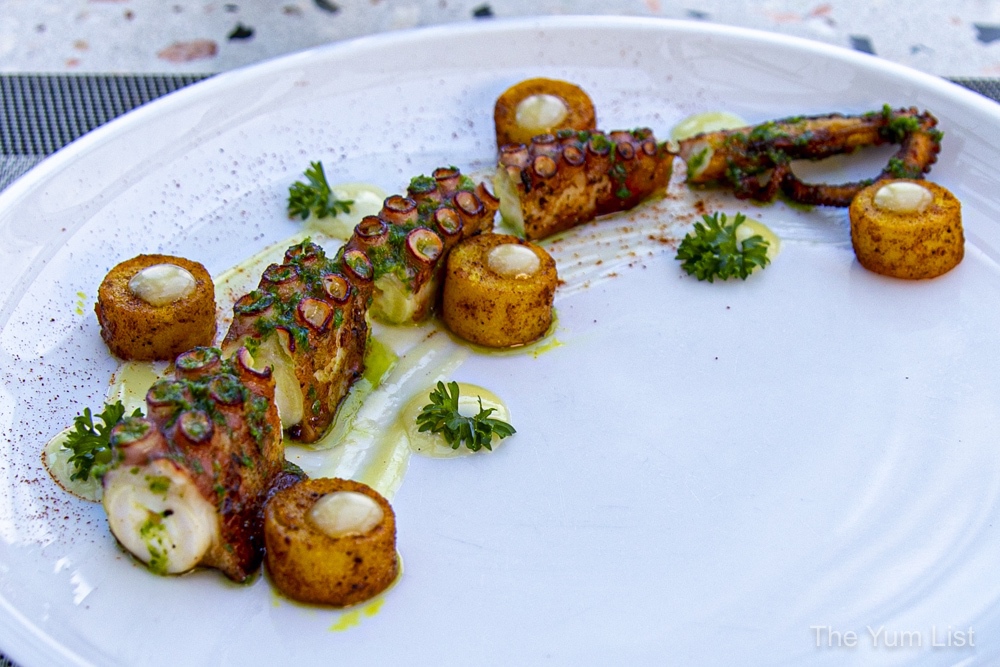 The secret to the excellent execution of the dishes from the grill is a Mi Brasa oven. It allows for precision in temperature and time, but it was no easy task to get it installed. Weighing more than half a tonne, a wall had to be hacked just to get it inside the building, and then a team of 20 had to drag the oven up a double flight of curved stairs to reach its final home! Needless to say, with the amount of work to get it here, it now has permanent resident status.
It makes sense that Spanish wine is served with Spanish recipes, and the Ederra Seleccion Especial Viura-Verdejo is a fitting companion to seafood. It's highly aromatic, with citrus coming to the forefront with a little aniseed woven through. It's fresh, lively and best consumed in its youth.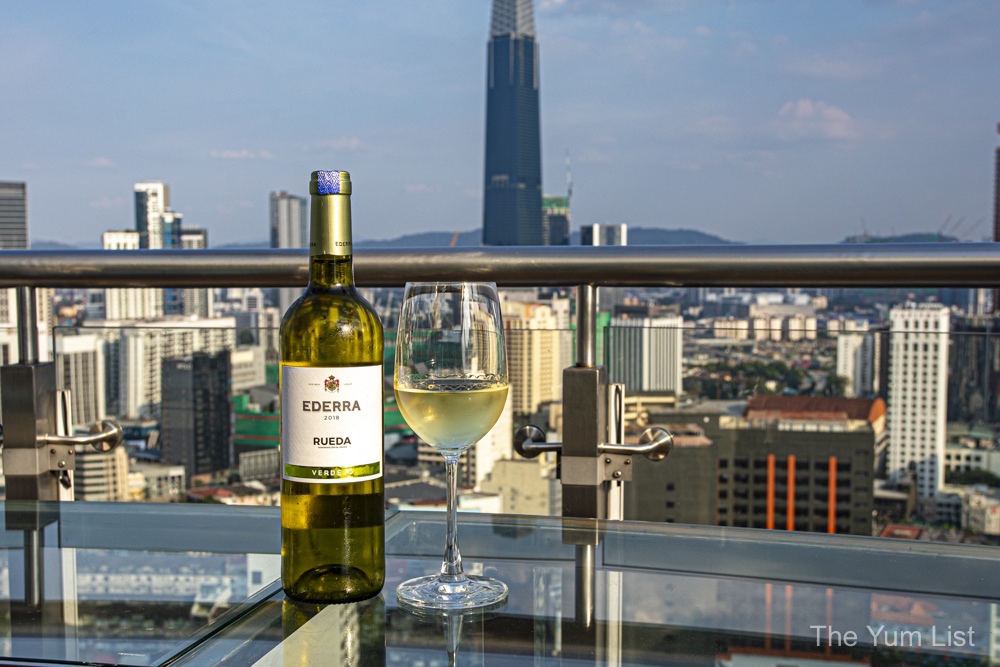 Rooftop Restaurant KL – Second Course
The next round brings salad and seafood rice. The Ensalada de Mini Tomates features tomatoes from la Huerta de Murcia, a rich agricultural region irrigated by the Segura river in Spain. Romesco sauce and house-made fresh cheese add flavour, while a tempura leaf contributes crunch to the crown.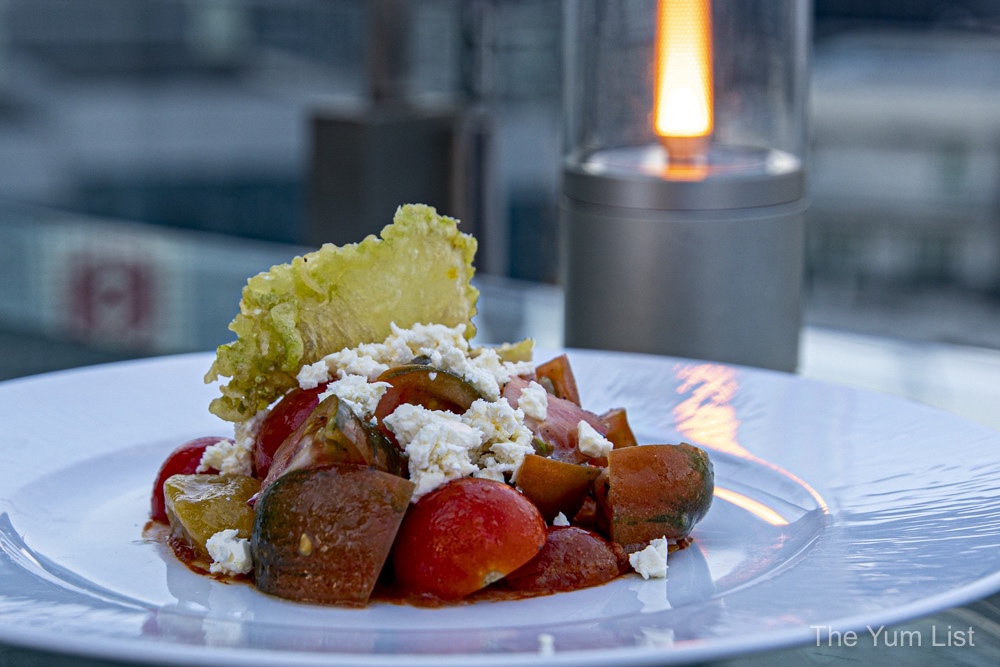 The Arroz Caldosa de Langosta is made with Arroz Bomba D.O. Valencia. The rice is short-grain in variety and near-spherical in shape. It's one of the most prized types of rice in Spain and often used in paella. There's a good bite to it, and the traditional recipe is balanced in flavour. Beginning with a sofrito of garlic, onion and olive oil, the rice is slow-cooked with tomatoes and a broth of prawns, squid, saffron and paprika. A deshelled lobster claw is a crowning glory. Just a tiny splash of truffle oil adds another layer of complexity.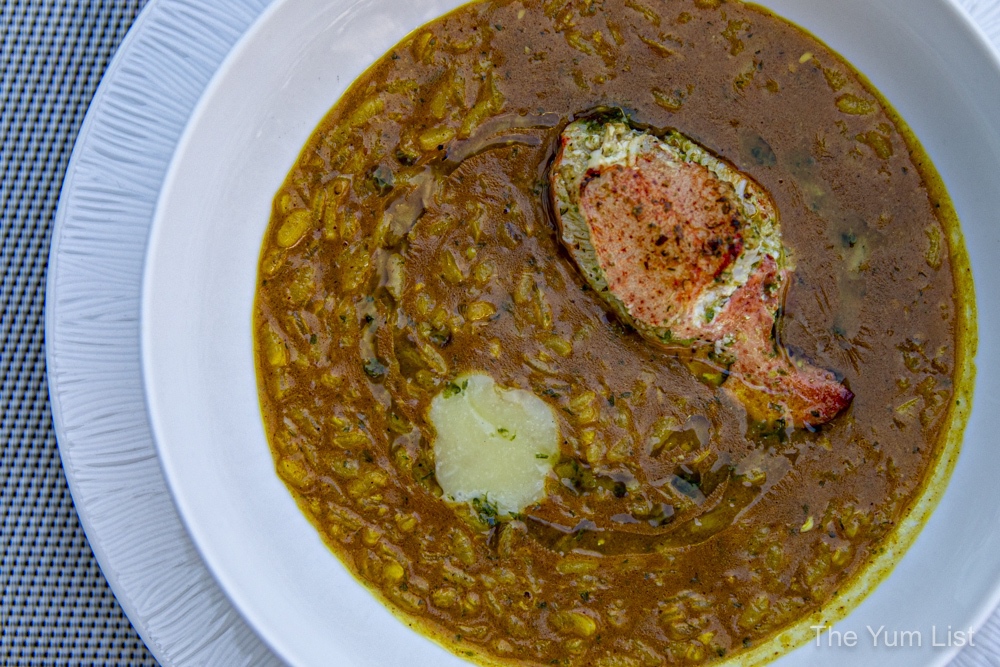 The crispy mouthfeel, citrus flavours and minerality of the white wine pairing, 2017 Vionta Albariño, do particularly well with the seafood rice. Do pay attention to the nose to see if you can detect a whisper of salinity amongst the melon and orange notes. Grown not far from the sea, this is a common characteristic of the grape.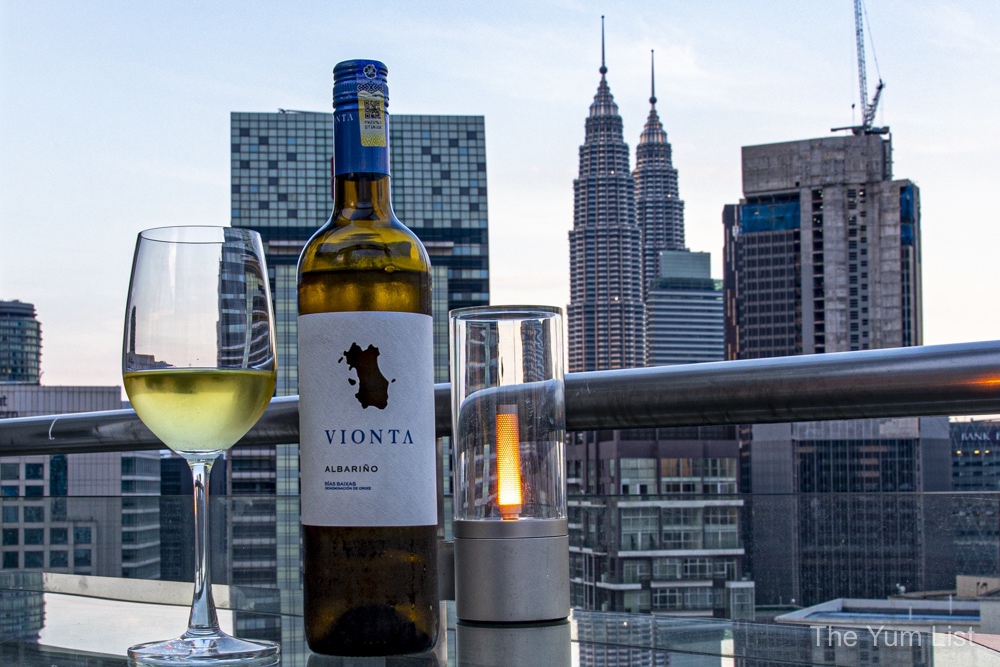 Main Courses
Only the freshest of seafood makes it to Cielo Kuala Lumpur's kitchens, so do be prepared for some wavering from the menu at times. Chef Manuel would like to serve Merluza Negra (Spanish toothfish) on the degustation menu. Still, today the freshest catch is a local sea bream. It's simply prepared to allow the natural mild sweetness and medium texture of the flesh to take centre-stage. A soft garlic sauce enhances the flavour.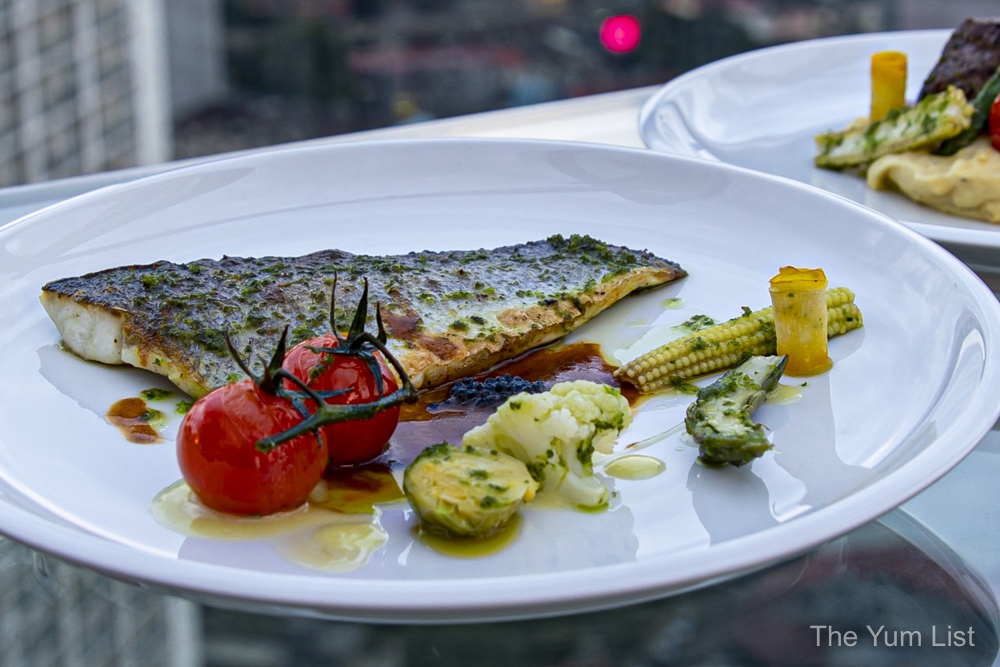 Rich's main, the Solomillo de Ternera Txogitxu, is served atop a bed of paprika and truffle- mashed potatoes. The lean beef tenderloin is clean in flavour and supplemented by a full-bodied red wine sauce. Lightly sauteed vegetables, including mushroom and asparagus, set the seal on the mains.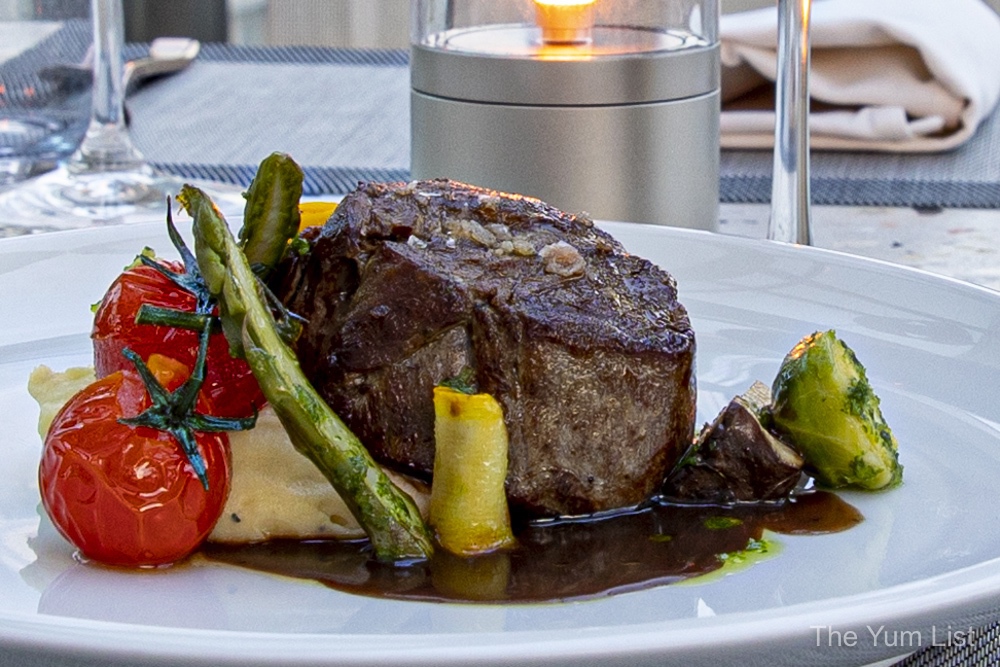 Tempranillo is undoubtedly a fine match for steak, and Viña Eguía Gran Reserva 2019 from Rioja does not disappoint. Plentiful ripe fruit is found on the nose with lingering complexities of vanilla and spice. Bold fruit continues in the palate with balance, elegance and structure. The lengthy pleasing finish makes me ask for another bite of the steak to prolong the pleasure.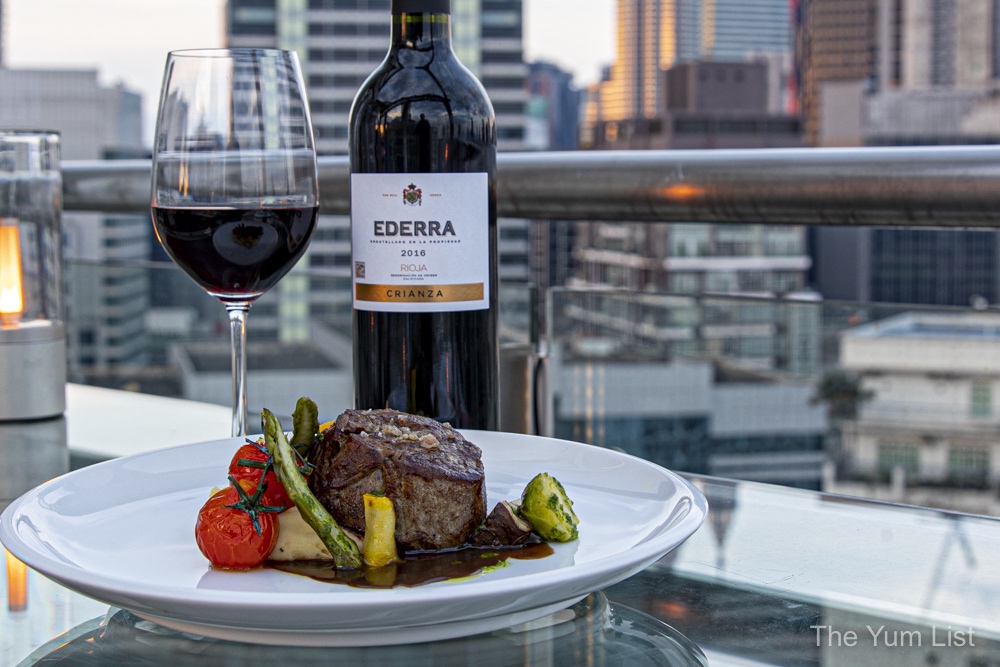 Rooftop Restaurant KL – Desserts
Rich and I have a deal about sharing calories; he takes the sweets, and I handle the wine. Tonight, he has no complaints about the Spanish Peach (degustation) or the Cocoa Sable Breton (à la carte). The first comes with an elegant Champagne sabayon, getting high praise from Rich. The second is an eye-catching mushroom-shaped dome with a cherry and strawberry core. The popping candy and dry meringue crumb add some fun. Both desserts have house-made pistachio ice cream, which is creamy and mouth-filling and good enough (we think) to serve on its own.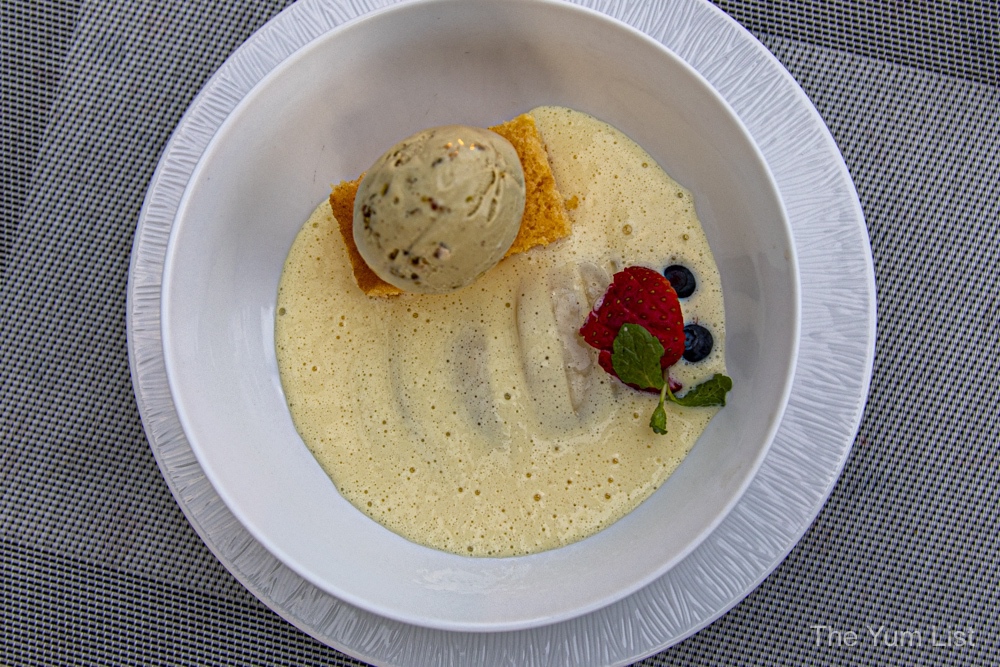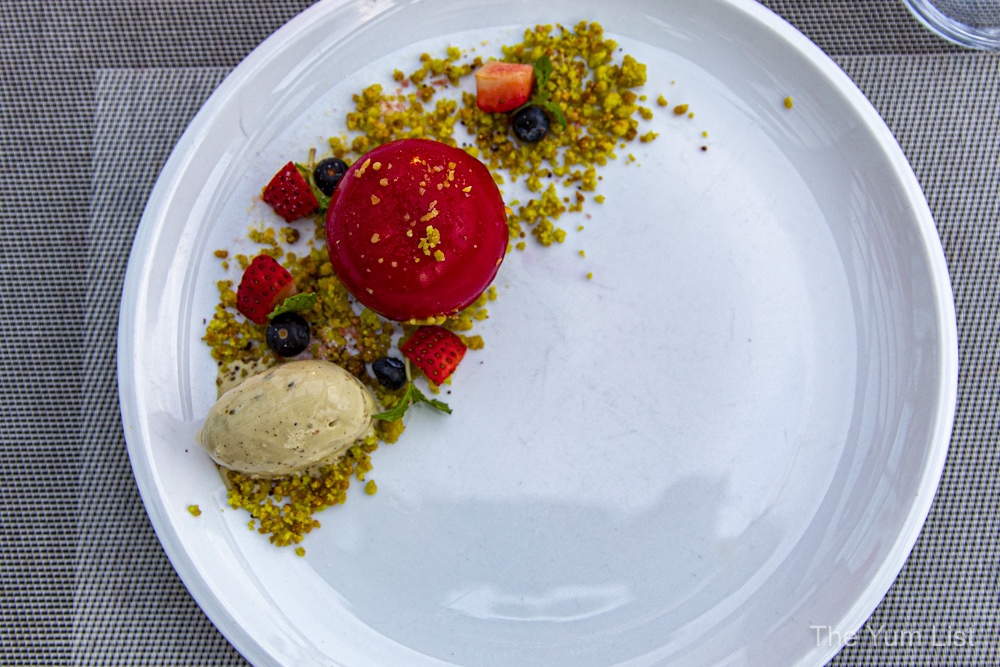 Reasons to visit Cielo, Rooftop Restaurant KL: gorgeous, open-setting with views of the Kuala Lumpur skyline; a solid menu of tasty recipes with plentiful seafood and rustic Spanish flavour; perfect for date night or an elegant evening out with friends; try the degustation menu with wine pairing for the full experience.
Cielo Kuala Lumpur
Rooftop Restaurant and Bar KL
23-01, 1D, Vida Bukit Ceylon,
Jalan Ceylon, 50200 Kuala Lumpur
+60 12-365 5059
www.facebook.com/cielokualalumpur
Cielo KL Opening Hours
Tues to Sunday from 6 pm
Find more restaurants for special occasions in KL here.