Jasmine by L'nop, Bangsar
Words: Monica Tindall
Photos: Rich Callahan
It seems that we're following Chef Hossein Karimi around this month. Last week we tasted his menu at Imola L'nop Café in Ampang Hilir, and this week we have a table at Jasmine by L'nop in Bangsar. Like No Other Place, the concept of L'nop is to provide dining experiences that are not found elsewhere. Unique locations and original recipes are at the core. 
We've known Hossein for many years and have accompanied him in several passions. However, we were reunited in the culinary world towards the end of 2019 when we discovered his private chef and catering business. Since then, he has impressed royalty and celebrities with his recipes. As such, he is now enjoying multiple platforms where he can share his style with a broader audience.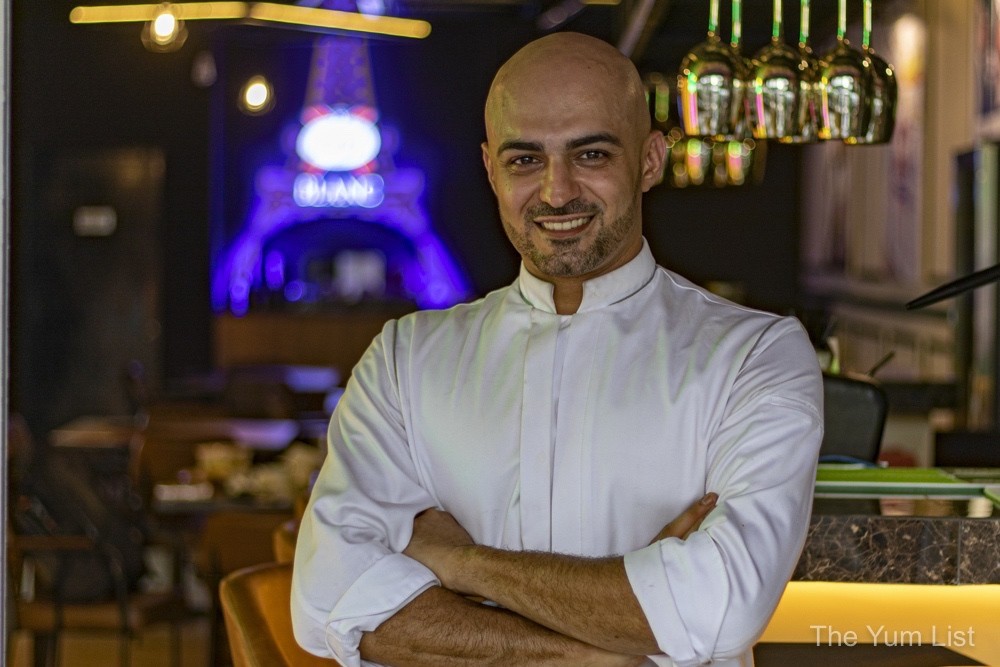 Jasmine by L'nop Bangsar
Jasmine by L'nop is the latest of his ventures. A restaurant and shisha bar, the setting is just as distinctive as the menu (more on that soon). White chairs and celebrity-photo-topped tables populate the mosaic-tiled semi-alfresco area, a place I imagine perfect for a puff if you're so inclined. The air-conditioned indoors is a bit cooler and more comfortable with padded dark brown chairs and those same eye-catching tables. Vibrant paintings of culinary gatherings brighten the walls, and wild geometrical patterns play tricks with the eyes under the bar counters. And to add the final touch of pizzaz, neon lights draw our gaze around the entire room while house music beats from the speakers.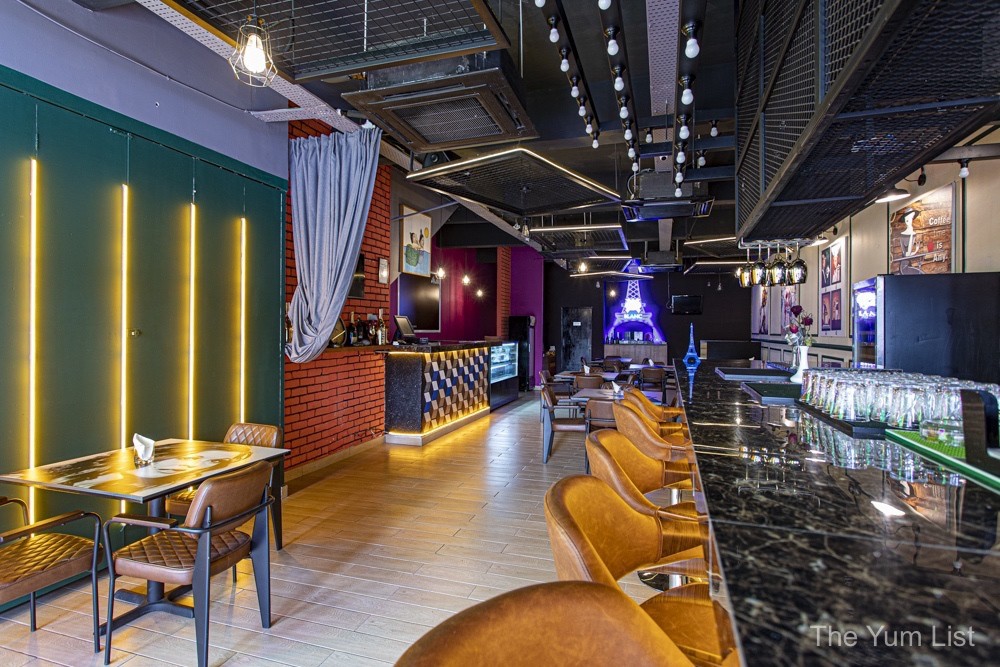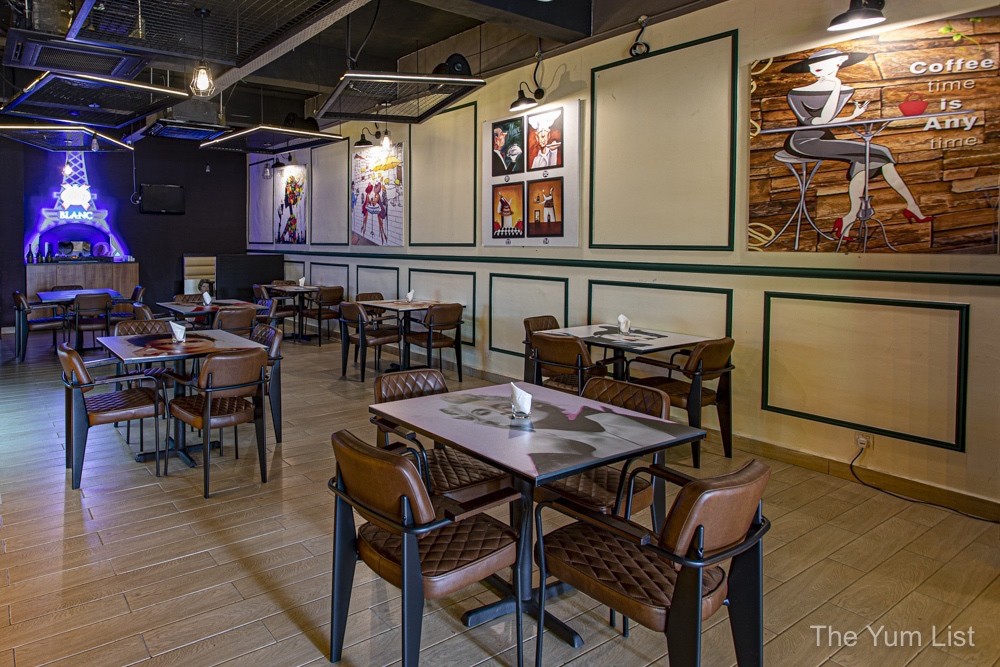 Jasmine by L'nop Menu
A collection of chef Hossein's personal favourites, expect to find recipes from around the world on the menu at Jasmine by L'nop in Bangsar. From French bisque to Buffalo wings, Italian Bolognese to Persian saffron rice, the dishes are an accumulation of chef Hossein's international life and travels. If you have a chance to meet him in person, be prepared to order everything on the menu. His eyes literally sparkle as he tells the story behind each dish.
Appetisers & Salads
Hot Buffalo Chicken Wings (RM 14.90, 6 pieces) are a tasty introduction to the menu at Jasmine by L'nop in Bangsar. As with everything here, the sauce is made from scratch. Key ingredients are chilli, honey and loads of butter. The ending result is an addictive sauce with a natural sweetness and a mild tanginess that keeps us reaching in for repeat pickings. Rich is drinking the sauce with the spoon! For those of you who don't know, Rich was a chef for 17 years in the US and so has a decent foundation for judging wings. He even declares it "the best wing sauce he's had in Malaysia." So, there's a challenge for you! These partner well with an icy cold Kronenbourg 1664 Blanc (RM 21).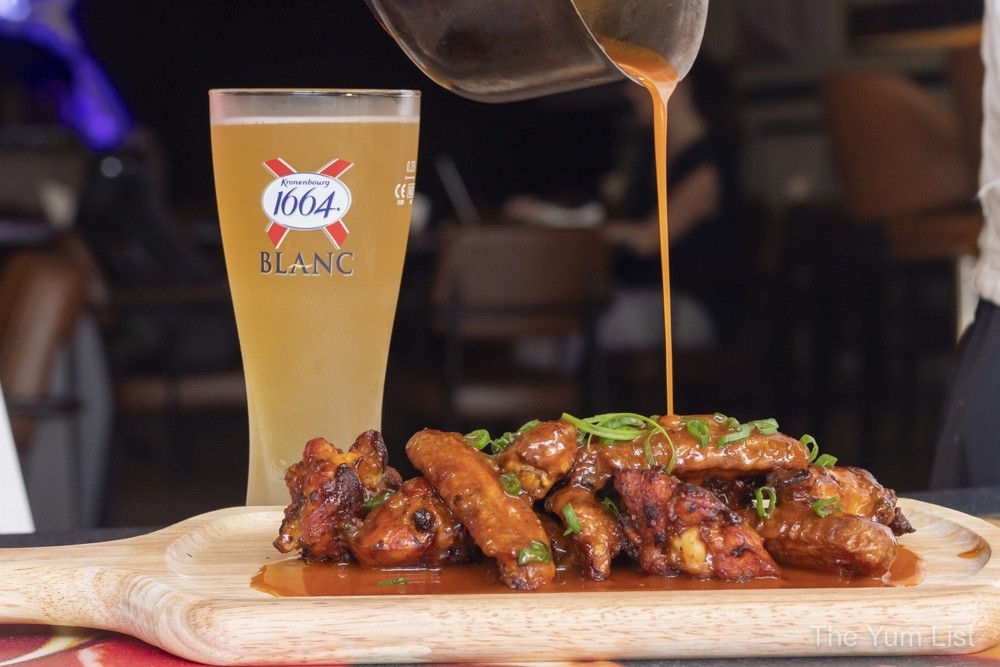 We find a delicious vegetarian option in the Special Hummus (RM 9.90). It's one of the creamiest and well-balanced recipes I've recently eaten. It's full-flavoured, but no one ingredient overly dominates. A portion of flatbread comes with it, but this is so good, I'm happy to spoon it up on its own.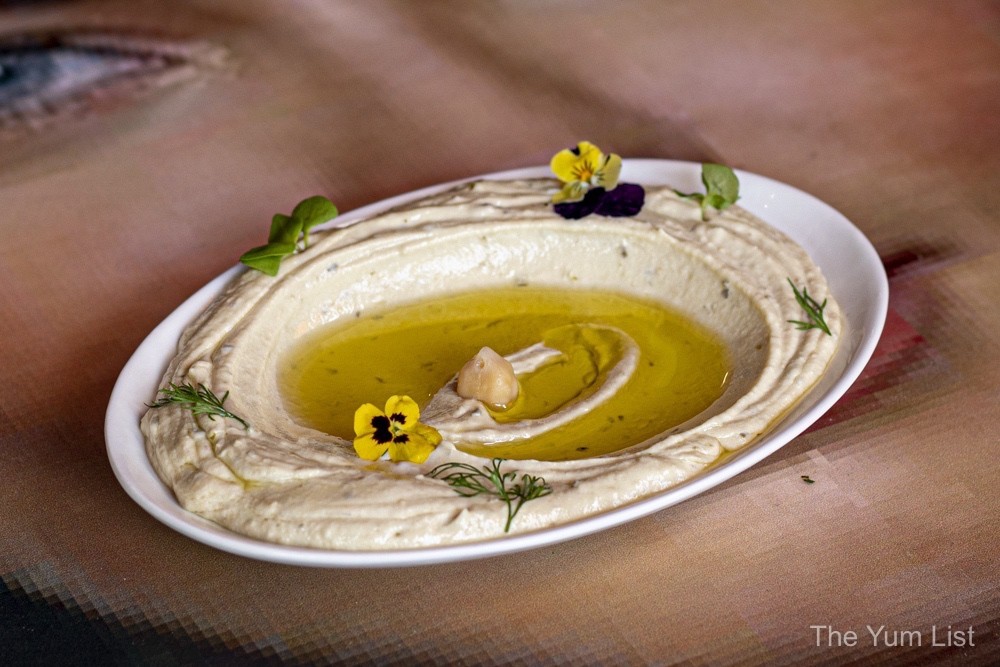 Soups
"Imagine the most delicious seafood taste there is, now multiply that x 100!" That's the introduction for L'nop's Famous Lobster Bisque (RM 36.60). The soup is thin but packed with flavour, seafood on steroids. There's a good thread of spice that weaves its way through every mouthful, but that seafood flavour stands up to it in a battle of will until the very end.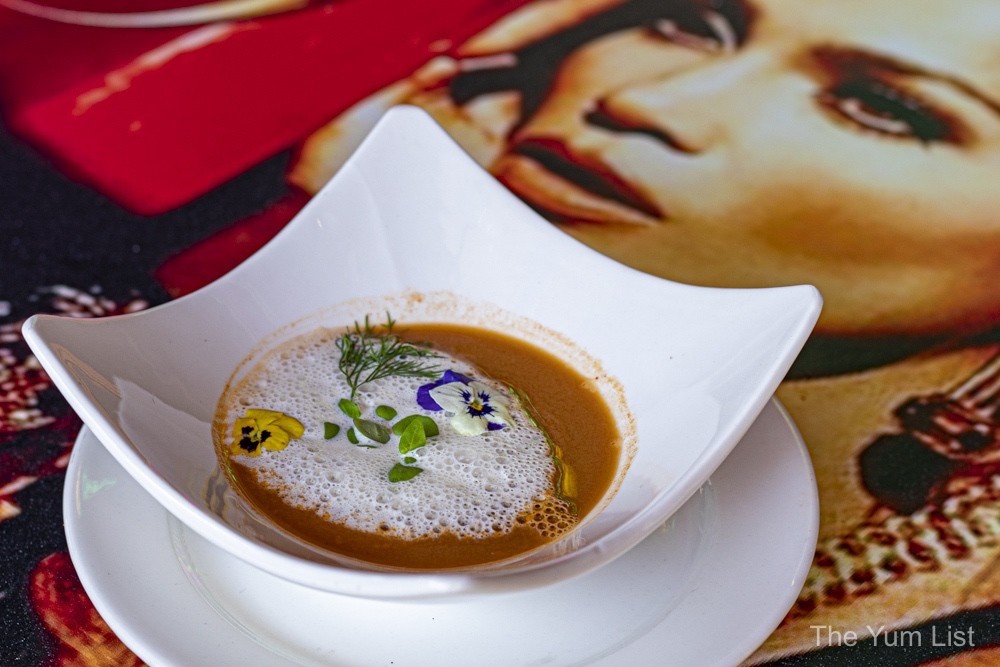 Pasta
While soup, salad, pizza and pasta might sound like a generic western menu, there is nothing at all common at Jasmine by L'nop. Creamy Mushroom Leek Pasta (RM 39.90) is, of course, beautiful. Edible purple blooms float across the tangle of spaghetti. Each strand is evenly coated with a powerful leek and mushroom sauce. I'd definitely suggest this one for sharing, and think an order of a green salad would be an excellent idea too.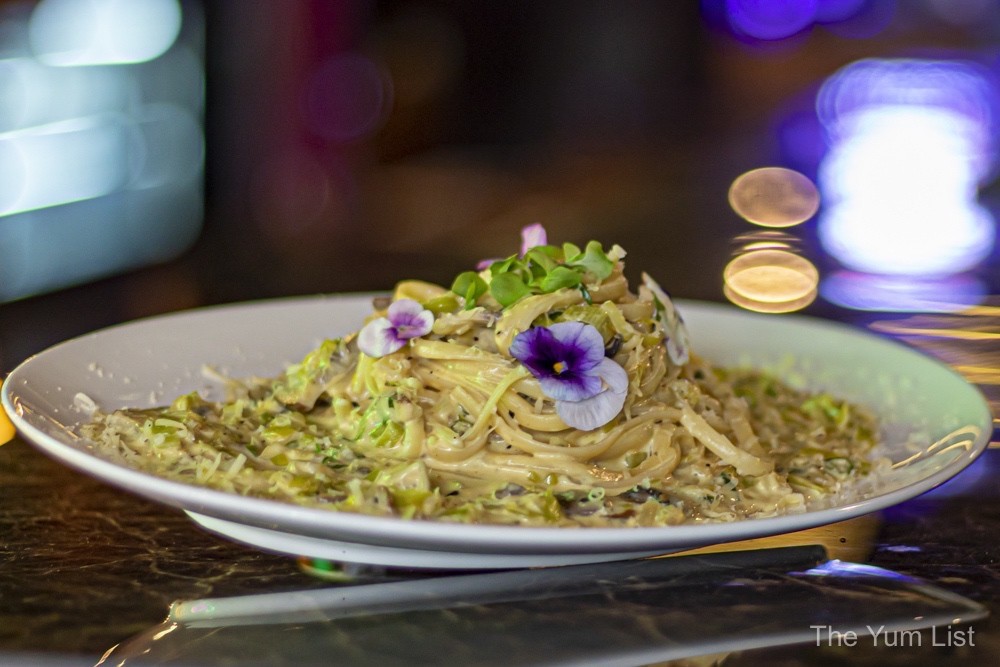 Chef calls the following dish Life… (RM 49.50). Spinach noodles are rolled across the plate over a fantastic creamy lobster, spinach and onion sauce. Don't be fooled by the initial subtle heat. It stays and builds in the mouth with every forkful and lingers on just as a fine Bordeaux would. A butterflied tiger prawn breaks up the colour, and it too is cooked perfectly.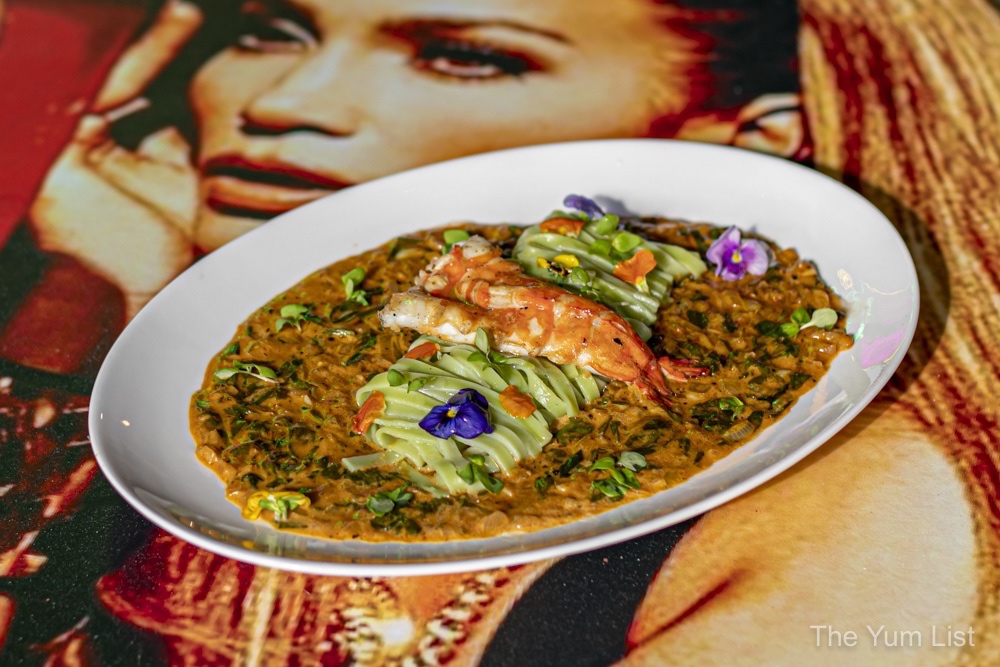 Pizza
Jasmine by L'nop (Like No Other Place) again shows its style with a selection of pizza. A malted beverage is the secret to the base mixed with water, milk and flour. The crust is thin but sturdy enough to hold the top layers that are almost thrice the thickness of what's underneath. The Signature's (RM 36.90) toppings of mushrooms, green bell peppers and halal beef bacon are held together by an abundance of melted cheese.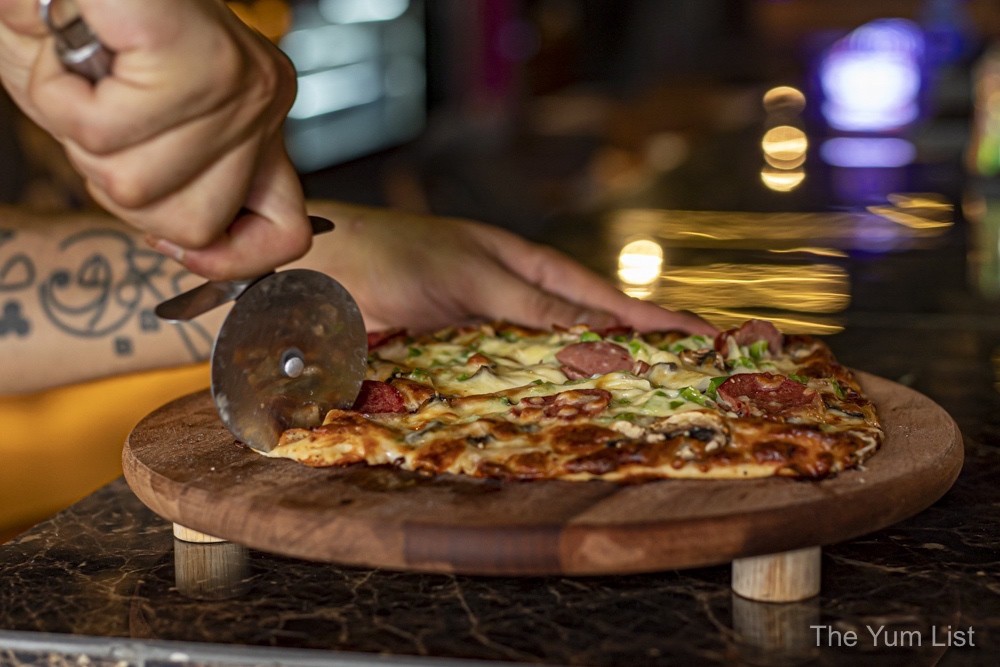 Mains
Claiming to be the kabab that has put them on the map, the L'nop Royal Char Grill Lamb Kabab (RM 20.90) is chef Hossein's secret recipe. Coming a close runner up to the lamb is the L'nop Saffron Chicken Kebab (RM 18.90). Both have been cooked over the charcoal grill until the edges sport a tempting char, while the middle remains moist and tender. They are served with traditional bread, long grains of saffron-stained rice and a grilled tomato. I risk sounding like a first-year food writer in declaring this… but these are some of the best kababs we've eaten. Ever. The key is in using whole, unprocessed ingredients – breast meat for the chicken and superbly fresh sides. The lamb is indeed something special – it's light but at the same time fills the mouth with a clean but fatty intensity. The key is the use of neck, shoulder and ribs. You have to try it to understand.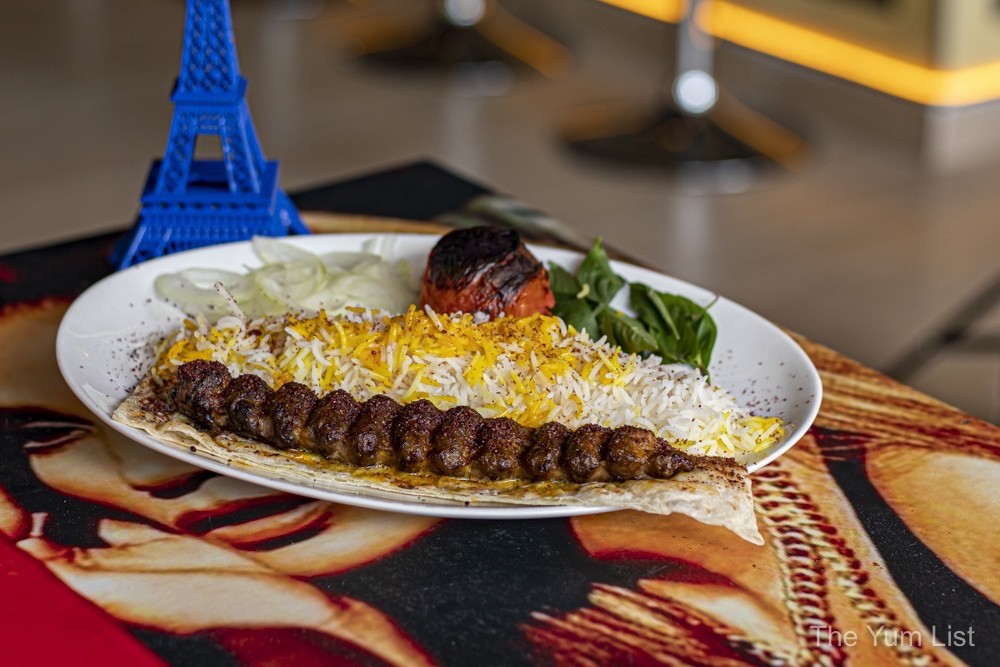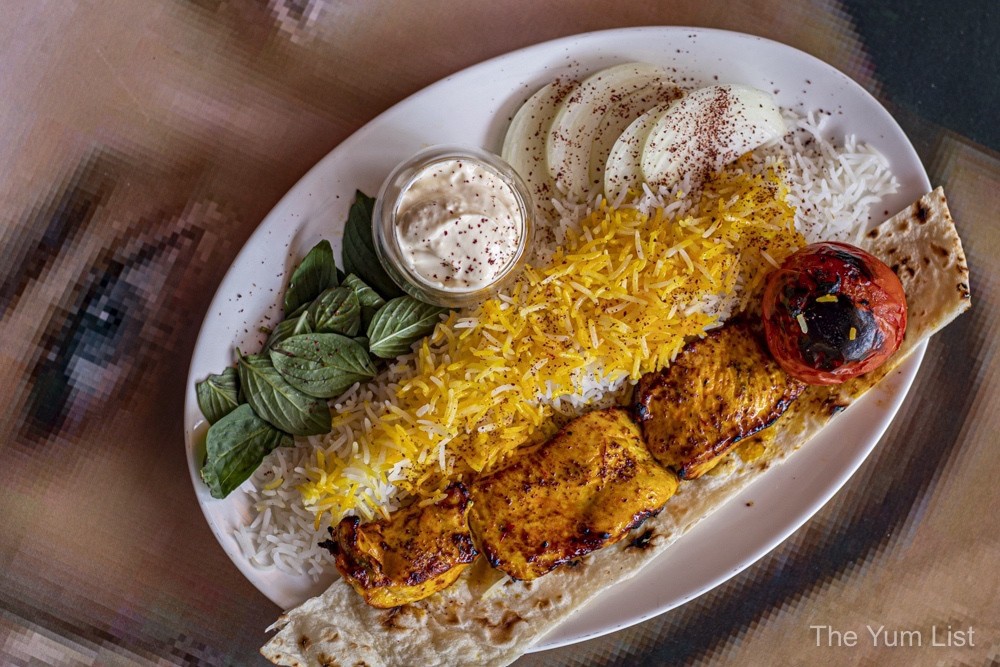 Saffron Herby Rice with Sole Meunière (RM 57.90) shows a progression of Hossein's recipes. Once separate recipes, paired with other items, he has found the best match in this combination. The rice holds a total of 12 different herbs packing the grains with flavour and vibrancy. This, partnered with the French recipe abundant with capers and lemon zest, makes for a nutritious and satisfying main meal.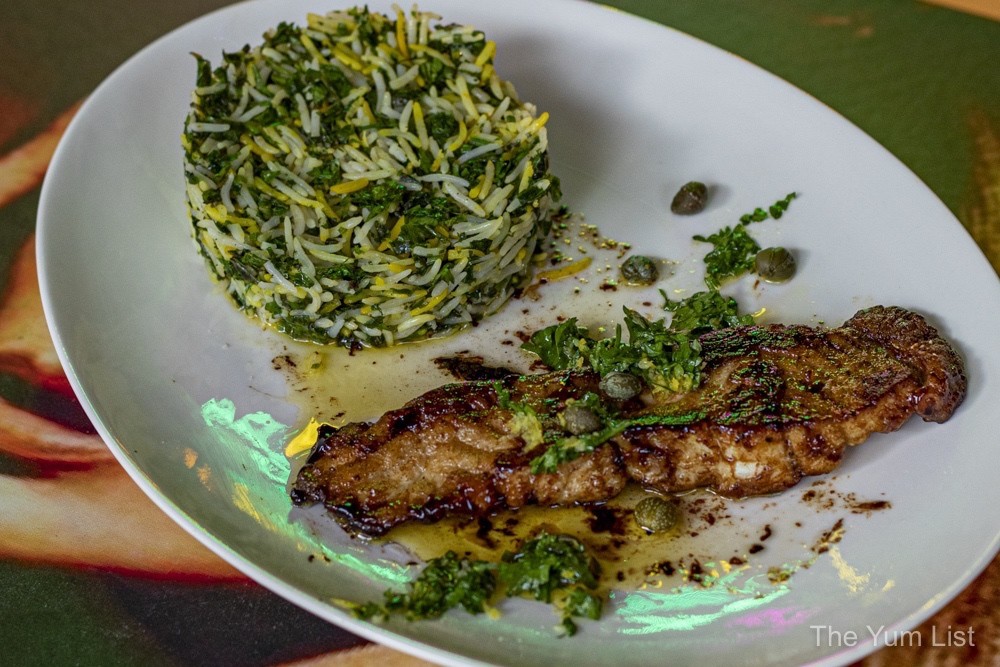 Jasmine by L'nop Review
Jasmine by L'nop in Bangsar offers a fun setting to enjoy a unique menu of delicious and prettily plated food. If he can spare a moment, it's always a pleasure to chat with Chef Hossein and ask for his recommendations for the day. The restaurant and shisha bar is an excellent addition to the street.
Reasons to visit Jasmine by L'nop, Bangsar: fun and unique setting; fabulously, fresh food; must try the lamb kabab and the Buffalo wings (or even just the sauce with a straw, says Rich).
Jasmine by L'nop
6, Jalan Telawi 2, Bangsar
59100 Kuala Lumpur, Malaysia
+6 03 2202 2039
Jasmine by L'nop Opening Hours
Monday to Thursday: 12 pm – 12 am
Friday, Saturday & Sunday: 8 am – 12 am
With changing SOPs, it's always advisable to check opening hours directly with the restaurant.
Find more restaurants in Bangsar here and stay up-to-date with the latest gourmet and travel recommendations for Malaysia here and here.