Breakfast in Bukit Bintang
Words: Monica Tindall
Photos: Rich Callahan
How do you like to start your day? Coffee and a croissant? A full-on big brekkie? Ultime Atelier & Boulangerie proposes to satisfy whatever you're craving with their recently launched breakfast menu. If you haven't yet discovered this restaurant or are looking for a place for breakfast in Bukit Bintang, this is an excellent place to start.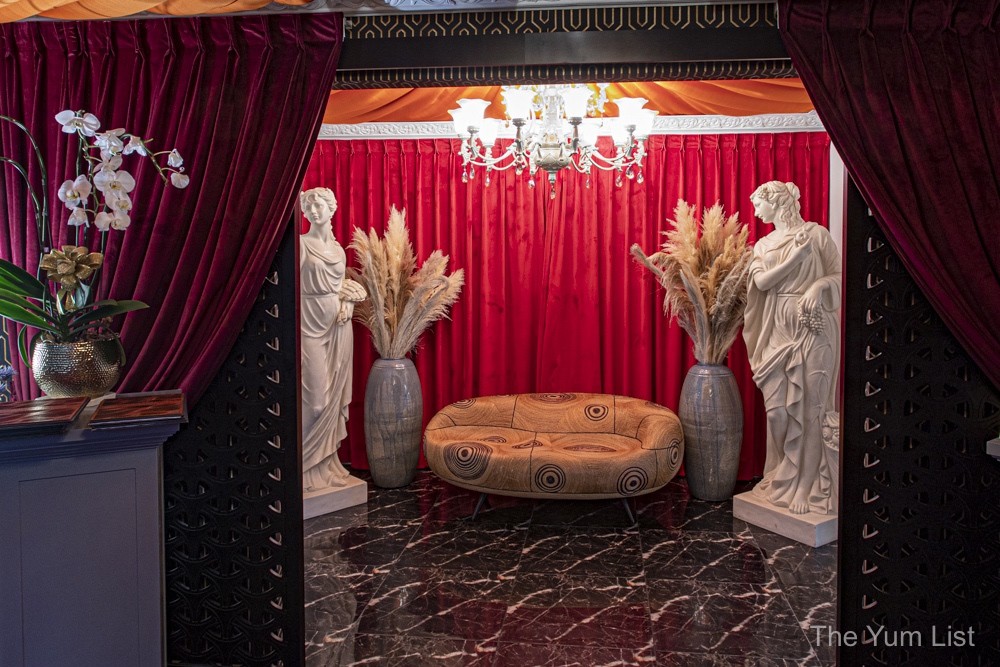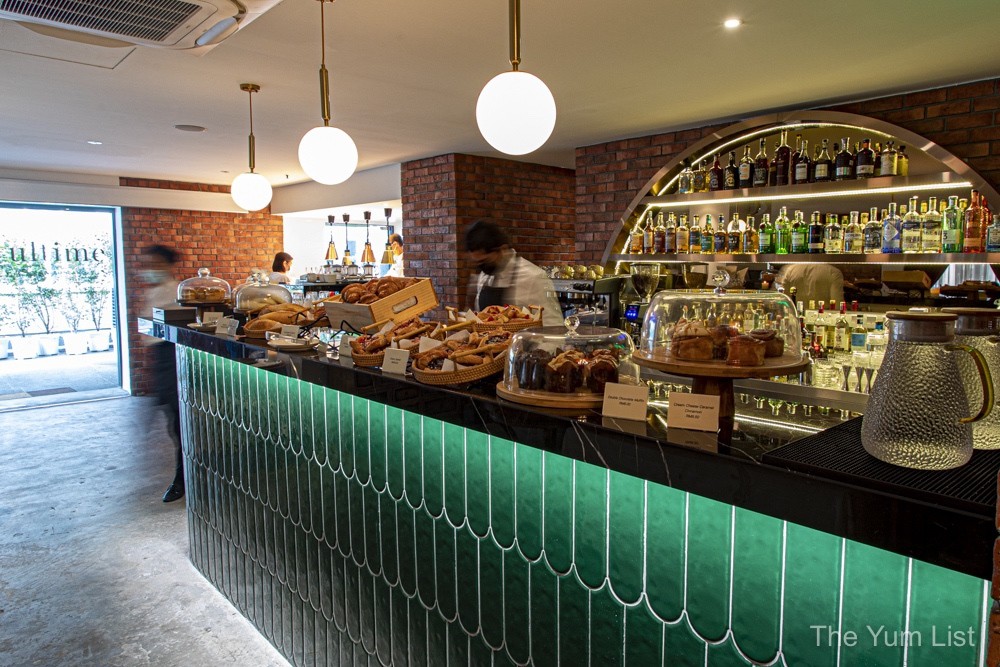 Breakfast in Bukit Bintang
From something light such as a hot drink and Danish to a full four-course degustation, the team at Ultime has something for everyone to make your morning a happy one.
Their breakfast menu works in tiers.
Tier 1 (RM 35, *RM 25 deal until the end of May 2021)
For a typical European morning meal, you can build your breakfast starting at RM 35 (*RM 25 until the end of May). Choose two varieties from a selection of French and Danish bread and pastries, and wash them down with a cup of black coffee. This might sound a straightforward choice, but Ultime Atelier & Boulangerie has over 15 types of baked goods, each coming in several styles! And, it's not just the pastry you need to choose from; there are several types of butter too!
Everything is freshly baked daily by Chef Choy, who has over 30-years of experience baking in five-stars hotels! This is one case where movement restrictions have worked well for us. Chef Choy was previously stationed in China, but he is now based in Malaysia because of travel limitations, unable to yet return. We're happy he's here. Just look at those expert layers and folds in each pastry. I dare say this is one of the top bakeries in KL.
Gosh! There are too many items to rave about here. Each and every piece is made with precision and is a perfect balance of flavours and textures. If you have a sweet tooth, absolutely do not miss the cinnamon bun with cheese and caramel. Croissant lovers would do well to try the plain recipe, but the chocolate does offer an incredible oozy centre. Then there are the Danishes! Dining with friends and family and ordering one of everything is highly recommended.
Black coffee is included in the first tier, but you can add a milky coffee such as a cappuccino or a glass of freshly squeezed juice for RM 8.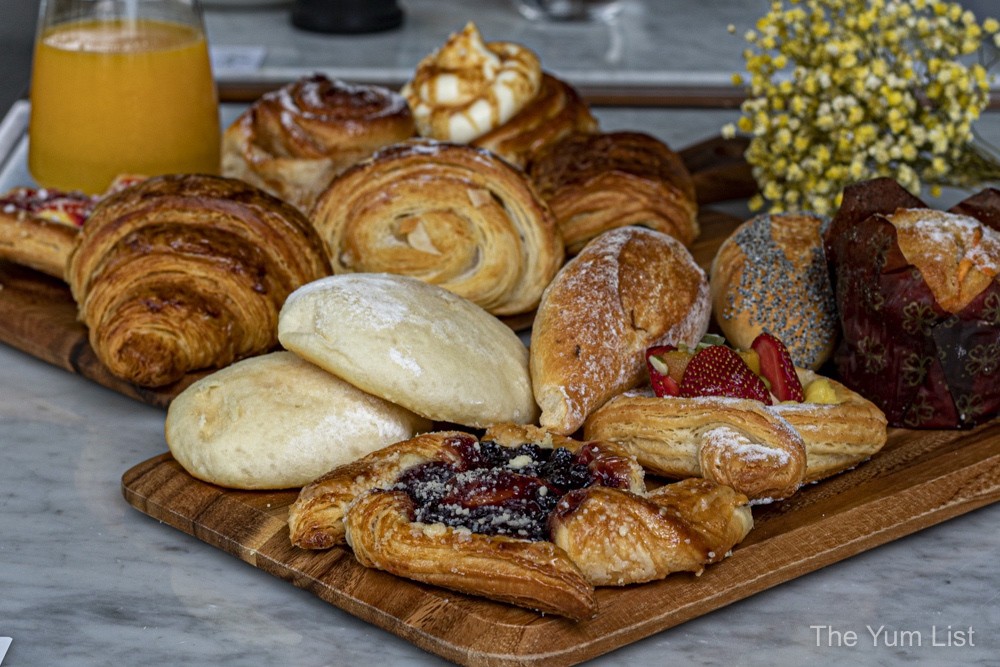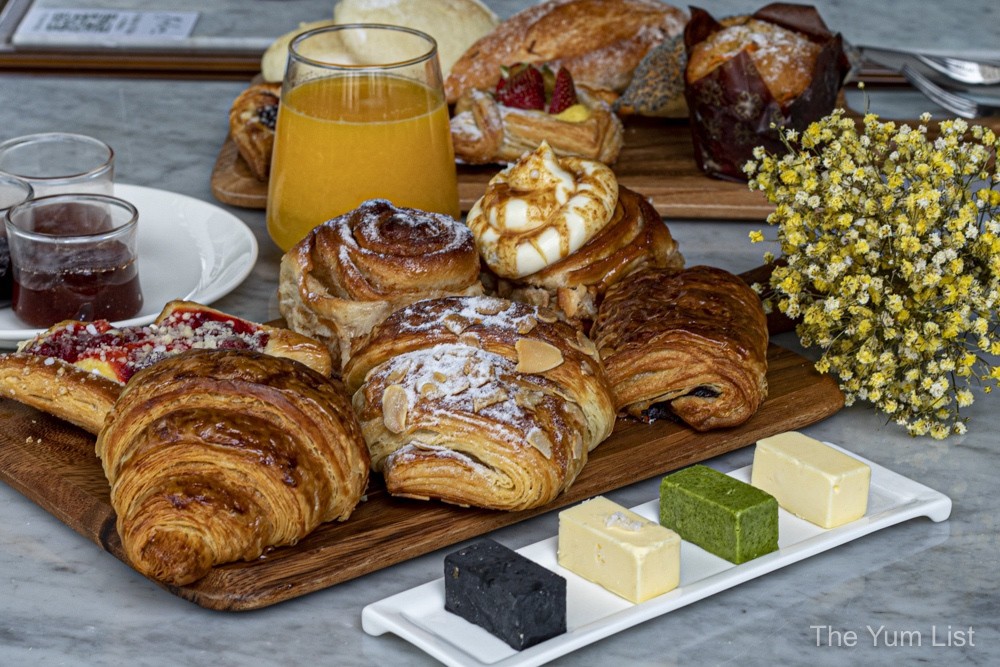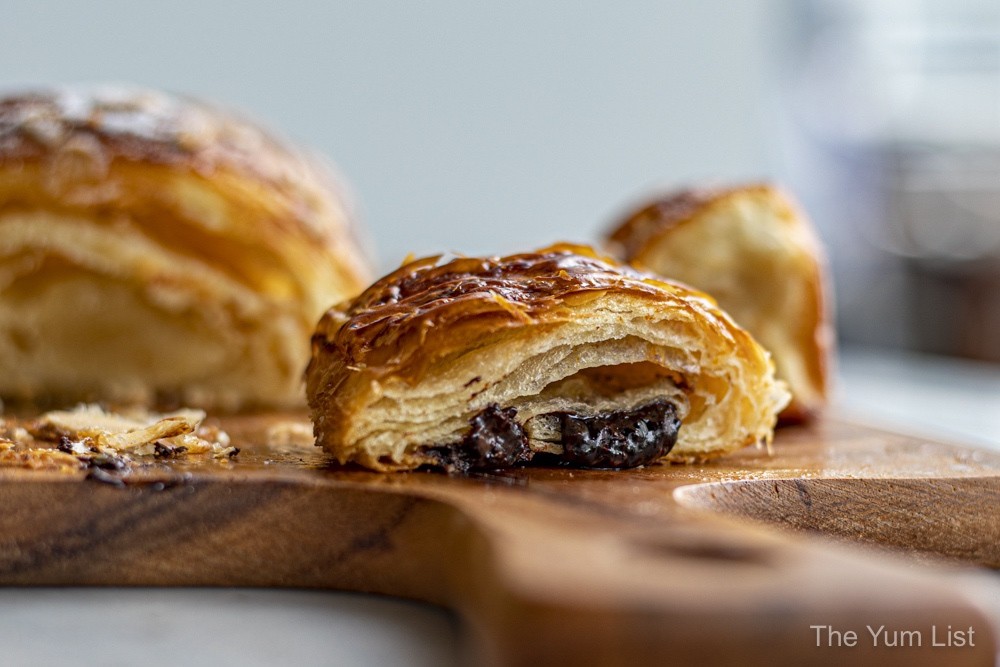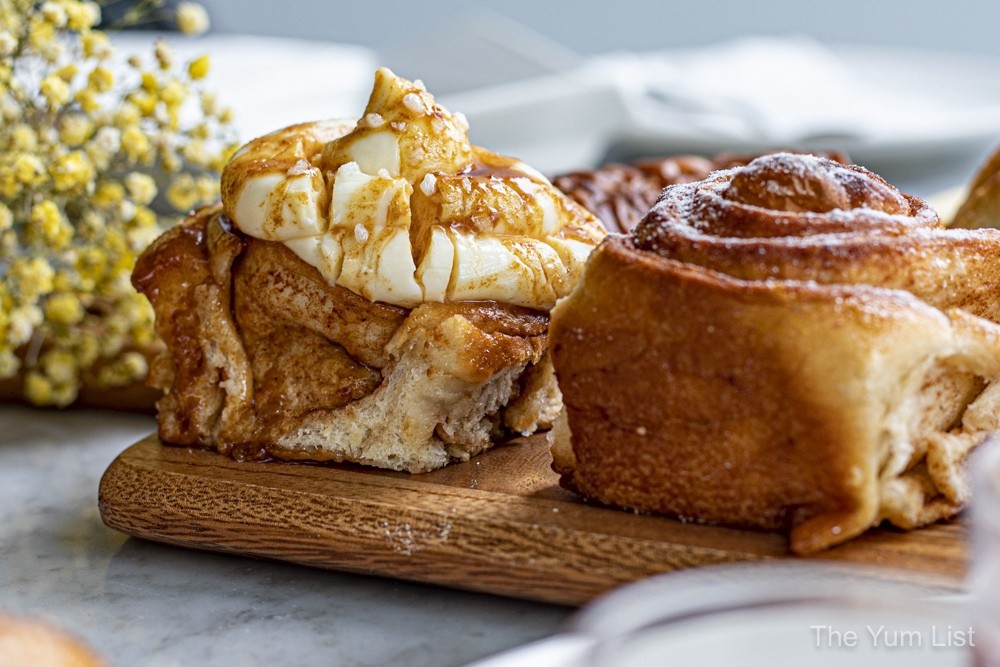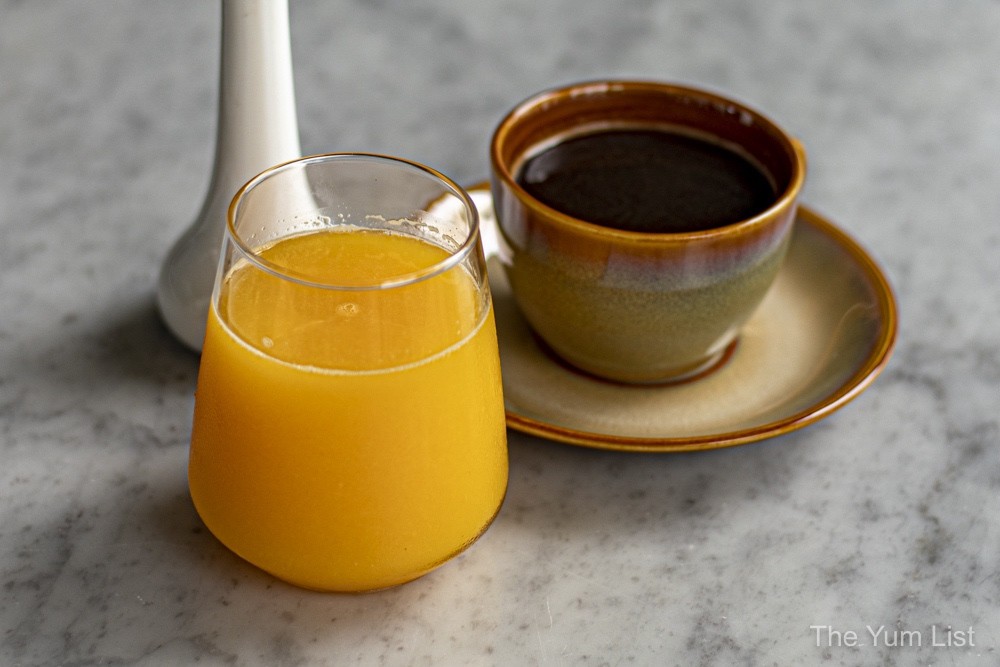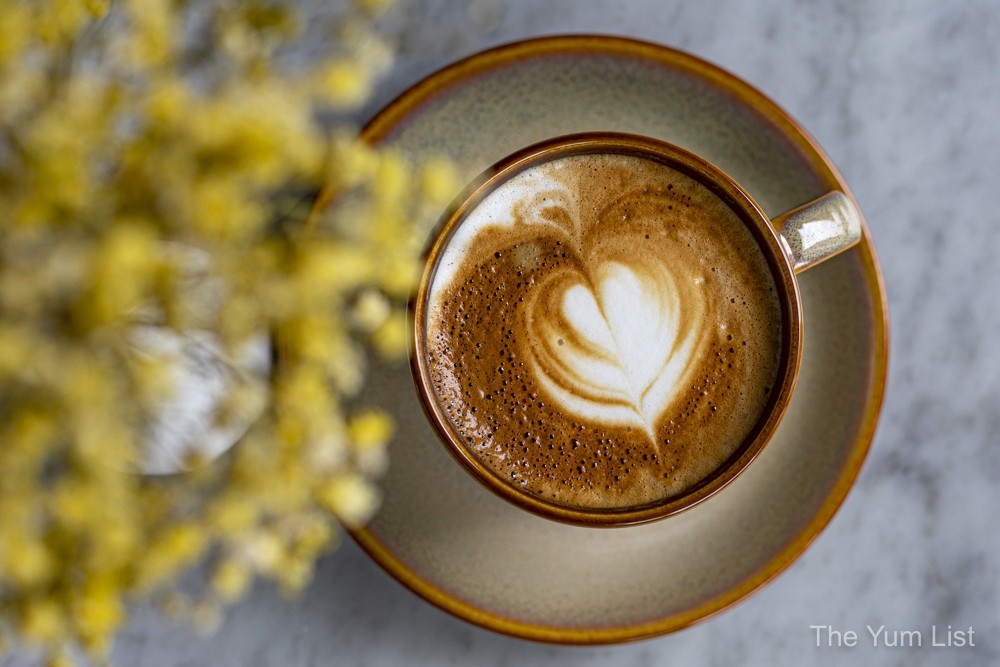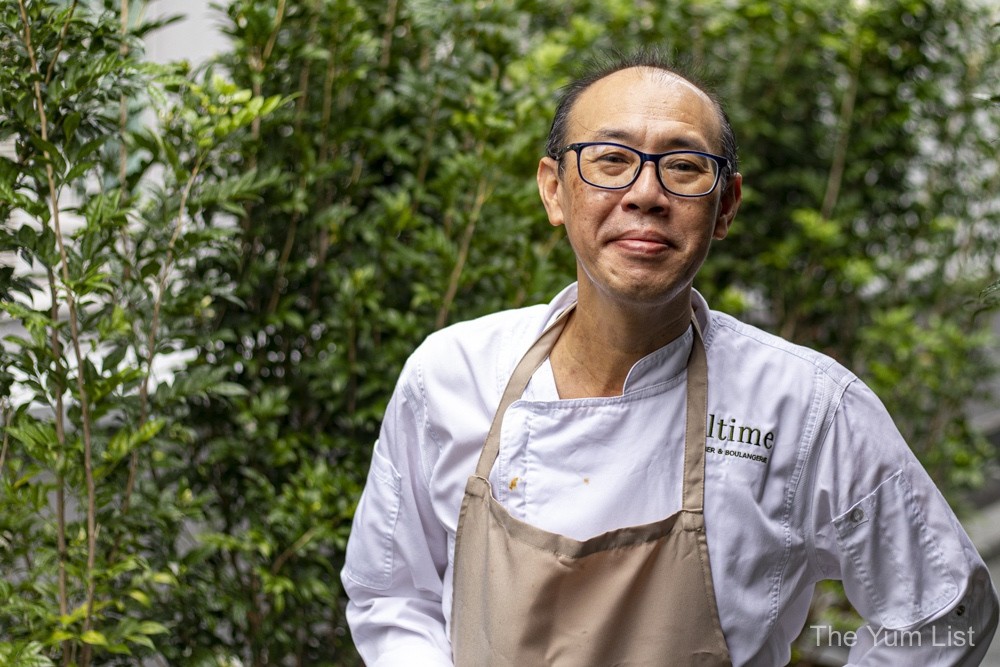 The Patio
Before we move onto tier two, it's worth taking a moment to appreciate the lovely setting. Indoors is protected from the weather, but the outdoor patio is my chosen spot. In the morning, there's a light breeze (enhanced by a giant air cooler). One side is lined with trees, and the other open to the view. Imagine Sunday morning here in the open air with pastries warm from the oven and freshly brewed cuppa. Weekend goals!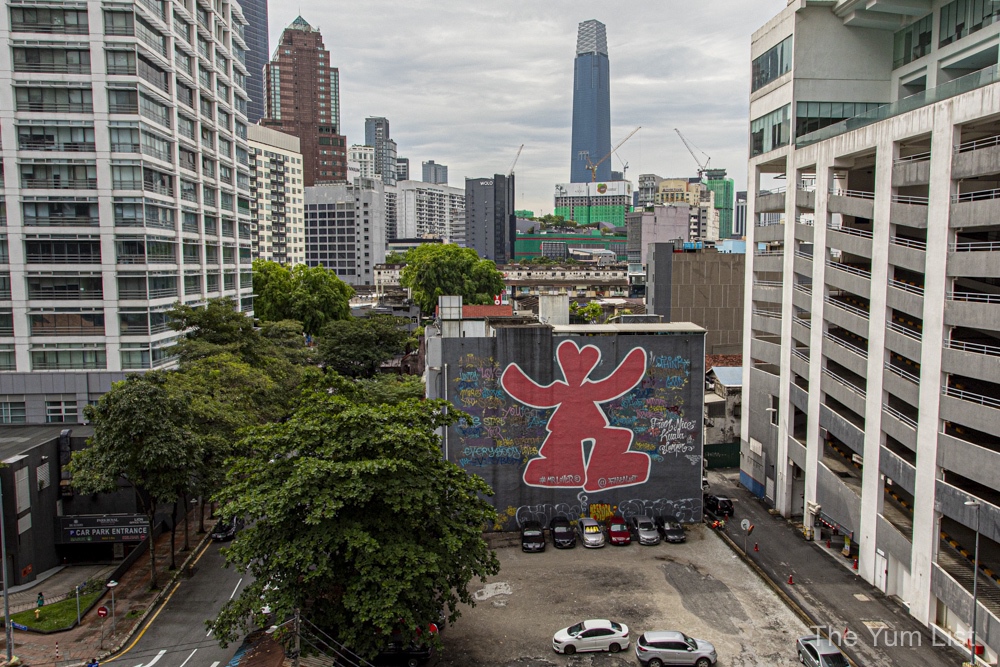 Tier 2 (Add RM 25) – Breakfast in Bukit Bintang
Add a bit more substance to your brekkie with the addition of a garden salad, granola or eggs your way. Even though they're presented as "just something simple," that is never the case at Ultime Atelier & Boulangerie.
The granola is made in-house and features large pecans, fresh berries, honey yoghurt and a side of maple syrup. Omelette, scrambled, or sunny-side-up eggs are produced on Kenkori eggs – from a local farm using organic, Japanese farming techniques. If you order the fried eggs, do take a moment to notice the bright orange egg yolks.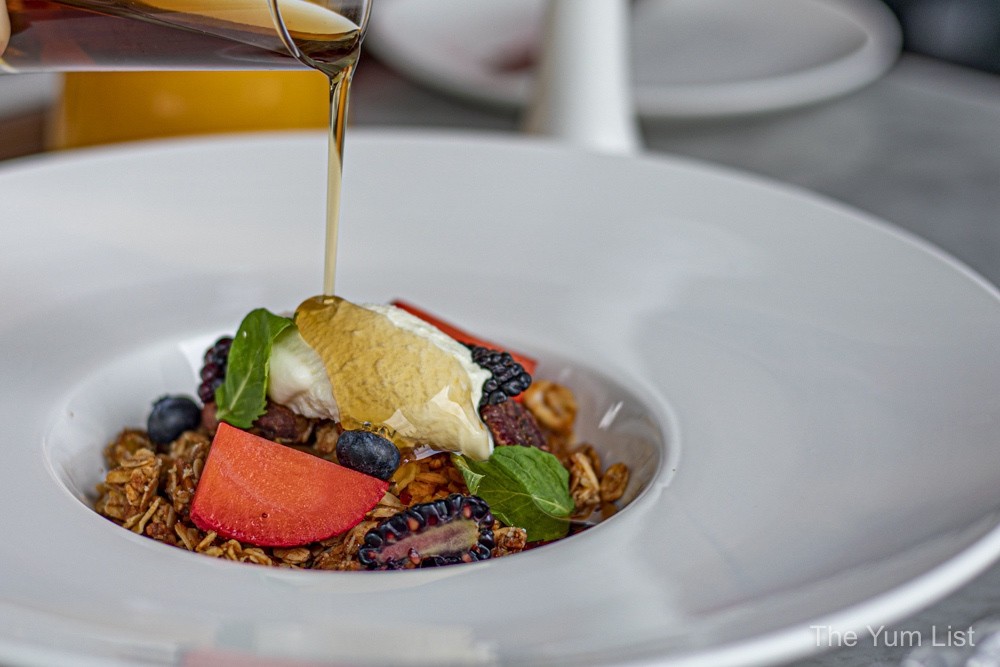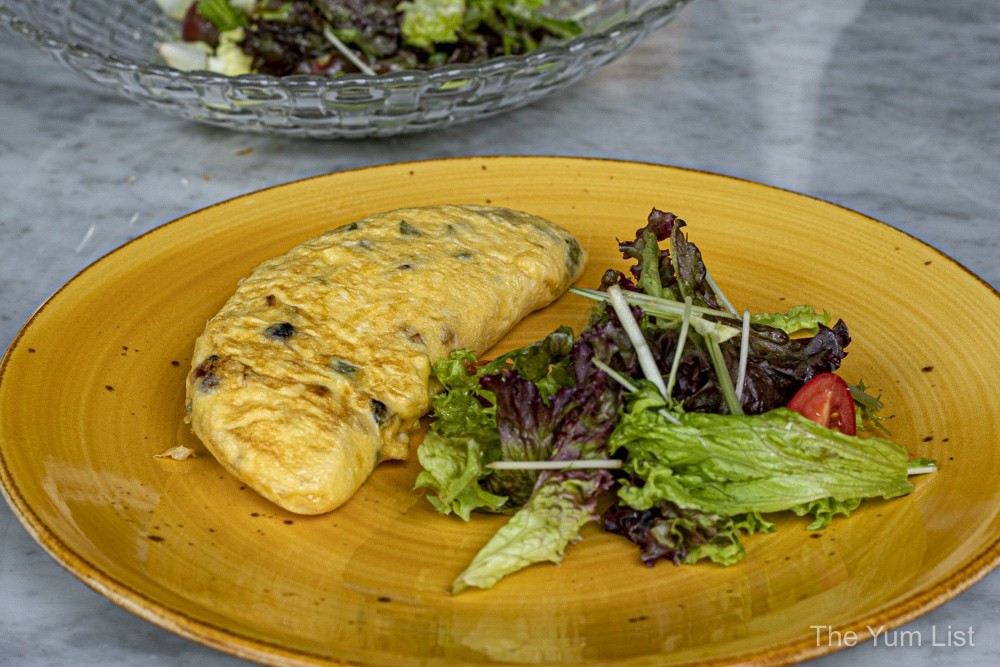 Tier 3 (Add RM 35)
If you're still feeling hungry (champion!), you can add some pasta dishes – marinara or grilled Ora king salmon (+RM 20). The former is spaghetti covered with a light tomato sauce. The latter is a rich truffle cream with the prized NZ salmon over linguine. Known as the "wagyu of salmon," the flesh sports a fine marbling of fat and vibrant orange. Alternatively, upgrade to the A5 wagyu hamburger (+RM 35) with port wine and grilled veg. Not a single piece of the premium beef is wasted. The off-cuts of the sirloin are used to make the patty, and the buttery house-made brioche links the fats seamlessly.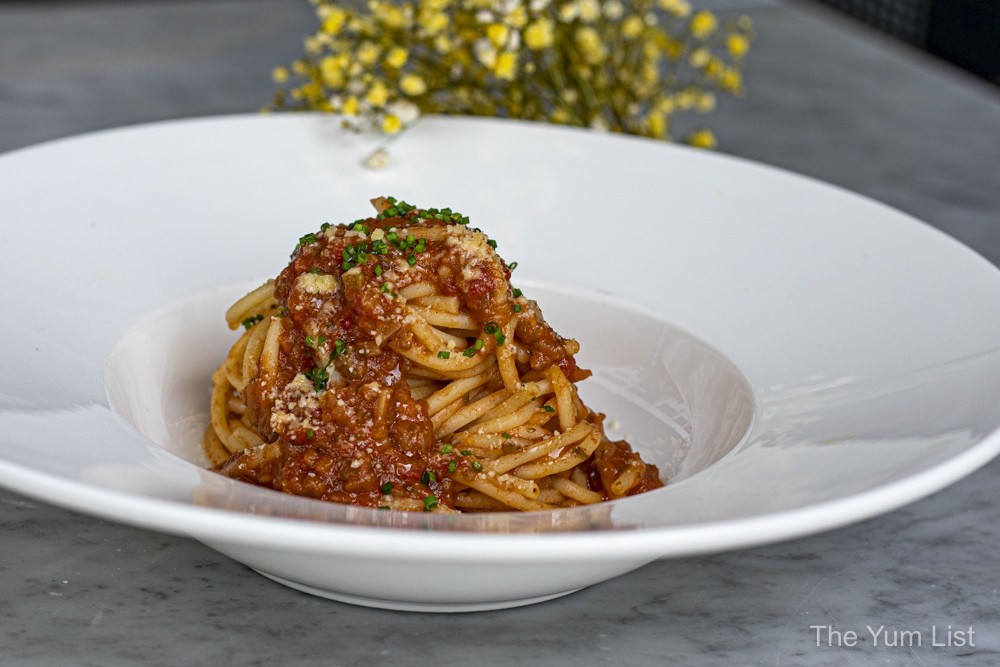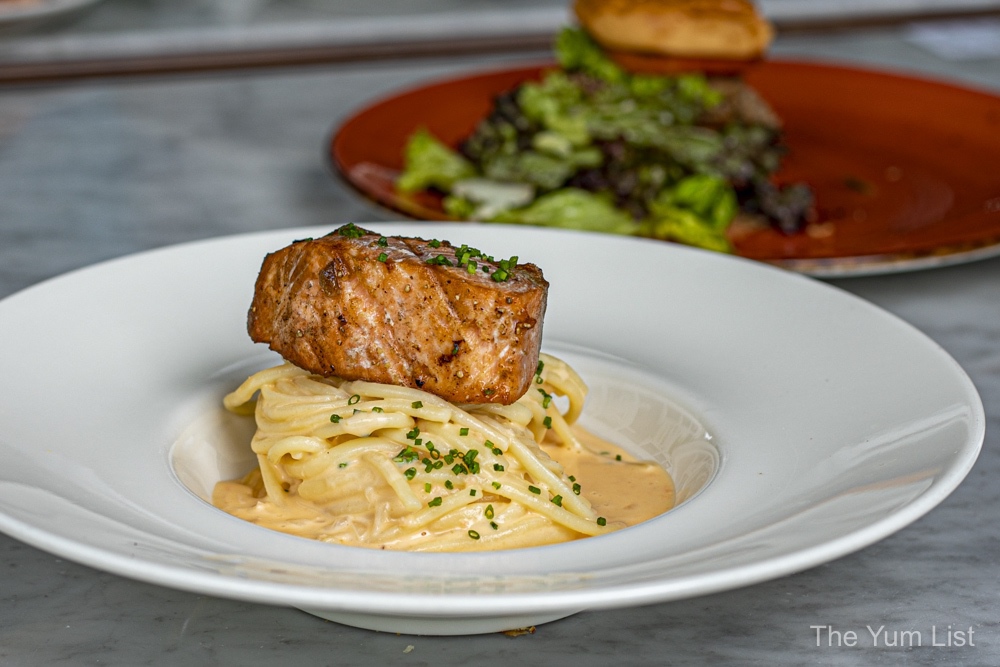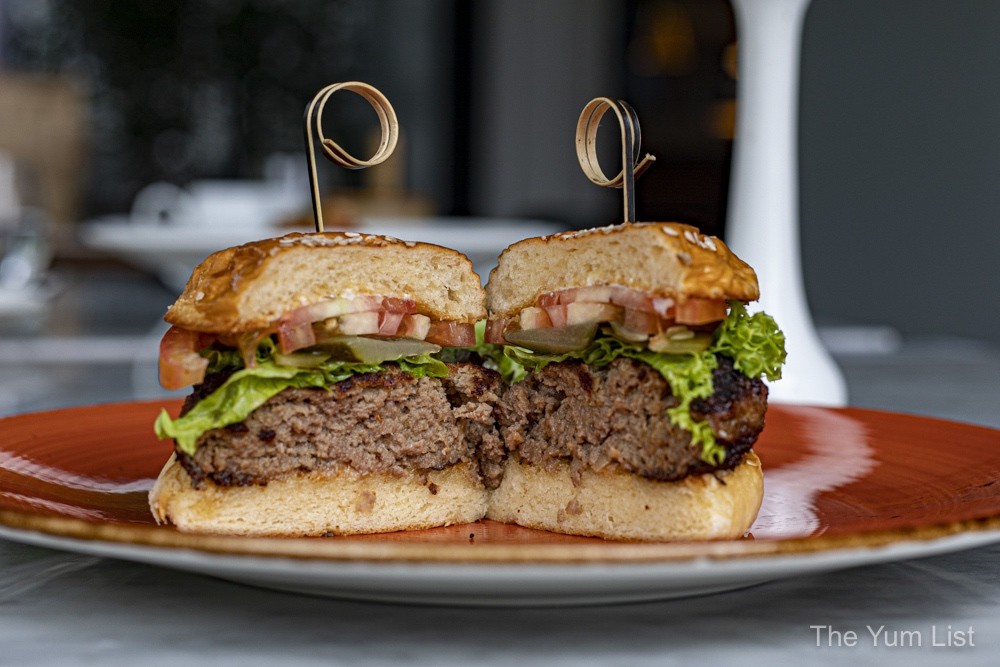 Tier 4 (RM 18)
Lastly, taking the breakfast experience over the top, you can end your morning meal with a choice of cakes and tarts. Can you complete the four-tier challenge?! We had a good try! Actually, I think we over-performed with a slice of brownie, pandan layer cake, burnt cheesecake, chocolate tart and pecan pie. We're pleasantly surprised that none of the desserts are overly sweet but rather showcase natural flavours marking each distinctly their own. I no longer eat dessert so leave the judgement to Rich, who says the cheesecake is his top pick.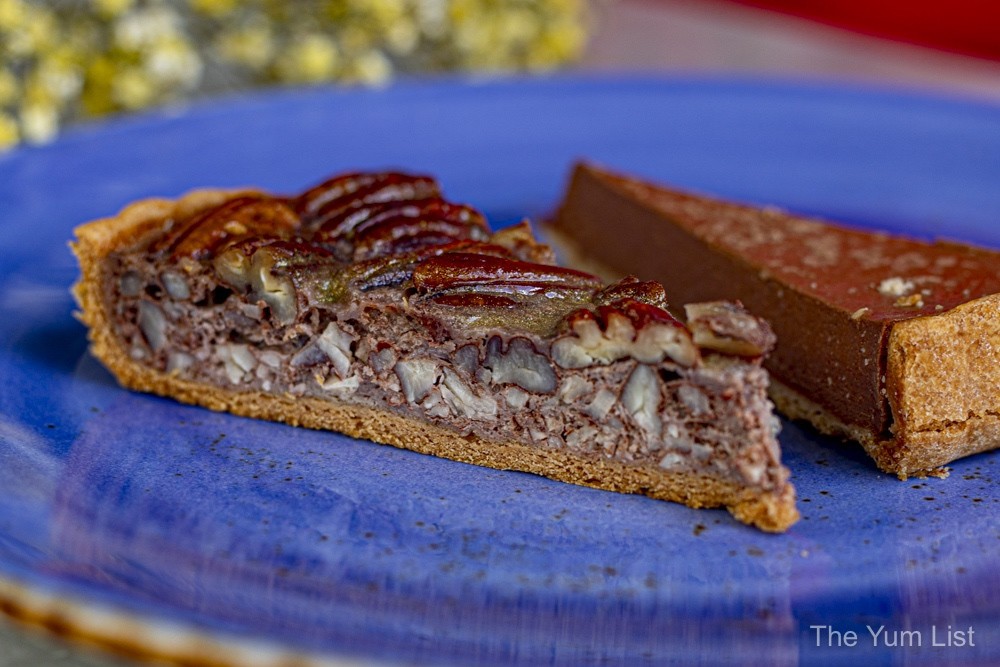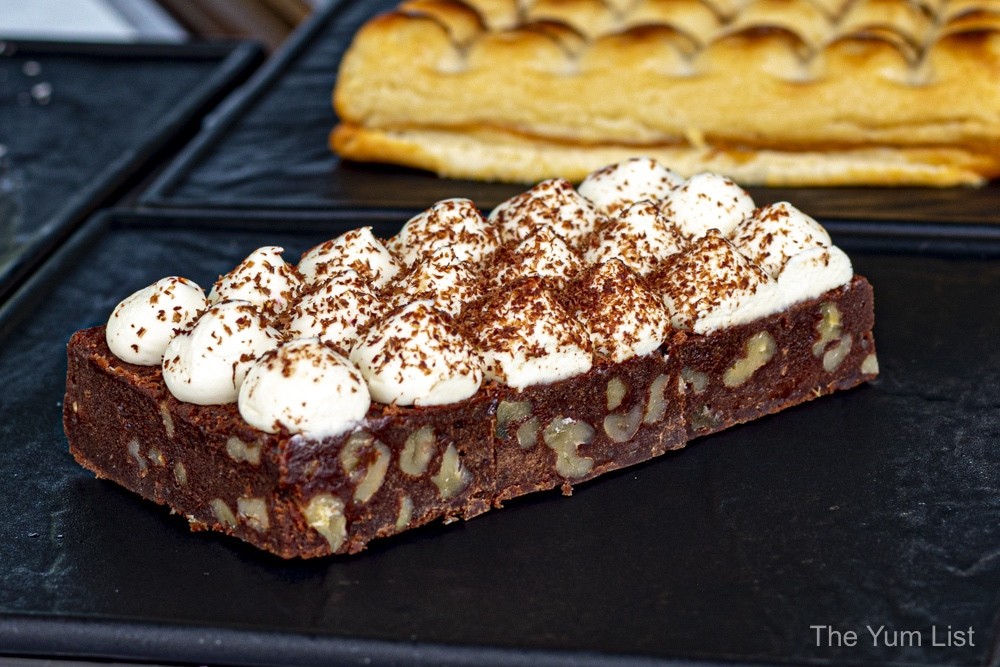 Breakfast in Bukit Bintang – Alternatives
What if you just want one of the courses? No problem! Just order that course. The team are super flexible. You can pick and choose whatever you want. Come as you are and eat what you please. Doesn't that sound like a wonderful morning?
Reasons to have breakfast in Bukit Bintang at Ultime Atelier & Boulangerie: the pastries!!! An incredible selection of baked goods made with nothing but top-quality ingredients and the greatest of care; lovely patio dining; sweet tooths shouldn't miss the cheese and caramel cinnamon bun or the chocolate croissant.
Breakfast in Bukit Bintang at Ultime Atelier & Boulangerie
Level 3A Wisma Noble Land
2 Jalan Changkat Ceylon
50200 Kuala Lumpur, Malaysia
www.facebook.com/UltimeMY
+6 012 858 8016 or +6 03 270 40988
[email protected]
Breakfast Hours
Breakfast is available from 8 am until 11 am
Find more bakers in KL here and stay up to date with the latest happenings around Malaysia here and here.