COFA Coffee
Monica Tindall
COFA's online coffee ordering platform makes ensuring a steady supply of caffeine a breeze.
Gone are the days of picking up bags from supermarket shelves and wondering how long the beans have been sitting. COFA enables me to choose beans roasted (and ground if so desired) to order and have them on my doorstep within the week.
The Malaysian coffee roastery, COFA, is based in Johor and has over a decade in business. They provide meticulously selected, hand-roasted coffee beans via an easy-to-use platform. Beans are ethically sourced from around the globe and picked based on their exceptional character. Their website is a handy place for individuals to purchase their coffee. Trade customers can contact the team directly for wholesale prices.
If you are a coffee fan like me, you might have the tools to brew coffee in several ways. Depending on the mood or time of day, it might be espresso, cold brew, French press or a convenient drip bag. COFA has beans to suit every method and grind them to the necessary size for your chosen brew technique.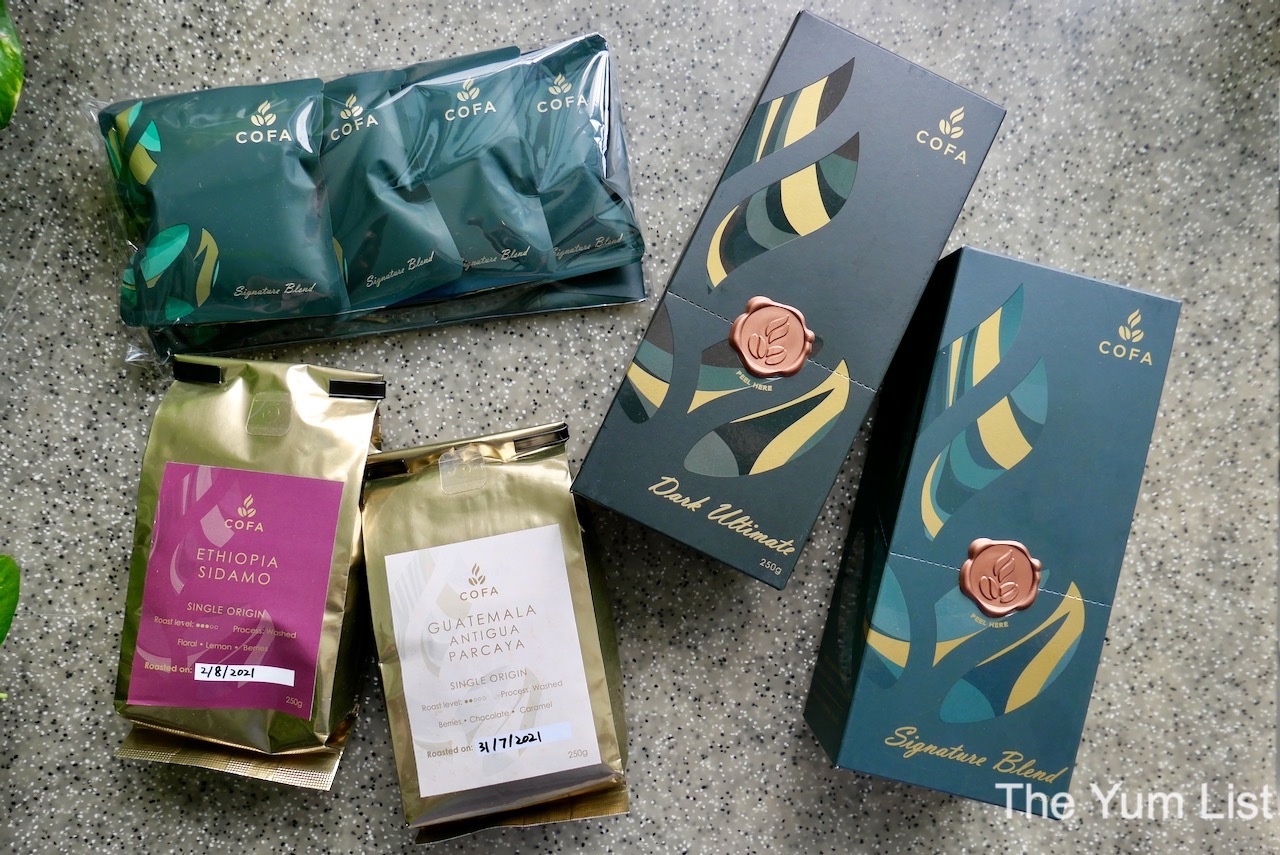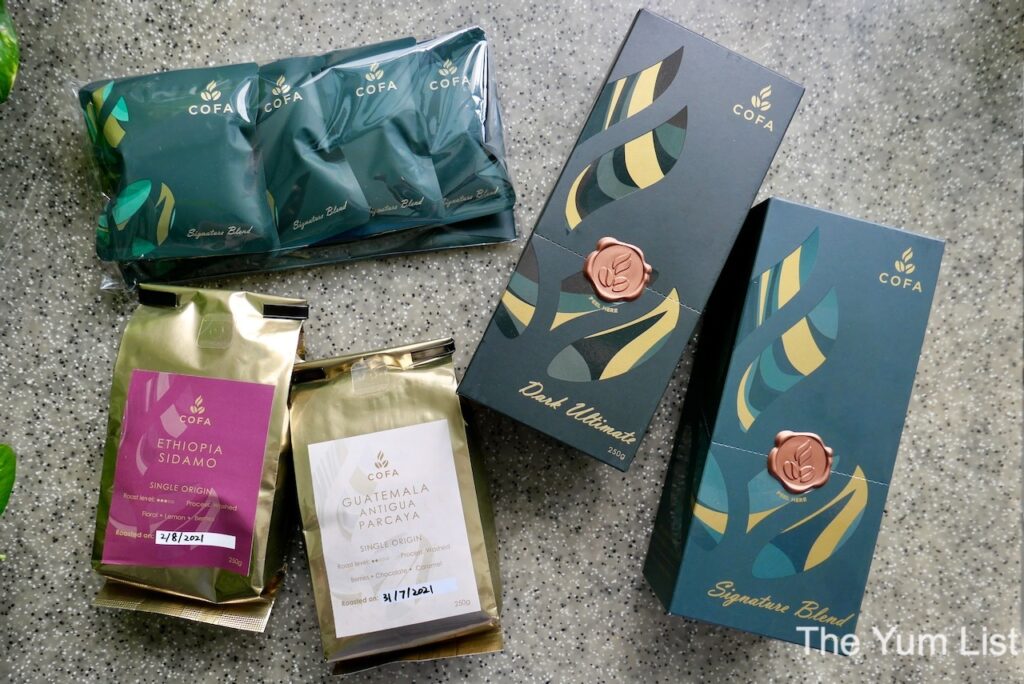 Cold Drip (and French Press too!)
Cold brew is my go-to for convenience and climate. Being the planner I am, I like to prepare everything ahead of time for a smooth work week. Filling my cold brew jug in the evening means I wake up to ready-to-pour coffee the following morning. I like mine with just a drop of milk and, on especially warm days, over ice.
One of the obvious choices for cold brew is COFA's Sidamo Yirgacheffe (RM 66, 250g) beans from Ethiopia. Yirgacheffe, one of the trademark coffee regions in the country, is known for its production of rich, full-bodied beans with vibrant acidity and floral and citrus notes.
The soil and climate are conducive to the growth of premium Arabica beans. Additionally, low-density planting and rich organic matter further develop their distinct flavour. A medium roast encourages the fruity notes to come to the forefront. It is best appreciated black or with just a tiny splash of milk. I also find a droplet of maple syrup enhances the finish.
Also, just north of the Equator but on the other side of the world, Guatemala brings us Antigua Parcaya (RM 49, 250g) beans. True to the altitude, volcanic soil and microclimate, these beans offer aromas of cherry and chocolate, nuts and toffee. These are ideal for those who prefer more of a chocolatey finish in their brew. Rich and complex, these beans are some of my favourites.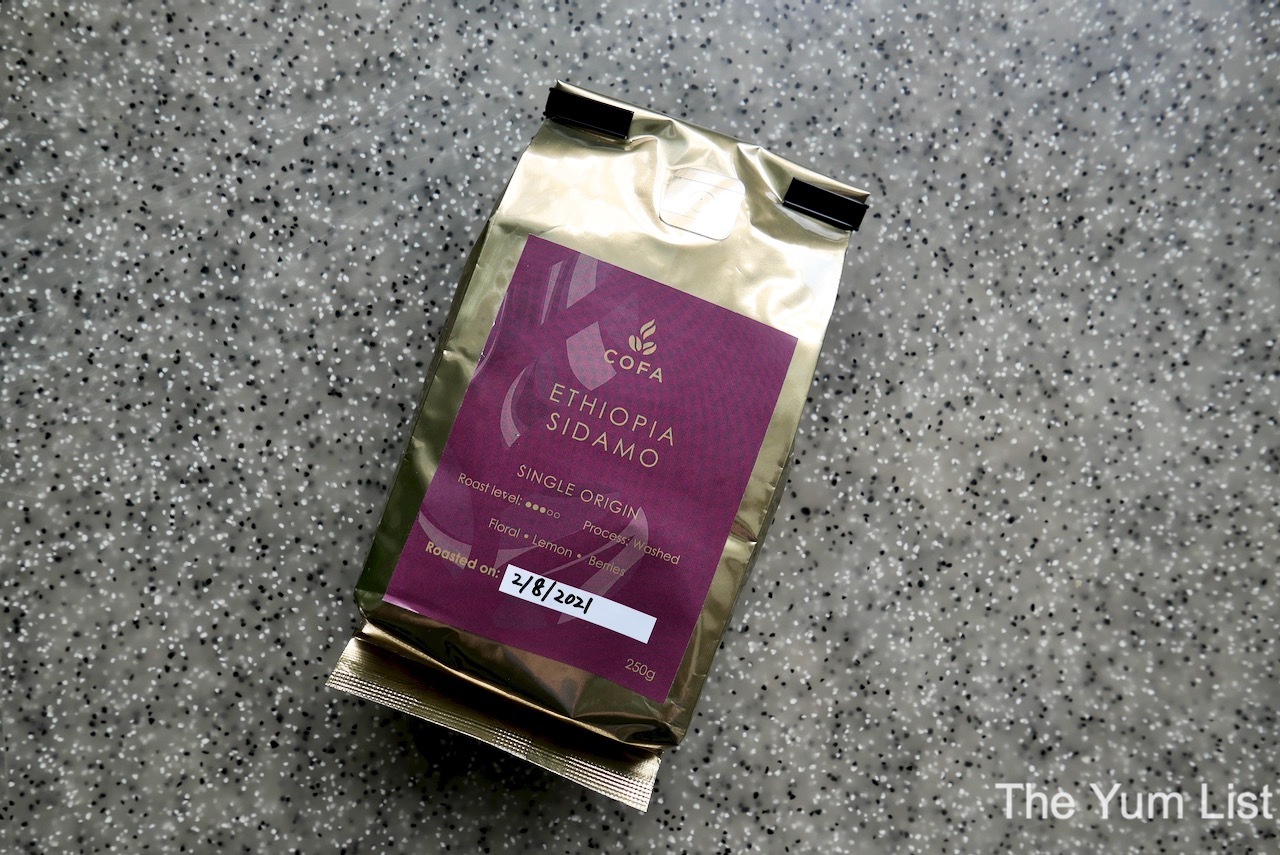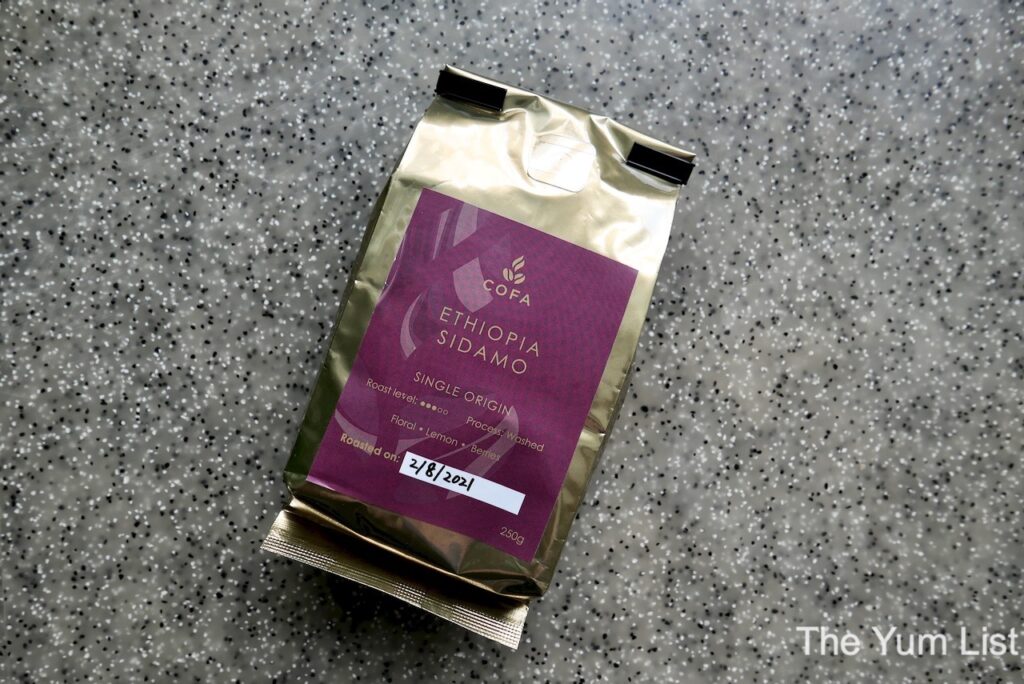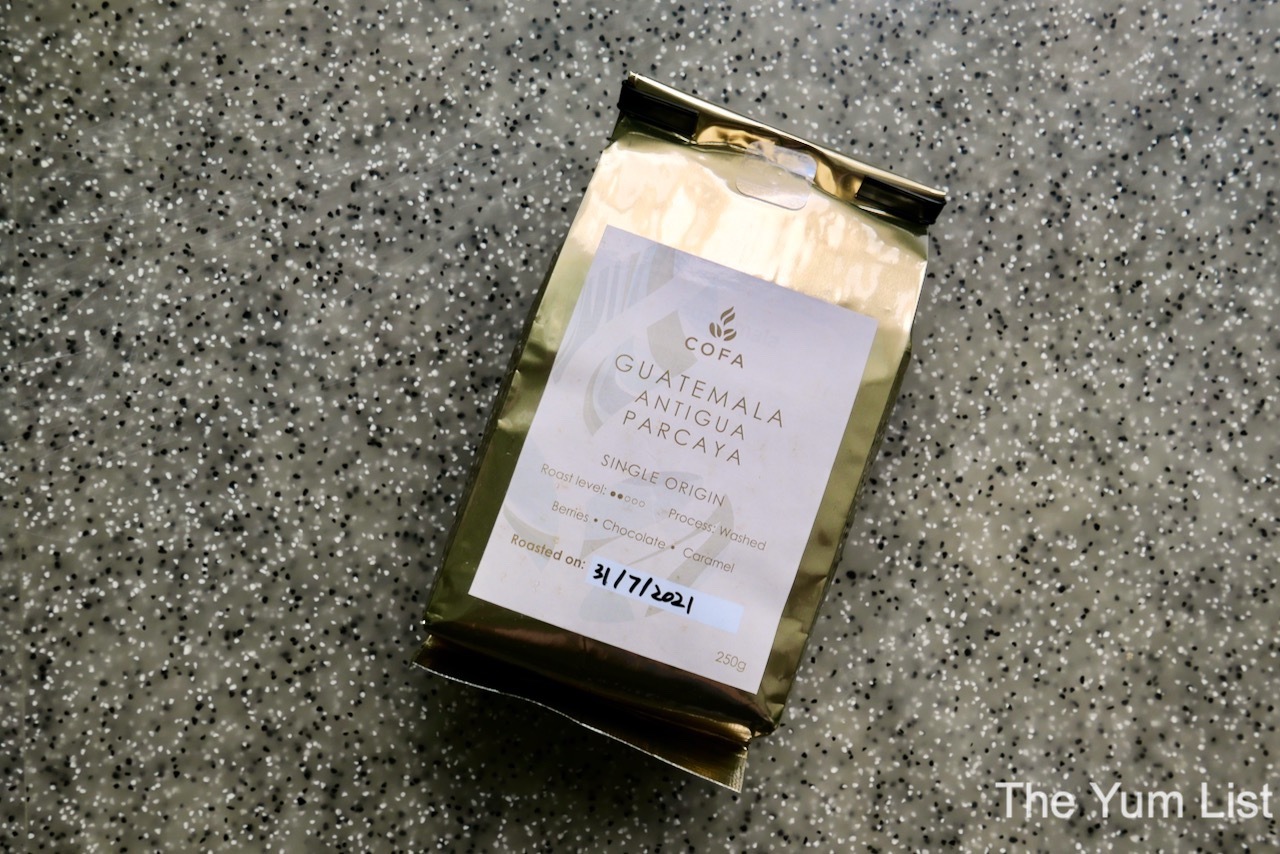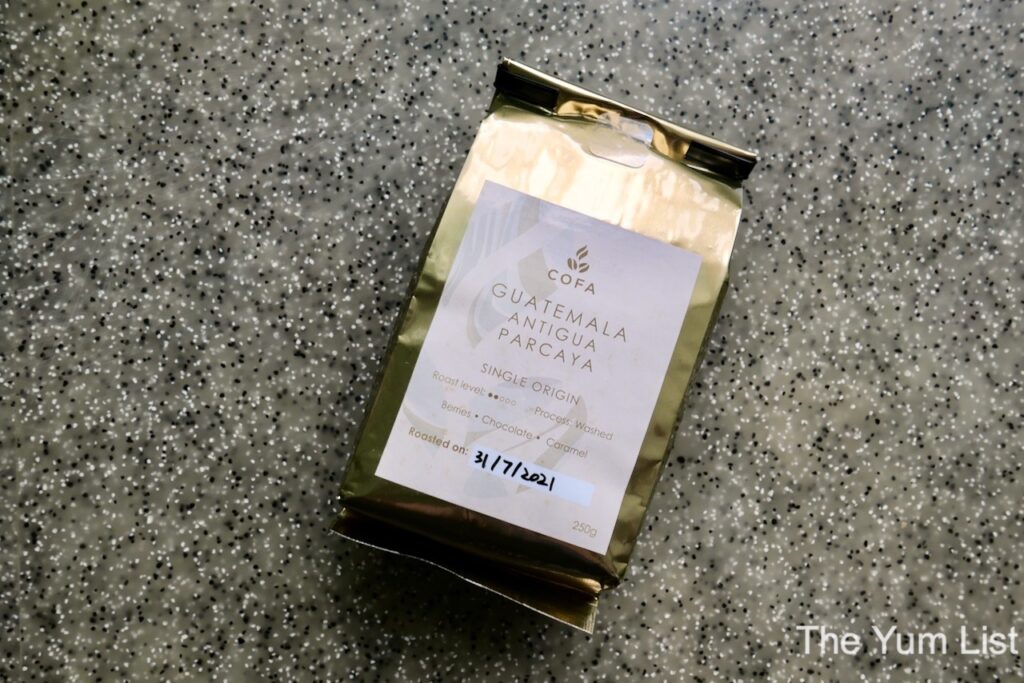 Espresso
On days when I have more time, I like to make espresso and top it with a well-textured foam. COFA offers two blends, ideal for this method of extraction.
COFA's Signature Blend (RM 49, 250g) sees fine Arabica beans toasted to a glossy, dark chestnut hue. Abundant in aroma and flavour, this coffee gives a balance of fruitiness and chocolate, with caramel sweetness. Low in acidity with a medium body, it does well as espresso or topped with textured milk.
The Dark Ultimate Blend (RM 42, 250g) is another great choice for espresso (or a mocha pot). Carefully selected Robusta beans tossed with premium Arabica bolster every cup for a rich, bold profile guaranteed to kickstart the day. This glossy, dark roast resembles pure cocoa, which is mirrored in the palate alongside and a hint of caramel. If you are transitioning between traditional Kopi-O and third-wave coffee trends, this is the perfect gateway drink.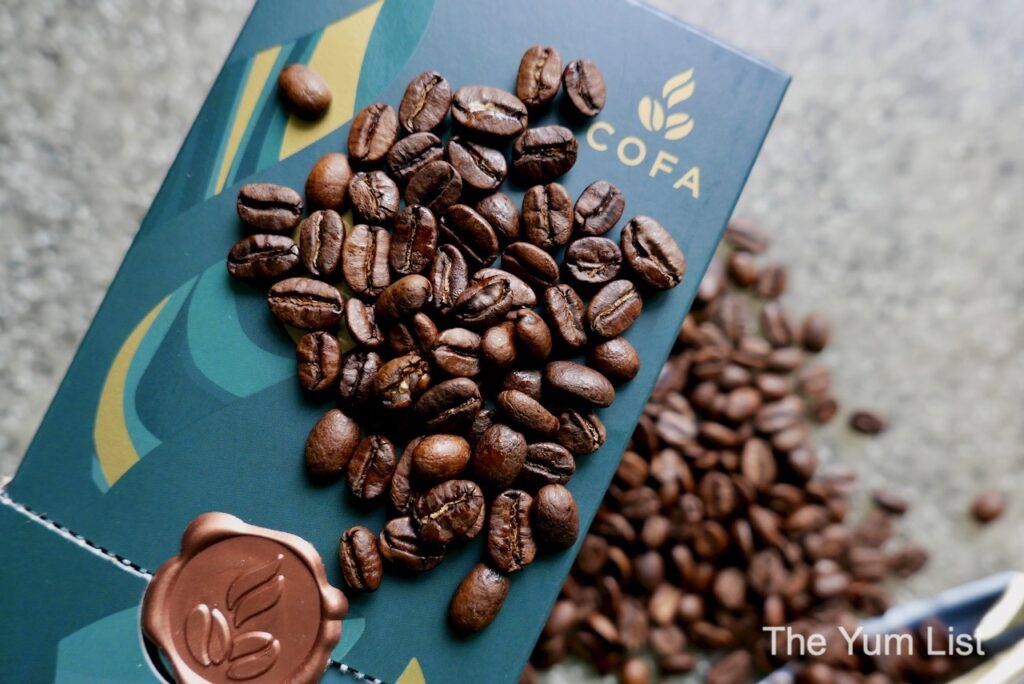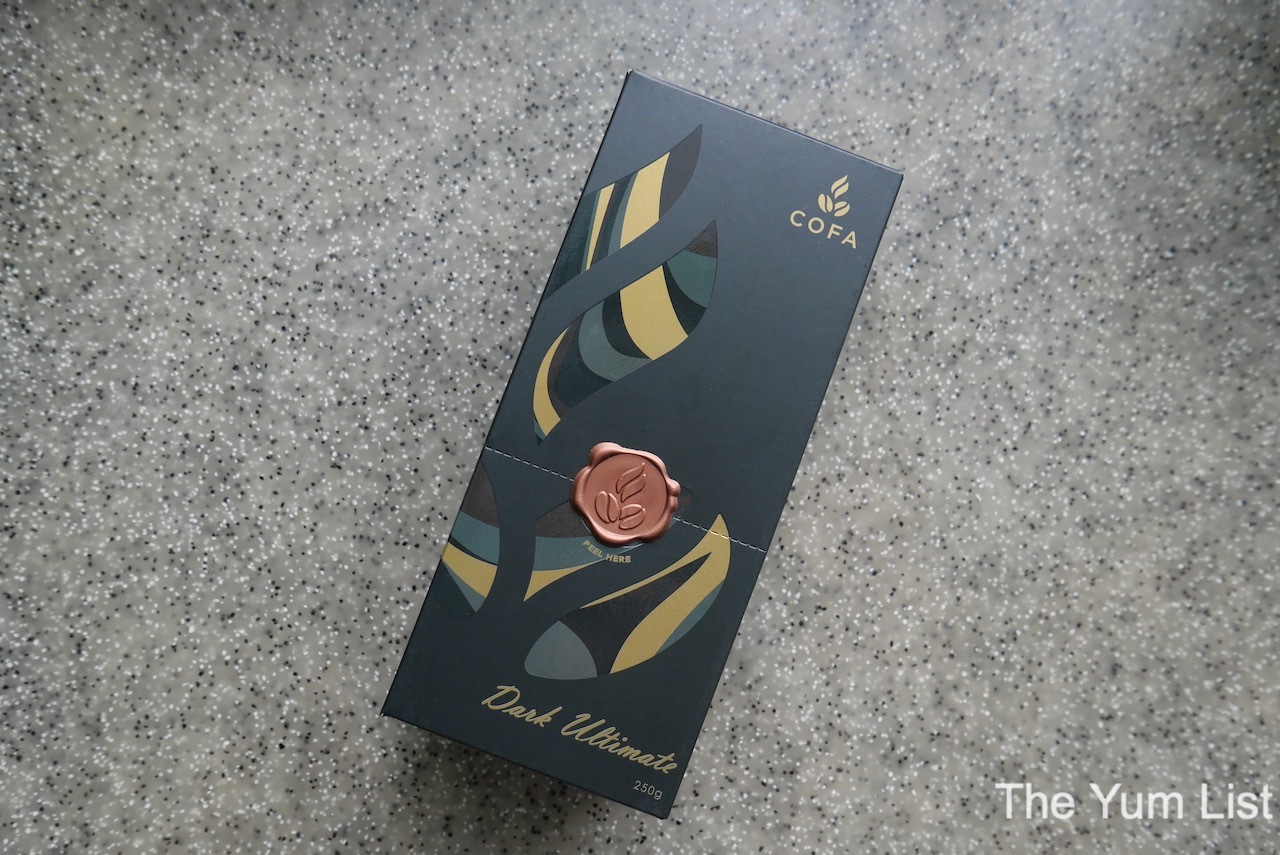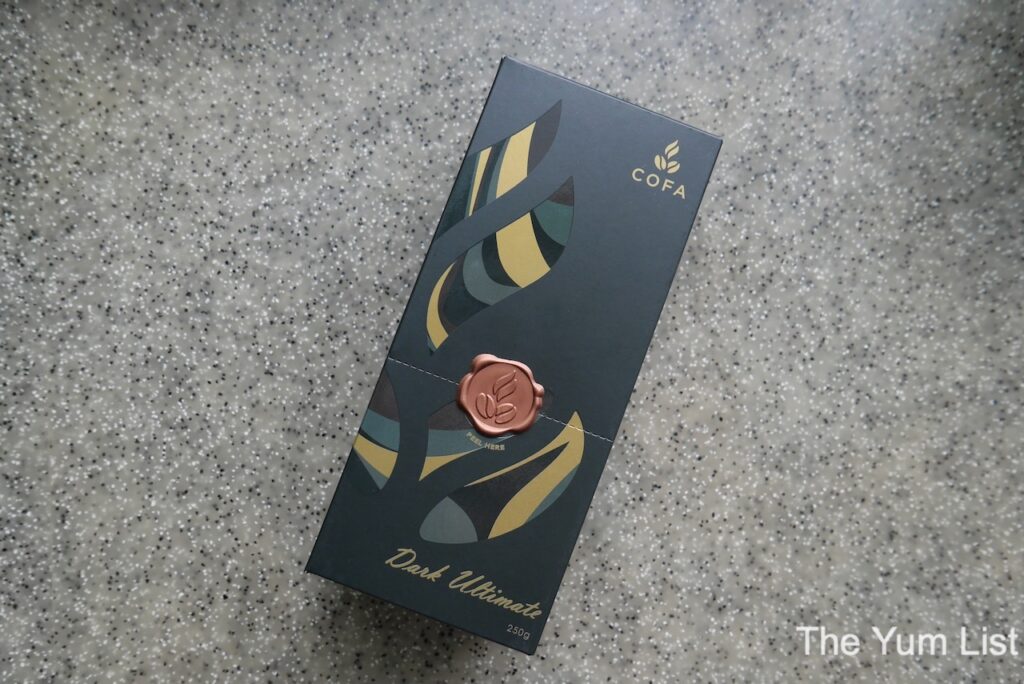 COFA Convenience
On the rare days I don't have my cold brew prepared, or on the more frequent occasions where I'm in need of an additional daily cup, COFA's Coffee Drip Bags (RM 30, 5 sachets) is superbly convenient.
The individual sachets are filled with the COFA Signature Blend and allow me to brew a cup in less than a minute. When return to the physical office happens, I'll be keeping a draw stocked with these for sure. All that is needed is the bag, just-boiled water and a cup. Tear open the bag and hook it over the cup's rim. Pour in between 180ml – 200ml of hot water. Let it steep for 30 seconds or more (I usually do a full minute), then remove the sachet. I toss the remains directly in our compost. Still, they also work well to remove fridge odours or even as a natural body scrub.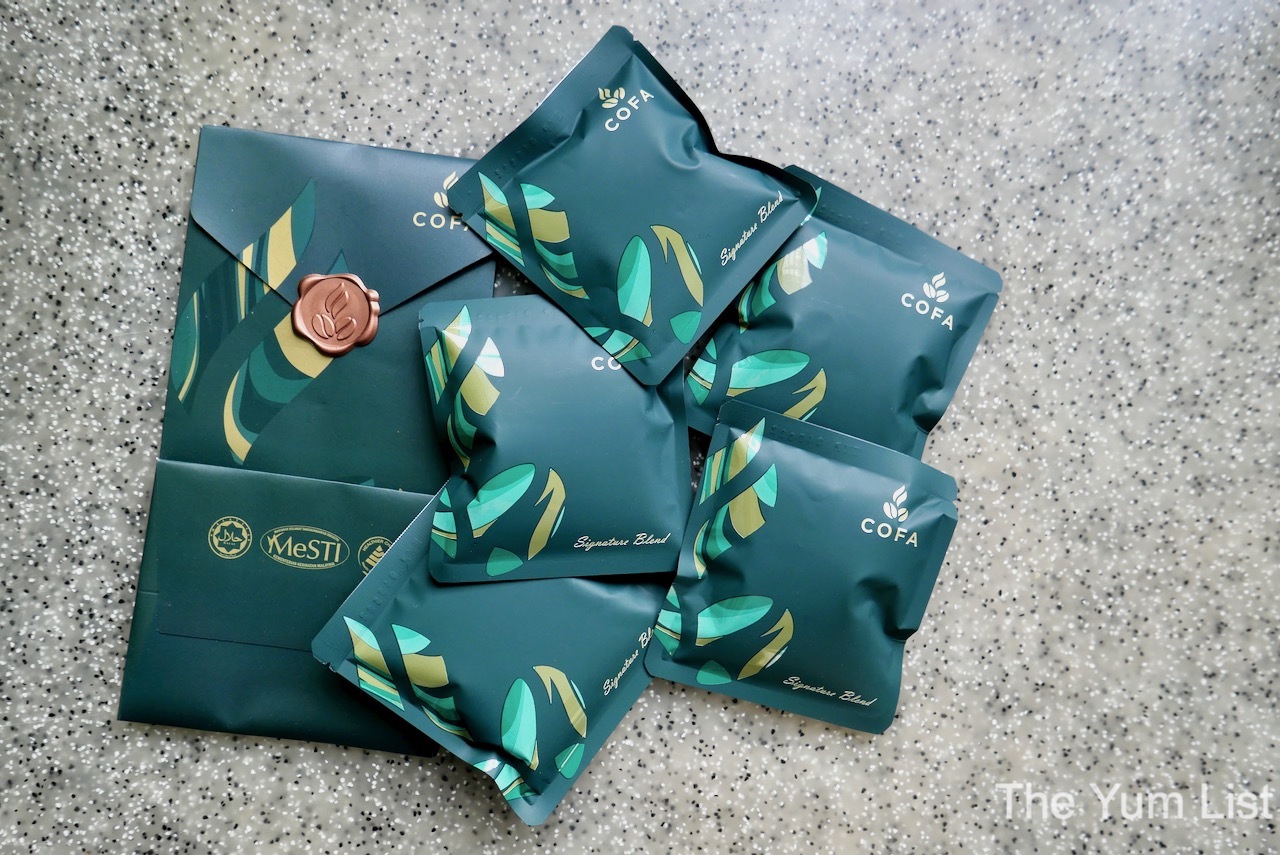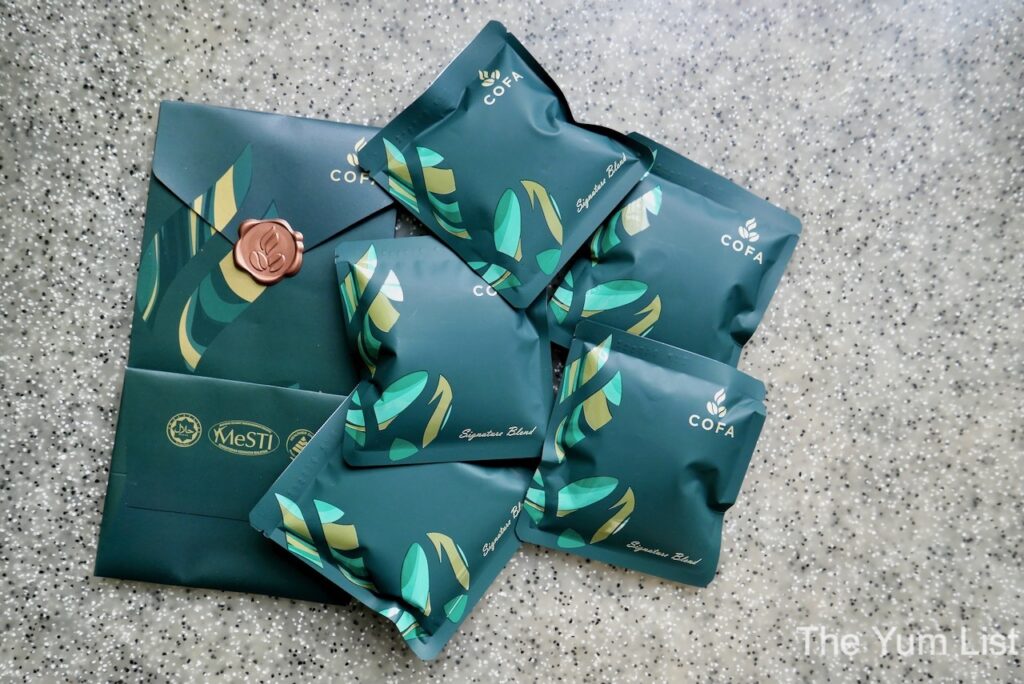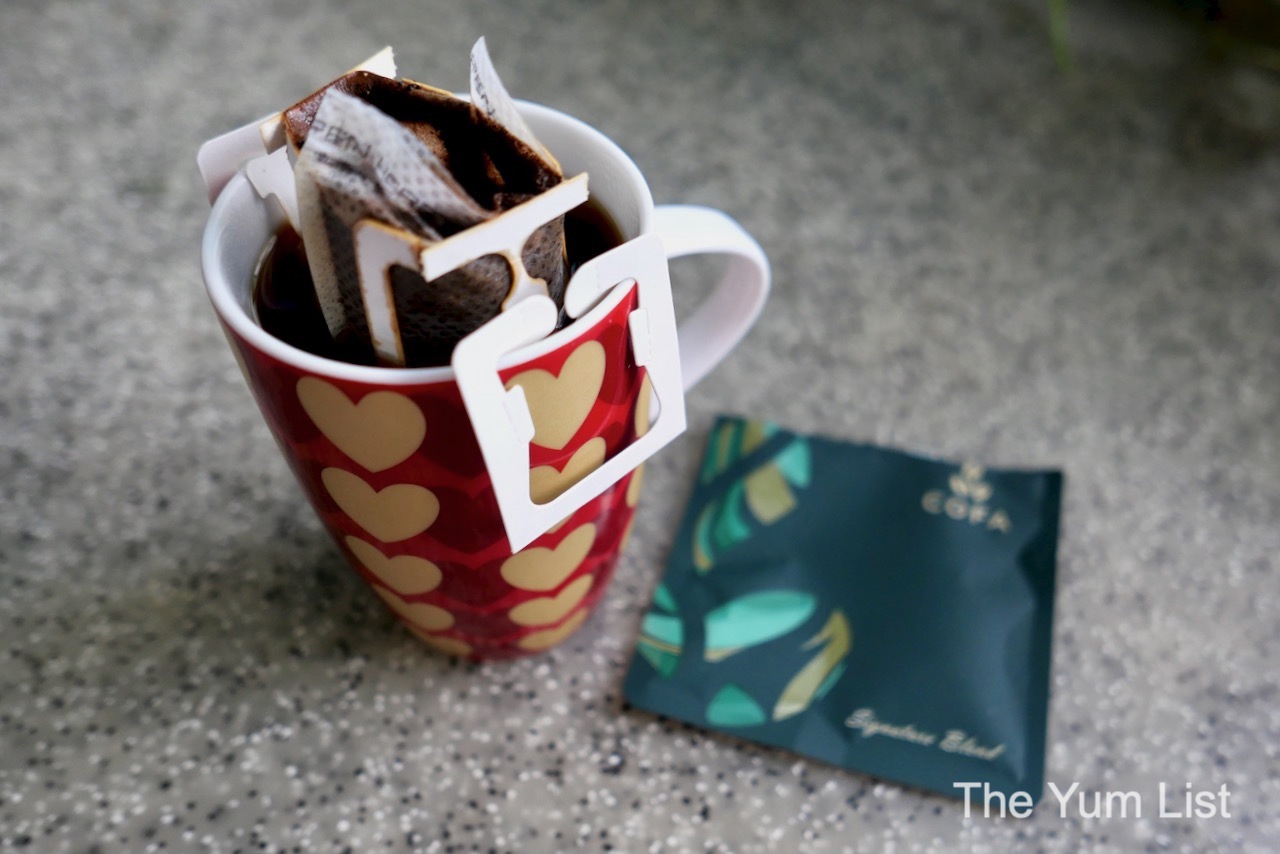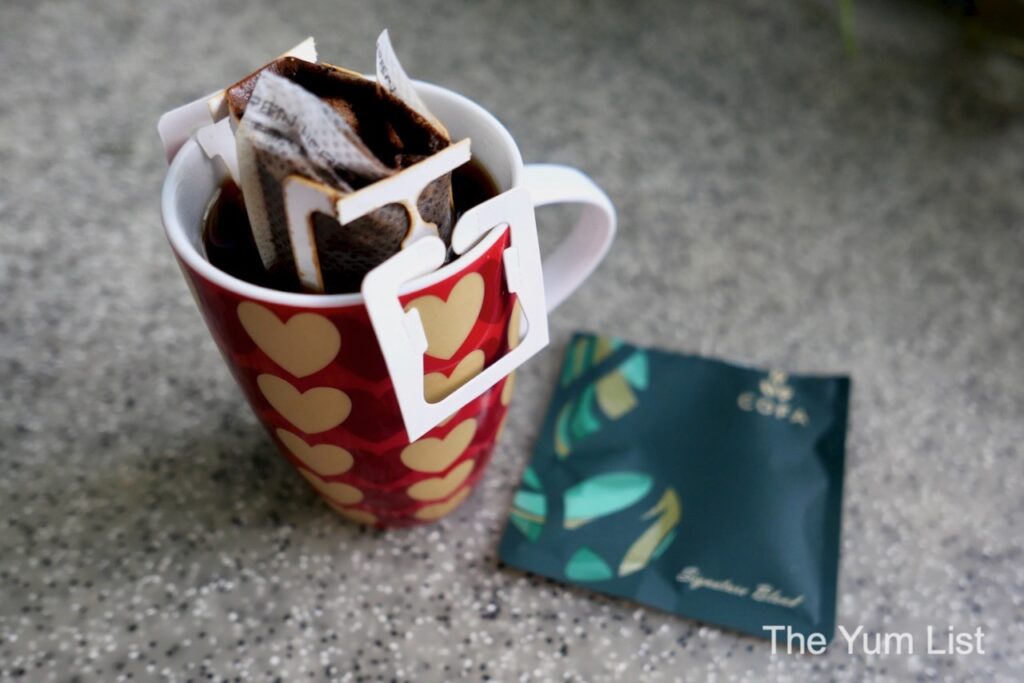 COFA Coffee
Currently, COFA offers free shipping for purchases above RM80 for West Malaysia, RM 120 for East Malaysia, and above RM 250 for Singapore. Additionally, use the code THEYUMLIST to get a 10% discount on your purchase.
Find more on KL's vibrant cafe scene here and stay up-to-date on KL's latest food and beverage happenings here and here.