Hats On Kuala Lumpur
Words: Claire Matheson
Photos: Monica Tindall
The team at Cata Restaurant have long been advocates of developing homegrown Malaysian talent. Firmly believing in championing the next generation of aspiring Malaysian chefs, Cata Restaurant's Hats On events aim to nurture their learning and provide them with a spotlight to aid them in their growth in becoming award-winning culinary artists. In the face of considerable challenges, Malaysia's younger generation of chefs has become underdogs, striving against all odds to establish themselves amid lockdowns and MCOs.
One of my favourite things about the food scene in Malaysia is the willingness of local chefs to experiment. A country with such a rich and layered past, brimming with different cultural elements, Malaysians are quick to adapt, envision, and invent. Malaysia produces so many spectacularly talented chefs, rivalling the world's greatest foodie destinations. Menus here are a homage to a collective love of food, incorporating ingredients, flavour combinations, and preparation methods from a vast array of regional and global influences.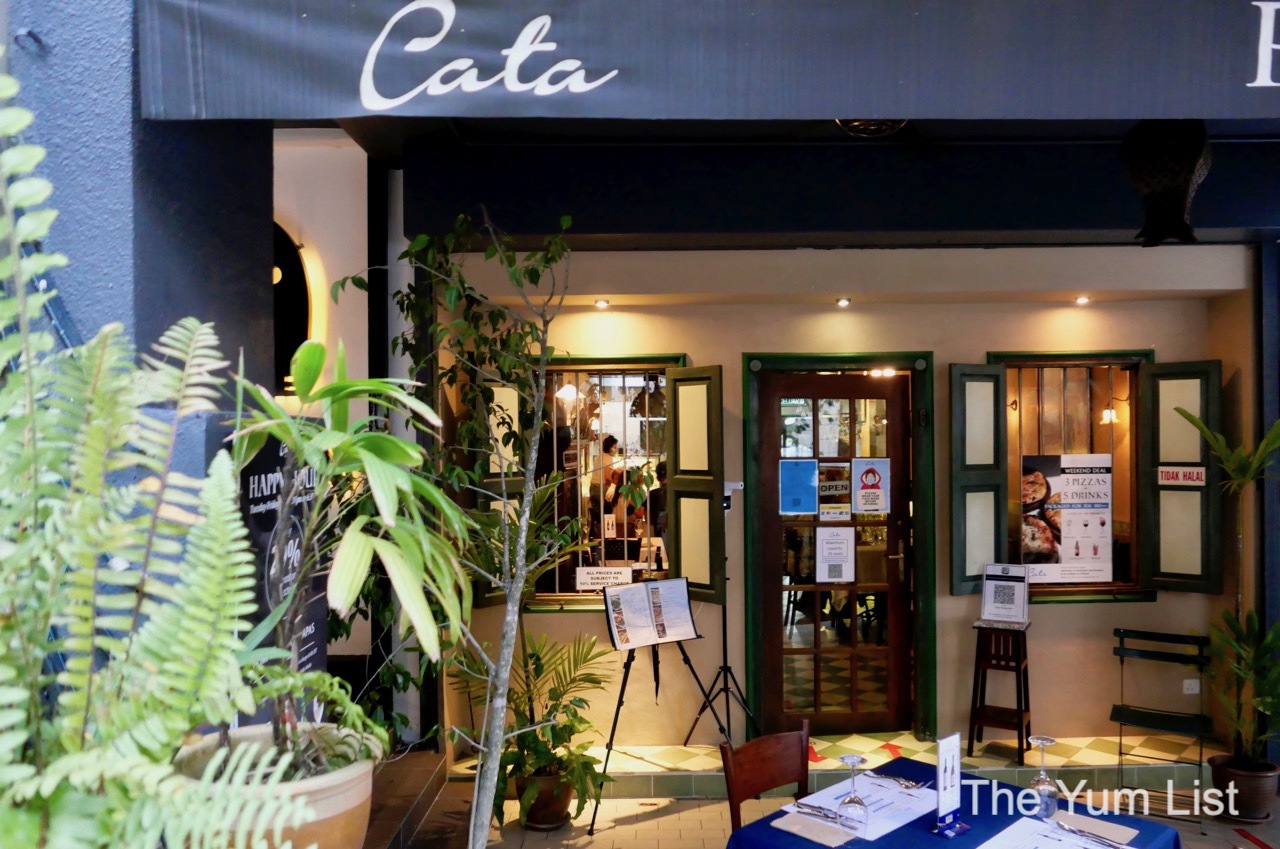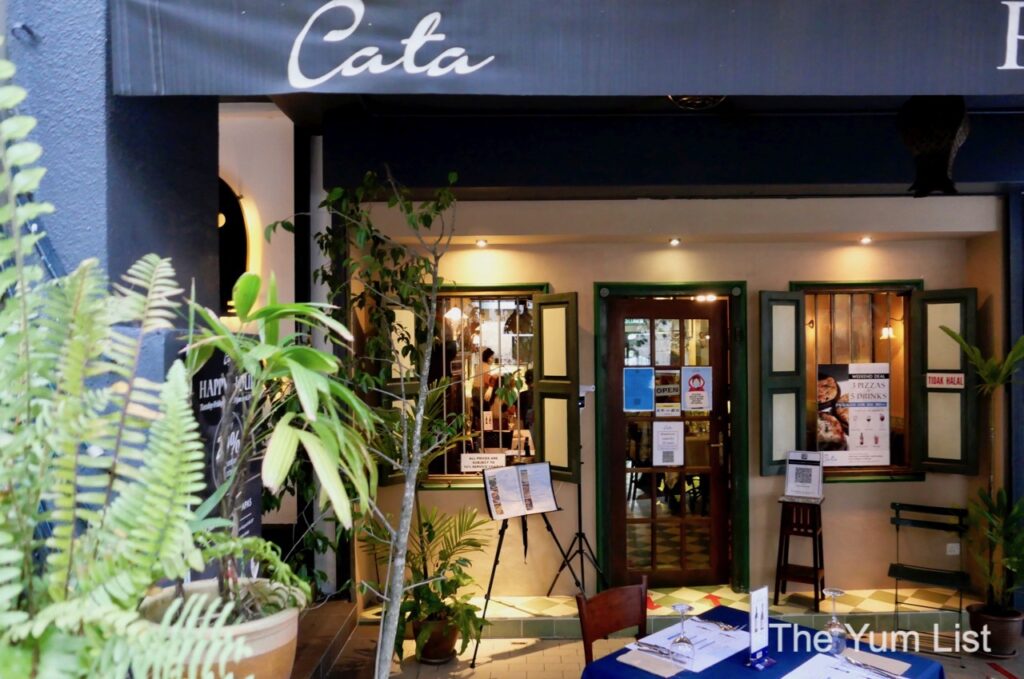 Hats On Kuala Lumpur
The team behind Cata Restaurant established the monthly Hats On event to introduce new up and coming Malaysian chefs. It provides them with the chance to flex their muscles alongside Cata's resident maestro Terry Thum, with a menu of their own innovation. The only limiting factor – their imagination.
Hats On does not only give new talents' the chance to test their mettle with great freedom and control. It gives them an audience-focused completely on them. It could also give you ultimate bragging rights, with the chance to say, 'I ate their food back when they were first starting out.'
Cata Restaurant
Today we are dining alfresco, with social distancing, on the menus of Terry Thum, Cata's resident chef and graduate of Le Cordon Bleu, and guest chef Brandon Rodrigues, also a graduate of Le Cordon Bleu. Rodrigues trained and worked at Malaysia's own illustrious Nadodi before honing his skills further at Singapore's National Gallery darling, Odette. Both restaurants have been honoured in Asia's 50 Best Restaurants, with Odette taking the coveted second-place position this year. Returning to Malaysia, we are likely to hear Rodrigues' name amongst our greats in the coming years.
Rodrigues credits his Portuguese Malay heritage for his passion for food, and it's clear to see in his menu choices. The influence of Portuguese spices, recipes and cuisine influences in Malaysia dates back to 1511. Against a backdrop of commissioned piracy, conquests and sordid colonisation, the shared love of food has united these cultures and survived the centuries. These days, Malaysian's proudly wield their Portuguese inspired culinary traditions through many local Malay and Peranakan dishes.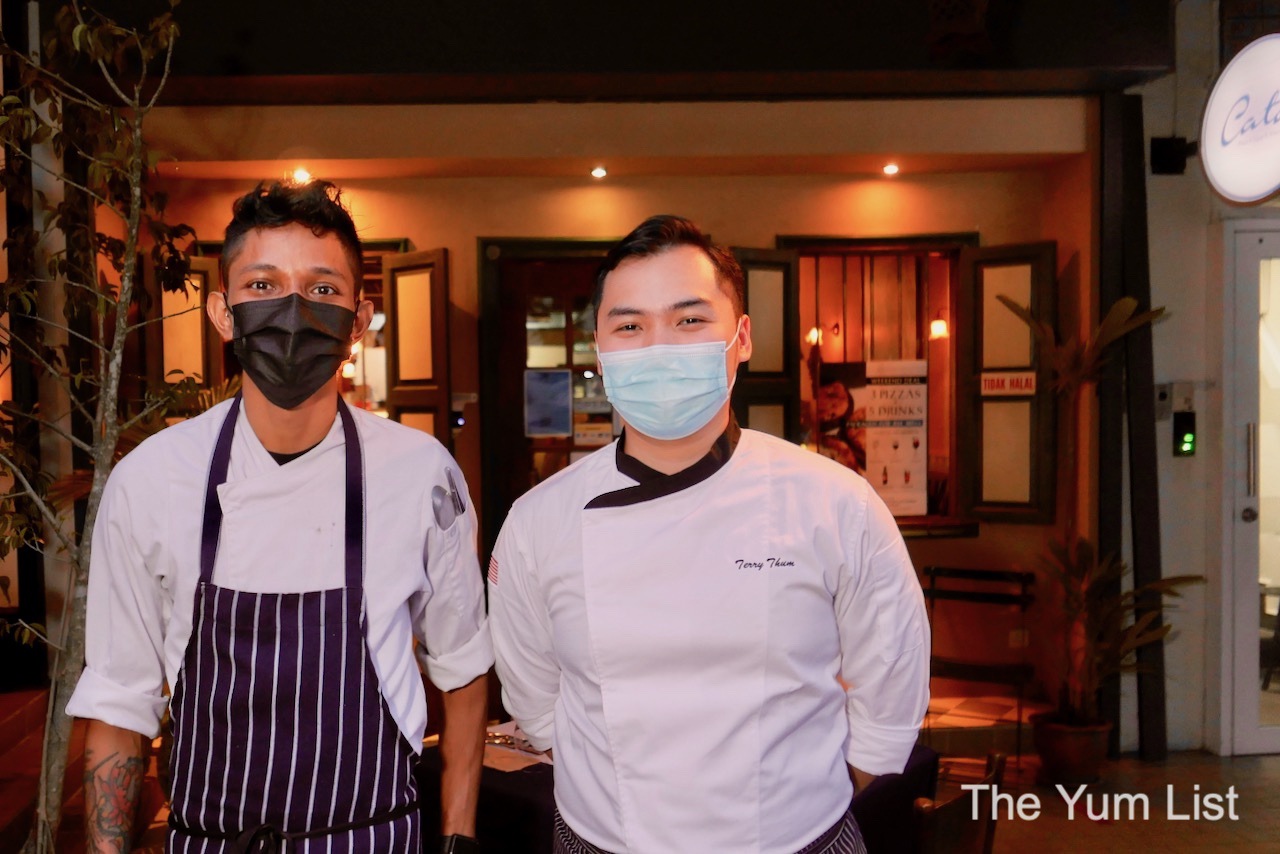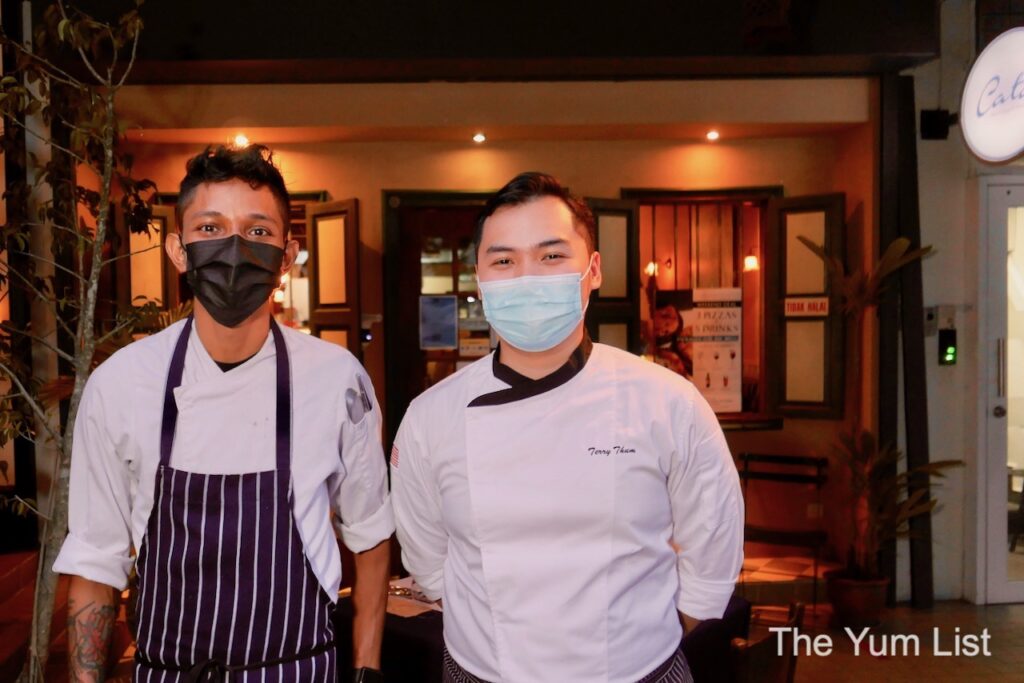 Lebanese Wine
Wine pairings this evening are from Lebanon. I have never before associated Lebanon with good wine, thinking their climes too warm. But David Stephan from Albert Wines and Spirits was there to challenge my assumptions. With vineyards in both Lebanon and Syria, winemaking brothers Karim & Sandro Saadé draw their family roots from the ancient realms of Laodicea, Antioch, Alexandria, Tripoli and Mount Lebanon. As winemakers, they are also champion underdogs, having had rows of their vines destroyed by a stray missile and persevering in their work despite its label of the 'most dangerous wine in the world'. Their belief is in the quality of their organic soils, farming with high plantation densities and very low yields per plant. This achieves just the right balance of stress on the vines to produce full-flavoured fruit full with a balance of sugars. Located in the Bekaa valley at high altitudes, which even receive snowfall, Chateau Marsyas has red limestone and clay-rich soils bringing a natural freshness and balance to their wines. There are even hints of truffle and peony in some varietals.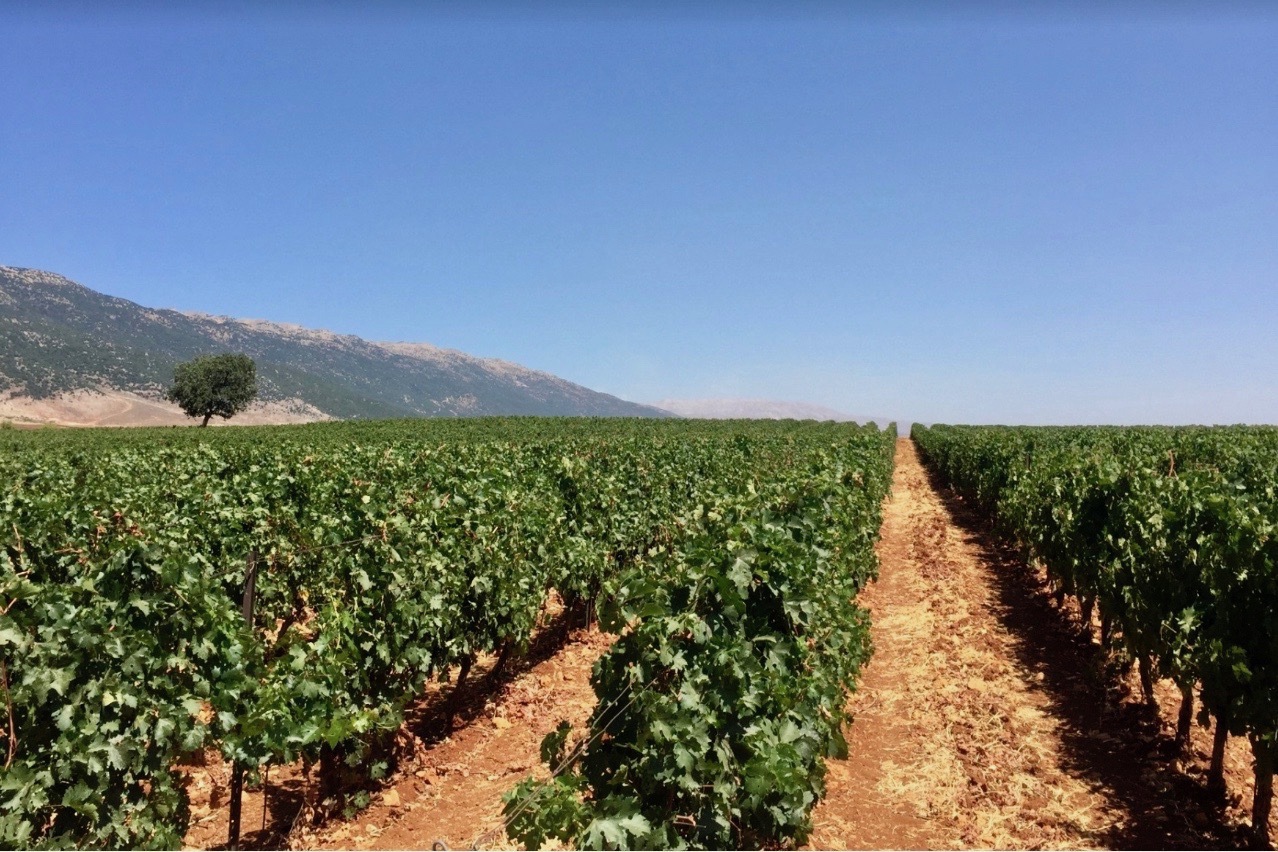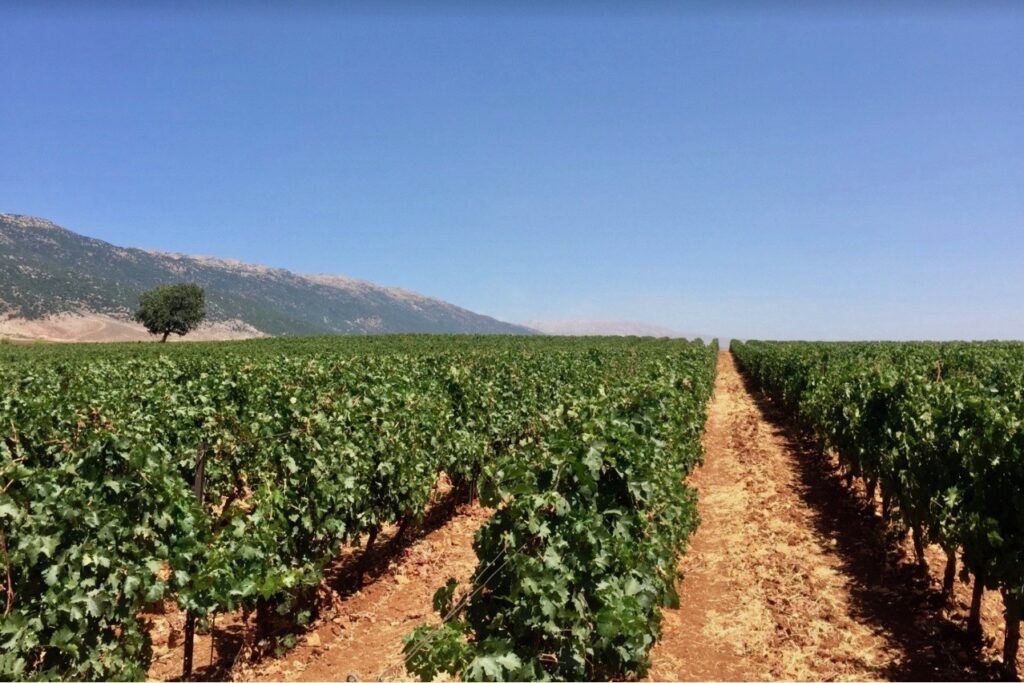 Hats On – Portuguese Menu
Sardinhas Assadas & Bacalao
Our Hats On evening begins with Sardinhas Assadas, or pan-fried butterflied sardines. A Portuguese specialty, these are fresh and light sardines with crisp skin. Cooked with a drizzle of herbed olive oil, they are topped with chimichurri-esque salsa full of finely diced garlic, fresh cherry tomatoes, parsley and lemon. On the same plate is a Bacalao, or salted codfish croquette, with potato, herbs and fresh summer vegetables rolled in a crumbed exterior. I've eaten Sardinhas Assadas, and Cod Croquettes in Porto, Lisbon, Braga and Evora, and these take me right back to those beautiful tiled streets and cork-covered hills. It's the closest we'll come to a flight to Portugal this year.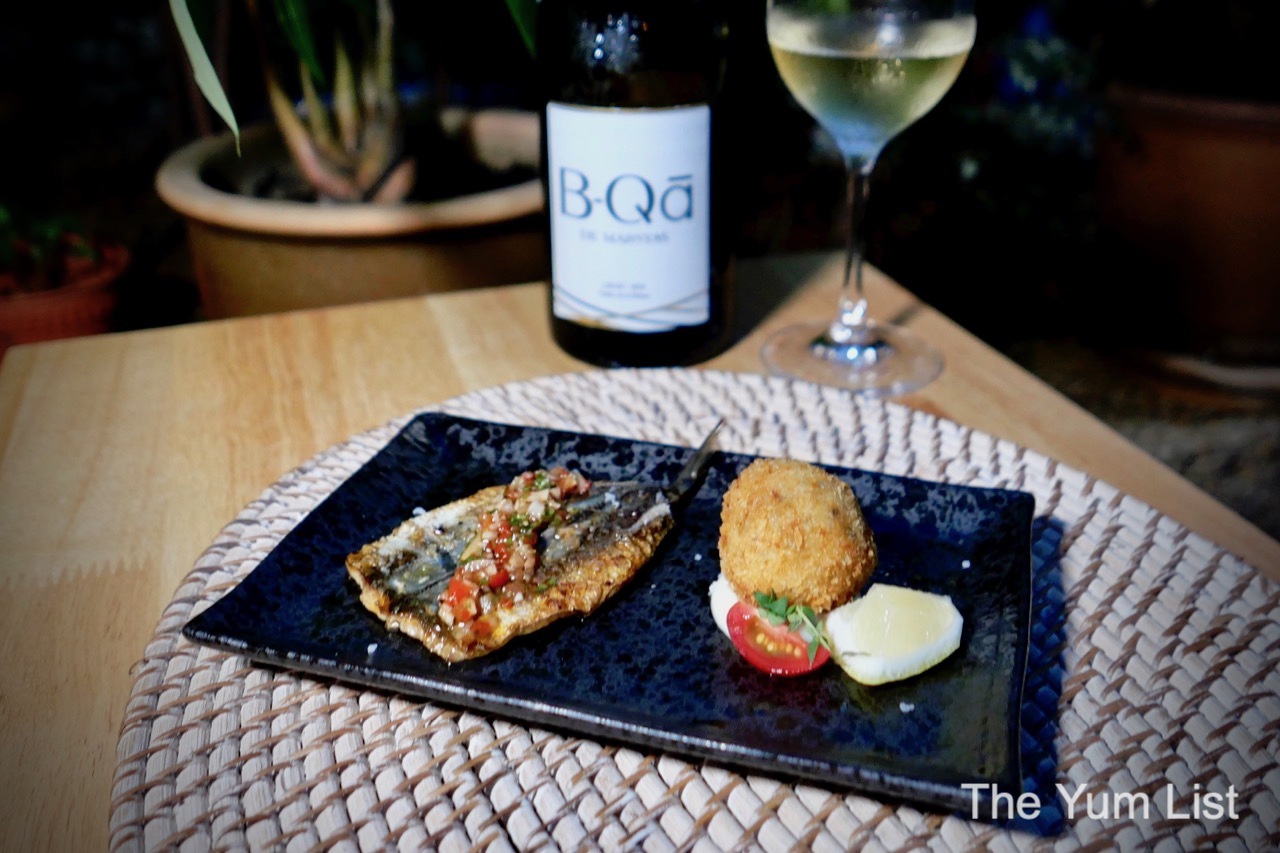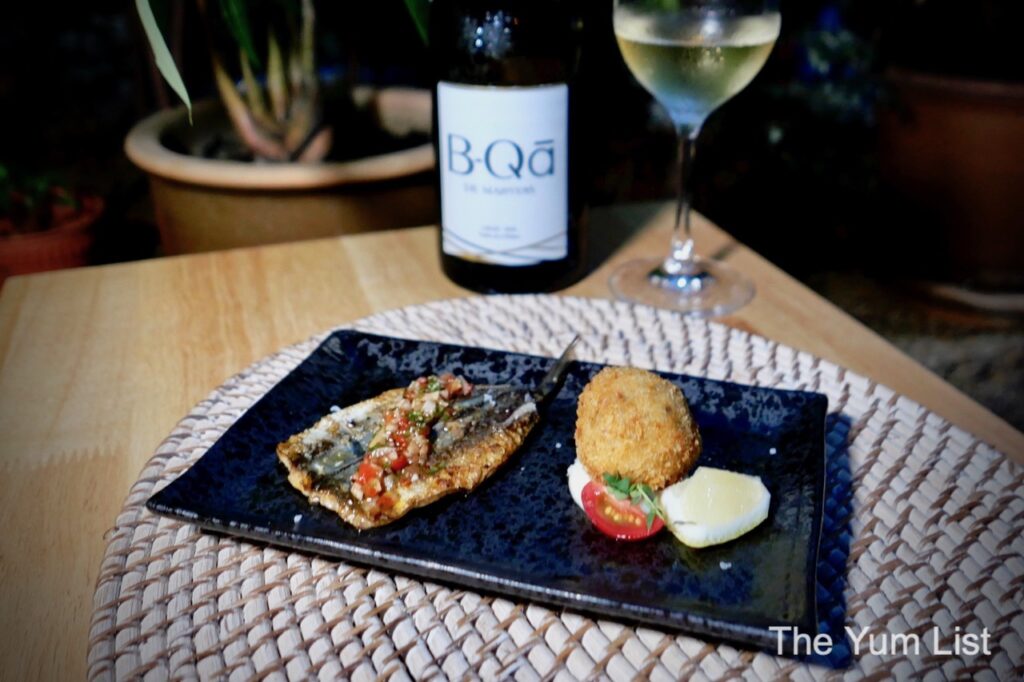 2018 Chateau Marsyas B-QA
To accentuate our first dishes, we begin with a white, the 2018 Chateau Marsyas B-QA. Blended from organic young vine sauvignon blanc and chardonnay grapes, the acidity and minerality of the chardonnay brings out the spice and highlights the flavour profile of the fish. Stronger, herbaceous greenery and fruit-forward notes of pineapple, apple and lemon zest build to a more intense end. This is an ideal pairing for dishes with subtle to medium chilli levels when sipped in between mouthfuls as the acid makes the heat dance on your tongue.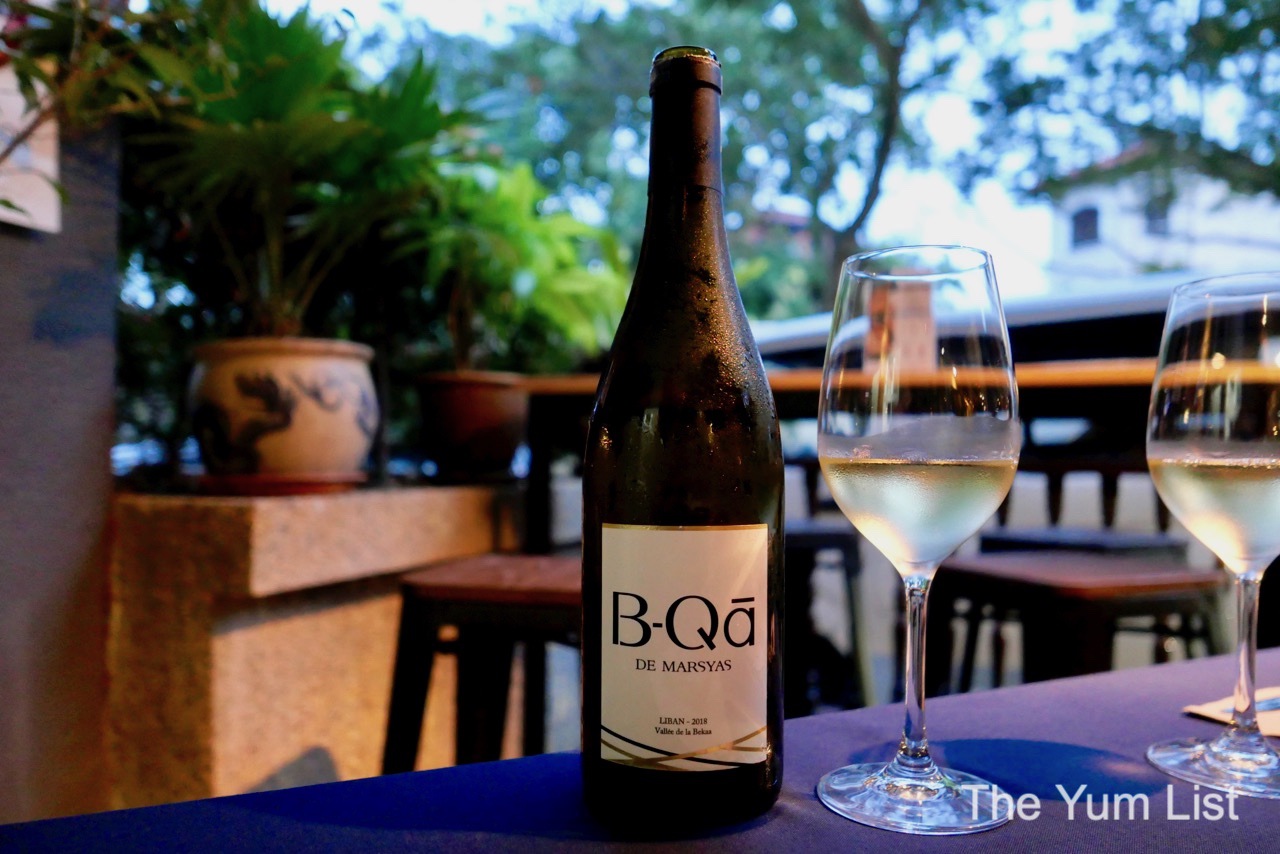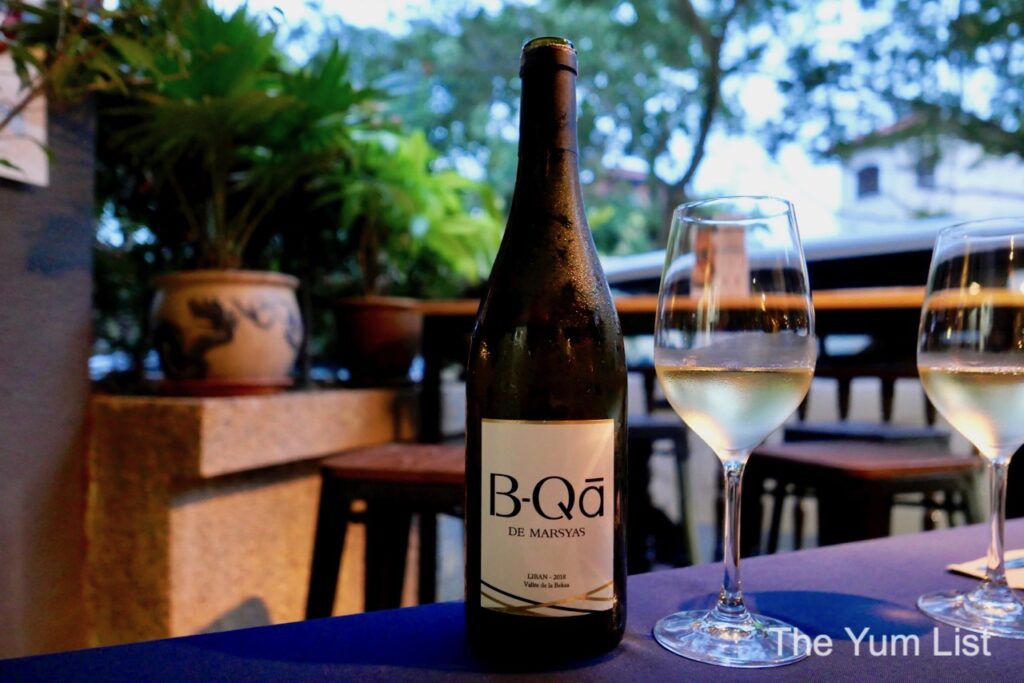 Escargots E Curry De Mamão
The next dish is an adventure in a bowl. Chef Rodrigues has created a true melding of Malacca and Portuguese flavours – Escargots E Curry De Mamão, or papaya curry with snails. If you haven't eaten snails before, you're missing out. Iconic to Western Europe, steaming bowls of snails served in open-air cafes are a regular summertime treat in Portugal, Spain and France. Somewhat meatier than sea-based shellfish, land snails have a more earthy quality. If you love truffles or mushrooms and are also a fan of mussels or clams, then you must try snails. Served in a foamy papaya coconut curry with pineapple chutney, onion and salmon roe, balls of papaya soak up the chilli heat and deliver a tropical punch. Chef Rodrigues has cleverly incorporated the strengths of the tropical fruit tones of the Chateau Marsyas B-QA into his planning of this dish. A basket of warm sourdough allows us to mop up all the extra curry sauce, leaving our bowls clean as a whistle.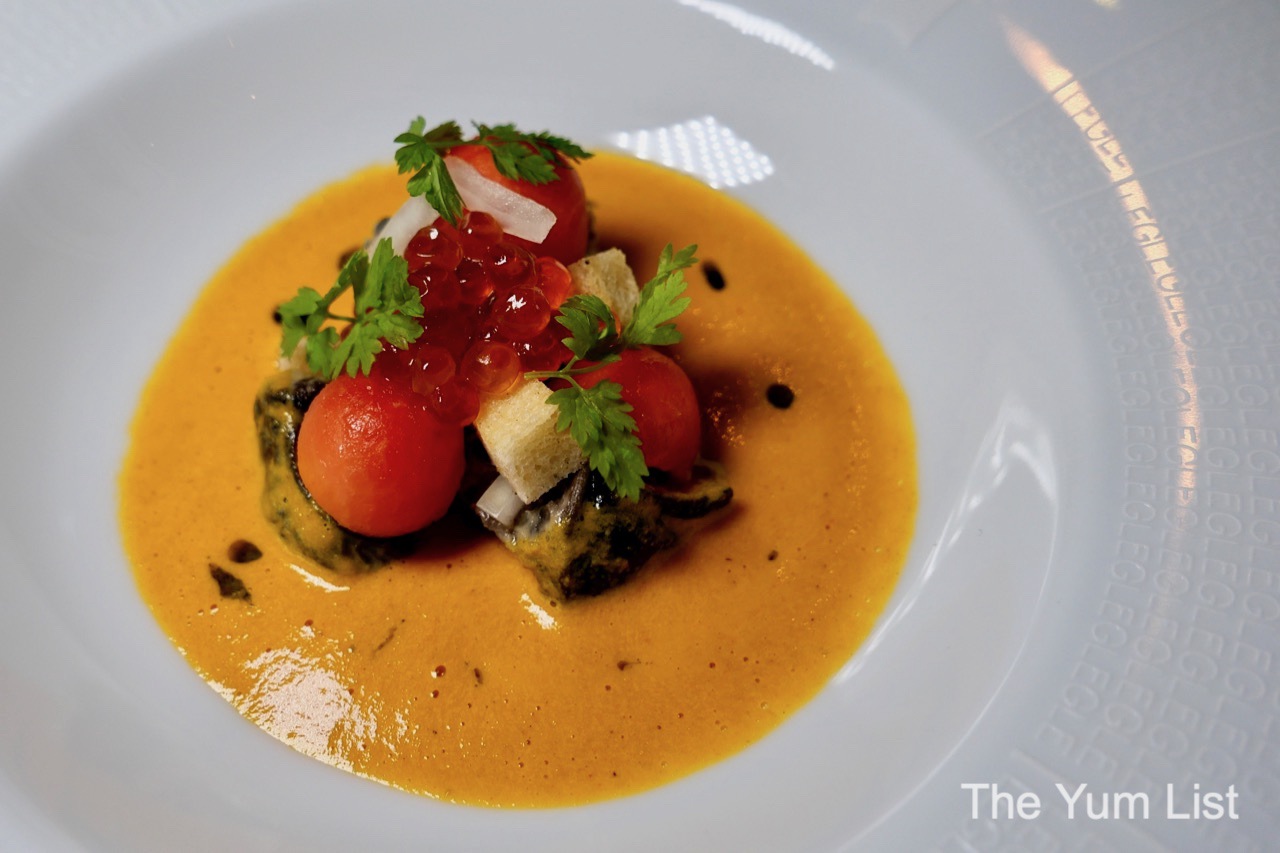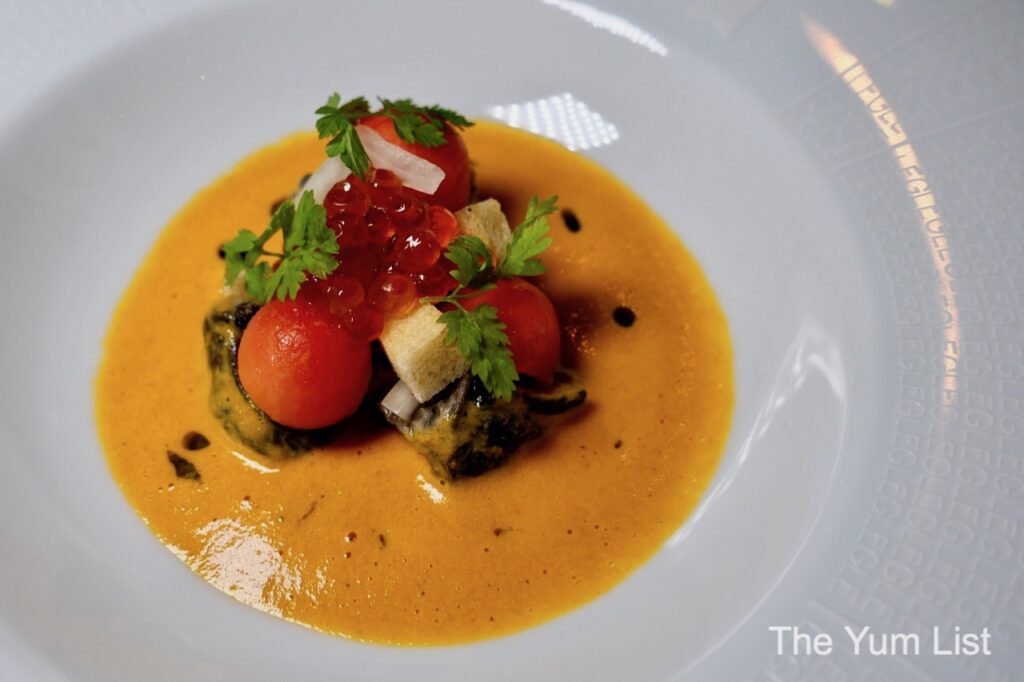 Hats On Kuala Lumpur – Peixe Assado Português
Smoked, baked fish is a staple in both Portuguese and Malaysian cuisines. Tonight's Peixe Assado Português is red snapper with a Malacca-inspired spiced prawn base. Served ikan bakar style on a banana leaf, the fish is perfectly cooked, tender and succulent, flakily submitting to the touch of a fork. Dollops of the fluffy, mousse-like prawn sauce are initially similar to the European flavour of smoked trout, building to a crescendo of extreme chilli heat. Elegantly decorated with miniature, salty herring roe, spiced mango puree, onion, cucumber, dill and Rodrigues' own homegrown lantana flowers, it's almost too pretty to eat. Almost.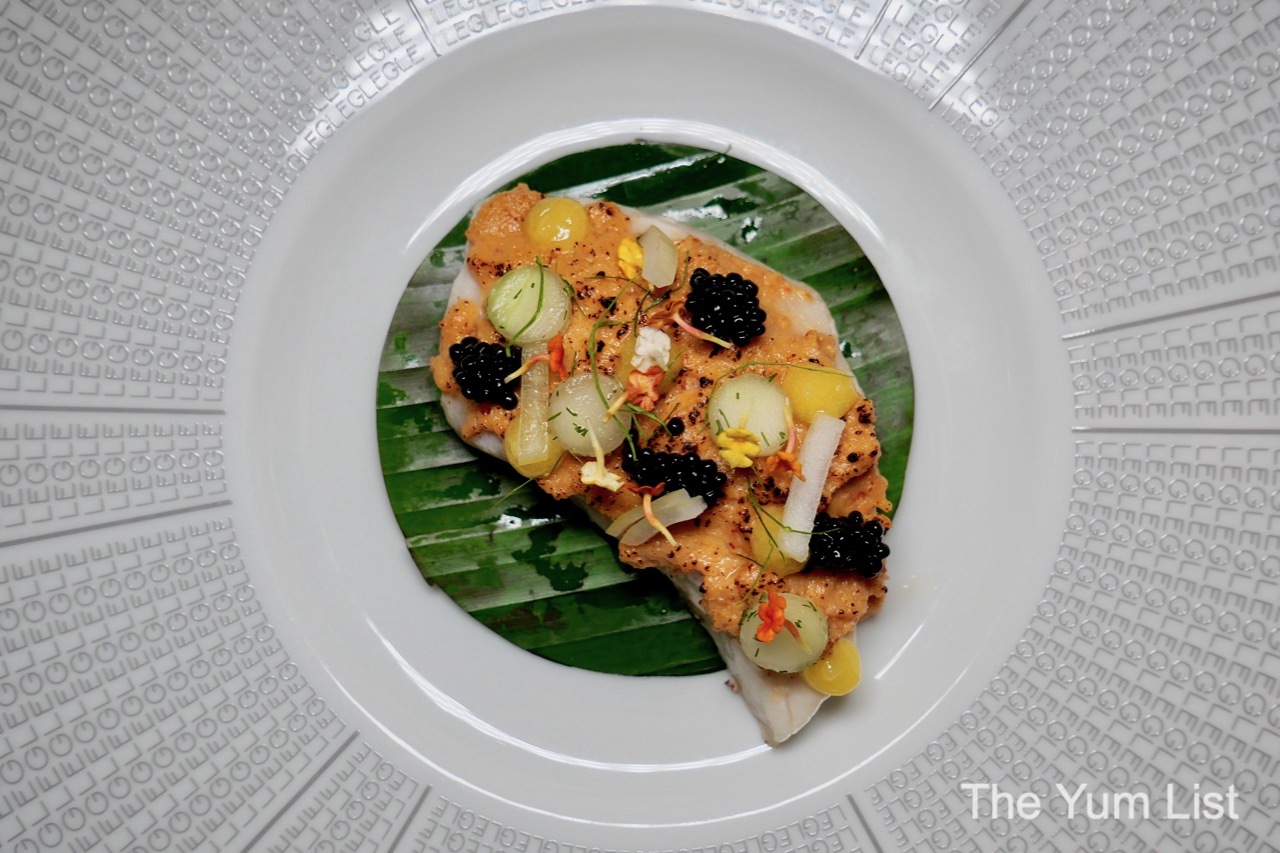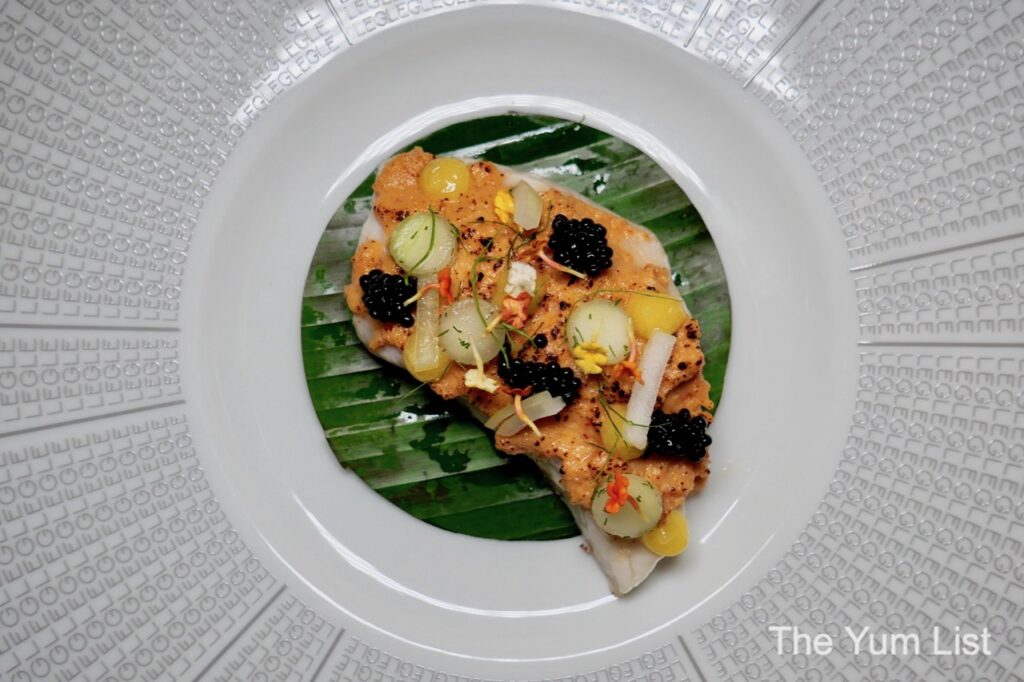 2016 Chateau Marsyas
The organic 2016 Chateau Marsyas is made from a 70% chardonnay 30% sauvignon blanc blend, aged in stainless steel tanks. Organically grown and hand-picked grapes ensure a higher quality selection process. Older and somewhat more mature vines allow for a more rounded, smooth tone. Greater minerality in the terroir gives the illusion of oak-barrelled aged smokiness, despite these not being part of the process. With florals and aromatics, the glass has hints of green apple and stonefruit.
Escondidinho
For mains, we have Escondidinho, which is a Brazilian/Portuguese spin on shepherd's pie. Roughly translated, the name means 'little hidden one'. Rodrigues' version has a creamy top layer of potato enriched with parmesan cheese. Hidden beneath is a treasure trove of hearty ground lamb in a balsamic reduction with bursts of fresh peas, carrots and onions. A few bites in, and the smooth potato layer mixes readily with the spiced lamb, making for a self-saucing moment of pure comfort food. On top, crispy fried shavings of parsnip give a texturised crunch. The dish is finished with vinegary slivers of pickled onion, and sprigs of verdant oregano.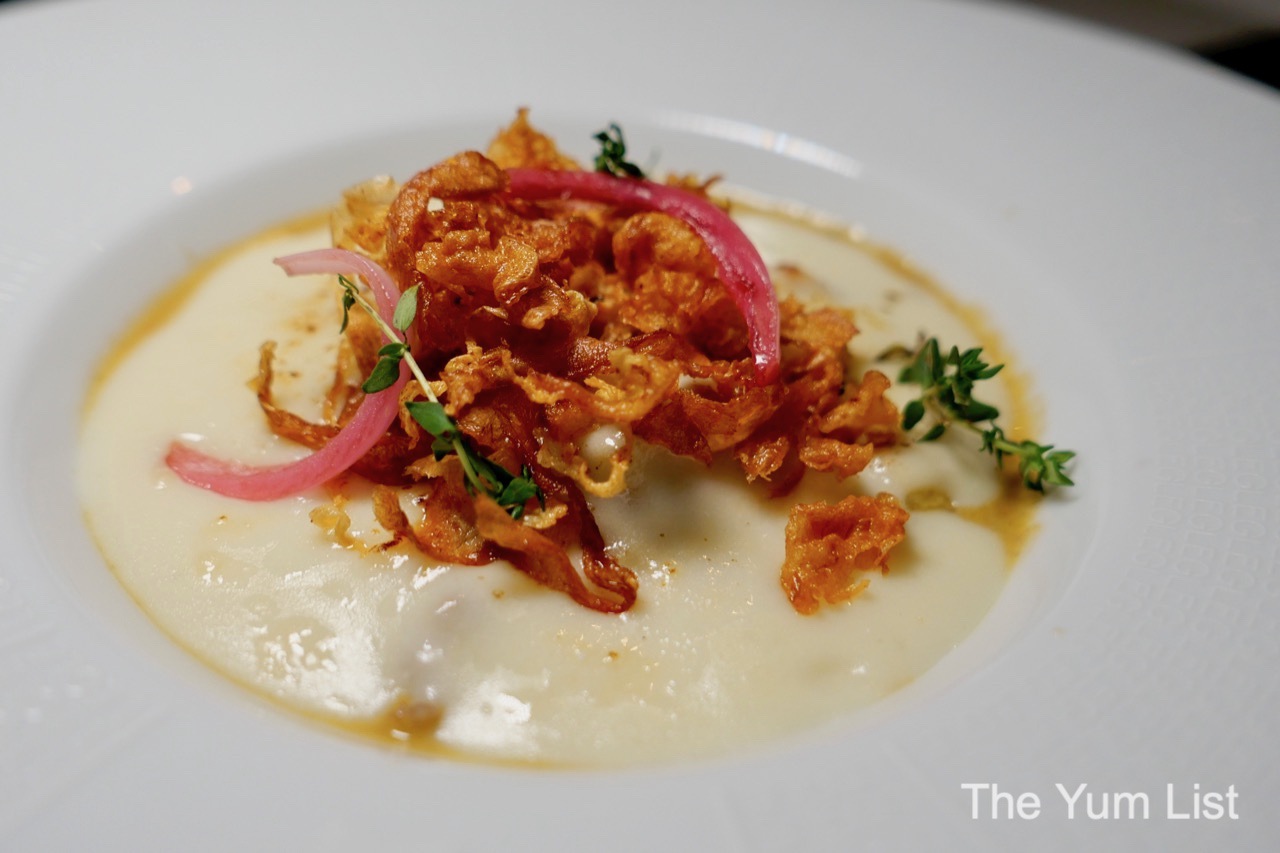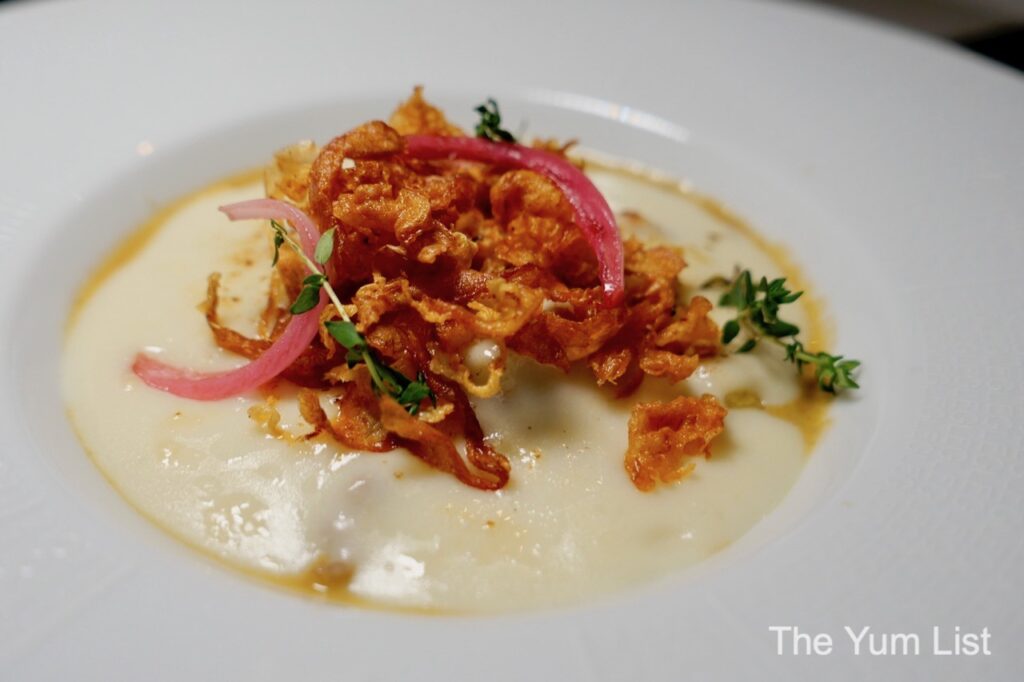 2016 B-Qa De Marsyas Cabernet Sauvignon
Complementing our Hats On red meat dishes is the 2016 B-Qa De Marsyas Cabernet Sauvignon. Again, younger vines produce more front forward and deeply aromatic notes of blackcurrant and bold, dark fruits. Well structured with rich, velvety tannins, it leaves a mouthwatering umami finish. When drinking red wines in Malaysia, it is important to note, the normal cue to drink wine at room temperature must respect the context of the wine's origin and the temperature of its production – usually between 15-18 degrees. Thus, slight chilling is optimal in our hot weather, particularly when dining outside. The B-Qa De Marsyas winemakers combine 70% Cabernet Sauvignon, 20% Syrah and 10% Mourvédre in this 18 month aged drop. Like most new world producers, they are unhampered by strict appellation controls and can instead fully utilise the micro climes and micro terroirs of their organic vineyards for more precise blending and optimal results. The end product is elegant, savoury, and well rounded.
Hats On Kuala Lumpur – Espetada
Grilled on activated Binchotan charcoal, thick, succulent cuts of Black Angus are skewered in the traditional Portuguese method of Espetada. Their charcoal sweetness is beautifully augmented with a green pea puree, snap crisp chickpea salad, caramelised onion relish, and fresh tomato and rosemary garnish. A smokey sweet tomato rice accompaniment provides a simple, honest, and delicious match.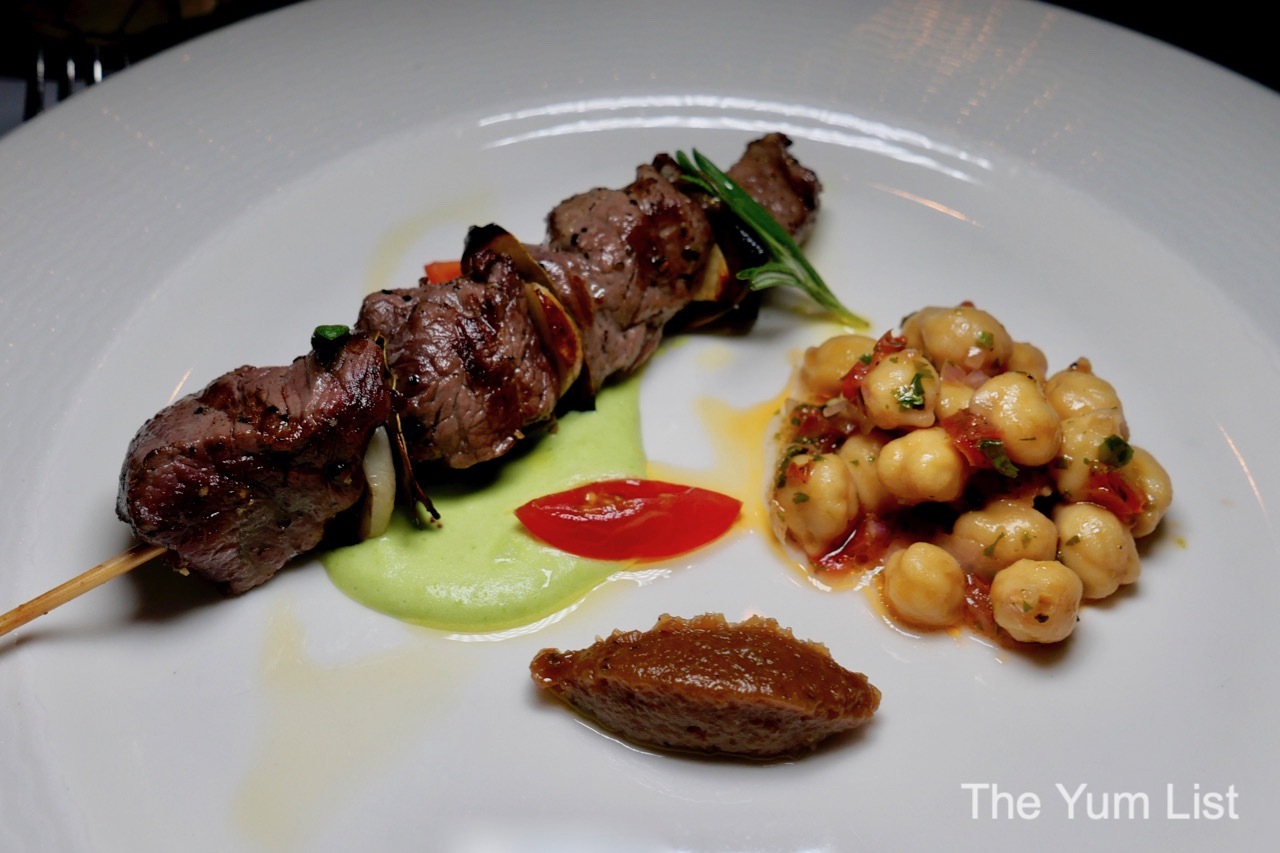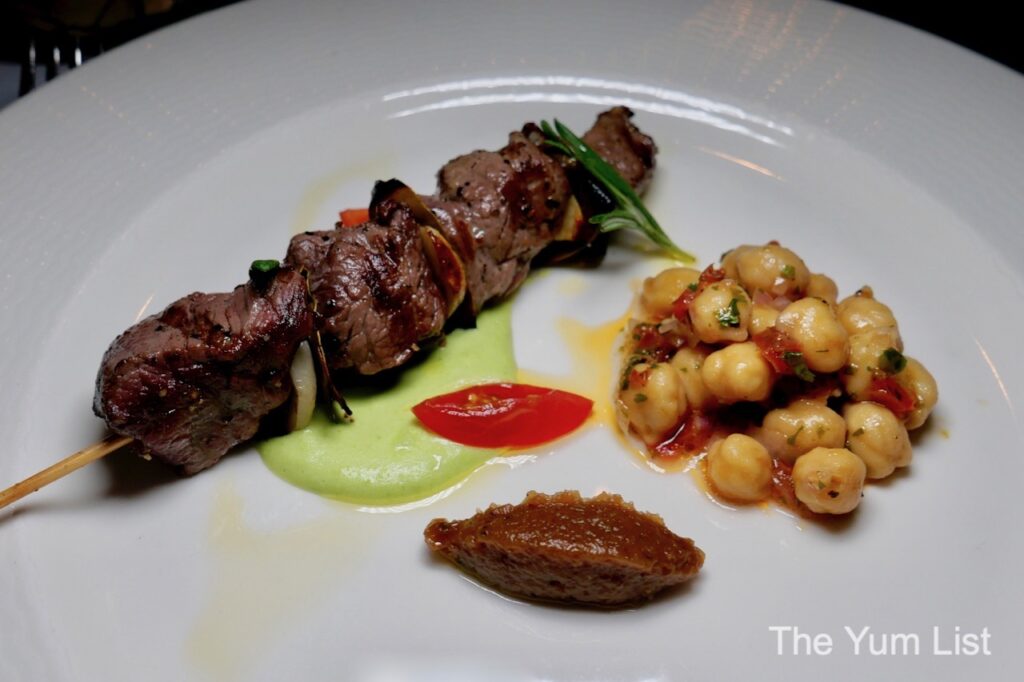 Salami De Chocolate
For dessert, we have two dishes to look forward to and the last wine to match. Thum has produced a European favourite – Salami De Chocolate. 72% cocoa is the key to the opulent dark chocolate foundations of this iconic sweet, littered with chunks of coffee meringue crumble. Honeycomb nougat and a red wine poached Chinese crispy pear capture the spirit of Christmas spice. For a moment, I am transported to wandering Christmas street markets in France, Germany and Spain with a cup of mulled wine.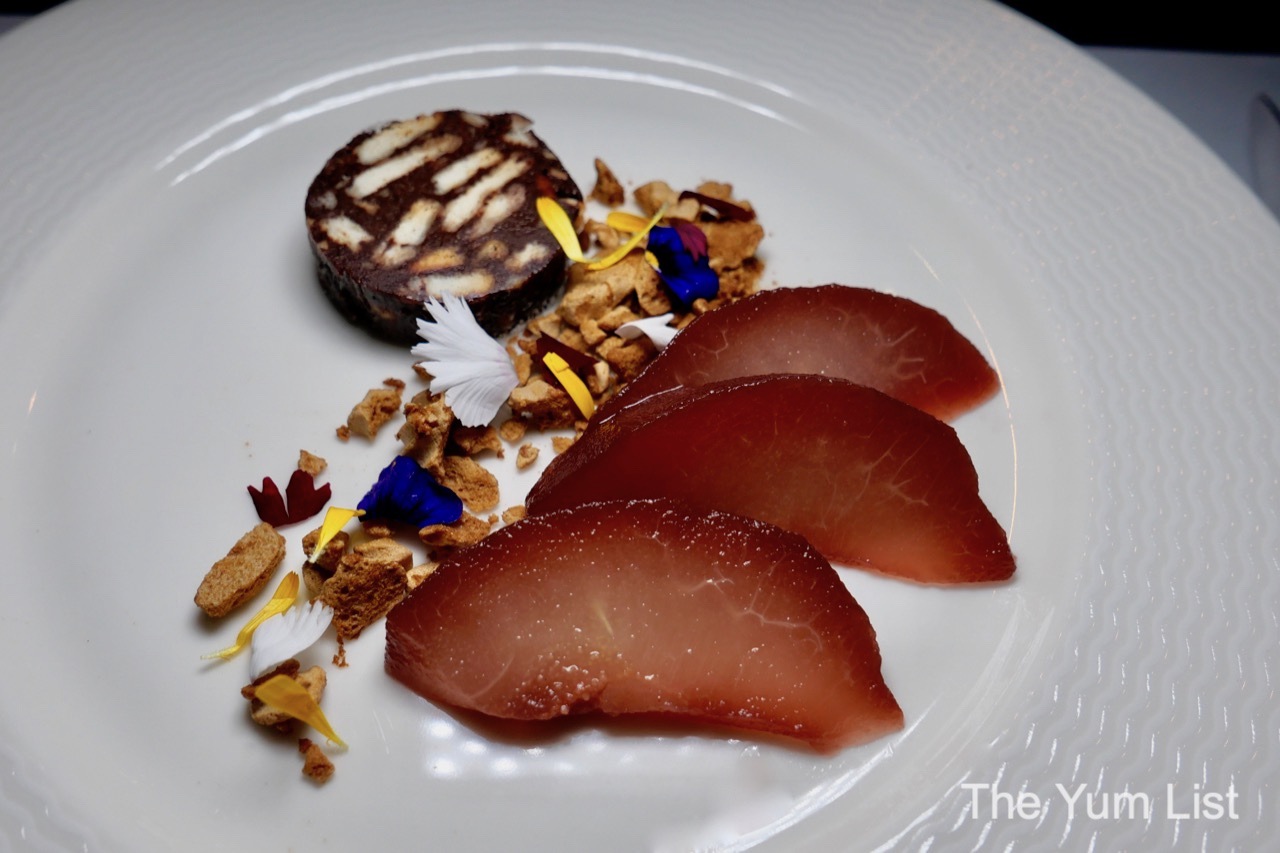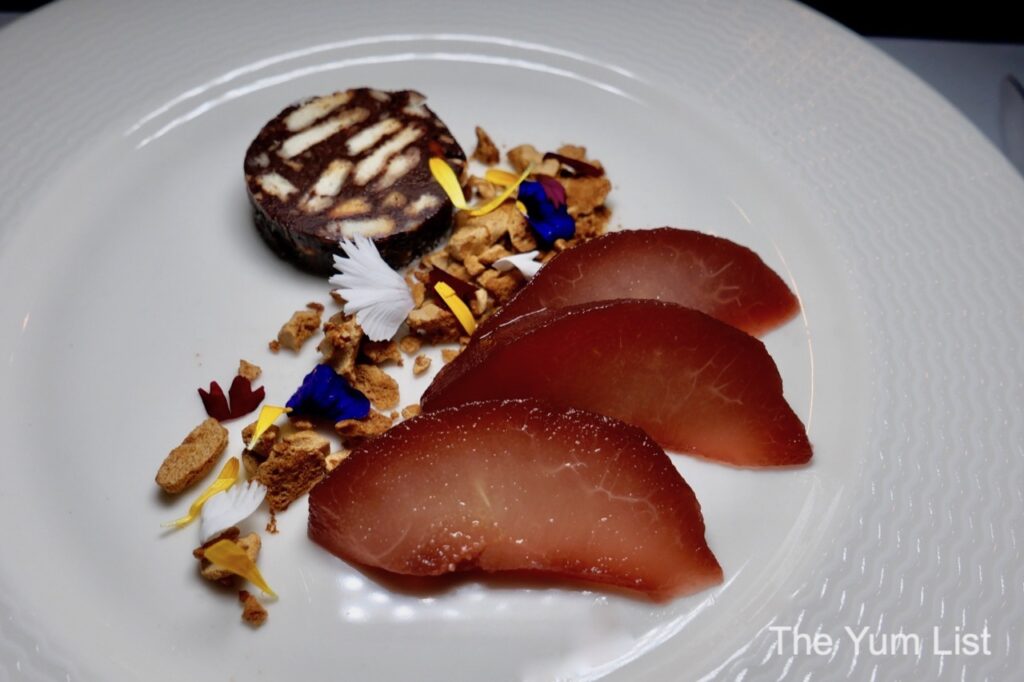 2013 Chateau Marsyas Cabernet Sauvignon
Our glasses are filled with the 2013 Chateau Marsyas Cabernet Sauvignon. Made from a blend of older vine cabernet sauvignon, syrah, merlot and petit verdot grapes, this is a beautiful choice for the end of a meal. With melted tannins, black fruits, cassis, leather and licorice, this is a sophisticated and complex bottle. 18 months of oak barrel aging bring forth a balance in minerality, acidity and earthiness. Dry, with a strong colour and intensity, the Chateau Marsyas Cabernet Sauvignon continues to evolve on cellaring and when allowed to breathe.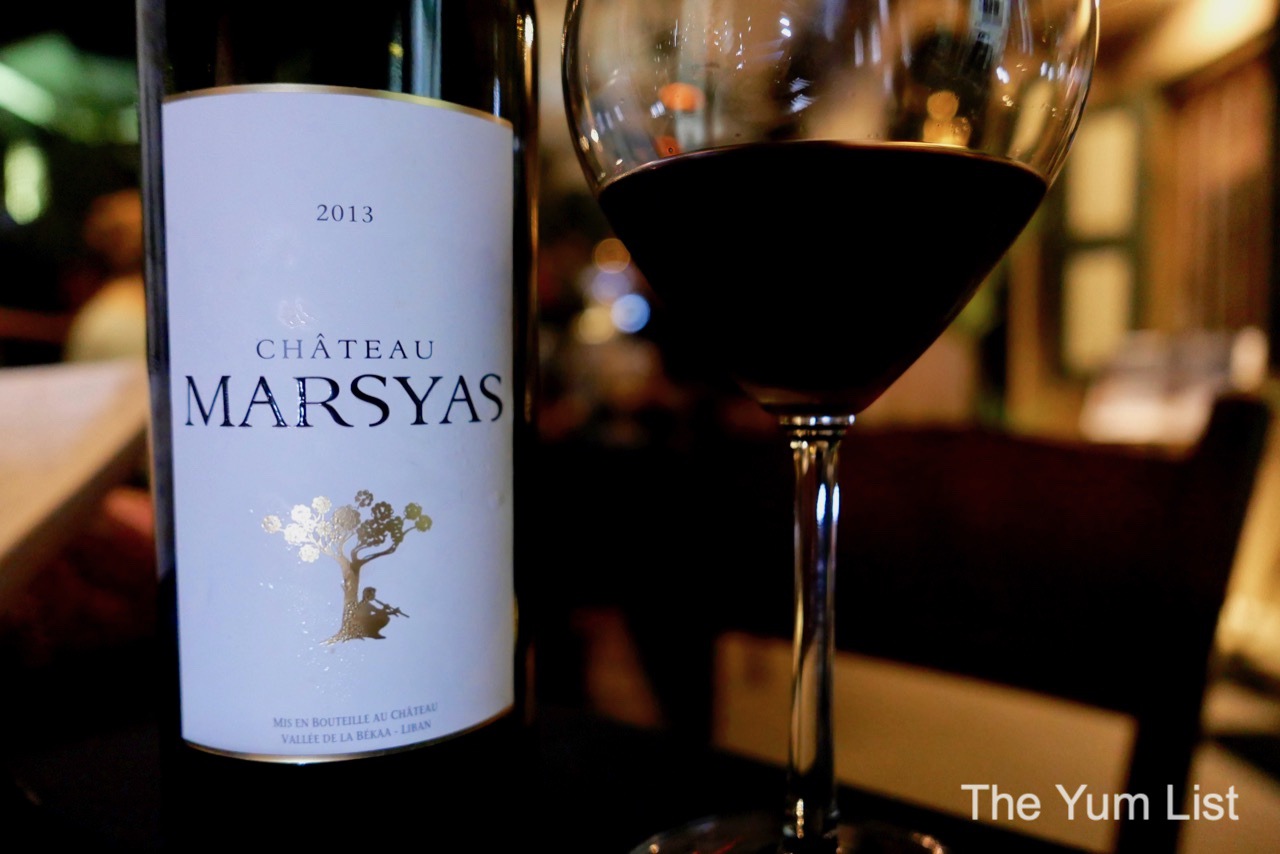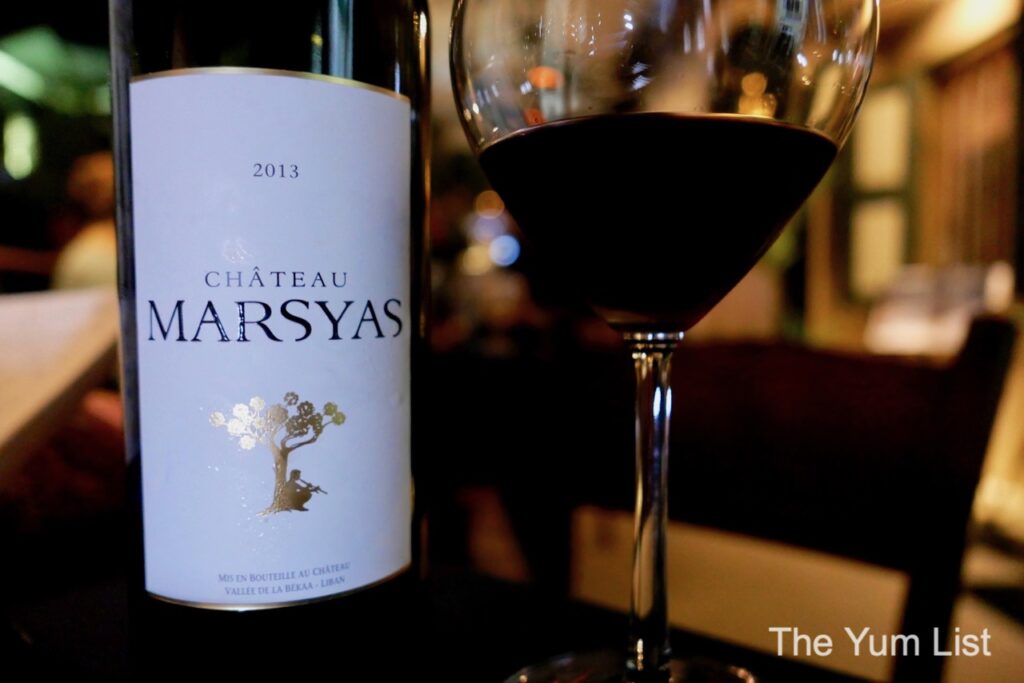 Mango Sorbet – Hats On Kuala Lumpur
To round off our evening at Hats On, we are served Rodrigues' Serradura De Manga. A sublime Malaysian inspired mango sorbet with a tangy lime juice and zest infused microsponge, dehydrated in a coral-esque formation. A bed of coconut and condensed milk mousse is offset with a sweet butter biscuit crumble and a heavily spiced mango syrup made from mango nectar and chilli. Sweet, spicy, creamy and sour all at once, the nuances of each ingredient are well preserved and executed in their combination.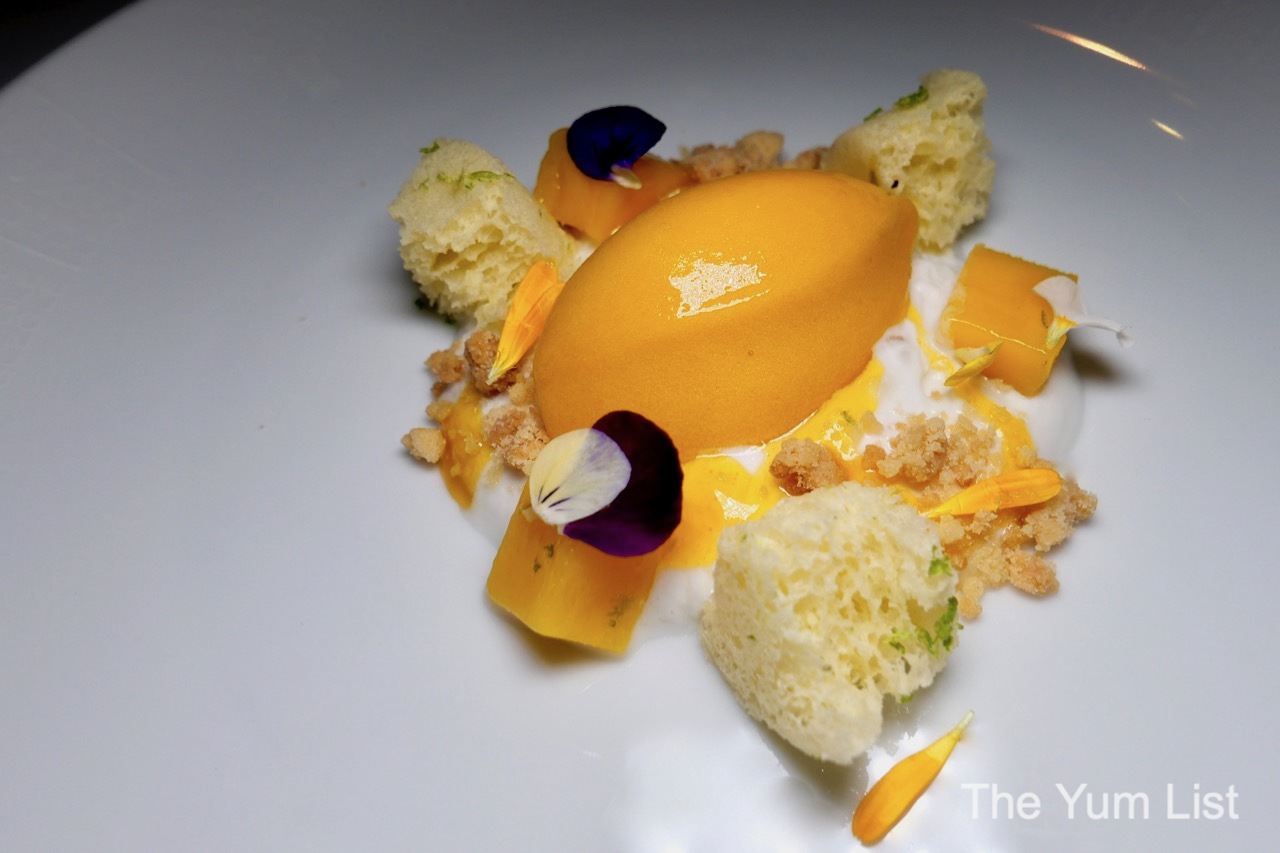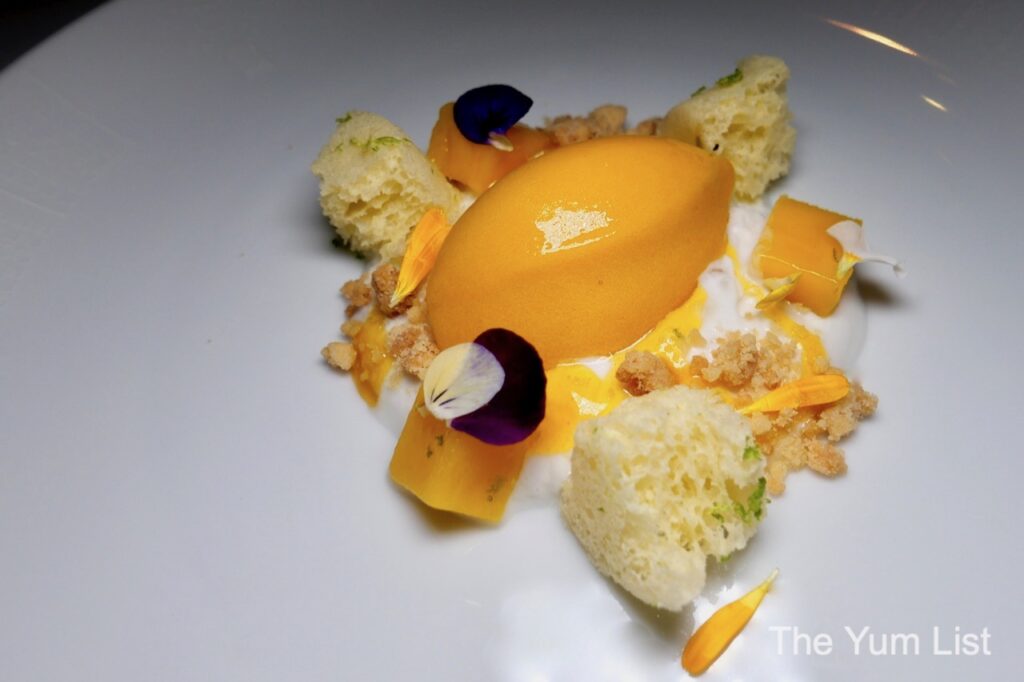 Hats On Kuala Lumpur
For the current generation, either finishing their training or beginning in the first stages of their careers, they have suffered more than many in this pandemic. Restaurant closures and hesitant diners mean they have not had the opportunities afforded to others to hone their craft and test their ideas. By supporting Cata Restaurant's Hats On events' dream of giving young Malaysian chefs the chance to develop and showcase their talents, we are ensuring the continuing growth and success of Malaysia's truly fantastic food industry. In the future, we will all be lining up to pay top dollar for a taste of the marvellous concoctions of Brandan Rodrigues and many other aspiring culinary artists like him. A meal at the Hats On event is good for the tastebuds, good for the stomach, and good for the heart.
Reasons to join a Hats On event: Truly sensational wines, youthful experimentation with European influences, and a warm satisfaction that can only come from supporting local, homegrown talent. The Sardinhas Assadas (Pan Fried Sardines), Peixe Assado Português (Smoked Portuguese Red Snapper), and the Serradura De Manga (Coconut Mango Dessert) were our favourites.
While we await permission for restaurants to allow dine-in once again, get a small taste of what the team at Cata have to offer with this virtual wine tasting event this Friday evening. Details in the flyer below.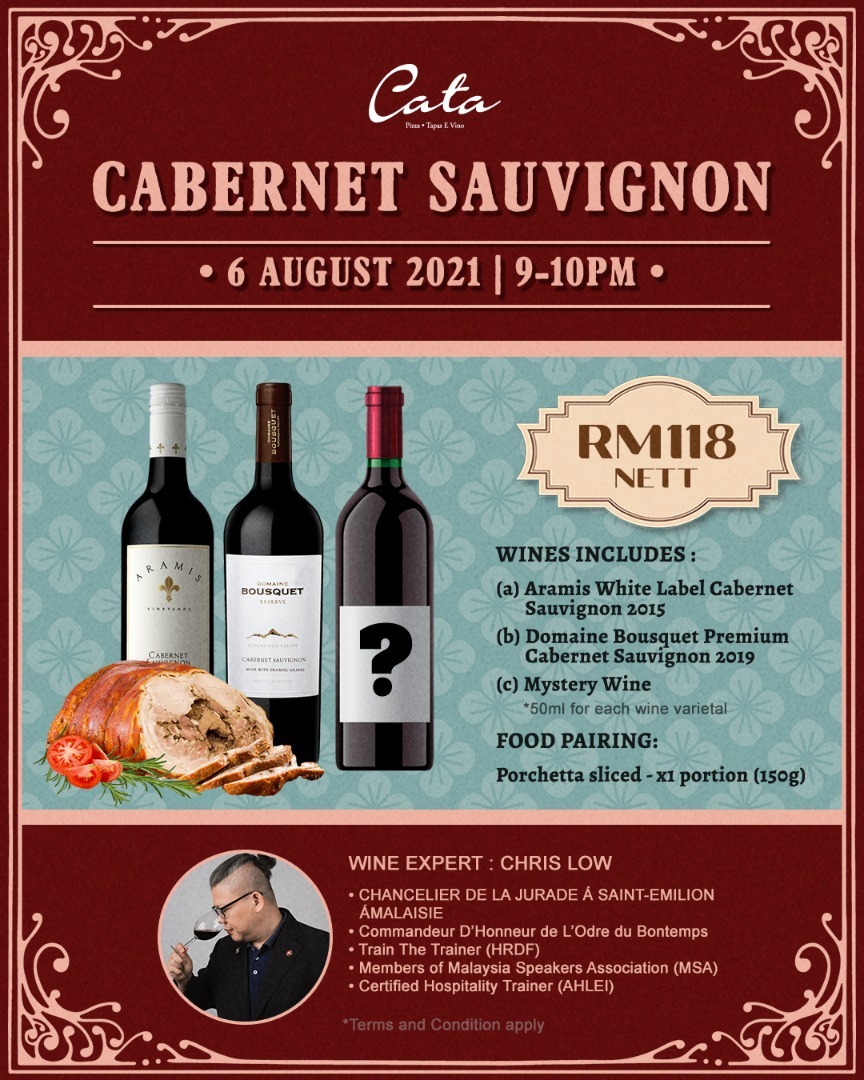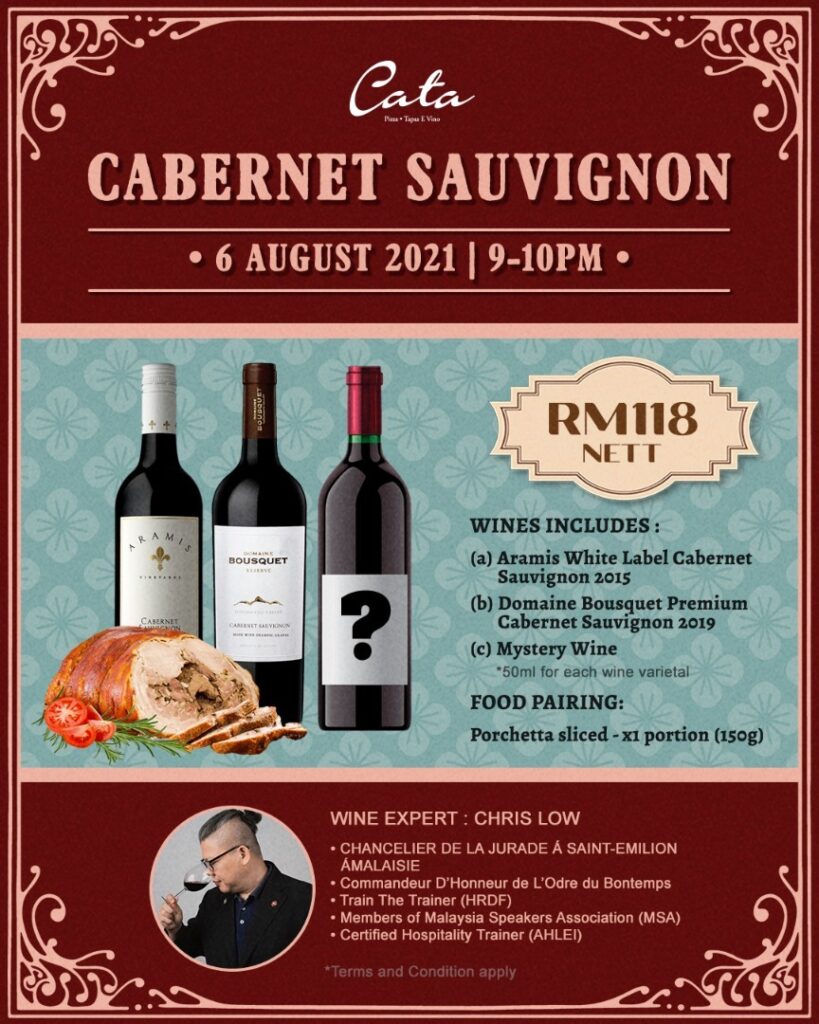 Hats On at Cata Restaurant
Plaza Damansara, 50-G
Jalan Medan Setia 2, Bukit Damansara
50490 Kuala Lumpur, Malaysia
+6 03 2011 8587
[email protected]
www.facebook.com/pg/catamsia