Indoor Gardening Malaysia – Learning from Mistakes
Monica Tindall
Almost a year on from my piece on Edible Balcony Gardening in Malaysia, I'm reflecting once again on the mistakes I've made and what I've learned because of them.
My initial foundation came from an online university course on permaculture. While it gave me the framework for understanding natural systems, much of my growth came from making mistakes. (*Many plants died in the production of my green space.) So, here I share with you my recent revelations on indoor gardening in Malaysia.
Indoor Gardening Malaysia – Learning from Mistakes
Drainage
Possibly the most frequent tip given to me about indoor gardening in Malaysia was about drainage. Poor drainage seems to be a common factor leading to the death of indoor plants. Ensuring you have suitable soil for the right plant and that it drains properly will prevent root rot and disease.
I've had many failures in this department, but I guess the number one thing I've learned is not overwatering. Stick your finger in the soil and only water indoor plants when the top few centimetres feel dry. Of course, do check the best living conditions for individual plants. Some like more frequent watering than others, but 90% of my indoor plants need watering no more than once a week.
Another way I've found to counter my tendency to over care for (read over water) my plants is the use of plant pot stands. I got cheap ones from a local hardware store for a few Ringgit. These allow the water to drain and not leave the base of the pot sitting in water in the case you do overwater. You can also get racks on wheels which make it easy to move plants about. I just place the plate under the rack.
One of the best solutions I've found, though, is self-watering pots. By filling the base, plants take the water they need without me doing any of the judgings. Not that I'm travelling much these days, but when those borders open, I can guarantee you I will be fleeing. The self-watering plant pots will be doubly valuable when away. Be careful when shopping online, though. Make sure you look at the actual measurements. There are lots of self-watering pots that are far too small. At first, I purchased small pots without noting the size (I just looked at the photo), which were practically useless. The larger ones I got here (and pictured in the second photo below) though are excellent – just the right size for apartment gardens.
Lastly, I have not yet purchased one but am considering getting some technical help with a metre that measures moisture, light and soil PH. They seem to hover anywhere between RM 15 and RM 50. Has anyone used one? I'm curious about your experiences.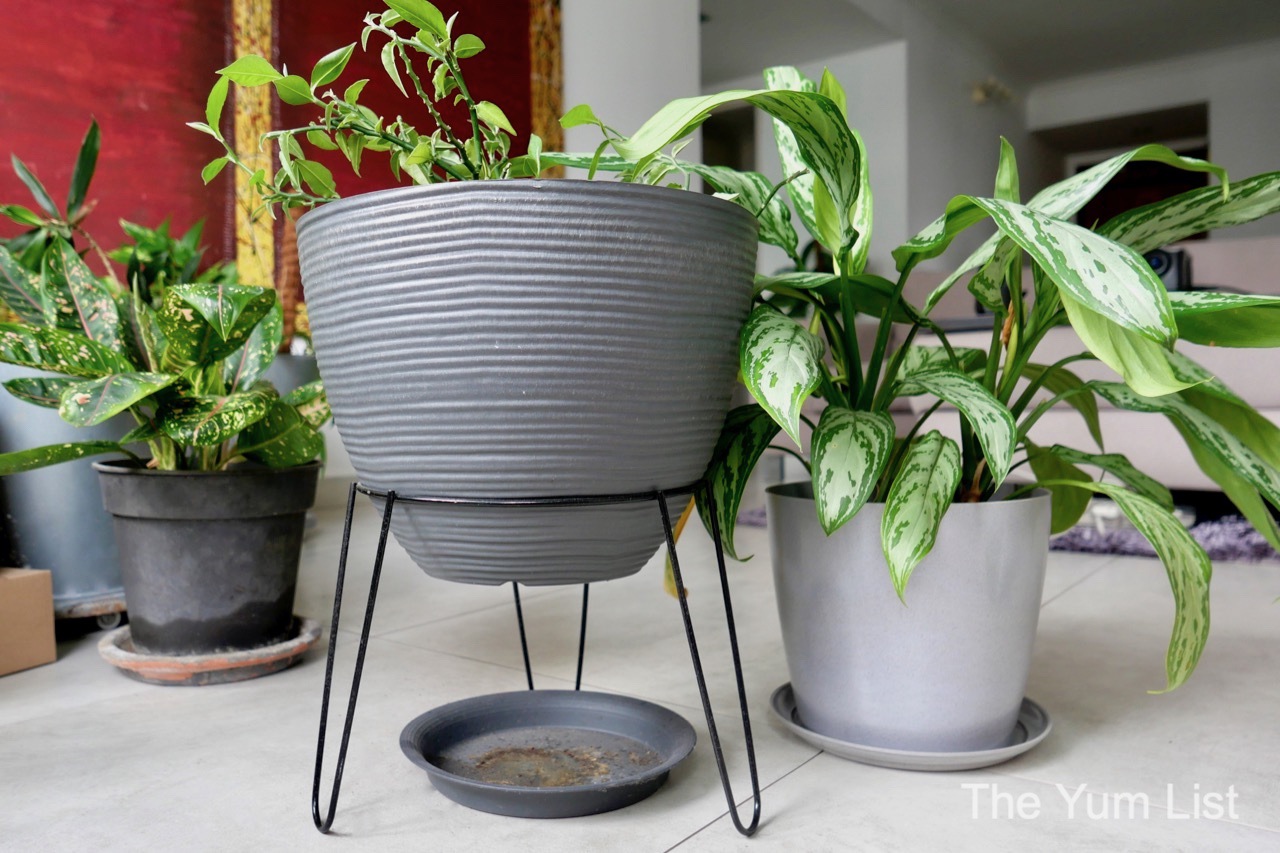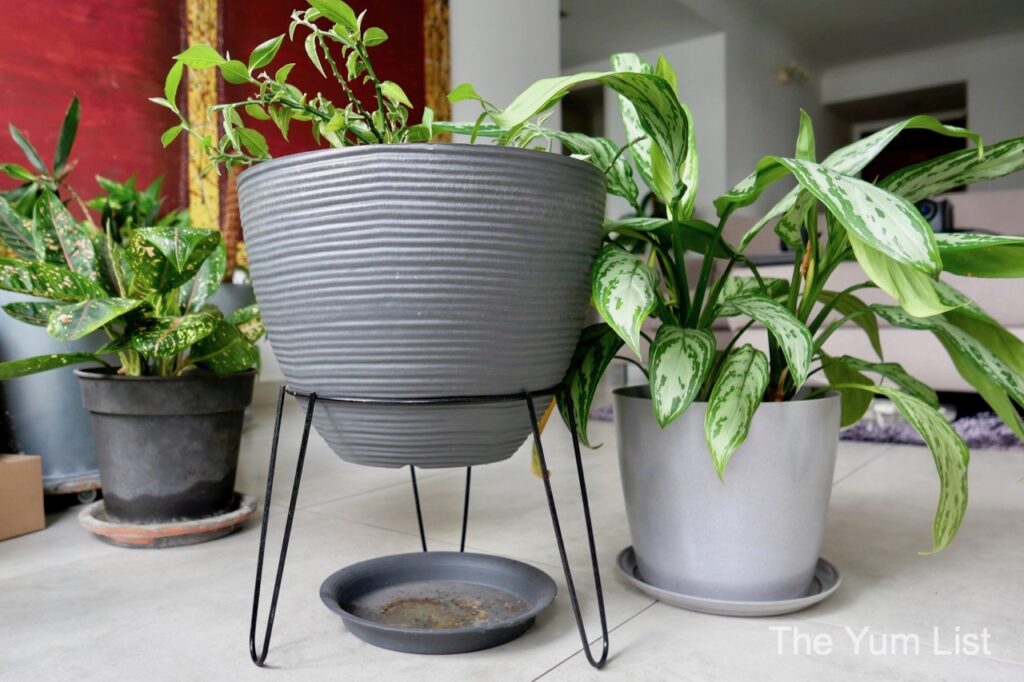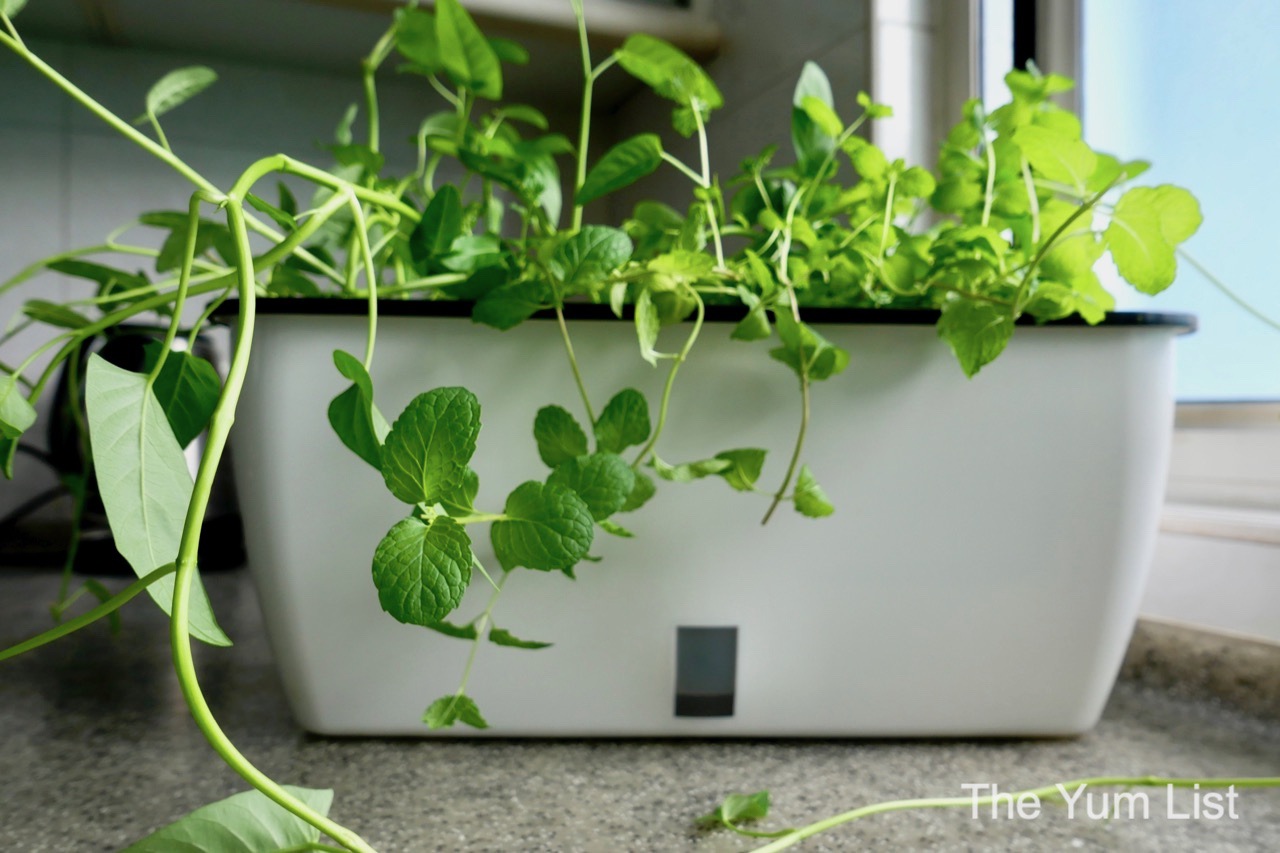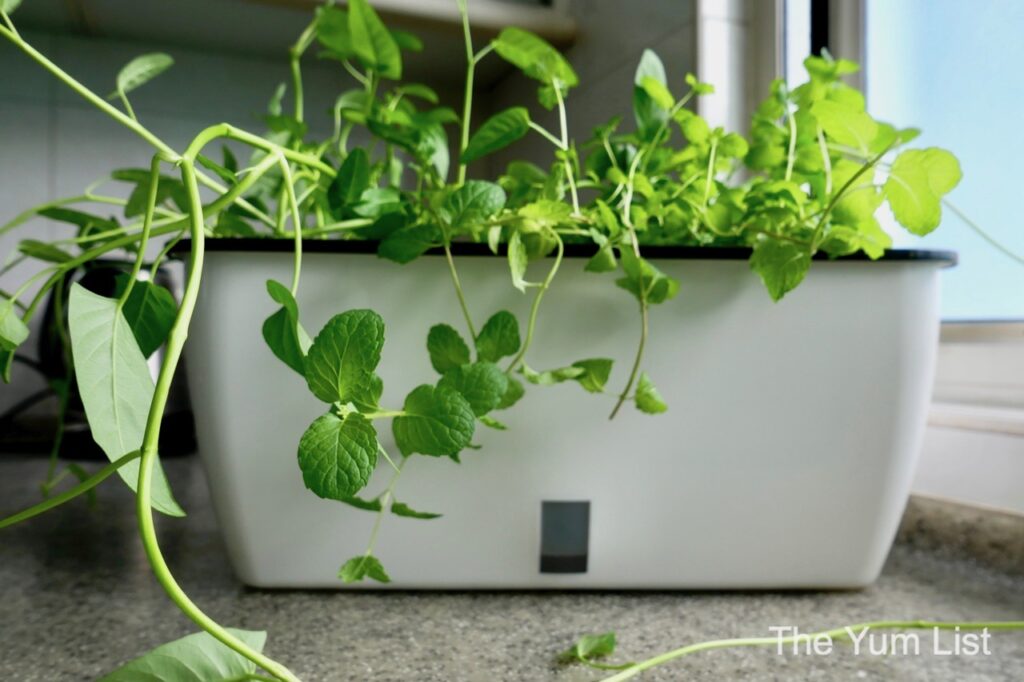 Online Plant Stores Kuala Lumpur
When moving around the city was easy, I often visited a small nursery next to my work and picked up plants. Once stuck at home, I quickly turned to find plants online. I wanted to find indoor plants from local providers in Kuala Lumpur and not have them transported across the country. At the beginning of the pandemic, I was unsatisfied with the services available, and some of my plants came all the way from Penang.
The industry has grown tremendously, though, and I can now find just about any gardening need within the city. The two I've used most for indoor plants in Kuala Lumpur are Floristika and Pretty Plants KL. Convenience is found in easy-to-use platforms, reliable delivery and, most importantly for me, clear communication in English on how to care for each plant.
Floristika.com.my is a florist wholesaler selling fresh cut flowers, preserved flowers, potted plants, gardening tools and also accessories. While their range is extraordinary and comes from all around the world, I am most often on their potted plants' menu. Here you find plants for the indoors and outdoors, succulents, herbs and flowering plants.
Another bonus for impatient me is that orders made before 12 noon are delivered on the same day for KL and Klang Valley. When things open up again, you'll be able to walk into their nursery at 16, Jalan Liku (off Jalan Riong), 59100 Bangsar. Although now I've become accustomed to the convenience of online plant orders in KL, I may never shop outside my home again.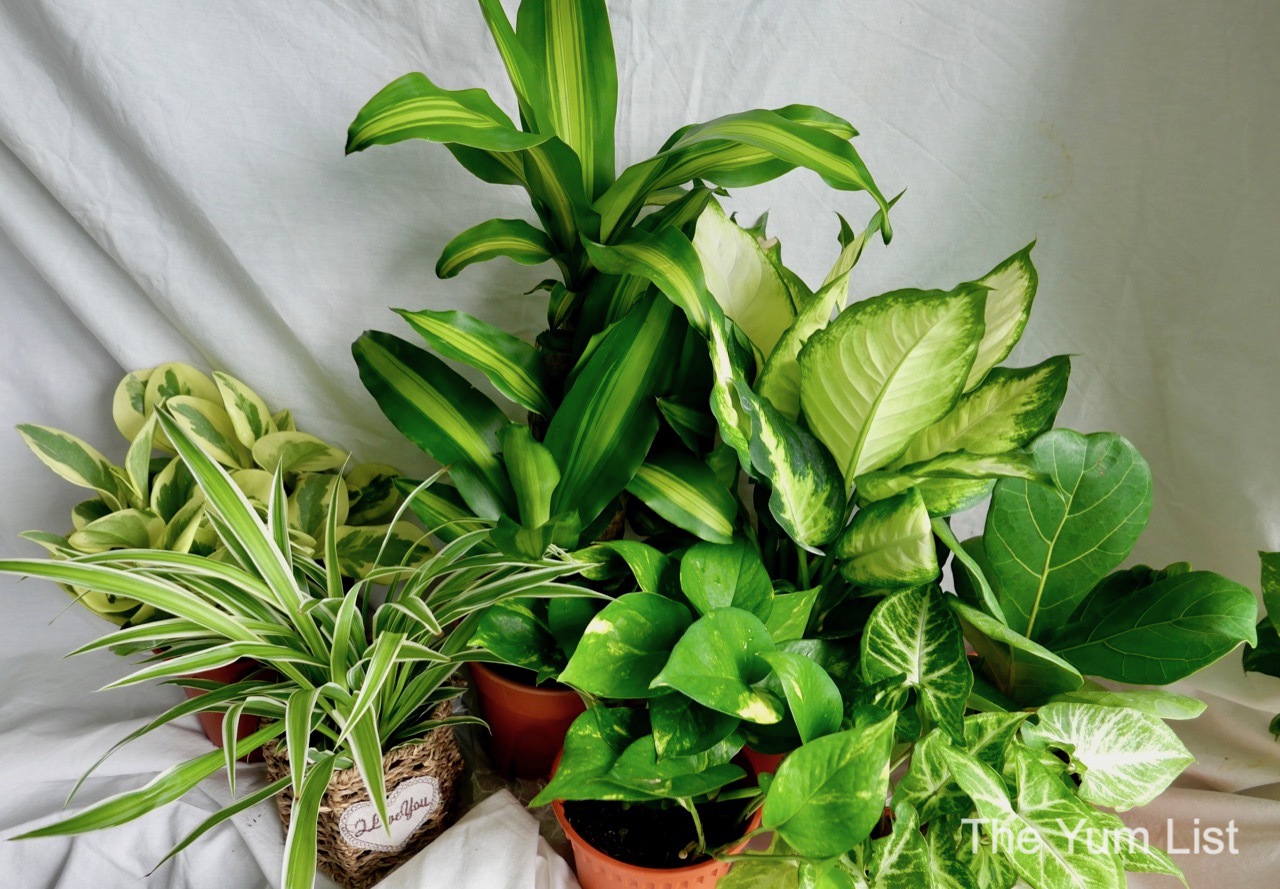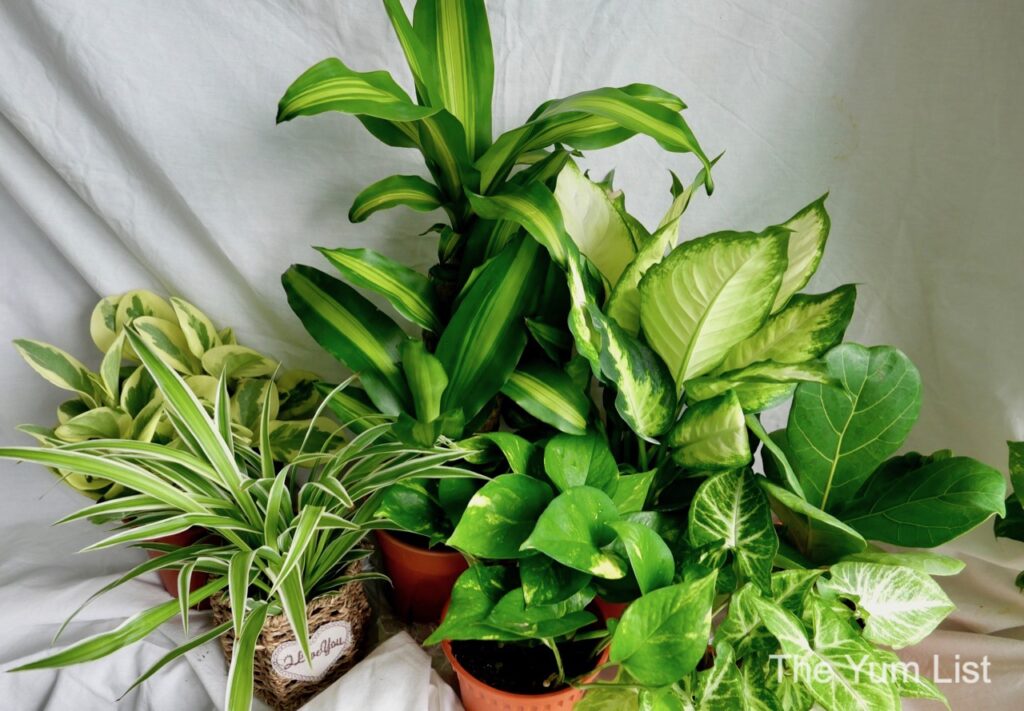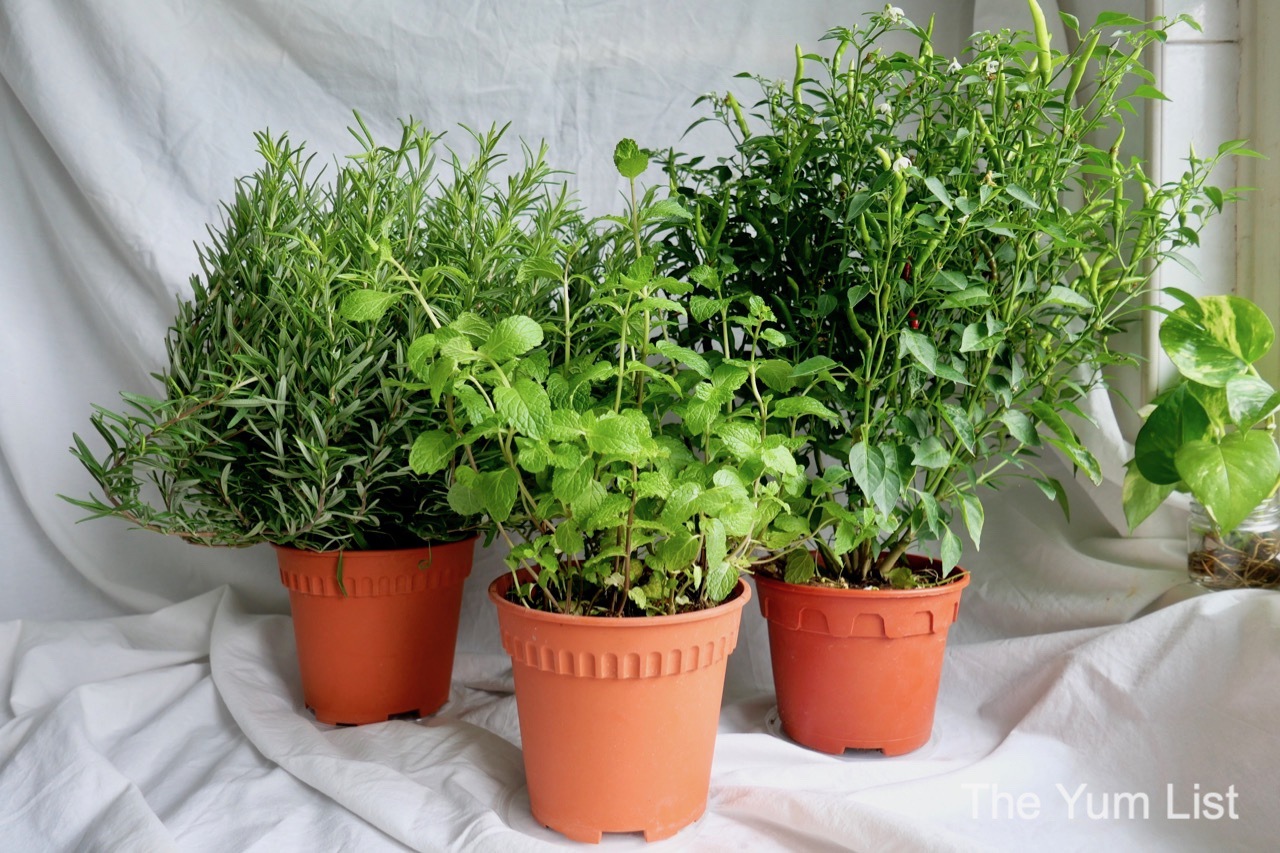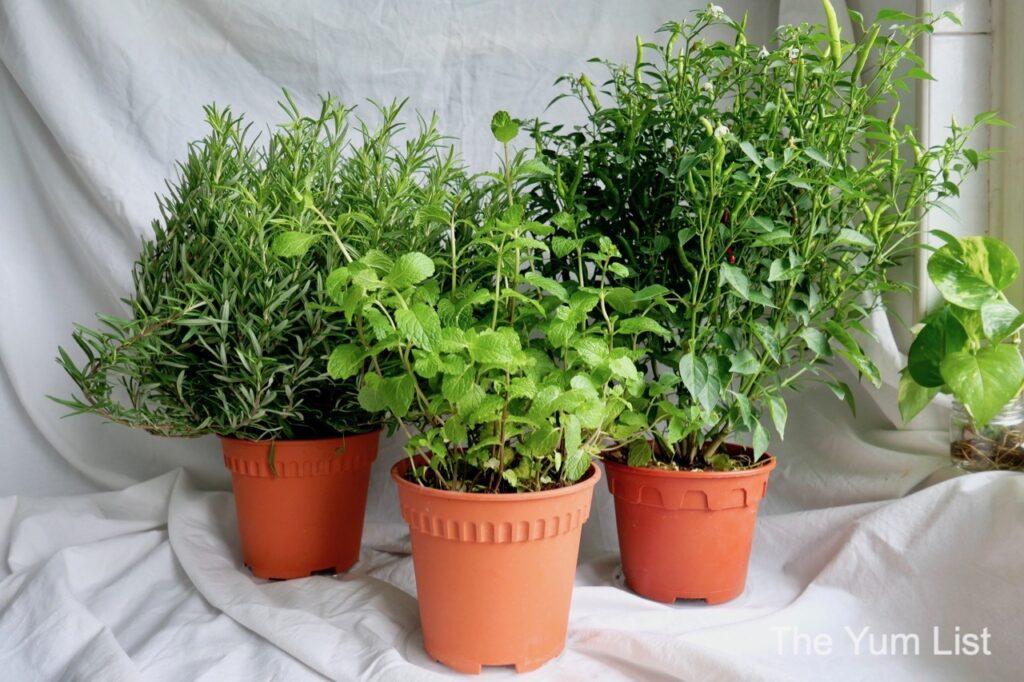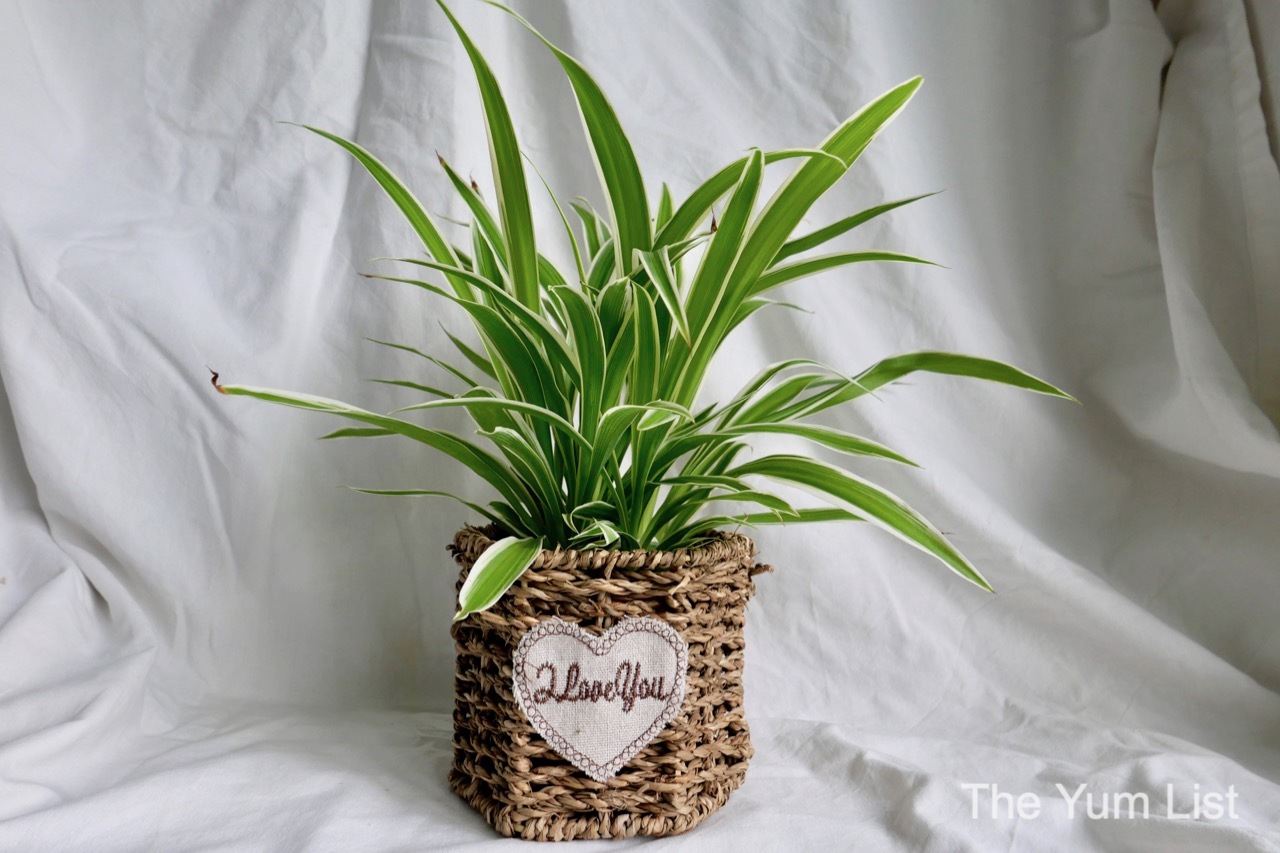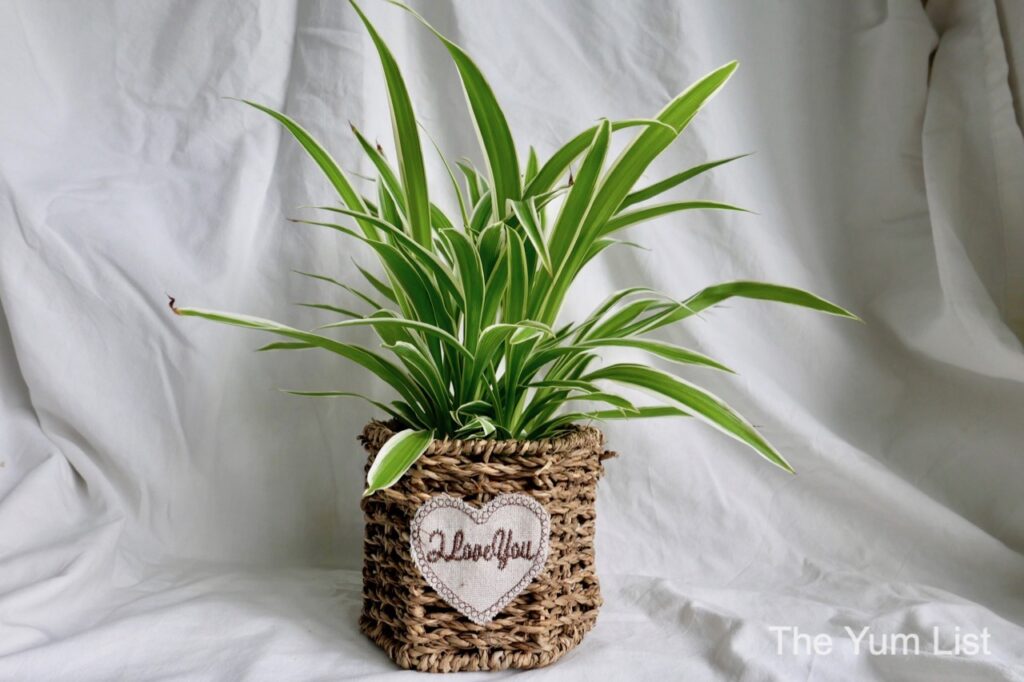 A smaller operation, Pretty Plants, began during the first MCO. They have bases in Setiawangsa KL and Taman Sentosa, Klang. Their primary service is plant gift deliveries and ready-potted plants, but they also consult on plant styling for homes, cafes and offices.
While their plant selection is compact, they have a variety of pretty pots and plant covers. This makes gifting easy and means they are an instant adornment to the home. No further work is required. I found them on Facebook and messaged directly, but you can also find their online plant catalogue for deliveries in KL here.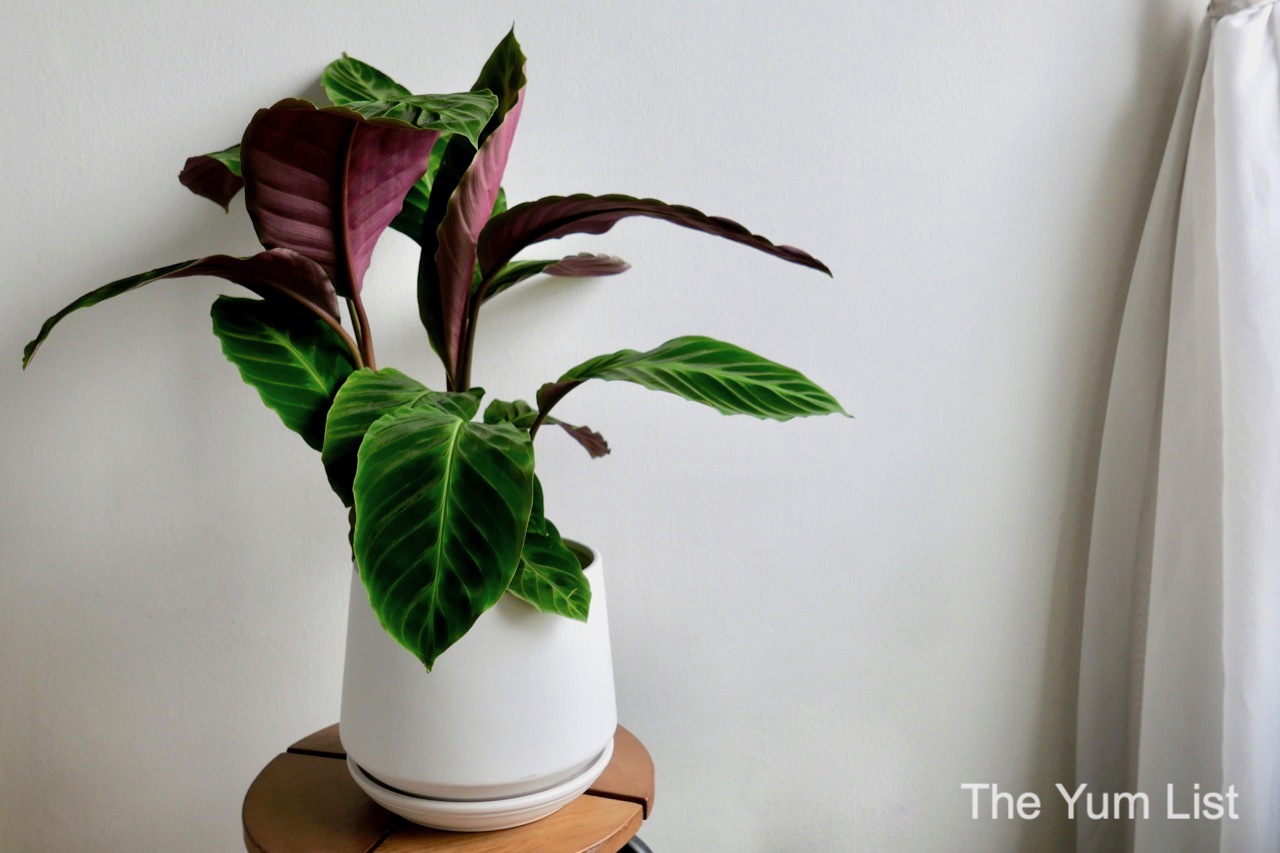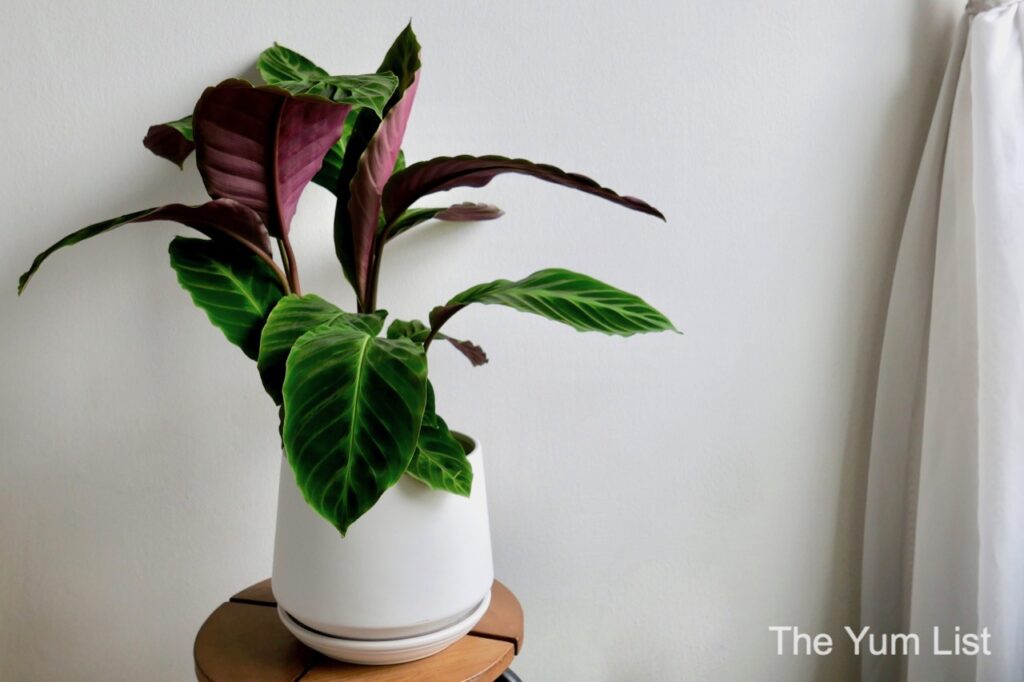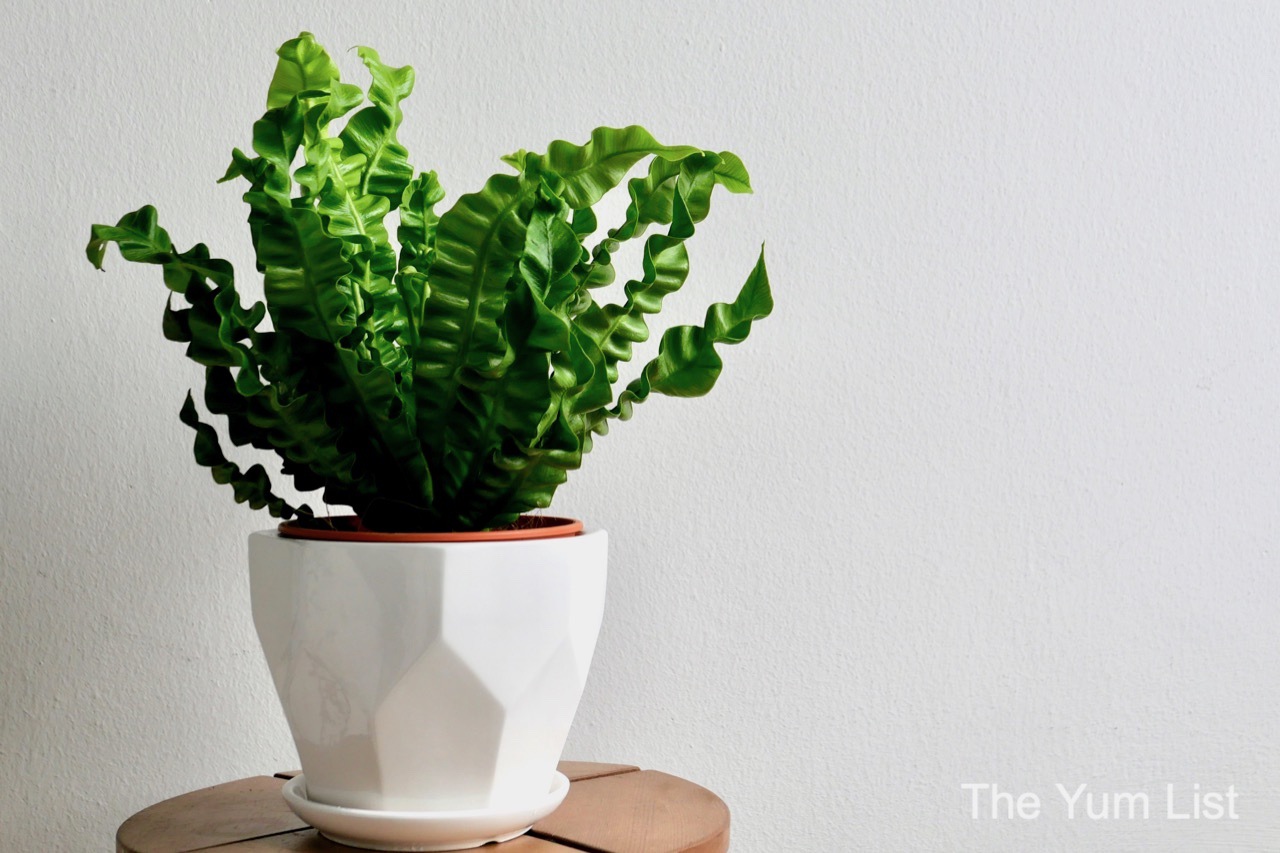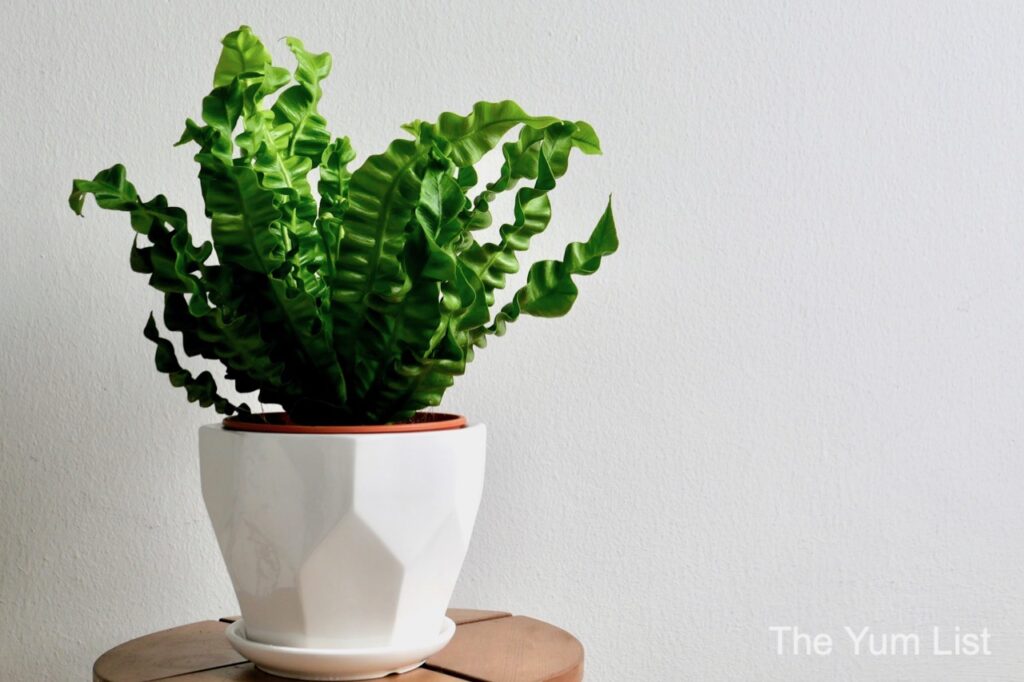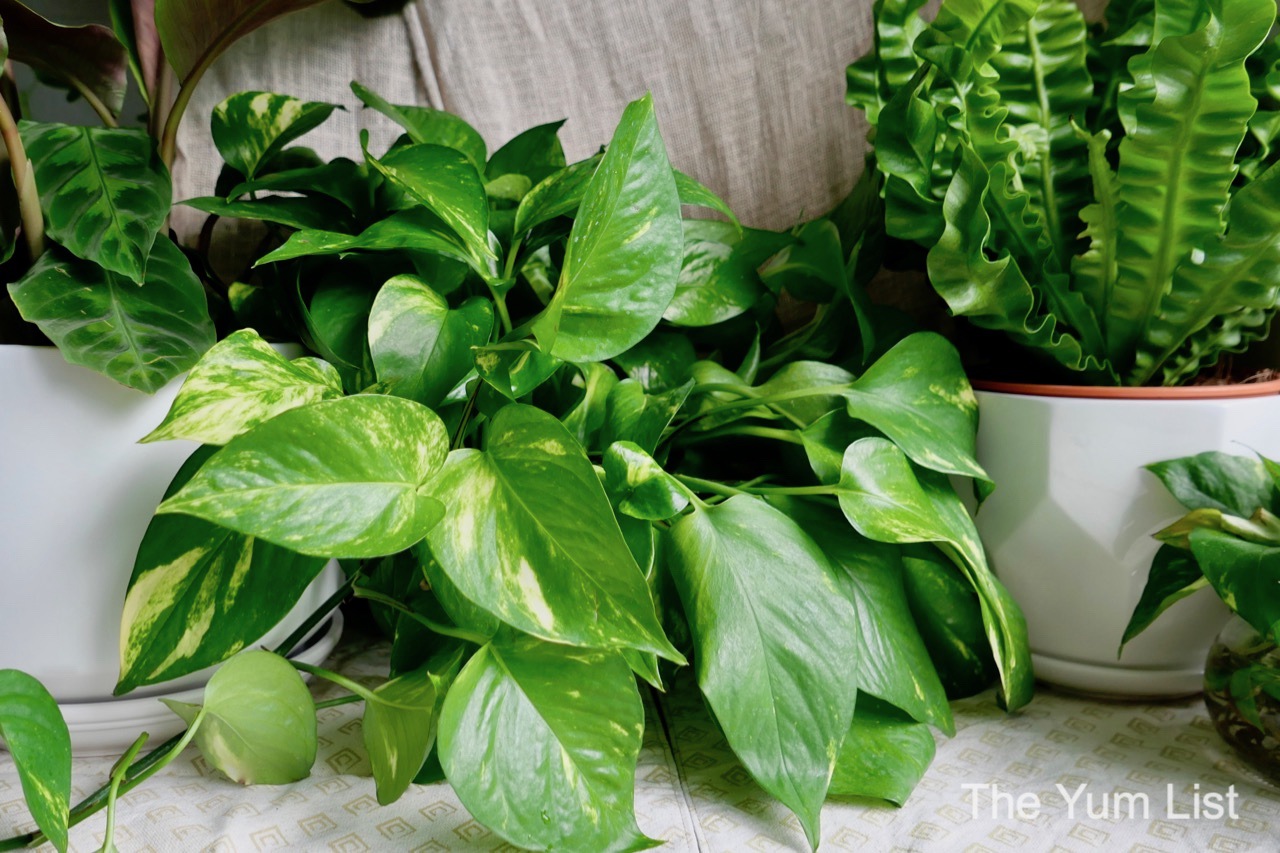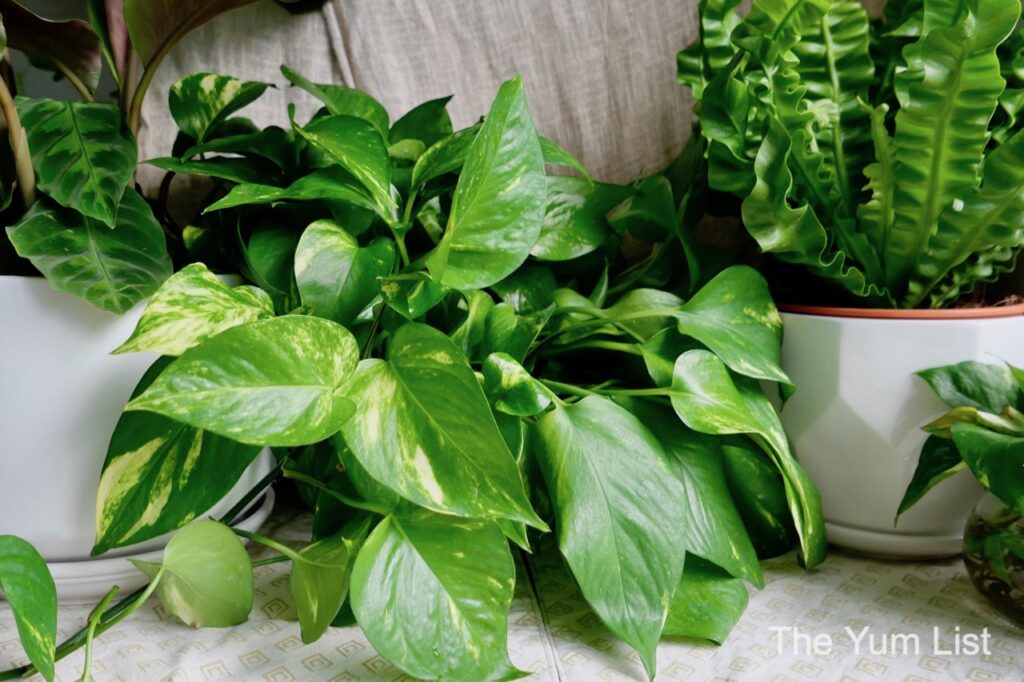 For incredibly detailed and useful advice, I've found the services of SHS Kebun to be invaluable. Their website is excellent. Every product comes with a detailed explanation and their support team are extremely knowledgeable. They are not based in KL but have such a huge range of products, and comprehensive information, that they have become my go-to for plant supplies.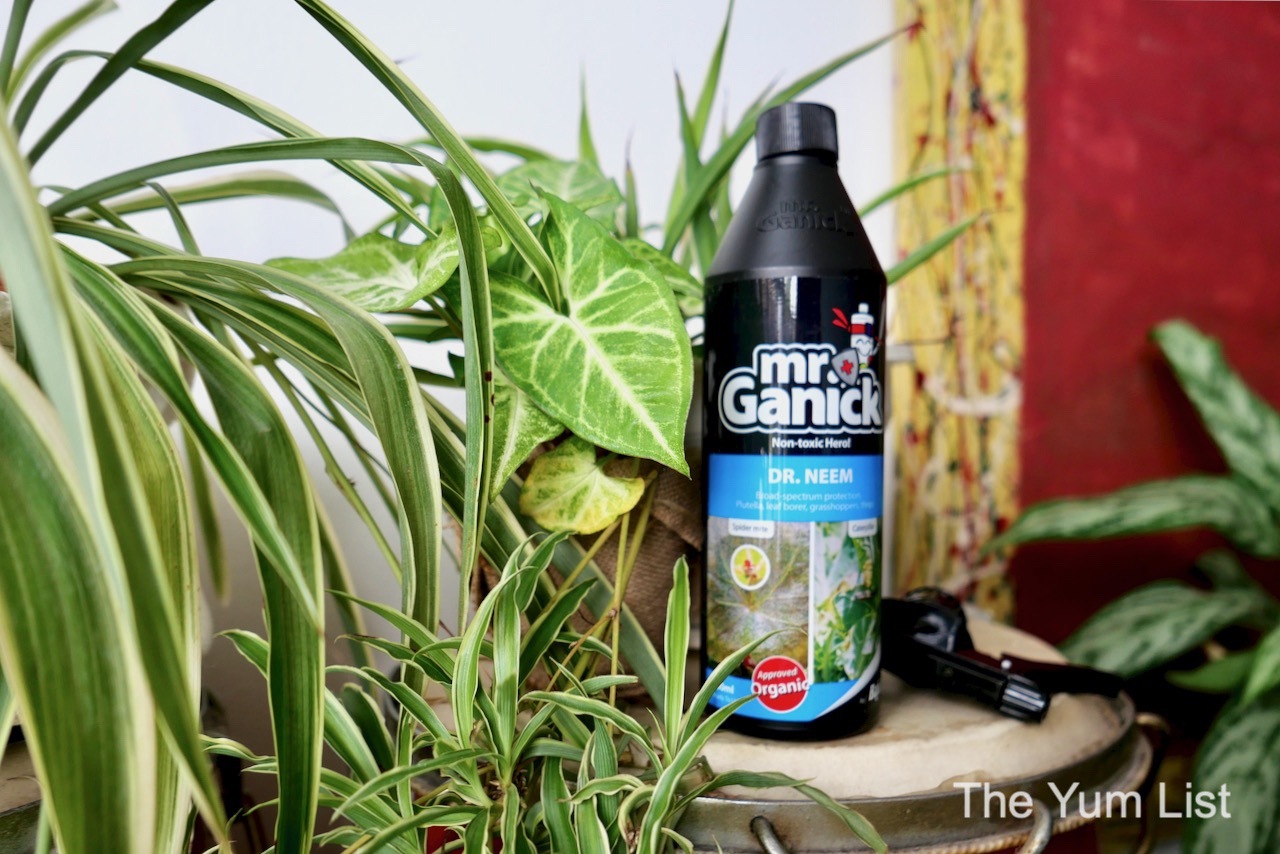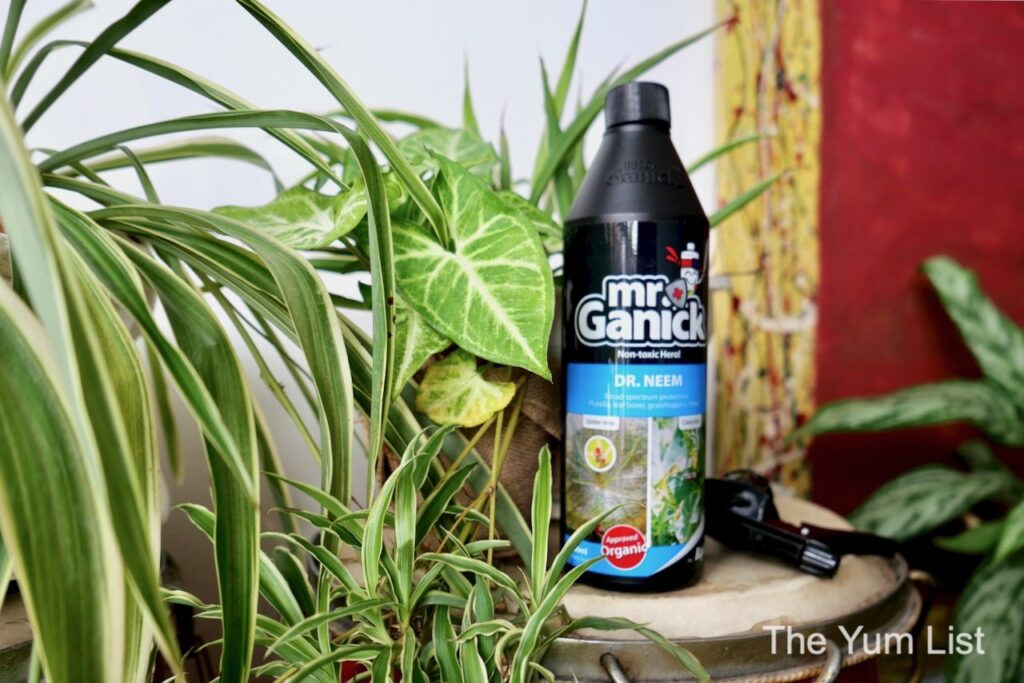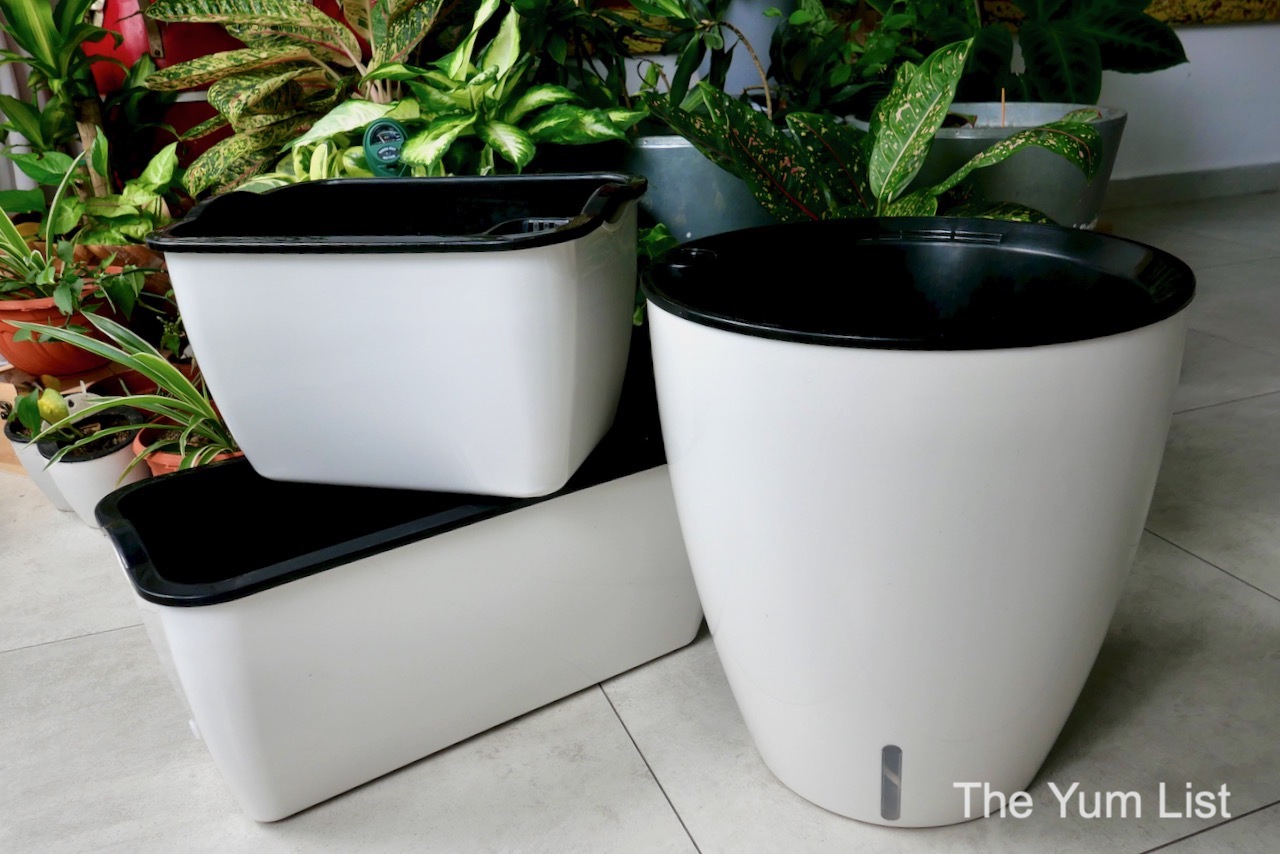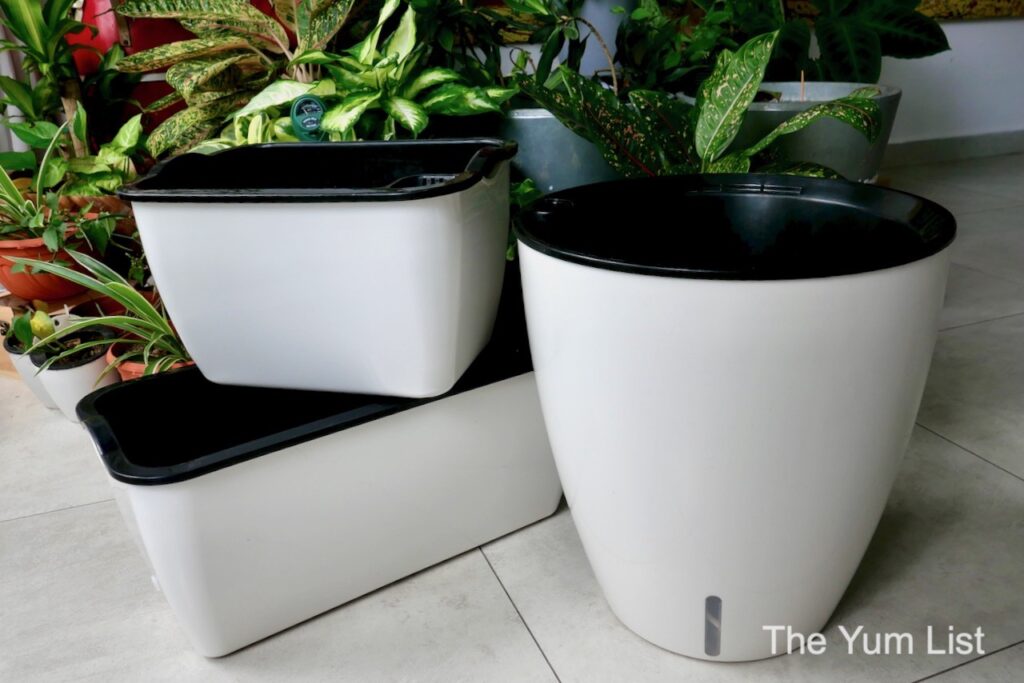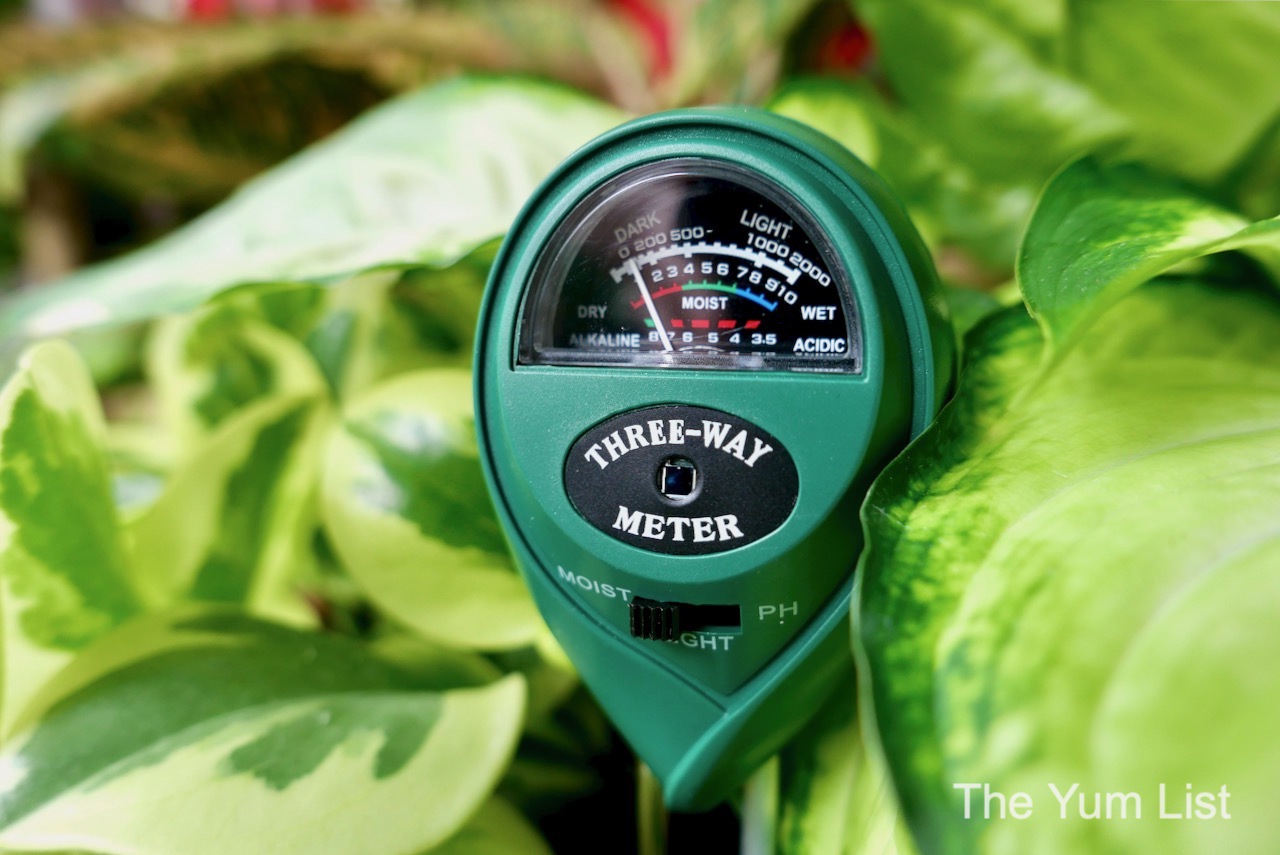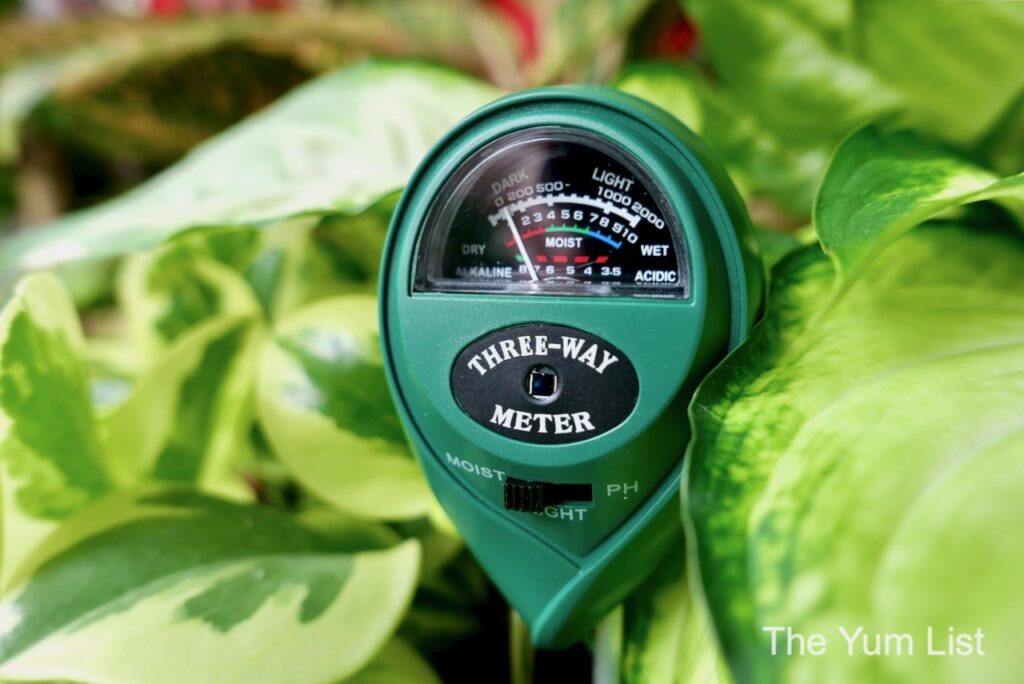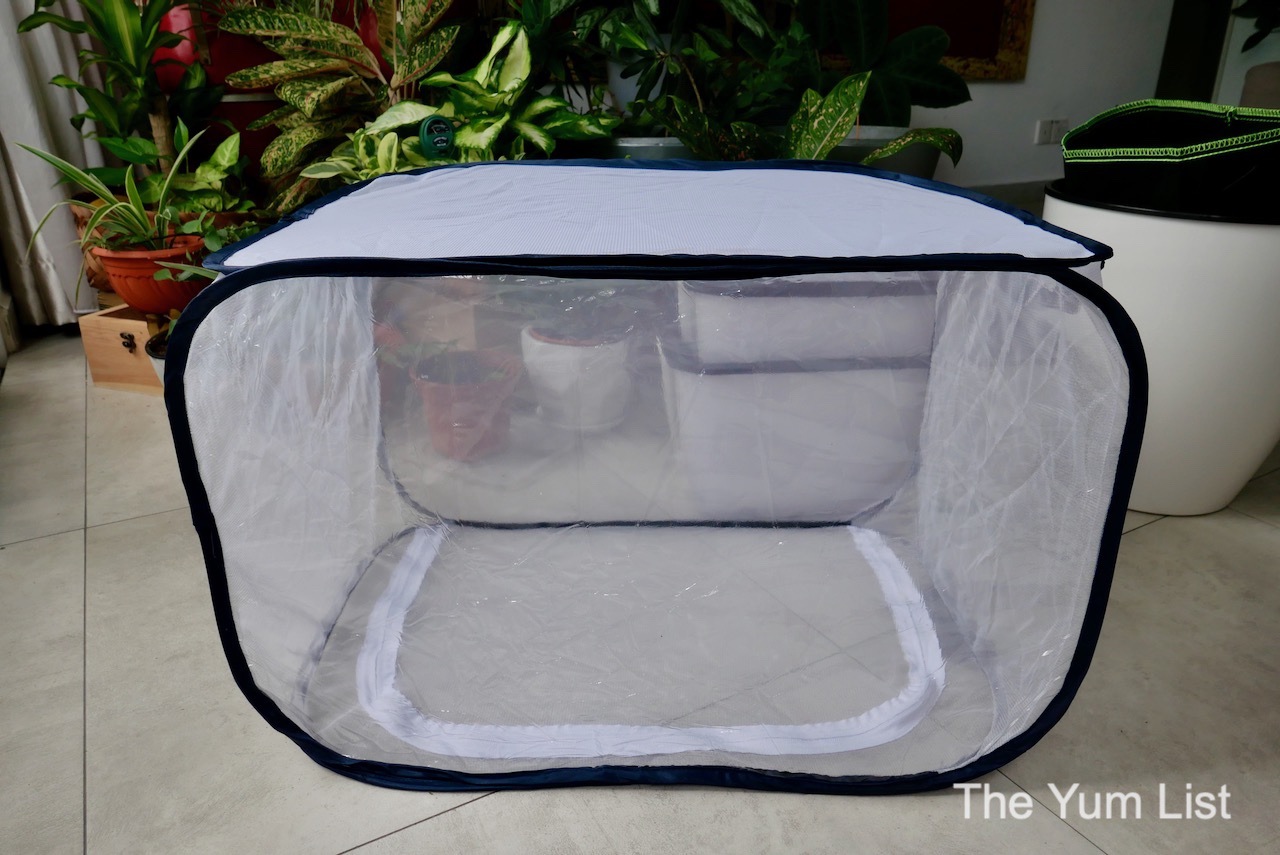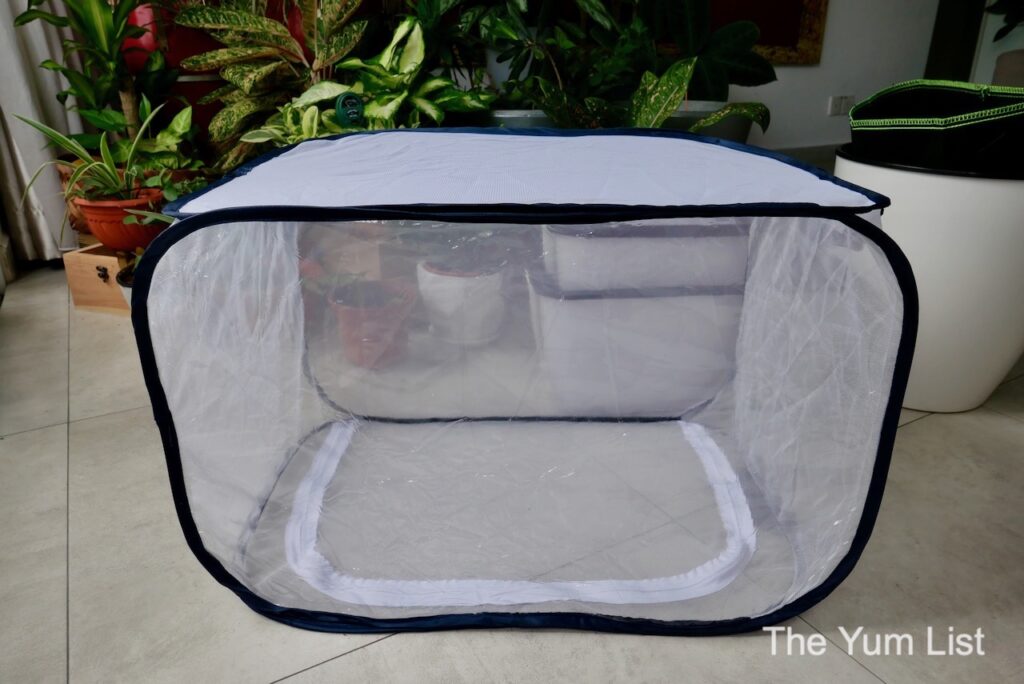 Indoor Gardening Malaysia – Light
Of course, plants need light but getting just the right amount took quite some experimentation. Observation is key. Time spent noting which parts of our home got light, its strength and for how long was invaluable. Reputable plant stores give recommendations for the best lighting environment. On top of that, I also watched and moved plants around. Some leaves were getting burnt from direct sunlight, while others were not growing because they were in the shade for most of the day.
With the number of plants I was amassing, I soon ran out of spots near the window. It can be difficult to get light into a city apartment. Trying to live more sustainably, I didn't want to go the route of getting artificial lights. However, I did find an excellent alternative – mirrors!
A large mirror can effectively reflect light doubling the amount of coverage in a room. Additionally, mirrors can make a room appear larger. The reflection makes it look as though I have even more plants ;-). Win! Win!
As you've probably already guessed, I went local to get my mirrors, finding the largest one I could online. Frame Sifu had the biggest and got lots of positive reviews, so I chose this mirror below. They have an installation service, which I sadly could not use because of our current condo restrictions. The mirror here works perfectly well standing. When things open up once again, I plan to ask them to return to hang one in our living room as well.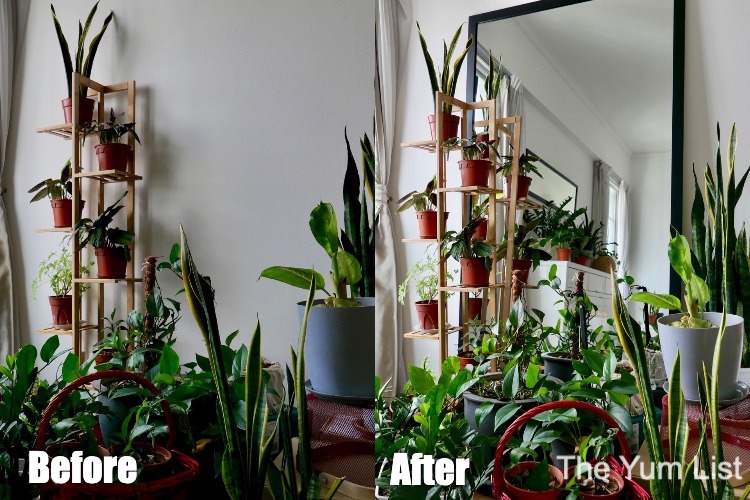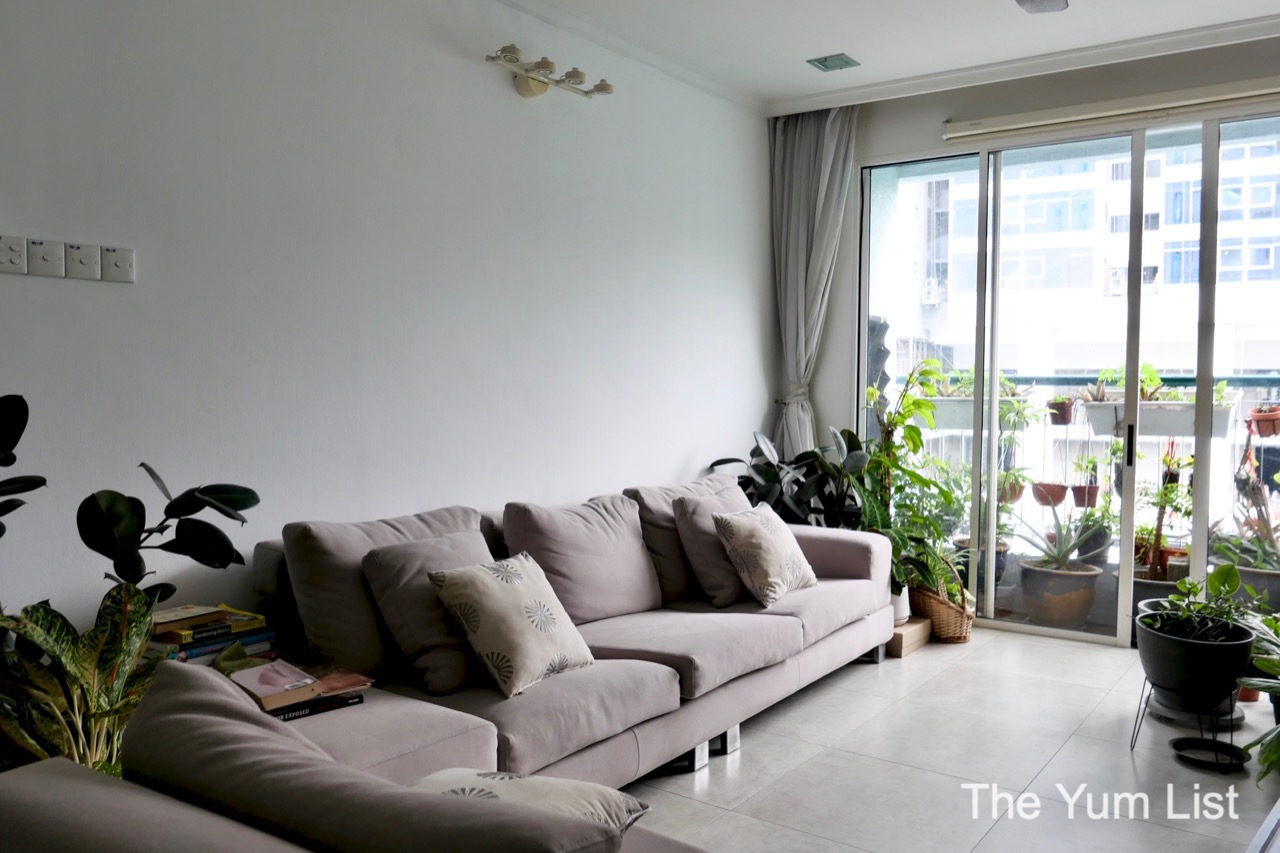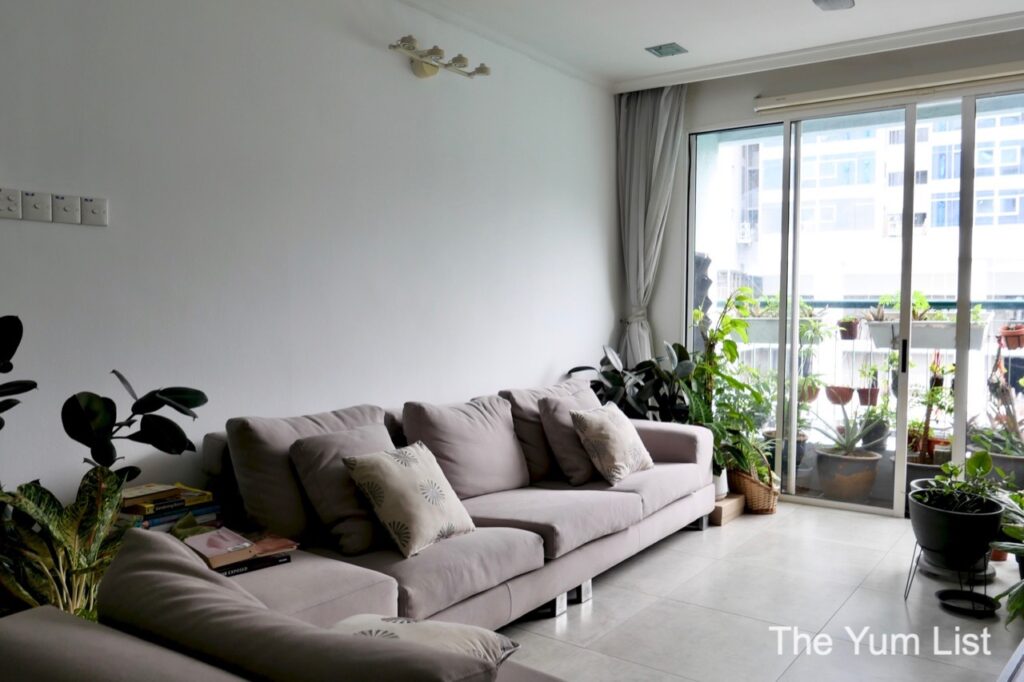 Indoor Gardening Malaysia – Elevation
Continuing on from the importance of light, and also a solution to "where do I put all of my plants?", is shelving. By going vertical, my indoor plants have access to more light, and I have more room for plants!
As always, I try to purchase everything I need locally not only to support community business and to reduce my carbon footprint but also because I'm impatient and don't like to wait! I've had success with Greenssstore on Lazada. I first ordered a seven-tier shelf from them a few months back and liked it so much, I recently got another.
The pot plant shelf was easy to assemble. Actually, the project gave me great self-satisfaction. There were just enough things to gain pleasure from the finished product without being too hard. A pleasant surprise was a miniature set of gardening tools included as well – perfect for indoor gardening.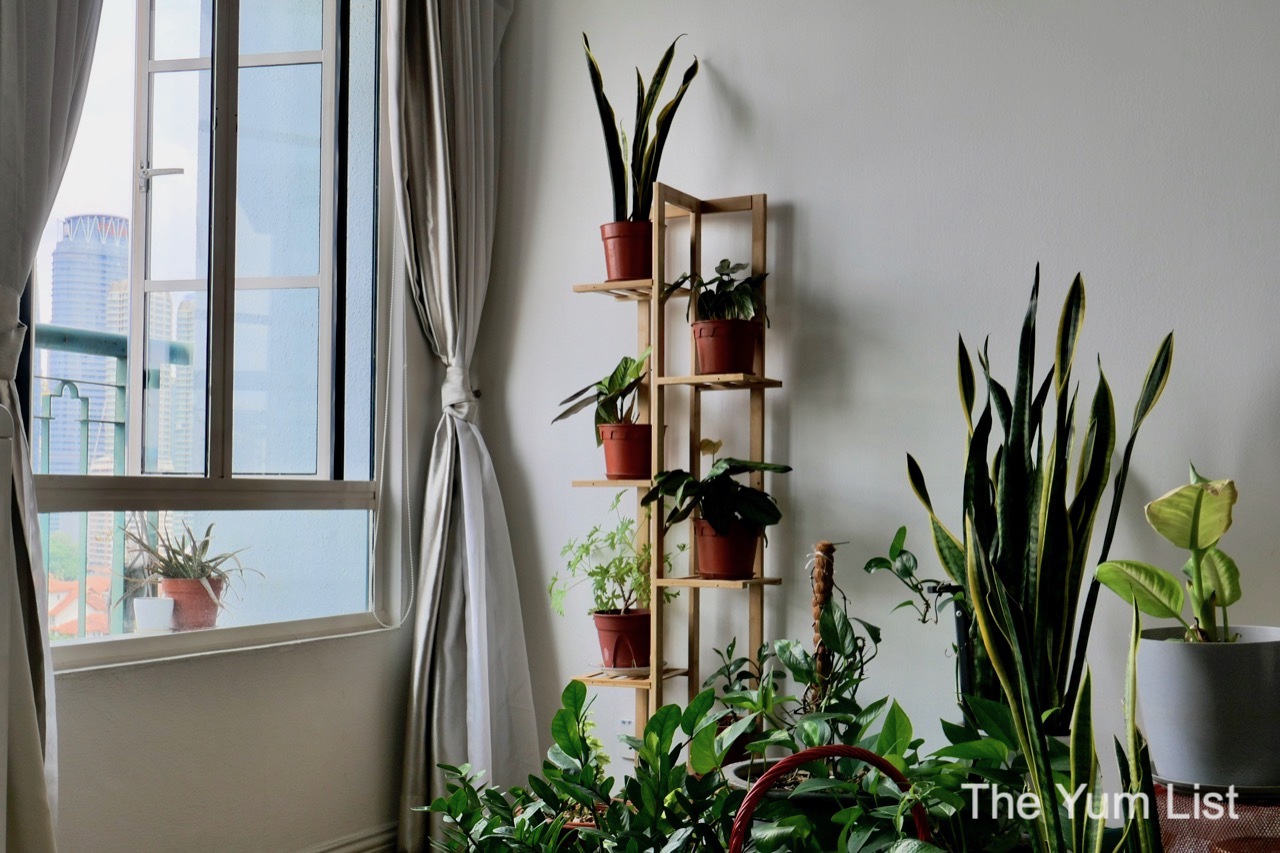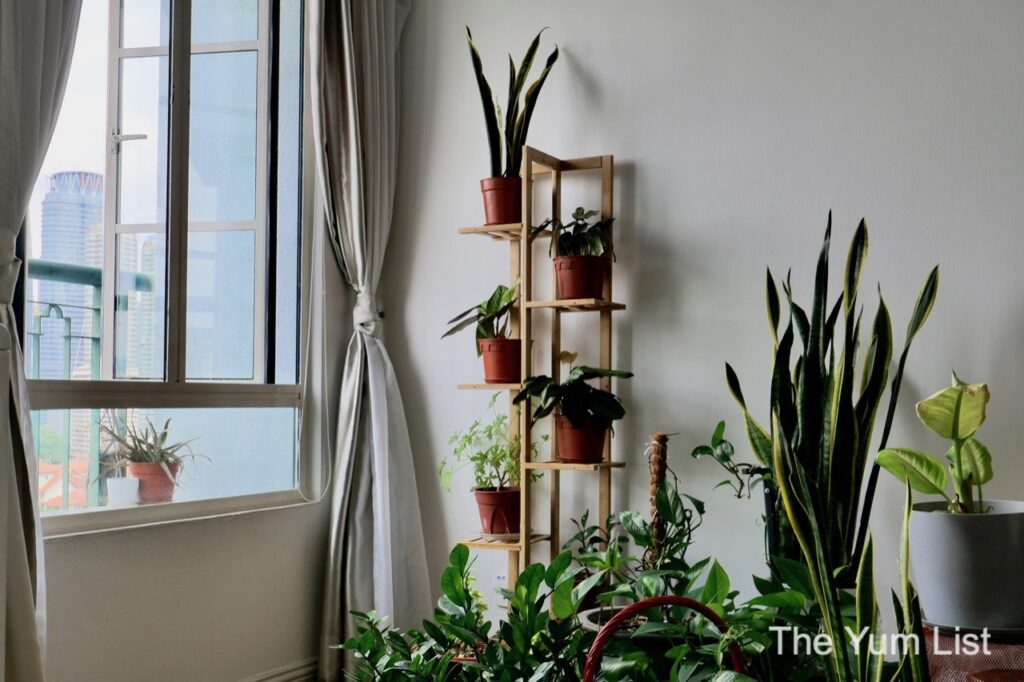 Ventilation
The importance of ventilation is something rarely mentioned when setting up an indoor garden in Malaysia. However, airflow is essential in preventing the growth of unwanted diseases in plants. While nothing can beat cross-ventilation from open windows, that is not always ideal in the city. With API levels reaching over the 100 mark once again, traffic returning, nearby construction polluting the air, and scourges of mossies, I'm not always happy to welcome the outdoor air in.
One of the most accessible workarounds I've found is a ceiling fan. A standing fan works equally well for areas where you couldn't place one on the ceiling. What I like about the ceiling fan, though, is its ability to reach an entire room without disturbing our floor space (that, of course, is needed for more plants). Do look for a DC motor when searching for ceiling fans – they help keep energy costs to a minimum.
Take Cuttings
Given my failure rate in keeping plants alive, I have learned to have a few back-ups in place. Whenever I purchase a new plant, or when one of my own is doing well, I take several cuttings. Rooting them in water gives me a plan b if I kill the new purchase, or double bang for my buck if I manage to keep them all alive and grow new babies too.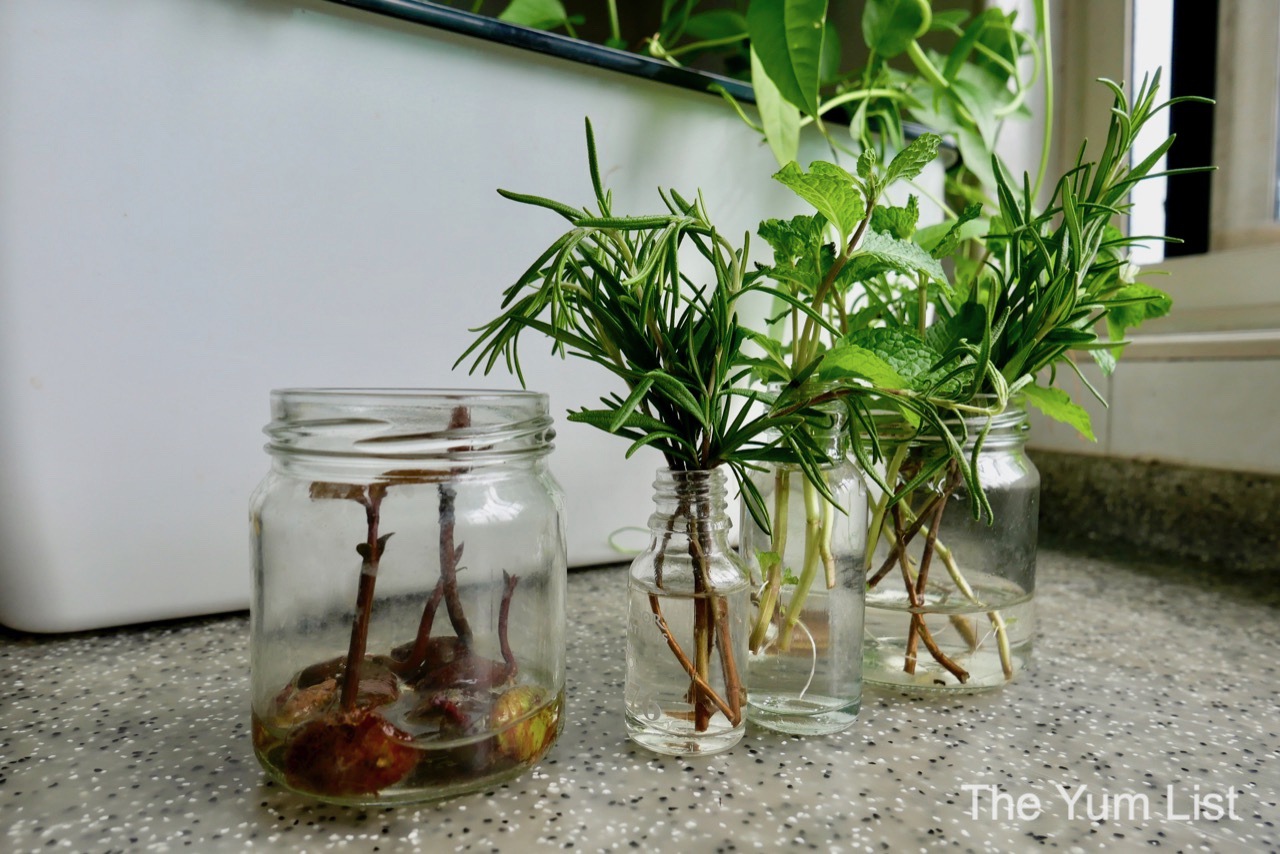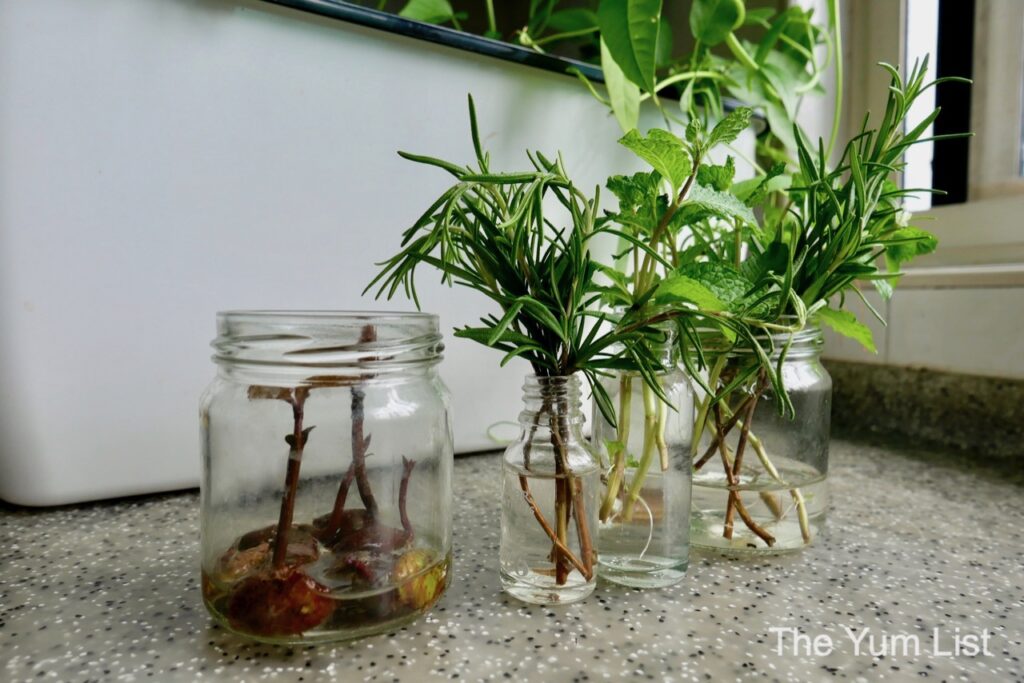 Indoor Gardening Malaysia – Stay On Top of The Bugs
When the pandemic first hit, I found myself with time to dedicate to our indoor garden in Malaysia. Being at home all day, I observed which parts of our apartment were receiving light and for how long, cross ventilation and any signs of critters wanting to nest in my plants.
Unfortunately, over various relaxations of the restrictions and the physical return to the office in KL, my indoor plants suffered. Sadly, my edibles were the most susceptible to bugs. Although I still had time to water them, I lost time in observation and did not get to small critters soon enough. If you don't catch on fast, pretty soon, an infestation can take over the entire garden.
So, the lesson learned here was two-fold. First of all, observe closely and treat plants immediately at the very initial signs of trouble. My method is to wipe off any visible bug, nest or eggs as soon as possible and spray with a mix including organic neem oil. Earlier on, I tried mixing neem oil, water and detergent myself but failed miserably. If my plants didn't die from insects, they died from too much spray. Since then, I've purchased ready-made mixes and had much better luck. For larger infestations, it was better to literally just cut my losses by snipping off infected stems and leaves. I made a few pairs of craft scissors blunt until I switched to proper pruning scissors. Of course, discard any infected cuttings and wash the scissors well before touching any other plants.
The second learning was to only plant edibles that I could manage. As they were more prone in my home to bug attacks, I changed the ratio to having more indoor plants and fewer edibles. While I still keep enough greens and herbs that we'll never need to purchase a cocktail garnish again, I've returned the focus to indoor plants. With less time spent at home and the possibility of travel (at least within Malaysia) being hinted out, I need something that will be sustainable.
Upcycling
Plant addiction has the potential to get expensive. I've found lots of ways, though, to cut costs and upcycle resources. Preventing things from going to the landfill and not buying anything new is great for the environment and the budget.
Three things, in particular, have worked well for me.
Upcycling plastic bottles into self-watering pots and using old t-shirts, ribbons and string to make macrame holders to hang them. For the plastic bottles, people have recommended painting them a dark colour or only using them in the shade as direct sunlight might not work well for the roots. I've had the ones pictured below hanging for over six months now. They get bright light during the day and a couple of hours of direct sunlight in the afternoon. They're doing okay. Here's a YouTube video on how to make them. For the macrame hanging pot holders, I learned first how to make them with old t-shirts with this video. When I ran out of t-shirts, I switched to using old string and ribbons, and they worked just as well. The colour is not uniform, but that wasn't important for where I hung them.
Creating pot covers with reusable bags. One way to save money is to purchase plants in the cheaper plastic pot and to put a pot cover over the top. I put some of my uglier plastic pots inside reusable cotton shopping bags, and while they might not look as lovely as store-bought pots or covers, they didn't cost a thing.
Achieving height with crates and boxes. As mentioned above, one of the challenges of indoor gardening in Malaysia is ensuring plants get enough light. I was able to add levels for my indoor plants using packaging from deliveries and some old wine crates. Getting plants off the floor not only fostered a more pleasing aesthetic but also gave greater access to light.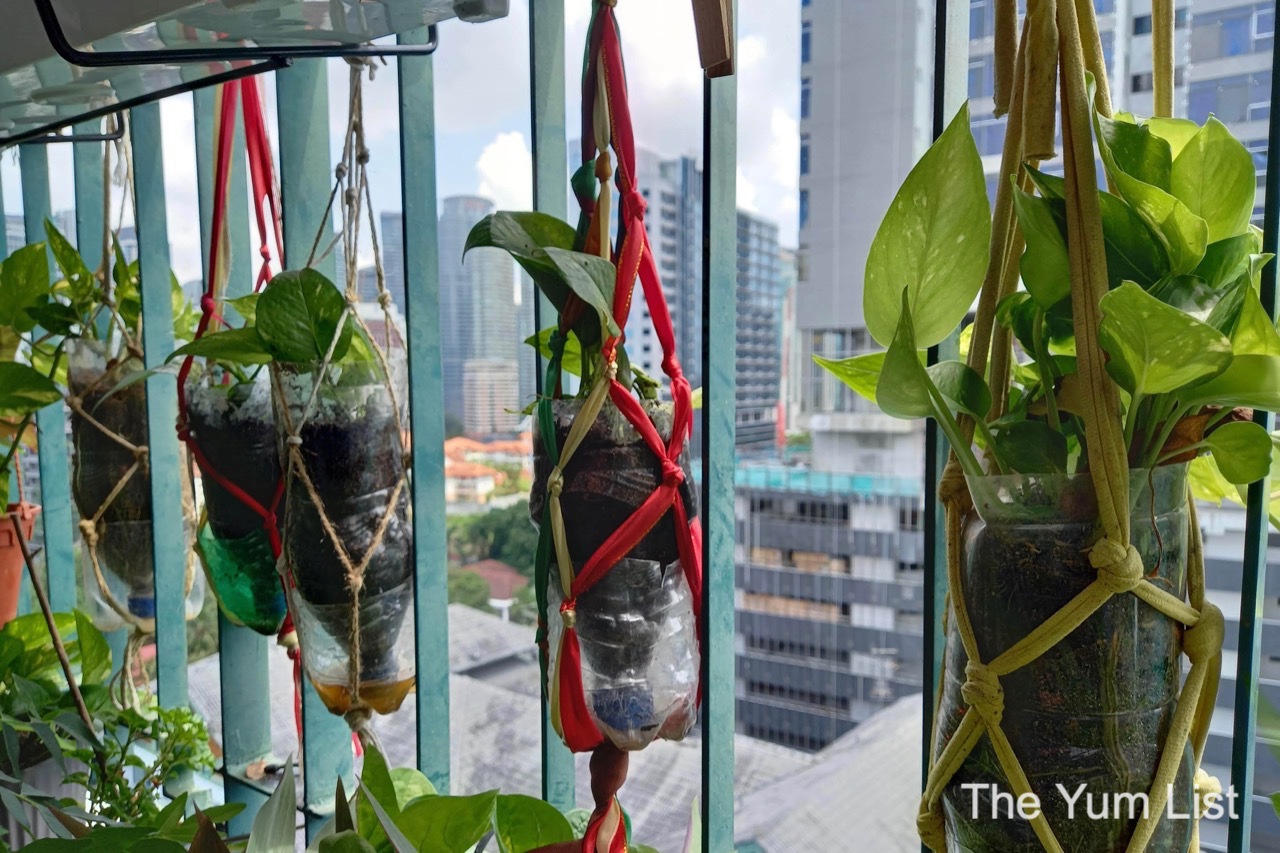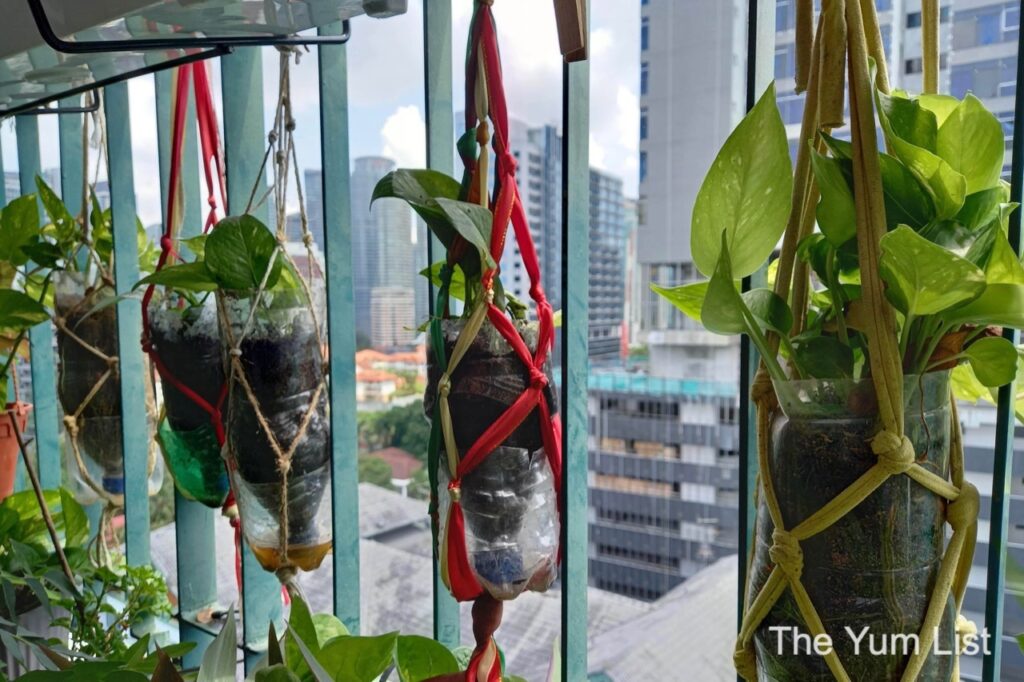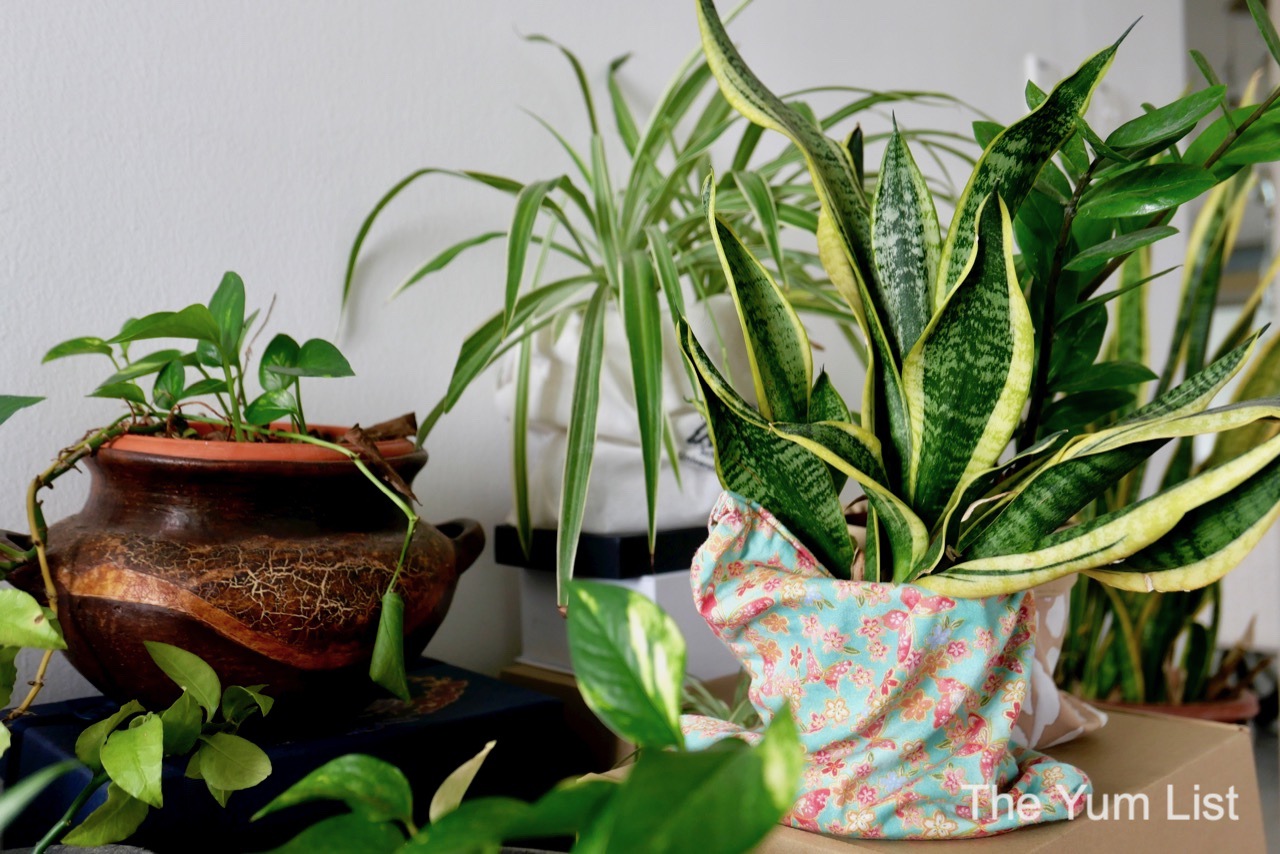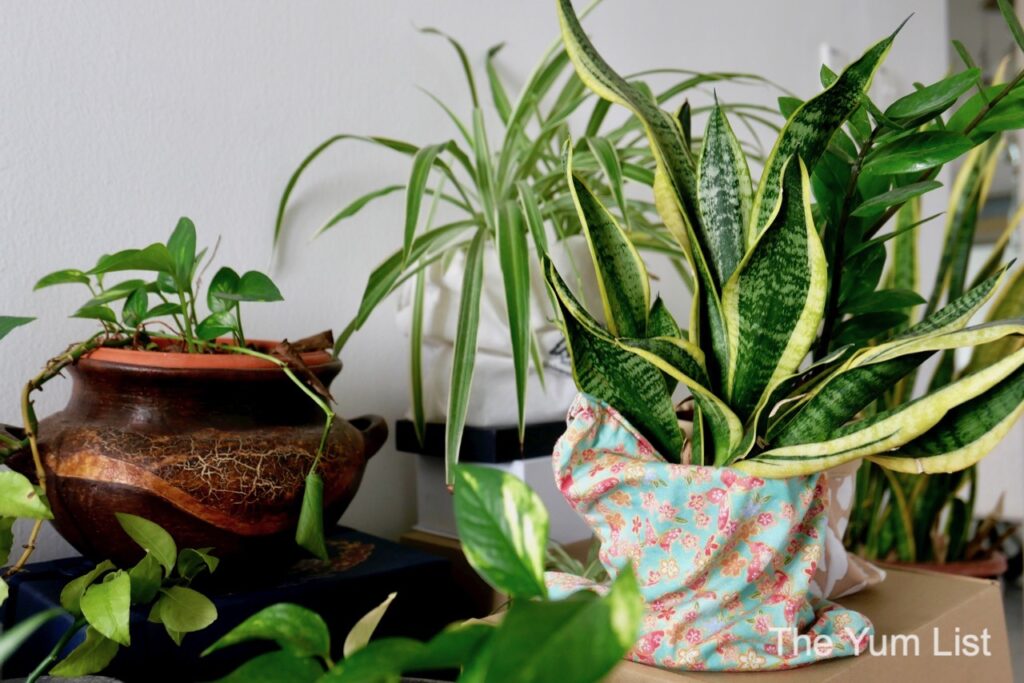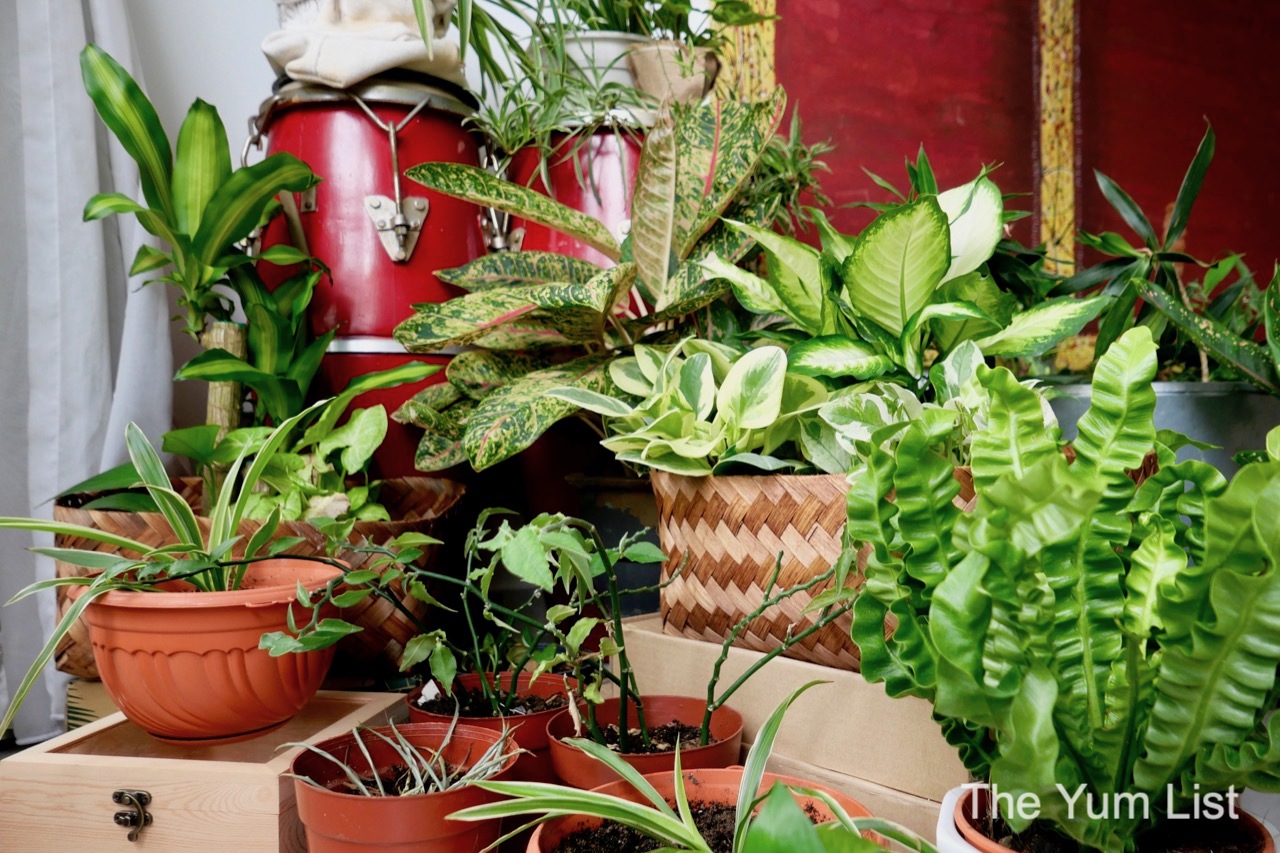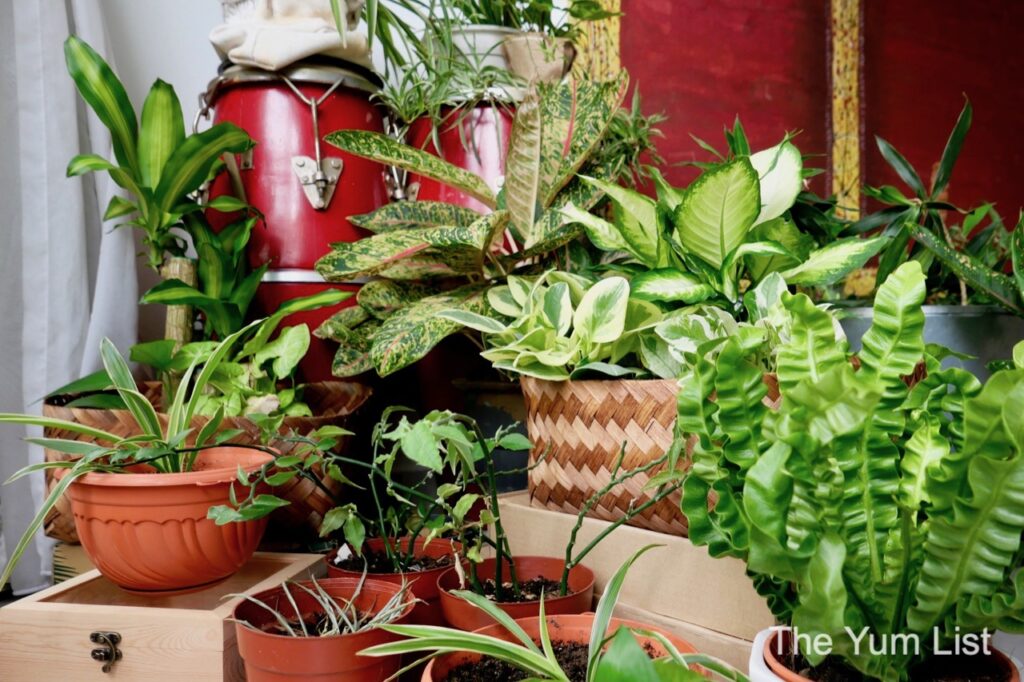 Facebook Groups
You can Google just about any question you have about gardening these days, but the answers aren't necessarily specific to our local climate and flora. While I still get much information through online searches, I've found inspiration and much more relevant information through Malaysian gardening Facebook groups.
What I love most about these groups is the community spirit and willingness to share failures along with successes. Members are generally happy to answer questions, share resources and help each other out, all in the nature of "growing the good."
The groups I visit the most are Plants and Gardens Malaysia and Gardening Friends Malaysia for inspiration and tips in general. My Tiny Plot and My Edible Garden are both excellent resources for food production in our tropical climate.
What have you learned about indoor gardening in Malaysia? Kindly share your tips, tricks and most significant aha moments in the comment box below.