Bestow Restaurant KL
Words: Monica Tindall
Photos: Rich Callahan
Housed at the end of a block of colonial-era shophouses, Bestow Restaurant provides fresh appeal to the neighbourhood. The café-restaurant retained the striking vaulted roof and structural frame in the renovation while upgrading some features to create a contemporary and historically charming space.
Transparent ceiling panels ensure abundant natural daylight. Vintage wrought iron grills and old wooden floorboards sit side by side with polished wooden furniture and subtle uplighting. The spacious outdoor patio is sure to please many. We think it is a perfect spot for post-work beers. The alfresco area is shaded by frangipani and garden umbrellas. Cooler mornings and evenings are popular with the crowd, but we are even happy mid-afternoon with the industrial fans blowing.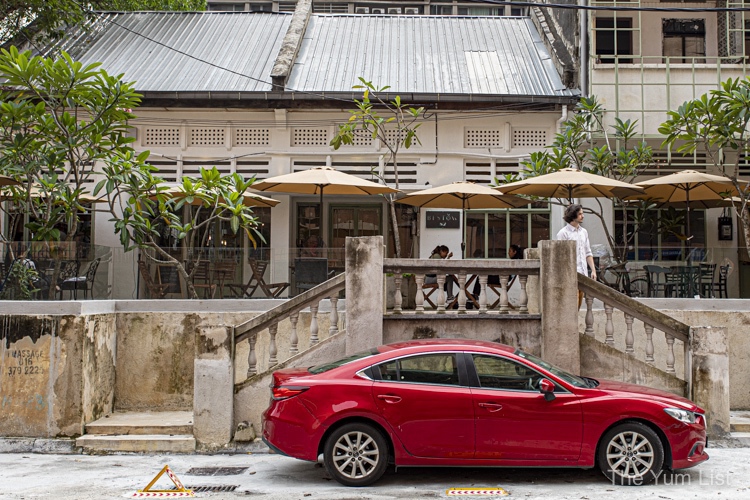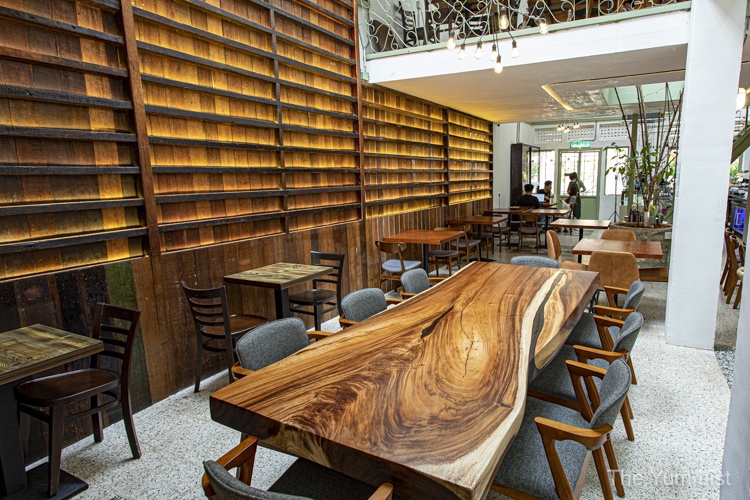 Bestow Restaurant KL Menu
Bestow Restaurant's menu is a gastronomic trip around the world. While physical journeys are still wishful dreams, guests can travel on their tastebuds here. You can visit Russia with beef stroganoff, Thailand with green curry, get a taste of Brazil with Peri-Peri or even head over to the USA with a simple grilled cheese sandwich. 
Breakfast
I have to confess that from an initial look online, I thought that Bestow Restaurant would be rated higher for the ambience than the food. However, our brekkie beginning soon proves that thought wrong. Mediterranean Baked Eggs (RM 28) can be cooked with beef or chicken ham or made vegetarian by omitting them. The shakshouka is based on a delicious tomato stew mixed with mushrooms and eggplant. Two slices of sourdough and mesclun salad are very suitable partners.
The Mushroom Ragout with Sourdough Toast (RM 18) does not look near as good as it tastes. Spongy sourdough with a crunchy crust is an excellent choice for the creamy mushroom sauce with a slight punch from pepper in the finish.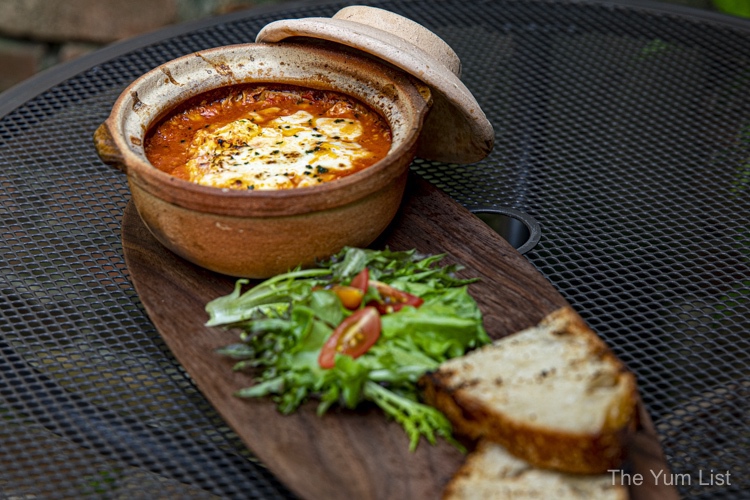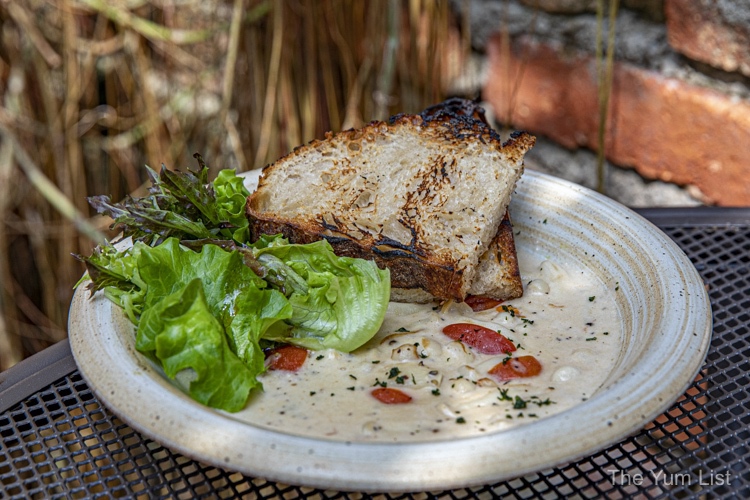 Tapas
Bestow's menu includes a handful of tapas – ideal for sharing with a cold beer in the garden. Although the Teriyaki Smoked Duck (RM 28) is listed as one such dish, it could easily make a main. A liberal layering of slices of the smoked duck fill an entire plate. Teriyaki and plum sauces provide a lovely intermingling of sweet and savoury.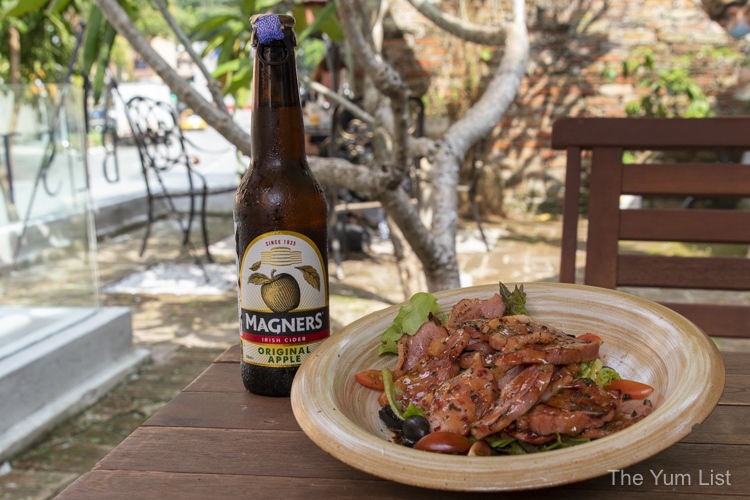 Lunch & Dinner
We appreciate the inclusion of some healthier items on the menu and are pleased with the abundance of greens in the Greek Salad (RM 18). The combination of feta cheese, olives, cherry tomatoes, cucumber and mesclun, is dressed in a balsamic vinaigrette. It makes a great shared side to just about any of the main plates.
We're also satisfied by the Beef Stroganoff (RM 28). Wild rice is an excellent partner with a slight nuttiness and good bite to its profile. The creamy, brown sauce covers the grain without making it go too soft. A little sweetness found in the mango salad balances the recipe.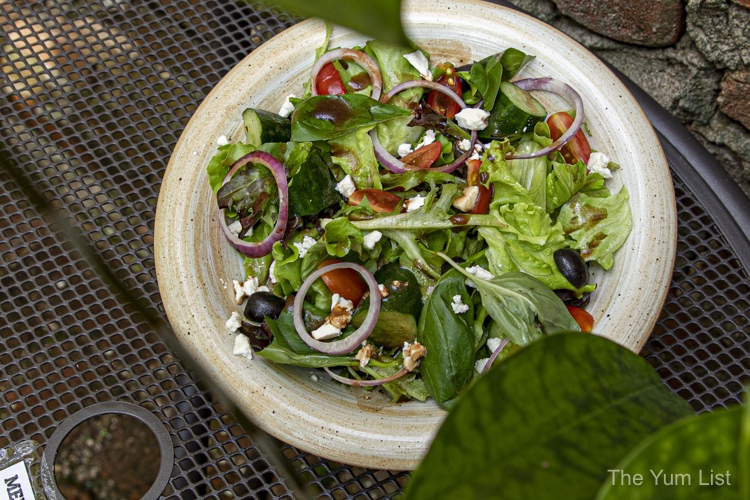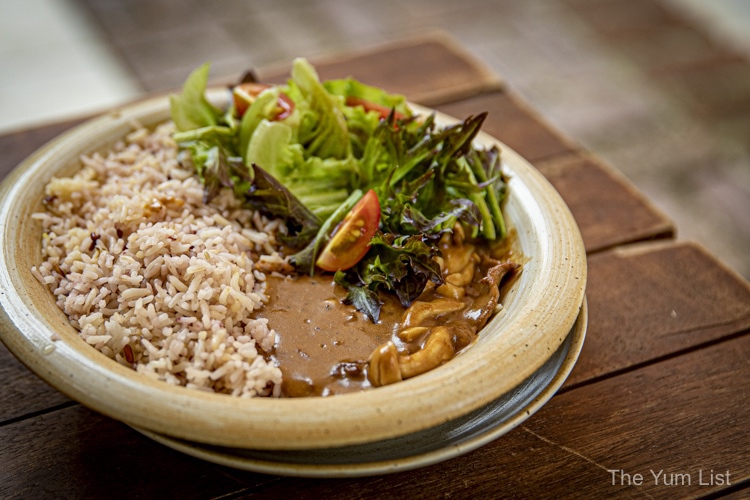 Cake
Even if you're not a sweet tooth, the magnificent selection of cakes is hard to ignore. By the same baker at Mingle Café, the collection is of high quality, and it would be a challenge to make a bad choice here. The Orange Poppyseed Cake (RM 16) is a stellar gluten-free option. Made with almond meal, organic poppy seeds and osmanthus flowers, it's superbly moist with a lovely thread of sweet citrus running through.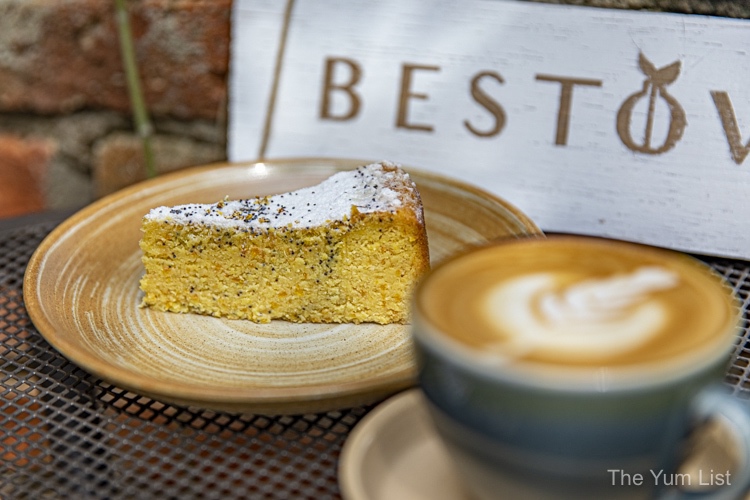 Bestow Restaurant Drinks Menu
Bestow Restaurant's drinks menu covers all bases with coffee, tea, smoothies, juices, and even a solid selection of bottled beer. Our Café Latte (RM 12) is a good, standard cup. Passionfruit and Mango Smoothie (RM 18) is champion refreshment on a warm afternoon (no sugar, just a touch of honey), and a bottle of chilled beer or cider is terrific after-work stress relief. The range goes beyond the standard Tiger with a modest list showing variety. Of note, the Kizakura White Yuzu Ale 5% (RM 36, 330ml) and Magners Irish Cider 4.5% (RM 23) are both delicious picks.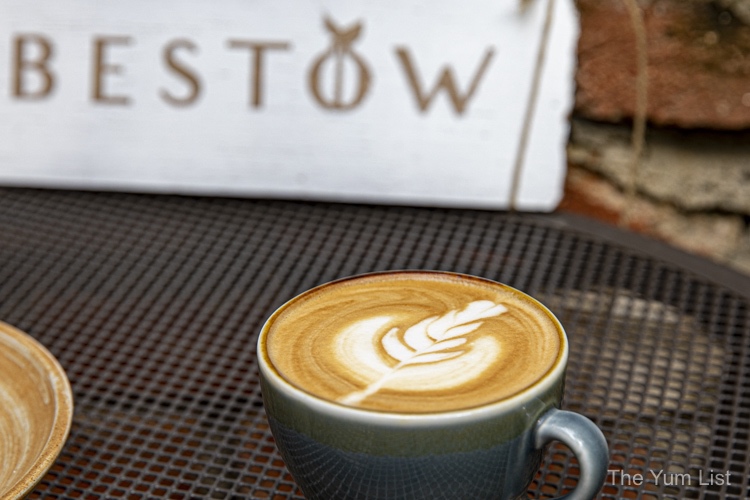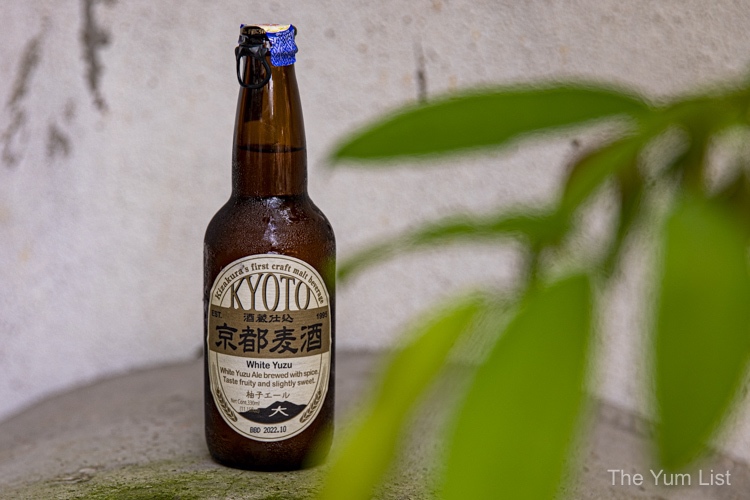 Reasons to visit Bestow Restaurant KL: charming historical building revamped with contemporary finishings; fab outdoor space with trees and garden umbrellas ideal for a chilled beer or two; a scrumptious range of cakes; loved their brekkie items too.
Bestow Restaurant KL
82, Lorong 1/77a, Imbi,
55100 Kuala Lumpur, Malaysia
+6 012-395 2289
www.facebook.com/bestowrestaurant
Bestow Restaurant Opening Hours
Tuesday to Sunday, 10 am – 10 pm
Closed Monday
Find more of our favourite cafes in Kuala Lumpur here and stay up-to-date with the latest gourmet and travel recommendations for the country here and here.