Kita Food Festival Kuala Lumpur
Continuing the celebration of Malaysian food culture from Penang, the Kita Food Festival unfurls in Kuala Lumpur on December 8 for five days of flavour-packed food and drink collaborations and masterclasses.
As a melting pot, Malaysian food has always been a unique fusion of Malay, Chinese, Indian and colonial influences. And as a community of some of the best Malaysia-based chefs and producers of food, Kita brings out the innate foodies in all of us.
Read on for Kita Food Festival's food and drink events in Kuala Lumpur.
*Food photos are indicative of the style of the chefs. The menus created will be unique for each event.
Kita Food Festival Kuala Lumpur
Akar, Char Line & Ember at Dewakan, 8 Dec
Darren Teoh, together with Akar Dining's Aidan Low, Ember's Gary Anwar and Char Line's Hun Yun, come together at Dewakan to create an intriguing, plant-forward menu. Experience a truly exciting collaboration of skills and style as these chefs present a truly unique, 11-course meal that is creative, local and sustainable. Book here.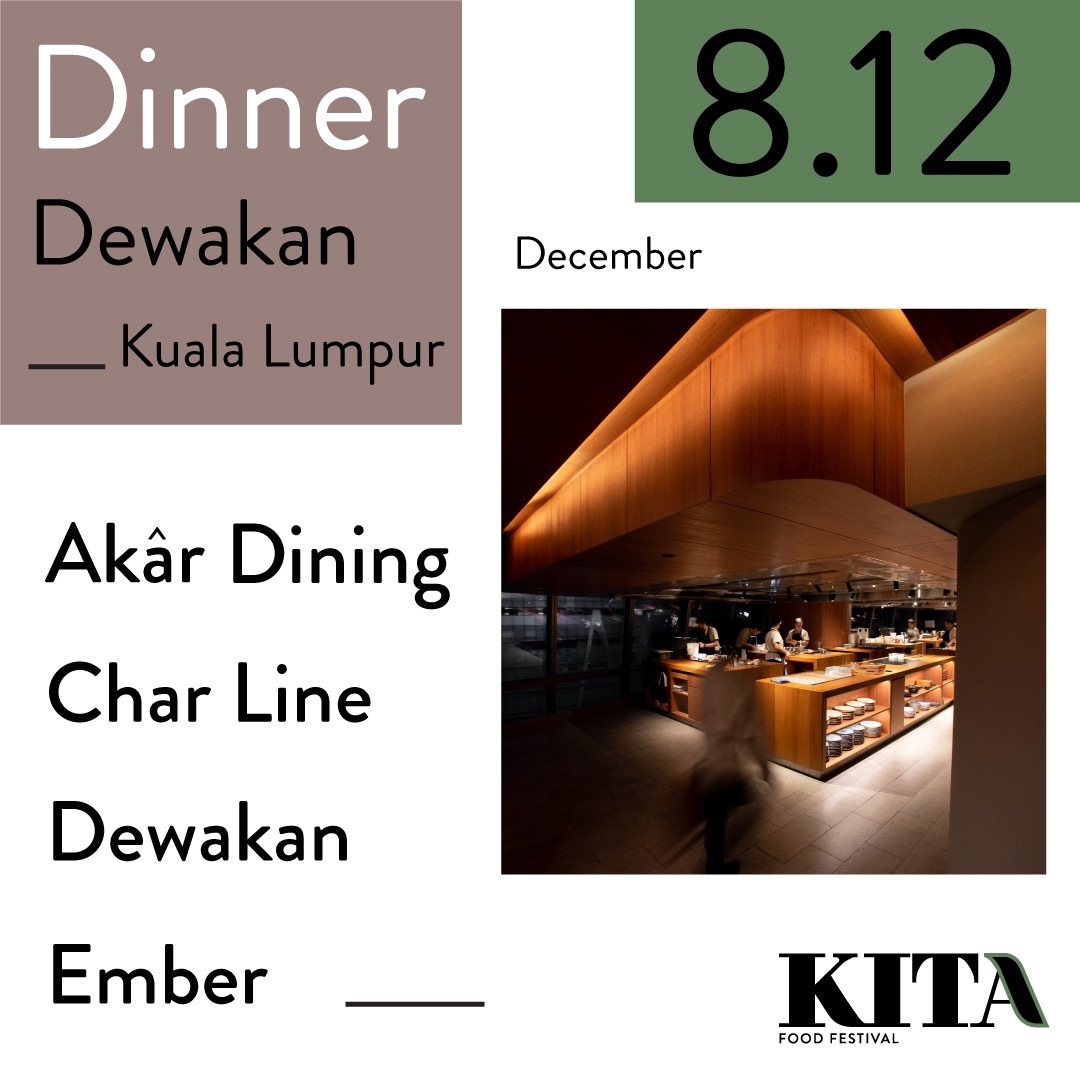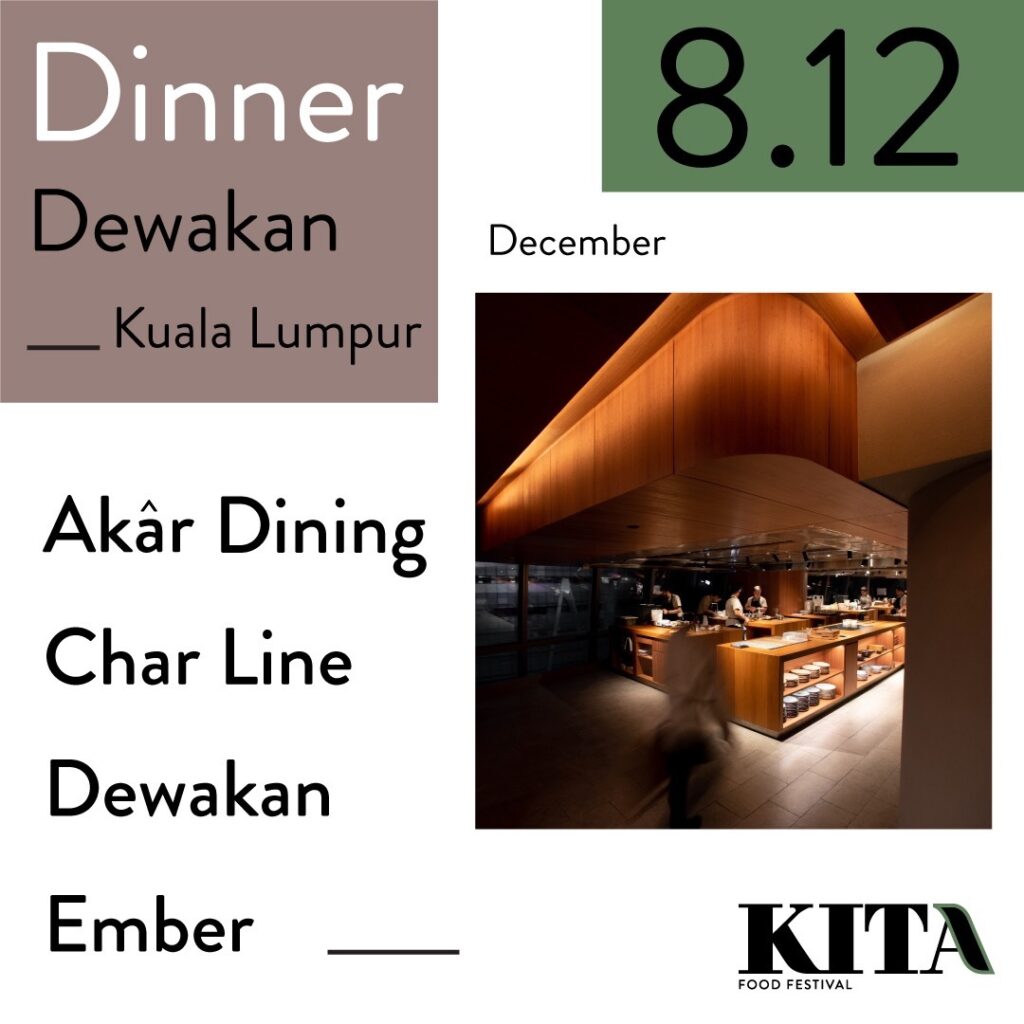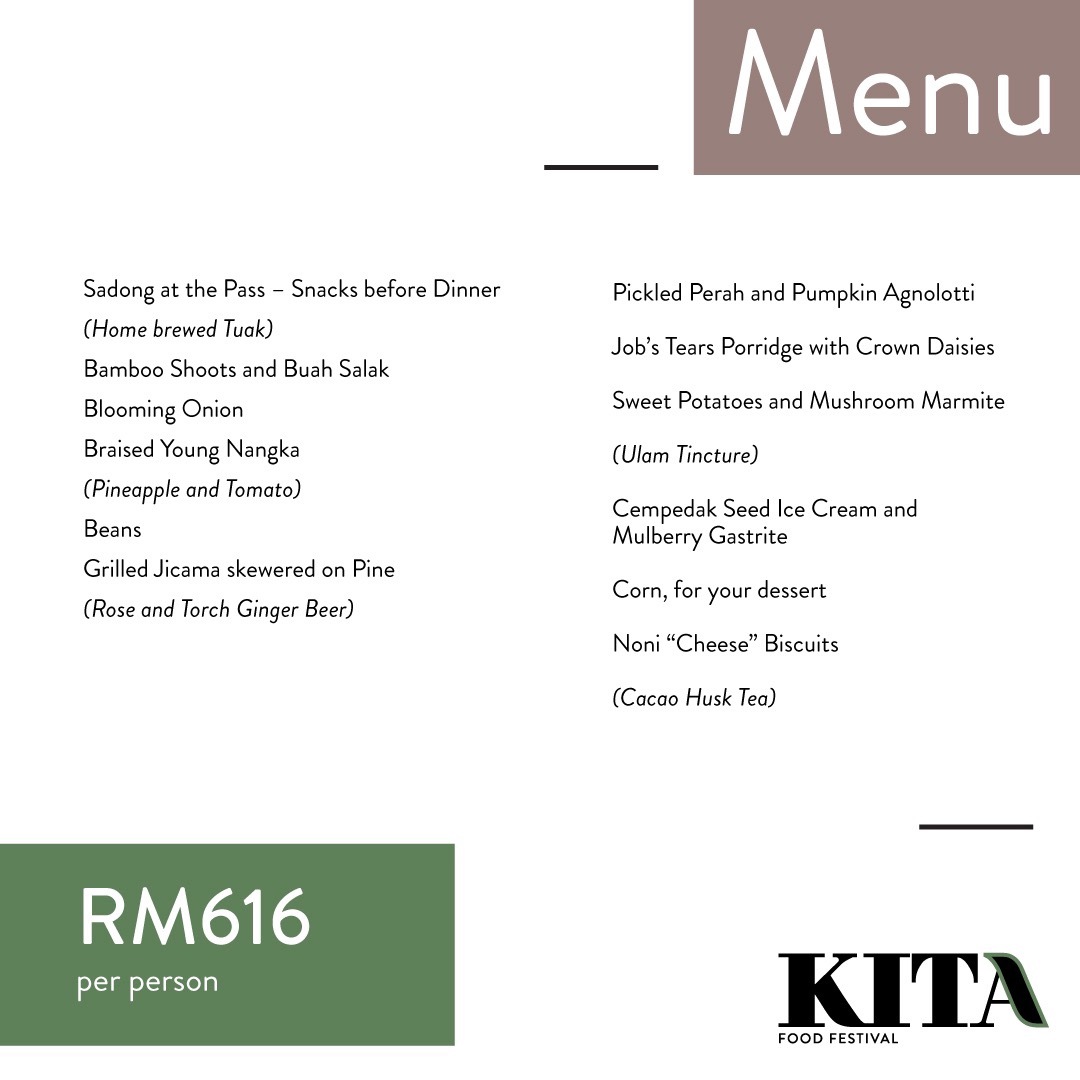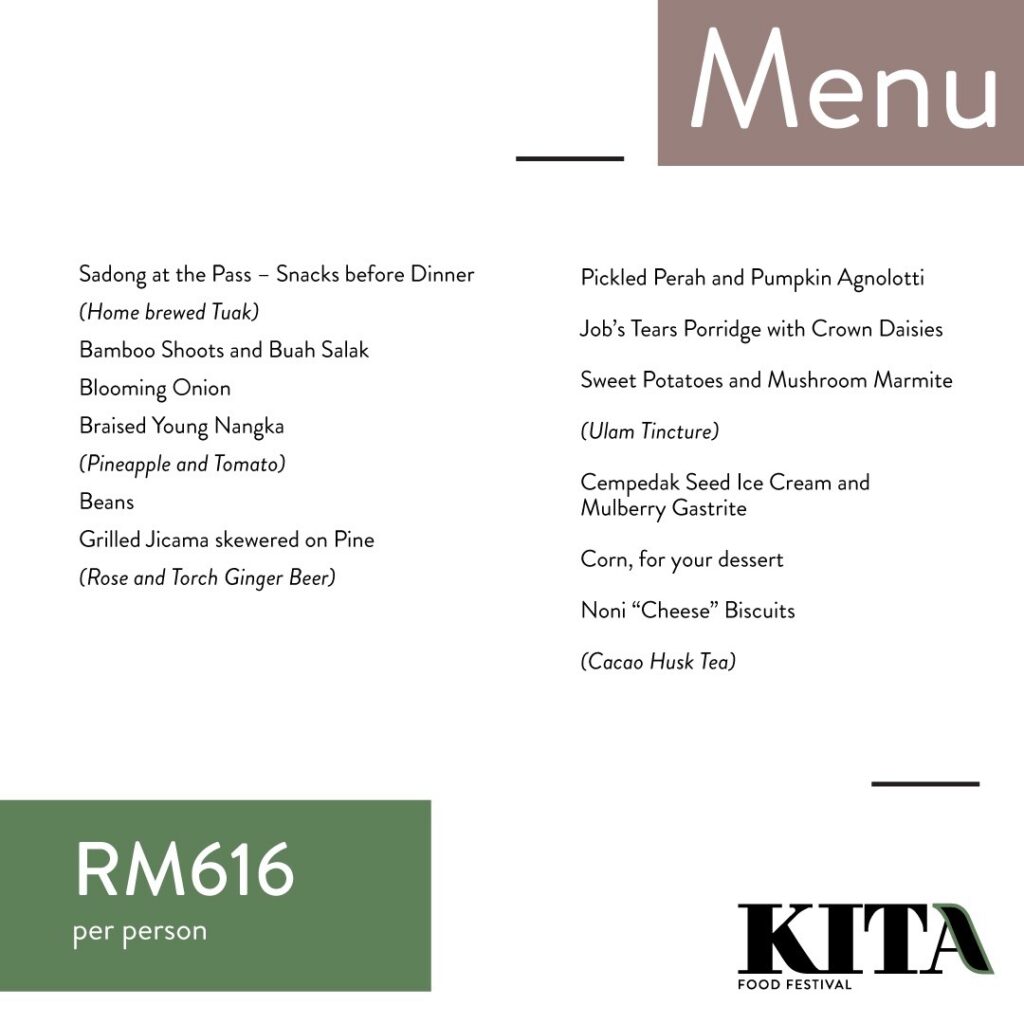 Tyson Gee & Kim Hock Su at ATAS, 10 Dec
Penang's bijou fine dining restaurant Au Jardin's chef-patron Kim Hock Su brings his delectable style to the table in a collaboration with Chef Tyson Gee at ATAS, the RuMa Hotel, Kuala Lumpur. This 7-course dinner will highlight the global palates and culinary histories of both chefs, threaded together with some of Malaysia's best produce on a menu featuring Salt Baked Beets with Horseradish Sorbet & Chicken Scratchings and King Mackerel with Pickled Radish, Calamansi Kosho, Thai Basil & Smoked Dashi. Book here.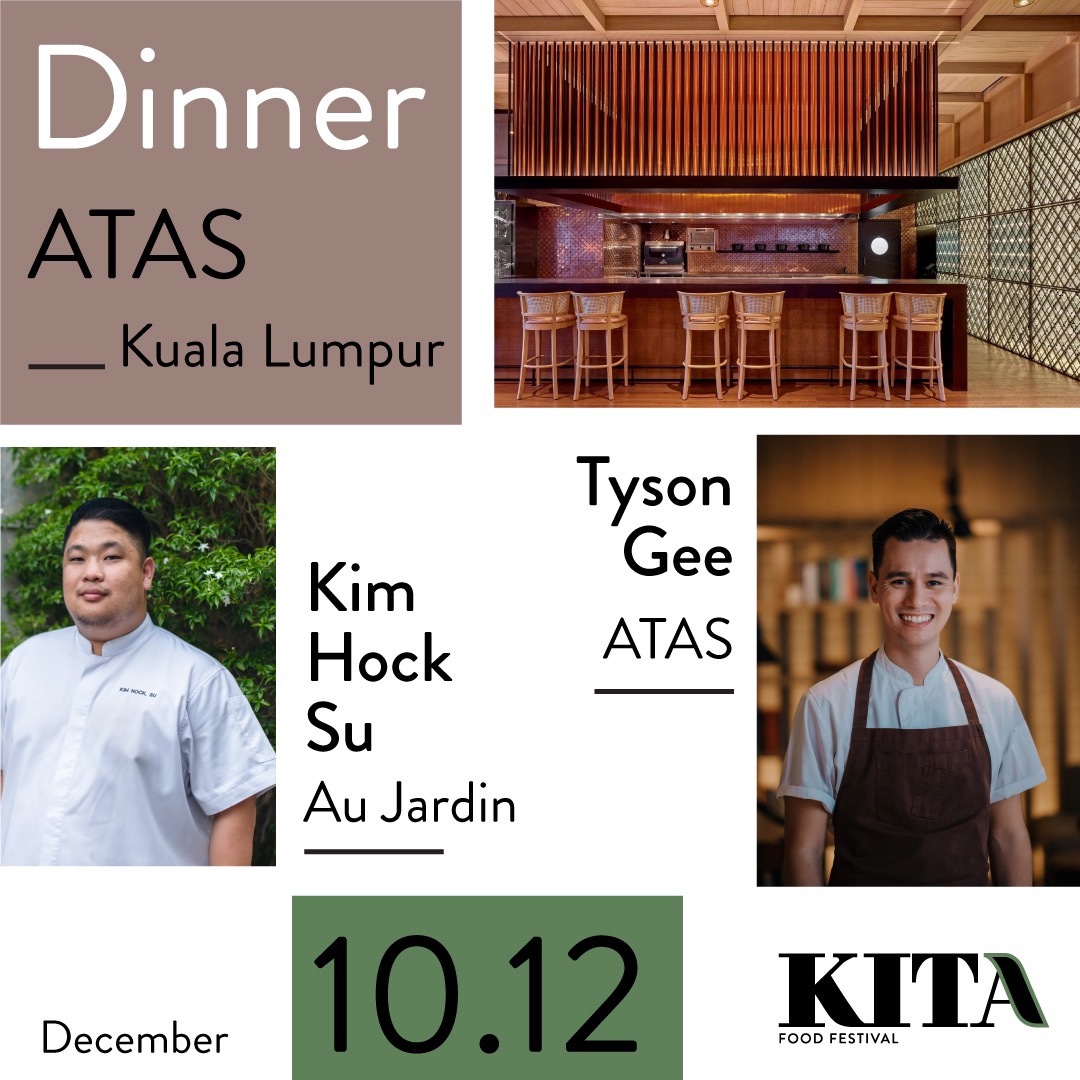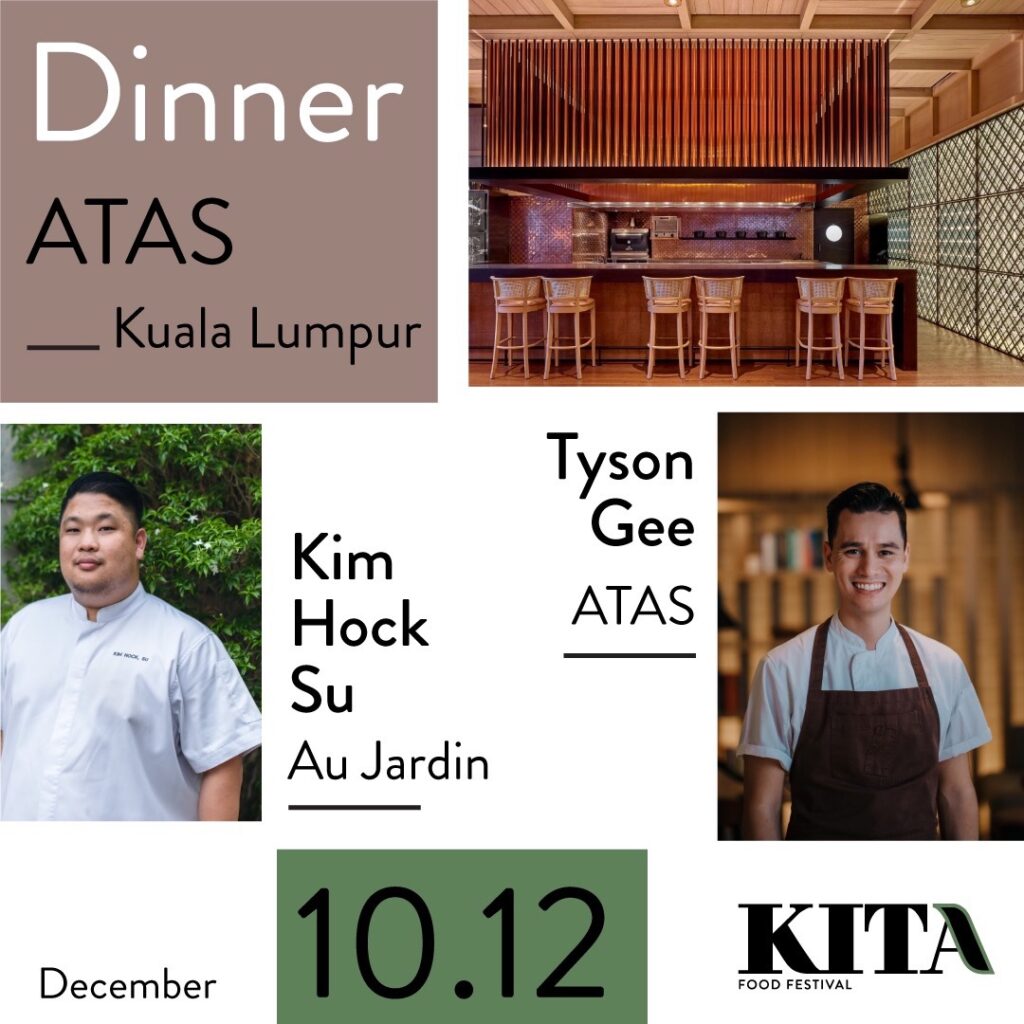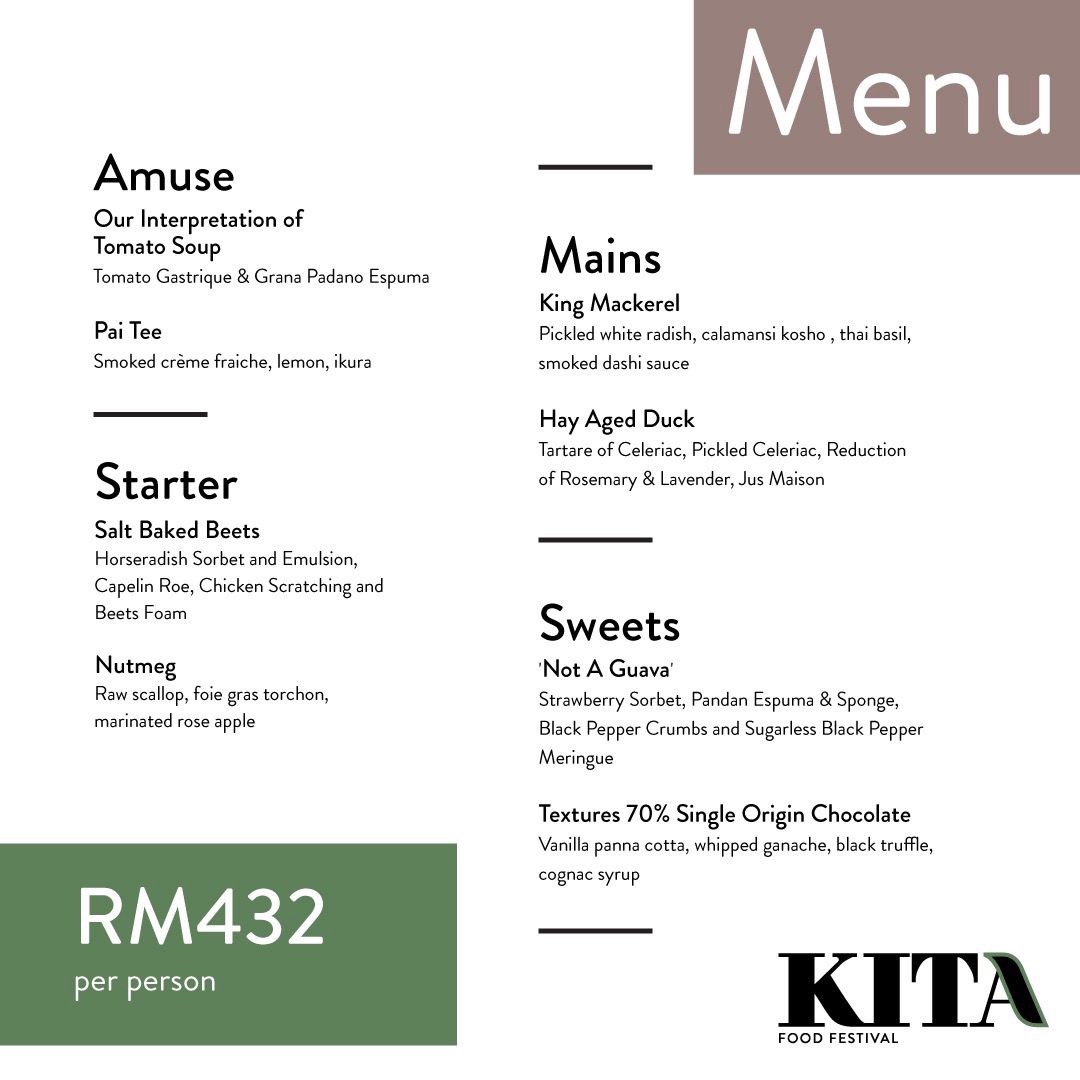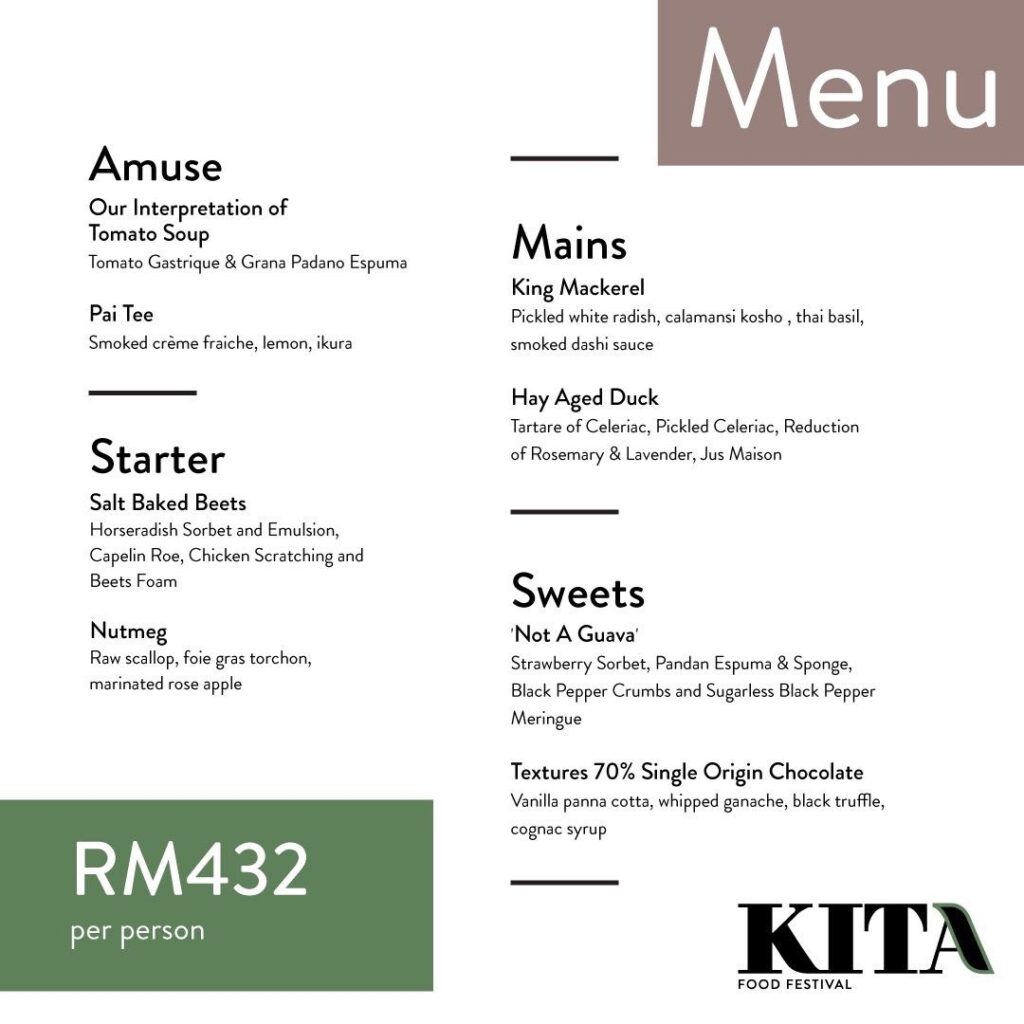 Chipta 11A's Chef Jack Weldie & Chef Jun Wong at Kikubari, 10 Dec
Quietly making waves at his suburban hideout restaurant Chipta 11A, where he serves a special combination of Japanese omakase with Malaysian touches, Chef Jack Weldie unites with Kikubari's Chef Jun Wong, whose brand of progressive Japanese cuisine has garnered her quite a following. The two will serve up an unforgettable multicourse mix 'n' match menu of Japan's finest, with intriguing Malaysian nuances. Book here.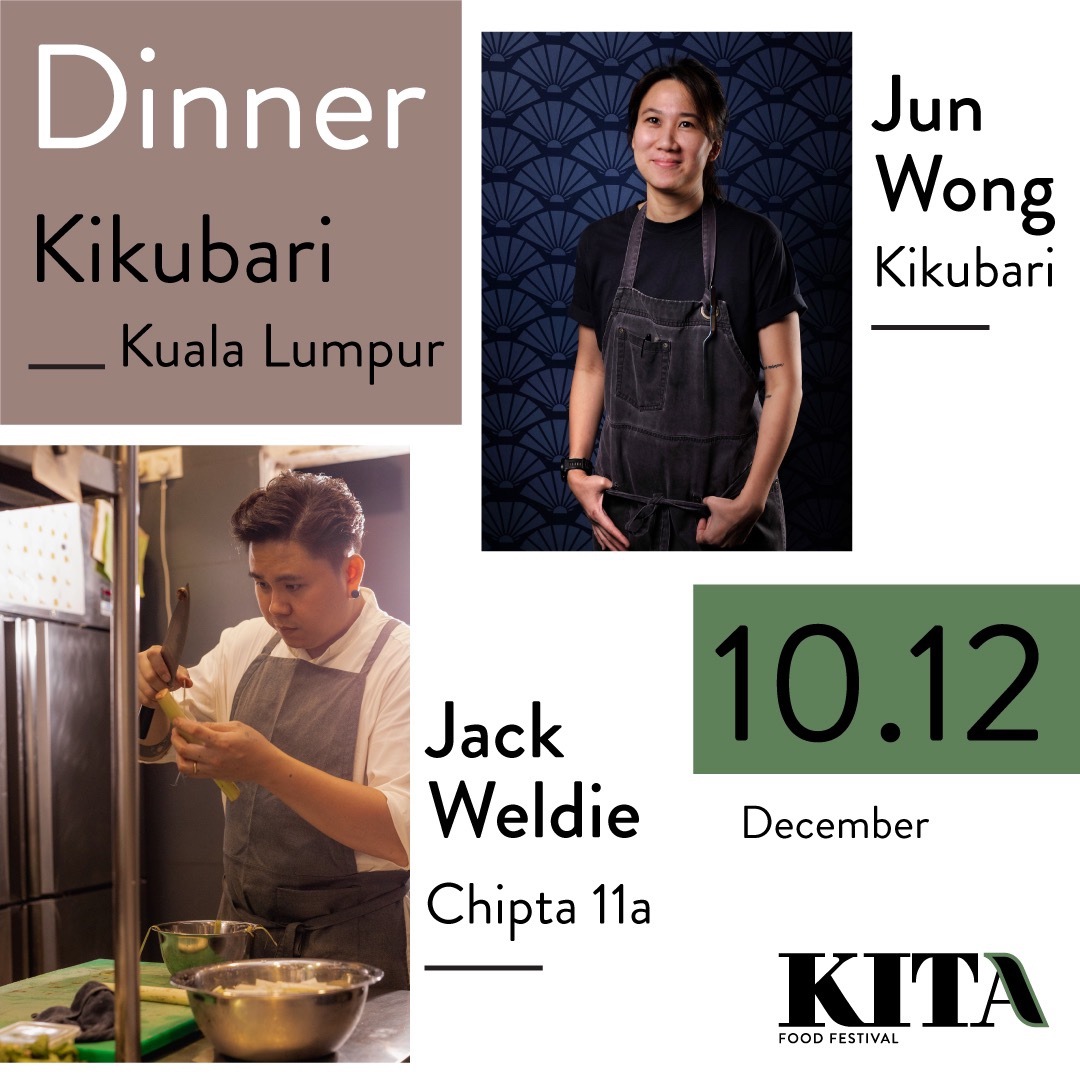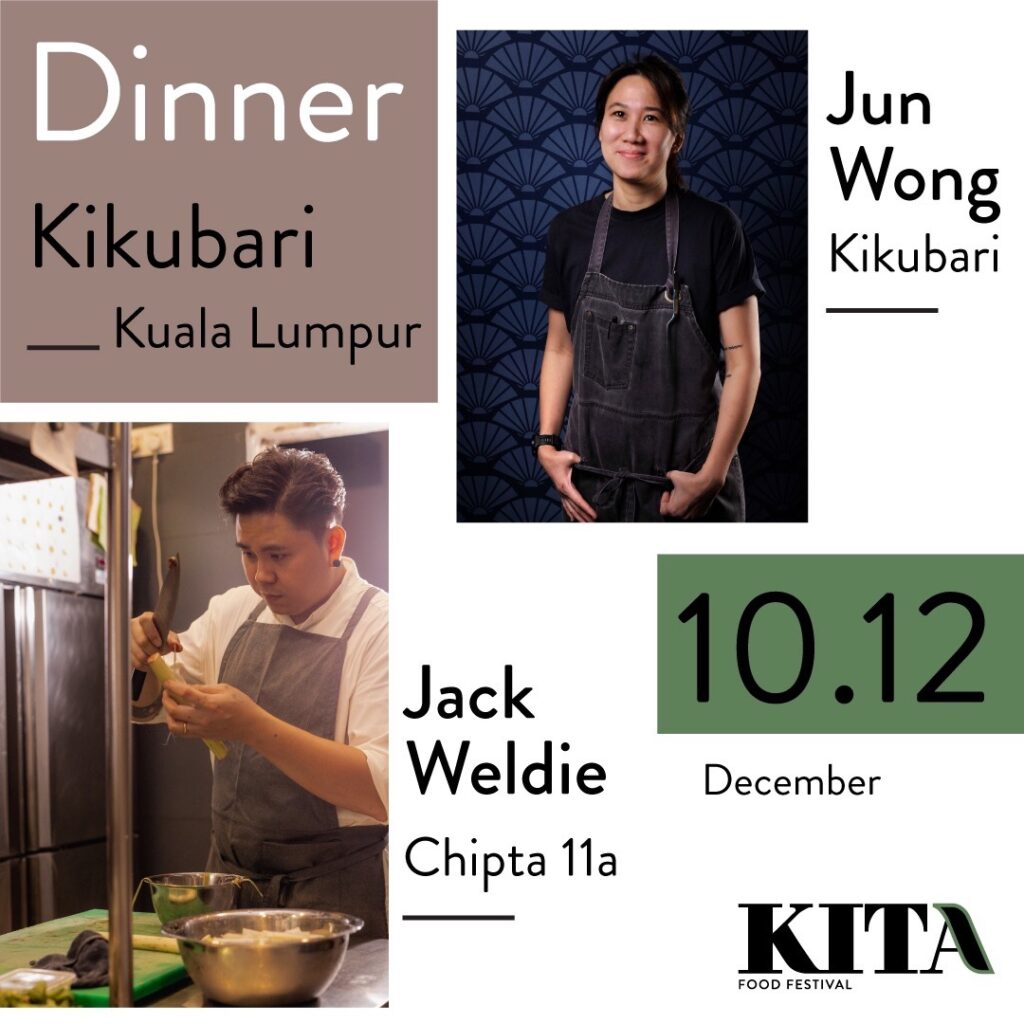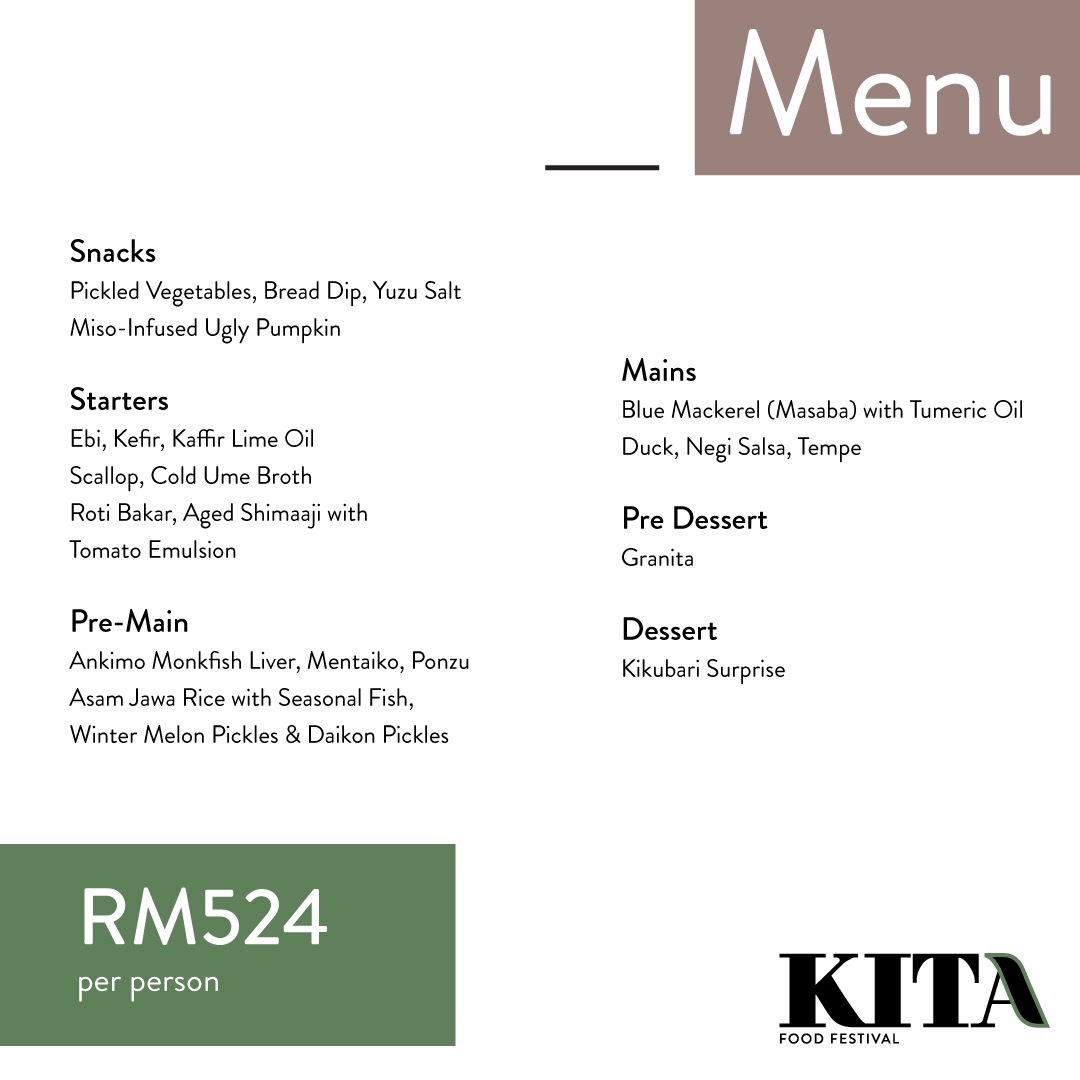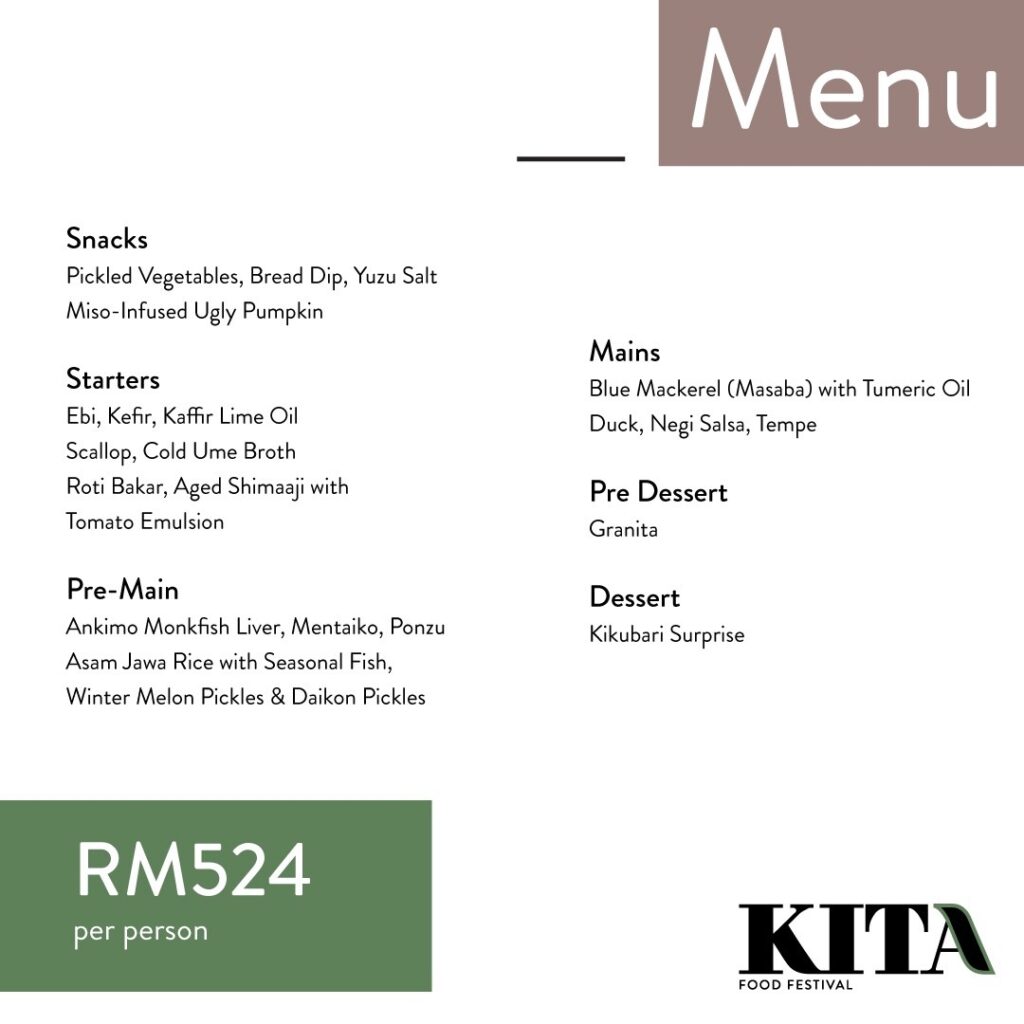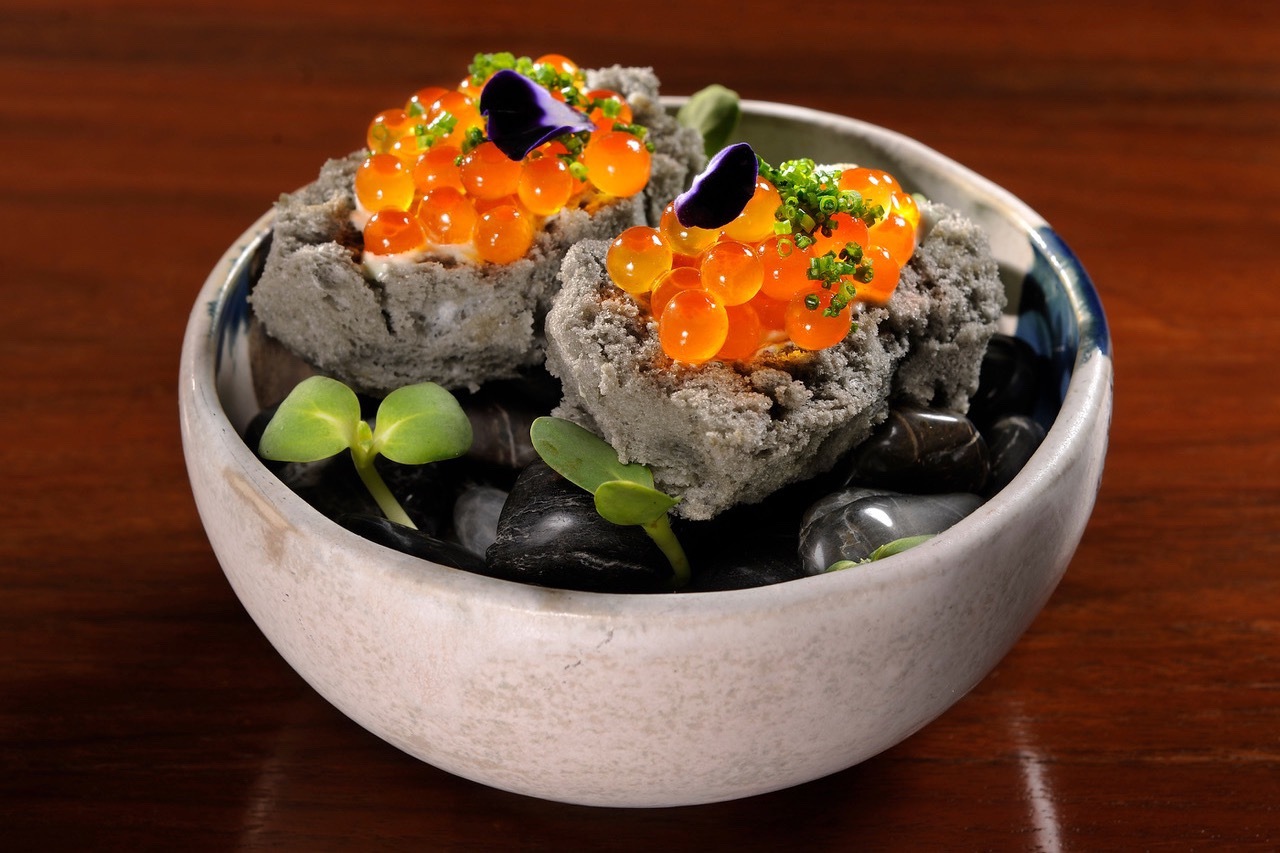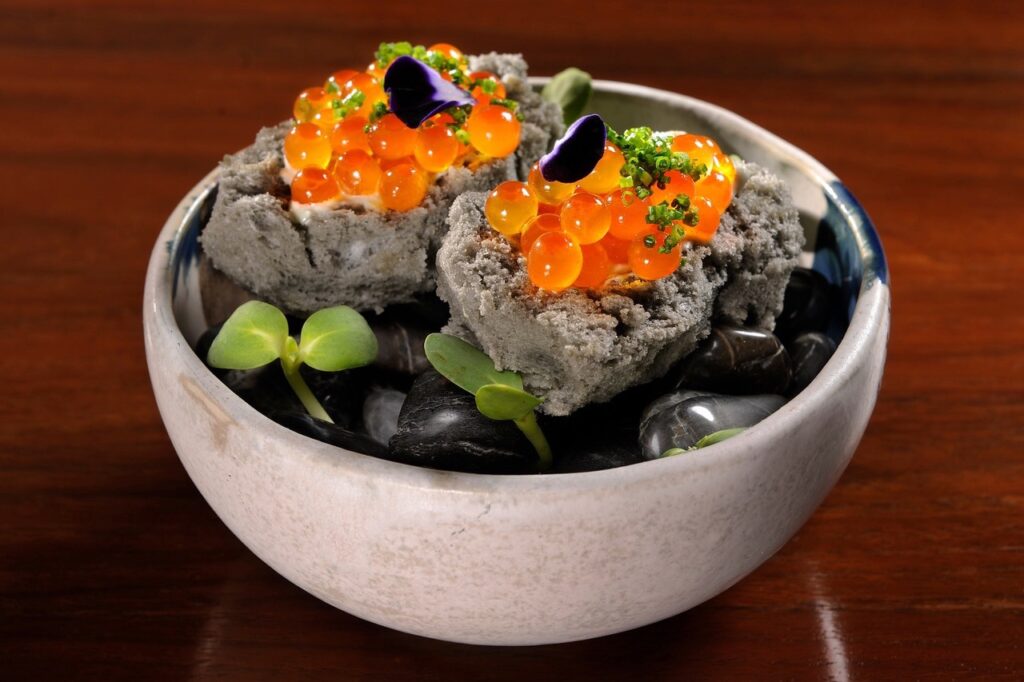 Syuk Othman and Lroy Lim at BETA, 11 Dec
Having cooked in multiple Michelin-starred restaurants from Singapore to New York and Switzerland, Chef Lroy Lim of Willow draws from these experiences and his travels to create Willow's innovative menu without borders. Meanwhile, Chef Syuk Othman grew up learning traditional East Coast recipes in his mother's kitchen in Terengganu, and cut his teeth in many established kitchens in the country. In this exciting four-hand collaboration, the two chefs mesh their very unique perspectives together to serve up an exciting Modern Asian menu studded with the likes of T'lur caviar, Bentong ginger, and laksam. Book here.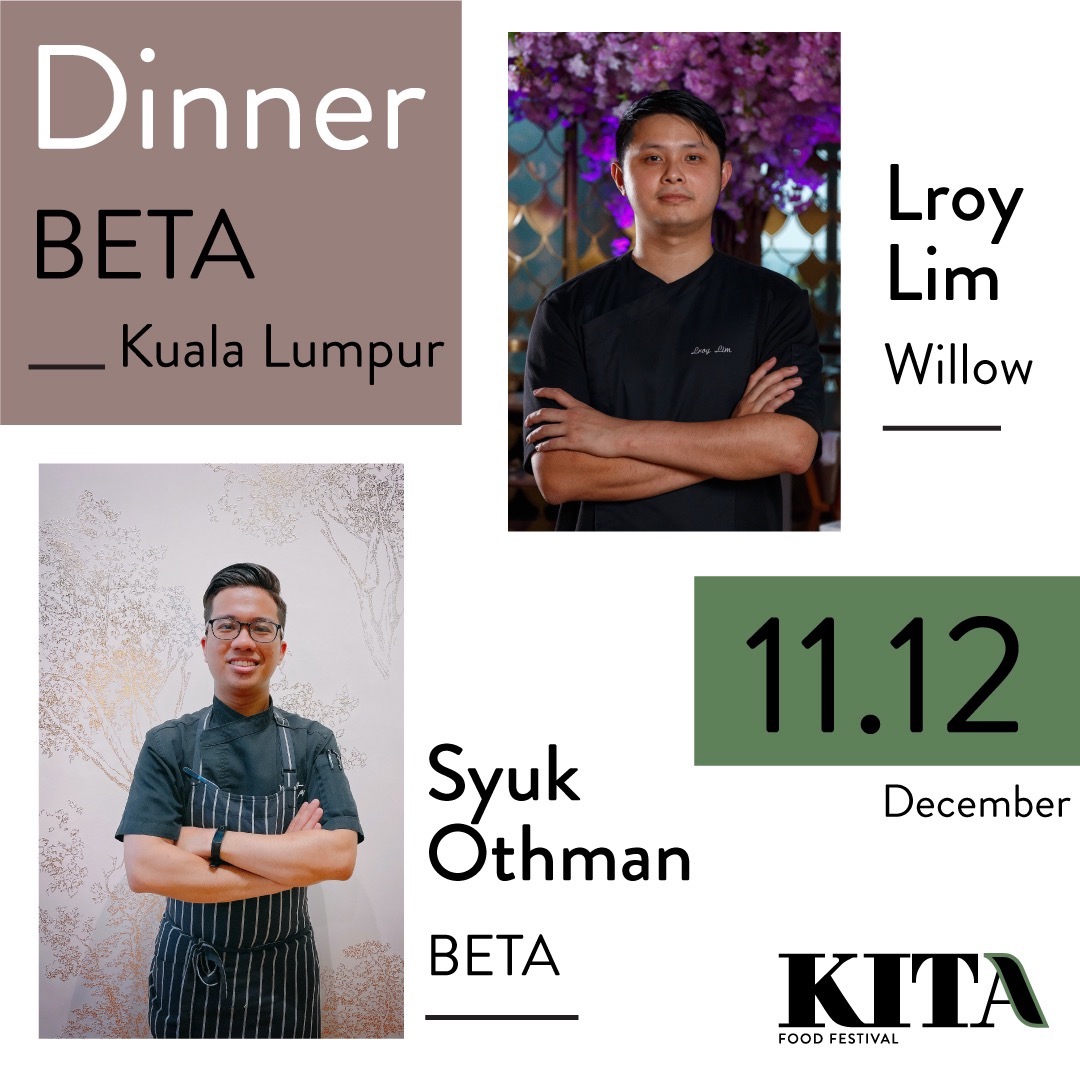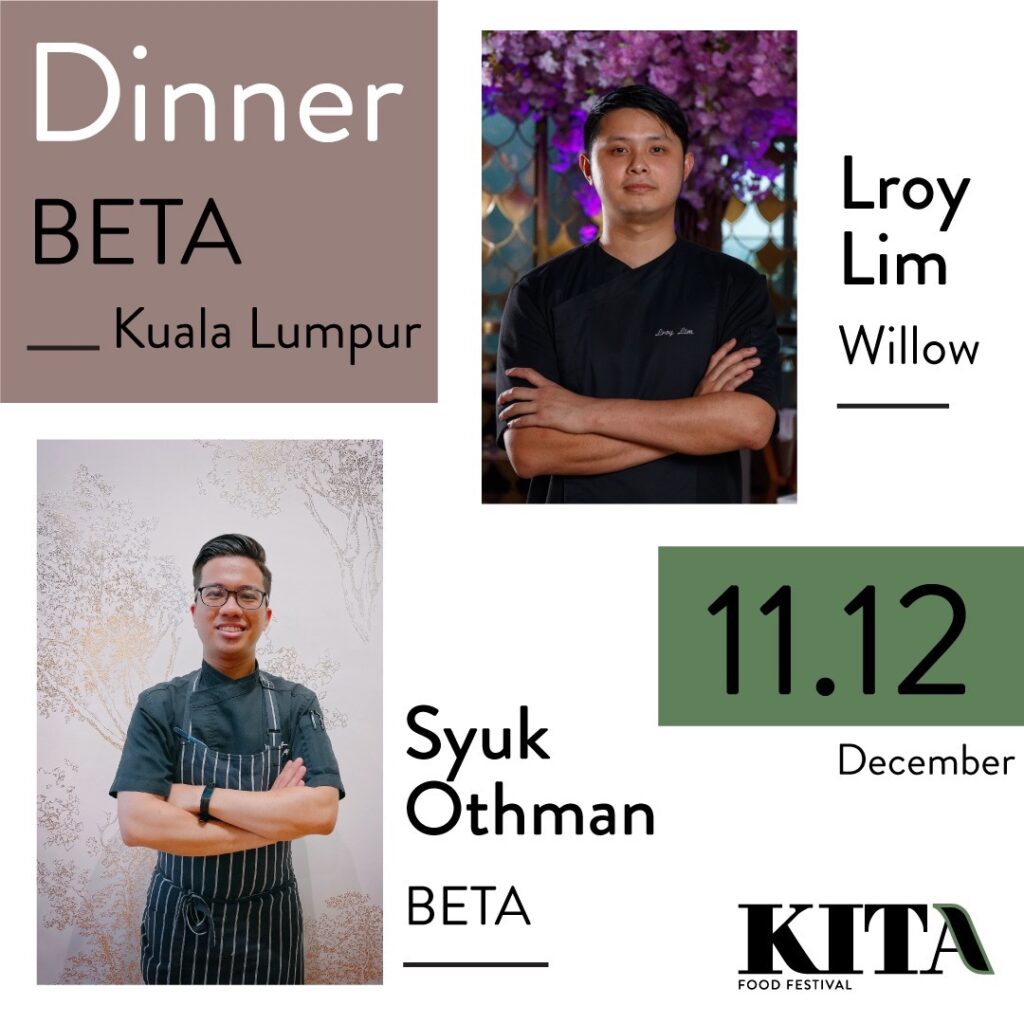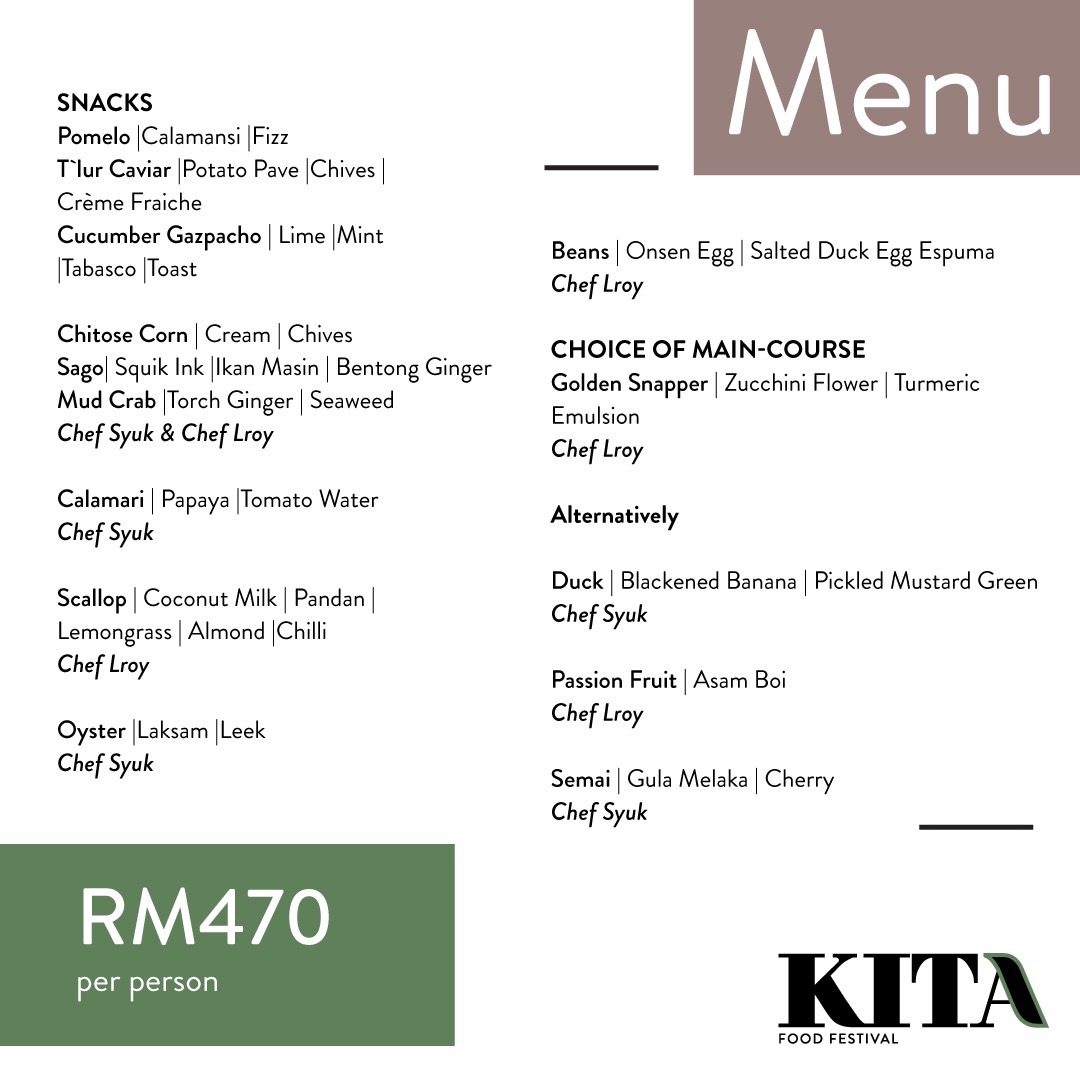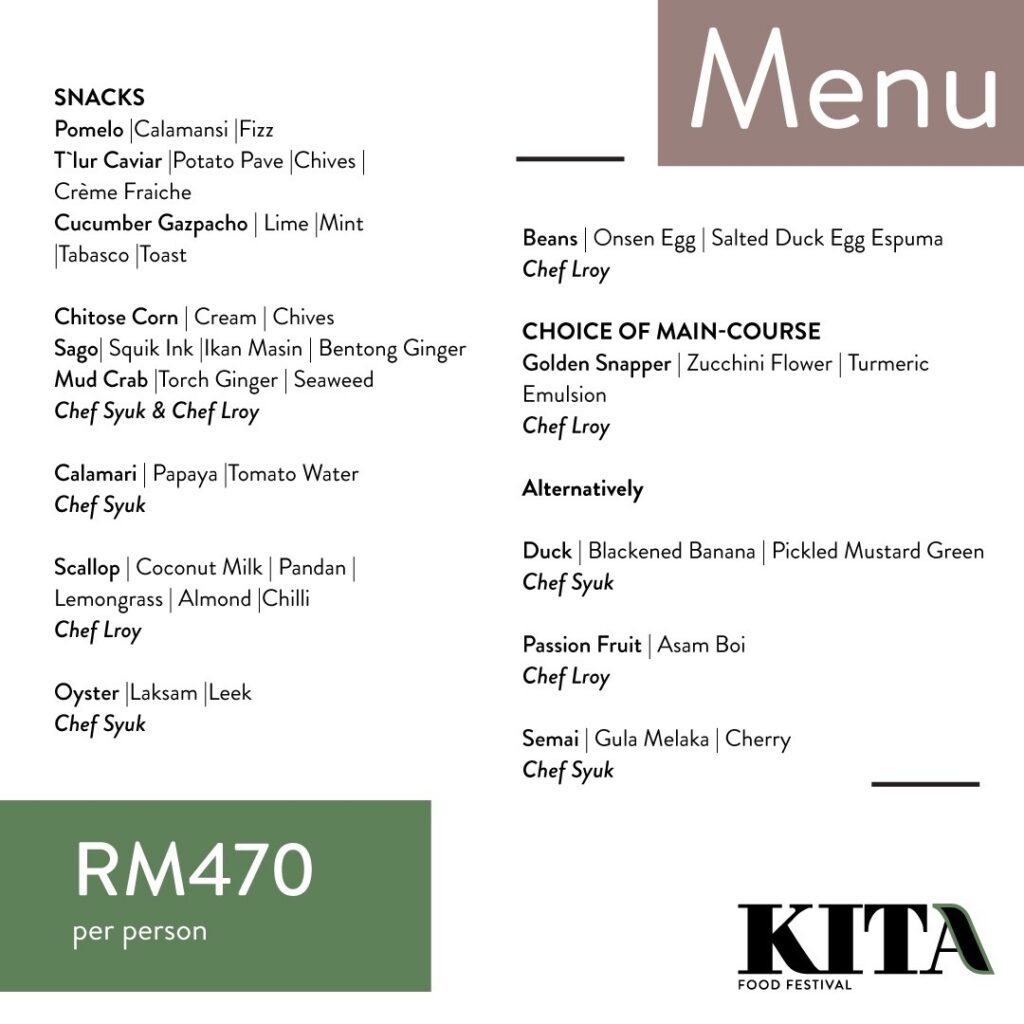 Shaun Ng & Johnson Wong at Hide, 11 Dec
Switching from Penang to KL, Chef Johnson Wong of the acclaimed restaurant Gen in Penang collaborates with Chef Shaun at his hidden, 10-seater restaurant Hide for one night only in Kuala Lumpur. With one chef scouring the globe for the finest luxury ingredients while the other focuses on endemic ingredients and heritage, family recipes, what will happen when they cook together? Come to the table for this unique, unmissable eight-course discovery combining luxury and local. Book here.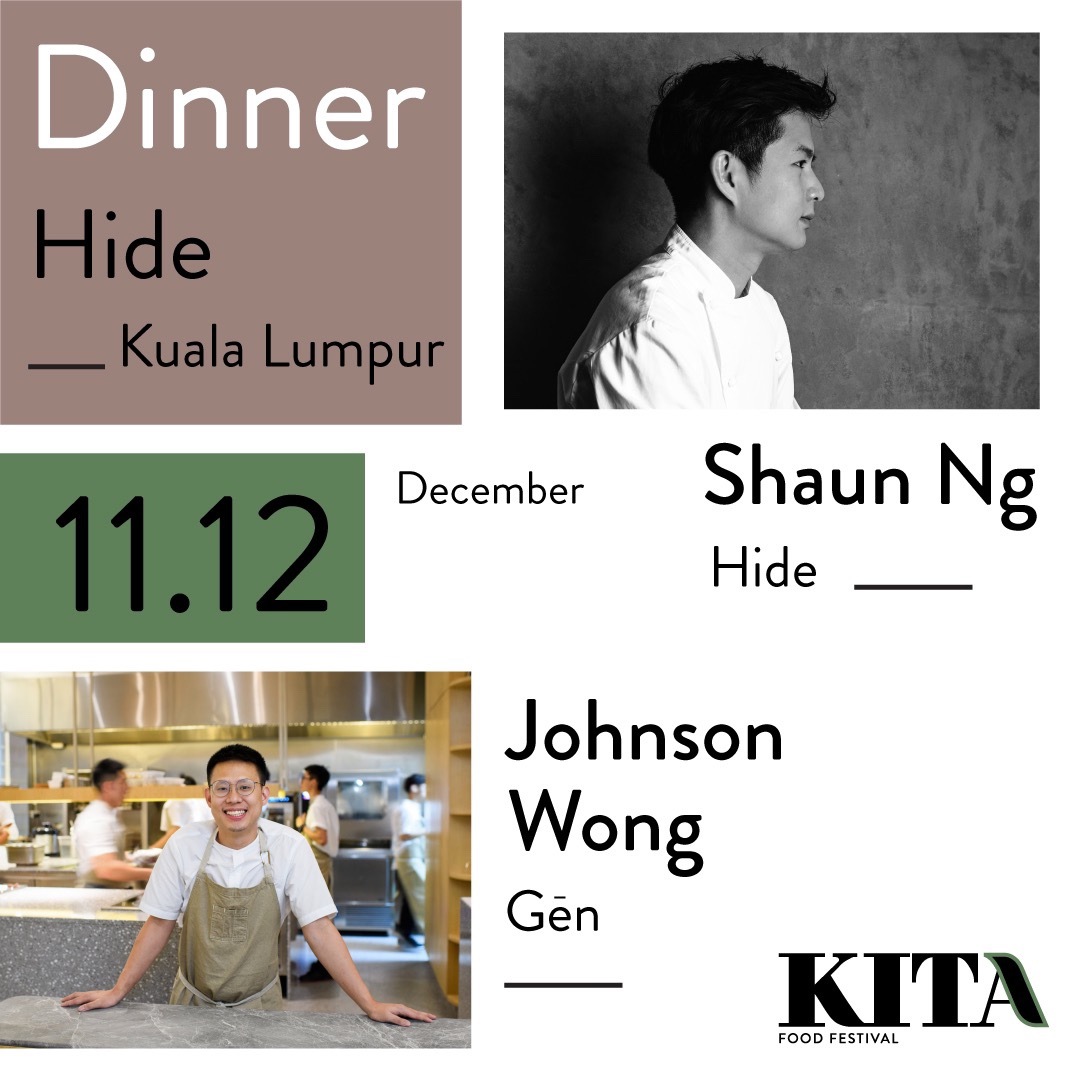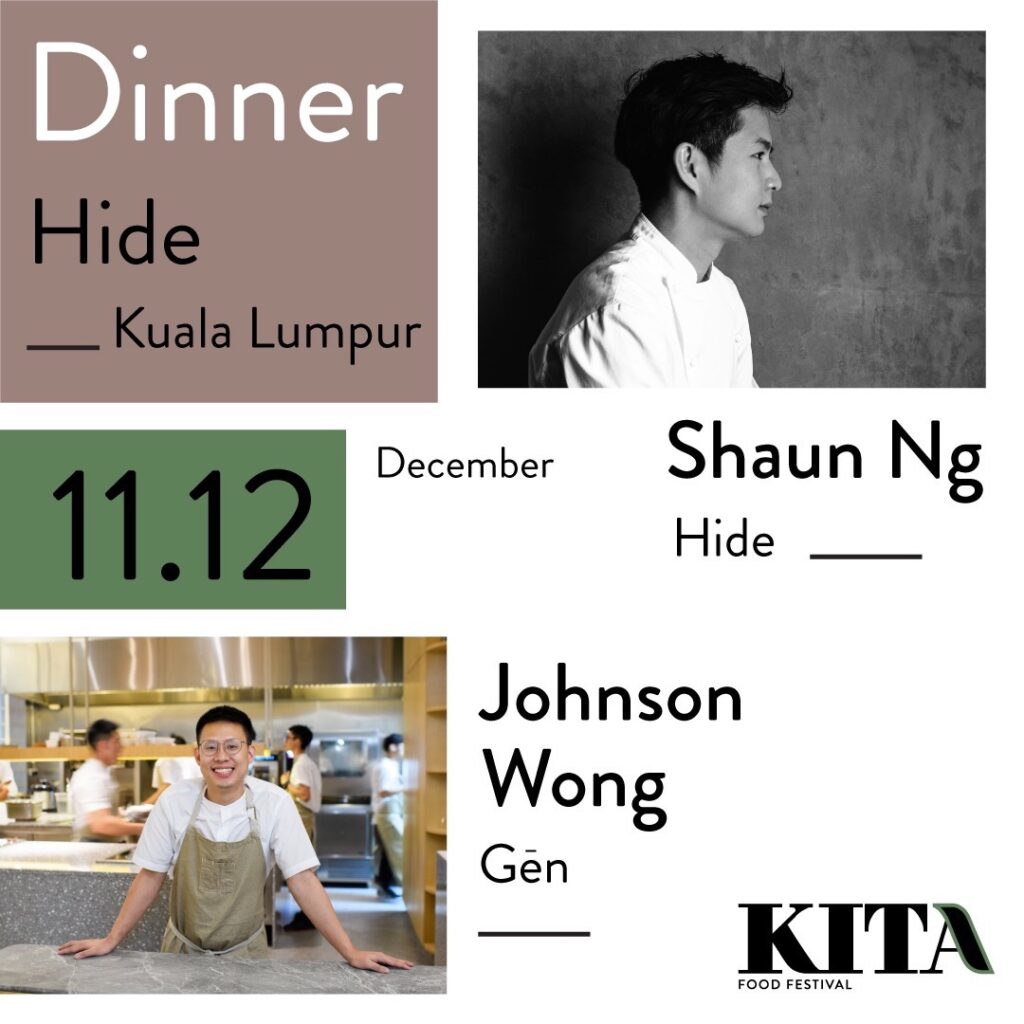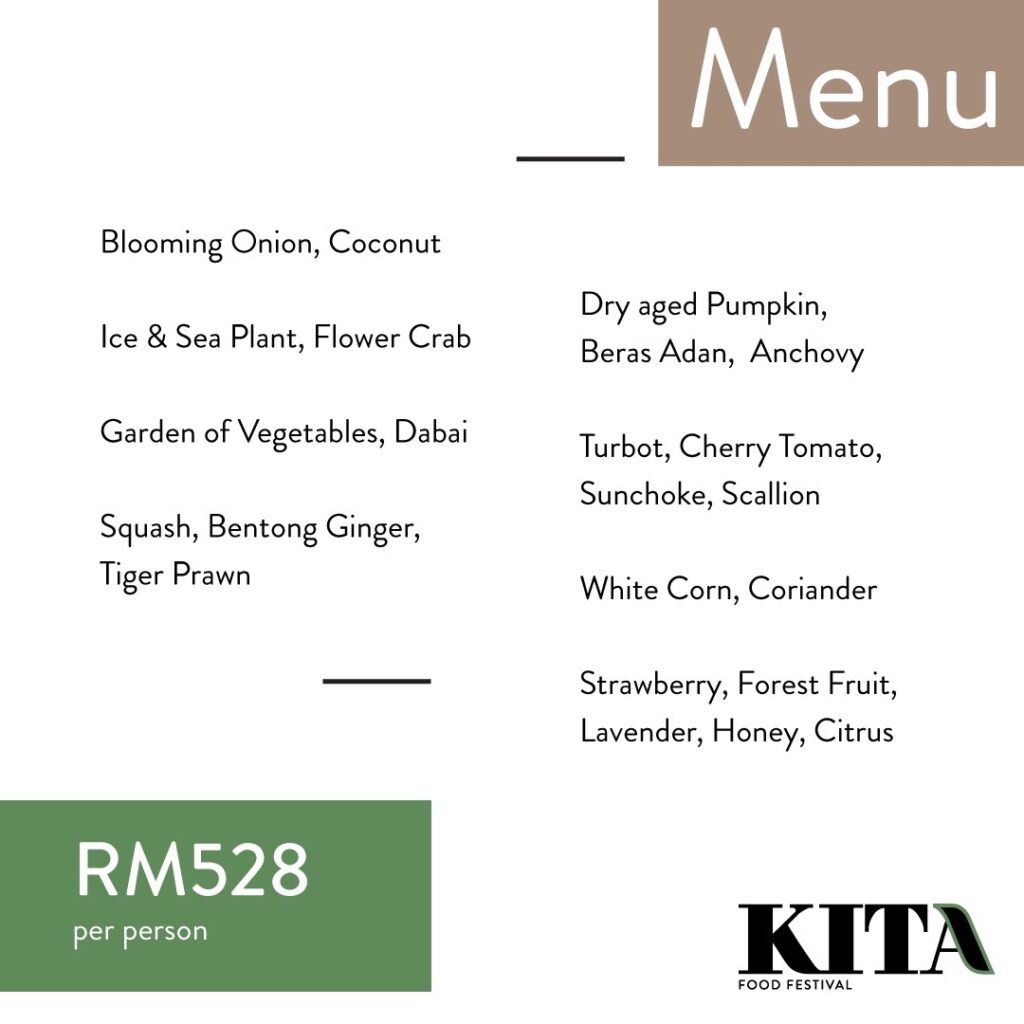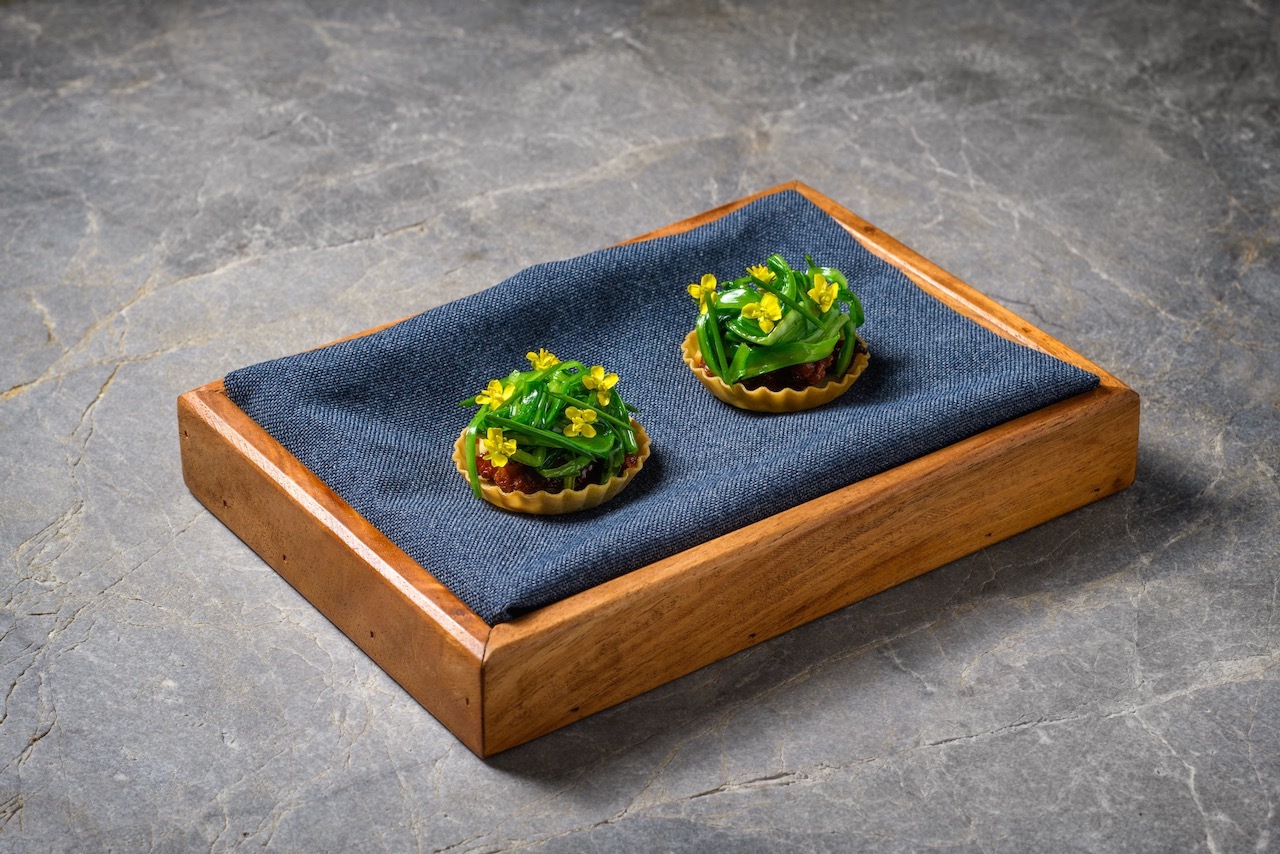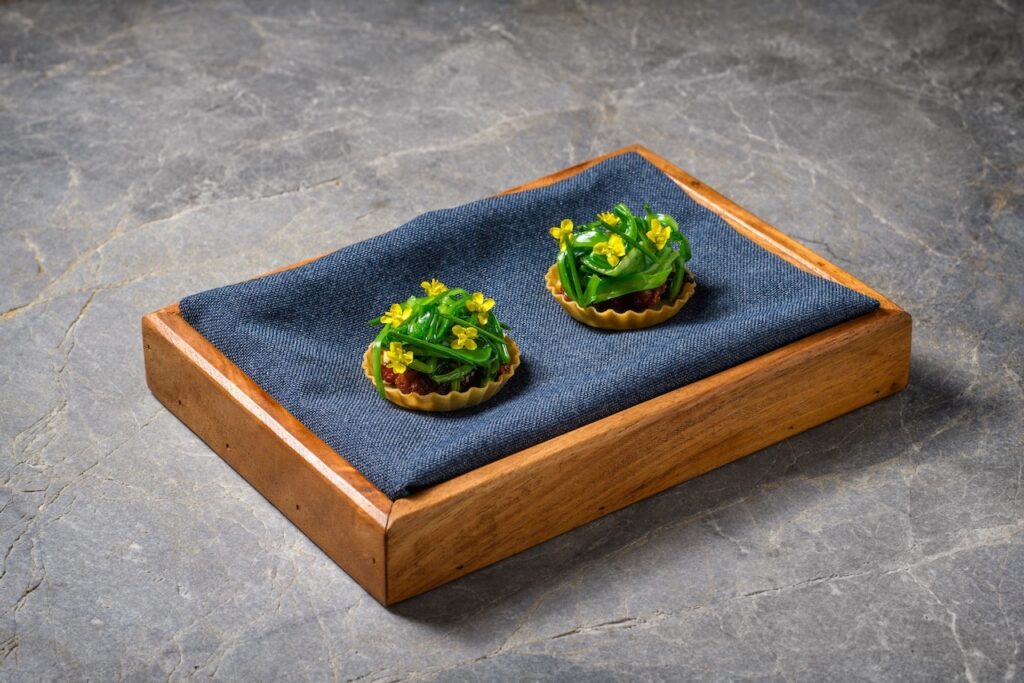 Big Sunday BBQ at TIFFIN at the Yard, 12 Dec
A band of Malaysia's hottest chefs will descend on Tiffin at the Yard for the Kita Food Festival finale barbecue on Sunday, December 12. Working shoulder to shoulder over multiple charcoal grills, with a zero-waste approach, this casual lunch will throw the best of Malaysia onto the barbie: Local seafood and heirloom vegetables peppered with herbs and spices, and ugly-delicious offcuts of meat made beautiful. The big Sunday barbecue will bring the KITA community together, marking the culmination of the 2021 festival – and the best party of the year. Book here.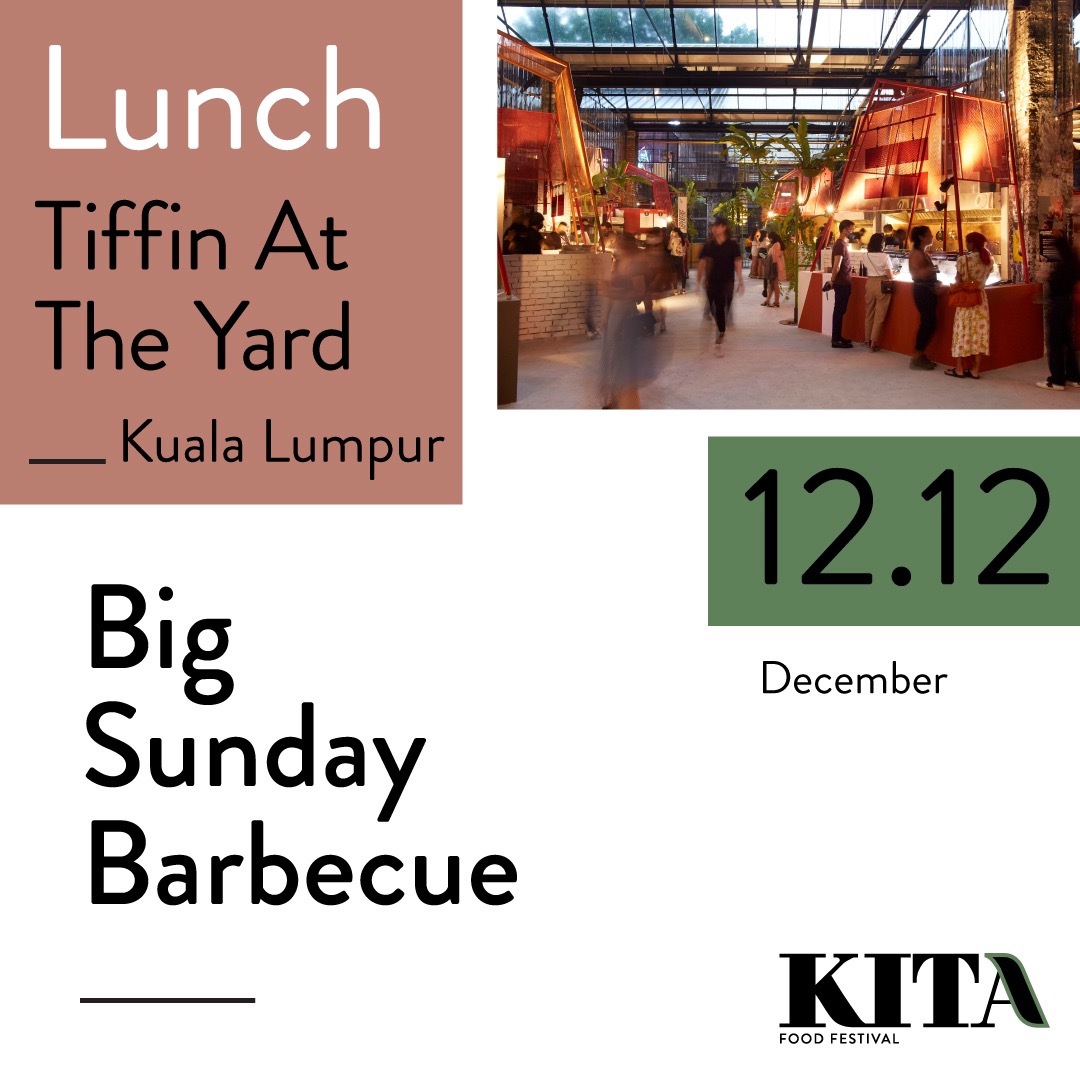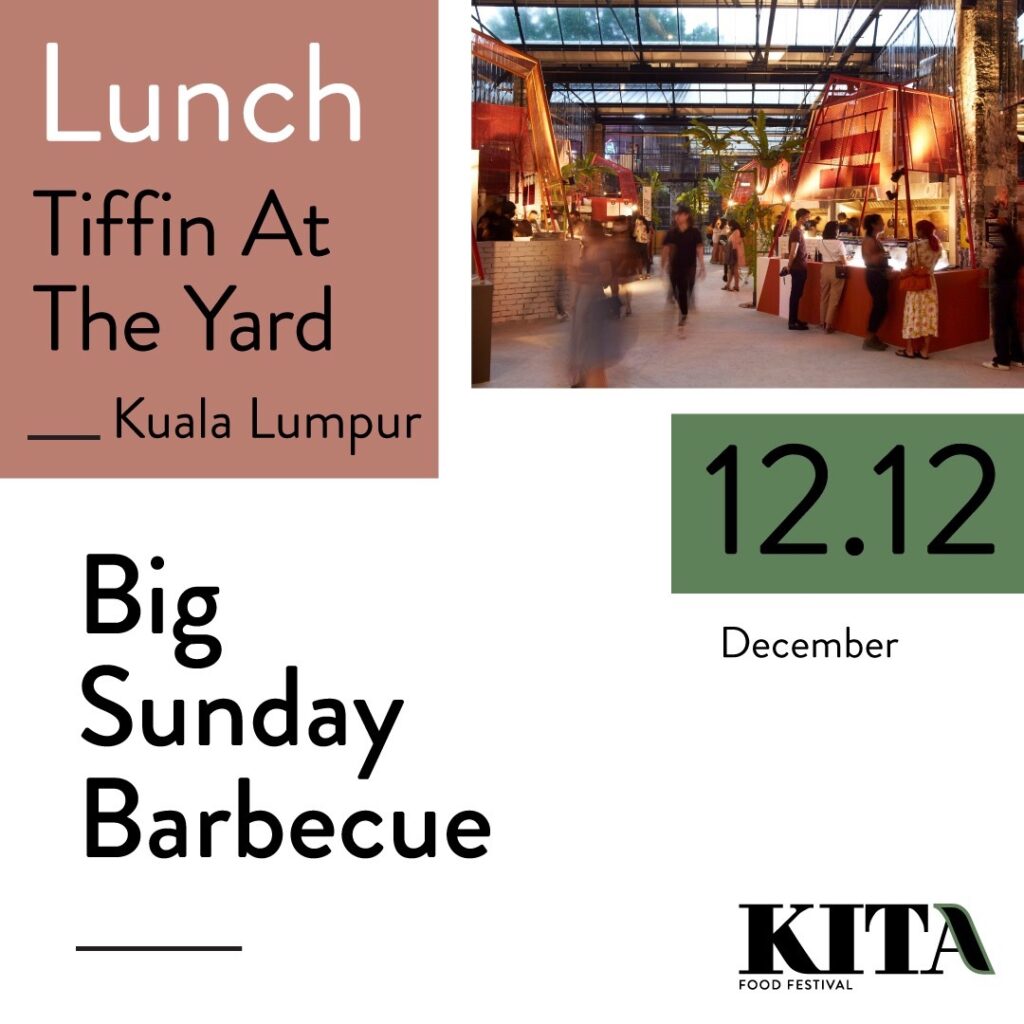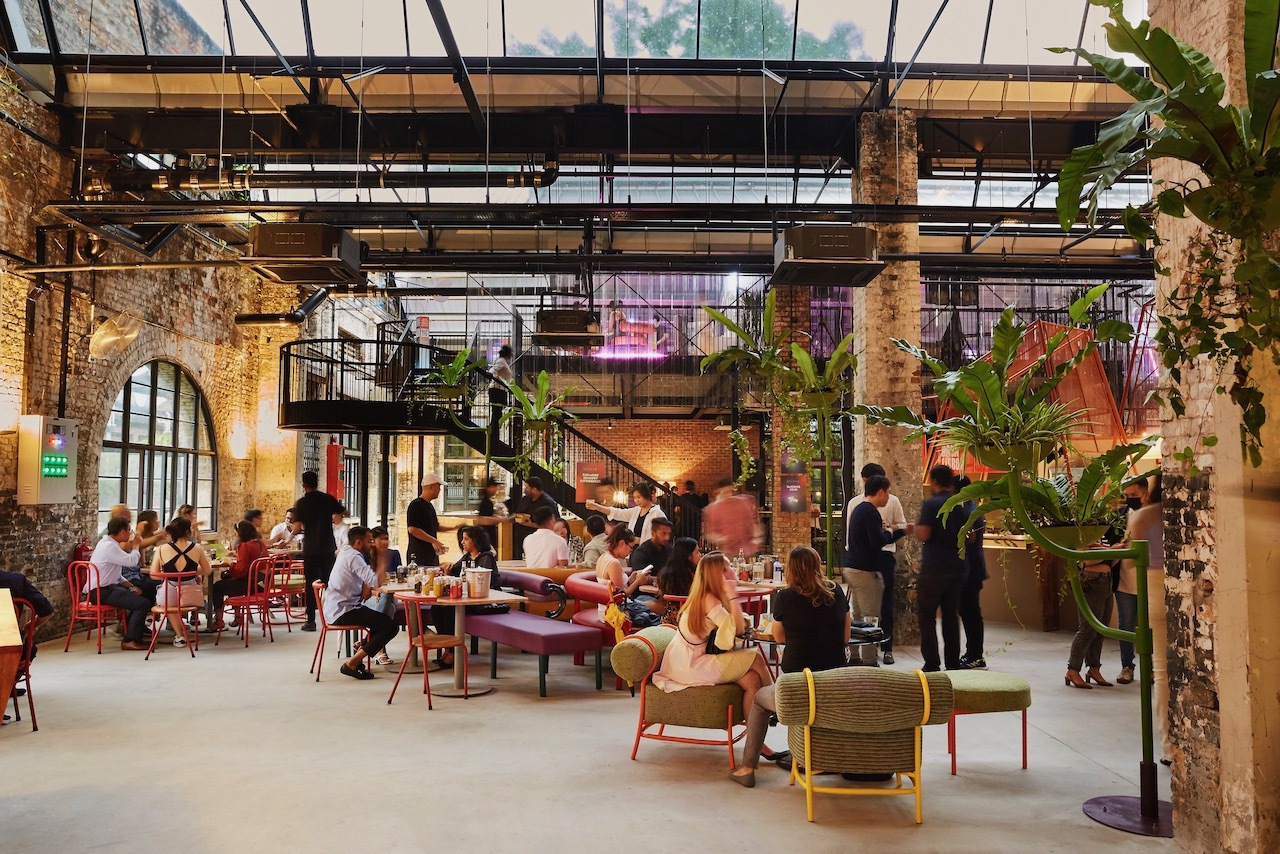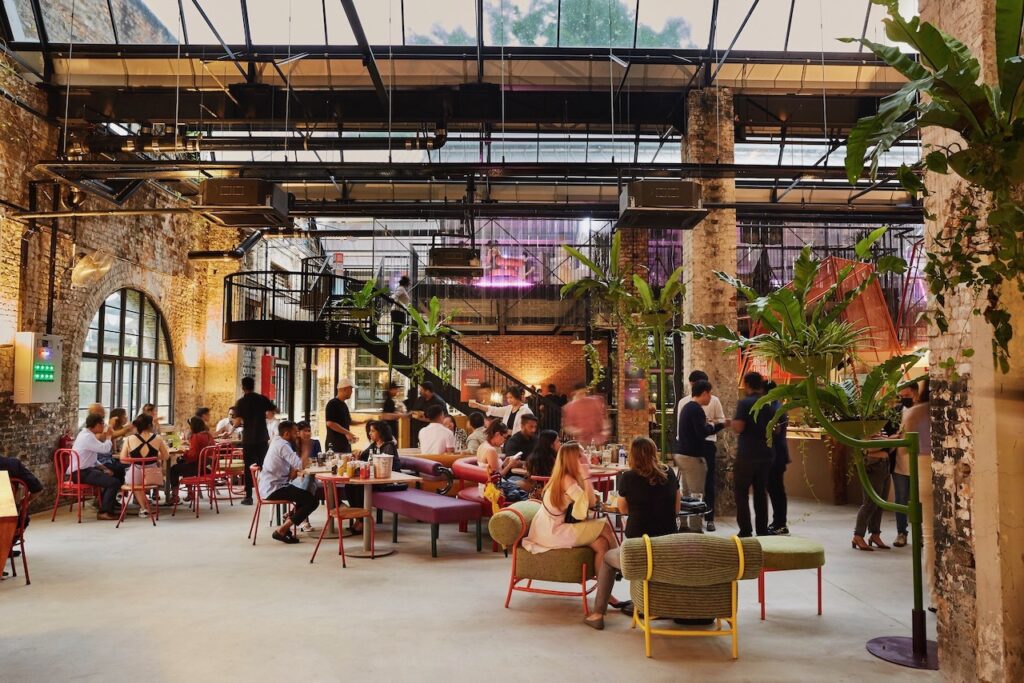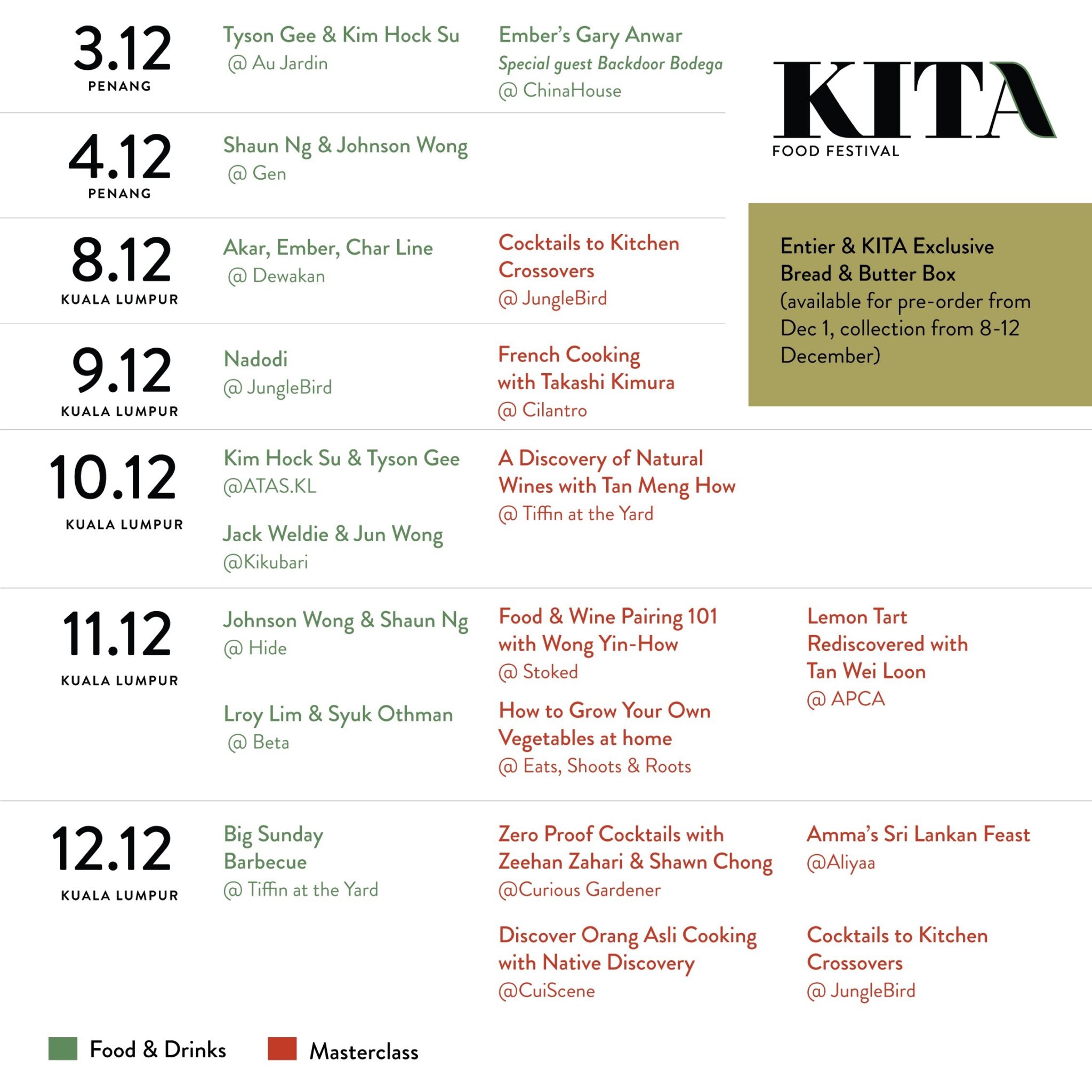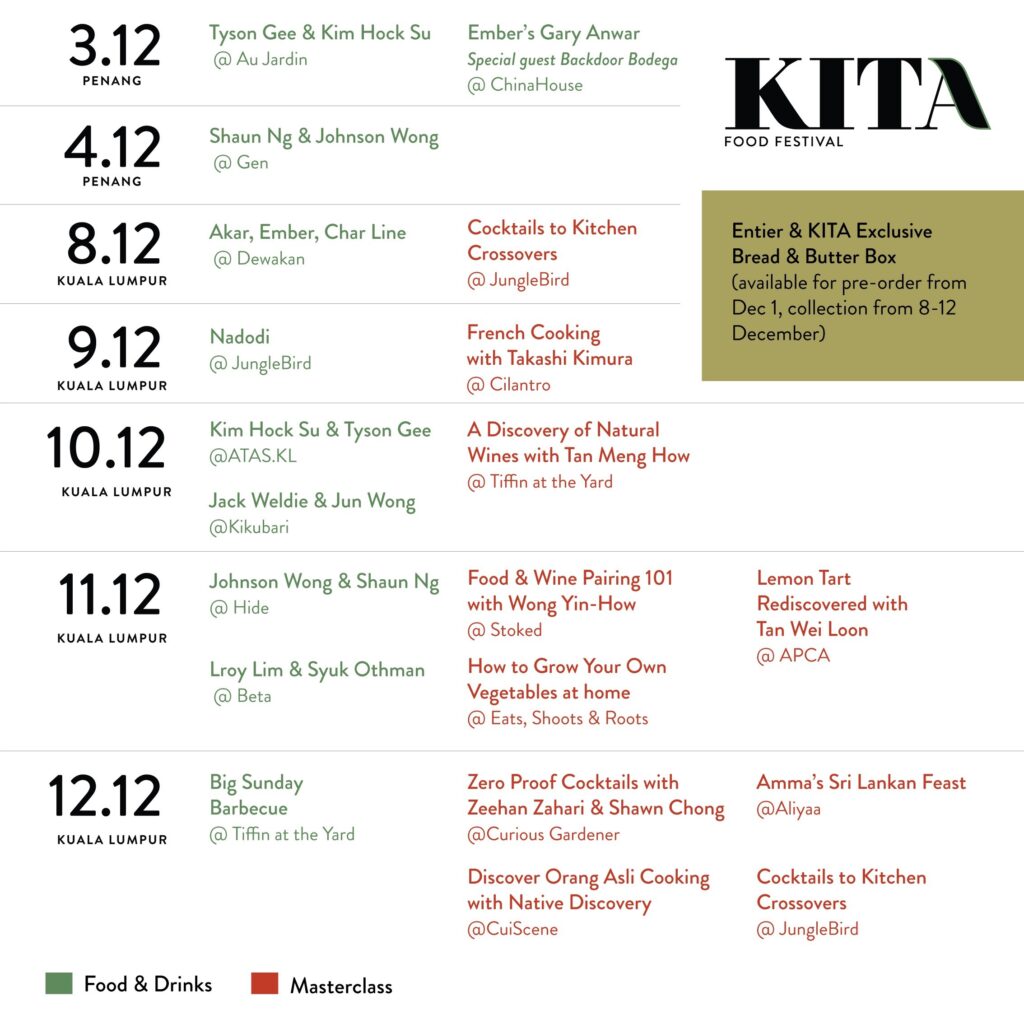 Find the Kita Food Festival Penang line-up here. Book tickets for Penang and KL events via FunNow here.