Blu Apron KL
Words: Monica Tindall
Photos: Rich Callahan
Females leading the food and beverage industry in Malaysia are few and far between, and the ones who have stuck it through are to be admired. Such is the case with the two women helming the scenes at Blu Apron. Both Sherena Razaly and Chef Siti Arini Darsom have had long and well-reputed careers in restaurants. Chef Arini first dazzled our palates near a decade ago in Grill 582, and Sherena, also not much off 10 years back, left a lasting impression with her contemporary interpretations of Malay cuisine in Enak KL. I have such fond memories with both of them that when I heard they were running Blu Apron, I couldn't wait to book a seat.
The setting is a perfect fit for the food. It's cheerful with both indoor and outdoor spaces, plenty of green and catchy splashes of colour. A tree with fairy lights centres the interior looking rather fanciful in the evenings. A bar subtly bookends the dining section, attractive in design but not detracting from the restaurant. The vibe is chilled, but the décor is full of life.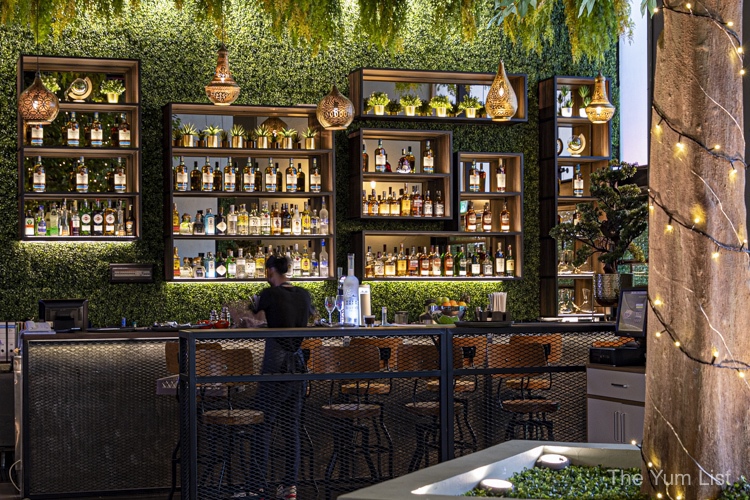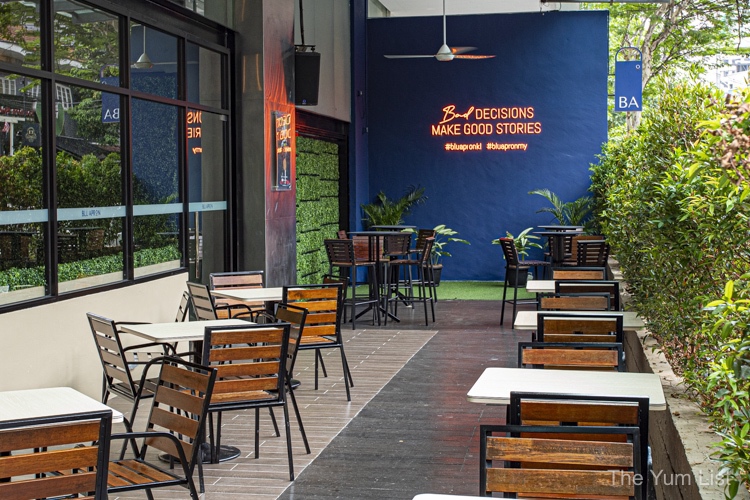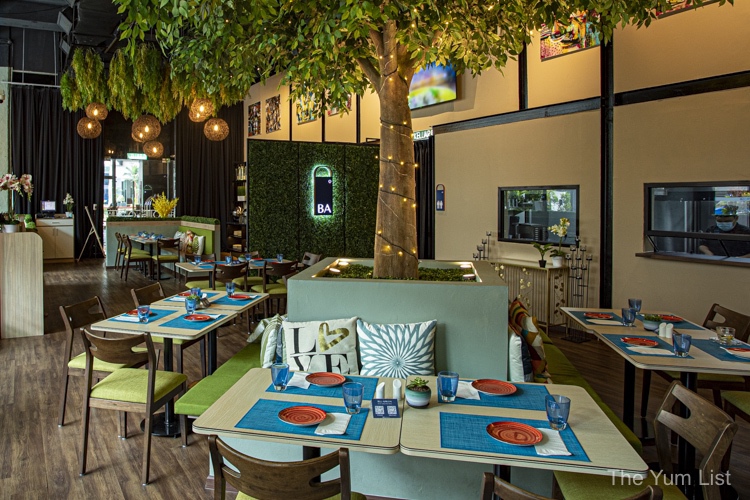 Blu Apron Menu
Sherena describes the menu as modern western cuisine. They've taken the classics and had some fun with them. Arini chimes in, saying the food is innovative but uncomplicated. Expect to see recipes that are familiar, only jazzed up a little providing interest and a slight change from the norm. Both convey that the concept is evolving. Anticipate additions and takeaways as Blu Apron advances.
Breakfast
We follow the words of Lewis Carroll's King and "Begin at the beginning," with Blu Apron's Signature Fluffy Omelette (RM 23). This puffed half-moon could replace the soufflé pancake trend for those who prefer a savoury start to the day. Cajun herbed sweet potato wedges are a delightful side, but it's the lime tomato relish that you shouldn't miss. Sitting inconspicuously under baby spinach, it's gently sweet with a touch of acidity from the citrus.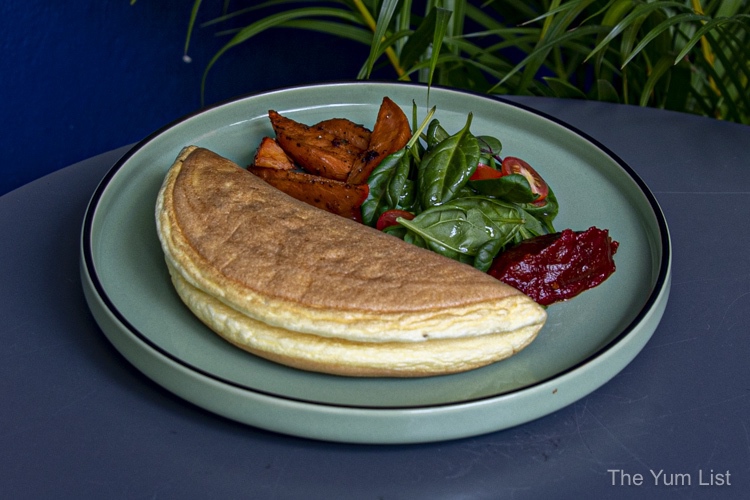 Mix Your Own Granola (RM 25) is attractively presented on a wooden tray set with a bowl and box made of the same. The box opens to a trio of nuts that can be added to the granola. Not only can you choose your own fruit, nuts and seeds, and dairy (or soy), but you also have a choice of homemade granolas. We're feeling nutty and appreciate the honey-sweetened bowl of rolled oats, walnuts, almonds, pecans, pistachios, black cumin and ground nutmeg in the Nutty Granola.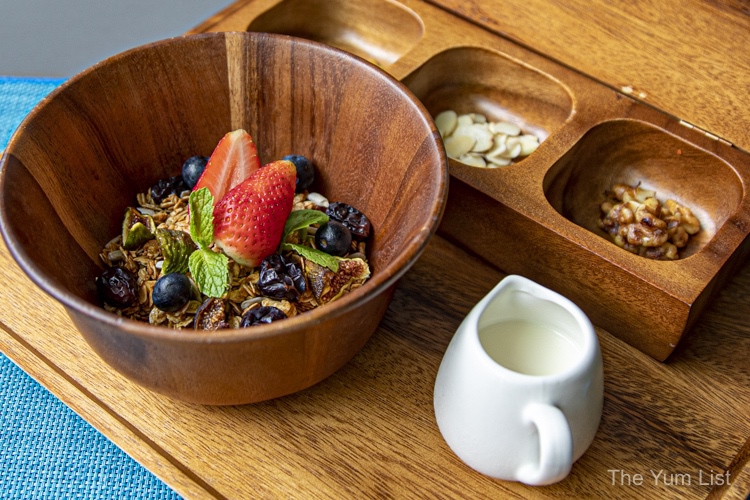 Lunch & Dinner
Starters
Tuna Ceviche Mini Tacos (RM 32) are a nod to the owner's fondness of Latin America. These are a distinctly local creation with marinated fresh Maguro tuna, "pico de gallo" salsa, capsicum, and guacamole stuffing deep-fried wanton wrappers.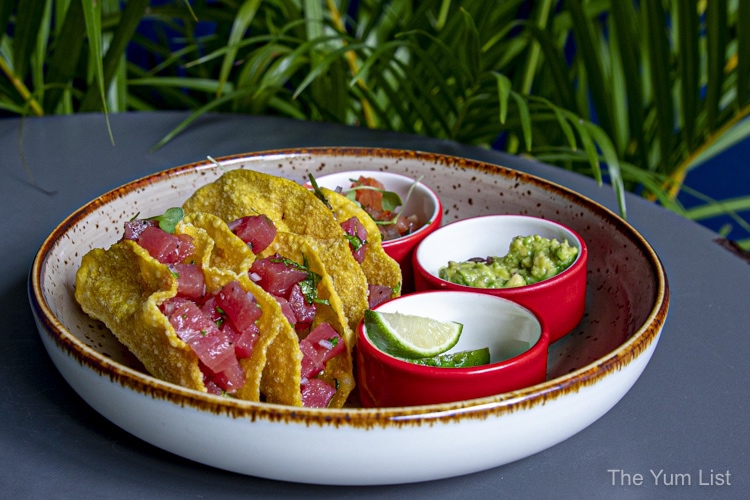 Salads
Possibly our favourite recipes are the expressive salads. They're only a handful of ingredients, but each is superbly fresh and contributes significantly to the overall profile. The first sees Local Baby Figs (RM 33) accompanied by noisette butter granny smith apples (seared with a little butter), fresh baby spinach and labneh.
The second, Arugula & Organic Kale (RM 25), is just the right size as a starter. Again, it's a fresh and vibrant mix. House-pickled cucumber and cocktail onions, roasted capsicum, dehydrated grapes, toasted pine nuts and gruyére brittles are tossed together with lemon and fennel seed dressing. Lovely.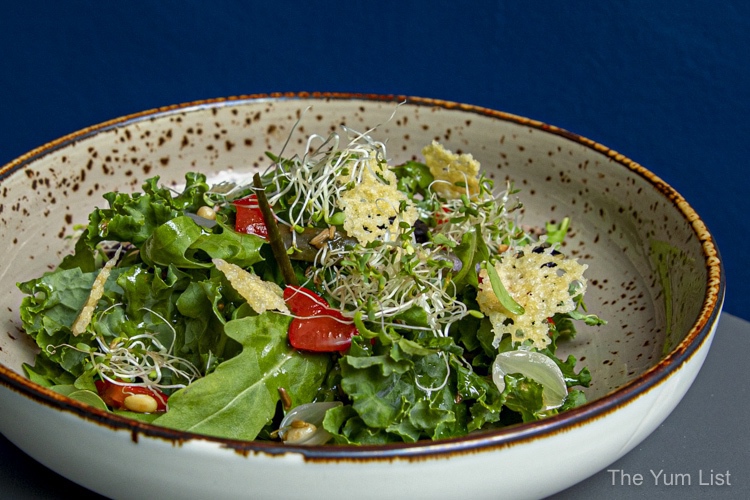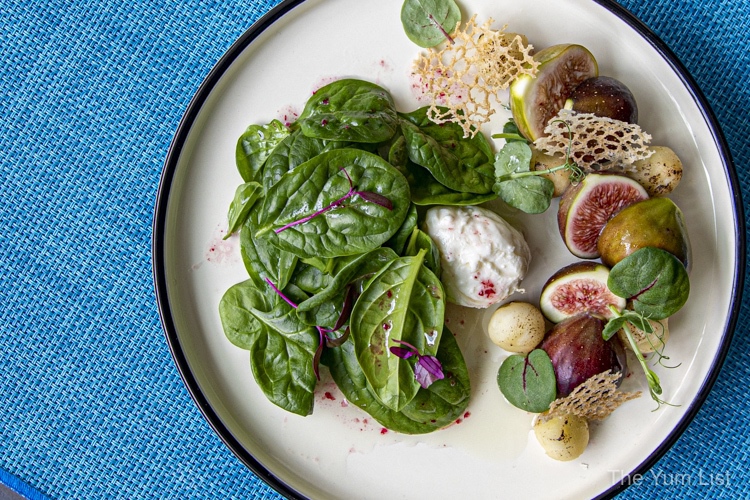 Blu Apron KL – Burgers
Despite their beef burger being a best-seller, we have our eyes on the vegetarian option (RM 35). The homemade chickpea patty sports a thin crunchy case and plump, moist middle. It's thick between a soft seeded bun and layered with tomato relish, pesto, alfalfa sprouts, pickled gherkin, Cameron tomatoes, baby arugula and dukkah spices. Steak fries are good on their own, but aioli and garlic sriracha invite repeat dippings.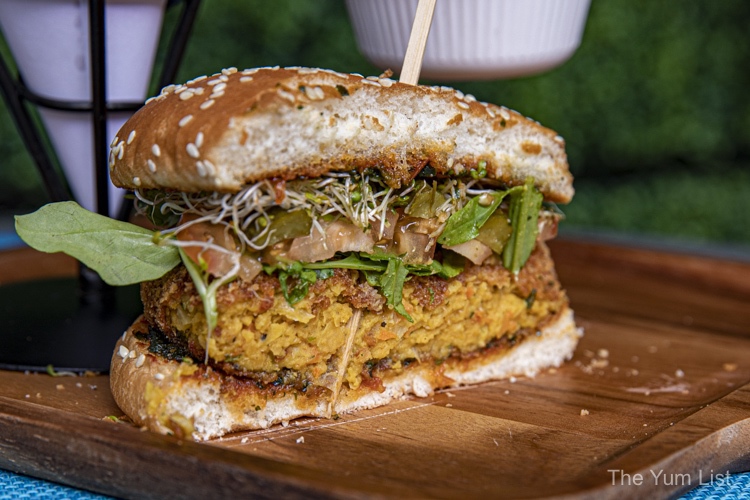 Main Course
We choose another veggie recipe with the Mediterranean Vegetable Timbale on Rösti (RM 38). Once more, everything is made from scratch, including the potato rösti. Sautéed baby spinach, mushroom escabeche, grilled capsicum and ricotta crumb are piled on top. This is a tasty combo, but the portion leaves us wanting more.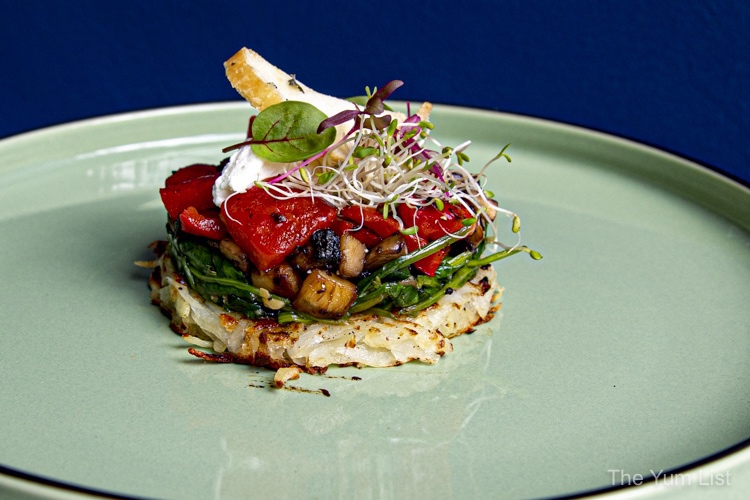 The last of the picks from Blue Apron's main menu is the Roasted 9-Spices Spring Chicken (RM 48). Beautifully golden, the bird has been brined with near two handfuls of spices, including cumin, coriander and fennel. Rosemary butter, orange glazed carrots and potato mash are more of a garnish than a substantial side. The menu does encompass a section dedicated to sides, and guests are encouraged to order accordingly.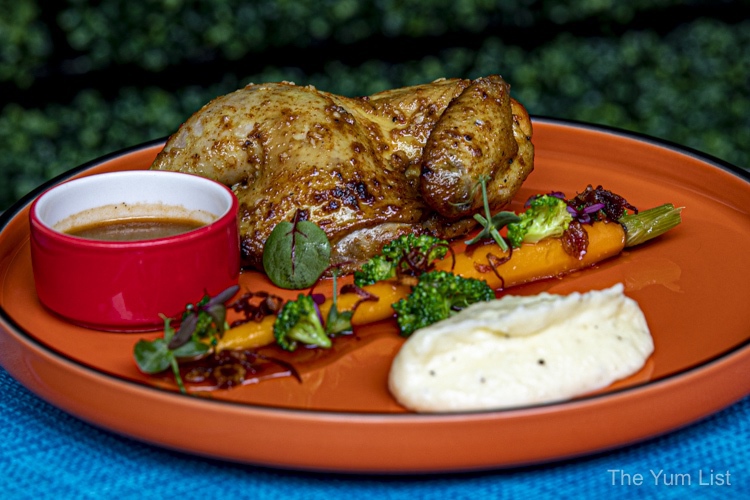 Blu Apron KL Desserts
You could end the meal with a dessert or a monster shake, or if you are crazy like us and have Rich on your team, choose both! The Dark Chocolate Mousse (RM 22) is an elegant selection with wonderfully aerated intense chocolate relieved by stewed strawberries and lemon curd. The tangy citrus breaks up the richness of the pudding, allowing us to spoon back in for more.
On the other hand, there is nothing elegant about the Monster Shakes (RM 28). They are indeed MONSTER, and there is an audible gasp from our table as a collective when the Unicorn Party (RM 28) is delivered. Pretty in pink, we've heard stories of some ordering this striking strawberry and vanilla milkshake just for the Instagram photo. At the same time, rumours have it that others are repeat customers and have mastered the skill of demolishing the demon within minutes. Whatever your predilection, the tower of salted caramel cream over a waffle cone, covered with marshmallows, candy, crunchy granola and rainbow drizzles, is a sight to behold.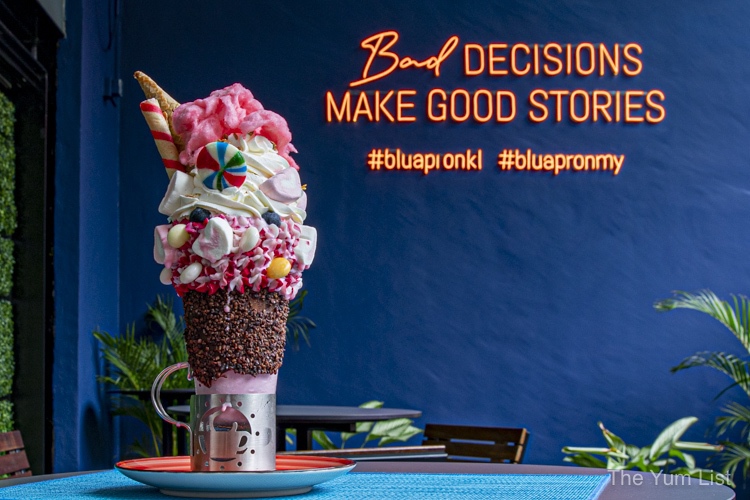 Reasons to visit Blu Apron: pleasant setting with a covered outdoor area, well-presented dishes, familiar yet exciting menu, healthy eaters will love their salads and veggie burger, those looking for a bit more sin should delight in their monster shakes.
Blu Apron KL
G Floor, Ramada Suites By Wyndham KLCC
1 Lorong Ceylon, Bukit Ceylon,
50200 Kuala Lumpur, Malaysia
+603-2938 1888
www.facebook.com/bluapronmy
Blu Apron Operating Hours
Daily 7 am-midnight.
Find more restaurants and bars in Bukit Bintang here and stay up to date with the latest happenings around Malaysia here and here.