Table d'Hôte Menu Sage Restaurant & Wine Bar
Words: Meg Alice
Photos: Rich Callahan
Monica and I were invited to Sage at the Gardens to experience the table d'hôte menu and wine pairing by Chef Don John Sta Maria and resident sommelier J.S. Haritharan, fondly known as 'Hari'. Since our last in-person review of Sage in October 2020, long-time and famed executive chef, Dan Cheong made his departure. Chef Don John took over shortly after in arguably the hardest of times. By bringing his own modern techniques but still honouring Sage's ethos of French-Japanese nouvelle cuisine, Chef Don John has made Sage fresh and relevant.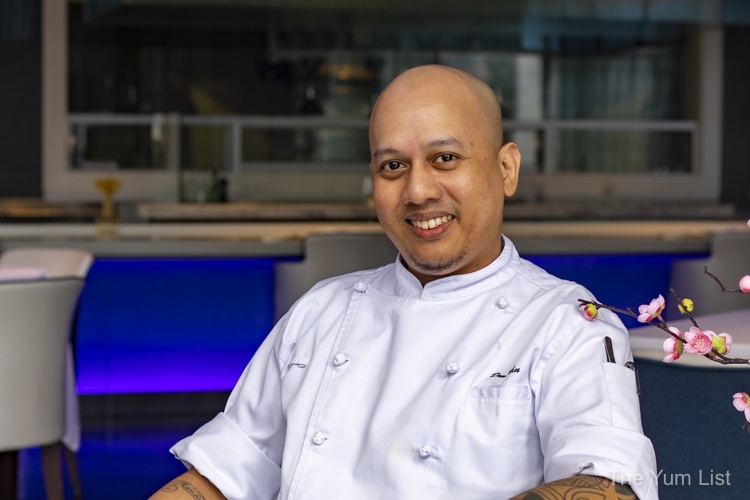 The food is not the only triumph. This meal is accompanied by one of the best wine pairings The Yum List has experienced in some time. In fact, it was a battle of the wine and food to see which would outshine the other. This is a marvellous dilemma for a diner to face. Ultimately, it's the marriage of ideas between chef and sommelier that wins the day.
I won't repeat the description of Sage's ultra-modern ambience, but our photographer Rich couldn't help but re-photograph the chic sci-fi qualities.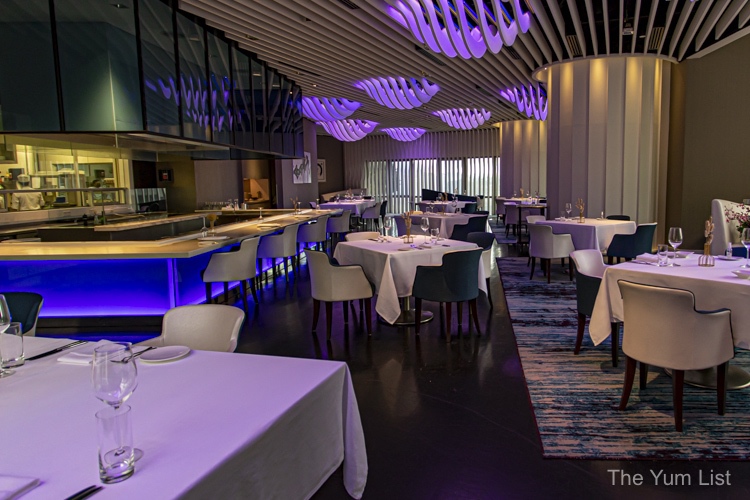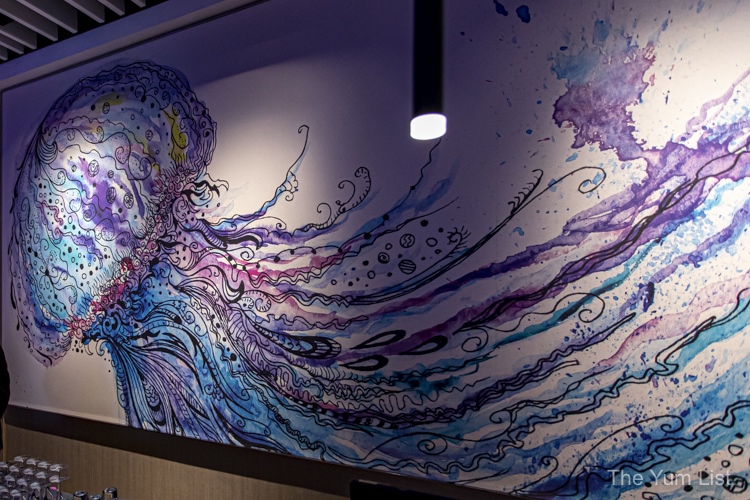 Table d'Hôte Menu Sage Restaurant & Wine Bar
First Course: Japanese Yellow Tail Tartare with Wasabi Aioli and Ikura
This meal starts with Japanese yellowtail tartare accompanied by wasabi aioli and red caviar. Alfalfa sprouts and seaweed are interwoven through the tartare in a way that's new to me.
Alfalfa is a delightful addition adding texture, crunch, and earthiness. The seaweed serves as an additional flavour element, and it all works together when mixed up. I adore this first course as one of the best in my nascent Yum List writing experience.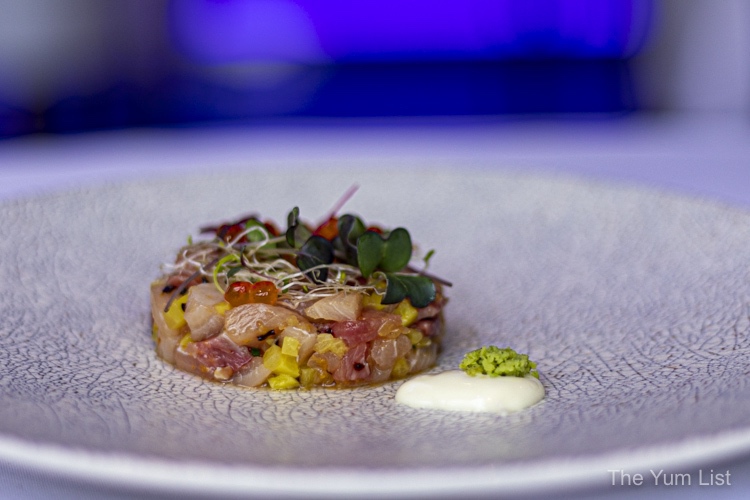 2019 Antinori Tenuta San Guido Vermentino
The tartare is accompanied by a 2019 white Vermentino wine from the estate of San Guido in Bolgheri, located on the west coast of Tuscany. Tenuta San Guido falls under the Antinori wine group, as with all the wines accompanying this meal. Hari chose the Vermentino because its minerality hailing from the Mediterranean coast complements seafood. Rather than being bone dry, it is a wine one would gladly drink on its own or with fish tartare.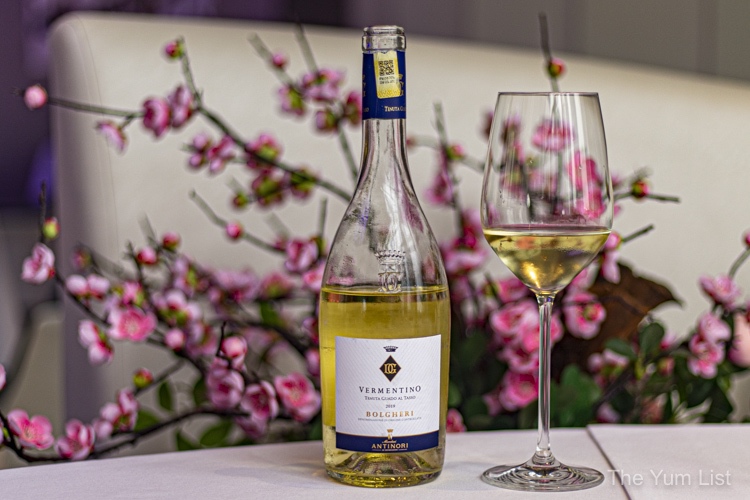 Second Course: Cold Somen with Uni and Caviar
The second course features carbs, which in and of itself seems like a slap in the face to skinny-fine dining. This is a signal that Chef Don John has his unique vision. Cold somen noodles are bundled up and topped with uni (sea urchin roe) and black Kaluga caviar. Garlic shoyu and cilantro oil serve as the fatty element. Uni is not everyone's favourite because it's amorphous and too salt of the ocean. Chef Don John's method is a sneaky way to capture the best of uni. When you mix up the noodles, the foaminess and pungent uni flavour envelopes the noodles almost like a sauce.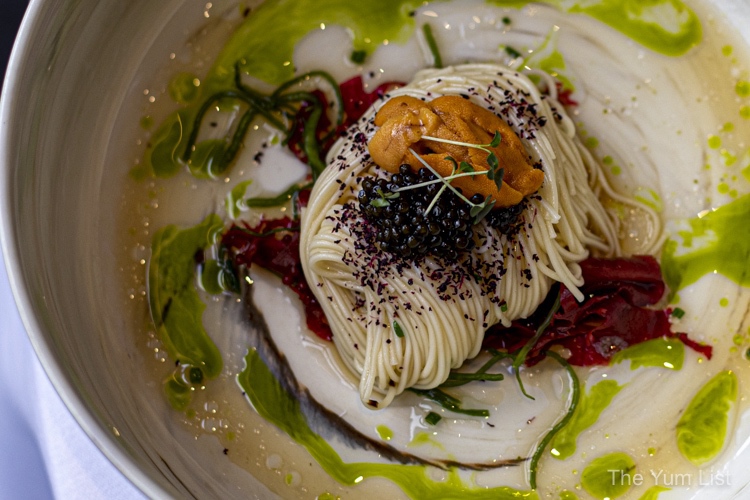 Third Course: Pan Seared Hotate with Abalone and Iwanore Butter Risotto
The third course, more simply put, is scallops and abalone. I love scallops, but they can be boring in texture. I like abalone, but it can give your jaw a workout with its chewiness. Chef Don Jon makes an interesting choice by pairing them together. The abalone is served in shaved slices. It turns out scallops and abalone elevate one another, turning their flaws into features. I don't remember the bed of risotto because of being mesmerized by the accompanying kizami wasabi (the wasabi root is kept in its stem form). This is another one-of-a-kind course.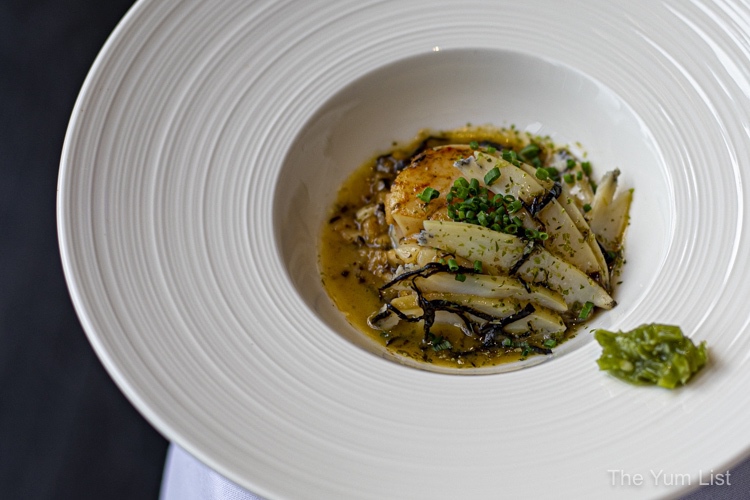 2015 Tormaresca Pietrabianca Castel Del Monte DOC
The pairing for both the second and third course is Tormaresca winery's Pietrabianca, a white wine comprised of mostly chardonnay and some Fiano grapes. This wine hails from Castel del Monte, a Denominazione di Origine Controllata (DOC) in Puglia, Italy. The wine is unfiltered from oaked barrels giving it a dark-cloudy colour and robust, raw flavours. The wine is not afraid to be different and unrefined, just like the abalone. It refuses to be overpowered by the intense ocean flavours and kizami wasabi. I don't think any other wine could have been paired better with these two courses.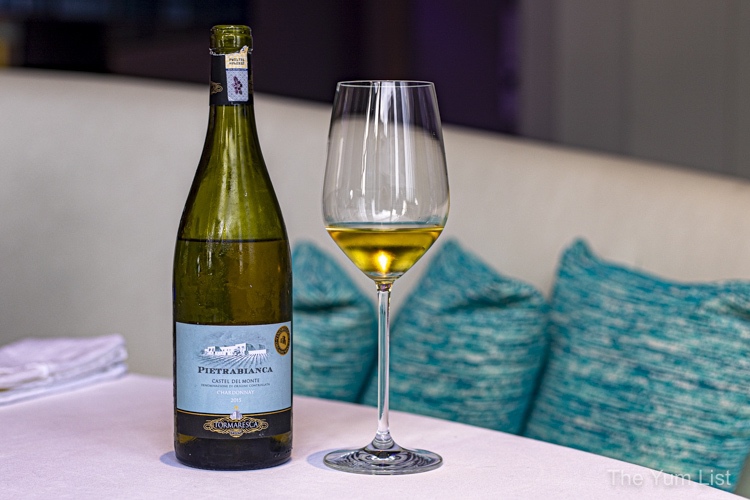 Table d'Hôte Menu – Bread and Palate Cleanser
Sage's house-made ciabatta accompanies the meal with herbaceous basil pesto. We joked with restaurant manager Yann that the only thing that was missing was sage-infused butter.
Between the appetizer courses and the main, the palate cleanser of a citrus tasting sorbet and yuzu jelly is a welcome transition. We debated the exact flavour of the sorbet only to learn it is pomegranate.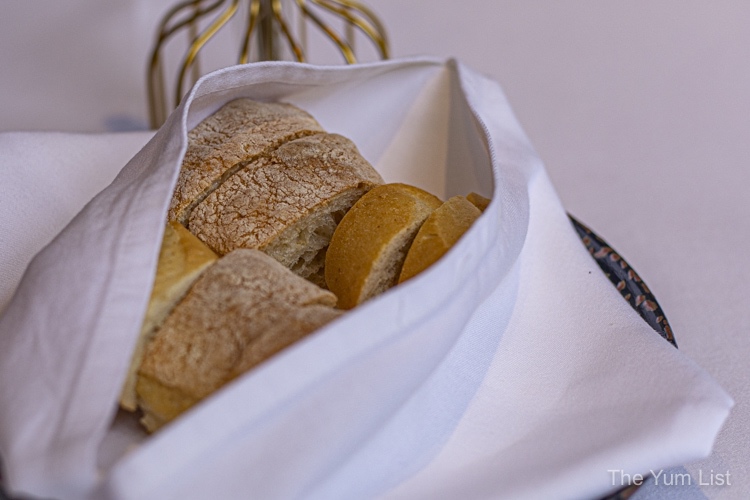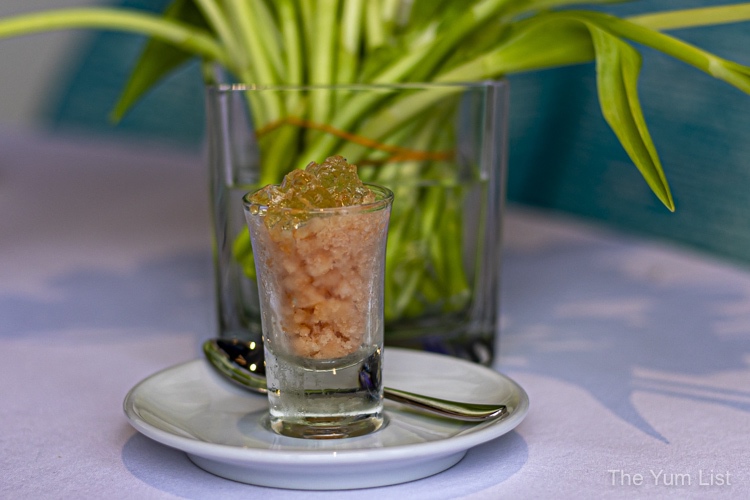 Main Course: Wagyu Platter with Truffle Mash and Condiments
This is another first for The Yum List: Australian and Japanese wagyu steak served together in one course. There are two Australian cuts (one being braised cheek) and one medallion of Japanese Kobe beef. The trio comes with a chasseur sauce and yuzu kosho for the Kobe beef to help cut the fat. I liked the Australian simple-cooked wagyu best in part because of the mushrooms and dijon. The cheek must have taken days to marinate and was scrumptious as well.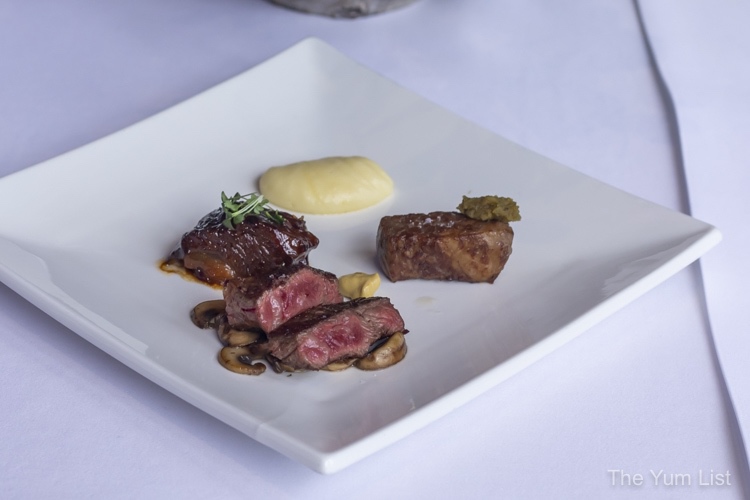 2018 Marchese Antinori by Tenuta Tignanello Chianti Classico Riserva
I mentioned a battle of the wines for this dinner, and the Chianti paired with the wagyu platter is a beauty. It is a 2018 Estate Tignanello Chianti Classico Riserva. I don't have a sommelier's palate to describe it technically, but emotionally it is the Chianti I have always dreamed of (balance, romance, velvet).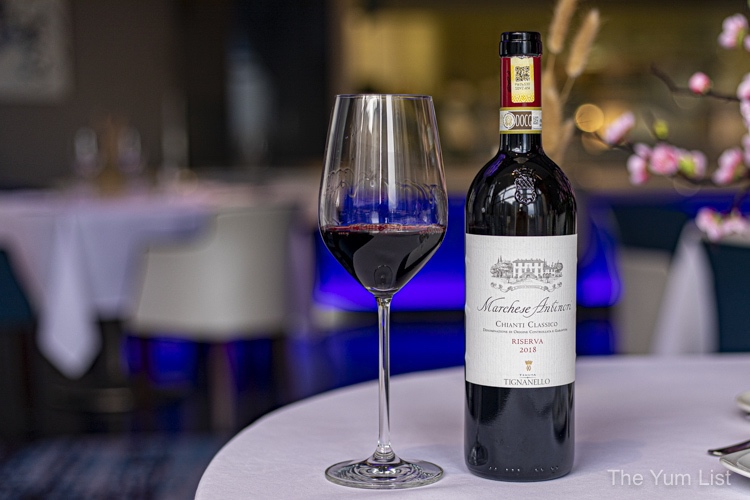 Dessert Course: Chocolate Galette
The desert court is a straightforward chocolate souffle with a delicate white ice. Straightforward is not derogatory. Simple is unadorned perfection. The reason it's so good is probably the source of the chocolate: Chef Don John uses Belgium's finest Callebaut chocolate.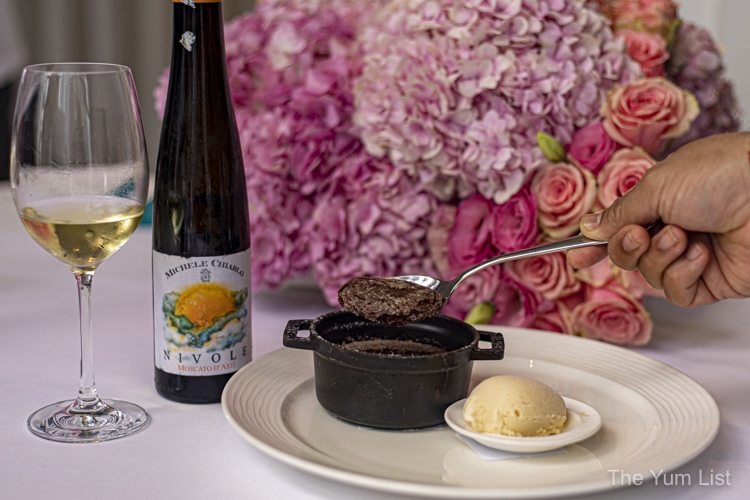 Michele Chiarlo Nivole Moscato d' Asti
Michele Chiarlo Piedmont-based winery's Nivole white Moscato dessert wine is considered one of the best in the world. I can't do it justice since I'm not partial to sweet wines. I saved some of the Chianti for the chocolate galette. Sorry, Hari! You had me at the Chianti, and I couldn't let go. Monica still says this meal had the best wine pairing she can remember from recent times.
Table d'Hôte Menu Sage Restaurant & Wine Bar Logistics
To enjoy the table of the host menu, call at least a day in advance. It is not a menu that is offered without advanced preparation. But, it's also flexible. Our photographer Rich asked for a non-seafood version, and his menu could have been a feature on its own: Sage's signature truffle soup, fried avocado over risotto, chicken carbonara. The point here is that Sage will work with diners to develop their own journey for special occasions, including entirely vegetarian options. The table d'hote menu is priced at RM 688 per person, with an additional RM 178 for the wine pairing.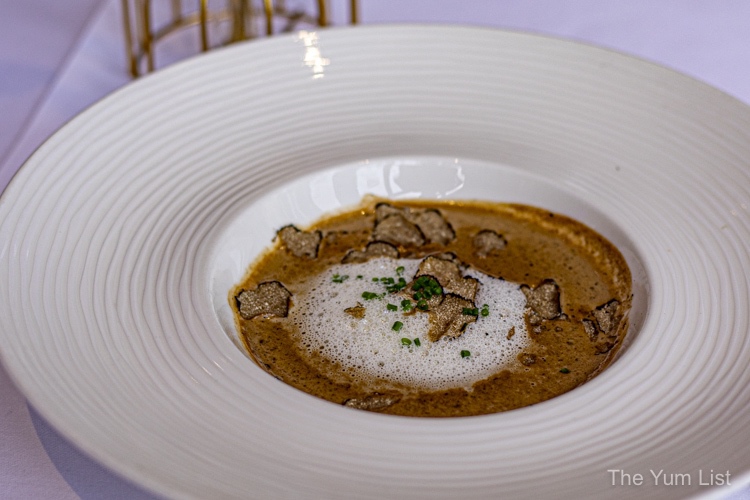 Sage also still offers its plat du jour menu, craftsman menu, and a la carte options. The set lunch menu changes weekly, and the plat du jour changes approximately biweekly. There is also the takeaway menu which The Yum List reviewed in May 2021. We are impressed with Sage's ability to evolve, be cutting edge, and also remain true to its promise of French-Japanese nouvelle cuisine.
Monica and I offer a special thanks to restaurant manager Yann and communications manager Goh Ching Sing. We deeply appreciate their vast culinary expertise and being in their company.
Table d'Hôte Menu Sage Restaurant & Wine Bar
Level 6, The Gardens Hotel & Residences
The Gardens Mall
Lingkaran Syed Putra, Mid Valley City
59200 Kuala Lumpur, Malaysia
+60 3 2268 1328
[email protected]
www.sagekl.com
Sage Restaurant and Wine Bar Opening Hours
Lunch: Monday – Friday 12 pm – 3 pm
Dinner: Monday – Saturday 6 pm – 10 pm
Closed: Sunday
Find more restaurants for special occasions here, and stay up-to-date on KL's food and beverage scene here and here.