Hard Rock Hotel Desaru Coast
Monica Tindall
Noisy, bustling and vibrant, our arrival to Hard Rock Hotel Desaru Coast has our toes tapping from the minute our feet hit the lobby. Rock tunes buzz from quality speakers and staff wearing name badges noting their favourite band immediately have us in a festive mood. We're here to escape Kuala Lumpur, hoping to find some beach time and a few days of rest. What we discover is much more.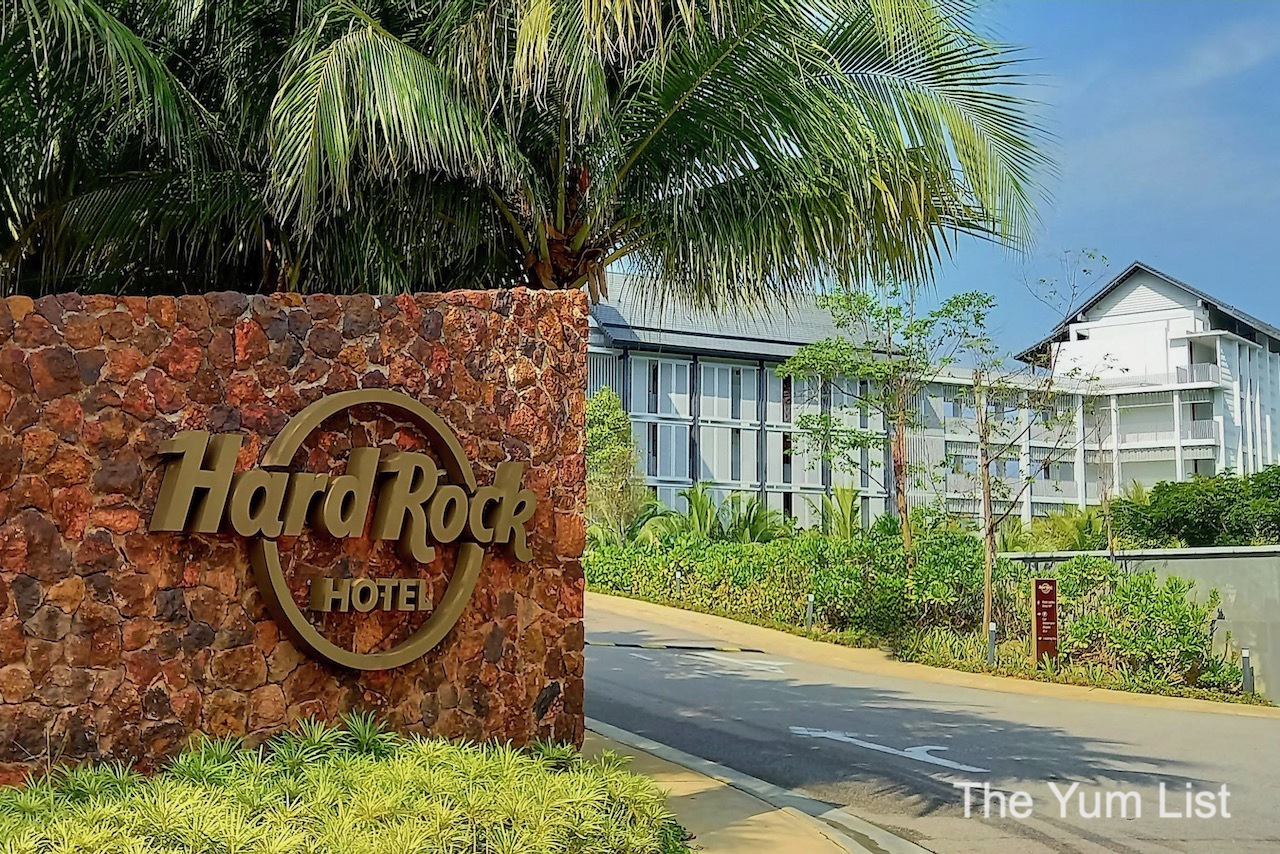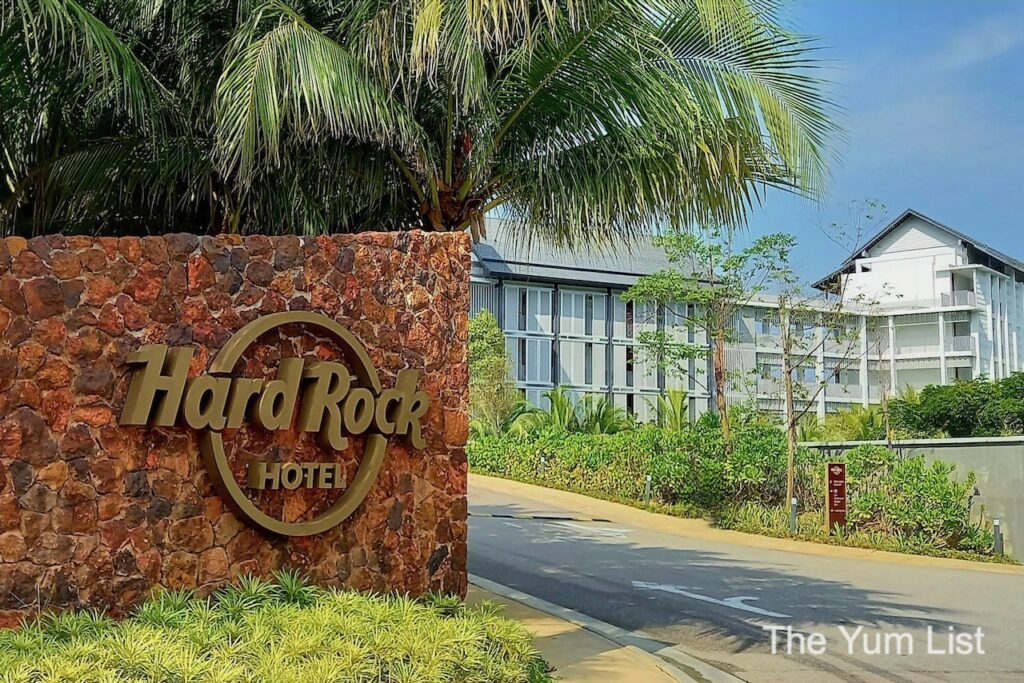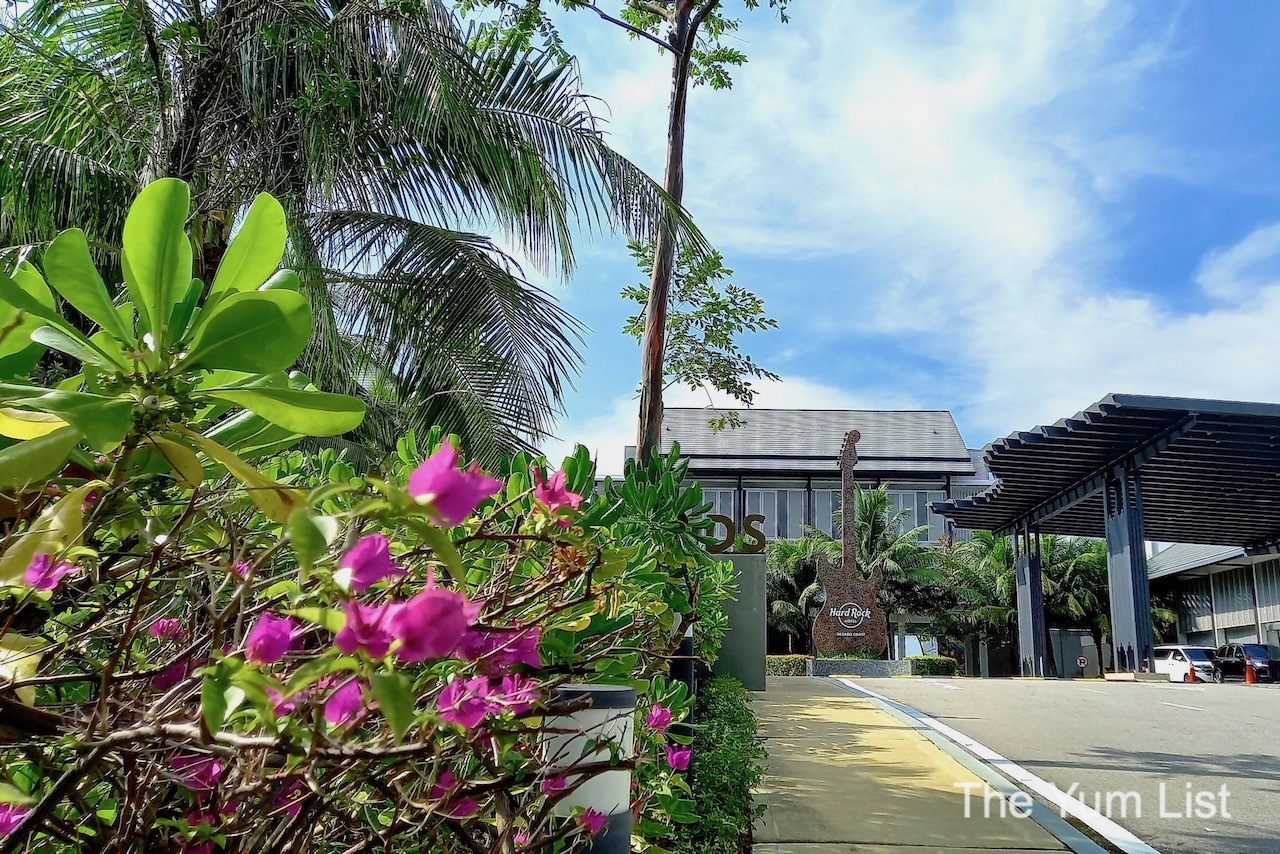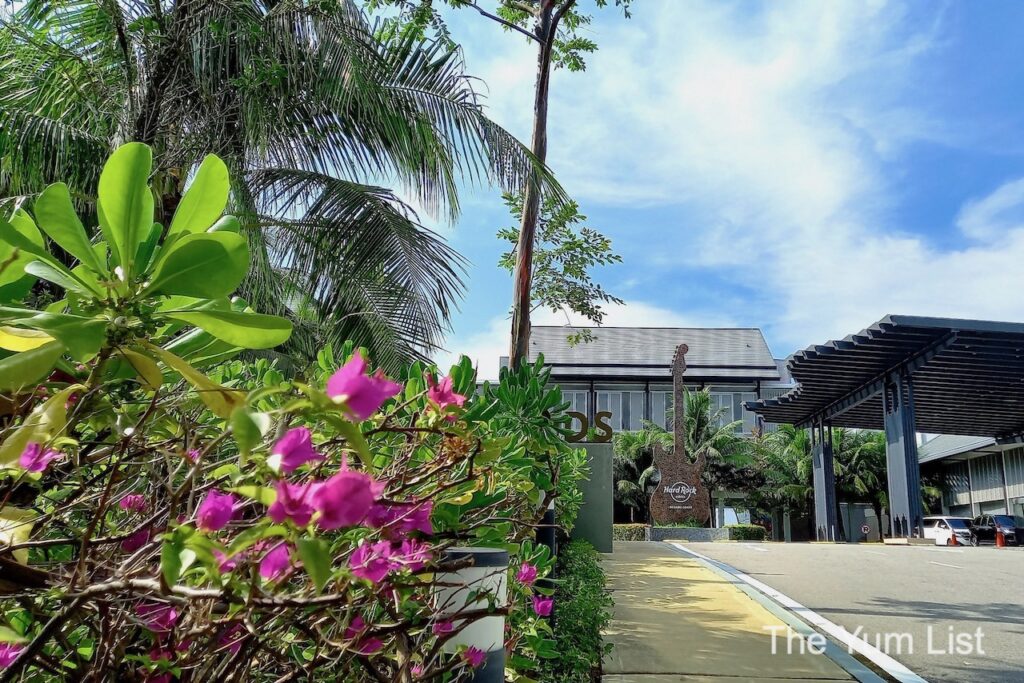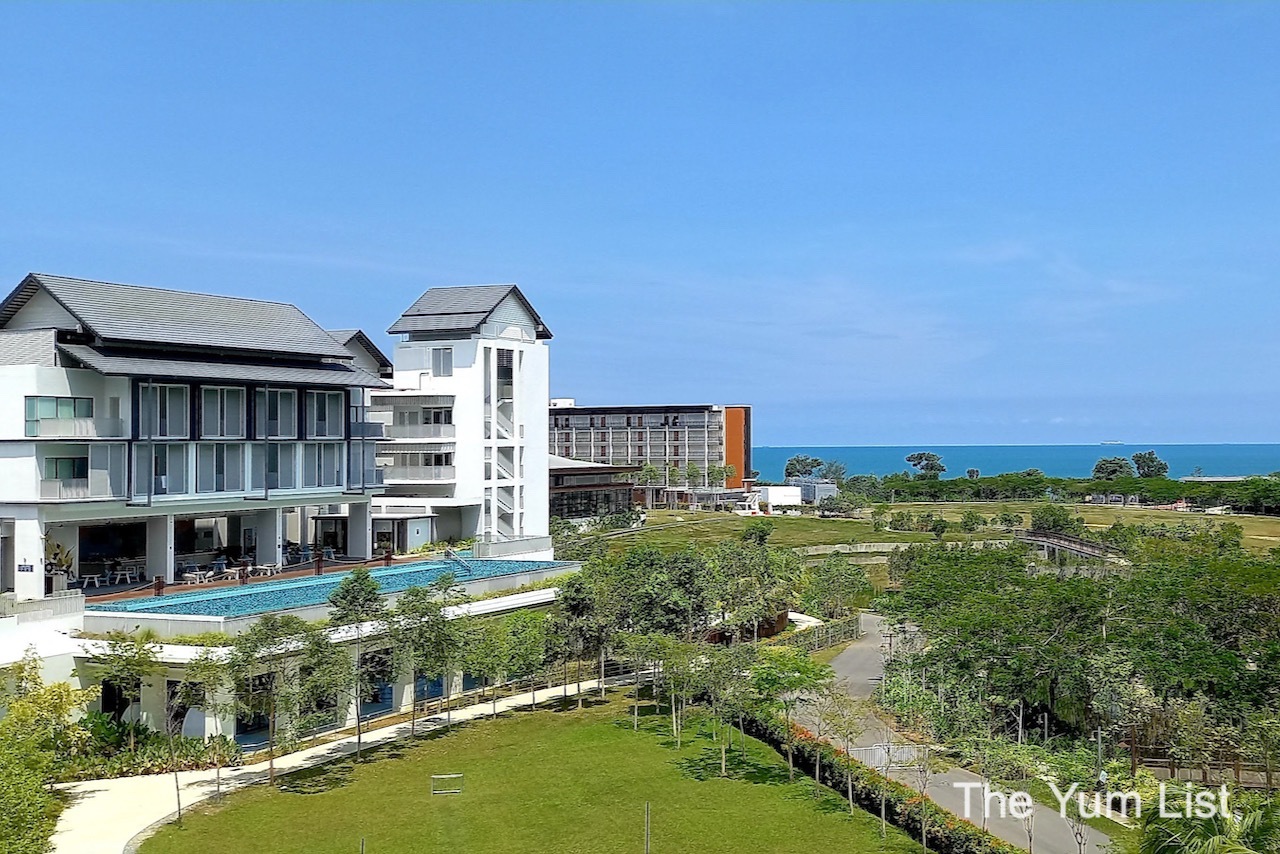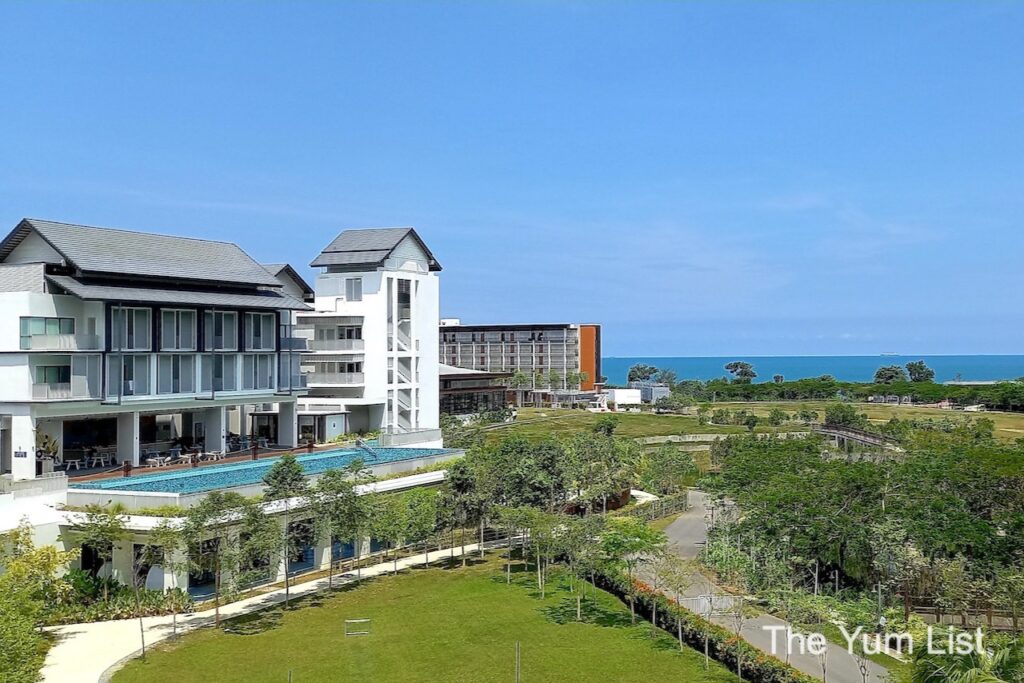 Hard Rock International
Before we get to business (of relaxation), we learn the birth story of the brand with a tour of the hotel's memorabilia. The story goes that the first Hard Rock Café was created in London by a couple of US expats wanting a taste of home. In their opinion, England offered either stuffy fine dining or fish 'n' chips. They wanted to create something in between where people from all walks of life were welcome. Honouring their love for music and recognizing their host country's fantastic contributions to the scene, the rock theme was born.
However, it wasn't until a regular, Eric Clapton, left his Fender as a permanent reservation of his preferred seat that the memorabilia collection began. Soon, other rockers wanted also to mark their territory and left belongings to hold a spot. Today, Hard Rock International has cafes, casinos and hotels in 74 countries and over 86 000 pieces of music and entertainment memorabilia. Believing that music is a language that unites, it continues to be an integral part of every guest experience.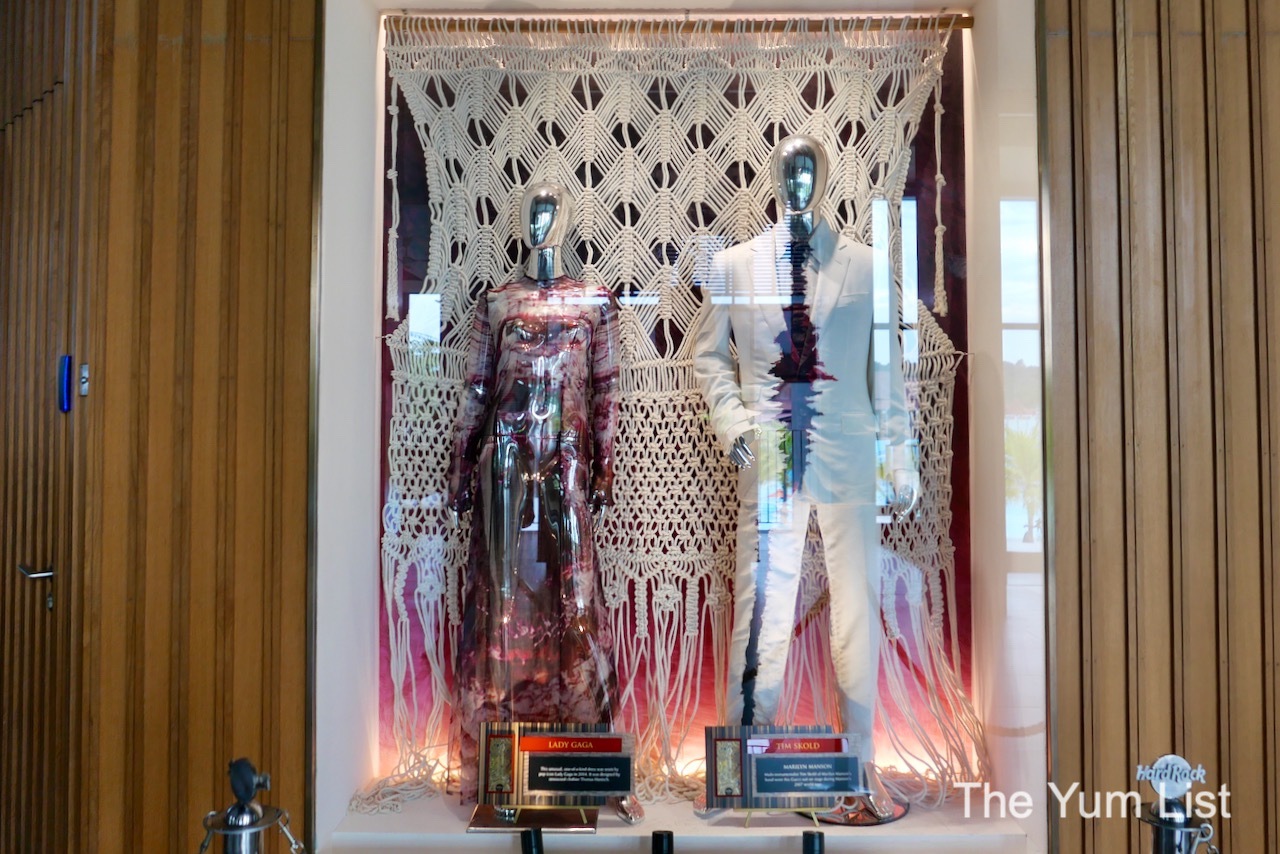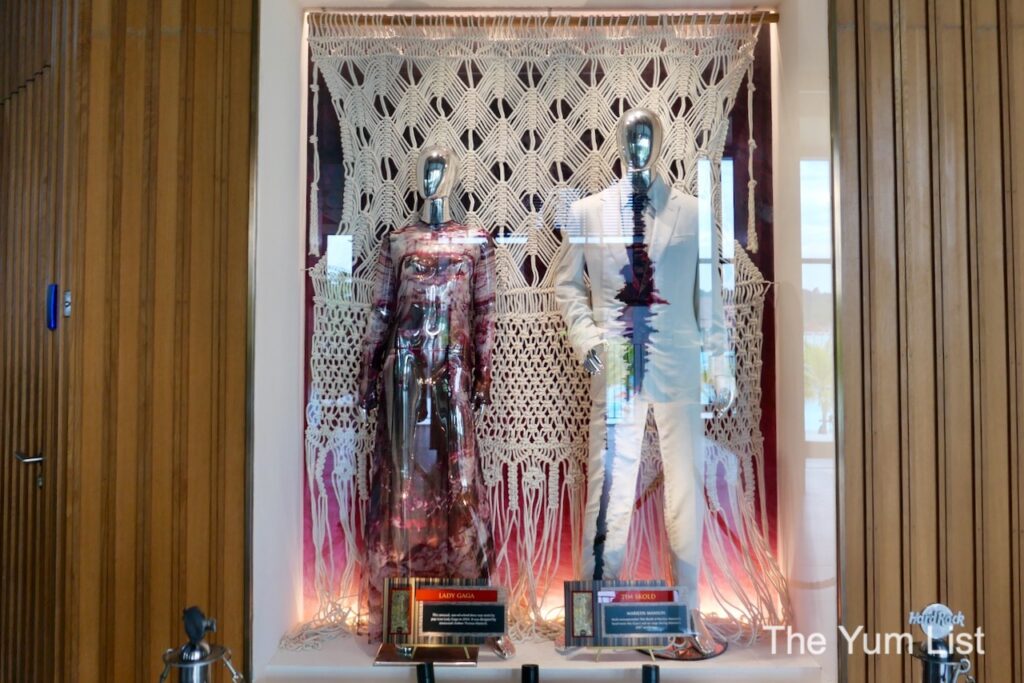 Rooms at Hard Rock Hotel Desaru Coast
Music is so much at the heart of the brand that there's even a pink Fender in our Rock Suite! Headphones, amp and even video lessons are included. Other in-room entertainment highlights are two 55″ Smart TVs, Bose® Solo 5 Soundbar, complimentary blockbuster movies on demand as well as free streaming music channels.
The 108 m² suite provides a separate bathroom, sleeping and living areas, as well as two balconies. There is plenty of room to groove around. Heavy doors mean the spaces can be completely privatized, allowing different sleeping patterns to be accommodated, and Sleep Like a Rock® bedding with 300-thread count bed linen encourages sound slumber.
Additional perks of the Rock Suite are fair trade coffee and tea, an espresso machine, and a complimentary minibar with soft drinks. I appreciate the refillable glass water bottles in the rooms. A water refill station on each floor indicates the number of plastic water bottles saved, which is well into the 100s of thousands. This is just the beginning of the hotel's green efforts. The team has some admirable goals for the future in moving towards sustainability, including changing the in-room amenities to reduce the amount of waste going to landfills, rainwater harvesting, and sourcing more local ingredients.
Once reopened (sometime in December), Rock Suite guests will also enjoy access to the Rock Royalty® Lounge, offering a dedicated butler service, complimentary refreshments, and evening cocktails with canapes.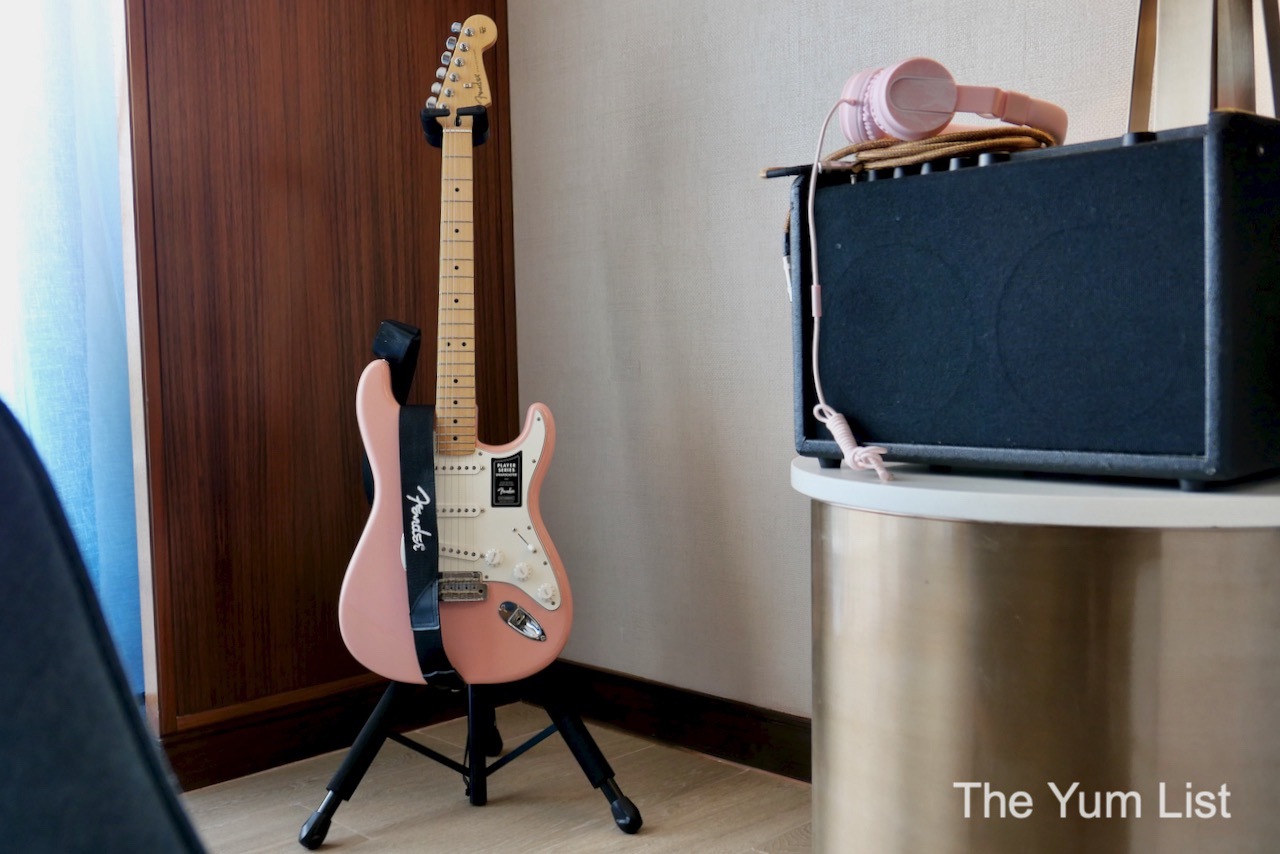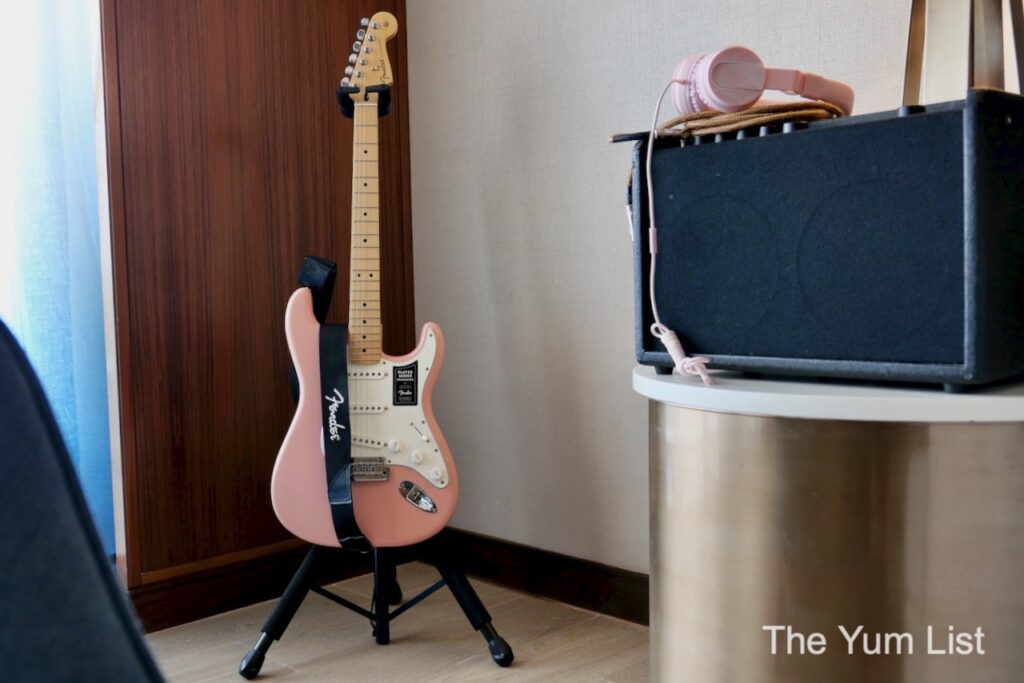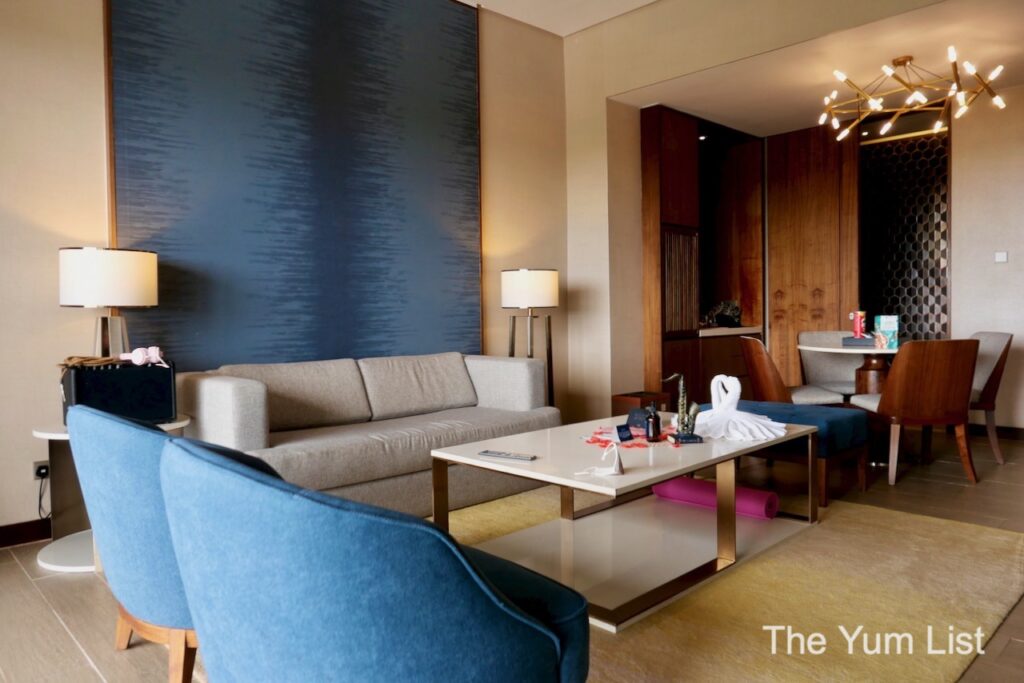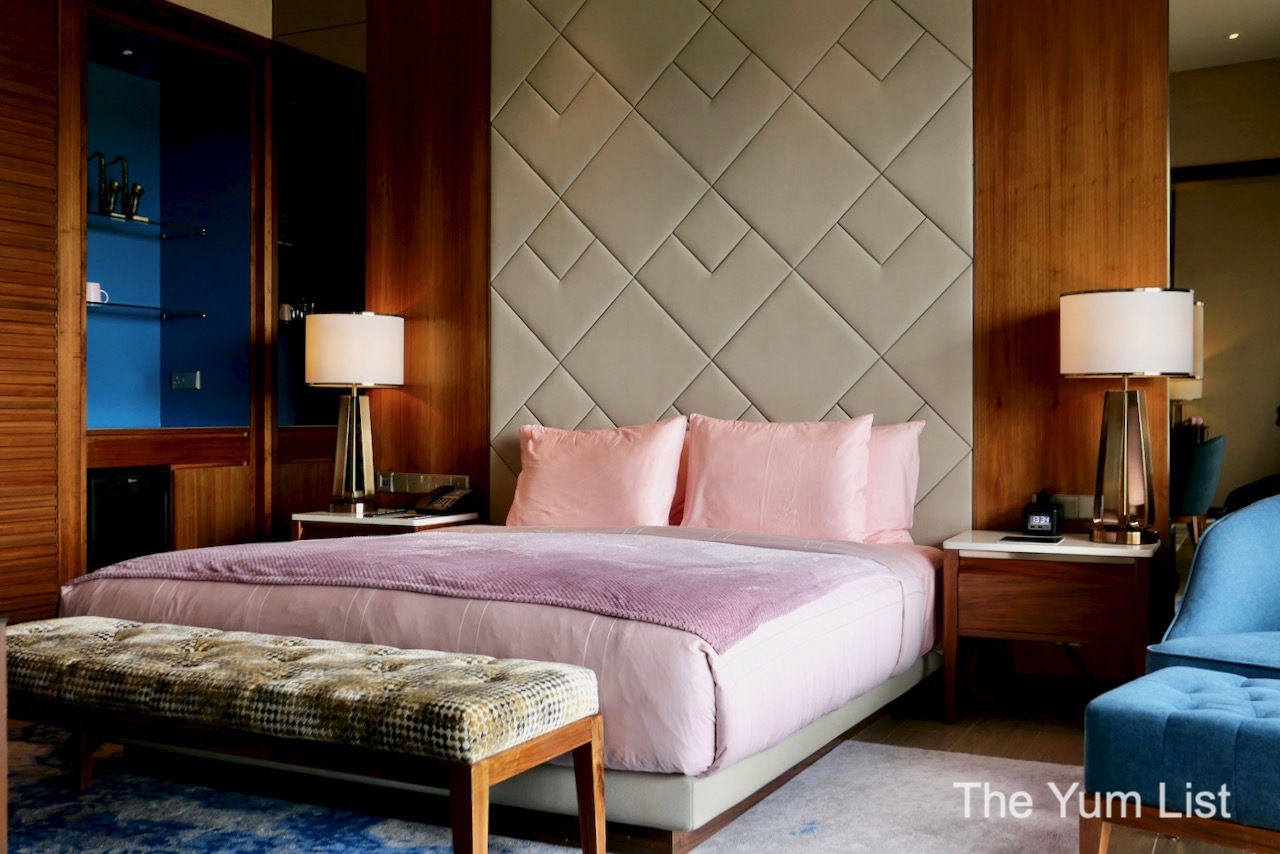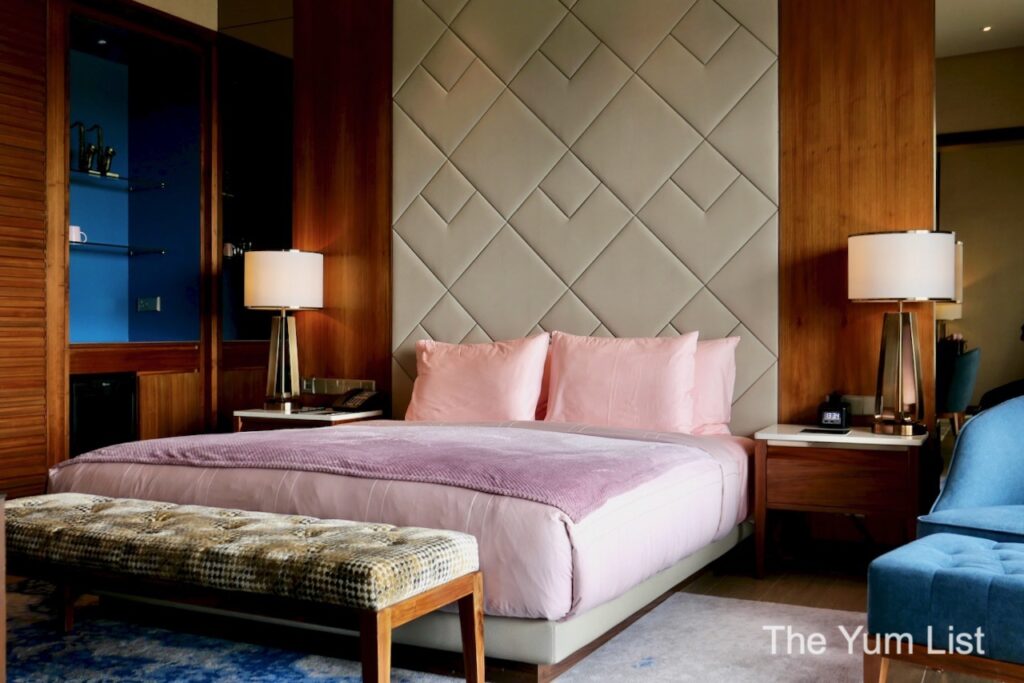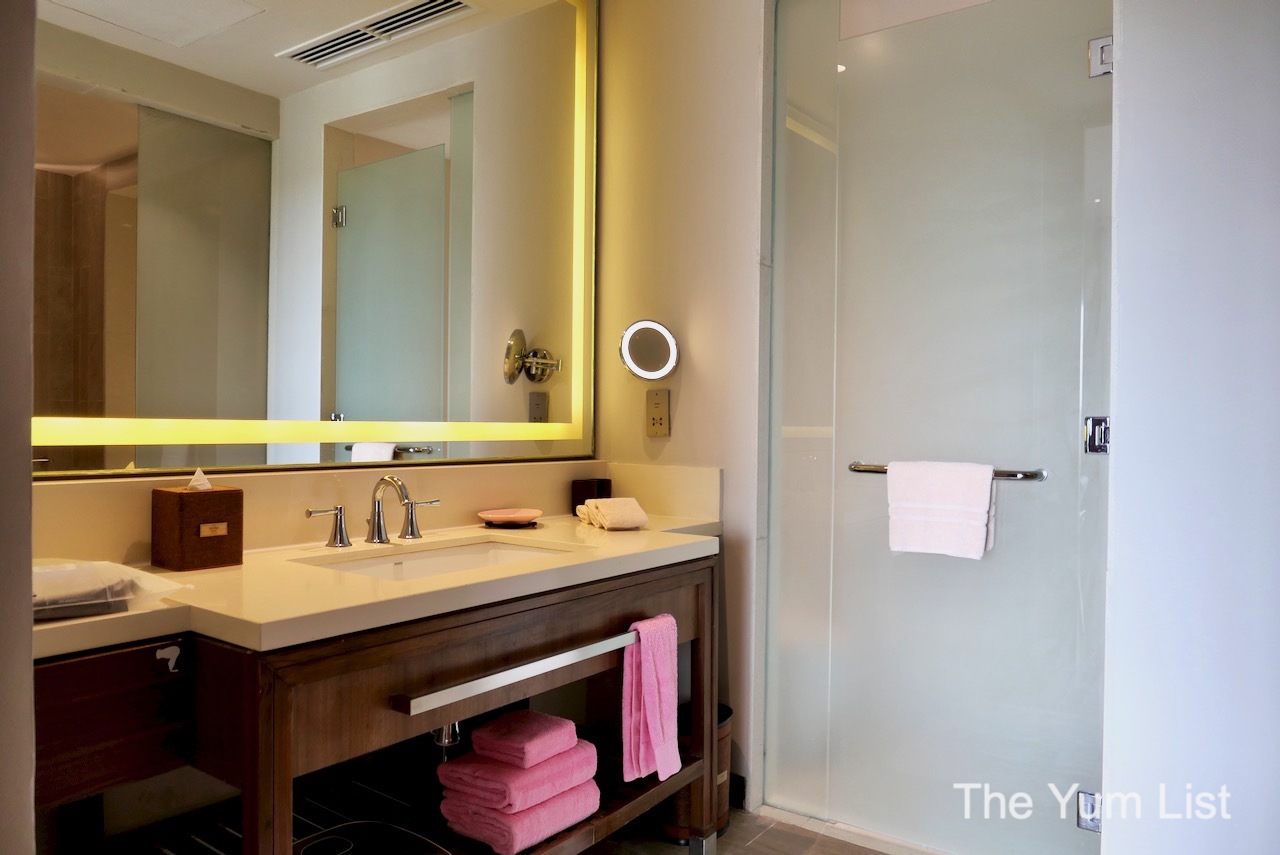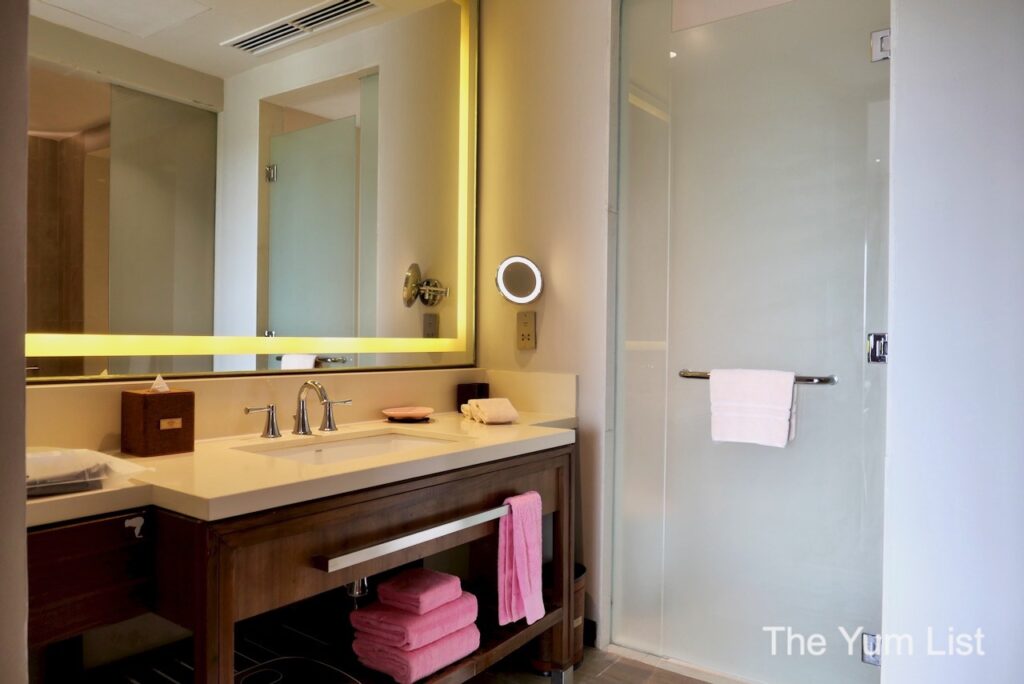 Facilities
With all the entertainment features included in Hard Rock Hotel Desaru Coast suites, you might be content to spend your entire stay having your own private party. For those who prefer more of a crowd, though, there are plenty of options to expand the fiesta.
Water Park
For families with children, or those of any age wanting an adventure, direct access to the next-door water park is a huge drawcard. Many room packages include entry, and guests staying at the hotel may enter through the hotel's private gate. Although not really our thing, we do relive some younger years with a hop around the park, and most definitely take advantage of sun chairs by the enormous wave pool.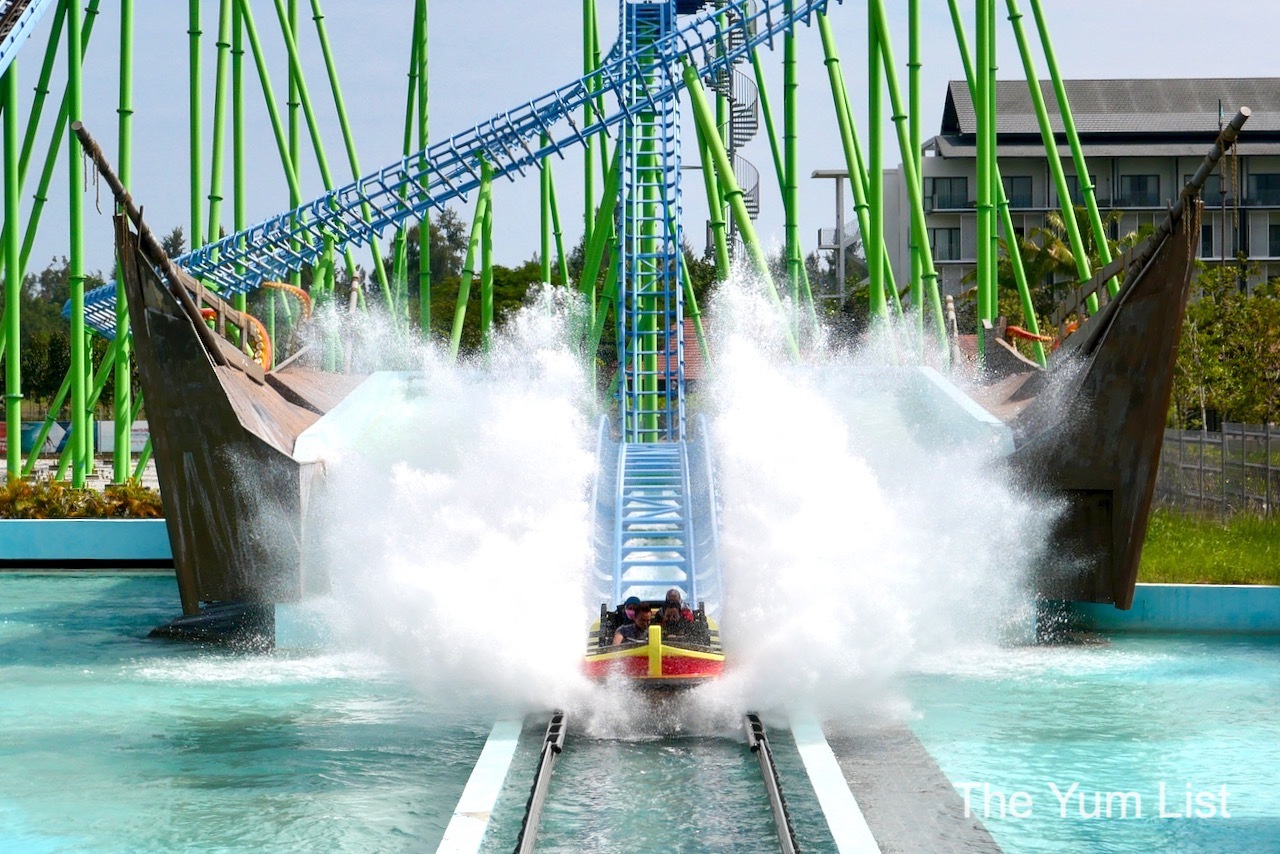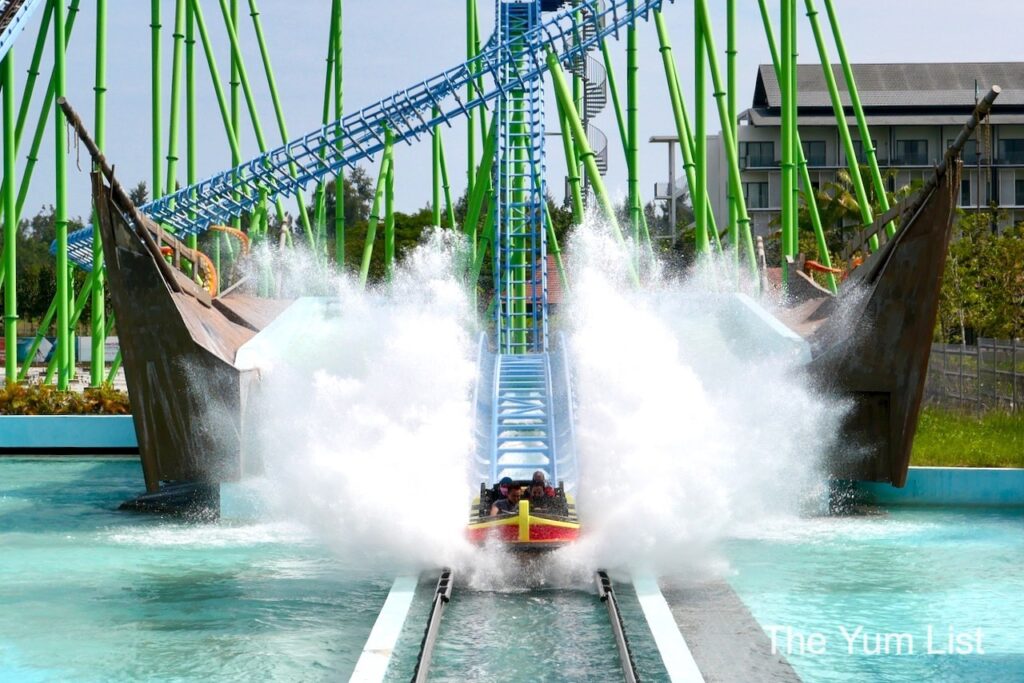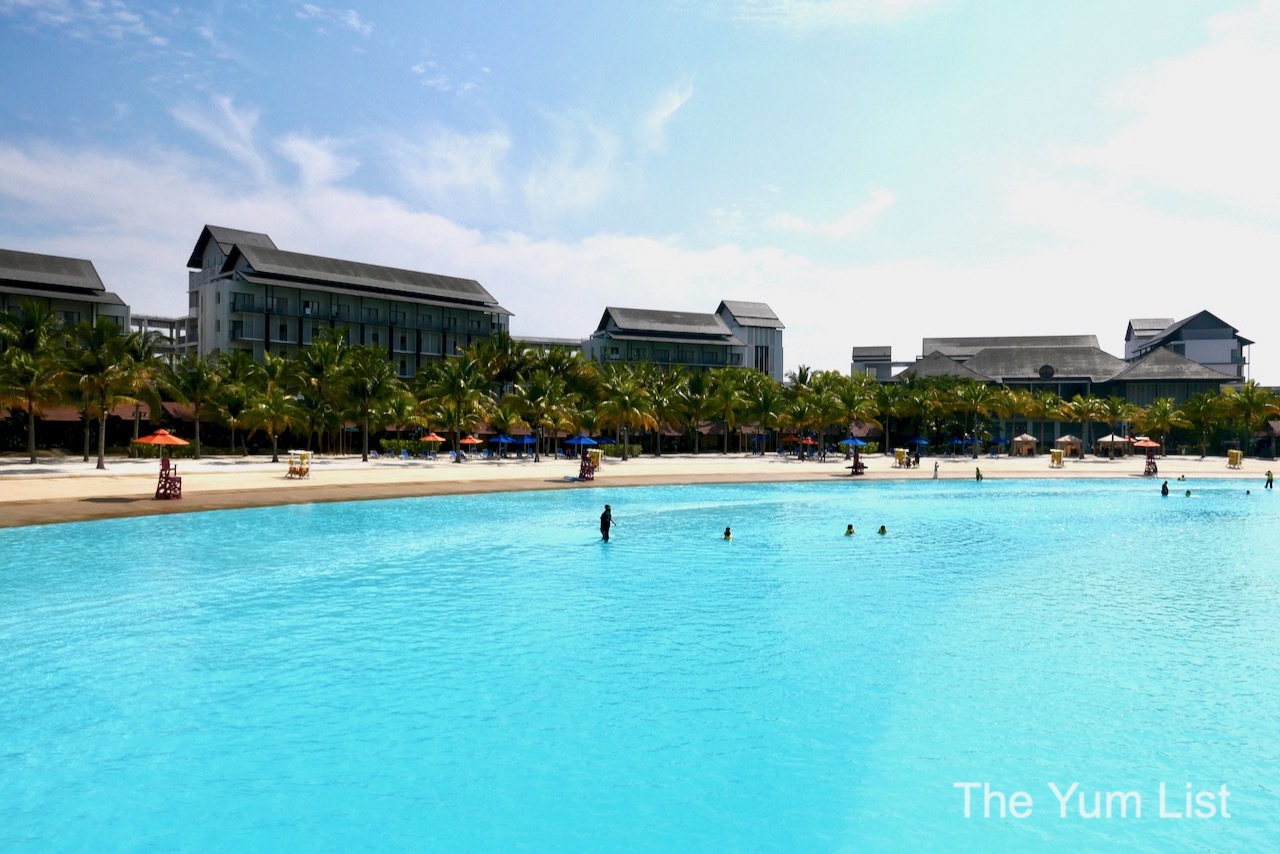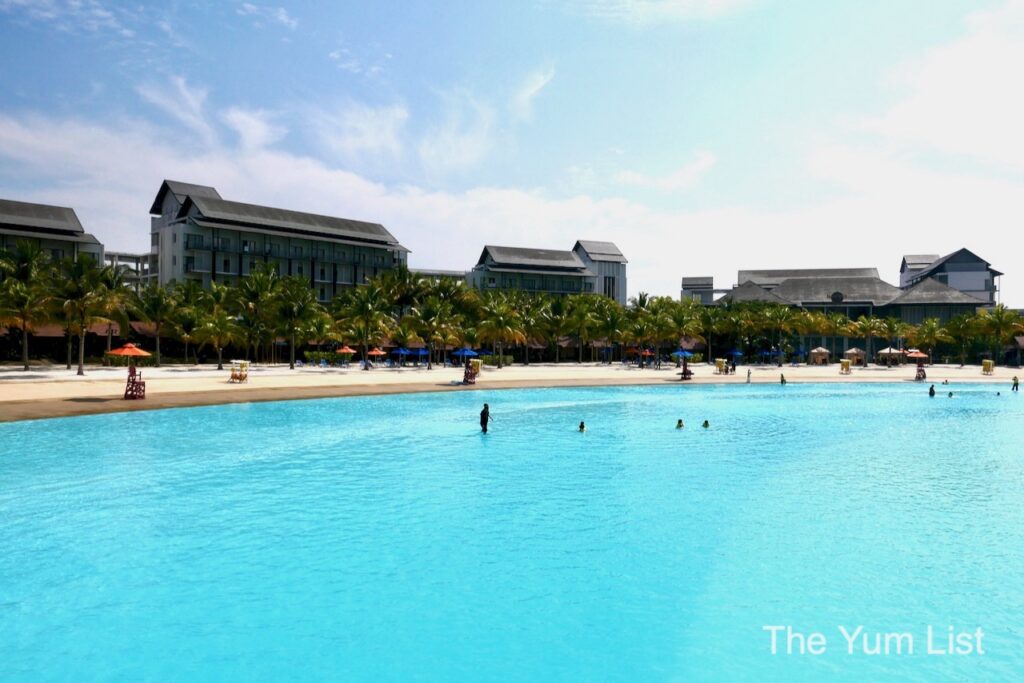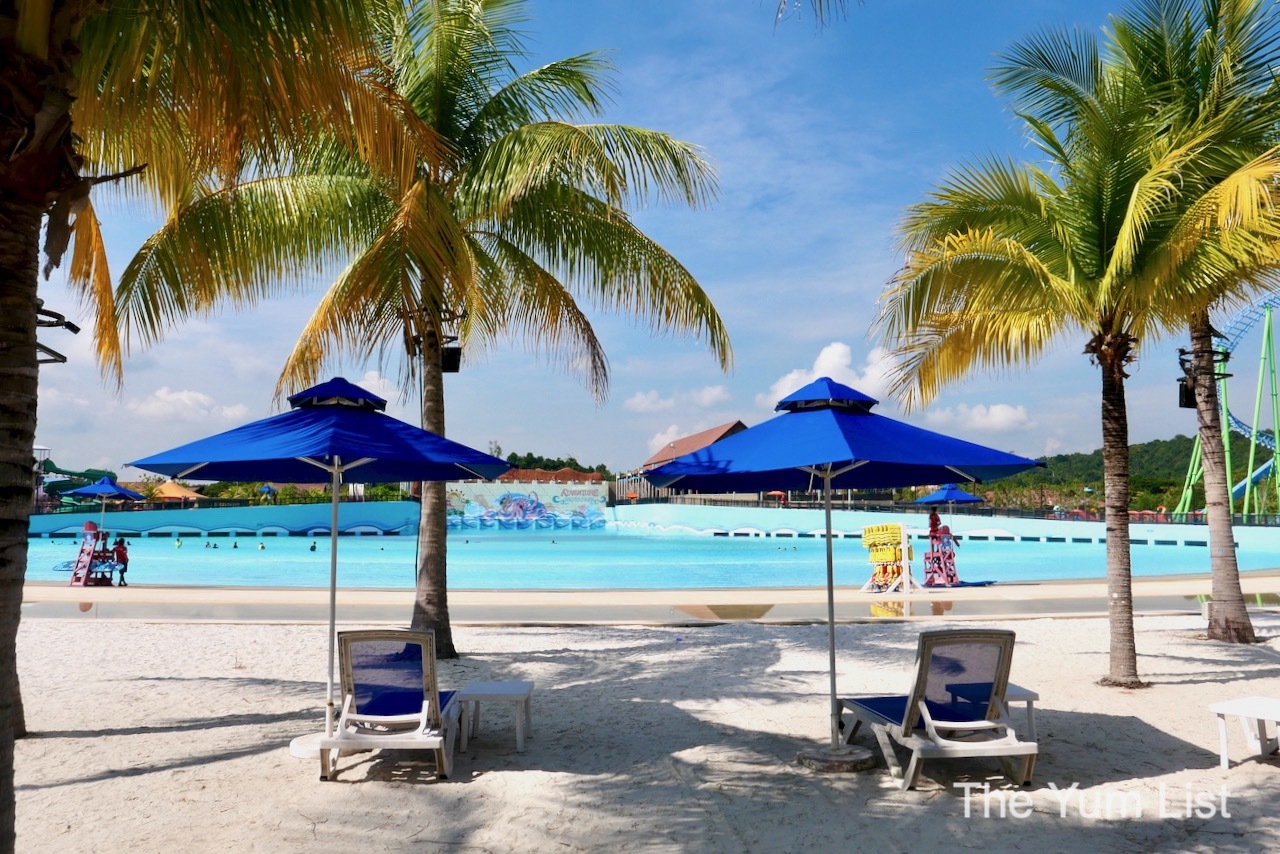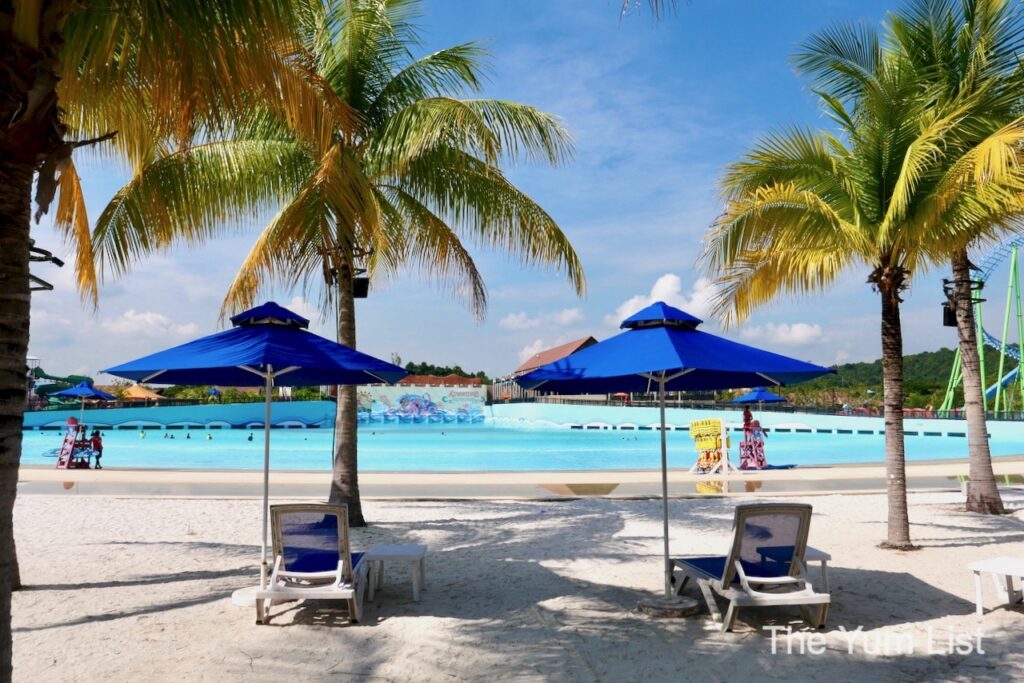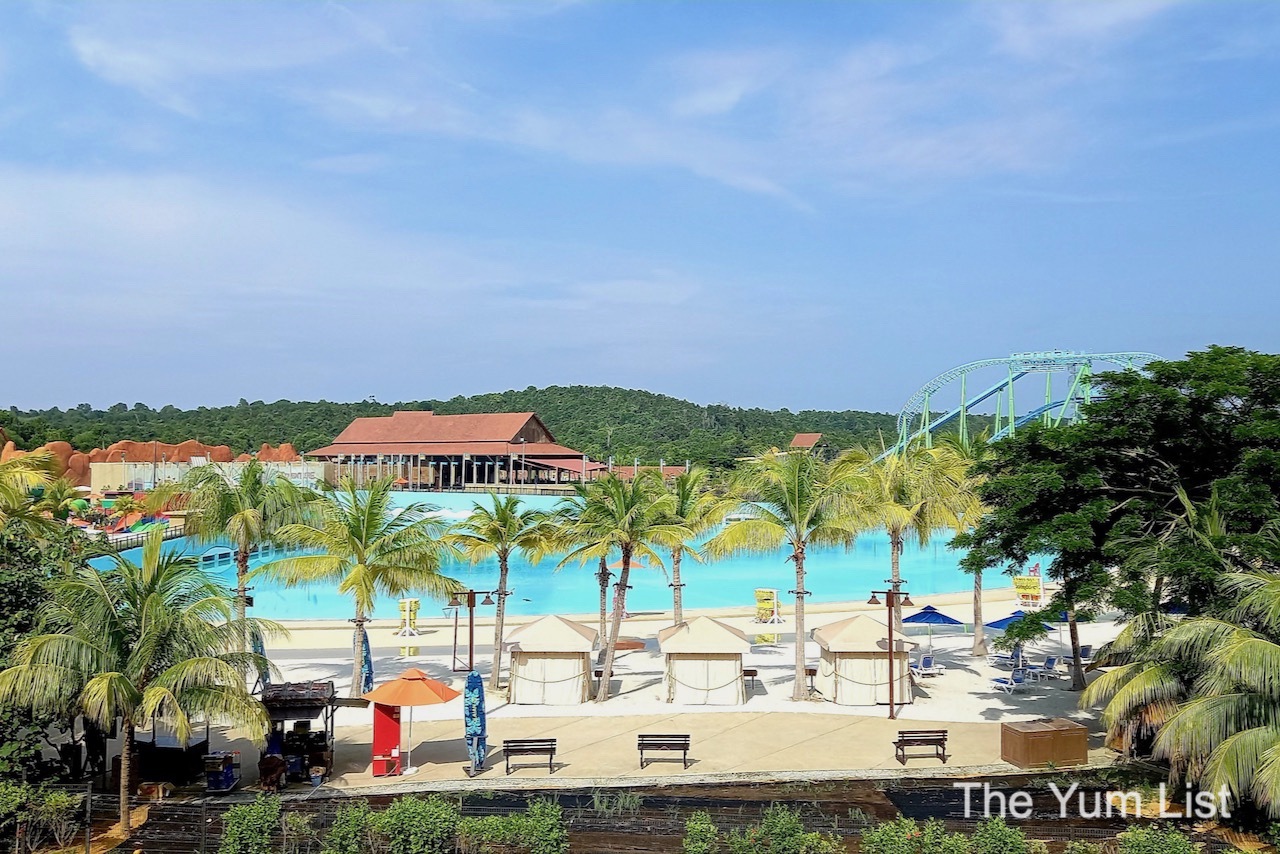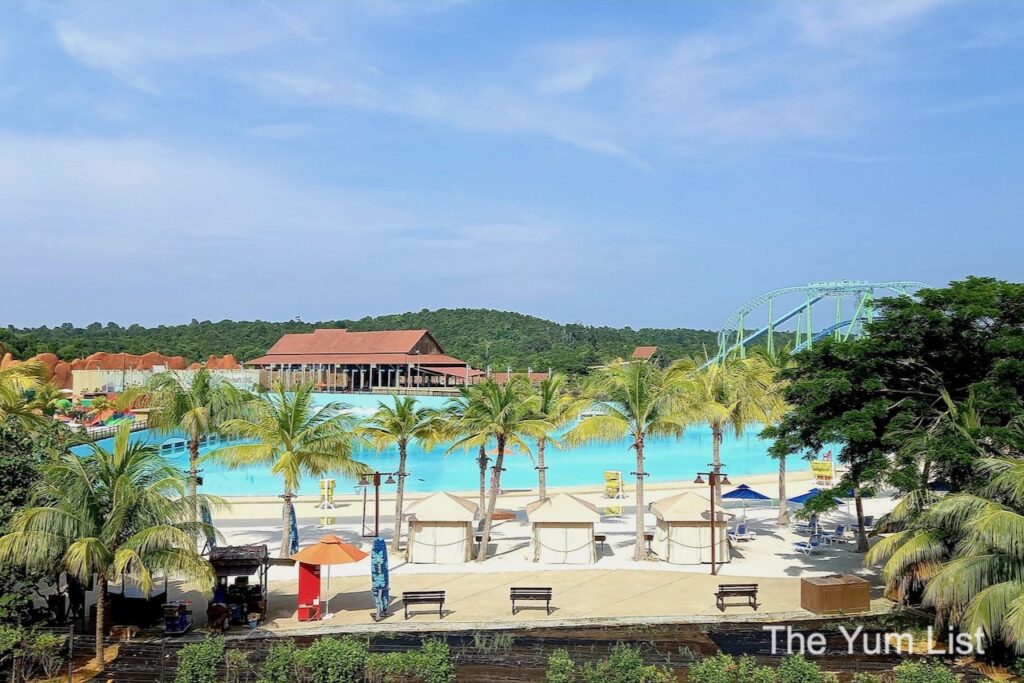 Hard Rock Hotel Desaru Coast Beach Club
The seaside is more our jam. A short walk across the road has us at Desaru Beach, where the hotel has its own beach club providing recliners, towels, and a light food and beverage menu. Despite not being a swimming beach (think windsurfing and extreme sports), just being by the ocean fulfils a yearning. After months confined to the concrete walls of a city, being able to exercise our far vision once again without impediment from buildings is a treat. The coastline stretches for miles! Lined with coastal vegetation and tall tropical trees, it's a fabulous place for a run or long walks.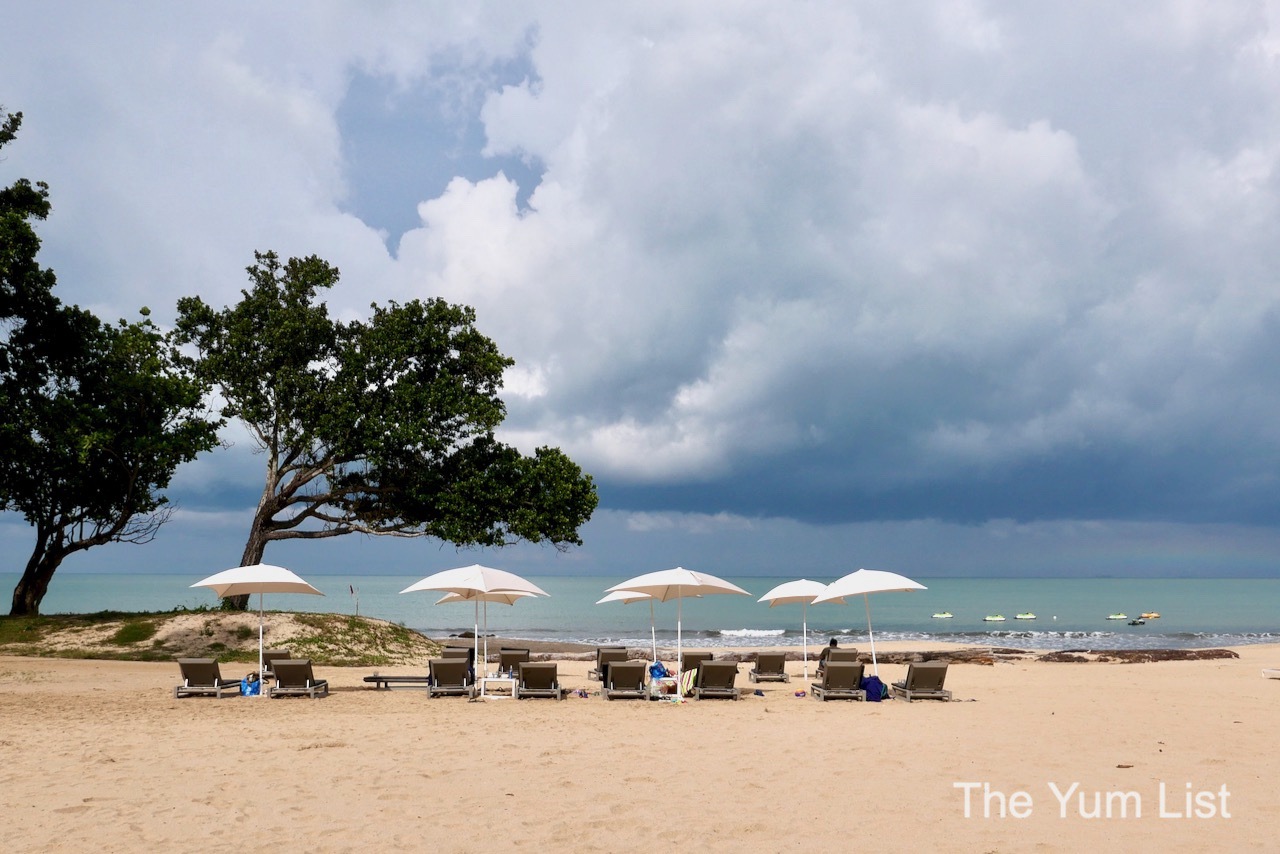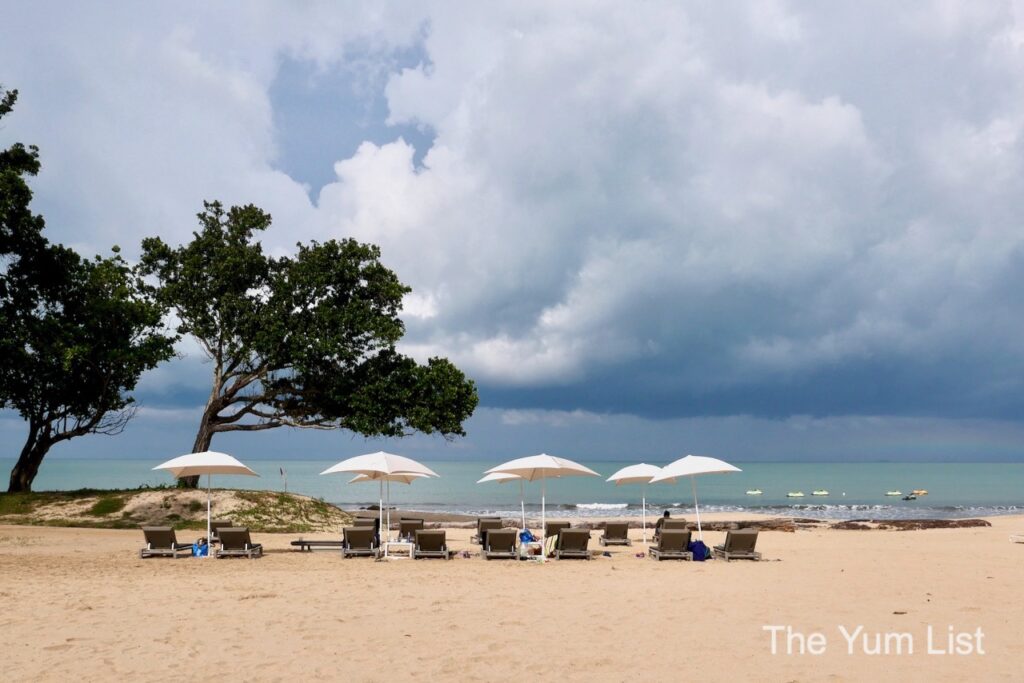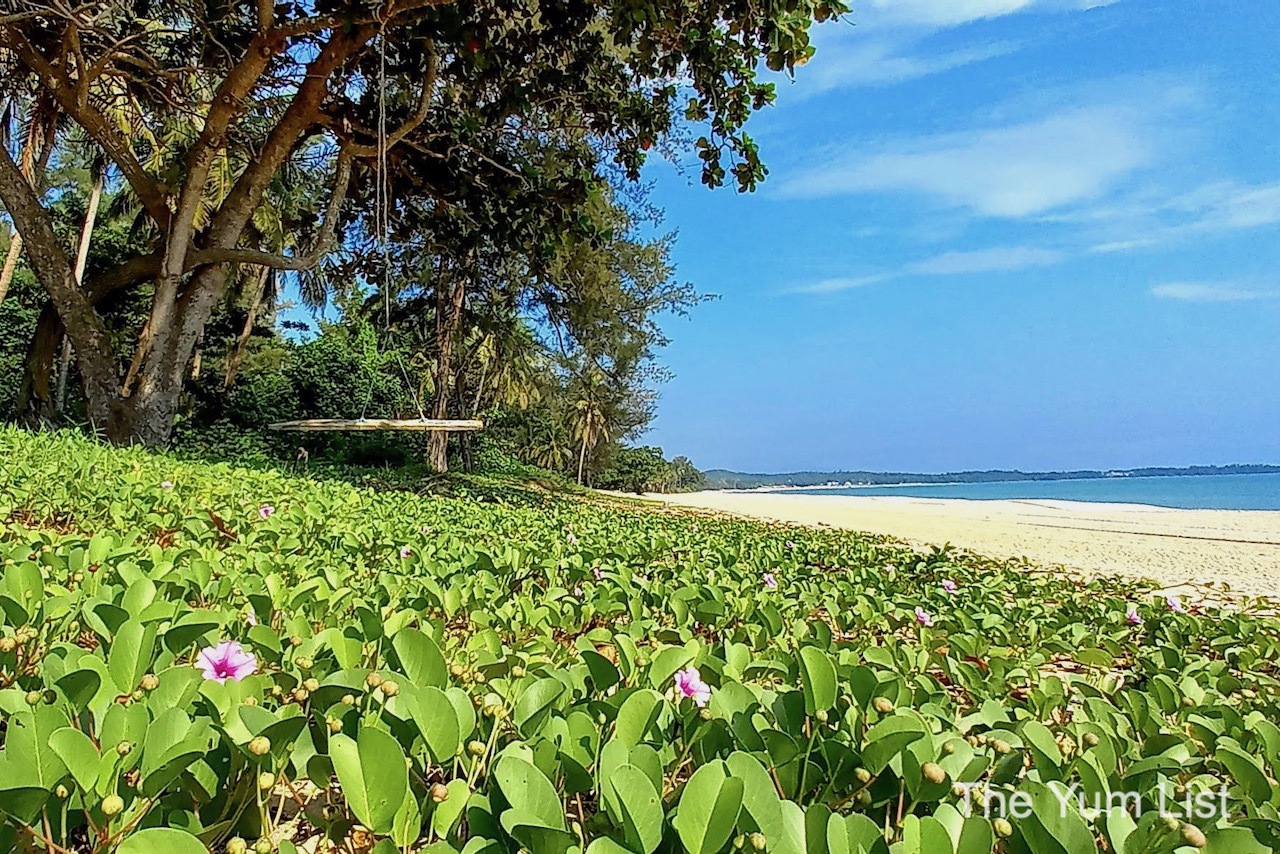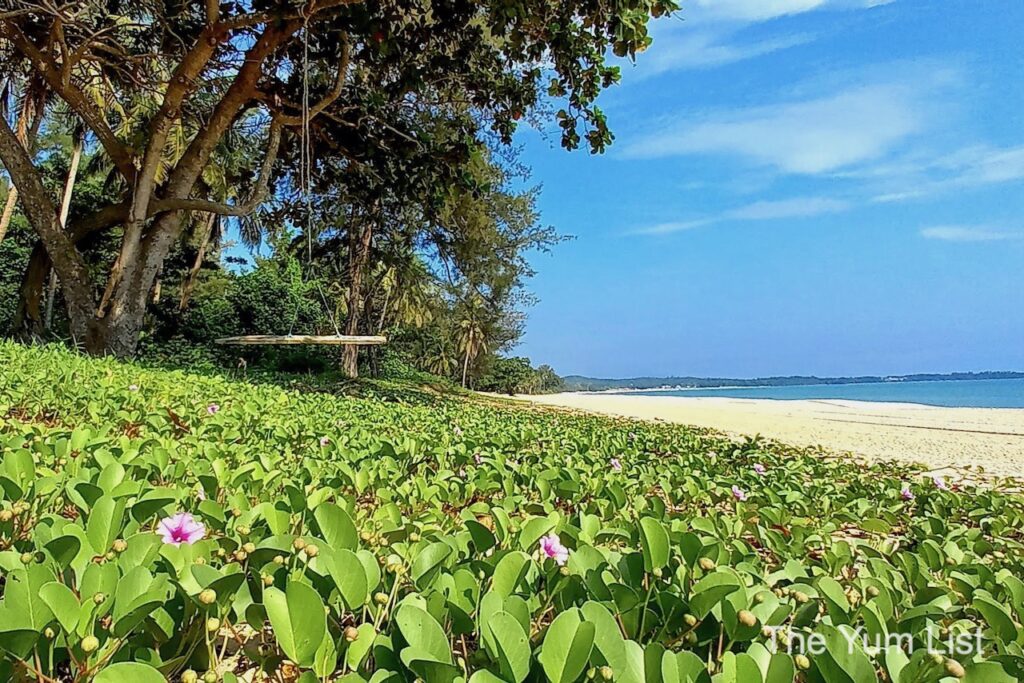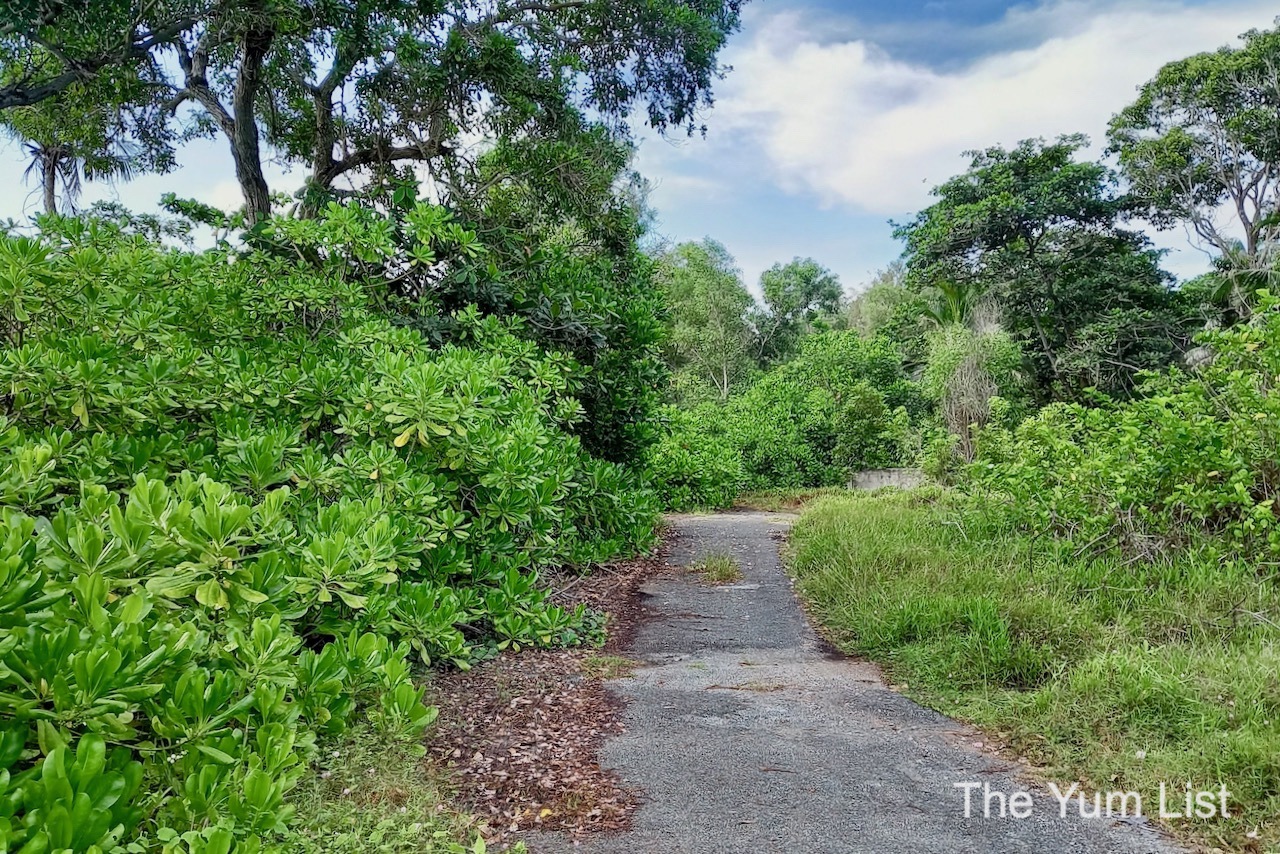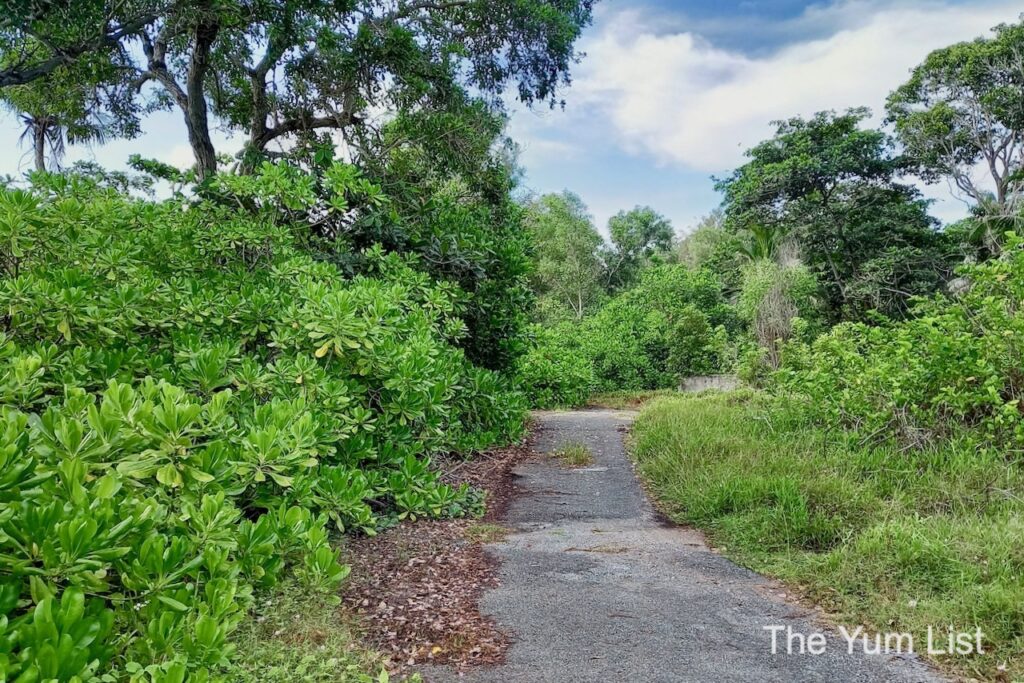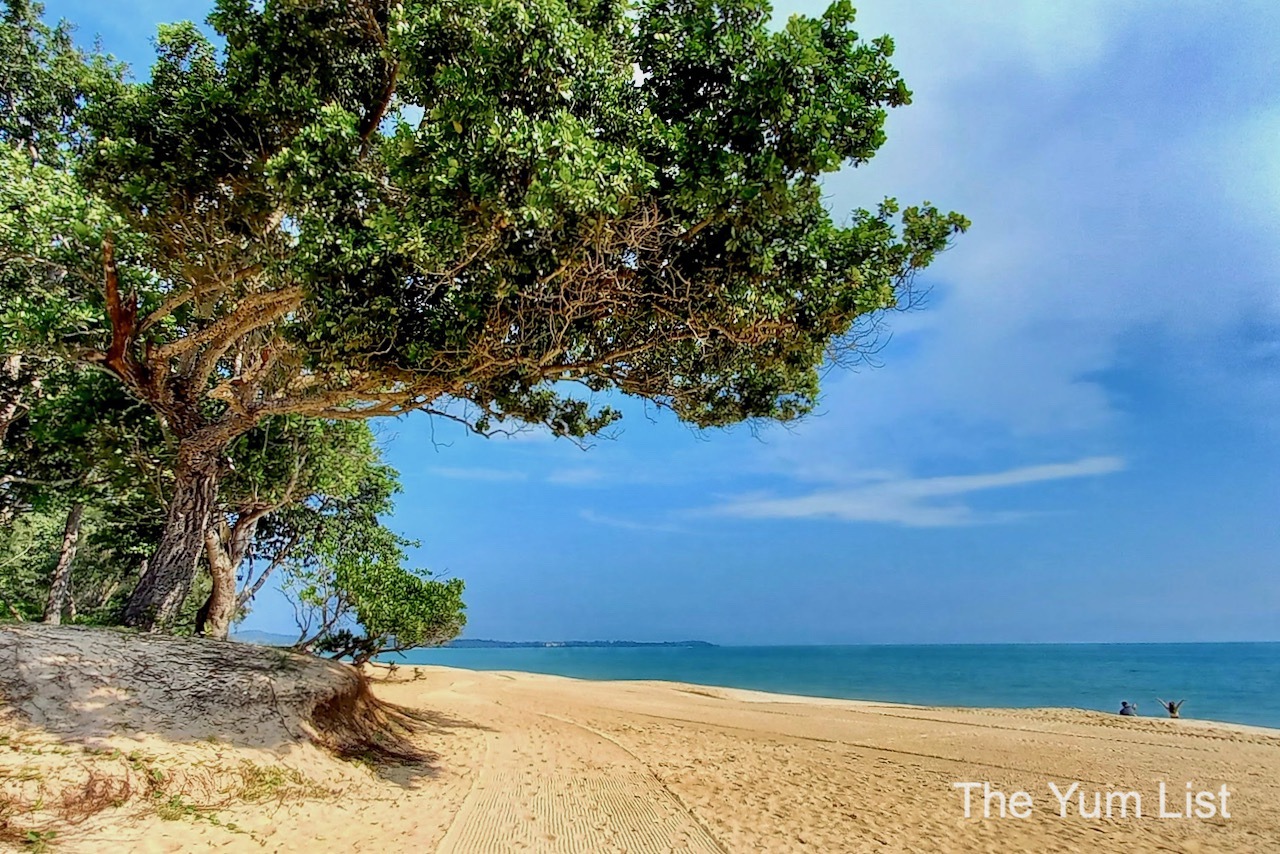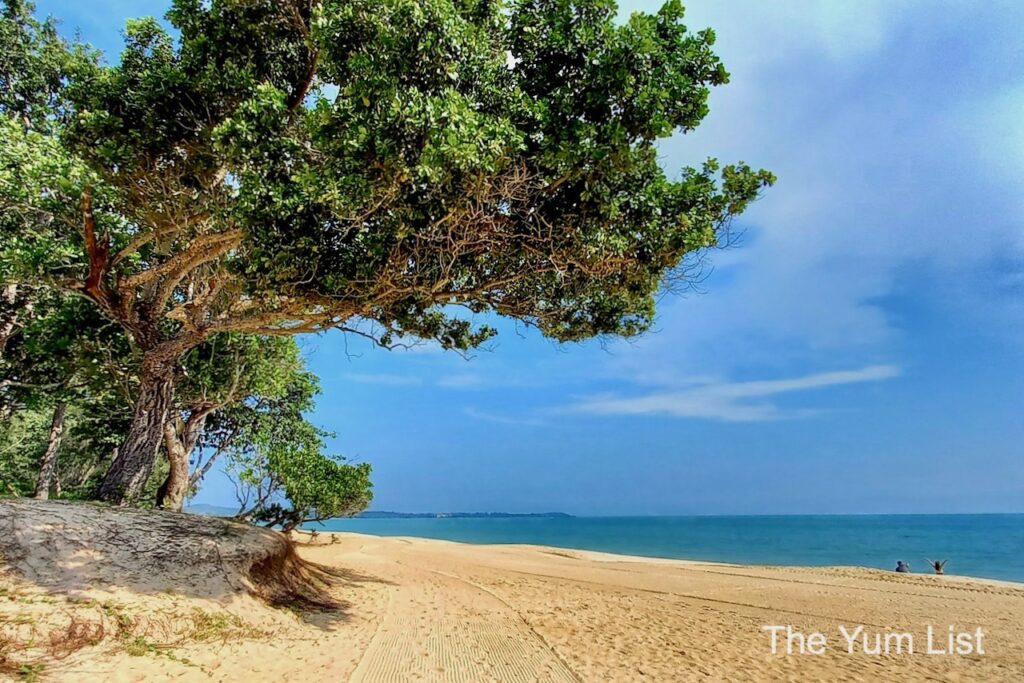 Gym and Pool
We visit not long after Hard Rock Hotel Desaru Coast reopened following various restrictions. Unfortunately, due to tradespeople being unable to obtain work permits, repairs were only recently able to be scheduled. We did not experience the pool or gym, but by the time this article is published, you should expect to see both fully functioning. With waterpark passes to compensate and access to that enormous wave pool next door though, most guests we came across didn't even notice the services were unavailable.
Rock Spa
One facility we are incredibly grateful that remained open, though, is Rock Spa. Located on the lower ground floor of Hard Rock Hotel Desaru Coast, the retreat is tucked away from the bustling happenings of the hotel. Therapists are highly skilled, the rooms are of international standard with beds more than long enough for western frames, and products are good quality. Read more about the spa experience here.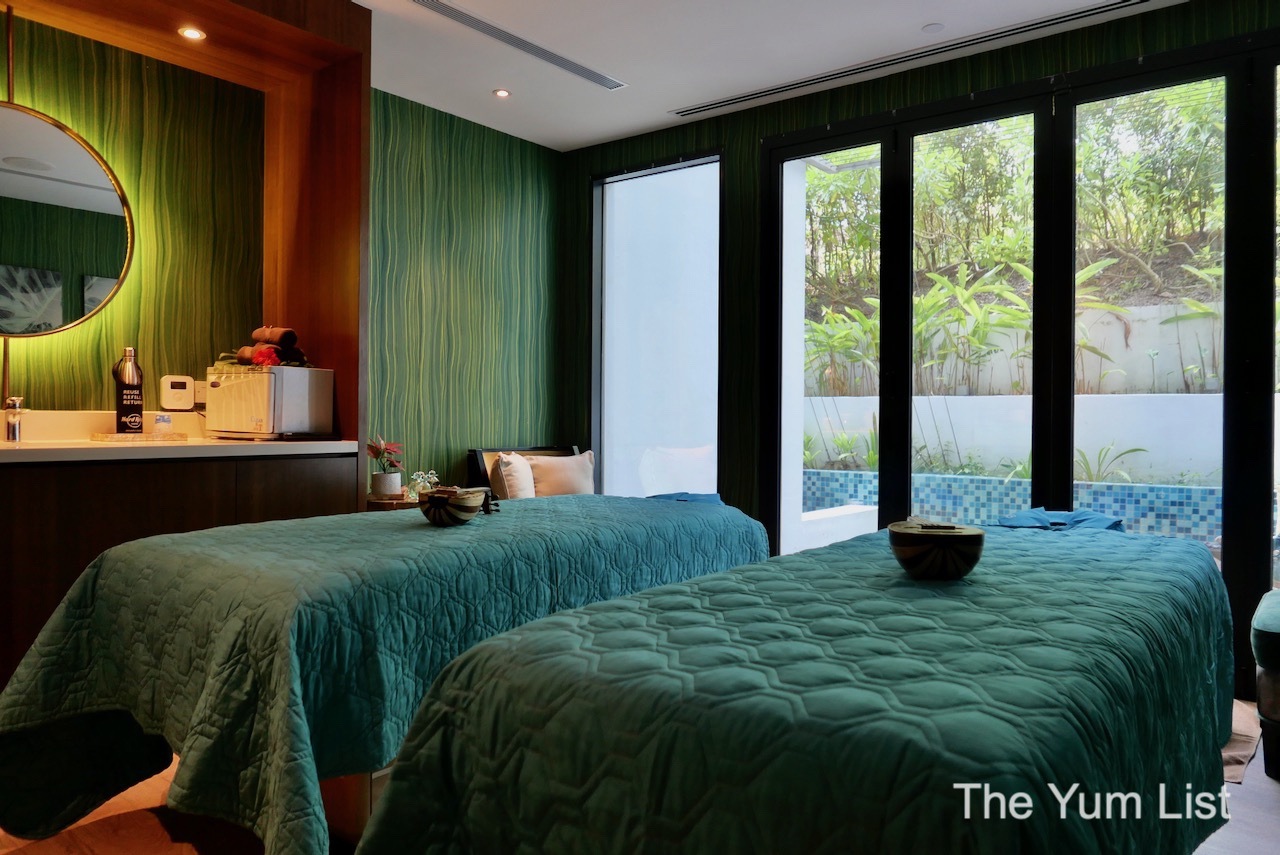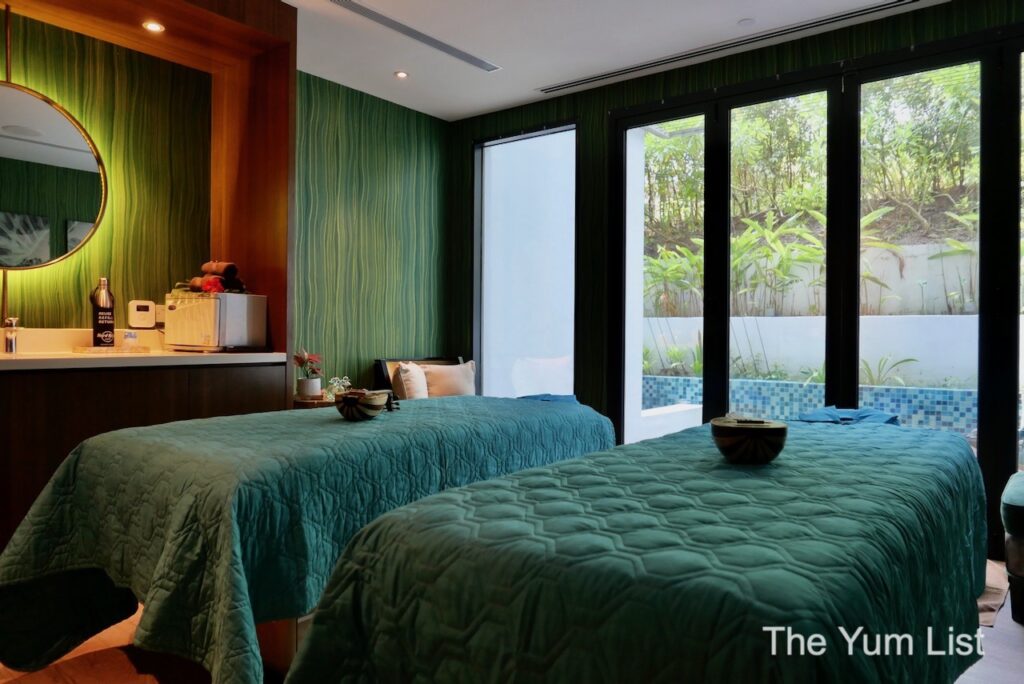 Food and Beverage at Hard Rock Hotel Desaru Coast
Time in the sun can work up an appetite, and Hard Rock Hotel Desaru Coast has several food and beverage outlets to quench thirsts and satiate hungry tummies. Sessions is the hotel's all-day-dining restaurant. Named as a tribute to music recordings – in session – the interior is dotted with entertainment memorabilia and electric guitars. The buffet breakfast is pretty standard and crowded. Go early (before 8 am) if you prefer a quieter start to the morning and grab a table on the covered patio. The ala carte menu later in the day is worth exploring with western and local favourites. We highly recommend the oxtail soup. Also, the grilled salmon and winter melon salad were both tasty choices for healthy tastebuds. 
Our preferred perch, however, is The Butterfly and the Elephant. On the third floor, it overlooks the pool and treetops. It's a Mexican-inspired theme with a menu of hearty dishes and a decent cocktail list. Read more about that here.
Furthermore, Constant Grind furnishes a cool café scene with quick bites and espresso-based coffee drinks. At the same time, GMT+8 is the location for afternoon tea, sundowners and evening entertainment with a live band.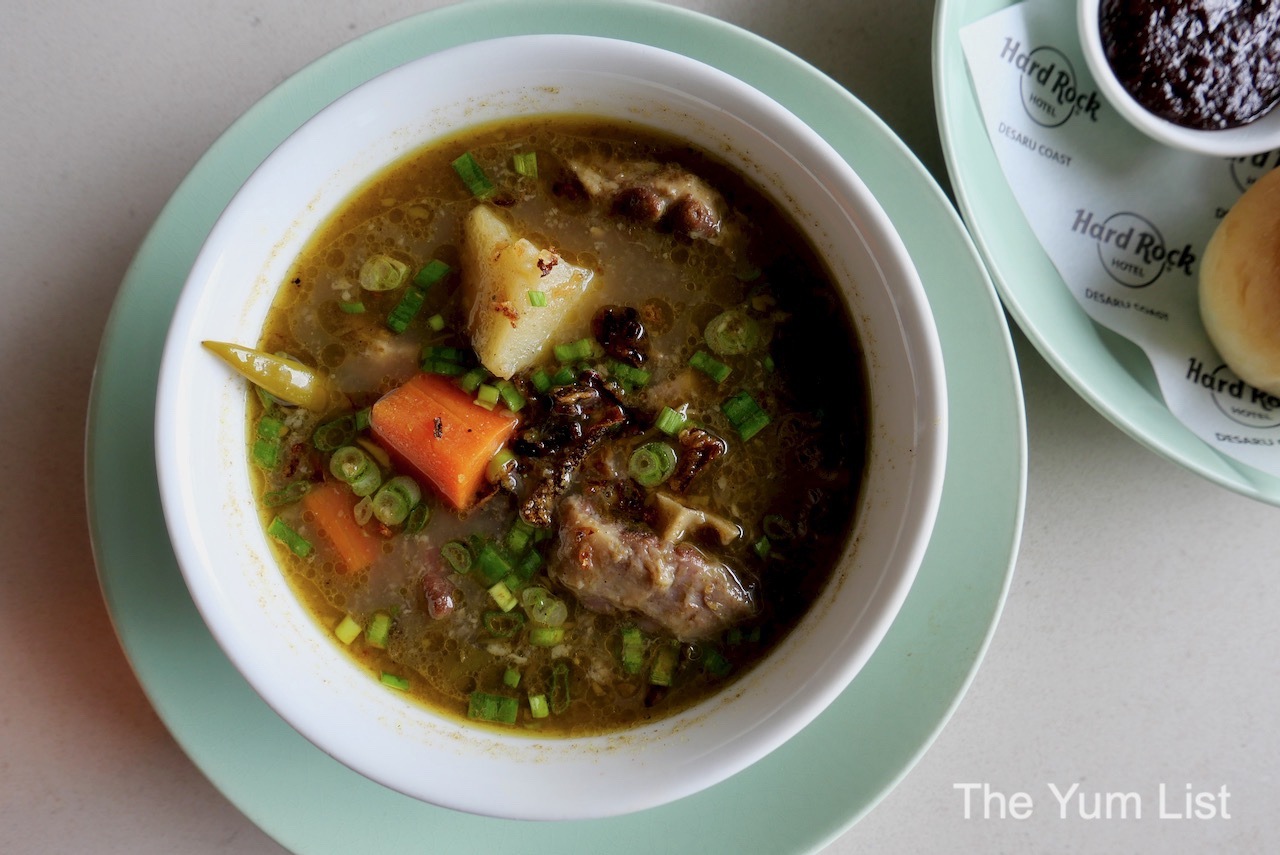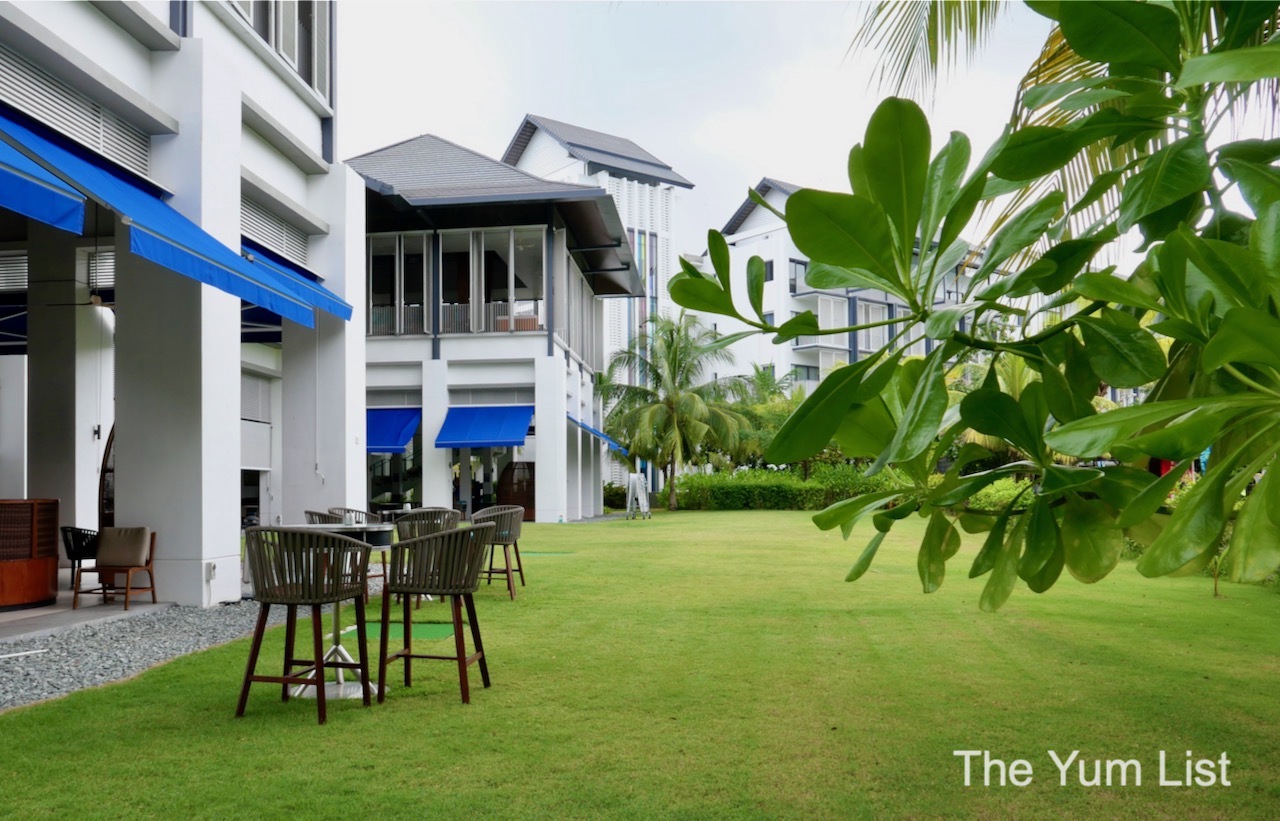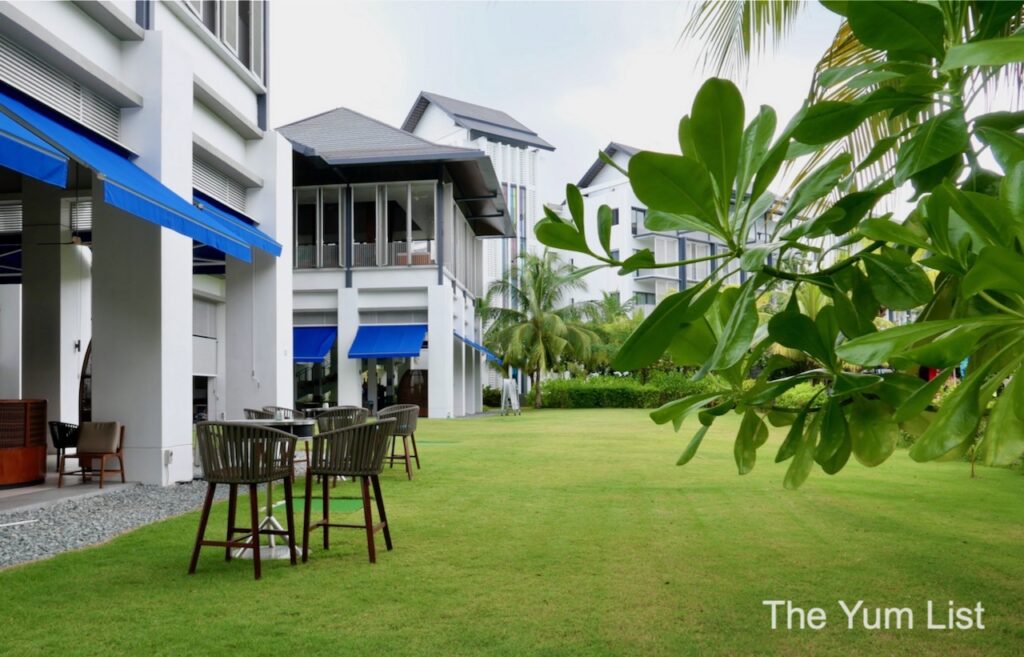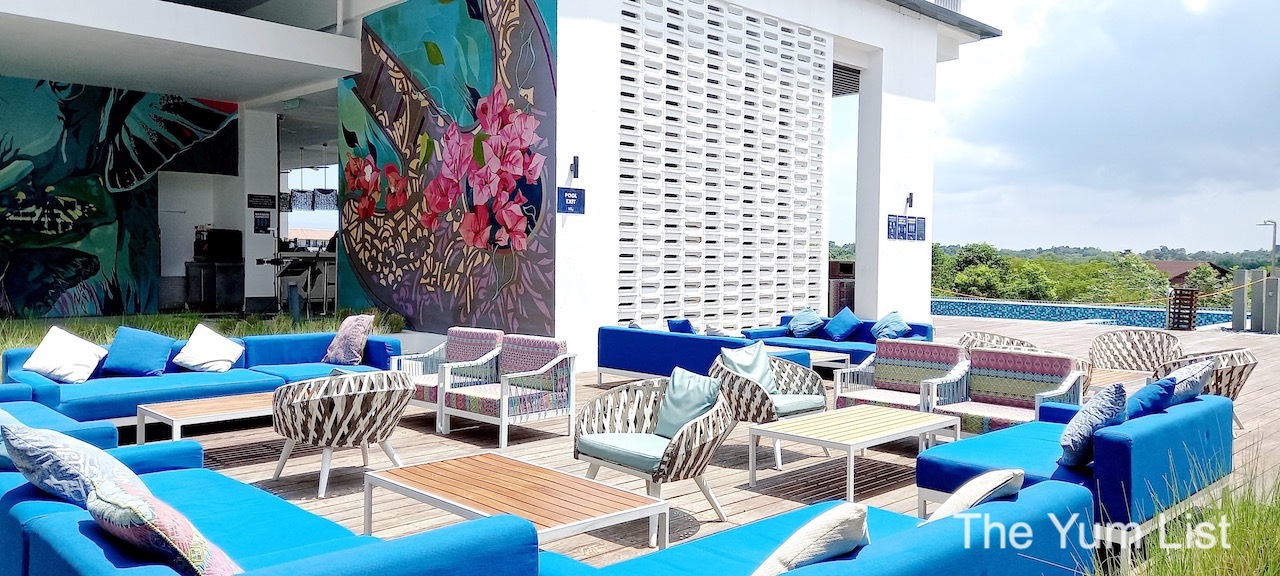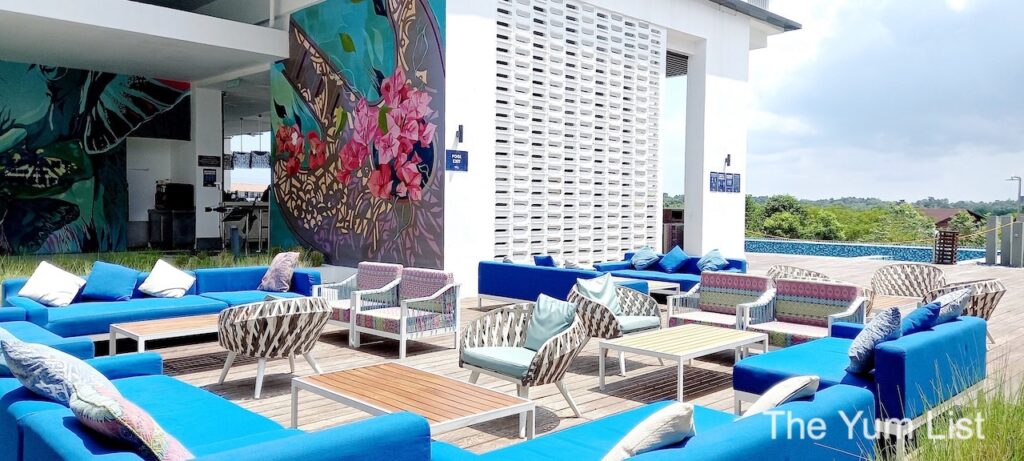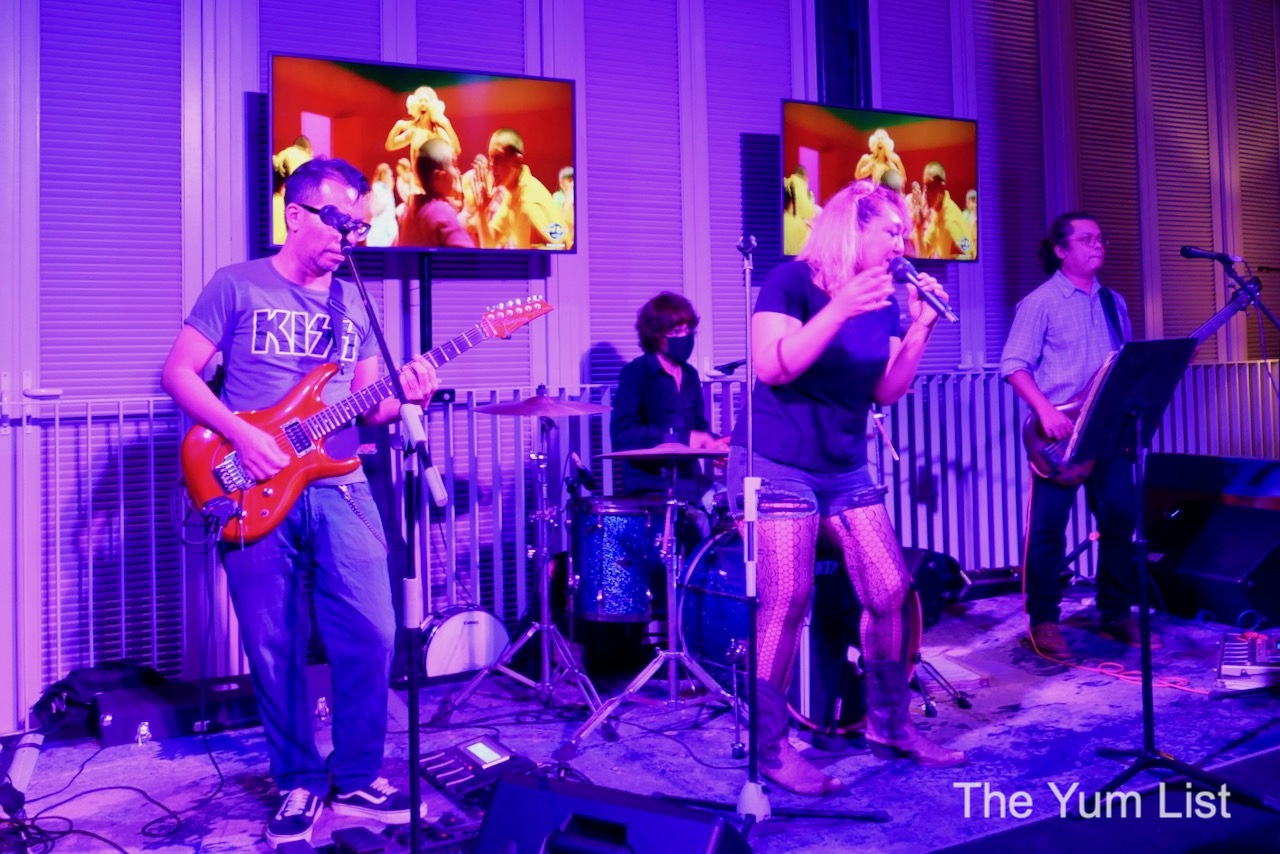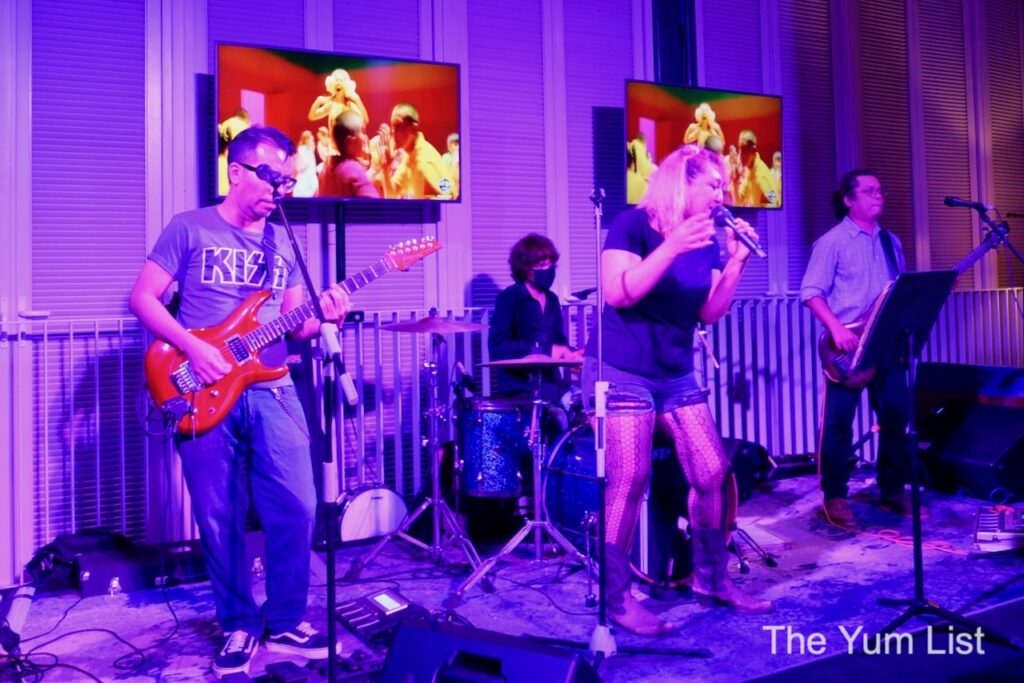 Hard Rock Hotel Desaru Coast Review
As things continue to open up and facilities return to order, Hard Rock Hotel Desaru Coast is definitely on our to-return-to list. With promises of revamped menus with new chefs adding further pizzaz to the hotel's gourmet offerings and exciting sustainability projects on the horizon, the hotel is one to keep on your radar.
Reasons to stay at Hard Rock Hotel Desaru Coast: fun, energetic atmosphere; suites with excellent bedding, balconies and quality entertainment; direct access to the water park; beach club; excellent massage and body treatments in Rock Spa.
Hard Rock Hotel Desaru Coast
Jalan Pantai 3, Desaru Coast
Johor Darul Ta'zim, 81930 Malaysia
+607-838-8888
www.hardrockhotels.com/desaru-coast
Find more recommendations for Desaru Coast here and stay up-to-date with the latest gourmet and travel recommendations for Malaysia here and here.